Grilled vegan guacamole is an easy homemade guacamole recipe that is fresh, flavorful and a perfect appetizer or party dip for your next fiesta!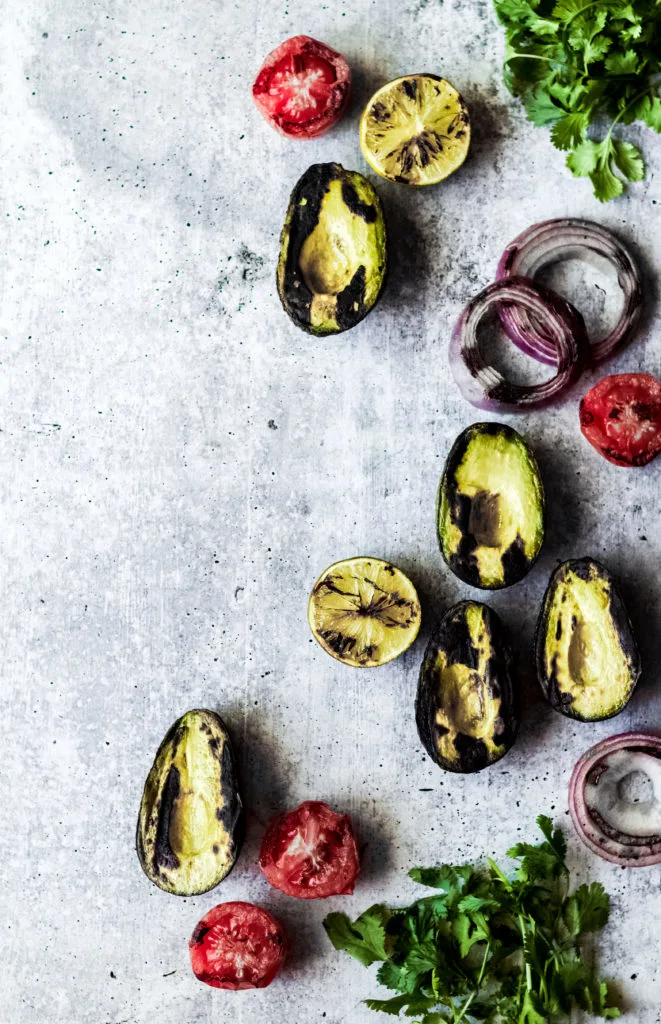 MAKE RESTAURANT QUALITY GUACAMOLE IN MINUTES!
Fun fact: Guacamole was one of the first things I learned how to make.
Taco night was a regular weeknight dinner rotation in our house (get details on how to host a taco bar party here!) and for as long as I can remember I'd help my mom whip up a quick guacamole…which means that I've been making guac since elementary school!
There are a lot of reasons to love guacamole: it's super easy (usually it takes just a few minutes to make), requires simple ingredients (you can make guacamole with just a handful of ingredients like ripe avocados and spices but I always love adding ripe tomato and red onion), and it's just fresh and delicious!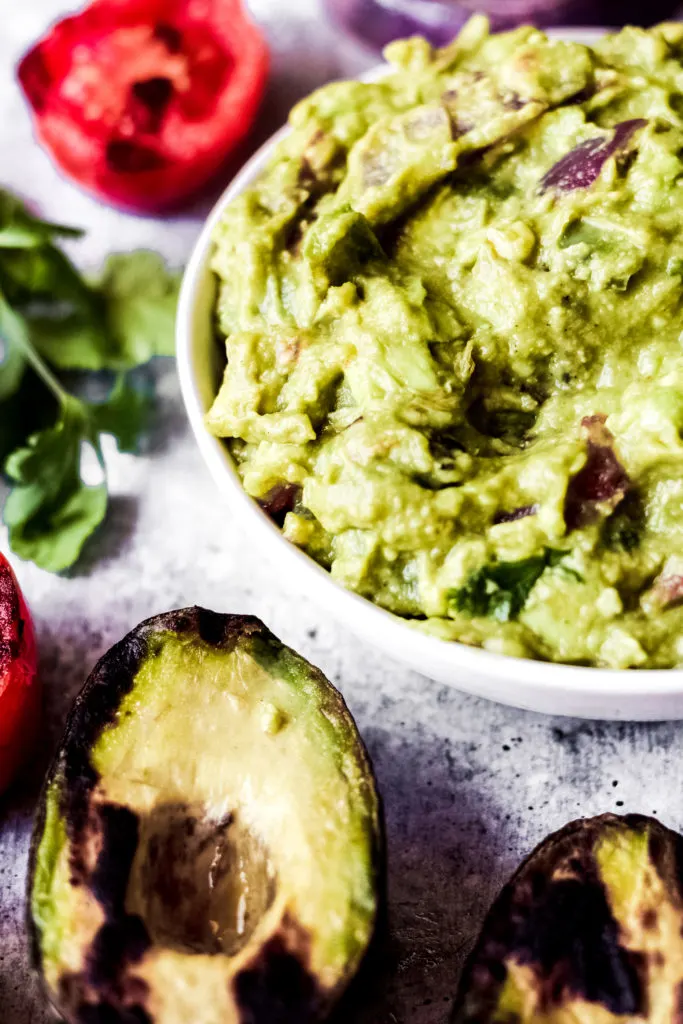 It's just the perfect, easy dip to make for any occasion, whether it be a quick weeknight Taco Tuesday dinner, a Cinco de Mayo fiesta, a football tailgate, or because you have some ripe avocados that you have to use. Just make sure you wash down your guacamole with margaritas!
While I have a go to easy guacamole recipe, I am always willing to branch out when it comes to guac (it's one of my favorite dips!) so when I was assigned to make one of Brandi's recipes from her blog Aunt Bee's Recipes for Freaky Friday her grilled guacamole was calling my name!
So what is Freaky Friday?

Freaky Friday is a good old-fashioned blog hop.
What's a blog hop?
A blog hop is where a group of bloggers get together and make each others' recipes! Michaela, from An Affair from the Heart, organizes this virtual event 5 times a year…she secretly assigns each of us another blog to cook from…we make the recipes, take photos, write our blog posts, and then on the same Friday, we all reveal our recipes.
This is my second time participating (my first time was in February and I made extra crispy air fryer chicken wings!) and my favorite thing about Freaky Friday is seeing what everyone made! It's so fun to hop from blog to blog looking at everyone's posts.
And for our readers, there's a collection of seasonal recipes all in one place, and a great way for y'all to meet some new bloggers.
Take a look at all of our 2021 Freaky Friday Spring Edition Recipes:
Let's meet Brandi!
Brandi, aka Aunt Bee, says when she first got married, she didn't even know how to boil water! Fun fact: I had a brief foray into food blogging in early 2010 that lasted about 3 posts called "How Do I Boil Water?" so it seems that we have that in common!
She learned how to cook by reading food blogs, pouring over cookbooks and watching cooking shows and eventually fell in love with all things food: menu planning, grocery shopping and cooking for her family. Brandi became such an expert that people started asking her for her recipes and that's how her food blog was born!
With so many mouth watering options on her site, it was really hard for me to decide which one of Brandi's recipes I wanted to make.
Did I want to one of my favorite appetizers of all time, Loaded Potato Skins? Or try a new app, like Fried Mac & Cheese Balls that literally made me drool on my keyboard? Brandi has a few delicious looking Instant Pot chili recipes on her site so I definitely thought about Instant Pot Chili con Carne or Instant Pot White Chicken Chili. Or did I want to satisfy my sweet tooth with some Pecan Pie Cheesecake Bars?
After a lot of deliberation, I finally settled on Brandi's Grilled Guacamole because it seemed like the perfect way to kick of grilling season!
PS: Looking for other grilling recipes? We have some great ones! Check out: grilled peach sundaes, brat burgers with beer cheese sauce, grilled brie, grilled bbq pizza, and grilled baby back ribs.
What you'll need to make grilled guacamole
When it comes to tools and appliances to make grilled guacamole, the list is short:
A large mixing bowl to mix your guacamole in

A sharp knife

A cutting board to slice and chop vegetables

A baking sheet to carry your veggies outside to your grill

A grill

A pair of tongs

A potato masher or fork

One more bowl for serving!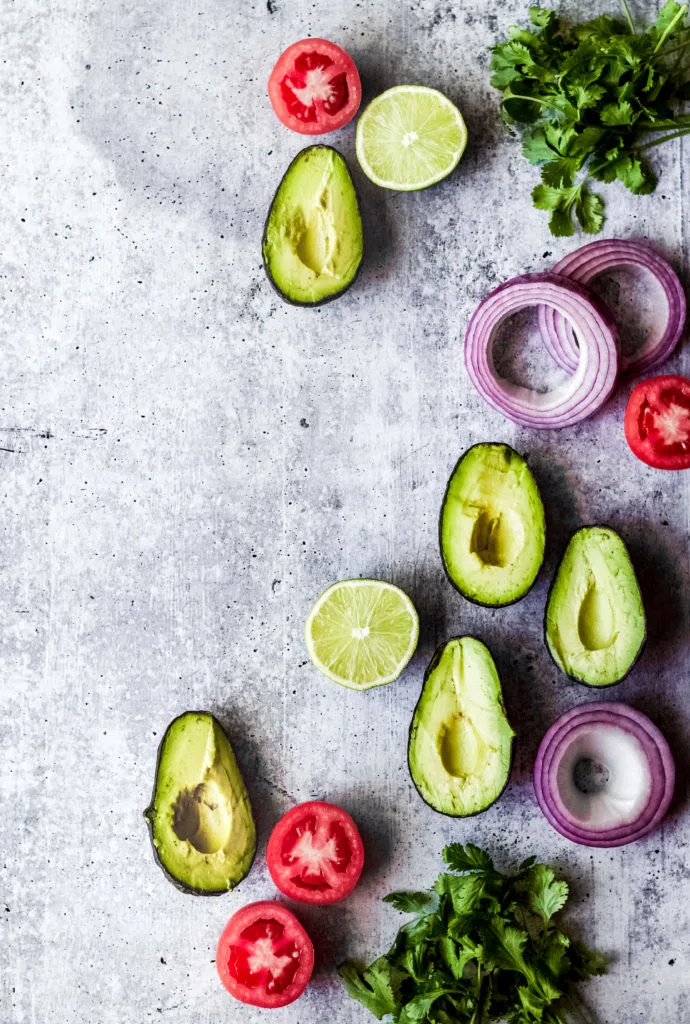 In addition to this short list of kitchen equipment, here are the guacamole ingredients (these are all fresh ingredients and spices making this recipe completely vegan):
3 Hass avocados

1 ripe tomato (I used 2 Roma tomatoes)

1 red onion

1 lime

2 jalapenos

3 garlic cloves (I added a little more because in my opinion, there is no such thing as too much garlic!)

Fresh cilantro

Cumin

Salt

Pepper

Olive oil (to coat the vegetables before grilling)
How do you make guacamole from scratch?
You want to start by prepping all of your ingredients.
Cut the avocados in half and remove the pits (but keep the skin on…that will help you during the grilling process!)
Cut the tomatoes in half, slice the red onion into thick, large rings (you want to keep the rings in tact so I found slicing the onion in thick slices worked best to keep the rings together).
Slice your jalapenos in half as well. You can remove the ribs and seeds like I do in my roasted jalapeno poppers and pimento cheese jalapeno poppers if you don't want a lot of spice, or you can keep them in (Brandi recommends removing the ribs and seeds in one pepper and keeping them in the other to give the dip a little heat and spice).
Slice the limes in half, remove the cilantro from the stem and give it a quick chop, and mince the fresh garlic cloves too.
Preheat your grill to medium high heat.
You can either lightly grease your grill surface or you can brush a light coating of olive oil on each vegetable individually (I did the latter because it was easier for my set up).
When the grill is hot, grill each of your fresh veggies:
Grill the avocados face down for two to three minutes until you get visible grill marks

Grill the tomato cut side down for two to three minutes (be careful that it does not get too soft)

Grill the onion rings for about a minute to two on each side until you see visible grill marks

Grill the jalapeno halves for about one minute on each side.

Grill the lime cut side down for about one minute.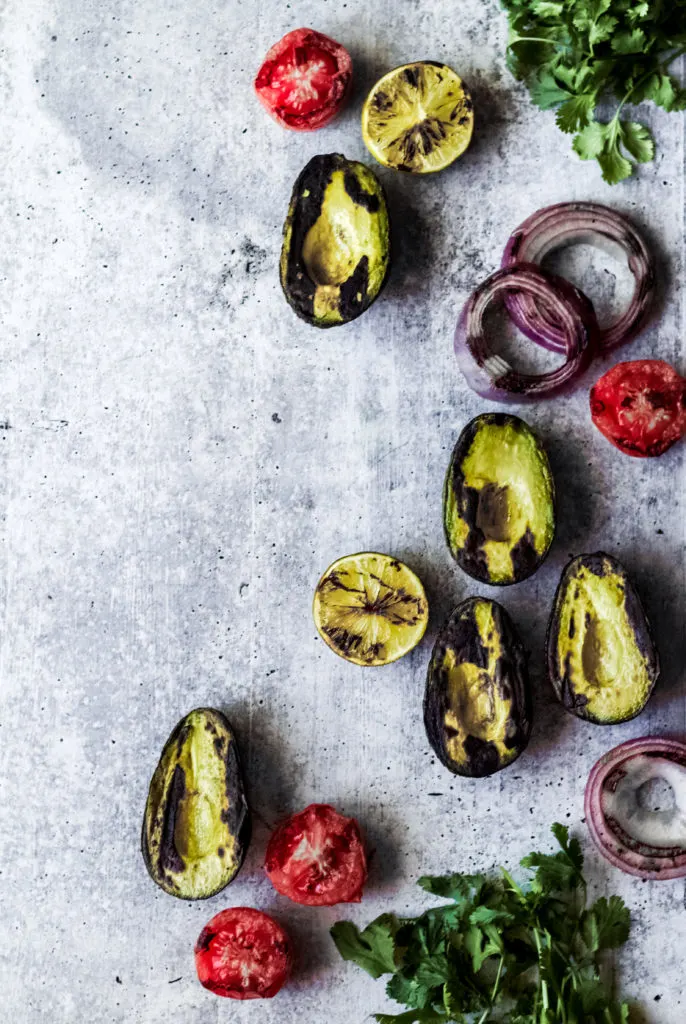 Set all of your grilled ingredients aside to cool.
Once everything is cool, scoop out the avocado flesh and using a potato masher or fork, mash it into a chunky consistency (chunky guacamole is the best guacamole in my opinion).
Dice the tomato, onion and jalapeno and mix into the mashed avocado.
Add the remaining ingredients–minced garlic, chopped cilantro, and cumin–into the bowl.
Squeeze the two grilled lime halves into the bowl.
Stir everything together and taste it, and then season with salt and pepper!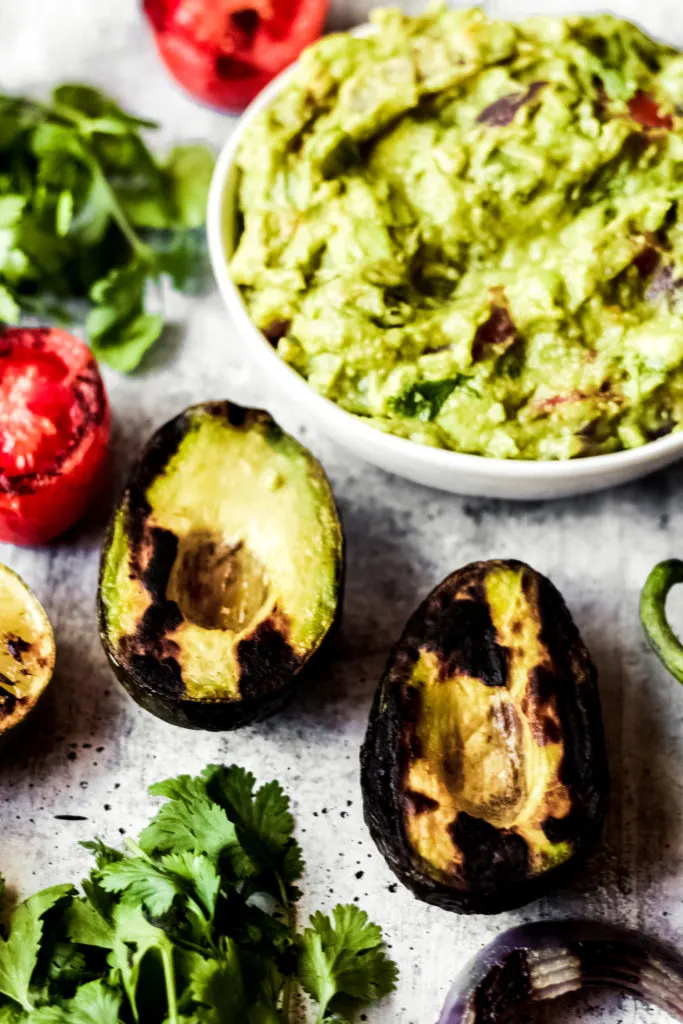 Grilled Vegan Guacamole Tips and Tricks
Here are a few extra tips and tricks to get the best guacamole:
The most important thing to remember when making guacamole is that the avocado has to be ripe! If the avocado isn't ripe, you won't get that buttery, creamy flavor and texture that makes guacamole so delicious.
Fun fact: avocados don't ripen on the tree, they actually ripen after they are harvested, which means as the avocado sits on the counter after you get it at the store, it releases the plant hormone ethylene, a type of gas that triggers the ripening process.
You can tell if an avocado is ripe because it will not be green and rock hard; instead it will be basically black on the outside and will be slightly soft when you touch it.
Pro tip: if your avocados are not ripe, you can put them in a brown paper bag with another ripe fruit like an apple or a banana and fold over the bag so no air escapes. This works faster than leaving the avocado on the counter because the other fruits also emit ethylene gas, and when they're all inside the sealed paper bag, the gas is trapped inside helps the avocado ripen faster.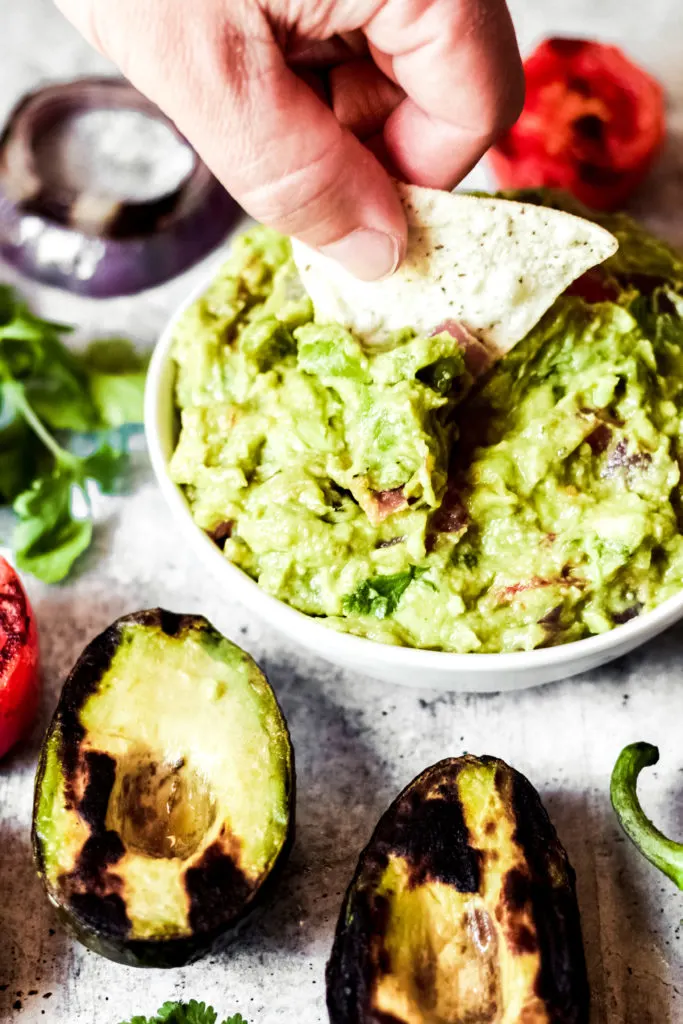 When it comes to grilling, you don't want to cook the vegetables all the way through. Think of it more as the quick, hot kiss of the grill on the veggies' flesh to add flavor and color, rather than roasting the vegetables for an extended amount of time.
Make sure you let all of your ingredients cool completely after grilling before mashing and mixing up your dip.
This recipe is completely gluten free and vegan! While I have always used fresh ingredients to make guac (which means I always make vegan guacamole) some guacamole recipes include sour cream or mayo in order to increase the creaminess factor. Avocados have a creamy texture on their own, so you don't need to add anything for a creamy texture besides the natural creaminess of the avocado. Just fresh, healthy ingredients!
Don't skimp on the salt! Taste your guacamole before adding salt and then add a pinch and taste again. Keep adding and tasting until you get the flavor just right. Salt will really bring out the flavor of the dip.
Frequently asked questions
WHAT IS THE DIFFERENCE BETWEEN GUACAMOLE AND AVOCADO?
While a lot of people think of avocados as a vegetable, did you know that avocados are actually a fruit?!?
Avocados are considered a fruit because they fit the botanical criteria for berries: they have fleshy pulp and a seed. Avocados grow on trees in warm climates; they are native to South Central Mexico, but are grown in the United States in Florida, Hawaii, California and Texas. They are full of healthy fats and you can use them in both sweet and savory cooking!
While avocados are creamy and delicious on their own, guacamole is the dip that uses avocados as the main ingredient. Other ingredients can include diced red or white onion, tomatoes, cilantro, spices (like fresh garlic or garlic powder, cumin, cayenne pepper, red pepper flakes, salt and pepper) lime or lemon juice and more.
CAN I MAKE GUACAMOLE AHEAD OF TIME?
Since guacamole is so quick and easy to make, I would recommend making this grilled vegan guacamole recipe just before serving it. If anything, you could slice and grill all of your vegetables ahead of time and allow them to cool, so all you had to do before serving is mash the avocados and mix everything together.
In my opinion, guacamole tastes best when super fresh!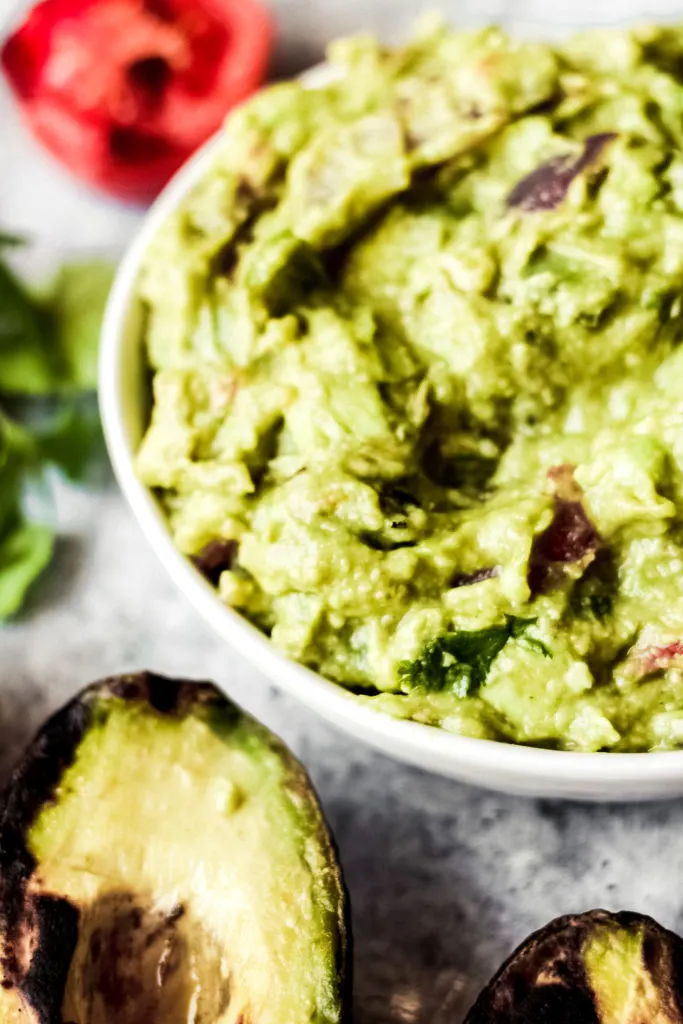 HOW LONG DOES GUACAMOLE LAST?
Homemade guacamole lasts in the fridge for about one to three days, but like I said above, I think it tastes best when it is super fresh!
The reason that guacamole does not last long in the fridge and can turn brown is because avocados oxidize really quickly. This is why when an avocado is exposed to oxygen, it starts to turn brown. Because avocados are the main ingredient in guacamole, as the dip sits out, brown pigments will start to appear in the dip.
To preserve your guacamole in the fridge and to keep it from turning brown, store it in a glass or plastic airtight container. But before putting the lid on, press a layer of plastic wrap down on top of the leftover guacamole (right on the surface so no air is exposed to the guac). Then, place the container's lid on over top of the plastic wrap and pop it in the fridge.
This is the best trick we've found to keep guacamole from turning brown for a couple of days.
SHOULD I USE LEMON JUICE OR LIME JUICE IN GUACAMOLE?
You can use either lime or lemon juice when making guacamole. While this recipe calls for fresh lime juice, I often use lemon juice in my guacamole because it tastes just as delicious or I don't have any limes in the house!
Adding lemon or lime juice also can help keep homemade guacamole from turning brown because the citric acid slows down the oxidation process.
WHAT TO SERVE WITH GUACAMOLE
Guacamole is a staple in Mexican cuisine but you can also think out of the box when it comes to what to eat it with!