We're having a big birthday celebration for the big game and roasted jalapeno poppers will definitely be on the menu!
This recipe features three cheeses, a variety of spices, and then they are baked, not fried, for a lighter, easy party or game day appetizer.
Check out Off the Eaten Path's other jalapeno popper recipes: crab stuffed baked jalapeno poppers, bacon wrapped jalapeno popper mummies, pimento cheese jalapeno poppers and a round up of the best jalapeno poppers recipes!
The other day, a fellow blogger put a call out for a game day recipes round up post. I went deep into the archives and found quite a few recipes that fit the bill.
(Round out your game day menu by making some of my football food favorites!)
Makes sense because I love food. And football. And I love to eat food while watching football.
So what I guess I'm trying to get at is you can never have enough game day recipes.
And with the big game coming up a few weeks away (and with the Packers actually having a shot of playing in it!) I'm all, "the more the merrier."
This year's big game is actually going to be extra special for us, and it's not just because the Packers may be one of the two teams facing off for the title.
We're actually hosting a big party this year because the big game coincides with a big celebration: my 30th birthday.
We're planning a low key, snack filled fiesta at home; AJ's going to fire up the smoker and make a special home brew on tap, and the rest of our table is going to be dedicated to a spread of my game day favorites (including beer cheese fondue, brat burgers with beer cheese sauce, pepperoni bread, and slow cooker buffalo turkey meatballs).
Likely making an appearance will be these baked jalapeno poppers.
BAKED JALAPENO POPPERS: NOT FRIED!
I discovered this jalapeno popper recipe ages ago and I love it because you get the benefits of the classic appetizer without the grease.
Is it me or are those deep fried suckers a little difficult to eat?
And who else hates deep frying at home?
Rather than dipping stuffed peppers into a batter and trying to navigate deep frying in my home kitchen (which for me always results in a mess!), stuffing and baking these peppers result in a crispy, cheesy, delicious appetizer that is full of flavor, saves time, and cuts down on mess!
They are just as good (or even better!) than deep fried poppers.
I tell myself that roasting makes them healthier too.
And don't you think these are prettier than deep fried ones?
(I like the fact that this version of a jalapeño popper has a little green and gold thing going on).
WHAT IS THE DIFFERENCE BETWEEN ROASTING AND BAKING?
When it comes to poppers, roasted jalapeno poppers and baked jalapeno poppers are basically the same thing!
Roasting and baking are both forms of dry heat cooking, which means they both use hot, dried air to cook food (in an oven), browning the food and creating complex flavors.
Technically, some chefs differentiate between the two terms depending on oven temperature or the initial structure of the food (ex: foods that have a solid structure before going into the oven you roast, while foods without initial structure, like cupcakes and cookies, you bake).
But most of the time, the words are used interchangeably, which means that when you roast something, you are also baking it. So when you are making roasted jalapeno poppers you are also making baked jalapeno poppers!
HOW TO MAKE OVEN ROASTED JALAPENO POPPERS
Of course, the first ingredient is: jalapenos!
I love, love, love jalapenos and try to put them in everything: like bacon jalapeno pimento cheese and pickled jalapenos. (which are so good on top of burgers, chicken, pork, brats…basically anything!)
You'll want to buy peppers that are a bit larger in size so they are easier to stuff.
Slice the jalapeno peppers in half and then use a spoon to remove the seeds and ribs.
Scooping out the seeds and ribs removes the heat from the peppers…if you like spicy food, you should keep some of the seeds and ribs in.
And since jalapenos can be spicy, you may want to wear a pair of rubber gloves for this step…or throw a plastic sandwich bag over your hands, just to keep the spice and seeds off your fingertips. (You don't need hand protection, but if you don't wear it, make sure you don't touch your eyes!)
In a large bowl, mix together your stuffing: three different types of cheeses, a few spices and fresh cilantro. (and yes, there are tips on how your can add bacon to these baked jalapeno poppers below!)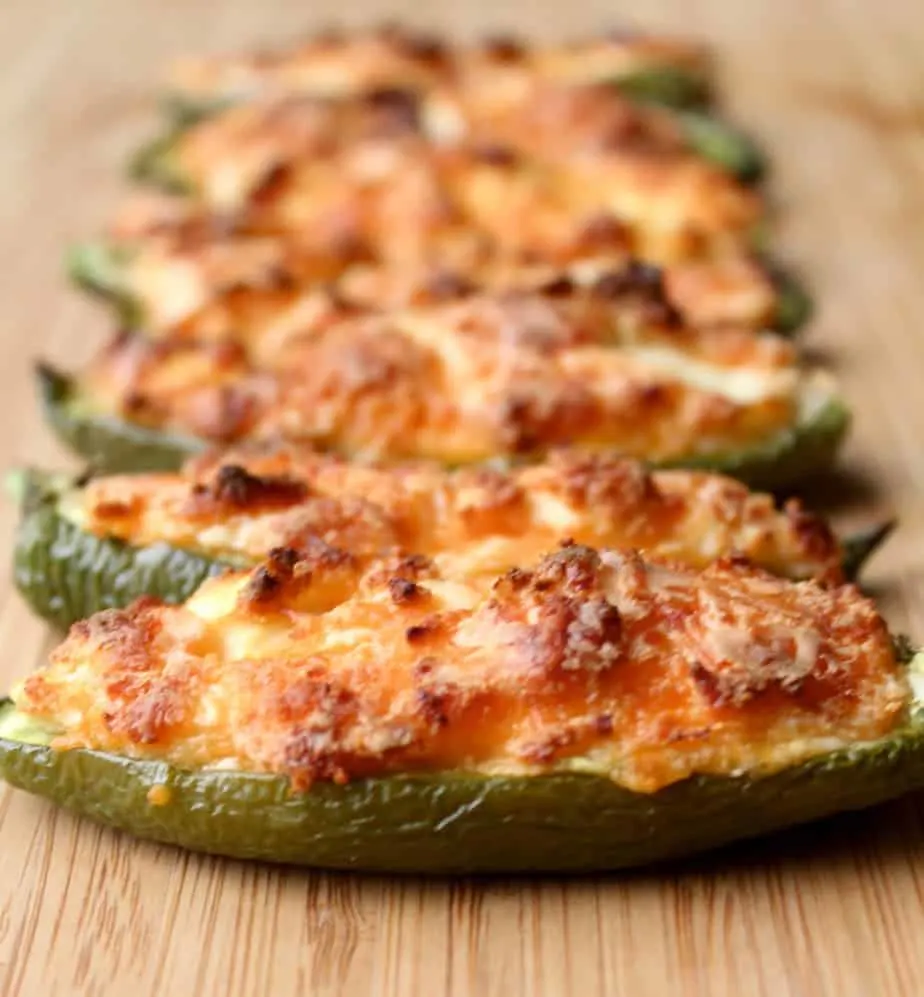 With a spoon or clean hands, stuff the cream cheese mixture into each pepper half (making sure that you do not overstuff your jalapenos or they will explode!) and then place on a baking sheet to bake.
Bake at 400 degrees until the peppers are tender and the cheese is brown and bubbly.
HOW LONG TO BAKE JALAPENO POPPERS IN THE OVEN?
One of the most frequently asked questions I get is how long should I bake the poppers in the oven?
Too short and the cheese isn't hot, melted and bubbly. Too long and the peppers lose some of their texture and crunch and your left with a limp, sad looking popper.
Since all ovens are different, the ideal oven time depends on your specific oven. I have found the sweet spot when it comes to baking poppers in the oven is somewhere between 15 and 20 minutes. Around the 15 minute mark is when I start checking on the poppers to see if the cheese is melted and the baked poppers are done when the cheese is bubbly.
Don't forget to broil the poppers after baking to get the cheese nice and brown!
CAN I MAKE THESE IN ADVANCE?
YES!
You can prep these poppers one to two days in advance. Just hold off on roasting or baking them until just before your party starts.
Slice your jalapeno peppers, make your cheese mix, and stuff the peppers.
Just don't bake! (They will definitely get soggy and reheating is hard.)
Store your stuffed jalapenos covered in the fridge, and bake just before serving.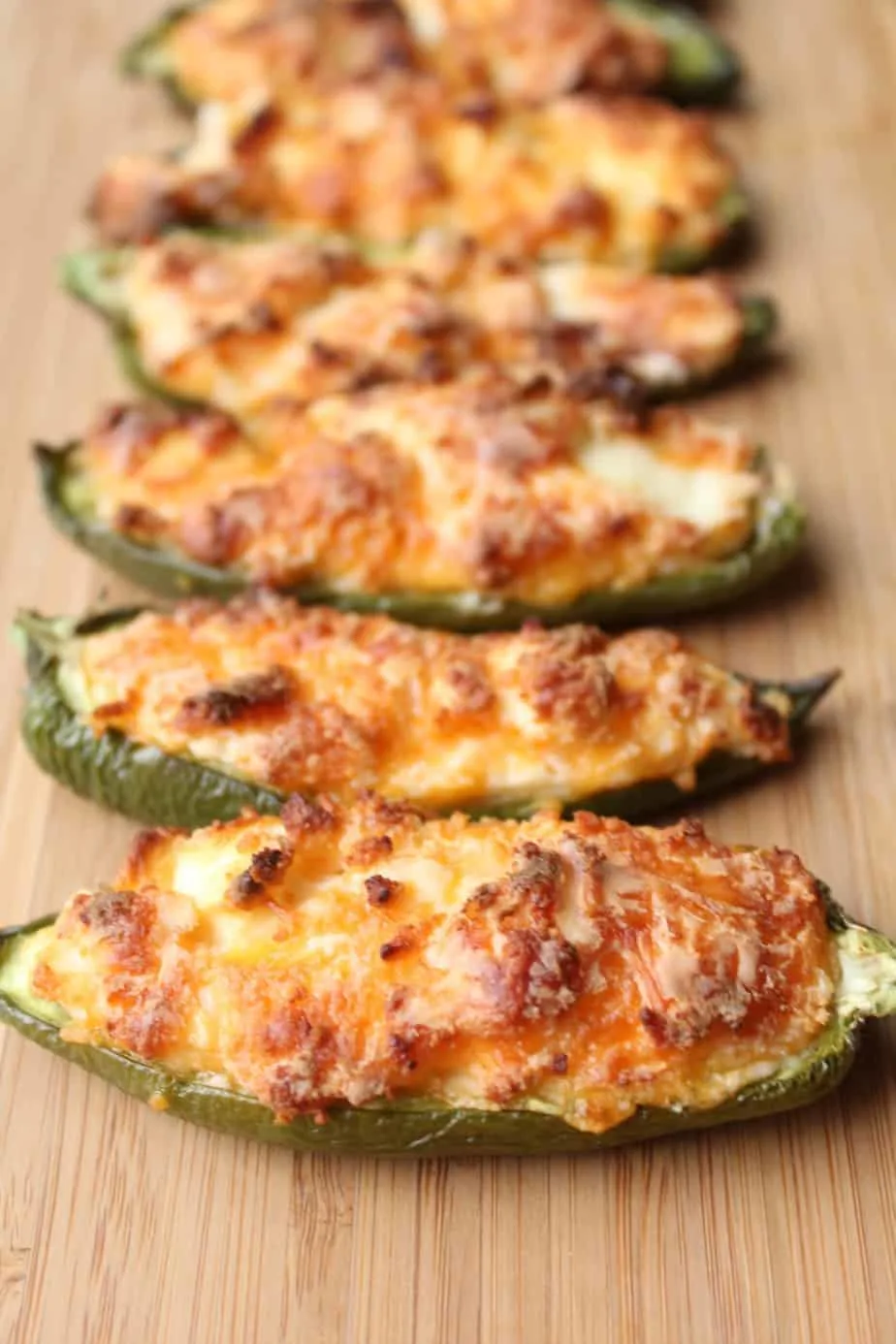 CAN I MAKE THESE WITH BACON?
Another YES!
While these jalapeno poppers are made without bacon and I love this recipe just the way it is (also isn't it sort of tedious to have to wrap raw bacon around the popper and secure it with a toothpick), you can easily add bacon in a few ways:
with precooked bacon bits
cooking and chopping your own bacon
or wrapping the peppers with bacon before baking.
If your using precooked bacon bits, just mix them in with the cheese before stuffing the peppers.
You can also fry up some bacon and chop it to create your own bacon bits, and once cooled, you can mix the bacon in with the cheese before stuffing.
You can also wrap them with bacon before roasting. Stuff the jalapeno peppers with the cheese mixture and then wrap with bacon before baking.
The bacon will cook while the poppers are roasting.
But…make sure your peppers are not overstuffed because they will explode through the bacon!
If you are looking for a bacon wrapped jalapeno popper tutorial, check out my Halloween themed Bacon Wrapped Jalapeno Popper Mummies recipe which is full of bacon wrapping tips!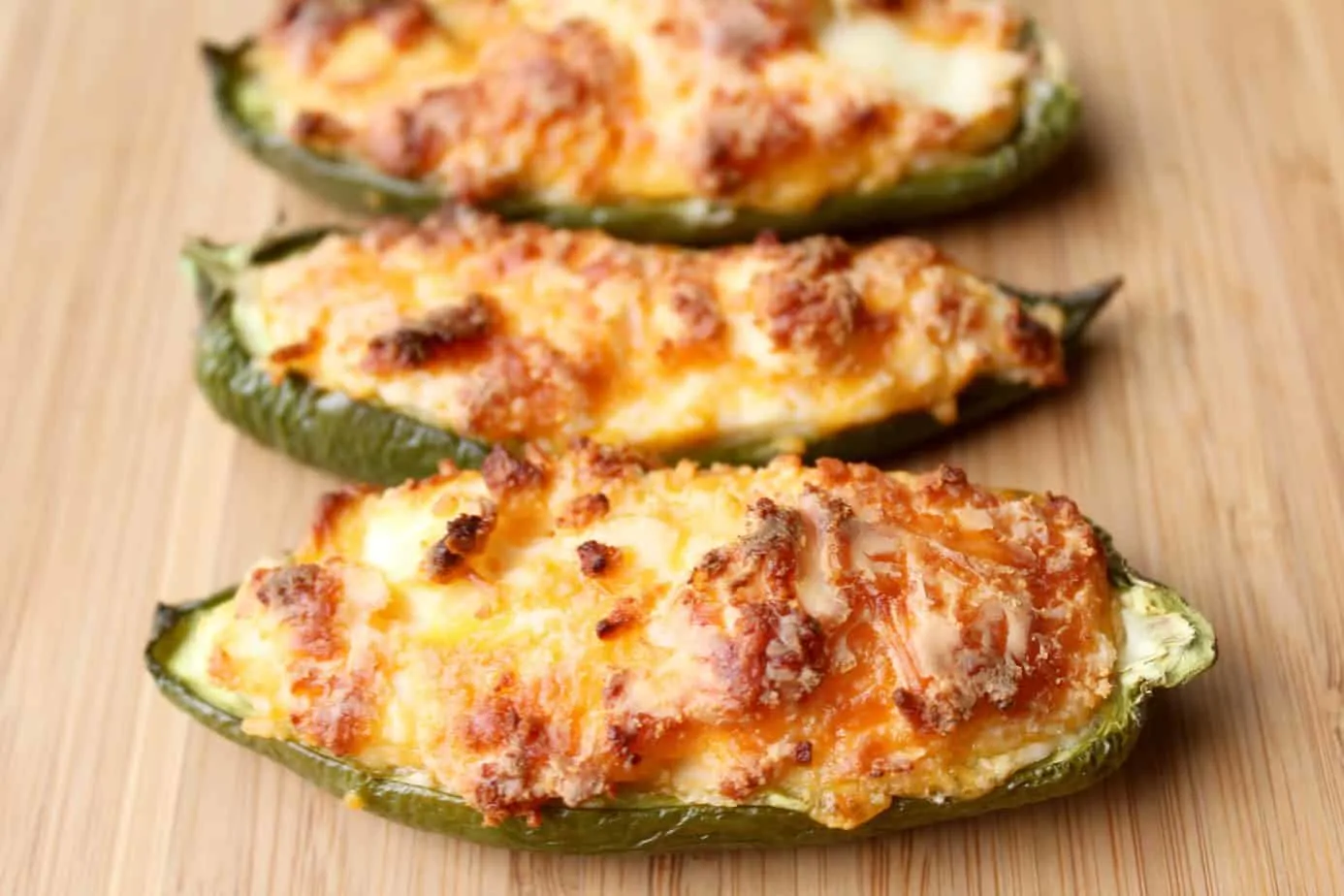 THESE WILL BE THE HIT AT YOUR NEXT PARTY!
And as an added fun fact, this was the appetizer I chose to bring to my first big game watch party in Charlotte.
I remember it fondly, because it was right around the time where I started to feel comfortable; like I had friends and was putting down roots.
It was a mild Carolina day, and we enjoyed barbecue, pimento cheese dip, jalapeno poppers and other football snacks in my friend's backyard while we watched the game.
It was definitely the first time ever I watched a football game outside in February!
And I remember these being a big hit.
So I'm excited to celebrate another year of football with friends, delicious snacks, and fingers crossed: a Packers win!
PIN FOR LATER!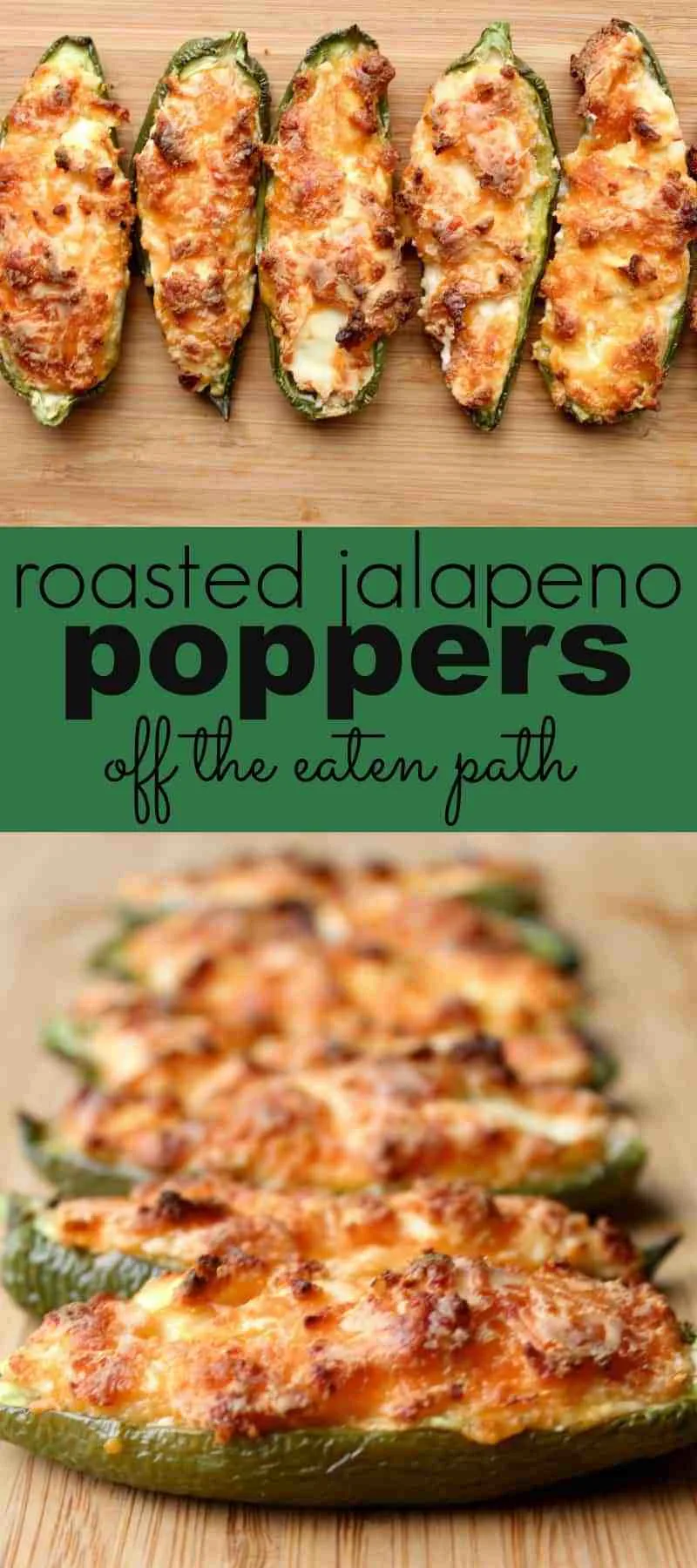 Looking for even more game day inspiration?
Since I'm so pumped for the Big Game, I've teamed up with my football blogger friends in one final collaboration to bring you some brilliant Big Game recipe ideas.
We've made appetizers, entrees, desserts and even drinks. Prepare to be inspired, and be sure to check out their links below!
NEED MORE RECIPES FOR GAME DAY?
I've teamed up with my food blog friends to share our favorite game day recipes. Pin more than 60 recipes to make for your game day party!
Classic Potato Salad by Celebrating Family
Chili Cheese Burritos by Love Bakes Good Cakes
Fruit Spring Rolls with Key Lime Cheesecake Dip by Body Rebooted
Slow Cooker Buffalo Chicken Sliders by Dash of Herbs
Mediterranean Seven Layer Dip by The Culinary Compass
Chicks in a Blanket with Apricot Sauce by Mom's Messy Miracles
Jalapeno Pale Ale Chili by Beer Girl Cooks
Jalapeno Popper Pull Apart Bread by The Life Jolie
Sausage Pepperoni Pizza Dip by Feast + West
Baked Southwestern Egg Rolls by Family Food on the Table
Mini Bacon Ranch Cheese Balls by Honey & Birch
Cookie Dough Cheese Ball by Bread Booze Bacon
Hawaiian Pizza Jalapeno Poppers by Love & Flour
Meatloaf Sliders by Foodtastic Mom
Wonton Taco Cups by A Mind Full Mom
Pancetta and Smoked Mozzarella Arancini by The Secret Ingredient Is
Bean and Cheese Taco Bites by The BakerMama
Monte Cristo Poppers by See Aimee Cook
Chile Beer Sangria by Cake 'n Knife
Low Carb Stuffed Crust Pizza by Sustaining the Powers
Puff Pastry Pizza Bites by The Mexitalian
No Churn Pistachio Baklava Ice Cream by Club Narwhal
Roasted Jalapeno Poppers by Off the Eaten Path
Buffalo Cauliflower Mac and Cheese by Hello Little Home
Jalapeno Popper Chicken Wings by Around My Family Table
Gluten Free Bread Sticks by What A Girl Eats
Cheesy Beef Dip by Polka Dotted Blue Jay
Buffalo Chicken Deviled Eggs by The Crumby Cupcake
Greek Meatballs by Two Places at Once
Baked Taco Empanadas by Simplify, Live, Love
Cheese Sticks by Coffee Love Travel
Bacon Wrapped Blue Cheese Meatballs by West via Midwest
Puff Pastry Bacon Pizza Twists by 2 Cookin Mamas
Skillet Chicken Queso Dip by foodbyjoniste
Spicy Sausage Rolls by Peanut Blossom
Protein Dark Chocolate Truffles by The Creative Bite
Chickpea Pepper Cheese Poppers by Bucket List Tummy
Maple Cranberry Apple Sangria by Order in the Kitchen
Meyer Lemon Shandies by The Speckled Palate
Game Day Fried Deviled Eggs with Chow Chow Relish by For the Love of Food
Buffalo Chicken Eggrolls by Simple and Savory
Pimento Mac and Cheese Squares by Lauren's Kitchen
Pastrami Nachos by A Little Gathering
Shrimp Ceviche Dip by Glisten and Grace
Football Bourbon Balls + Boozy Lemonade by Culinary Adventures with Camilla
Apple Cider Mimosas With A Sparkly Sugar Rim by And She Cooks
Pulled Pork Stuffed Corn Dogs by Nik Snacks
Easy Pepperoni Rolls by Me and My Pink Mixer
Real Boneless Chicken Wings by Macheesmo
Califlower Tater Tots by Living Well Kitchen
Cheeseburger Naan Pizza by Shaws Simple Swaps
Red Velvet Ginger Rum Balls by Cafe Terra
Crab Rangoon by Brunch-n-Bites
Sweet n' Spicy BBQ Popcorn by Life's Ambrosia
Buffalo Chicken Rolls by Loves Food, Loves to Eat
Crowd Pleasing Steak Fajita Dip by Lizzy is Dizzy
Sriracha Hummus Pinwheel Sandwiches by Casa de Crews
Simlple Meatball Sub Sliders by Loaves & Dishes
Maple-Mustard Bacon Chicken Bites by An Oregon Cottage
Soft Pretzels with Beer Cheese & Honey Mustard Dipping Sauces by A Simpler Grace
Ricotta Stuffed Sausage Meatballs by A Joyfully Mad Kitchen
Note: This post is in no way sponsored, endorsed or administered by the National Football League (NFL) or any of its teams.
All opinions and views expressed on our blogs are our own, not that of the NFL and/or any of its 32 teams. Any team names, logos or other symbols referenced are properties of their respective organizations.
We are just big fans — and we want to share our love for our teams, the game and the food that brings us all together on game day.