Take your summer barbecue or bowl game spread to the next level with spicy and sweet grilled baby back ribs with a Coca-Cola barbecue sauce.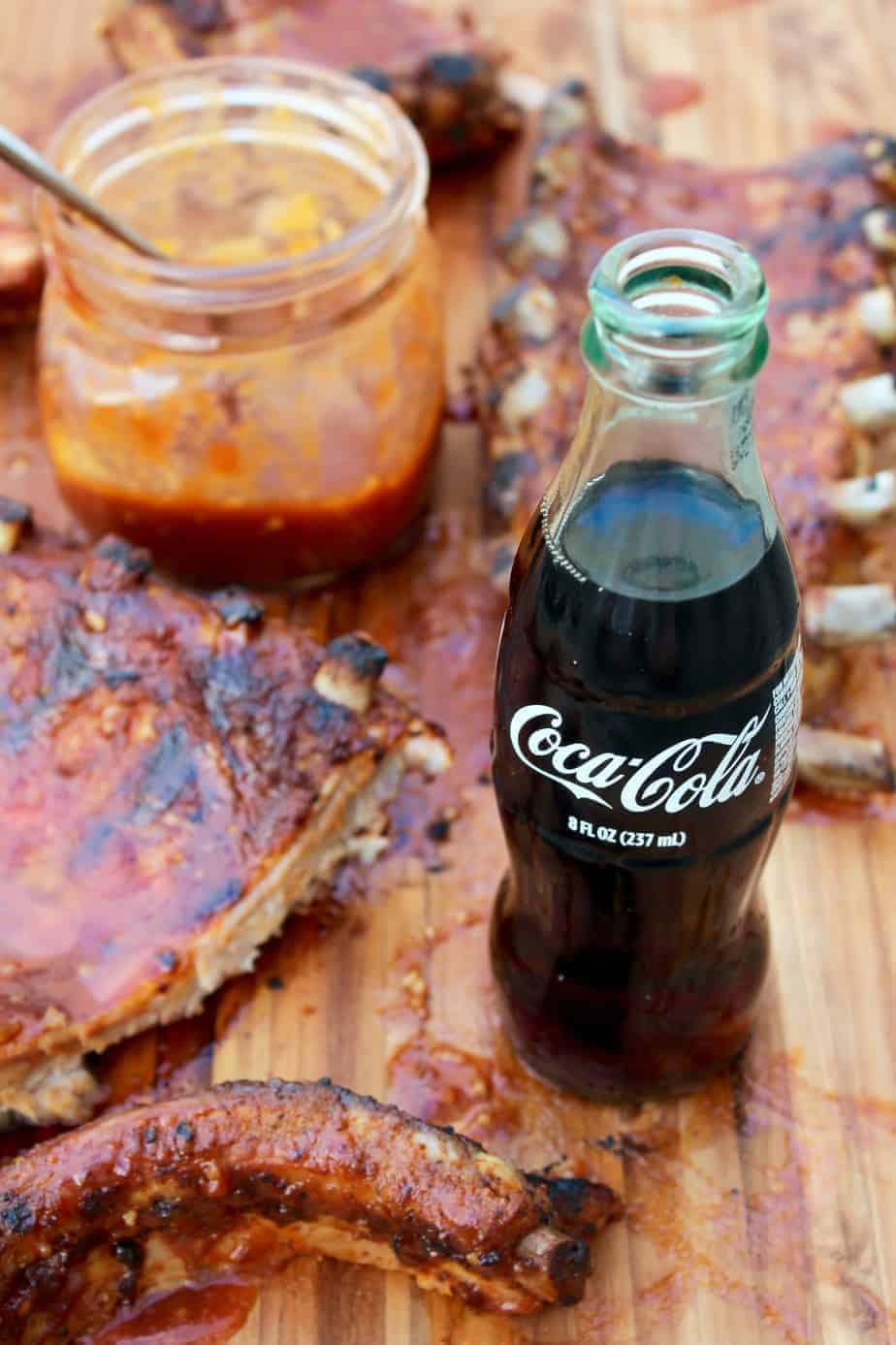 This post has been compensated by Collective Bias, INC. and The Coca-Cola Company, all opinions are mine alone. #ServeWithACoke #BowlGames #CollectiveBias

Hey y'all…popping in here right before the Fourth of July with a post rehaul on one of my favorite recipes…grilled baby back ribs with Coca-Cola barbecue sauce.
I like to add this little intro update at the top, because as you read this post you may be thinking….
"WTF why is this about football?"
"It's not October"
"I'm so confused."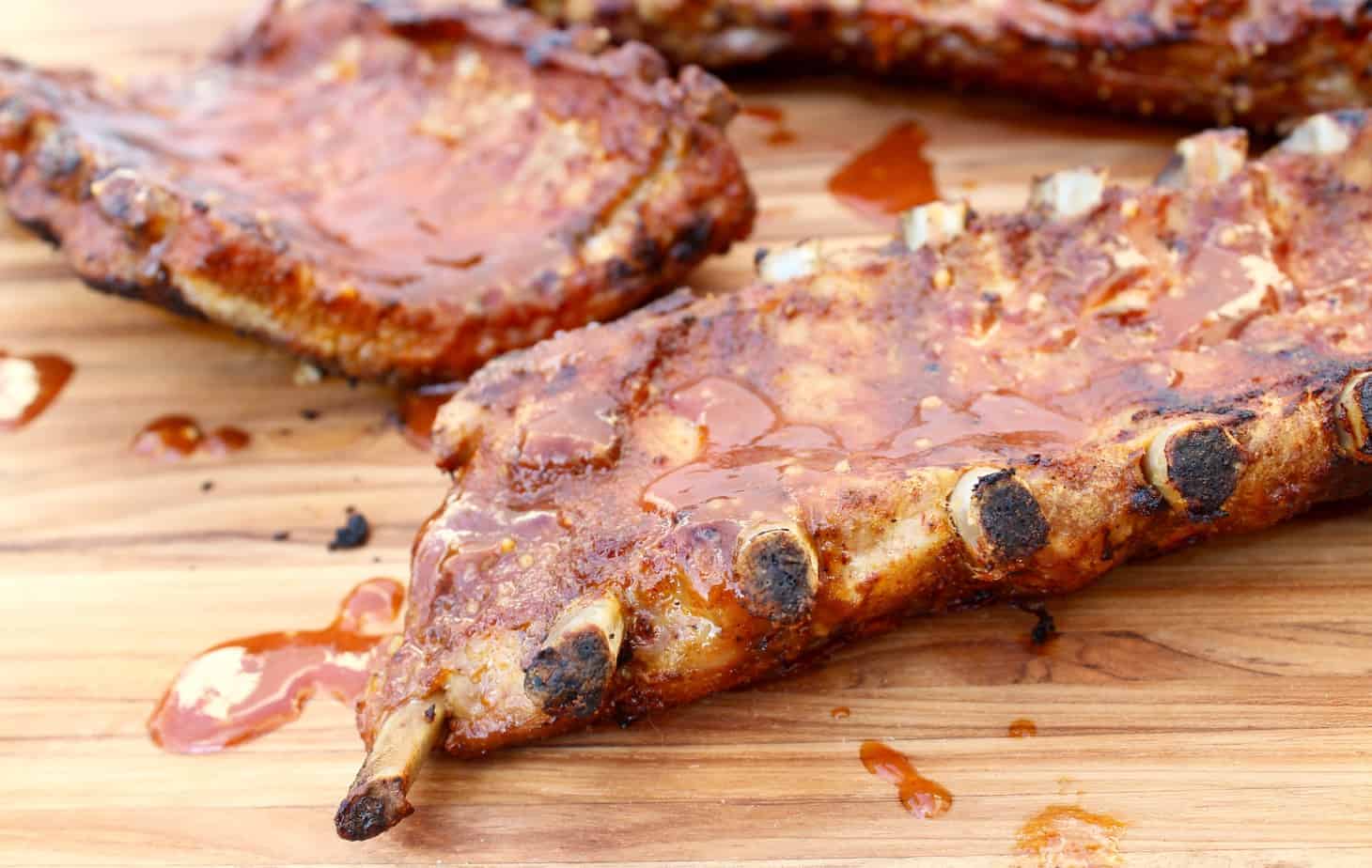 That's because I wrote this little puppy a few years ago, and I love this recipe so much (and I can tell you guys do too!) that I wanted to give it a little extra juice and oomph and republish it just in time for peak summer grilling season.
You'll be the most popular person at your 4th of July party if you bring these grilled baby back ribs. Trust me on that one.
Are you looking for other summer grilling recipes? I have plenty! Check out these 28 Memorial Day Cookout Recipes (also super perfect for 4th of July), these beer brats two ways, brat burgers, grilled vegan guacamole, grilled peaches or these pork tenderloin kabobs.
All three go great with a refreshing Corona float, watermelon frose, or blackberry basil gin fizz.
Happy 4th! Now I hope all of the football yammering makes sense. Who else is counting down until football season?
Maybe my team will be better this year.
I can only hope. Shrug emoji.
Chrissie
The story behind grilled baby back ribs
It's been tough to be a football fan in our house this season.
In October, my team's quarterback went down with a broken collarbone. Our defense is terrible. The O line is hurt.
I watched the last game with my dad, who spent the entire first half muttering how terrible we are under his breath.
We turned it off at half time, and woke up to the news it was a shut out. We aren't going to the playoffs for the first time in 10 years.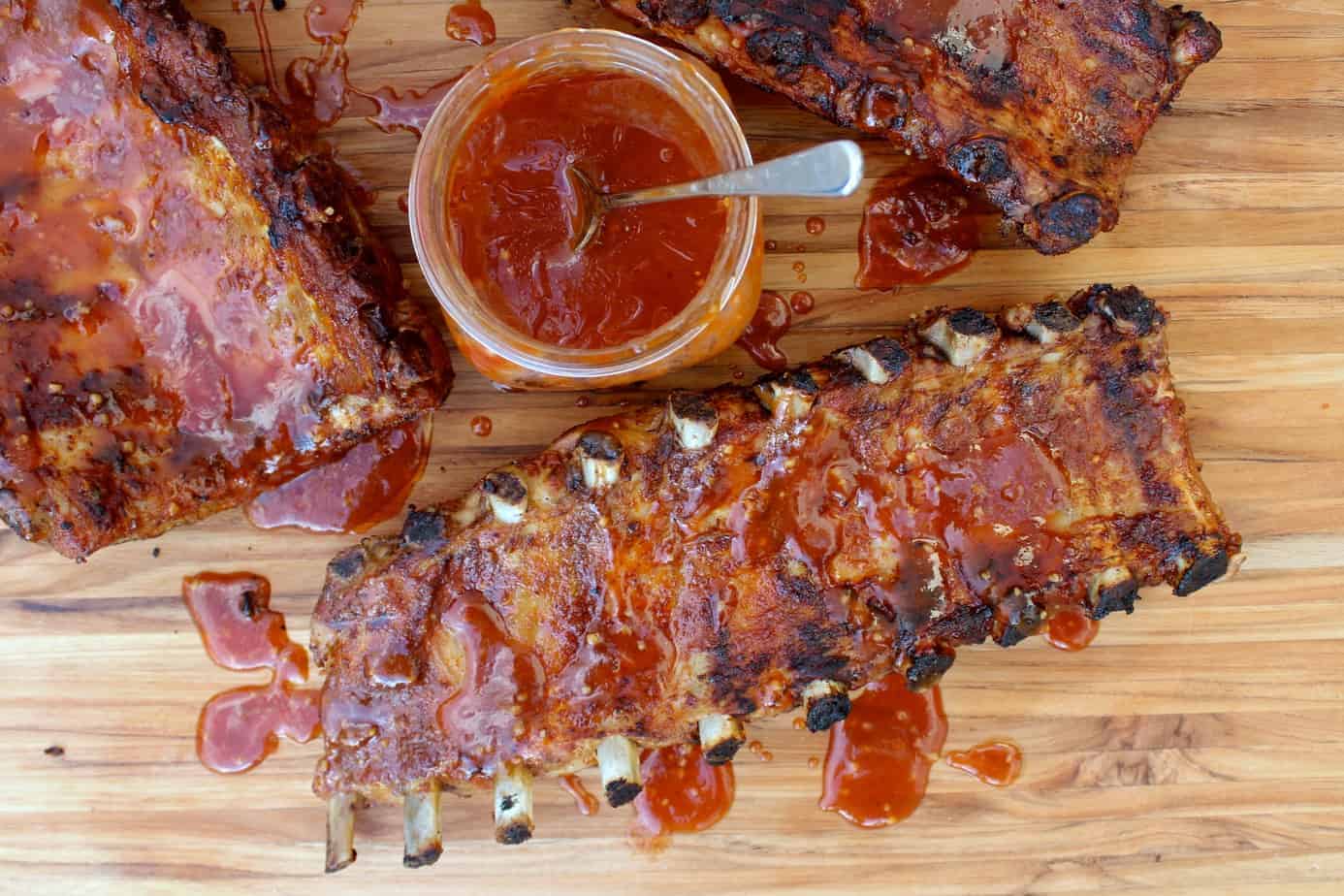 AJ's team was able to kind of sort of keep their playoff hopes alive, they were "in the hunt" as the sportscasters like to say. Until they lost on Sunday, also dashing his playoff dreams.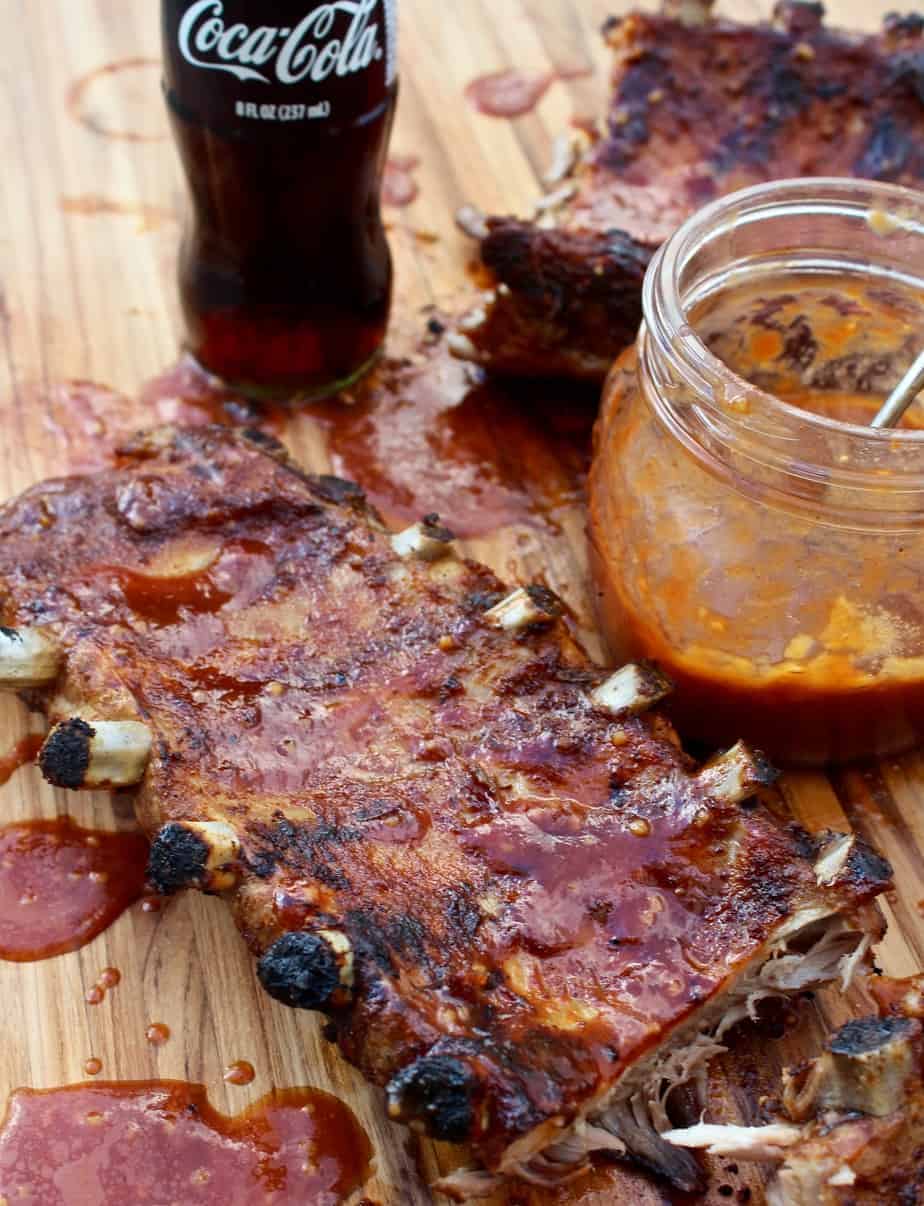 At least we have these grilled baby back ribs with Coca-Cola barbecue sauce.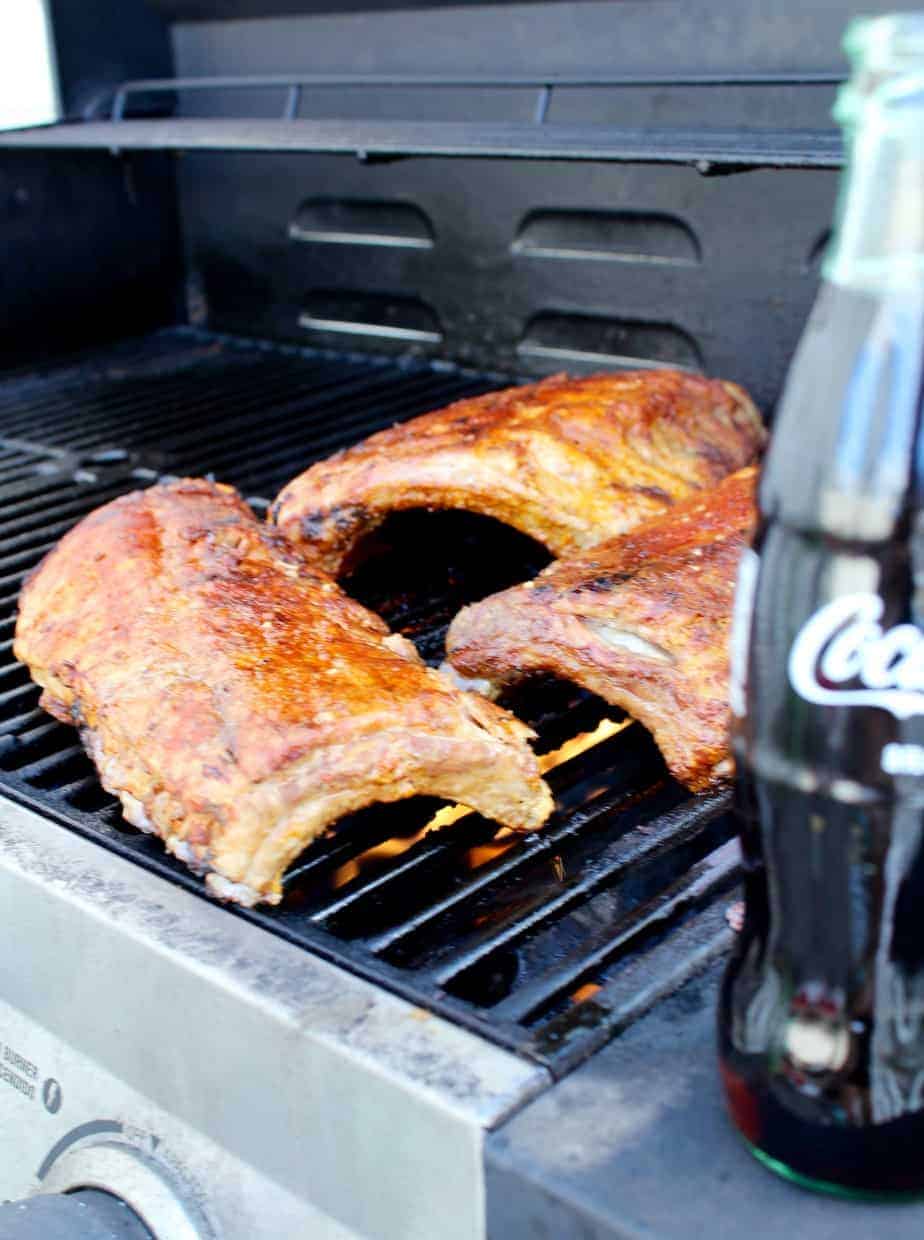 And we'll be enjoying these grilled baby back ribs while we watch the big game in February.
Just because our teams won't be in it, it doesn't mean we aren't excited for the big game.
As football fans, we'll still tune into the playoffs (and likely start backing our hometown team as they make their playoff run).
And, just like last year, we're still planning on hosting a party at our house for the big game…where we will definitely be making beer cheese fondue and roasted jalapeno poppers. (after all, my best friend is going to be in town that weekend and my birthday is the next day).
That Sunday night in February is going to be full of food, friends and football.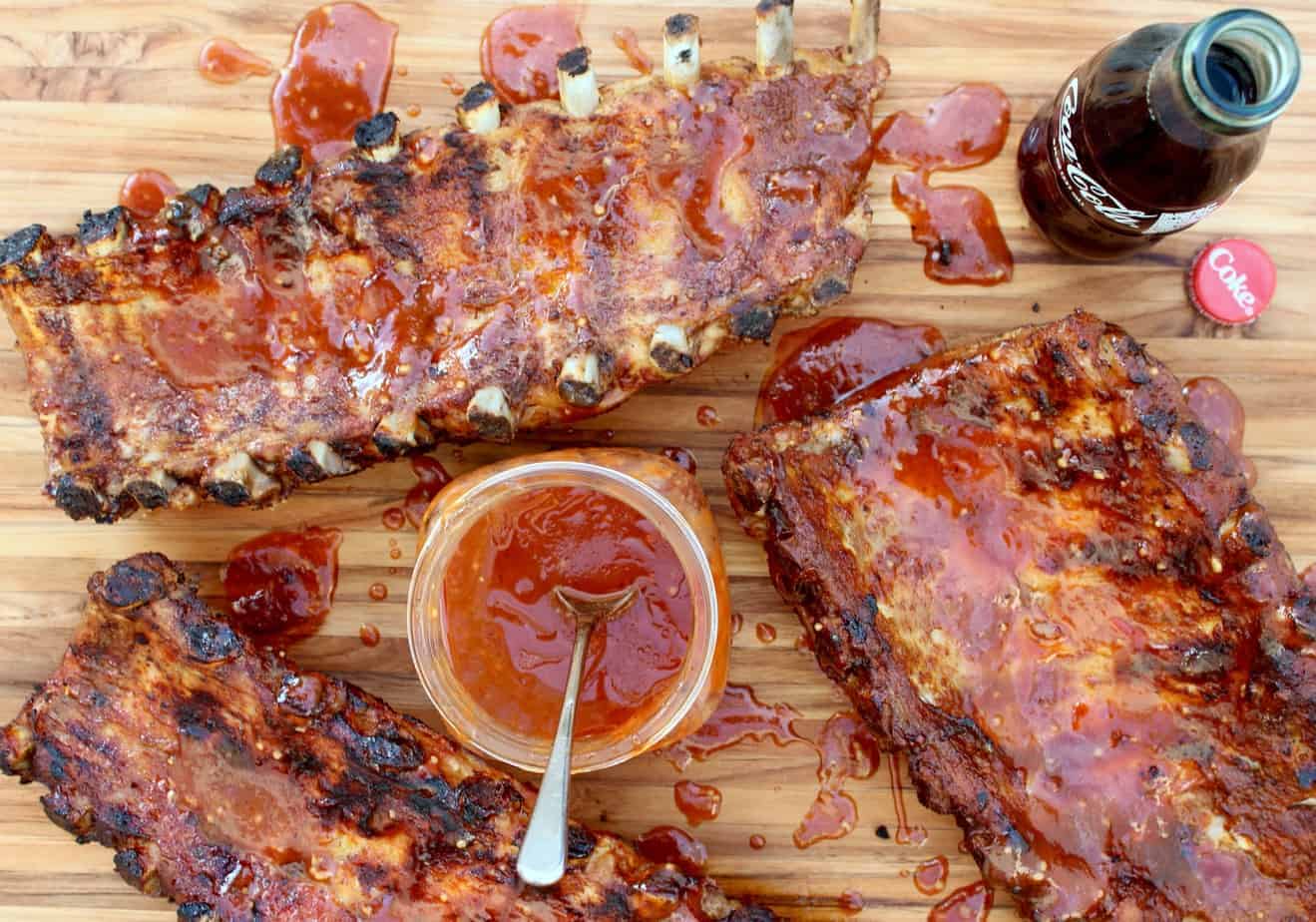 Our big game party will be potluck style; we make a few things ahead of time (last year it was barbecue) to feed a crowd and then each of our friends brings their favorite game day snack or appetizer.
This year, we're going to stick with the barbecue theme: barbecue is so easy to make ahead of time and great for a big group, leaving us time to socialize and watch them game, so grilled baby back ribs will be a part of our of our big game, Sunday night smorgasboard in all of their sticky, spicy and sweet glory.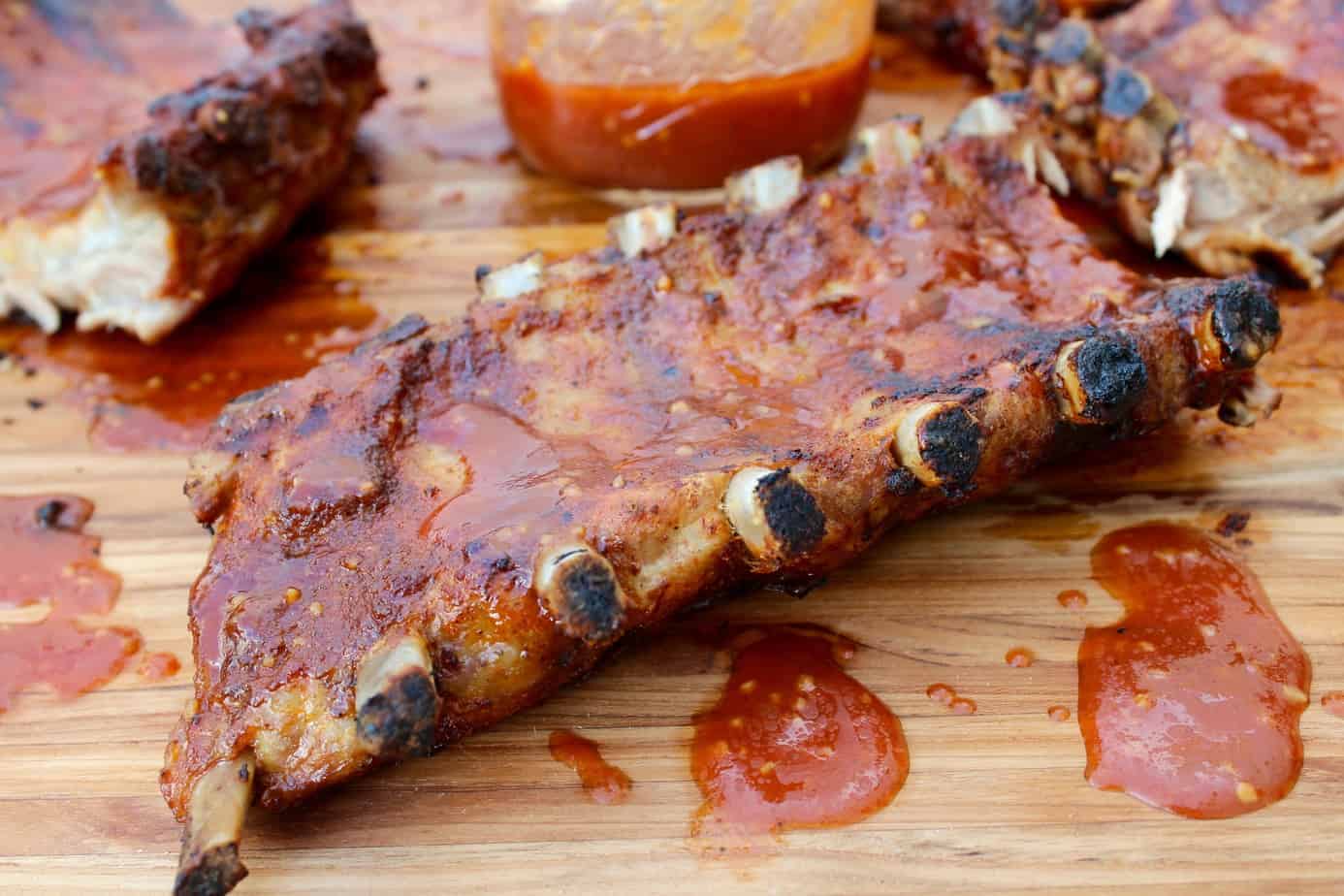 How to make Coca-Cola Barbecue Sauce
Also starring in our smorgasbord will be some ice-cold Coca-Cola, a tailgating and game day spread staple.
After all, aren't Coca-Cola and football two American classics that go hand in hand?
The Coca-Cola will be doing double duty this year because it's caramely sweetness and refreshing fizz won't just help us wash down our savory football snacks. Coca-Cola is also starring in the grilled baby back ribs barbecue sauce!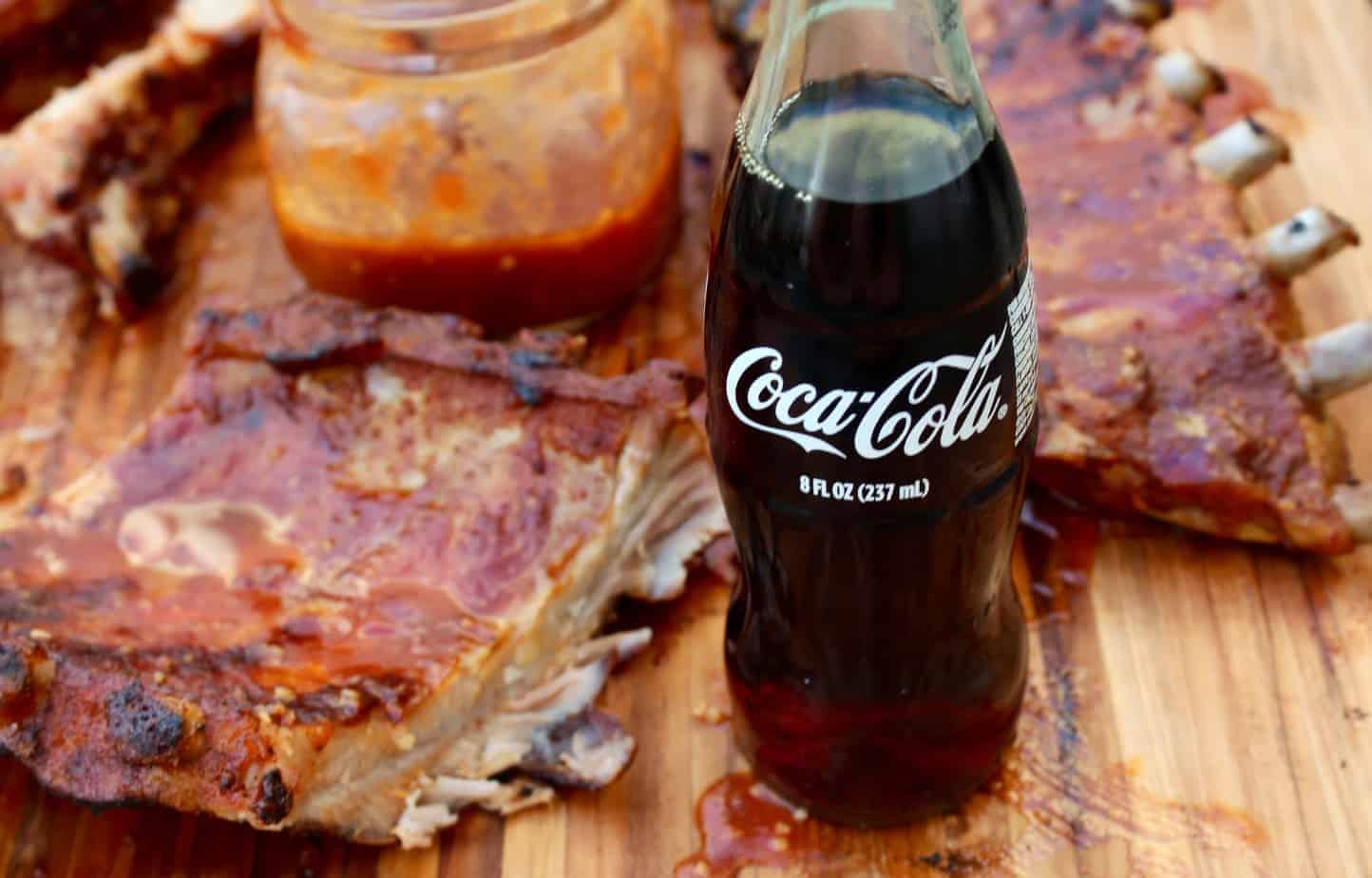 Adding Coca-Cola to the grilled baby back ribs barbecue sauce adds a different depth of flavor to the sauce than just regular old sugar or it's molasses counterpart, brown sugar.
Coca-Cola adds a sweetness that balances the flavors of the sauce without overpowering the vinegar, smoky and spicy notes.
And of course, by adding Coca-Cola to the sauce, the grilled baby back ribs and an ice cold Coca-Cola are the perfect pair!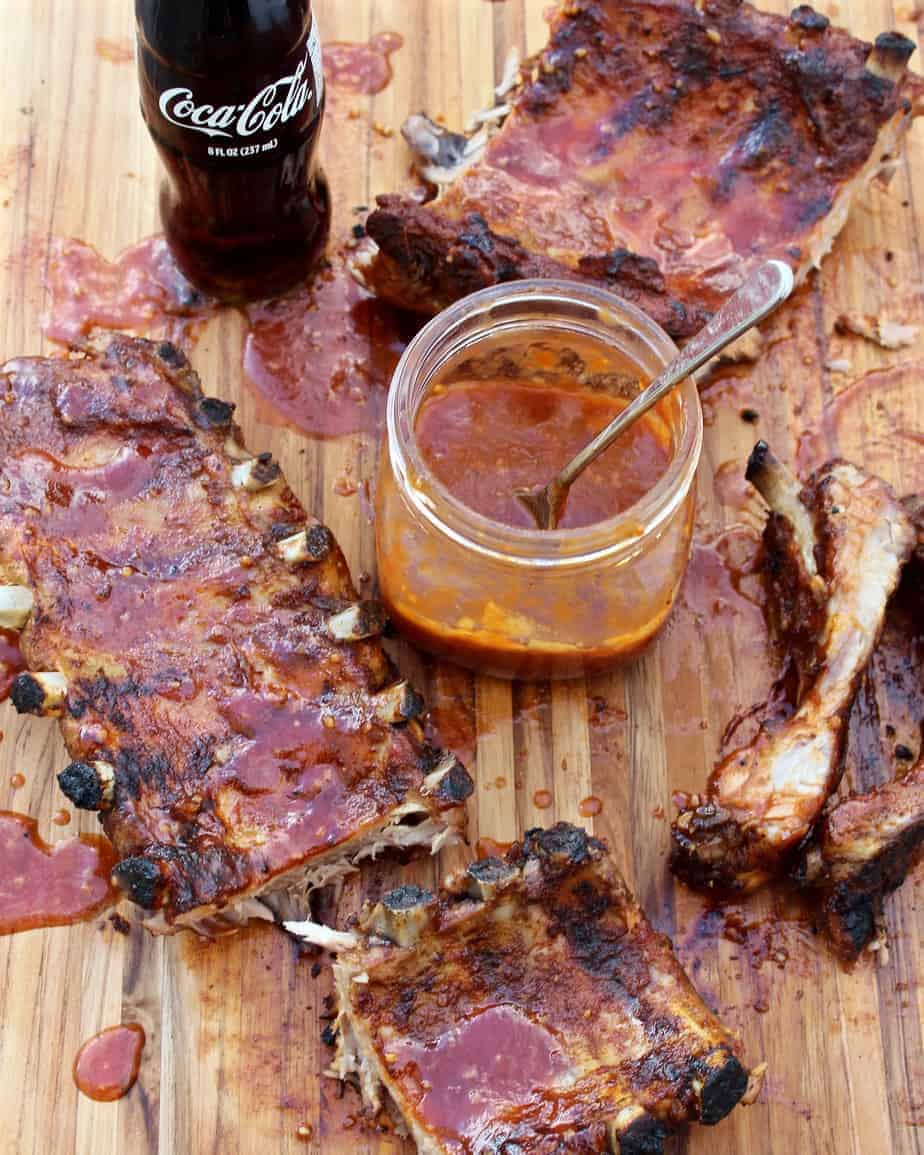 So let's start with the sauce. Combine ketchup, honey, garlic, apple cider vinegar, Dijon mustard, Worcestershire sauce, onion powder, smoked paprika and Coca-Cola into a sauce pan.
Whisk over medium heat until the sauce comes to a boil and then reduce the heat to low and simmer for 30 minutes to an hour, allowing the flavors to develop and the sauce to thicken (also, if you're prepping for a bowl game or big game party like we are, the sauce is something you can make ahead of time, it will keep in a sealed container in the fridge for up to two weeks).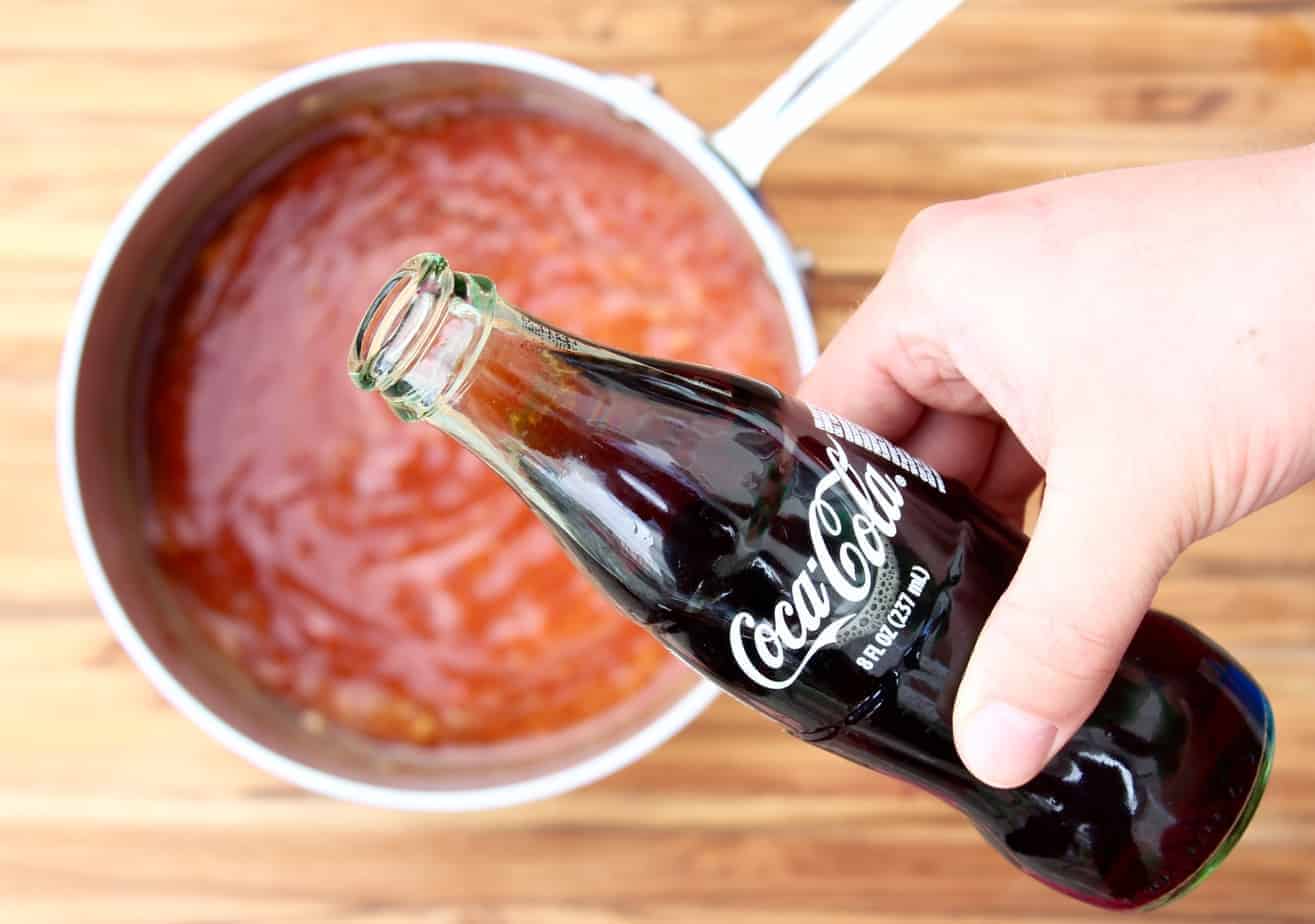 How to grill baby back ribs
Then, get your ribs ready.
Rub them down with a spice mixture of chipotle chili powder, smoked paprika, garlic powder, onion powder, pepper and dried mustard.
Then wrap them in foil and let them cook low and slow in the oven for about two and a half to three hours (yes, the cook time is long but your oven is doing all the work).
I'm all about having recipes in my arsenal that are hands off and easy to cook before my guests arrive, so I can focus on friends and football (and eating the food!) during the big game.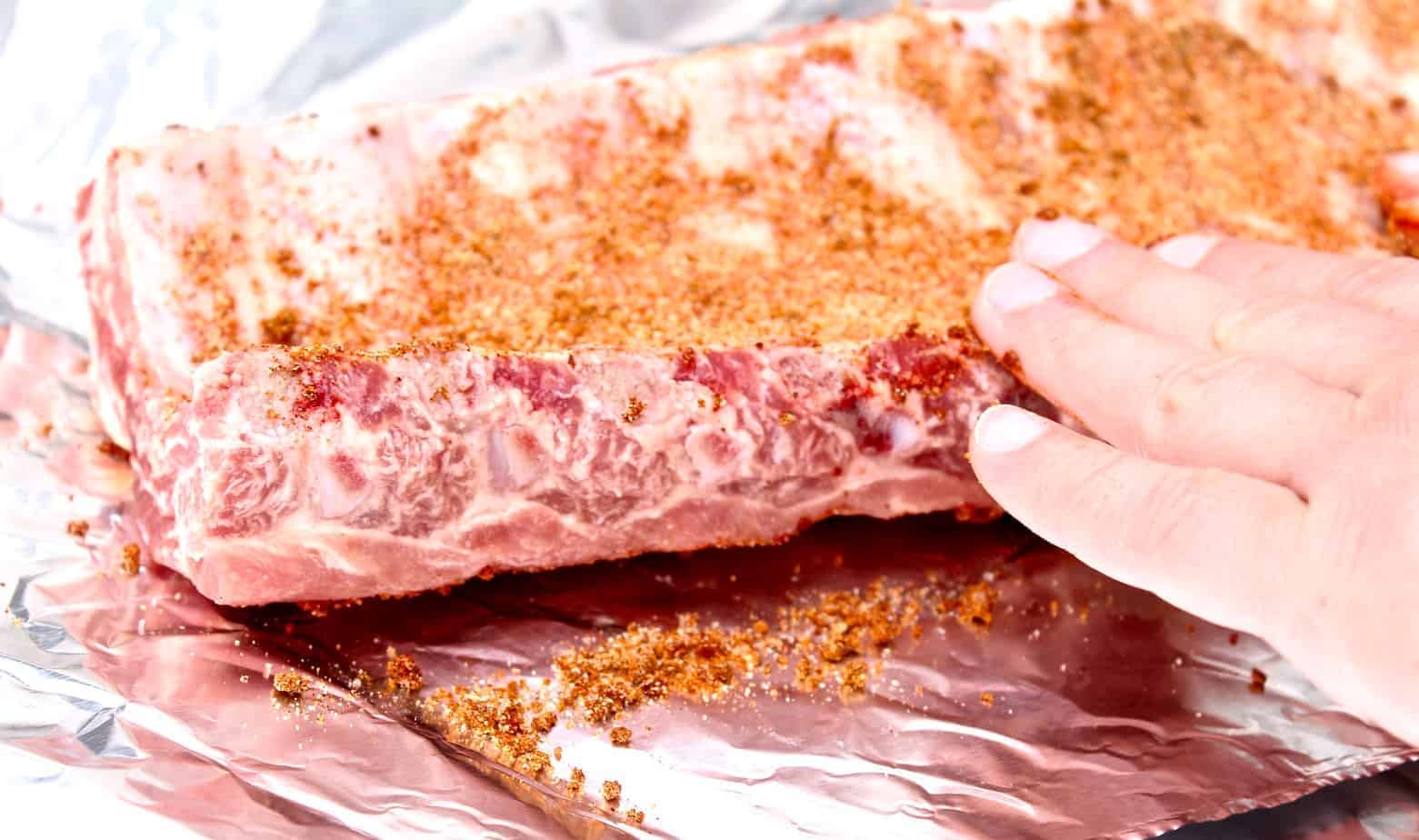 Once the ribs are done in the oven, pour the juices from the foil into about a quarter cup of barbecue sauce to create a basting sauce for the grill.
Grill the ribs for about 10 minutes while basting with the barbecue sauce, until the ribs are charred and slightly crisp.
You can wrap the grilled baby back ribs back up in foil and keep them warm in the oven until kickoff.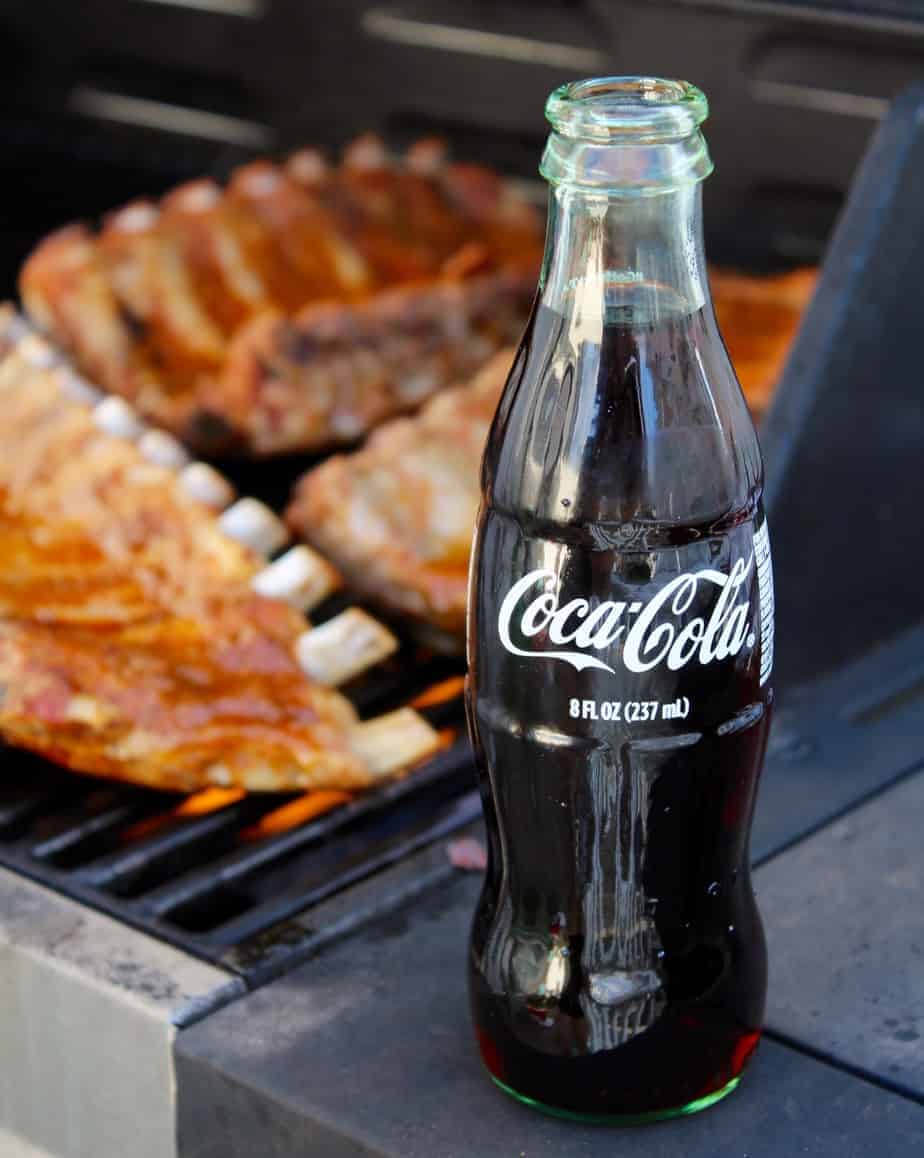 When it's time to dig in, serve the grilled baby back ribs with more Coca-Cola barbecue sauce, plenty of napkins, and ice cold Coca-Cola to wash all that spicy, sticky, sweetness down.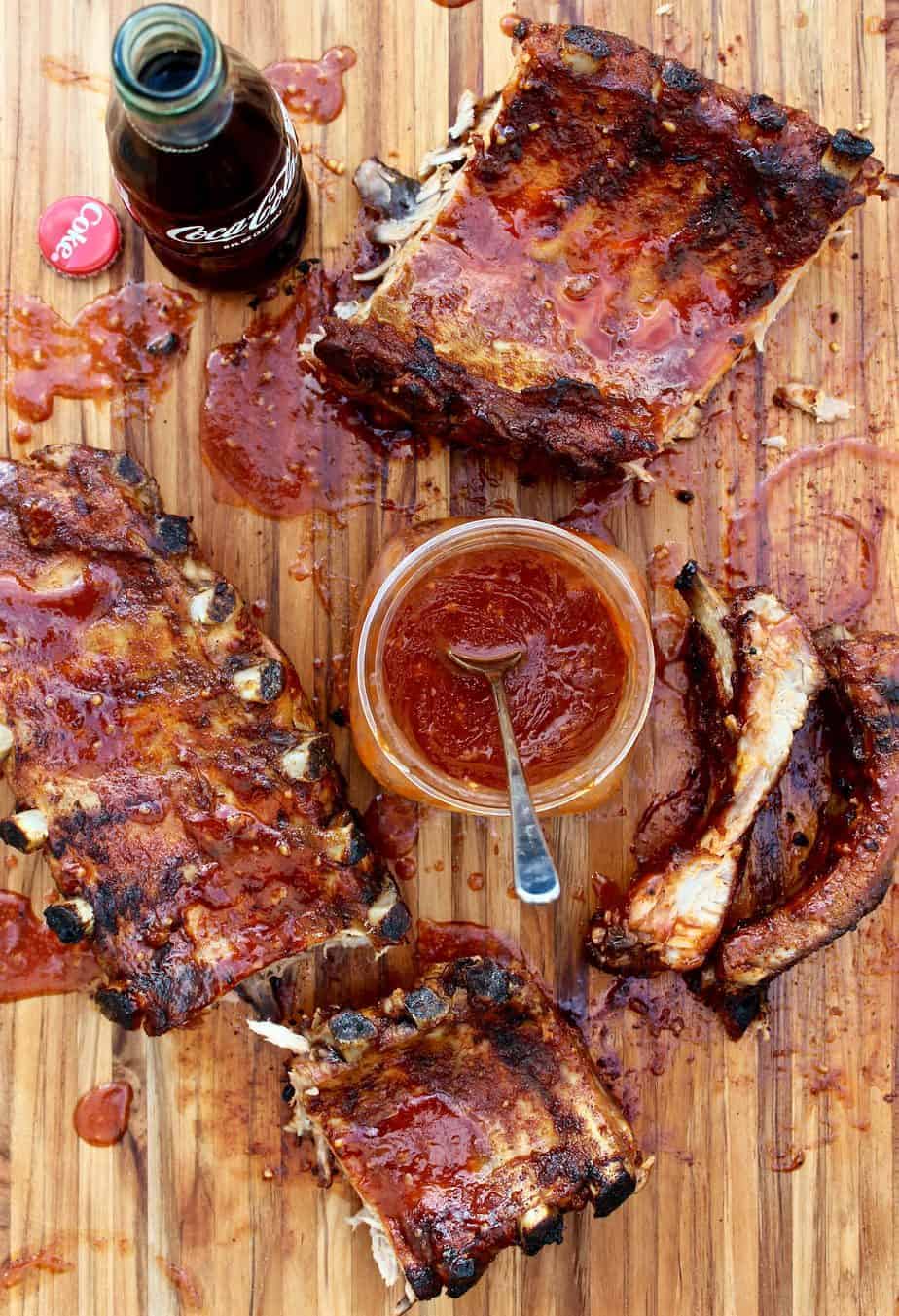 Can I make these baby back ribs in the slow cooker?
The reason I prefer grilling baby back ribs rather than just cooking them in the oven or in a slow cooker because of the smoky flavor and essence your food gets from the grill. Besides that, I love the texture ribs get after they hit the grill…it's just a little bit of crispness that you can't get anywhere else.
That being said, you CAN cook these ribs in the slow cooker if you want!
(Or if you don't have a slow cooker or a grill…cooking them the whole time in the oven works too.)
To make ribs in a slow cooker, make the barbecue sauce and rub the ribs with the dry rub.
Then layer the ribs in your slow cooker and douse them in the Coca-Cola barbecue sauce. Lather them up with sauce, but remember to save a little bit for later!
Cook the ribs in your slow cooker on low for 8-10 hours…the more racks of ribs you have in your slow cooker, the longer they will take to cook.
To add a bit of crispness at the end, when the ribs are done cooking, remove them from the slow cooker and place them on a foil lined baking sheet. Stick the sheet under the broiler for about 3-5 minutes to get a little char on the ribs.
How to reheat Coca-Cola ribs to keep them moist
If you have baby back rib leftovers after your party, do not throw them in the microwave! Follow these steps to keep your ribs super moist and full of flavor.
Preheat your oven to 250 degrees.
Remove ribs from refrigerator and let them come to room temperature. Baste them with some leftover barbecue sauce and then wrap them in aluminum foil.
Place the wrapped ribs in a baking pan or on a baking sheet and cook them for 20-30 minutes until heated all the way through.
You can broil the ribs for 3-5 minutes to caramelize them before digging in!
Are you making anything special for the big game? Click here to discover more recipes that are perfect for football bowl season and also perfectly pair with Coca-Cola.
PIN GRILLED BABY BACK RIBS WITH A COCA-COLA BARBECUE SAUCE FOR LATER!