Brat burgers combine two of my favorite things: the flavor of juicy bratwurst sausage and the shape of a hamburger patty to pile high with toppings and a hoppy beer cheese sauce. A brat burger is a patty that looks like a hamburger but tastes like a brat!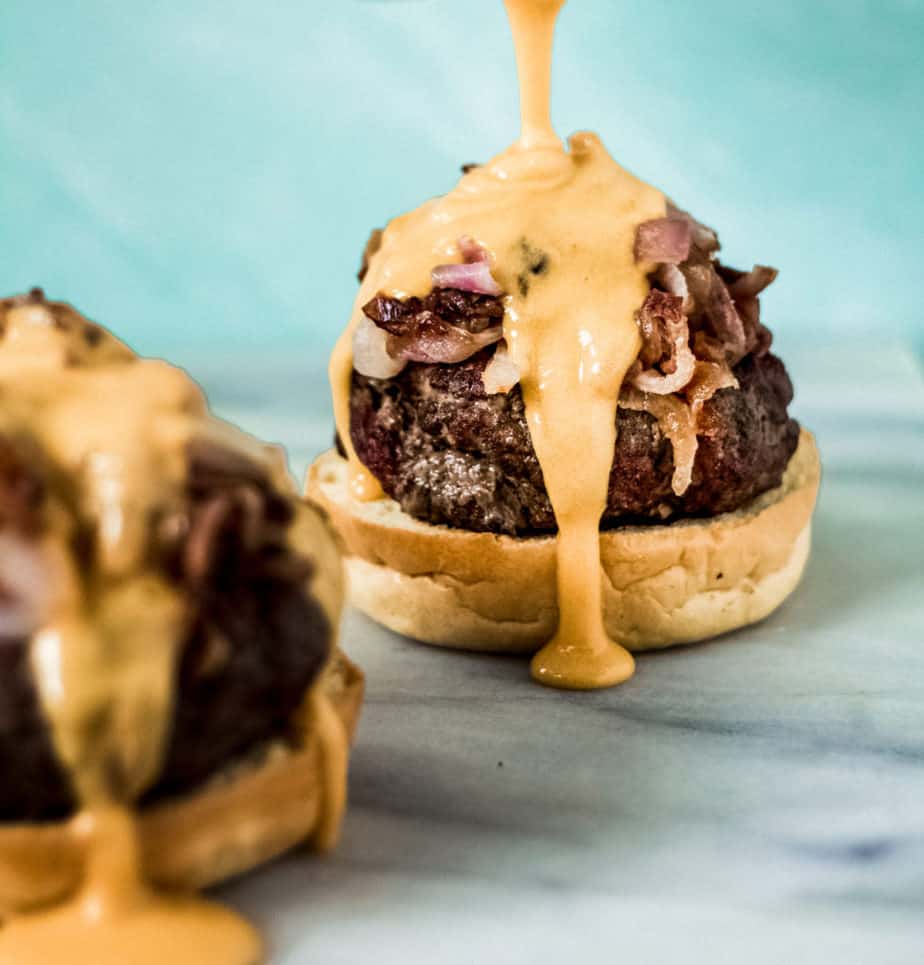 This epic burger is part of a fan-frickin-tastic month-long event hosted by Girl Carnivore, but opinions are always my own!
Looking for other grilling recipes? Check out these grilled baby back ribs, grilled brie, grilled bbq pizza, loaded grilled nachos and grilled peach sundaes! And don't miss these 28 Memorial Day cookout recipes!
Being the daughter of a cheesehead (you know, the affectionate nickname of a person from Wisconsin), I was raised with a love of Green Bay football and brats.
Besides cheese, brats are basically the state food of Wisconsin; you likely can smell (and hear) them sizzling on grills throughout the year, but especially during the summer.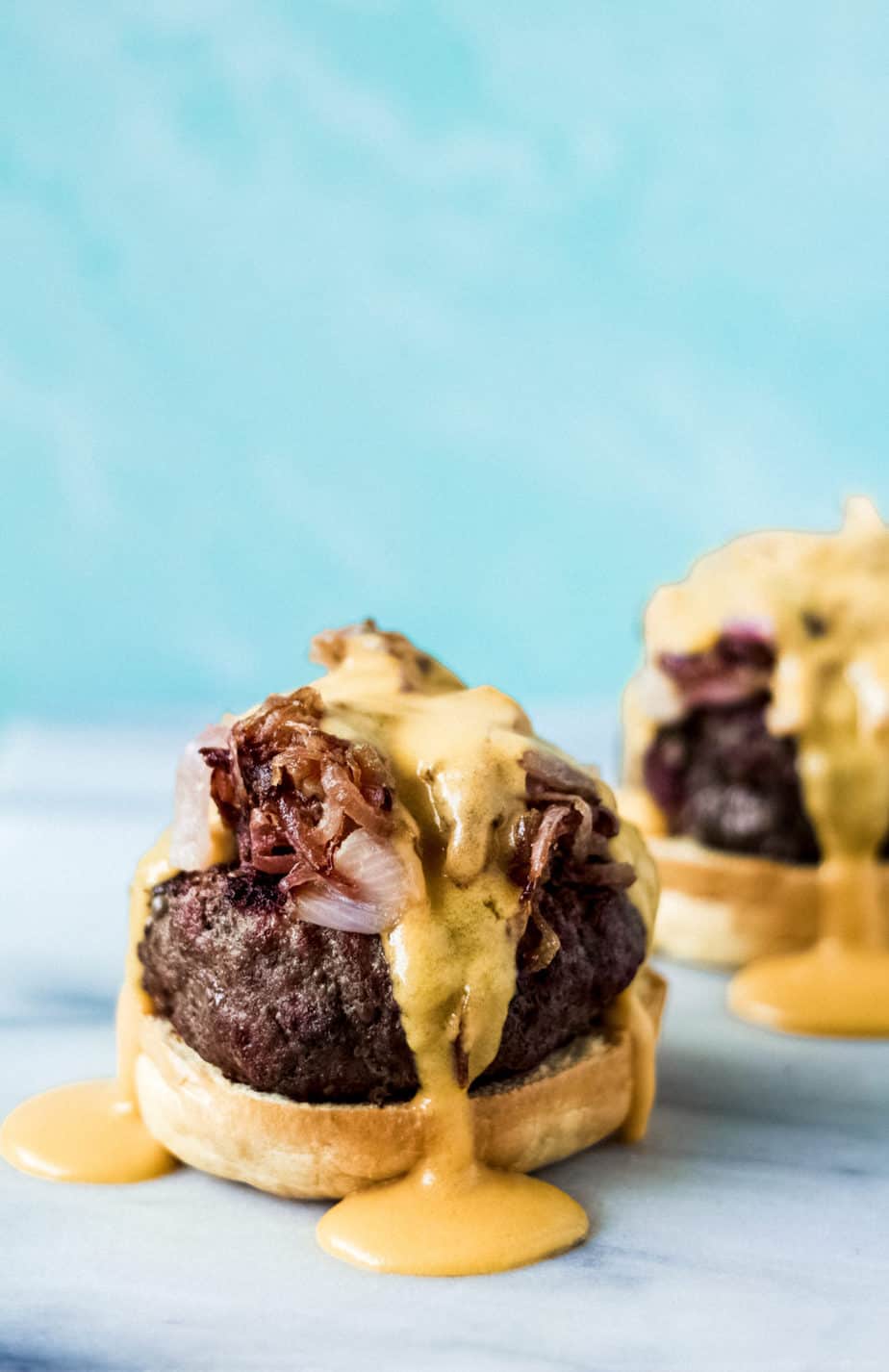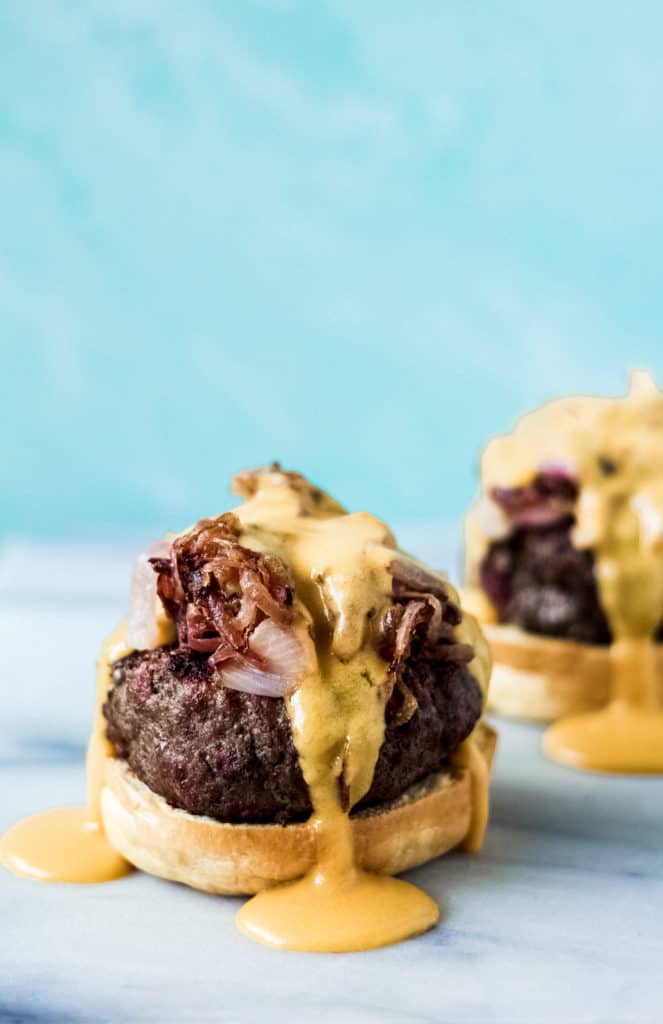 Wisconsin is well-known for bratwurst for a few reasons.
Brats were originally introduced in the United States by German immigrants, and here's a lil' fun fact, the largest ancestry group in Wisconsin is German.
Brats have become mainstays at Major League Baseball stadiums throughout the country, and were first sold as stadium food at Milwaukee County Stadium in 1954 (they cost 35 cents a piece.)
Wisconsinites have a specific way of cooking brats, also known as beer brats, where the sausages are simmered in a beer bath before hitting a hot grill (yes, you can get my dad's recipe for the best beer boiled brats.)
And, every summer, the State capital, Madison, hosts Brat Fest, which is marketed as the world's largest bratwurst festival.
People from Wisconsin just really love brats.
Besides growing up yelling at the Packers on TV while eating dad's specialty (you guessed it, beer brats), I also spent seven years living in the Badger State during college and law school.
My senior year of college, my friends and I spent many a night at the local sports bar, The Wooden Nickel, playing trivia over pitchers of New Glarus beers and baskets of deep fried cheese curds. Some nights, we'd spring for dinner, usually a burger basket with chippers (housemade potato chips). One of my favorite things to order was the Nickel's brat burger, which combined all of my favorite flavors of a brat in a flat, hamburger like patty.
So it's one part college nostalgia, one part Wisconsin roots, and one part excitement for summer and grilling season that these brat burgers with beer cheese sauce were born.
What is a brat burger?
First things first…a brat burger is exactly how it sounds.
It's the combination of two of my favorite things, brats and hamburgers, combined into one. A patty that looks like a hamburger but tastes like a bratwurst!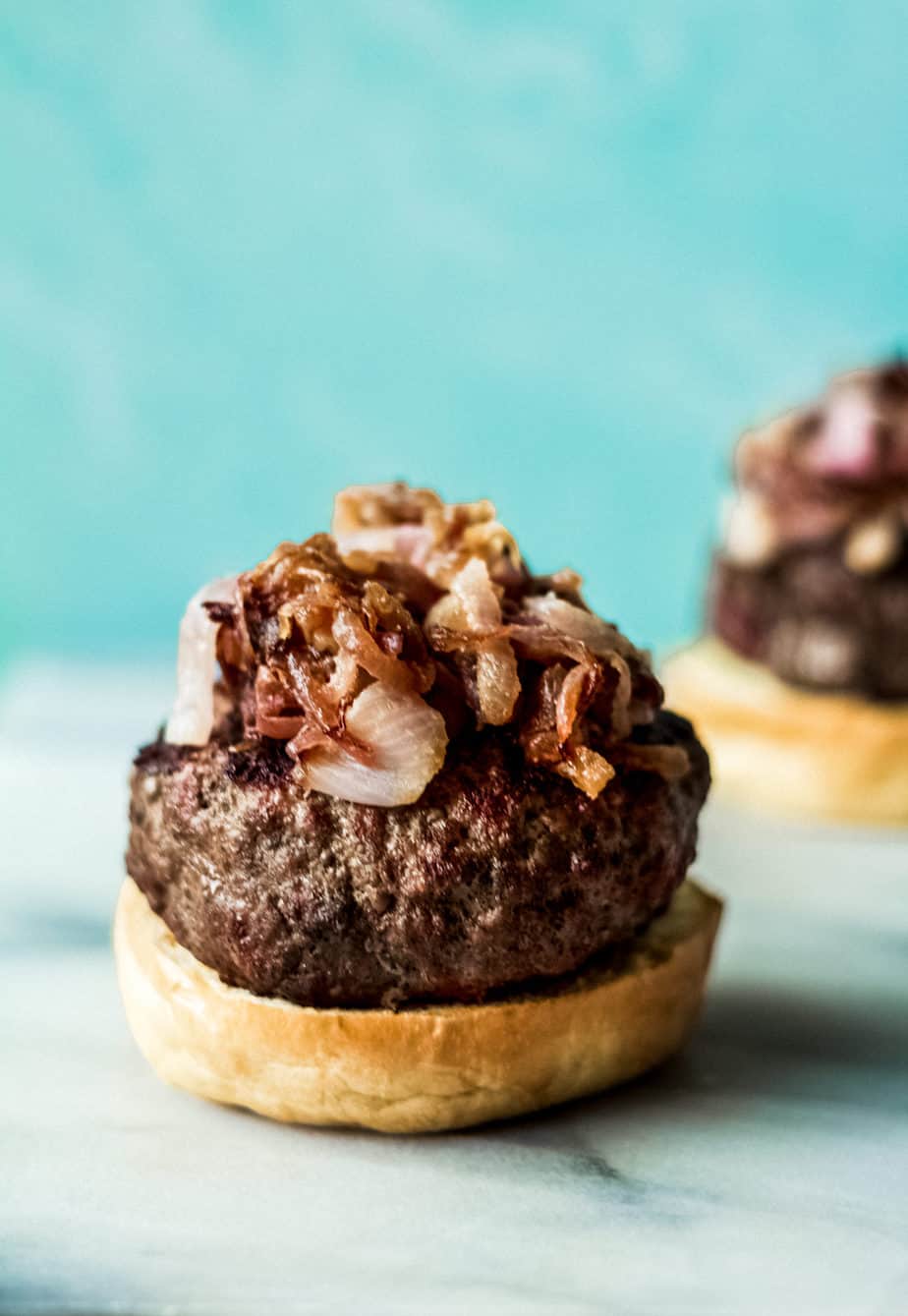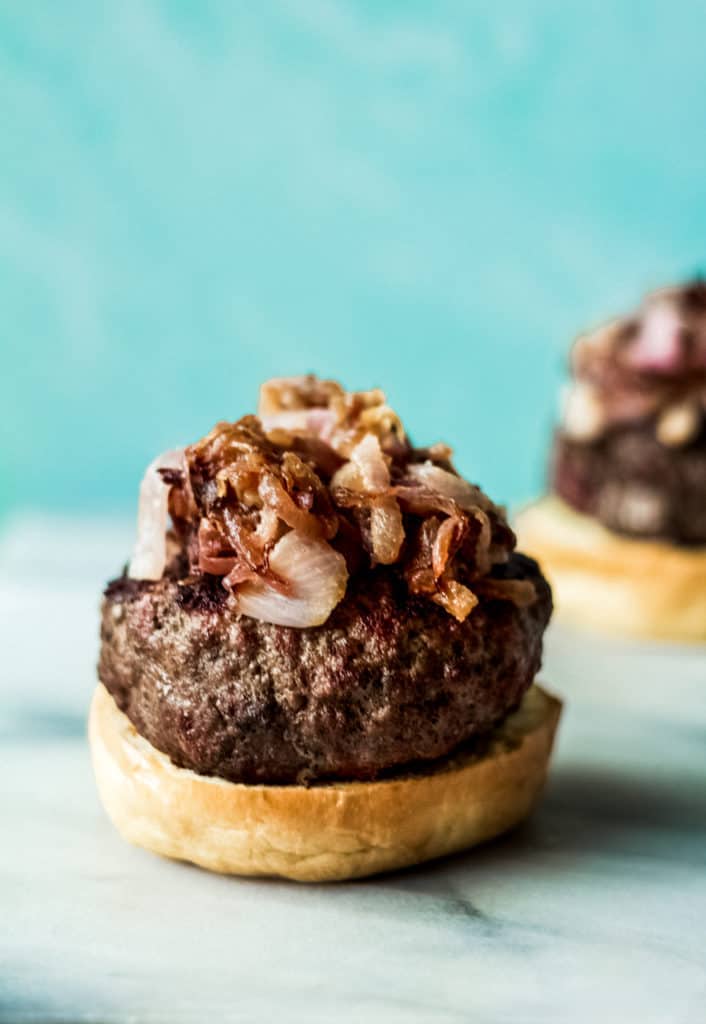 What does a bratwurst taste like?
Not all brats and sausages are created equal. A bratwurst is a specific type of link sausage that originated in Germany that is traditionally made with ground pork or veal.
Bratwurst have a very distinct flavor and that comes from the spices and seasoning used to flavor the ground meat.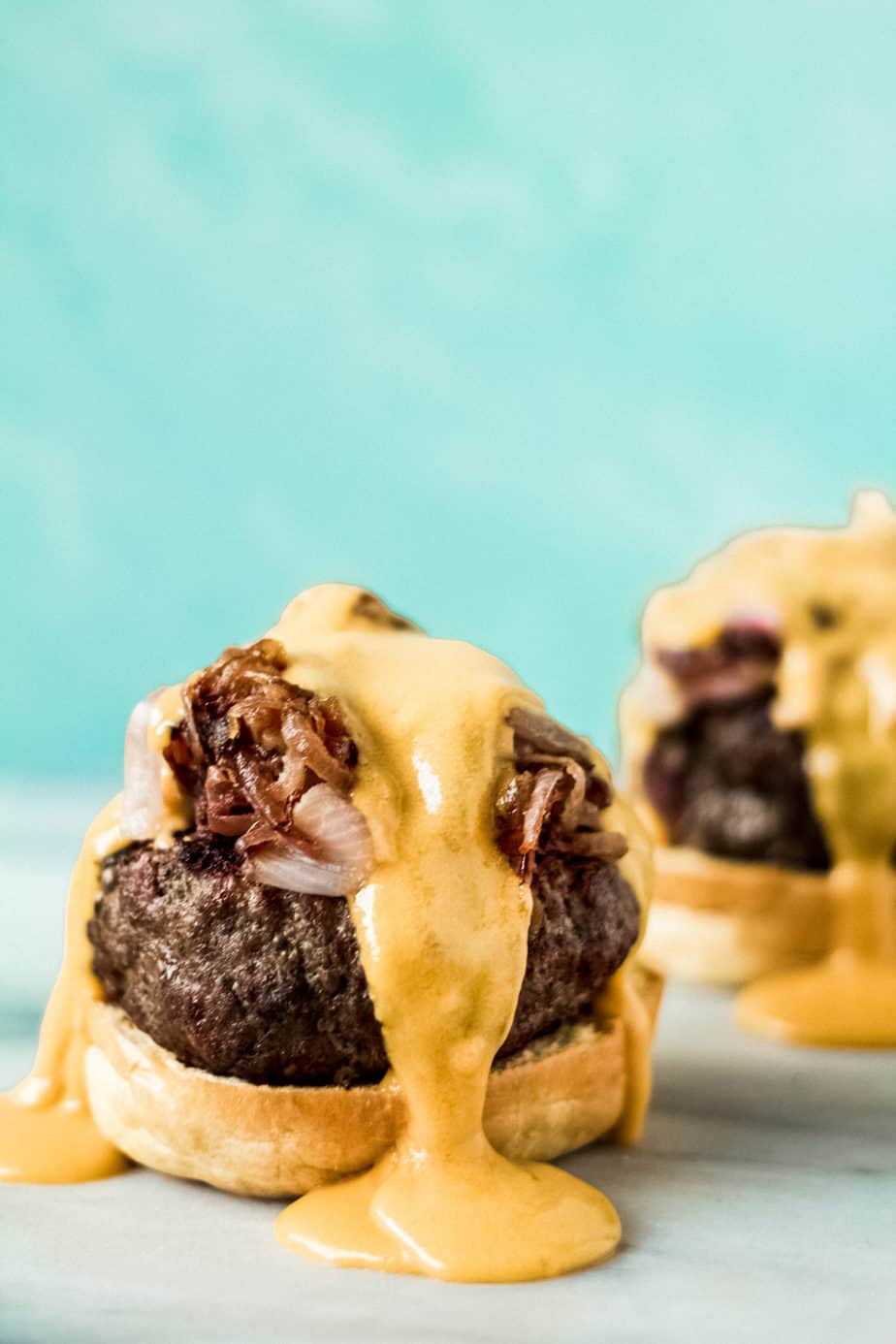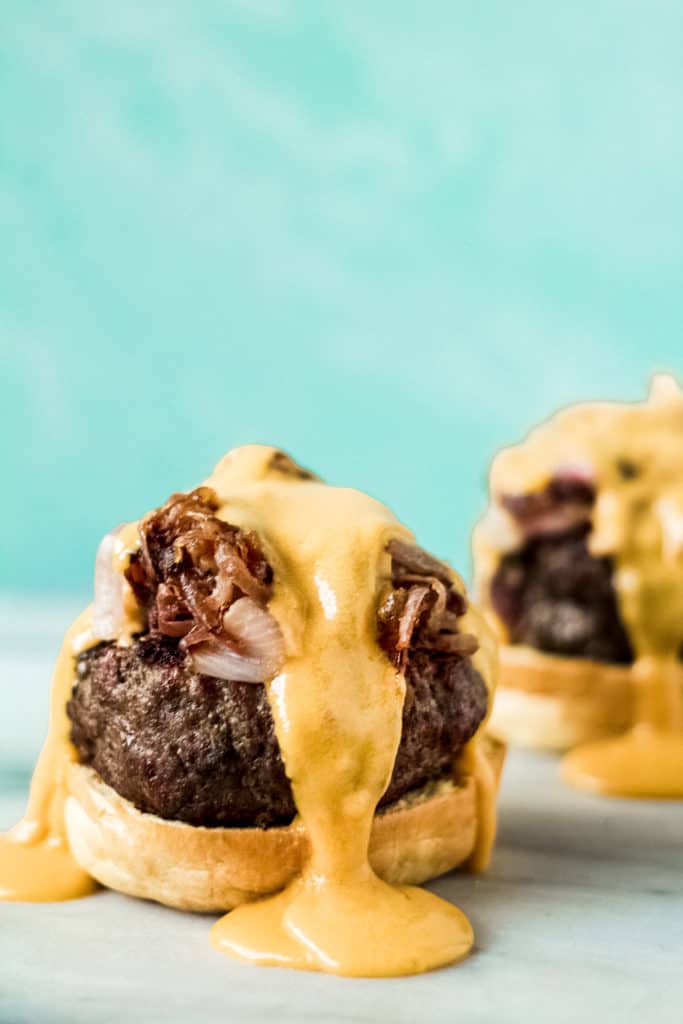 Bratwurst recipes differ depending on the region they are made in , and then also depending on the specific butcher who makes the bratwurst. Typical brat seasonings include ginger, nutmeg, coriander, caraway seeds, marjoram, salt, pepper and garlic.
How to make a homemade brat patty
A brat burger doesn't have to be homemade…in fact, you can find pre-made brat patties at the grocery store if you want to skip the homemade patty making process.
You just need a few spices (that you probably already have in your pantry) and some ground pork or beef, to make your own from scratch. I say pork or beef because while pork would be preferred (to mimic the flavor of the bratwurst sausage, also made from pork) ground pork has been scarce at least round these parts recently at our local grocery stores, so ground beef is an excellent substitute (you'll still get the same great brat flavor no matter which type of meat you use.)
Combine the seasonings and spices with the ground pork or beef in a mixing bowl. Using clean hands or a spatula or wooden spoon (I prefer to just use my hands) mix the meat with the spices until they are well combined and all the meat is seasoned.
Portion the meat to create the patties (if you have 1 pound of meat you can either have two half pound burgers or four quarter pounders). You want all of your patties to be the same size so they cook at the same rate (otherwise you'll end up with some overcooked and some undercooked coming off of the same grill).
Shape the patties. I like to go from a ball of pre-portioned meat and then turn it in my hands, while pressing down on the center and patting the sides. Keep turning, pressing and patting to make sure your patty has an even thickness throughout.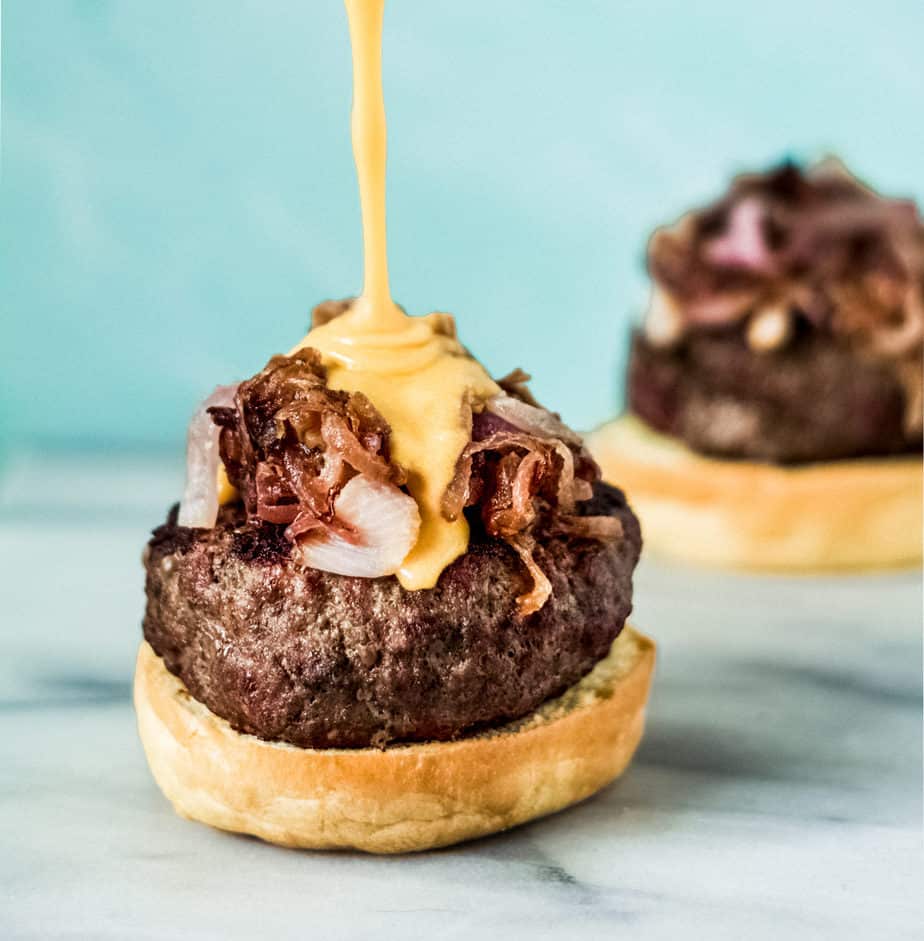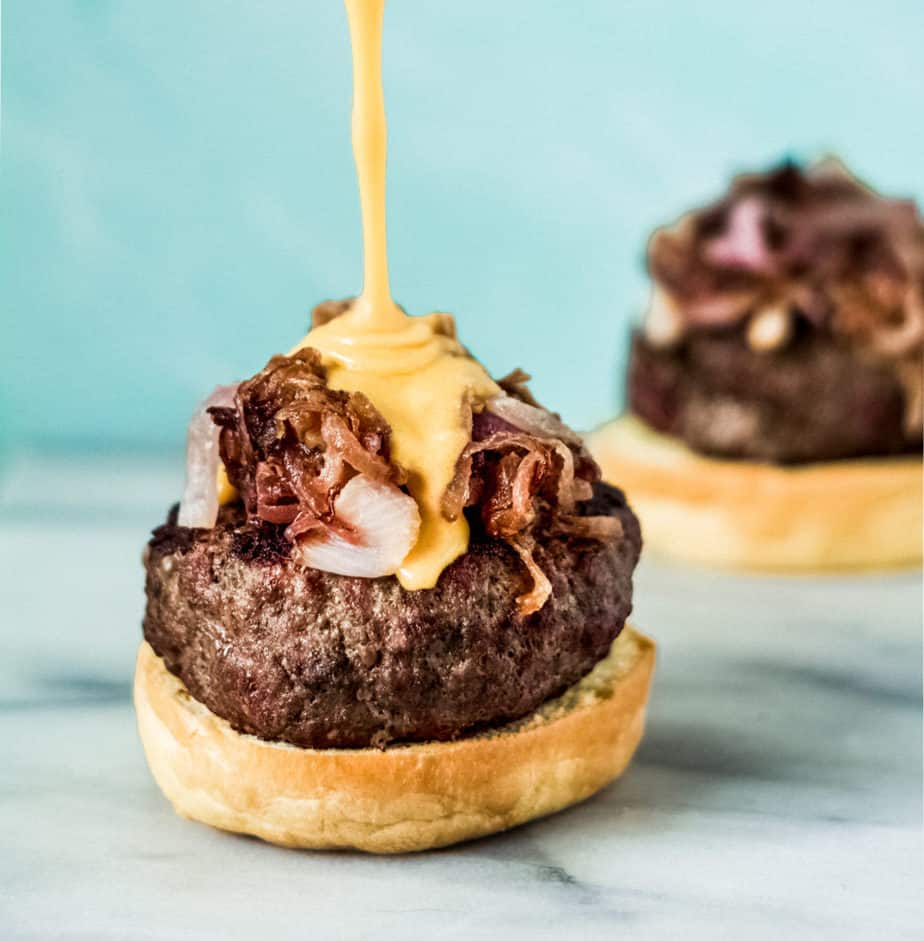 You can pre-make the patties and then store them in the fridge for later, or you can go directly from making the patties to searing them on a hot grill. You just don't want to store the patties at room temperature, so if it's going to be a little bit of time before you cook them, put the brat burgers in the fridge.
To store uncooked brat burger patties, slip a piece of wax or parchment paper in between each one, and then wrap the stack tightly in foil and refrigerate. You could also pre-make the patties and then freeze them for about three to six months, just wrap them in plastic rather than foil.
What can you put on top of a brat burger?
You can serve brat burgers with the same toppings that you'd put on a brat in sausage form.
If you're going classic (the way my dad recommends), top with brown mustard and onion (either raw, grilled, or caramelized).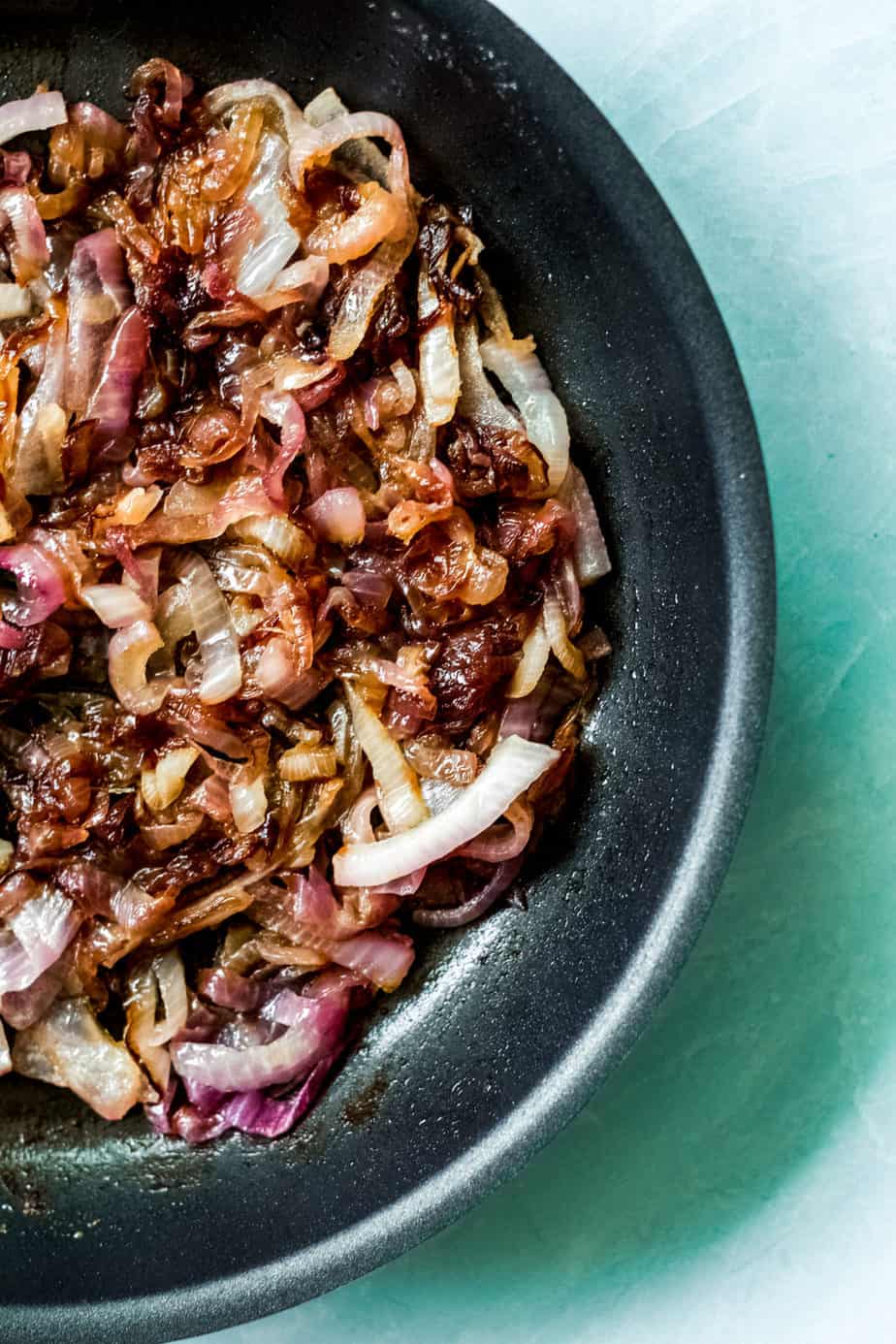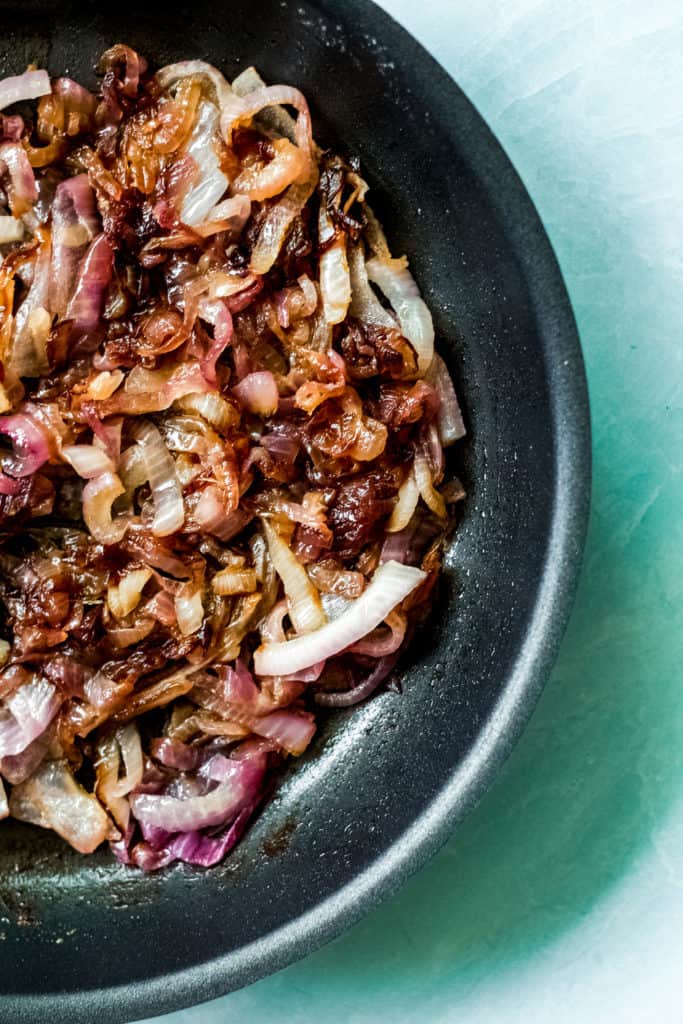 Sauerkraut is another option, but there's a heated debated (at least in my family) about whether kraut belongs on a brat or not. Don't get my dad started.
You can also melt a slice or two of cheese on your brat burger, just like you would a cheeseburger. The Wooden Nickel tops theirs with Swiss cheese but I think cheddar would really hit the spot too.
Our favorite way to eat brat burgers?
Piled high with soft, sweet, slow cooked caramelized onions and finished off with some warm beer cheese sauce. This creamy sauce combines a hoppy IPA and sharp cheddar cheese to get its bold, rich flavor (it's pretty similar to Beer Cheese Fondue, just a little thinner in texture) and tastes great on top of burgers, nachos, hot dogs and more.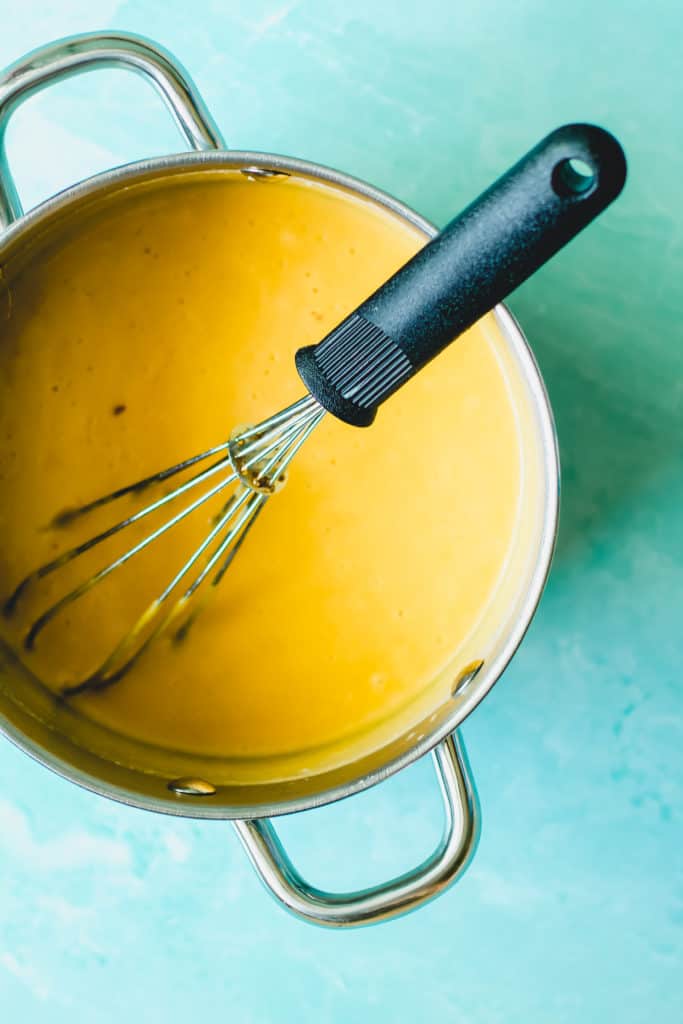 Disclaimer: Thank you to #BurgerMonth Sponsors: Cabot, Anvil & Hammer, New York Beef Council, Red Duck Foods, and Spoonabilities for providing prizes for this epic event. All opinions are my own. The #BurgerMonth giveaway is open to U.S. residents, age 18 & up. All winning entries are verified. By entering you give the right to use your name and likeness.
The number of entries received determines the odds of winning. One winner for each weekly giveaway will be selected. The prize packages are sent directly from the sponsors. Winners have 48 hours to respond or they forfeit the prize and another winner(s) will be chosen.
The #BurgerMonth Bloggers are not responsible for the fulfillment or delivery of the prize packages. No purchase necessary. Void where prohibited by law. This promotion is in no way sponsored, endorsed or administered by, or associated with Facebook, Instagram, Pinterest, Twitter or any other social channel mentioned in the #BurgerMonth posts or entry.