This fresh garden salsa recipe swaps the typical tomatoes with a sweet summertime staple, watermelon, and can be made with ingredients you grow yourself or pick up at your local farmer's market!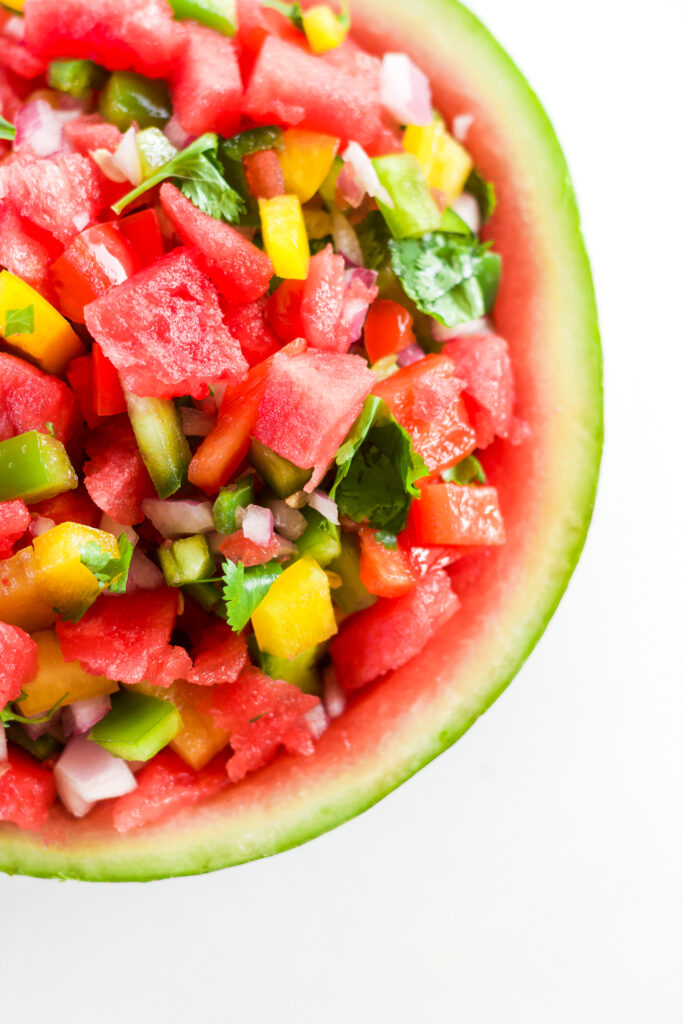 I'm going to keep this short and sweet because, well, we're at the beach this week!
(Every summer my family spends a week together in North Carolina's Outer Banks soaking up the sun and playing in the sand and surf).
And while seafood is of course our beach week staple, we also love snacking on fresh fruits and fresh veggies that we pick up at one of the local farm stands on our drive over from Charlotte because during this time of year, we are in peak fresh produce season here in North Carolina!
So it was literally perfect timing with our summer Freaky Friday round up coming up when I was assigned to make one of Rebecca's recipes from her blog, Devour Dinner. She has the most mouthwatering fresh garden salsa recipe on her site featuring one of my favorite summer ingredients, watermelon! So we picked up a a North Carolina watermelon and I whipped us up a batch the first day we were at the beach.
It was gone in two days…it was that good! Don't worry, I have all the details of how you can make this super easy and flavorful fresh garden salsa recipe below.
So what is Freaky Friday?

Freaky Friday is a good old-fashioned blog hop.
What's a blog hop?
A blog hop is where a group of bloggers get together and make each others' recipes! Michaela, from An Affair from the Heart, organizes this virtual event 5 times a year…she secretly assigns each of us another blog to cook from…we make the recipes, take photos, write our blog posts, and then on the same Friday, we all reveal our recipes.
This is my third time participating (my first time was in February and I made extra crispy air fryer chicken wings and my second time was in May when I made grilled vegan guacamole!) and my favorite thing about Freaky Friday is seeing what everyone made! It's so fun to hop from blog to blog looking at everyone's posts.
And for our readers, there's a collection of seasonal recipes all in one place, and a great way for y'all to meet some new bloggers.
Take a look at all of our 2021 Freaky Friday Summer Edition Recipes:

Let's meet Rebecca!
Rebecca promises once you start browsing her blog, Devour Dinner, you'll be able to solve the age old question we all have asked ourselves, "What's for dinner?" She says with the recipes on Devour Dinner, "No longer will you need to wander the kitchen aimlessly trying to think of how to put food together and feel good about calling it dinner." With her blog, she hopes not only to take the guesswork out of what to serve for dinner, but to also pass along to her family, friends and readers a deeper passion of cooking.
When Rebecca isn't cooking and creating new delicious recipes for her blog, she's busy spending time with her family and their dog, Finn. She also loves to travel and hopes "to see more wonders of the world where I can experience different cultures and foods."
With so many mouth watering options on her site, it was really hard for me to decide which one of Rebecca's recipes I wanted to make.
Did I want to one of my favorite appetizers of all time, Grape Jelly Meatballs? (I have a similar recipe in my cookbook!) Or try a new app, like Baked Garlic Parmesan Wings that literally made me drool on my keyboard? Rebecca had a few pasta salad recipes that looked perfect for summertime cookouts like Bacon Ranch Pasta Salad, BBQ Ranch Pasta Salad, and Southwest Pasta Salad (and a ton more!) Or did I want to satisfy my sweet tooth with some Lemon Pound Cake or Cherry Hand Pies?
After a lot of deliberation, I finally settled on Rebecca's Watermelon Salsa because watermelon simply screams summer to me and this is the summer edition of Freaky Friday after all!
PS: Looking for other summer recipes? We have some great ones! Check out: grilled peach sundaes, sparkling peach sangria, peach frose, peach whiskey smashes, watermelon frozen rose, s'mores fondue, and frozen gin and tonics.
What you'll need to make this fresh garden salsa recipe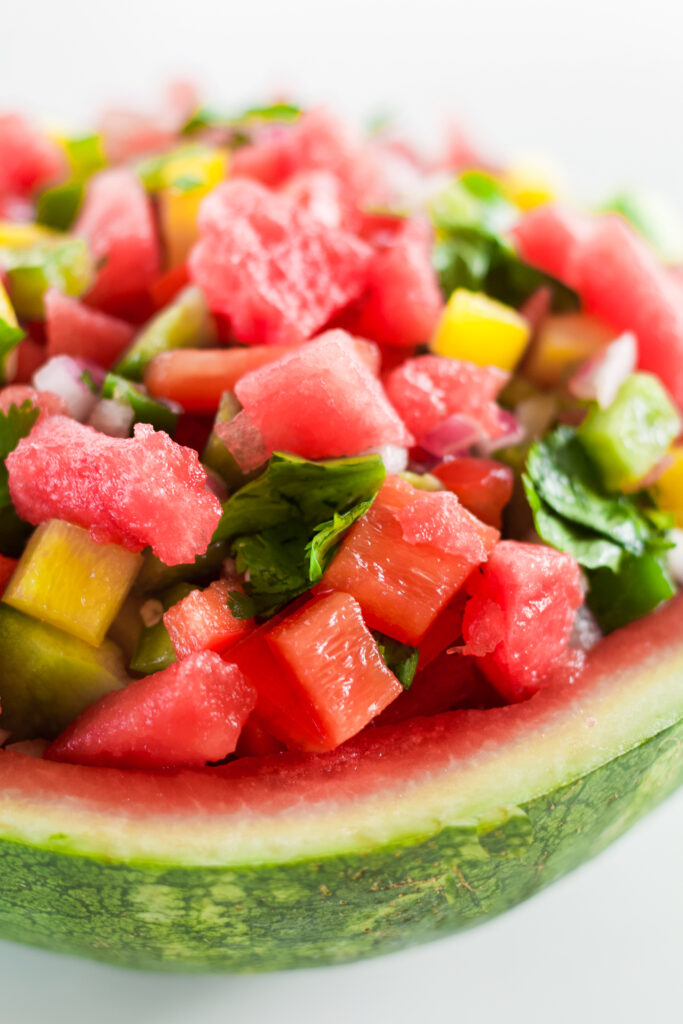 When it comes to tools and appliances to make watermelon salsa, the list is short:
A big, sharp knife
A spoon
A mixing bowl
A cutting board
Measuring spoons and cups
In addition to this short list of kitchen equipment, here are the salsa ingredients (you could grow most of these fresh ingredients at home in your garden or pick them up at your local farmer's market or produce stand):
Watermelon
Red Pepper
Green Pepper
Yellow Pepper
Fresh Cilantro
Red Onion
Lime Juice
Honey
Jalapeno Pepper
Salt
Your favorite tortilla chips, for serving
How do you make homemade garden salsa?
You want to start by prepping all of your ingredients.
Break down the watermelon. The easiest way to cut a large watermelon is by using a big knife and slice it in half, then in quarters. Remove the rind, and cut the pink flesh up and once you have about two cups of finely chopped watermelon, put it in a bowl.
Dice the other ripe ingredients including the onion, green bell pepper, yellow bell pepper, and red bell pepper. Slice the hot pepper in halve and remove the seeds and dice (in my opinion, the jalapeno gives enough heat without the seeds but you can always keep the seeds for even more spice). Give the cilantro a rough chop.
Before mixing all the ingredients together, drain the liquid from the watermelon that has been sitting and then combine the remaining ingredients in the bowl and mix up.
You can store the salsa in an airtight container in the fridge for up to a week, but I promise you its not going to last that long…it is that good!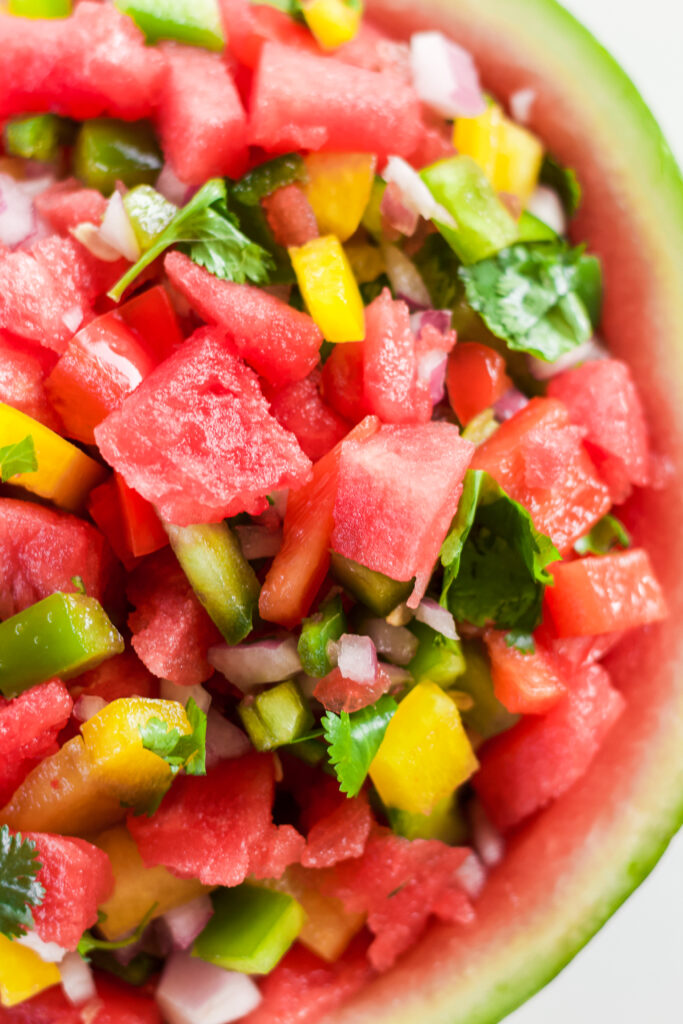 Fresh salsa recipe tips and tricks
Adjust the salsa taste. The biggest tip when it comes to making fresh homemade salsa from scratch is taste, taste taste. Make sure you taste after you're done mixing everything together and then customize the salsa to your liking. Do you prefer things a little spicier? Add some more jalapeno! A little more sour? That means more lime juice. And don't forget the salt…salt can totally change the characteristics and flavor of a dish and usually you need more salt that you think! (Sometimes up to a whole teaspoon of salt)
Let your salsa sit. It's going to be hard to not dive right into the bowl of watermelon salsa after your finished putting it together, but trust me, it's worth it to have a little patience. Fresh garden salsa always tastes better after the flavors have had some time to come together, so wait about 20 to 30 minutes while it sits out at room temperature before diving in to showcase this salsa's best flavor.
Watermelon naturally produces extra liquid as it sits. If you break down and then slice the watermelon first, make sure that you drain it before mixing it together with the other salsa ingredients.
When is watermelon season?
While you can likely find watermelon at your local grocery store all year round (likely coming from a warm weather climate like Texas, Florida, California, Mexico or Central America), if you want to buy watermelon locally or grow your own, it really depends where you live.
If you live in North Carolina, you'll be able to find this summer staple at your local North Carolina farmers market during July and August when they are in season in the Tarheel State (tomato season and watermelon season overlap in North Carolina). North Carolina ranks eighth in the United States for watermelon production, growing over 6,500 acres of watermelons annually!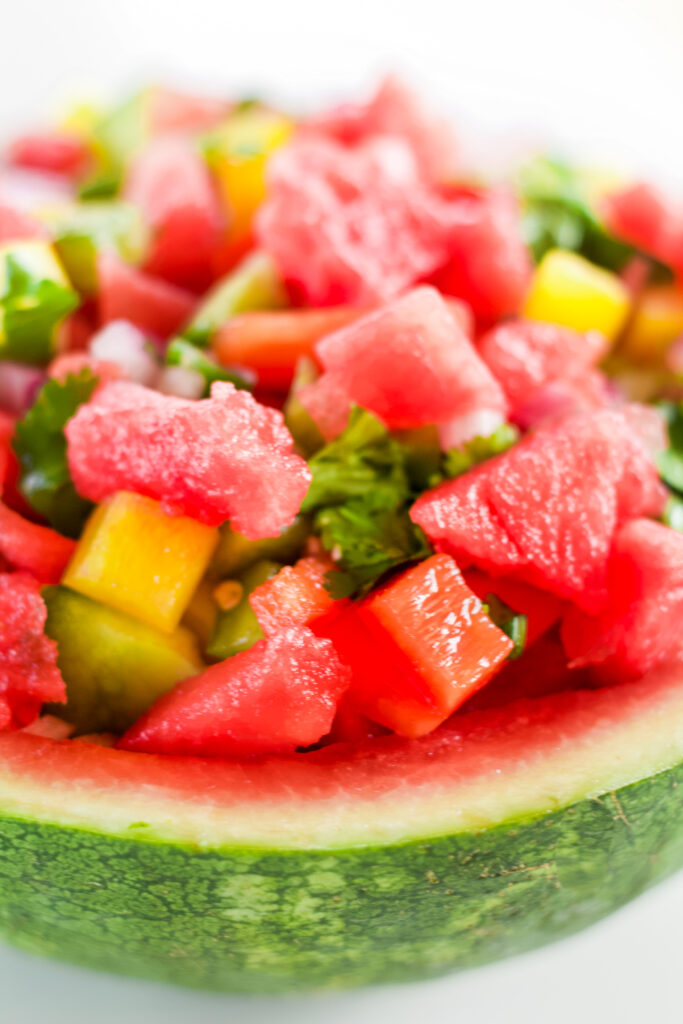 If you want to grow your own watermelon, there are several factors that affect growth including soil quality, weather conditions, water consumption, sunlight availability and geographical location. No matter what type of watermelon you are growing (there are over 1,200 watermelon varieties), make sure you plant the seeds one month after the last frost of the year because watermelons generally cannot handle temperatures less than fifty degrees (if you want to start your seeds early, you can always grow them inside and then plant them outside after it warms up).
It takes between 65 and 90 days for a watermelon to grow, depending on variety. Before picking your watermelon (or purchasing it at the grocery store or farmers market), inspect it for ripeness. Thump your watermelon (yes, you read that right, give it a tap!) and listen for a dull, deep sound like a drum or knocking on a door. You can also look at the bottom of the watermelon (where it was touching the ground) and it should be yellow, not white (if its white it is not ripe yet).
Can I use other fruits in salsa?
While many of the best salsa recipes feature fresh tomatoes, garden tomatoes, roma tomatoes, heirloom tomatoes or cherry tomatoes as the base or main ingredient, using fruit instead of tomatoes in salsa can give your dip a delicious sweet and spicy combination. Who else digs sweet and spicy or sweet and savory combos? To me, they are one of the best things!
If you don't have access to a delicious watermelon, there are a variety of other fruits you can use when making your own salsa including:
peaches
mango
pineapple
nectarines
strawberries
kiwi
blueberries
cantaloupe or honeydew melons