Featuring fresh peaches, vanilla ice cream and homemade salted caramel sauce, these grilled peach sundaes are a simple, summertime sweet treat.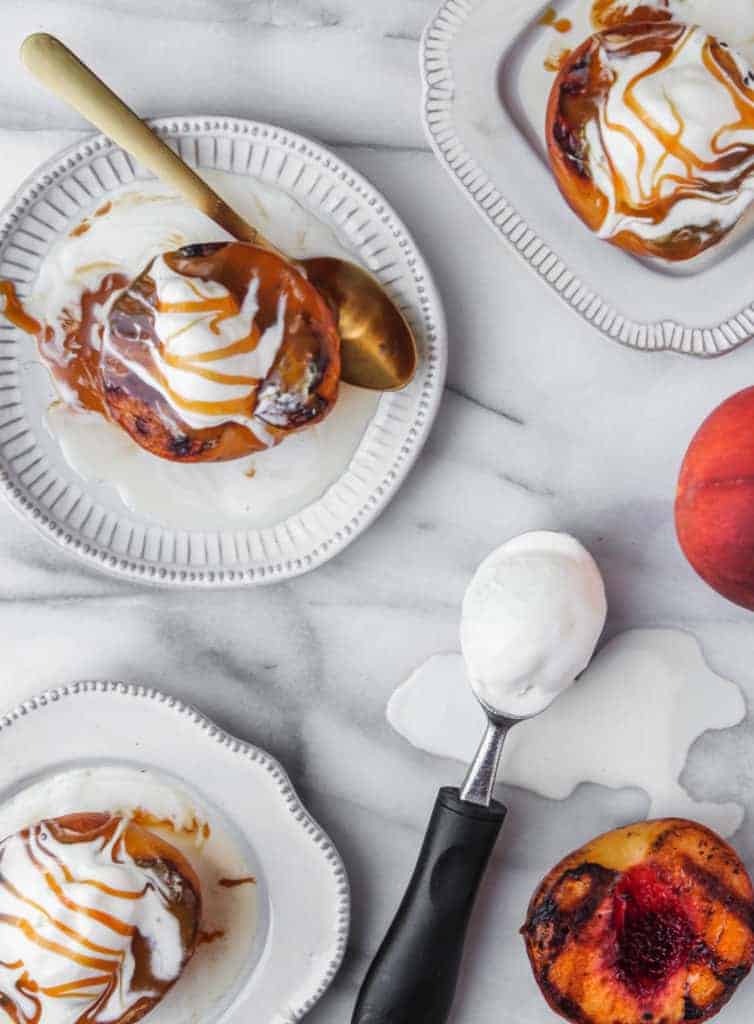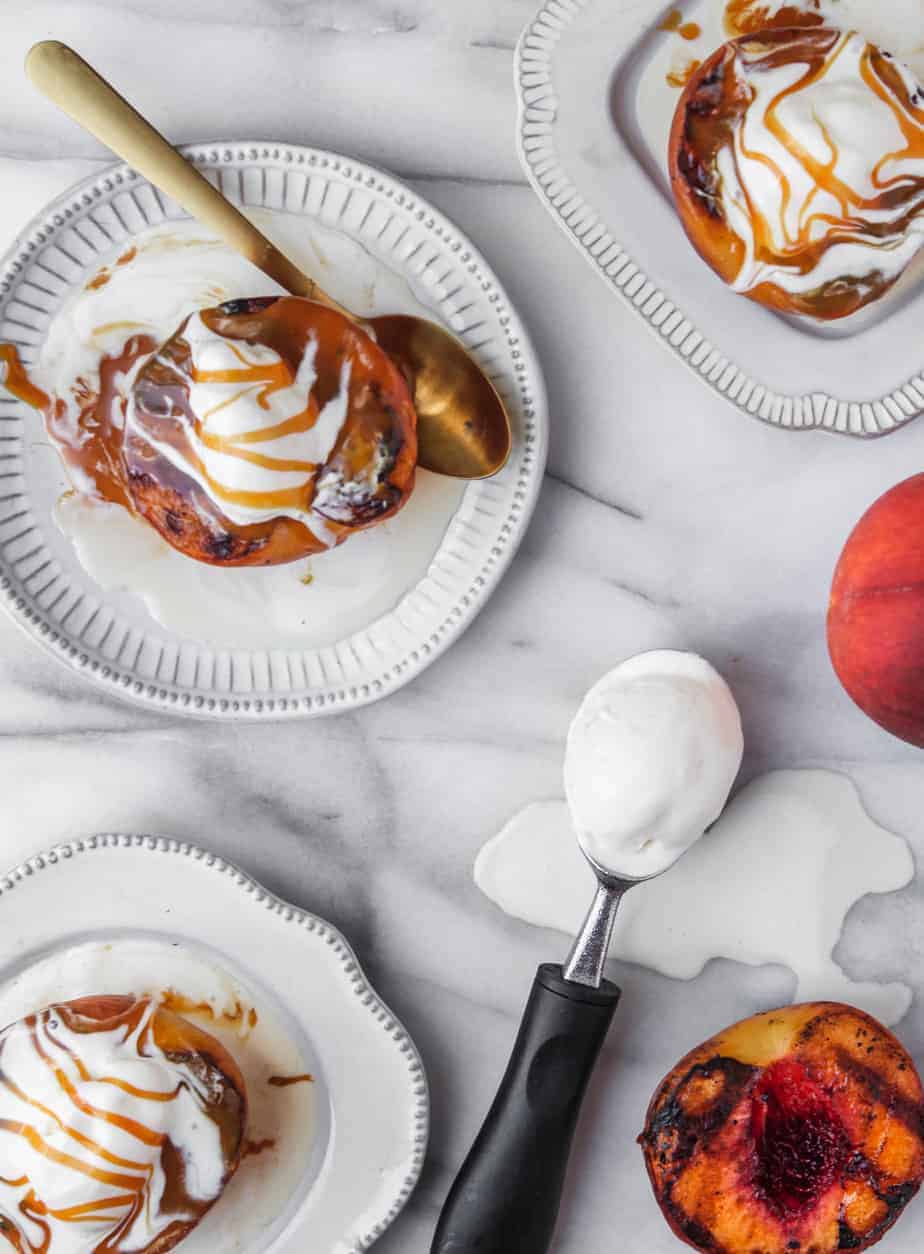 Looking for other grilling inspiration? We have some great ones! Check out: grilled peach sundaes, brat burgers with beer cheese sauce, grilled brie, grilled bbq pizza, the best beer boiled brats, and grilled baby back ribs.
Today we have a brain dump.
And also grilled peach sundaes.
I've been wanting to share these grilled peach sundaes with you forever.
They are so stupid easy.
And delicious.
A great summer treat if you ask me.
And if y'all know me, you know I am not a baker. While I have attempted, like with this Salted Caramel Apple Pie or with my trusty standbys, Grandma Vera's Sugar Cookies. More often I rely on friends or family for my sweets fix (and recipes), like Brian's Best Ever Carrot Cake, which is one of my favorites of all time. My lack of baking skills is why there is a significant lack of dessert recipes on this blog.
Cocktail creations are much more my speed like Watermelon Frozen Rose, Classic Margaritas, a Hurricane Drink Recipe, Corona Floats, Build Your Own Bloody Mary Bar, Peach Whiskey Smash Recipe, or Raspberry Gin Seltzer.
When I originally wrote this post, there were two problems I faced in my grilled peach sundaes sharing.
First, I had to get motivated to take photos (for me, blogging is always harder in the summer when I'd rather go to the pool or read a book outside than blog).
Second, I struggled to find a story to share alongside the grilled peach sundaes. I have a history with writer's block, which you can read all about in my review of Little Village Grill.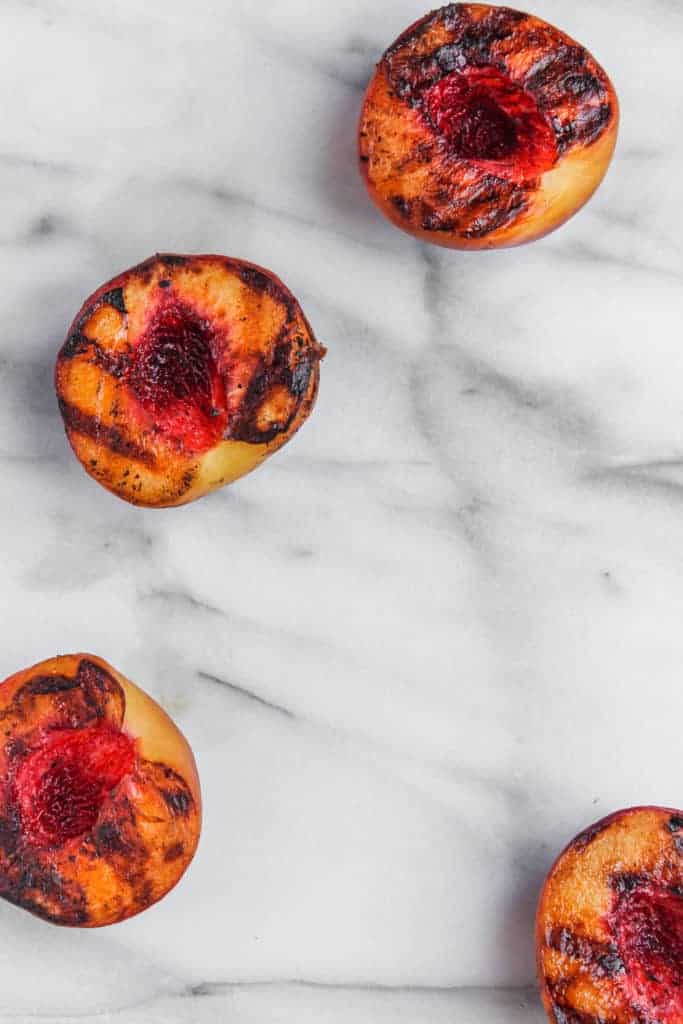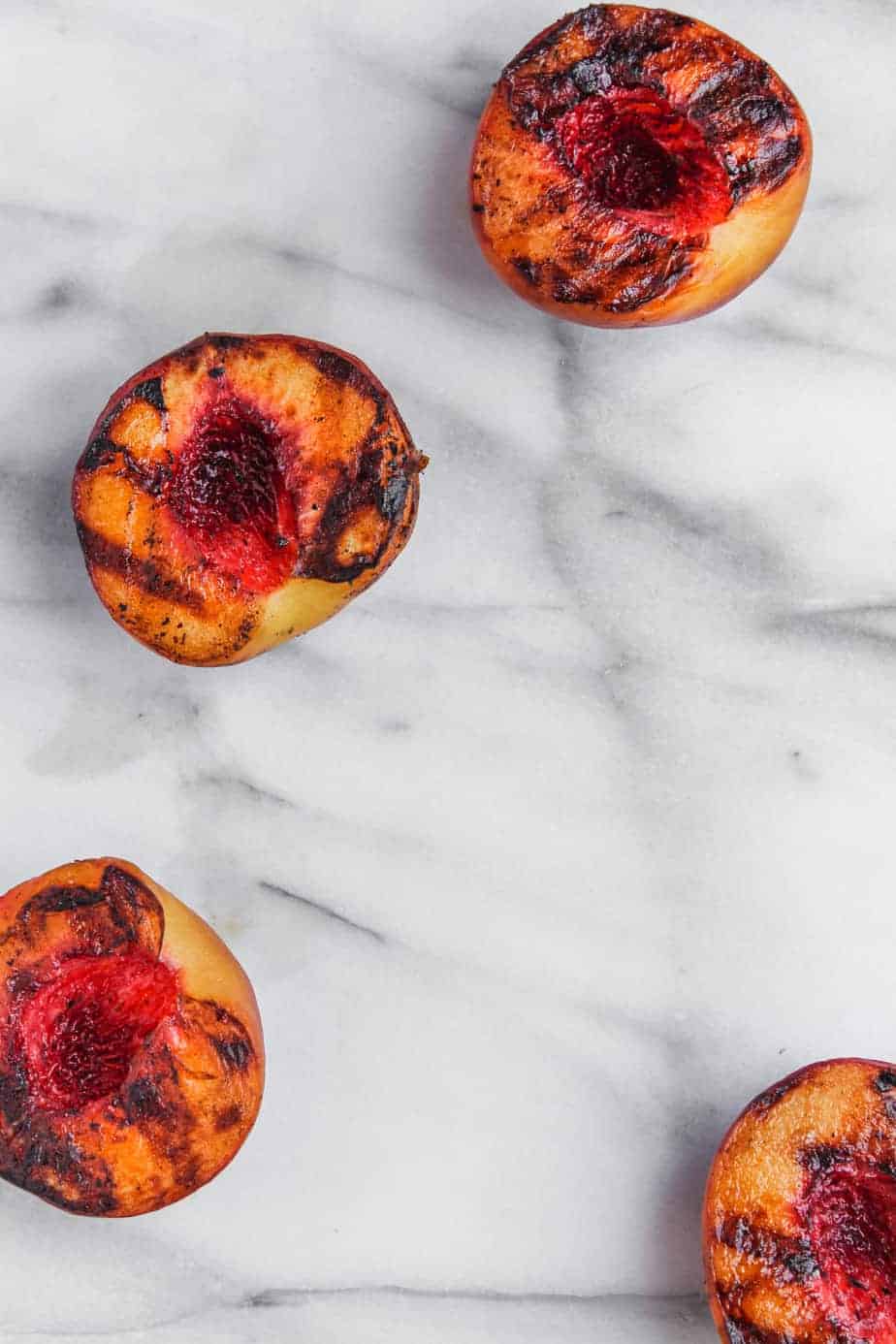 I solved problem one on Saturday when I spent most of the afternoon on blog photos, accompanied by The Dixie Chicks and under the watchful eye of Pheebs.
And then, since I wrote and delete this post approximately three times and the world needs to make these grilled peach sundaes during peach season, so here we are.
See, writer's block!
I've been buying my peaches from the same man for the past seven years at the Charlotte Regional Farmers Market (if you want to learn all about Charlotte Farmers Market and our favorite farmers market vendors, you need to read my Charlotte Farmers Market Guide!)
When my mom and I went to the market my first weekend in Charlotte (when I was an intern in 2011), he was there slicing up samples for customers, and I've seen him basically every Saturday since.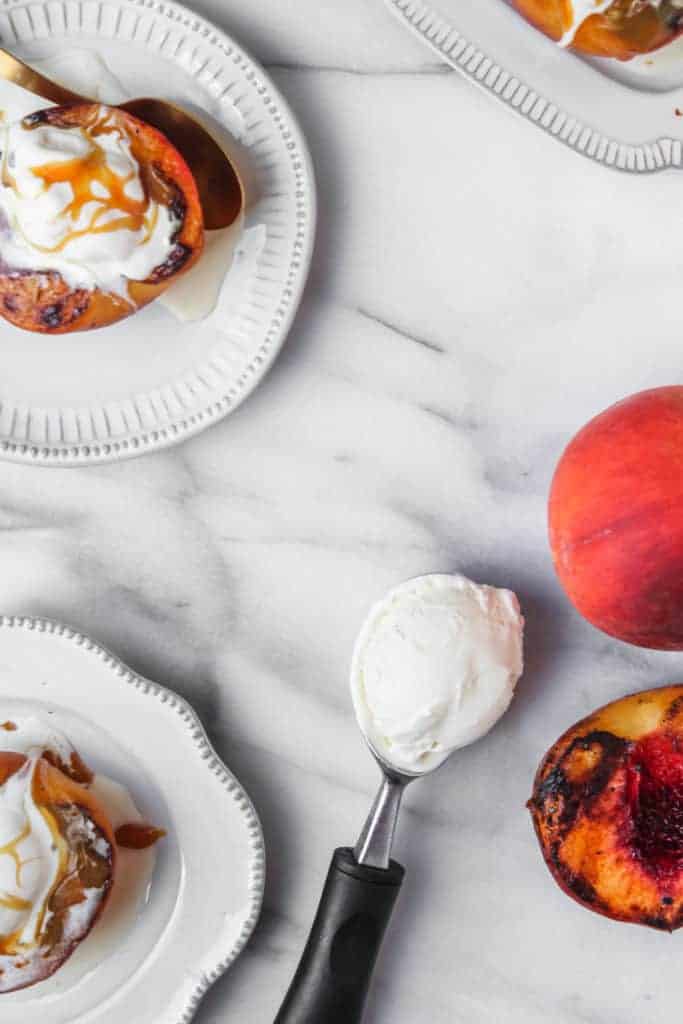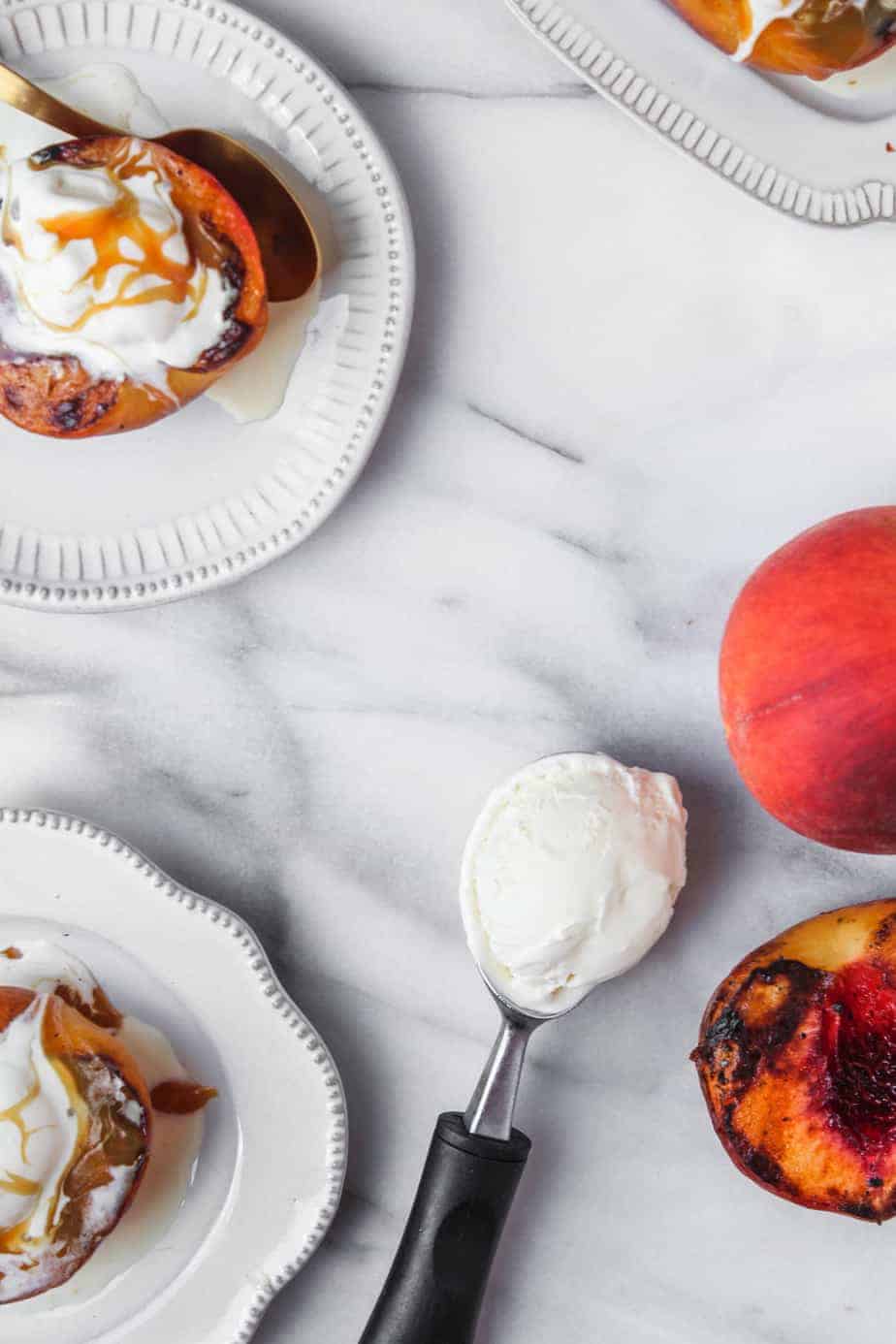 How to grill peaches
Grilling peaches is one of the easiest and most delicious ways to serve ripe, summertime peaches.
Grilled peaches can be served as a sweet, like in this grilled peaches with ice cream for dessert, or can be more of a savory component in salads, crudite platters or alongside other grilled fruits and veggies (I have a really beautiful and delicious Summer Grilled Fruit and Veggie Board in my cookbook that is more of a savory angle and features some perfectly seared grilled peaches alongside grilled melon, grilled mushrooms, grill squash and zucchini and grilled asparagus. Yum.
Grilling the perfect peach will take you less than five minutes; you just need a quick sear to brand the flesh with marks from the kiss of a hot grill.
Cut the peaches in half and remove the pit.
Brush the sliced side of the peaches with a little bit of olive oil (you do not need to brush the skin side).
Light your grill and preheat it to medium high heat…you want it to be hot for the quick sear!
Once the grill is hot. Place peaches (olive oil side down) on the grill over medium high heat.
Grill peaches for about three minutes until they are soft and grill marks appear.
That's it! You can serve the grilled peaches as is, or with a little bit of honey and you've got a great summer dessert.
Or, you can make a grilled peach sundae!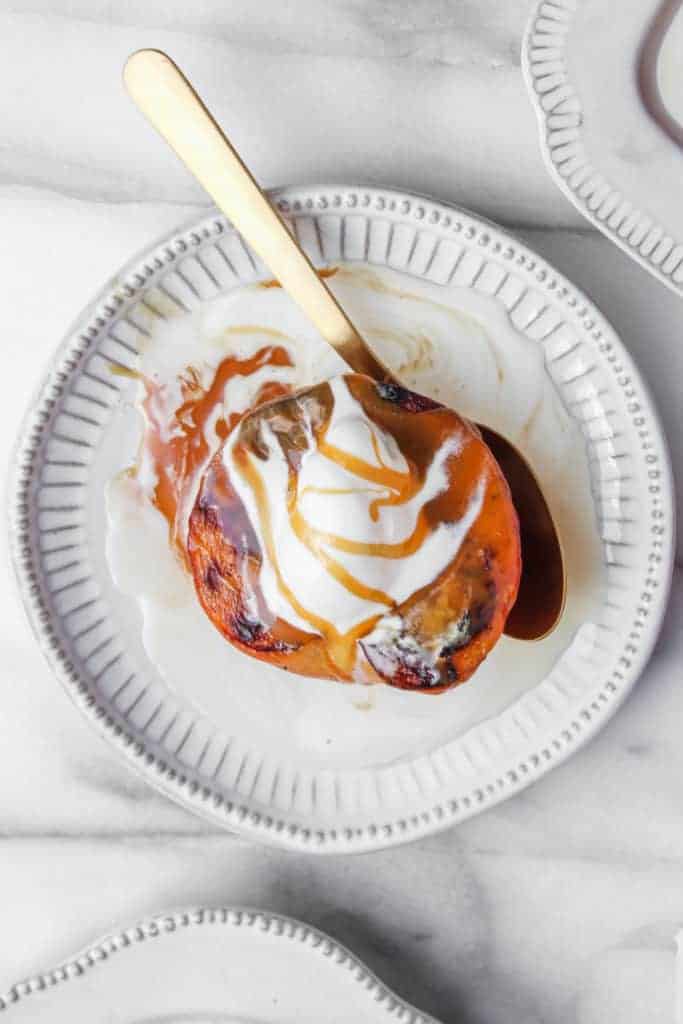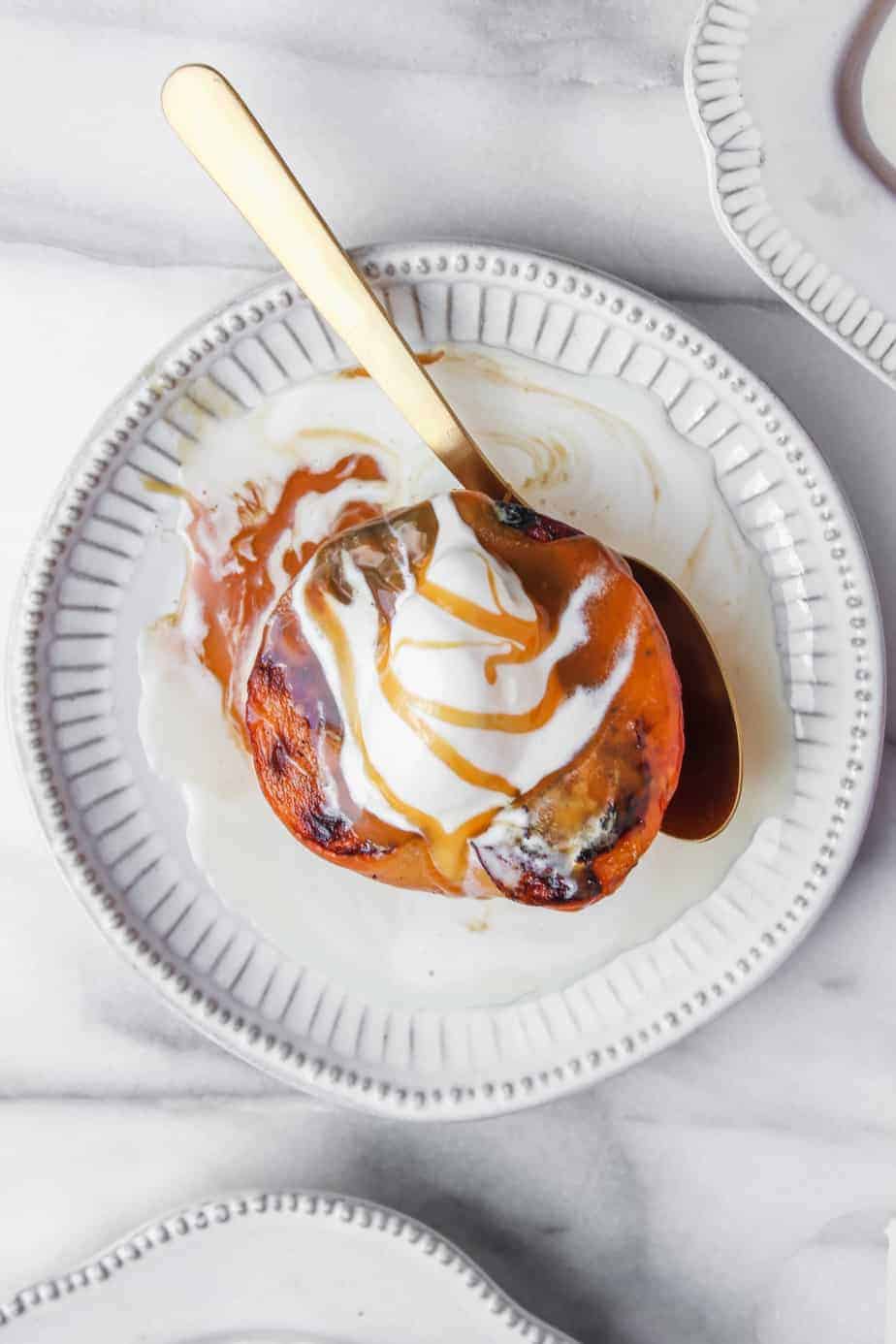 How to make grilled peach sundaes
Allow your grilled peaches to cool until they are cool enough to handle (if they are too hot you won't be able to easily assemble the sundae and the ice cream will melt everywhere!)
Place the grilled peach halves in a bowl or on a small plate, pit side up. Top each half with a scoop of vanilla ice cream, and then drizzle with caramel sauce.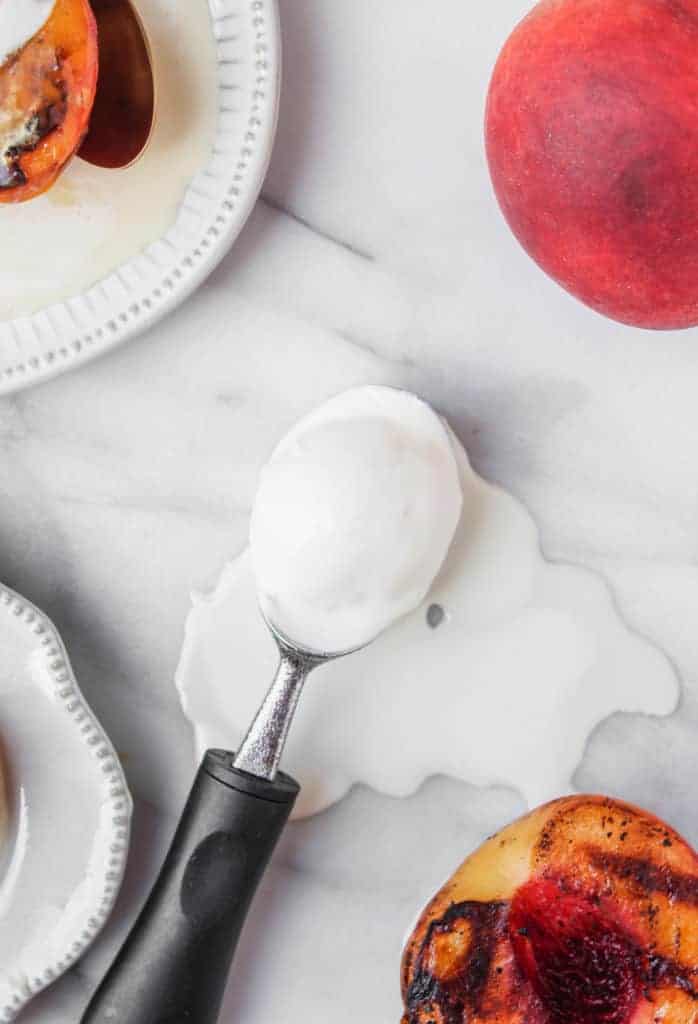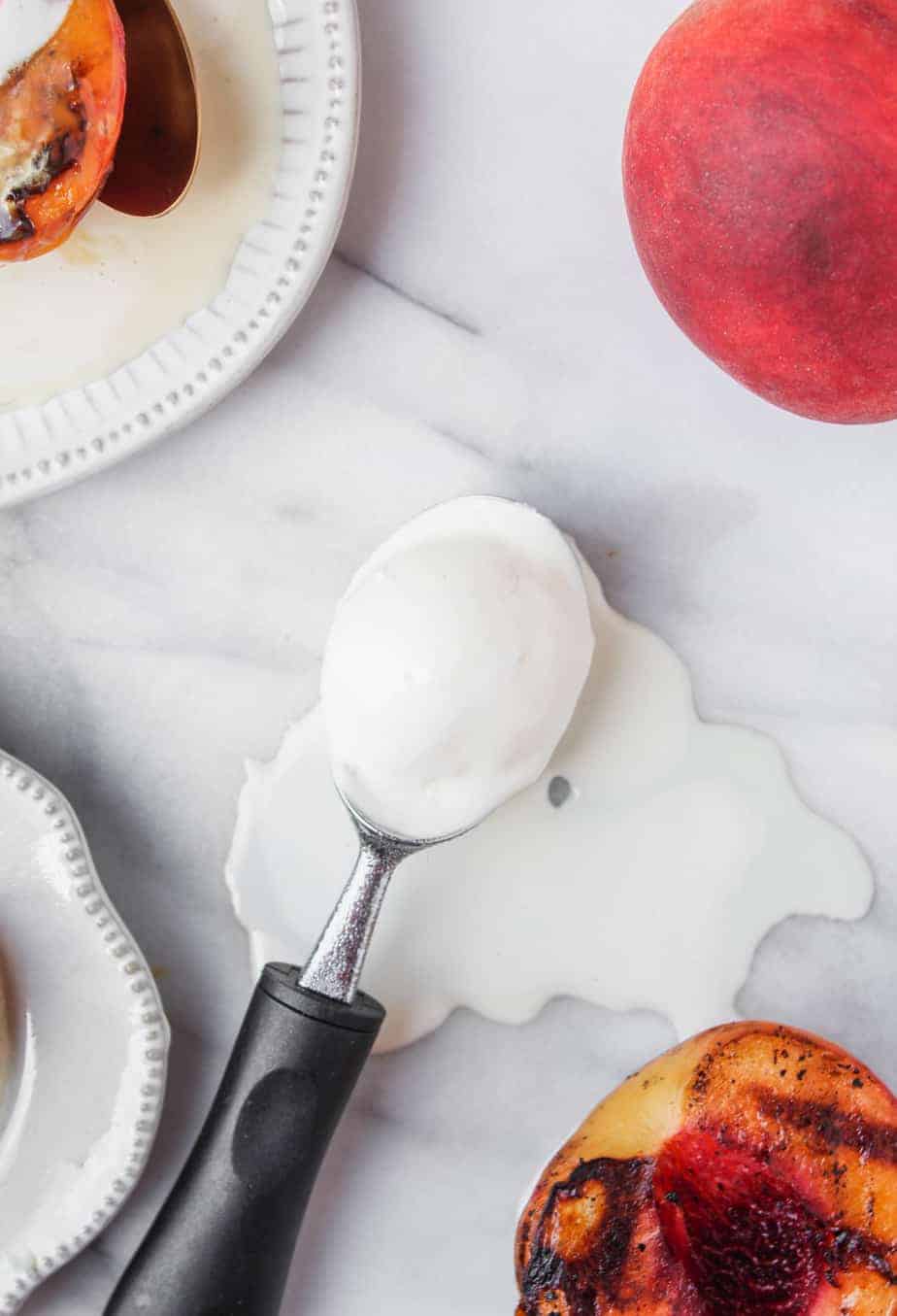 Quick tips for making grilled peach sundaes
Make sure you brush the peaches with oil so they don't stick to the grill! You can also brush the grill with oil. And if you don't have oil, melted butter works too!
You don't need to make homemade salted caramel sauce…store bought works just fine! I don't have my own recipe for salted caramel sauce, but I used this one for these sundaes because it is so easy!
That's it! This is a fuss free, fun and delicious recipe that highlights the simplicity of summer flavors!