Mom's award winning chili recipe is an easy, one pot dinner that is perfectly cozy for cold weather months! Make a big batch for dinner, top with your favorite toppings, and repurpose it for a different meal later in the week before freezing your leftovers!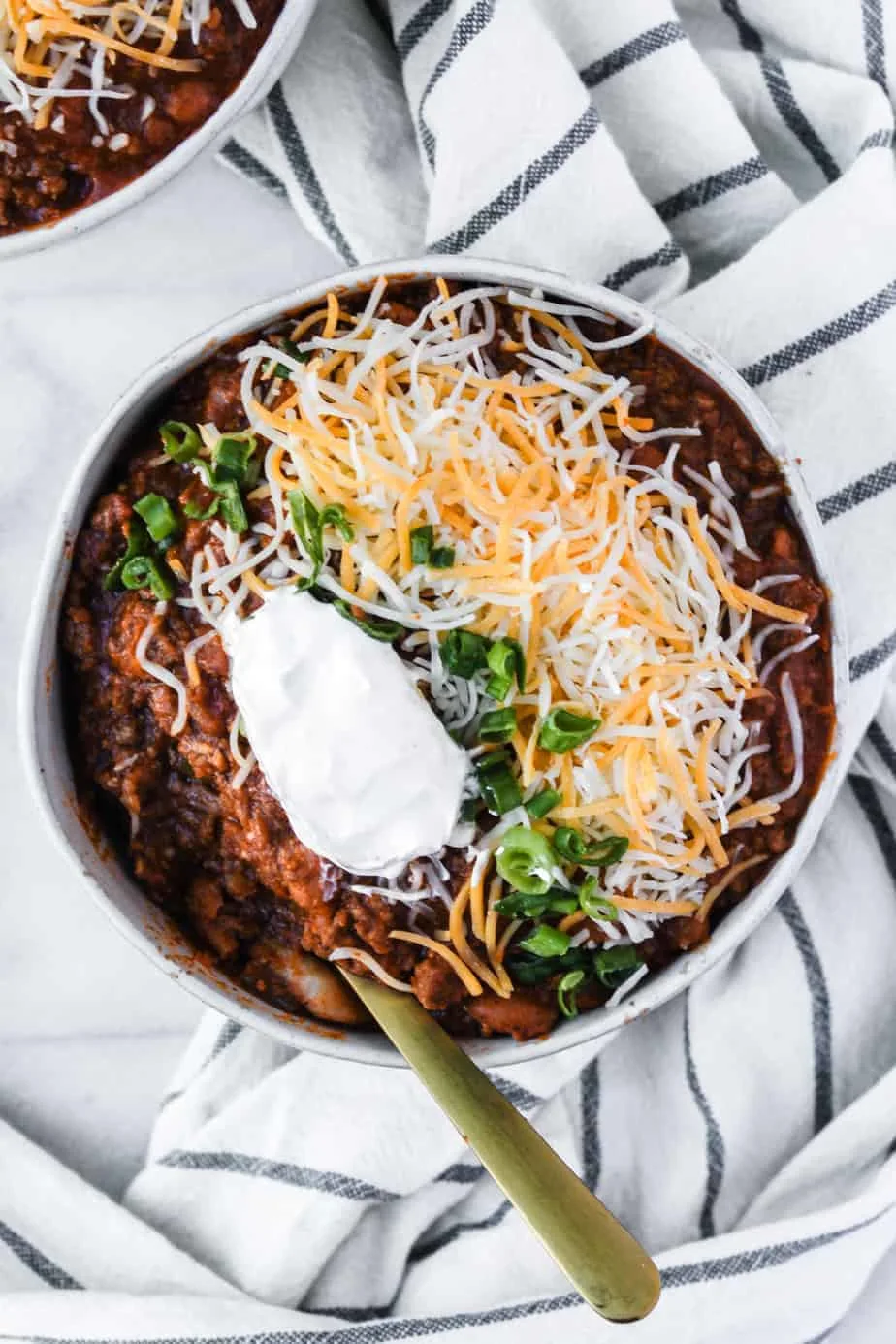 I'm sitting on my couch right now; the fire place is on, the Christmas tree is flickering, Bodie is snoozing right beside me, Pheebs is cuddled behind my neck, and The Nutcracker is crooning in the background.
PS: It's Monday.
Pretty perfect, right? Snow days are the best.
I realized earlier today that I first shared my mom's award winning chili recipe with y'all three years ago, also on a snow day.
Mom's award winning chili recipe is one of my favorite recipes: it features a ton of pantry staples, it's so easy to throw together (one pot FTW), and just simmers away on the stove all day (it basically cooks itself).
And it has bacon. (I add a little extra bacon to mine because a little extra bacon never hurt anybody.)
Mom's award winning chili recipe is on repeat in our house all winter long.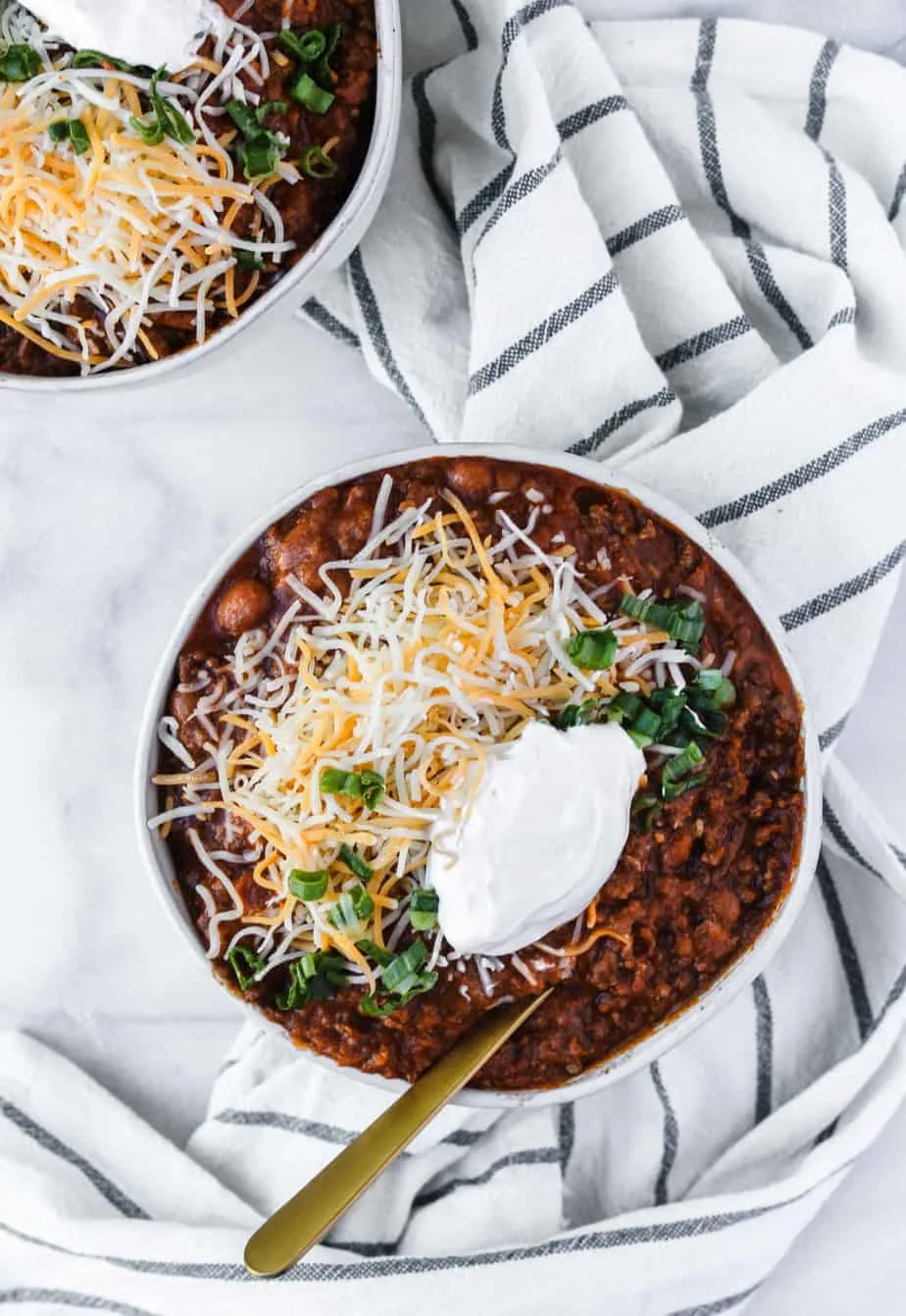 It's so cozy and warming for dreary, cold days so it's in our regular meal rotation (plus…it's really easy to repurpose for meals throughout the week. I usually make it on a Sunday and then we have it on top of potatoes later in the week, enjoy the leftovers for lunch, and freeze the rest.)
So it makes total sense that I have a hankering to talk chili with y'all when it's cold and slushy outside.
WHY AM I SHARING MOM'S AWARD WINNING CHILI AGAIN?
So while mom's award winning chili already lived on Off the Eaten Path, I decided I wanted to re share the recipe in a new post, rather than dealing with/editing the old one, for a couple of reasons.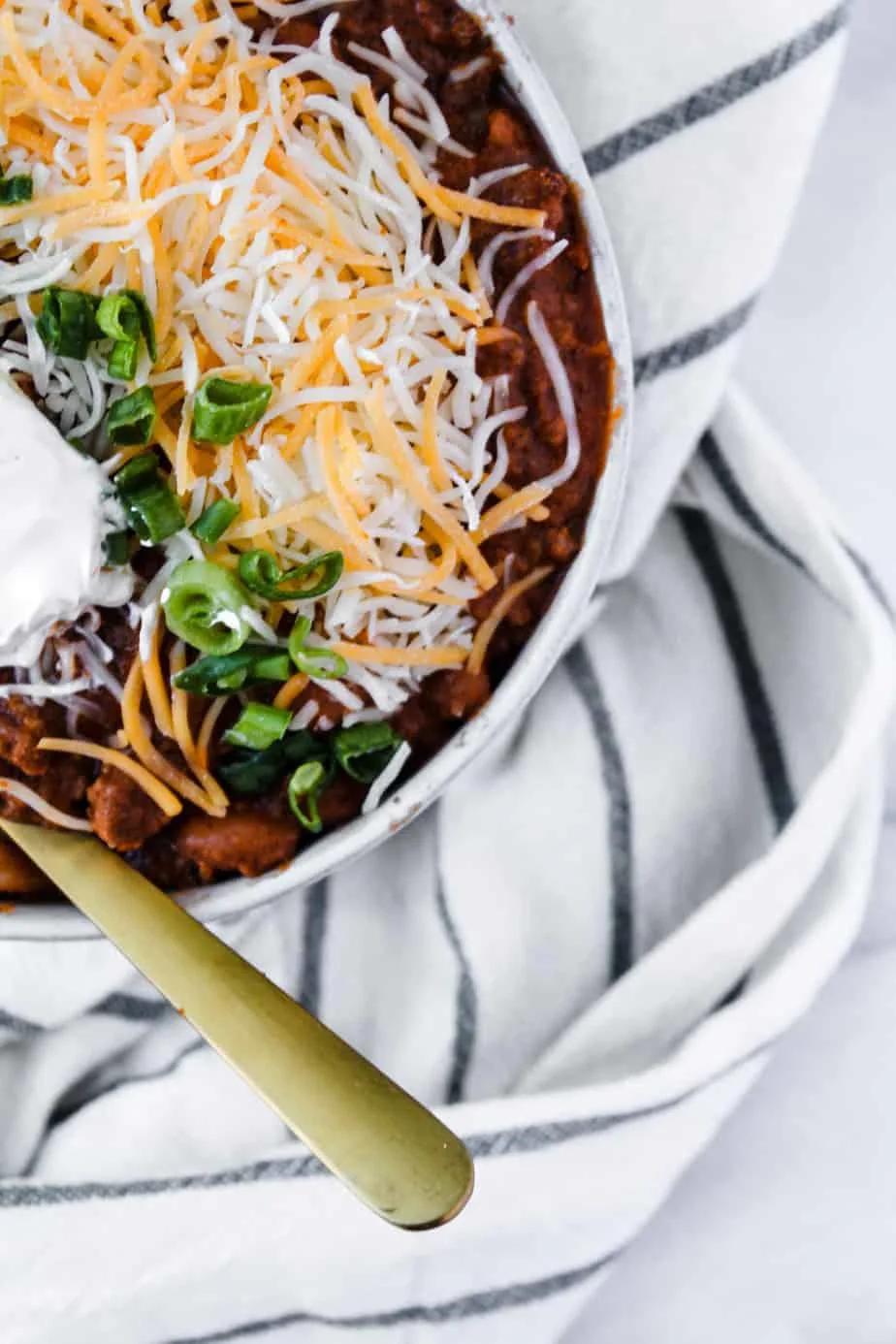 First, omg the photos. Don't go look at them, but if you do, prepare to be terrified.
It's incredible how far my food photography has come in three years! Definitely investing in a camera (thank you for the Christmas gift, AJ!), learning how to use my camera (thank you SkillPop), learning more about styling and light, investing in a food photography course at the beginning of this year, and practicing, practicing, and more practicing has helped me improve so much.
(I remember taking those photos three years ago and being super proud of them…ugh!)
Second, because mom's award winning chili recipe got a photo refresh, I thought it deserved to have it's moment in the spotlight. I wanted to give it a chance to show off, new photos and all.
Third, mom's award winning chili recipe was featured in an e-cookbook! Earlier this fall, when I asked by a friend if I wanted to contribute a recipe to an e-cookbook that would be sold to help raise money for Hurricane Florence relief in Eastern North Carolina, the answer was an obvious yes.
The e-cookbook, As Country As Conbread, was inspired by the fundraiser started by Vivian Howard (of Chef & the Farmer and A Chef's Life), where she sold limited edition "As Country As Cornbread" t-shirts on her site and donated the proceeds to the North Carolina Community Foundation to help people in Jones County, NC rebuilding after Hurricane Florence.
It features cornbread recipes and recipes we love to serve with cornbread from chefs, writers, bloggers, restaurateurs, and food writers from across the Carolinas.
It costs $14.95 (all proceeds go directly to the North Carolina Community Foundation) and there are 21 recipes in total: ho cakes, corn fritters, cornbread muffins, collards, chili, frijoles borrachas, soups and even a hush puppy salad! (um yes please).
Mom's award winning chili was of course, a perfect fit. Especially since we've been eating it with cornbread our entire lives.
And fourth, snow (okay, okay ice and slush) days deserve chili!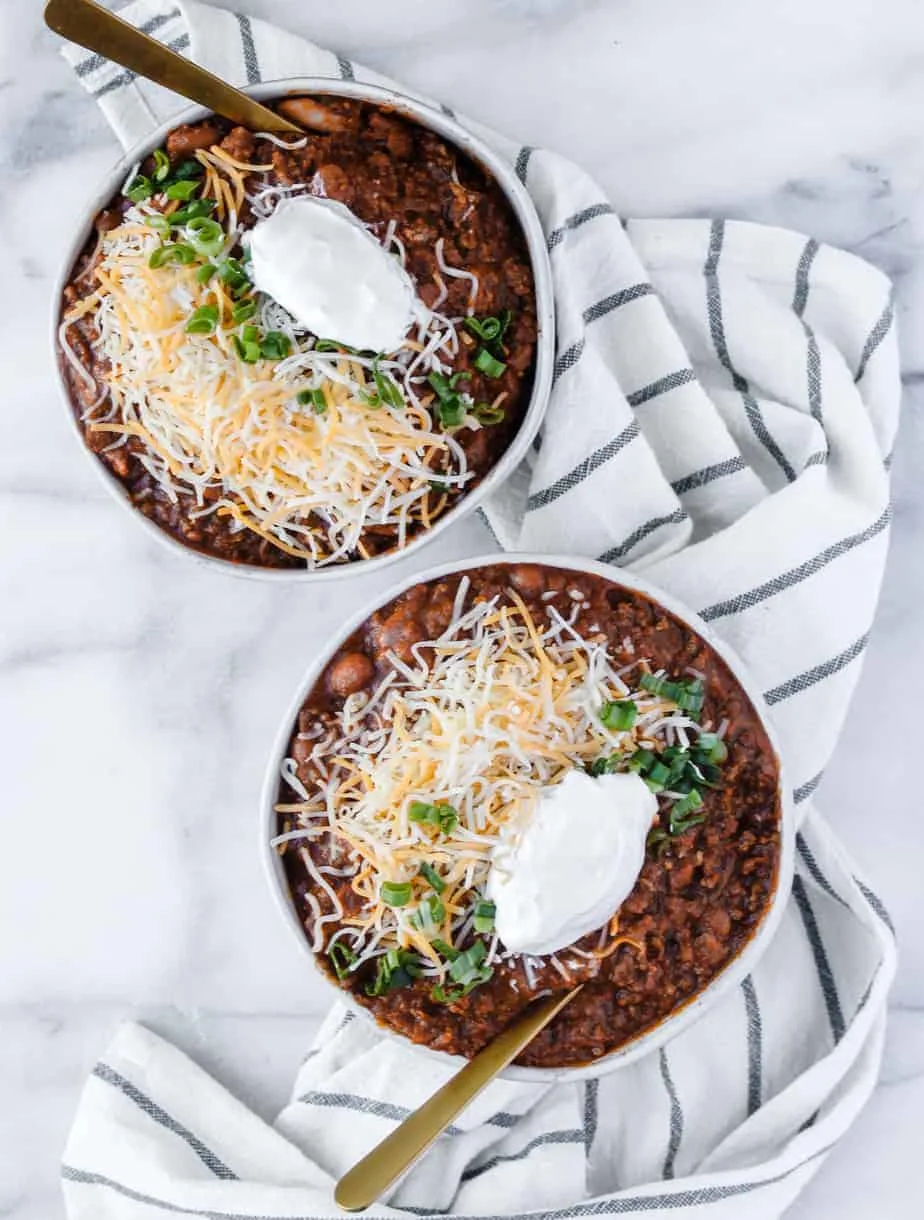 HOW TO MAKE MOM'S AWARD WINNING CHILI RECIPE
All you need for the recipe is one pot! (Yay!) You'll start by cooking your meat on medium to medium high, first fry up the bacon and then brown the ground beef.
Chop the veggies while the beef is browning, and then into the pot they'll go, followed by garlic.
Then, will come the canned goods (diced tomatoes, beans and tomato sauce) and then the spices. (including a package of taco mix!)
The finishing touch is a beer, and then you bring it all to a boil before letting it simmer away on the stove for three hours or more.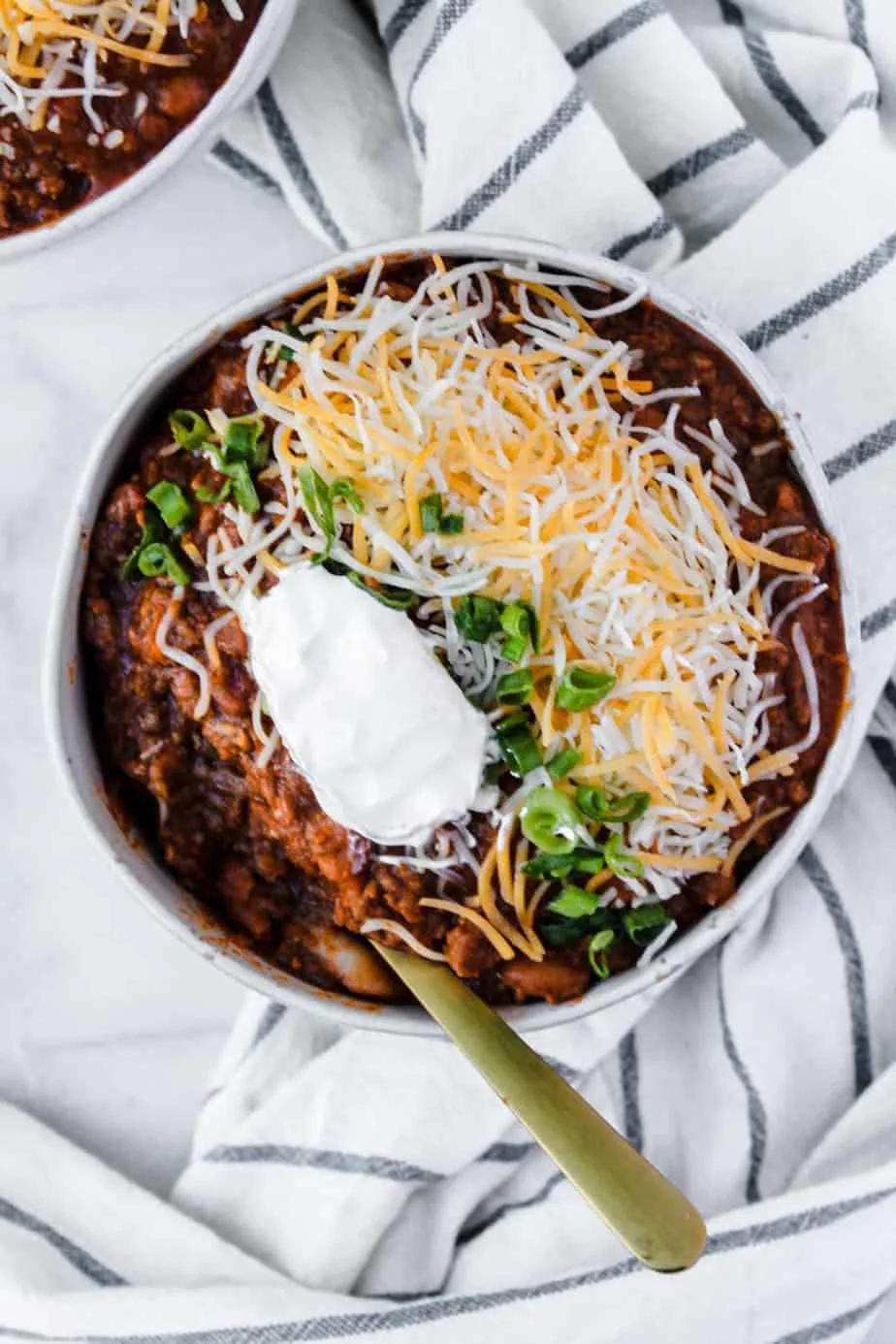 HOW TO FREEZE MOM'S AWARD WINNING CHILI RECIPE
This recipe makes a huge batch, and while we eat a lot of it as leftovers or repurpose it as something else later in the week (loaded baked potatoes with chili are my fave) we always have way more than we can eat.
So freezing comes in handy, and luckily mom's award wining chili recipe is super easy to freeze.
Let your chili batch cool down to room temperature and then spoon into ziploc bags (I like to portion it out, so usually freeze 2-3 bags of chili).
Press out all of the air and store flat in the freezer for 2-3 months.
(PS: Ziploc bags are the best way for freezing recipes because they are such a space saver in your freezer!)
When you're ready to eat, defrost in your fridge and then heat up the chili in a saucepan!
WHAT SHOULD I SERVE WITH MOM'S AWARD WINNING CHILI RECIPE?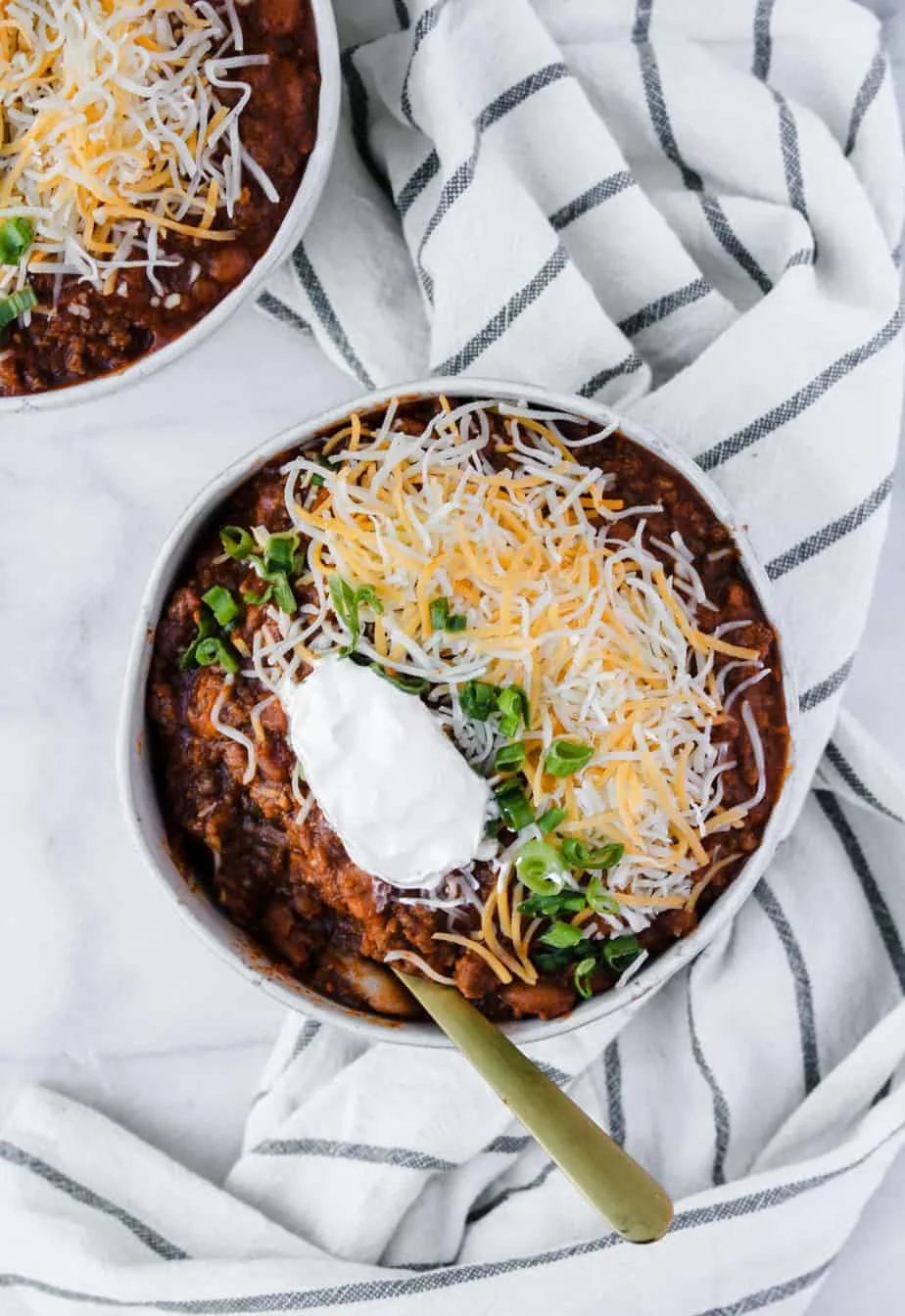 Cornbread of course!
As for toppings, I think anything goes when it comes to chili. Some of my favorites include shredded cheddar or pepper jack cheese, sour cream, avocado, cilantro, green onions, red onions, tortilla chips or Fritos!
(Mom and Dad are team anti-sour cream when it comes to chili but I am pro, so I say, to each her own!)
IF YOU LOVE MOM'S AWARD WINNING CHILI RECIPE, HERE ARE SOME OTHER SNOW DAY RECIPES FROM OFF THE EATEN PATH YOU'RE SURE TO LOVE:
Baba's Easy Homemade Spaghetti Sauce
May Williams' Swedish Meatballs
PIN MOM'S AWARD WINNING CHILI RECIPE TO SAVE IT FOR LATER