Savor summer with a new take on grilled cheese. Grilled Brie two ways (with strawberries or blackberries and a balsamic glaze) is an easy, elevated appetizer recipe.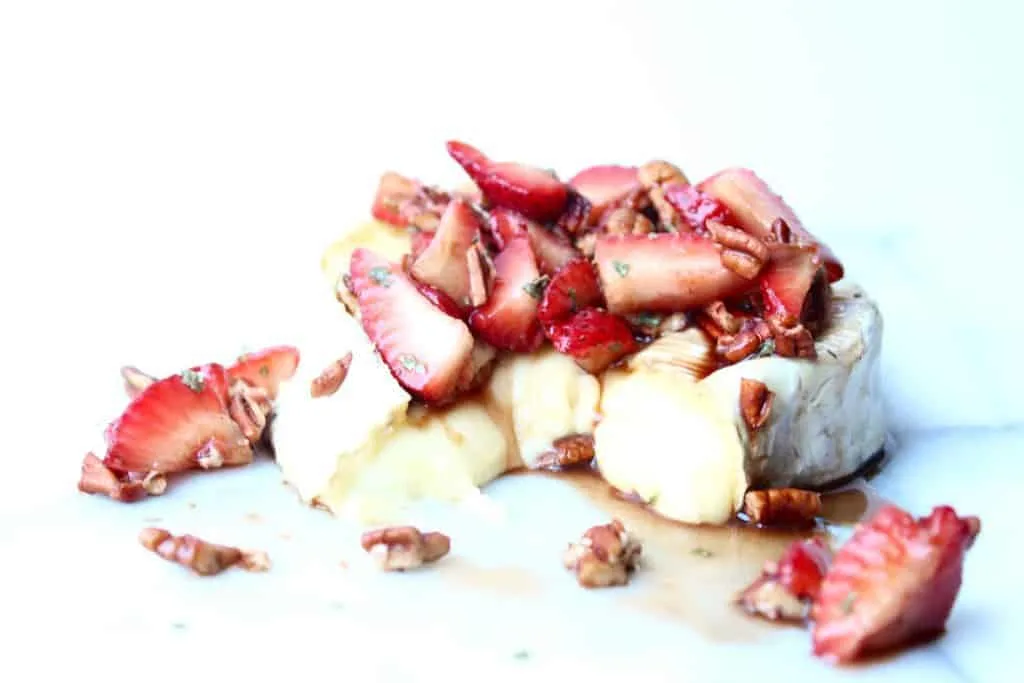 Summertime is one of my favorite seasons.
Sure I could maybe go without the hot, sticky humidity that is summer's signature here in Charlotte, but really, it's nothing some air conditioning or a cooling cocktail like Watermelon Frozen Rose, a Blackberry Basil Gin Fizz, or a Corona Float can't fix.
I love to spend sticky summer days with a book by the pool, jumping waves at the beach, or with a quick escape to the mountains.
But my absolute favorite part about summer: grilling.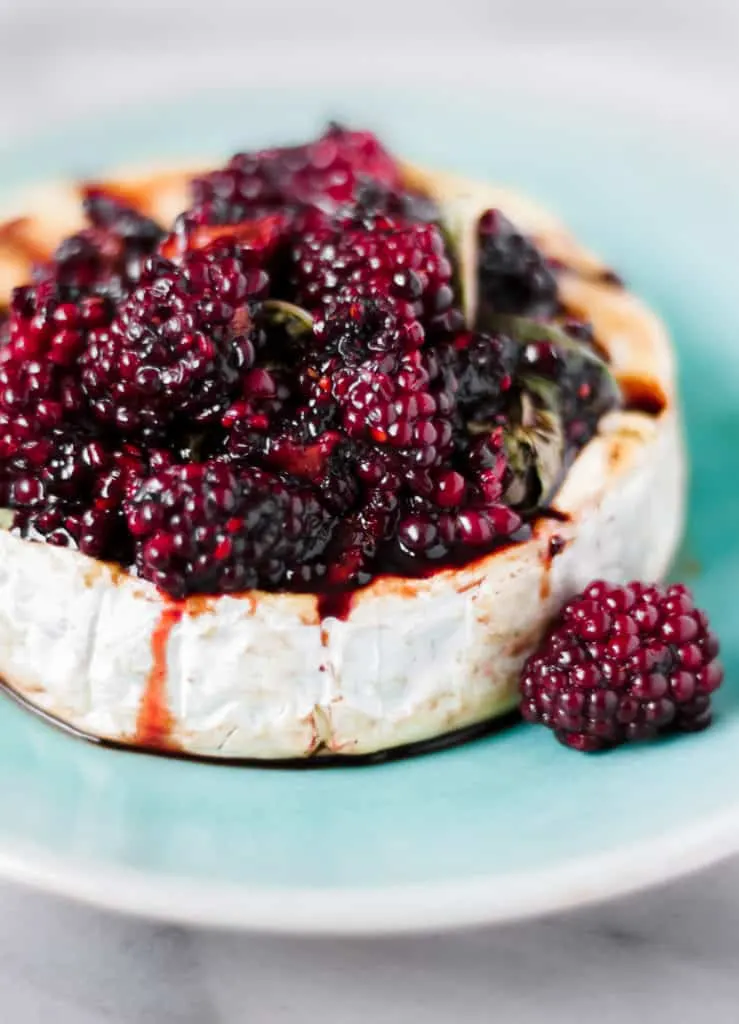 Sure, foods like burgers, hot dogs, beer boiled brats, grilled baby back ribs, steak and salmon move through our grilling rotation all summer long.
We also love grilling veggies, like ears of corn, zucchini, summer squash, artichokes or avocados, onions and tomatoes to make guacamole and create a full meal just using our grill.
And then a few years ago, I had an idea.
What about a new kind of grilled cheese?
And grilled brie was born.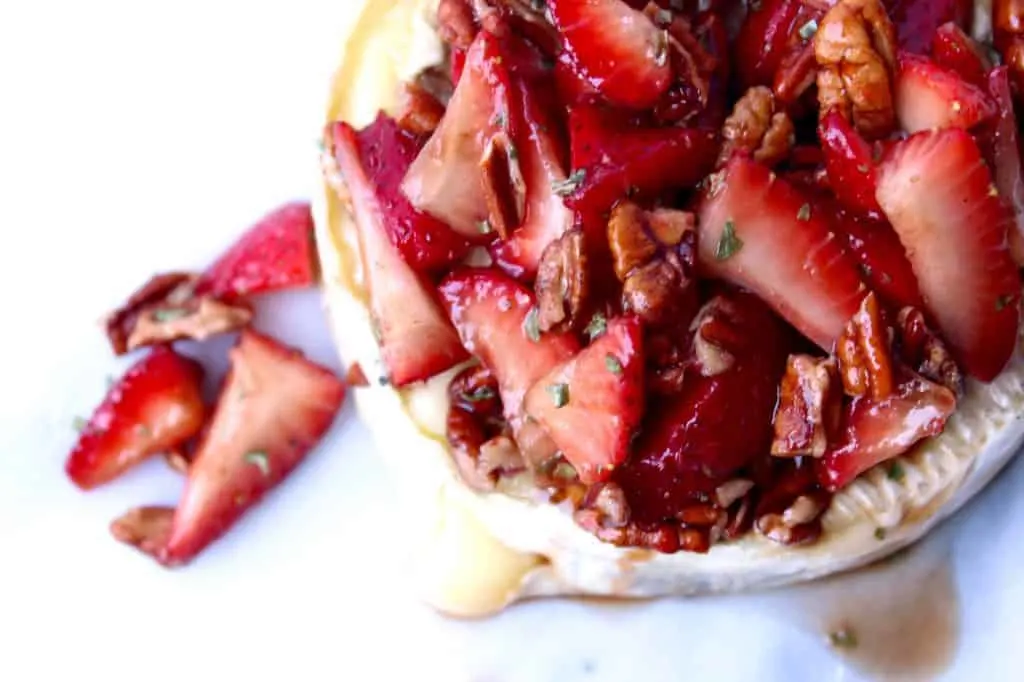 This is not the grilled cheese of your youth (the grilled cheese of my youth was cheddar sandwiched between two slices of buttered wheat bread made by my dad. Dad was not much of a cook while I was growing up, but made a mean grilled cheese.)
Instead, this grilled cheese is an easy brie recipe inspired by the ever so popular baked brie that makes an appearance throughout the winter months at basically every holiday party and get together.
When the last thing you want to do is preheat your oven, but you still want an easy appetizer recipe, skip the holiday party mainstay and fire up your grill instead for the grilled warm weather version.
And since there nothing is more synonymous with summer than fresh berries (ok maybe peaches and watermelon are up there too), it only makes sense to include an easy, quick glaze feature either fresh strawberries or blackberries and fresh basil.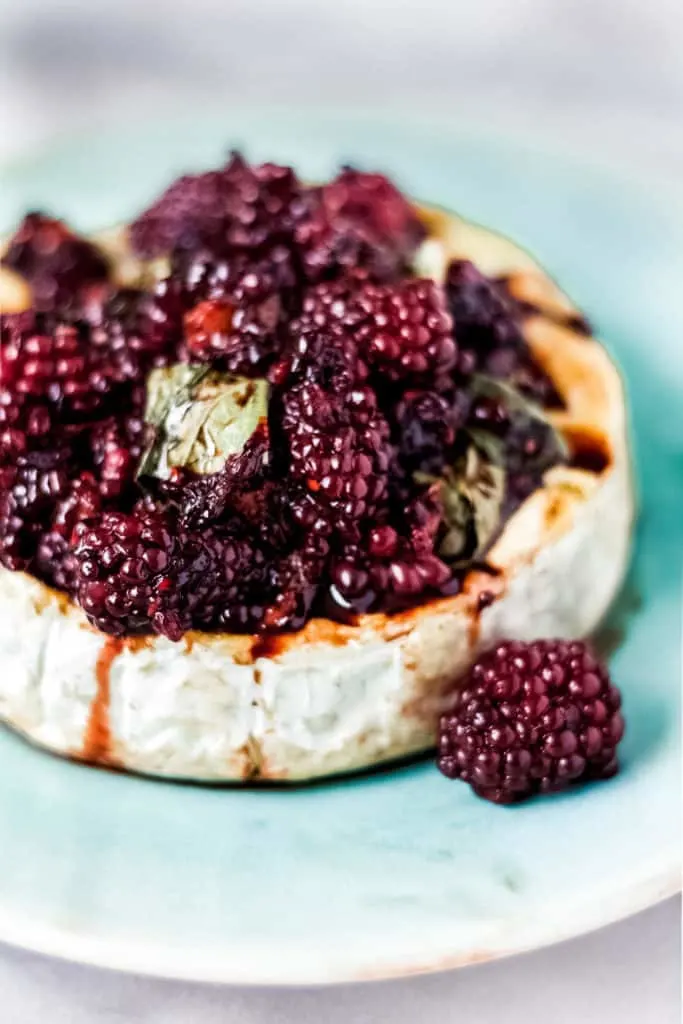 How to make the berries with balsamic glaze
Make the glaze first so it has some time to cook and cool while you get everything else in order.
The glaze just uses four ingredients: balsamic vinegar, brown sugar, honey and lemon juice.
Combine the glaze ingredients and let them bubble on the stove until they reduce. In the meantime, slice the strawberries (if you are using blackberries, keep them whole) and chop the pecans (if you want to include a little crunch) and combine them in a bowl.
Once the balsamic glaze cools, stir about a quarter cup into the berries.
And a few sprinkles of fresh basil (you can used dried if you don't have any fresh on hand…but I highly recommending having a basil plant in your backyard or patio so you can make fresh basil pesto!)
How to grill brie
Heat up the grill and brush the cheese rind with melted butter or olive oil.
Place it on the grill, and grill for about two minutes a side, or until the cheese is warm and soft (but not melting through the grill!).
Voila! You've got grilled brie!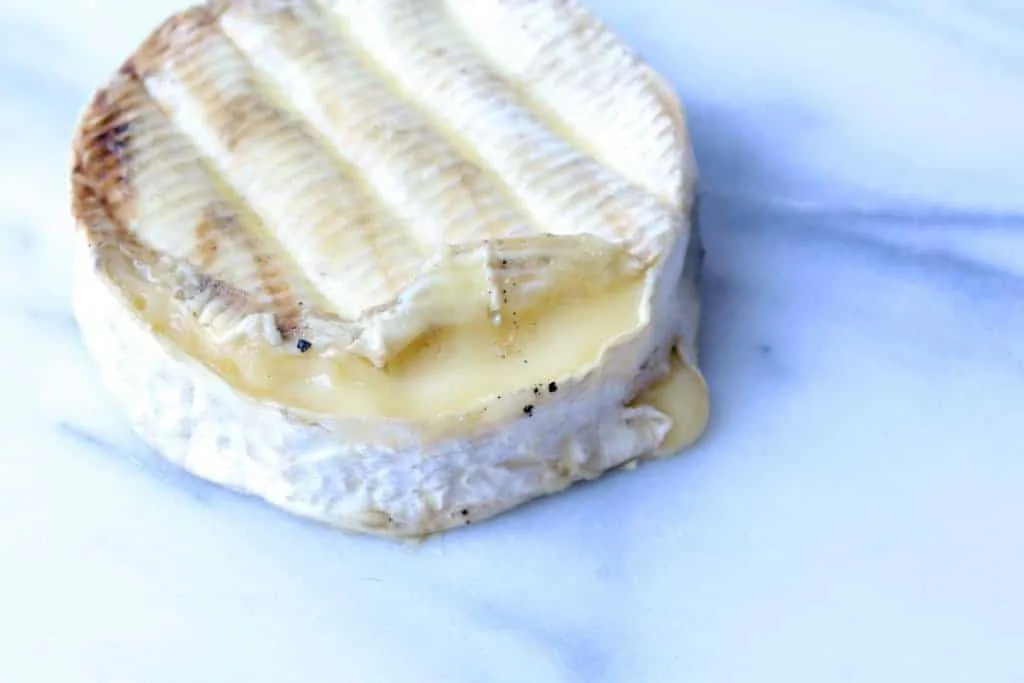 Top your grilled brie with the strawberry or blackberry glaze.
Now you have a fancy appetizer that takes basically no time that will impress everyone you meet, or at least impress the cheese lovers in your life (you should also be making said cheese lovers Beer Cheese Fondue!)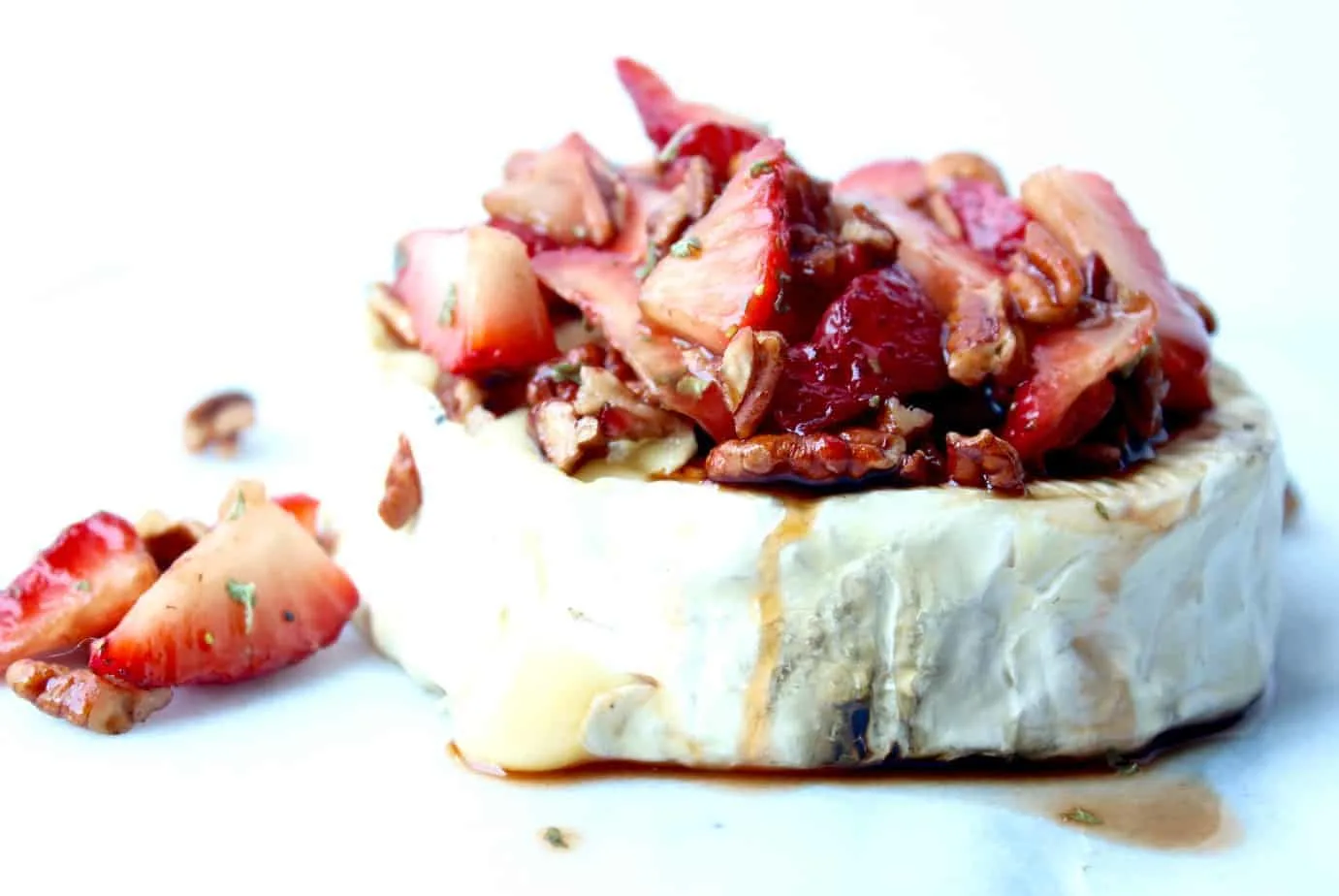 What to serve with brie
There are a lot of different ingredients that complement Brie's luscious, delicate flavor and velvety texture.
The key to pairing any ingredients with cheese is that you are looking to offer a spread that enhances but doesn't overpower the flavor of the Brie, because the accompaniments shouldn't compete with the cheese!
Here's a list of ingredients you can serve with grilled Brie:
French bread (perfect for a smooth smear of soft, creamy Brie)
Apples
Pears
Dates
Figs
Caramelized onions
Almonds
Pecans
Pistachios
Carrots
Celery
Cucumber
Cherries
Berries (of course, which is why they are featured in the glaze!)
Neutral flavored crackers