Featuring smoky barbecue ribs, barbecue sauce, a blend of mozzarella and gouda cheese, red onion and fresh arugula, grilled BBQ pizza is a quick and easy recipe perfect for game day or a weeknight dinner.
I partnered with Curly's to create this content and am receiving compensation for this post. All opinions and content are my own. To find Curly's hickory smoked barbecue products at your local store, click here. Thank you for supporting brands and businesses that support Off the Eaten Path!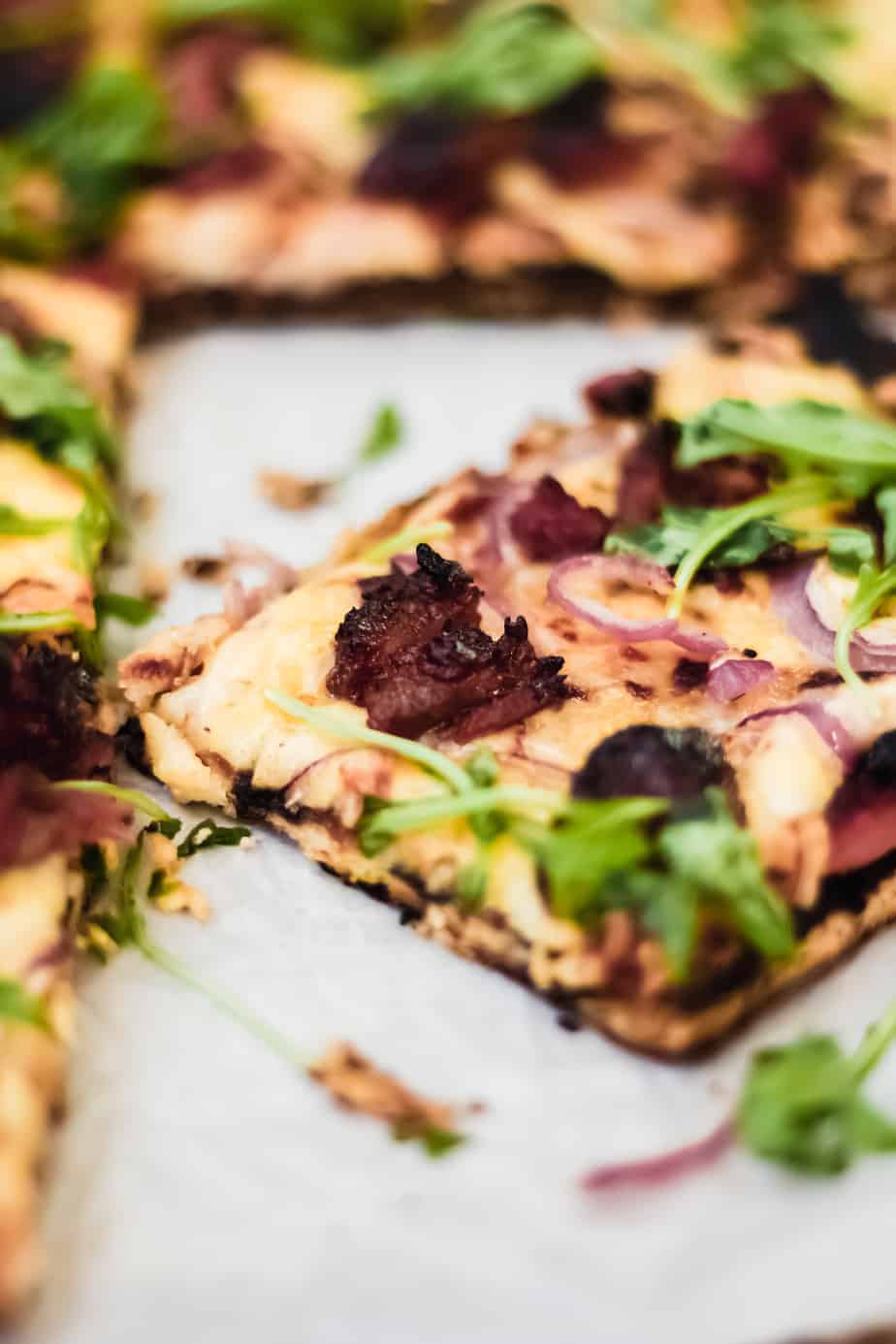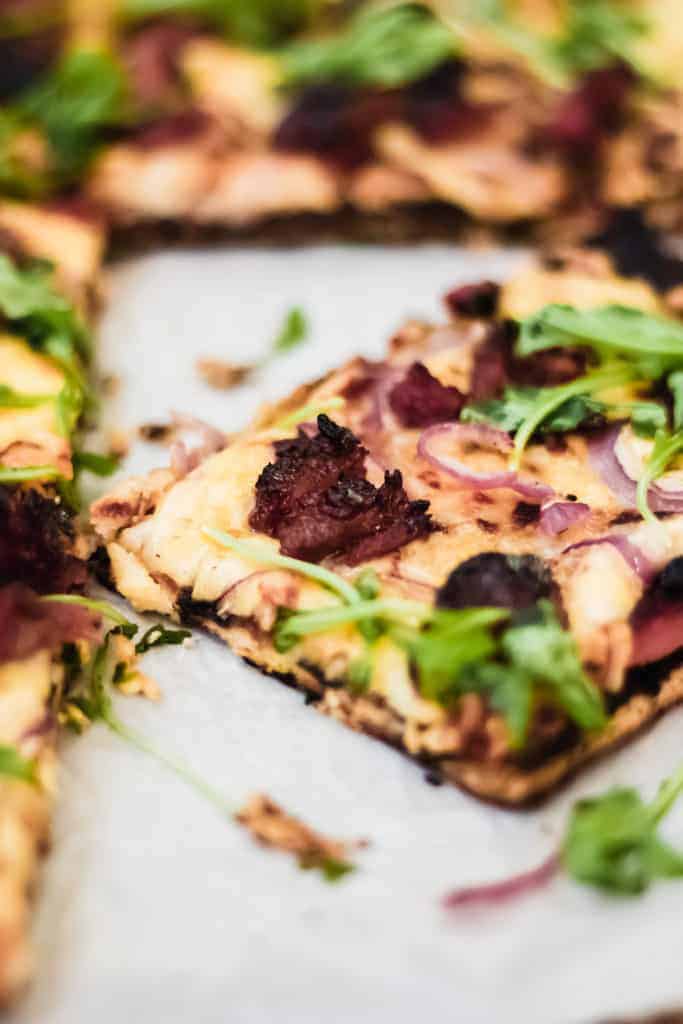 I spent a lot of my pre teen and early teenage years at the mall.
The middle school mall routine went a little something like this: my mom or a friend's mom would drop us off at the mall.
We'd wander aimlessly, in and out of stores, up and back hallways together, and through the food court, using our babysitting money to make a few measly purchases.
We'd meet up with other middle school friends and wander some more, now in a large, gangly pack. We'd meet the mom who was picking us up out on the sidewalk of one of the major department stores at the designated time.
I felt so cool.
Part of our mall routine almost always brought us for lunch or a snack at the food court where we'd split a pizza or sip on a smoothie or munch on a pretzel dusted with cinnamon sugar.
It was those hours, idly sitting in a booth with my friends, where I first discovered the joy of bbq pizza.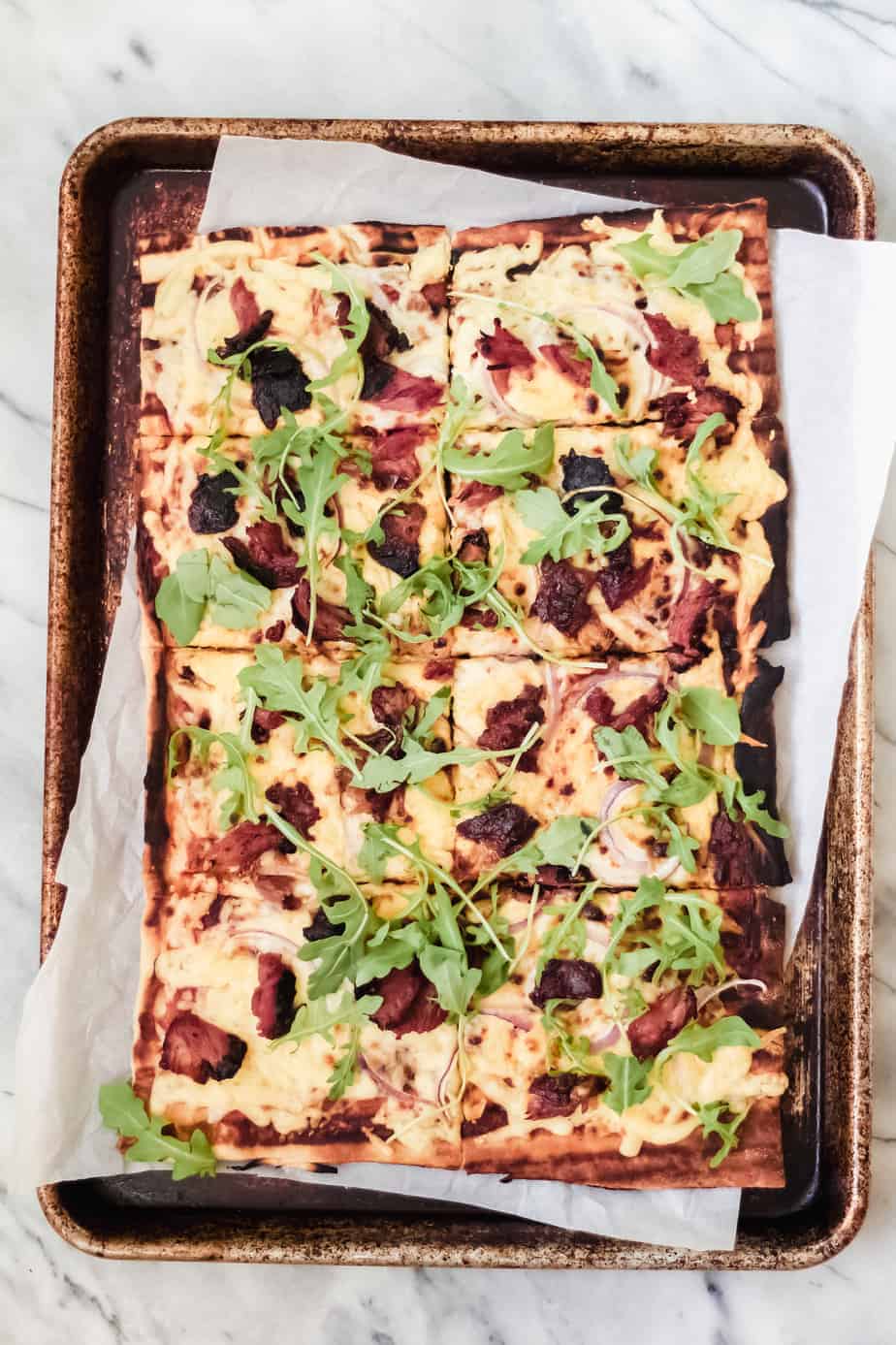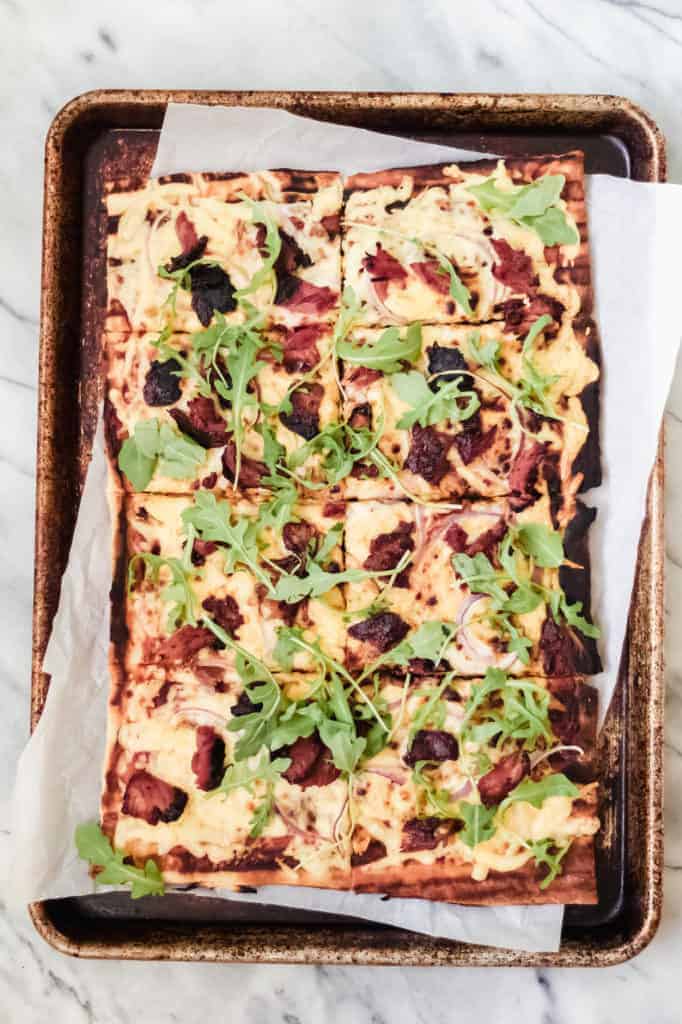 I don't know who came up with it or when they did, but the person behind bbq pizza is a genius.
Substitute sweet, spicy and smoky bbq sauce for traditional marinara sauce? Great idea.
Top it with a protein bathed in more bbq sauce? Brilliant.
A few weeks ago, I was trying to come up with a quick and easy recipe to make us for a late lunch on one of our football marathon watching Sundays (you know the ones that are spent mostly on your couch watching games back to back to back).
I love cooking up game day recipes, so I poked around in the fridge sometime around halftime to see what I could cook up before the second half started.
Low and behold, we had everything I needed for a grilled pizza (one of my favorite ways to quickly cook pizza and get an amazing soft yet crispy crust) but we didn't have any pizza sauce.
BBQ sauce to the rescue!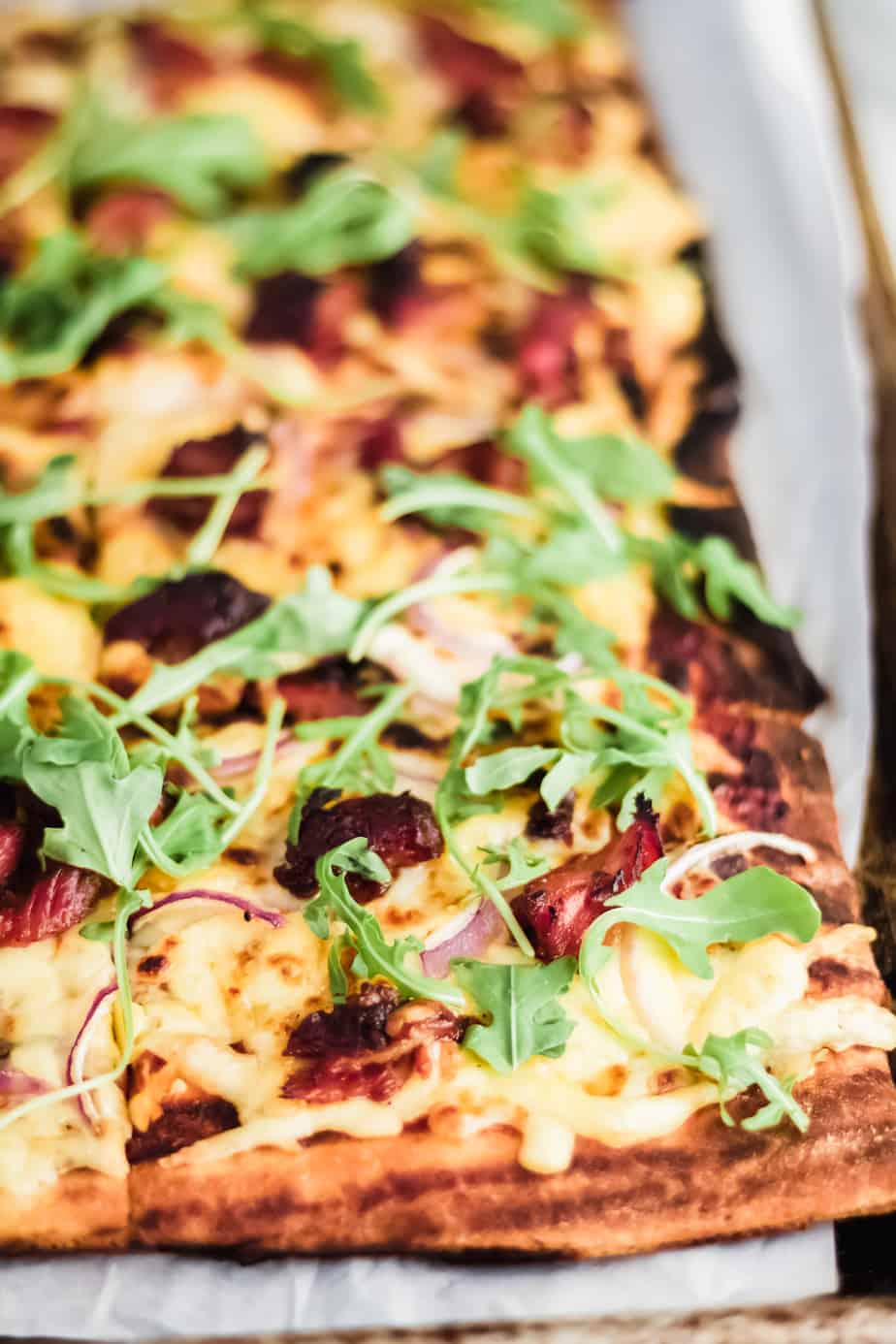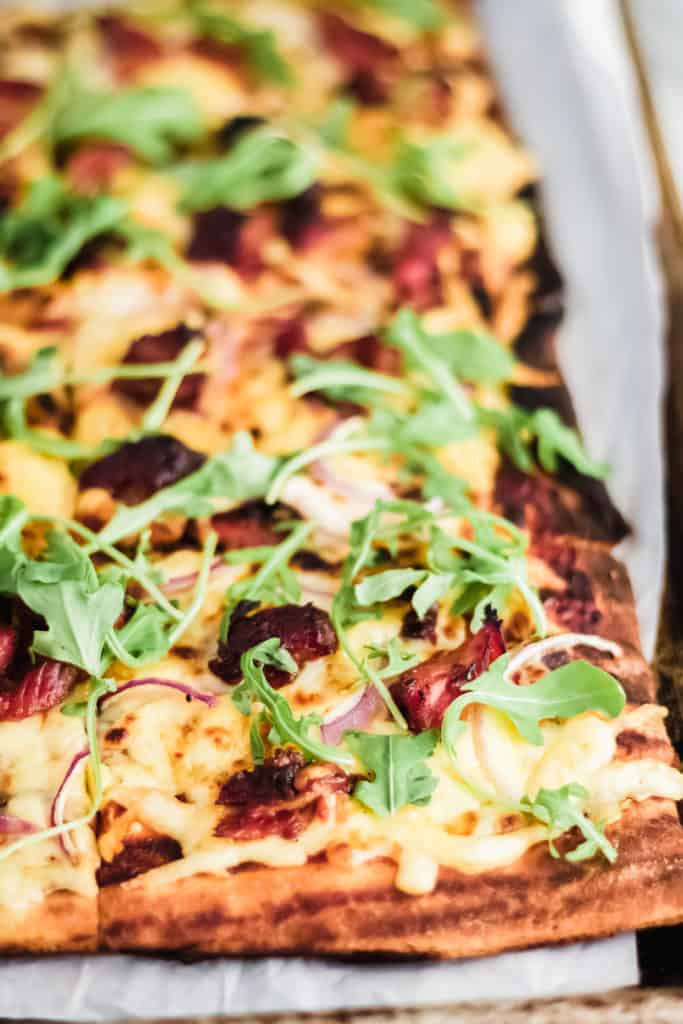 In no time, we were enjoying hot slices of grilled bbq pizza, with a side of middle school mall nostalgia.
WHY I USE A GRILL TO COOK PIZZA
Grilling is one of my favorite was to make pizza for a few reasons:
It's super quick, we're talking mere minutes a side.
It gives you a perfectly crispy crust. The hot kiss of a grill on some pizza dough acts just like a really hot pizza oven…making your pizza crust perfectly crispy but not too crispy to the point it's crunchy. It is possible to achieve both soft and crispy cooked pizza dough and a grill helps you do that.
Grilling pizza gives your dough a slightly smoky flavor. I love the smell and flavor of anything that is grilled and pizza dough is no exception. It's a bit more complex than the flavor you get from straight baking pizza in the oven.
We live in North Carolina, which means we have pretty mild weather. Which then means we can use our grill all year round. (We'd still use our grill all year round if we lived in a colder climate but I'm not going to complain that it's hovering around 60 degrees right now as we head into December.)
And lastly, grilled pizza showcases my husband's pizza making skills. His first job was as a delivery driver for a local pizza place and the man can toss a mean pie.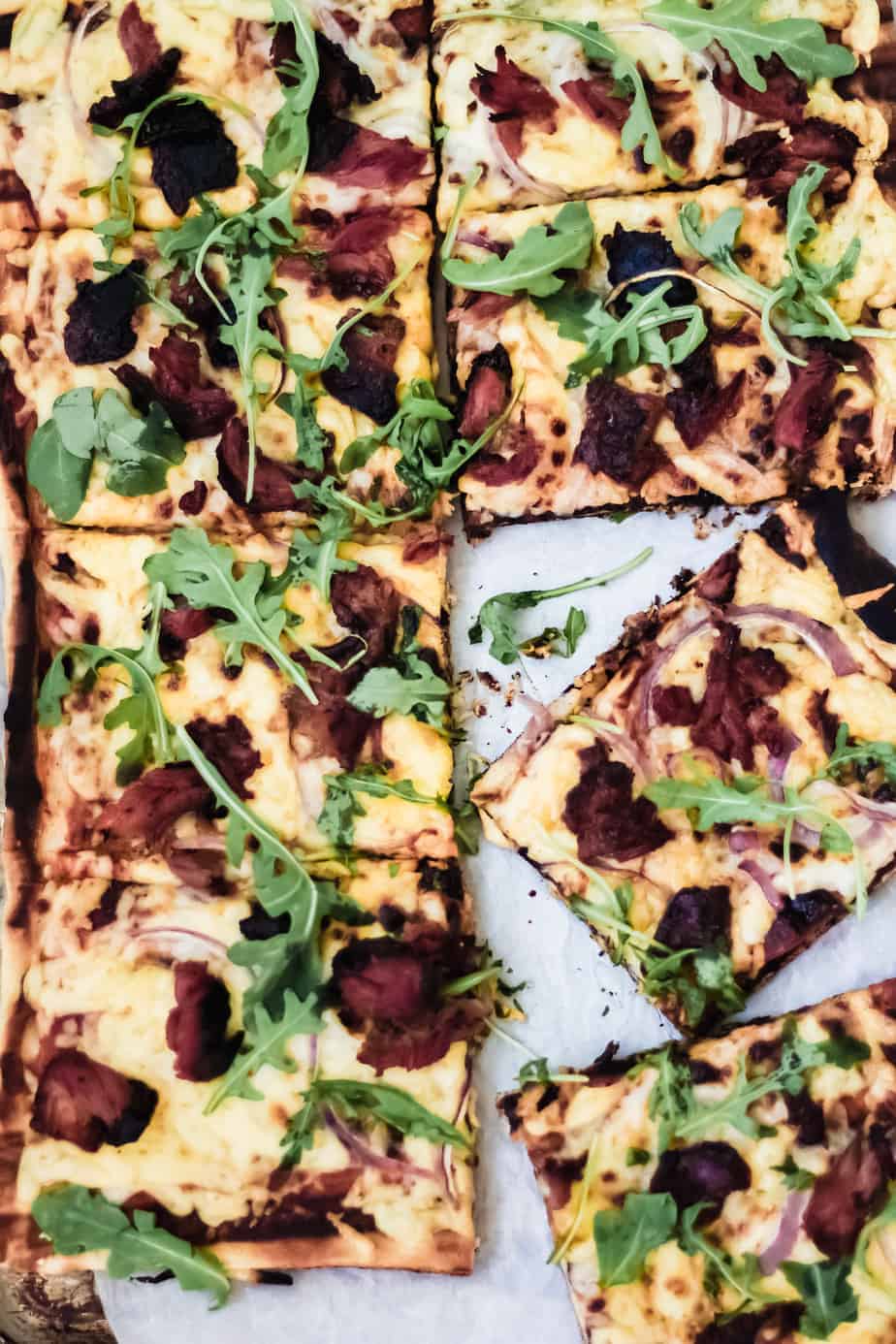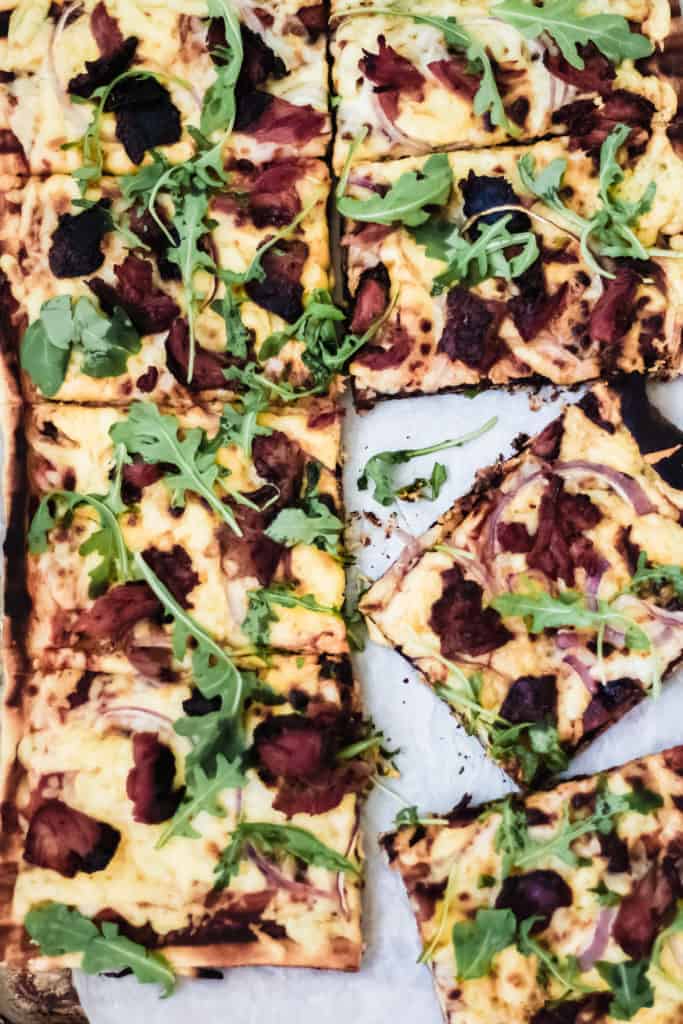 WHAT PROTEIN TO USE ON BBQ PIZZA
The beloved bbq pizza of my youth featured bbq chicken as the main protein, but I actually have a different protein preference for this grilled bbq pizza.
Ribs!
Ribs might be my favorite type of bbq meat: they are flavorful, melt-in-your-mouth tender, and delicious! I love using juicy rib meat that's bathed in bbq sauce on grilled bbq pizza to enhance the bbq flavor of the pizza.
You may be thinking, "Ok…she said this was quick and easy, but ribs take hours to make…" So how do I use bbq ribs as the pizza protein if I'm trying to get this pizza grilled during halftime?
I turn to Curly's. Curly's Baby Back Pork Ribs come fully cooked, so you don't have to spend the two plus hours it takes to cook ribs low and slow to get that tender, delicious rib meat you want.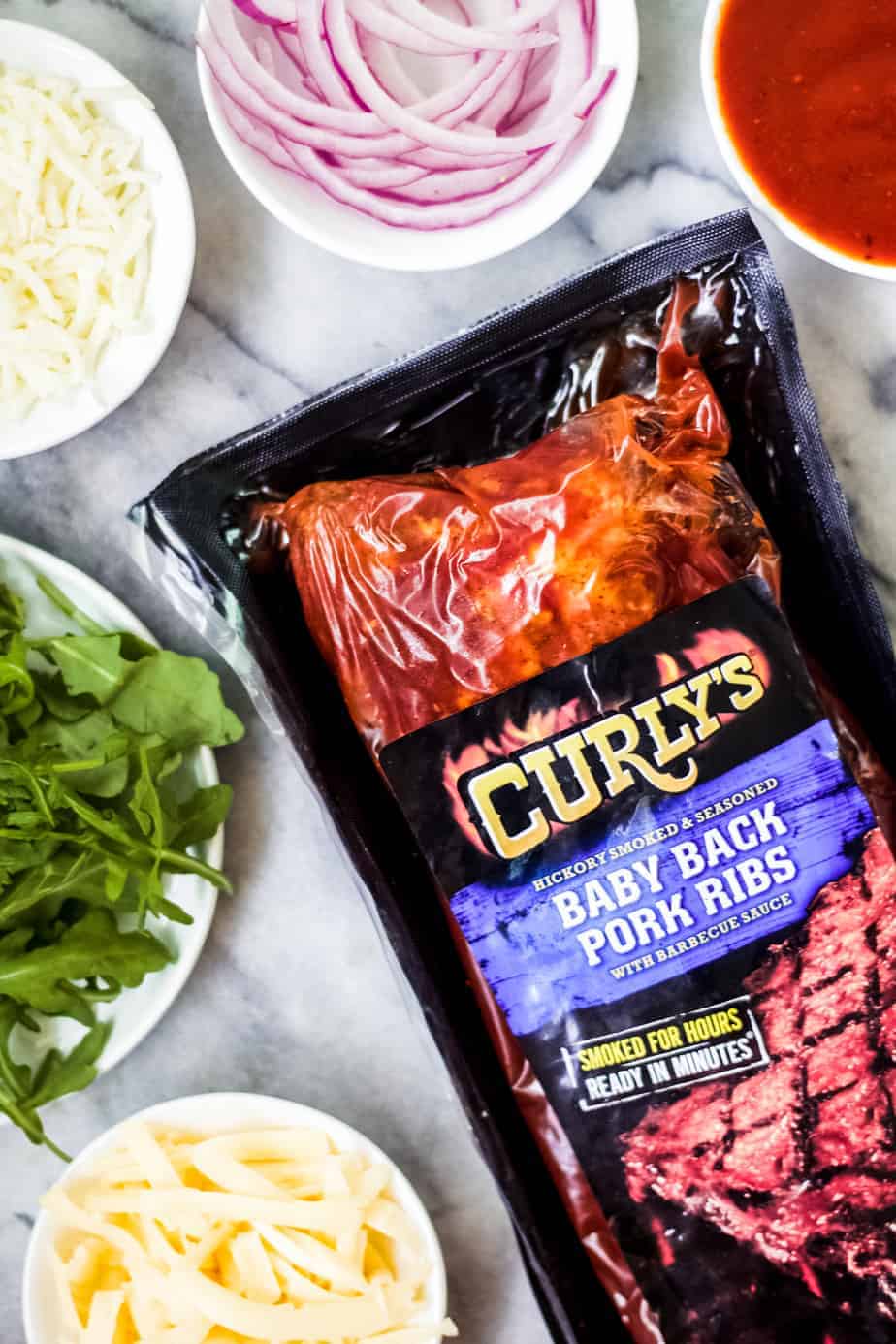 Curly's ribs are smoked and season for hours before being packed up, so all you have to do is heat them up on the grill, in the oven or in the microwave before digging into their juicy goodness.
Before topping the pizza, I quickly grilled a half rack of Curly's ribs just following the package instructions, and then easily pulled the rib meat off the bone to use as my pizza protein topping.
Pro tip: If you're trying to make this pizza at halftime, I'd suggest grilling the Curly's ribs before kickoff so then all you have to do at halftime is grill the pizza, which can be done in about 10 minutes.
HOW DO YOU GRILL PIZZA
The key to grilling pizza is prep. Because it takes less than 10 minutes to make a pizza on the grill, you want to have everything (sauce, cheese and toppings) prepped (sliced, diced and shredded) ahead of time, and out next to your grill before you start cooking.
I like to bring everything outside on two large sheet pans (one for the dough and the final pizza and one that has all of my other ingredients portioned off.)
That way, when I start grilling, I have everything I need and can work quickly.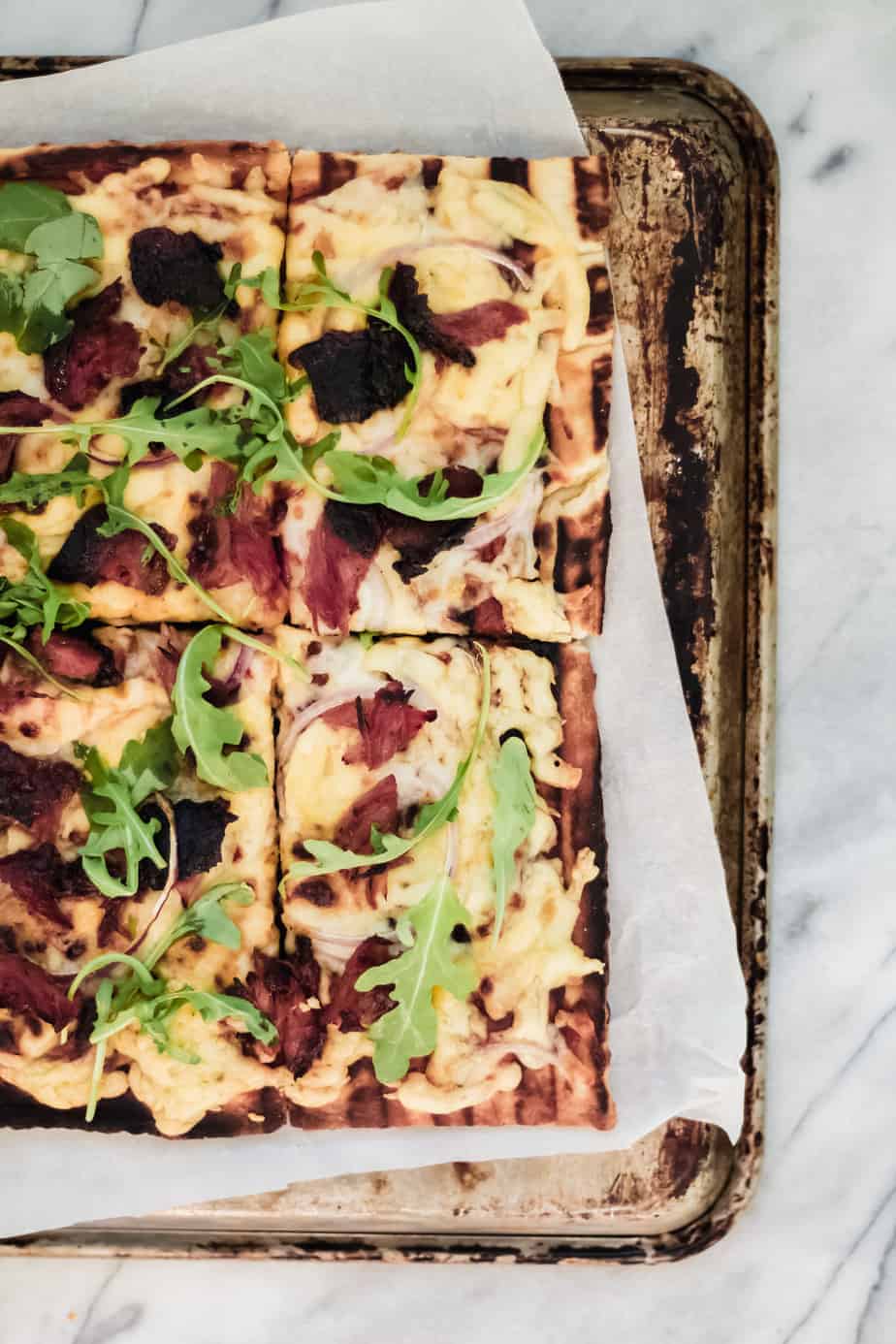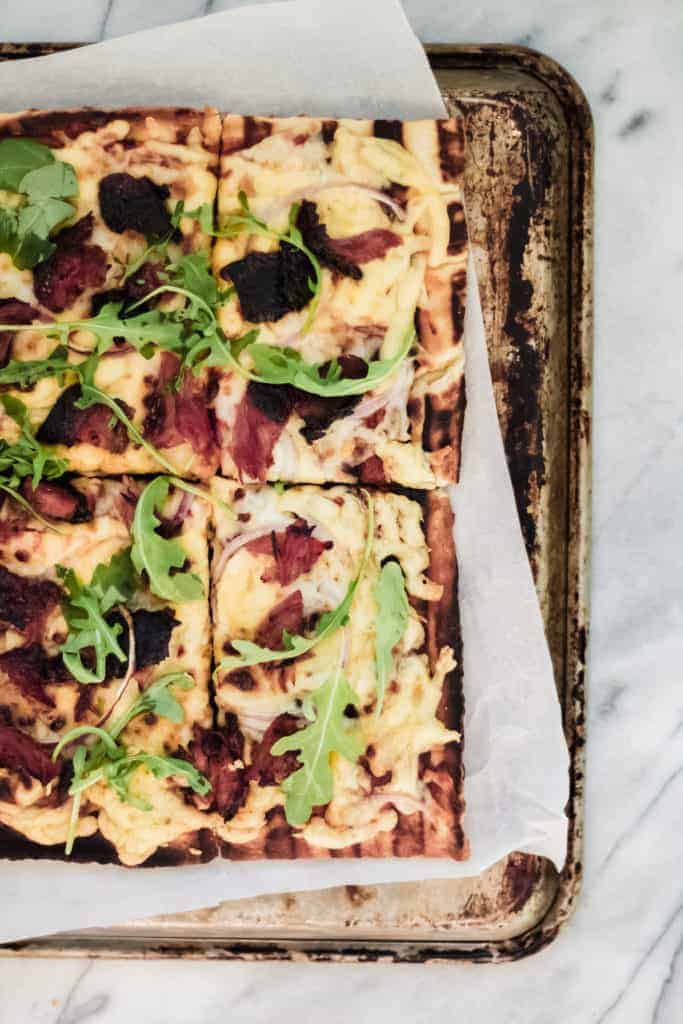 To grill pizza, you want your grill to be pretty hot (we usually preheat ours over medium high heat to between 400 and 500 degrees).
While the grill is preheating, roll and stretch out your pizza dough (give it a few tosses if you'd like) and then brush it with some olive oil so it doesn't stick to the hot grill.
When the grill is hot, put the pizza (oil side down) and grill for about 2 to 3 minutes until you have visible grill marks on the dough.
Oil the other side and flip it, grilling again for a few minutes.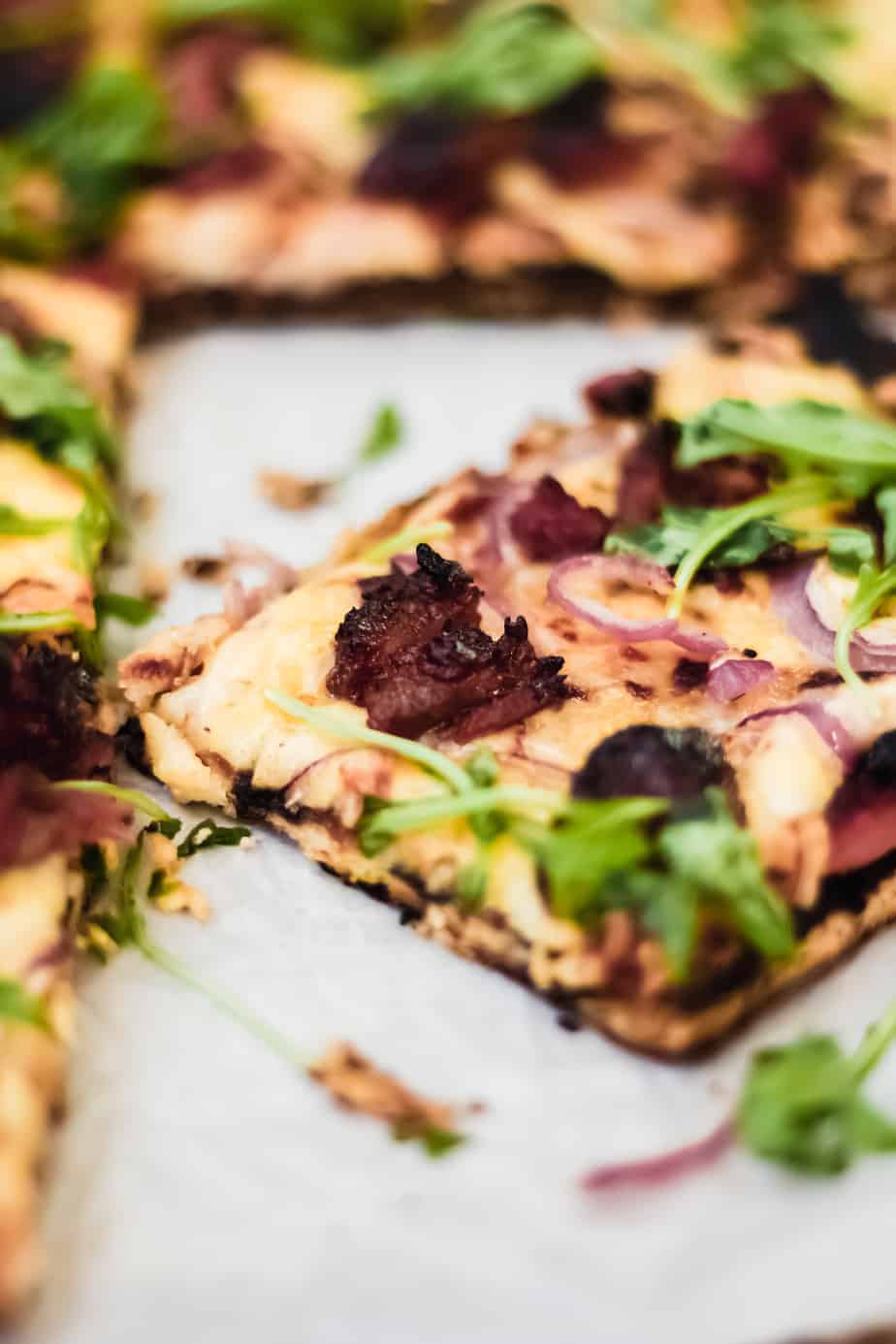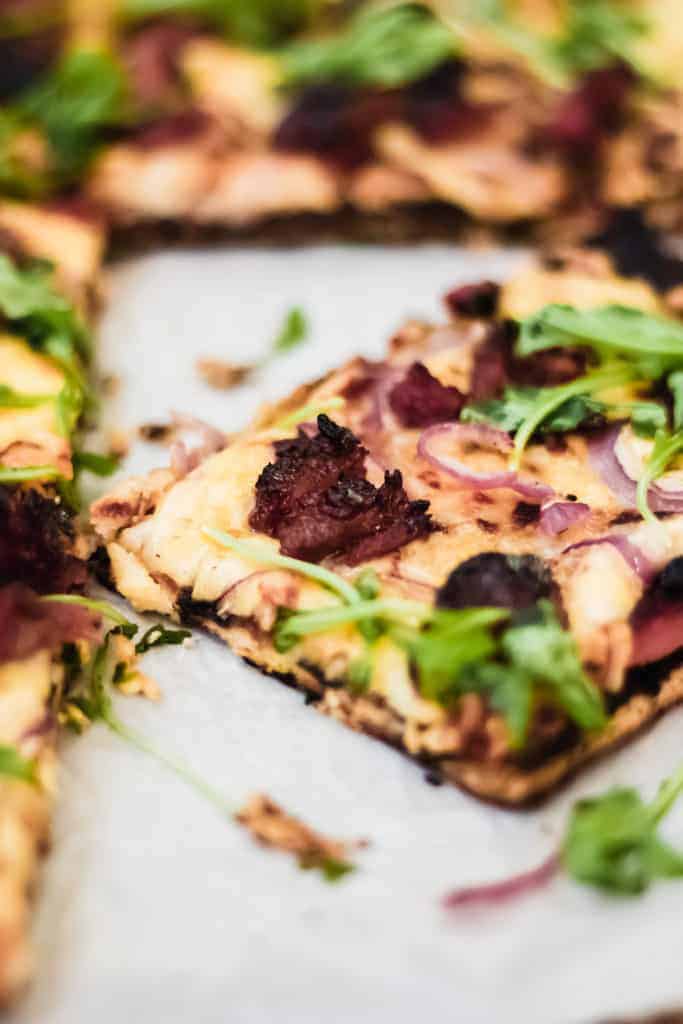 Once the crust is grilled, reduce the heat on the grill to medium low.
Moving quickly, top the pizza with sauce, cheese and toppings, and then put your grill cover back on.
Your pizza is ready when your cheese is melted and toppings are hot, which on our grill takes about five minutes over medium low heat (but every grill is different so I would just check every minute or two.)
Slice the pizza and get ready to chow down in the second half!