Sparkling peach sangria is a classic example of a batch cocktail: add all of the ingredients to a pitcher and the flavor will develop over time. This easy summer refresher is pretty hands off!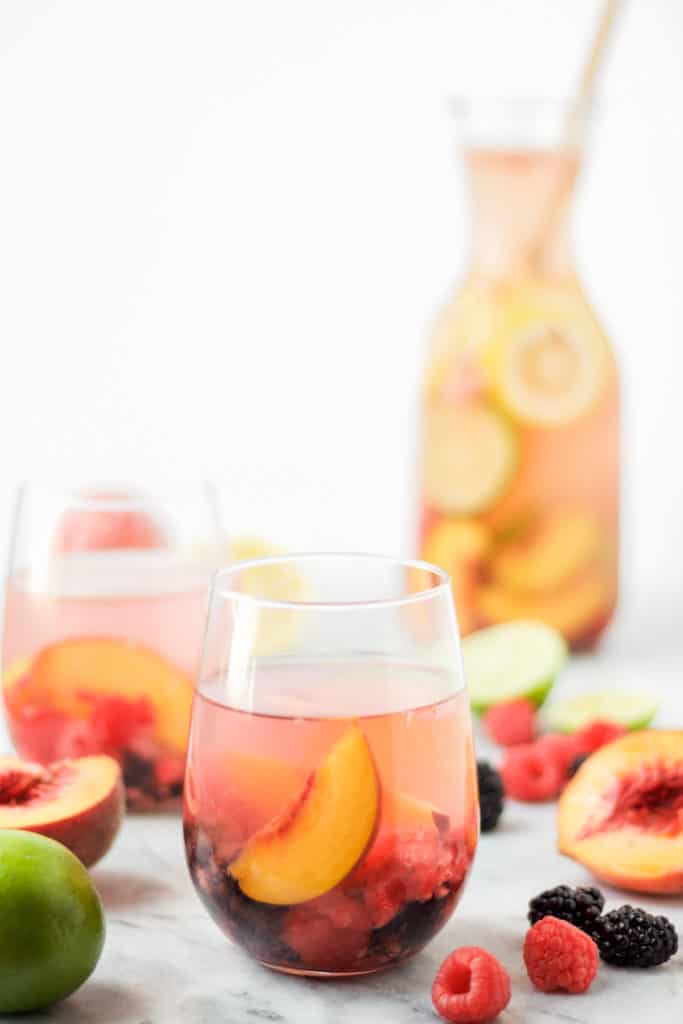 I really want to write a new blog post and share this delicious and easy cocktail recipe. Y'all know that easy summer cocktails like peach frose, Corona floats, watermelon frose, raspberry gin seltzer and sparkling raspberry lemonade punch are totally my jam.
But I don't have the time, energy, or frankly the words to wax poetic and ramble on and on about sparkling peach sangria.
So instead, in search of spreading (and finding my own) positivity, I'm just going to share some things I've been really loving lately, including this white wine peach sangria recipe!
Weekly neighborhood walks with Bodie and my friend, Kate.
Backyard happy hours.
Backyard pool parties with Bodie and my new inflatable kiddie pool.
Take out from some of our favorite Charlotte restaurants. (If you're looking for Charlotte restaurant inspiration, check out my Charlotte Restaurants Guide).
Cooking more at home too…currently obsessed with both of Chrissy Teigen's cookbooks.
Pizza.
Red wine.
Local beer delivery.
Peloton rides with Cody.
A week of rest and relaxation with my parents at the Outer Banks. (Sharing a recipe inspired by my dad's gin and tonics soon!)
Listening to Bryan Stevenson's Just Mercy as an audiobook.
Listening to The Chicks new album. (I think they are my favorite band of all time!)
Listening to Bryan Stevenson or The Chicks while driving around in my new jeep.
Watching Netflix. Netflix is not just something I've been loving lately but loving always. My recent favorites are Never Have I Ever, The Babysitter's Club, Queer Eye, Say I Do, and Schitt's Creek, always and forever. Also Taste the Nation was really good, but on Hulu.
Sleeping sandwiched between Bodie and Pheebs.
Growing (and eating) our own tomatoes.
Saturday morning masked farmers market visits.
Breakfast tacos.
Yoga.
Camping trips. (We're headed to a campsite on a lake near the mountains next weekend and are going to bring our new stand up paddle boards!)
Summertime peaches. (If you're looking for other easy recipes to use up your peach haul, try these grilled peach sundaes or peach frose.)
Making cocktails at home.
Which brings us to sparkling peach sangria, of course!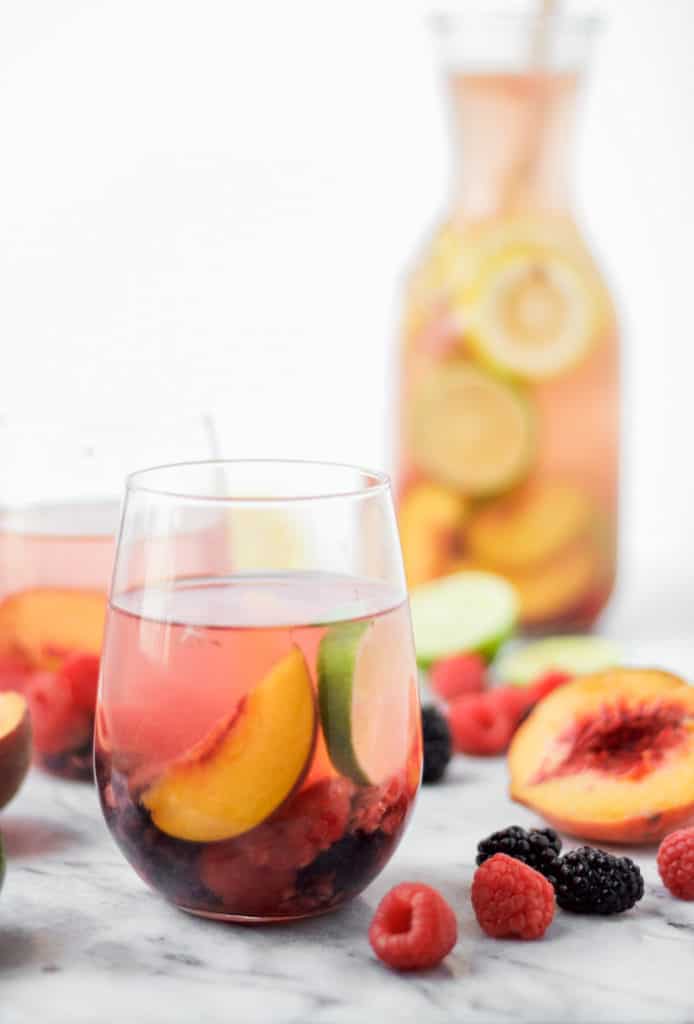 How to make sparkling peach sangria
The summer after I graduated college was the summer I fell in love with sangria.
I spent a week in Barcelona with one of my best friends, wandering the streets and staring at all the Gaudi we could. Besides the history, culture and art, I loved Barcelona because of the food. And the fact that you could always get a carafe of sangria from a sidewalk cafe anywhere in the city at basically anytime of day.
While red wine sangria is what I was mostly sipping on that summer, I love using seasonal summer fruits like peaches and berries with a chilled, dry white wine to make a refreshing white sangria for all these summertime backyard happy hours.
This recipe for sparkling peach sangria is very similar to the white wine sangria recipe I have in my cookbook, but kicked up a notch with bubbles rather than a simple white wine. (You can also make your sangria sparkling by adding club soda or soda water to your pitcher, rather than sparkling wine.)
To make sparkling peach sangria, slice lemon, lime and peaches, and combine them in a large pitcher or carafe with raspberries and blackberries.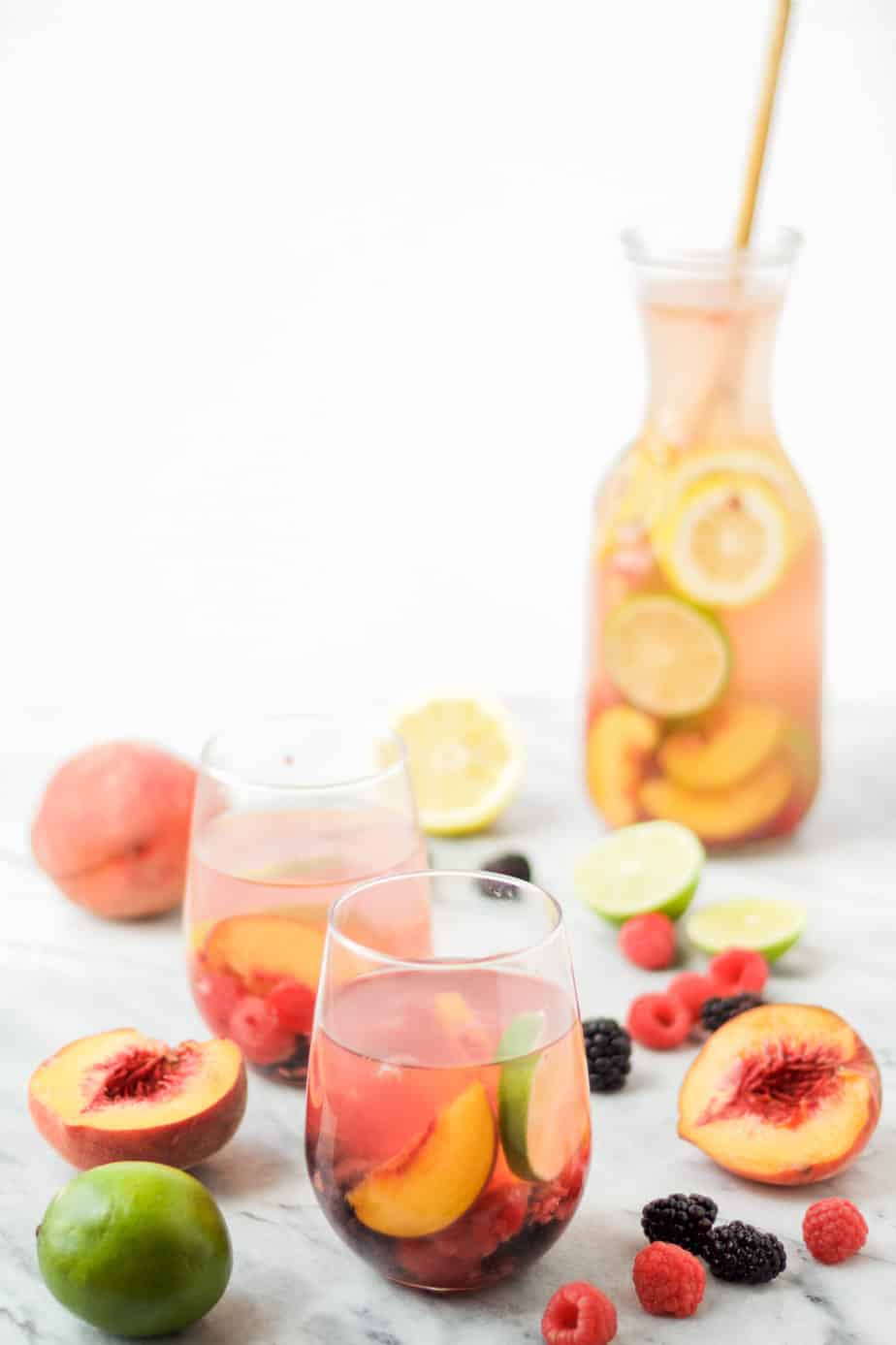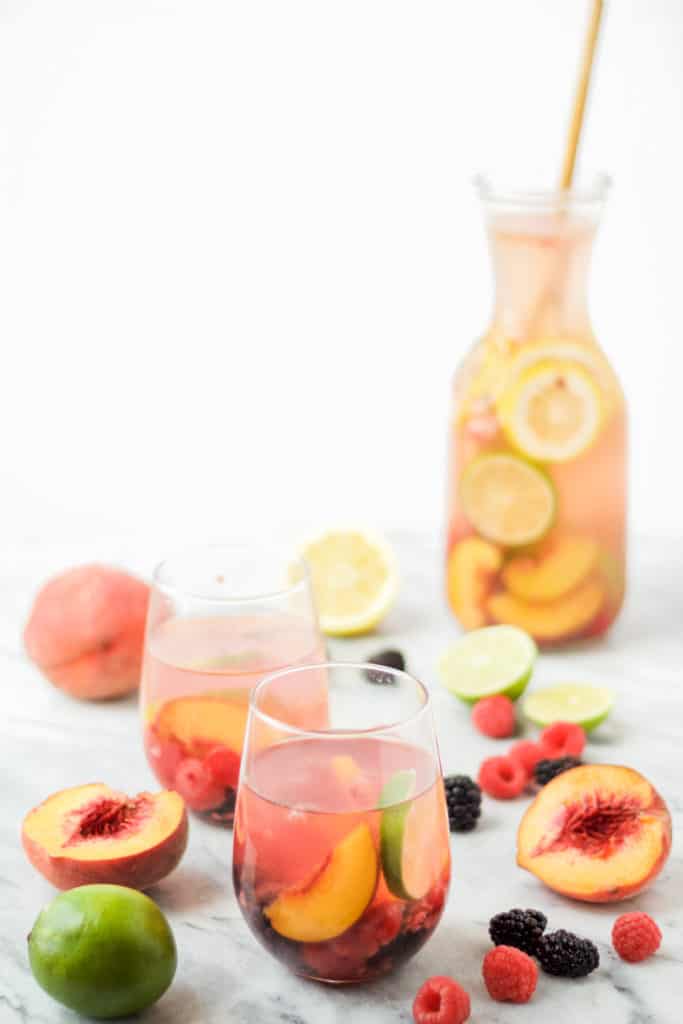 Muddle the fruit at the bottom with a large wooden spoon or a muddler so they are soft and release some of their juices.
Add peach schnapps and muddle again.
Top with chilled white sparkling wine: Champagne, Cava or Prosecco all work! Or, use a dry white wine and make your sangria sparkling (and a little less strong) by adding club soda or sparkling water to the pitcher.
Before serving, make sure you taste and adjust your batch of sparkling peach sangria based on your personal preferences. For more sweetness, add a little more peach schnapps, some honey or sugar. For more acidity, add a few squeezes of citrus.
How to batch cocktails
Batch cocktails are key for a crowd.
And while we may not be having many crowds together in 2020, I still believe in making white peach sangria in a batch rather than in individual servings.
So what do I mean when I talk about batching cocktails?
Batching cocktails is making them by the pitcher or the bottle rather than one at a time. Batch cocktails are clutch when it comes to having people over because when your hosting, you don't want to be messing with shakers and shots for individual drinks. Batching allows you to make everything ahead of time and pour and enjoy when your guests arrive.
You mix a large quantity at once, cool it down, and serve it stress free. After all, cocktails are supposed to be relaxing right?
Sangria is a classic example of a batch cocktail: add all of the ingredients to a pitcher and the flavor will develop over time. Keep a few bottles of white wine or bubbly and some chilled fruit in the fridge to replenish the pitcher or carafe as necessary.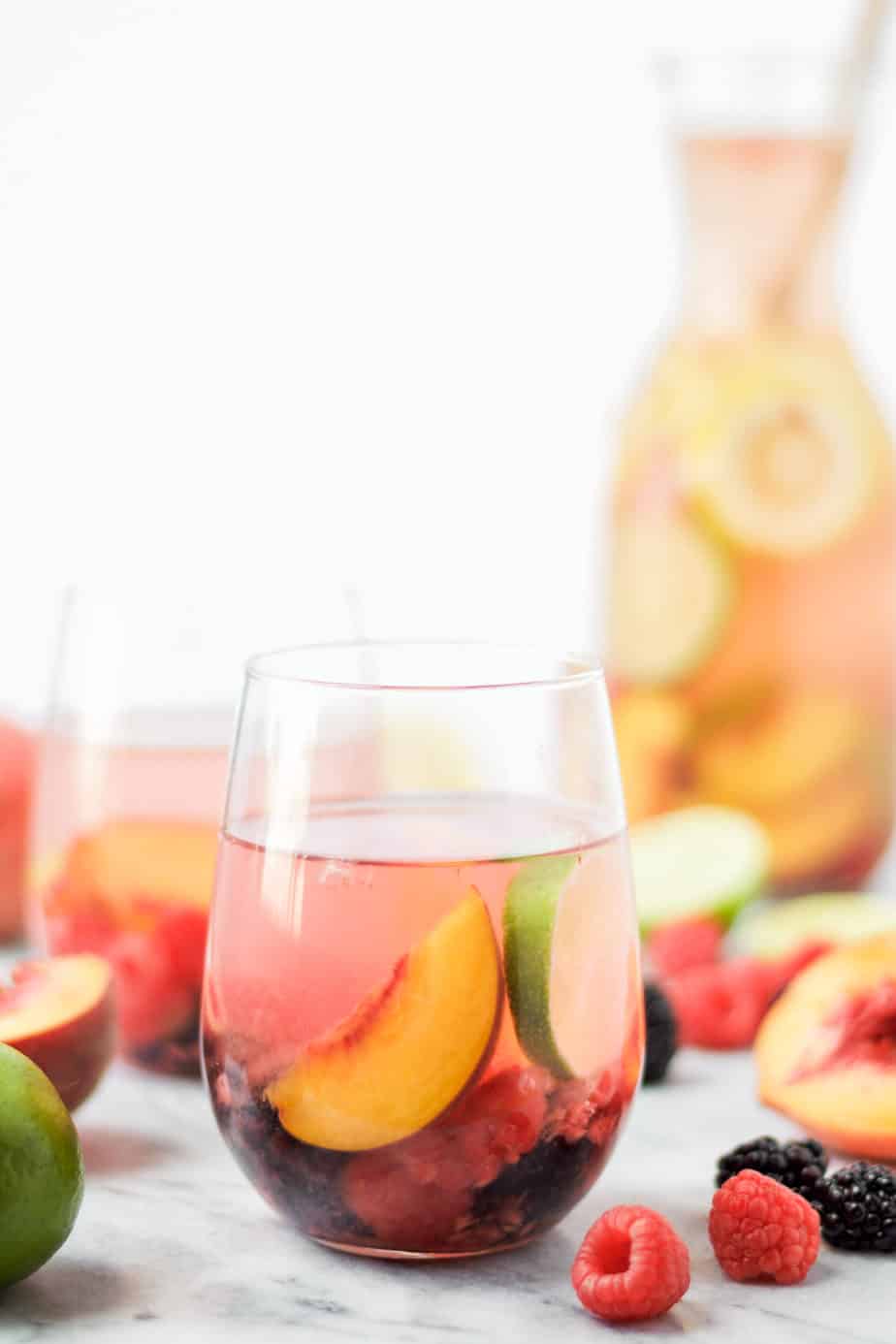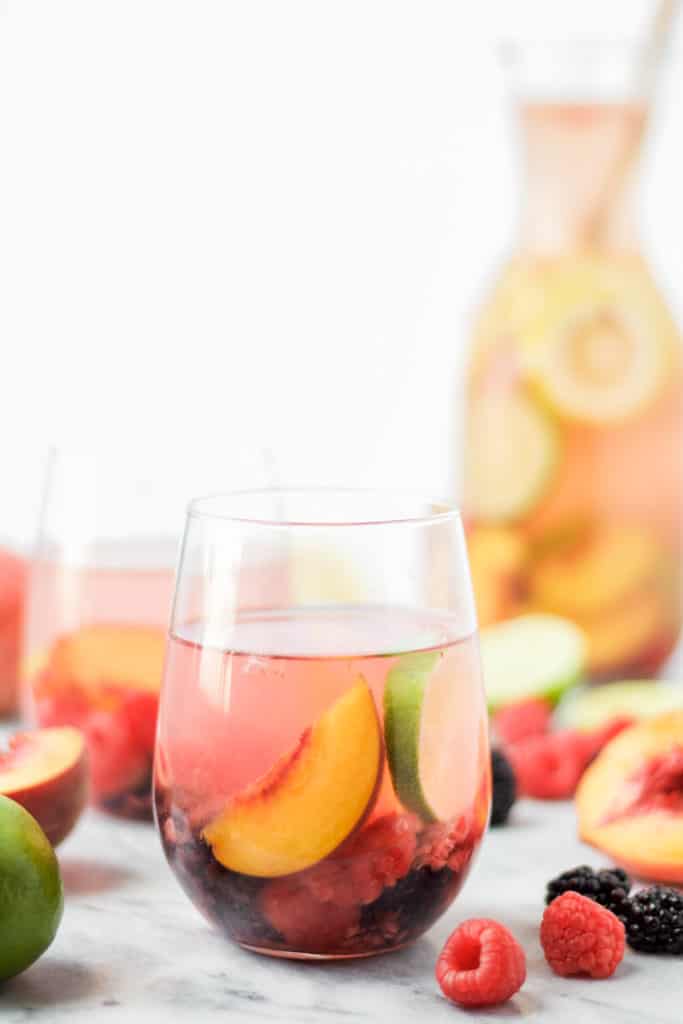 To batch this sparkling peach sangria ahead of time, cut all the fruit and add it to a large pitcher. Muddle with peach schnapps.
If using sparkling wine, chill the wine and add it just before you're serving it…if you add it too soon and store it in the fridge, the bubbles will go flat.
If using white wine, you can add it to the pitcher and store in the fridge until serving.
Which white wine is best for sangria?
For sparkling peach sangria, any sparkling or bubbly wine will do, but I recommend a crisp Champagne, Prosecco or Cava. You do not want to use a flavored sparkling wine in this sangria because you don't want the flavor of the wine to compete with the fruits and citrus in the sangria.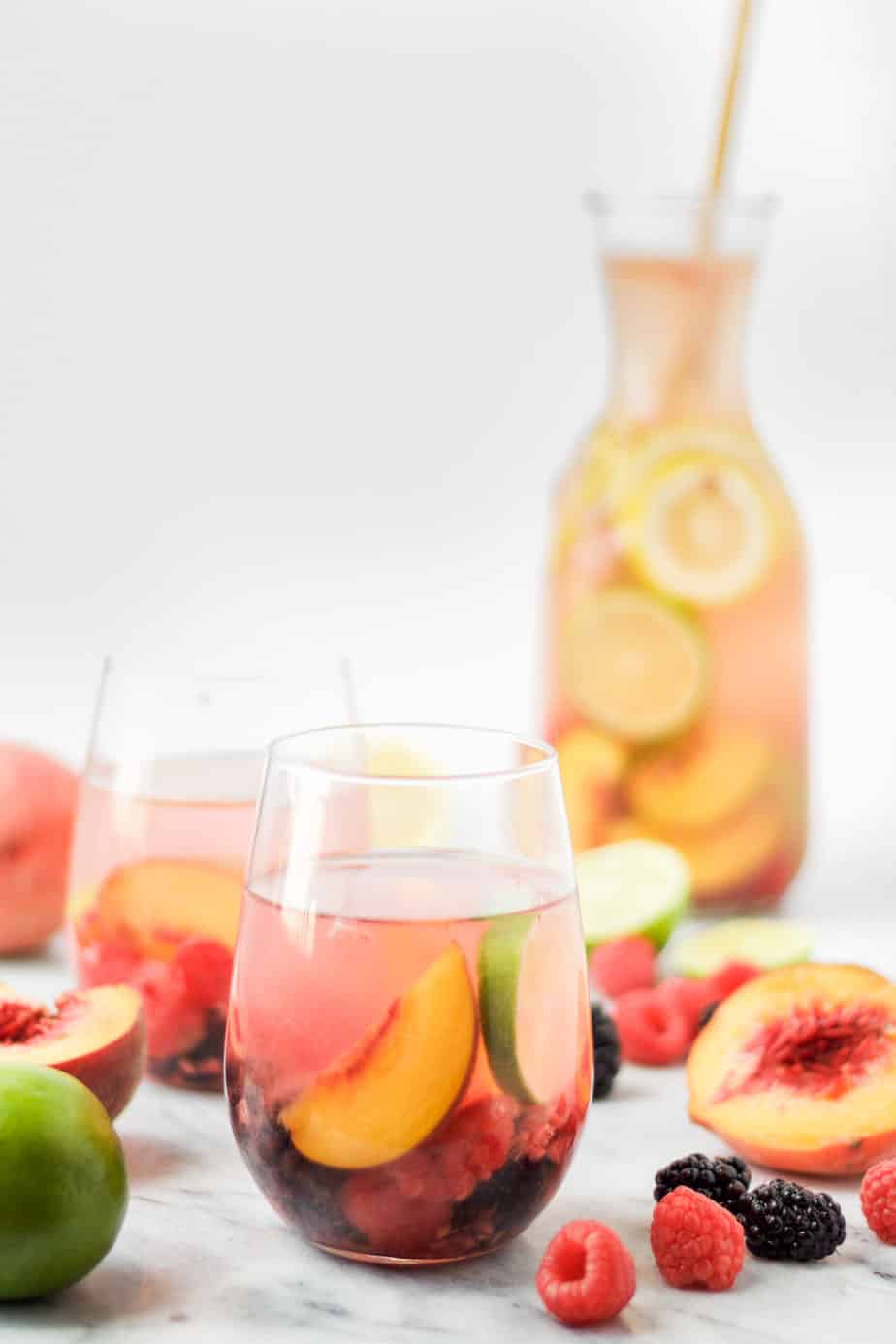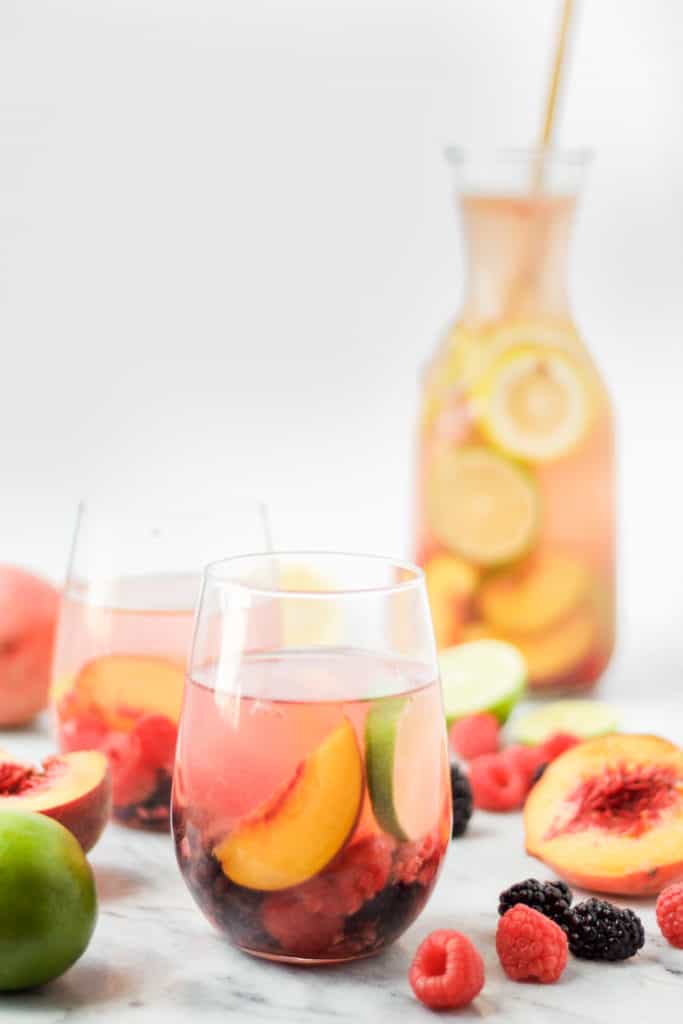 For a regular white wine (no bubbles) you want use something that is dry, crisp and light and avoid anything oaky, like Chardonnay.
So that means you are looking for a light, crisp white wine, and the best wines to use are:
Riesling
Sauvignon Blanc
Pinot Grigio
Vinoh Verde
Viongier
What are the best fruits for sangria?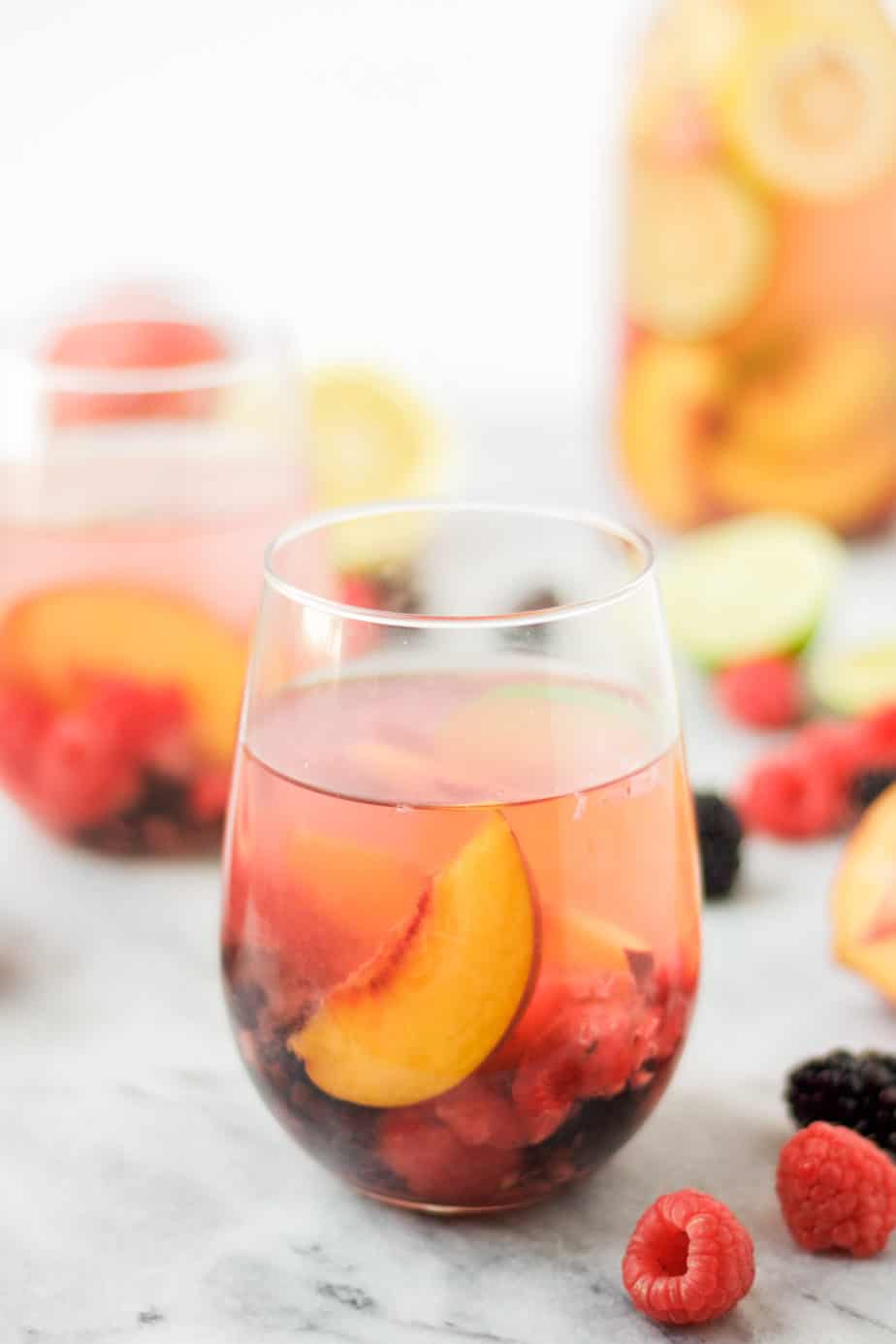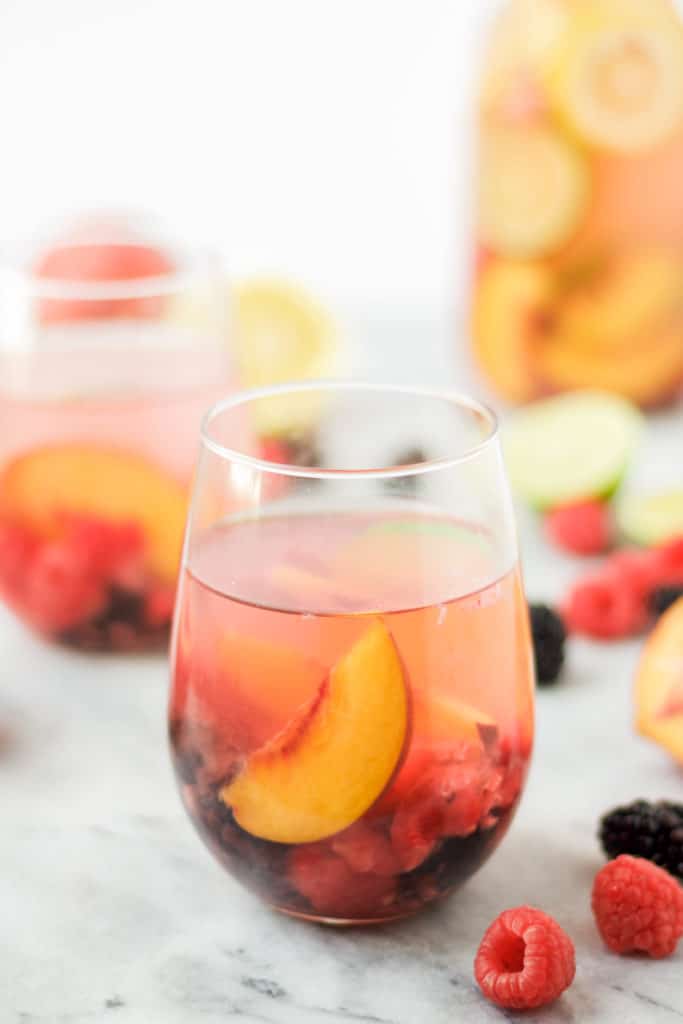 This white wine sangria recipe calls for summer peaches, summer berries like raspberries and blackberries, as well as lemon and lime.
If you don't have these ingredients on hand, you could use a few different fruits as substitutions. Orange would be a great citrus substitute for the lemons or limes, and would also work as an ingredient in a red wine sangria.
Plums or nectarines could be a good stone fruit substitute for the peaches…and I think plums would also taste great in a red sangria!
And you can definitely sub out strawberries for the raspberries or blackberries, whether you are using a sparkling wine or a white wine.
Other fruits that would taste good in a white wine sangria include cherries, watermelon, green apple, pears and even grapes.
Cheers!