A refreshing twist on a timeless classic, made with fresh peaches and Coopers' Craft Barrel Reserve Bourbon, this peach whiskey smash recipe is an easy and delicious drink perfect for sipping on warm summer nights!
This content was created in partnership with Coopers' Craft and I am receiving compensation for this post. The following content is intended for readers who are 21 or older. All opinions and content are my own. Thank you for supporting brands and businesses that support Off the Eaten Path!
Looking for other spring and summer cocktail recipes? Try watermelon frose, frozen gin and tonics, hurricane drinks, or pina coladas perfect for the 4th of July!
This fall, my parents moved to Charlotte.
After spending the last 15 years or so with at least a 6-7 hour drive between us, it's been really nice to have them just 20 minutes away.
Once they got settled in the Queen City, we started weekly backyard dates, where they'd come over for lunch, to watch a football game or just catch up over a cocktail.
My dad is a bourbon lover. He will drink it on the rocks and makes a mean Manhattan, so at a recent backyard happy hour, we decided to introduce him to a bourbon smash.
Feedback: he loved it! Move over gin and tonics, I have a feeling the bourbon smash is going to become his go-to cooling cocktail to get him through sticky North Carolina summers.
WHAT MAKES A DRINK A SMASH COCKTAIL
One of the reasons I love this classic cocktail is because there are no hard and fast rules when it comes to a smash. I love how it can be easily adapted to the ingredients you have on hand, the flavors that you love, and the season that you're in.
A smash cocktail is actually a super simple cocktail, so let's start with the basics:
a base spirit (like bourbon whiskey, gin, or vodka)

ice

a splash of water (or soda water, ginger beer, or ginger ale)

mint or other herb (like basil or rosemary)

sugar

seasonal fruit (for summer smashes, you'll seasonal fruit like peaches, blackberries, and blueberries, and in the winter, I love a Blood Orange or a

Cranberry Bourbon Smash

)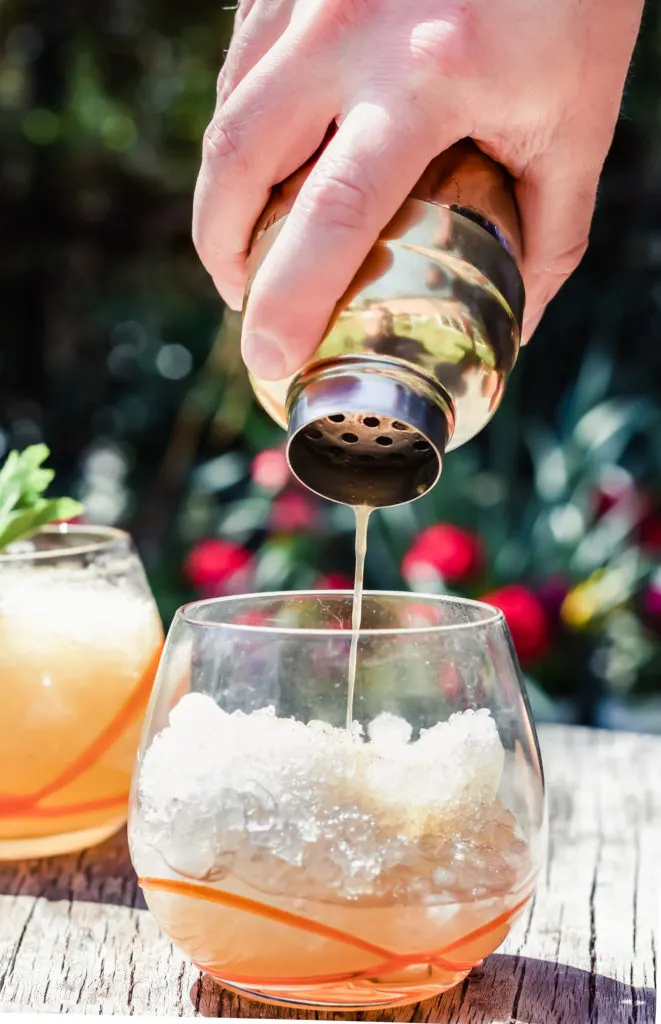 It's a great drink because as long as you have the basics, you have a smash.
From there, you can choose-your-own-adventure. The adventure starts with picking spirit base or the liquor (my usual spirit of choice is bourbon whiskey but I do love a gin smash too!)
You'll want to make your drink with ice to make it cool and refreshing, but you can choose to pour over fresh ice or strain it out.
When it comes to the seasonal fruit, you can muddle it, infuse it in a simple syrup (like this peach syrup recipe), or simply use it as a garnish.
I usually like to include some fresh lemon juice (or lime) for additional acidity and brightness, mint or basil, and finish my cocktail off with a splash of ginger beer.
LETS LEARN MORE ABOUT BOURBON WHISKEY
Whiskey is a distilled alcoholic beverage made by fermenting grain mash and then aged in wooden barrels.There are many different styles of whiskey, and the style or type of whiskey depends on the distilling type, the barrel used during aging, and the location or country where the whiskey is produced.
The most popular types of whiskey are Bourbon Whiskey, Tennessee Whiskey, Rye Whiskey, Irish Whiskey, Scotch Whisky and Japanese Whisky.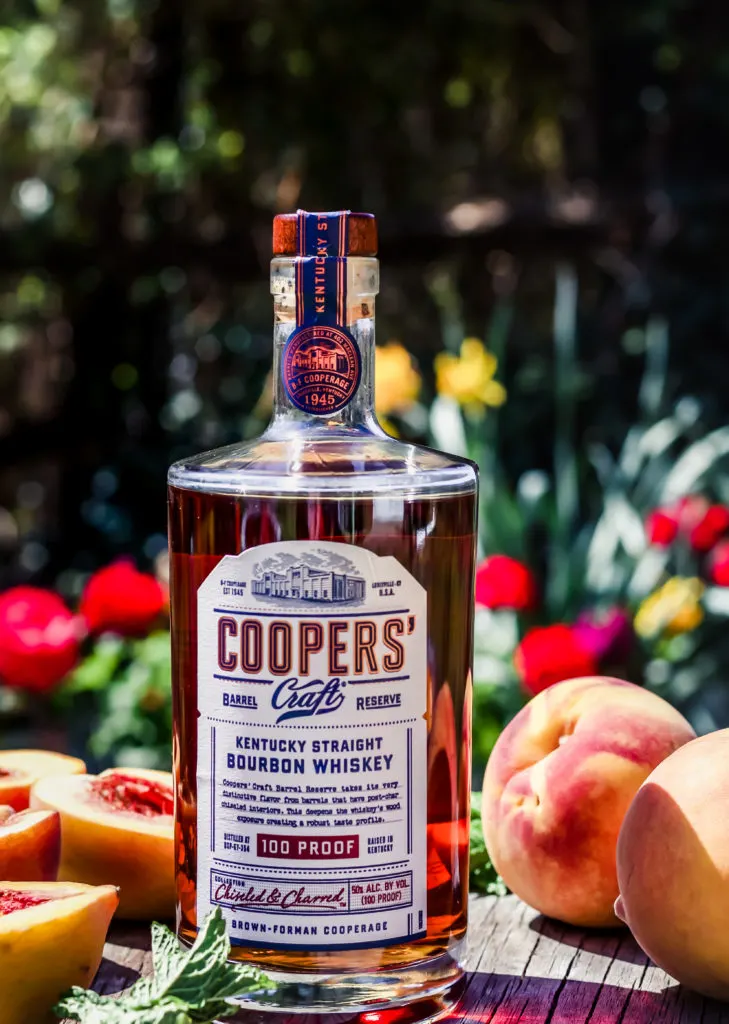 Bourbon is a specific type of American whiskey that is made from at least 51% corn and aged in oak barrels.
The name bourbon comes from Bourbon County, Kentucky: the region where the spirit was invented. Today over 95% of the bourbon produced is made in Kentucky. Bourbon, because of the corn mash, is usually sweeter than other types of whiskey and has a full bodied feel.
HOW TO DRINK BOURBON WHISKEY
If you're new to drinking bourbon, here are a few ways you can enjoy it:
Neat: Drinking bourbon neat means you are drinking it at room temperature with no ice and no additives. This will showcase the purest form of the liquor and its flavor because there is nothing else interfering with its rich flavors and aromas.

On the rocks: On the rocks means over ice, so a bourbon on the rocks is bourbon poured over ice. If you prefer cooler beverages, on the rocks is for you…while the ice may dilute some of the liquor's stronger flavors, you will still be able to savor the pure taste and smell of the bourbon.

In a cocktail: some bourbon whiskey drinks are more spirit forward while others are more light on the palate. Examples of spirit forward bourbon cocktails are drinks like a Manhattan or an

old fashioned

, while a bourbon smash, mint julep or bourbon sour are more light and refreshing…perfect for a warm summer evening!

With friends: everything is better with friends, right?
COOPERS' CRAFT BOURBON
A cooper is a person who makes, or raises, the wooden barrels that bourbon is aged in, and Coopers' Craft Bourbon was created to honor and celebrate the Brown-Forman barrel makers, the craft of barrel raising, and the importance of wood in bourbon making.
And wood is super important when it comes to bourbon making: fifty percent of the flavor of bourbon and one hundred percent of the color in bourbon comes from the type of barrel used!
Coopers' Craft makes two different types of bourbon: the original Coopers' Craft bourbon and Coopers' Craft Barrel Reserve. Both bourbons start with the same spirit base, including yeast strain, age and mash fill, but the differences come in the aging barrels to create two different flavor profiles.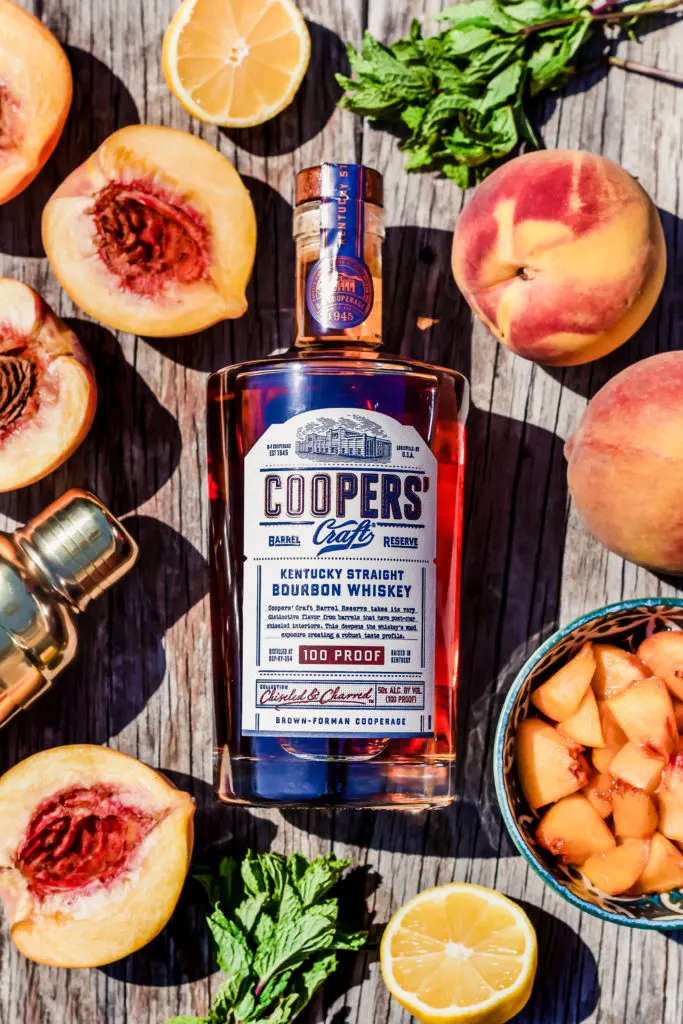 The original is aged in a traditional American White Oak barrel. After aging, it is filtered through a beech and birch charcoal finishing process, which creates a smooth and gentle, light amber colored, easy drinking bourbon.
On the other hand, Coopers' Craft Barrel Reserve is aged in a chiseled and charred American White Oak barrel which increases the barrel's surface area and deepens the whiskey's wood exposure and creates a higher proof bourbon with a bolder, robust flavor.
At home, AJ and I have enjoyed both of these bourbons as regular sippers (AJ likes his bourbon neat, and I prefer mine on the rocks), but we have also found they both are really delicious as mixers in cocktails too, like in the spring and summer sipper we are making today!
WHAT YOU'LL NEED TO MAKE A BOURBON PEACH SMASH COCKTAIL
These are the tools you'll need to make this smash cocktail recipe:
A sharp knife to cut peach slices

A cocktail shaker

A rocks glass or collins glass for serving (a rocks glass is short, a collins glass is also referred to as a highball glass, perfect for sparkling beverages but not ideal for a neat pour)
And here are the ingredients you'll need:
Fresh peaches

Sugar and water (to make simple syrup)

Fresh lemon juice

Mint leaves

Ginger beer

Plenty of ice
HOW TO MAKE A BOURBON PEACH SMASH COCKTAIL
The first step is to make the peach simple syrup (and there are tons of instructions and tips on making flavored simple syrup in the FAQs towards the bottom of the post). The goal of the simple syrup is to infuse tons of peach flavor into the syrup using fresh diced peaches, sugar and water.
You'll want to let the simple syrup cool and come to room temperature so it doesn't melt the ice…so I recommend making the simple syrup a day or two in advance just so you don't have to wait for it to cool when you're ready to make your peach cocktail!
Then it's time to make the peach whiskey drink!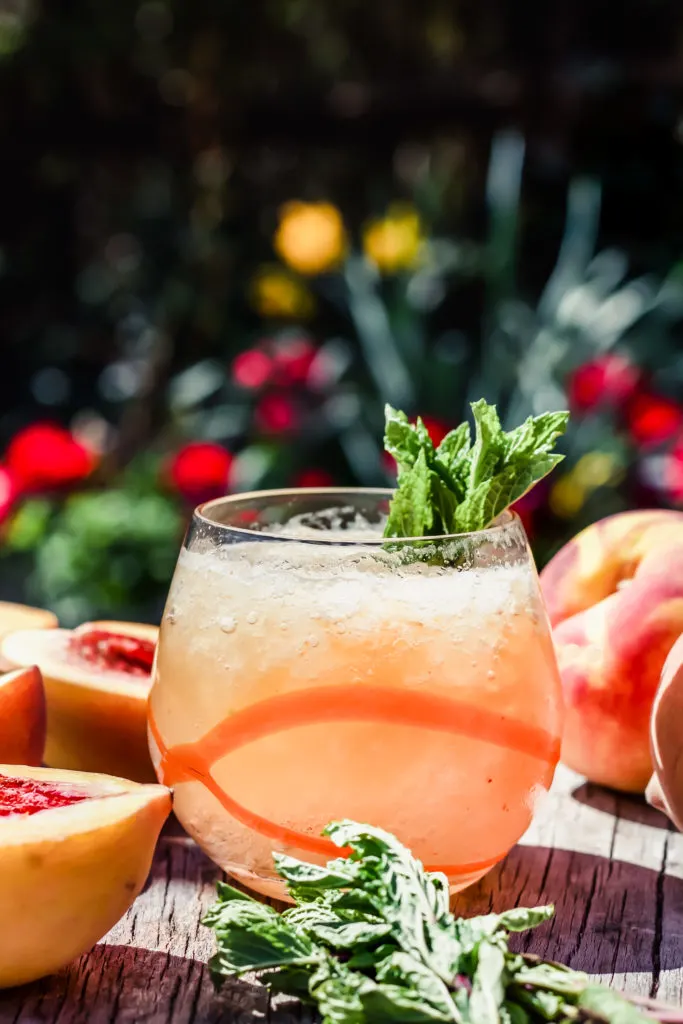 Throw some fresh mint leaves and squeeze some fresh lemon juice into the bottom of a cocktail shaker.
Pour 2 ounces of peach simple syrup, and then 2 ounces of Coopers' Craft Bourbon.
Add ice to the shaker and shake until the flavors are combined.
Strain over fresh ice in a rocks glass or collins glass and top with a splash of ginger beer.
Garnish with peach slices and a sprig of mint and enjoy!
SMASH COCKTAIL TIPS AND TRICKS
Simple syrup vs. Muddled Fruit
You can get the peach flavor in this cocktail in two different ways: by using a peach flavored simple syrup or by muddling the fresh fruit in the bottom of a cocktail shaker or of the bottom of the rocks glass.
I tested the recipe both ways, and found that the best way was making fresh peach simple syrup for a few reasons.
First, I didn't feel that the muddled fruit produced enough peach juice to give the whiskey drink a strong peach flavor (muddling may be a better option during the height of peach season when you have a bunch of juicy, ripe peaches to use.)

Second, the muddled fruit tended to block the top of the cocktail shaker when straining the drinks over fresh ice, leaving a lot of the whiskey cocktail in the shaker rather than in the glass. Peach simple syrup solved both of these issues and packed a ton of peach flavor and yielded more liquid in the cocktail glasses after straining!

Picking the right ice
Did you know that ice is an important ingredient in a cocktail? Not just that it's there, but the type of ice you use can affect the quality, integrity and flavor of the drink.
Crushed ice (or pebble ice) is the ideal ice to use for smashes and mint juleps (as well as tiki drinks) because they are designed to be served in warm climates (this peach one would be so refreshing on a warm summer night am I right?) and use concentrated simple syrup. Crushed ice thins out the sweet syrup and provides the right amount of dilution for the drink without watering it down and also while still keeping it cold.
You can easily make crushed ice at home in a blender or with a mallet and a Lewis bag (or a meat tenderizer and a clean dish towel).
That being said, if you don't have crushed ice at home, don't worry! Any type of ice will really do, even though crushed is preferred.
Adding the splash of water
My favorite way to add the "splash of water" from the basic smash recipe is to top my cocktail with something fizzy.
I usually prefer ginger beer which adds a little spice or kick, and the ginger flavor pairs well with both peaches and bourbon whiskey.
Ginger ale is also a good option, offering a more mild flavor that ginger beer, but still bringing a complementary ginger flavor to the drink.
Club soda, soda water or seltzer water would be my third choice, just because they are flavorless so they wouldn't enhance the drink's flavor.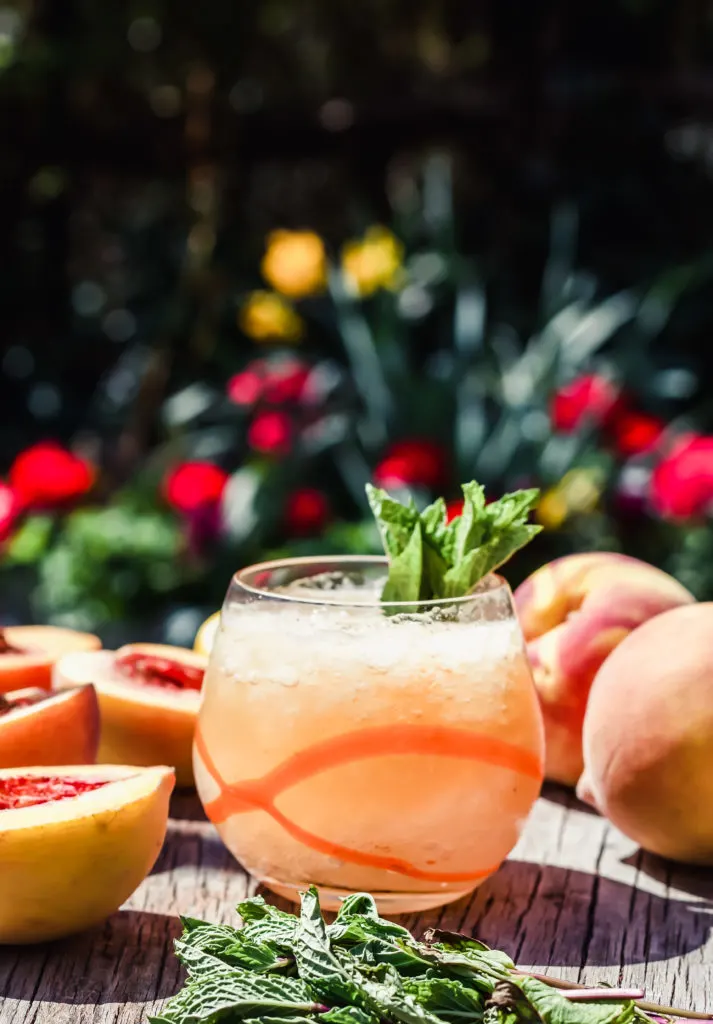 FREQUENTLY ASKED QUESTIONS
IS BOURBON A SUMMER DRINK?
Yes! Because of its full bodied flavor profile, bourbon is often thought of as a fall or winter liquor, you can drink bourbon all year round and it can be really refreshing in a cocktail in the spring and summer.
HOW TO MAKE SIMPLE SYRUP
One of the easiest ways you can make more delicious cocktails at home is by using fruits, herbs or spices to make a simple syrup to flavor your drinks. (PS: If you want to learn how to make better cocktails at home, I have a super detailed guide full of basic cocktail recipes, tips, tricks, flavor pairings and more that will definitely help you elevate your at home cocktail game.)
Traditional simple syrup is made by combining one part water and one part sugar; just a one to one ratio. Normally, white granulated sugar is used as the sweetener in a simple syrup, but you can also use brown sugar, honey, maple syrup, or other sweeteners.
You can also make a rich simple syrup, which is a two to one sugar to water ratio, which will give you a thicker, sweeter syrup. To make simple syrup, measure one cup sugar with a dry measuring cup and one cup water with a liquid measuring cup.
Pour the water into a small saucepan and heat. Once the water is warm, add the sugar and stir or whisk to dissolve. The water does not have to come to a boil, it just needs to be warm enough to dissolve the sugar. Once the sugar is dissolved, remove the saucepan from heat and let the syrup cool. Transfer the syrup to a glass bottle, mason jar or other container and store in the fridge up to 3 weeks. To make peach simple syrup, there is only one extra thing you need to add to the traditional or basic simple syrup recipe.
Peaches!
Take two whole, fresh peaches, remove the pits and dice them, leaving the skins on. Add the water, sugar and peaches (I use ¾ cup of sugar instead of a full cup because peaches are naturally sweet) to a small sauce pan and heat over medium heat and stir until the sugar dissolves into the water.
Bring the mixture to a quick boil and then reduce the heat to low and simmer for 15 to 20 minutes. Remove the pan from the heat, cover, and allow the peach simple syrup to steep and cool.
Once cooled, strain the fruit before storing the simple syrup in a mason jar or other container.
I love having a mason jar of peach simple syrup all summer long in our fridge to make drinks with! You can use it in this bourbon smash recipe, but also for mules, margaritas or to make peach sweet tea too!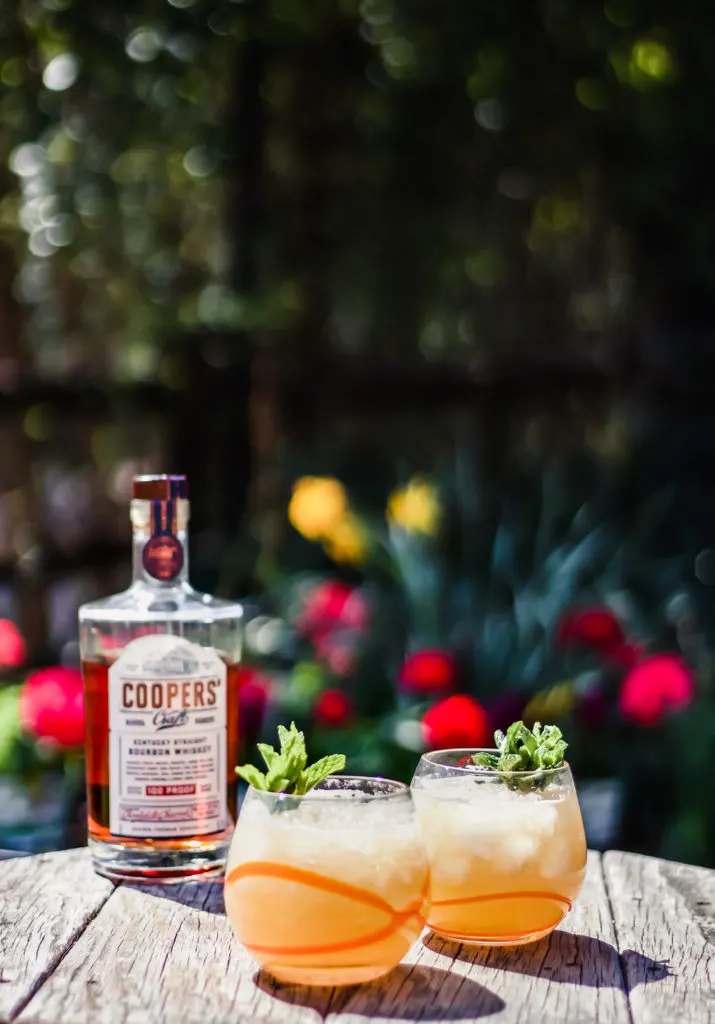 WHAT IF I DON'T HAVE FRESH PEACHES
That's ok! I love making this drink in the spring and summer when we are in peak peach season in North Carolina, because in my opinion, there is nothing more delicious than a juicy ripe peach. (Have a bunch of ripe peaches and looking for a way to use them? Beyond this smash, why not try peach frose, sparkling peach sangria or grilled peach sundaes?)
However, sometimes we just can't make fresh peaches work and so I have two substitution ideas for you if you can't get your hands on fresh peaches or the ones at the store or farmers market aren't up to your standards.
You can also use canned peach slices or diced peaches or peach jam. If you are going to pick either of these options, I would definitely make a peach simple syrup (include a few tablespoons of either ingredient) and would not muddle the fruit or peach jam in a cocktail shaker because it would have a totally different and much sweeter than fresh peaches.