Pimento cheese jalapeno poppers are a Southern spin on a popular party appetizer.
When I wrote a post about one of my favorite game day recipes, roasted jalapeno poppers, four years ago, it was just another post for me.
I wanted to share a recipe with my readers that we loved to make as an easy appetizer or for tailgates or game watch parties…a tried and true family favorite, just like any of my other recipes like my mom's chili, my grandmother's easy homemade spaghetti sauce recipe, my aunt's pepperoni bread, or a game day favorite in our house, beer cheese fondue.
What I learned is that when it comes to jalapeno poppers, its never just another post.
People apparently LOVE poppers.
They are searching far and wide for the best jalapeno popper recipes (and I'd argue that mine is one of the best).
That post, time and time again, month after month, year after year has been, by far, the most popular post on my blog.
So of course, I had to embrace it and give the people what they want, which is clearly more poppers!
We've got Halloween themed jalapeno poppers.
We've got crab stuffed jalapeno poppers.
In the pipeline we've got smoked, grilled and air fryer jalapeno poppers. Maybe goat cheese stuffed jalapeno poppers? What kind of poppers recipes would you like to see?
And today we have pimento cheese jalapeno poppers!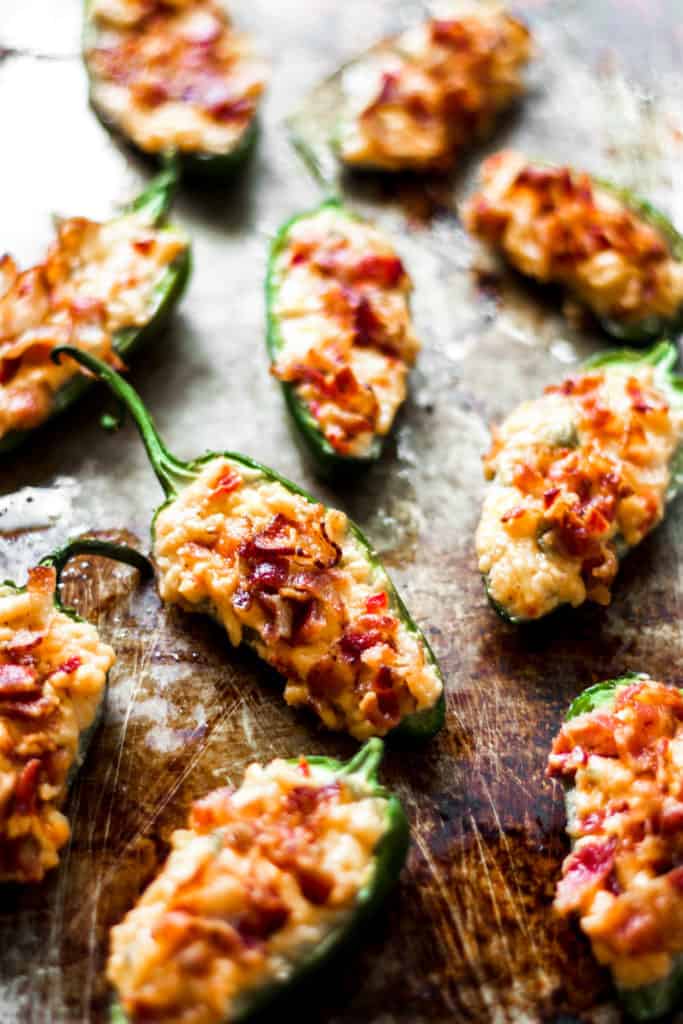 This recipe combines two of my favorite things: pimento cheese and jalapenos (PS: they are also combined in a different but equally delicious way in my jalapeno pimento cheese recipe). And with just two to three ingredients (two if you want vegetarian poppers and three if you want to add bacon), these pimento cheese stuffed peppers are not only delicious, but super easy to make!
What you'll need to make pimento cheese jalapeno poppers
When it comes to tools you need to make this recipe, the list is short:
a sharp knife to slice peppers in half
a spoon to scoop out the seeds and membranes of the jalapenos
a sheet pan for baking
plastic gloves (if you are sensitive to spice and heat) to wear while handling the peppers
In addition to a short list of kitchen equipment, you just need three ingredients to make pimento cheese jalapeno poppers:
jalapeno peppers
homemade or store bought pimento cheese
optional: bacon

How to make pimento cheese poppers at home
If using bacon, fry it up! Cook your bacon on the stove top in a frying pan over medium to low heat until its crispy and then let it drain on a paper towel until it's cooled. Once cooled, give it a rough chop into little bacon bits.
Slice the jalapenos in half and scooping out the seeds and membranes. The seeds and membranes are what give jalapenos their heat, so this is a good time to wear your gloves (and if you don't wear your gloves, make sure you wash your hands thoroughly before touching your face or your eyes!) These poppers will be plenty spicy without the jalapeno seeds, so I definitely recommend removing them in order to have more room in your pepper for pimento cheese stuffing!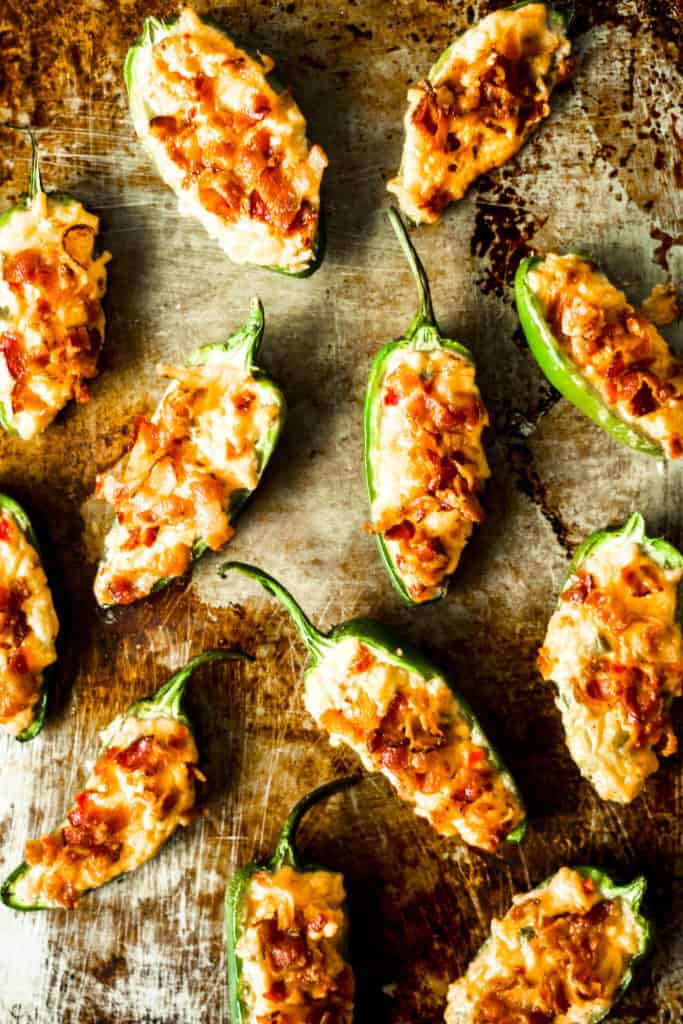 Smear the pimento cheese into the pepper halves; just make sure not to overstuff them or you'll have pimento cheese exploding all over your oven!
Sprinkle your homemade bacon bits on top and place pepper halves on a baking sheet.
Bake until the peppers are tender and the pimento cheese is melted and then enjoy!
Frequently asked questions
What is pimento cheese?
Nicknamed the "caviar of the South," pimento cheese is a spread (or dip, or relish, or whatever you want to call it) made out of just a few ingredients including cheddar and cream cheese, mayo, spices and seasonings and pimentos (the pepper where it gets its name from).
Often, it's served simply with a side of crackers, but it can also be used in a variety of ways on a sandwich, on top of a burger, fried chicken, or French fries, in a fritter, in deviled eggs, baked into biscuits or other baked goods, or melted into mac n cheese or grits.
Of course, one of my favorite ways to use it is stuffed into some jalapeno peppers.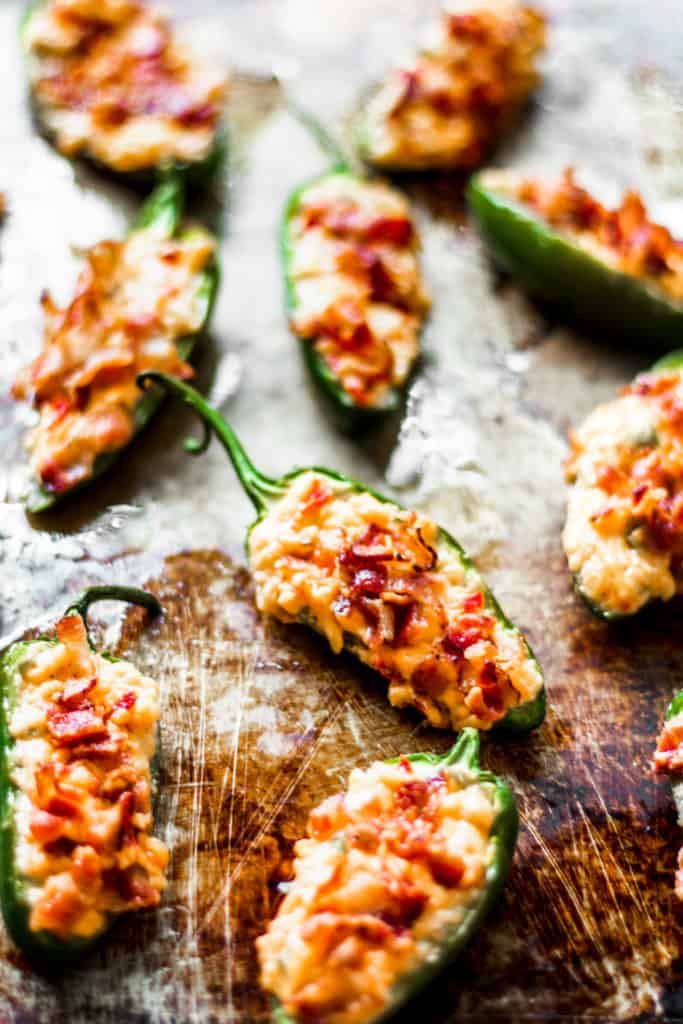 Do I have to use homemade pimento cheese?
No! While pimento cheese is really easy to make at home (it's just a one bowl recipe that takes about 10 to 15 minutes to pull together) you do not need to make pimento cheese from scratch to make pimento cheese jalapeno poppers!
There are a ton of pimento cheese choices on grocery store shelves across the South, but my absolute favorite pimento cheese is Queen Charlotte's Pimento Cheese Royale made right here in Charlotte! They have a ton of different flavors including original, jalapeno, blue cheese, and bacon, and can be found in stores in 11 states (they have all 600 stores listed in a where to buy guide on their website).
Can I make pimento cheese poppers ahead of time?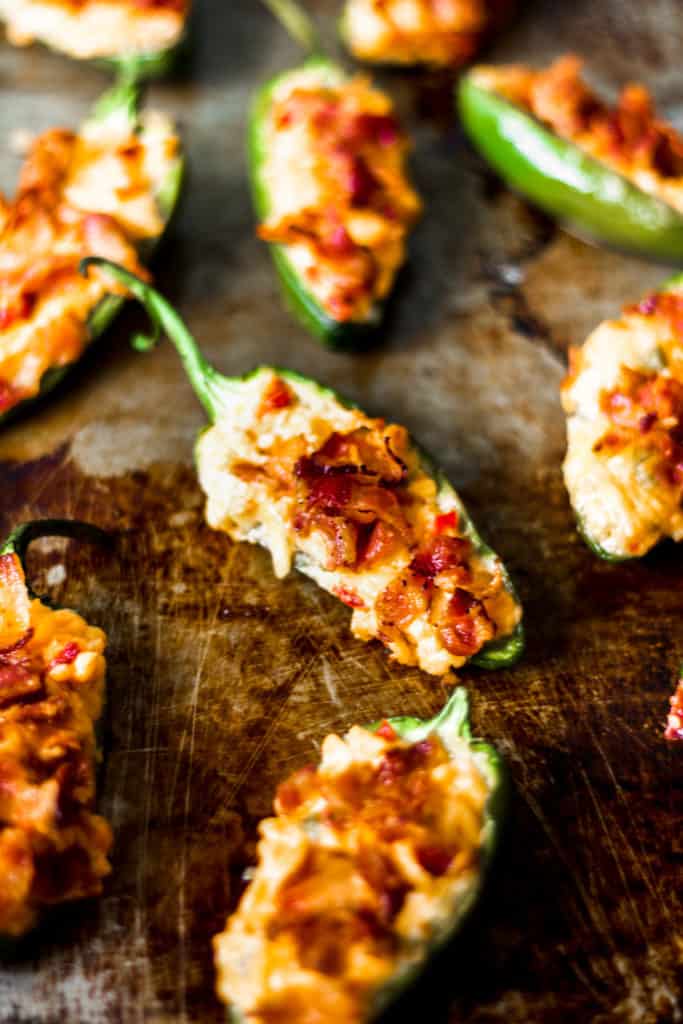 Yes! You can prep pimento cheese poppers one to two days ahead of time. Follow all of the steps through stuffing the peppers and then store covered in the fridge until it is time to bake them.
Don't bake them in advance and then try to store them because the peppers will get soggy and won't taste as delicious reheated. Instead, store the poppers completely stuffed and assembled (just not baked yet) and then bake just before serving!
Should I make a dipping sauce?
A lot of restaurants serve jalapeno poppers with a sauce on the side. A dipping sauce is a great idea to complement the flavors of the baked jalapeno poppers or to even reduce or cut some of the heat and spice from the peppers. You can dip jalapeno poppers in:
Ranch
Sour Cream
Blue cheese
Raspberry jam (a sweet sauce pairs perfectly to a spicy pepper!)
Thai sweet chili sauce
Lime cilantro dip
How do I serve pimento cheese stuffed peppers?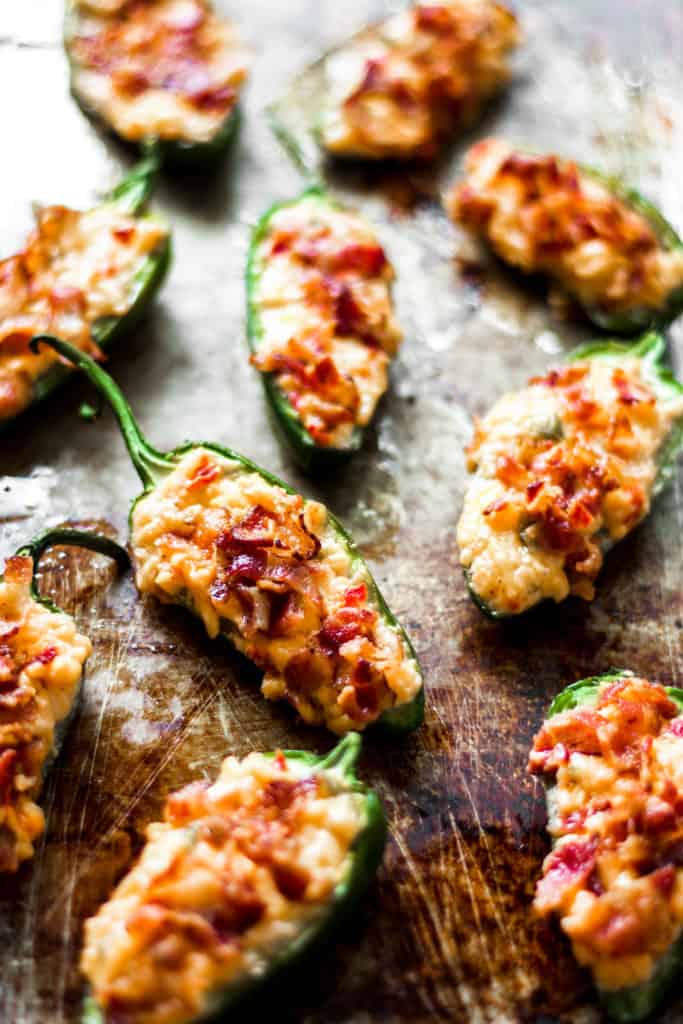 Jalapeno poppers are one of my football food favorites and usually make an appearance in our game day spreads along with things like slow cooker buffalo turkey meatballs, chicken wings, and simple guacamole.
If you're not a football fan, no problem…you don't need a game day celebration to make this popular appetizer…poppers are are perfect for any party or celebration, or make a great spicy side dish for an easy weeknight dinner.