This shop has been compensated by Collective Bias, Inc. and The Coca-Cola Company. All opinions are mine alone. #KickoffWithGreatTaste #CollectiveBias
Loaded grilled nachos are a crowd pleasing, low maintenance, melty, cheesy, easy, appetizer for your game day spread!
Let's talk nachos.
I know we talk football food a lot here (if you are new around here or got here from a social media link or someone sharing this recipe…hello! Welcome!) but here's the thing, Sundays in the fall are one of my most favorite times.
Not just for the food (which is a big draw and we will get to in a second) but for all sorts of reasons.
The game watching. The team spirit. The tailgates (ok, that is getting back to food, I just love food).
The fact that I can be super productive at home if we aren't having people over and get a bunch of laundry done while we have football on the TV for eight plus hours.
Anyone else on the household chores and football train?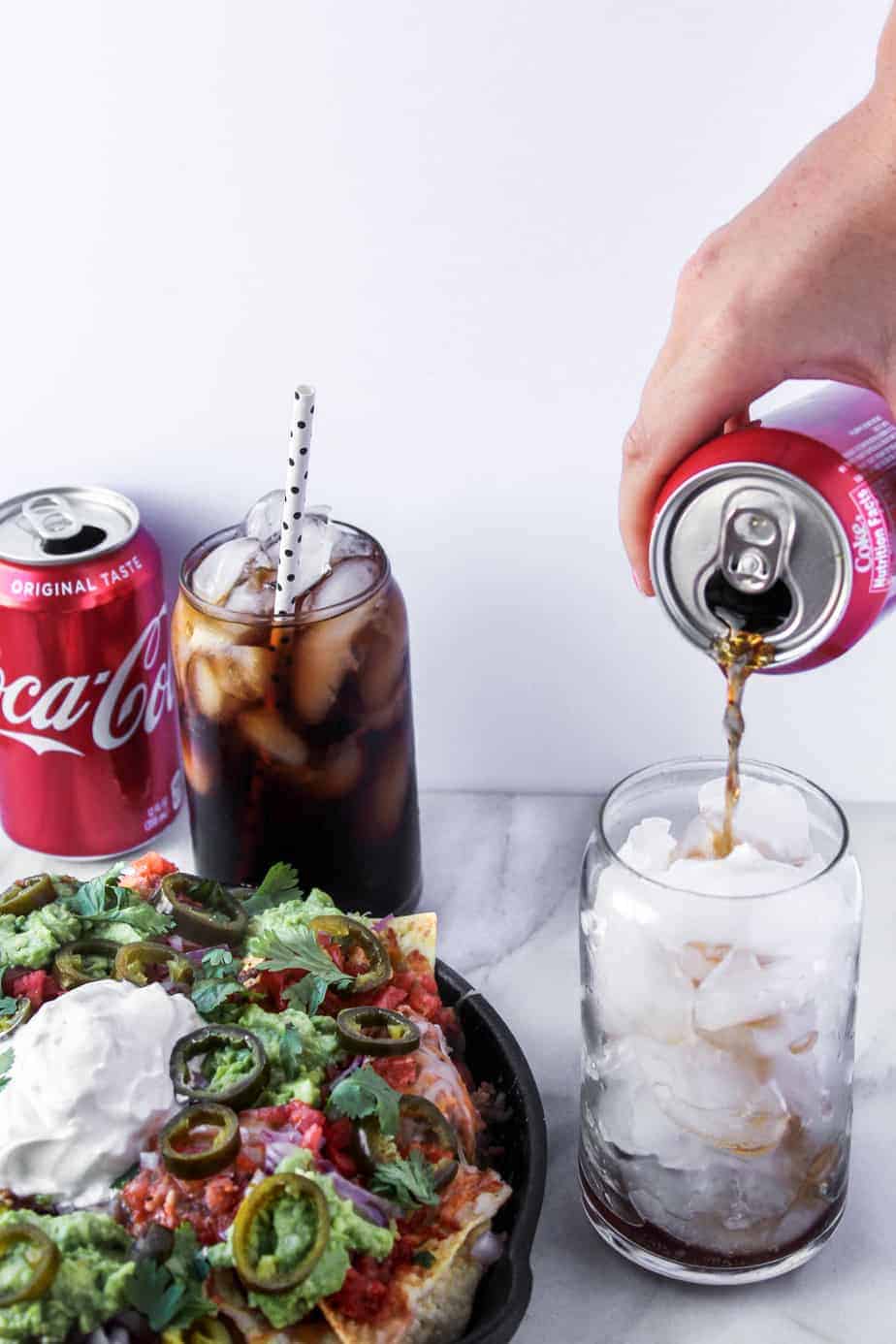 But back to the food, which is probably my favorite part. During football season I can put out a bunch of tasty snacks and appetizers out on the coffee table and call it "lunch" and "dinner."
Not only am I a big football fan, but I am a big fan of easy recipes that you can make ahead of time so you can actually enjoy the food and the game and not be stuck in the kitchen.
I believe in this mantra if just the two of us are on the couch watching a game, or if we have a whole crowd of friends and family over cheering on their team.
So that's why we're going to talk loaded grilled nachos.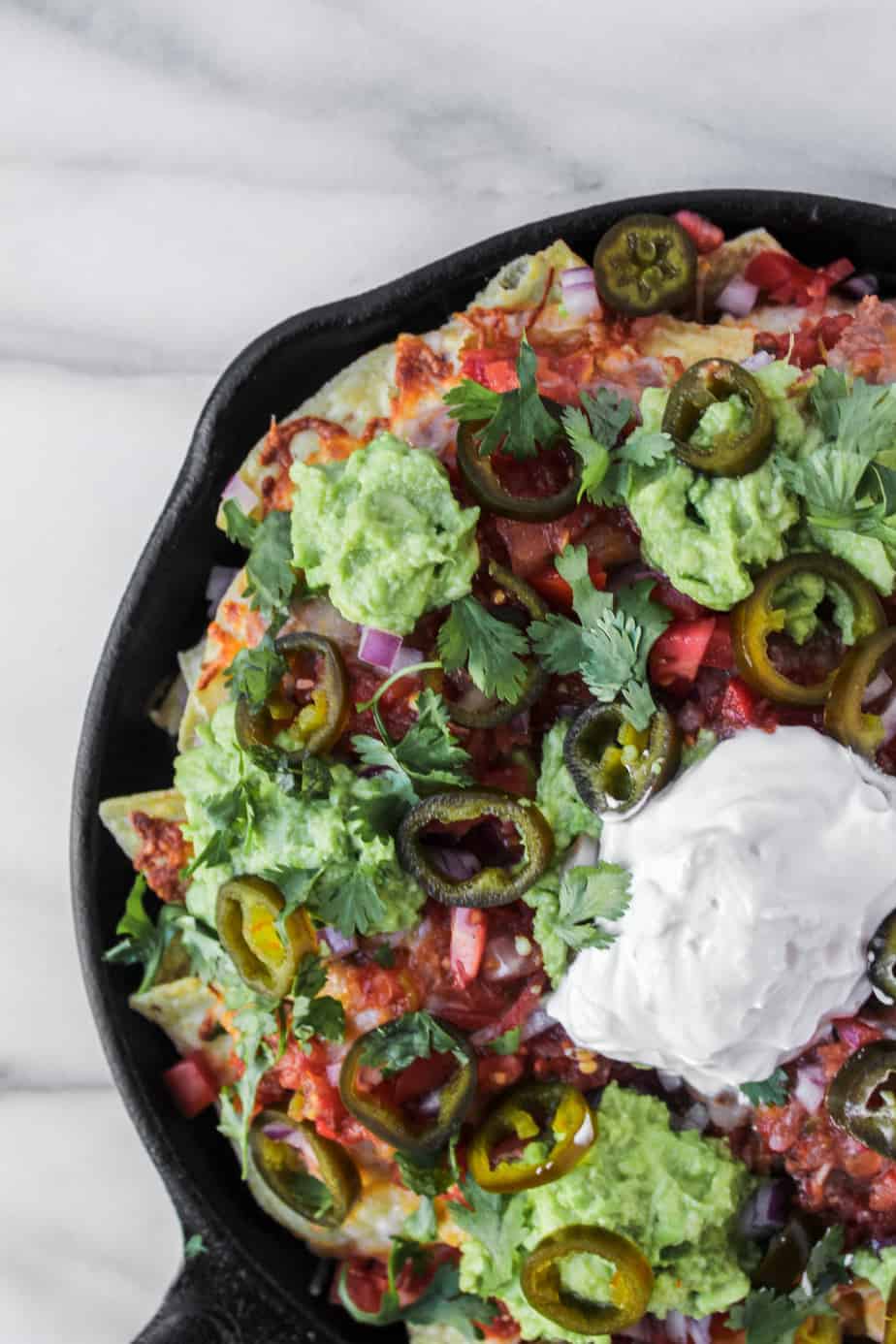 Nachos is one of those dishes that is easy to prep and easy to make, making it ideal for game day because there's not a lot of work that goes into it, but there's a ton of reward.
You can set a big batch of nachos out in the first quarter and people can munch as they please until they are gone. Nachos are a crowd pleaser.
And since you can make basically anything on the grill…why not loaded grilled nachos?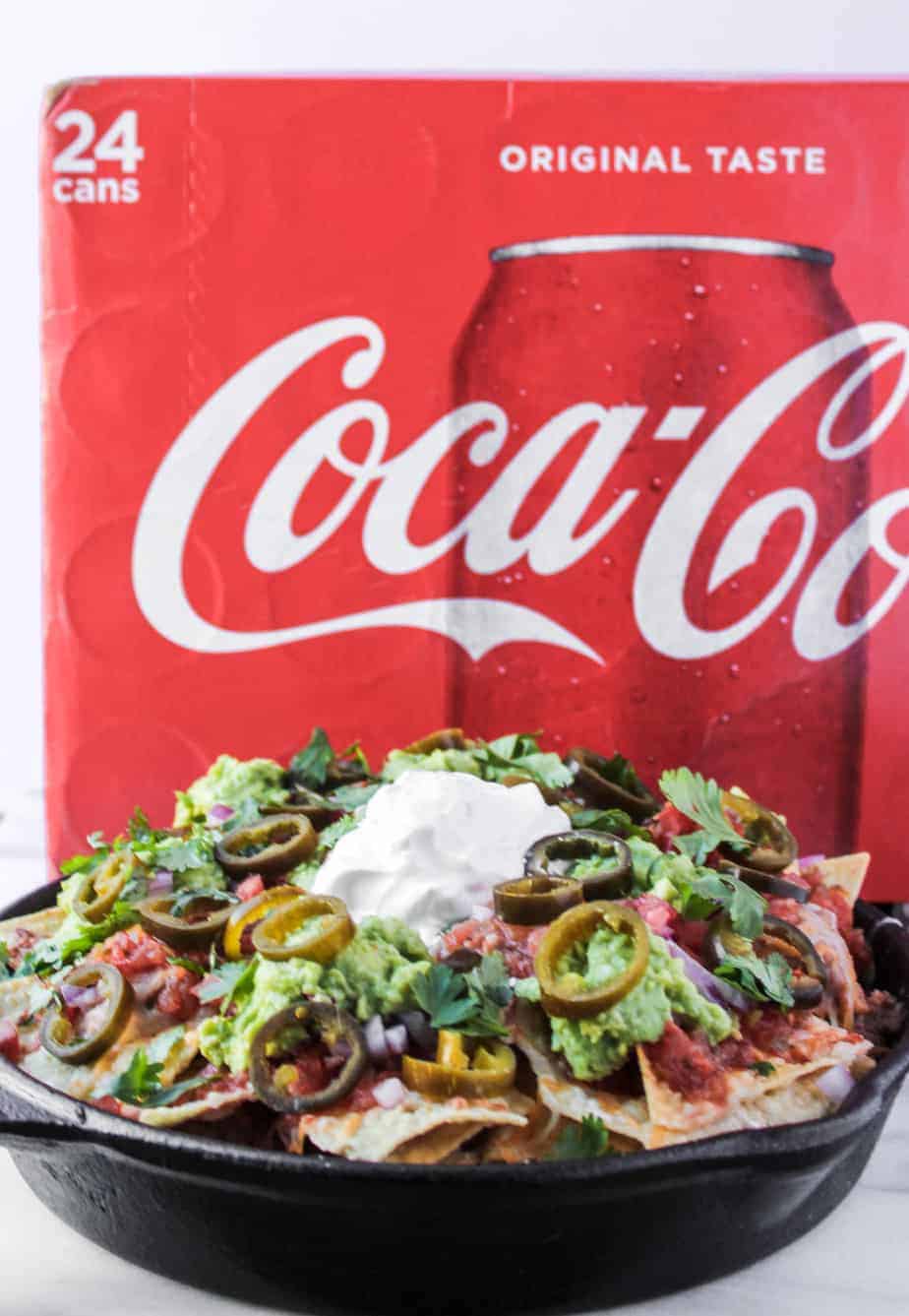 WHY LOADED GRILLED NACHOS?
Honestly, why not?
Usually we make nachos in our oven (finishing them in the broiler for perfectly melted cheese), and while that technique will work for this recipe if you don't have a grill, I think loaded grilled nachos are great for a few reasons.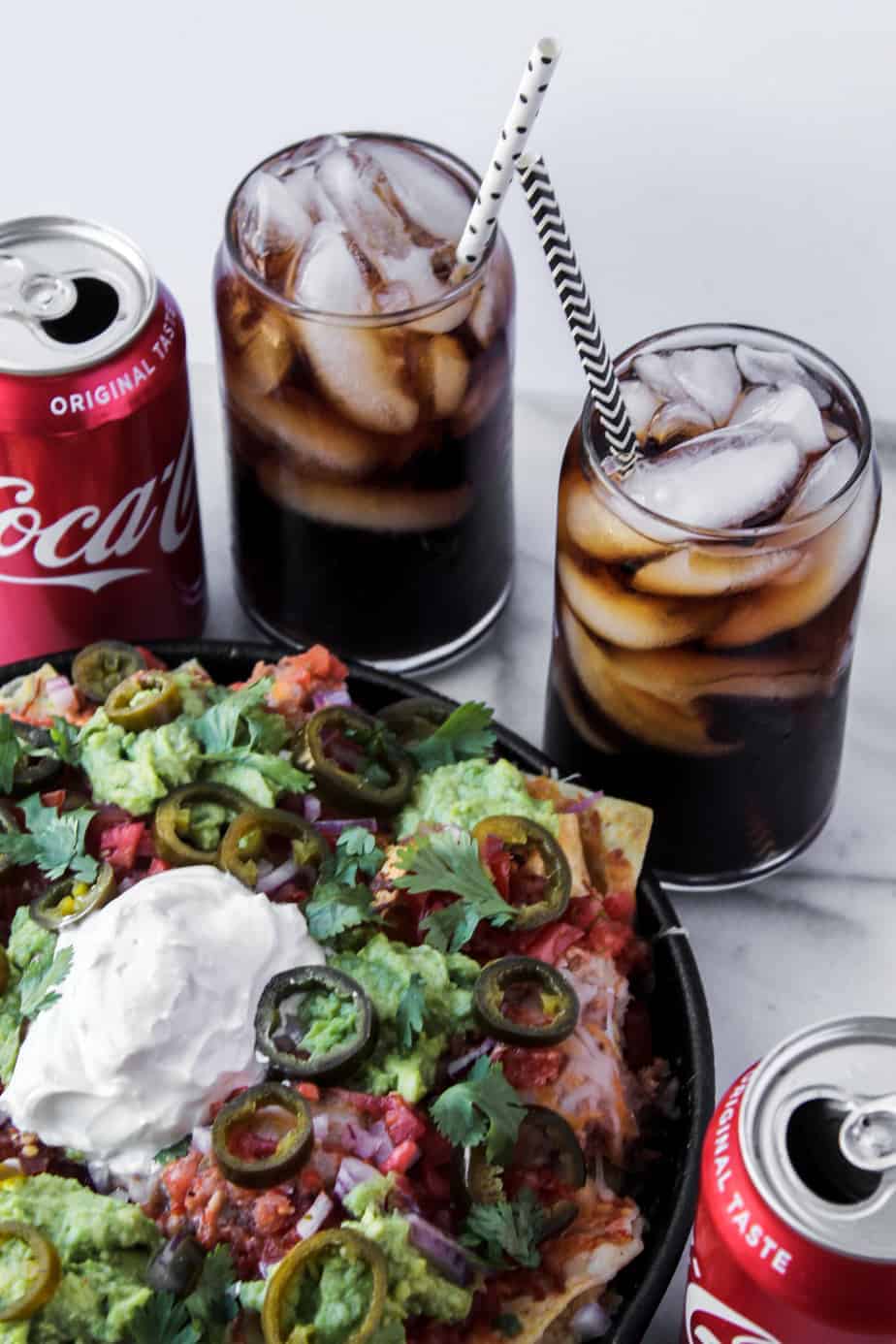 First, let's go back to my football food mantra, easy. Light the grill, throw on your grill proof pan with chips and cheese and other goodies, and you can get nachos in five or so minutes flat.
Second, grilling makes nachos versatile. No longer are you tied to your oven at home…you can make nachos at your tailgate before the game!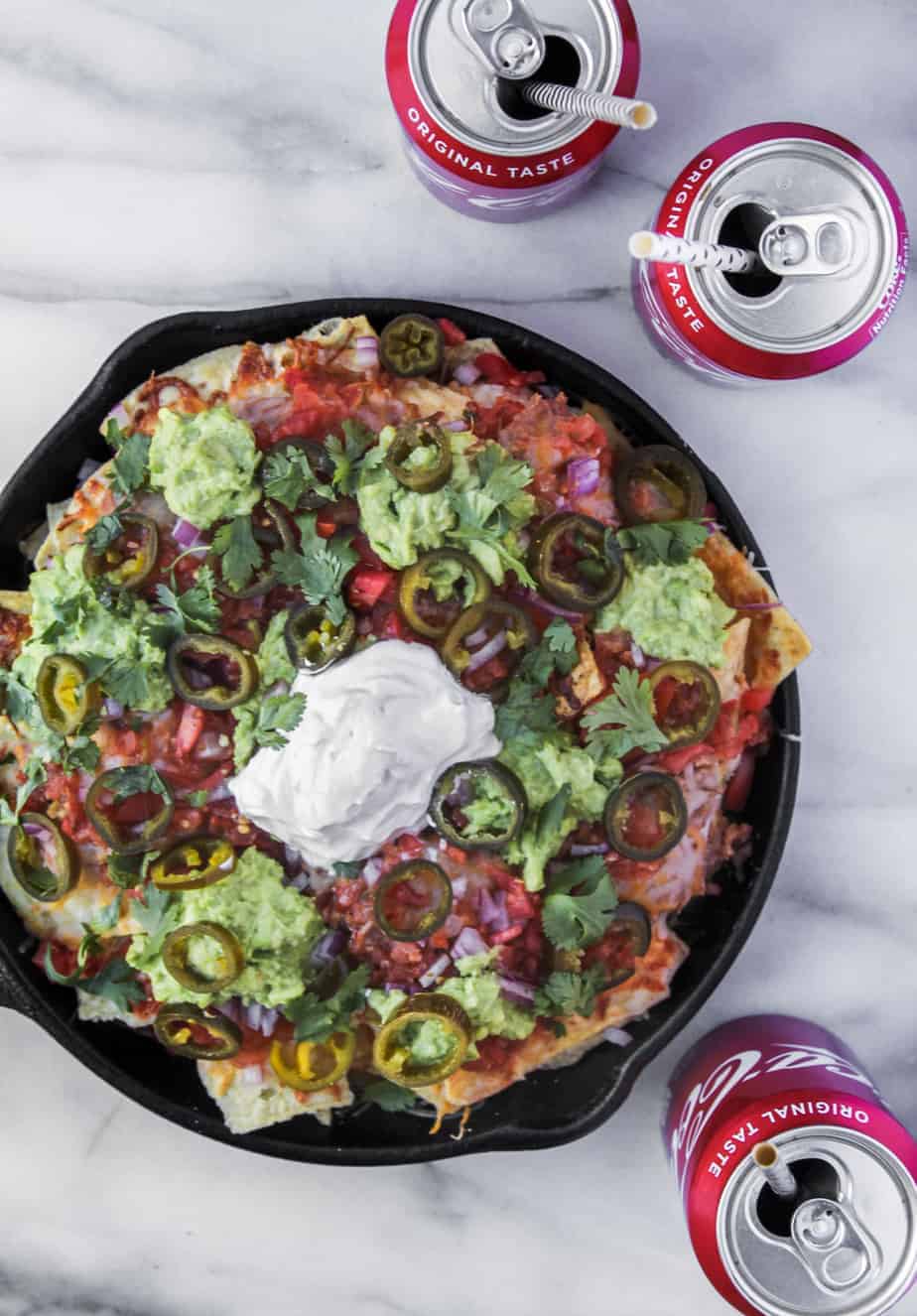 Third, we live in North Carolina, so with the mild weather here in Charlotte, we basically get to use our grill all year round and I like to take advantage.
Fourth, grilling nachos adds a depth of flavor to them that you don't get from an oven broiler. A little bit more robust, smoky flavor. You know, that reason that you love cooking on a grill.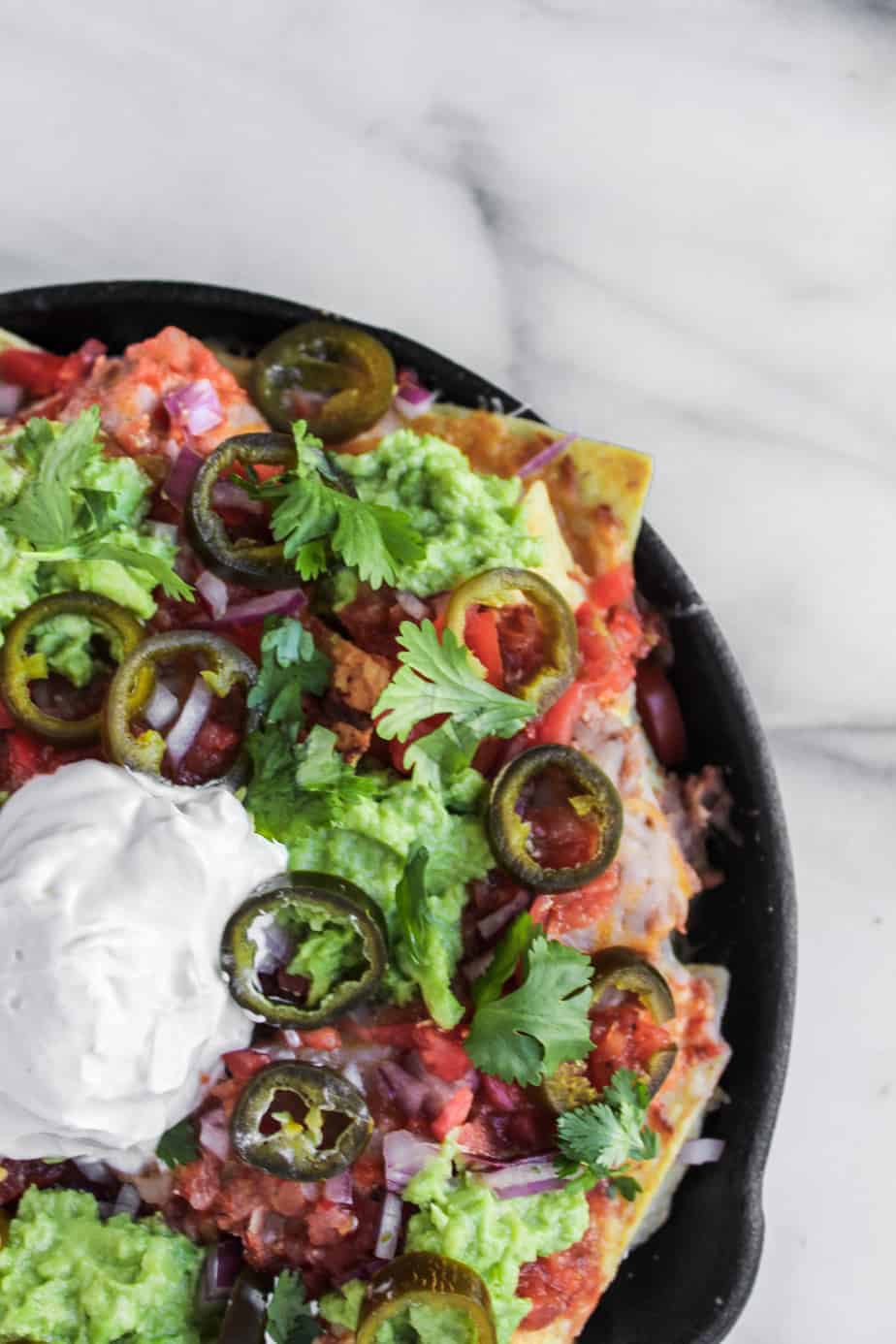 And that smoky, grilled flavor not only makes nachos delicious, it makes them pair really well with a drink we always have on hand for all of our game watching parties: ice cold Coca-Cola®.
The smokiness flavor from a pan of loaded grilled nachos is a great compliment to the caramel sweetness of Coca-Cola® and I love enjoying both while I'm cheering for my team!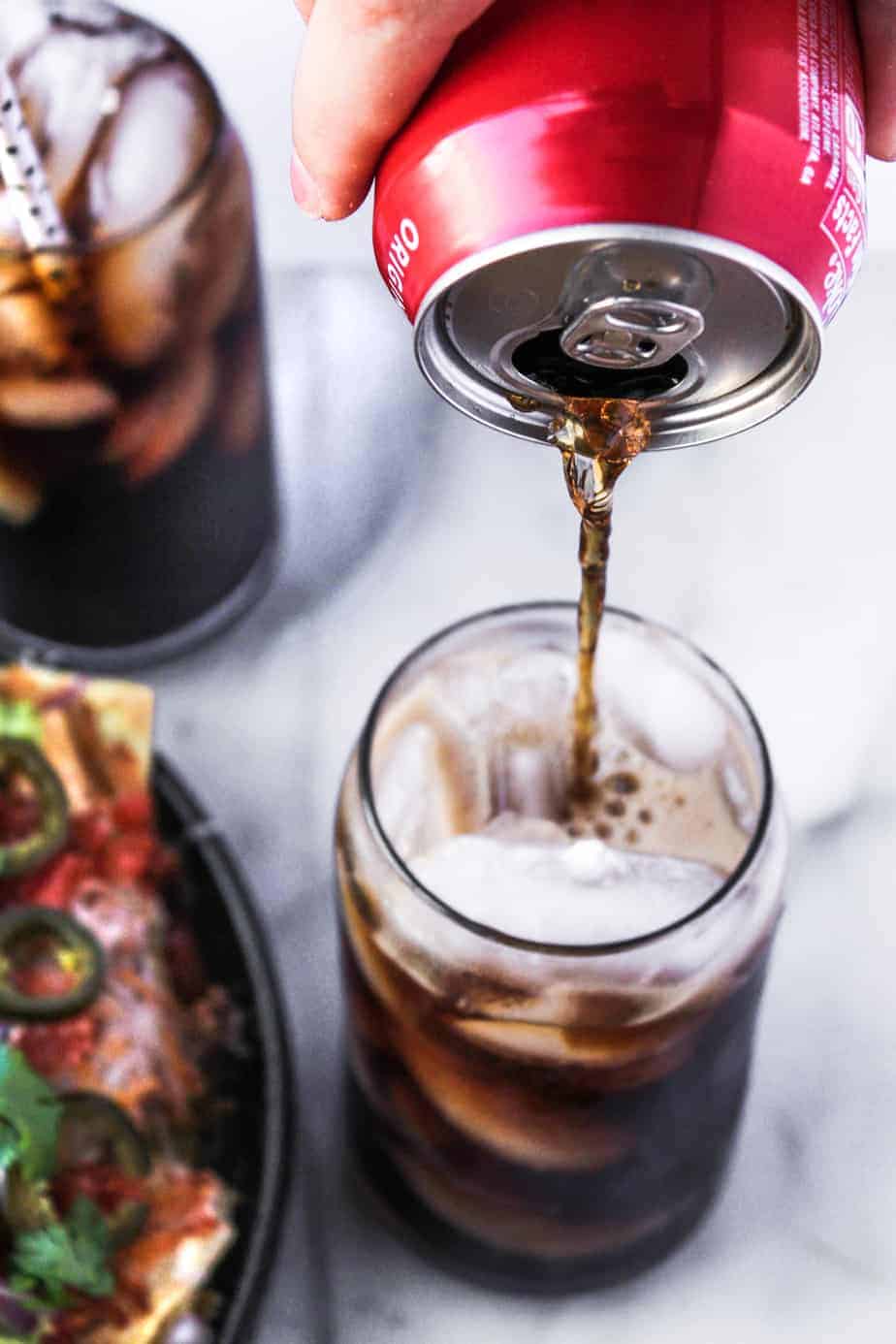 I usually pick up all of our game day necessities, including Coca-Cola® and the ingredients for these grilled nachos at Walmart because it's a one stop shop for everything I need for our game day watch party whether we're watching at home or tailgating near the stadium.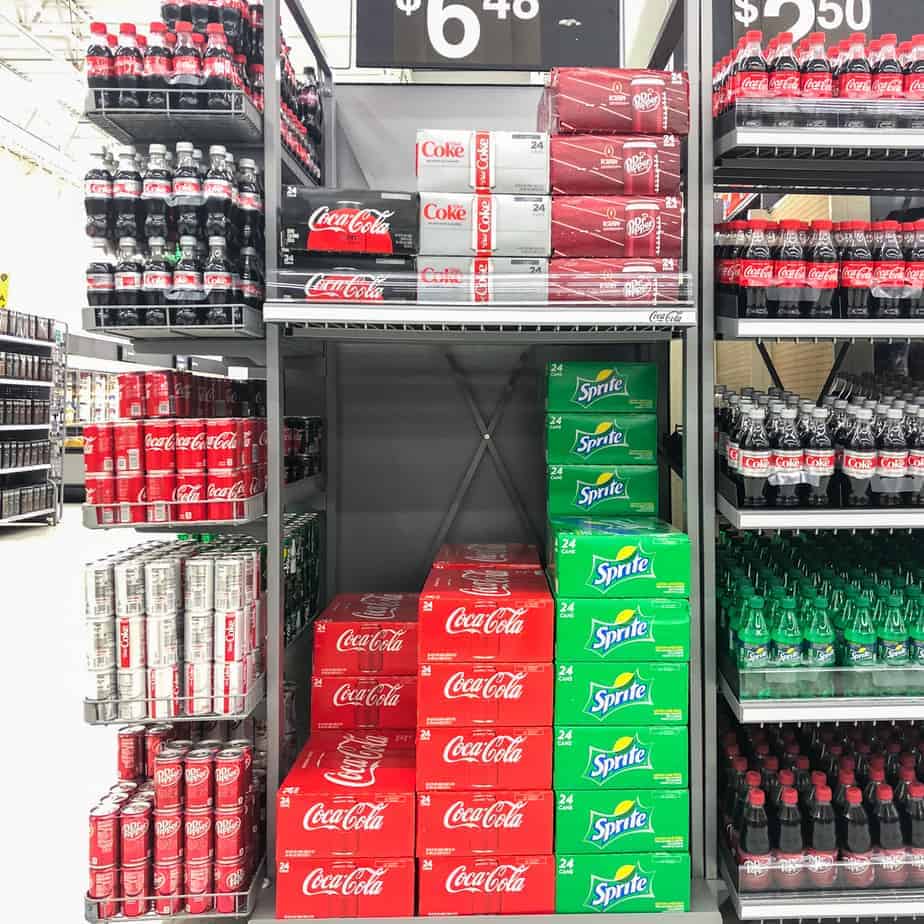 I can just pick up everything from charcoal for our tailgate grill to snacks for our spread to Coca-Cola® to wash everything down at Walmart and not have to run to a bunch of different stores (and now, with Walmart's online grocery pick up, it's even easier to get game day ready by ordering online ahead of time!)
HOW TO MAKE GRILLED NACHOS?
You'll need a grill proof pan for your loaded grilled nachos. I prefer making them in our cast iron skillet, because it's heavy duty, but a grill pan or aluminum sheet pan (or even aluminum foil!) will work.
Start by spreading tortilla chips in an even layer across your pan.
Then sprinkle with a layer of cheese (I love a blend of sharp cheddar and pepper jack, but you can use whatever kind of cheese is your favorite!)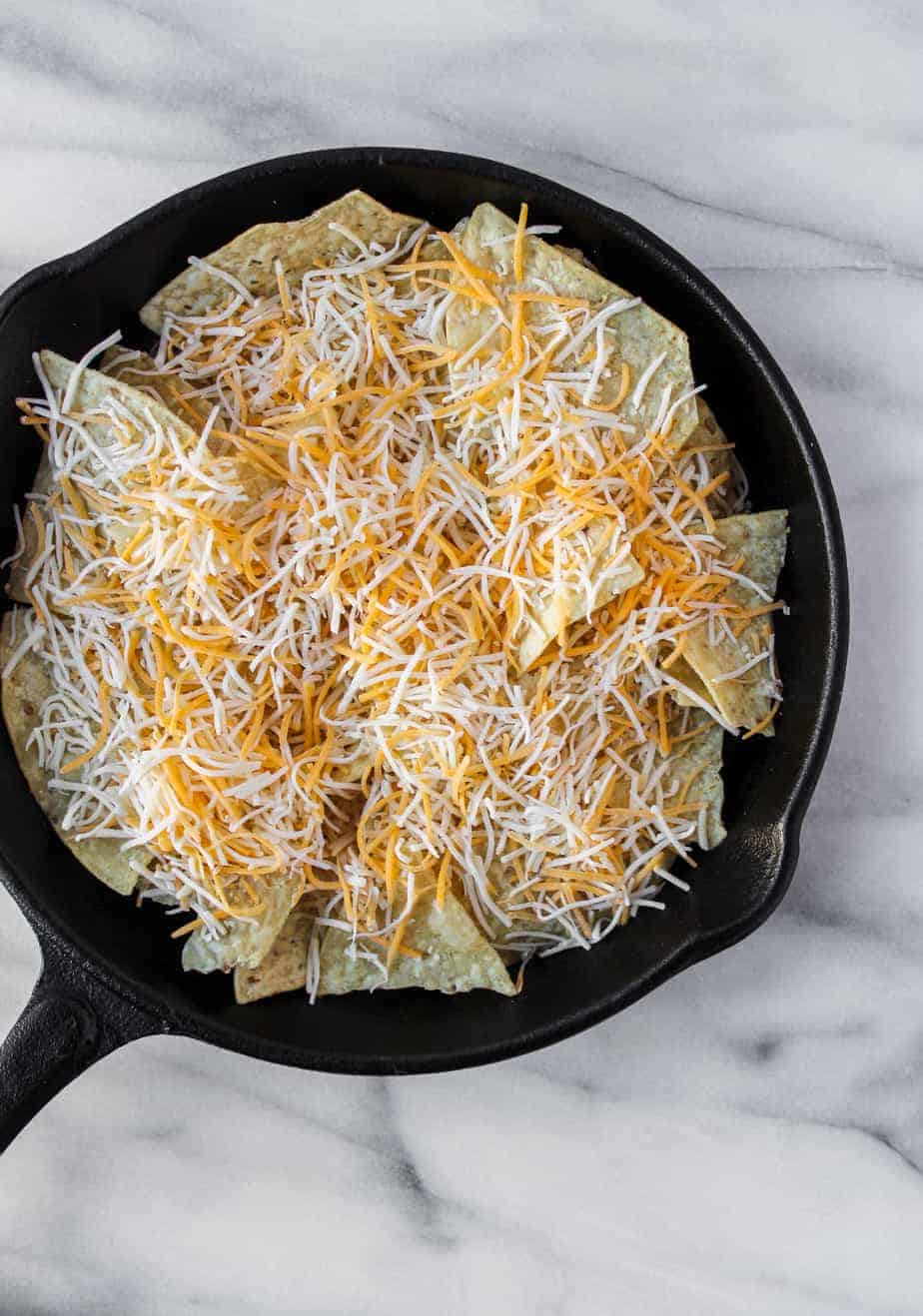 Then top the cheese with some refried beans. (I buy the kind in a can and then heat them on low over the stove and add some hot sauce to spice them up a bit).
If you want to add meat, you would add it on top of the beans. Grilled or shredded chicken, ground beef, pork carnitas, steak or chorizo are all great nacho meat options. (Did I mention loaded grilled nachos are great already? I think I did..but they are great because you can use a variety of different ingredients depending on what you like to eat!)
Then do all of that (chips, cheese, beans, meat) one more time so you have two layers that will turn into melty, cheesy goodness.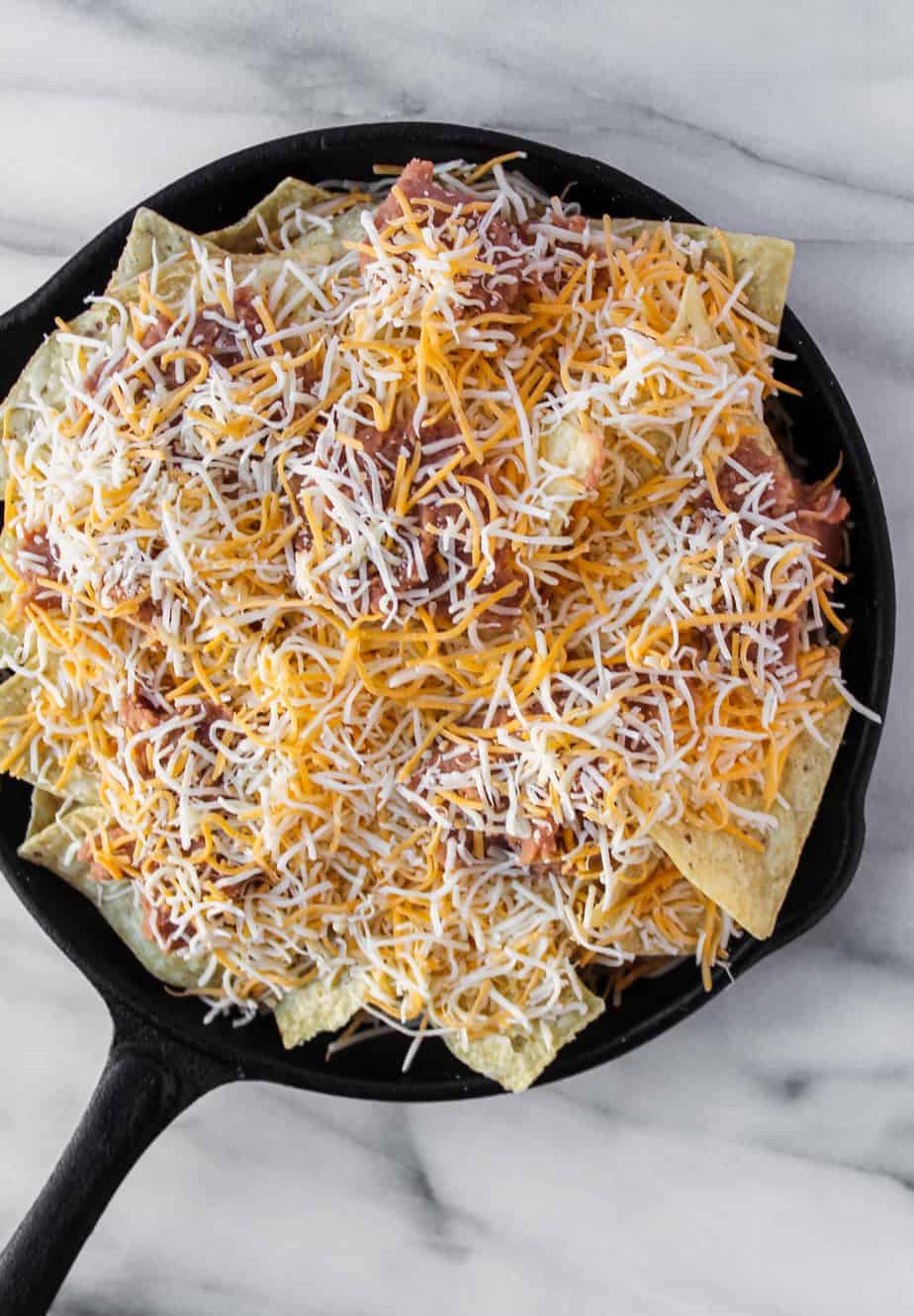 Now, take a sip of Coca-Cola®, because I know you already opened one before your friends have come over for the game watch party and you're thirsty.
Now your nachos are ready for the grill!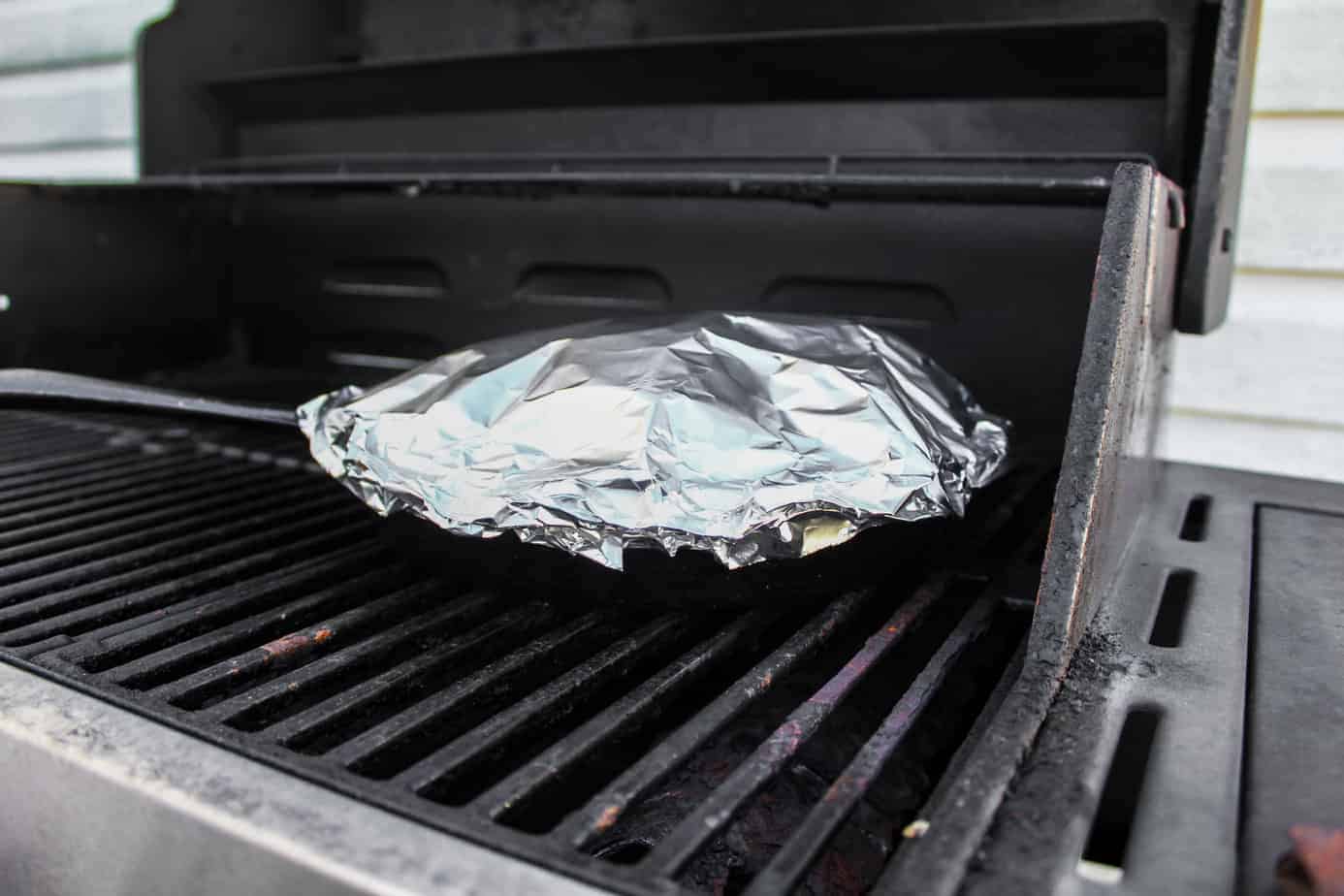 (Not everything that you load up on your grilled nachos will end up getting heated on the grill…we will add even more ingredients once the grilling is done!)
Cover your pan with aluminum foil and over medium heat on your grill, place your pan. Cook until the cheese is melted (this took us about 5ish to maybe 8 minutes).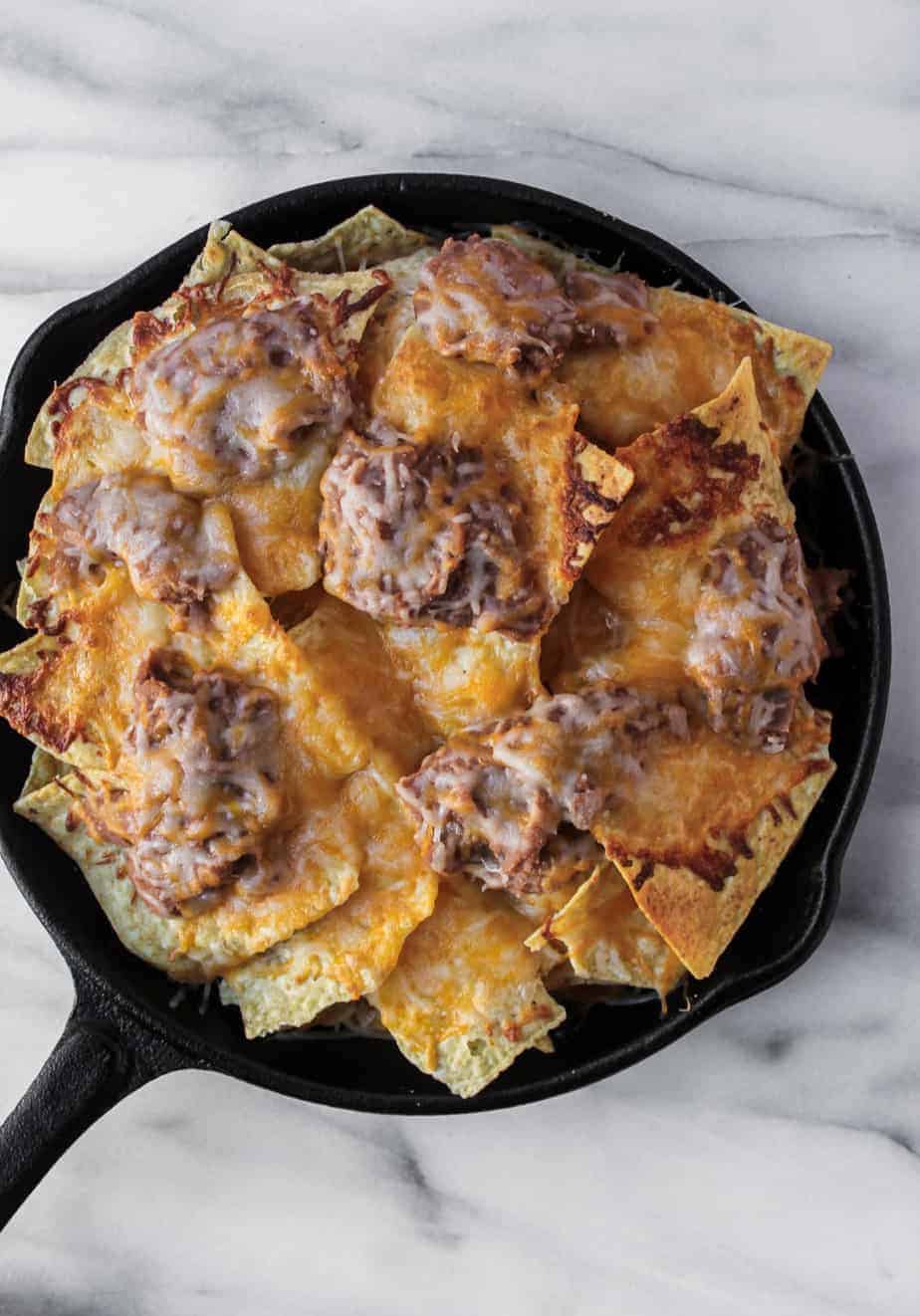 Then, top your nachos with your favorite toppings! We like salsa, pico de gallo, guacamole, pickled jalapenos and sour cream, but really anything is game here. Grilled veggies like peppers and onions would be delicious, fresh jalapenos would add a little kick, and green onions are a great idea too.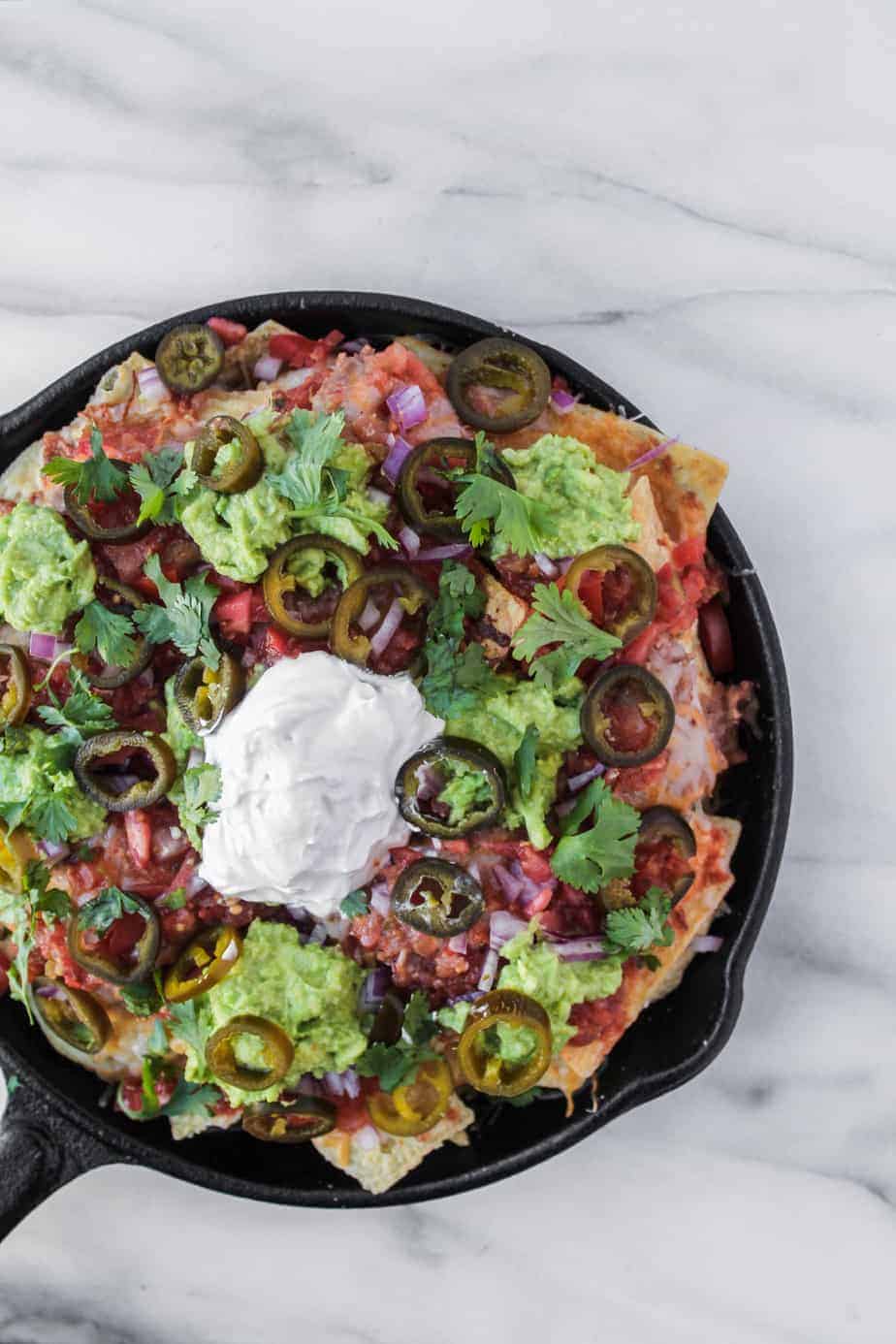 Last step: dig in! It's ok if you can't wait until kickoff…no judgment over here!
(To be honest, I usually can't wait to start eating until kickoff.)
And don't forget to wash it all down with and ice cold Coca-Cola®! (that's the real last step).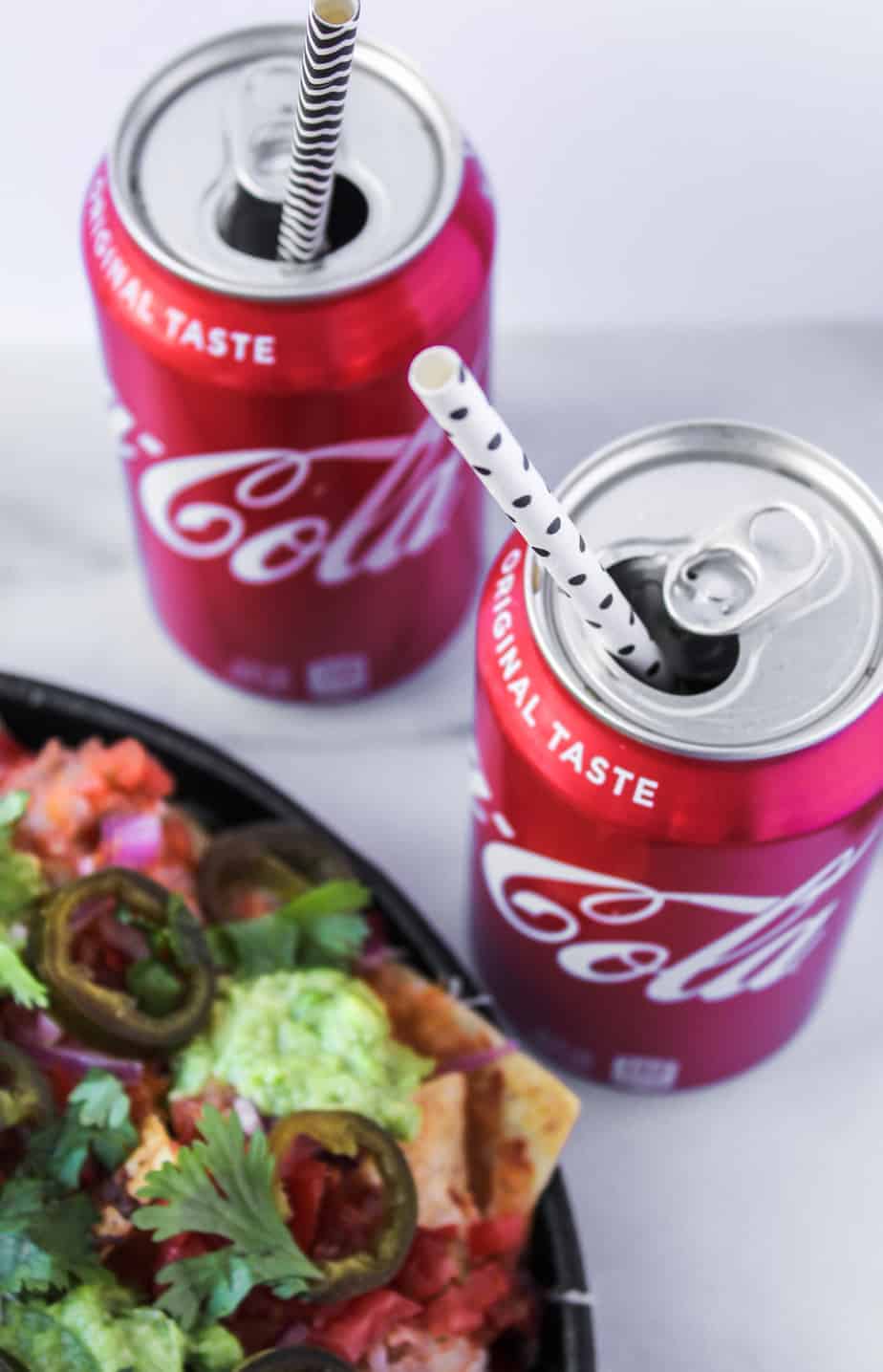 OTHER GAME DAY RECIPES FROM OFF THE EATEN PATH YOU'RE SURE TO LOVE!
Grilled Baby Back Ribs with a Coca-Cola® Barbecue Sauce
Looking for even more game day inspiration? You can find a ton of amazing fall football homegating, tailgating and game day inspiration here!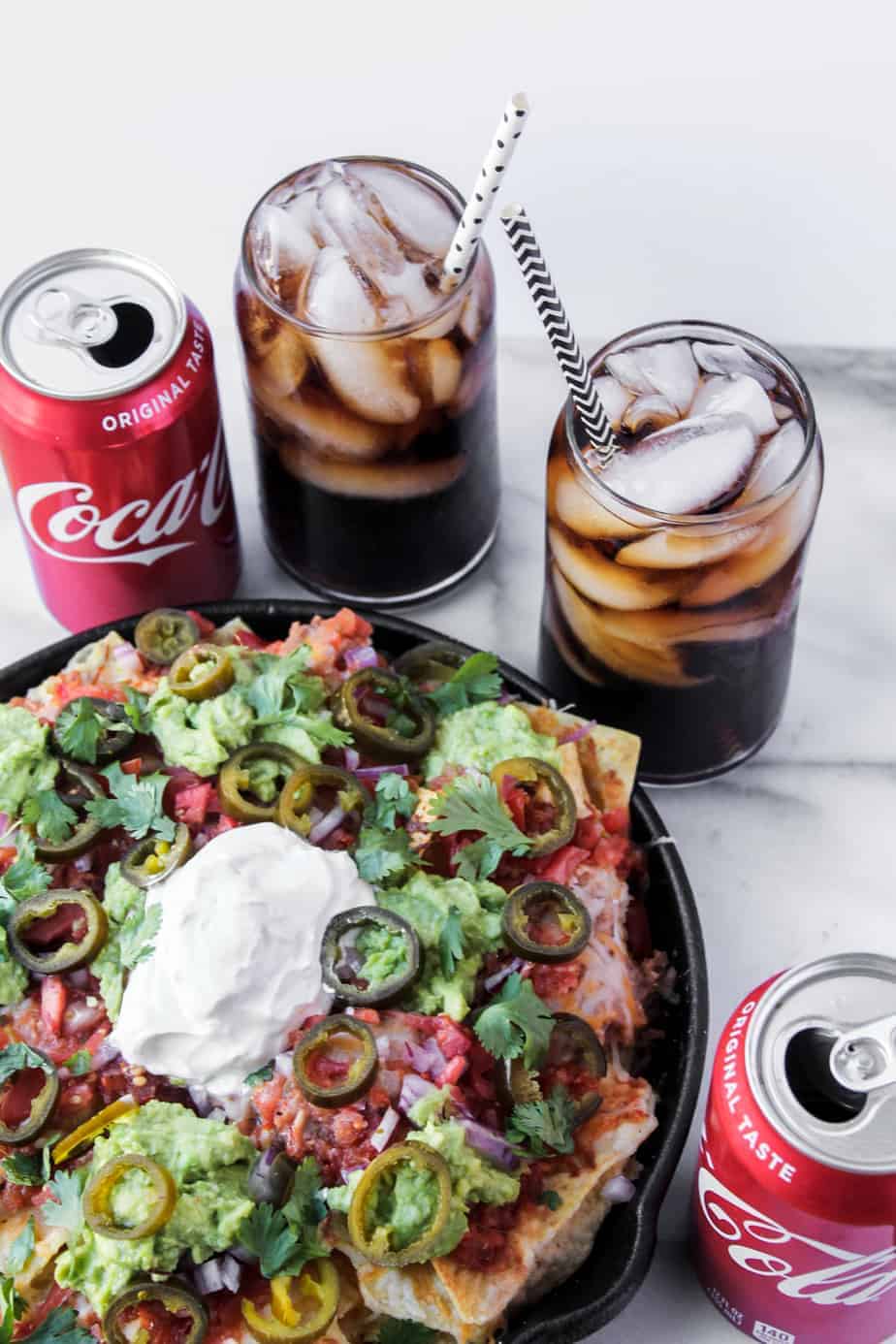 PIN THESE LOADED GRILLED NACHOS TO SAVE THE RECIPE FOR LATER!