The hurricane drink is a sweet concoction basically synonymous with New Orleans, making it the perfect cocktail for your upcoming Mardi Gras celebration!
Hurricane Matthew, this hurricane drink recipe, adds a little personal touch with its name, inspired by our October 2016 wedding.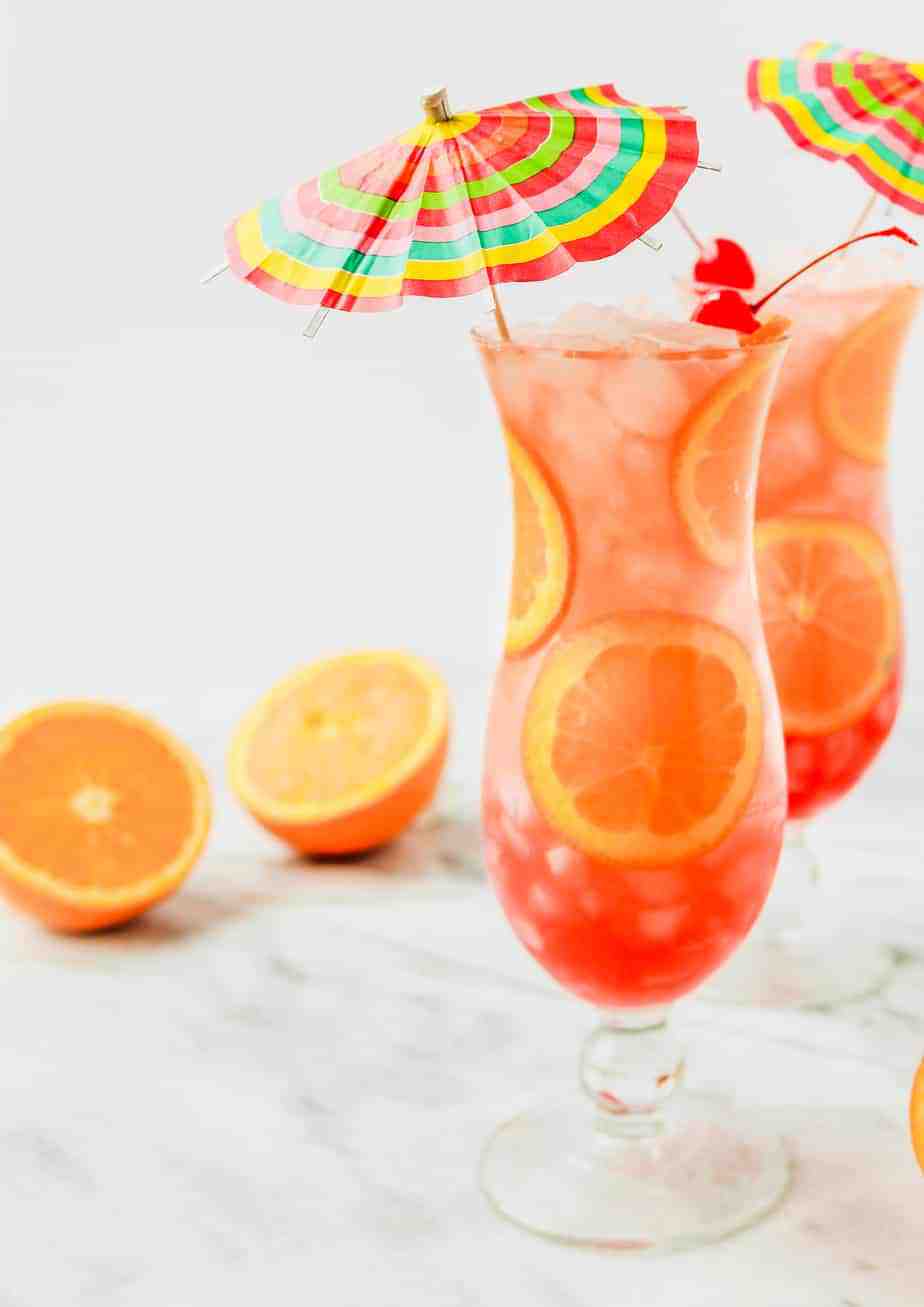 We are the proud owners of a set of personalized hurricane cocktail glasses.
No they weren't on our wedding registry.
(But maybe hurricane drink glasses should be a wedding registry staple? Especially so you can make this easy hurricane drink recipe all the time. Just a thought.)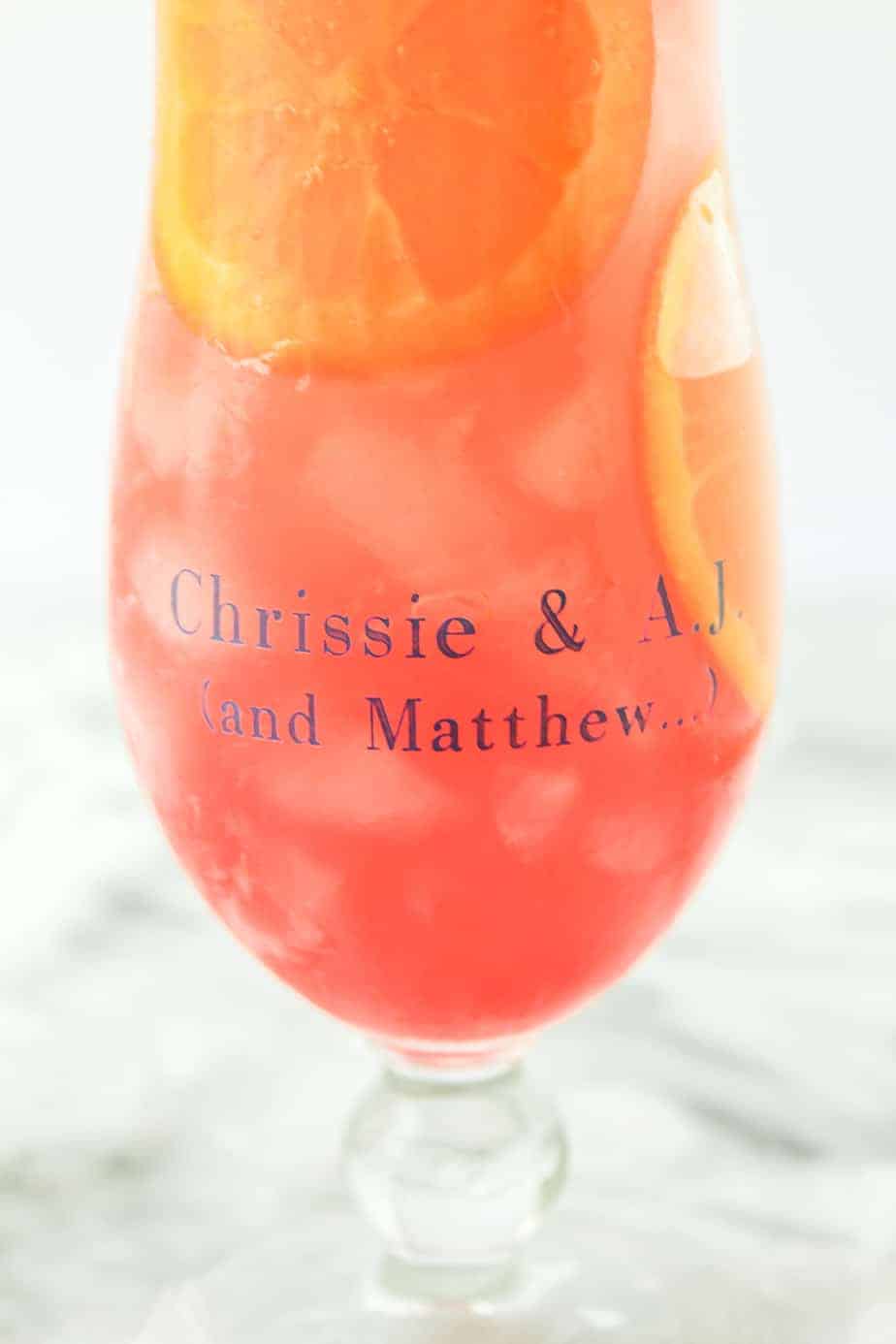 Our hurricane glasses were gifts from a group of friends with a good idea, a good sense of humor, and a quick turnaround time.
Because when our Outer Banks wedding was cancelled and moved to Charlotte just three days before we were supposed to get married, the morning of our wedding, our very own set of hurricane glasses showed up on our doorstep.
Thank you Hurricane Matthew.
(And thank you my funny law school friends.)
Now you understand the special name behind this hurricane drink recipe.
(If you haven't heard the whole story, or maybe want to read it again, read all about the plans for our Outer Banks wedding and our actual Charlotte wedding.)
Serving a hurricane drink at our wedding was an obvious no brainer (because, like our friends, we also have a good sense of humor.)
Because when life gives you a hurricane, you make a hurricane, right?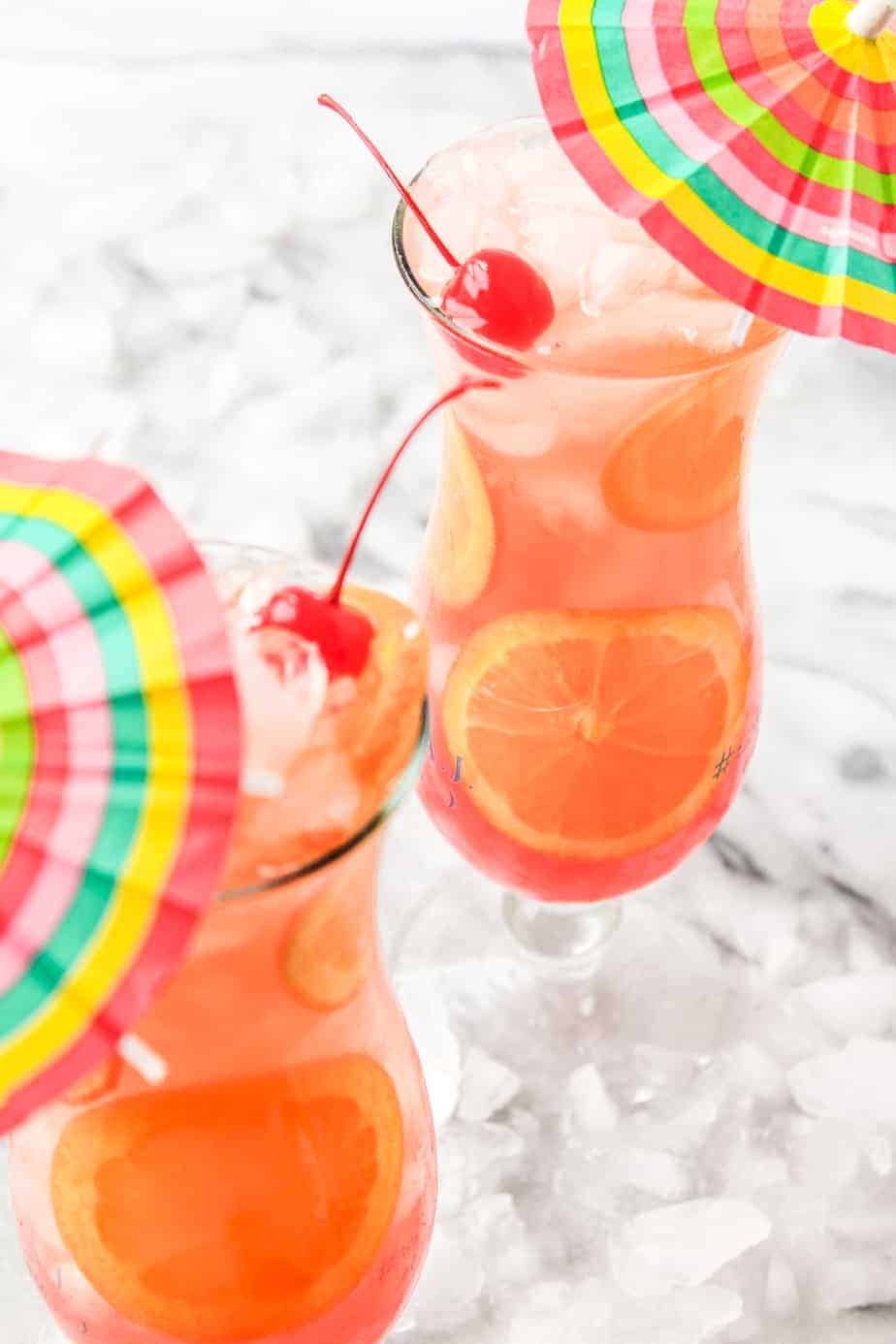 So my fab, cocktail mixing maven friend, Susannah, made us a huge batch (to serve 100!) of hurricane drinks to serve at our celebration.
We named them Hurricane Matthew. Of course.
So besides a wedding that is cancelled, moved and rescheduled because of a hurricane, when is a good time to sip on a hurricane drink? (Or two?)
Anytime, if you ask me (I don't need a reason to bust out our hurricane glasses and put them to good use) but also on hot summer days, when you feel like a little tropical escape, and of course, to celebrate Mardi Gras!
The History of the Hurricane Cocktail
The hurricane cocktail's history is deeply entwined with New Orleans, hence why it is totally appropriate for Mardi Gras celebrations.
The creation of the hurricane drink can be traced directly to Pat O'Briens, a popular New Orleans bar. (and having a hurricane at Pat O'Briens is definitely a bucket list item for me!)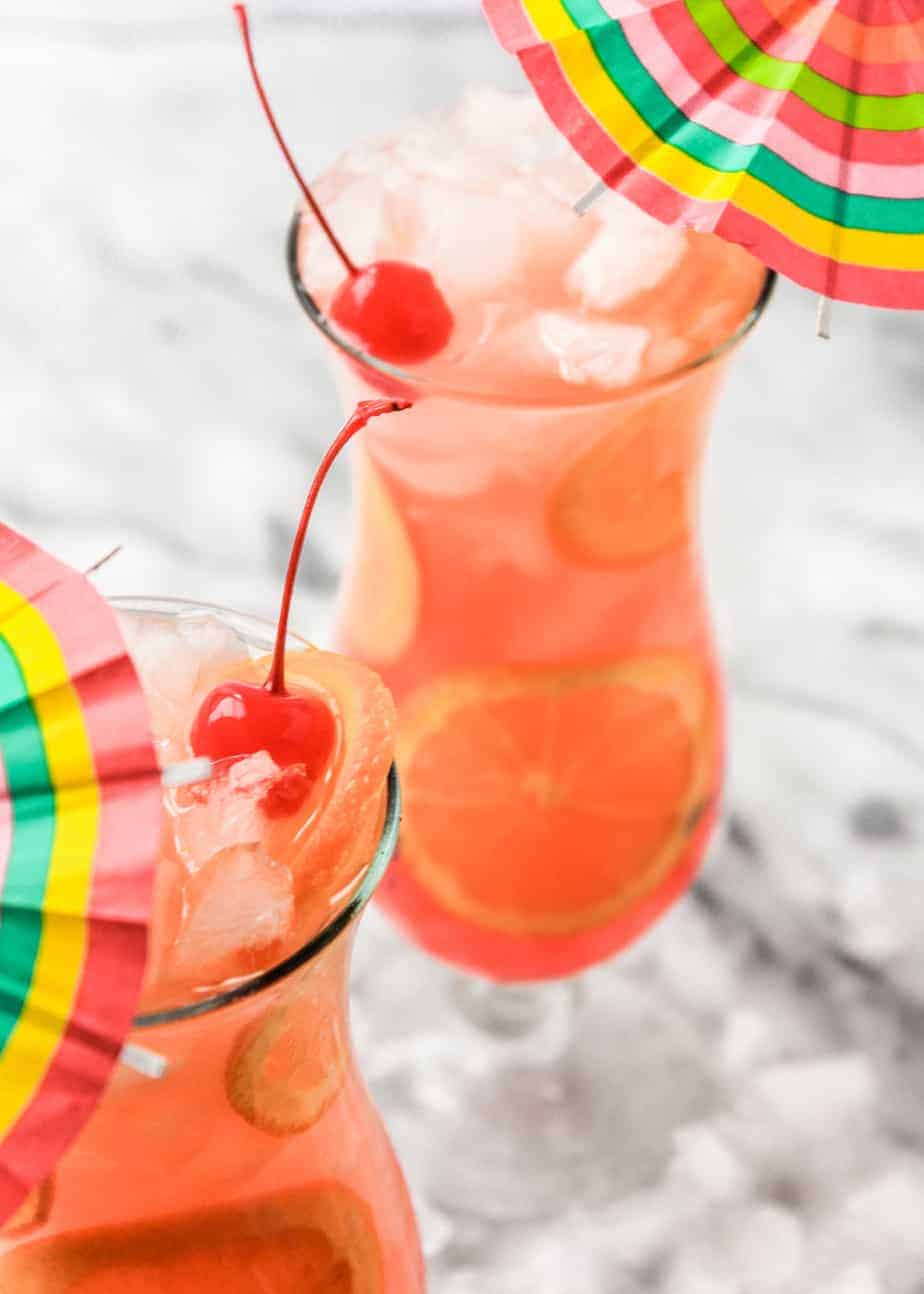 Confession: I always thought the hurricane drink was named after the storm.
Turns out, that's not true.
The drink gets its name from the signature glass it is served in, which was modeled after the shape of a hurricane lantern.
I have also always thought that the cocktail was created in the middle of a hurricane. Or because of a hurricane.
You know, a la our signature wedding cocktail approach.
Wrong again.
(I assumed this because my approach to any type of weather event is to turn to cocktails. Every time we have a snow day, we make snow day classic margaritas. )
The hurricane drink was developed not as an escape from the treacherous storms, but because after World War II, bourbon, scotch and whiskey were in short supply but rum was plentiful.
Especially in New Orleans…where they were getting rum not only off of barges coming down the Mississippi but via ships coming from the Caribbean at the Port of New Orleans.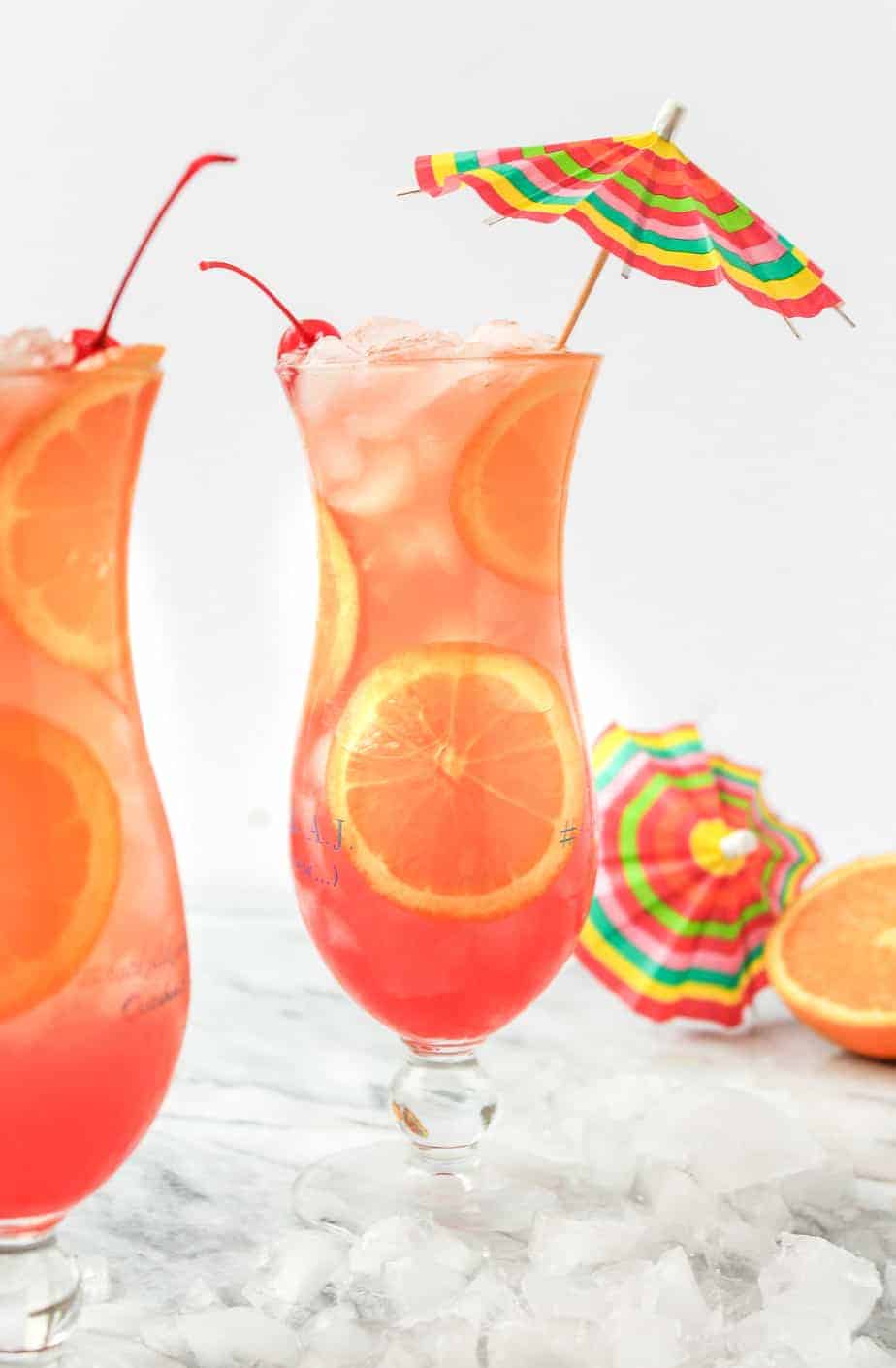 The influx of rum led alcohol distributors to require bars to buy multiple cases of rum for one case of whiskey. All of the popular cocktails of the time called for whiskey, so the owners of Pat O'Briens created the hurricane cocktail to use up all the rum they had on hand.
The best way to use up rum is to put two different kinds of it in a cocktail!
The college history major in me is feeling pretty good about this history lesson. But let's move on and talk about how to make yourself a Hurricane Matthew at home!
How to Make a Hurricane Drink at Home
The original Pat O'Briens recipe for a hurricane calls for Fassionola, which is a passion fruit syrup.
Because Fassionola is not something super common (except now with the Internet basically anything is easy to come by so you can order some Fassionola and get it delivered!) and is a little complicated to make at home, this hurricane drink recipe replaces the syrup with passion fruit juice, giving the drink the same tropical flavor it's known for.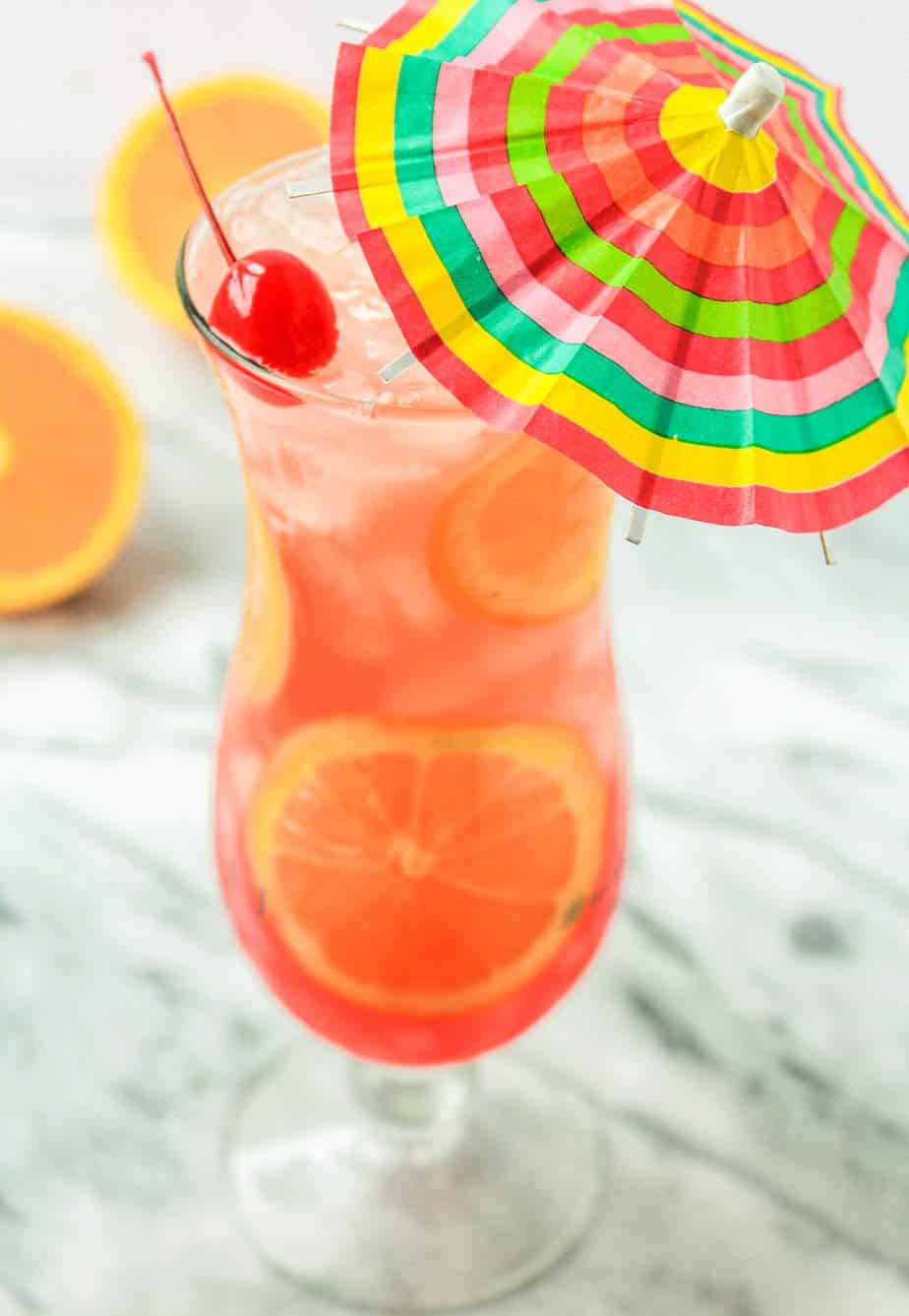 Besides a love for tropical flavors and tropical cocktails (give me something to sip on that will instantly transport me to the beach anytime), y'all know I love cocktails that are easy, easy, easy, and hurricanes totally fit that bill.
Pour the rum, fruit juices (orange and passion fruit), lime juice, and grenadine into a cocktail shaker (add a little simple syrup if you want some more sweetness) and shake, shake, shake.
Pour over ice.
You've got yourself a Hurricane Matthew!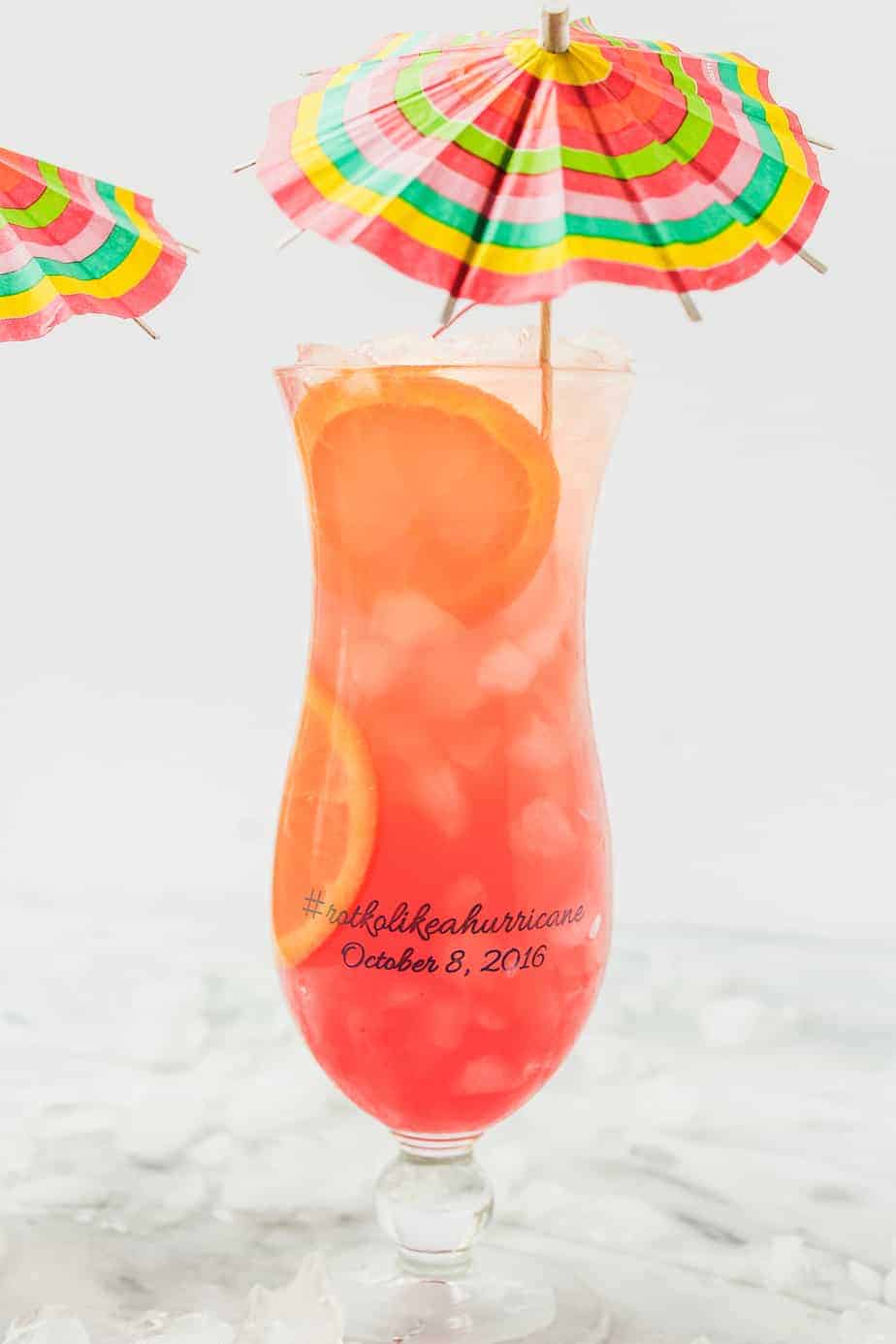 Where do I find passion fruit juice?
I also thought passion fruit juice would be hard to find, but it's not! I grabbed a carton of it in the juice aisle at our local grocery store.
And while passion fruit is the traditional flavor in a hurricane drink, if you don't have passion fruit juice, no problem.
The passion fruit juice can be replaced with any tropical juice (pineapple, mango, tropical medley, you get the idea), and a lot of hurricane drink recipes call for pineapple juice instead of passion fruit juice.
Do I have to have a hurricane glass?
No!
All you need to enjoy your hurricane is a glass filled with ice. A high ball glass or some other sort of cocktail glass will totally do.
But also, why not put a set on your wedding registry?
I hear they come in handy.

A Mardi Gras Menu
Since I know you're already going to make a hurricane drink (or two, or three) to celebrate, you've gotta have something to eat for Mardi Gras too, right?
And another cocktail or two wouldn't hurt either.
I've joined up with some blogging friends to throw you a virtual Fat Tuesday feast…we've got cocktails, savory and sweet options. Check out these amazing Mardi Gras inspired recipes!
Hurricane Matthew (A Hurricane Drink Recipe) by Off the Eaten Path
Vieux Carre Cocktail by Feast + West
No Churn Mardi Gras King Cake Ice Cream by The Speckled Palate
Cajun Spicy Tomato Soup by Online Pastry Chef
Jambalaya Balls by Love & Flour
Shrimp Hush Puppies by Stetted
Traditional Polish Pączki by The Crumby Kitchen
King Cake Donut Holes by Cake 'n Knife
Easy Shrimp Po Boys by Simply Whisked
Easy Jambalaya by The Secret Ingredient Is
Mardi Gras King Cake by Nancie's Table
Homemade Beignets by Kudos Kitchen by Renee
Pecan Pralines by Stephie Cooks
Pin Hurricane Matthew, a hurricane drink recipe, to save it and make for later!