Corona Extra® floats are an ode to summer. Make this Corona cocktail recipe once and you'll want to sip on these fun, refreshing, beer cocktail spins on a classic summertime treat all summer long.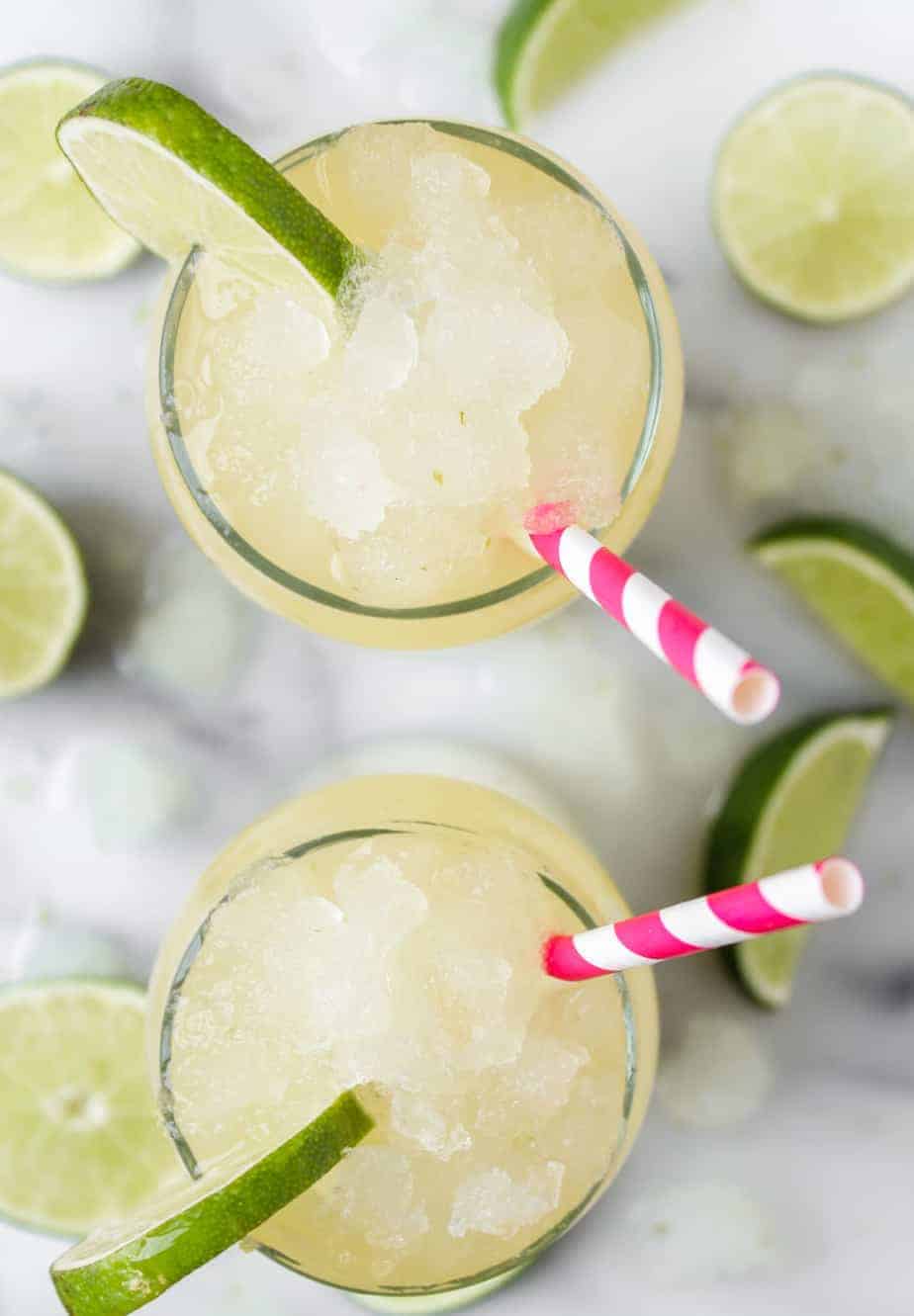 This shop has been compensated by Collective Bias, Inc. and Constellation Brands. All opinions are mine alone. The following content is intended for readers who are 21 or older. #CelebratorySips #CoronaSummer #CollectiveBias

We are currently facing a pervasive problem in Charlotte: a lack of air conditioning at local businesses even though it's in the mid 80s and a zillion percent humidity outside.
Recently, we went not one, not two, but three local spots in this swamp like weather (and it's not even summer yet so it's only going to get hotter and we have at least four more months of this) that did not have air conditioning.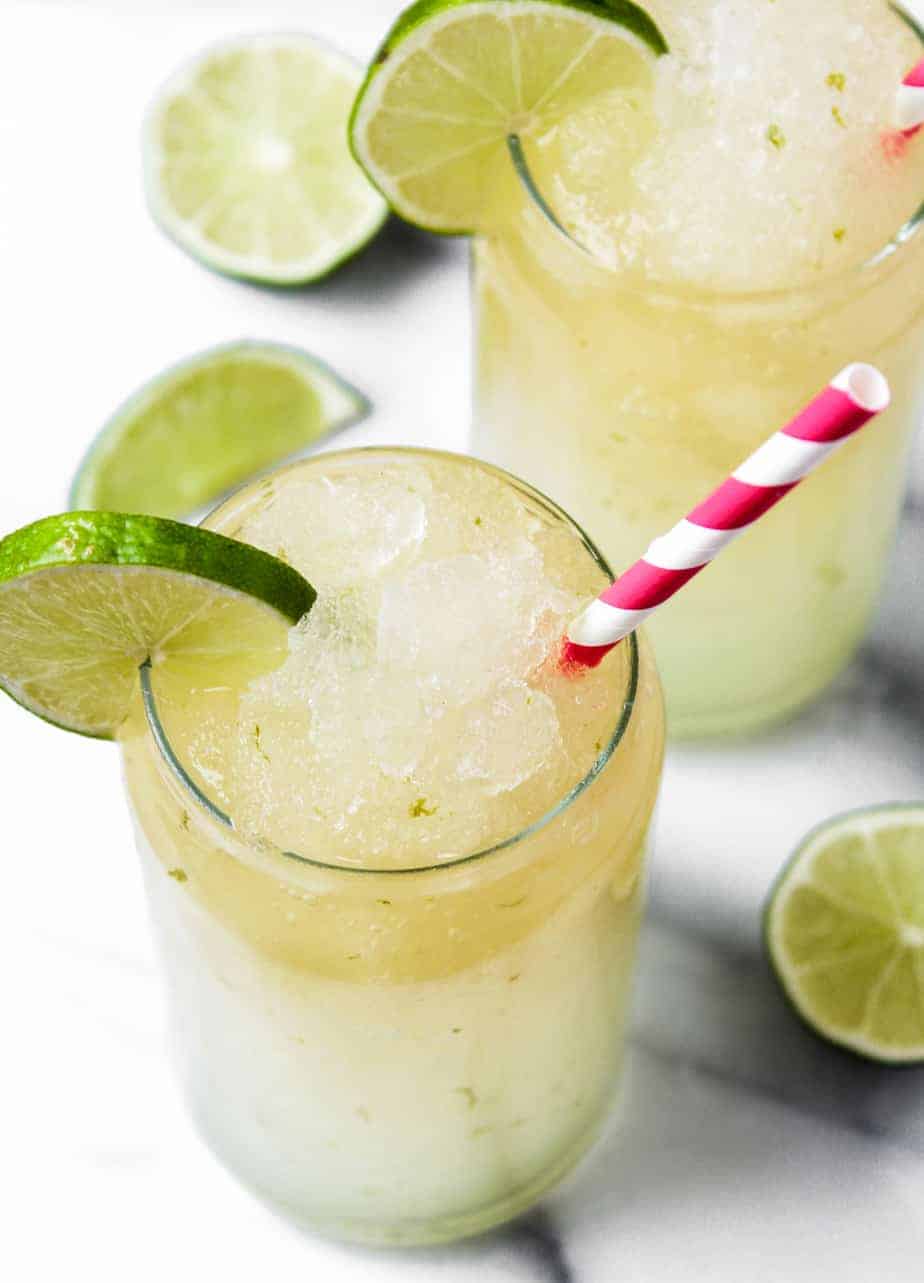 To be fair, I don't know if they don't have air conditioning or they refuse to turn it on to avoid the inevitably large power bill that springs and summers in Charlotte brings with them, but what I do know is that I cannot survive a sticky summer in Charlotte in these air conditioning-less conditions.
To survive summer in Charlotte, I need an indoor retreat that's approximately the same temperature as an icebox.
A cooling cocktail doesn't hurt either.
Y'all know I dig a refreshing summer cocktail; like Watermelon Frozen Rose, a Blackberry Basil Gin Fizz, a Raspberry Gin Seltzer, Sparkling Raspberry Lemonade Punch or Classic Margaritas.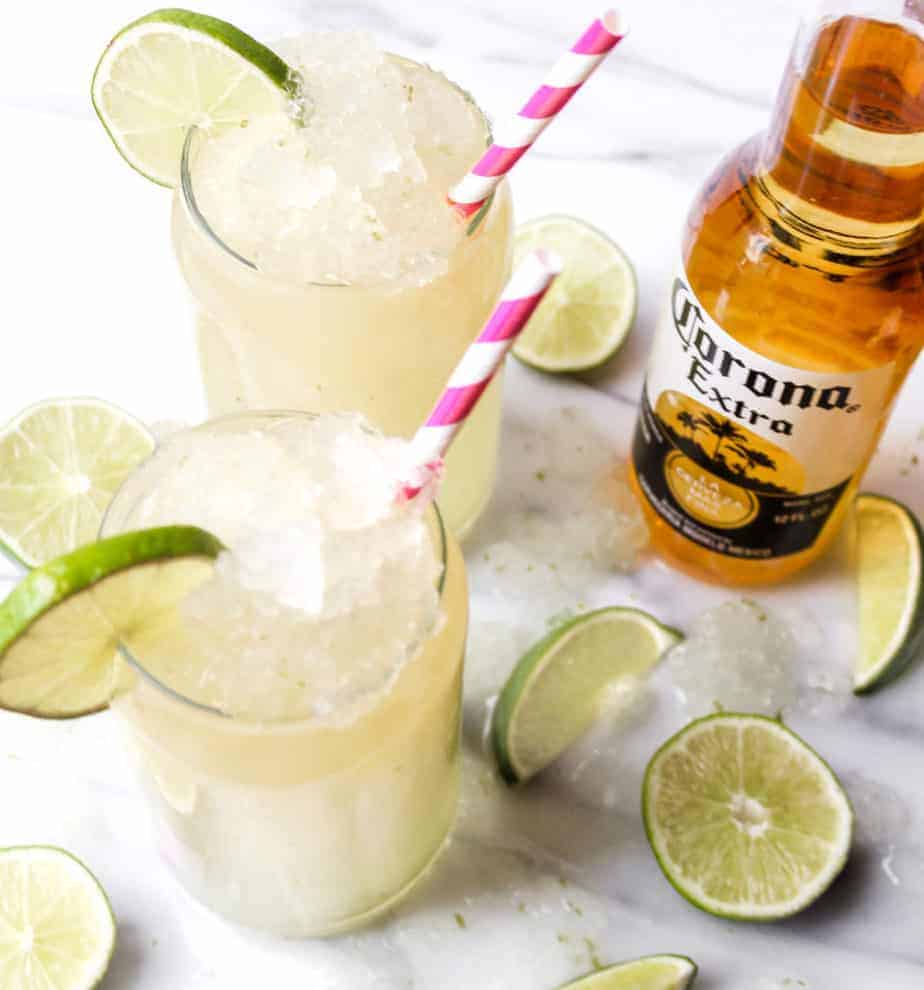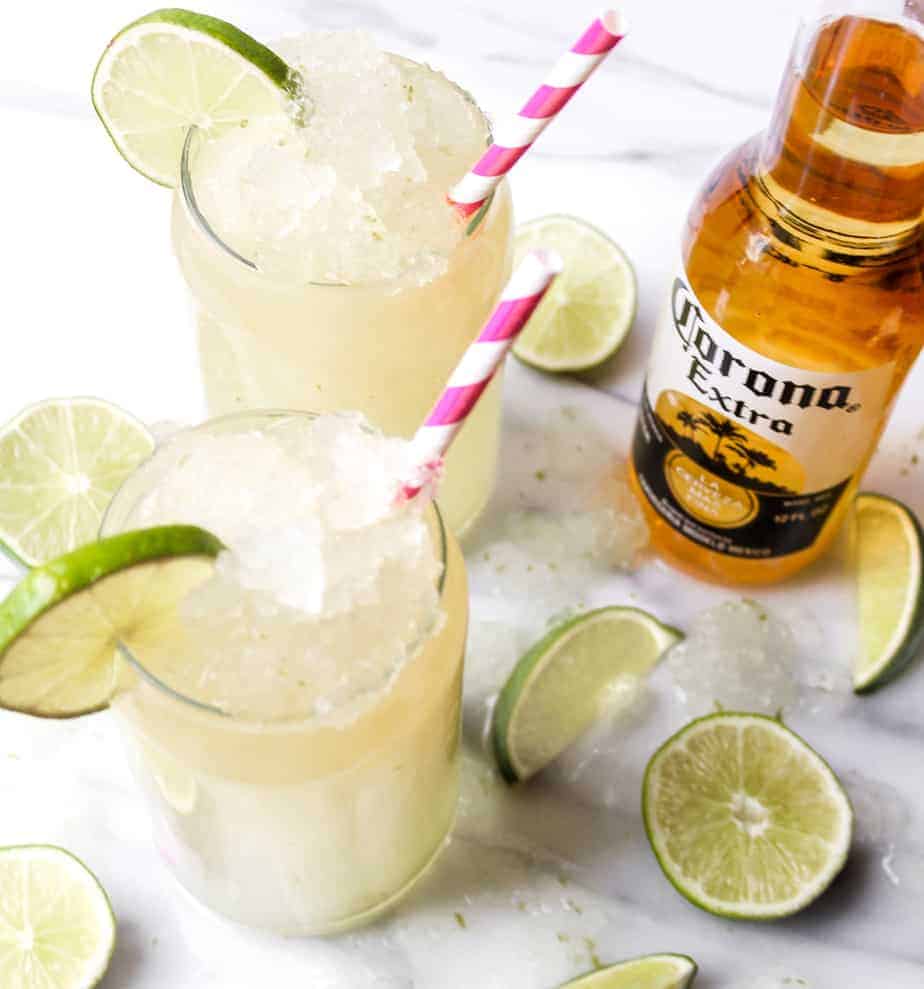 After barely making it through a Saturday without my two hot weather essentials, I promptly went home and made Corona® floats; refreshing, beer cocktail creations inspired by one of my favorite summertime ice cream treats.
To me, ice cream floats are quintessentially summer.
Sure, the sweet, creamy concoction is available basically all year round (you just need two ingredients: ice cream and soda) but it's a known fact (at least by this ice cream float expert over here) that ice cream floats taste better after a long day of playing at the pool or on our annual beach vacation.
And so why not take one of my favorite summertime treats and put a beer cocktail spin on it?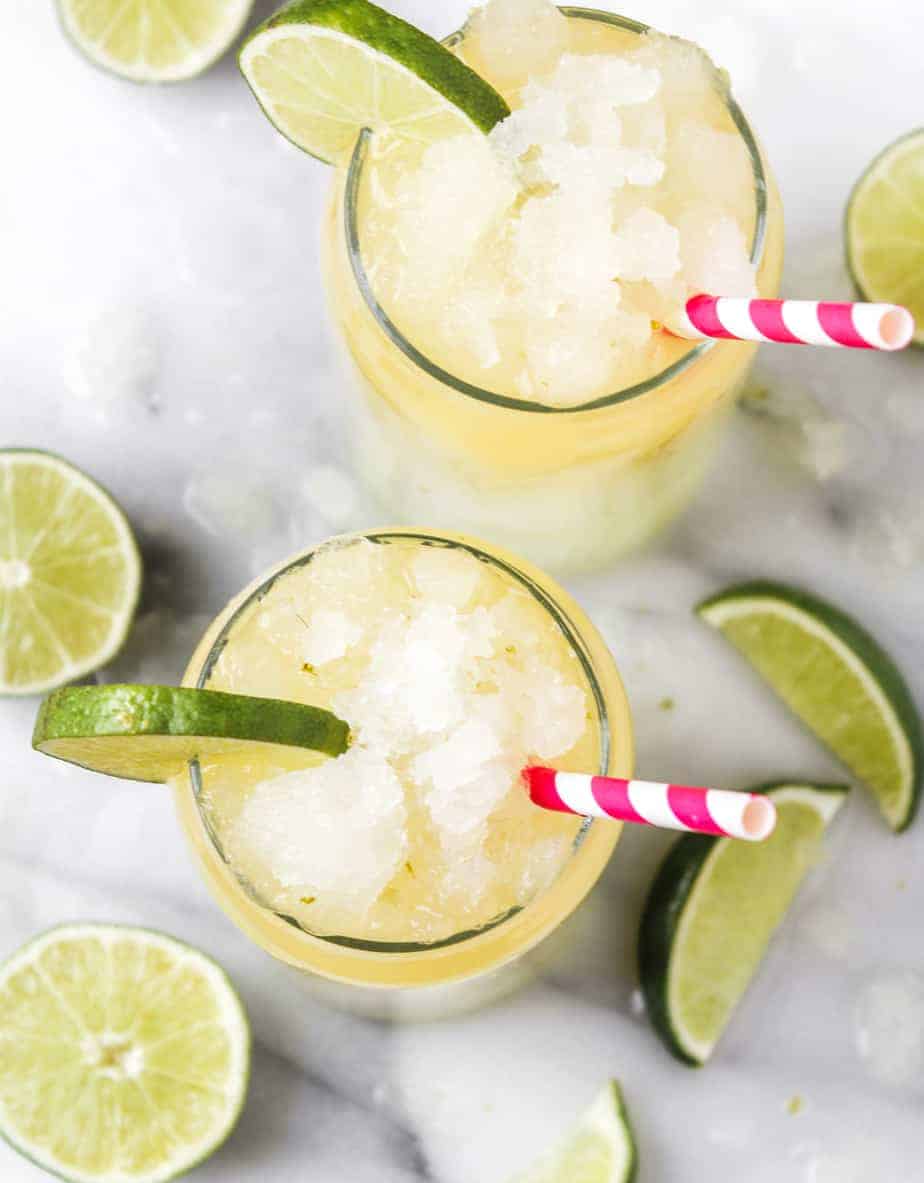 What is the difference between Corona Extra and Corona Light?
There's not much of a difference between Corona Extra and Corona Light: the light version is just the og's lighter counterpart, in both ABV and calories.
So if you have an eye on your waistline, opt for Corona light; while it has a little bit less alcohol (4.1% compared to Corona Extra's 4.6%) it also has less calories (99 compared to Corona Extra's 149) and you won't be sacrificing much of the taste.
I chose Corona Extra because it's one of my go-to summer beers: I for one, cannot enjoy a stout in the summer, and prefer Corona Extra's lighter, refreshing and smooth notes.
Plus, I knew that Corona Extra's fruity-honey aromas and crisp, clean taste would pair well with the sweetness of my homemade lime granita and balance out the beer cocktail.
(And of course, you can substitute Corona Light in this Corona cocktail recipe for something with a little less calories!)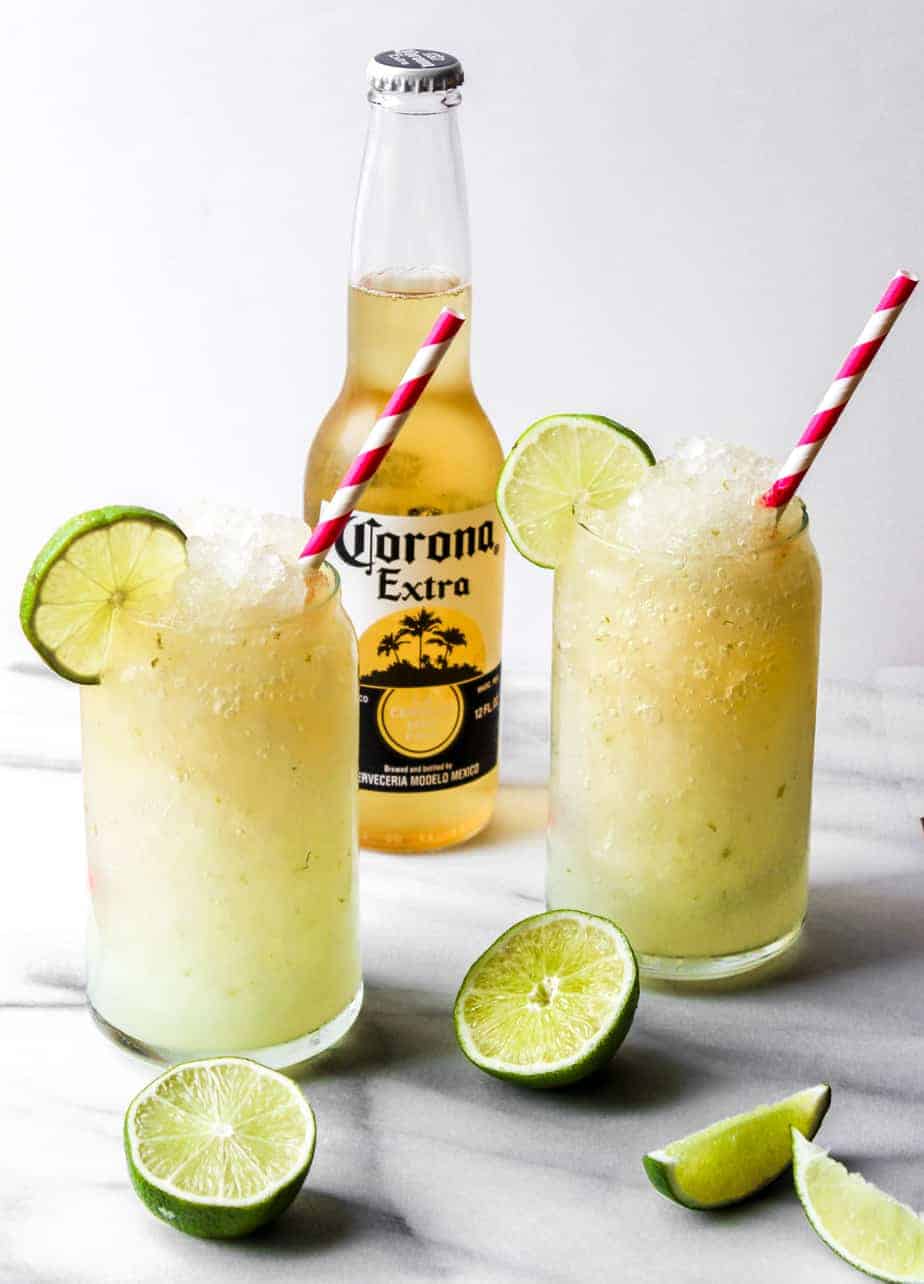 Why drink Corona with lime?
Pairing the pale lager with lime is a classic combination that always reminds me of summer.
But Coronas were not always served with lime and in fact had no garnish at all.
There are a lot of rumors out there as to why limes became the synonymous with Corona; things like:
the citrus keeps away flies
a lime can cover and combat a skunked beer
the lime works as a natural disinfectant and kills germs on the bottle
it was a marketing ploy to create a more visually appealing product
it's a Mexican tradition that Americans have emulated (or it's a tourist tradition that Mexicans started doing to humor tourists)
it just makes the beer taste better!
While I don't have any research or evidence to back up these rumors, I do have to say, whatever the initial reason, serving a Corona with lime has really stuck and I always make sure to add that extra citrus kick when drinking a cold Corona Extra or Corona light.
Which is why I knew that lime would be the perfect flavor for my Corona cocktail!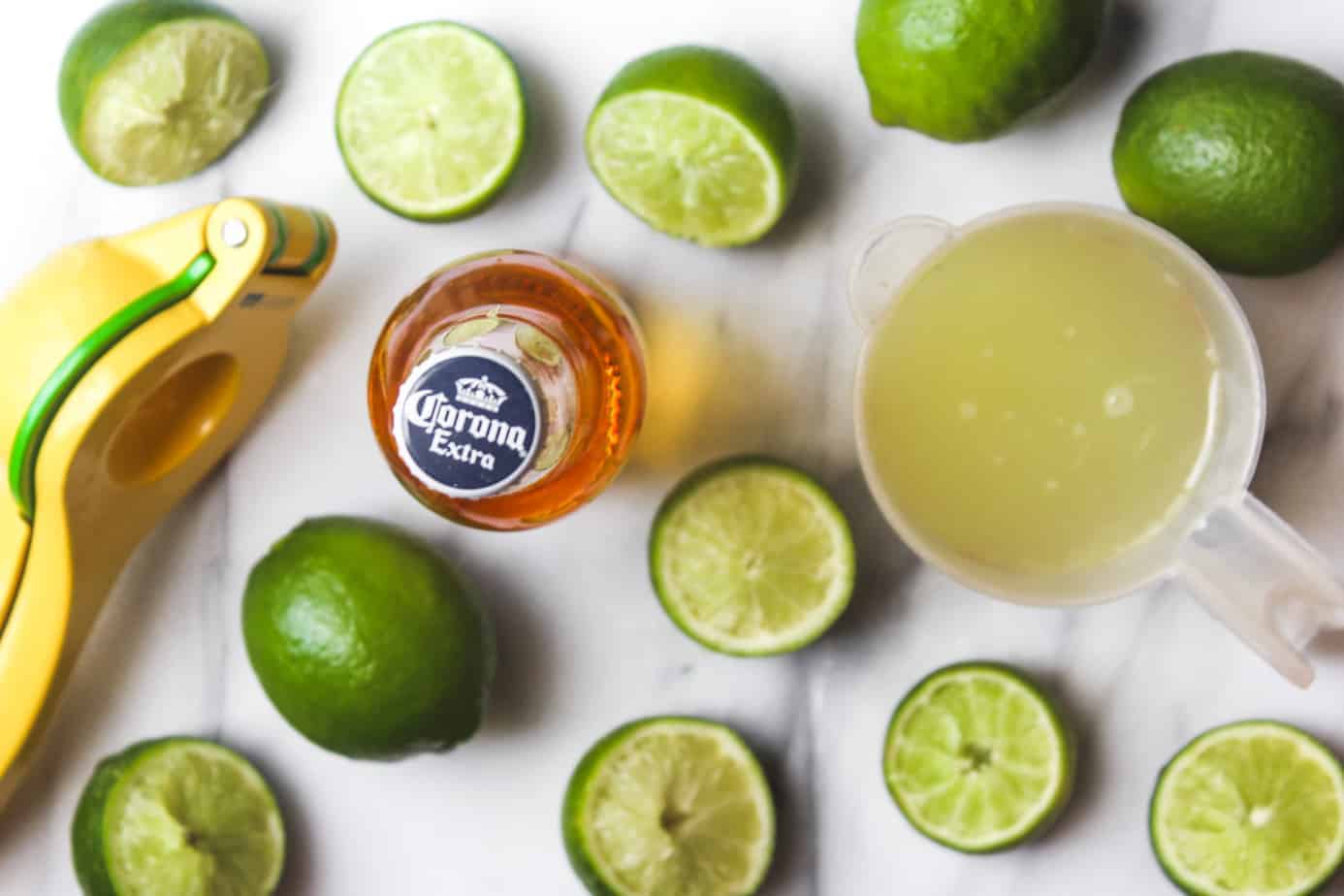 How to make a this refreshing Corona cocktail
With ice cream floats as my inspiration, I picked up a six pack of Corona Extra, some limes and pineapple juice at the store and started beer cocktail creating.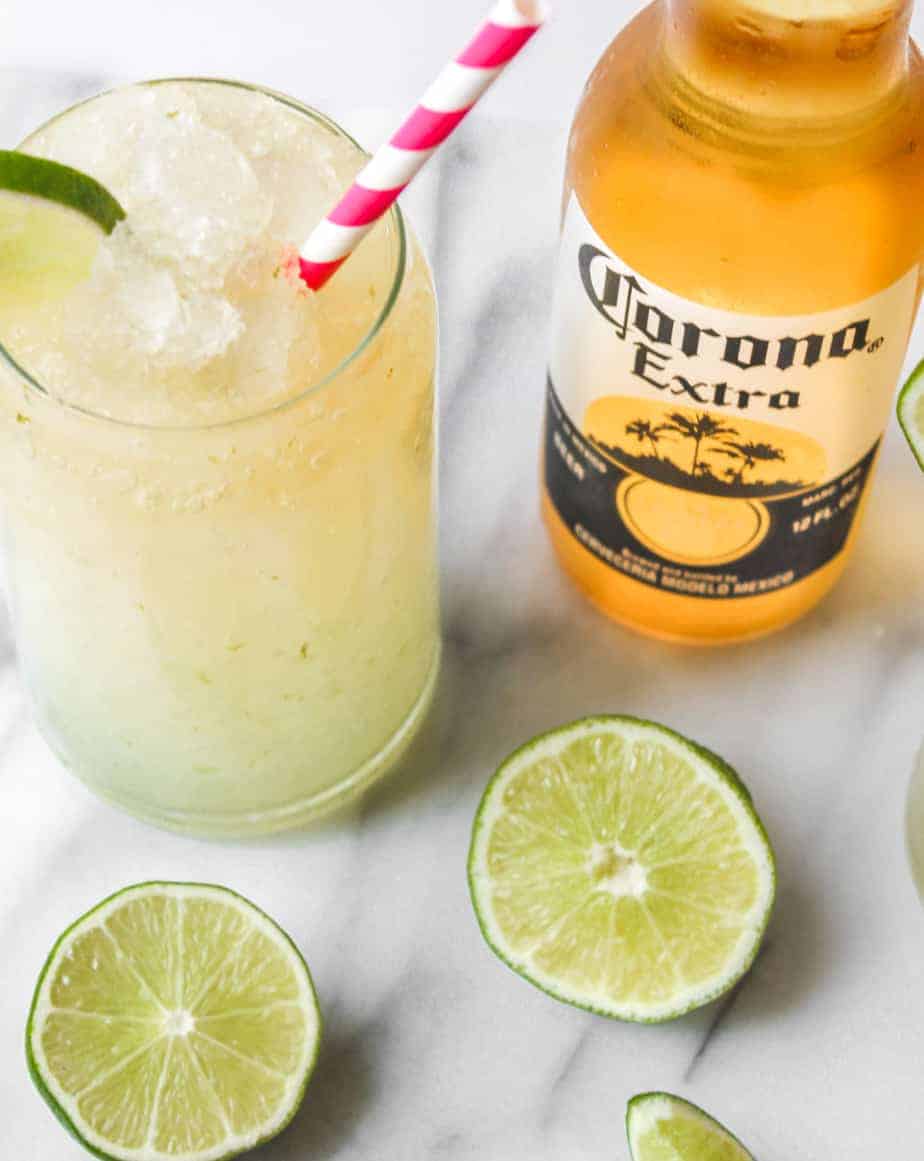 Once at home, I whipped up a homemade lime granita, my spin on the ice cream for a Corona float beer cocktail.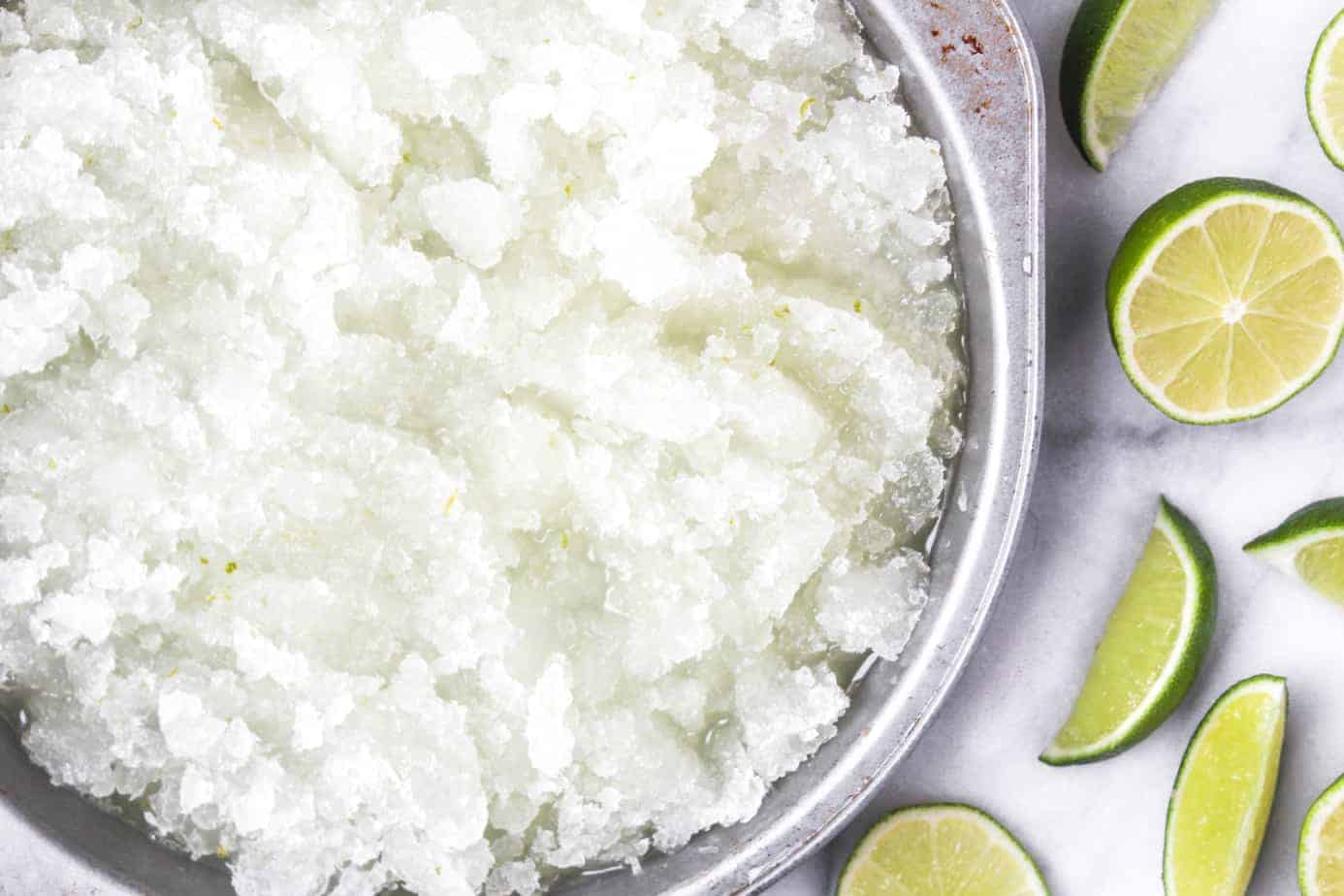 Lime granita is so easy to make; it features a few, very simple ingredients (fresh squeezed lime juice, sugar and water) which you mix up before putting the liquid in a baking dish to freeze over the next few hours.
Every thirty minutes or so, take the baking dish out of the freezer and run a fork through ice that's forming. The result is this delicious sweet, slushy ice that's one of the stars of your summertime beer cocktail.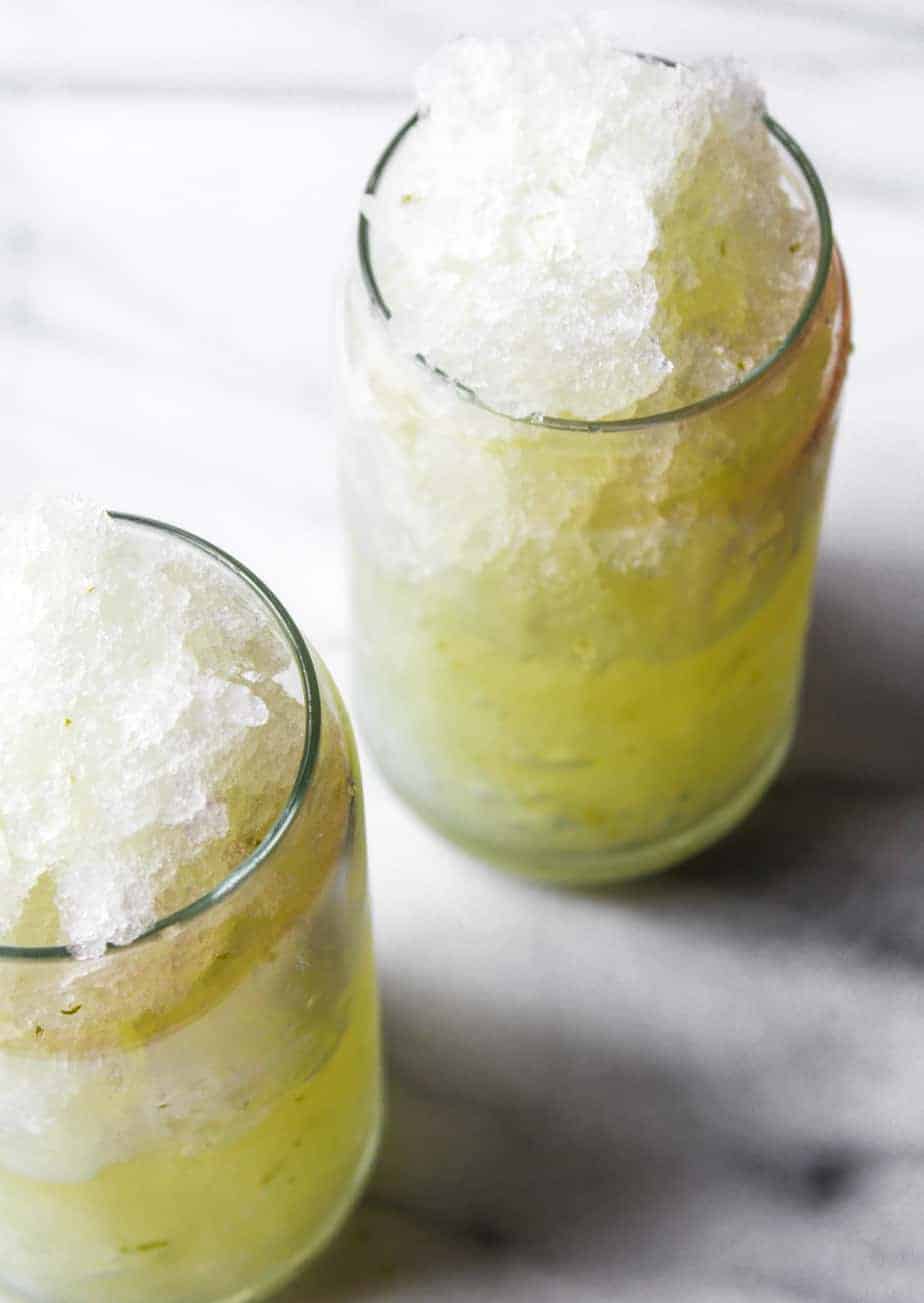 The other star is, of course, Corona Extra. Pour a bottle of Corona Extra over the homemade lime granita, and top your Corona float with a splash of pineapple, creating a cool and refreshing beer cocktail that's going to be on repeat in our house all summer long.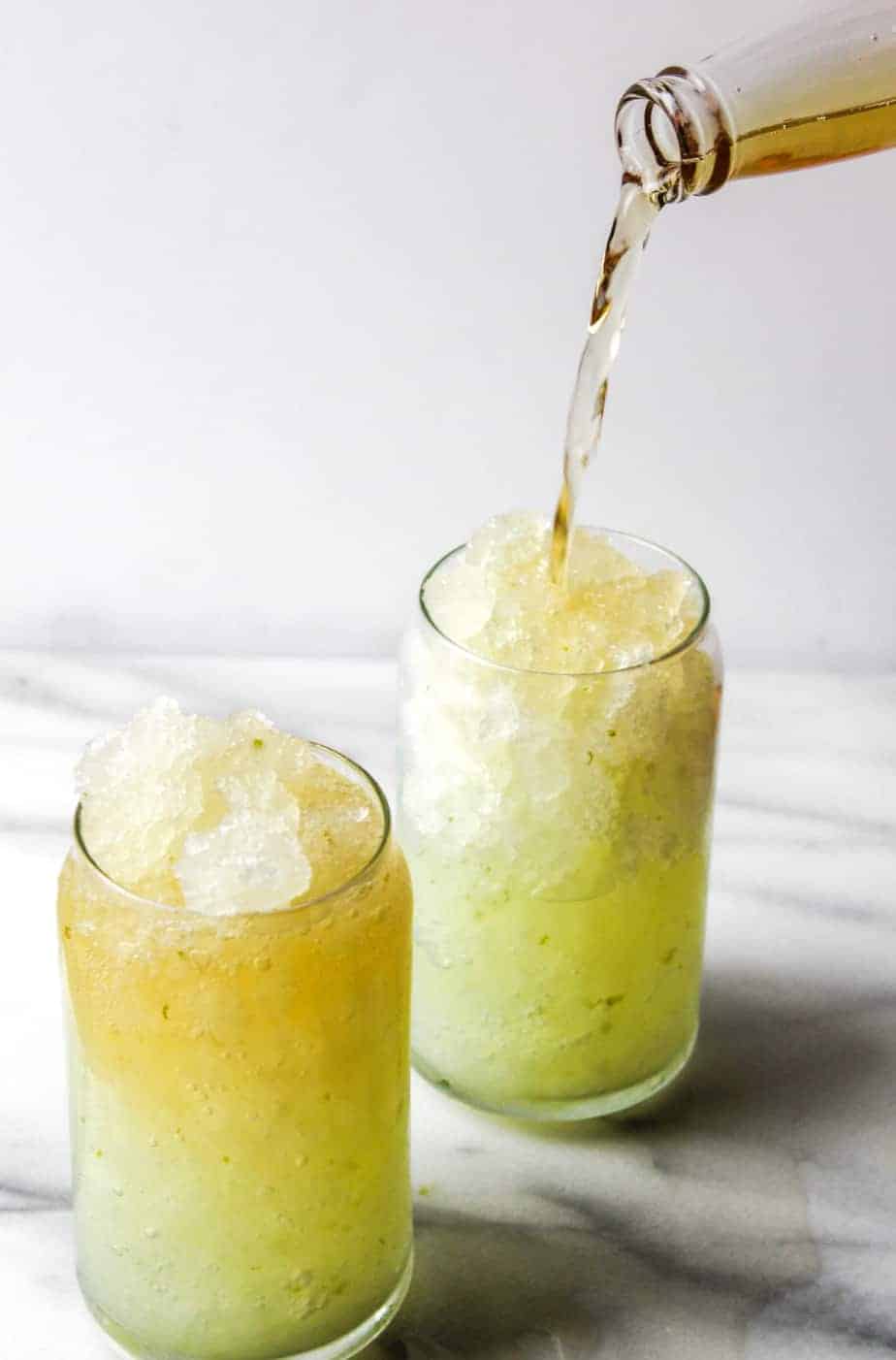 One sip, and you can be instantly transported from uncomfortable, sweaty misery to instant, carefree, relaxation. Who needs air conditioning anyways?
I mean, I actually really do need air conditioning. But I'll also take a Corona float to soak up summer while I'm at it.