Score a touchdown at your next tailgate, football watch from home, or game day party with these football food favorites your whole team will love.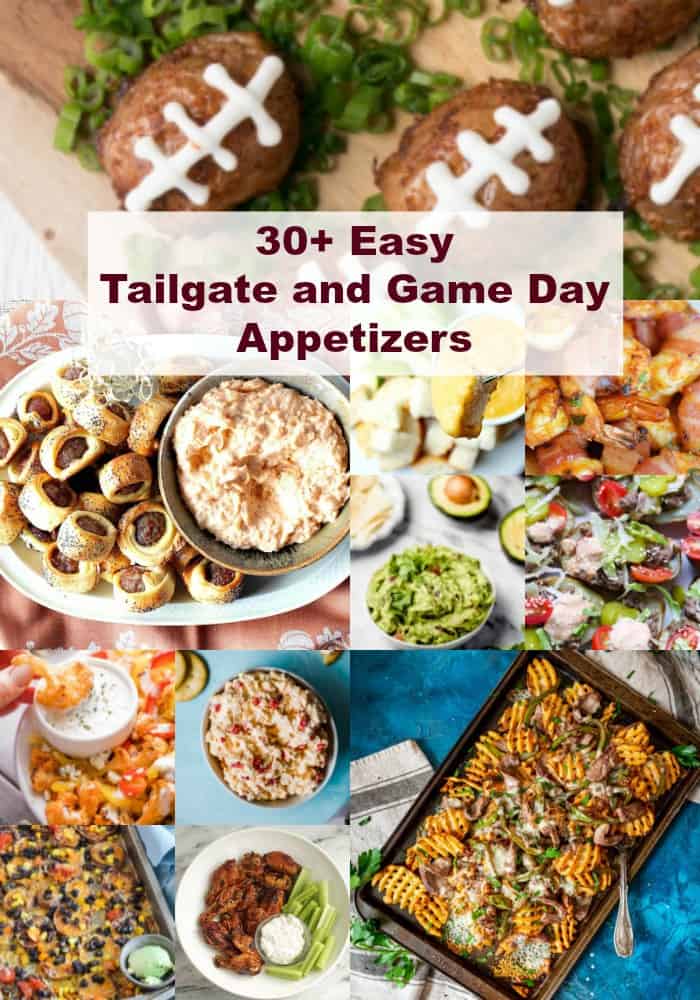 These tried and true appetizer recipes are some of my favorites that will help make game day party planning and prepping a breeze and will be a hit with all of your guests!
Happy fall!
It's finally time for all of my favorite fall things like a whiskey apple cider cocktail and easy pumpkin waffles and pumpkin beer and caramel apple pie and fires in the backyard and my especially my favorite fall thing:
Football!
I grew up in a world where Sundays throughout the fall and winter were football days.
Weekly, my family would gather in the living room and cheer on (ok more like screaming) our favorite team (the one's from Wisconsin wearing the green and gold). Sometimes we'd get so invested in big plays that my sister would end up hiding in the bathroom until the hail mary was caught or the field goal was made.
While I always looked forward to our family watch parties to hang out with my family and cheer on our team, I can't lie that I also looked forward to Sundays for spread of our football food favorites: snacks and appetizers to munch on for four quarters.
My love for football Sundays (snacks and apps included) carried on throughout college and law school. In college, I lived just down the street from my aunt and uncle and would go over there on Sundays for Packer Parties, complete with green and gold decor and tons of delicious football food.
I was also lucky enough to be just down the road (sort of) from the stadium in Green Bay, so got the chance to cheer on my team in person. Pre-game tailgates included lots of Wisconsin beer and you guessed it: lots of food including the best beer boiled brats.
In law school, my roommate and I were too cheap to pay for cable, so we'd find ourselves at a local bar on Sundays splitting a plate of nachos and yelling at the TV.
AJ and I have carried on the Sunday football tradition in our house which usually means camping out on the couch for the entire day with a football food spread on the coffee table.
And our favorite way to enjoy football from home this season is to invite my parents over (they just moved to Charlotte!) set up the TV in the backyard and make an epic spread of our football food favorites to munch on.
Football watching of any kind definitely has to involve food!
And if you're looking for the perfect appetizer recipe to bring to a bring to a fall tailgate, to cook up while you watch football at home, or you really, really just like snacks more than football, you are in the right place!
PS: these game day appetizers is they pair perfectly with an ice cold beer, or you can take them to the next level with a Build Your Own Bloody Mary Bar at your tailgate or game watch party at home!
(And of course, if you'd prefer not to cook on game day, order a pizza from one of the restaurants serving the best pizza in Charlotte, or check out where to get some of the best wings in Charlotte!)