I'm currently suffering from writer's block. The struggle is real.
I'm not sure what's triggered my funky mood lately. Maybe it's the weather. Maybe it's because work has been busy and I'm drained when I'm stuck in court for 6 hours a day. Maybe it's because I've been getting up at 5:30 am 4 days a week and I'm not getting enough sleep. Whatever it is, I have no motivation. I get home and all I want to do is lay in bed and watch mindless TV. It took all the energy I had yesterday to make dinner (the easiest dinner to make known to mankind by the way). It was spaghetti squash with Cannizzaro Sauce that we picked up at the farmers market. I mean the squash roasted itself and I just had to open the jar of sauce and saute some Italian sausage that we had to use up in the fridge. Dinner basically made itself. Also, Cannizzaro Sauce is super delicious and I love it). Promptly after dinner, I retreated upstairs, reclined, and put on the latest episode of Vanderpump Rules. It's all I wanted in my life.
Not only has my motivation gone out the window, but my desire to write has gone with it. I love writing. I love writing because it's my creative outlet, it's a way for me to express myself, and it's usually fun. I think the fun I find in writing is what I love most; the joy I get as I spit out letters and words, and the satisfaction I have when I've finished stringing together some sentences of cohesive thoughts. I love the rush of getting in the groove; where words just flow to my fingertips and I can hear the constant cadence of my keyboard.
Recently, I haven't been getting those warm, fuzzy feelings when I sit down at my computer to write. Instead, I'm met with frustration; with exhaustion, like a big brick wall has built up in my brain. My fingers have been feeling heavy. It's gotten to the point where I feel like I'm forcing it, where my voice has gone out the window and I'm just typing and typing to get the words out, to put something that somewhat resembles a post because I feel like I'm expected to spit something out.
I've been wanting to share the Third Ward's hidden gem, Little Village Grill, with you all for ages. Seriously, months. Since like November. And recently, anytime I've sat down to write the post, I've added a sentence or two before having to walk away. I couldn't find the words, I couldn't string together  the story, and what I had left was what I felt was an inauthentic, disheveled post about Uptown's lunch options (Uptown and the surrounding areas have some great lunch options by the way, but I work in the Second Ward, also known as the desert). I had lunch with a friend today, and we spent some time bemoaning the fact we can't get in a good blog posting rhythm. I haven't been regular, wahhh. I decided when I got home I would knock out this post, because I wanted to tell you about the great French fry topped gyro I ate at Little Village Grill. So when I sat down to wrap up the post tonight I deleted the 410 words in my draft and started over.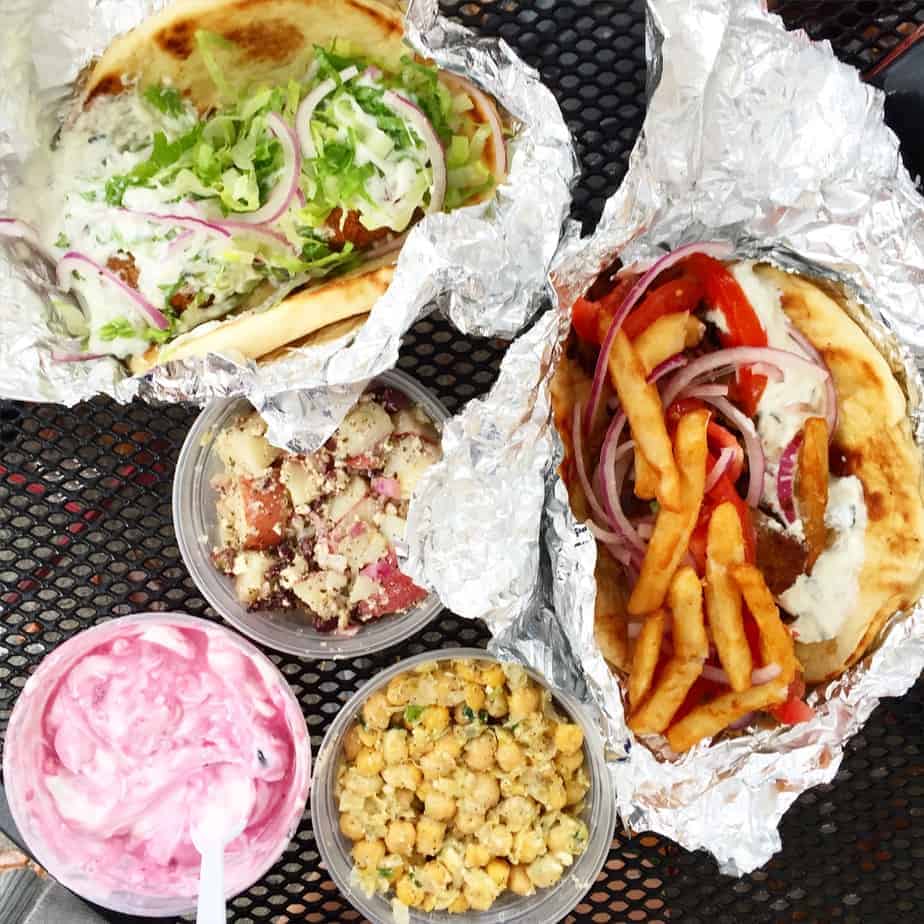 If you haven't been to Little Village Grill, you are seriously missing out on some of the best food in Charlotte. I can tell you that because until November, I was missing out for 3 years. They put French fries on their gyros; which is incredible, delicious and is very serious business. I stumbled across Little Village Grill a few months ago when I was running errands over lunch and was looking for a quick meal before I had to head back to court. I pulled up to Gateway Village and there was a line out the door, looping down the sidewalk toward the parking garage. Such a good sign. Another good sign was that it didn't take me a full menu scan to get to the front, and so a sudden and immense pressure washed over me when I got to the counter and wasn't sure what I wanted. I stuttered over my choices a few times, the cashier was clearly impatient and knew I was new, but still didn't rush me. I ordered a gyro (the best decision) and shuffled into the corner of the small joint to wait for my number to be called. On an uncharacteristically warm November day, my friends and I enjoyed some really good food at the one patio table parked on the sidewalk in front of Little Village Grill (clearly it's a to-go place, as it may be about the same size as my bedroom. Maybe a tad bigger). I reveled in the fact that we could eat outside in November, that I really like chick peas (chick pea salad for the win), and that some absolute genius came up with the best idea to put French fries on a gyro. The best idea.
So writer's block happens. Sometimes trashy reality TV watching trumps blog posts. But eating a French fry topped gyro outside in November was something you definitely needed to know about.
facebook: little village grill/710 w. trade street, uptown
mon. through fri. 11am-8pm
sat. 12pm-8pm