A taco bar party is an easy and fun way to feed a crowd for any occasion! This post is full of taco bar ideas for your upcoming Cinco de Mayo fiesta, birthday parties or summer soirees!
Pro tip: prep and cook everything for your taco bar party ahead of time so when your guests arrive, they can put their tacos together just the way they want to…and you won't be stuck in the kitchen!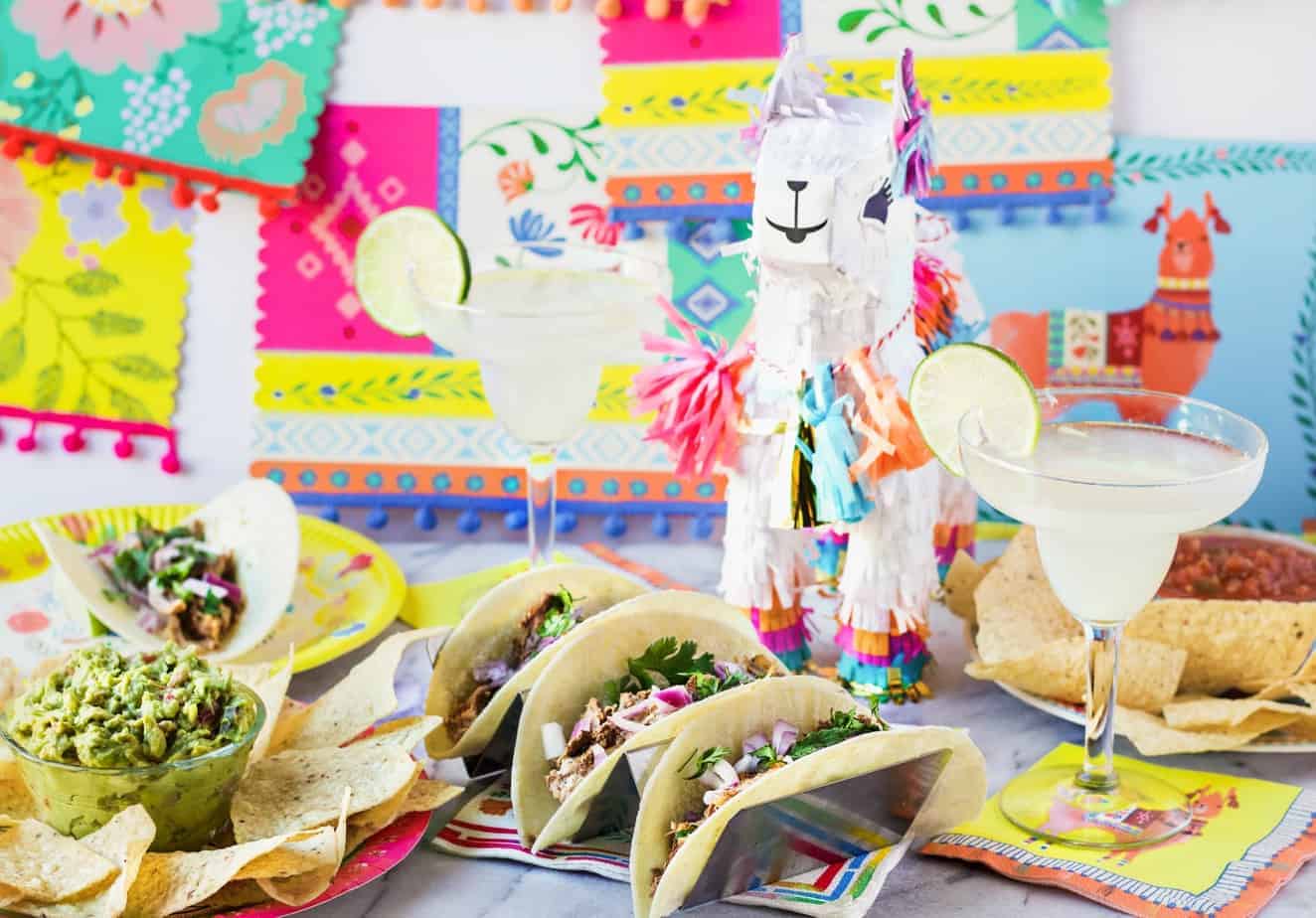 I partnered with J. Leigh Events to create this content and am receiving compensation for this post. All opinions and content are my own. Thank you for supporting brands and businesses that support Off the Eaten Path!
I've got something I wanna taco 'bout.
Yes, I wanna taco 'bout taco bar ideas.
No, I do not want to stop using a cheesy taco pun.
As y'all know, I'm a big fan of easy entertaining.
(See eg: a whole post dedicated to easy dinner party tips, or my preaching the good word about easy entertaining while also singing the praises of loaded grilled nachos and bacon jalapeno pimento cheese.)
Keyword here, always and forever, is easy.
Over the years, we've hosted our fair share of family holiday gatherings, football game days, birthday rendezvous, and group hangs.
We love having our friends and family over, but I hate all the hubbub that comes with hosting: the prep, the clean up, and the fact that the host inevitably ends up stuck in the kitchen rather than having fun.
So when it comes to hosting, I like to make it as hassle free as possible.
You know what's hassle free?
Tacos.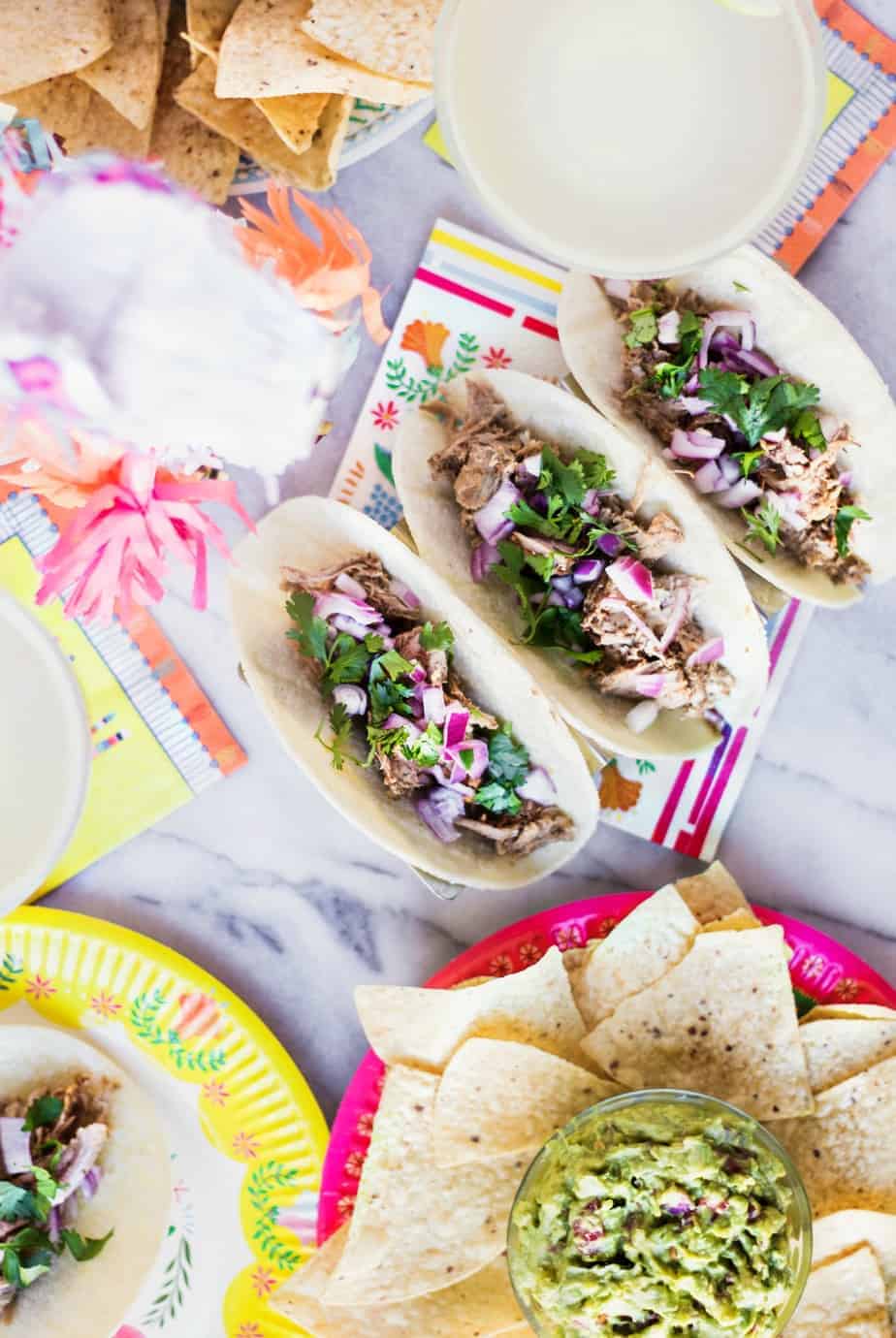 People freaking love tacos. They love making their own tacos.
So one of my favorite ways to feed people is with a taco and margarita party!
And with Cinco de Mayo right around the corner, I know you're itching to have some friends over for a DIY taco bar party situation.
Coupled with margarita sipping, of course.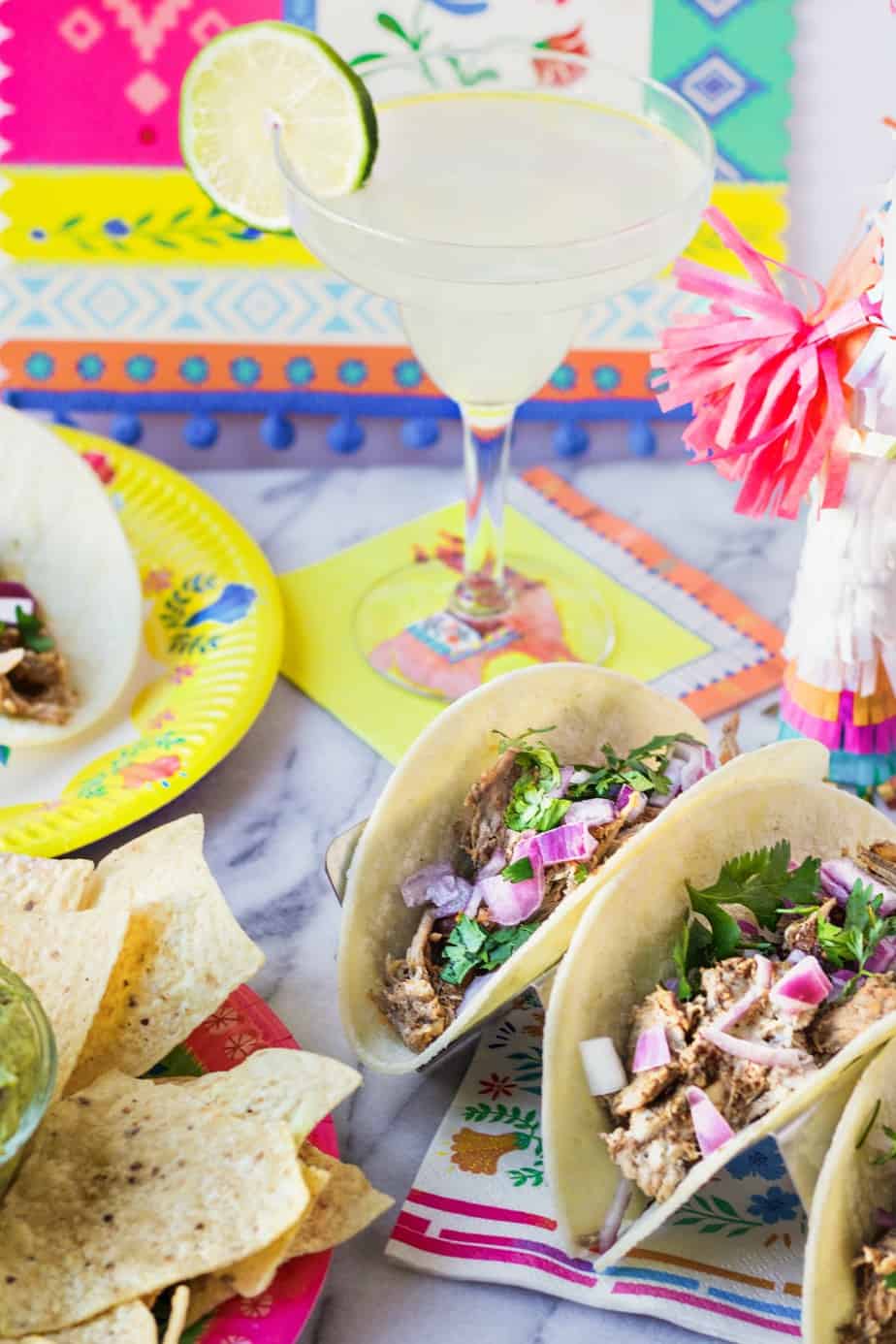 (But PS: a taco bar party is not just for Cinco de Mayo! I feel like a taco bar party is totally appropriate for all sorts of summer soirees in lieu of a traditional cookout; and would also be so much fun for a birthday or game day party!)
Anyways, back to tacos.
Why is a DIY taco bar party so great?
Well, I am so happy you asked!
First, I love a little "do it yourself" or "build your own" bar.
And I don't think I'm the only one…people go nuts at tailgates for a build your own Bloody Mary bar, and I think the concept is easily translated to all sorts of foods. Tacos. Mashed or baked potatoes. Chili.
I also think people love the chance to do a little bit of work to make their food exactly the way they want it.
There's a certain level of fun factor that comes with picking your favorites from endless choices of toppings and garnishes and making your food just the way you like it.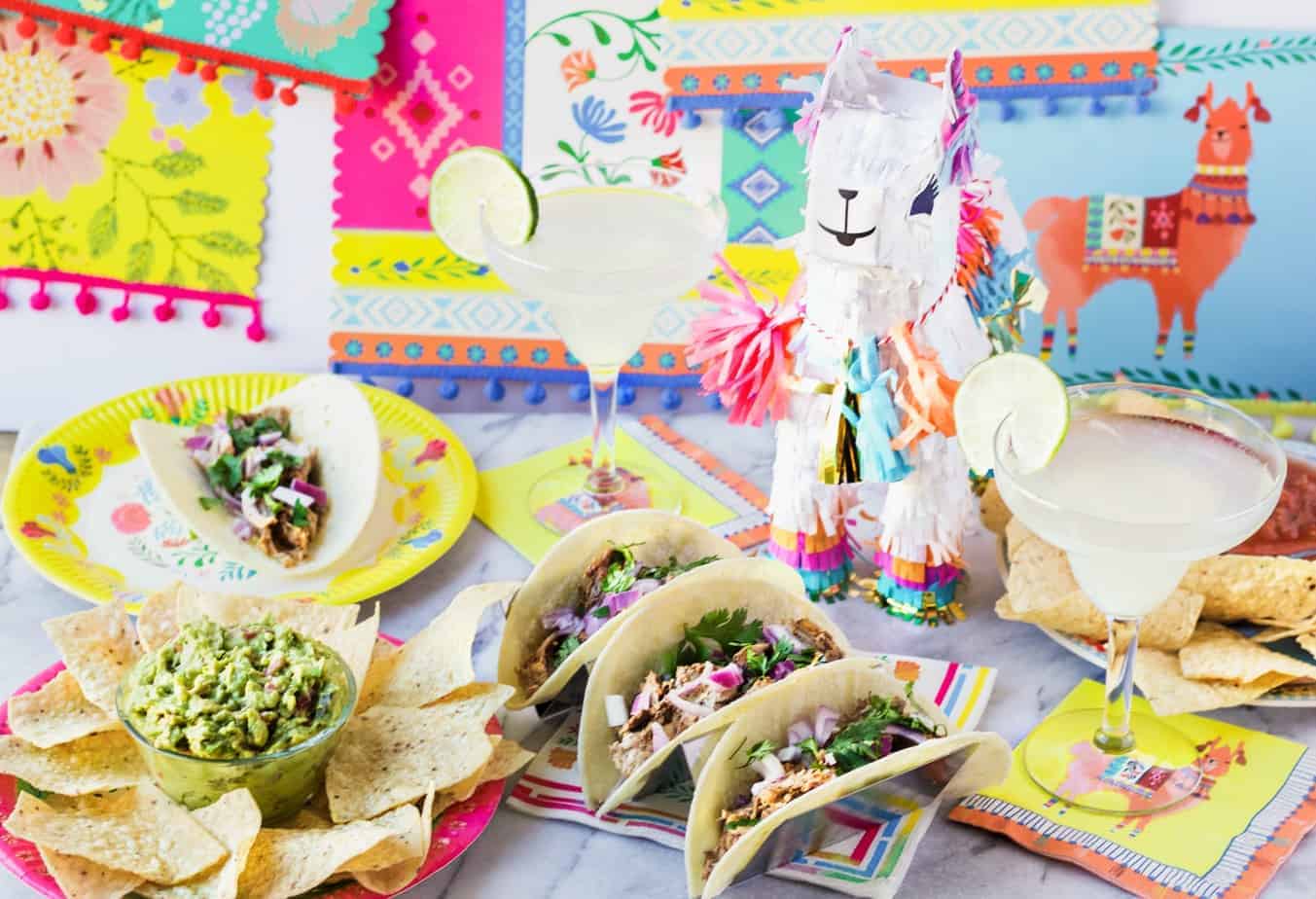 I guess that's a round about way of saying a taco bar is totally customizable for your guests.
Which is great.
On top of being customizable, allowing guests to pick their own fillings and toppings allows you, as the host, to accommodate the wide variety of dietary restrictions and palates that comes with hosting a bunch of guests.
A variety of fillings and toppings at a taco bar party can cater to everyone from meat eaters to vegans, and by letting guests pick their own toppings, you are helping out those picky eaters too.
And, a DIY or BYO bar style makes feeding everyone easy on the host!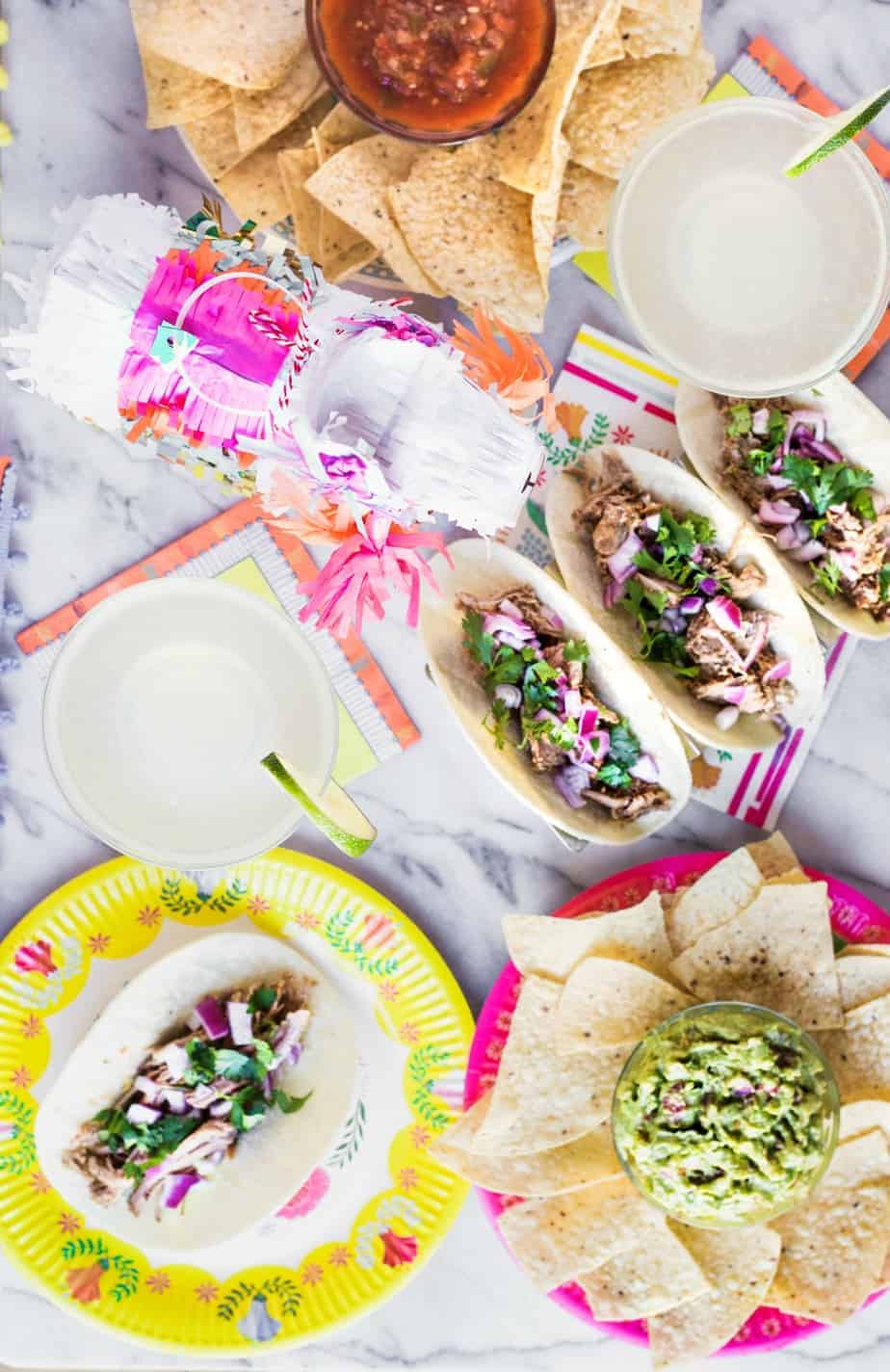 For a taco bar party, most of the fillings and toppings can be prepped and cooked ahead of time, and then warmed up just before eating.
By getting the work done up front, you get to spend more time with your guests, and then, when it's time to eat, you put just a little bit of the work on them. Your guests won't see making tacos their way like work….they will think it's fun! (Just in case, give them a few margaritas first.)
Simple taco bar set up
To set up your taco bar buffet, all you need is an empty table or counter space.
You're going to use this as your blank canvas to set up your taco bar, buffet style.
Start with a plate and utensil station, then tortillas (or even chips…no one said you couldn't have a hybrid taco nacho bar) the you'll link up all of your fillings, toppings, sauces and salsas, and sides, and then round it out with a beverage station to wash everything down.
Margaritas anyone?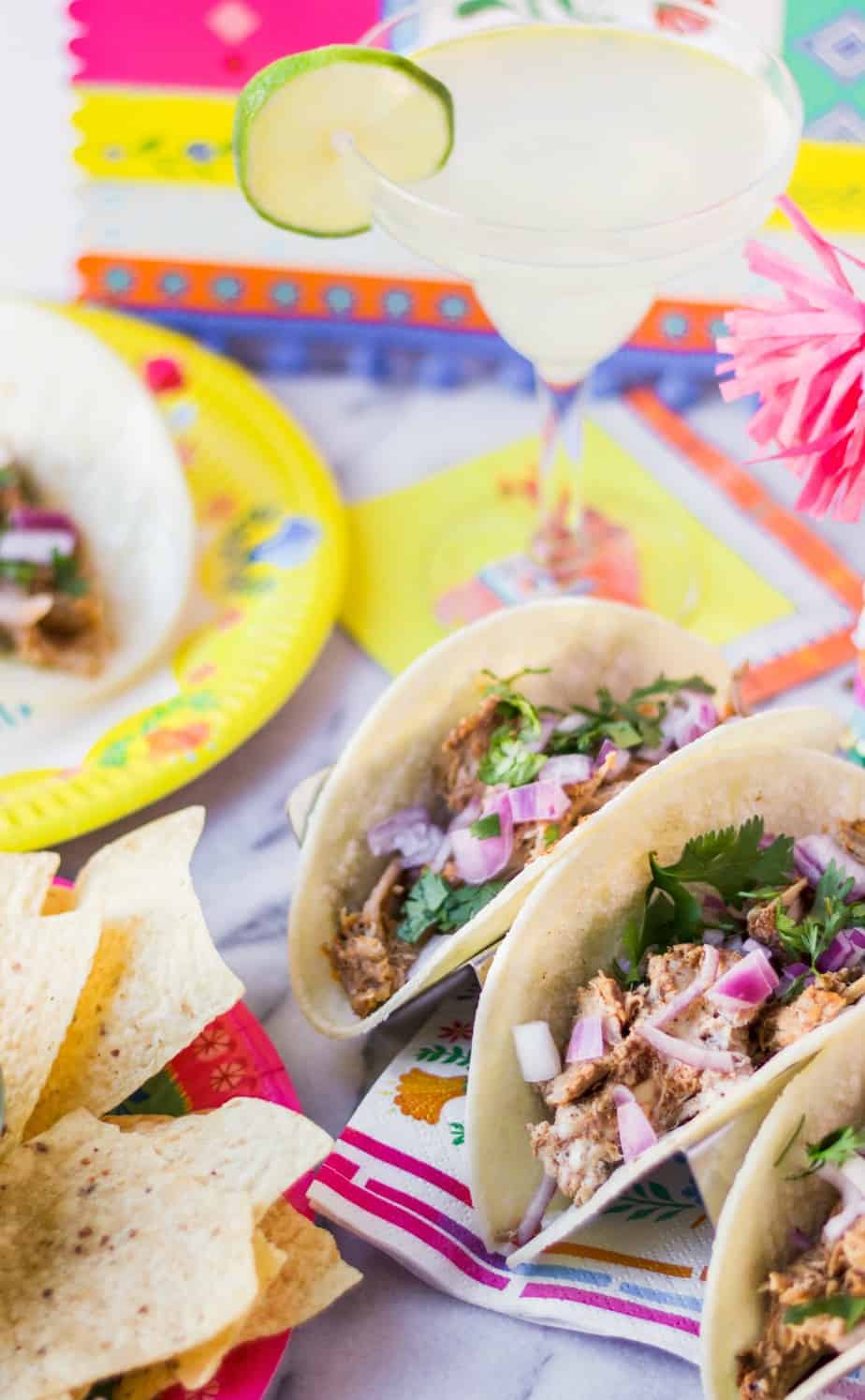 And since we're going with easy, when it comes to serving, disposable serving and dining ware is super clutch.
Because even though a build your own taco bar party helps you escape the kitchen by doing a lot of the prep ahead of time, you could easily get trapped in the kitchen under piles and piles of dishes.
Balance nightmares of hours of doing dishes with your desire for something more elevated than a plain jane paper plate.
Enter your saving grace: Party Perfected!
Party Perfected is a party in a box; it's a one stop shop for everything you need to throw the perfect party, packed up in a box and delivered to your door. Your party box also comes with a guide written by local party planning expert and event guru Jennifer Bishop to help create the Pinterest-worthy look you see in photos.
Party Perfected's Boho Fiesta Party Box is, for lack of a better word, perfect for a taco bar party.
The box is full of colorful, fun, elevated (and disposable!) plates, napkins, cups, straws, and a fabric bunting. You can also add on festive decor too, like at adorable llama pinata, cocktail picks, pom pom garlands, balloons and more, which can add pops of color to your taco bar and fiesta space.
Taco Bar Menu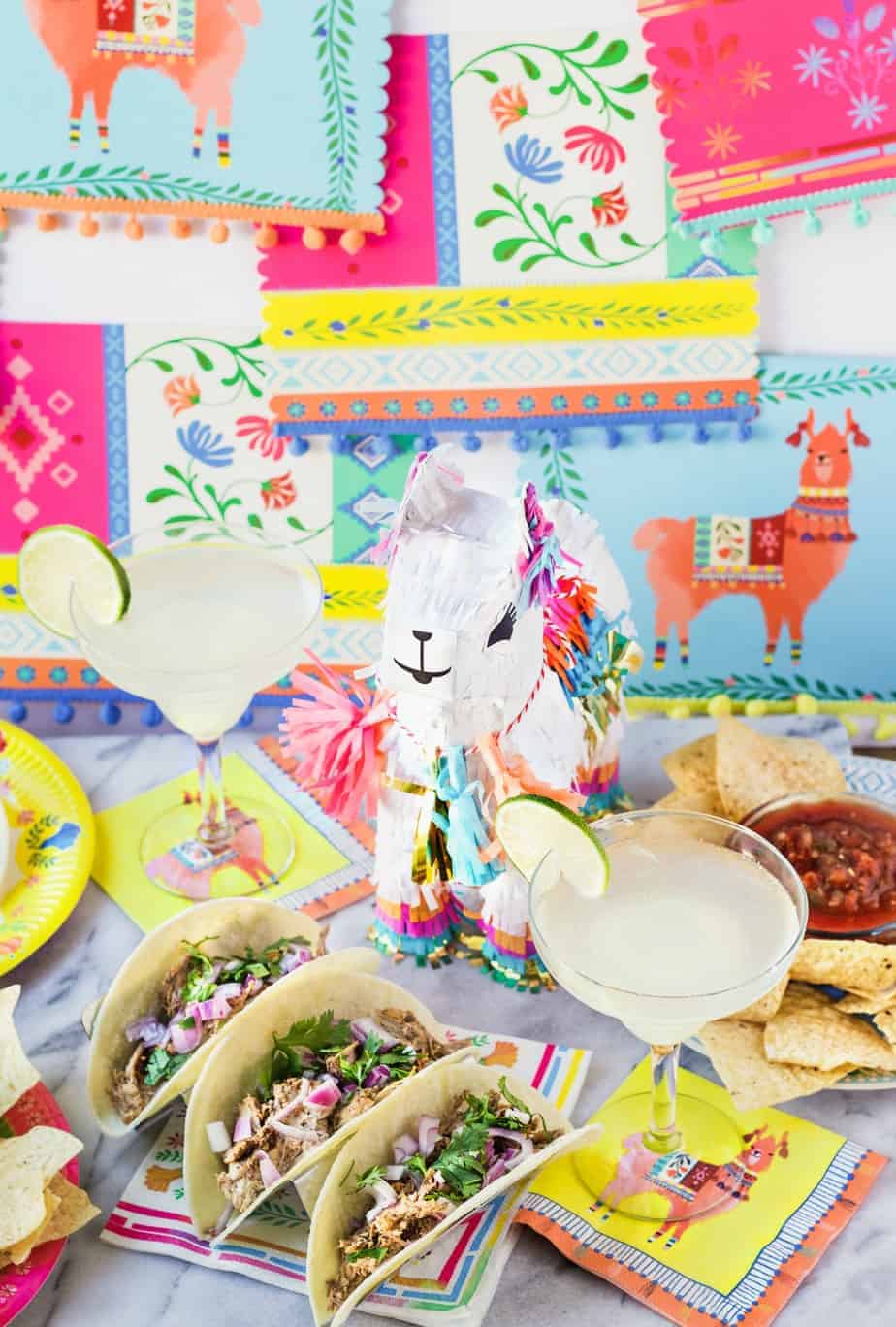 Ok we've got our set up, we've got our Boho Fiesta Party Box full of plates, utensils and decor, so now we need to talk food.
And boy, when it comes to food, do I have some taco bar ideas.
The ideal taco bar menu will include a whole host of fixins': taco fillings, topping, salsas, sauces, sides, and drinks. You could even go all out at splurge for dessert too.
I've rounded up some of my favorite taco bar toppings and recipes below to give your guests something to taco 'bout.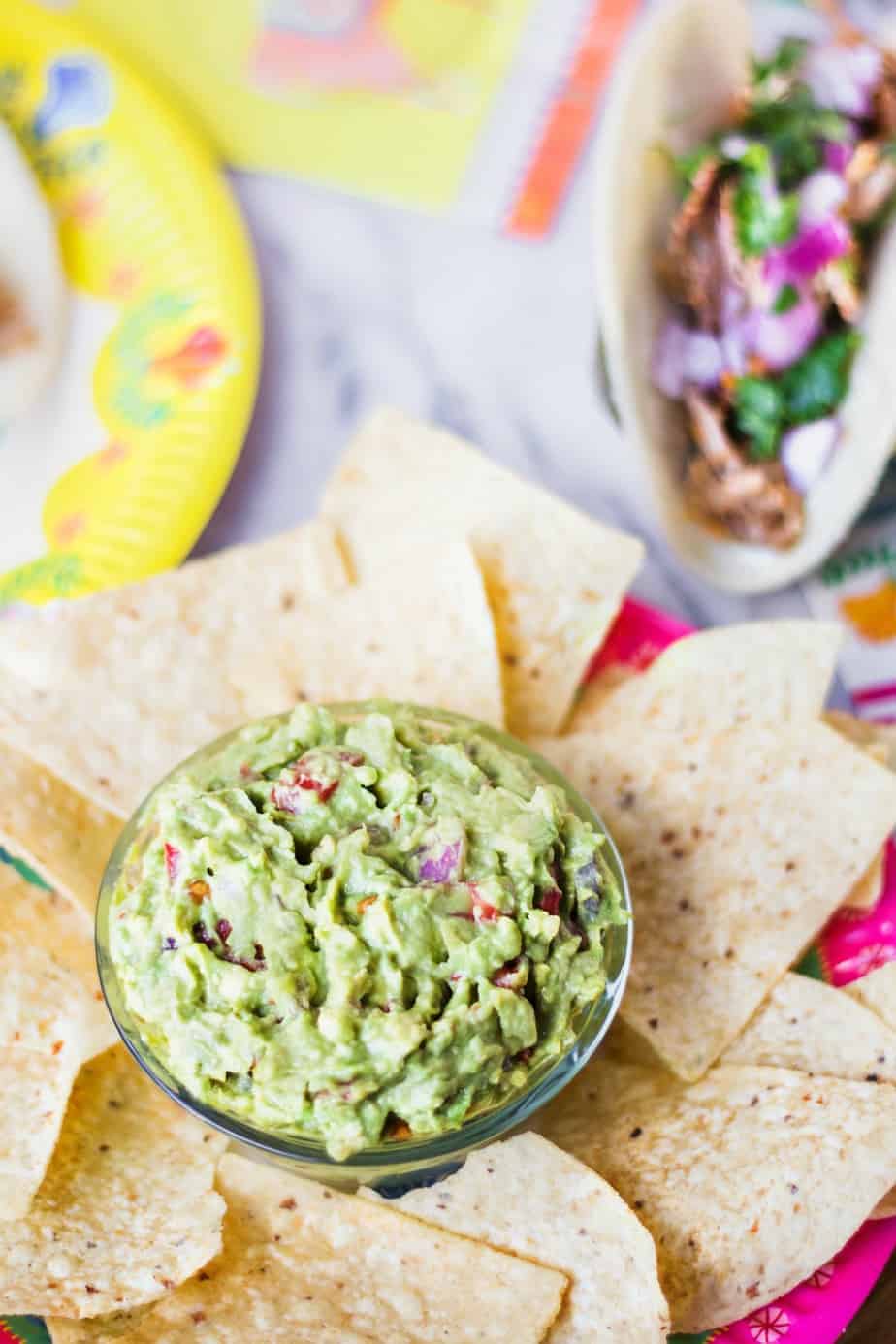 Taco Bar Toppings
Toppings are definitely the star of a build your own taco bar! By having a variety of toppings, guests can mix and match to make their tacos just the way they like them. Chop, dice, and shred your toppings ahead of time, put them in covered bowls in your fridge, and lay them out right before guests arrive.
Then the only thing you'll have to do during your taco bar party is replenish when something is getting low!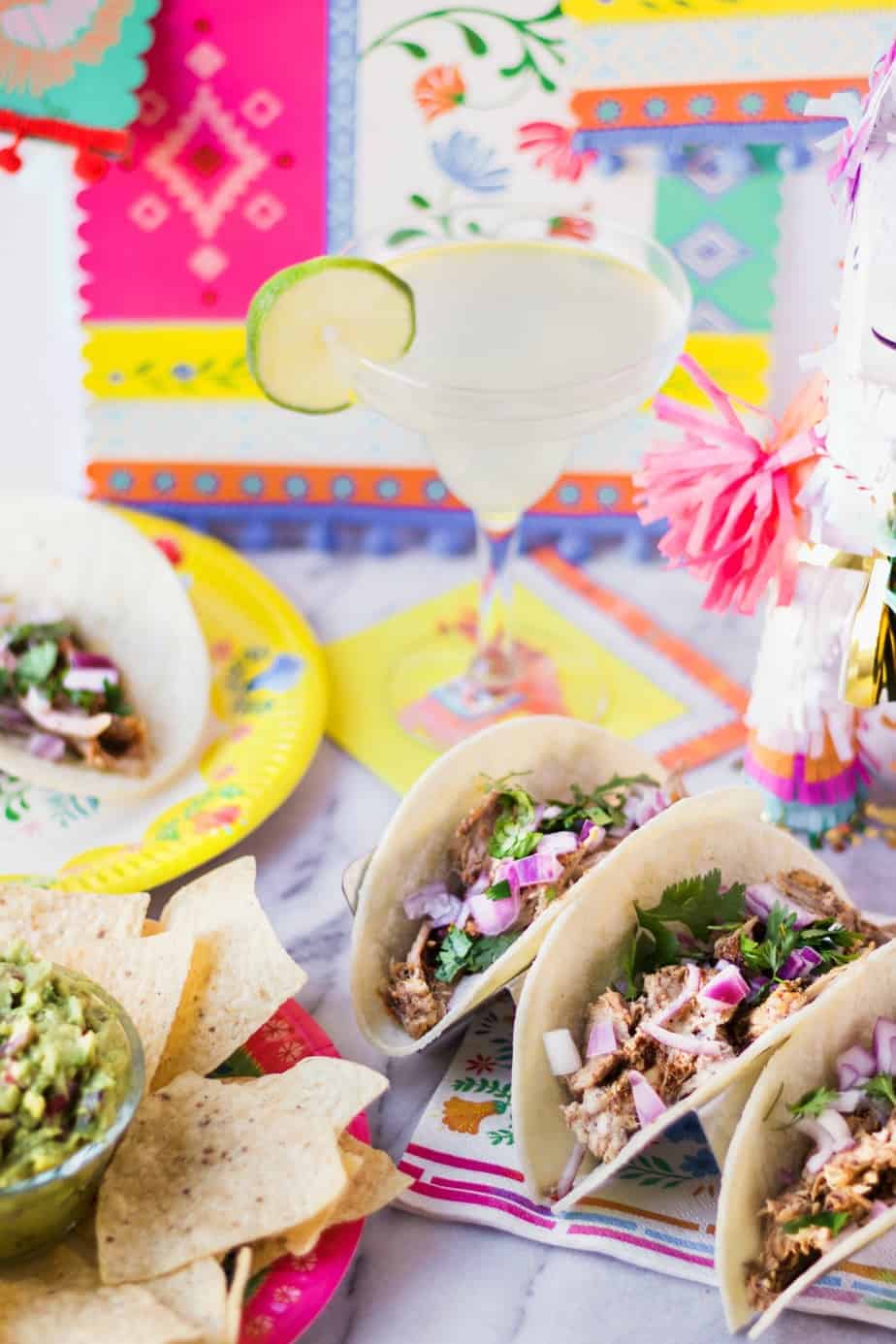 Here's a list of our favorite taco bar toppings:
Shredded lettuce
Shredded cheese (cheddar, Monterey jack, pepper jack, queso fresco, or cotija)
Diced tomatoes
Diced red onion
Cilantro
Slice limes
Black olives
Avocados
Roasted corn
Roasted red and green peppers
Bacon
Pineapple
Taco sauce
Sour cream