Do you know the key to juicy, delicious brats? Start them in a beer bath before finishing them on the grill! My dad, a Wisconsin native and brat expert and aficionado, shares the recipe for the best beer boiled brats.
Three day weekends are my jam.
Memorial Day weekend is especially exciting because it's the official kickoff of summer.
The pool opens!
School's almost out!
You can rock a seersucker suit!
Temperatures are climbing!
The sun is out longer!
Outdoor activities!
Wearing white pants is acceptable!
Time to fire up the grill!
(Looking for more grilling inspiration? Check out these grilled baby back ribs, grilled brie, grilled bbq pizza, loaded grilled nachos, grilled peach sundaes, and fancy Hawaiian grilled pizza!)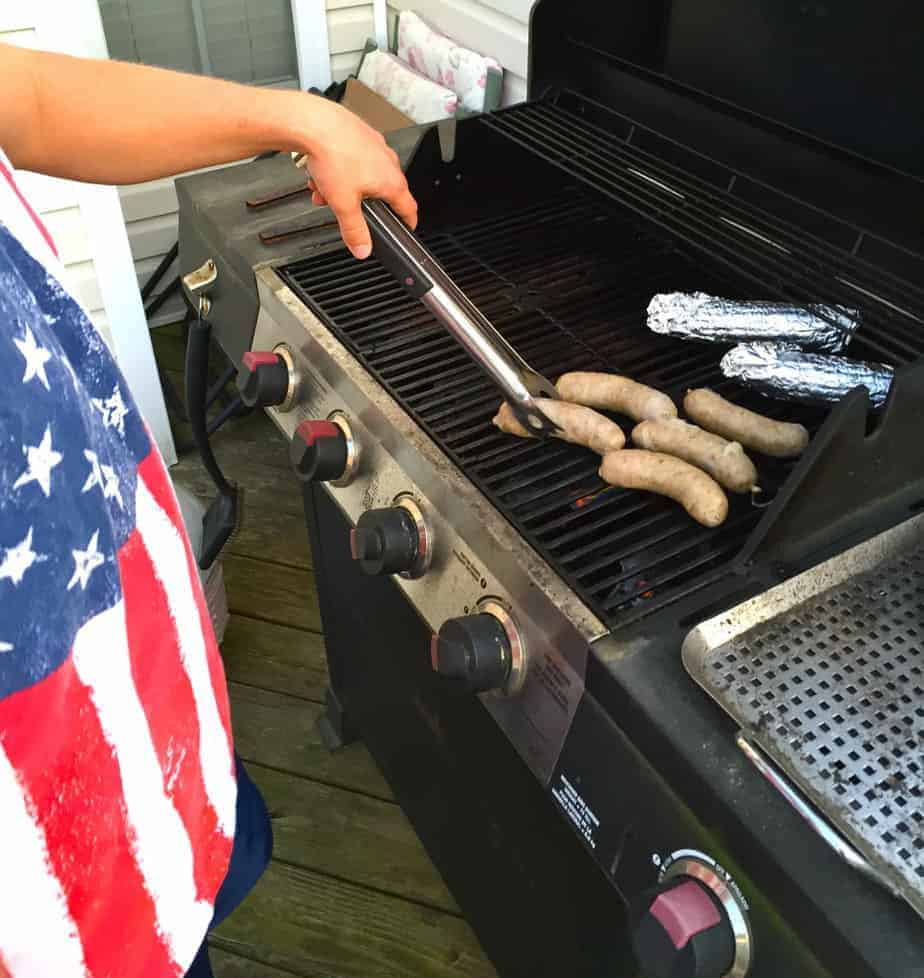 While I associate summer with all of the above (especially the fashion rules since moving down South), some of my strongest summer memories involve grilling.
My family grills all year round; grilling is not a cooking method limited to sunshine and steaming temperatures.
My dad will fire up the grill mid-January, and shovel direct door to grill path in the snow if necessary.
But grilling is definitely more prevalent in the summer: backyard barbecues, neighborhood block parties, beach trips, chowing down on juicy cheeseburgers and brats at the picnic table on our screened porch.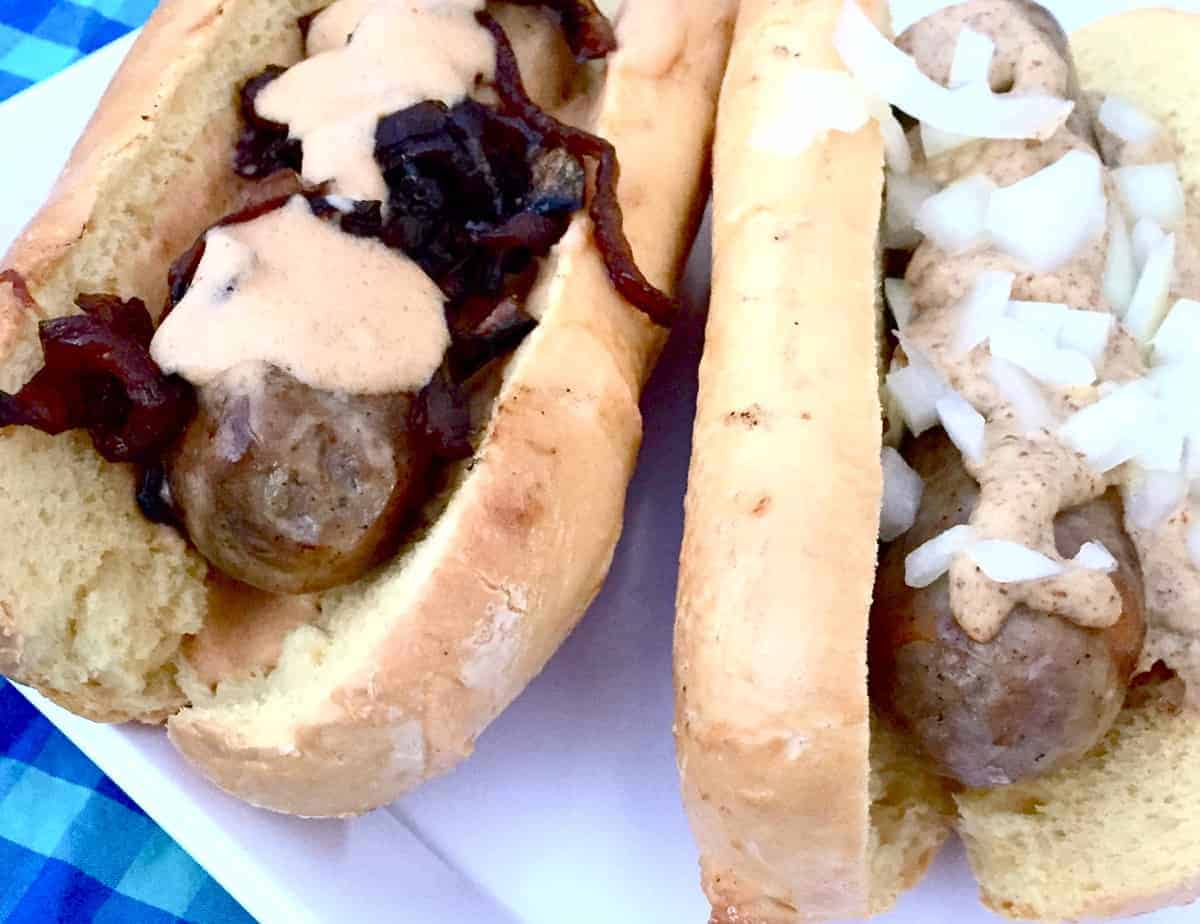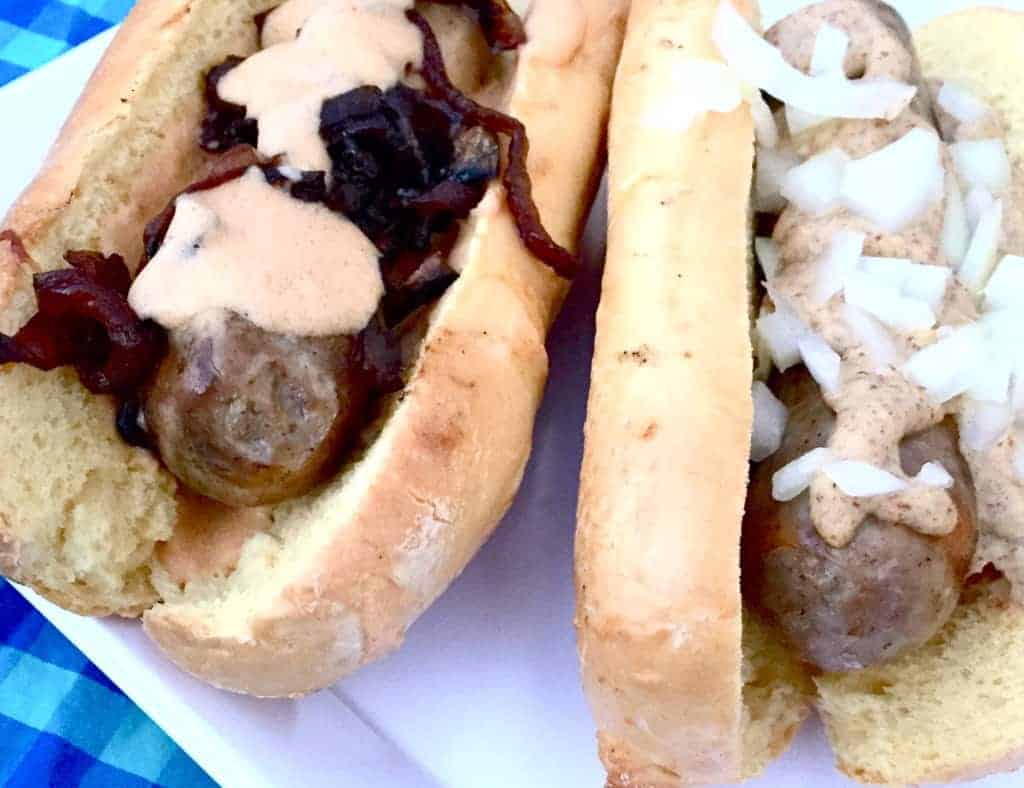 While ,y dad is no culinary master, he does have a couple standard recipes in his wheelhouse. He's from Chippewa Falls, Wisconsin (home to Leinenkugels and Jack Dawson in Titanic) and is proud of his Wisconsin roots (he is the most dedicated Wisconsin Badgers and Green Bay Packers fan I've ever met).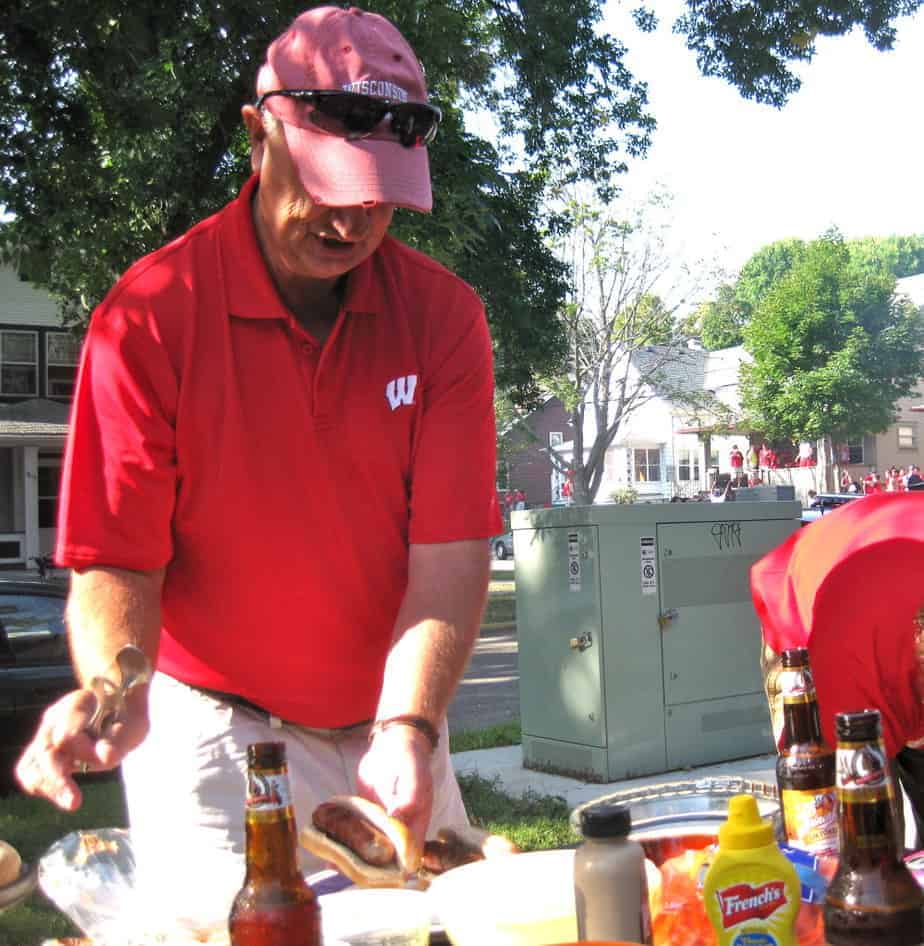 While my mom handles most of the dinner duties, Dad is in charge of dinner when we eat beer brats. And with Memorial Day quickly approaching, Dad and I wanted to share our tried and true beer brat recipe.
Brats are Wisconsin's soul food; you'll find them sizzling on grills across the state at football tailgates, summer cookouts or on for a random weeknight dinner.
They're perfect for parties; totally hands off so you can focus on your guest and will totally please a crowd.
Start beer boiled brats, with a beer bath, finish them off on the grill, then let your guests go crazy and top them how they want.
A BYOB (build your own beer boiled brat) situation, if you will.
Boiling Brats Before Grilling
The key to delicious, juicy brats is to boil them in beer first before searing them on the grill.
Start the brats on the stove in a beer bath: place the brats in a deep pot, pour one whole beer overtop, and then enough water to cover the brats.
You'll also need about one half of a white or yellow onion to add flavor to the brats' beer bath.
Slice the onion and add the slices to the pot.
Any beer will work for the bath (brand doesn't matter), but you do want to stay on the lighter side, like a lager, wheat ale, or saison.
If you prefer hoppy beers that pack a little bit more of a punch, we have found that pale ales and IPAs work for the beer bath too.
How Long to Boil Brats in Beer
Once the brats are nestled in their beer bath, bring themto a boil.
Once boiling, reduce heat to medium low and simmer until brats are cooked, about 10 minutes (they will turn an opaque gray color.)
How Long to Grill Brats After Boiling
Transfer the brats from their beer bath to a plate or sheet tray and then pop those puppies on the grill to get them nice and brown.
You'll finish cooking the brats on the grill over medium or medium high heat, grilling them for a couple minutes on each side until brown.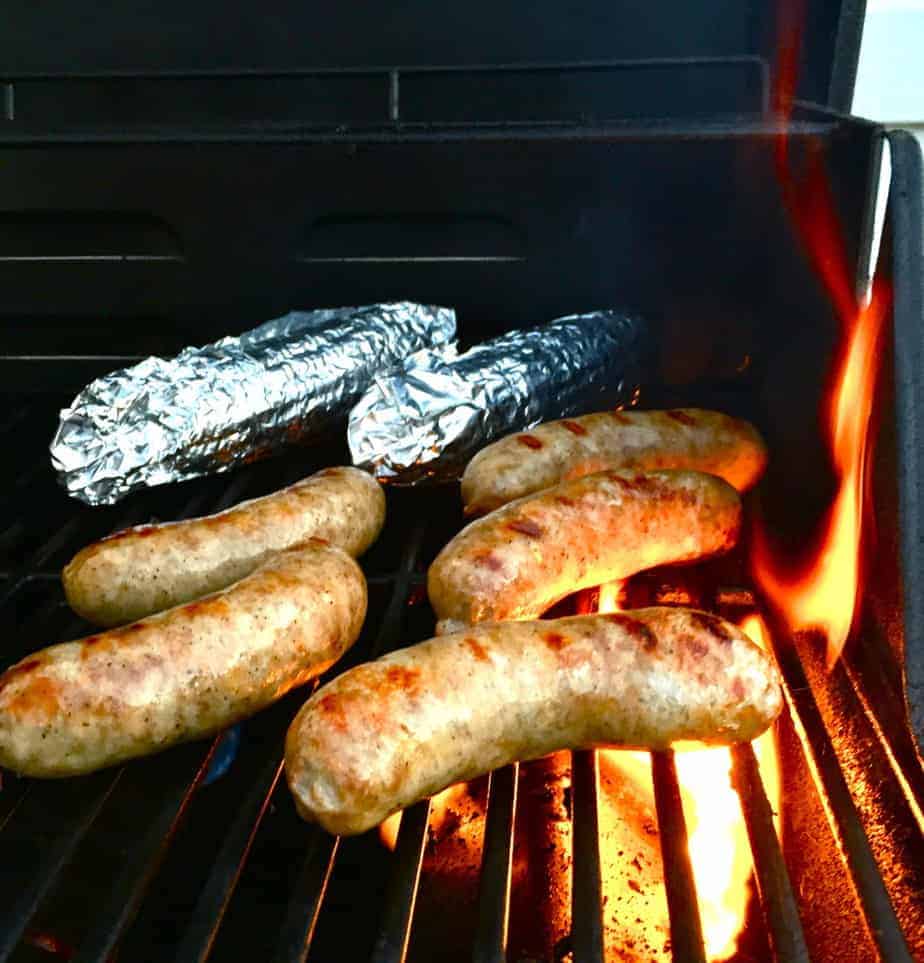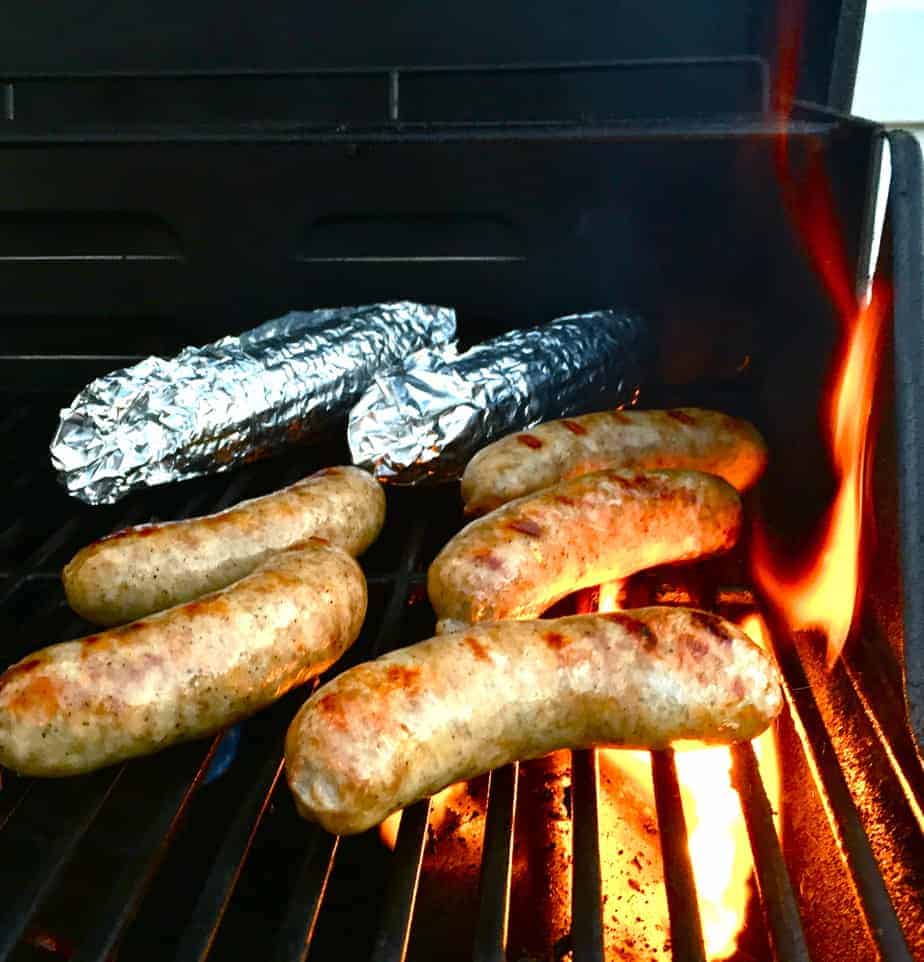 What toppings are best for beer brats?
When it comes to toppings, there are a few for you to choose from.
You can go classic, and lay out everyone's favorite condiments to have your friends and family squirt on as they please. Dad recommends brown mustard (a must) and ketchup if you want it (ketchup on brats is a great debate, but they allow it in Sheboygan, the brat capital of Wisconsin, so Dad approves).
When it comes to mustard, Dad's advice is, "Make sure it's brown mustard, not yellow mustard, these ain't hot dogs." You can also use horseradish too, but make sure it's just a little bit (don't want to overpower the brat). Y
ou can top with raw or grilled onions (Dad prefers raw, but you can also take the onions that boiled with the beer brats, wrap them up in foil, stick them on the grill, and use those).
Sauerkraut is another brat topping debate, but according to Dad, "do not use kraut, ruins a good brat."
Brown mustard and onions is the way Mark likes them.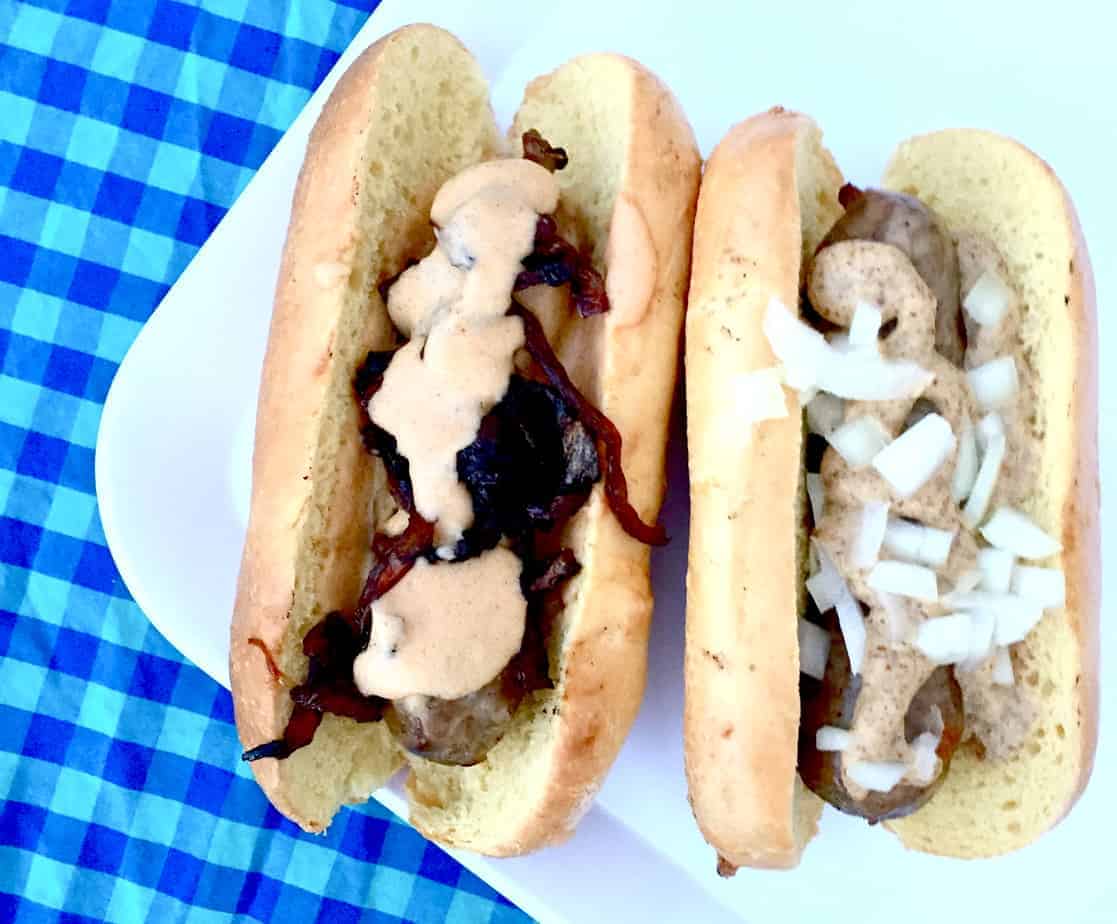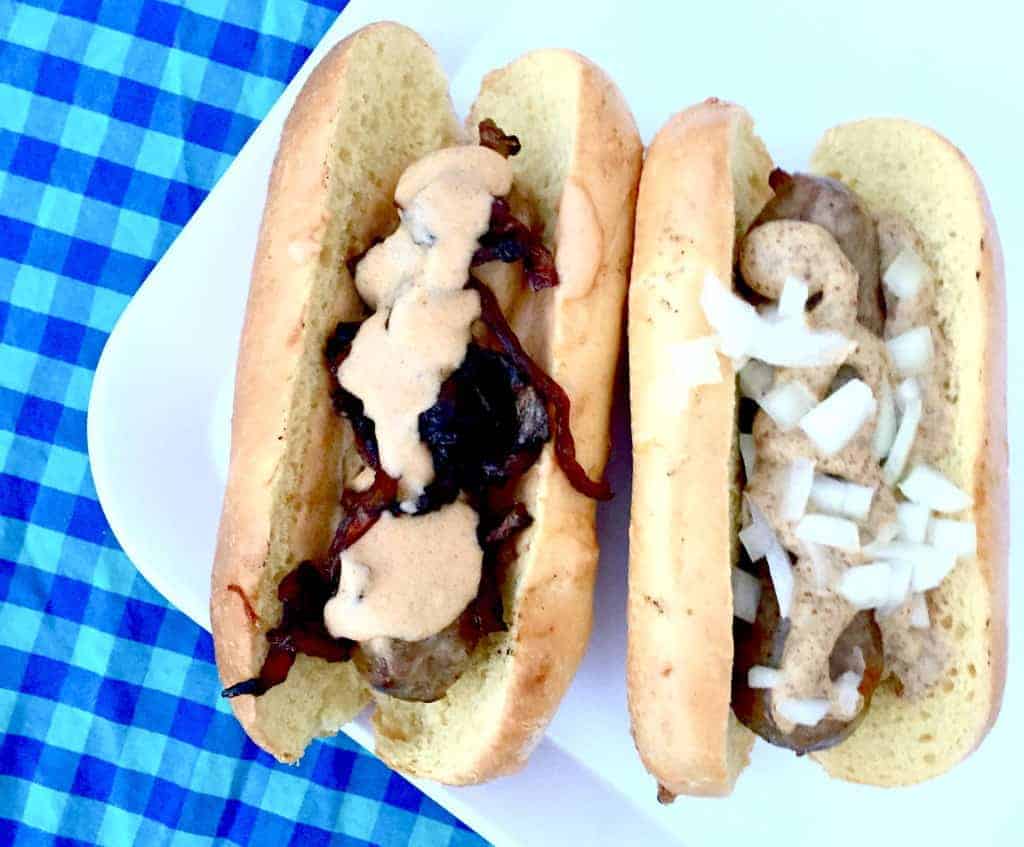 If you want to take your beer brats to the next level and go all out Wisconsin, whip up a smoky, spicy beer cheese sauce and slather that on top of your sausage.
I would love to bathe in this beer cheese sauce; the flavor is bold so it's perfect on it's own as a dip, but also compliments a grilled brat's flavor.
Beer cheese pairs great with caramelized onions, and throw some brown mustard on their too, because brown mustard is delicious.
Load your plate with potato salad, grilled corn and watermelon while you're at it.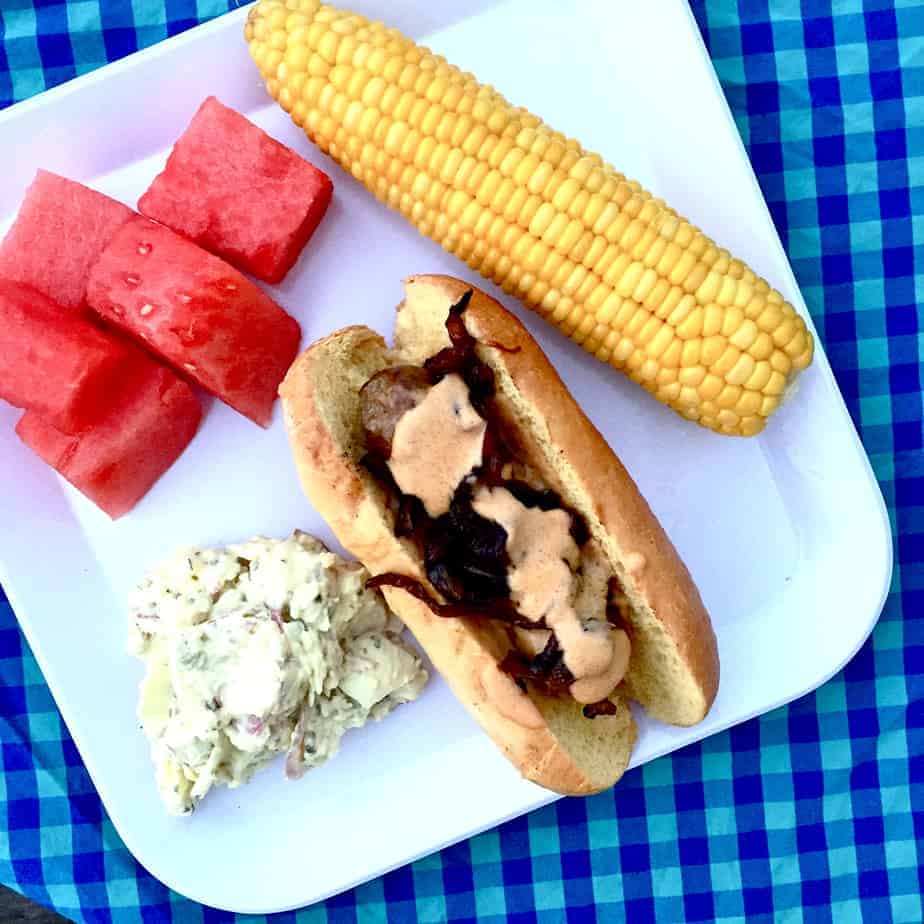 Crack open a cold one, and you've got yourself a good, old fashioned, Wisconsin family barbecue.
**I'm a member of the North Carolina Pork Council Blogging Network and was compensated for the cost of the ingredients used in this post.