With just a few simple ingredients, these simple, classic margaritas are one of our favorite cocktails to make at home. These would definitely be best paired with a batch of grilled vegan guacamole!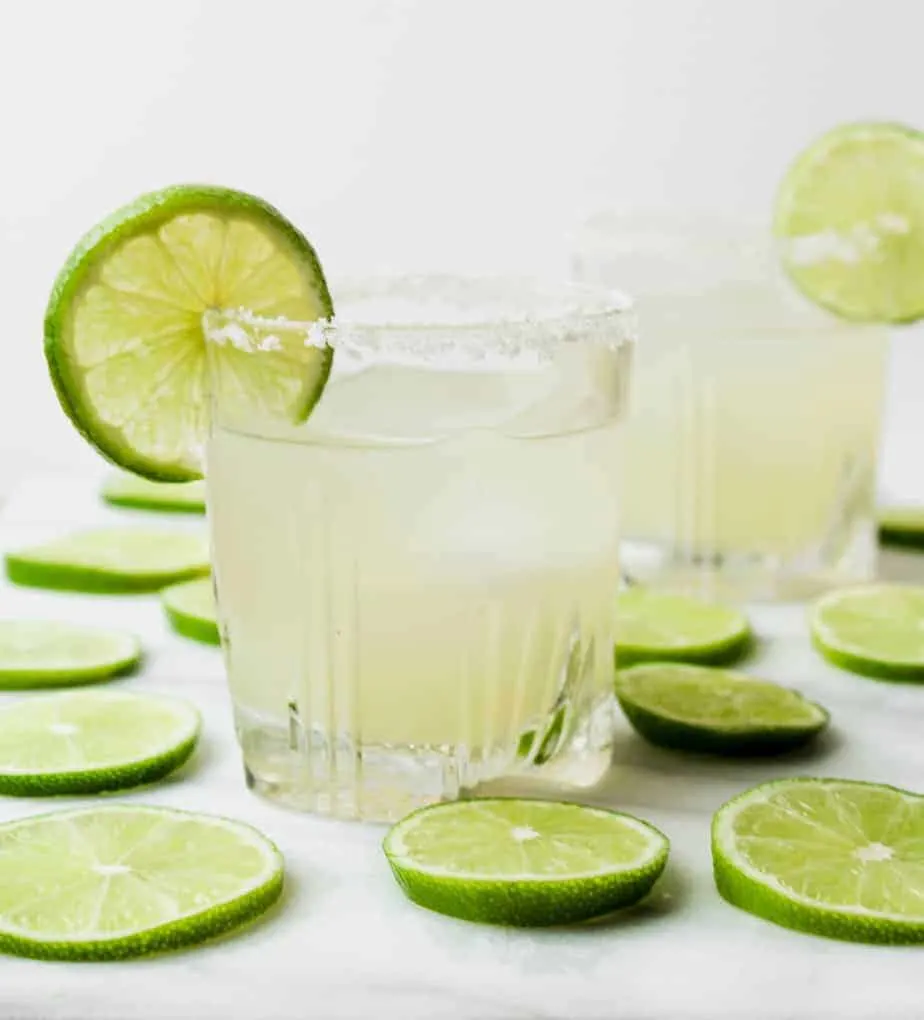 We have a few other cocktails we love, love, love making at home too…like a Raspberry Gin Seltzer, Whiskey Old Fashioned, Blackberry Basil Gin Fizz, Watermelon Frozen Rose, and Spiked Hot Apple Cider.
All of the blabbering in this post about snow will make sense if I tell you I originally wrote all about my love for classic margaritas in January 2018.
It was a snow day, and as is the snow day tradition (read on, you'll learn about it), we made margaritas and I took the photos for this post.
But with Cinco de Mayo right around the corner a year later, and the fact I know you're going to want to throw an awesome taco bar party for your cinco fiesta, it only made sense that I update this post with a few more relevant deets than me just waxing poetic about best friendships and snow days.
So enjoy some ramblings about college and snow days and best friends and then get some tips on making margaritas and then make yourself a drink or two.
You deserve it.
So it's totally appropriate that I'm sharing these classic margaritas with you this week for three reasons: classic margaritas have been a snow day staple in our house; my best friend Tina is coming tomorrow (read all about the time we got stuck in Milwaukee with her, or maybe about our favorite college bars); and I finally edited these photos (spoiler: it took me freaking forever).
Yes, I know, I know, Charlotte's snow day was well over a week ago, so how timely are these classic margaritas really?
The answer, my friends will be found, not only when when we discuss point three, but also in my opinion, margaritas are always timely.
However, considering my track record and the fact that I don't share some things until months later (remember the time it took me a year to talk about our wedding?), I really think two weeks is super timely.
I can't exactly pinpoint the time where snow days became synonymous with margaritas, but I am pretty sure if we are ball parking here, we are going back to my junior year of college.
I went to college in Wisconsin, where snow was plentiful but actual snow days were few and far between.
This is the part where I talk about how we had to go to class even with a foot of snow on the ground, and for embellishment add that class was uphill both ways and we did the walk barefoot.
So even though that pesky little thing called class sometimes got in the way (wait you went to college to study and not socialize?), we definitely indulged in all fun snow day things like sledding (on cafeteria trays, no less, and also wearing garbage bags) and cocktail making (because college).
Snow comes in handy for cocktail making, especially blended beverages, because you can use it in lieu of ice (just make sure to avoid any yellow snow!).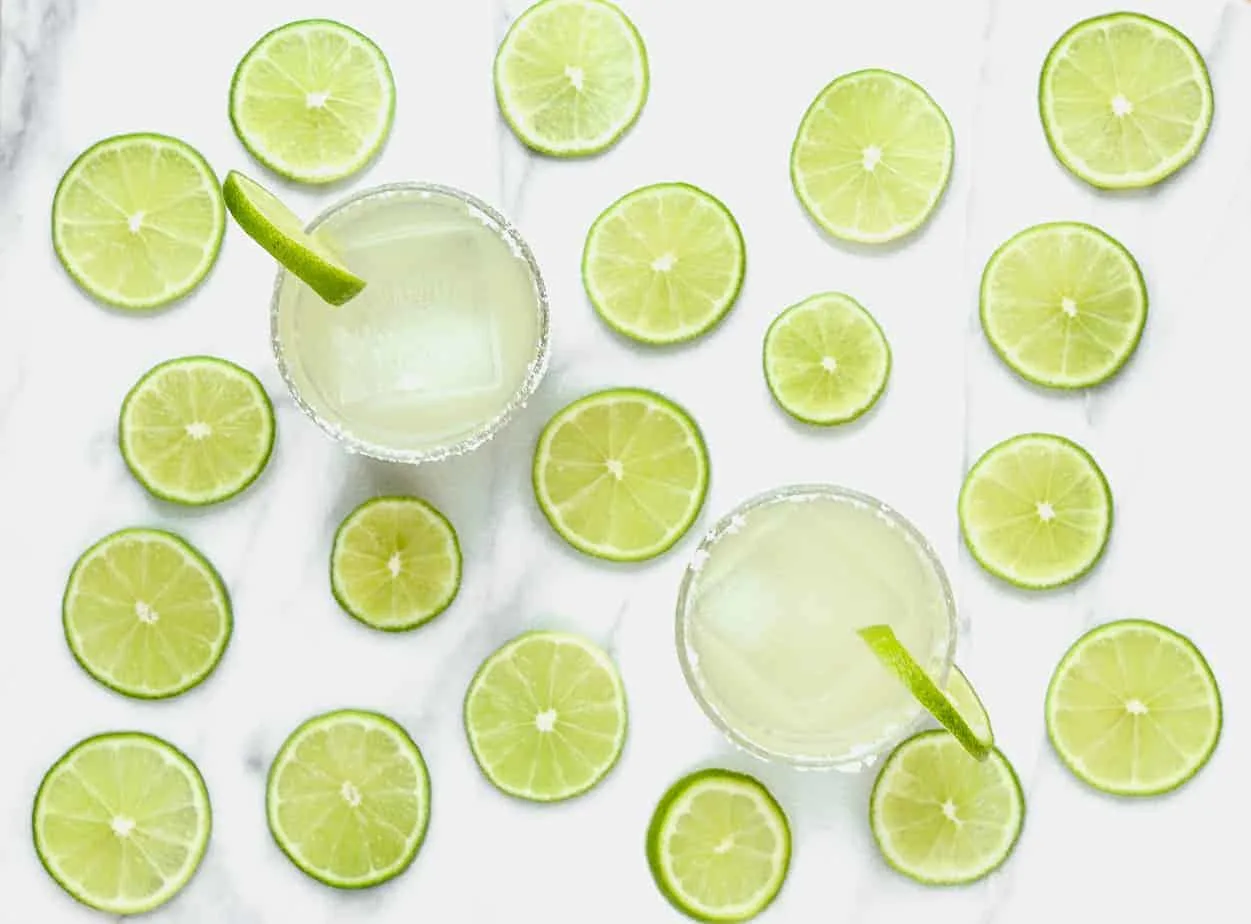 And as 20 year old college students, we thought we were geniuses to have to avoid making or (god forbid buying) ice, and instead post sledding, would tromp outside with various containers to collect snow for our cocktails, and "snowgaritas" were born.
Snow, margarita mix, and tequila in a cheap blender from target, likely a little heavy handed on the tequila.
Yes, we weren't only geniuses for using snow instead of ice, we were super creative in naming our cocktails too.
Snowgaritas take me to point two in reasons why these classic margaritas are a timely post, my best friend Tina is coming to Charlotte tomorrow.
Tina was certainly involved (if not developed and spearheaded, geez 11 years feels like so long ago) snowgarita making (she had a blender in her dorm room which was clutch), and it was a college tradition we carried with us when we moved to Madison for graduate school.
In fact, my first law school exam ever was cancelled due to a blizzard (which is crazy because it was something like the first time in 38 years the University of Wisconsin cancelled class) so of course we made snowgaritas to celebrate before trudging downtown to meet our friends at the bars.
Since college and law school, my snow days have gotten a little more simple, (and also a little fewer and farther between thanks to a move to North Carolina).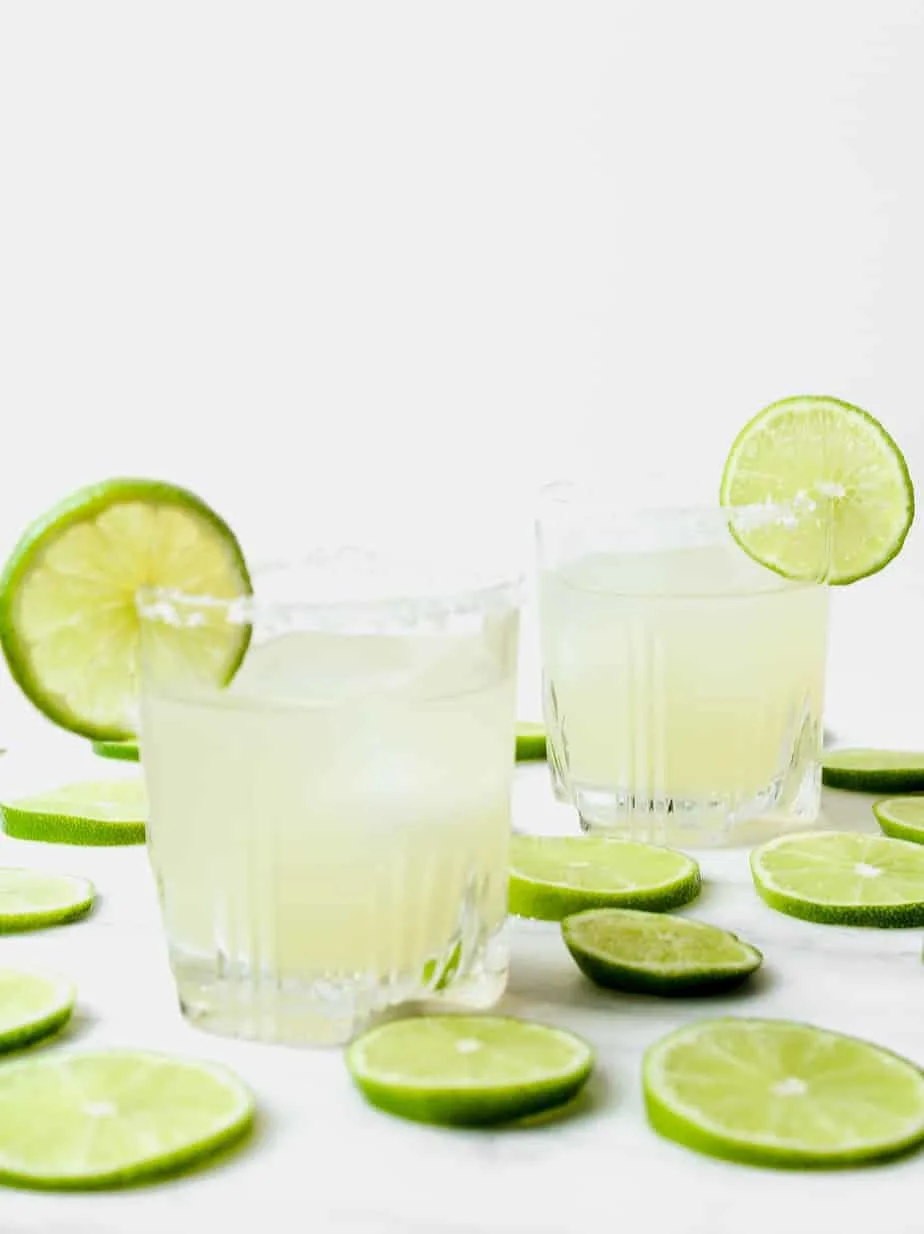 While I now I opt for cozying up on the couch, catching up on my DVR, making a batch of beef brisket bolognese, Baba's homemade spaghetti sauce, or my mom's award winning chili, and watching the cold, wet stuff fall outside from the comfort in front of the fire place, I do love the excuse of a snow day to whip up a midday cocktail because honestly, when else is it appropriate to drink at 3pm in the middle of the week?
Sure, we use real ice now (because we're adults, we even have fancy ice cube trays for cocktails) and we've swapped the blender for a shaker, but margaritas are a snow day stalwart.
And as to point three, the timing of this post is because two weeks ago, on our very Southern snow day (school was out for three days for about 4 inches of snow) I did whip us up a batch of mid afternoon classic margaritas and took the photos for this post.
I forced myself to shoot in manual mode and edit in Lightroom because I'm working on improving my photography this year, and let's just say Lightroom is a beast that I'm still learning but it took me two weeks to get these looking consistent and the way I wanted them to.
But between you and me, let's just tell Tina these classic margaritas wanted to make their timely blog debut in her honor.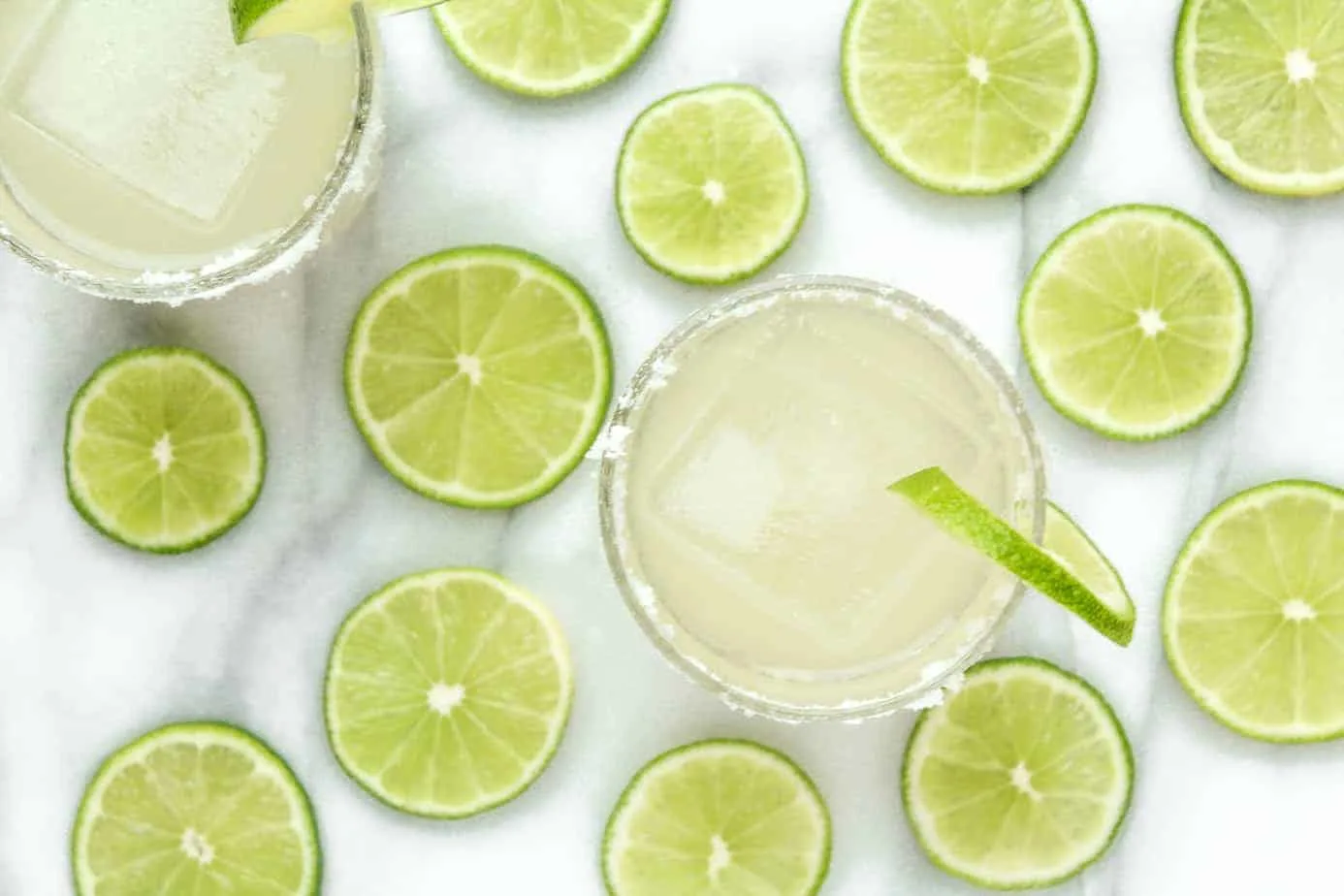 What are the ingredients for margaritas?
Margaritas are one of my favorite cocktails because their ingredient list is so, so, simple!
You just need three ingredients for a classic margarita: lime juice, tequila and triple sec.
My two margarita tips when it comes to ingredients: fresh squeezed lime juice is the best, and high quality tequila makes all the difference. Like you can actually taste the difference, I promise.
Of course, you can add a few more ingredients to your margarita to adjust it to your taste. We like to add a hint of orange juice to ours.
If you like things less citrusy and more sweet, add a little simple syrup or agave or honey.
You could also add other fruit juices or fruit flavored syrups like strawberry, pomegranate, grapefruit, blackberry or pineapple to add some other fruity or tropical flavors to your drink.
But all you really need are the main three and you've got yourself a pretty good cocktail.
How do I make a classic margarita?
Again, so stinking easy. Take your three ingredients (and the few extras you have if you have them) and throw them all (or place gently) into a cocktail shaker with ice.
Shake, shake, shake, shake, shake, shake, shake your booty.
Or your margarita.
Whatever.
Shake it like a polaroid picture and then put it on the rocks in a cocktail glass.
Rim your glass with salt if that's your thing.
So easy.
So addicting.
So yum.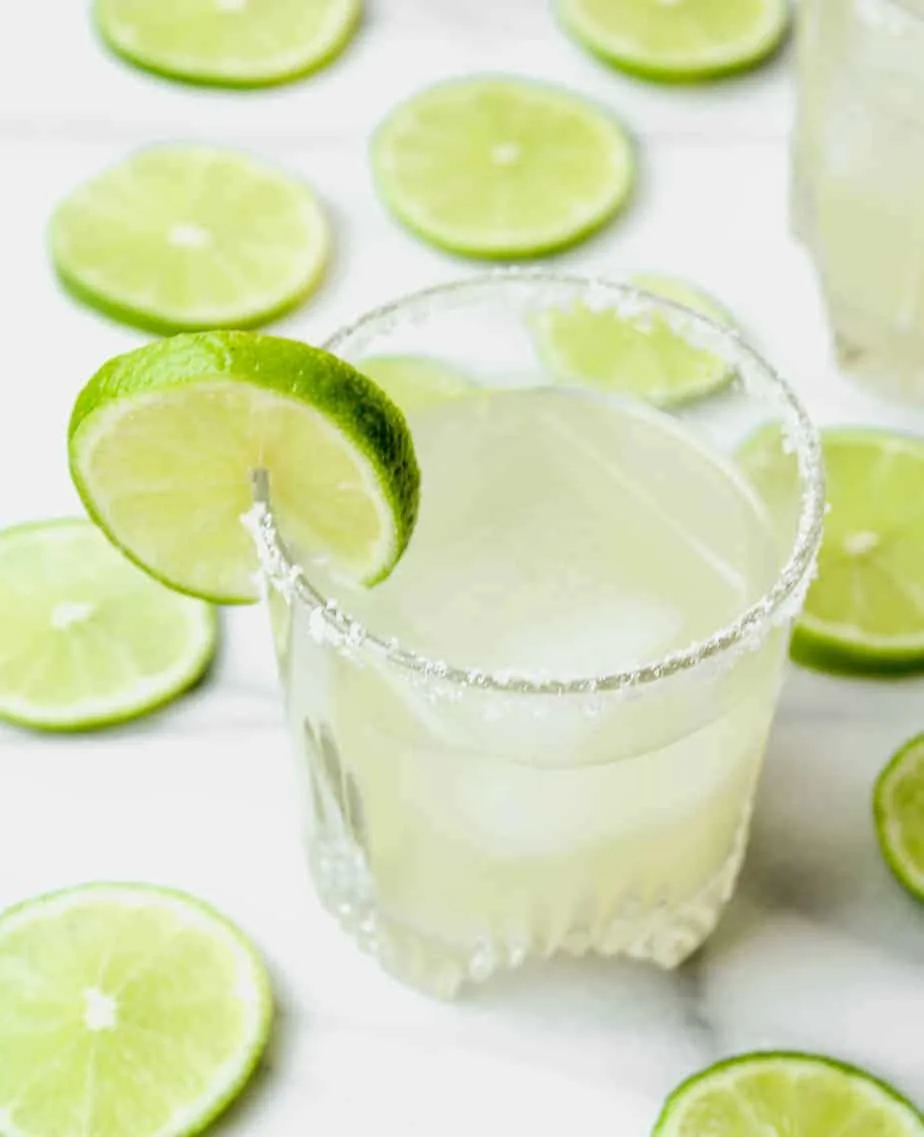 What is a margarita on the rocks?
"On the rocks" is a bartending term for on ice, or poured over ice.
So a margarita on the rocks is one that is poured over ice. We like to use larger ice cubes that melt slowly and don't dilute your cocktail.
You can also make frozen, or blended margaritas, which will give your drink a cool, slushie consistency, or you could serve margaritas straight up, which means you could shake the drink with ice before pouring it into your cocktail glass, with no ice.
Is Triple Sec necessary for margaritas?
A classic margarita does include triple sec, an orange flavored liqueur.
Cointreau, which is a popular brand of triple sec, gets its flavor from a combination of sour and sweet orange peels.
If you don't have triple sec on hand, no problem…but you are going to miss the subtle orange flavor it provides to the cocktail and the little extra citrus oomph.
Oomph is a very technical term.
If you don't have triple sec in your liquor cabinet, Grand Marnier is a good substitute. Grand Marnier still has an orange flavor, from bitter orange peels, spices and vanilla, so will have a little bit of a different taste than triple sec but will give you subtle orange flavor you need for a margarita.
Grand Marnier also has less sugar than triple sec, that's just a fun fact for you.
Curaçao will be a little bit sweeter than triple sec, but will still give you that orange hint you're looking for.
Either of these would be good substitutes and you can use these liqueurs in the same proportions as you would triple sec.
Bitter orange extracts and orange oils are a also good lower alcohol alternative to triple sec.
Unsweetened orange juice concentrate would be another possible alternative to triple sec, but it has less flavor intensity than the liqueur, and it would change the the texture and clarity of the drink.
What is the best margarita mix?
After going through all of this, I really think you should be making your margs from scratch with fresh lime juice, but I totally get it if you're in a crunch for time and have a thirsty crowd ready to down some margaritas.
When you find yourself in a party pinch and don't have time to squeeze a zillion limes for fresh lime juice, there are a few margarita mixes I recommend that can come to your rescue.
Not all margarita mixes are created equal, so you want to look for one that has good flavor, and in my opinion, not too much fake crap and a ton of sugar.
My favorite choice is Stirrings Simple Margarita Mix for it's strong citrus notes and the fact that it's not too sweet. It's the closest I've found to my favorite fresh squeeze lime juice.
Powell and Mahoney also makes a pretty good mix option with a list of ingredients you can pronounce and a pretty good margarita flavor that's close to the real thing.
Trader Joe's usually has a good budget option seasonally, but that comes with a flavor that leans less limey and more lemony.
Where can I find the best margaritas in Charlotte?
So you may have no interest in making your own margaritas at home at all. Fair enough.
Here are my picks for the restaurants and bars that Charlotte that make a super delicious margarita: