Cheers to summer with a glass of watermelon frozen rosé, an easy to make, cooling summer cocktail you'll want to sip on all summer long.
Here's the thing: food blogging is very seasonal.
This, of course, should have come to me as a no brainer.
As someone who loves to cook at home, I am always turning to the Internet and my favorite blogs to find recipes.
In the fall, I'm looking for cozy concoctions, like this Spiked Hot Apple Cider or a Whiskey Old Fashioned.
In the Spring, I'm looking for light, fresh, bright combinations with fresh spring produce.
In the summer, I want cooling cocktails 24/7, like this watermelon frose, these Corona floats, a Blackberry Basil Gin Fizz, and definitely a Raspberry Gin Seltzer.
And of course, every holiday season, I'm searching for what to make my guests. You know, at Thanksgiving a Thanksgiving Recipe Round Up comes in handy, homemade sugar cookies are perfect for Christmas, and a Red, White and Blue Fruit Salad is necessary for the Fourth of July.
So I have no idea why this didn't click for me in terms to content deliver to y'all until like the beginning of 2019.
Before I had this ground breaking realization, I was doing wacky things like publishing this watermelon frosé recipe at the end of September.
Um, who's searching for a summery, cooling cocktail recipe as fall is trying to make her debut?
To be fair, people in Charlotte are, when at the end of September, temperatures are peaking at 86 degrees.
I like to call it second summer.
Part of second summer definitely is savoring the flavors of summer while we still have them.
At the end of September, I may be ready for fall, but, I'm not quite ready to retire red, ripe tomatoes.
I look forward to perusing late season peaches and watermelons at the farmers market.
And since it feels more like summer than fall, I pass on a pint of pumpkin beer (for now) and enjoy a glass (or two if we're being honest) of watermelon frozen rosé.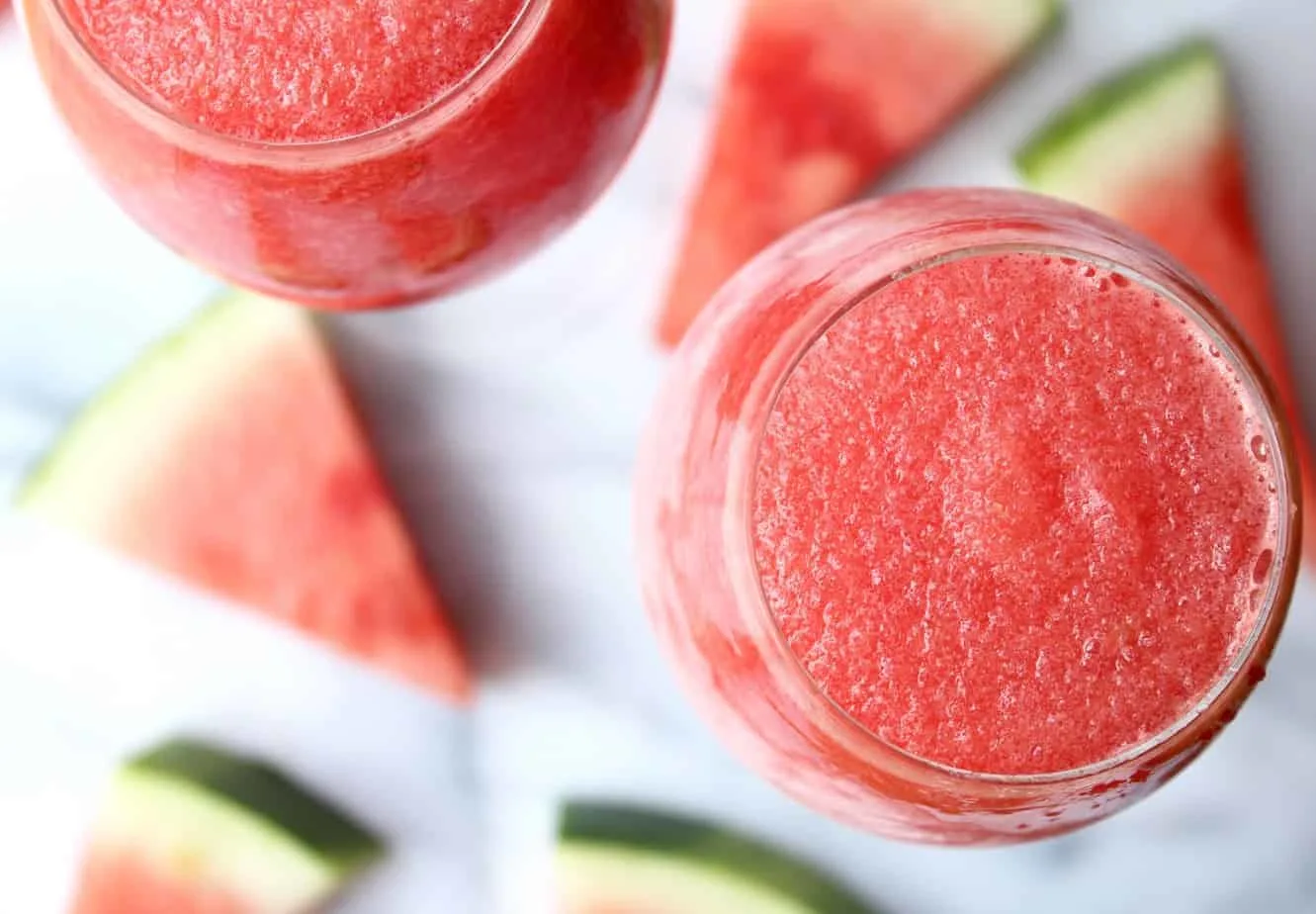 I guess I had a little bit of foresight that this recipe was seasonally inappropriate all those Septembers ago when I wrote this:
"Sure, this super summery watermelon frozen rosé recipe should have been something I shared, oh I don't know, when it was seasonally appropriate at the beginning of summer. Well, good timing has never been my forte."
"While everyone else is rolling out pumpkin spice this and apple that (it's almost decorative gourd season after all) I'm going to do what I want and share a summer recipe like watermelon frosé in September because I can. And also, because you're really going to enjoy it."
Well I was right, you are really going to enjoy it. So this oh so easy and delish watermelon frozen rosé recipe is coming at you again with a few little updates and just in time for you to be saying "yes way frosé" all summer long.
What is frosé?
You know the wine, rosé, with it's light, pinkish hue? Frosé is simply frozen, rosé wine.
Frosé is actually really easy to make at home, typically, the wine is frozen in ice cube trays and then blended with sugar in a blender.
(Although, some bars are restaurants have fancy slushy machines to make their frosé, but you don't need that!)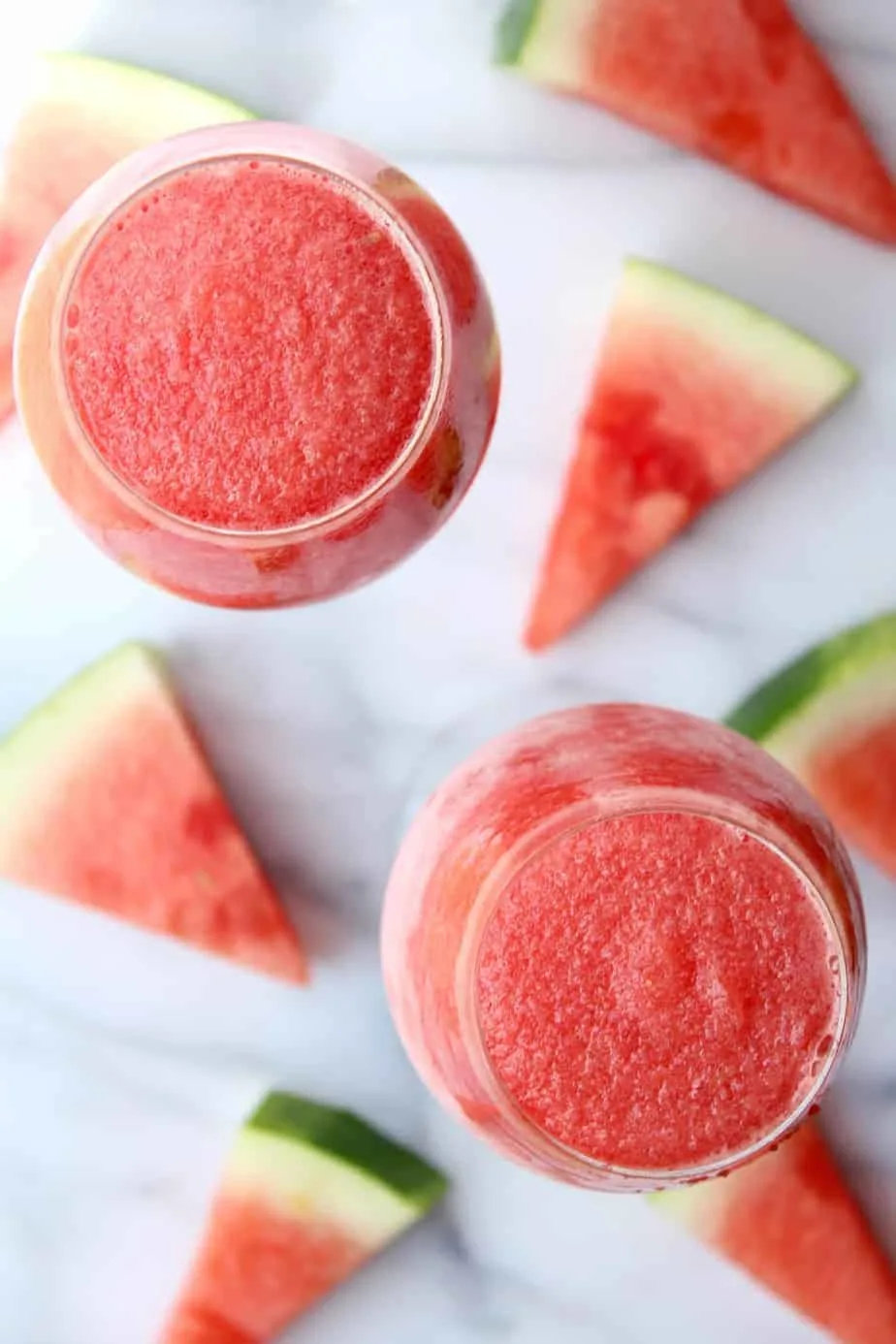 How do you freeze watermelon?
We end up freezing a lot of watermelon in our house, just because there's only two of us and watermelon are such huge fruits, no matter how hard we try, we can't always make our way through a whole one before it starts to go off.

Frozen watermelon is a great way to save watermelon that you won't be able to eat to save it as a tasty treat down the road or to use in this frosty watermelon frost cocktail!To freeze watermelon, cut the fruit open, and then cube the watermelon or use a melon baller to scoop out the flesh.Remove seeds as you cut the melon.After cutting the melon, place the melon pieces on a baking tray line with parchment or wax paper.
Place the tray into the freezer to quick freeze the watermelon.After the watermelon is frozen solid, pack the pieces into freezer bags or containers to enjoy as a snak or in a cocktail later on!
How do you make homemade frose?
Watermelon frose is so, so easy too, which is my favorite kind of recipe because it's almost not a recipe at all!
When making frosé at home, you would generally freeze the wine in an ice cube tray, but this watermelon frosé is made slightly differently, and gets frosty and sweet from frozen watermelon instead of frozen wine.
You'll follow the above instructions and freeze about four cups of watermelon (get yourself a watermelon, and cut it into chunks…or do what I do and whine until your husband cuts it into chunks for you, freeze said watermelon chunks.)
Once you have some frozen watermelon, get a bottle of rose wine. I recommend chilling your rose rather than blending it with your frozen watermelon at room temperature.
Once the rose is chilled, in a blender, blend some frozen watermelon and some rose. Add a little bit of lime juice. Repeat until you get a good consistency.
There you have it, watermelon frose.
The sweetness in the frose will come from the watermelon, but if you'd like it to be a little bit sweeter, add a few ounces of simple syrup or a few teaspoons of sugar to the blender.
What other fruits can I use?
There are other fresh or frozen fruits you could use if you didn't have any watermelon at home or on hand.
I would recommend ones with a pinkish hue and natural sweetness like strawberries, raspberries or cherries.
You can either buy the fruits fresh and then freeze them similar to the instructions for the watermelon above, or you could use frozen fruit that you pick up in your store's freezer aisle.
If subbing a different fruit, it would still be the same amount as the watermelon, about four cups.
Can I make an individual serving?
Yes!
While this recipe calls for 1 bottle of rose wine (750 ml) and makes about 5-7 drinks (depending on how big you pour them), I totally get that sometimes you are just looking for a single serving cocktail for a hot afternoon at home.
To make just one cocktail, you'll need 1 cup rose wine, about 1 to 1 1/2 cups of frozen fruit (watermelon, strawberries, raspeberries or cherries) and the juice of about 1/2 to 1 lime.
Blend it all together and enjoy!
What if I don't have rose?
If you don't have rose, you could also use a sweet white wine like pink moscato, white zinfandel, moscato, riesling, or even a pinot grigio.
Can I make a mocktail or non-alcoholic version?
Yes!
While frose gets its name from rose wine, you can make a mocktail or spirit free watermelon slushie.
Rather than blending the frozen watermelon with rose wine, use sparkling water instead.
And that's it! Super refreshing, no booze!
Cheers!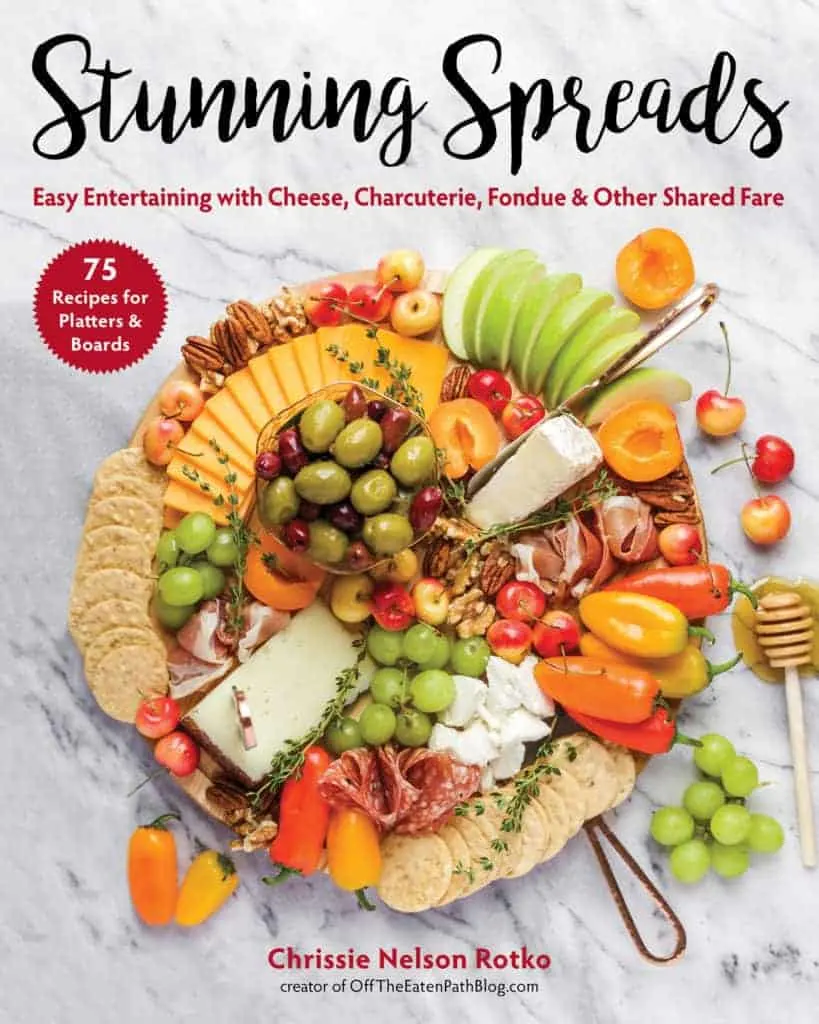 This recipe can be found in my cookbook, Stunning Spreads!
From baby showers to birthday brunches, Stunning Spreads offers more than 75 approachable appetizers paired with a variety of simple, seasonal cocktails that are sure to be the showstopper at your next gathering.
To round out this fun, delicious fare is helpful hosting advice for preparing and serving everything from big boards to small bites.
Whether you're entertaining family for the holidays, having friends over to watch the big game, or cozying up on the couch with your loved ones, hosting at home doesn't have to be a hassle.