Jalapeno pimento cheese can be used in a wide variety of ways: as a dip, in sandwiches and on top of burgers, mixed in with loaded French fries or nachos, as a way to enhance deviled eggs, or even in baked goods.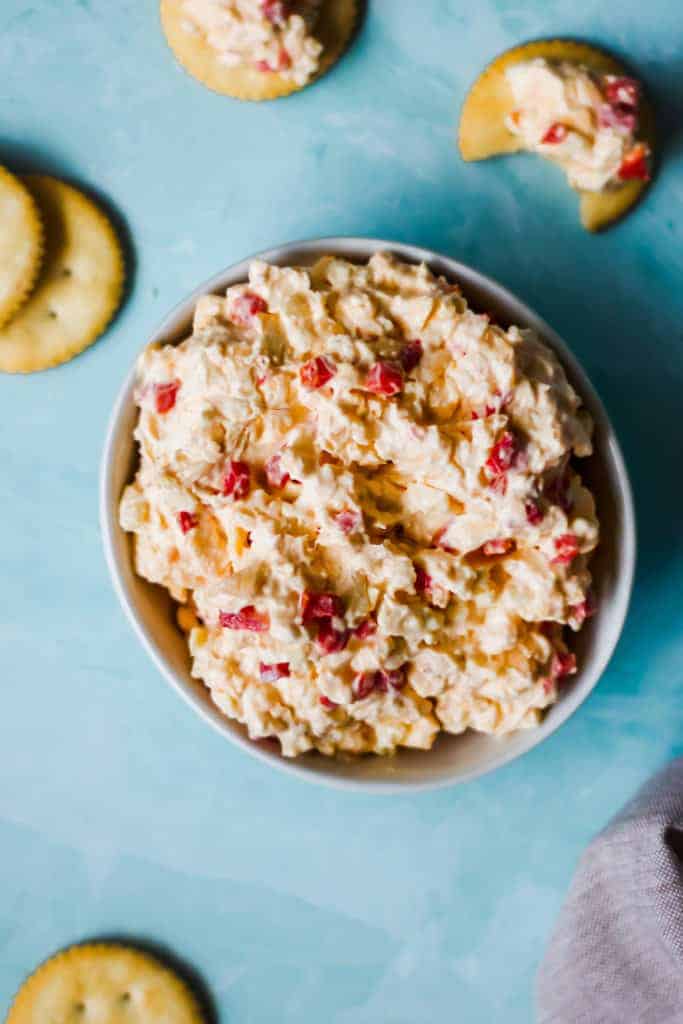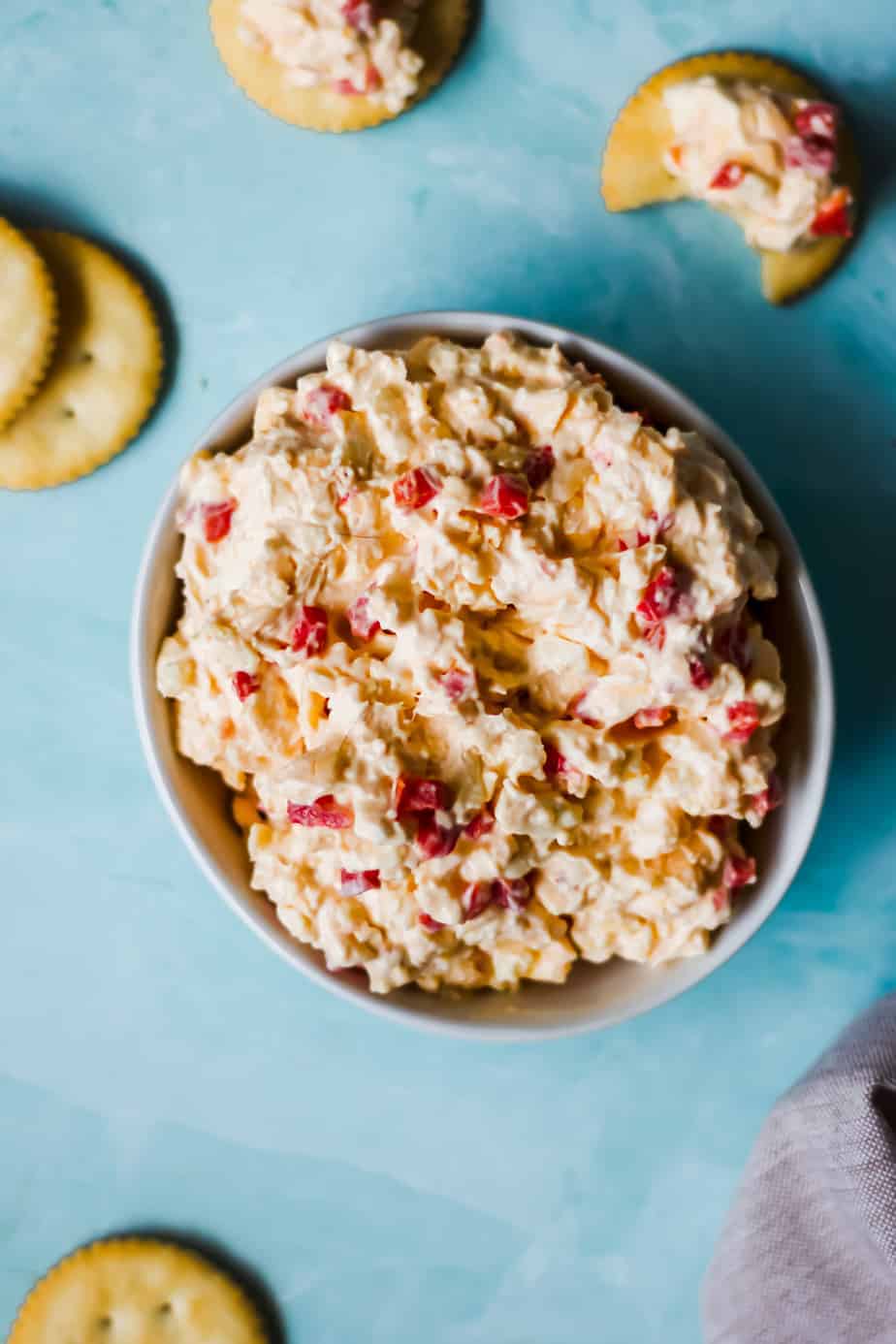 If you didn't think I could wax poetic about pimento cheese, just watch me.
I feel like my mom was hiding an incredible secret from me my entire life.
You see, she grew up in Texas, and pimento cheese sandwiches were a staple in her house (my grandpa grew up in Texas too, and also grew up eating pimento cheese sandwiches.)
I am not sure how anyone could ever get sick of it, but that is what mom says. That's the reason she hid the gloriousness, deliciousness and beauty of pimento cheese and I didn't experience it at all during my own childhood.
Fast forward 20 plus years, and I find myself living in Charlotte, North Carolina. The Queen City of the New South, if you will.
Well do you know what didn't take long?
For me to fall in love with pimento cheese.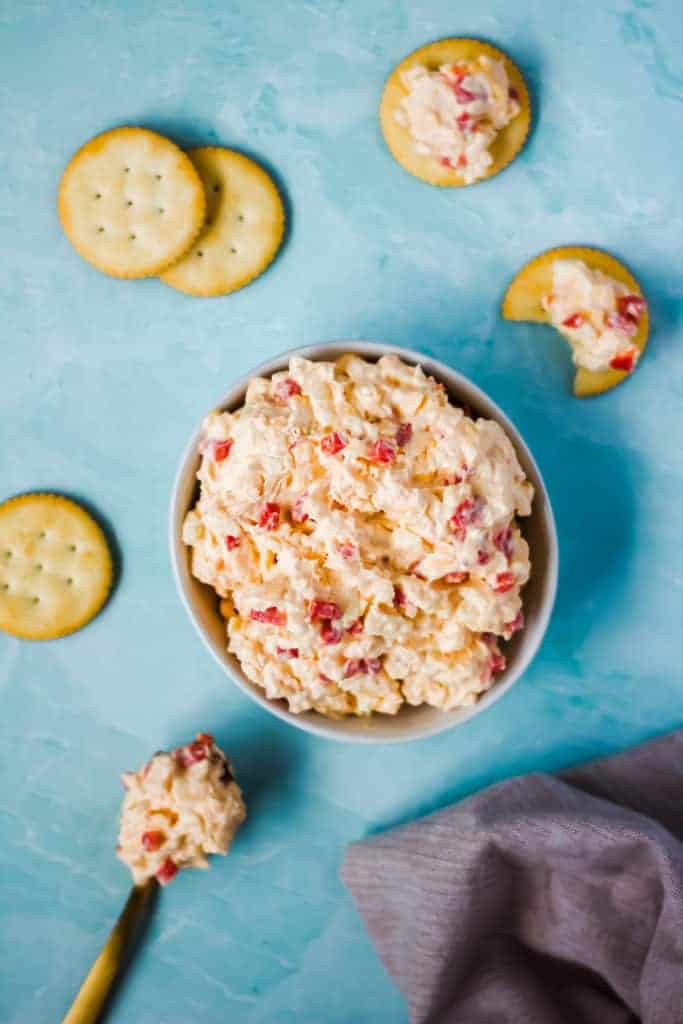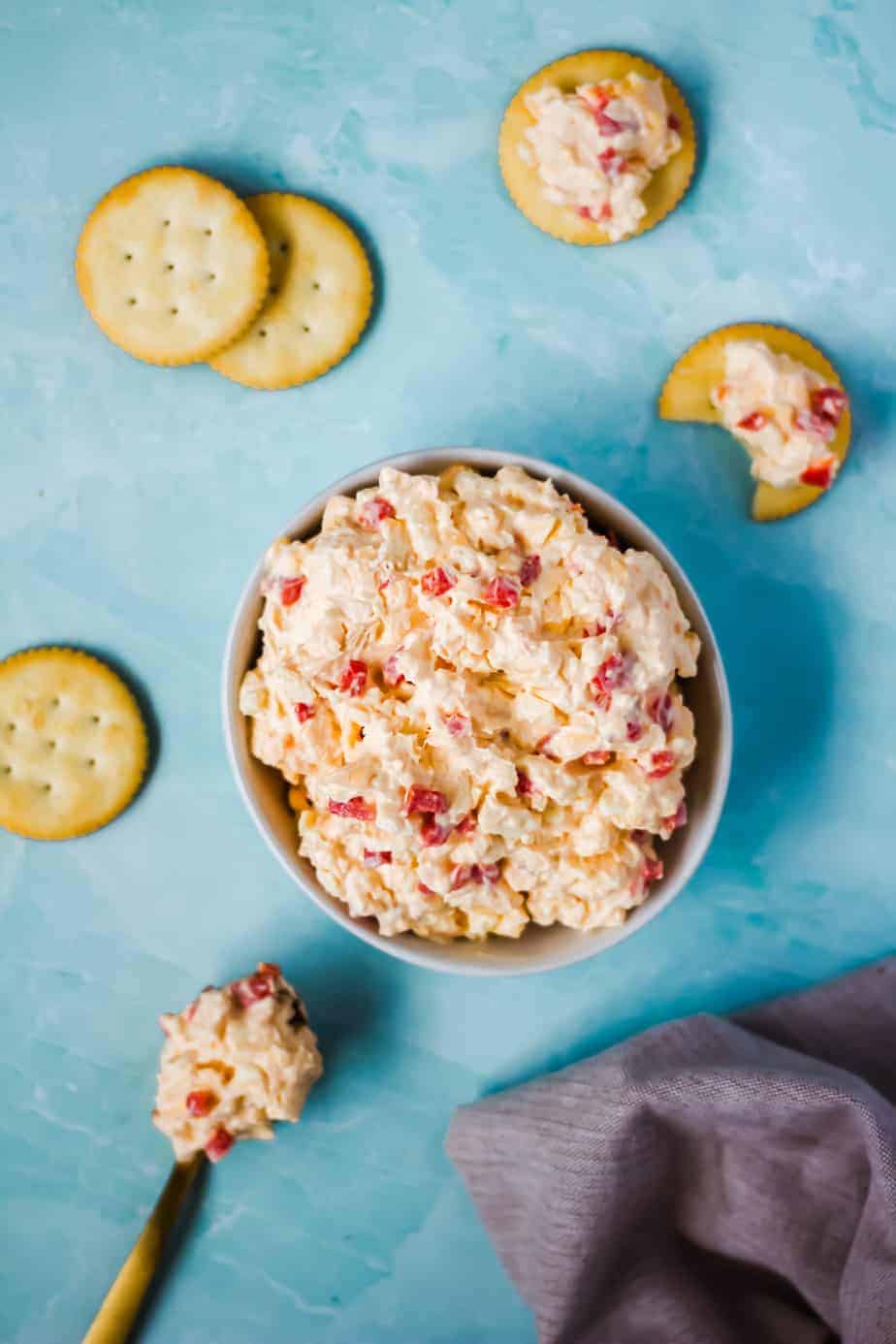 I quickly hopped on the bandwagon and it could be disputed, that eight years later, I may be one of the biggest fans.
My dad is from Wisconsin, so as the daughter of a cheese head, it's basically in my blood to love anything and all things cheese.
I am a big fan of cheese dips of any kind. This seems like the right time to tell you I make a really good Beer Cheese Fondue.
I sometimes eat cheese for dinner, and I put it all together using this How to Make a Cheese Platter guide.
I believe in my heart you can add cheese to anything, or top anything with cheese, like a creamy cheese sauce on top of beer boiled brats.
So it only makes sense that I would really like pimento cheese.
WHAT IS PIMENTO CHEESE
Pimento cheese may be the South's favorite spread, and for a good reason.
How could anyone not love a delicious, creamy combination of cream cheese, cheddar cheese, pimento peppers and mayo (for a little extra binding and flavor, of course)?
This Southern staple makes appearances everywhere: from picnics to potlucks, it even makes the menu in some fine dining restaurants.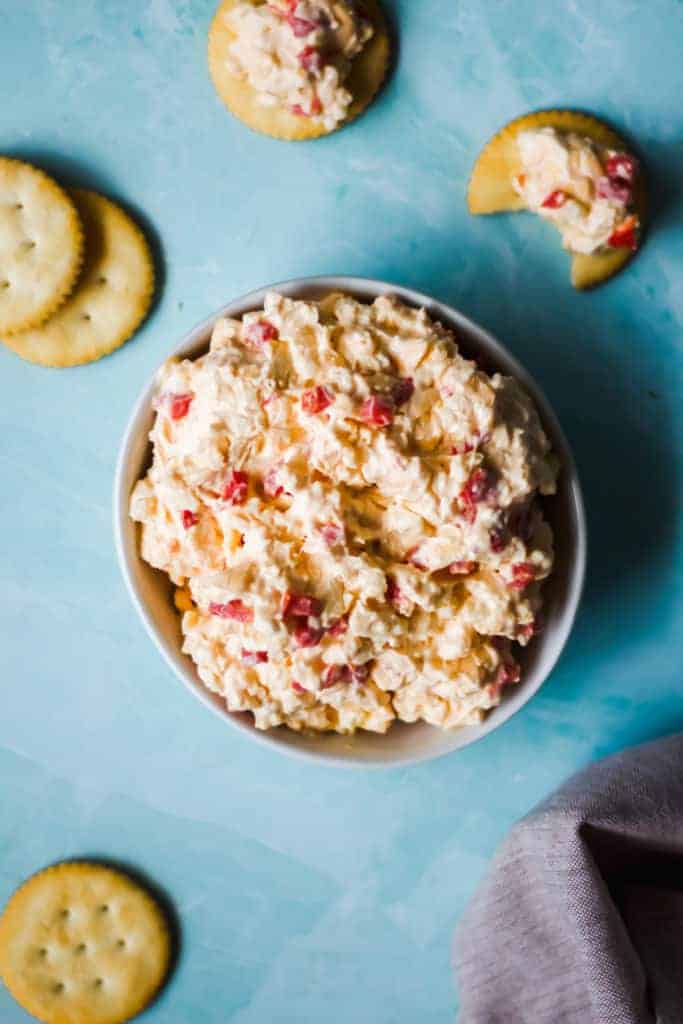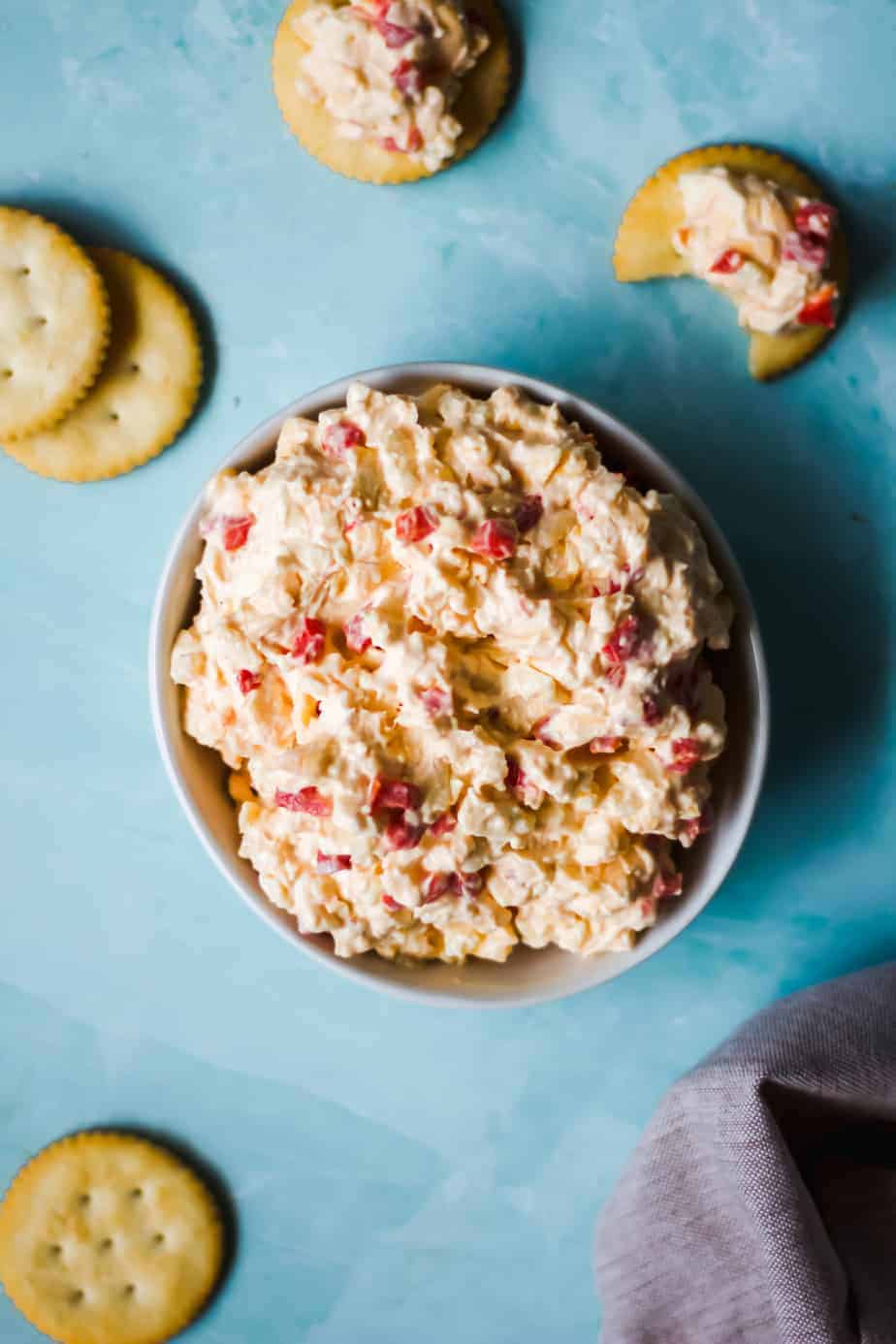 So what is it?
Often referred to as the pate of the South, or Carolina caviar, pimento cheese is a spread or relish and often a staple on Southern tables. The basic ingredients are cheese, mayo and pimento peppers, a Spanish, heart shaped pepper with a mild flavor.
While there is some debate about its origination, there is no dispute of its popularity across the southern United States. You can find all sorts of varieties on grocery store shelves, and home cooks have varying homemade versions, but in most you'll find those three main ingredients (like in my version, I love adding pickled jalapenos to make a jalapeno pimento cheese).
HOW DO YOU MAKE IT FROM SCRATCH
With a stand mixer!
Ok you can also use a hand mixer, or even make it by hand.
You always want to start with cheese that you shred yourself.
I'll repeat that one more time for the people in the back.
Do NOT use pre-shredded cheese!
Pre-shredded cheese loses some of the flavor and texture that freshly shredded cheese has, and with very few ingredients, you only want the best for your Southern spread.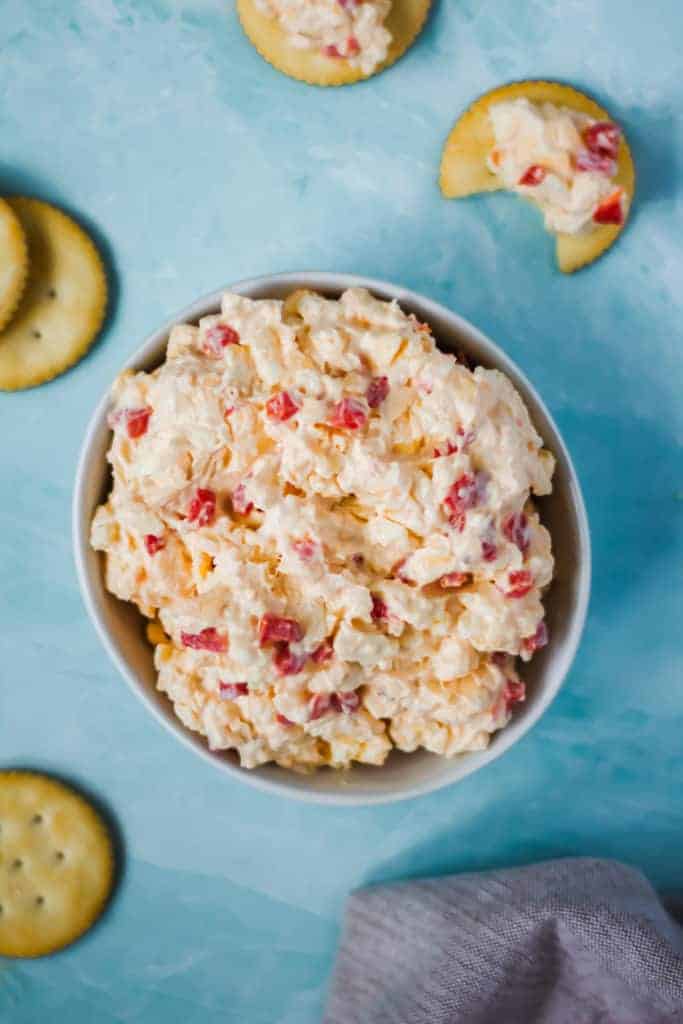 So you'll start by shredding your cheese. If you're using cream cheese (which my recipe calls for because it makes it extra creamy) let that come to room temperature.
You'll also need jarred pimentos (drained), mayonnaise (I recommend Duke's but some people prefer Hellman's!) and a few spices to add flavor (garlic, onion powder, and red pepper flakes.) I love adding in pickle juice or olive brine to give it a little extra salty, briny burst of flavor.
It can be easily elevated with flavorful add ins like pickled jalapenos, bacon, or even different cheese like blue cheese.
Then you'll add everything to a mixing bowl and put your stand mixer to work! (Or get a great arm workout by mixing it all together by hand.)
The result is this creamy, dreamy mixture perfect for spreading, dipping, and dunking.
Or eating by the spoonful. I don't judge.
WHAT DO YOU EAT WITH IT
Jalapeno pimento cheese can be used in a wide variety of ways: as a dip, in sandwiches and on top of burgers, mixed in with loaded French fries or nachos, as a way to enhance deviled eggs, like with these delicious Pimento Cheese Deviled Eggs, and even in baked goods, like muffins and scones.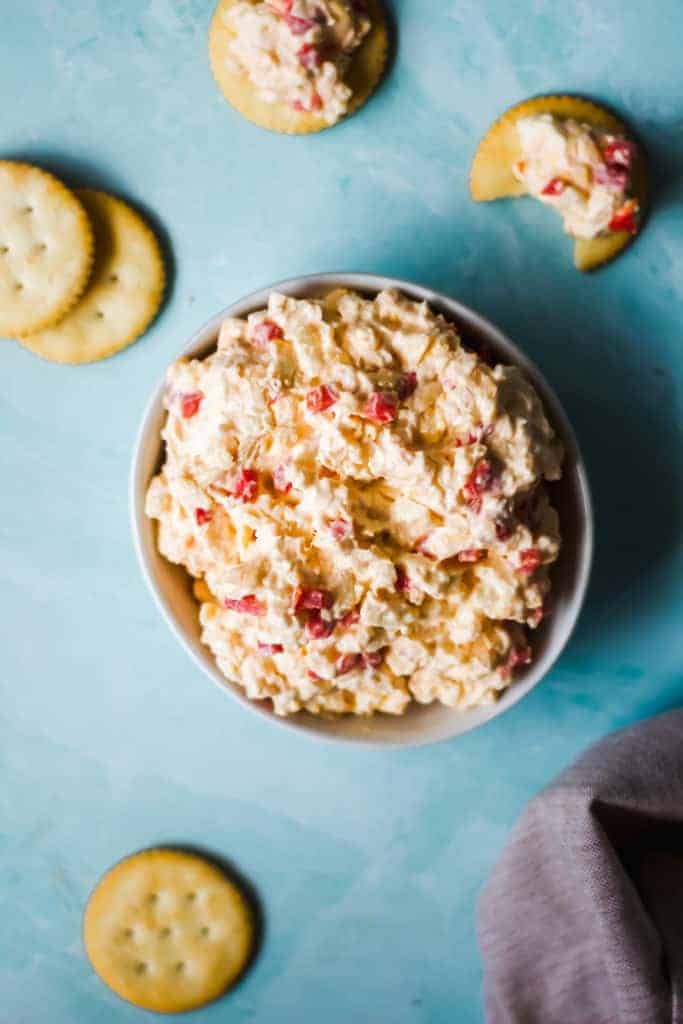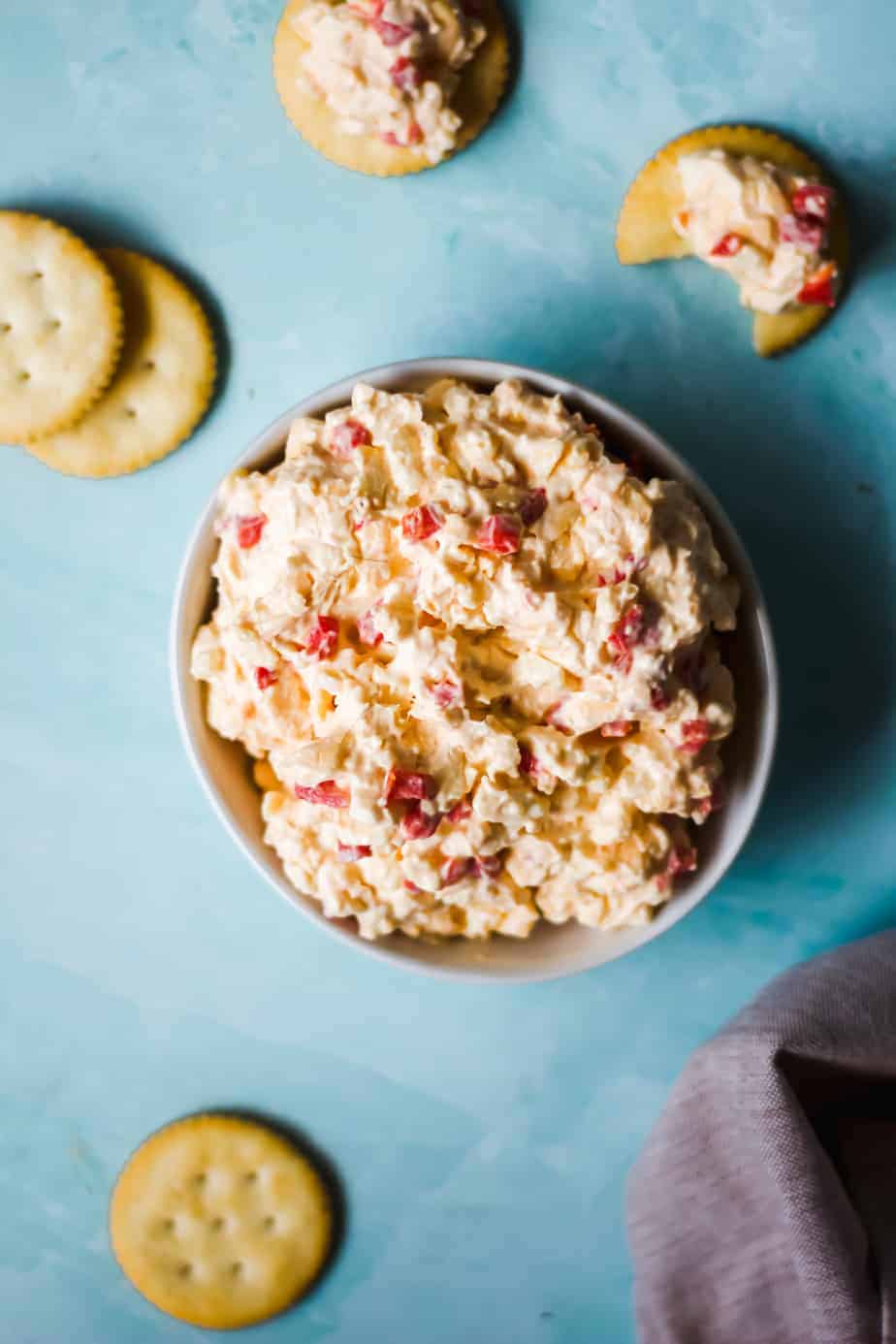 Here are a few of my favorite ways to serve it:
Cold dip with crackers, pita chips and fresh cut veggies like carrots, cucumber, peppers, celery sticks and olives
As a sandwich, either cold spread between two slices of bread, or hot, like in a grilled cheese!
Melted on top of a burger
Mixed in with some mac and cheese
Stuffed into baked or fried chicken
As the main ingredient in biscuits
Stirred into grits
Melted on top of French fries
Stuffed into roasted jalapeno poppers
HOW DO YOU STORE IT?
Not only is jalapeno pimento cheese so easy to make, it also keeps really well in the fridge. Sometimes I'll just make us a big batch to snack on throughout the week.
It can be stored in the fridge, covered, for up to five days. When you take it out of the fridge, let it come to room temperature for about 30 minutes before serving.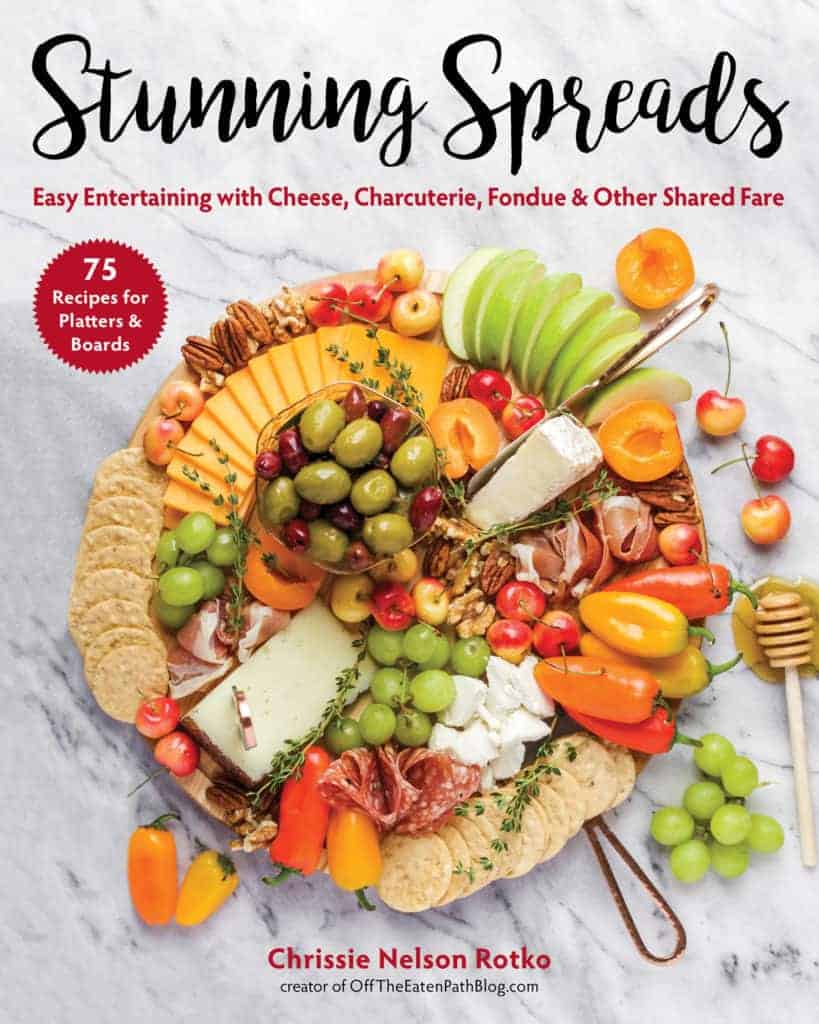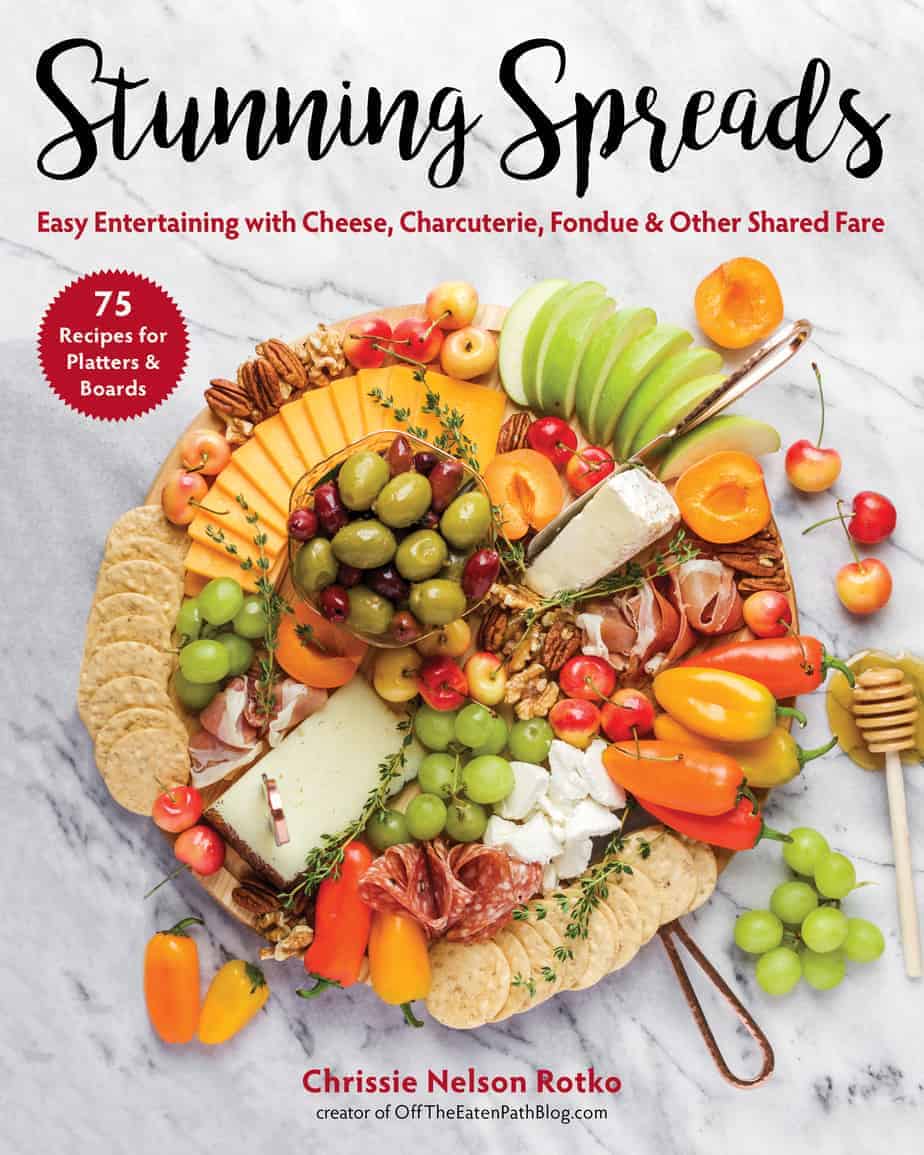 This recipe can be found in my cookbook, Stunning Spreads!
From baby showers to birthday brunches, Stunning Spreads offers more than 75 approachable appetizers paired with a variety of simple, seasonal cocktails such as spiked hot apple cider and watermelon frosé that are sure to be the showstopper at your next gathering.
To round out this fun, delicious fare is helpful hosting advice for preparing and serving everything from big boards to small bites.
Whether you're entertaining family for the holidays, having friends over to watch the big game, or cozying up on the couch with your loved ones, hosting at home doesn't have to be a hassle.