This Pimento cheese deviled eggs recipe give the classic holiday and party appetizer a little southern spin with some creamy, homemade pimento cheese.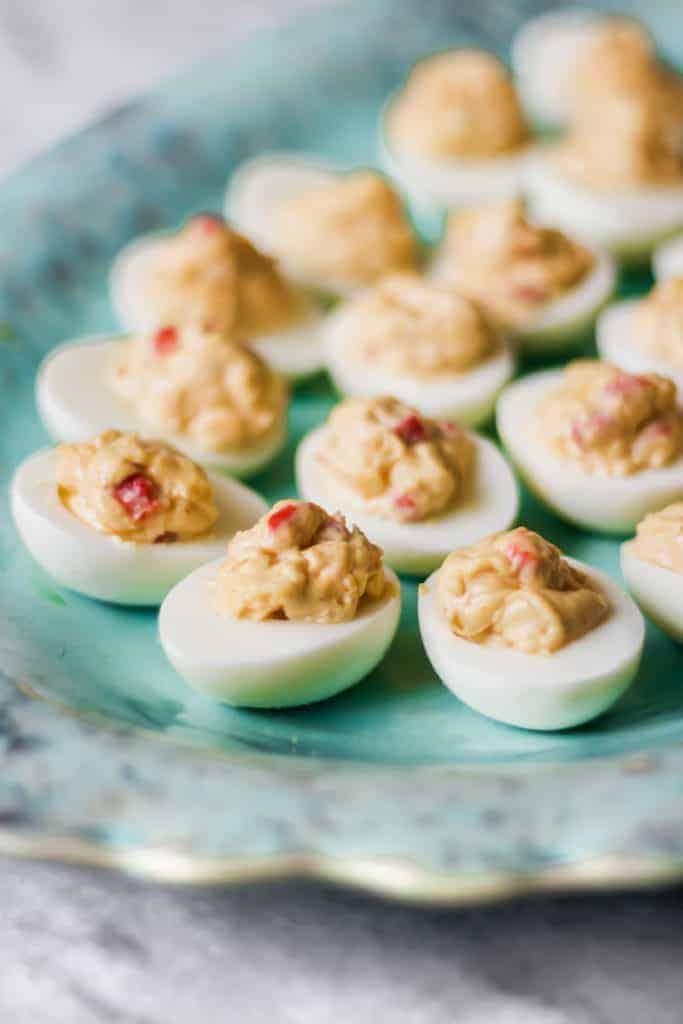 This post contains affiliate links. As an Amazon Associate I earn from qualifying purchases.
I love these pimento cheese deviled eggs as a Easter appetizer, Christmas party dish, or summer side dish, but if you're looking for some other easy, cheesy entertaining or appetizer ideas, check out my recipes for roasted jalapeno poppers, spicy cheese straws, beer cheese fondue, or my tutorial on how to make a cheese platter.
Or, check out my cookbook, Stunning Spreads, offers more than seventy-five approachable recipes for easy entertaining, including seventeen recipes for gorgeous and delicious charcuterie, snack and cheese boards.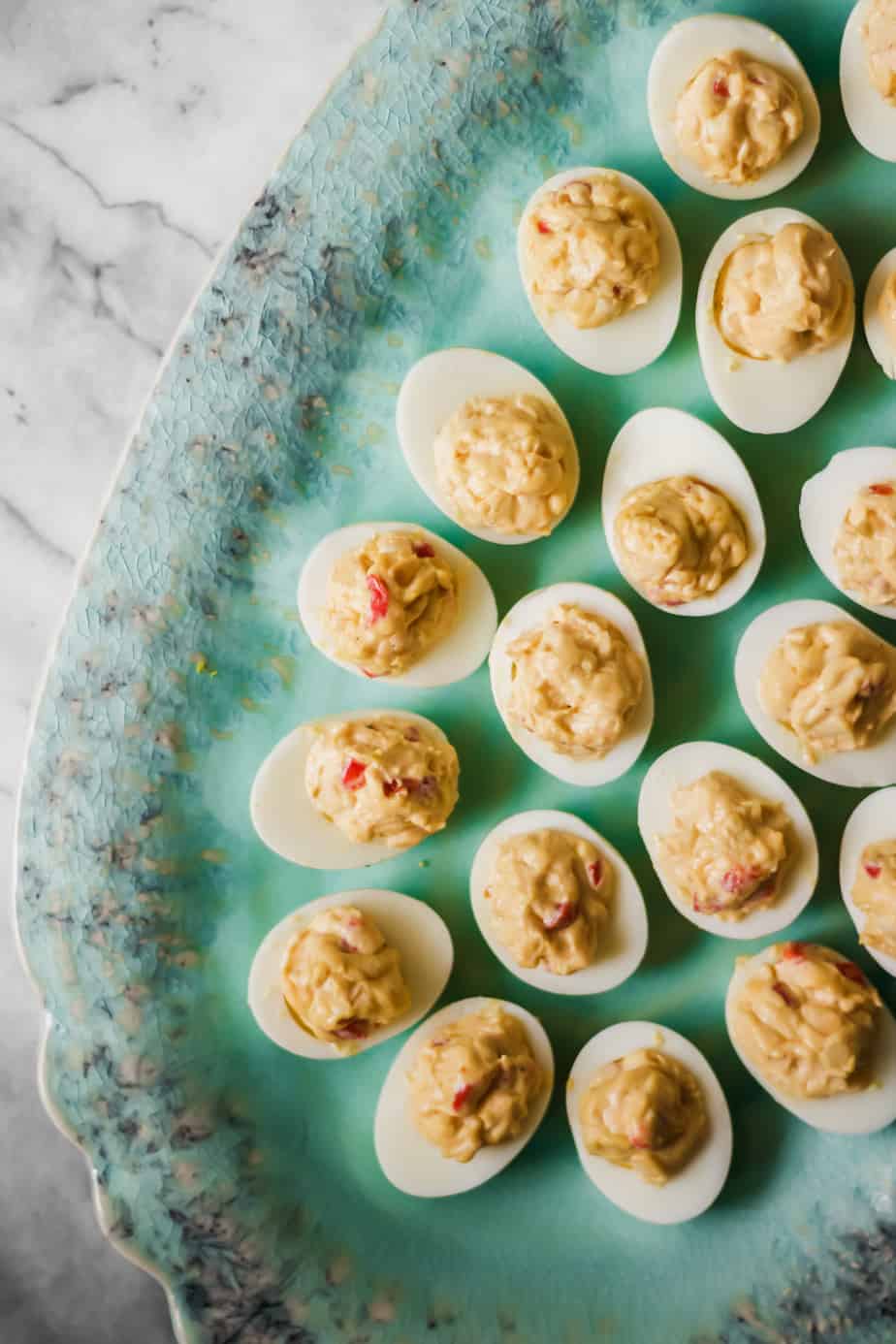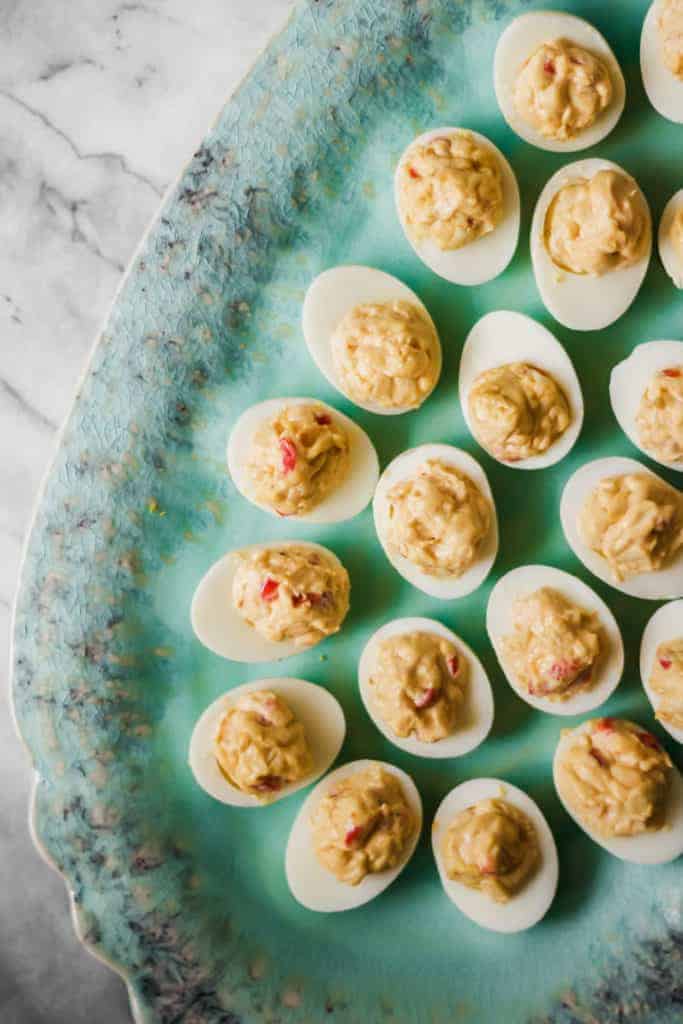 I published this recipe almost five years ago (!!!) which means it was definitely time for a photo refresh and a little update.
I first made these deviled eggs with pimento cheese for our office's annual holiday party.
My office's annual holiday party is one of the highlights of my social calendar every December; it's an evening I get to spend celebrating the season and having fun with the people who have made Charlotte feel like home.
The spirit of our annual extravaganza is to come together as an office and celebrate the reason for season, our community, and our hard work together.
That year, we decided to tackle the task of hosting the annual holiday party ourselves, rather than outsourcing the work (and money) to a venue and caterer.
Ten talented cooks and bakers in our office (including yours truly!) stepped up and made food for all of the party guests and created a totally memorable menu full of Southern inspired hors d'oeuvres.
And you can't have a Southern-inspired spread without pimento cheese. Pimento cheese hors d'oeuvres were a holiday party menu must.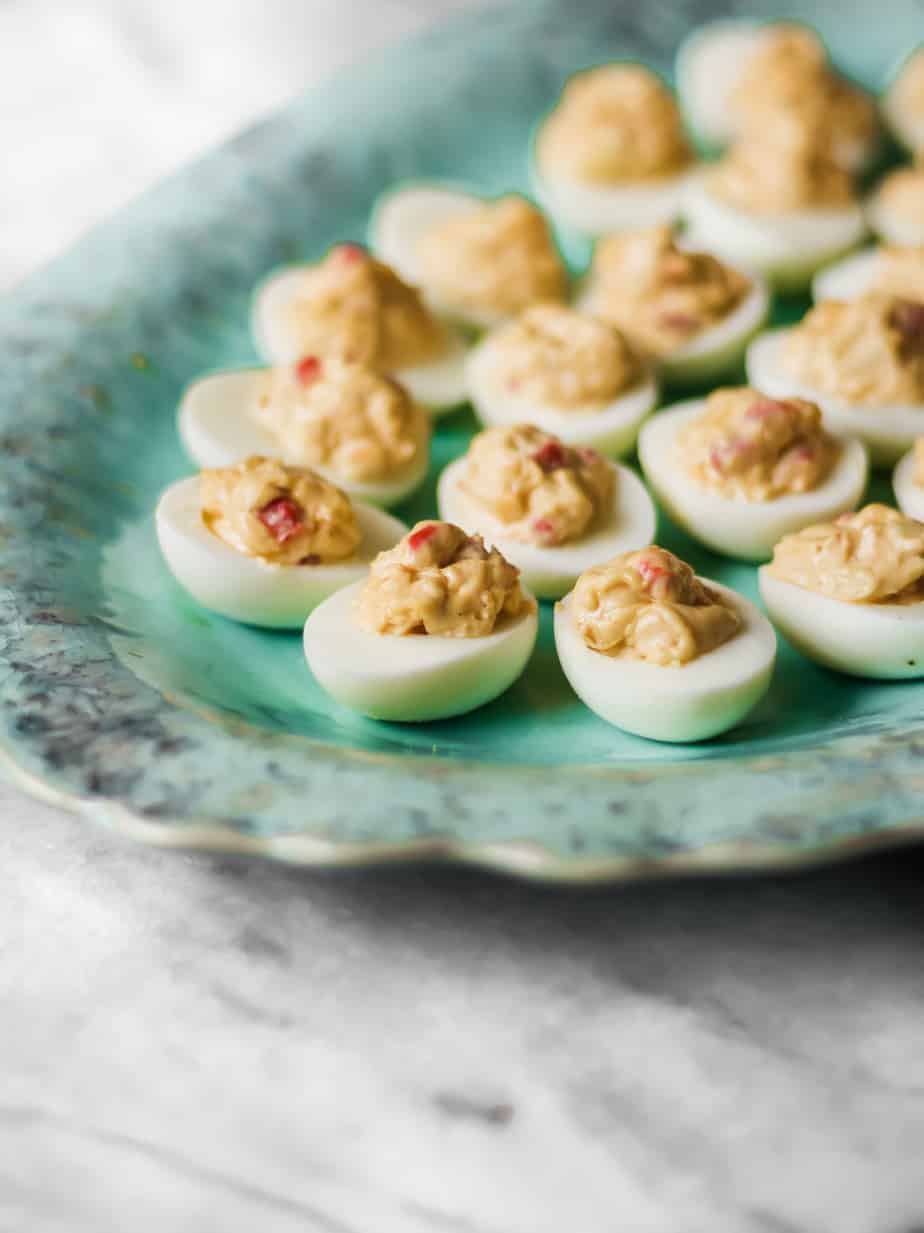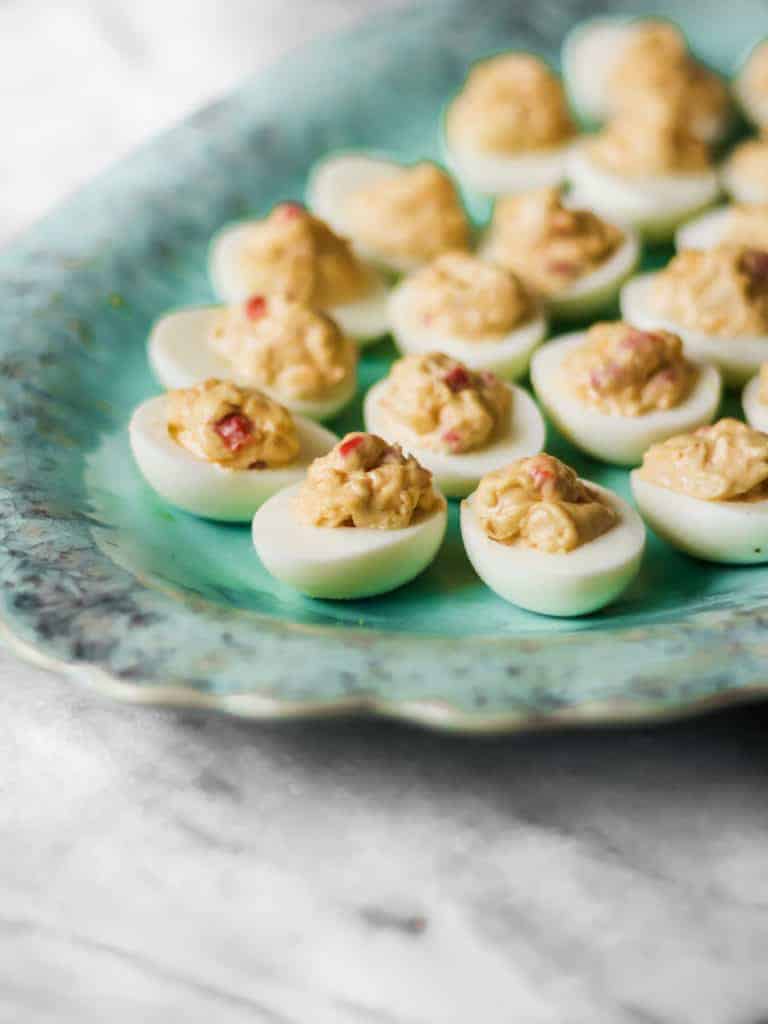 At the time, I wanted to showcase the South's favorite spread, but not how it's typically served, as a dip with veggies, and crackers or pita chips.
Instead, I wanted a creative and more elegant way to showcase pimento cheese, so why not in a Southern deviled eggs situation?
After all, deviled eggs are a staple that make an appearance on the menu at almost every party I've ever attended.
Christmas? Deviled eggs. Easter? Deviled eggs. Summer potluck? Deviled eggs. Baby or bridal shower? Deviled eggs.
And while I do believe deviled eggs have earned our respect and deserve to be a mainstay on basically any party menu (they are always a hit and are usually the first appetizer to get demolished…in fact, I think I can take down an entire platter of deviled eggs myself with no shame), I decided to pass on the paprika dusted classic party appetizer and give it a little Southern spin with some creamy, homemade pimento cheese.
What is pimento cheese?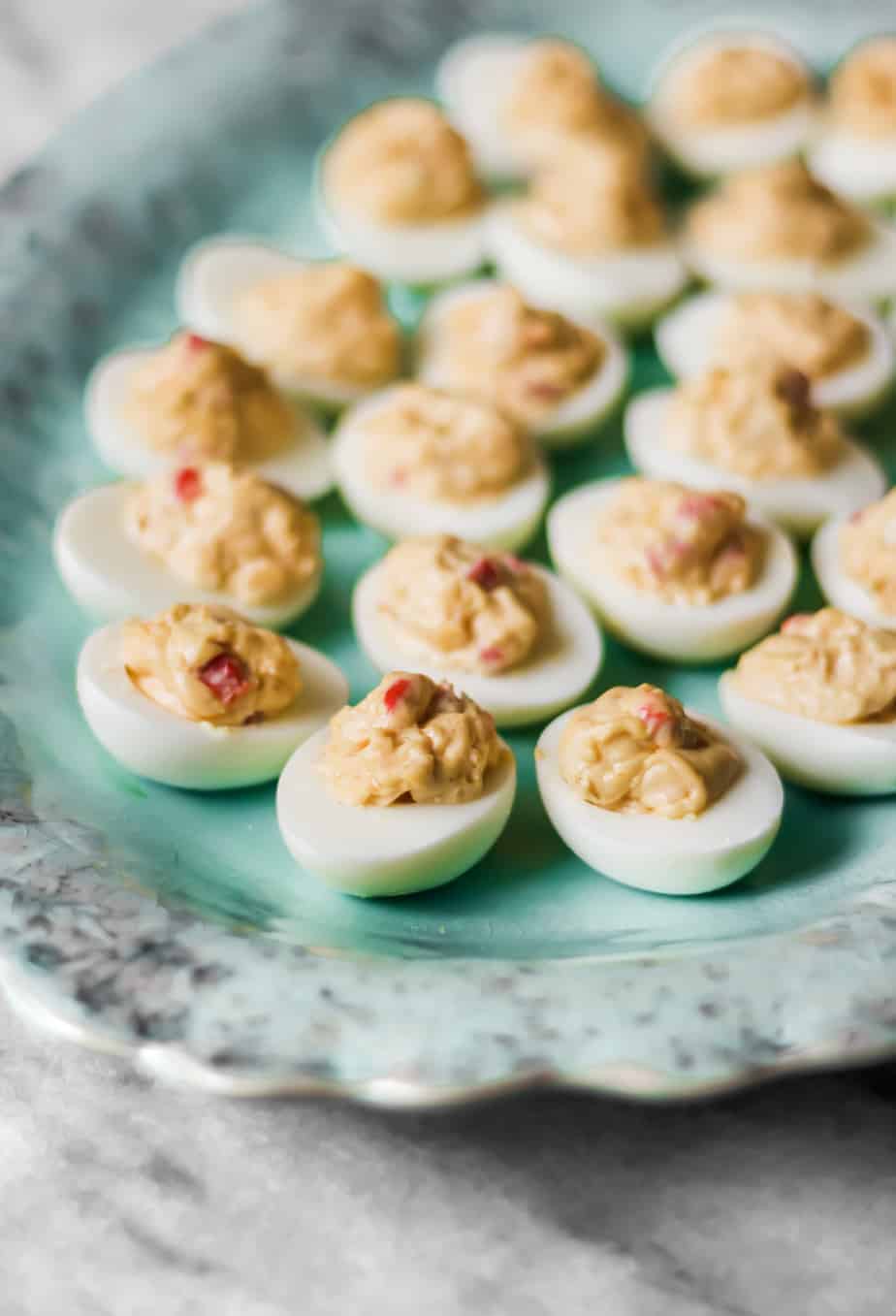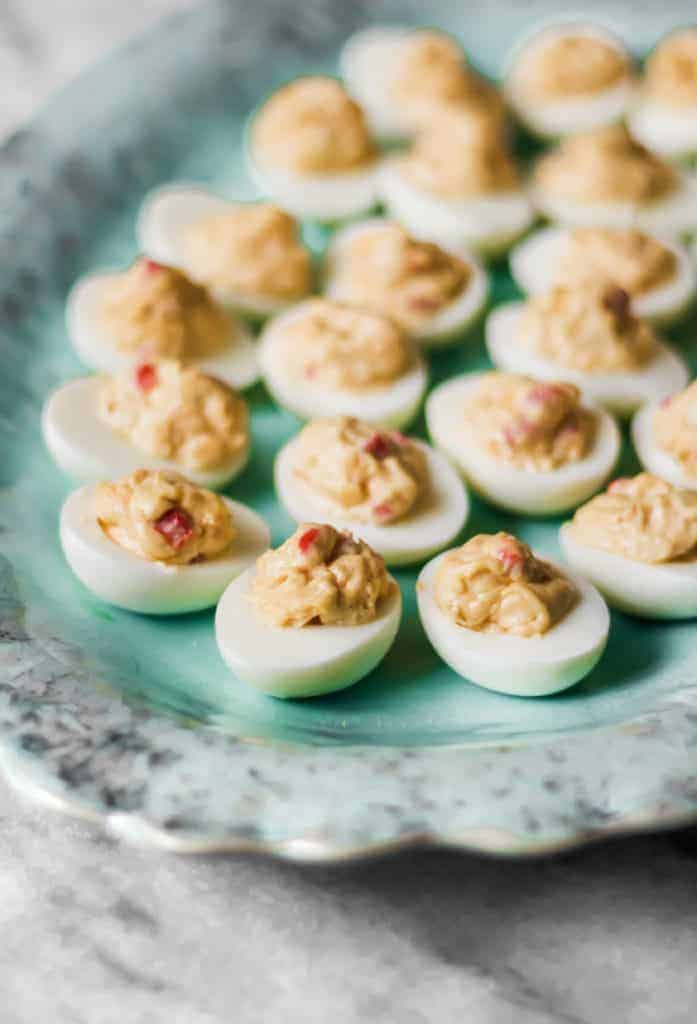 Let's start with what is a pimento.
A pimento pepper, or cherry pepper, is a small, red, heart-shaped pepper that has a sweet flavor and very mild heat.
Their name, pimento, comes from the Spanish word for pepper, pimiento. Or from the Portuguese word for pepper, pimento. Depends on who you trust on the Internet.
Anyways, a basic pimento cheese features pimento peppers (usually the kind that diced up and canned in a jar…you drain them to mix into your pimento cheese), shredded cheese, and mayo, which makes it super creamy.
Fun fact: according to several food writers, the rise in popularity of pimento cheese in the South was mostly due to Duke's (the makers of Duke's Mayonnaise) marketing efforts.
How to make homemade pimento cheese
There are a lot of different ways that you can make pimento cheese (everyone seems to have a family recipe) but the way I make pimento cheese is to go a little beyond the basics of pimentos, cheese and mayo.
In my pimento cheese recipe, I use two kinds of shredded cheddar cheese (both sharp white and sharp orange, that I shred myself…do NOT buy pre shredded!), pimentos, Duke's mayo, softened cream cheese, garlic and onion powder, crushed red pepper flakes, salt and pepper to taste, and a little bit of pickle juice.
Yes you read that right, pickle juice.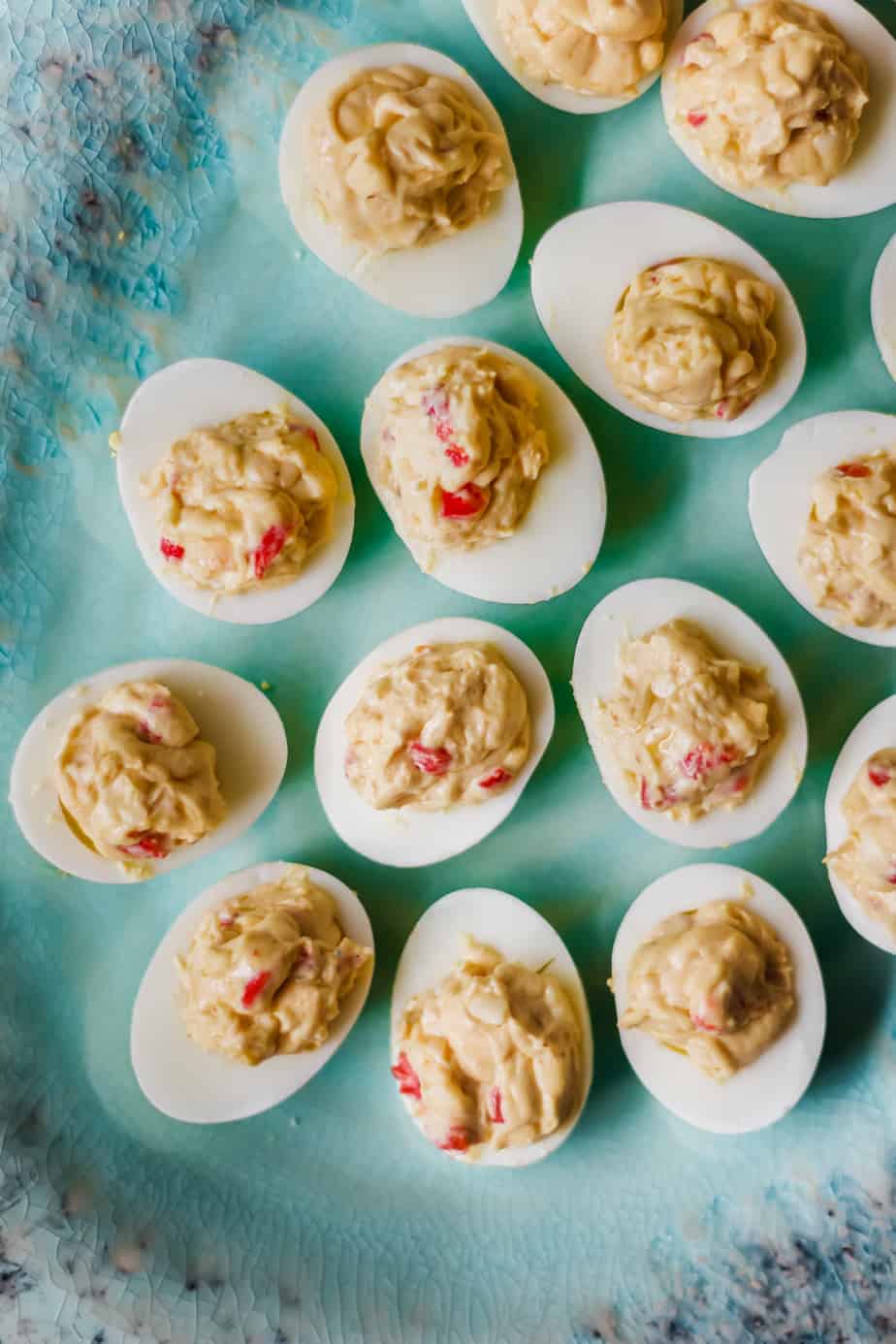 The brine from the pickle juice just adds that little extra oomph of flavor. (You can substitute olive juice for pickle juice if you don't have any. Same briney concept.)
You can also add some pickled jalapenos for a little extra spice.
Add everything to a mixing bowl and mix together until its combined.
Homemade pimento cheese will keep in the fridge for up to five days (and usually tastes best after sitting in the fridge overnight to allow the flavor to develop) so make the homemade pimento cheese and day or two ahead of time before adding it to the pimento cheese deviled eggs recipe.
Eat the rest of the homemade pimento cheese (you'll have leftovers after you add it to the cheesy deviled eggs) with cracker or pretzels or with a spoon.
I don't judge.
How to make pimento cheese deviled eggs
Once you have your homemade pimento cheese ready to go, it's time to focus on the deviled eggs.
To start, boil the eggs. For this recipe, you want a creamy, yellow yolk, so you should boil your eggs for about 5 to 6 minutes.
Once the eggs are cool and dry, you'll peel off the egg shell and slice the eggs in half lengthwise (or hot dog style if you will.
Using a small spoon, scoop out the egg yolks and put them in a mixing bowl. Set the empty egg halves to the side.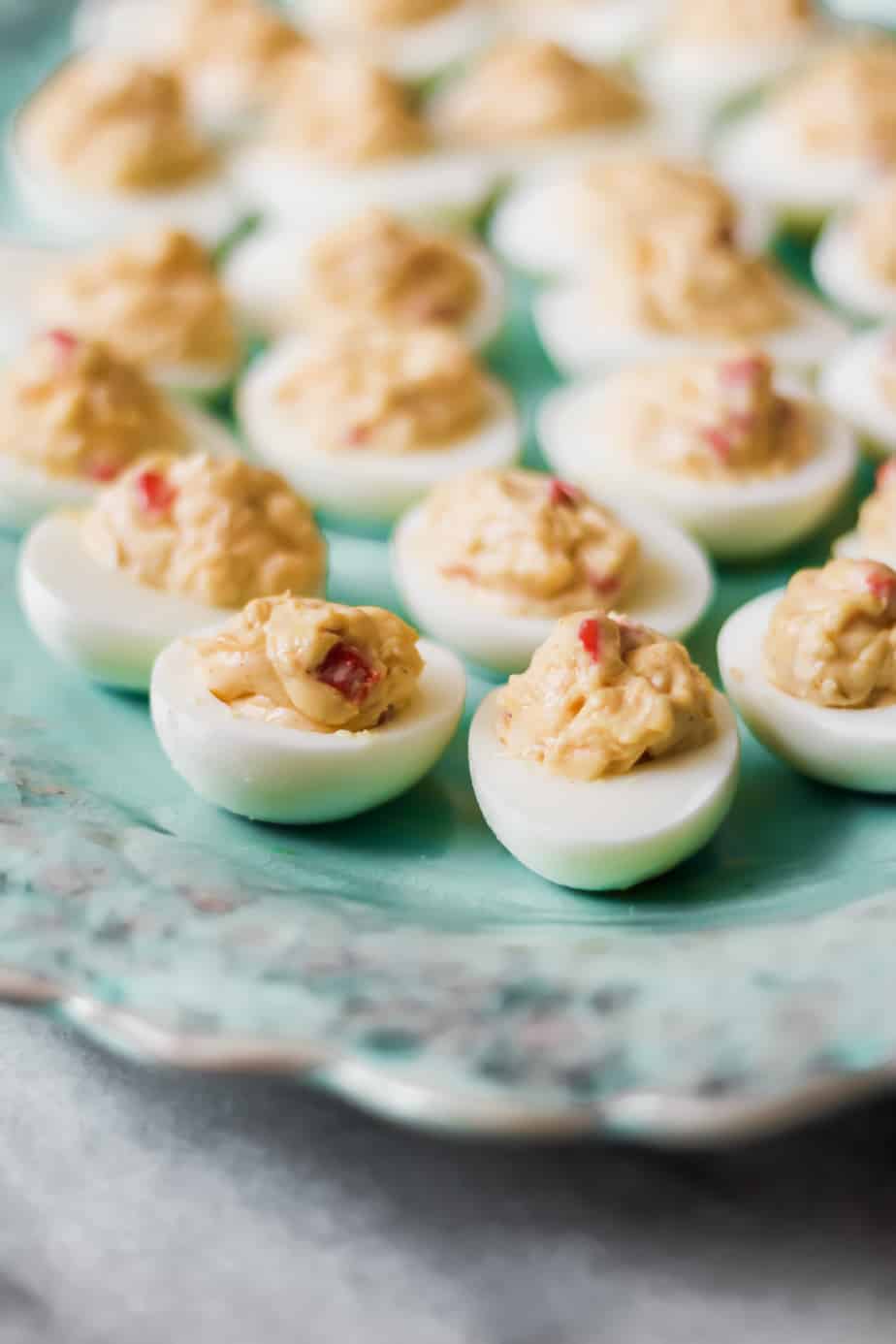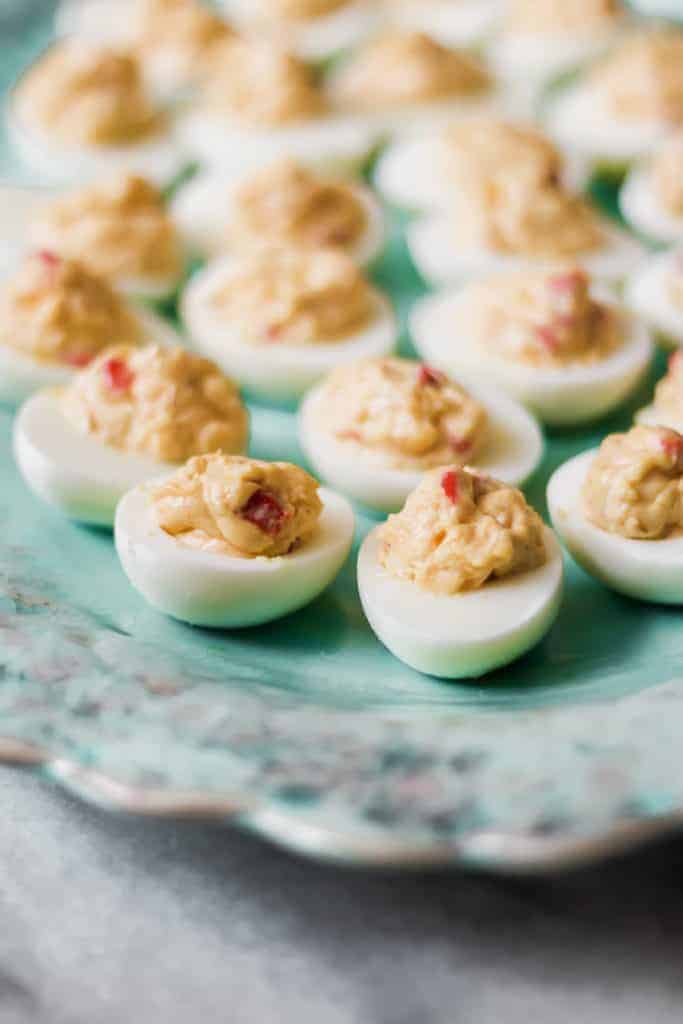 You'll add few other ingredients to the egg yolks, including white wine vinegar, Dijon mustard, dry mustard, cayenne pepper and smoked paprika. Mash everything together (with a spatula or wooden spoon) until smooth.
After all of that is combined with the egg yolks, its time to mix in the homemade pimento cheese. Stir everything together until its combined.
Then, its time to get the yolks back into the egg white halves to complete your Southern deviled eggs.
Scoop the egg yolk and pimento cheese mixture into a pastry bag (or what I like to use is a DIY pastry bag which is a sandwich bag with the corner cut off) and pipe the cheesy deviled egg mixture into the egg white halves.
Can I make this pimento cheese deviled egg recipe ahead of time?
Yes!
While pimento cheese eggs can be stored up into the refrigerator for one day, they usually taste best on the day you make them.
But…
You can do several of the steps a day or two ahead of time to save yourself some time and energy!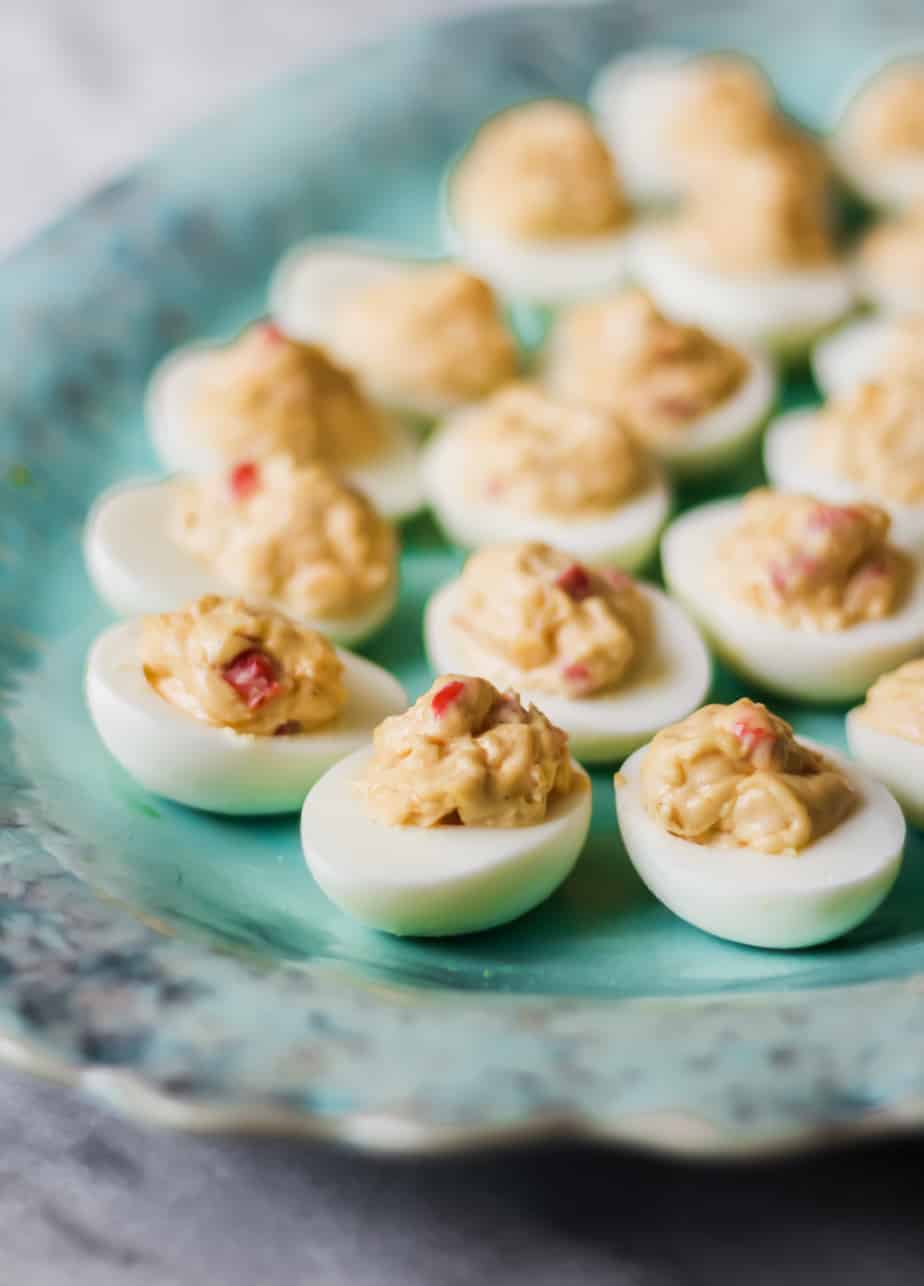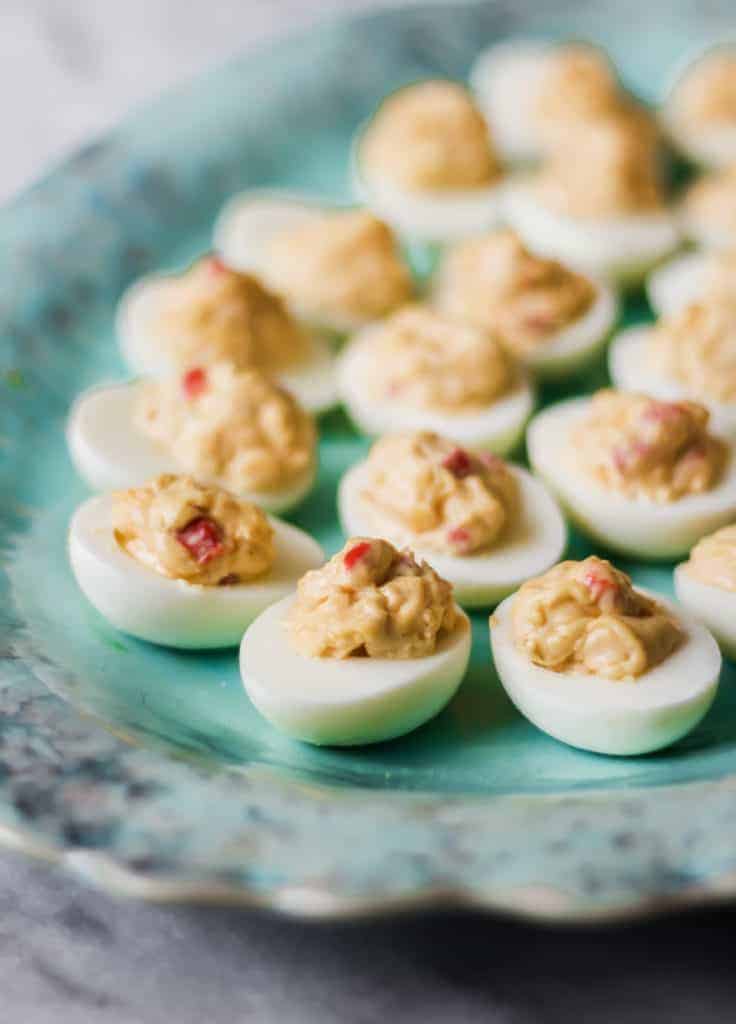 The first thing you should do is definitely make your homemade pimento cheese in advance. You can make the pimento cheese a day or two ahead of time.
Then, ff you want to prep eggs ahead of time, I recommend hard boiling, peeling, and halving the eggs, as well as scooping out the yolks into a container with a lid the day before you are going to serve them.
I usually have my husband, AJ, boil and peel the eggs for me, because he's good at it (hard boiled eggs are one of his go-to breakfasts, so he eats a lot of them) and and it takes some of the work off of me.
After boiling, peeling, slicing and scooping, store hard-boiled egg halves and yolks separately in the refrigerator and finish the remaining recipe steps on the day you plan to serve them.
How to transport deviled eggs to a party
I know that a lot of times, you're cooking and prepping party recipes at home and then have to take them to a friend or family member's house, so how do you do that?
You can do it in two different ways!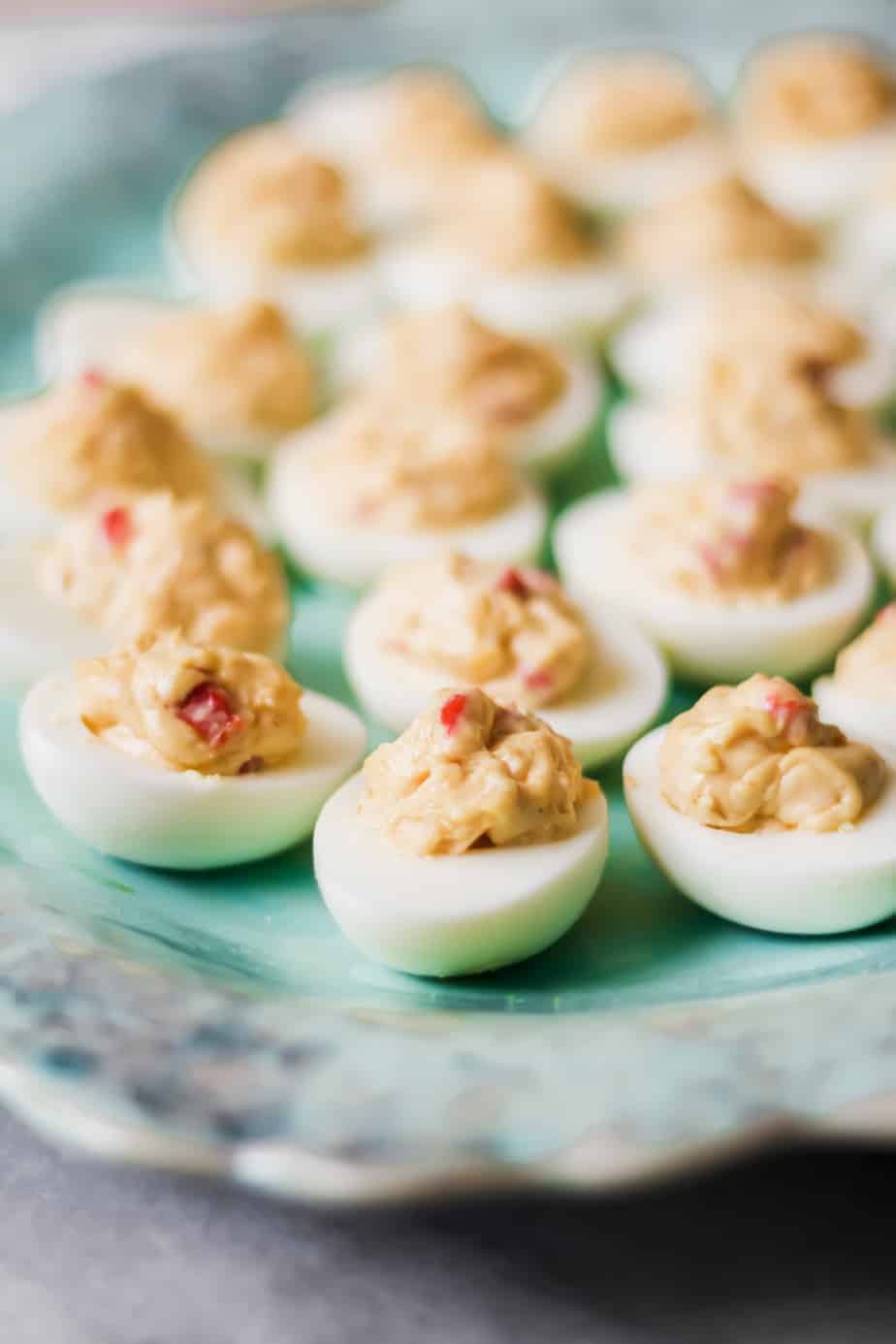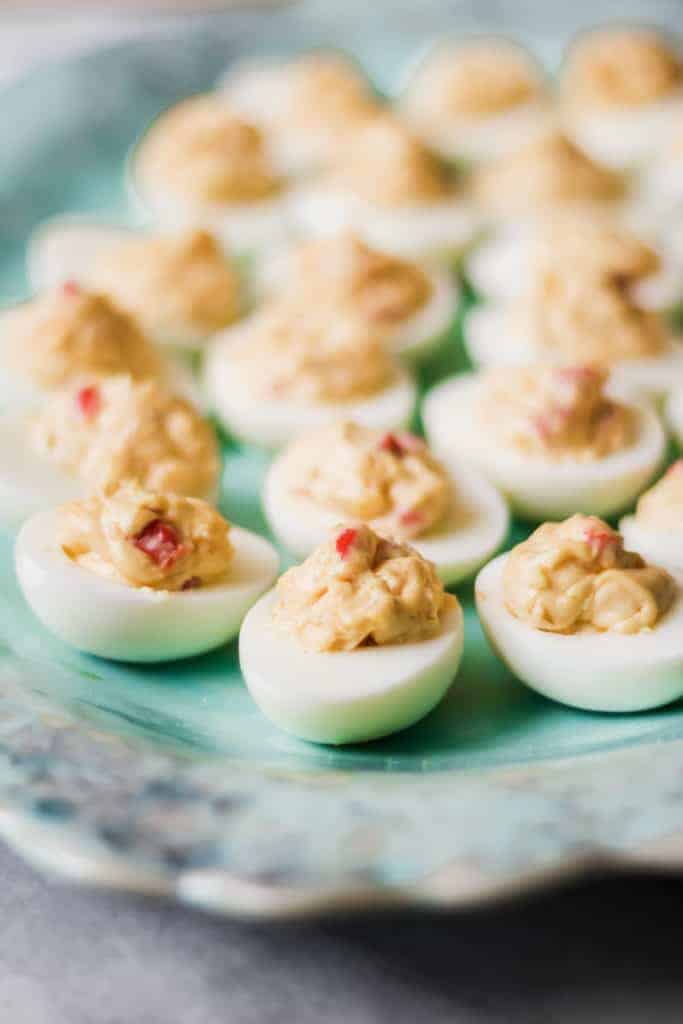 First, you can make the deviled eggs with pimento cheese totally and completely at home (we're talking boiled, sliced, scooped, mixed, and piped back in) and then back them in some deviled egg trays for the trip.
(Yes, they make trays with covers and with egg divots to keep your eggs from getting squished and from sliding around!)
Or second, you can transport the empty egg white halves in one container and the yolk and pimento cheese mixture in a second container, transport them separately, and assemble the pimento cheese deviled eggs when you get to your destination.