If you love the flavors of buffalo chicken wings, then you'll love these slow cooker buffalo turkey meatballs!!! They are quick and easy to make, full of flavor, and can be made dairy and gluten free, making them perfect for parties, game day or an easy, weeknight dinner.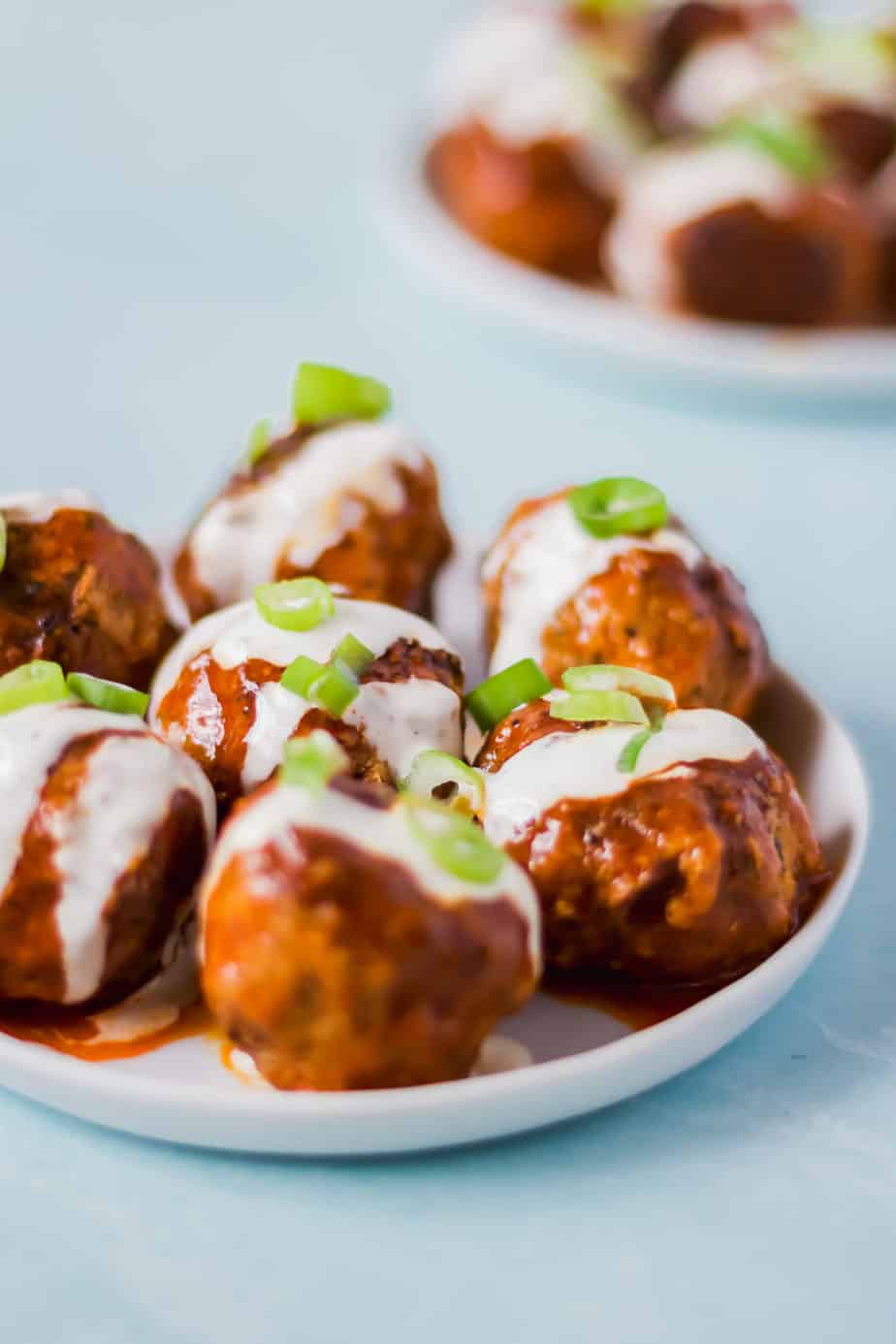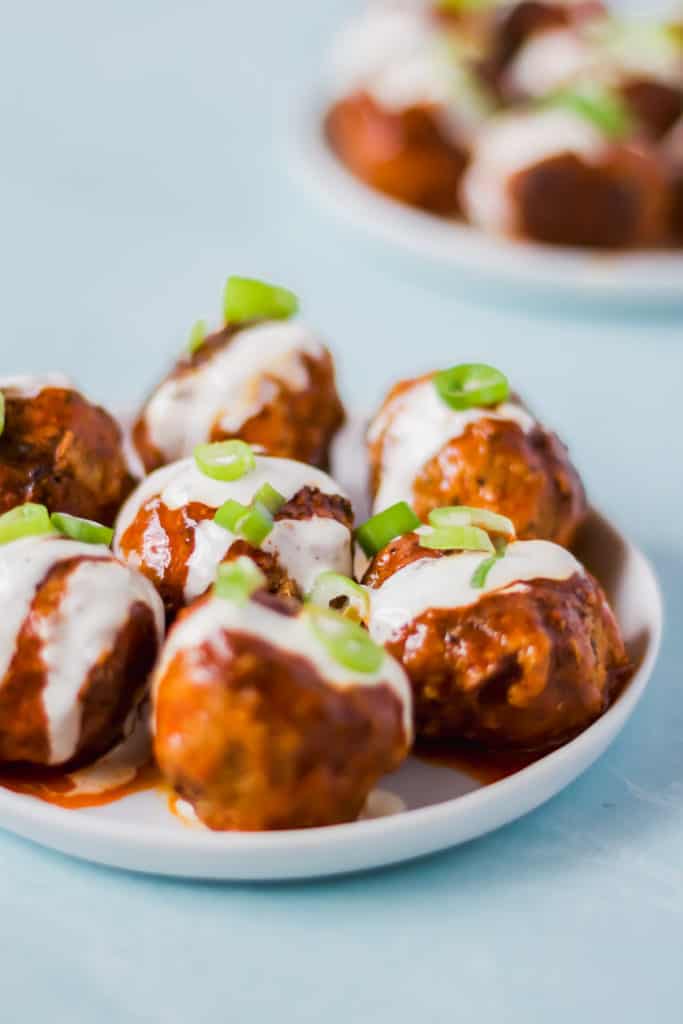 This recipe was one of the first I shared on Off the Eaten Path.
Off the Eaten Path started as a Charlotte restaurant blog.
What do I mean by that?
Well you can read all of the nitty, gritty details about starting my blog on its about page, but here's the short version.
I moved to Charlotte in the fall of 2012 just after graduating law school and taking the bar exam. I started my career (going on 8 years so that's a career right?) at the public defender's office, moved in with a friend from my internship, and tried to get my grounding in the Queen City.
It took me a while to get settled (tbh I have never been great with change). I was navigating a long distance relationship, a new job, and missed my life in Madison and my friends and family.
Charlotte and I weren't quite clicking and I wasn't sure if it was me or if it was her.
I got the idea to start my blog about six months after I moved to Charlotte when I was sipping margaritas by my apartment complex's pool.
I decided I needed a hobby beyond poolside margarita sipping (although poolside margarita sipping is still one of my hobbies, especially if I make a batch of classic margaritas) and I've always loved writing and eating, so I decided I'd go out to eat at Charlotte restaurants and write about them.
And like that, the blog was born.
(Also I know this blog history lesson isn't super short and I'm sorry, but I tend to be long winded).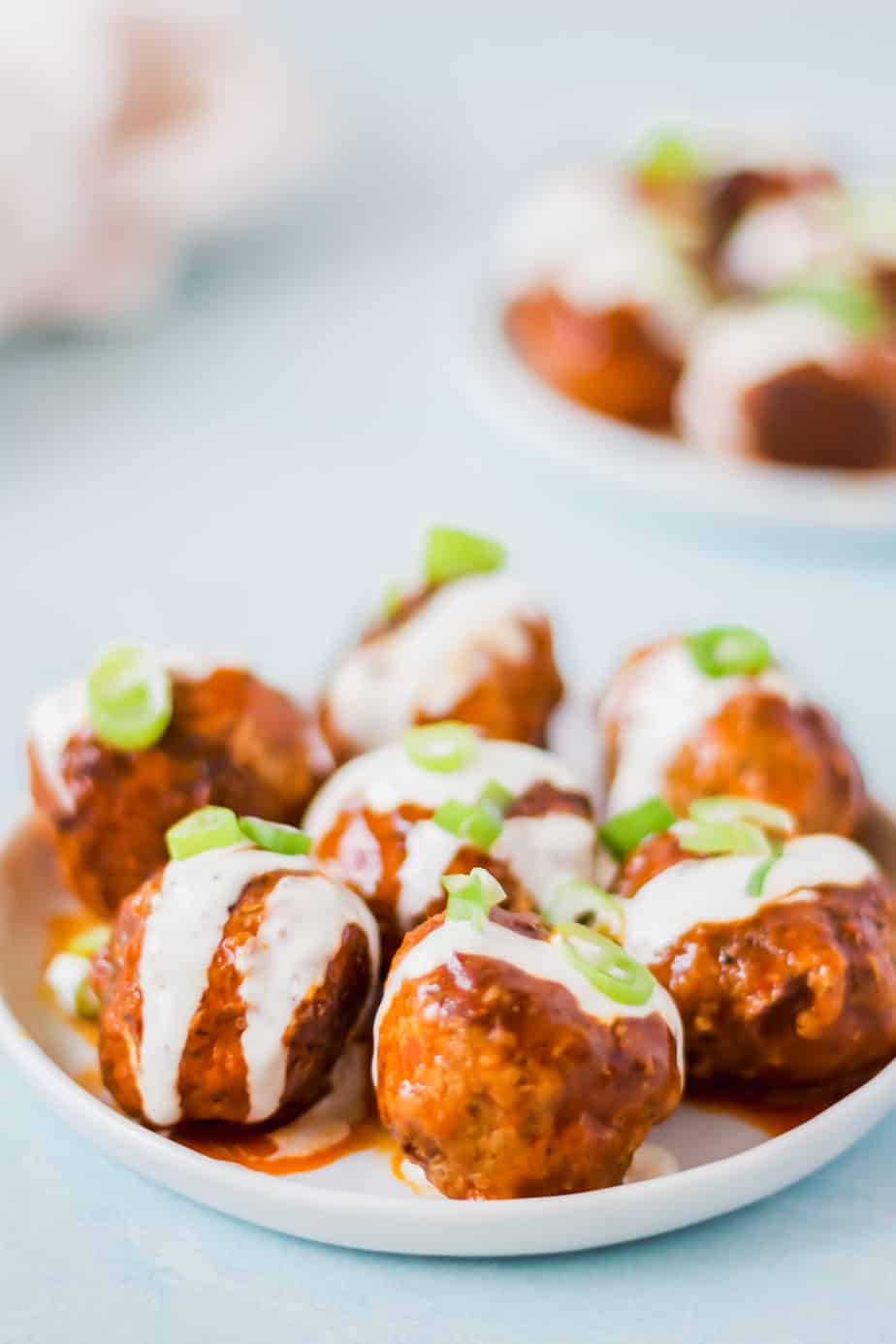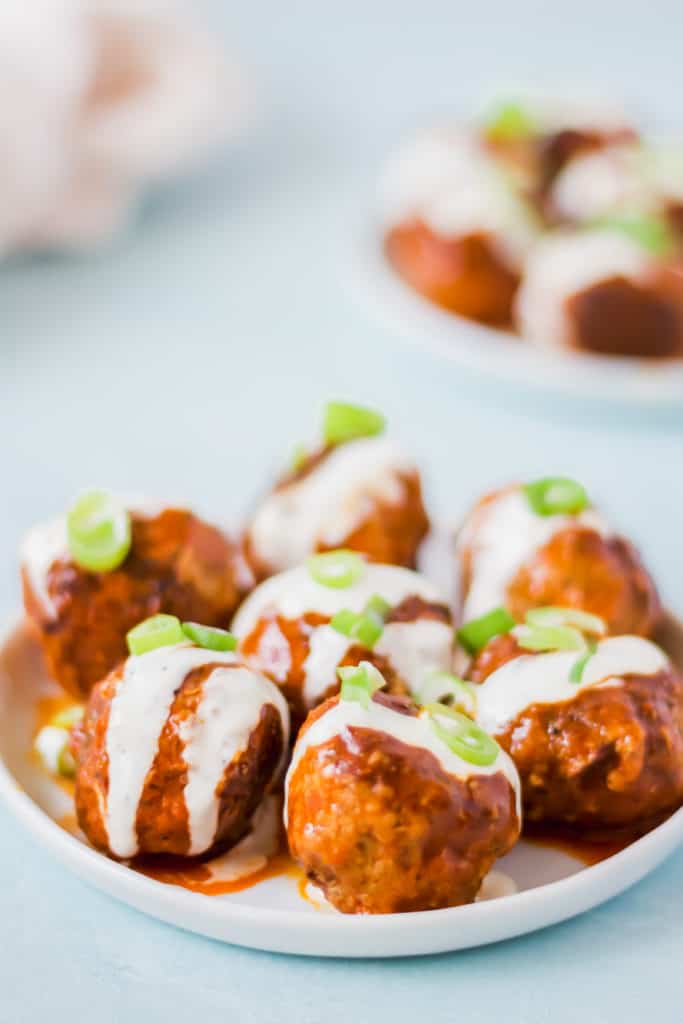 For a few years I went out to eat with my new friends, my new boyfriend (spoiler, the long distance relationship ended and it was for the best), or myself, and wrote about it.
I slowly expanded my posts outside of Charlotte to feature some North Carolina travel (my best out of town content is definitely my Asheville Travel Guide and Outer Banks Travel Guide).
I started getting questions about if I only ate out or if I also cooked at home (which I do) so I started to write about that too.
My first posts about cooking at home are truly awful because I'd just make myself dinner after work and then take shitty pictures before I ate (in fact, most of my photography in the beginning of this blog is truly awful…it took me a while to learn and understand photography, especially the importance of light!)
Long story short, this recipe was the fourth one I published on Off the Eaten Path, way back in the winter of 2015.
I originally made these buffalo turkey meatballs for a football playoff game we were going to watch at a friend's house. Speaking of football food, I have a ton of really easy delicious appetizers like roasted jalapeno poppers, loaded grilled nachos, pepperoni bread, beer cheese fondue, jalapeno pimento cheese and so many more.
Seriously, we love football snacks in this house.
But since making them for the first time, and a couple recipe tweaks and photo refreshes along the way, buffalo turkey meatballs have become a staple in our house whether it be for game day or quick, easy weeknight dinner.
So much so, they had to make an appearance in my cookbook, Stunning Spreads, because they are an Off the Eaten Path and easy entertaining staple. (Of course, they make an appearance on the Elevate Your Tailgate Board too because did I mention we love football appetizers here?)
BUFFALO TURKEY MEATBALL INGREDIENTS
One of the reasons I love this recipe is because most of the ingredients are pantry or fridge staples, so I usually already have the ingredients at home saving me a grocery trip.
But sometimes I don't have the ingredients at home and that's ok because I spend like a whopping $7 at the grocery store picking up what I don't have.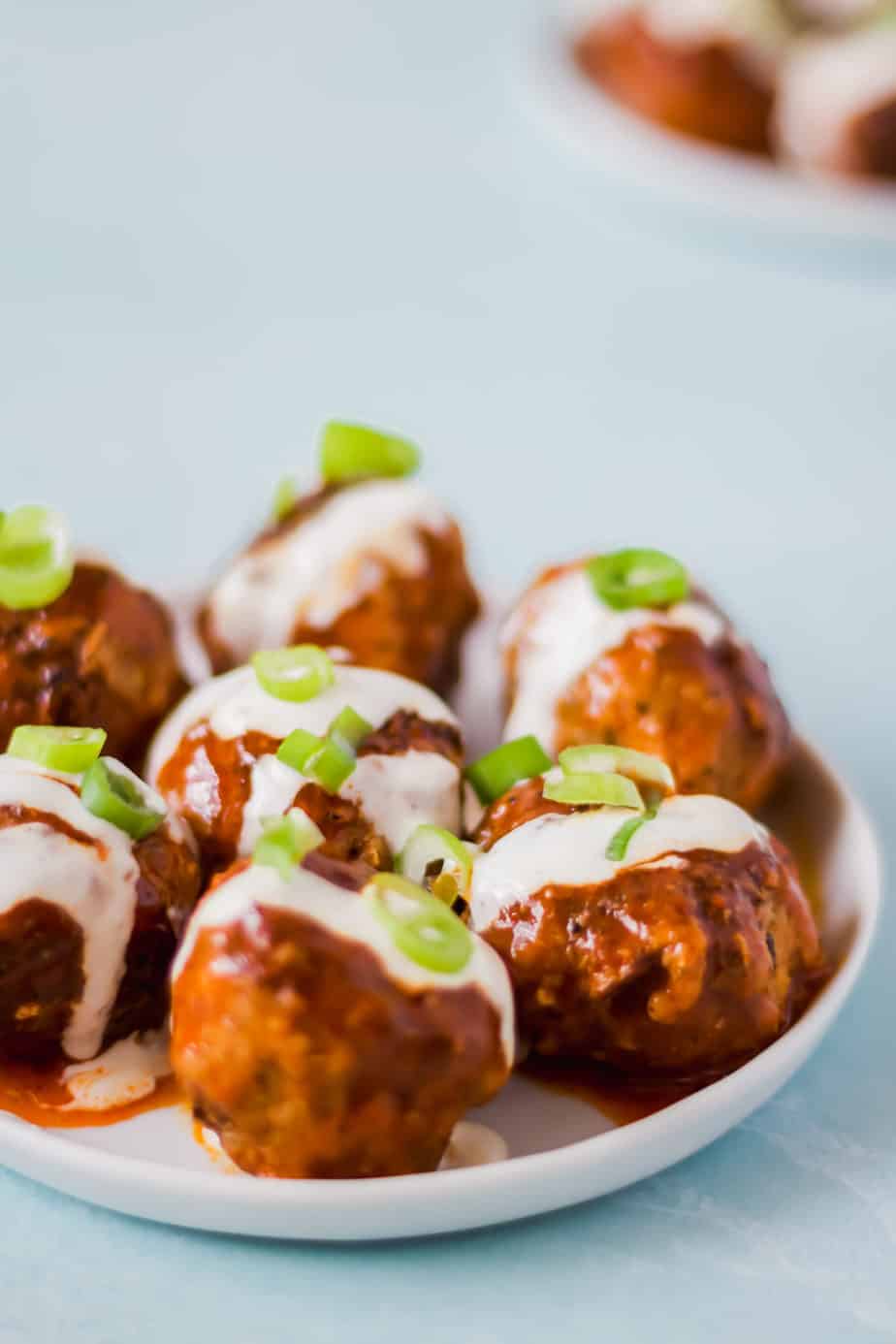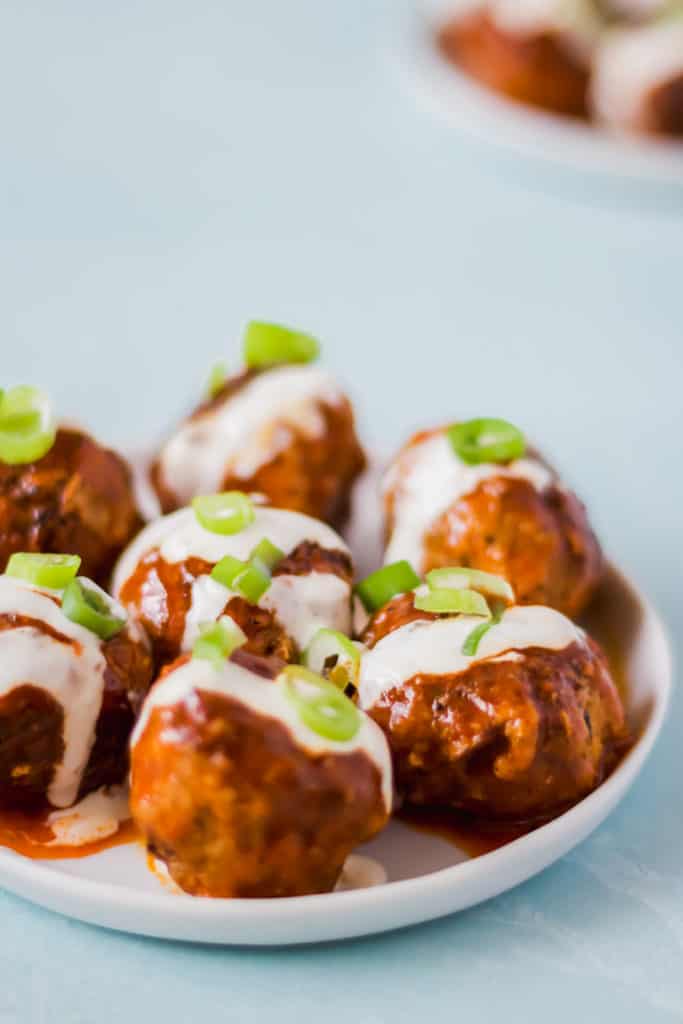 To make slow cooker buffalo turkey meatballs you'll need:
ground turkey (you can also use ground chicken…more on that below!)
panko breacrumbs (but you can also make them without breadcrumbs and then they will be gluten free!)
white onion
egg
garlic
dried oregano
dried basil
salt
pepper
olive oil
buffalo wing sauce (I like to use Frank's, but any wing sauce will do)
blue cheese or ranch dressing (or both!) for serving
green onions, for serving
HOW DO YOU MAKE SLOW COOKER BUFFALO TURKEY MEATBALLS?
The most work you have to do when making crockpot buffalo turkey meatballs is making the actual meatballs.
You'll combine the ground turkey, breadcrumbs, onion, egg, garlic, oregano, basil, salt and epper.
Using a wooden spoon or clean hands (I prefer to get in there and use my hands!) stir everything until well combined and then roll into about one to one and a half inch meatballs. (That's about the size of a tablespoon.)
You should get about 20-24 meatballs.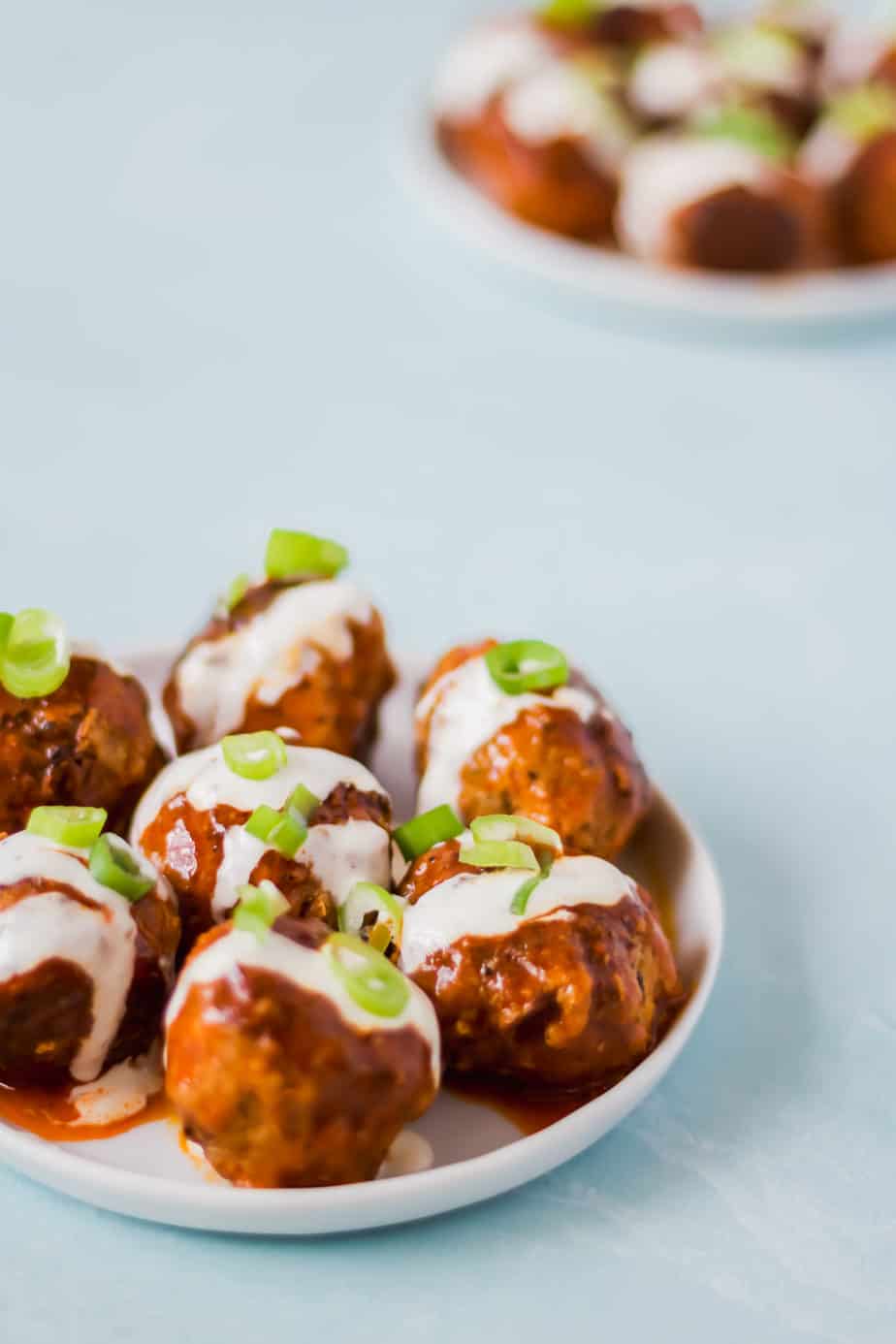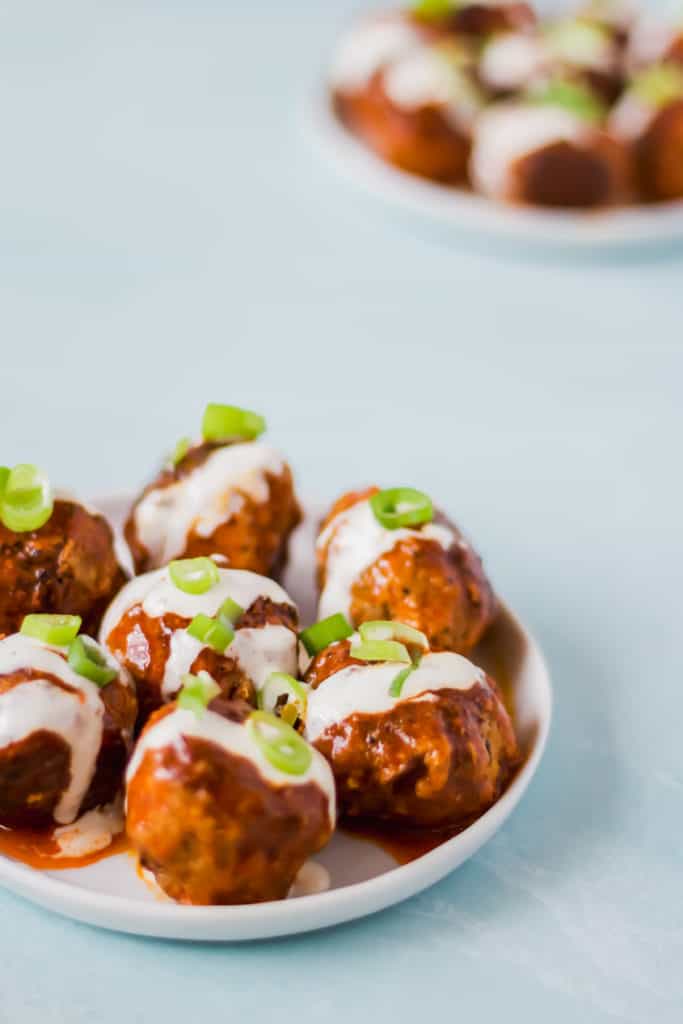 Then, it's time to brown the meatballs. While a lot of recipes call for simply baking the meatballs, I like to brown them in a skillet with olive oil in order to make sure they are brown on all sides and don't fall apart!
Add olive oil to a skillet and heat it over medium high heat. Then in batches, add meatballs to the hot skillet and cook them about one to two minutes per side. It usually takes me about two to three batches to brown all of the meatballs because you don't want to overcrowd the meatballs in the skillet.
As you finish browning the meatballs, transfer them to your slow cooker or crock pot. They will not be cooked all the way through after searing them and that's ok. They will cook all the way through in the slow cooker.
Then you'll add the buffalo sauce to the slow cooker and toss the meatballs with the sauce.
That's it! The crock pot will do the rest of the work for you and the meatballs will be done in about two to three hours.
Don't forget to serve with ranch or blue cheese for dipping!
CAN YOU MAKE THEM AHEAD OF TIME?
Yes!
The meatballs can be mixed and made one to two days ahead of time (do everything before you get to searing them) and then just stored in the fridge until you are ready to sear them and cook them in the slow cooker with the buffalo sauce.
CAN CROCK POT BUFFALO MEATBALLS BE GLUTEN FREE?
Yes!
You can easily make these turkey meatballs gluten free by substituting gluten-free breadcrumbs or another gluten-free binding agent (like Rice Chex or arrowroot flour) for the Panko breadcrumbs.
If you are using gluten-free breadcrumbs, substitute for the Panko in equal amounts.
You can also omit the breadcrumbs all together and add an additional egg as a binding agent.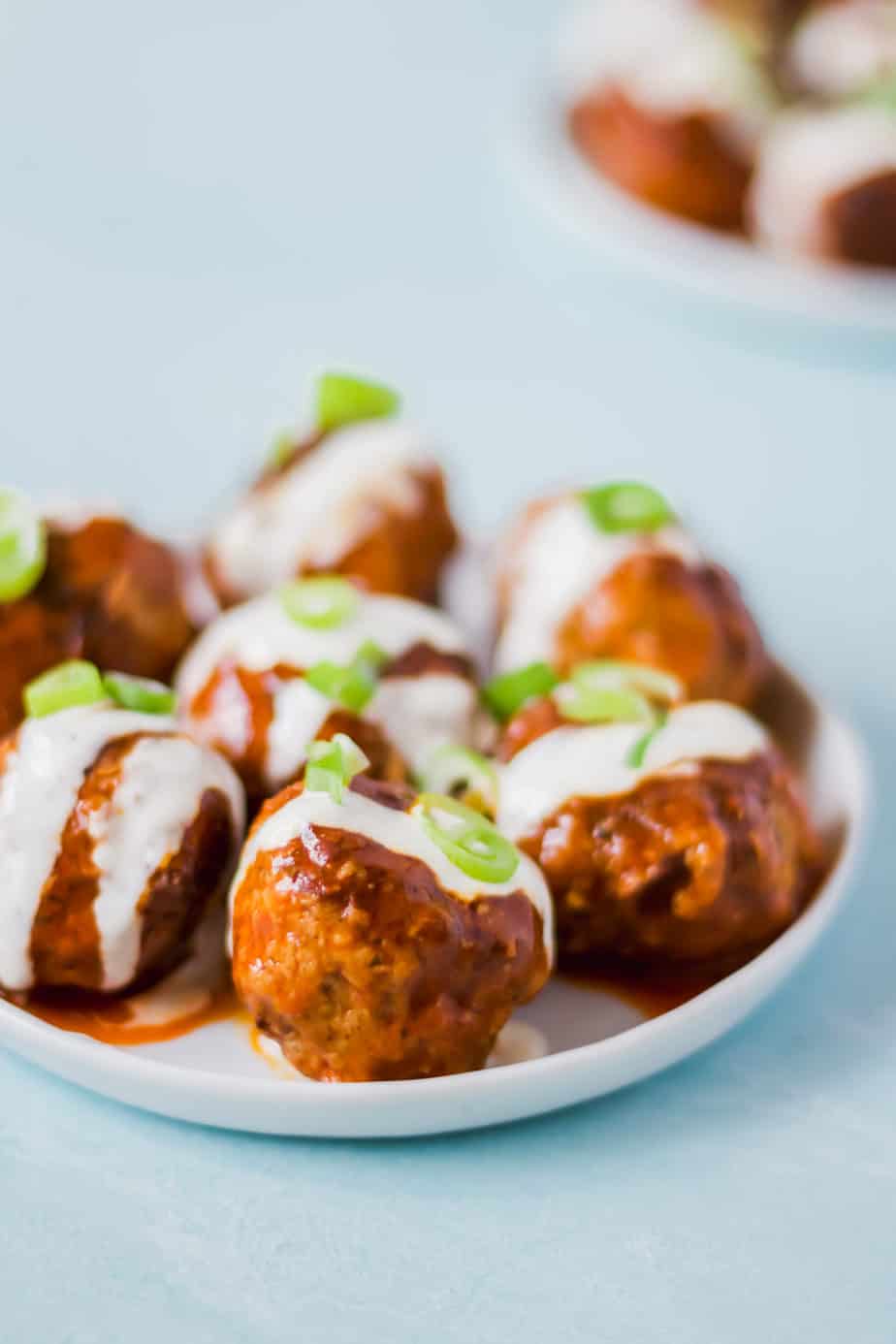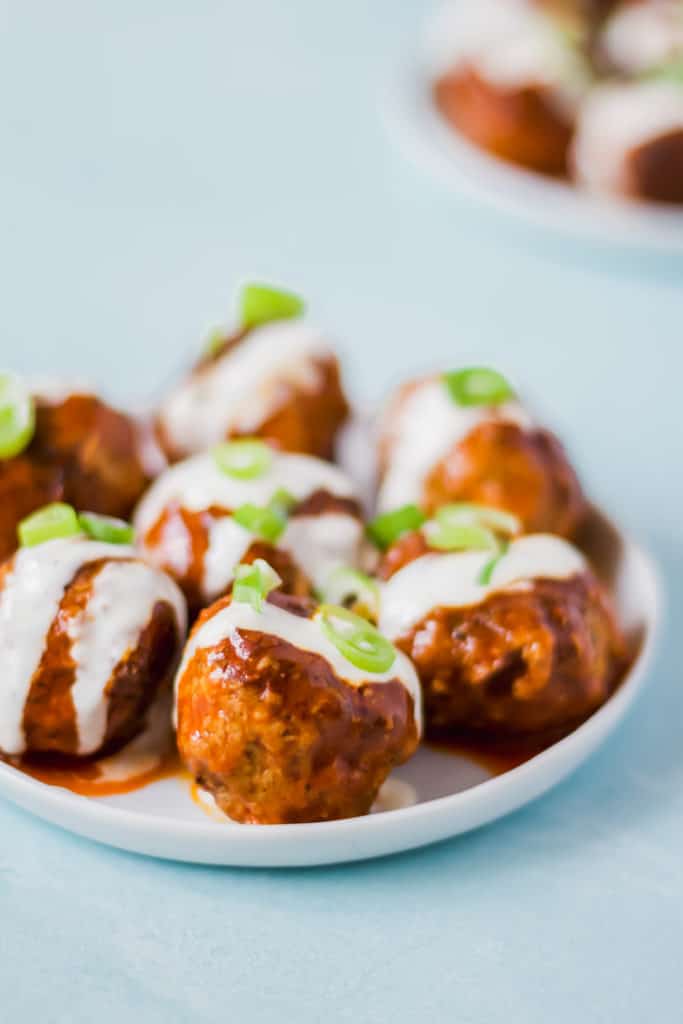 CAN I USE GROUND CHICKEN INSTEAD OF GROUND TURKEY?
Yes! I chose to make these with ground turkey because turkey is easier to find at my local grocery store than ground chicken.
If using ground chicken, follow the recipe the same!
WHAT SHOULD I SERVE WITH THEM?
Of course, you first want to make sure you serve the meatballs with ranch or blue cheese or some other kind of dipping sauce (I promise the dipping makes them even more delicious!)
But beyond dipping, what should I eat with them?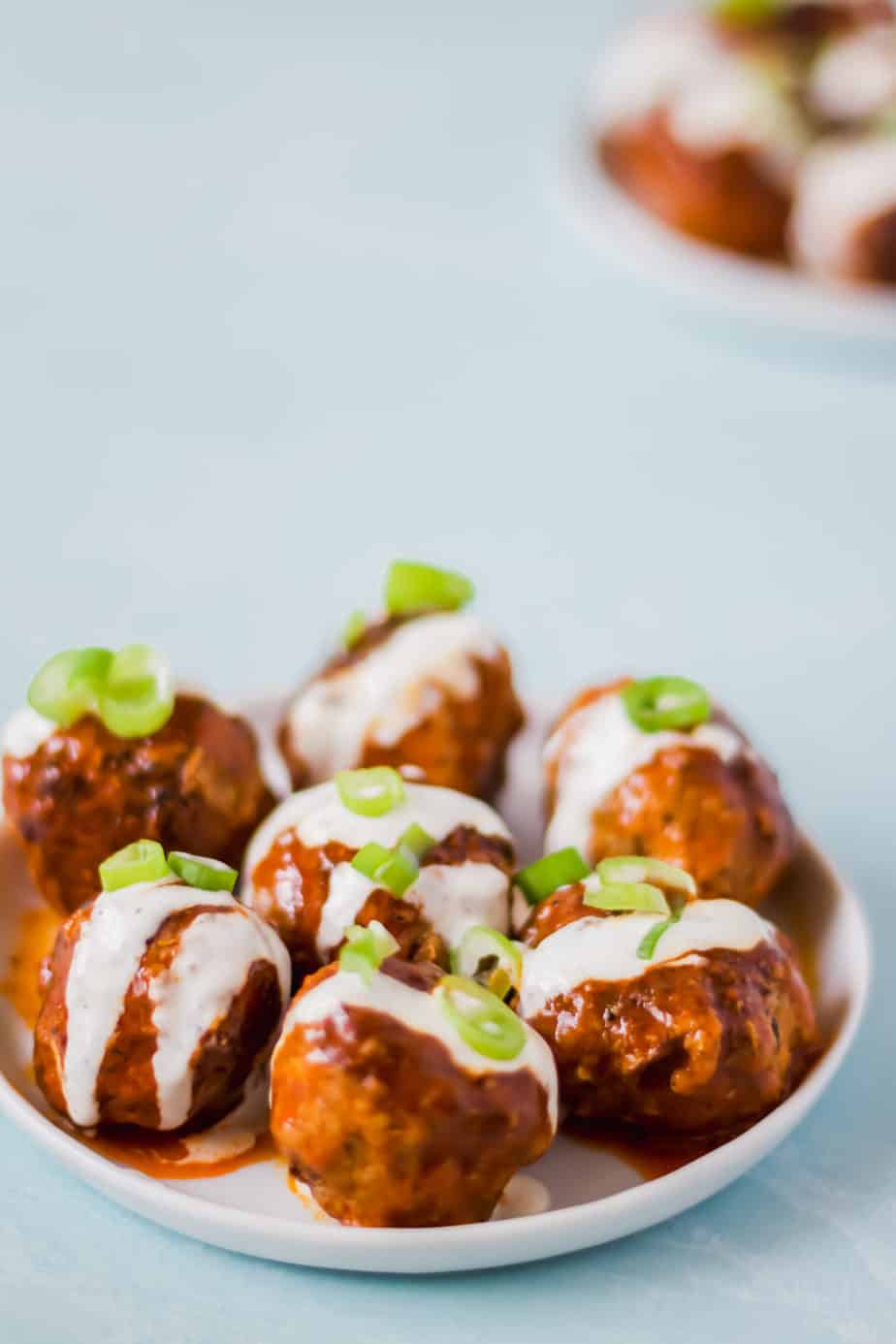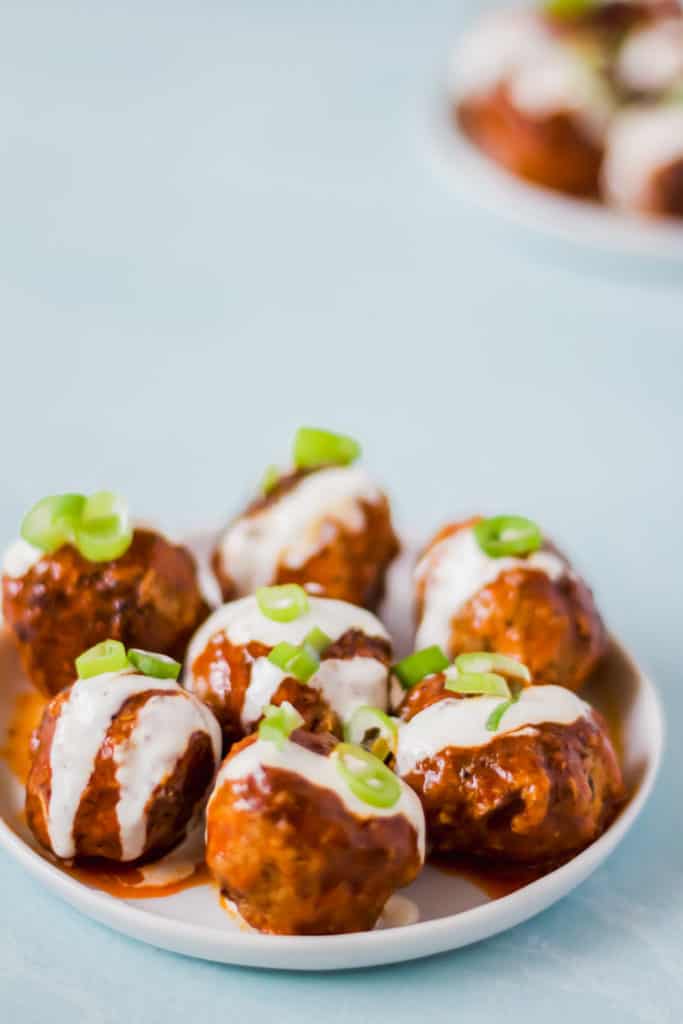 You can serve buffalo turkey meatballs as an appetizer or snack during a party or game day celebration as part of a larger spread with a bunch of different appetizers. A good rule of thumb when it comes to serving appetizers and snacks to guests instead of a full meal:
serve a variety of appetizers from different food categories (like healthy, starchy, protein packed and light snacks)
the more guests you are planning to have, the more appetizer selections you should have
if you aren't going to be serving dinner, make sure you plan to serve between 8 and 10 pieces per person so your guests leave happy and full
If you'll be making these buffalo turkey meatballs as a weeknight meal for your family, here are a few serving suggestions:
put them over rice or cauliflower rice
serve with a healthy and bright side salad
serve with roasted sweet potatoes or other roasted veggies on the side