This whiskey apple cider cocktail screams fall in its flavors and is the perfect cozy cocktail to celebrate changing leaves and chilly nights.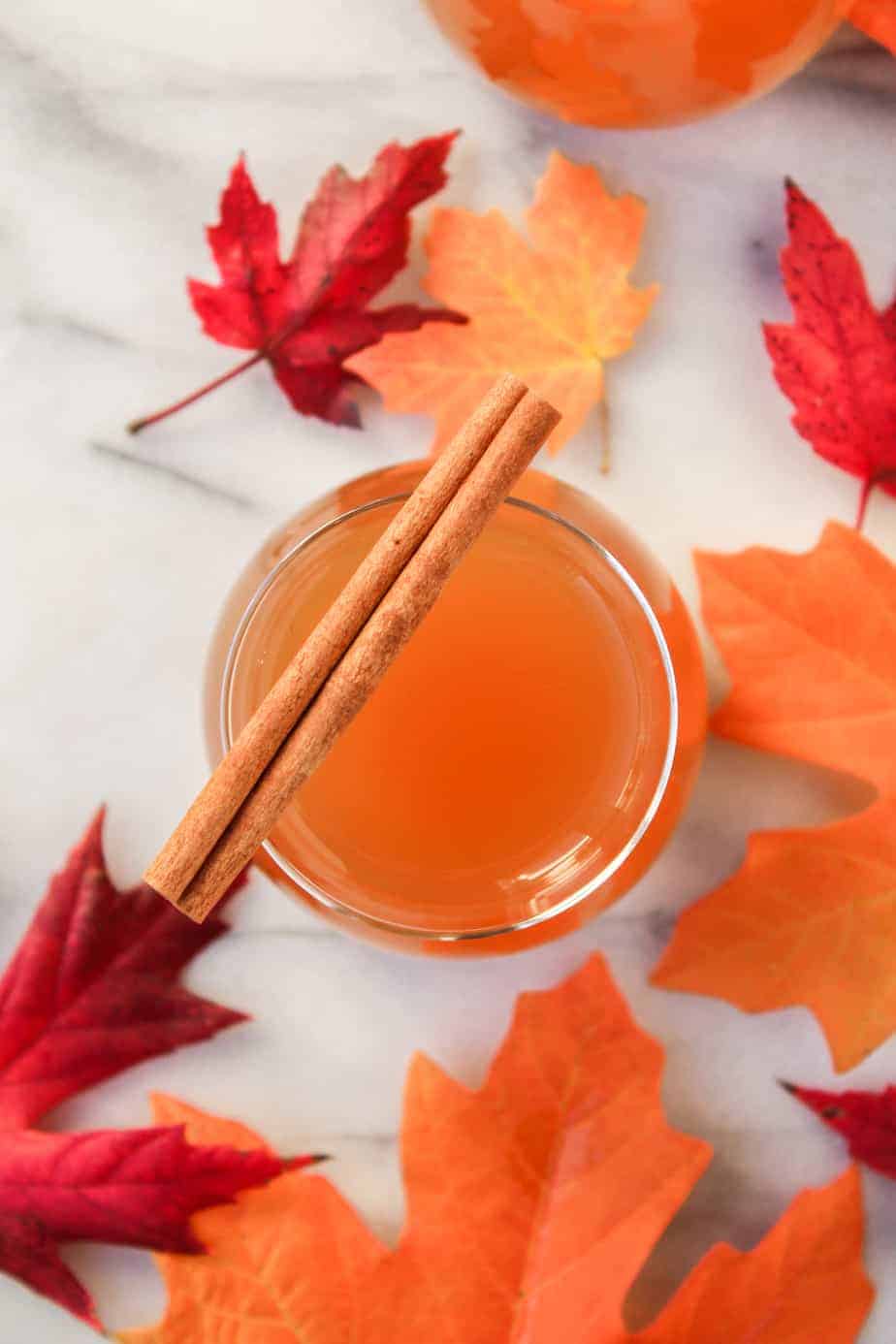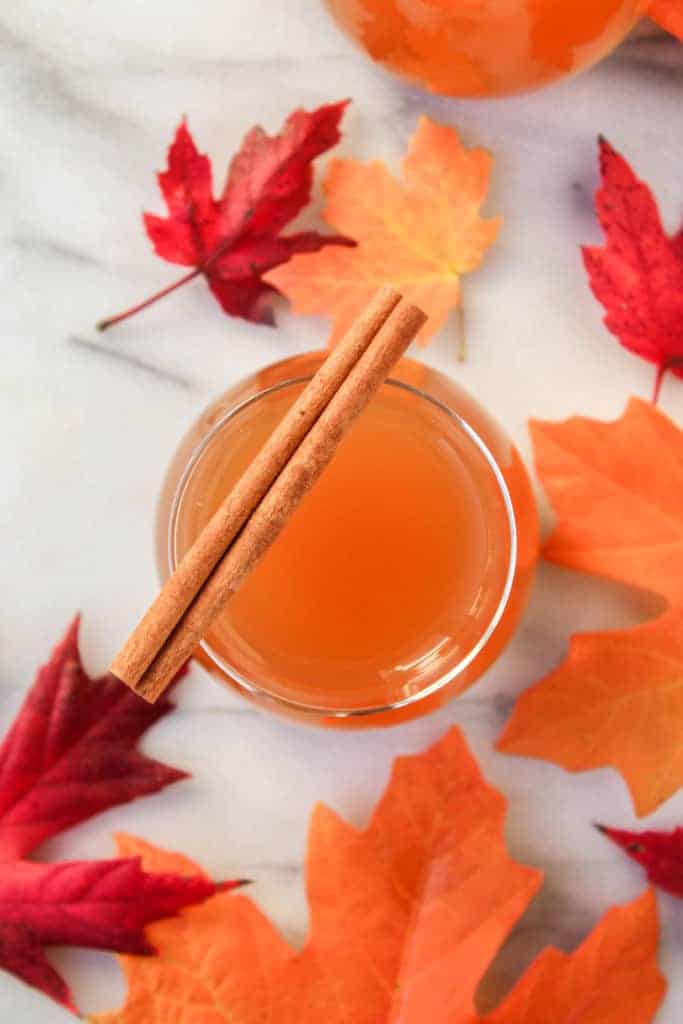 Ok guys, of course I have to give you at least one quintessentially fall recipe this year.
And this spiked hot apple cider with vanilla whiskey is totally it.
This whiskey apple cider cocktail recipe is everything I love about fall: from the chill in the air, to the vibrant colors on the trees, and a signature fall flavor with warming spices; it totally encapsulates my fall feels.
I mean, literally it does, because the leaves in these photos are from the trees in our neighborhood (and yes, I only looked semi crazy plucking leaves from trees and the ground while taking Bodie on a walk a few weeks ago).
It took a while for fall to get here. I've talked before about how we get second summer in Charlotte in late September even into early October (80 degrees in mid-October is a big no thank you for me), so usually summer cocktails, like Watermelon Frozen Rose, Peach Frose, or a Frozen Gin and Tonic Recipe, are on my mind even as the seasons change.
But I've been loving every minute of fall since its arrival…even if it was a little late.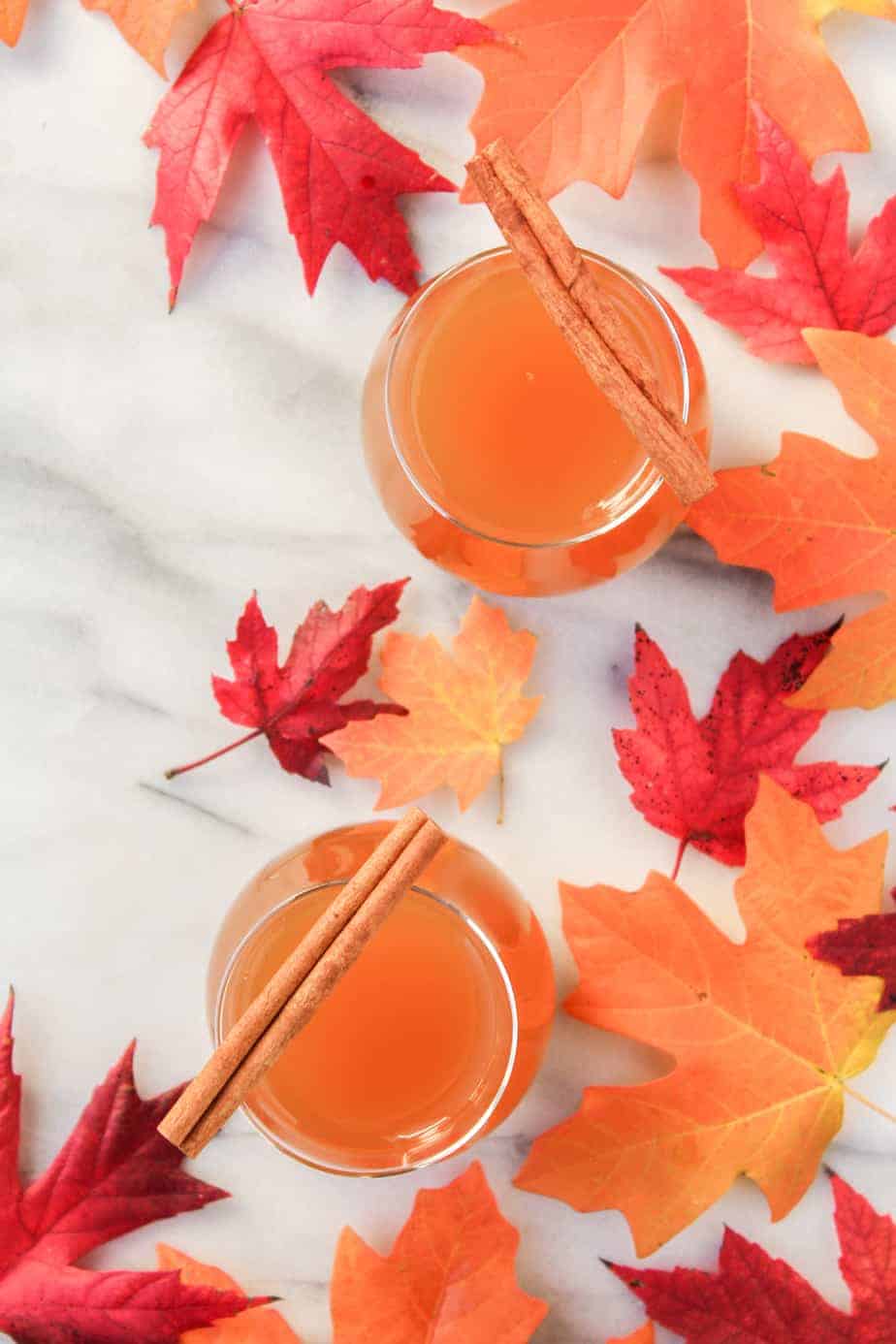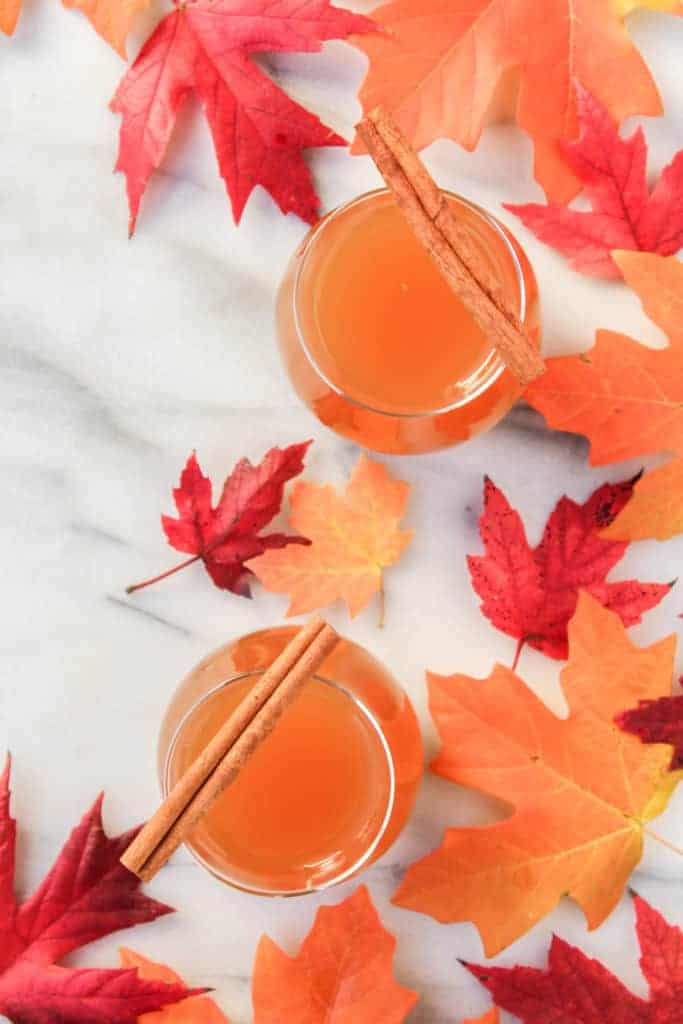 I love turning our fireplace on and getting cozy on the couch.
I love afternoon walks with Bodie and seeing the sun glisten through the orange and red trees.
I love afternoon (that turn into late evening) gatherings at a good friend's house with good food and good conversation (and red wine around a fire pit).
I love cozying up on the couch with a glass of wine and one of our favorite board games spread out on the coffee table (check out my post featuring our favorite fun board games for couples!)
I love waiting for two hours in line at an oyster roast for some fresh oysters that were caught on the coast that morning and snagging one of the last plates.
I love pumpkin cheesecake (and especially love it when I get to eat it for breakfast).
I love sweaters and boots (yes I'm basic and I'm not going to apologize for it).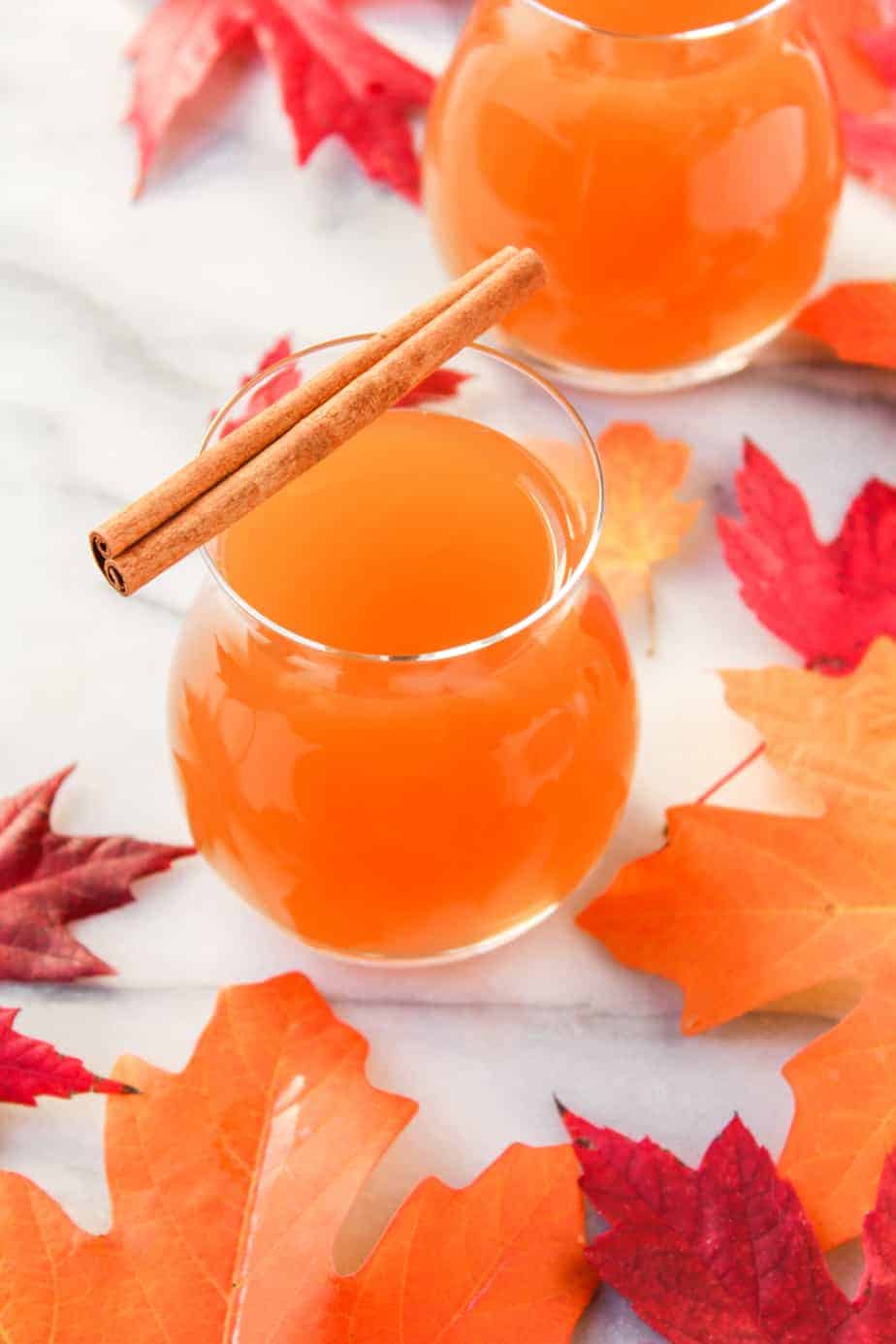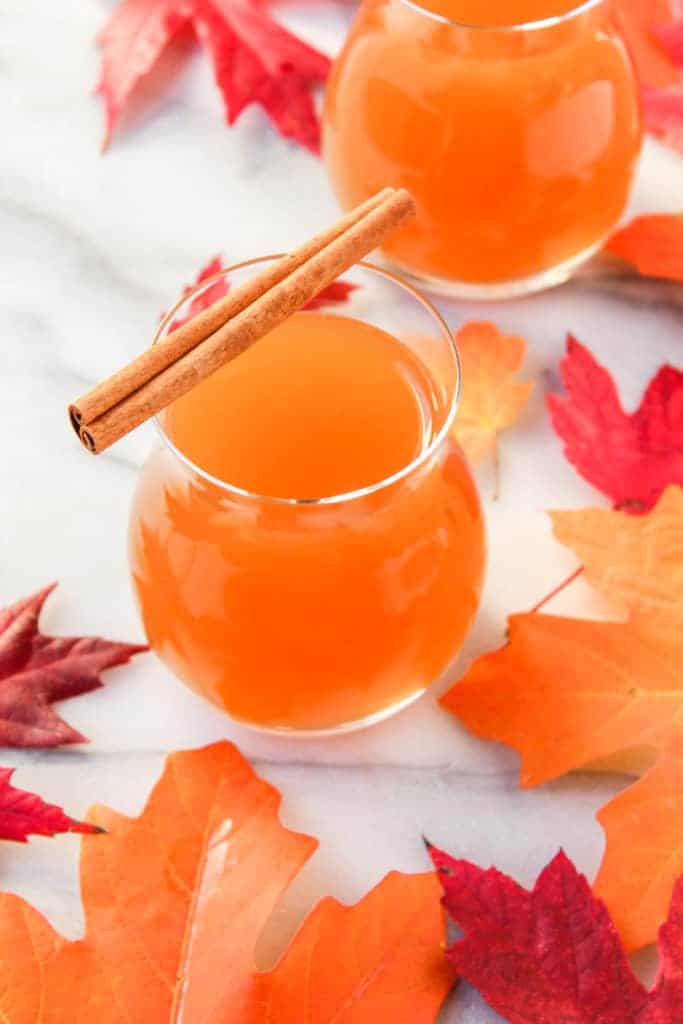 I love spending long holiday weekends with our family full of cheese boards and football and wine and movies. (And if you need Thanksgiving menu inspiration check out my Thanksgiving Recipe Round Up and also learn How to Make a Cheese Platter for your guests!)
And, I love that this whiskey apple cider cocktail is so dang easy to make and it's flavors and colors just scream the season.
What alcohol is good with apple cider?
When it comes to spiking apple cider, we tend to opt for dark spirits like whiskey, bourbon and rum.
Whiskey or bourbon and apple cider is a classic flavor combination, and whiskey is often the most recommended spirit when it comes to making an alcoholic apple cider cocktail. Whiskey or bourbon also pairs well with fall and winter warming spices that are often found in hot apple cider recipes like cinnamon and cloves.
Dark rum is also a popular choice for spiking apple cider and could certainly be used in this recipe in lieu of whiskey or bourbon. Make sure you are using dark rum (not light rum) because the flavors will complement those of the spices in the cider.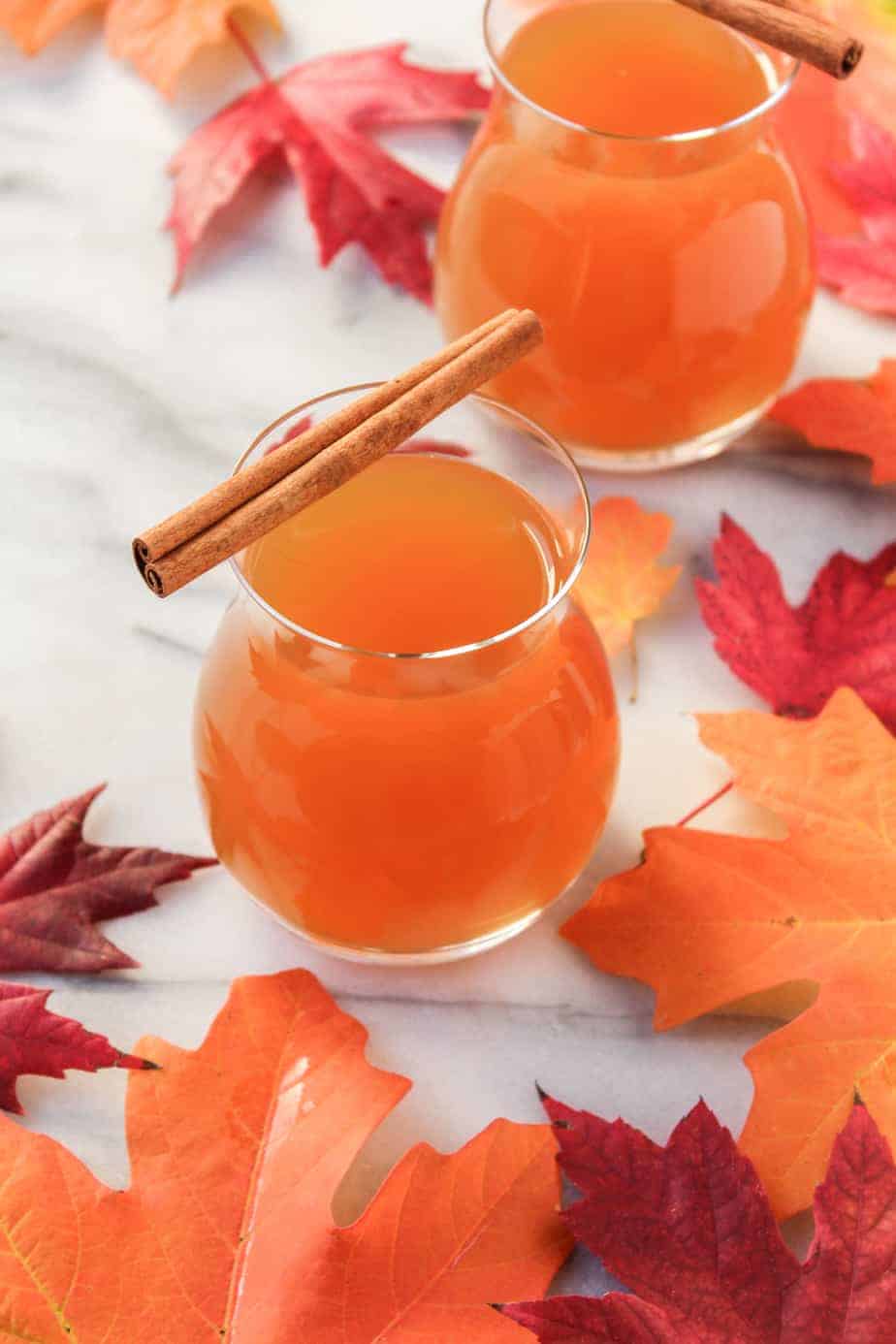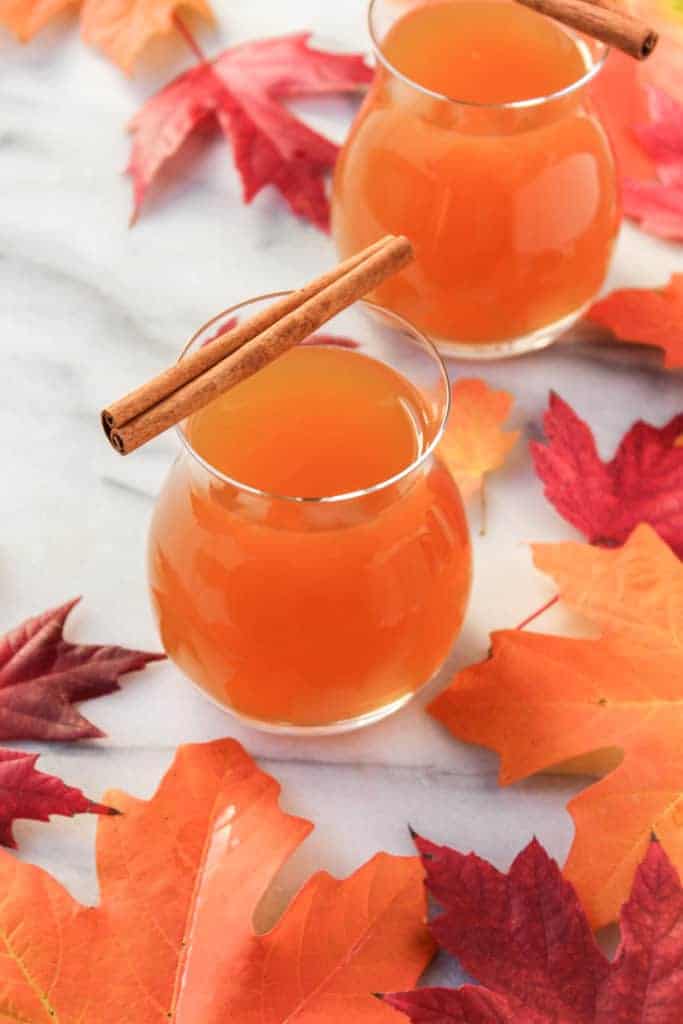 And a good, but more unexpected, spirit pairing for apple cider is vodka. Because vodka doesn't add a ton of flavor when adding it to a cider cocktail, consider increasing the spices and maybe adding some ginger for an extra kick.
What is the difference between whiskey and bourbon?
Above, I mentioned a dark spirit like whiskey or bourbon is typically used to spike apple cider. (And the recipe card points you to the fact that you can use whiskey or bourbon.)
So what's the difference? What makes a whiskey bourbon?
The main difference between different types of whiskeys and bourbon is geographic and the ingredients used in the distilling process.
What makes whiskey bourbon is that the mash (the mixture of grains from which the product is distilled) must contain 51% corn.
And on top of that, the mash must be distilled at 160 proof or less, put into a barrel at 125 proof or less, and must not contain any additives. Plus, it must be aged in a new charred oak barrel.
If all of those things happen, your whiskey is actually a bourbon.
How to infuse your own alcohol with different flavors
This whiskey apple cider cocktail recipe calls for flavored whiskey or bourbon, which you can buy in a store or make yourself! I prefer using vanilla infused bourbon when I make this for us at home, but I think cinnamon infused bourbon would be delicious too.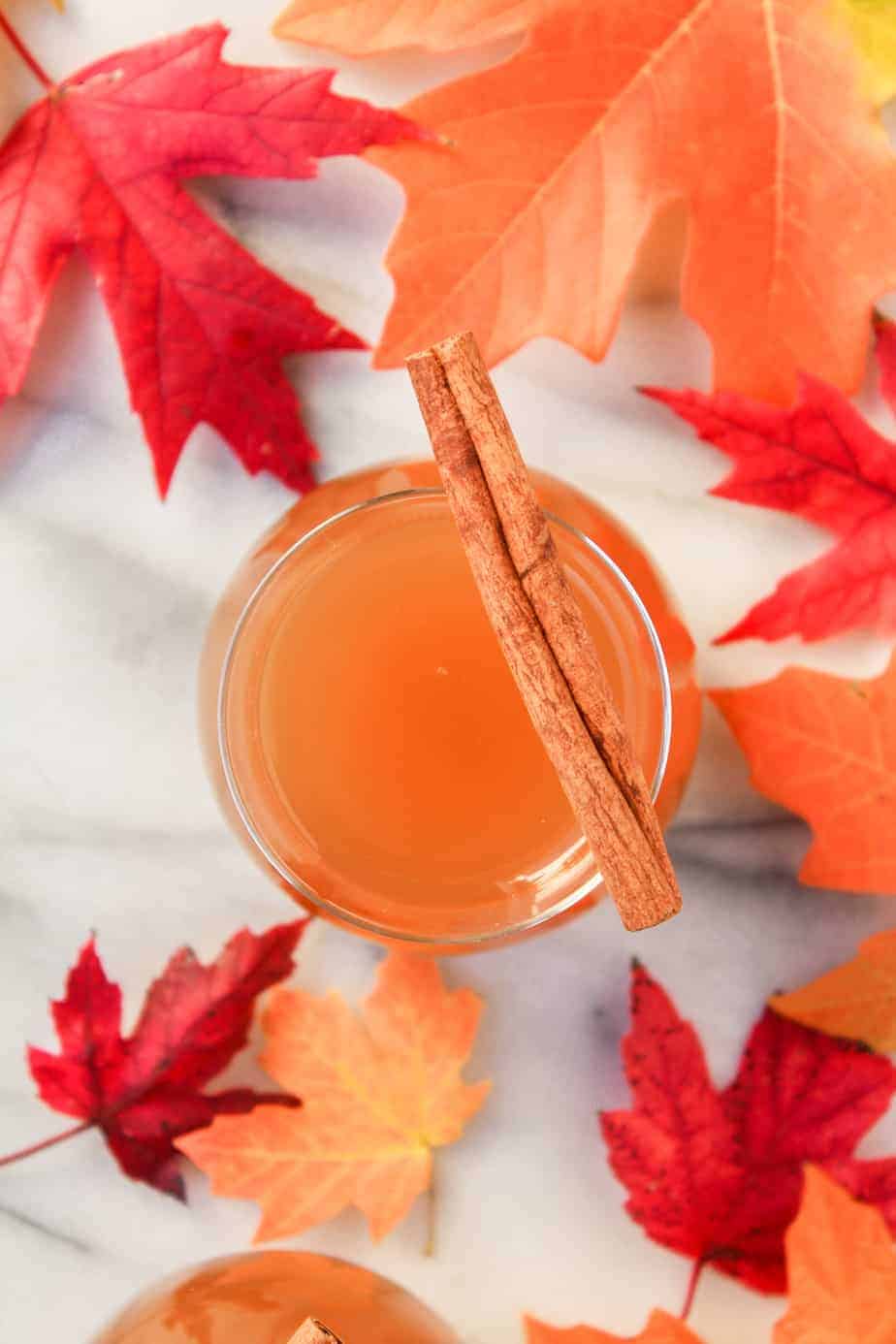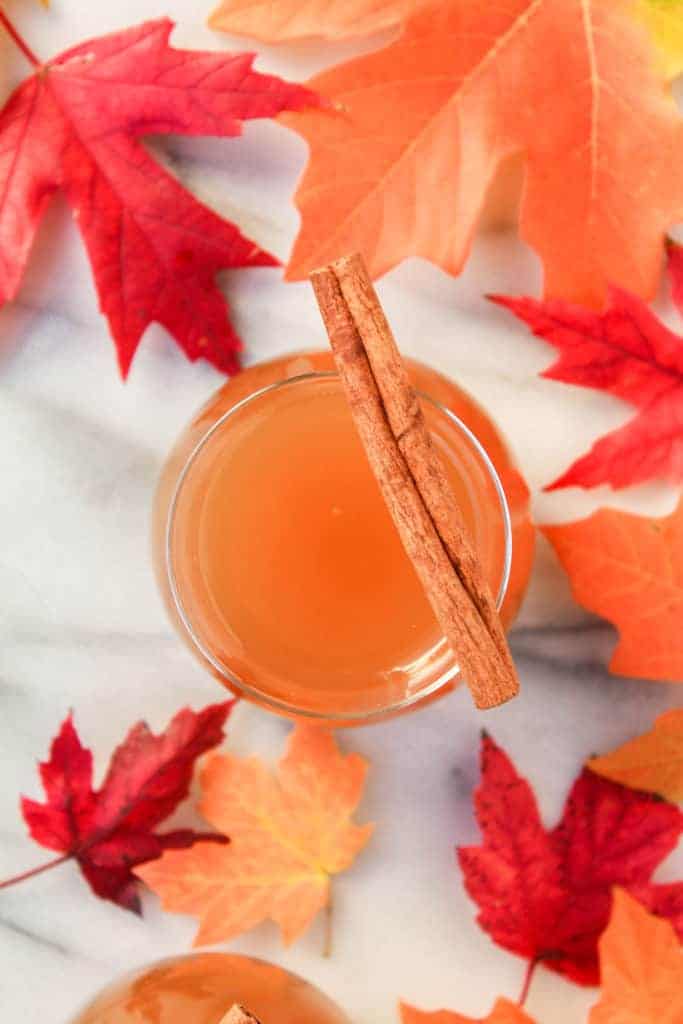 While I do have some brief instructions for infusing your own whiskey with vanilla or cinnamon in the recipe card of this post, my friend Susannah has an incredibly detailed step-by-step guide for making homemade cinnamon whiskey.
What I love about infusing your own whiskey at home is that you can control the amount of flavor and spice that you add to the spirit.
And that it's actually not that hard! All you need is your favorite liquor, a mason jar, and the right amount of flavor and spice. Pour the bourbon into a jar, submerge the spices and let it sit until you think it tastes good. That's it!
How to make a whiskey apple cider cocktail
You know I love easy recipes and this one is as easy as they come: this cozy cocktail is as simple as simmering some cider with warming spices and then adding a little extra kick with bourbon or whiskey.
I also love that you can make this recipe for one, two, or a few because no shaking, juicing or extensive step-by-step drink making is required. It's perfect for fall parties because it's totally serve yourself and you can keep it warm in a crockpot.
You can either buy your liquor already infused (many different brands offer cinnamon or vanilla infused whiskey or bourbon…including one of my favorites from Mayberry Spirits which I was introduced to on a long weekend to North Carolina wine country) or you can make your own following the instructions above!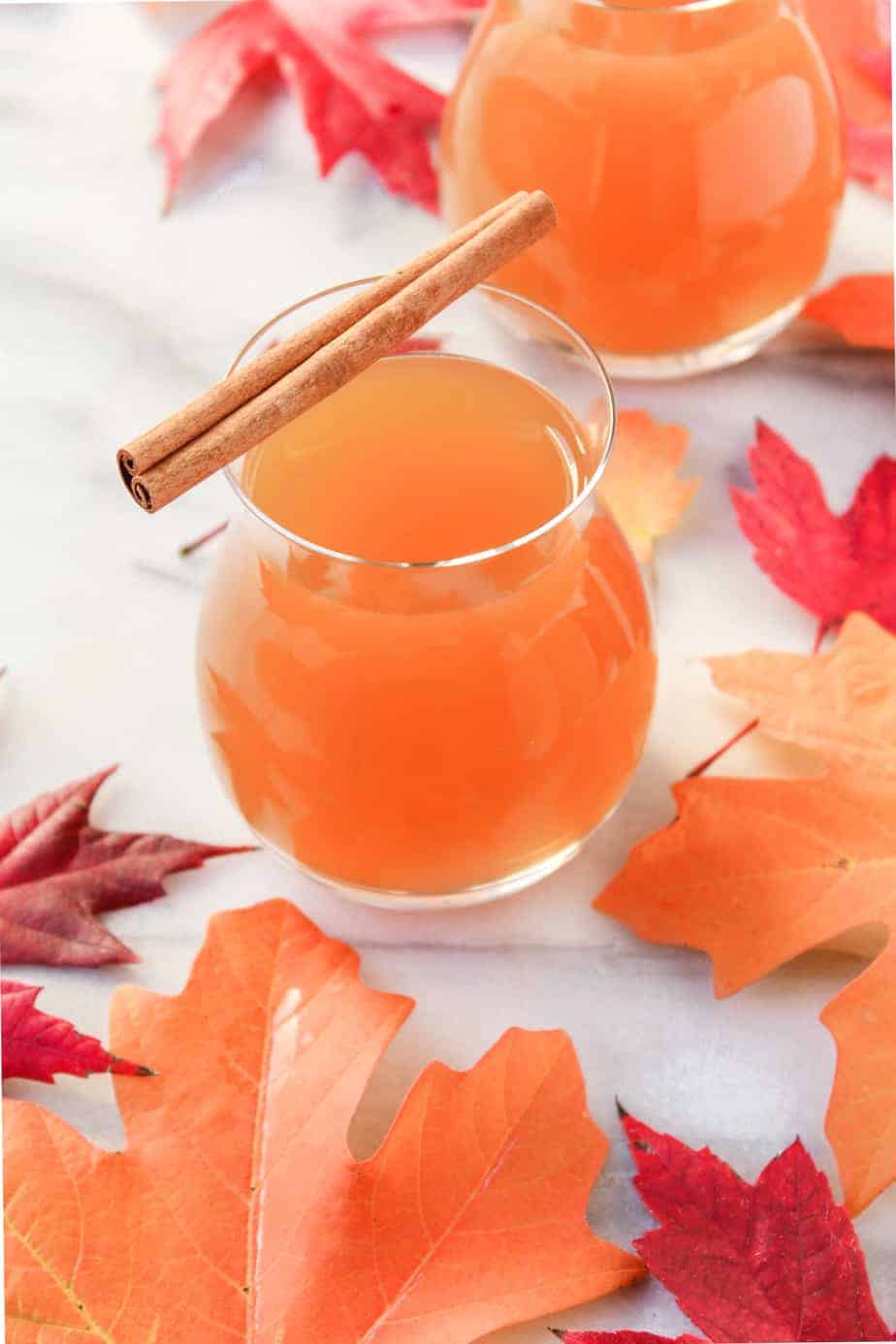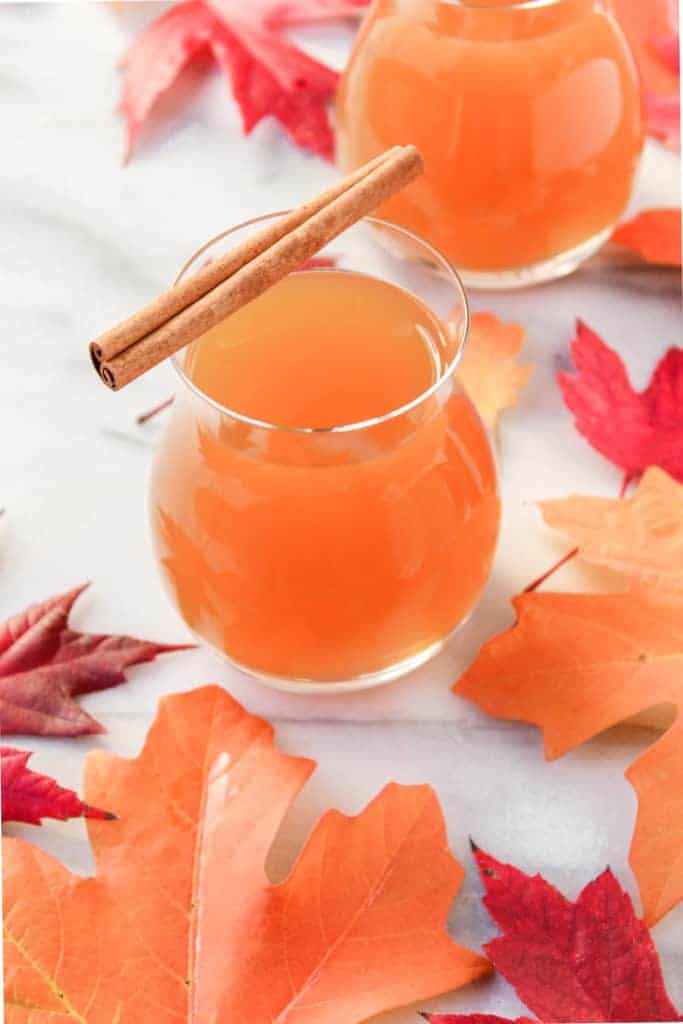 We love to sip on this warm cider all fall and winter long whether it be on camping trips, during an evening around the fire pit in our backyard or as a nightcap after our family's Thanksgiving feast. Cheers!
PIN THIS SPIKED HOT APPLE CIDER TO SAVE IT FOR LATER!