Looking for a beautiful hike near Asheville, North Carolina? These five romantic Asheville hikes offer long range views, beautiful waterfalls, and more. Pack a picnic and explore the outdoors with your partner or family!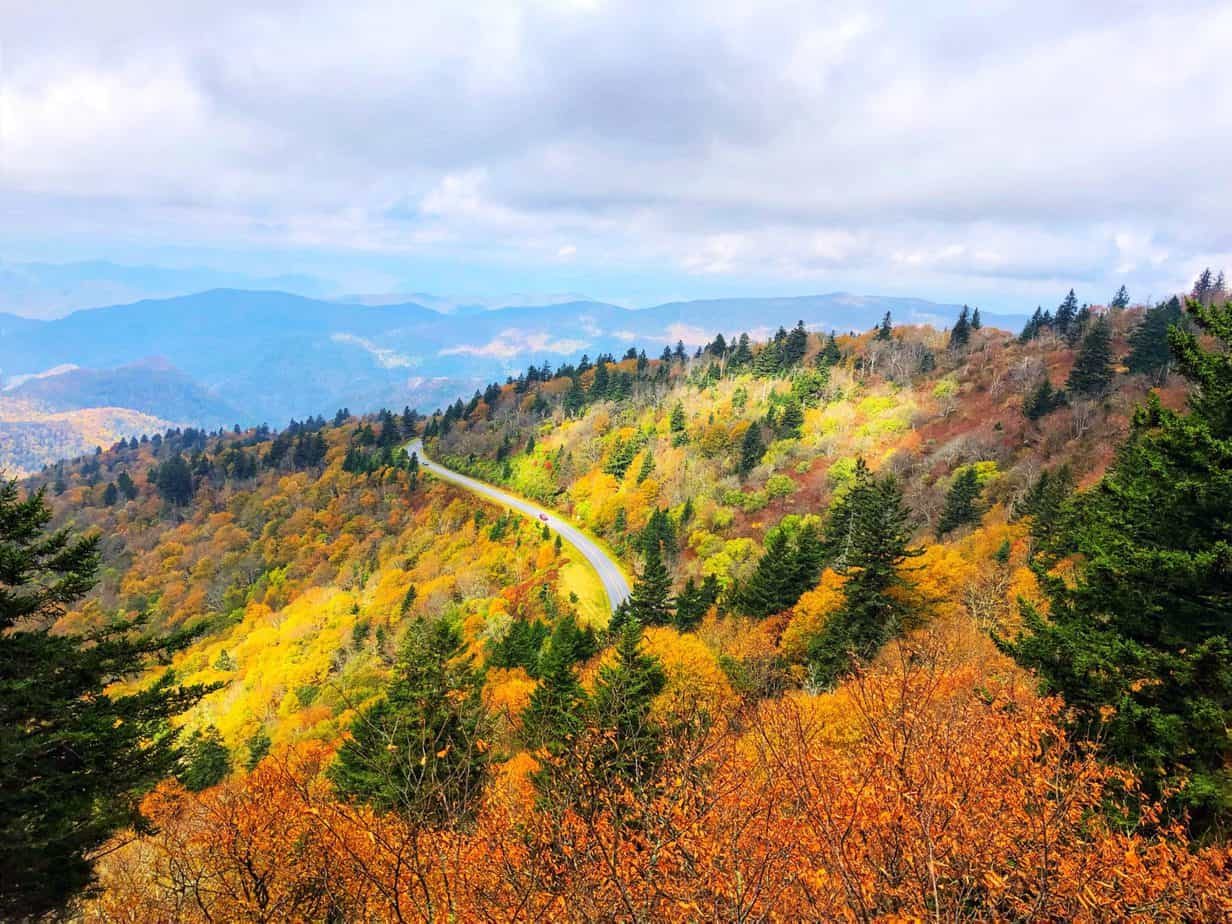 If you're looking for other things to do, where to eat and drink, or places to stay in Asheville, NC make sure to check out Off the Eaten Path's Asheville Travel Guide!
We have been spending a lot of our fall outdoors.
Besides backyard football games with my parents on Sundays (we set up the TV outside and make sure to have plenty of football food favorites), we've gone on a few overnight and weekend camping trips (we always love looking for the best tent camping in NC and camping cocktails are always involved), lots of day hikes and even spent a long weekend exploring Bryson City, NC (and playing fun board games in our cabin).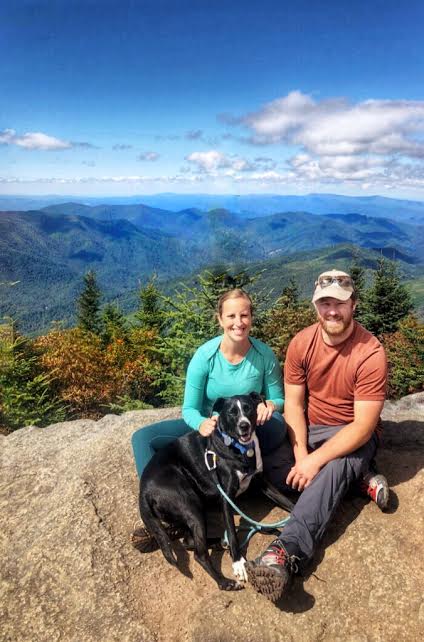 As I've been posting our outdoor adventures to Instagram, I got a lot of questions asking about some of our favorite hikes…and realized that while I have a lot of blog posts about western North Carolina (including a whole Asheville, NC Travel Guide) I don't have anything about our favorite hikes!
So today I decided I needed to fix that with my first hiking post: five romantic Asheville hikes.
These beautiful hikes are all easy to access if you're using a cabin in Asheville, NC as your home base…or maybe you're glamping or relaxing in a bed and breakfast. Many are off the Blue Ridge Parkway so in the winter months, make sure you check for parkway closures.
Mt. Pisgah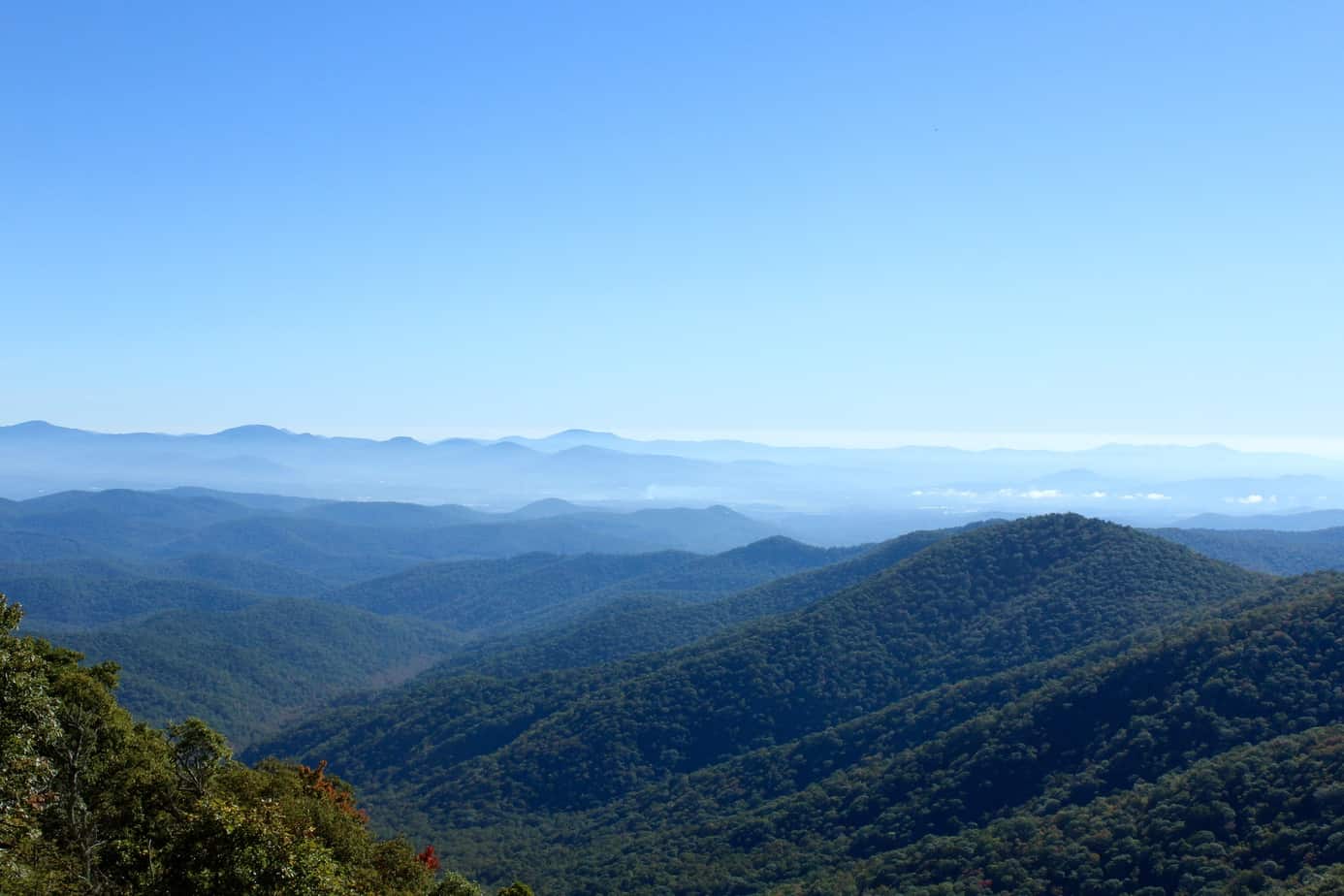 Mt. Pisgah is at the top of my romantic Asheville hikes list because it is the one we did when we spent our honeymoon in Asheville!
But beyond it always having a special place in my heart, if you're into long, range, 360 degree views, this is the romantic Asheville hike for you!
On a clear day, you can see Mt. Mitchell to the North and the Great Smoky Mountains to the West. It's beautiful.
Mt. Pisgah is a strenuous (because you're going up a mountain), 3ish mile roundtrip hike to the mountain's 5,721 foot summit. It's about a 40 minute drive from downtown Asheville.
(Pro tip, a picnic on the summit would be bringing your romantic A game, but there's also a picnic area with great views if you don't want to lug your picnic basket 1.5 miles up a mountain).
Lover's Leap
A list of romantic Asheville hikes wouldn't be complete without a trail with the word love in it, would it?
Lover's Leap is in the small town of Hot Springs, North Carolina, which is about a 45 minute drive North from Asheville.
Most famous for, of course its namesake, natural hot mineral springs, Hot Springs is also located along the Appalachian Trail. (It runs right through downtown!)
The 1.8 mile loop follows the Appalachian Trail along the French Broad River before hiking up a ridge via switchbacks to the panoramic views of the river and Pisgah National Forest.
If you want to add a little extra romance and relaxation to the end of your hike, book a soak at the Hot Springs Spa, which offers private tubs for guests to soak in the hot mineral springs.
Moore Cove Falls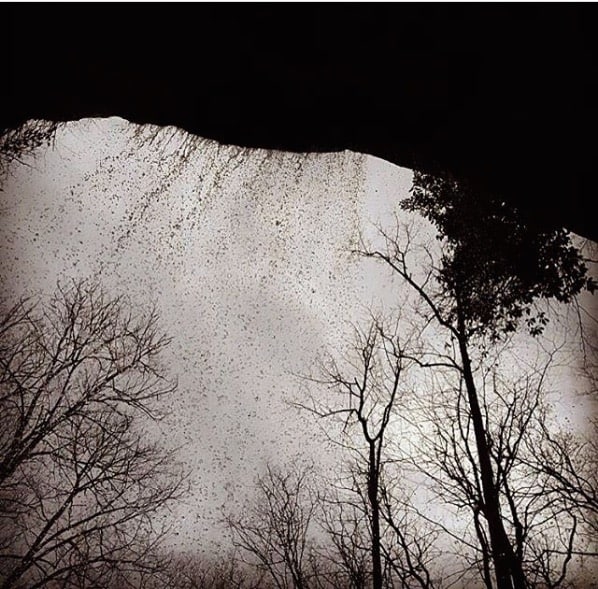 Moore Cove Falls is a hidden gem waterfall near Brevard, about 45 minutes from Asheville.
One of the things I love about Moore Cove Falls (besides the fact you can walk behind it, but more on that in a bit!) is that it's an easy and accessible hike all year round.
A lot of our favorite hikes in western North Carolina are not accessible in winter due to closures on the Blue Ridge Parkway, but Moore Cove Falls is a great option no matter the month! If it is cold enough in the winter, a big ice cone will form at the bottom of the falls.
It's an easy (flat! no steep sections), 1.5 mile roundtrip hike to the 50 foot waterfall. Once you get there, make sure to take a trip behind the falls under the large rock overhang to watch the water cascade in front of you.
There are several other waterfalls in the Pisgah National Forest near Moore Cove Falls (including the very popular Looking Glass Falls just down the road) so make a morning or afternoon of it waterfall hopping.

Black Balsam Knob
I feel like we can't have a romantic Asheville hikes list without a sunrise or sunset hike option. Black Balsam is a beautiful hike with gorgeous long range views on a clear day, but I highly recommend visiting at sunrise or sunset. The photo below doesn't even do the sunrise justice!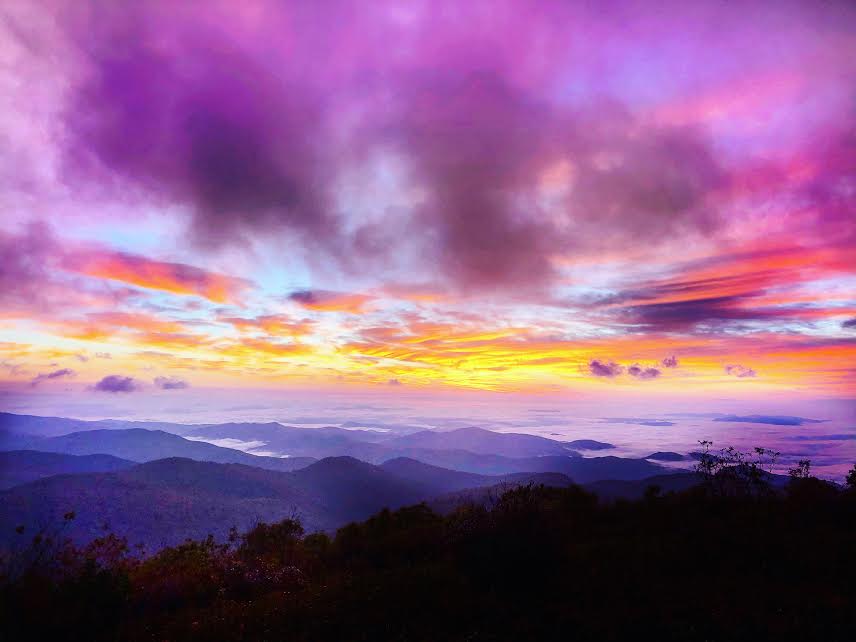 The parking area for Black Balsam Knob is about an hour from Asheville on the Blue Ridge Parkway and once you arrive, you can really choose your own adventure when it comes to hiking Black Balsam…the area offers anything between 1 and 10 mile hikes.
The hike to the summit of Black Balsam is pretty moderate and quick (just over a mile from the parking area) and you can stop there for 360 degree views or continue along the Art Loeb trail across the top of several balds to Tennent Mountain, creating a five mile loop.
Black Balsam is an excellent day hike (pack a picnic and enjoy some time together at the top!) or a quick overnight backpacking trip where you can stay put while the sun sinks behind the Blue Ridge Mountains.
If you're going to hike up before sunrise or hike back to your car after sunset, make sure you bring a flashlight!
Craggy Gardens
About 40 minutes northeast of downtown Asheville is the Craggy Gardens area of the Blue Ridge Parkway. Craggy Gardens made this list as a romantic hike because of the beautiful rhododendrons that bloom in early to mid-June and dot the mountain sides with shades of purple and pink.
The best hike to see the rhododendrons is via the Craggy Gardens trail which you can access from the Craggy Gardens Visitor Center. It's less than a mile hike up to the bald to see beautiful views of the blooms.
Even if you can't make it when the rhododendrons are in bloom, a trip to Craggy Gardens is worth it to hike the Craggy Pinnacle trail, a short 1.4 mile round trip hike through woods, rhododendrons and wildflowers, rewarding you with 360 views of the mountains at the top.