Learn how to make pepperoni bread, which is one of our favorite appetizer recipes for game day or parties!
Coming at you today with a recipe refresh!
I originally posted Aunt Julie's pepperoni bread recipe back during the playoffs in 2015.
(PS: that post is long gone, but you can find all the details to making these yummy, cheesy, pepperoni stuffed bread in today's post).
You know, the game with the onside kick.
That the sportscasters would. Not. Stop. Playing. On. Repeat.
(We're looking at you Brandon Bostick. And no, I'm still not over it.)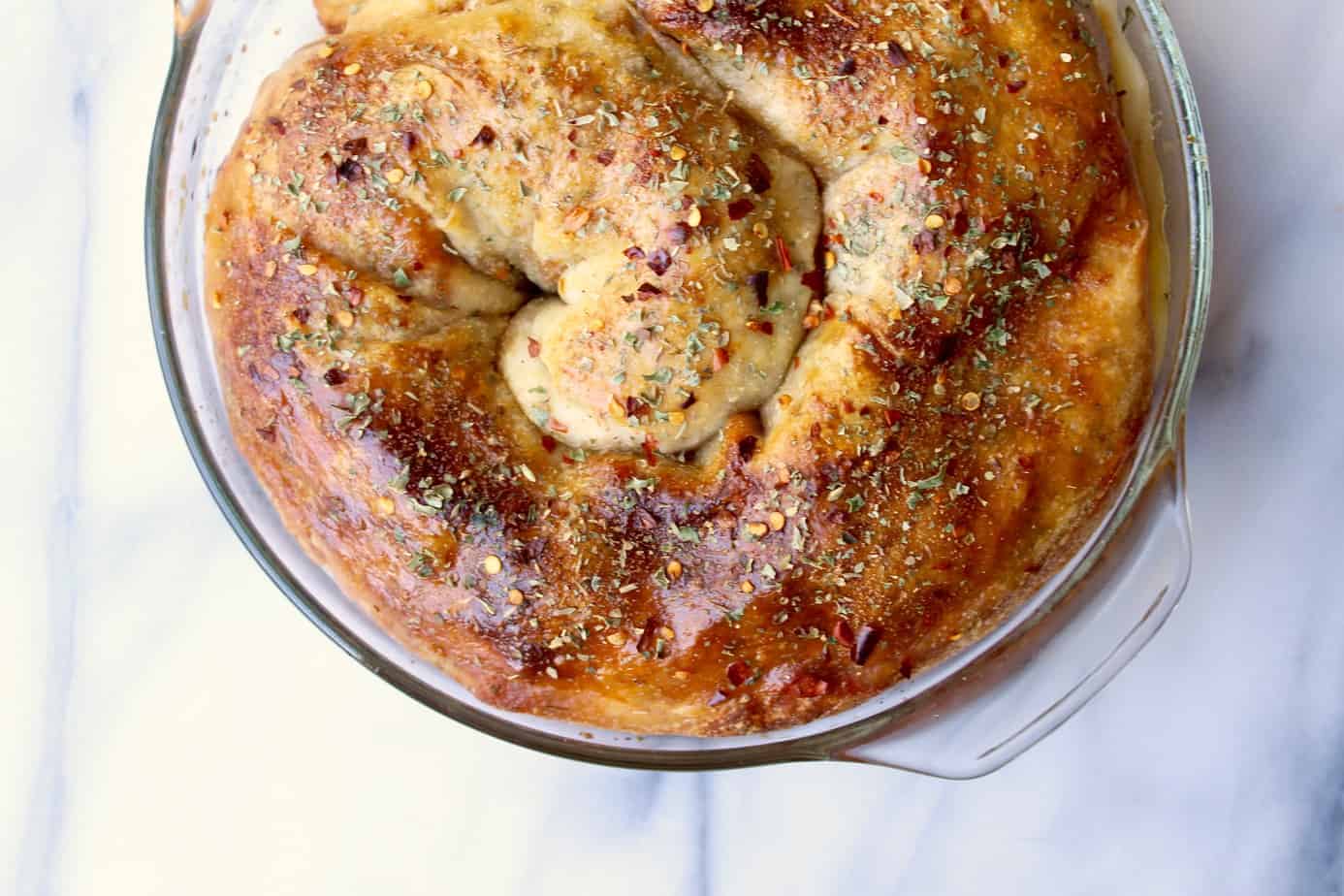 While my playoff hopes and dreams were crushed that year, it seems the current trend is that they get crushed year.
After year.
After year.
Maybe this year will be different?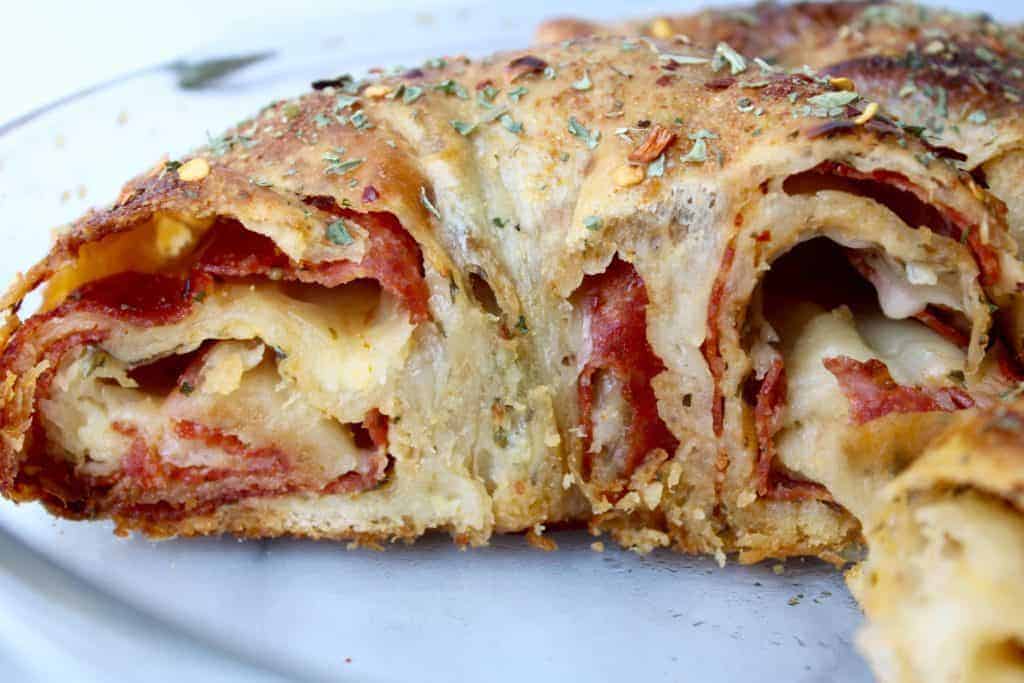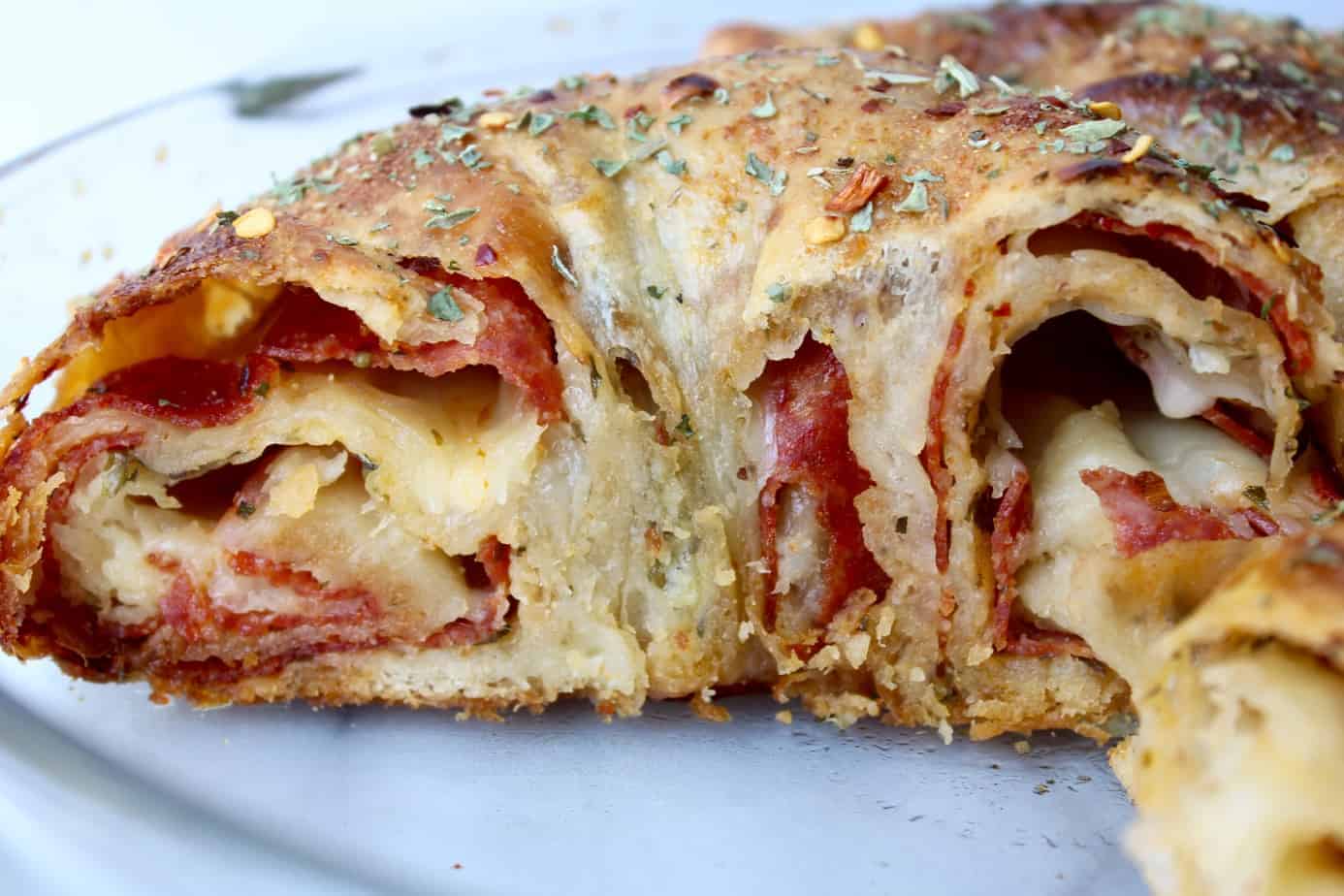 Football Sundays are pretty relaxed in our house; ok, they're down right slothful.
I try to spend the mornings getting a few things done around the house: meal prep, laundry, we maybe even head to the gym.
But come kickoff around 1pm, you'll find us on the couch the rest of the day.
The key to our Sunday couch potato lifestyle is definitely not full meals, but instead snacking throughout the day.
A full meal takes you off the couch and puts you in the kitchen; making you miss most of the football game in the first place.
Snacks on the other hand, preferably presented as a spread on the coffee table and maybe giving the appearance that the snack spread could feed a small army instead of just two people (don't judge us), require just a little pre-kickoff prep.
The pre-kickoff prep pays off; it leaves you all the time in the world to lounge lazily and snack to your heart's content through the late afternoon.
This is not only our approach to lazy football Sundays when its just the two of us, but for basically any gathering, large or small, that we host in our home.
If you come over for a birthday party, game night, or Thanksgiving, you'll find a similar spread of food, including snacks, dips, appetizers and likely a cheese board is how we are feeding our guests. The menus is usually some combination of the following favorites: roasted jalapeno poppers, beer cheese fondue, hot wings, crockpot buffalo turkey meatballs, guacamole, grilled brie, a cheese platter, chorizo stuffed bacon wrapped dates, spicy chili cheese dip, and spicy sugar bacon smokies.
Of course. Sometimes we eat vegetables too.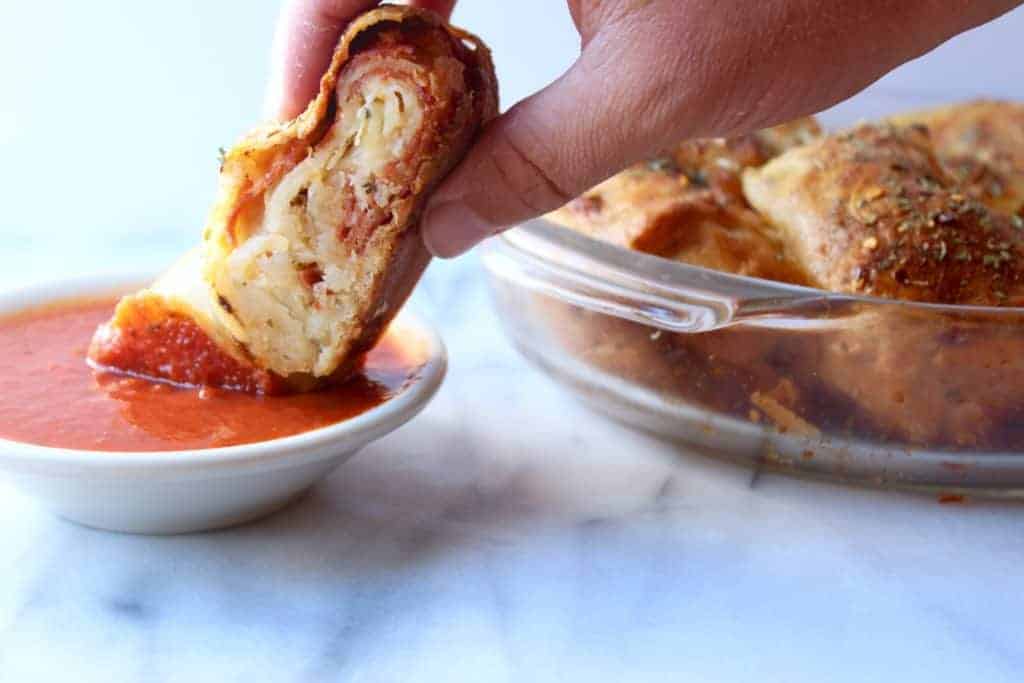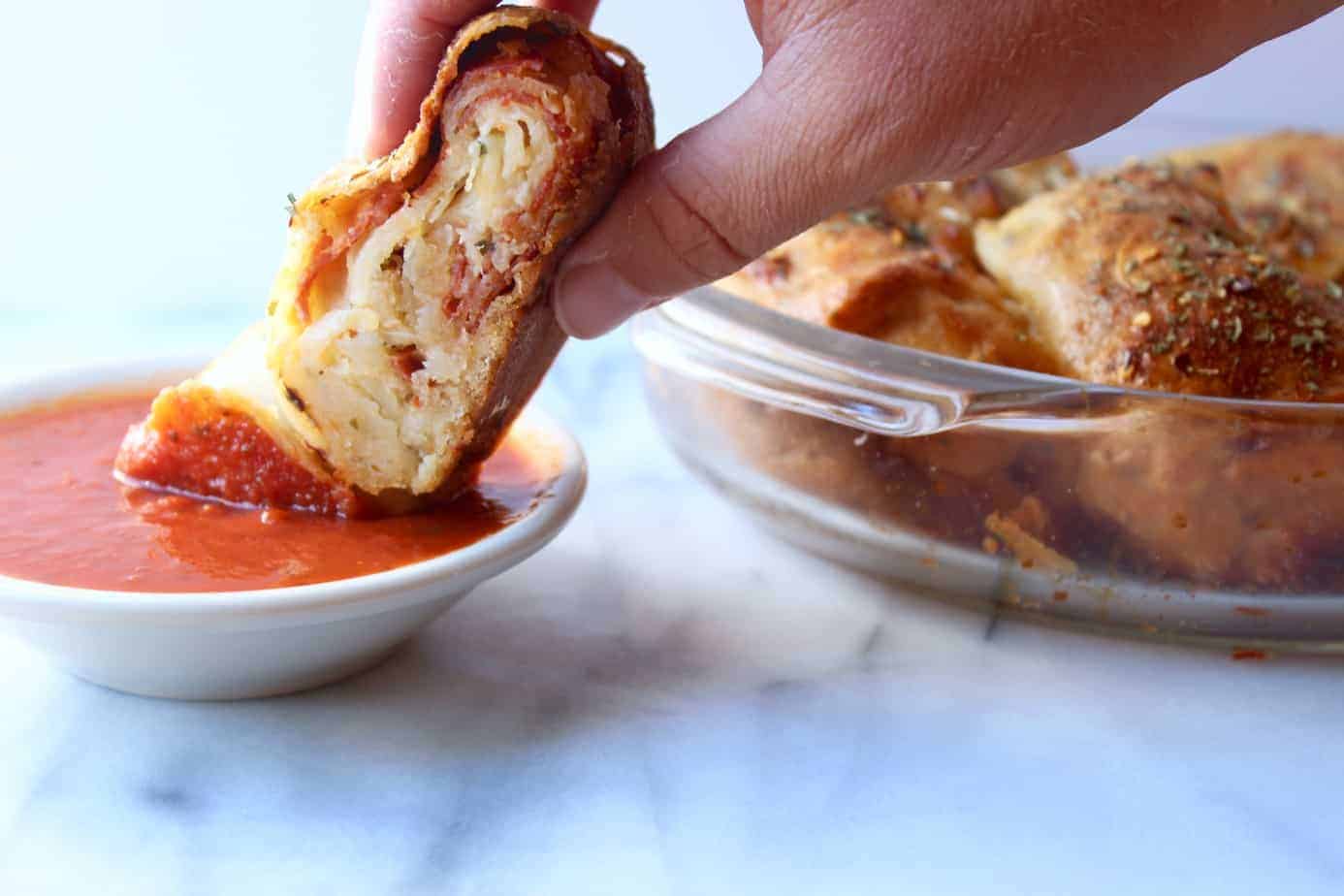 Making an appearance on our game day spread this spread basically always is Aunt Julie's pepperoni bread.
In college, I would always go to my aunt and uncle's house to watch Packers' games (we call them Packer Parties!), and pepperoni bread was always on the menu.
Of course, I had to continue the Packer party tradition when I moved to Charlotte, although I'm now roped into watching Lions' games too, so pepperoni bread makes an appearance no matter who's playing.
What is Pepperoni Bread?
Pepperoni bread is exactly what it sounds like: its pepperoni and bread!
There are a few more components to it: some spices, an egg wash, and tons of mozzarella cheese.
Pepperoni bread is basically pizza (the flavor profile emulates pizza with the dough and the cheese and the Italian seasonings and then of course, pizza sauce for dipping). Then, unlike pizza, pepperoni bread is rolled up and baked, creating layers upon delicious layers of pepperoni stuffed bread.
When its done baking, you slice into the pepperoni stuffed bread to be rewarded with beautiful melty cheese, and then you dip your slice into pizza or marinara sauce for serving.
And to be honest (and not just hyperbolic), I've never met someone who didn't like it!
Every time we make Aunt Julie's pepperoni bread recipe it goes like hot cakes.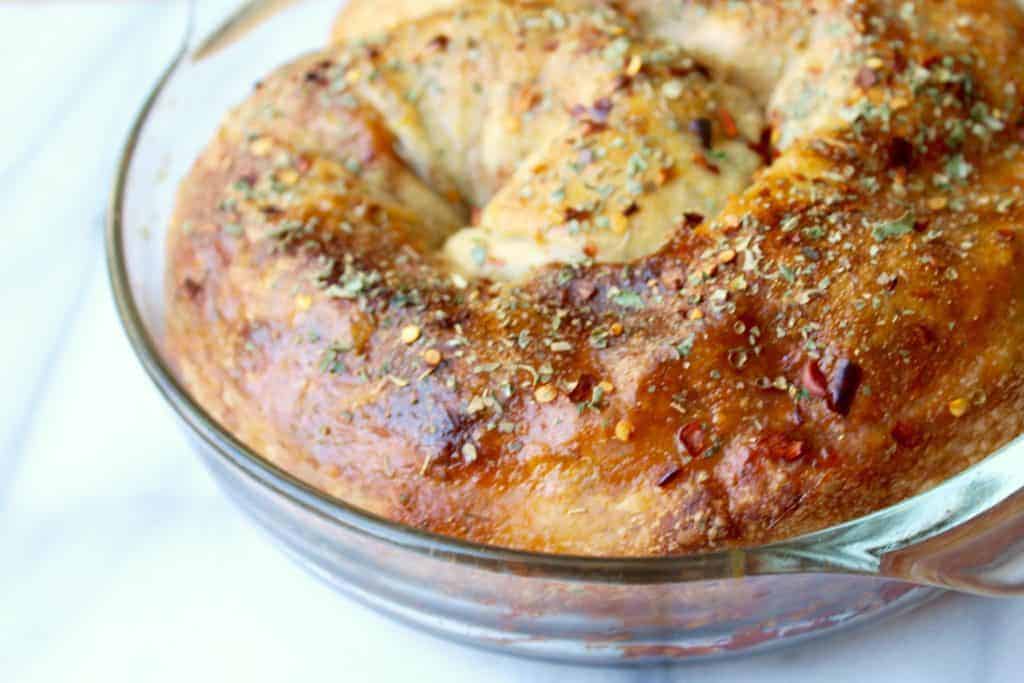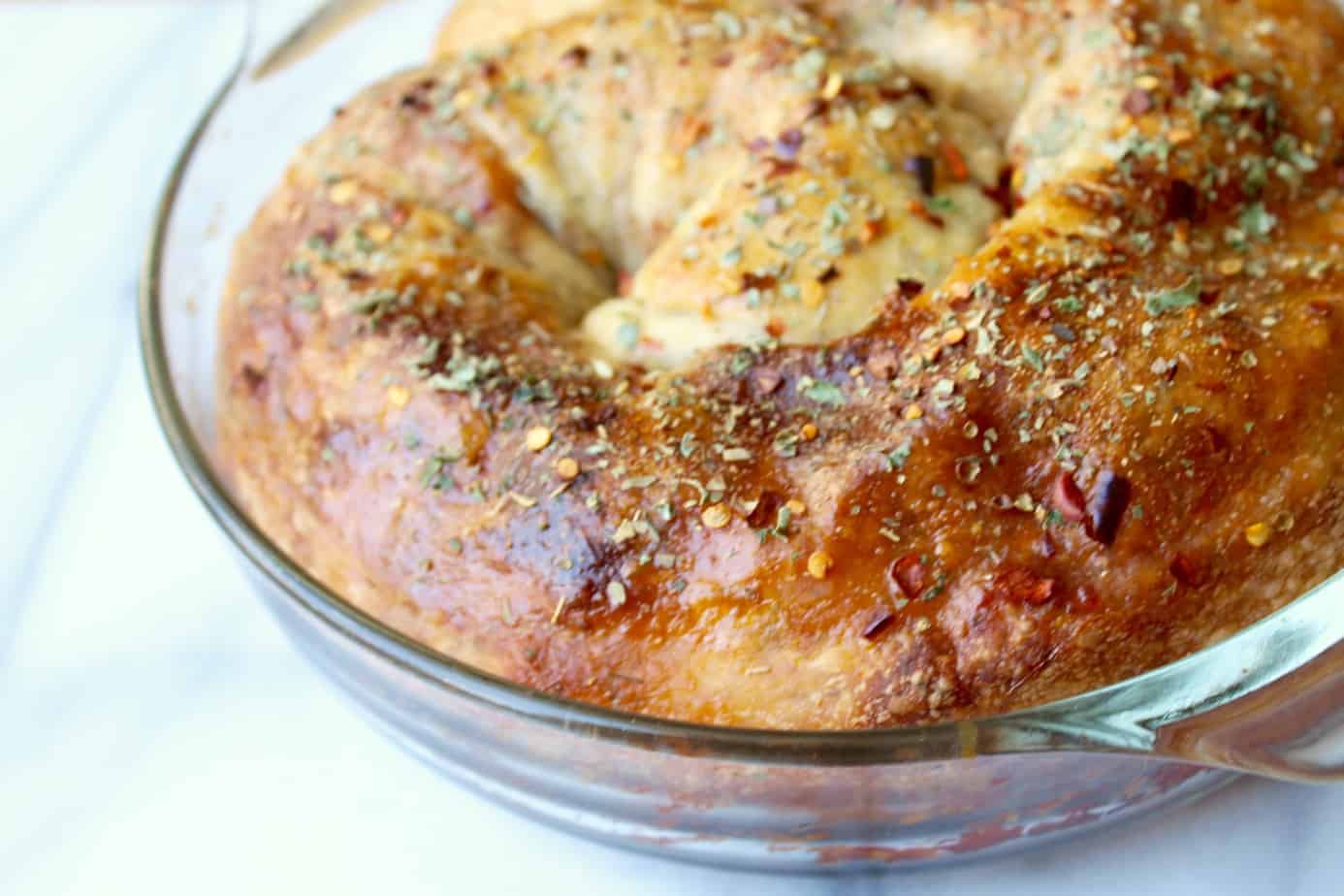 How to make pepperoni bread:
Pepperoni bread is so easy to make; it takes under 10 minutes of active time to put it all together.
First, you make an egg wash with an egg and some water (this is to help attach the seasonings to the bread or pizza dough, as well as to help with the browning process while the pepperoni bread bakes.)
Then, you roll out the bread or pizza dough. (I always use and recommend using a store bought dough or crust, but you can make pizza dough from scratch if you want. Since this is an easy pepperoni bread version, I say, store bought all the way!)
After rolling out the dough, brush it with the egg wash and then sprinkle your Italian spices (oregano, basil, garlic and crushed red pepper flakes) across the crust.
Then, in alternating layers, layer the pepperoni and shredded mozzarella. This step is how you get pepperoni stuffed bread!
After all of the pepperoni and cheese is layered, you carefully roll up the dough and close the seems. You should have one big, long log or roll of pepperoni stuffed dough.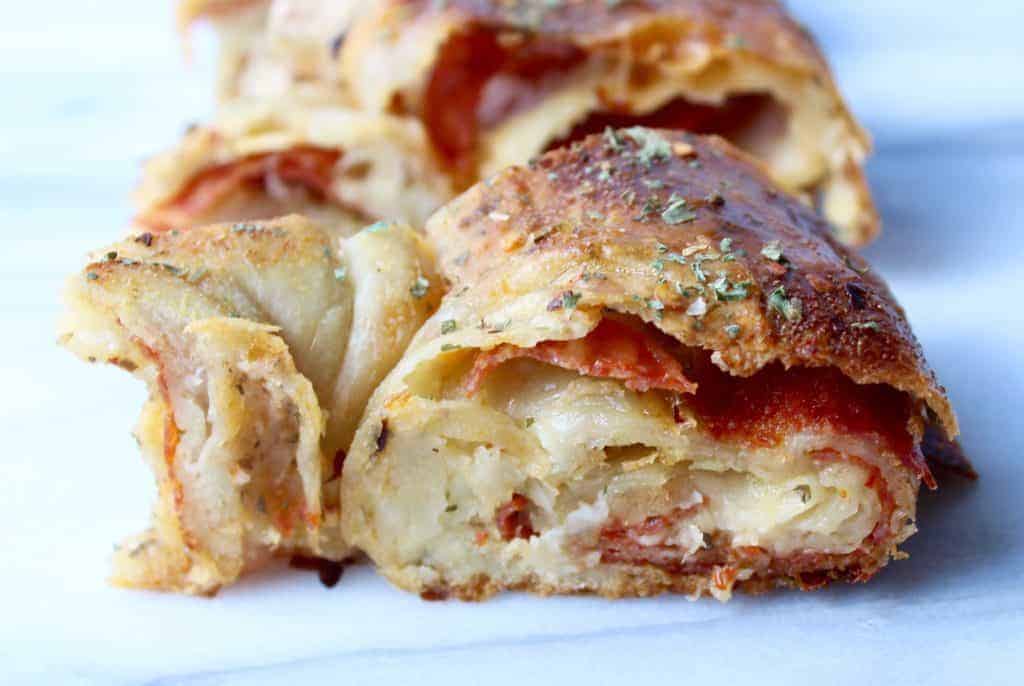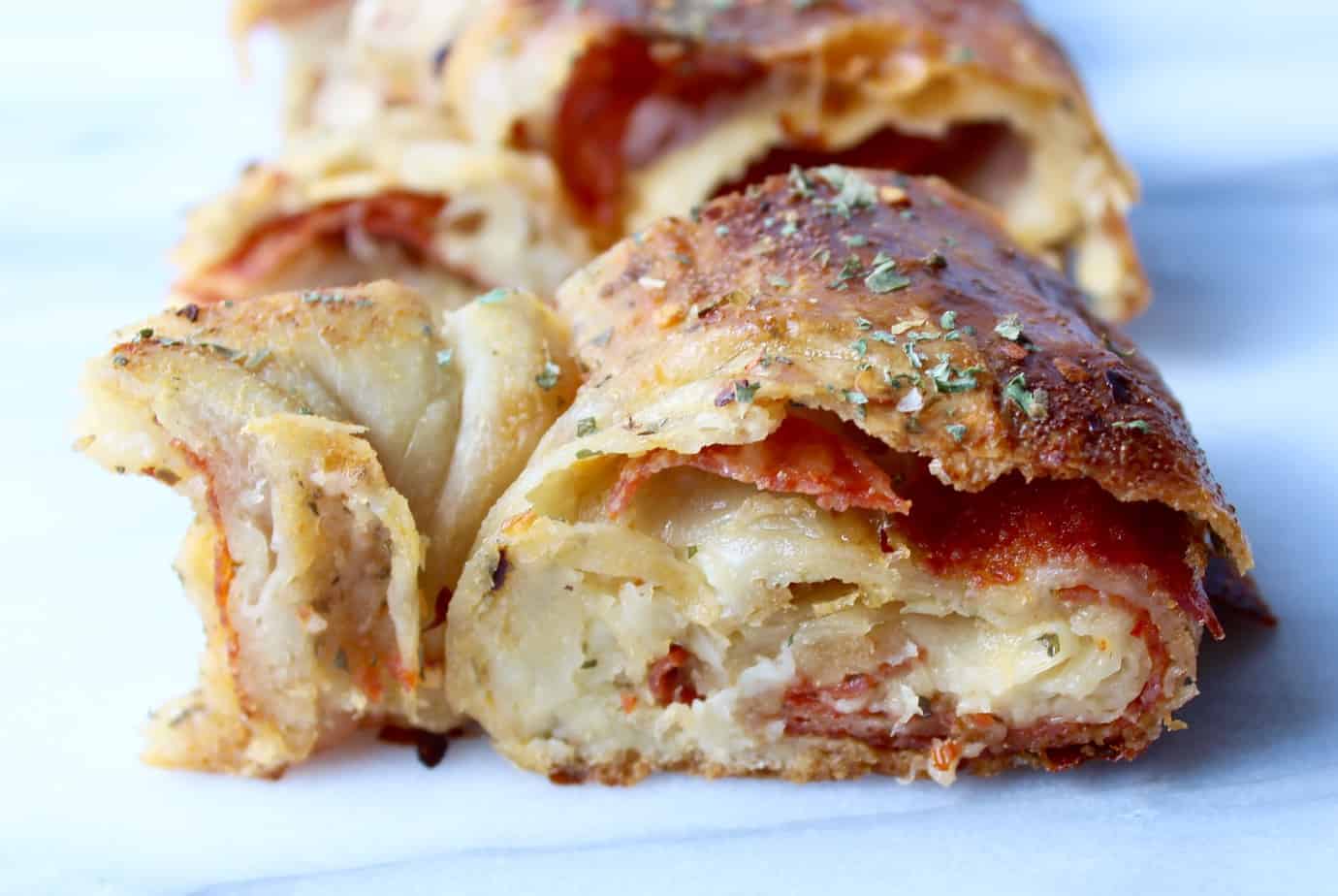 Then, you slowly and carefully coil the roll into a greased pie plate or oven proof baking dish. I always use a glass pie plate but a cast iron skillet would also work great. I have always made it round so I am not sure what it would look like or how it would cook if you used a square or rectangular baking dish.
Brush again with egg wash (this time so the crust will get nice and brown during baking!)
And then we bake!
After the pepperoni bread is out of the oven, slice it to reveal all the delicious layers of cheese and pepperoni stuffed bread.
Serve it hot with lots of pizza or main
Can I make pepperoni bread ahead of time?
The answer is a resounding yes!
In fact, making it ahead of time is the way I prefer to make this recipe. It's the perfect make ahead pepperoni bread!
To make ahead of time, follow all of the steps in the pepperoni bread recipe just until you get to the oven.
Then don't put the bread in the oven.
Cover the pie plate or baking dish (whatever your using) with some foil and stick that puppy in the fridge.
Then pop her in the oven whenever you're ready for it!
If we're talking football timing, pregame is really ideal so then the pepperoni bread is ready by halftime.
(I would not make pepperoni bread more than a day ahead of time, because it won't keep well in the fridge for longer than 24 hours. If I am going to make it ahead of time, I usually make it the morning I'm planning on serving it and then let it hang out in the fridge until I'm ready.)
Note: This post is in no way sponsored, endorsed or administered by the National Football League (NFL) or any of its teams. All opinions and views expressed are our own, not that of the NFL and/or any of its teams. Any team names, logos or other symbols referenced are properties of their respective organizations.
PIN AUNT JULIE'S PEPPERONI BREAD RECIPE TO SAVE IT FOR LATER!