What kinds of cheeses should I use? How many cheeses do I need? How much should I serve per person? How do I make a platter look pretty and elegant? If you have these questions, or more, when it comes to making and creating a board or platter, this post is for you! From what to serve, amounts to serve, and how to serve, plus everything in between, How to Make a Cheese Platter answers all of your questions when it comes to creating a beautiful platter or board!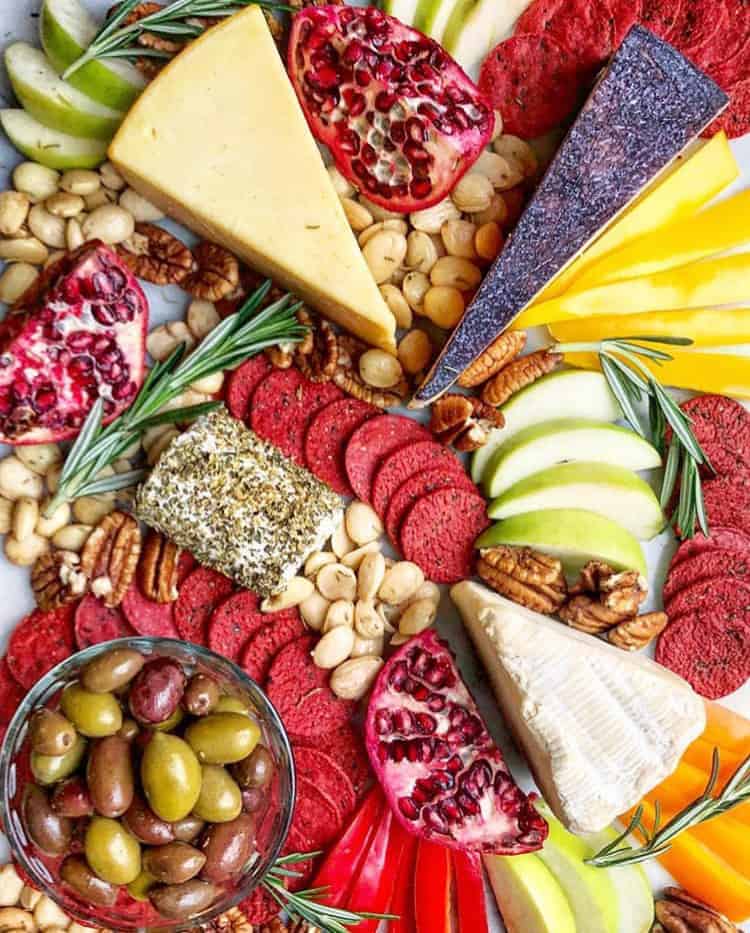 This post contains affiliate links. As an Amazon Associate I earn from qualifying purchases.
Want to make a cheese platter with whatever you have in your pantry and fridge at home? Check out my post all about how to make a simple cheese platter, or what I'm calling a pantry plate!
Looking for other easy entertaining recipes from Off the Eaten Path? Some of our favorite are Beer Cheese Fondue, Roasted Jalapeno Poppers, Build Your Own Bloody Mary Bar and Raspberry Gin Seltzer!
Cheese, charcuterie and snack boards are one of my favorite ways to feed and impress my guests. They are well-suited for basically any occasion because they are versatile, customizable, colorful, and can cater to a wide variety of people's tastes all on one plate.
Plus, they are really easy and often quick to make.
We're talking putting it all together in less than twenty minutes easy.
I promise.
How to Make a Cheese Platter covers everything when it comes to composing a beautifully crafted and delicious cheese board. Any question you have ever had about creating platters or boards should be in this post including:
what type of boards and platters to use
what other serving ware or utensils you need
what kind of cheese to serve
what other foods you need to compliment
how much you need
and how to put it all together to make it look beautiful and appetizing
If you have a question about anything when it comes to making cheese platters and cheese boards and you don't see the answer in this post, leave me a comment and I'll add it!
That's how comprehensive and helpful I want this guide to be for you.
By using these tips and tricks you'll create well-rounded, stunning platters or boards for your guests every single time.
Looking for even more details on how to make a cheese platter, what to put on a it, or easy recipes?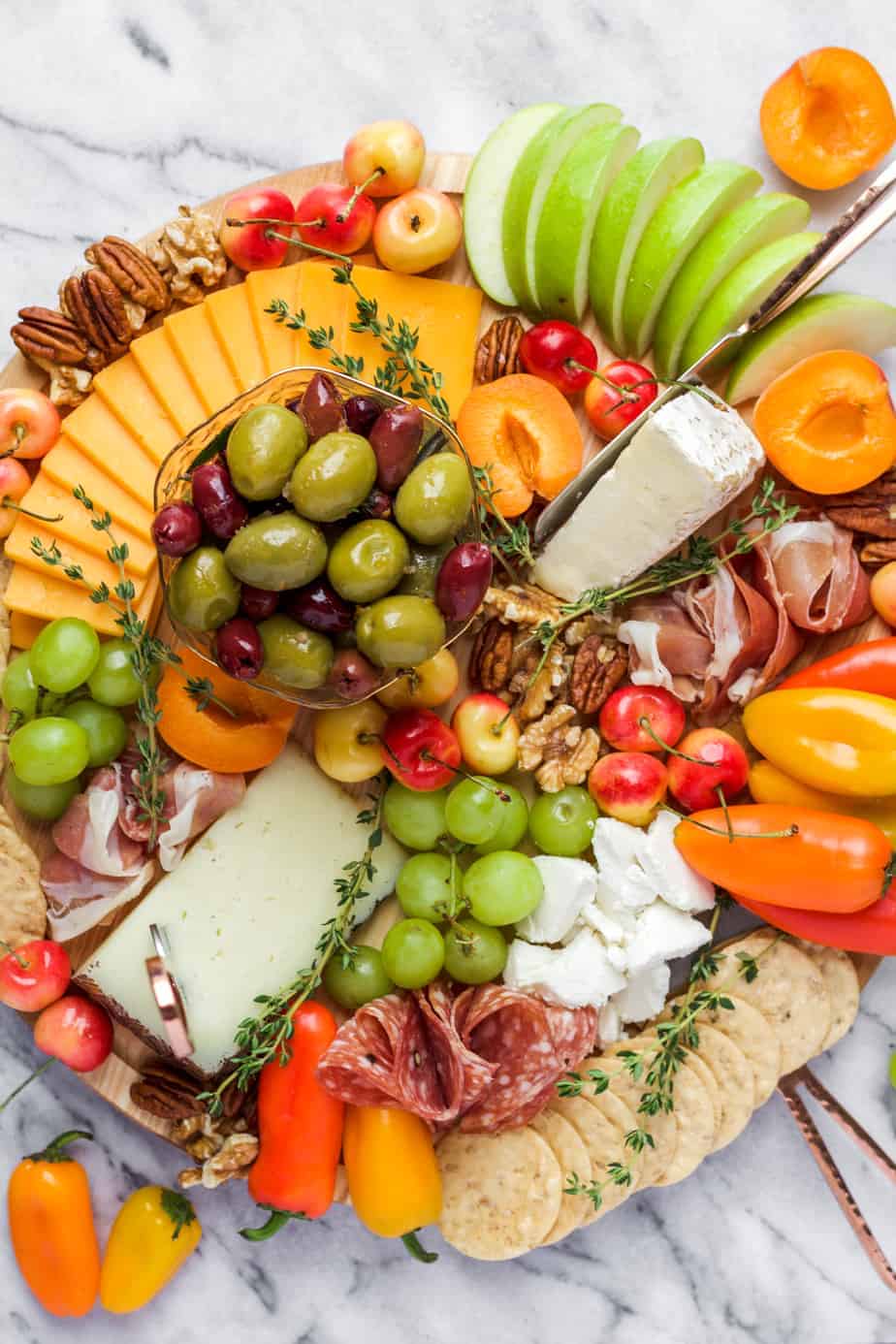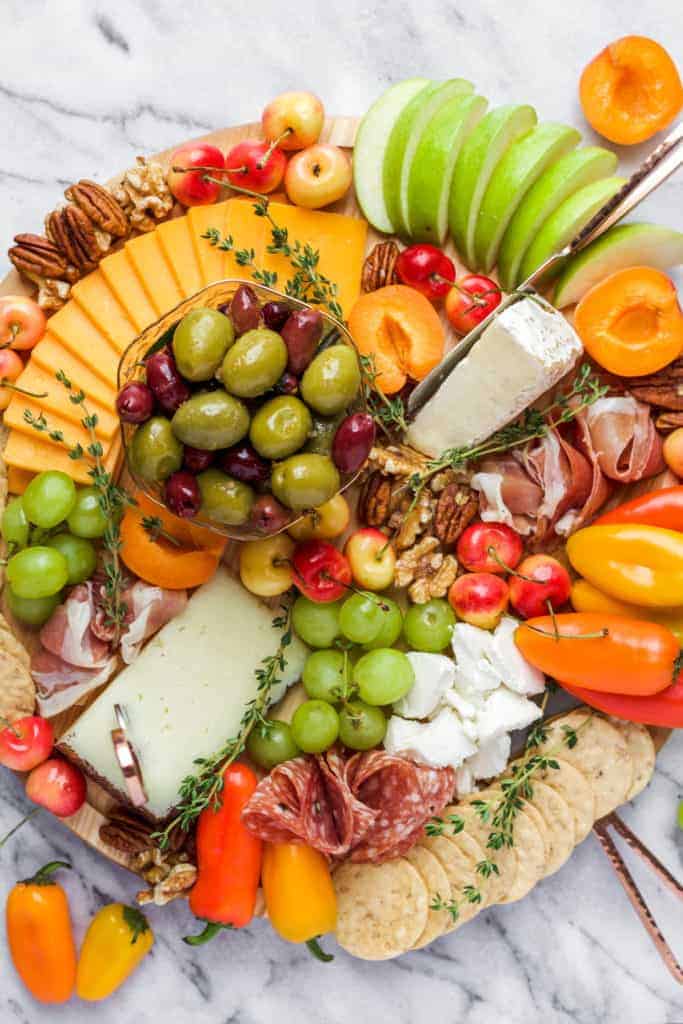 My cookbook, Stunning Spreads, offers more than seventy-five approachable recipes for easy entertaining, including seventeen recipes for gorgeous and delicious charcuterie, snack and cheese platters.
Each recipe in the book has been created keeping in mind specific flavor profiles and pairings when it comes to creating cheese boards, and contains step-by-step instructions, colorful photography, serving tips and more.
What is the difference between a cheese and charcuterie board?
There's one big difference: no meat versus meat.
Cheese boards, as the name sounds, is a tray or platter of a variety or selections of cheeses, were the focus is on cheeses as the main elements, and pairing additional elements to enhance the flavors of the cheese.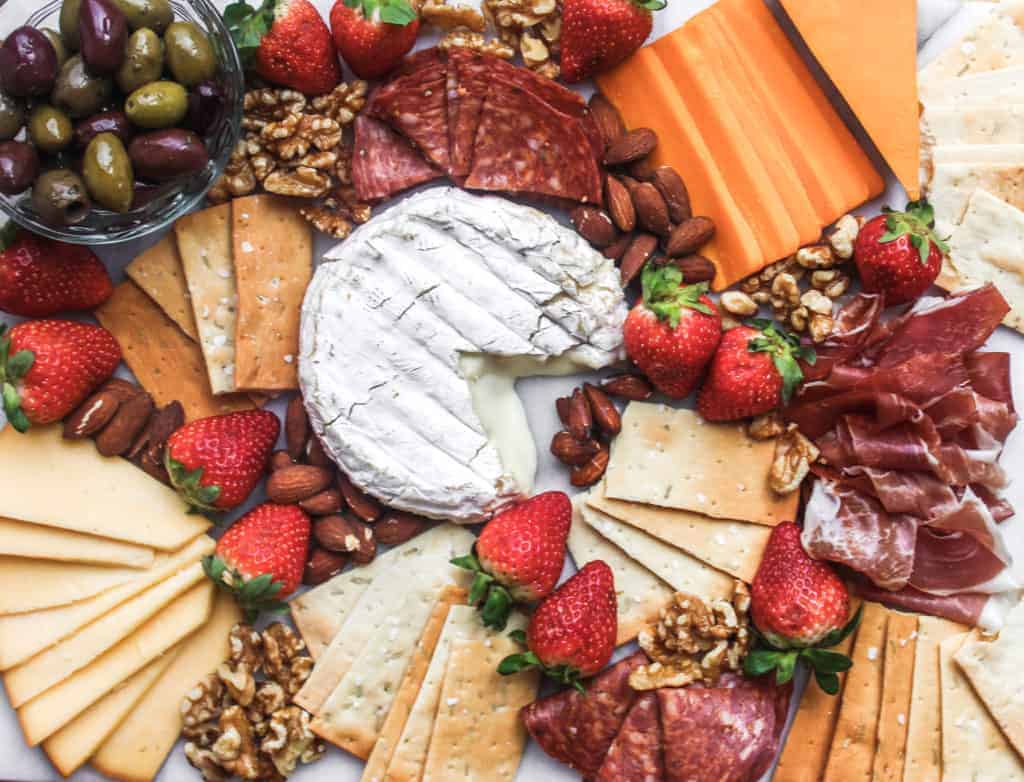 Charcuterie, pronounced shar-ku-tuh-ree, is the art of preparing or assembling cured meats, like salami, ham, sausage, bacon and more.
It's a French word that translates to "pork butcher shop," and nowadays is often used to refer to platters and trays of specialty meats eaten as an appetizer or snack.
The meat is generally considered the centerpiece of a charcuterie platter, with items like cheese, bread, crackers, olives and nuts placed on the board to complement the meats' flavors and textures.
What kind of boards or surfaces should I use?
So you know you need something to put your cheeses and other board components on…but you don't own a "cheese board."
That's ok! You probably own something totally acceptable to build a cheese platter or board on because any flat surface will do!
Platters come in a lot of different shapes, sizes, and materials.
Any size, as large as a serving platter, or small as a dinner plate, is perfect to build a platter or board.
Any shape, rectangular, square, round, oval or more out of the box, like your favorite animal or home state is perfect to build a platter or a board.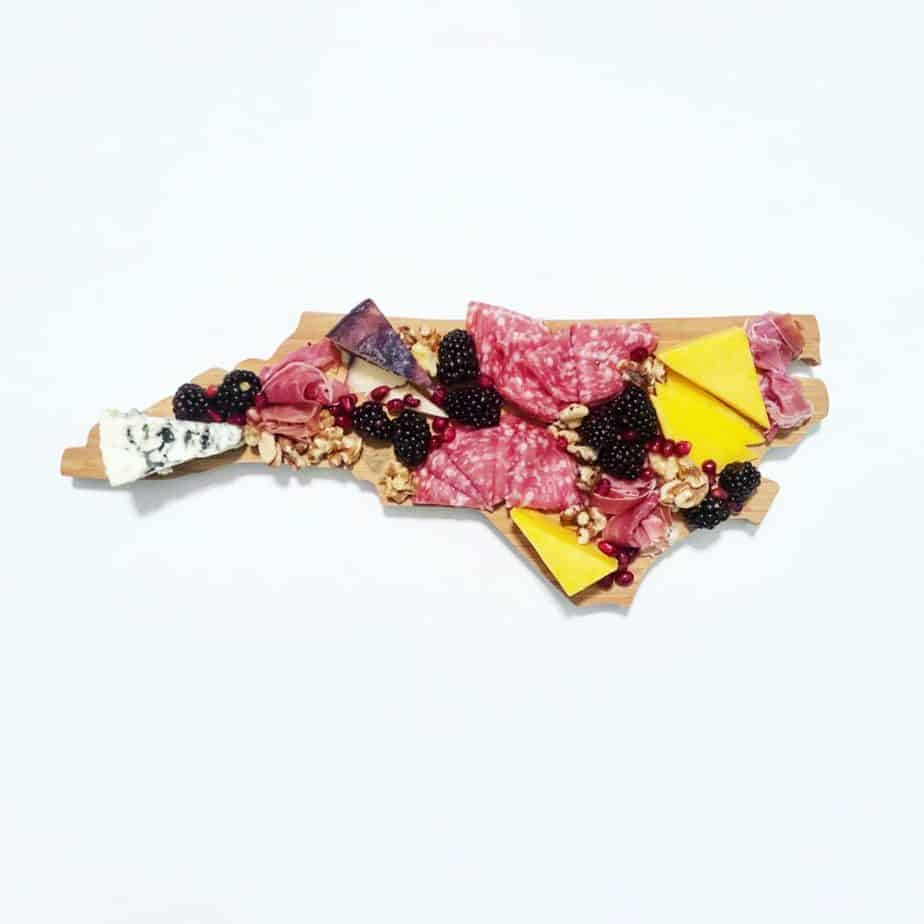 Any material, wood, marble, slate, metal, glass, plastic or ceramic, is perfect to build a platter or board.
This could be anything from a wooden or slate cheese board, to a marble platter, or even a baking sheet pan or muffin tin.
Maybe the glass platter you were gifted for your wedding 8 years ago and is buried in the back of a closet somewhere? Dig it out and build a board on it.
Have a big countertop or tabletop? Lay down some butcher paper and build a board for a crowd…it will give you easy clean up later!
What other serving ware or utensils do I need?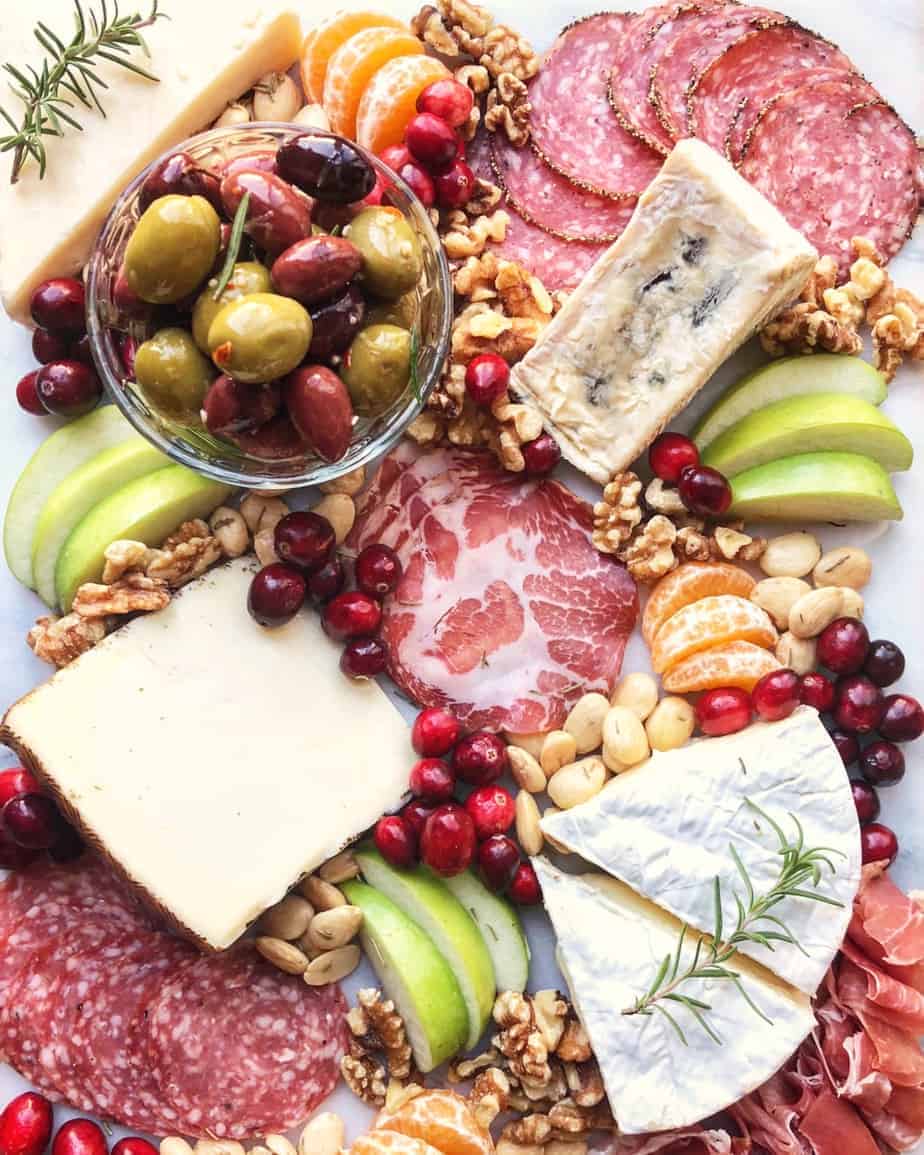 I always like to have a variety of different vessels on hand, like small bowls, jars, dishes and cups.
These allow you to easily separated different components and also are perfect for holding the liquid components (like honey, preserves, sauces, dips, olives), keeps them contained, and prevents different flavors from running into each other and mingling.
While you could use regular knives or utensils, I recommend investing in a set of cheese knives. They are pretty affordable, usually have unique and pretty details that add to the look of your spread, and then give you a practical serving tool for each ingredient, again to prevent too much flavor mixing.
You'll also want other serving utensils like spoons and tongs for other board ingredients, as well as utensils that will help your guests eat, like forks, toothpicks or skewers.
What kind of cheese should I use?
For a cheese lover like me, narrowing down what kind to use is the hardest part of building a board.
My goal every time is to feature a variety.
What kind of variety?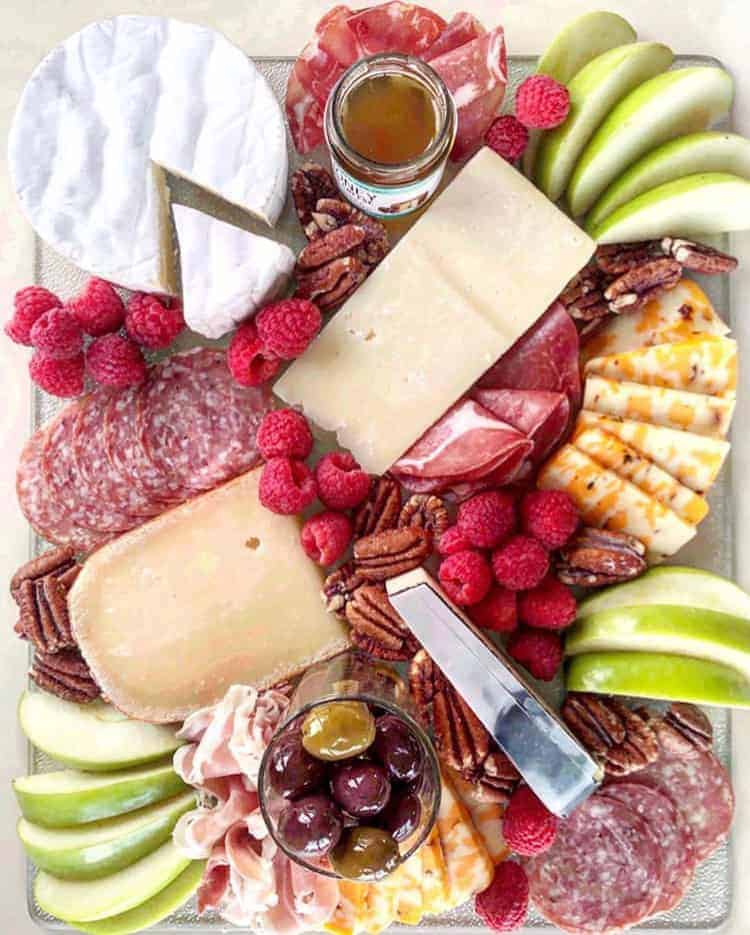 Well, cheeses can widely vary when it comes to color, texture, flavor, aroma, taste, style and even type of milk, so pick ones that embody different characteristics and stand out from the others on your board so you can give your guests plenty of different options.
Texture: soft, spreadable, semi-soft, soft ripened, drippy, hard, creamy, crumbly
Flavor: fresh, aged, blue, flavor added, milky, strong, goat, stinky, funky, salty, spicy, sweet, nutty, sharp, briny, buttery, brined
Color: orange, white, blue, golden, cream, cloudy, yellow
Aroma: milky, mild, moldy, pungent, stinky, earthy, nutty, fruity
Type of Milk: Cow, Sheep, Goat, Water Buffalo
Some of my favorite cheeses to feature:
Goat Cheese
Chevre
Feta
Ricotta
Stilton
Gorgonzola
Roquefort
Brie
Camembert
Muenster
Gouda
Cheddar
Monterey or Pepper Jack
Gruyere
Burrata
Mozzarella
It's always good to include one or two more approachable cheeses with your spread.
Cheeses like cheddar, Swiss, Gouda or even Brie are better known and can cater to the less adventurous eaters in your group (and just because they are more well known, familiar or approachable doesn't mean they aren't delicious!)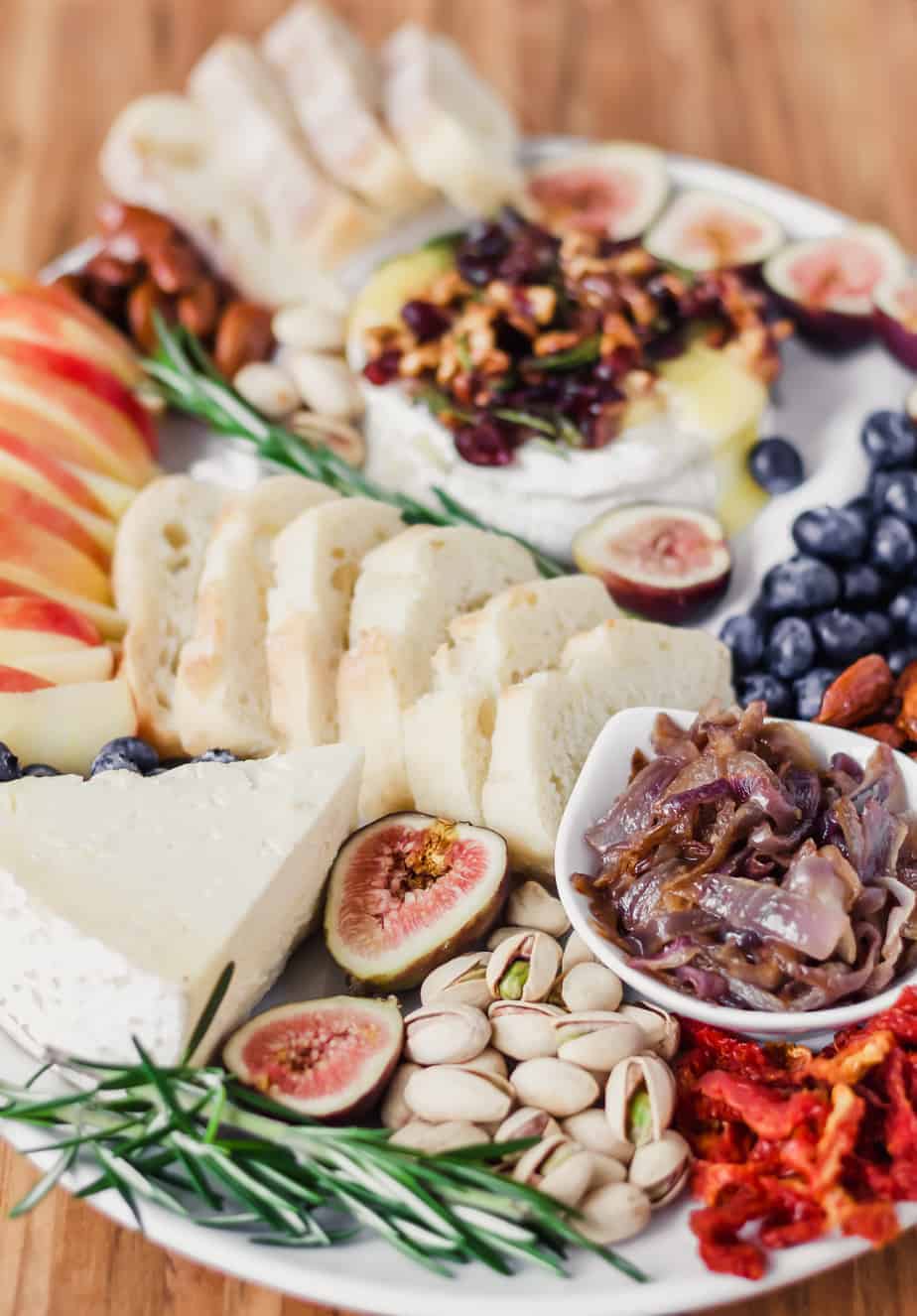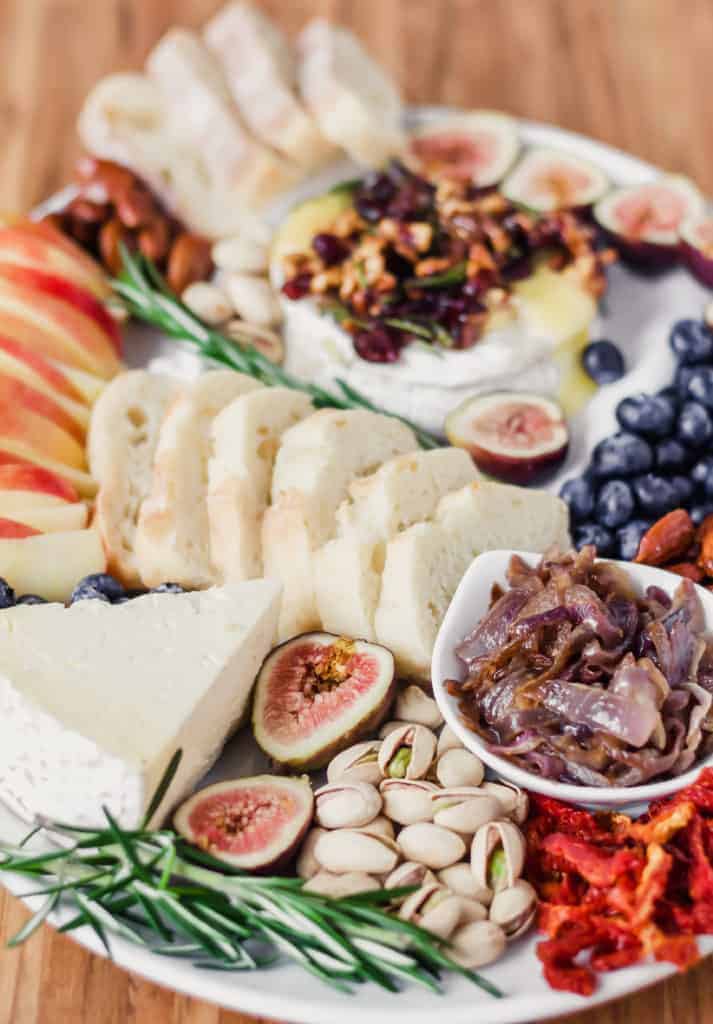 Just because it's recommended that you serve a variety of different flavors, textures and colors of cheese, doesn't mean that you have to!
Try building a board surrounding one cheese type, like a cheese platter featuring only cheddar or one that's all things Brie.
How much should I serve?
For an appetizer, include about 1 to 2 ounces of cheese per person.
For a main course, feature about 3 to 4 ounces of cheese per person.
Include anywhere from three to five types on cheese on a board to give guests a wide variety of options and to showcase different flavors, textures and colors of cheese.
For a crowd, you could use up to seven different cheeses, but I find three to five to be the sweet spot.
Do I have to buy expensive ingredients?
No! The key to a great cheese board is a variety of tastes and textures of great cheese and you can get great cheese at a really affordable price.
While I love shopping for cheese at an artisan cheese shop in Charlotte, one of my favorite places to buy cheese is Trader Joe's.
Whole Foods also usually has a variety of unique and inexpensive cheeses.
What other ingredients should I include?
You also need plenty of vehicles for cheese: like meats, fruits, vegetables, breads and crackers, nuts, and other condiments.
Choose an assortment that showcase different textures (soft and crunchy), flavors (sweet and salty) and colors, and ones that both compliment and contrast the cheeses you're serving.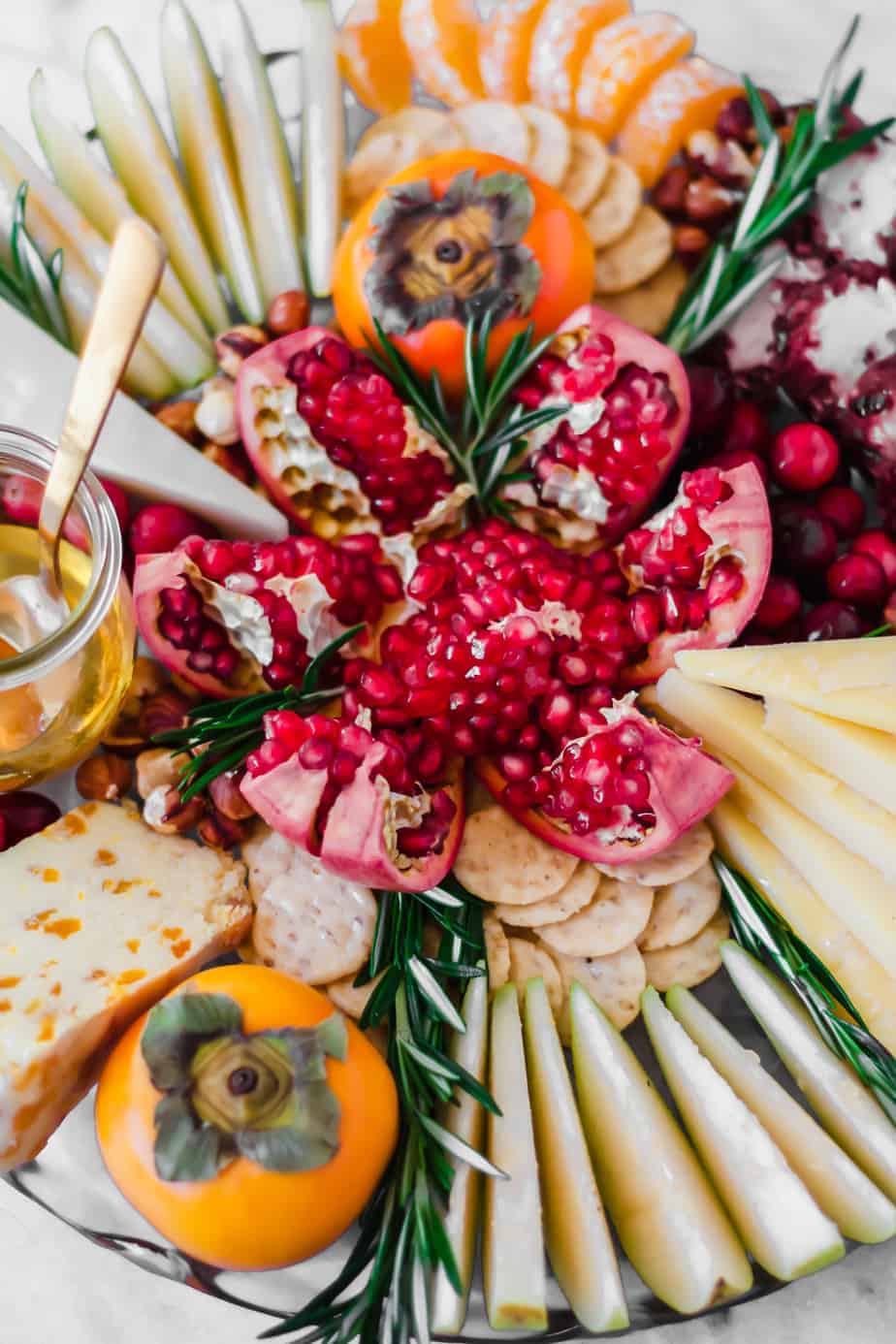 Meat
The principle that goes with cheese goes with meat; a variety of flavors, colors and textures. Choose two to three different types of meat. Some of the varieties I like to include on cheese boards are:
prosciutto
salami
peppered or herb crusted salami
chorizo
ham
turkey
sausage
bacon
If you're a vegetarian, don't fear! You don't need meat to make a good cheeseboard. There are a lot of yummy alternatives to meat that you can include like roasted chickpeas, caramelized onions, artichokes, hummus or other dips.
Bread/Crackers/Carbs
Carbs, like breads and crackers, are the best vehicle for cheese, meat, honey, preserves or other goodies you have on your cheese board.
Serve breads, crackers, crisps, pretzels, crostinis or bread sticks that have a neutral flavor, so they don't overpower or compete with the flavor of the cheese or other condiments.
Fresh Produce
I always love to include what I call a fresh element, like fruit and vegetables, so pick ones that are in season and pair well with the cheese on your board.
It makes sense for tomatoes, berries and fresh watermelon to be the stars of summer themed boards when they are in season, and fall and winter fruit and vegetables like squash, apples, and pomegranates to be featured on, you guessed it, fall and winter platters.
Not that you can't put a tomato or watermelon on a winter spread, but fresh, good tasting watermelon is a lot easier to find at my local store in July than it is in January.
When it comes to what fruits and veggies pair well with what kinds of cheeses, do your research.
In creating my cookbook, Stunning Spreads, which features 17 recipes, I did a lot of research (if you added up all of my research hours it would probably turn into days and I am not being hyperbolic) before composing the boards regarding different flavor profiles and flavor pairings of the different board components to make sure I was including fresh elements on the boards that would enhance the flavor of the cheeses.

Condiments/Dips/Spreads
Things like honey, jams, preserves, olives, mustards, hummus, tapenades and salsas can really bring out the flavors of the cheeses and other ingredients on your board.
Pair the flavors of your featured cheeses and fruit and vegetable components with homemade condiments and spreads or your favorite high-quality store bought ones.
Nuts
Nuts add a great texture and final touch; I love using them not only to add some crunch but to fill in blank or empty spaces around the platter or board. My favorite nuts to use include:
walnuts
pecans
almonds
marcona almonds
pistachios
cashews
hazelnuts
pumpkin seeds
peanuts
You could even use white or dark chocolate for crunch and a little sweet component.
Garnish
Fresh herbs add a wonderful aroma and pop of color to any cheese, charcuterie or snack board.
Think about using herbs like rosemary, basil, thyme, sage or dill, depending on the season.
How much of everything else should I serve?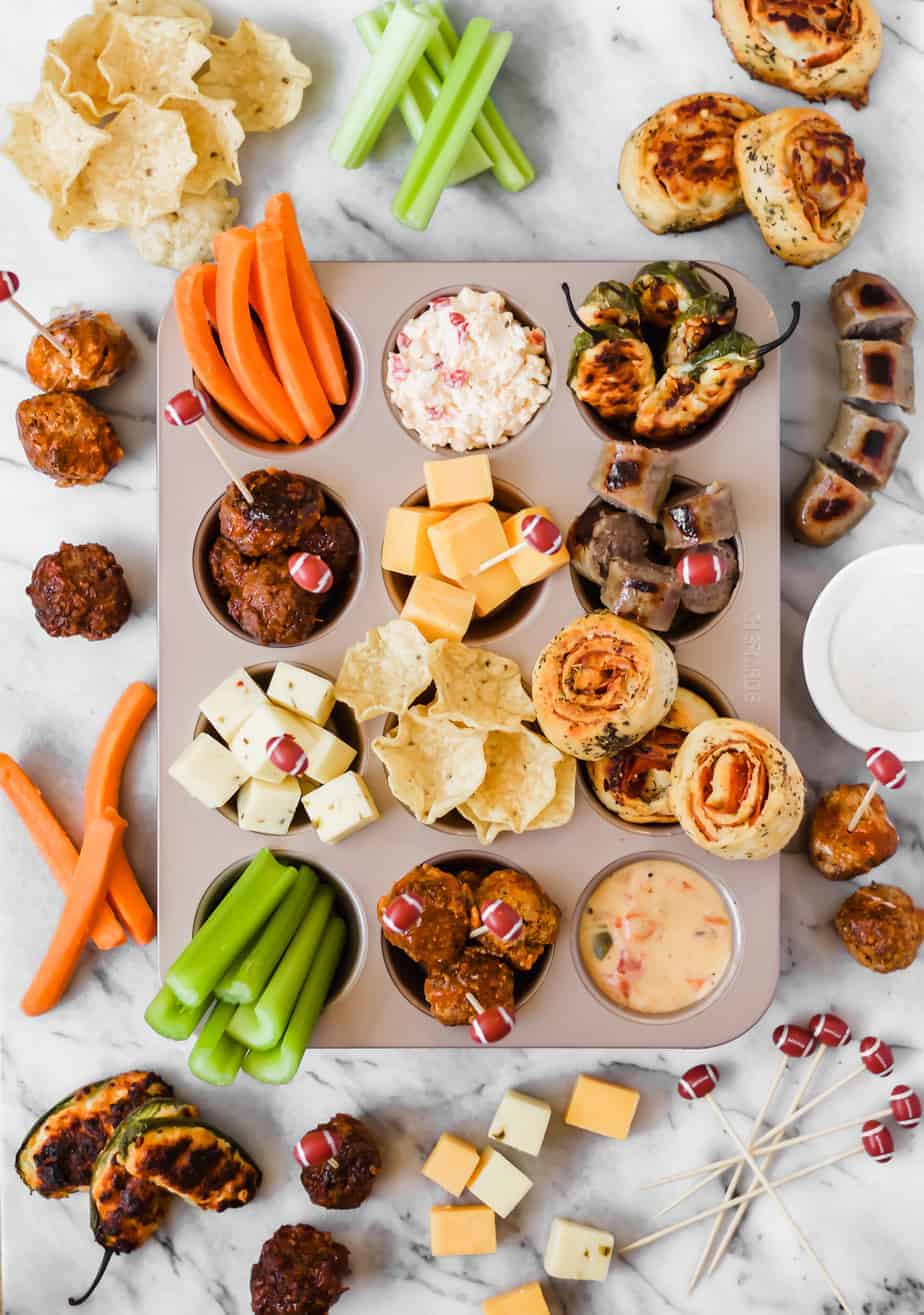 For an appetizer board include 1 to 2 ounces of meat, 3 to 6 pieces of fruits and vegetables, 1 to 2 condiments and 1 to 2 tablespoons of nuts or crunch per person.
For a more filling board or main course, include 3 to 4 ounces of meat, 5-10 pieces of fruit or vegetables, and 3 to 4 tablespoons of nuts or crunch per person.
Does a platter have to focus on cheese?
No! You can make platters and boards surrounding a theme including a holiday or event (like Christmas or a game day tailgate) or an ingredient (like a brunch board or bagel board.)
When conceptualizing and creating a board, think about the one to two items you absolutely want to have on your board, or a theme of your board, and then build your board around those items or that theme.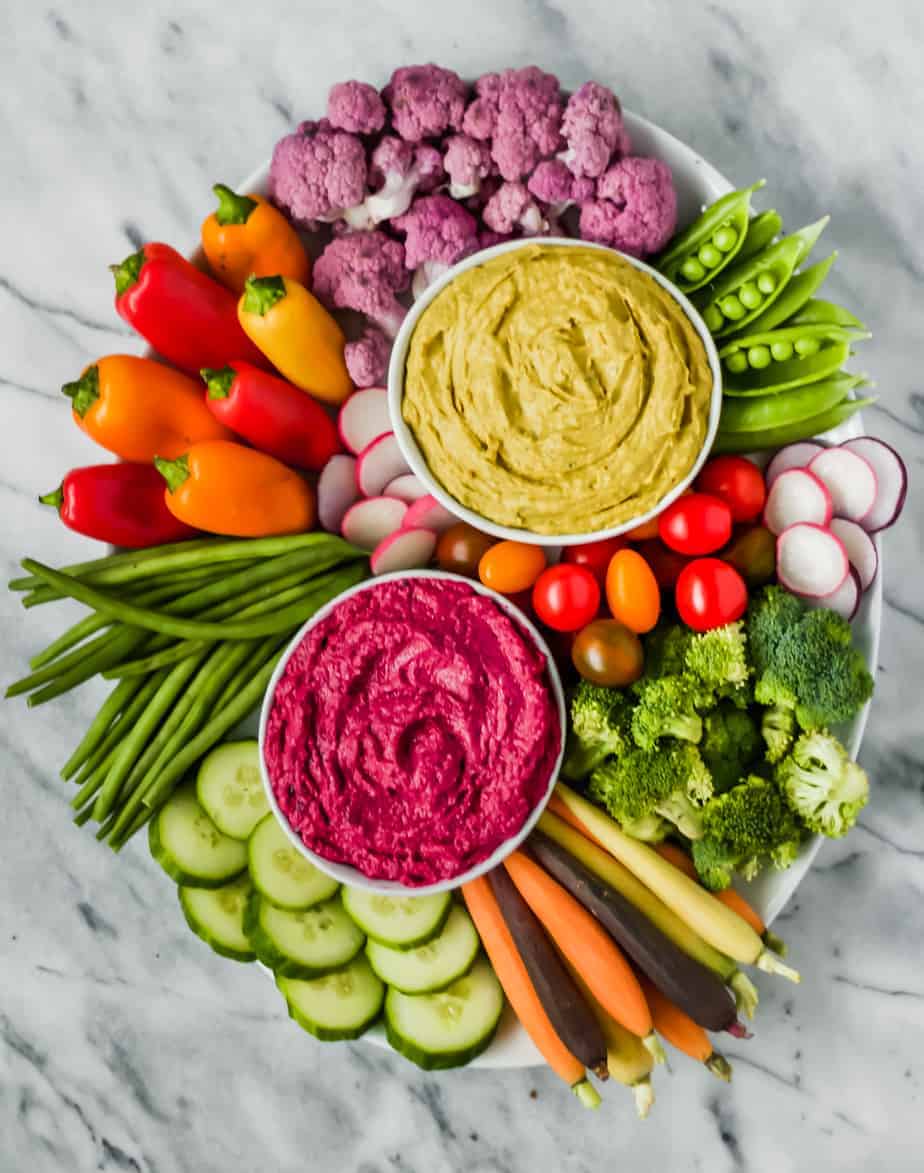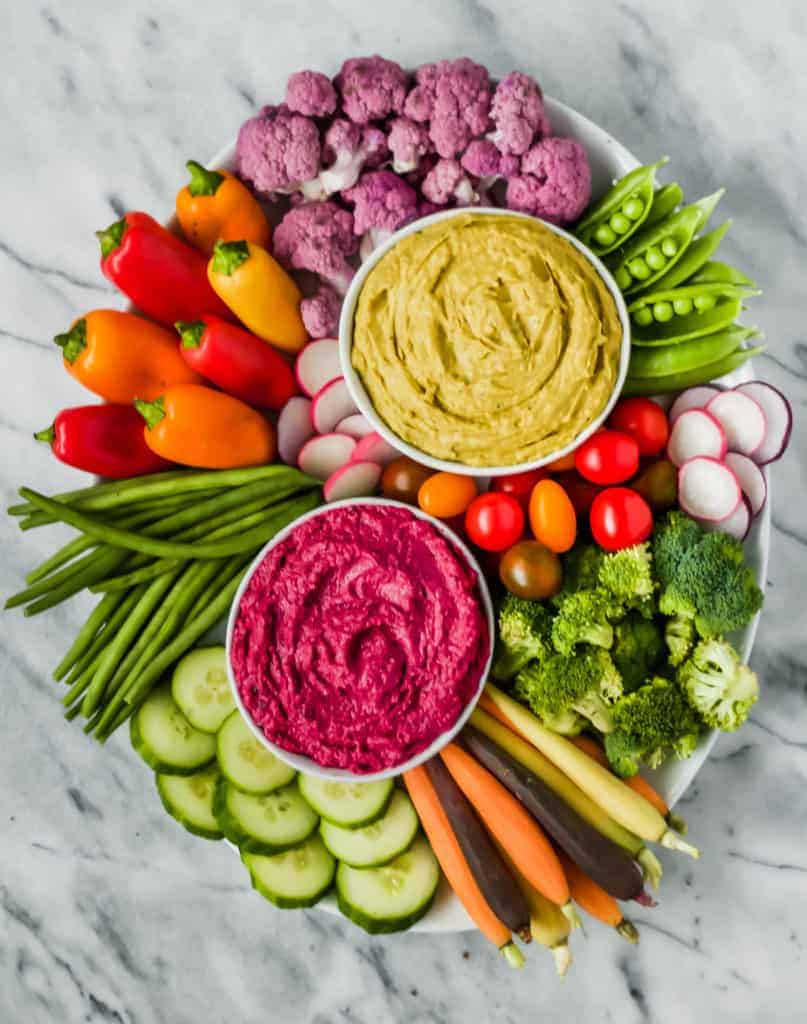 How do I arrange it to make it look pretty?
I like to start arrangingwith the items that take up the most room, which is most often and small bowls or dishes that are holding snacks, jams and jellies.
From there, I then place the cheese, spreading it out into different areas of the board so their flavors don't mix and there is space to put complimentary items near each cheese.
Usually, I like to feature each type or variety of cheese in a different way on the board, whether by putting down different shapes, like rounded or wedge, or slices, like thin slices, cubed or crumbled, so visually my guests can see they are all different.
Plus, pre slicing or cubing your cheese makes it easier for your guests to grab and gives them the confidence to dig right in and enjoy the board.
Once I arrange the different shapes and slices of cheese, I then move on to the meats.
Then any fruits, vegetables or other snacks I'm going to feature.
I finish up a board by filling in the board with the nuts and garnish.
As I'm building my board, I make sure to place complimentary items near each other; for example, if I am including a specific fruit because it pairs well with a specific cheese, I will place the two items next to each other to visually show people they are meant to be eaten together.
Other serving suggestions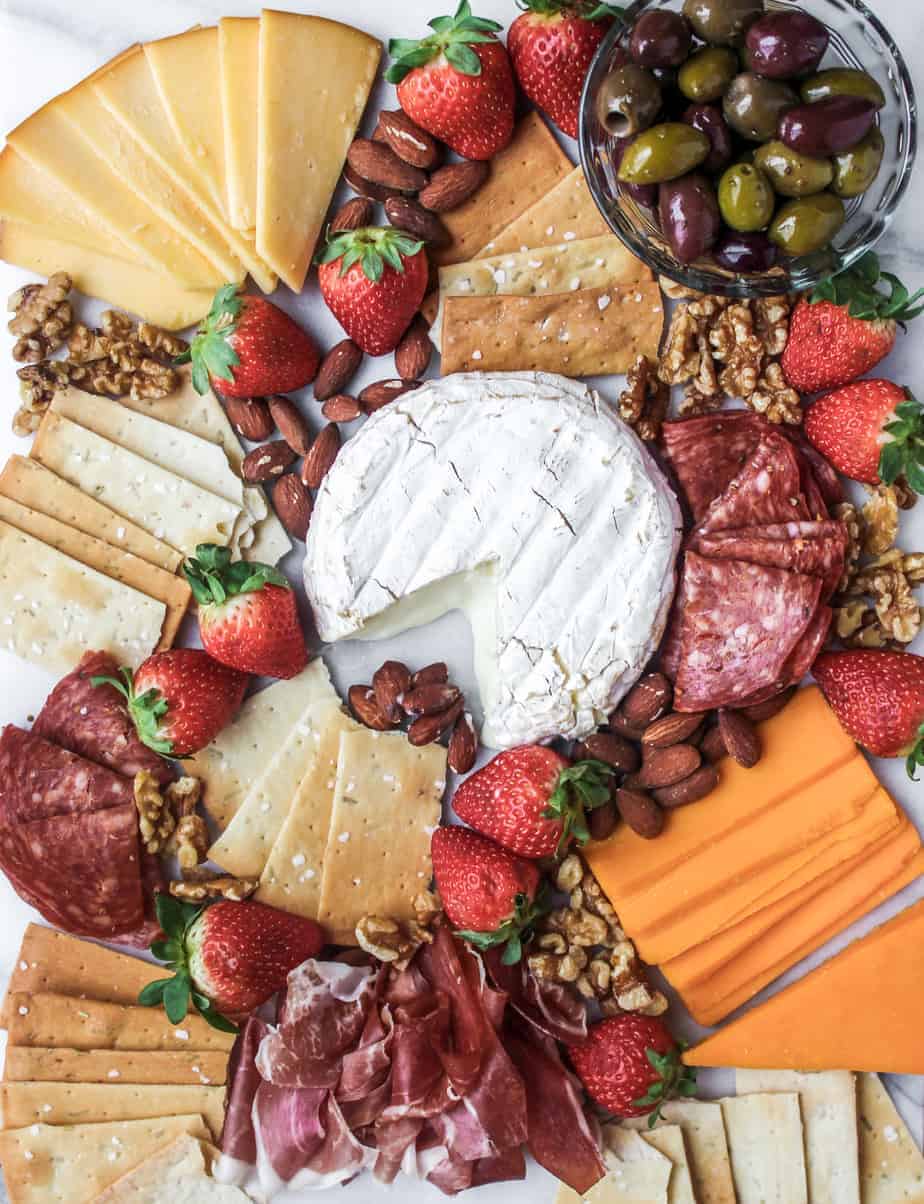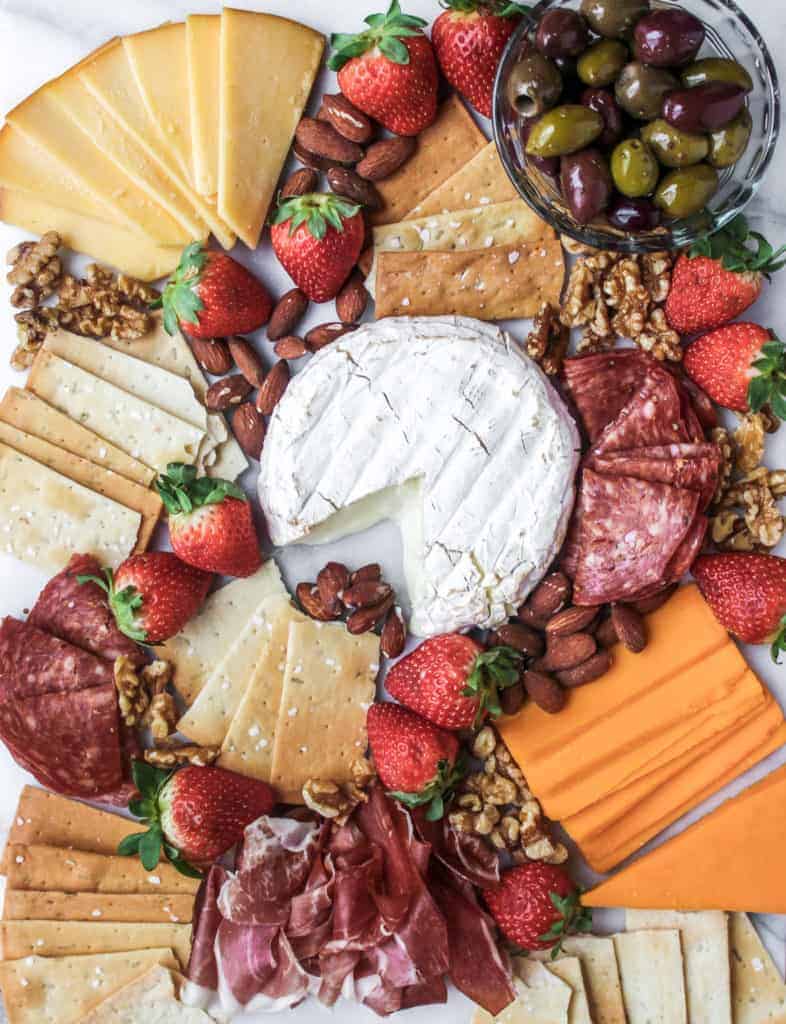 Serve cheese at room temperature.
Take cheese out of the fridge 30 minutes to one hour before serving and allow them to come to room temperature. (I love to build a cheese board and put on the final touches about an hour before my guests arrive and then just leave them out for serving.)
Serving cheese at room temperature showcases cheeses' best flavors, textures and aromas, and the cheese will taste more complex, nuanced and delicious.
Tell guests to sample the cheese from mild to strongest or most pungent
Encourage guests to create the perfect bite by combining different elements of the board to pair bites with the meats, fruits, veggies, accompaniments, and condiments placed near them
Use a separate cheese knife for each cheese so the flavors are kept distinct and aren't mingling.
People like to know what they will be tasting before taking a bite, so label each cheese to let your guests know about their different choices.
Cheese Platter Recipes
You can find seventeen unique and creative recipes for cheese, charcuterie and snack boards in my new cookbook, Stunning Spreads. As I update cheese platter and board recipes on Off the Eaten Path, I will add them here!