The southernmost point in the United States, Key West boasts a fun, laid back vibe and a creative culinary scene featuring fresh, local, seafood like pink shrimp, conch, stone crab or spiny lobster, Cuban and Caribbean inspired flavors, and of course, tropical cocktails and key lime pie. If you're planning a trip to Key West, make sure these local restaurants that serve some of the best lunch in Key West are on your itinerary.
Looking for other beach or tropical travel inspiration? Be sure to check out where we stopped on our 10 day Florida Road Trip, the best beaches near Charlotte, NC and my Outer Banks Travel Guide.
Whenever we travel, one of my favorite things to do before we leave is restaurant research. I crowd source information from friends and family, travel blogs, and even restaurant review sites like Yelp. I make one big list of all the recommendations and then detail out where we're going to eat for breakfast lunch and dinner.
Am I extra? Maybe. But since I often to go bed thinking about what I want to eat the next day, researching restaurants and food when we travel is just something I love to do! I also like having a food game plan, one that is fluid and flexible but that covers all the restaurants and spots I want to taste and visit.
I've found a great way to tackle some of the more popular restaurants on my list is to visit them for lunch rather than dinner. By visiting a restaurant at lunch rather than dinner, you may be able to actually get a reservation and you can avoid things like three hour waits, while still getting to experience the restaurant and try their greatfood. (It was a great strategy for us when we spent our honeymoon in Asheville and could not get a dinner reservation at the endlessly popular and delicious Curate, so we went for a late lunch instead!)
And that's a little behind the scenes into how this Key West lunch guide was born!
One of the best trips we've ever taken was a 10 day Florida road trip. We left Charlotte after work, drove through the night, and woke up (ok, I woke up because AJ was driving) to sunshine and clear blue waters in the Florida Keys. (Sounds romantic right? I think I actually work up in morning rush hour traffic in Miami but the Keys weren't that far away!)
While we spent 10 days in the sunshine state, we stayed in Key West for the biggest chunk of our trip.For three days, we soaked up everything Key West has to offer: the island lifestyle, relaxed vibe, fun nightlife on Duval Street, quirkiness, history, water sports, beaches, and of course, the food!
Did you know that Key West is home to nearly 400 restaurants? That means if you're staying for just a few days, you'll barely scratch the surface of Key West's culinary scene, which feels overwhelming just typing it.
So we've done some of the hard work for you, and created this guide to help you find the best lunch in Key West! This guide is a mix of our favorite Key West restaurants as well as those that get recommended time and time again, plus a few that are more off the beaten path and frequented by locals.
Garbo's Grill was the our first stop in Key West. While it doesn't look like much (it's an shiny, silver airstream camper parked on the patio behind a bar), it's one of the most popular restaurants in Key West (even Guy Fieri and Diners Drive Ins and Drives has visited!)
Garbo's was born out of the owners' dreams to open a restaurant in Key West, but faced barriers to restaurant ownership with the big lease price tag that came with a brick and mortar space. With an arsenal of delicious recipes, encouragement from friends and family, and what they call "a little silver opportunity," Garbo's Grill was born.
We picked Garbo's as our first stop because we were looking for something super casual and let's be honest, you can't get more casual than a food truck. Plus, we had read tons of reviews about their fish tacos my husband, AJ, can never say no to fish tacos, so fish tacos seemed like the perfect first Florida meal.
Garbo's did not disappoint; we shared the Yum Yum Shrimp Tacos and the Cayo Fish tacos and knocked back a few beers while relaxing and enjoying live music. We loved the casual, backyard party vibe and don't be deterred if you see a long line, they move through it fast and it's worth the wait!
Lagerheads Beach Bar and Watersports is a popular hang out for locals. You can just go for lunch, or you can have your lunch with a side of adventure…Lagerheads also rents water toys like hydro bikes and offers tours on their RumRunner boat. They also have a small beach and chair rentals if you want some waterfront relaxation before or after your meal.
Lagerheads is a casual, no fuss place serving simple, good food and local specialties, like conch ceviche, fish tacos, and smoked fish dip.
Eaton Street is an old gas station turned seafood market selling some of the freshest fish and seafood you can get in Key West, the catch is different everyday!
If you are renting a house with a kitchen, you can stop in to buy fresh fish to go like the locals do to cook at home, but even if you don't have the space or desire to cook, you can still indulge in some delicious fresh fish.
Eaton Street's casual restaurant has a lunch and dinner menu featuring sandwiches (lobster roll, shrimp salad, crab cake or fish), fish platters (fried or grilled), and regional favorites like conch chowder, strips, and ceviche, hogfish, stone crab, Mahi Mahi, pink shrimp and spiny lobster. You can also pick your choice of fresh fish filet and have it cooked to order.
What do you think of when you think of Key West restaurants and food?
Key lime pie, of course! Since Key West and key lime pie are basically synonymous, we couldn't have a trip to the Keys without indulging in at least one slice (but trust me, we definitely indulged in more than one!).
Blue Heaven served us a slice of their take on the famous treat after we enjoyed a lazy Sunday brunch on their patio. To be fair to us, we aren't lazy, we were up early kayaking with manatees, and escaped to Blue Heaven for a late brunch on their shady patio to avoid the hottest part of the day.
A visit to Blue Heaven is worth it just to enjoy the outdoor seating on the festive and funky patio and to watch the roosters roam around; but while you're there you may as well share a slice of the best key lime pie with mile high meringue. We shared a slice but to be honest, even though I was full on huevos rancheros, I could have eaten one just one my own.
Beyond key lime pie, Blue Heaven serves one of the best breakfasts, plus lunch and dinner on the weekdays, along with brunch on Sundays, offering classic comfort food like French toast and Lobster benedict, and local fish like spiny lobster (when in season), yellowtail snapper and BBQ Key West shrimp.
This old favorite only takes reservations for dinner, so make sure you come early for breakfast or lunch because there will be a wait!
Hogfish Bar and Grill is actually on Stock Island, the island just before Key West, but it's worth the 15 minute or so drive from Duval Street to this hidden gem for fresh seafood, strong drinks and panoramic ocean views. If you're looking for something less touristy, this local favorite is a must stop for lunch or dinner. Bonus: they have live music on weekends!
Hogfish Bar & Grill says it serves some of the best seafood in the Florida Keys, and for a good reason: it's harbor location helps them get fresh fish from the boats, straight to your plate.
The most popular menu items at the open-air restaurant feature their namesake, the hogfish sandwich and hogfish tacos, but any of their local seafood dishes are worth a try.
Ana's Cuban Cafe
Ana's Cuban Cafe was right across Simonton street from our hotel, so it was a no brainer for lunch (the grocery store it was attached to was was also a no brainer and super convenient for a beer run when we were in a pinch, but after dropping that much on a six pack, we went to a big box grocery the next day for some cheaper options.)
Ana's is in the back of a little bodega/grocery store; you order at the counter and then can take it to go or grab a seat at one of the picnic tables or lunch counter out front.
Of course with "Cuban" in the name, they serve a lot of Cuban classics like authenic Cuban sandwiches with roast pork, ham, mustard, Swiss cheese, and pickles, picadillo, ropa vieja, and palomilla. I got a Cuban sandwich and plantains (yum!) and washed everything down with fresh coconut water.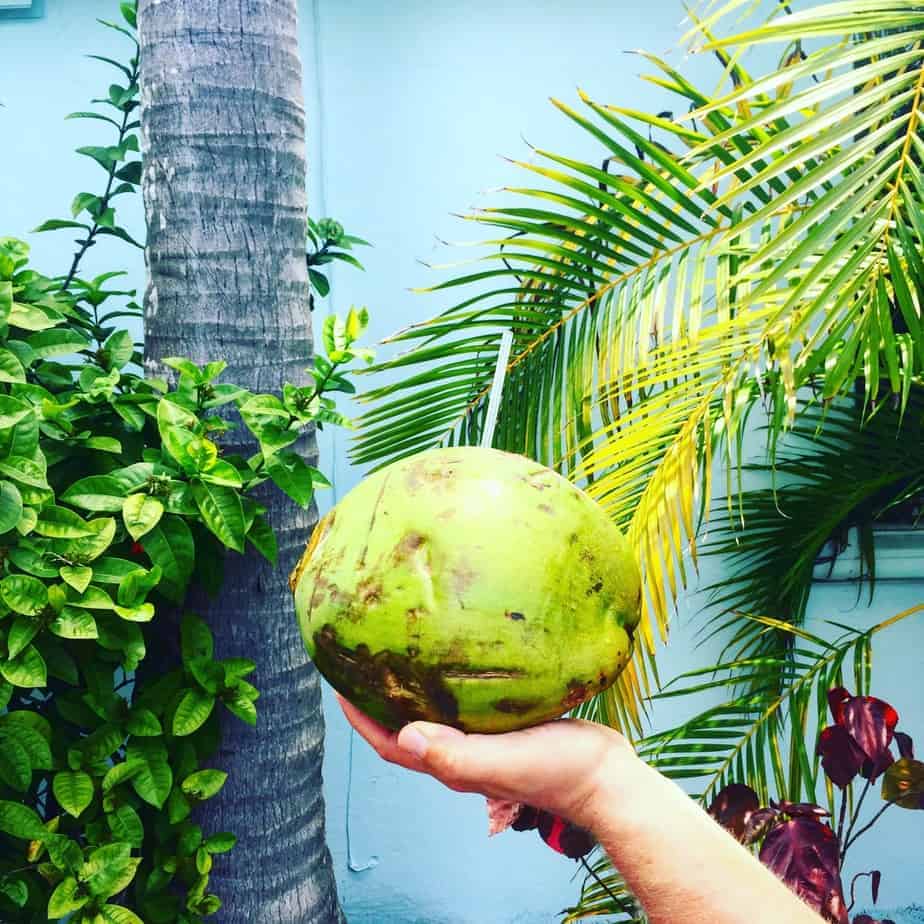 First Flight Island Restaurant & Brewery is known as the birthplace of Pan American World Airways, a major US airline from 1927 to 1991. In fact, Pan-Am's first tickets were sold out of the brewery and restaurant's building in 1927! this very building in 192
First Flight honors its location's history through its theme and decor, and even carries to its menu items including in the names of one of the three beers brewed on site and its cocktail selections.
First Flight's menu is best described as modern American with a Caribbean splash, serving local favorites like spiny lobster, yellowtail snapper, Carribbean pork, and tuna poke for lunch and dinner.
Sometimes some of the best restaurants are in unassuming buildings. It may look like there's not much behind red brick exterior at El Siboney, but don't judge a book by its cover.
While fresh fish and seafood is pretty well known as the cuisine of the Keys, you can't come to South Florida and not eat Cuban food (after all, Key West is just 90 miles Cuba so there are quite a few Cuban restaurants in town).
To get your Cuban food fix, stop by El Siboney, a family owned, old-school Cuban restaurant with great food at affordable prices. The restaurant celebrates the cuisine and culture of Cuba from its menu full of Cuban classics down to its name (the restaurant is named in honor of an indigenous Cuban population, the Siboney, many who died due to the brutality of Spanish conquistadores and the diseases they brought with them).
You can't go to the beach and not get oysters.
Or at least that's a rule for us. Anyone else?
So we got our seafood fix at Half Shell Raw Bar, located in Key West's historic seaport.
Half Shell Raw Bar is open daily for both lunch and dinner, offering an extensive raw bar menu including oysters prepared in a variety of ways (raw on the half shell, baked, steamed, Oysters Rockefeller and BBQ Oysters), clams, mussels, and peel and eat Key West pink shrimp.
They also have po' boys (grouper, lobster, oyster and shrimp), seafood entrees, lobster surf and turf, and of course classic key lime pie for dessert.
To get the most bang for your buck, considering skipping lunch and head to Half Shell for a late lunch or early dinner during their happy hour (that's when we went because not only do we love oysters, we love deals too).
Running from 430 to 630pm daily, Half Shell offers pretty good discounts on seafood and we filled up on oysters, steamed shrimp, calamari, conch fritters, conch chowder and clams.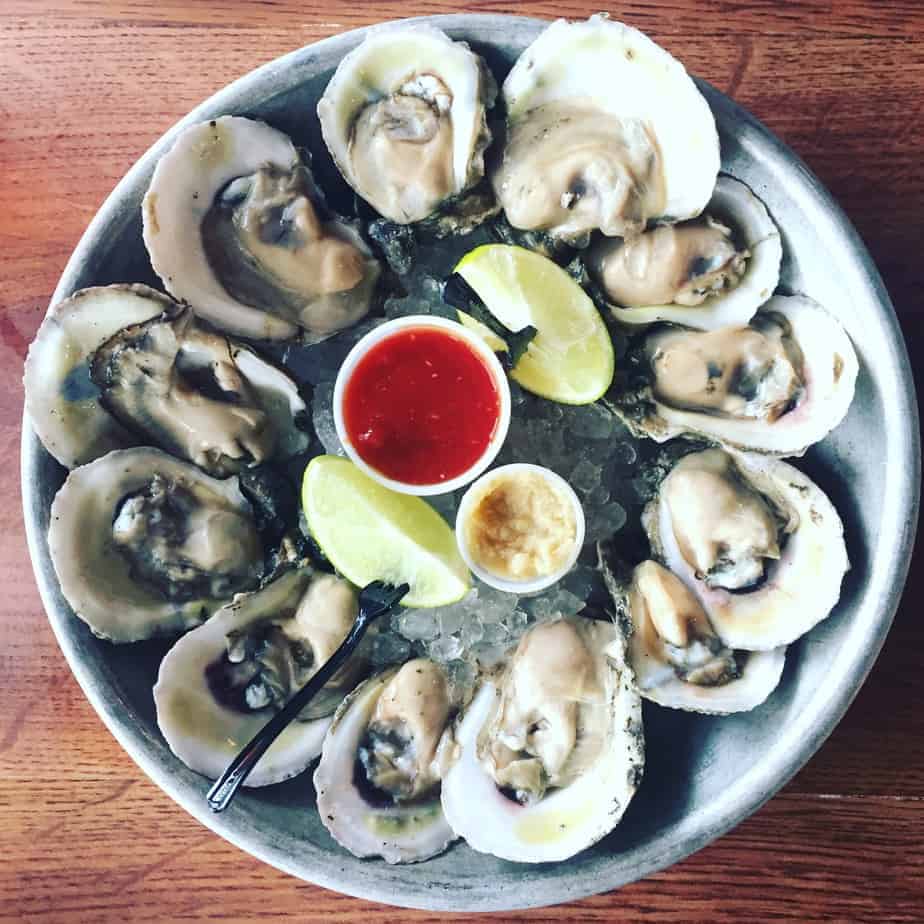 The casual, counter-service spot, named for a woman who taught the owner how to make a real cafe con leche, has three locations (Waterfront, Downtown and Clinton Square Market) serving Cuban coffee (of course) but also an all day menu of breakfast sandwiches, Cuban sandwiches and favorites, salads and smoothies.
The must order is a cafe con leche (Cuban coffee with steamed milk) but you may as well go for a traditional Cuban breakfast with a Pan Cubano (the traditional Cuban breakfast adds buttered, toasted Cuban bread that is dunked in the coffee cup).
If you're looking for something light, healthy and satisfying (lets just say you've eaten yourself silly on seafood), stop by Date & Thyme. The hip, health-focused restaurant has a mostly vegan and vegetarian menu full of healthy, organic foods like avocado toast, acai bowls, smoothies and tempeh wraps.
They also have a small market with blend of daily essentials and unique products that you won't find anywhere else, perfect for someone who is looking for organic produce and groceries to cook at home, healthy treats, supplements or organic beauty products.
Date & Thyme prides itself on its connections with local farms and supporting the local Key West food community.
Say the words "local brewery" to us and we're there!
One of our favorite things to do when we travel is to check out local craft breweries so The Waterfront Brewery was a no brainer.
Overlooking the historic Key West harbor, The Waterfront Brewery has delicious brews with major water views, so of course we got a flight to try what they had on tap.
Beyond cold beer, The Waterfront Brewery also has a full food menu, and the best way to describe it would be pub fare with a Key West flair; you can order classics like a really good burger, pulled pork sandwich, and chicken wings, or go for more island inspired dishes like sea scallops, calimari, ceviche, fish dip, peel n eat pink shrimp and of course, key lime pie for dessert.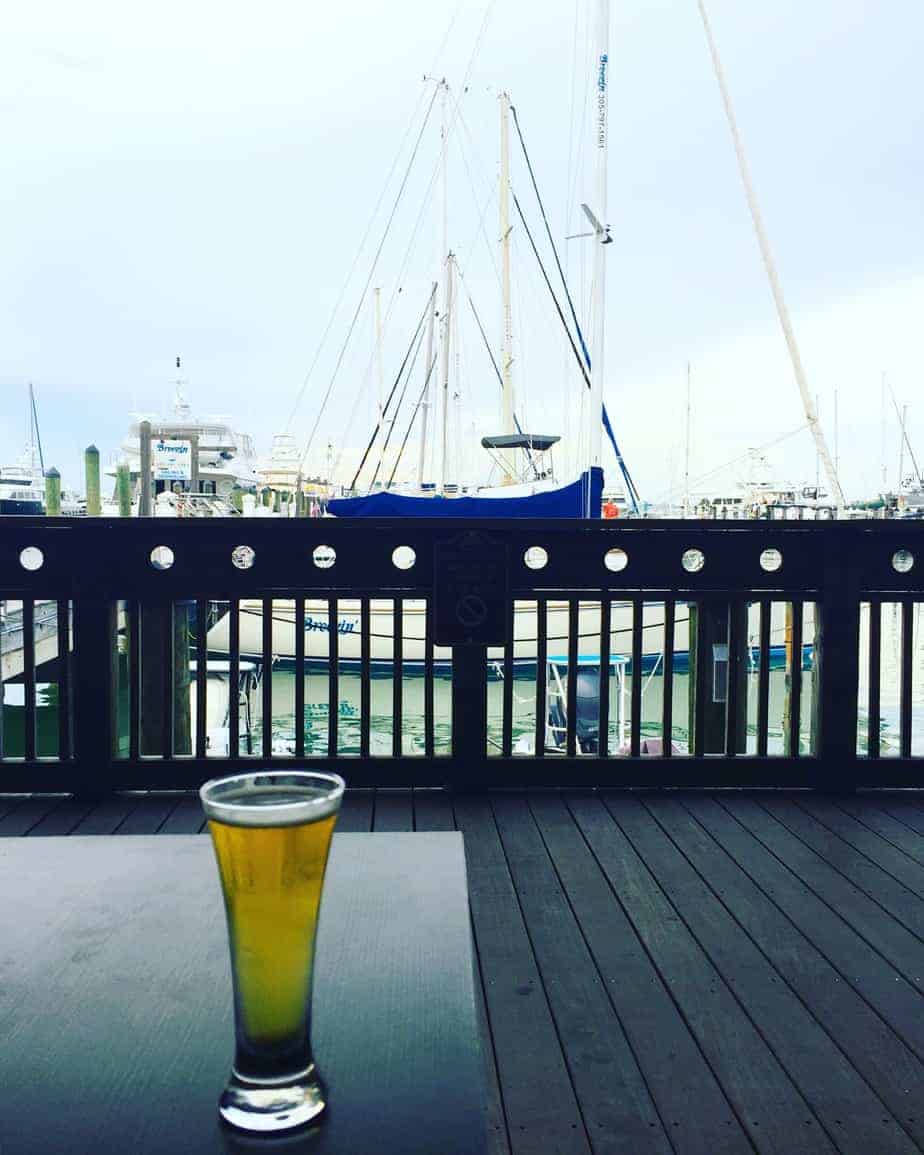 Our last night in Key West we decided to dress up (if tropical maxi dresses and collared shirts are considered dressing up) and be extra touristy with a stop at Mile Marker Zero and Mallory Square for the sunset (which we didn't see because it was super cloudy, but we did have fun watching the street performers).
We then capped our final evening with a long, lingering dinner at what was one of our favorite restaurants in Key West.
Thirsty Mermaid is a smaller local restaurant and raw bar with a huge emphasis on local ingredients. Located in a more intimate space a few blocks off of the hustle and bustle of Duval, Thirsty Mermaid was a welcome respite from the crowd and borderline chaos of Mallory Square.
With just a handful of tables and a few seats at the bar, we had to wait to be seated (they don't take reservations, which isn't a bad thing) but it was so worth the wait. Thirsty Mermaid serves local seafood for lunch and dinner, as well as a selection of East and West Coast oysters that rotate daily and a full raw bar. They also have an extensive list of craft beers and wines.
We went all out and ordered two appetizers and two entrees, and enjoyed tuna poke, mussels, scallops and snapper.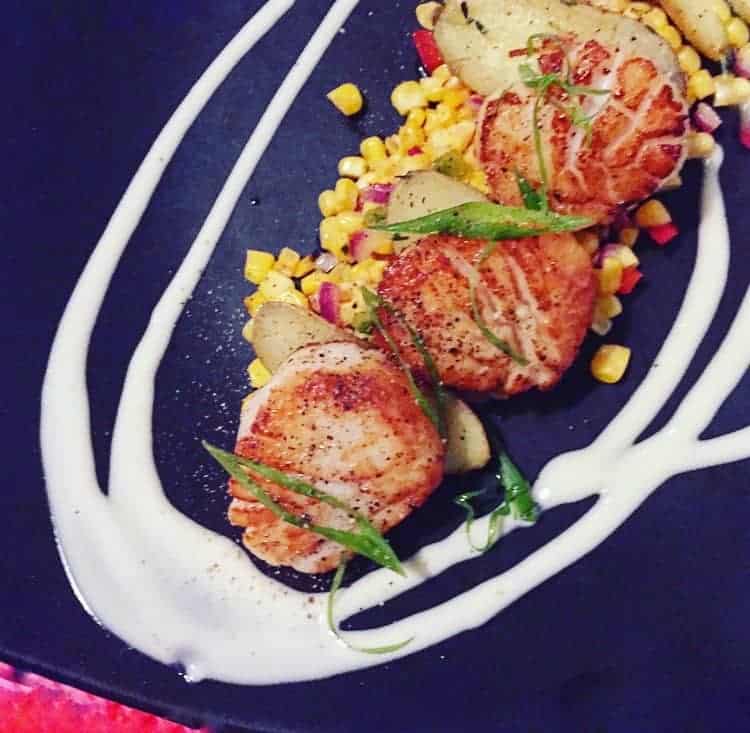 Santiago's Bodega description that it "embodies the heart and soul of its original island home…Where characters, stories, cultures and food combine to create the perfect union," is the perfect description of a tapas restaurants. When you eat tapas or small plates style, you are eating a a little of this, a little of that, and mixing and matching small plates to create a delicious and filling meal.
The fun, eclectic local restaurant is everyday open for lunch and dinner and is quite popular, so reservations are recommended. Santiago's is all about sharing, they have an extensive menu of cold and hot tapas spanning global influence and inspiration designed for sharing with your table. They hope that you share your stories and laughter with them to bring light and life into their dining room.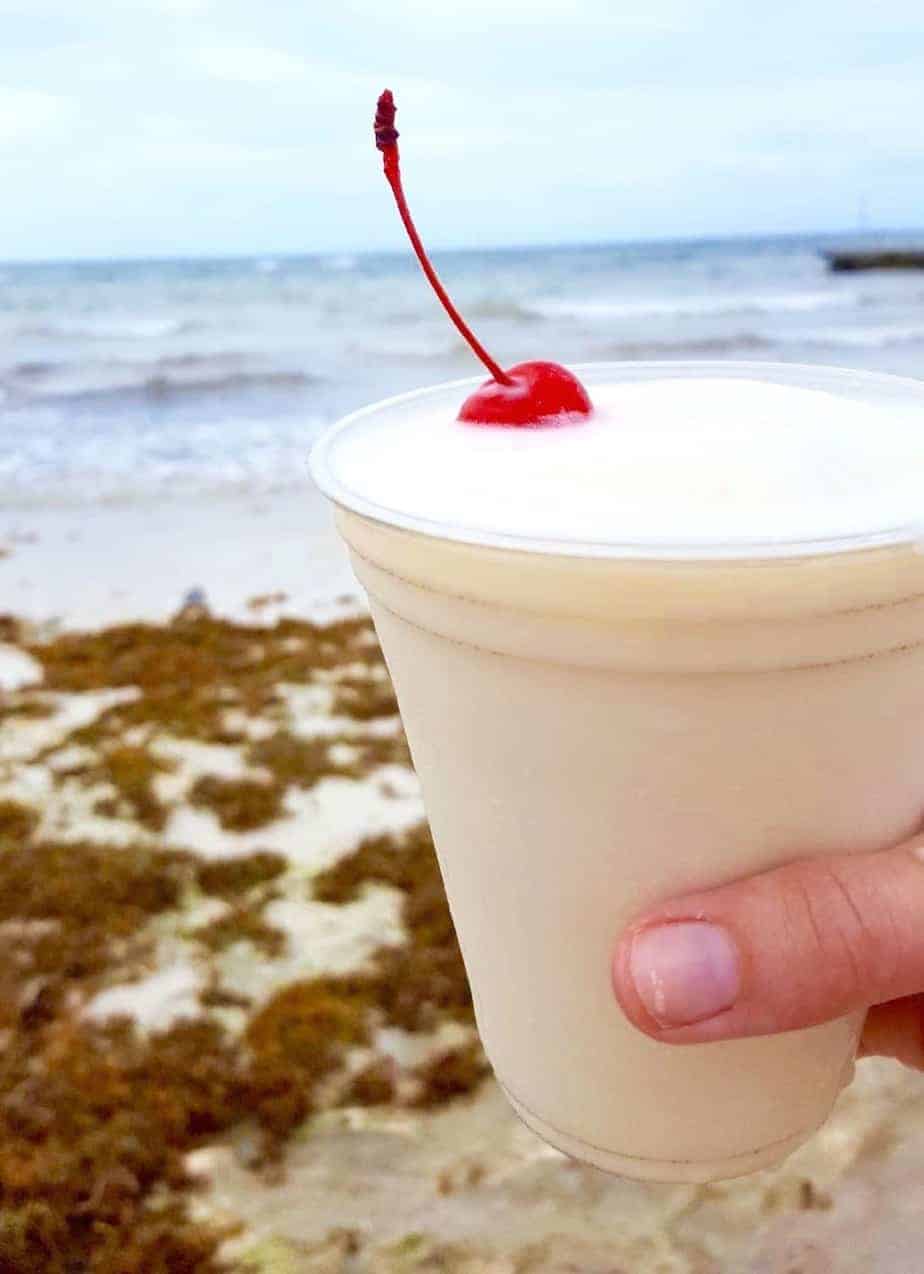 Southernmost Beach Cafe is one of the on site dining options at the Southernmost Beach Resort in Key West. While I recommend you venture out of the resort to experience Key West's vibrancy and uniqueness, sometimes it's hard to pull yourself off of the beach and you just need a quick bite to eat and a brief respite from the sun.
The Sand Bar is the resort's casual option within mere feet of the beach and ocean. They have a daily bar bites menu which offers a mix of appetizers like conch fritters and coconut shrimp and sandwiches like a blackened or grilled Mahi Mahi sandwich or even a classic burger that all would make good lunch options. Southermost Beach Cafe is more upscale and offers more lunch options with a Caribbean and Asian inspired menu.
PS: After having a lot of pina coladas over the three days we were in Key West, and being a self-proclaimed pina colada expert after all, the pina coladas at Southernmost Beach Cafe were the best!