The southernmost point in the United States, Key West boasts a fun, laid back vibe and a creative culinary scene. From fresh, local, seafood and Cuban sandwiches, to tropical cocktails and key lime pie (of course), read all about what we ate and drank in Key West (and which Key West restaurants were our favorites).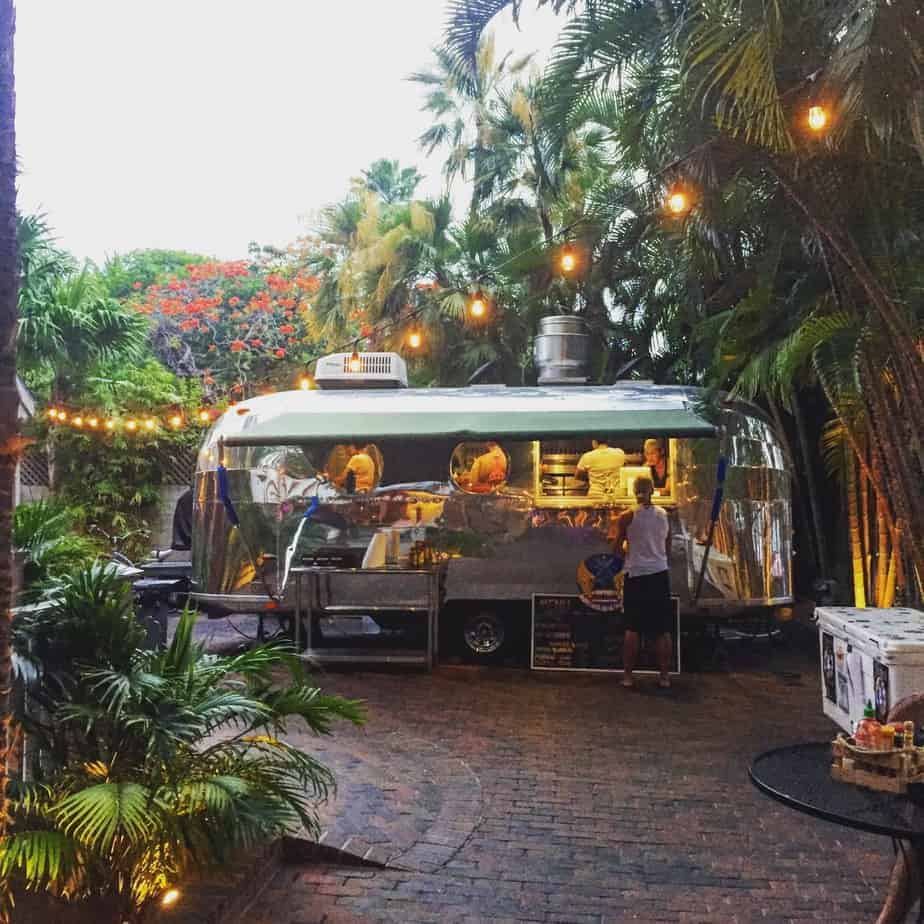 We got to the Outer Banks last night to spend Labor Day weekend beaching, fishing, reading, and hanging out with my family. Since we're enjoying the long, holiday weekend at the beach, I thought I'd revisit our fun Florida vacation from earlier this summer and take y'all to the beach too! In early June, AJ and I packed up the car and spent 10 days on a Florida road trip. For three of those days, we soaked up everything Key West has to offer: the island lifestyle, relaxed vibe, fun nightlife, quirkiness, history, water sports, beaches, and of course, the food!
I was so excited to share our vacation with you, but I felt like the Key West restaurants we visited during our trip deserved their own post. Besides following a pretty strict pina colada diet (as one should on vacation to a tropical paradise) here's everything else we ate while in Key West!
Garbo's Grill was the our first stop in Key West (after an afternoon at the beach and a well deserved hotel nap, of course). While Garbo's Grill doesn't look like much (it's an airstream camper parked on the patio behind Grunts Bar), it's one of the most popular Key West restaurants (you can either trust me or do a quick Key West restaurants Google search). We picked Garbo's as our first stop because we were looking for something super casual and let's be honest, you can't get more casual than a food truck. Plus, we had read tons of reviews about their fish tacos, and AJ can never say no to fish tacos, so fish tacos seemed like the perfect first Florida meal. Garbo's did not disappoint; we shared the Yum Yum Shrimp Tacos and the Cayo Fish tacos and knocked back a few beers while relaxing and enjoying live music on Grunts' patio.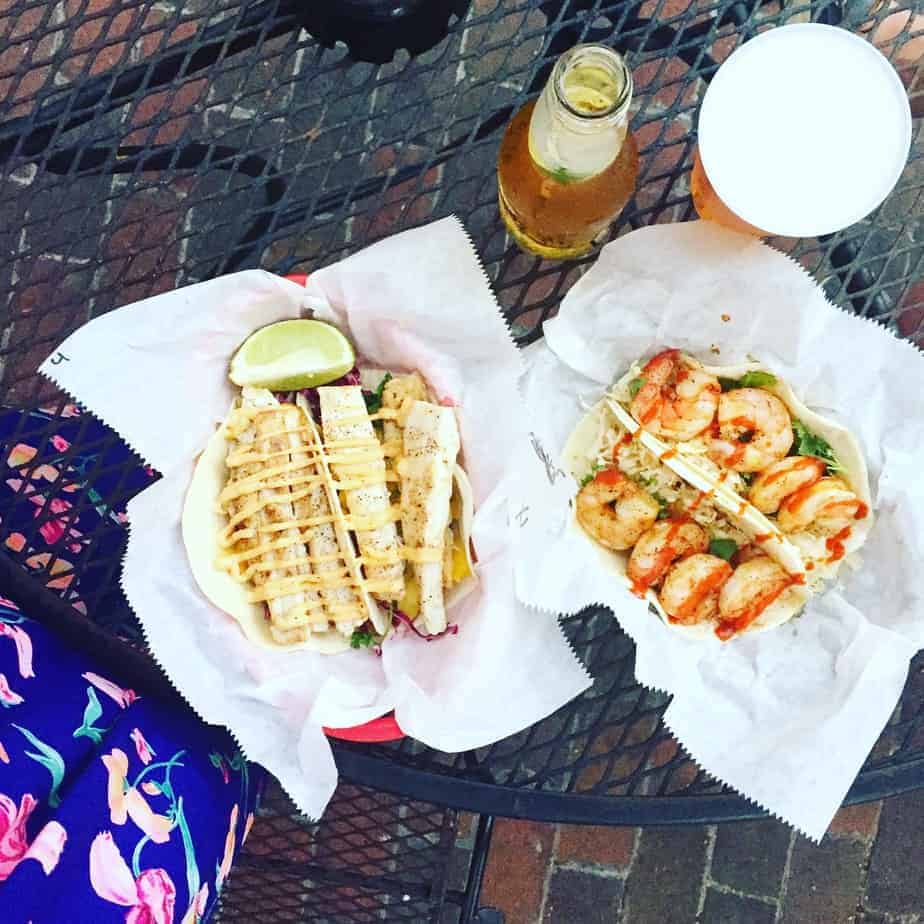 We had a little bit left in us on our first night in Key West (a 13 hour drive can take a lot out of you!), so we stopped at The Porch for an after dinner drink before heading back and passing out at the hotel. The historic mansion and magical outdoor garden is what piqued our interest in The Porch, and we were completely sold when we walked inside and saw their wide variety of craft beers (as craft beer lovers, it's always fun to try something new when we travel). We took our beers out onto the porch, and enjoyed the people watching Key West's nightlife has to offer.
Ana's Cuban Cafe was right across the street from our hotel, so it was a no brainer for lunch (the grocery store it's attached to was also a no brainer for a beer run when we were in a pinch, but after dropping that much on a six pack, we went to a big box grocery the next day for some cheaper options). Ana's is in the back of a little bodega/grocery store; you order at the counter and then can take it to go or grab a seat at one of the picnic tables or lunch counter out front. Of course with "Cuban" in the name, I had to get a Cuban sandwich and plantains and wash everything down with fresh coconut water.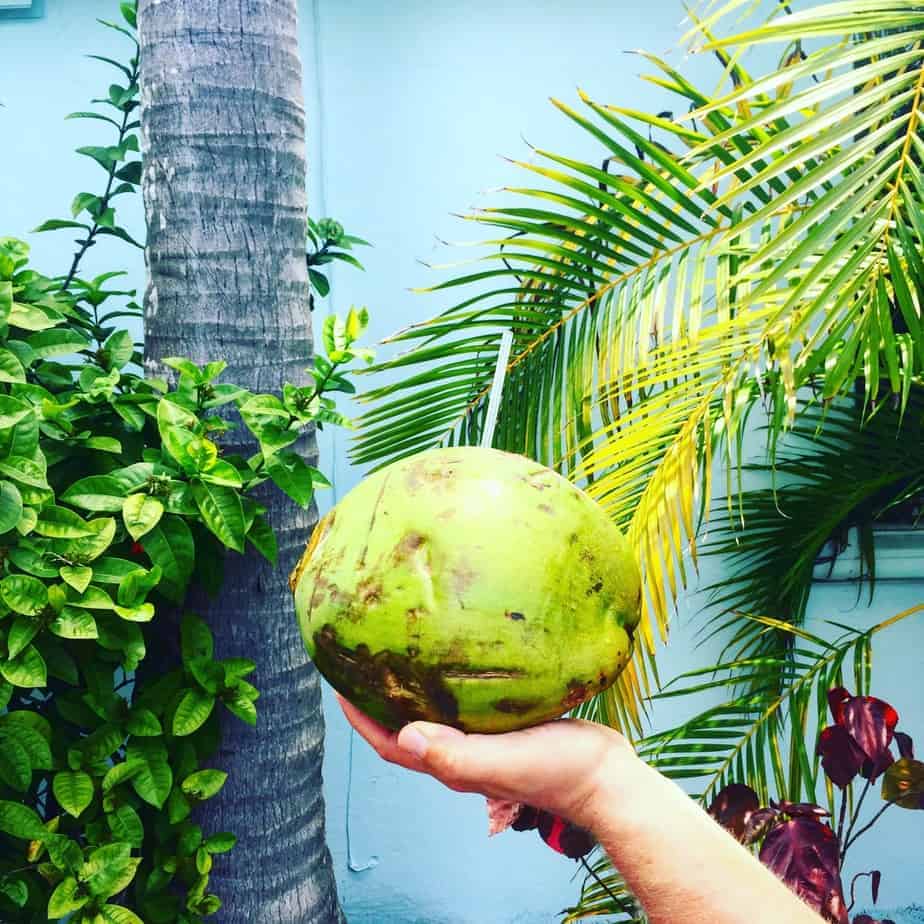 Southernmost Beach Cafe was one of the Key West restaurants we visited just for drinks. We had access through our hotel to the beach at the Southernmost Beach Resort (even though we didn't stay there), so our first morning in Key West was super low key and spent lounging next to the water. We came armed with our books and a cooler, and after being told coolers weren't allowed (um what?!) we sprang for a 10am pina colada because, why not? After having a lot of pina coladas over the three days we were in Key West, and being a self-proclaimed pina colada expert after all, the pina coladas at Southernmost Beach Cafe were the best!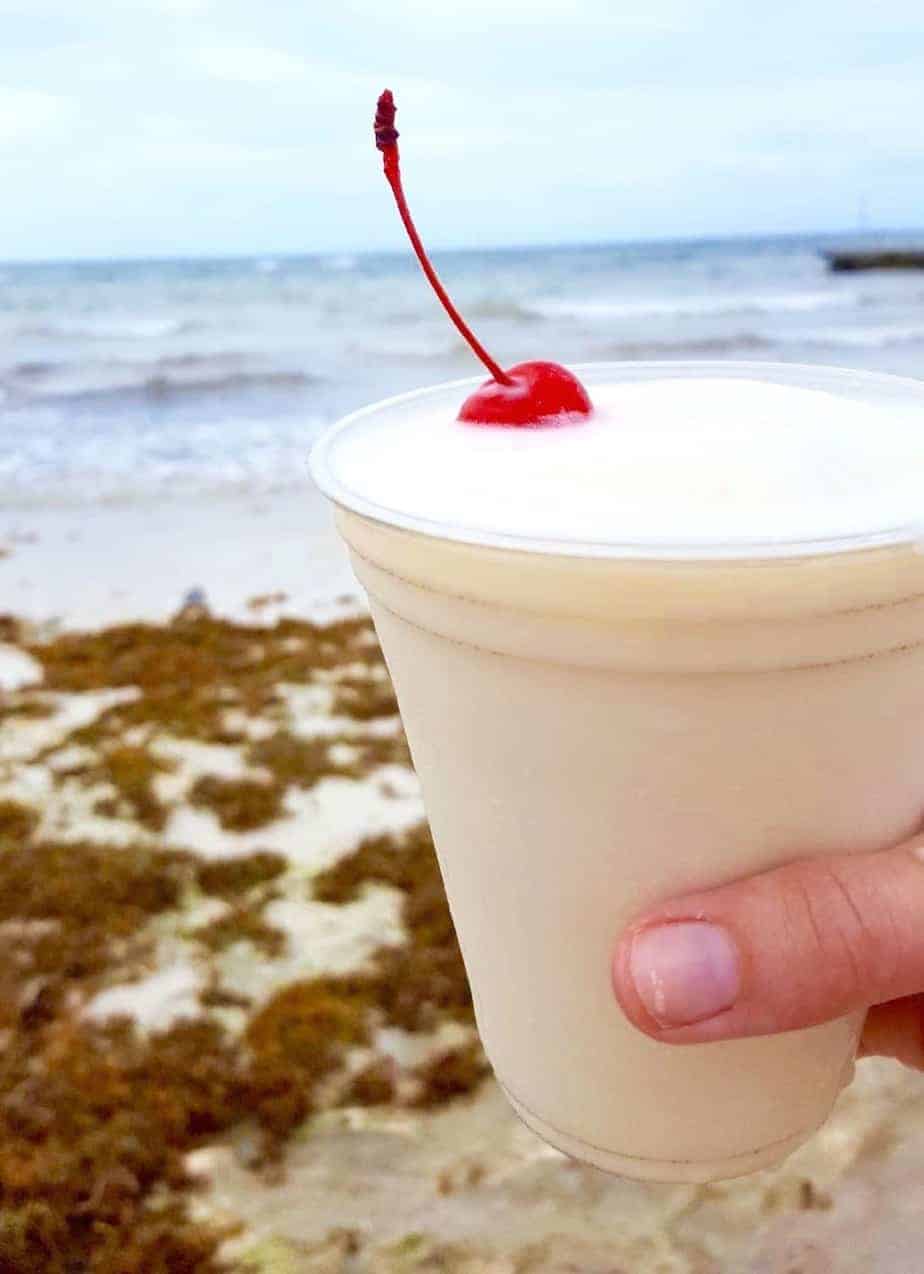 You can't go to the beach and not get oysters. So we got our seafood fix at Half Shell Raw Bar, located in Key West's historic seaport. We went to Half Shell during happy hour, because not only love oysters, we love deals too. Running from 430 to 630pm daily, Half Shell offers pretty good discounts on seafood and we filled up on oysters, steamed shrimp, calamari, conch fritters and clams.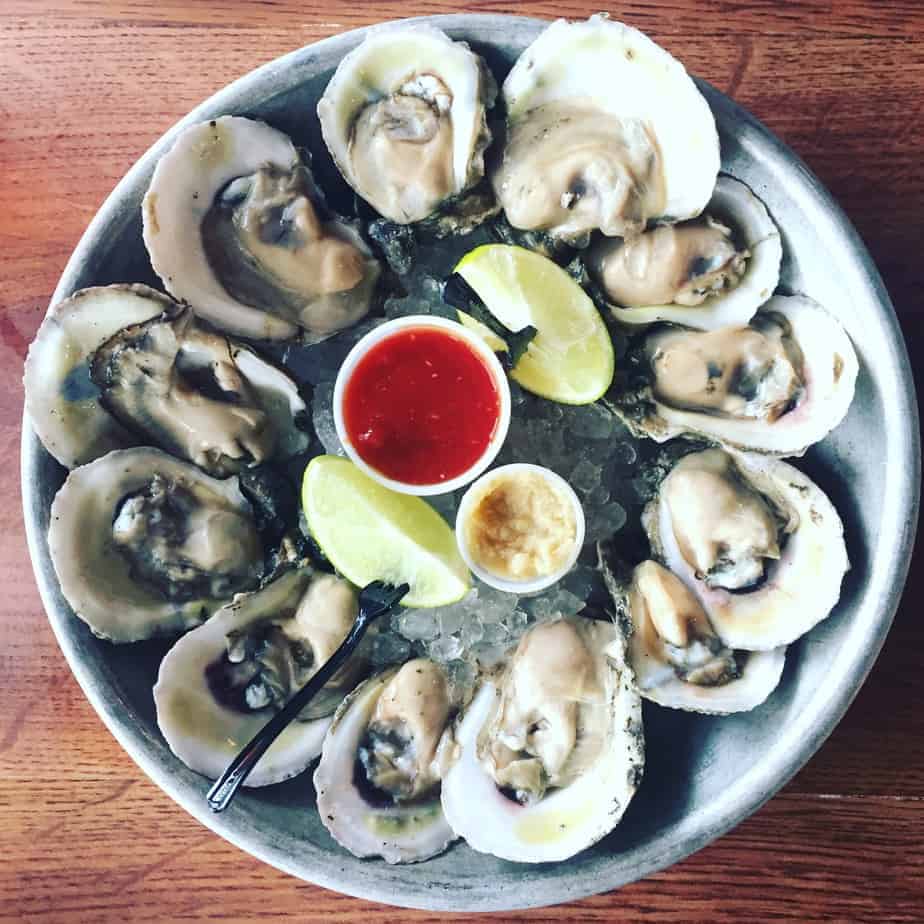 Say the words "local brewery" to us when we travel and the brewery is probably a planned (or going to be planned) stop on our vacation (over the past few years we've really enjoyed checking out local breweries when we travel!) so The Waterfront Brewery was a no brainer. Overlooking the historic seaport, The Waterfront Brewery is a Key West restaurant that has brews with major views, so of course we got a flight to try what they had on tap. We did skip the food on this go around (we had just come from happy hour at Half Shell) but I've read their food is good (it's what you'd expect at a brewery like burgers and wings and the like with island flair like fish dip) and what we saw coming out of the kitchen made me consider ordering a second dinner.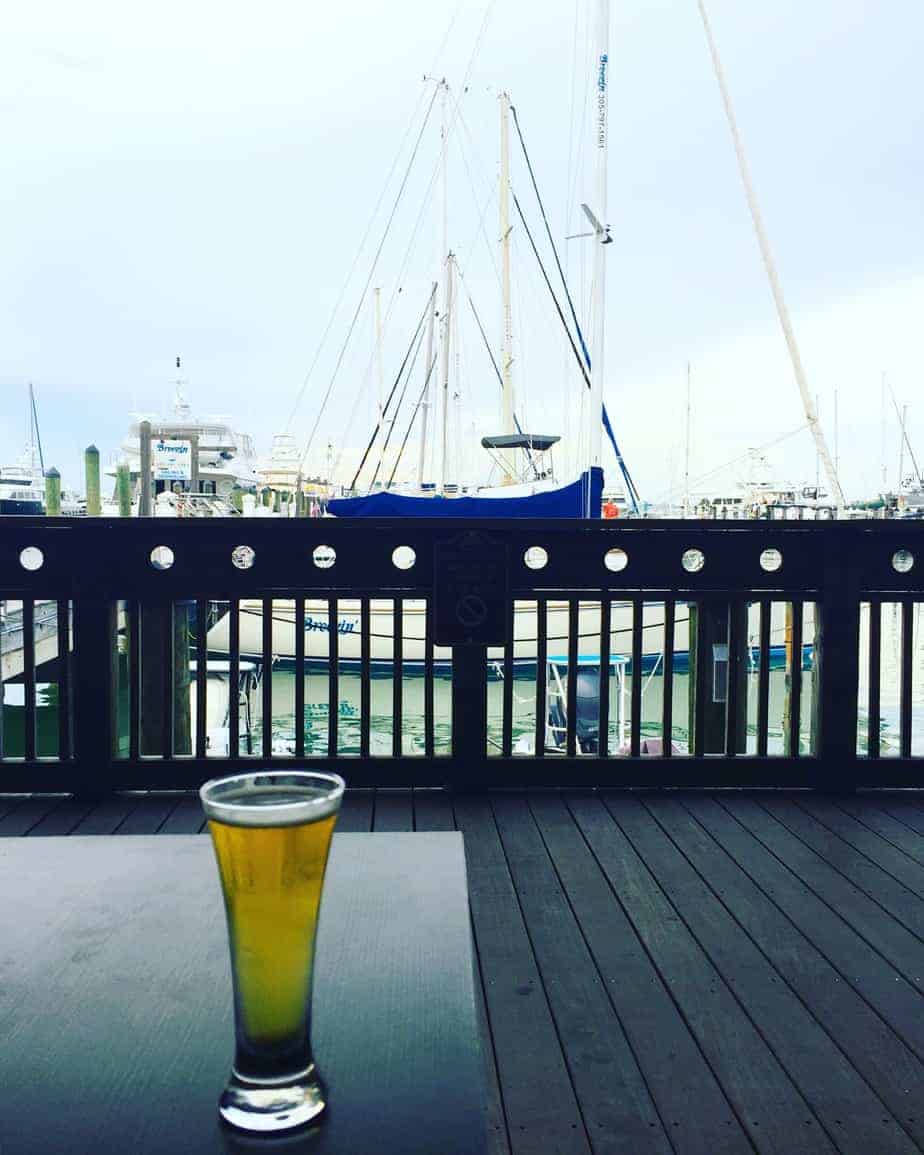 What do you think of when you think of Key West restaurants and food? Key lime pie, of course! Since Key West and key lime pie are basically synonymous, we couldn't have a trip to the Keys without indulging in at least one slice. Blue Heaven served us a slice of their take on the famous treat after we enjoyed a lazy Sunday brunch on their patio (to be fair, we were up early kayaking with manatees, and escaped to Blue Heaven for brunch on their shady patio to avoid the hottest part of the day). A visit to Blue Heaven is worth it just to enjoy the festive and funky patio and to watch the roosters roam around; but while you're there you may as well share a slice of key lime pie with mile high meringue. We shared a slice but to be honest, even though I was full on huevos rancheros, I could have eaten one just one my own.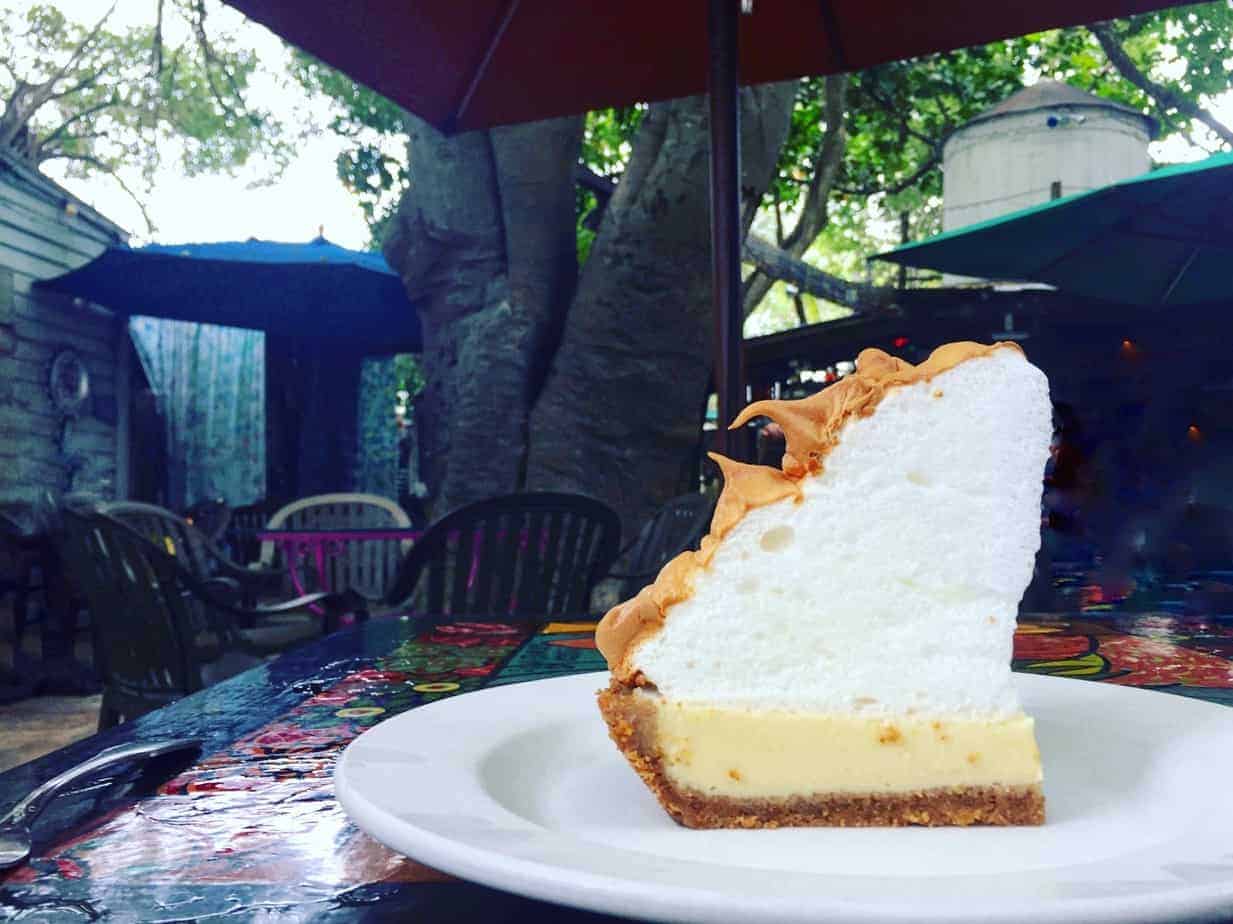 Our last night in Key West we decided to dress up (if tropical maxi dresses and collared shirts are considered dressing up) and be extra touristy with a stop at Mile Marker Zero and Mallory Square for the sunset (which we didn't see because it was super cloudy, but we did have fun watching the street performers). We then capped our final evening with a long, lingering dinner at what may have been my favorite Key West restaurant, Thirsty Mermaid, a smaller seafood restaurant and raw bar with a huge emphasis on local. Located in a more intimate space a few blocks off of the hustle and bustle of Duval, Thirsty Mermaid was a welcome respite from the crowd and borderline chaos of Mallory Square. With just a handful of tables and a few seats at the bar, we had to wait to be seated (they don't take reservations, which isn't a bad thing) so we chatted over a glass of wine. Then it was time to feast! We went all out and ordered two appetizers and two entrees, and enjoyed tuna poke, mussels, scallops and snapper.  And of course, we stopped for a pina colada on the walk home.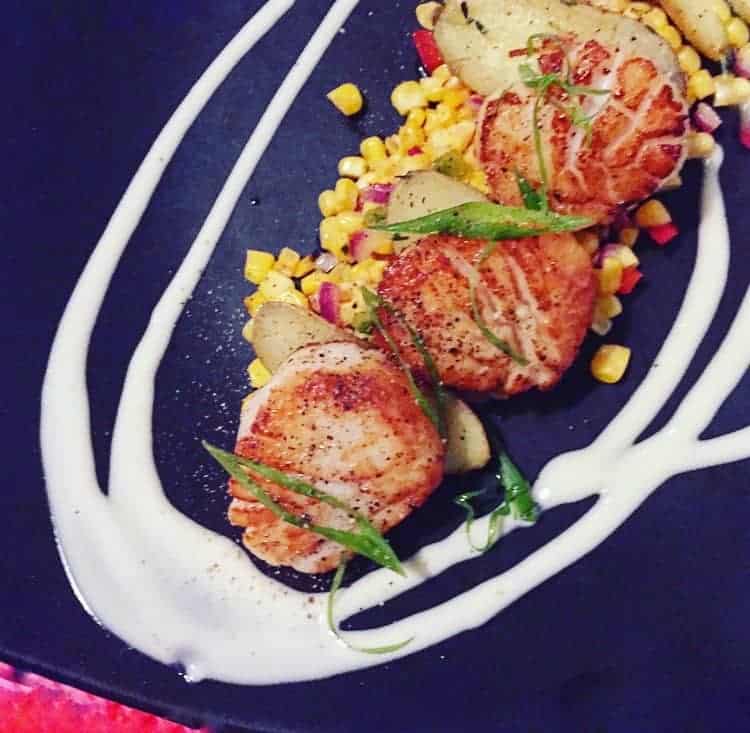 PIN WHAT WE ATE AND DRANK IN KEY WEST FOR LATER!