No need to buy frozen waffles when you can easily make the real thing at home! These pumpkin waffles, from The Ultimate Kids' Cookbook, are full of fall flavors and so easy to make they've become a seasonal Sunday morning staple in our house.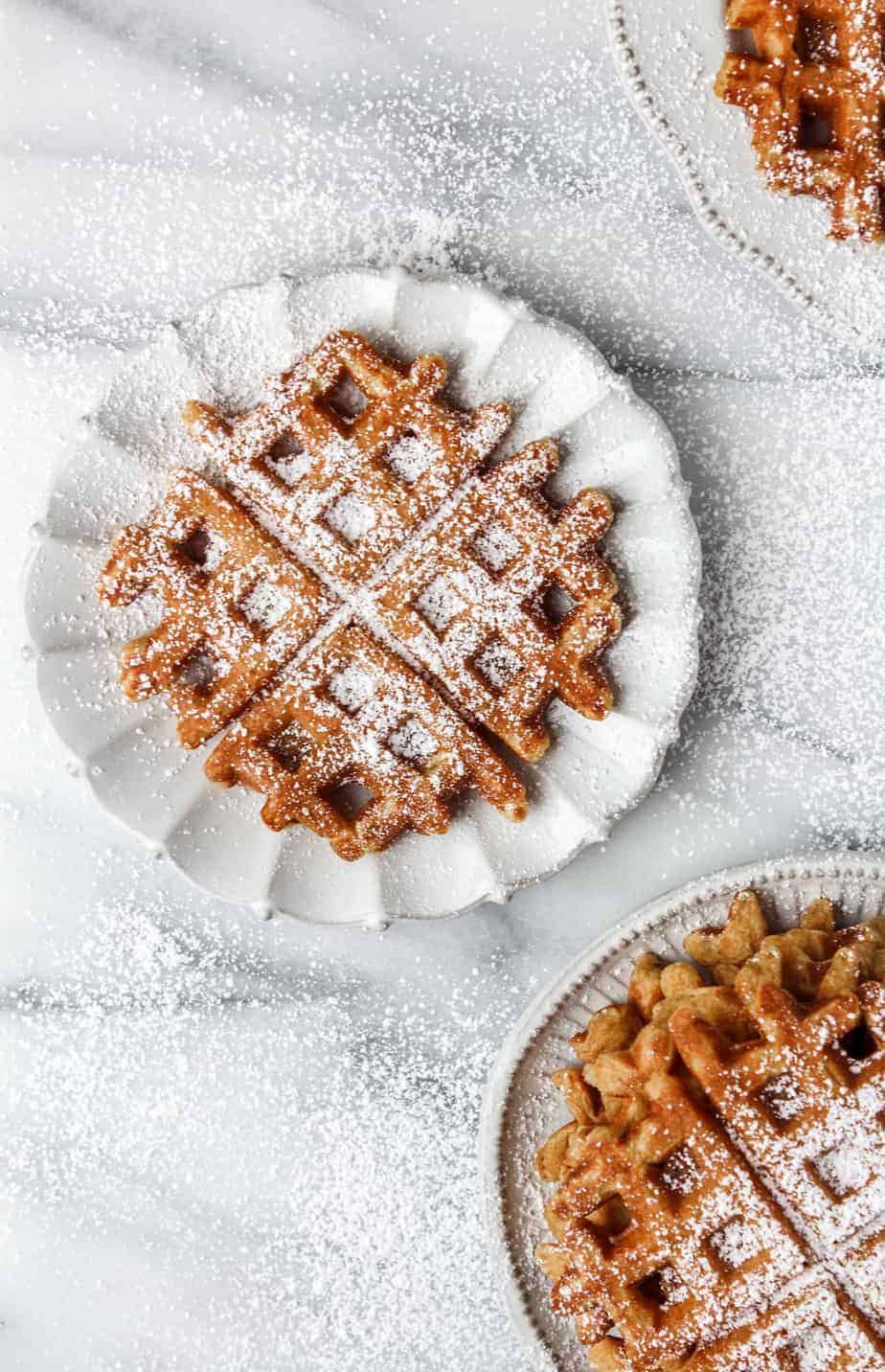 At the end of August I decided to do a new thing.
(Yes I promise that this post will eventually connect to pumpkin waffles. And if it doesn't, you'll still get the delicious recipe).
On August 28 I set a goal to write for 30 minutes a day. Like actually write. In a notebook.
By doing this, I was hoping to get some new blog content and minimize distractions. The end of August brought with it the end of a series of very busy weeks and a week and a half vacation in Northern Michigan which seemed like the perfect opportunity to reset.
I had a few goals that came with this little experiment.
The first was to get the eff off my phone and spend my time more productively.
The second, was to generate more blog content to be able to schedule out posts for weeks in advance, eventually upping my posting schedule to 2 times a week (I have been consistently posting once a week since January).
I also just really wanted to get back in the habit of writing.
Instead of mindlessly scrolling Instagram or screwing around on Pinterest.
I decided back on August 28 (when I wrote a lot of these ideas) that I would probably "publish this dribble with Tiffany's pumpkin waffle recipe once I take the photos after our trip."
(See? Connection!)
"This is of course, not related to Tiffany's pumpkin waffles recipe except that I love waffles and fall and pumpkin and I'm hoping that the cooler temperatures in Michigan spark a fall mood. Ouch a hand cramp."
Well, I must be able to see the future because the cooler temperatures in Michigan did in fact spark a fall mood and I made these pumpkin waffles basically first thing when we got back because I was like omg fall omg pumpkin everything.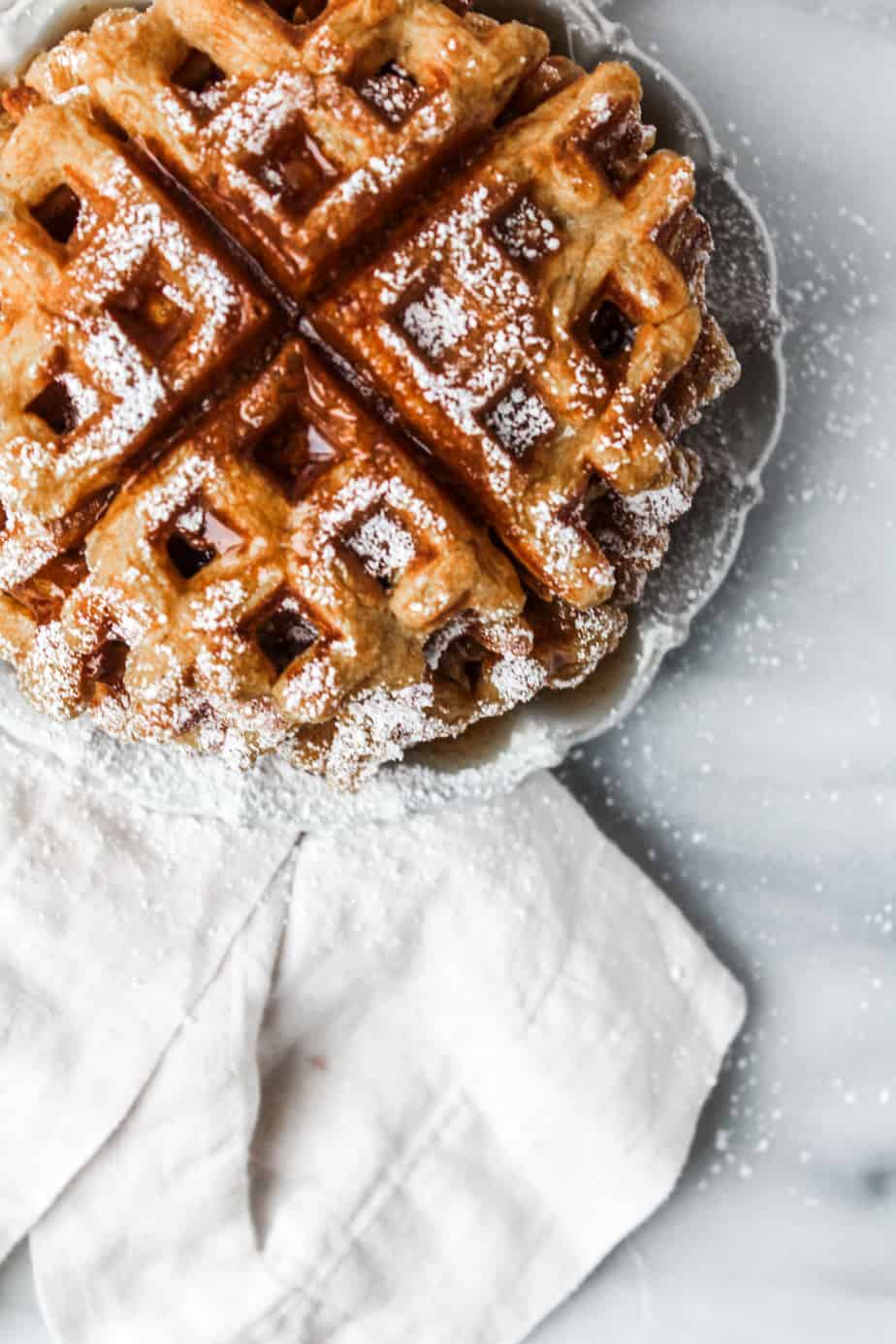 As written on September 10, "I came back to Charlotte so ready for fall."
So someone please go grab my boots and blanket scarf immediately so I can wear them while drinking a pumpkin beer and eating these pumpkin waffles. Thank you.
Now here is a seamless transition from my random dribble into Tiffany's cookbook and awesome recipe for pumpkin waffles.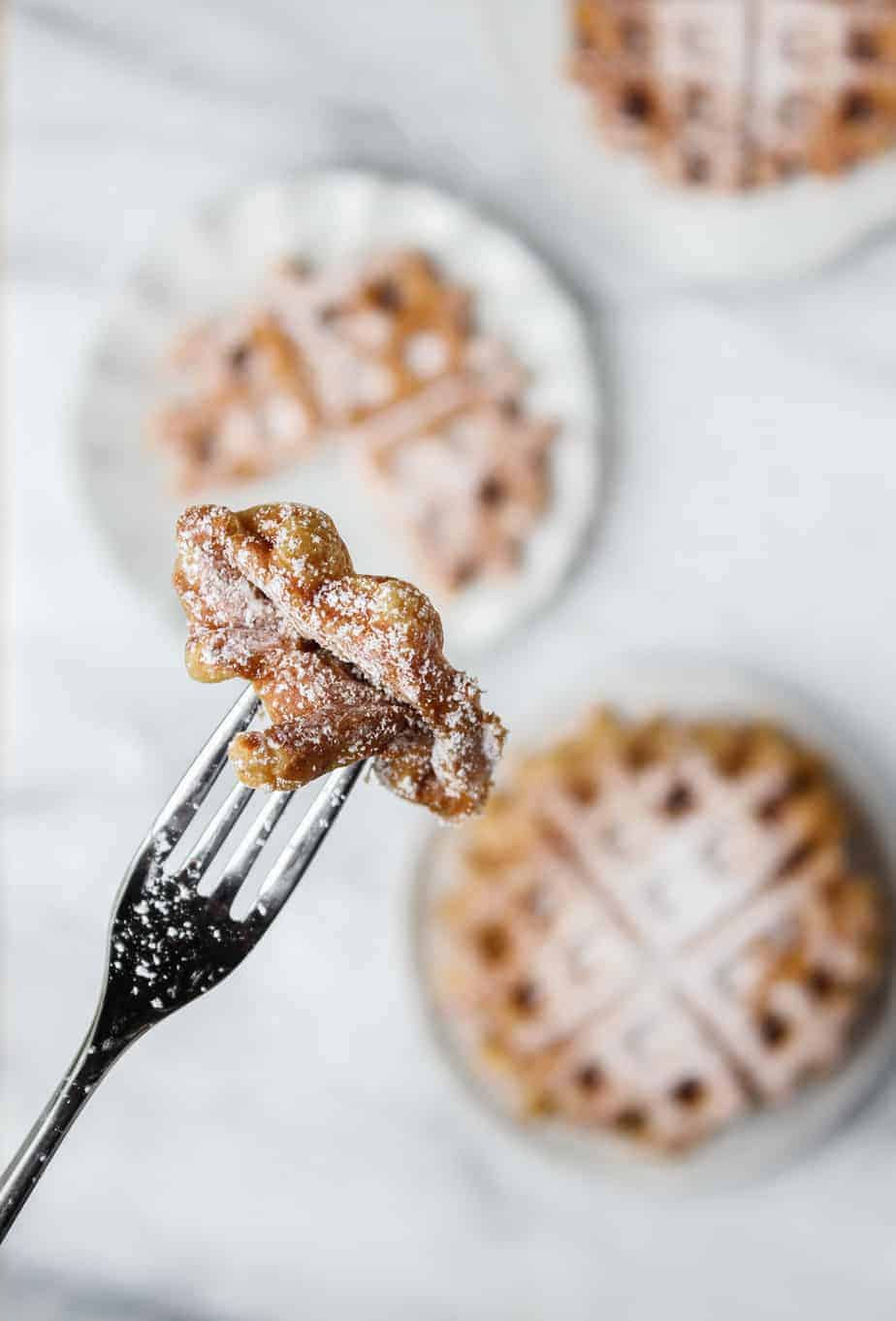 I met Tiffany a few years ago through our local blogging group (Charlotte Food Bloggers, holla!) and let me tell y'all, she is hashtag goalz.
She's a busy momma of two fun, smart and spunky girls and has grown her blog (ps: she's a Pinterest maven), Peanut Blossom, into a full time business, where she shares incredible stories of motherhood, delicious recipes, family fun, photography tips, travel and holiday inspiration and so, so much more.
I think Tiffany describes her site best, "Here at Peanut Blossom, I encourage you to use simple everyday moments to create precious memories for your family without running yourself ragged. Together we'll find time to have more fun doing everything that makes the household keep running."
Inspired by her girls and the time they share cooking at home together, Tiffany published her first cookbook, The Ultimate Kids' Cookbook, this summer! The Ultimate Kids' Cookbook features pages and pages of beautiful and delicious family friendly recipes made with simple ingredients where the kids take center stage in the kitchen.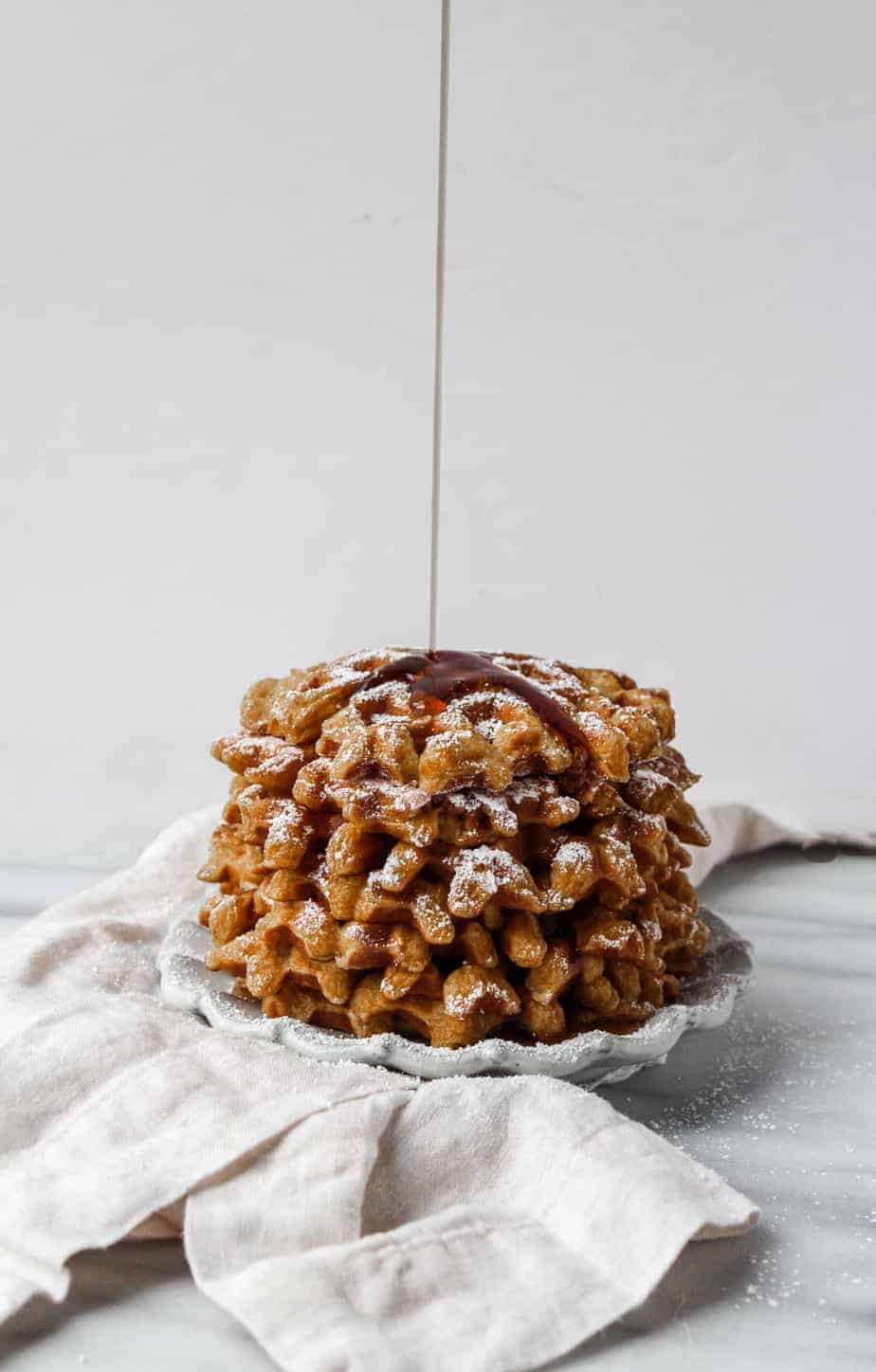 While we don't have kids (and Pheebs can't cook), I was so excited to get my copy of The Ultimate Kids' Cookbook and got right to perusing the colorful pages and salivating over Tiffany's at home recipes.
I decided the first recipe I'd tackle was Tiffany's pumpkin waffles because, have I mentioned yet, I am ready for fall?
But also, I was looking for something for a slow, cozy, Sunday at home and pumpkin waffles totally hit the spot.
These pumpkin waffles are going to be on repeat at our house all fall, and yes, we are basic enough to likely wash a batch down with a cup of pumpkin spice coffee.
No shame in our pumpkin loving game.
TIPS FOR MAKING PUMPKIN WAFFLES
I loved making this recipe because I had basically all the ingredients in my pantry and fridge (I only had to pick up buttermilk and canned pumpkin at the store) and it used just one bowl, which was ideal for easy clean up and quicker pumpkin waffle eating.
Another love: this recipe makes a ton of waffles (like 20-22!), which means you'll be enjoying pumpkin waffles for daysss, which is never a bad thing.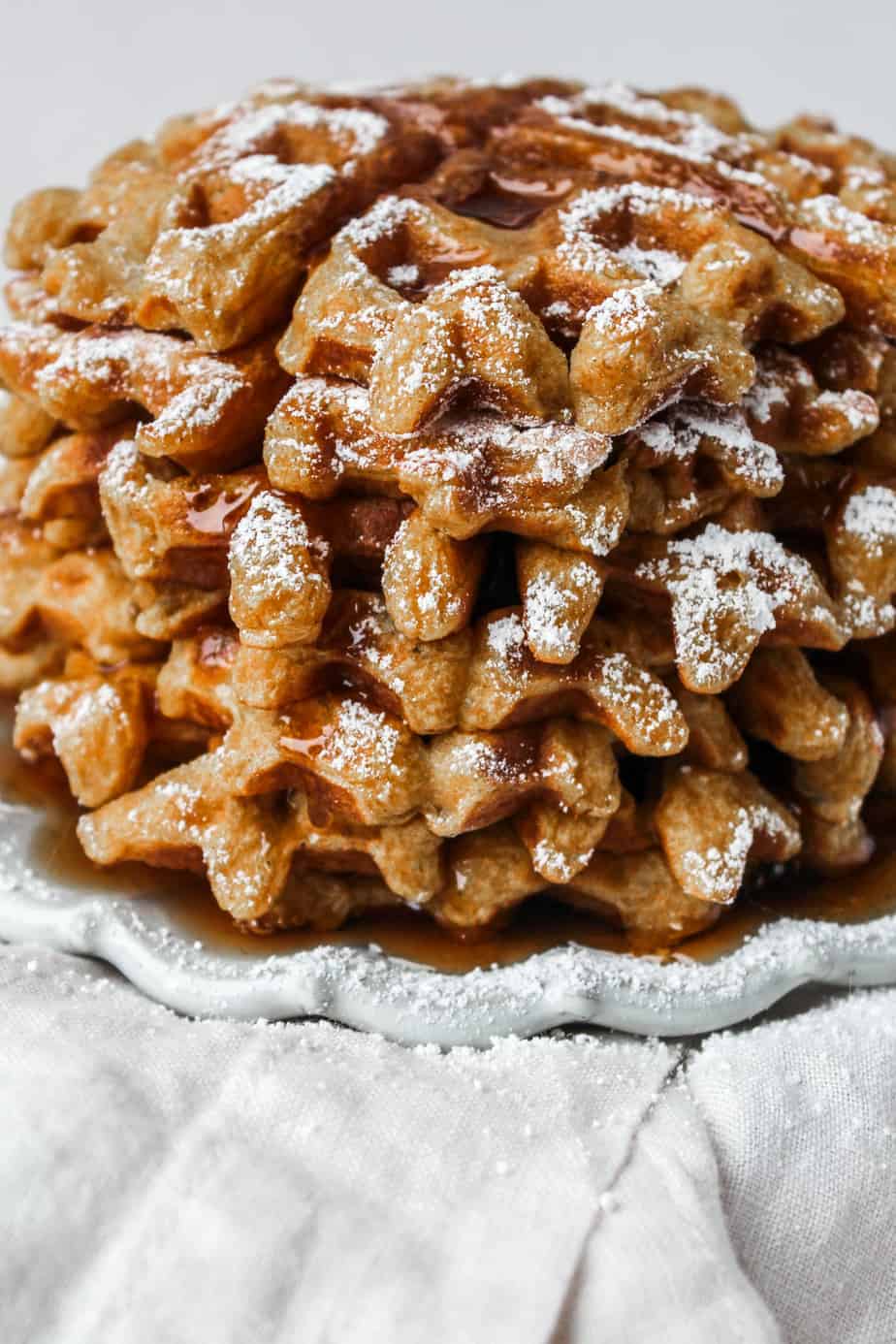 Speaking of tons of waffles, the biggest question I had was, how do I store them? Or do I just store the batter and make them to order?
The best tip I got from Tiffany fwas to make the entire batch at once on your waffle iron, eat what you'd like, and then freeze the rest (to freeze the leftover pumpkin waffles, allow the waffles to cool to room temperature and then store them in an air tight baggie with pieces of waxed paper in between to keep them from sticking).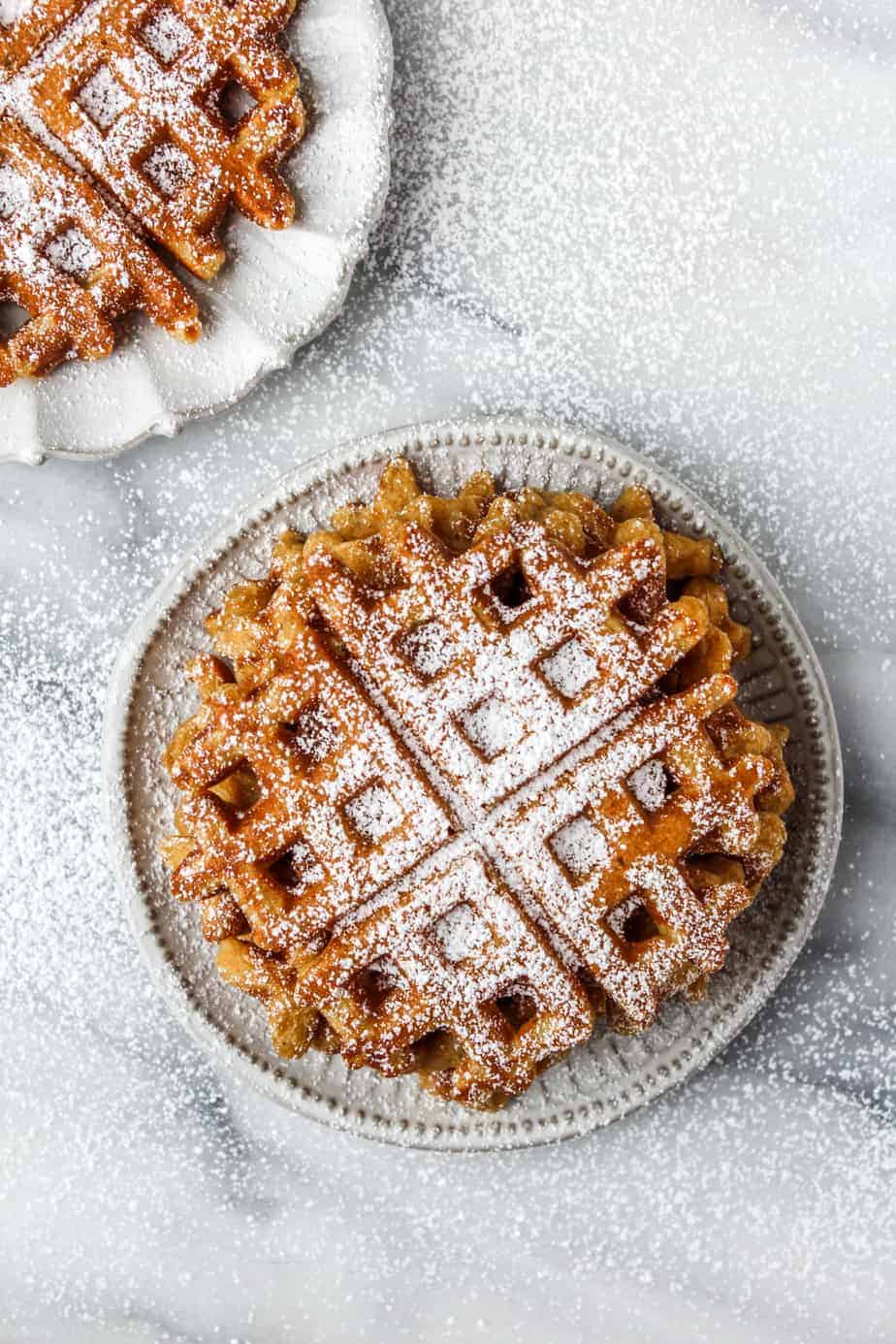 Tiffany says her family cooks all of the pumpkin waffles at one time, freezes them, and then heat waffles in the toaster for her girls to eat for breakfast all week.
If you're not in a big batch of pumpkin waffle making mood, the batter will keep in the fridge as is for one to two days, but it seems that freezing and toasting is definitely the way to go.
OTHER FALL RECIPES FROM OFF THE EATEN PATH YOU'RE SURE TO LOVE:
Sheet Pan Chicken with Sweet Potatoes, Brussels Sprouts and Apples
Salted Caramel Apple Pie with Cinnamon Plantain Crisp Crust
PIN THESE PUMPKIN WAFFLES TO SAVE THEM FOR LATER!