No need to buy frozen waffles when you can easily make the real thing at home! These easy pumpkin waffles from The Ultimate Kids' Cookbook are full of fall flavors and will become a seasonal Sunday morning staple in your house.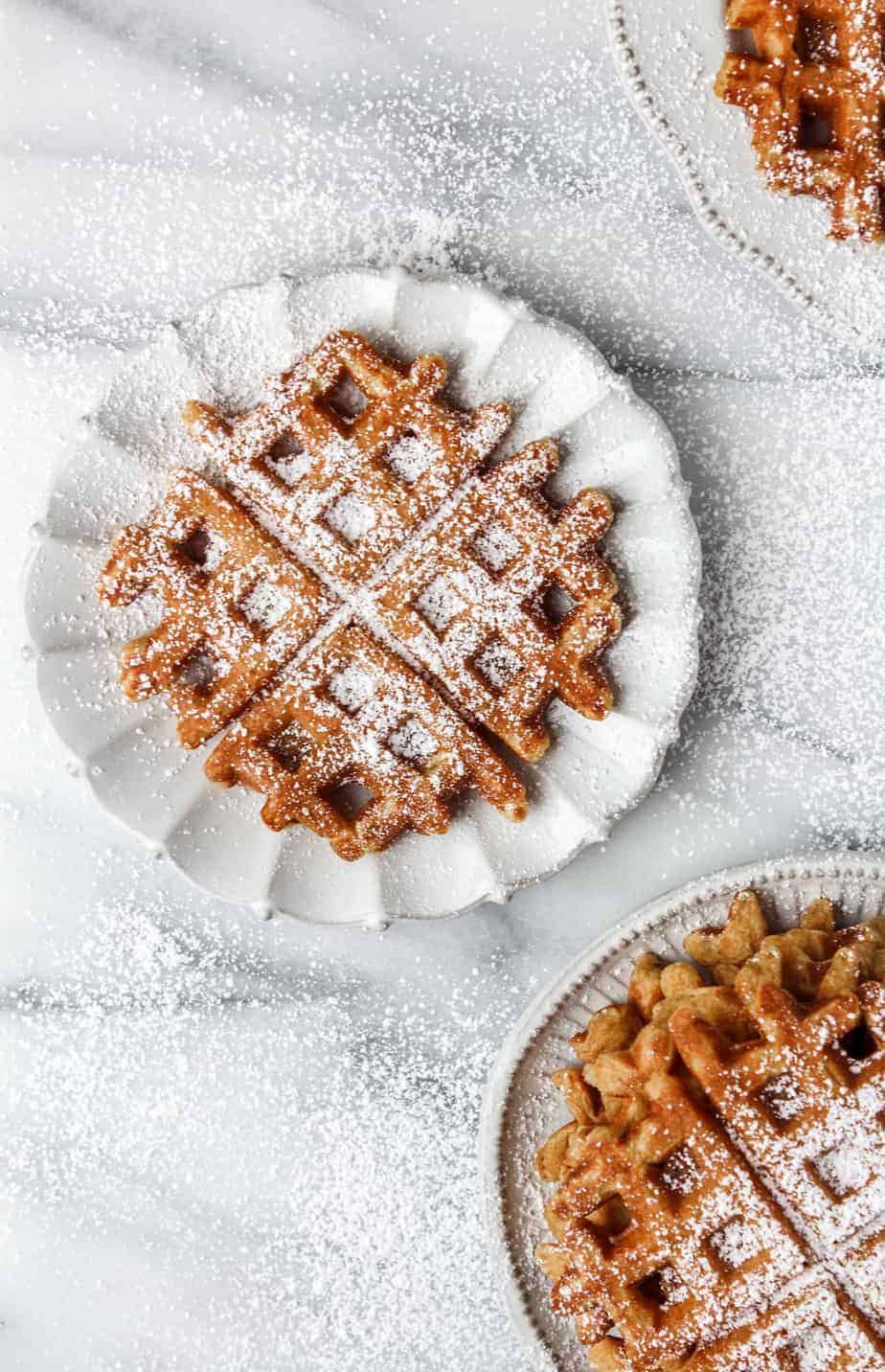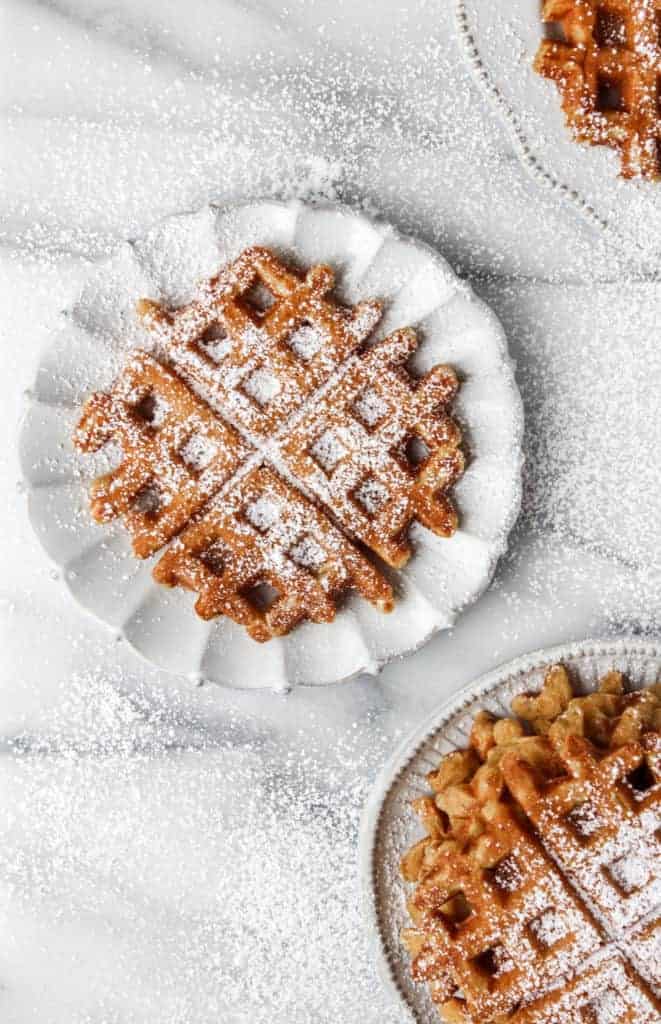 This recipe for easy pumpkin waffles comes from my friend Tiffany's fabulous cookbook, The Ultimate Kids' Cookbook!
I met Tiffany a few years ago through our local blogging group, and let me tell y'all, she is hashtag goals.
She's a busy mamaa of two fun, smart and spunky girls and has grown her blog (ps: she's a Pinterest maven), Peanut Blossom, into a full time business, where she shares incredible stories of motherhood, delicious recipes, family fun, photography tips, travel and holiday inspiration and so, so much more.
I think Tiffany describes her site best, "Here at Peanut Blossom, I encourage you to use simple everyday moments to create precious memories for your family without running yourself ragged. Together we'll find time to have more fun doing everything that makes the household keep running."
Inspired by her girls and the time they share cooking at home together, Tiffany published her first cookbook a few years ago!
The Ultimate Kids' Cookbook features pages and pages of beautiful and delicious family friendly recipes made with simple ingredients where the kids take center stage in the kitchen.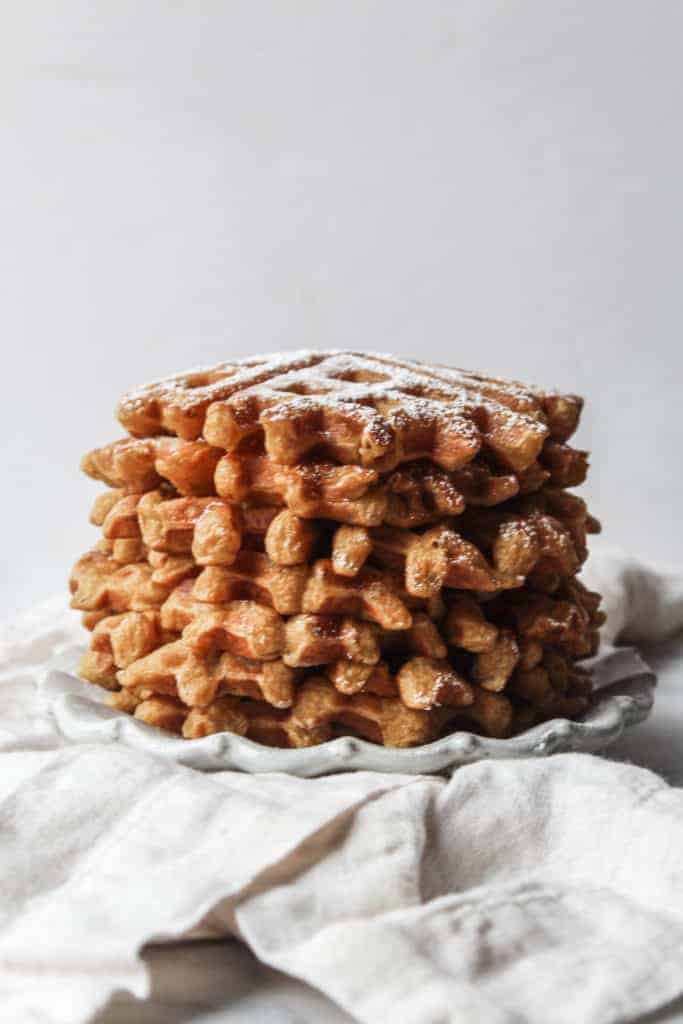 While we don't have kids (and unfortunately for us, Pheebs or Bodie can't cook), I was still so excited to get my copy of The Ultimate Kids' Cookbook because it has ton of easy and delicious recipes and inspiration for breakfast, lunch and dinner even if you don't have tiny cooks in your kitchen.
As soon as my copy arrived, I got right to perusing the colorful pages and salivating over Tiffany's at home recipes.
I decided the first recipe I'd tackle was Tiffany's pumpkin waffles because, after all, it's September so that means it's times for all things fall!
If you're still in a summer mood, can I recommend Watermelon Frozen Rose, Frozen Gin and Tonics, or Peach Frose for an at home happy hour? And why not make a batch of Grilled Peach Sundaes or Sparkling Peach Sangria with the last of peach season's beautiful bounty?
But if you're ready for fall like me, pour yourself a Whiskey Apple Cider Cocktail and whip up a batch of easy pumpkin waffles!
These easy pumpkin waffles are going to be on repeat at our house all fall, and yes, we are basic enough to likely wash a batch down with a cup of pumpkin spice coffee.
No shame in our pumpkin loving game.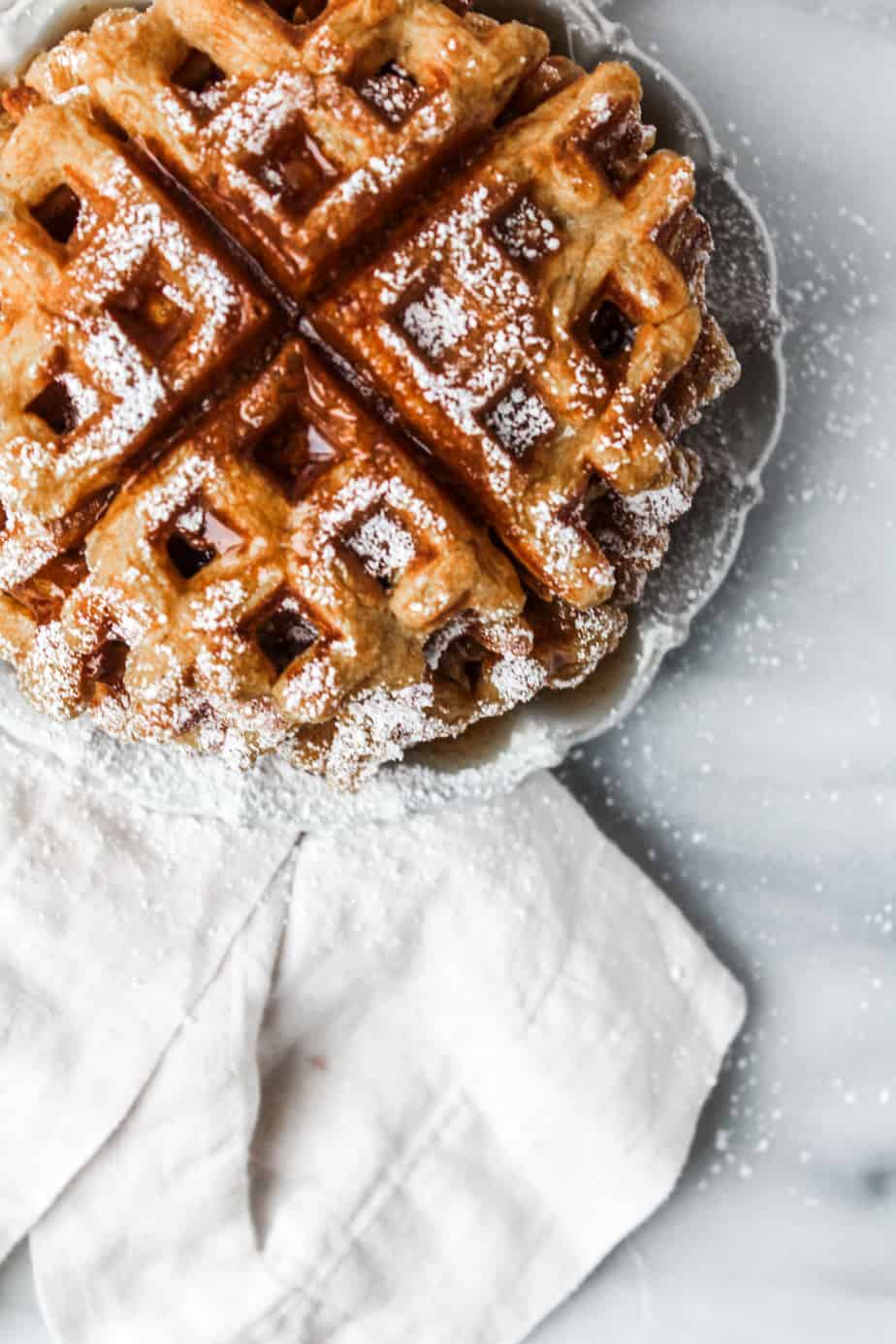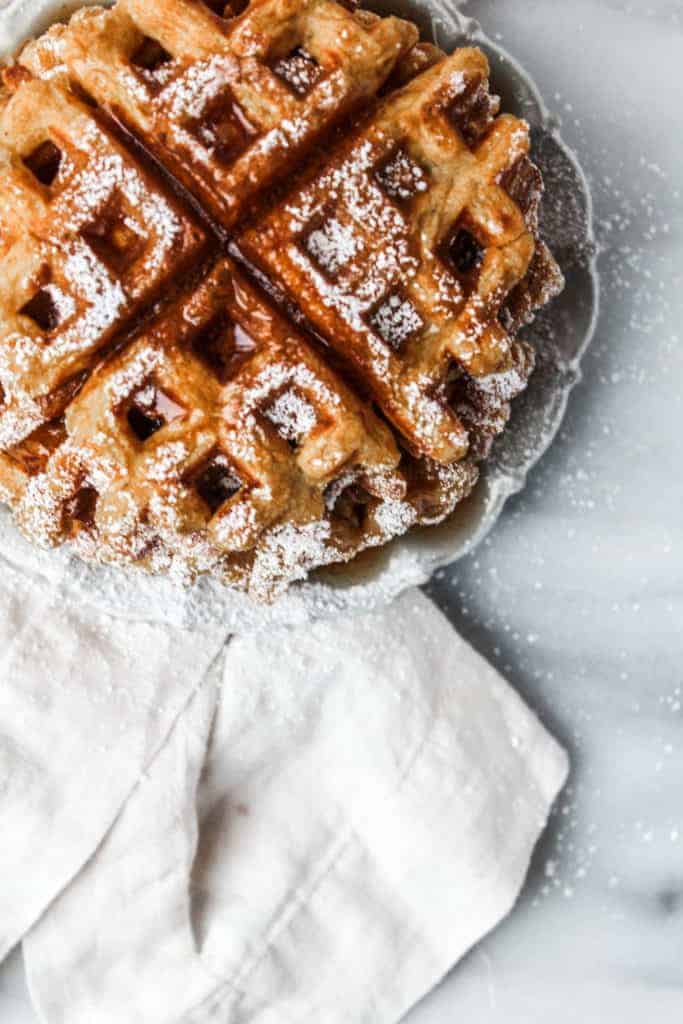 WHAT YOU'LL NEED TO MAKE EASY PUMPKIN WAFFLES
A large mixing bowl
A whisk
A waffle iron
A cookie sheet (to store finished waffles in the oven while you cook the rest of the batch)
You'll also need a variety of pantry and fridge staple ingredients like flour, brown sugar, baking powder, pumpkin pie spice, baking soda, salt, eggs and butter.
The two ingredients I had to run out to the store for was canned pumpkin and buttermilk.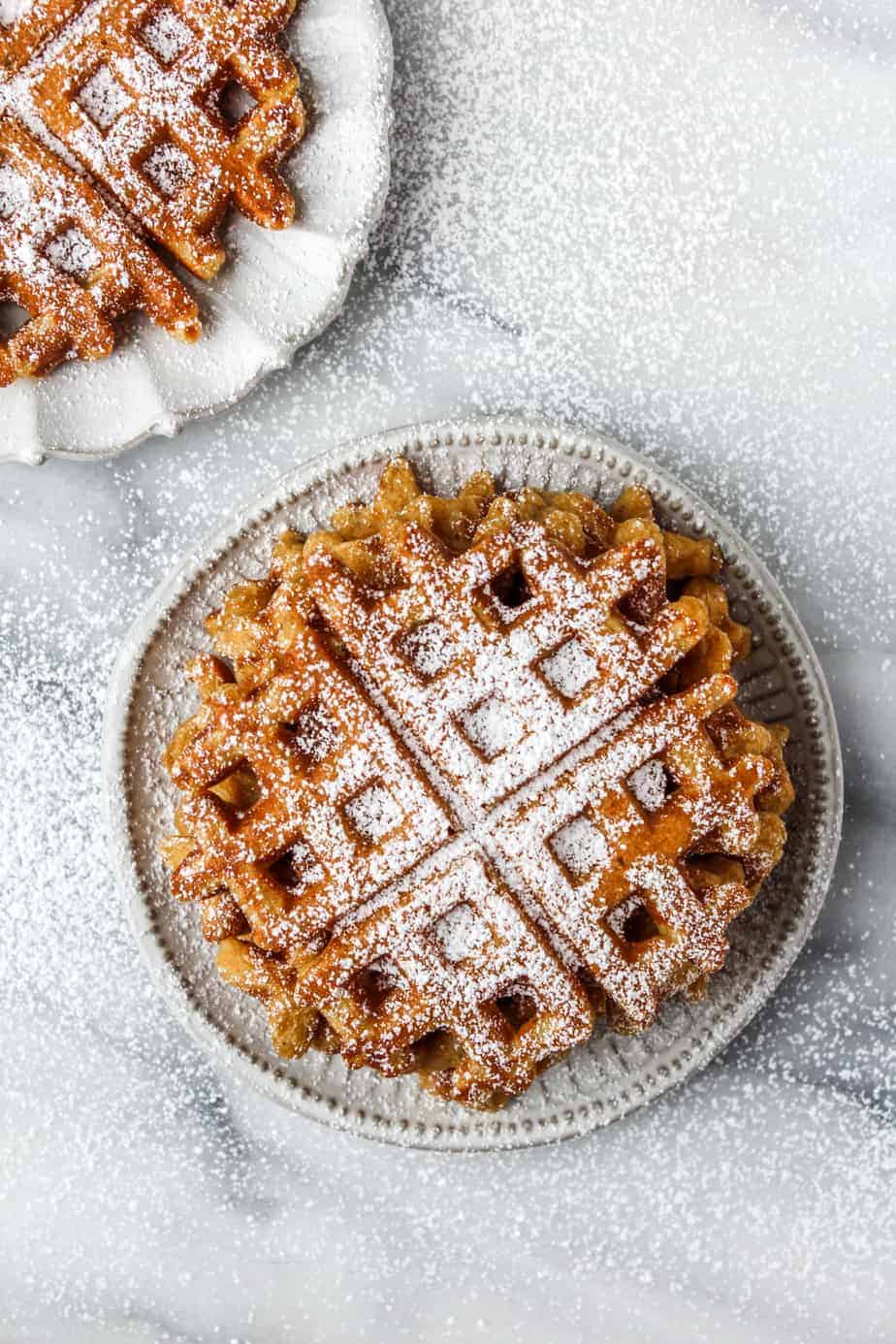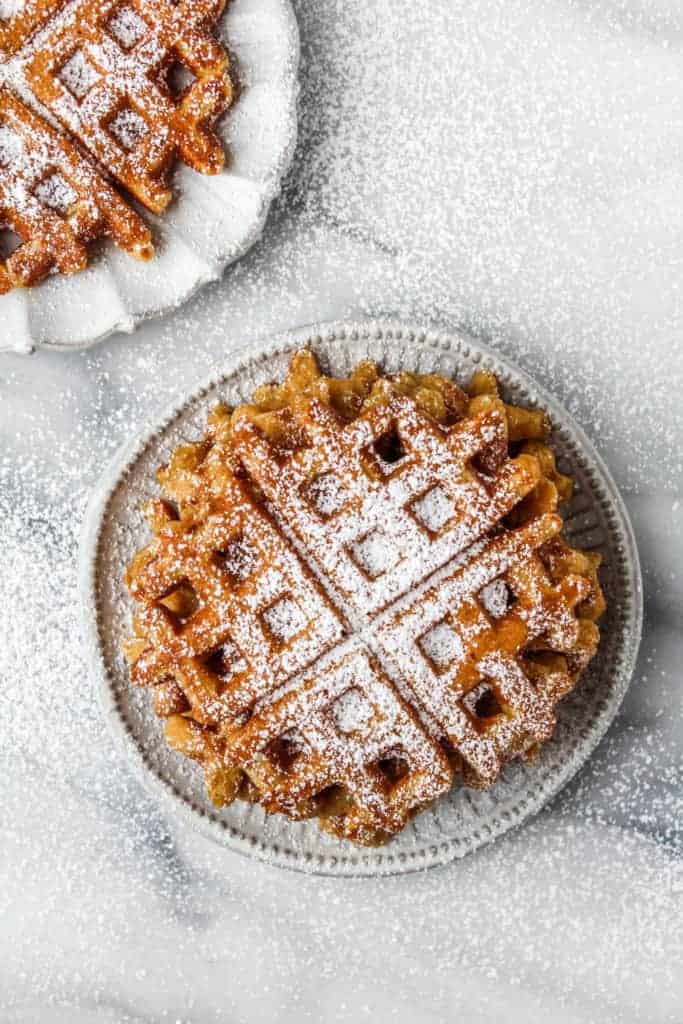 HOW TO MAKE PUMPKIN WAFFLES
I loved making this recipe because I already had almost all the ingredients in my pantry and fridge.
The other thing I loved was that the recipe used just one bowl, which was ideal for easy clean up and quicker pumpkin waffle eating.
To make these easy pumpkin waffles, you start with the dry ingredients.
Measure the flour, brown sugar, baking powder, pumpkin pie spice, baking soda and salt and add them all to a large mixing bowl.
Whisk them together until their combined.
Then, in the same bowl, you add the buttermilk. Then whisk the eggs and add those too.
Finish up the batter by adding the canned pumpkin and finally the melted butter.
Stir. And that's it, you're ready for waffle making!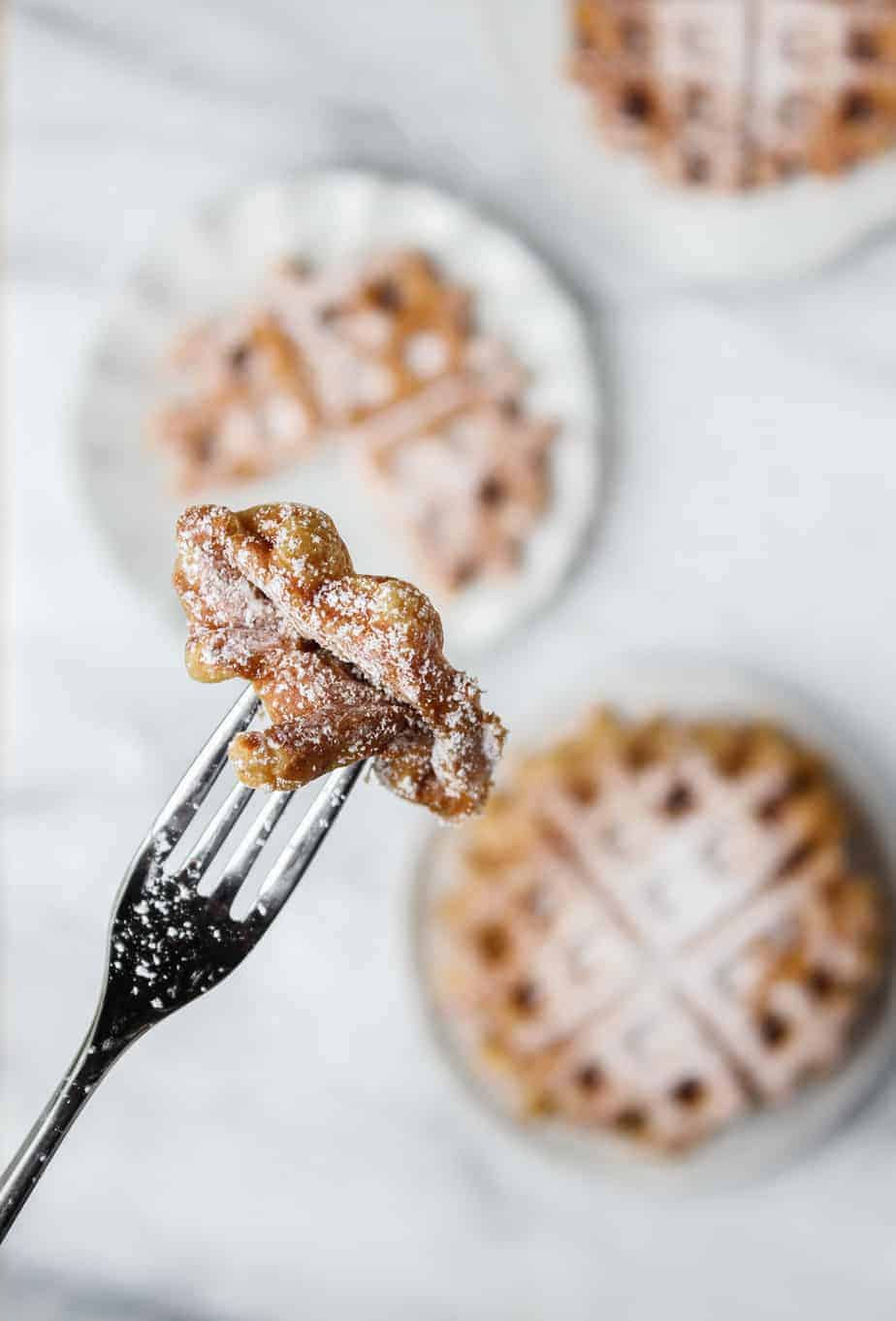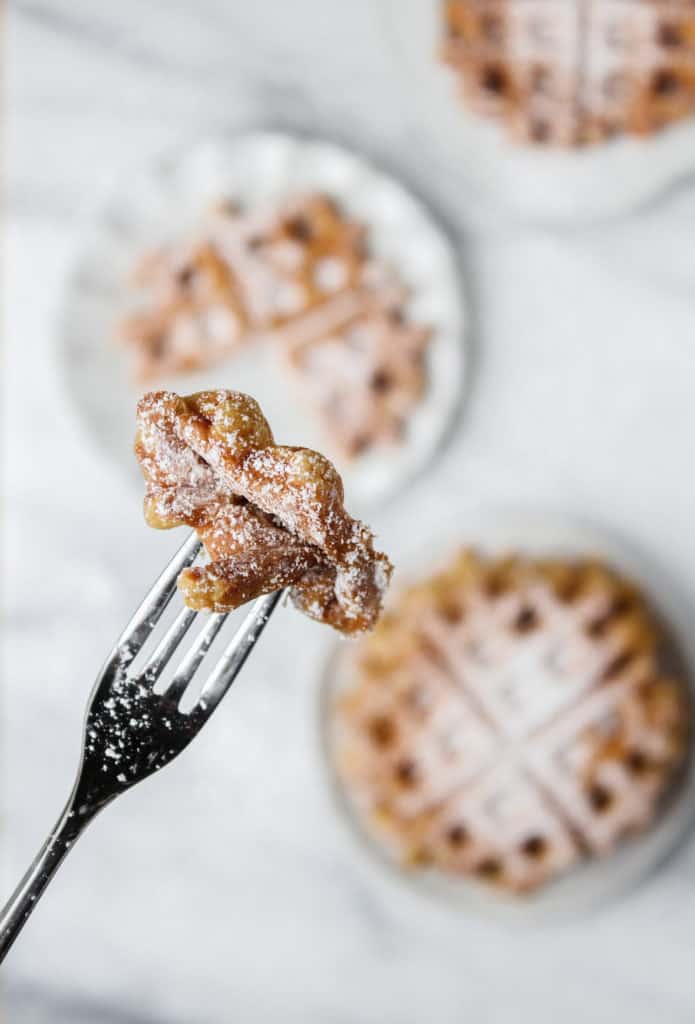 Preheat the waffle iron and spray it with cooking spray so the waffles don't stick.
Once it's hot, pour the batter into the waffle iron and cook until your iron says the waffle is done!
You can keep already made waffles in your oven at about 225 F on a cookie sheet to keep them warm while you make the rest.
Serve with your favorite waffle toppings…ours are syrup, powdered sugar and whipped cream!
WHAT ELSE COULD WE ADD TO THE BATTER?
Trust me, these pumpkin waffles are really good on their own with a little syrup and powdered sugar on top.
But Tiffany has a few recommendations in her cookbook about how you can play with the recipe and make it all your own.
Think about using the pumpkin waffle batter as a blank canvas for a variety of fun and delicious mix in and flavors. Here's what Tiffany suggests:
Butterscotch chips
Chopped Pecans (I think walnuts would work really well too!)
Diced apples
Dried Cranberries
Mix in 1/2 to one cup of any combination you'd like after you've mixed the batter together.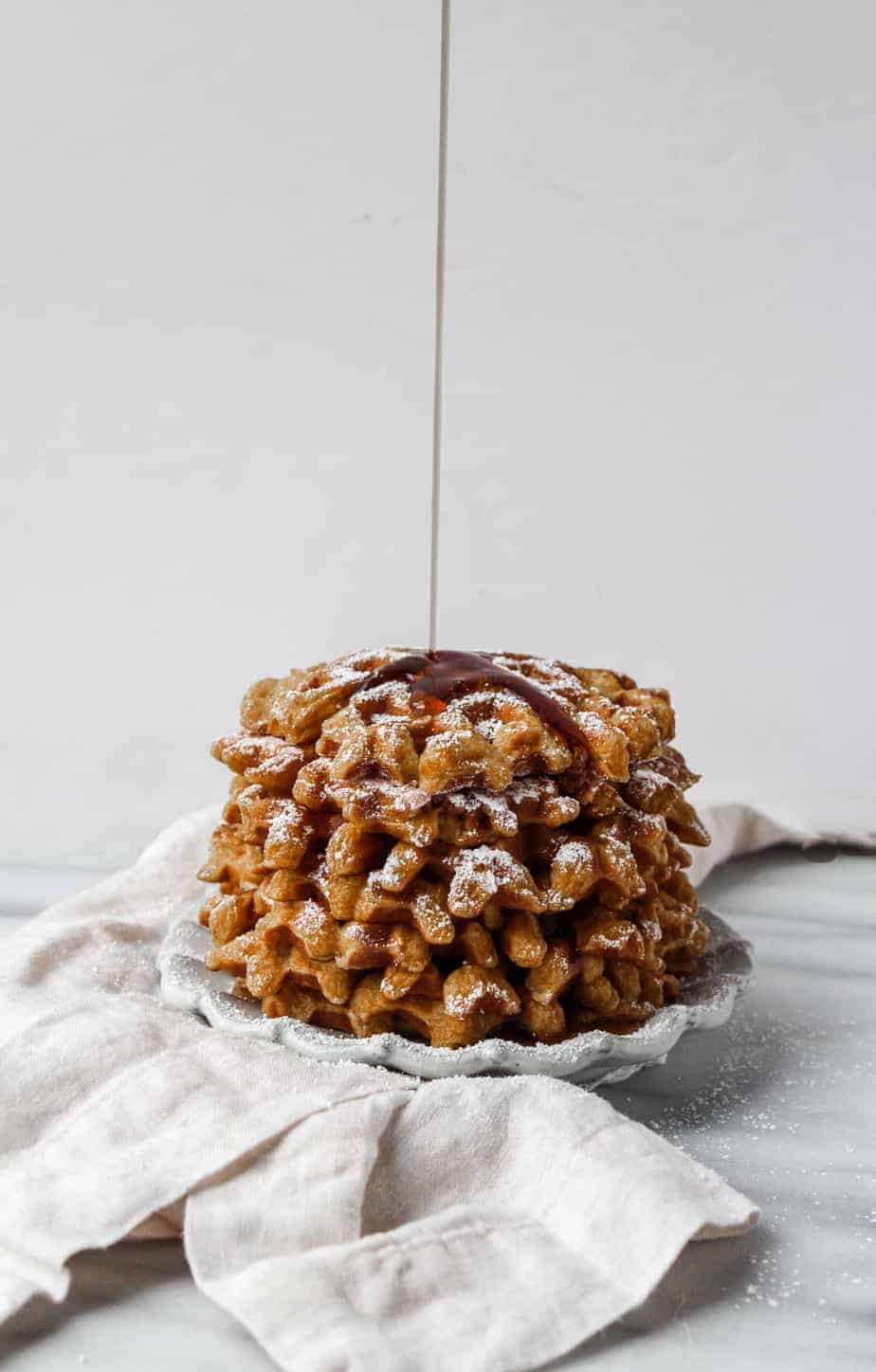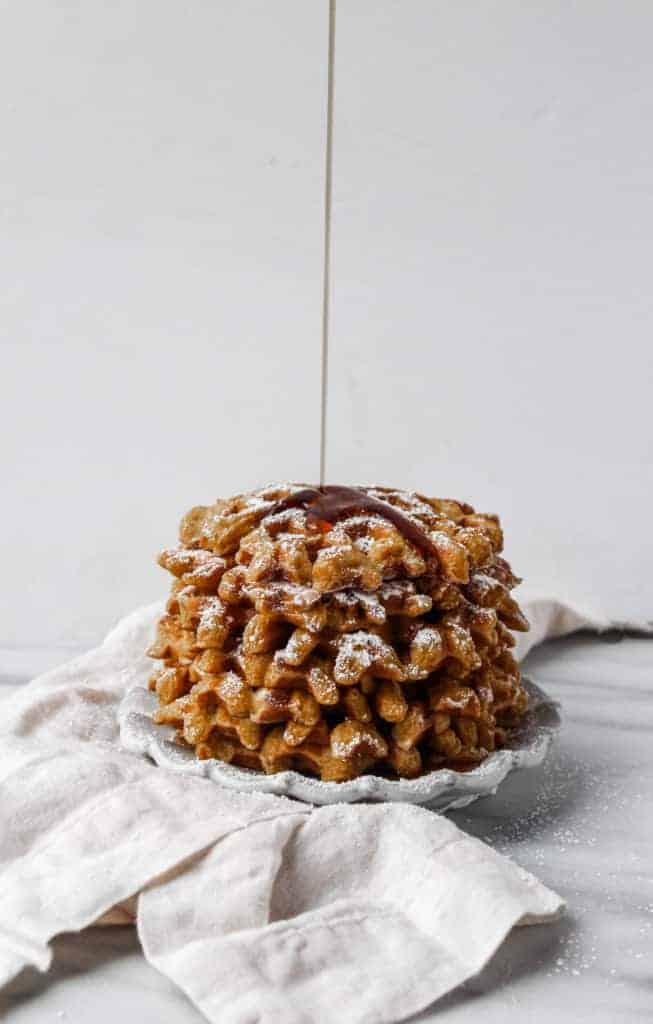 HOW DO I STORE THE WAFFLES?
Another love: this recipe makes a ton of waffles (like 20-22!) which means you'll be enjoying pumpkin waffles for daysss, which is never a bad thing.
Speaking of tons of waffles, the biggest question I had was, how do I store them?
Or do I just store the batter and make them to order?
The best tip I got from Tiffany was to make the entire batch at once in your waffle iron (so make all 20 to 22 waffles), eat what you'd like, and then freeze the rest.
To freeze the leftover pumpkin waffles, allow the waffles to cool to room temperature and then store them in an air tight baggie with pieces of waxed paper in between to keep them from sticking.
Tiffany says her family cooks all of the pumpkin waffles at one time, freezes them, and then heat waffles in the toaster for her girls to eat for breakfast all week.
If you're not in a big batch of pumpkin waffle making mood, the batter will keep in the fridge as is for one to two days, but it seems that freezing and toasting is definitely the way to go.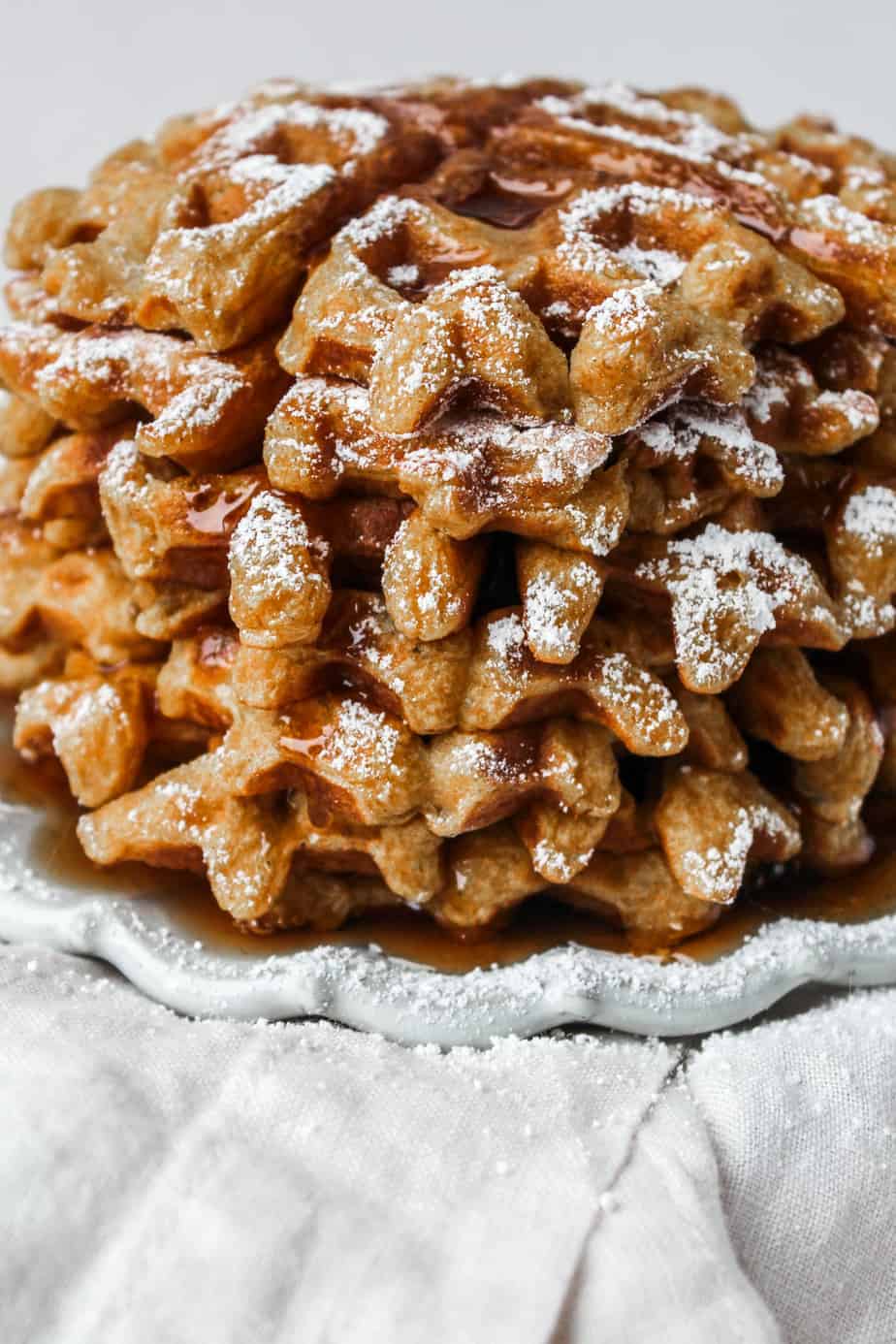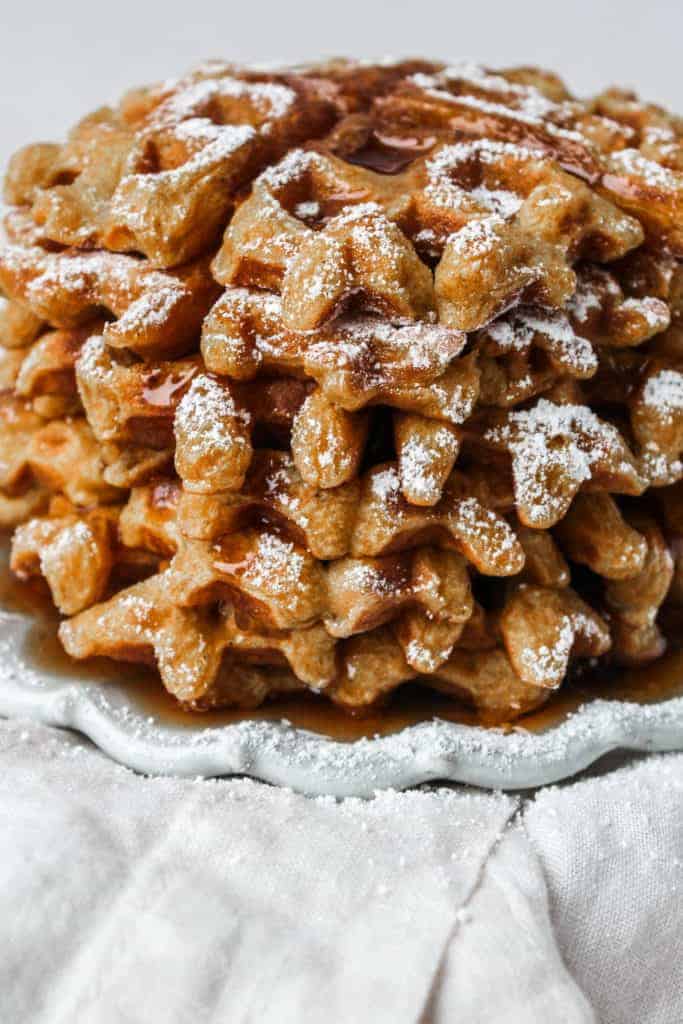 PIN THESE PUMPKIN WAFFLES TO SAVE THEM FOR LATER!