Today I'm sharing four of my favorite go-to dinner party tips are essential to throwing a fun, low key, easy dinner party. This post was written in partnership with Earth Fare; while I was compensated for this post, all opinions and content are (as always) my own. Thank you for supporting brands that support Off the Eaten Path.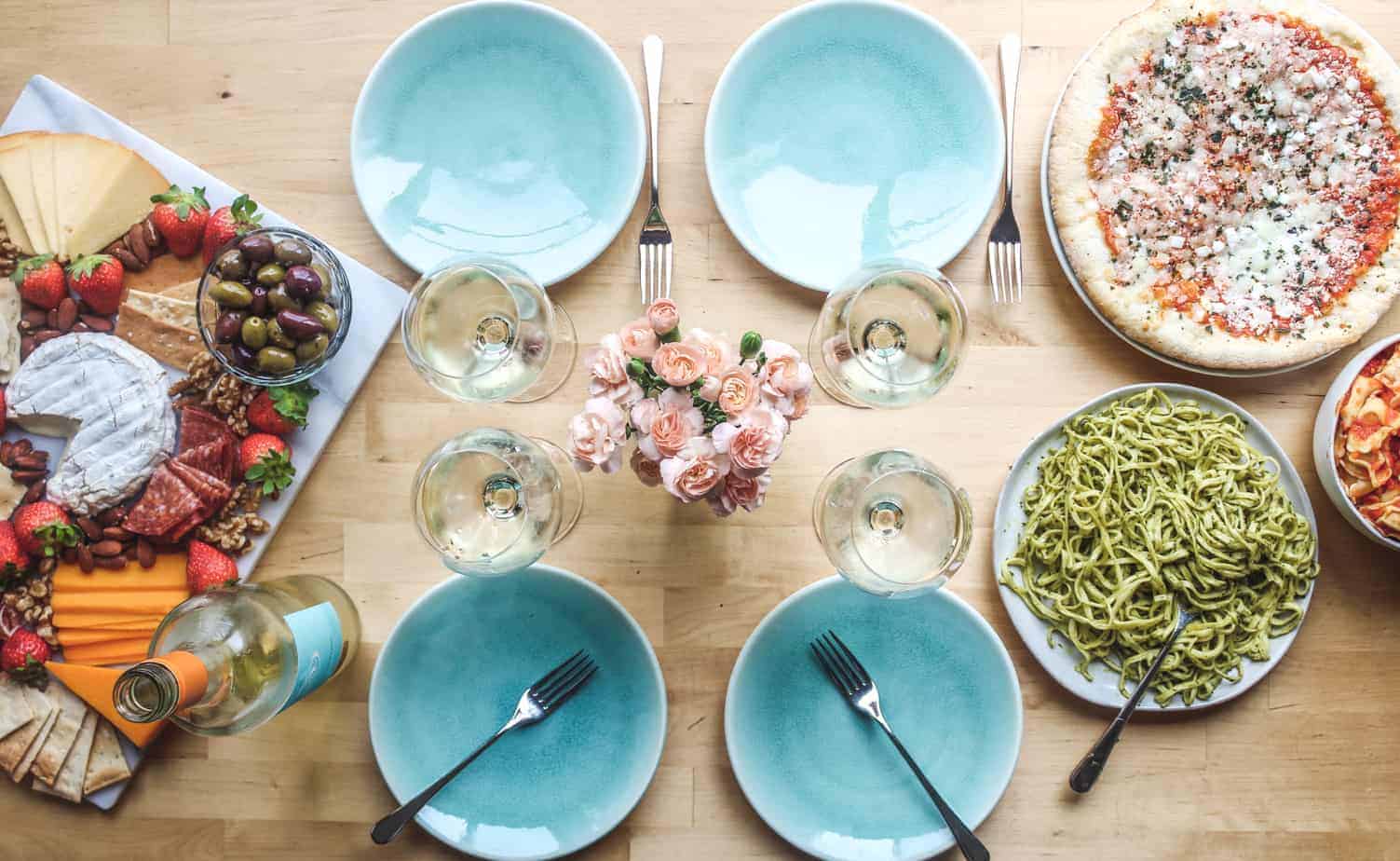 Every time we invite people over to our house, I have to remind myself to resist my innate desires when it comes to hostessing. These inherent hostessing habits usually involve some combination of paper plates, plastic ware, red solo cups and opening several bags of chips or other snacky substance and placing the open bag on the table. As I extend invitations to friends to come over for book club, the Bachelorette (reality TV watch parties are fun, I promise), game day, game night (we're growing a pretty impressive board game collection) or just to hang out,  I think about how I will be tempted to break out the open bag of tortilla chips, and force myself to go in the complete opposite direction by asking, "What would Ashley do?"
You see, my friend Ashley is truly the hostess with the mostess; and yes, this statement is actually true, I am not just saying that because I wanted to use the phrase hostess with the mostess in a blog post. Ashley throws a spectacular dinner party; where everything from the table décor to the wine tasting (yes! an organized wine tasting!), to the food (she introduced me to Raclette) has been impeccable.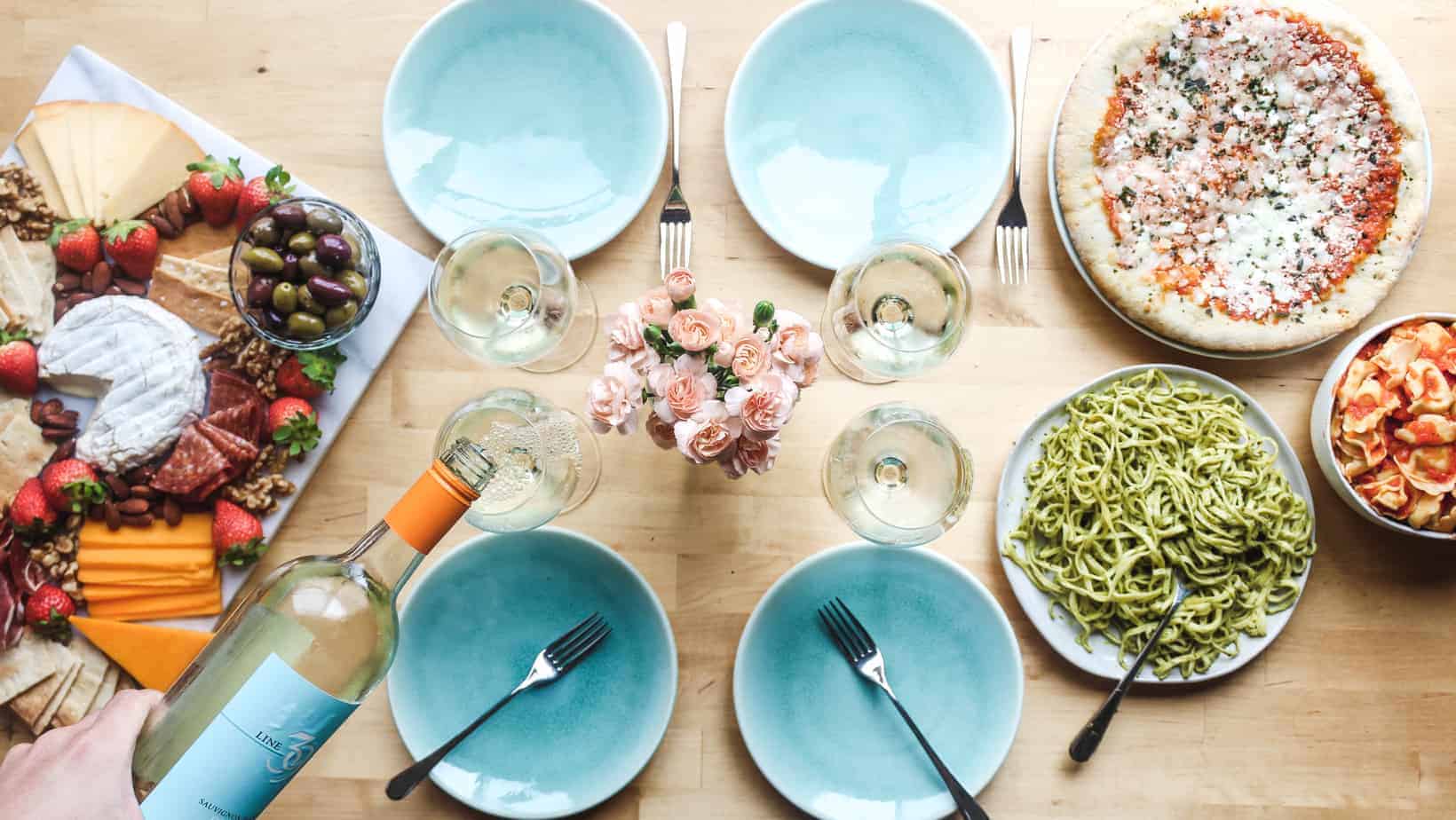 By channeling my inner Ashley, I too, have been able to throw a successful dinner party or two sans paper plates; although I would not use the word impeccable to describe our gatherings, I think easy is more my speed.
So if you're like me and automatically reach for the open chip bag rather than the beautiful platter you received as a wedding gift two years ago (of course ours is from Ashley and of course it's stored so high up I have to climb on the counters to get it), I've got four minimal effort, go-to tips and tricks (including my favorite, how to make an easy yet Instagram worthy cheese board!) to help you throw a fun, low key, easy dinner party that are guaranteed to impress the Ashley in your life. (Trust me, Ashley came over to our house for a Super Bowl party and told me she was impressed).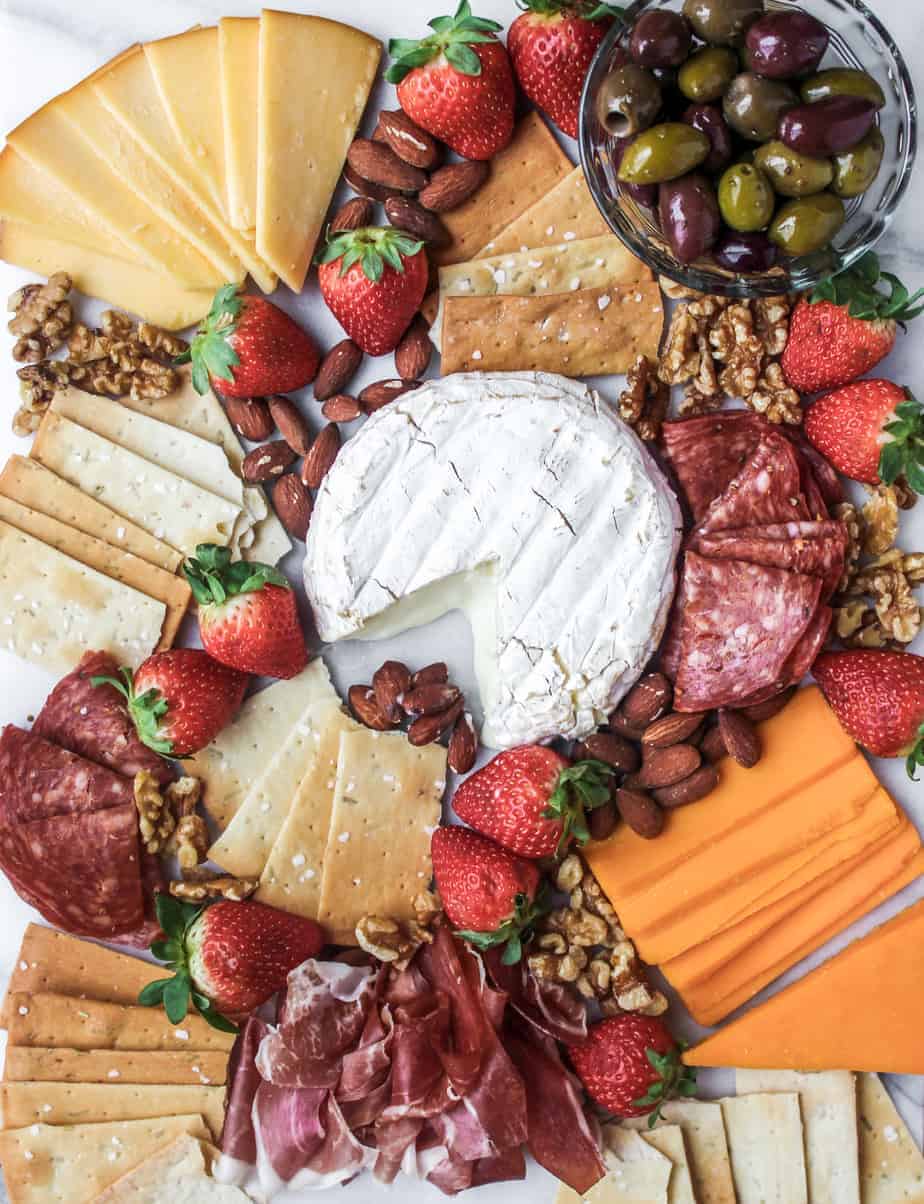 Easy Dinner Party Tip: Have a Theme
As we come out of the gate with tip one, things seem to be getting a little more intense than "easiest dinner party ever" but fear not. By theme, I'm not talking about elaborate decor or extravagant costumes. In fact, I hate costumes (except, we really killed it on Halloween this year, all denim Britney and Justin are definitely my costume exception). By theme, I mean something more like, think about the reason why you're having people over for dinner and then do something that highlights that an adds something a little extra for your guests.
Are you hosting book club? Make food based on the setting or characters in the book, or print off discussion questions beforehand to keep things organized. Is your best couple friend coming over? Maybe transition dinner into game night (our current favorites are Ticket to Ride and Quip Lash). Is it game day? Skip setting the table and let guests snack on appetizers through all four quarters.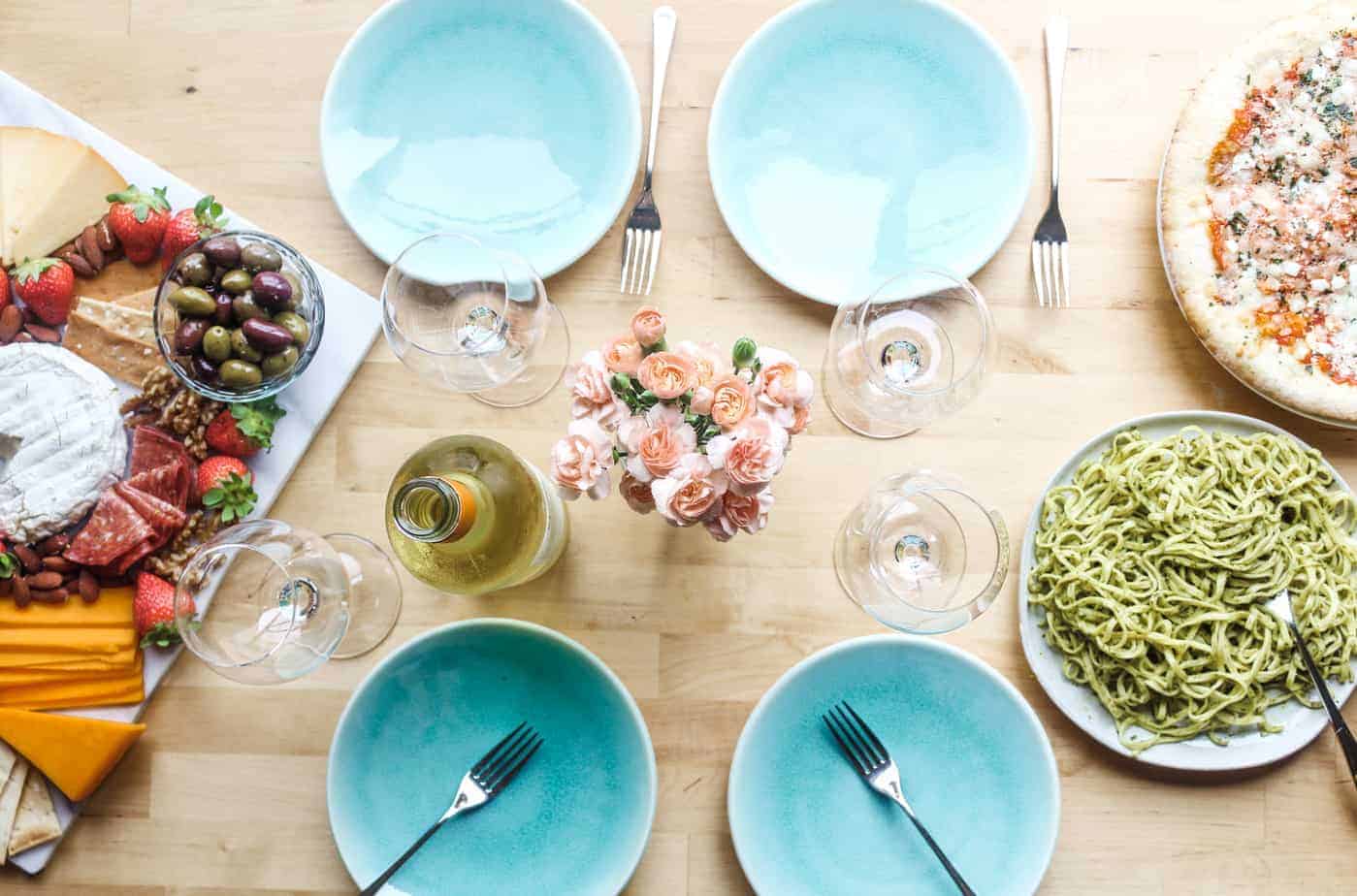 A "theme" doesn't have to be complicated (of course, this is coming from me, avid supporter of paper plate usage at large gatherings and often still confused by why we have to take chips out of the bag they come in before we put them on a table); it can be something as simple as celebrating Spring with some fresh cut flowers or the season premiere of The Bachelorette with a bracket (yes reality TV brackets are a thing and I've won my pool before) and an abundance of brownies.
Easy Dinner Party Tip: Offer Wine Pairings or a Wine Tasting
You may think I'm mailing it in with this one maybe a little but we are talking about having the easiest dinner party and hear me out, this is more than just "provide beverages to your guests." Duh.
Take it up a notch from what's on sale at the grocery store (or is that only the way AJ and I normally buy wine?) and instead take the pairing route; do a little research and opt for wines that compliment what you're serving. Not into vino? You can also pair beer with you meal (and I have a handy little beer and food pairing guide here), or make a specialty seasonal cocktail (or mocktail for guests who don't drink).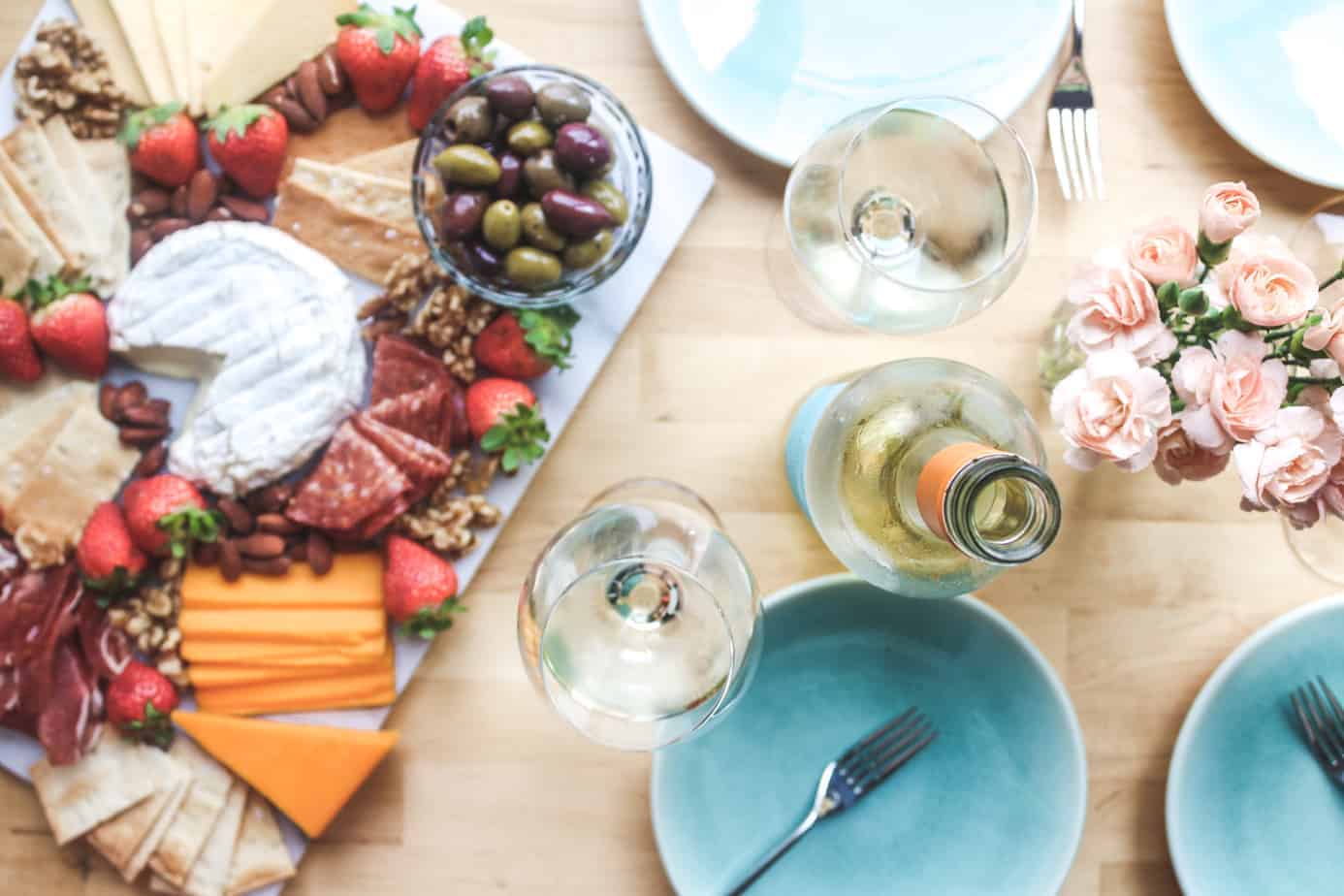 Through following my own tip, I came home last week with a delicious bottle of Sauvignon Blanc that we really enjoyed and I would have never purchased without research. I was doing my weekly shopping at the Earth Fare in Ballantyne (which just debuted a new fantastic new face lift with new signage, a removed wall and a new table in the cafe), and found myself spending a lot of time wandering their wine section (my favorite grocery store section of course).
Since I knew what we'd be eating for the week (including pesto from Earth Fare's new Handpicked, Discovered by Earth Fare™ line which we will discuss more in detail) I decided I would branch out of my wine comfort zone (reds) and be more thoughtful about pairing our wine with the pesto. We were both big fans of Sauvignon Blanc and so maybe I need to follow my own advice more often!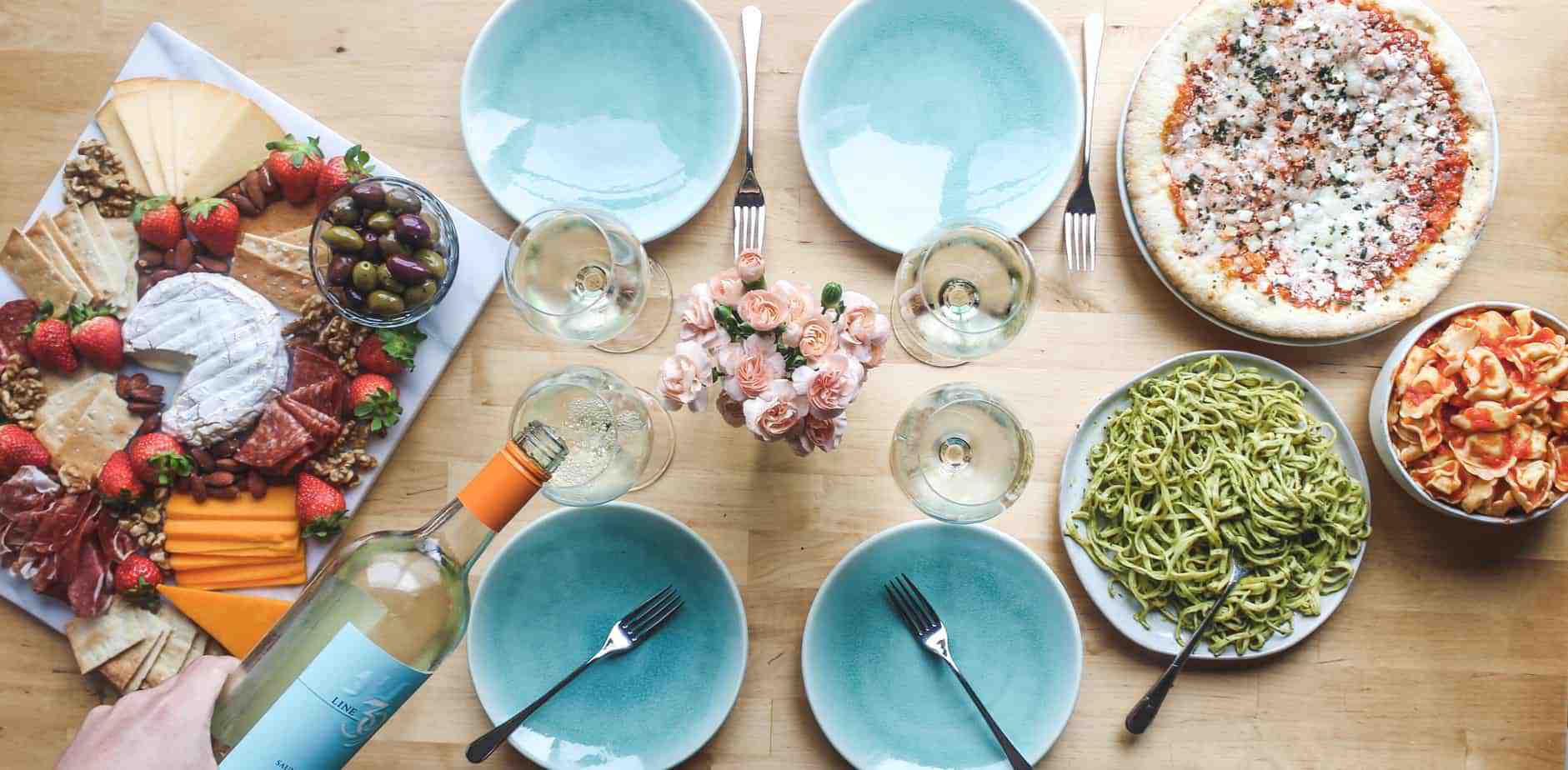 A wine tasting is another fun approach that makes your dinner party a little more special but doesn't have to be super complicated or fancy. At Ashley's Raclette party, we started with a wine tasting where she offered us tastes same varietal from different regions of the world (France, California and North Carolina) and we ranked our favorites and that's what we drank at dinner (I think we ended up drinking all of them at dinner, but our favorite was poured first).
I thought our mini tasting was a nice little extra touch and found it to be really fun; and was super surprised learning where our favorite wine were from. PS: I am totally going to steal Ashley's idea and do something similar at our next dinner party, and now all of you will too.
Another fun wine tasting idea is to have each guest bring two bottles of the same wine, with one wrapped in a brown bag or Aluminum foil. Do a blind tasting with all the wines that were brought and have everyone vote on their favorite. The winner gets to bring home all of the second bottles as his or her prize (or if you're us, the winner does not bring any home if you and your guests get through all the second bottles at dinner).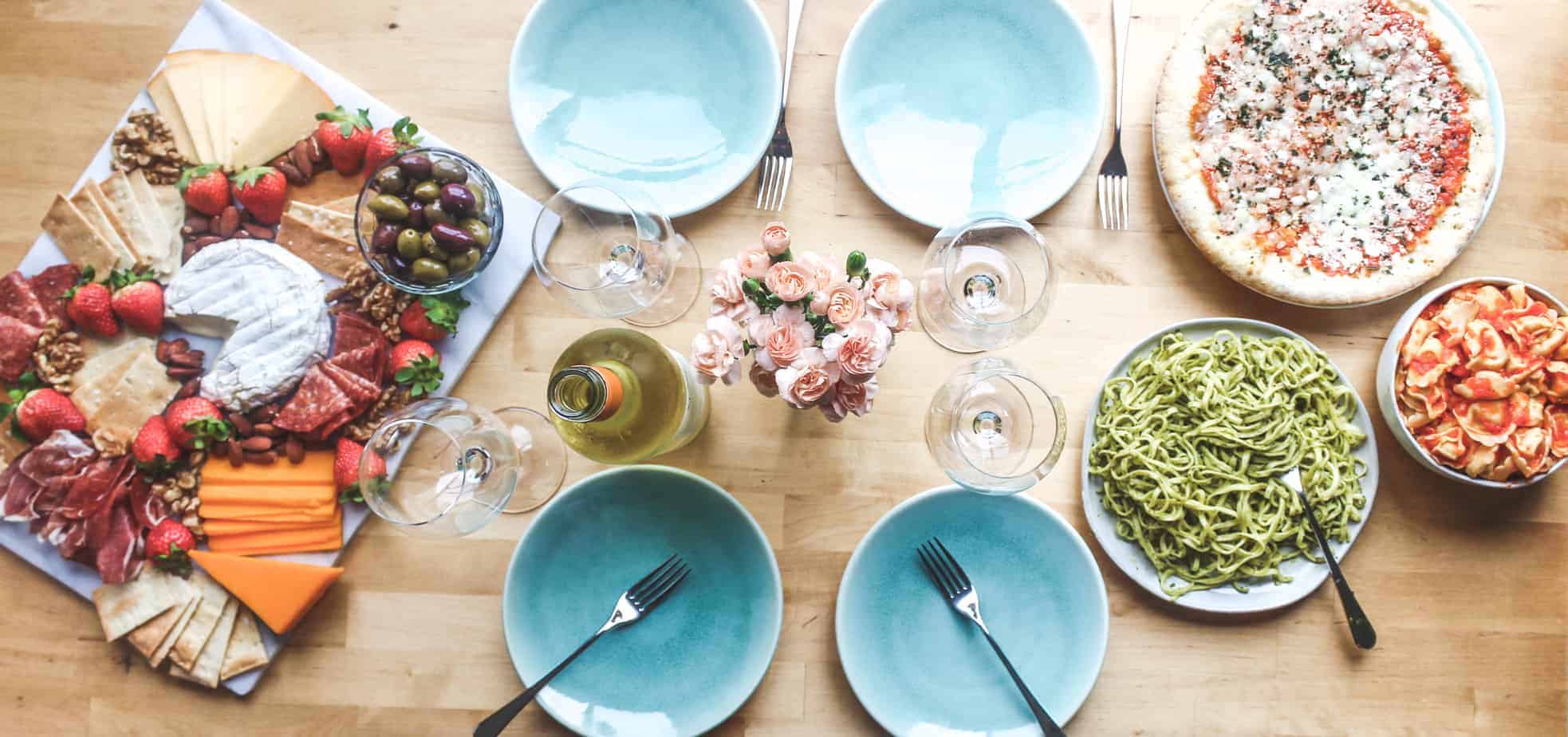 Easy Dinner Party Tip: You Don't Have to Make Everything from Scratch
My number one, essential hostessing tip (so essential I repeat it a lot on this blog, especially when it comes to game day recipes) no matter the occasion and no matter the menu, pick something to cook that is either quick, easy, or that you can make ahead of time (or better yet, a combination of all three) so you do not get stuck in the kitchen and you can actually enjoy yourself. The last thing you (and actually, also your guests) want is to see you all stressed out over some complicated soufflé you've never made before (side note: I am not sure if soufflé is easy or hard to make or if you'd even want to make it because I am not a soufflé expert I was just going for the alliteration there).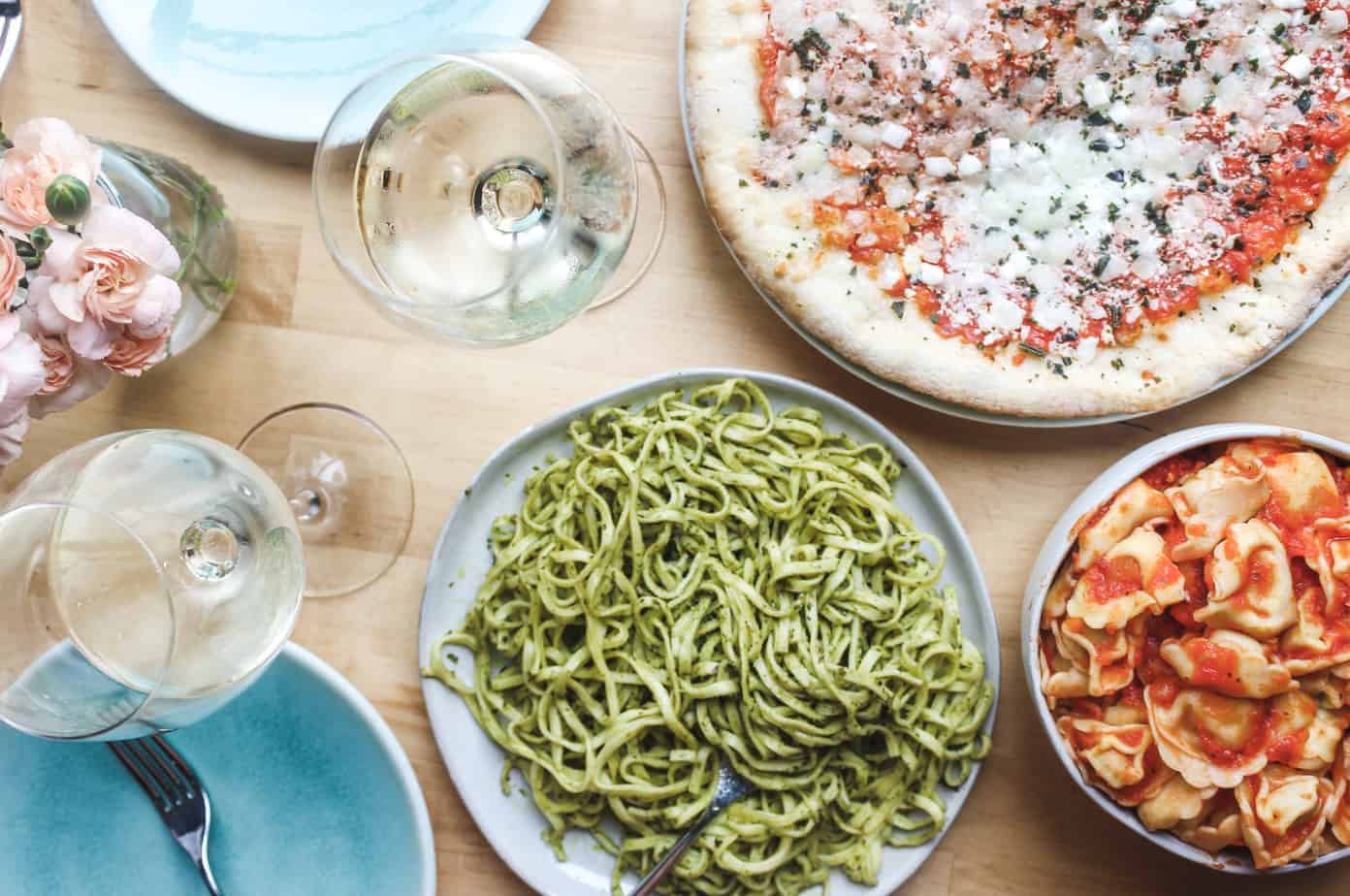 You're guests came over to eat some good food but also, obviously, hang out with you, and preferably not while you dash around the kitchen (another side note beyond kitchen dashing: your guests probably don't want to eat dinner at 11pm either). So impress your guests with something fast, easy, or dare I even say, something you didn't make from scratch.
Of course, I love cooking from scratch, but since we're talking easy here, why not get a little help, especially if it meant you wouldn't have to sacrifice sophistication and taste? Enter Earth Fare's new brand,Handpicked, Discovered by Earth Fare™, a specially curated line of globally inspired products that adhere to Earth Fare's rigorous food philosophy.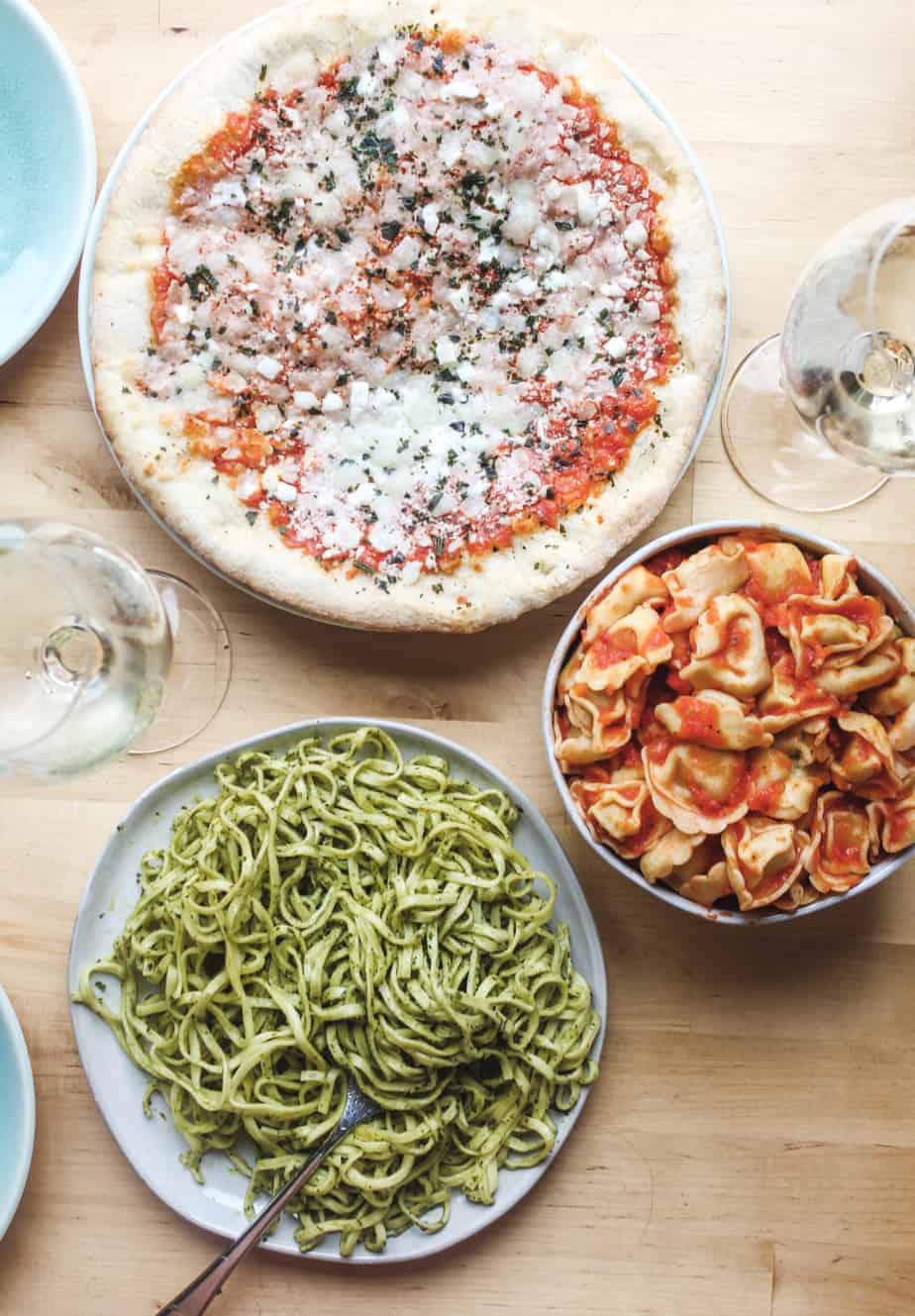 After picking up, cooking and eating several of the new Handpicked, Discovered by Earth Fare™ products last week, I totally would serve them at our next dinner party. We enjoyed linguini and tortellini in a pesto and arrabiata sauce, respectively, that each took less than 10 minutes to make (and also less than 10 minutes to eat because they were both delicious). And since pasta wasn't enough, we also indulged in a wood fired pizza that was imported from Modena, Italy and I made a cheese board with creamy, decadent brie that was sourced exclusively for Earth Fare from a world-renowned creamery in Vermont (ok, since we're basically there let's transition to my last easy dinner party tip, a cheese board, which is a must in my book).
Easy Dinner Party Tip: Make an Easy and Instagram Worthy Cheese Board 
This tip is definitely my favorite and out of this entire list; the one that I would say is a must do no matter the occasion. Because cheese is easy. Easy cheesy. A cheese board easy, because you're buying some things and then putting them on a platter (see Ashley, I do use my platters!). Also, with minimal time, effort and energy (my jam) a cheese board can be elevated and elegant. (worthy of a space on your Instagram feed, for sure!) 
So how do you make an elegant, epic, Instagram worthy cheeseboard with minimal time energy and effort?
Start with the cheese. I once learned (I don't remember from where, likely an article on cheese boards which is not shockingly something I read about) that you want your cheese board to feature at least three cheeses, and that you should choose cheeses that are different in taste and texture. (So with cheese types, we're talking soft, semi-soft and hard and with tastes we're thinking about cheeses that range from mild to sharp and pungent. I feel like the only way you can describe blue cheese is either pungent or stinky.)
But the beauty of it being your cheeseboard is that you can also disregard some random cheeseboard proclamation I once read on the internet, and choose cheeses you like (so if you don't like pungent cheese, no problem, skip it). I usually make my cheeseboards with about three to five different cheeses, my go-tos being brie, sharp cheddar, gouda, some kind of goat cheese or chevre and blue cheese or gorgonzola (I hate blue cheese, but I love AJ, and AJ loves blue cheese).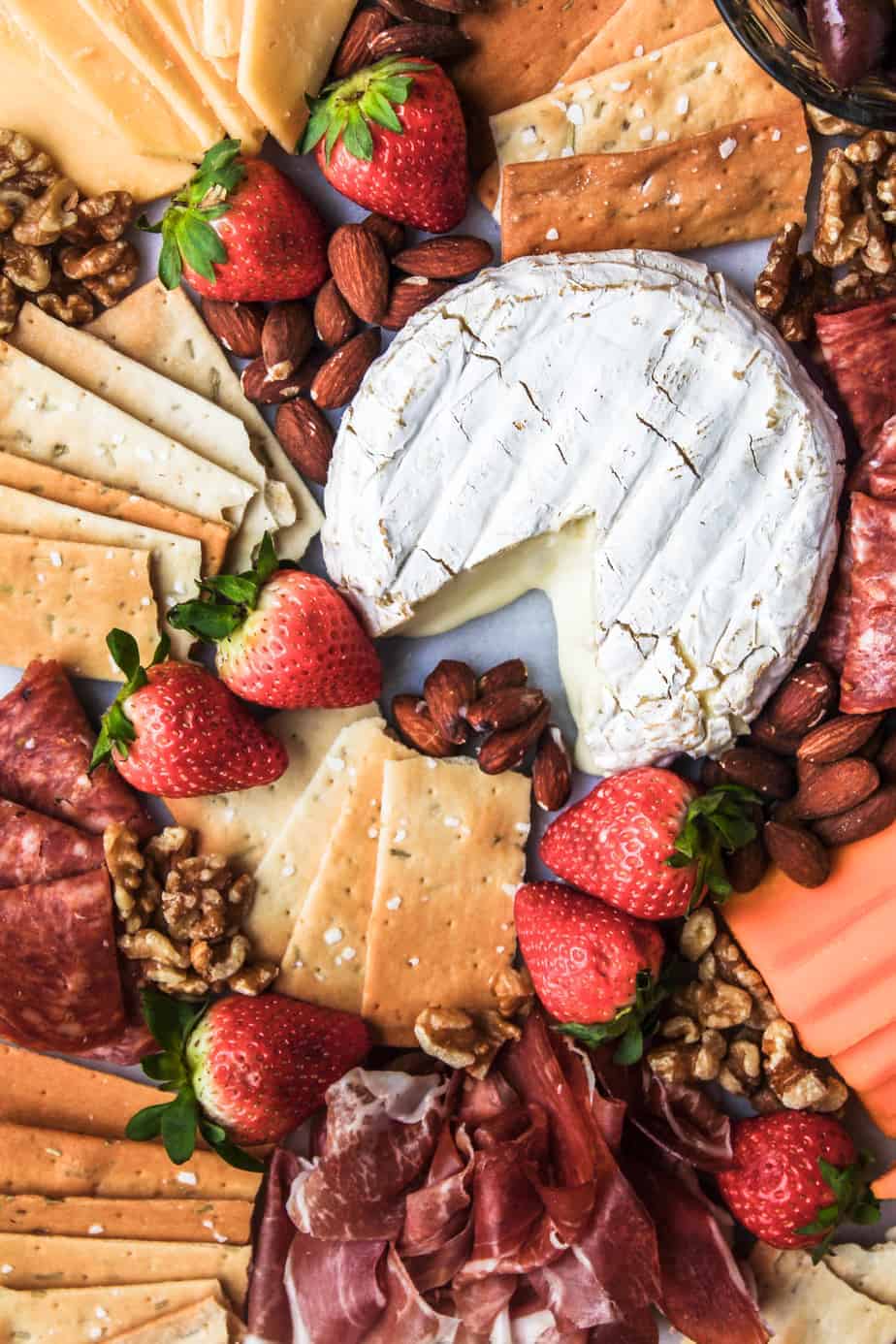 So for this beauty, I started with the Handpicked, Discovered by Earth Fare™ Brie (which was lush, oozy and delicious) and then also picked up a cheddar and gouda (my other faves) from Earth Fare's cheese section. The cheeses in Earth Fare's Ballantyne store are strategically located right near the wine and beer, the olive bar, and the charcuterie (it's like their speaking my language over there) so I picked up some olives, crackers, salami and prosciutto too, and also put some fruits and nuts in my cart.
Honestly, when it comes to cheese boards, I take the same approach with my meats and snacky things (a very technical term) that I take with my cheeses; pick ones that you like in a spectrum of flavors so you get a little diversity in terms of taste and texture on your board.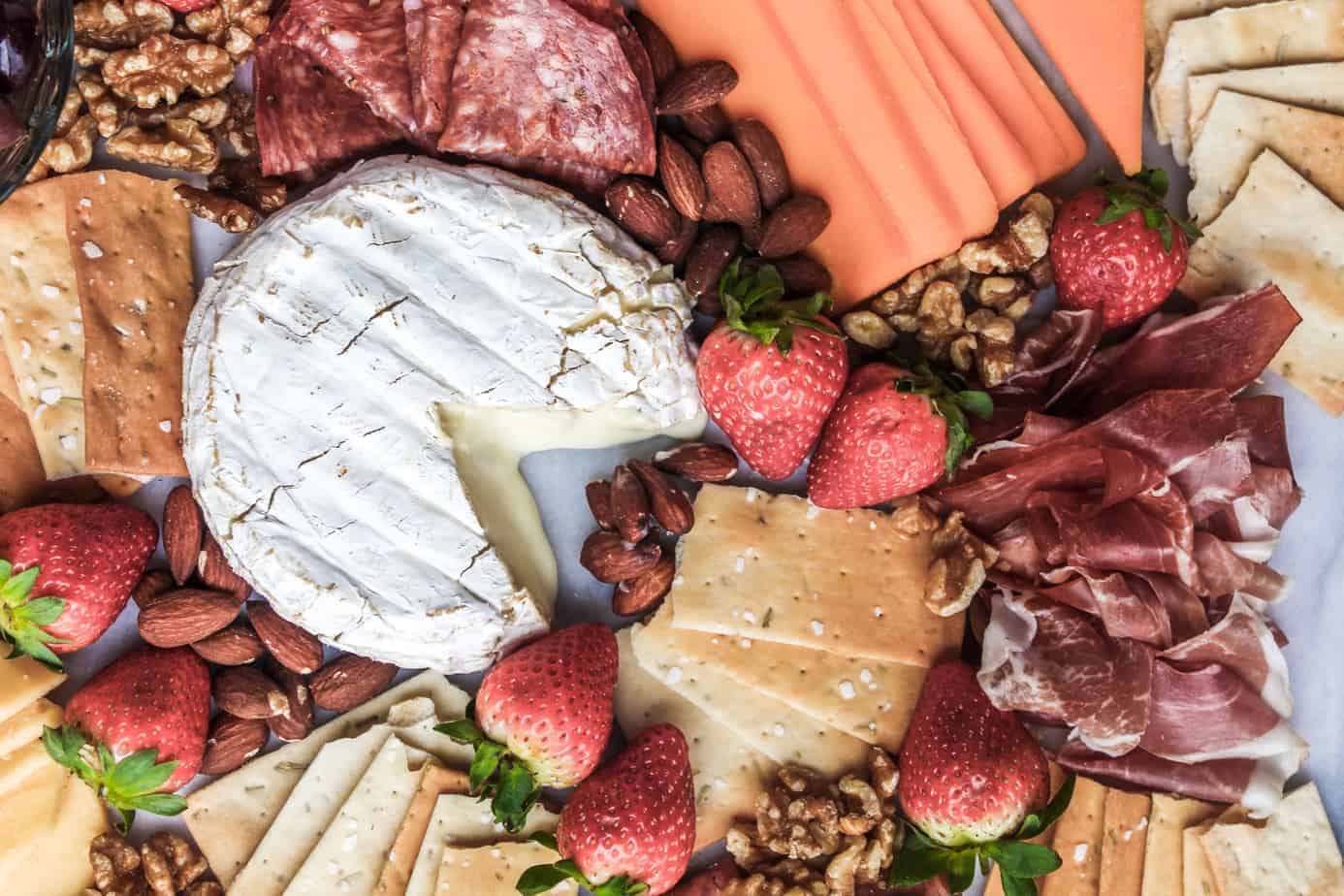 When it comes to cheese board assembly, start with the cheeses (they are the star, after all it's called a cheese board). Another handy Internet tip, which I love, is that you should cut a few slices of cheese and put it on the board rather than the entire unsliced hunk (hunk is another technical term), because the slices apparently encourage your guests to dig right in. Because I believe a lot of things I read on the Internet, I slice about half of my cheeses and then make sure cheese knives are knives our readily accessible when I set the cheese board out for guests to continue to slice their own.
Once I space out the cheeses on the board, I then space out the meats (and there's not a ton of fancy folding going on here, just so they look presentable) and then find a space for a small bowl of olives (small bowls are a cheeseboard's savior when it comes to organization) and fan out the crackers.
With what little space is left, I add fruits (strawberries, blackberries, blueberries, raspberries, grapes are all ones I like to use) and sprinkle nuts as filler (almonds, walnuts, pecans, cashews and peanuts are all good choices). I also usually have a small bowl with honey, because I recently discovered honey and cheese are a winning combination.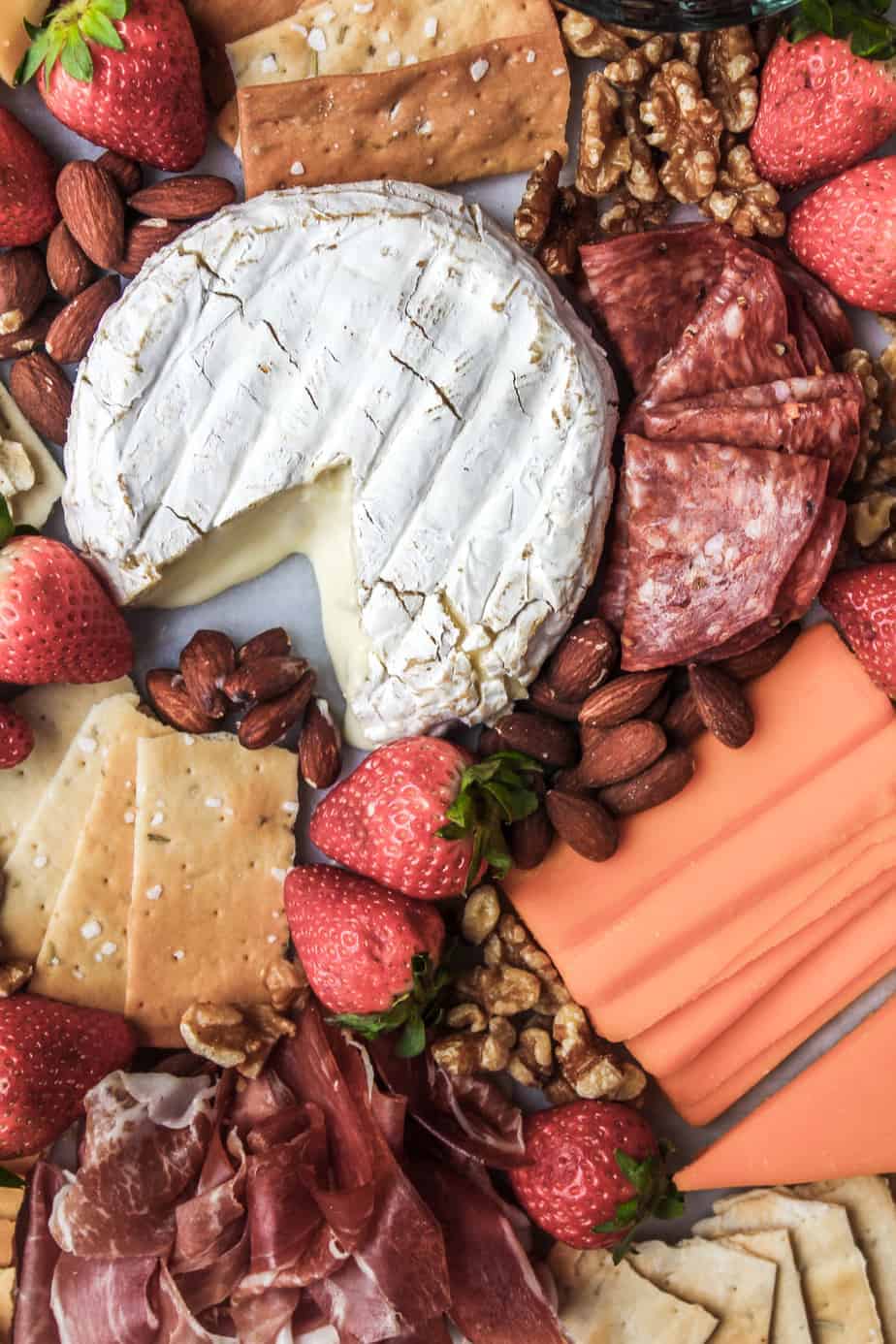 And that's it! With a little planning, a little slicing, a little meat folding and nut sprinkling, you have a pretty, picture perfect cheeseboard (I think this one came together in about 20 minutes). Make sure you use natural light to snap your Insta photos before serving!
Sharing these easy dinner party tips with y'all was so much fun today, and it makes me want to host a dinner party soon. Who wants to come over with wine?