These pickled jalapenos are easy and delicious and perfect as a topping on everything from nachos and tacos to burgers and chicken, or pack a little punch as a snack on their own!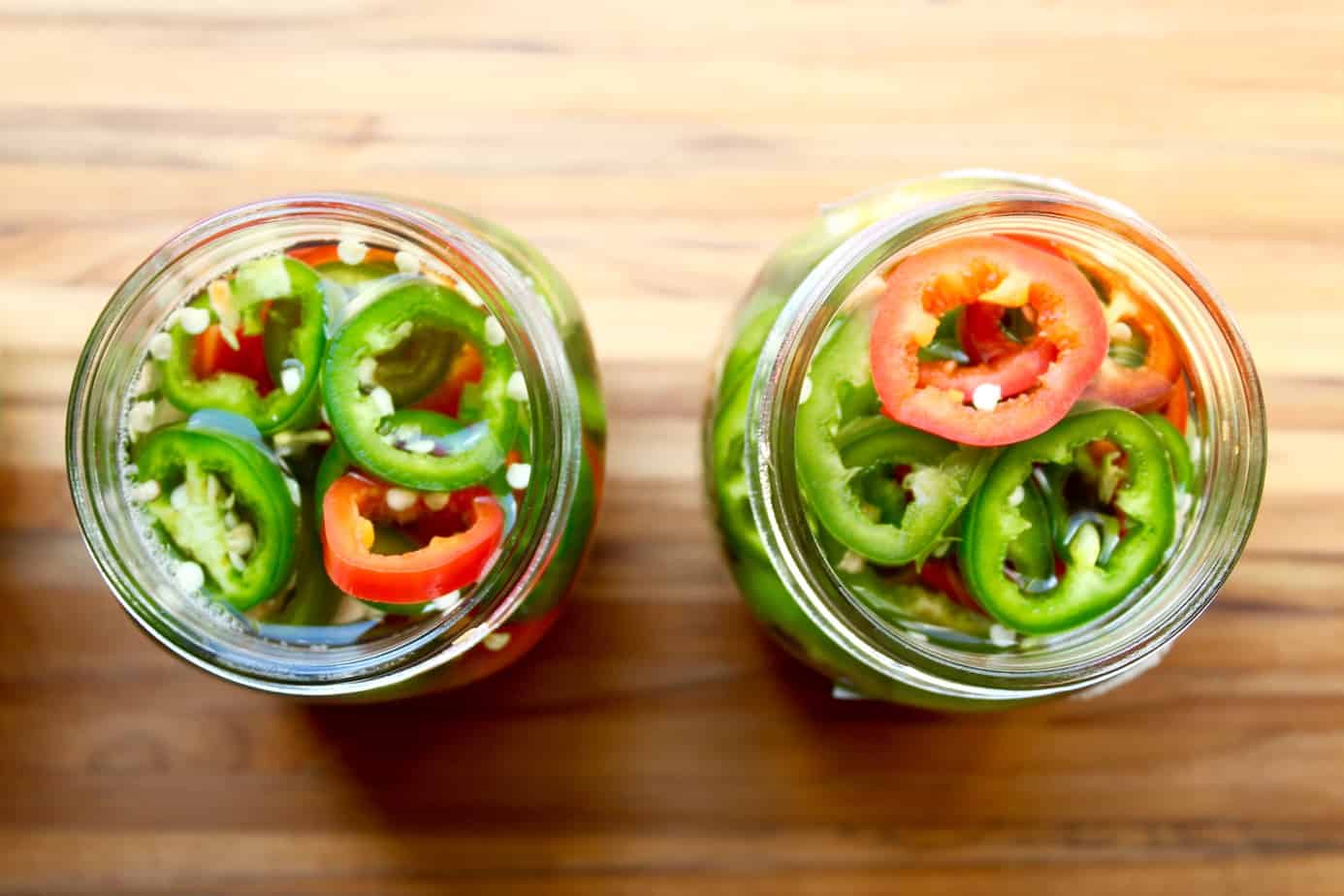 I think they first thing they tell you when you're thinking about starting a blog is that you've got to have an editorial calendar. Well, first off, I'm not sure who "they" really is, because to start a blog you don't need anyone's advice or permission, but if you're googling stuff like "starting a blog" or "how to write a better blog" or any other group of words similar to that, the things that will pop up usually encourage the use of an editorial calendar. "They" could also be those blogging gurus and experts too, who definitely encourage the use of an editorial calendar. Well spoiler alert, I don't use an editorial calendar.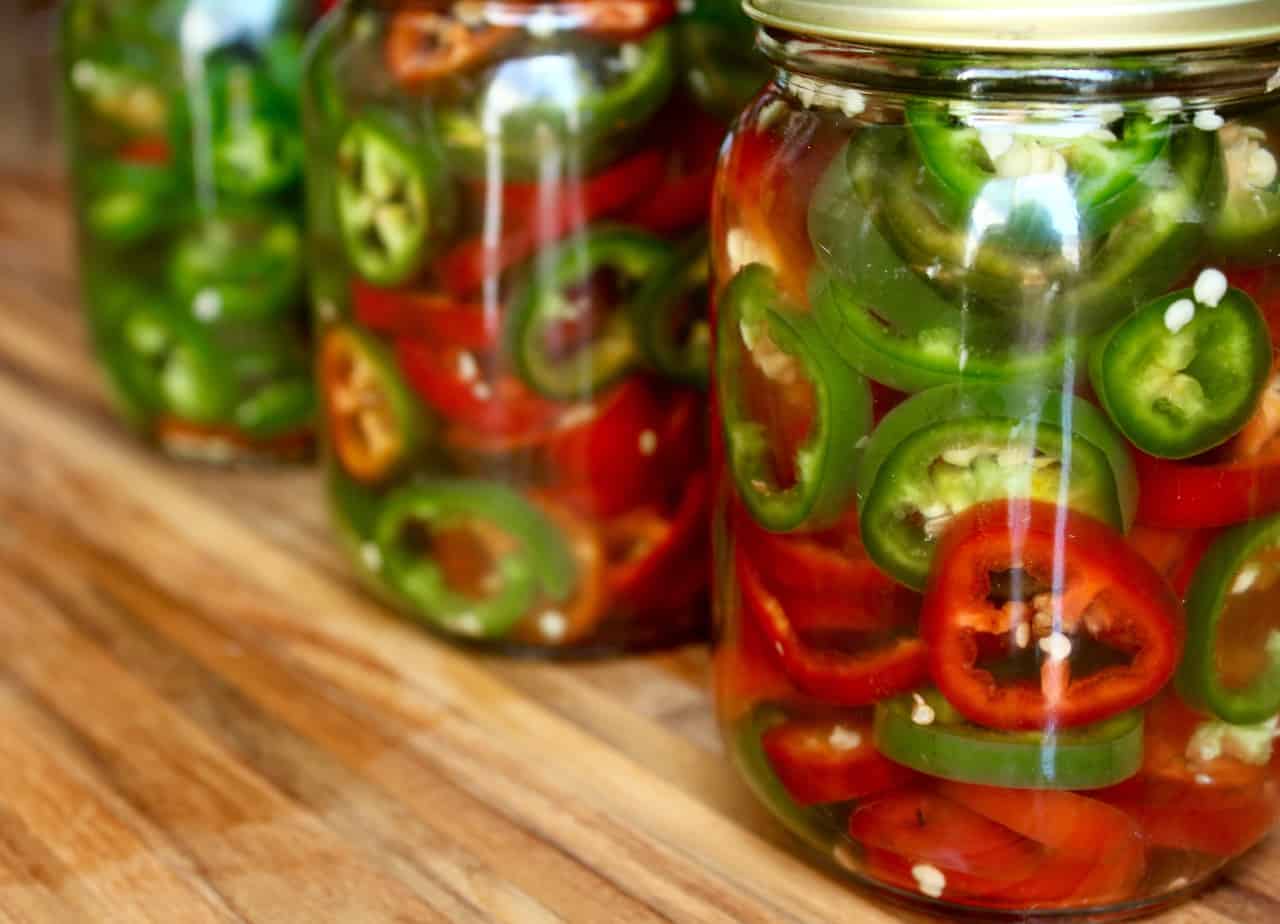 This doesn't mean I discredit those articles (trust me, I've Googled quite a few) or the gurus and experts (who have helped me hone my niche, grow my audience, and fix my website when it looks wonky or something). I've actually tried to use an editorial calendar; it makes sense, especially for someone who loves planning and organizing and has been carrying a planner in her bag since the ripe old age of seven (in the second grade our teacher gave us "assignment books" to write our homework down in, and I've been writing in a planner ever since). So for someone like me, an editorial calendar makes sense. But it just hasn't worked. I think it's a combination of my work schedule, my life schedule and my desire to write when I want to (and not force myself to do it when I don't feel like it) that makes a blog editorial calendar feel super stringent, not fun, and unhelpful. So I don't do it. I keep a running list of blog ideas/topics/posts in (guess where?) my planner that I carry around where I go, but an editorial calendar just isn't in the cards for me.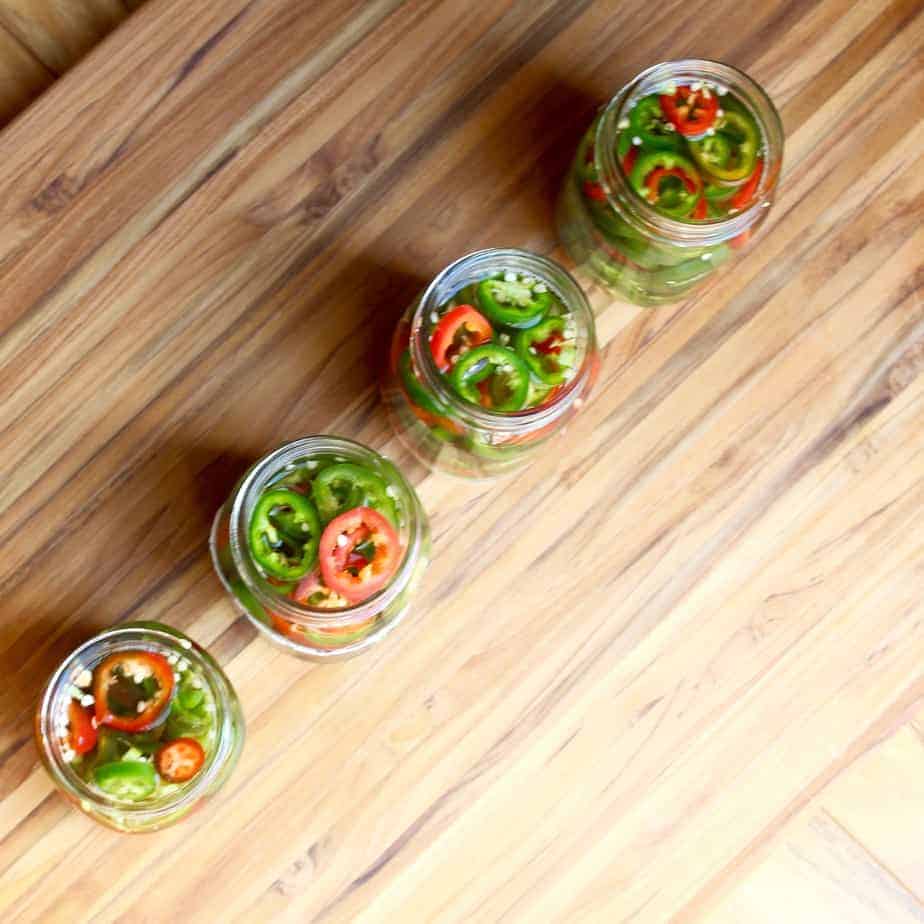 So when I walked in the house from work last week and my father in law was in the middle of pickling jalapenos that we bought at the farmers market over the weekend and asked, "Hey, do you wanna put this on your blog?" I of course said yes. The freedom of not having an editorial calendar lets me post about whatever I want, whenever I want, so delicious pickled jalapenos are coming at ya (I then proceeded to photograph said jalapenos for approximately 30-45 minutes while my in laws and husband laughed at me).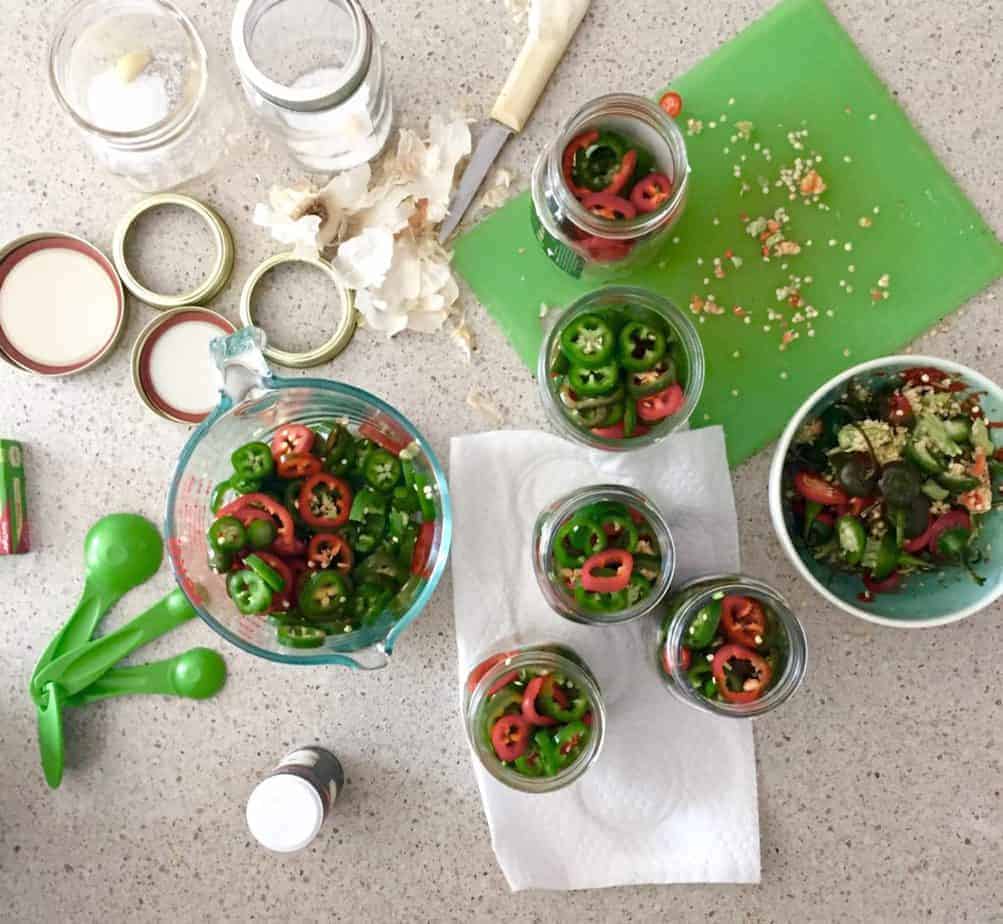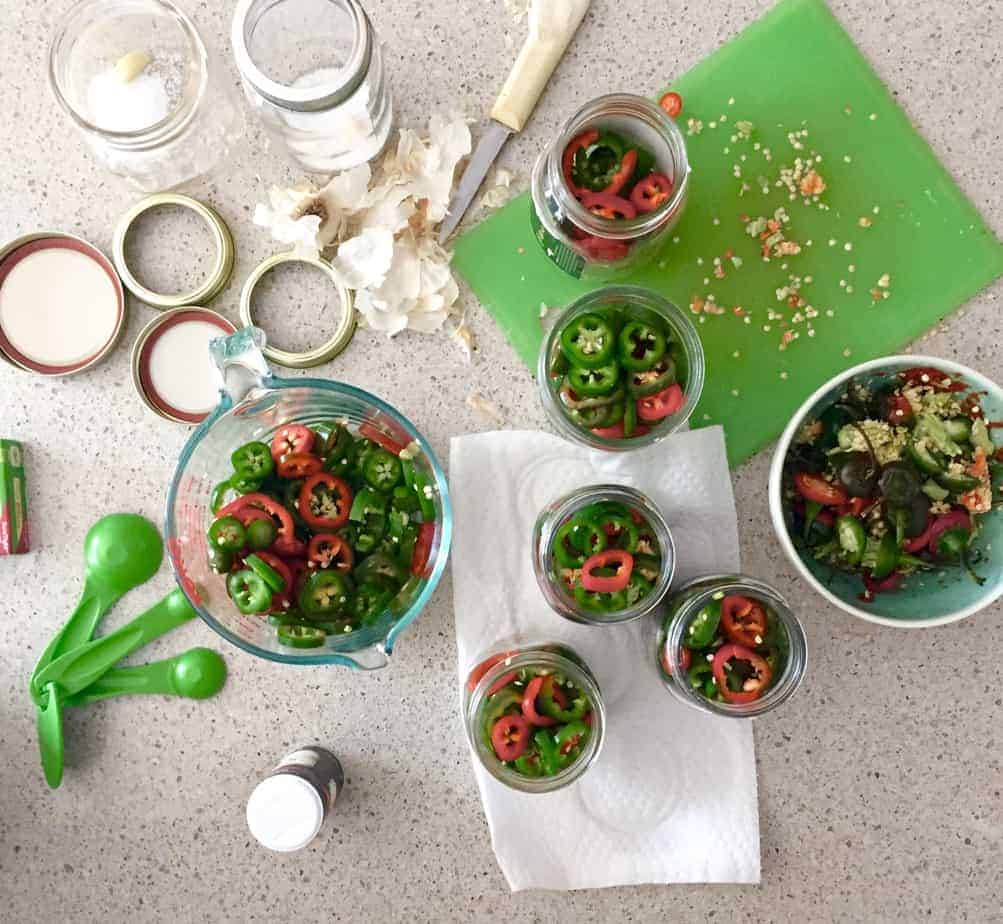 These are seriously so good. AJ's dad makes them from the jalapenos he grows at home and always brings a few jars down for us when he visits. Unfortunately for us, we ran out of our last jar probably like 4 months ago and AJ's parents hadn't come to North Carolina for a while, so we were sadly without pickled jalapenos for what felt like was eons. (Yes, yes, yes, we could have made them ourselves but we didn't, but now we have the recipe so maybe we will, but we also have six jars fermenting right now, praise). I like to put them on everything; I had an after work nacho habit during the dark months of December or January (which could be either embarrassing to tell you or is currently making you jealous) and I'd dream about these jalapenos on my drive home (anyone else dreaming about afternoon snacks or is that just me?). They're great on burgers, in Bloody Marys, with chicken, in cheese dip, or just on their own (which is sometimes how AJ prefers to eat them).
And their so, so, so, easy to make, because after all, when you ferment things, a lot of the work is done by not you. Pro tip I got from my in laws: when you're preparing everything, wear rubber gloves (I would have never thought of that, but working with a ton of jalapenos, it makes total sense!).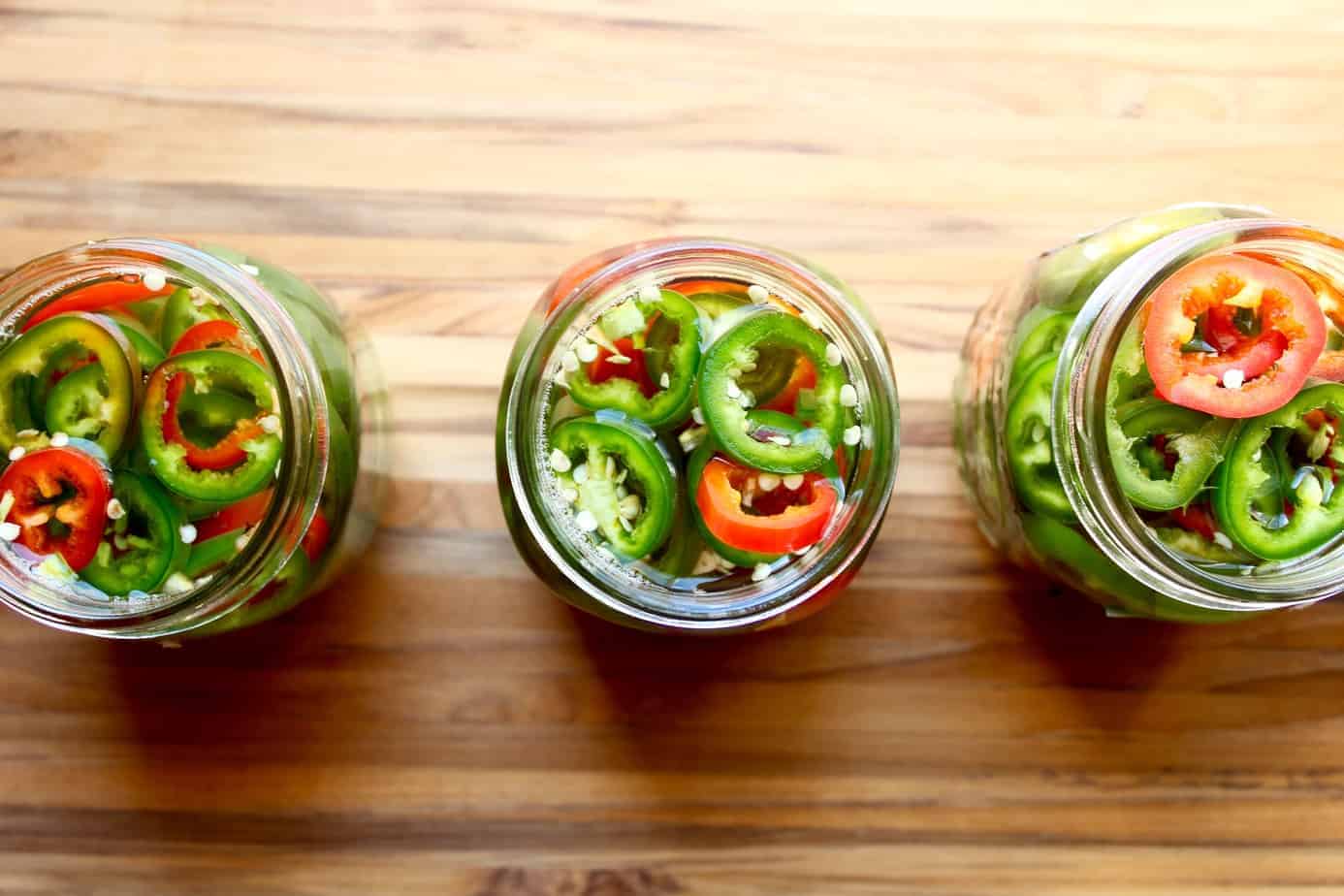 So will these pickled jalapenos inspire me to start making an editorial calendar? No. But I do have a goal for August to post two times a week (after posting consistently once per week over the past two months), so we'll see how that goes. What will these pickled jalapenos inspire me to do? The abundance we have in our house right now may inspire me to pick up my after work nacho habit again. And I don't think that's a bad thing.