Searching for the perfect holiday gifts for foodies on your list?
My 2016 holiday gift guide highlights 18 holiday gifts gifts for foodies that I have personally used and love (or are also on my holiday gift wish list!).
This post contains affiliate links. If you click on one and buy something, Off the Eaten Path receives a small commission at no additional cost to you. All opinions are my own.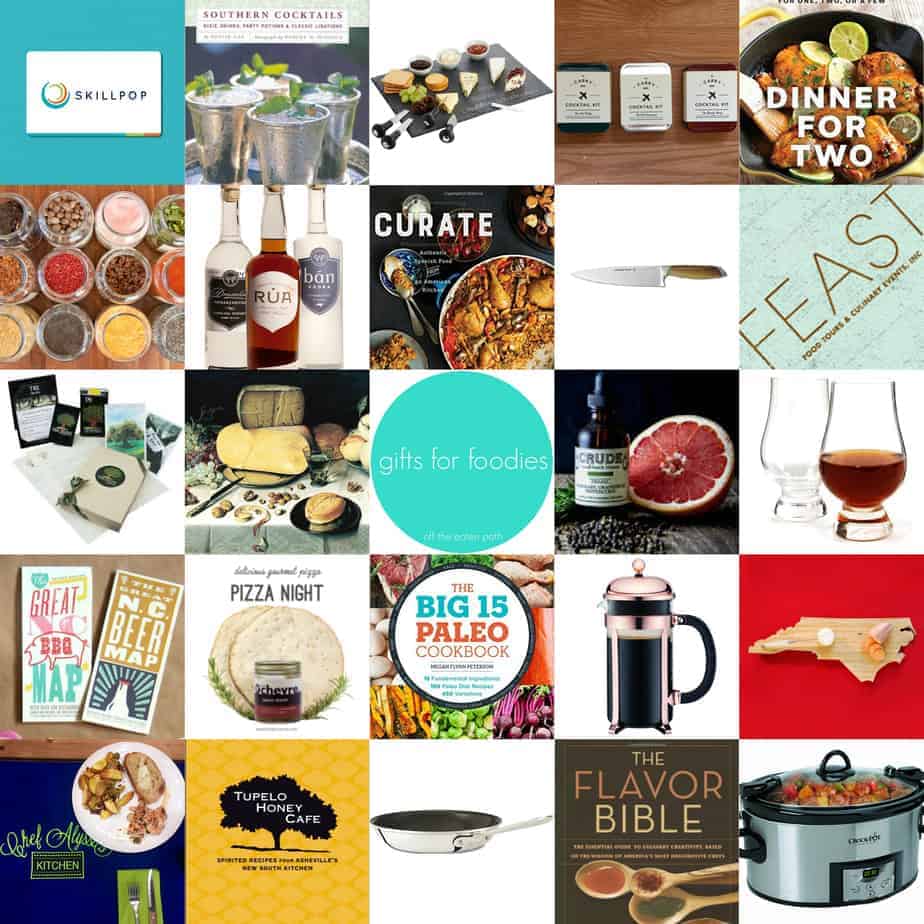 HOLIDAY GIFTS FOR FOODIES: KITCHEN TOOLS AND COOKBOOKS
Every year when I browse gift guides and holiday gifts for foodies or cooks, I see a lot of cool (and expensive) gadgets that I'd love to have in my kitchen but maybe don't fit the holiday spending budget (this KitchenAid Stand Mixer is still on my forever wish list though
).
For this holiday gift guide, I wanted to share some tools and items that we use almost everyday with prices that are a little easier on your wallet.
With all the slicing and dicing going on in the kitchen, every home cook needs a great chef's knife.
We got this eight inch Schmidt Brothers eight inch chef knife
as a wedding gift and I love, love, love it. ($44)
I can't function without my daily cup of coffee so this French press
($31) and coffee grinder
($19.99) get a lot of use in our house.
These would be perfect to pair with a monthly coffee subscription to give your foodie their caffeine fix (monthly coffee subscriptions starting at $29.99 through Craft Coffee, Bean Box or Citizen Bean).
A cheese board is perfect for your foodie friend who loves to entertain or for your foodie friend who just loves cheese.
This VonShef slate one has a classic look and comes with knives, dishes and chalk
($32.99).
Or, show some state pride with a custom drawn, bamboo board
(we received a North Carolina board as a gift with a heart over Charlotte which we love breaking out for guests or just because) ($38-48).
A go to every day pan is a must and this one rarely leaves our stovetop
.
We use it for almost anything from eggs and frying up bacon to caramelizing onions, sautéing veggies or simmering sauces. ($109)
My crockpot is a staple in our kitchen
; the easy, hands off approach that is perfect for busy weeknight dinners and the recipe options are practically endless.
Plus if you buy one for your favorite foodie, they can make delicious beer cheese or meatballs in it. ($39.99)
A cookbook is a go-to gift, perfect who loves experimenting in the kitchen, wants to learn new recipes, or just loves perusing beautiful, drool inducing photos.
Two of the favorites on our shelf are The Big 15 Paleo Cookbook
(I've made several recipes and they're all really good) ($10), and Tupelo Honey Cafe's cookbook
($19.99).
Some cookbooks on my wish list are Dinner for Two
($17), The Flavor Bible: The Essential Guide to Culinary Creativity, Based on the Wisdom of America's Most Imaginative Chefs
($22), and sticking with the Asheville theme, Cúrate: Authentic Spanish Food from an American Kitchen
($21).
HOLIDAY GIFTS FOR FOODIES: FOOD EXPERIENCES
Recently, my favorite type of gift to give and receive is a new experience (let's be real, sometimes we just don't have room for more stuff).
Here are a few experience holiday gifts for foodies in Charlotte that will not only give the gift of a fun afternoon or evenings, but great memories for years to come.
LOOKING FOR OTHER CHARLOTTE HOLIDAY GIFT GUIDES?
Charlotte Holiday Gift Guide: Gifts for Your Beer Lover
Charlotte Holiday Gift Guide: Gifts for Your Foodie
A cooking class is the perfect place to learn new recipes in a fun, relaxed environment either solo, on a date night, or a night out with friends.
Chef Alyssa's Kitchen boasts a wide variety of class options, a stellar BYOB policy, and a recipe book to take home (I've been three times and I can't wait to go to more!). (starting at $60)
Sip and sample your way through Charlotte's neighborhoods and get a behind the scenes look at some of Charlotte's most popular restaurants with Feast Food Tours.
I did the Uptown Chic Tour last summer with some blogger friends and we had a blast! (starting at $55)
Create your own adventure with one of EDIA Maps' Adventure Maps.
Explore North Carolina barbecue or beer with The Great NC BBQ Map and The Great NC Beer Map, respectively, or get a fresh perspective of the Queen City and discover Charlotte institutions and off the beaten path spots with the Charlotte Adventure Map.
We own all three! (maps: $9.99, gift sets: $25)
SkillPop offers pop up classes in Charlotte (and Raleigh too!) where participants learn something new in an intimate, community setting.
They offer classes on all sorts of different topics from hand lettering and photography to raising chickens, so there is sure to be something to spark your foodie's interest.
I recommend gifting a class and letting them decide if they're into Aristan Breadmaking, Chocolate Appreciation, Cocktails from Scratch, Cookie Decorating or something else! ($30)
HOLIDAY GIFTS FOR FOODIES: SUBSCRIPTIONS, INGREDIENTS, AND FOOD
While kitchen gadgets are nice and food tours and cooking classes are fun, sometimes you don't have to overthink your holiday gift and gifts for foodies can be pretty straightforward.
Since you're shopping someone who loves food, give the gift of food!
Spice up the holidays with a gift pack from Savory Spice Shop in South End.
They have all sorts of fun and flavorful themes from Keys to the Cupboard and Global Kitchen to Best of BBQ, Chocoholic, Better Baking and even Perfect Popcorn or Bloody Mary!
(Last year I got AJ a BBQ spice gift pack and a cookbook to go along with the smoker he got from his parents).
Totally something for every taste and they are running a gift pack sale through December 18 (prices vary)
Membership to a cheese club is the gift that keeps on giving year round. Orrman's Cheese Shop Cheese of the Month Club includes a selection of three different cheeses once a month complete with descriptions and pairing recommendations. ($135)
Adopt an Italian olive tree for your foodie for a year and they will receive fresh pressed Italian olive oil made from olives harvested from their tree and others.
Olive tree adoptions include a welcome package with a photo of the adopted tree tagged with the adoptees's name, an adoption certificate, a welcome letter, and when the time comes, six tins of olive oil from the adopted tree.
We received an adopted tree as a wedding gift which was super creative, thoughtful and sweet (I loved looking at the photos of our tree and can't wait for the olive oil to come!) ($149.99 for a full adoption, $79.99 for an express adoption)
The makings for a fun and delicious night in are in this pizza night kit from Belle Chevre.
The kit comes complete with crust, herbs, goat cheese and a recipe card, so you just have to provide the wine and friends (if pizza isn't your thing, while I'm not sure why it wouldn't be, they have a variety of other fun gift boxes including the ultimate cheese board, breakfast in bed, and more). ($25)
HOLIDAY GIFTS FOR FOODIES: COCKTAIL CONNOISSEURS
Does your favorite foodie get spirited about spirits and likes to whip up creative cocktails at home?
These gifts lean towards a liquid side; perfect for the home bartender on your list.
Enhance the overall flavor of an at home cocktail with a Crude Bitters Sample Set.
The set comes with four one-ounce bottles of year round flavors including Rizzo (rosemary, grapefruit, peppercorn), Big Bear (coffee and cocoa), Bitterless Marriage (hibiscus, lavendar, oak) and Sycophant (orange and fig).
I love that Crude Bitters is North Carolina's first cocktail bitters company and they have cocktail recipes for their bitters on their website! ($25)
For a friend who loves cocktails and travels on the reg, the Carry On Cocktail Kit
has everything you need to craft at cocktail at 10,000 feet (they just need to add the hard stuff). ($23.95)
(my friend Susannah also recently posted a DIY version on her blog)
Part of the fun of creating cocktails at home is experimenting with new flavors and liquors.
I stumbled upon Southern Cocktails: Dixie Drinks, Party Potions, and Classic Libations
the other day at Paper Skyscraper.
It's full of Southern spirit recipe includes tried and true traditions like the Mint Julep and Hurricane to new concoctions like the Peach Mojito.
Plus, there's a bar necessities checklist and a few snack recipes as well. ($12)
If nothing gets you in the holiday spirit quite like shopping for holiday spirits, pick up a bottle of Great Wagon Road Distilling's award winning Rua whiskey, a pair of Glencairn whiskey glasses
($12), and a copy of Whiskey Notes: Tasting and Distilling Logbook
($13) for the whiskey drinker in your life.
Which one of these holiday gifts for foodies would you like to see under your tree this year?