Peach frosé is the perfect seasonal summertime sipper! Made by blending rosé wine and farm fresh peaches, it's a delicious, refreshing and cooling cocktail for hot summer happy hours.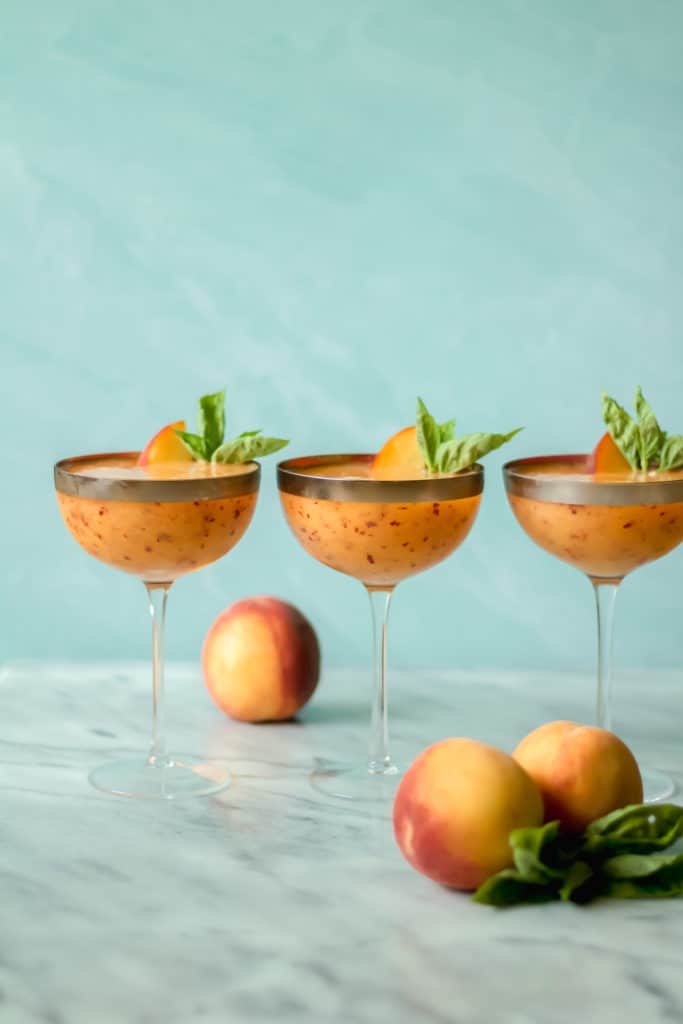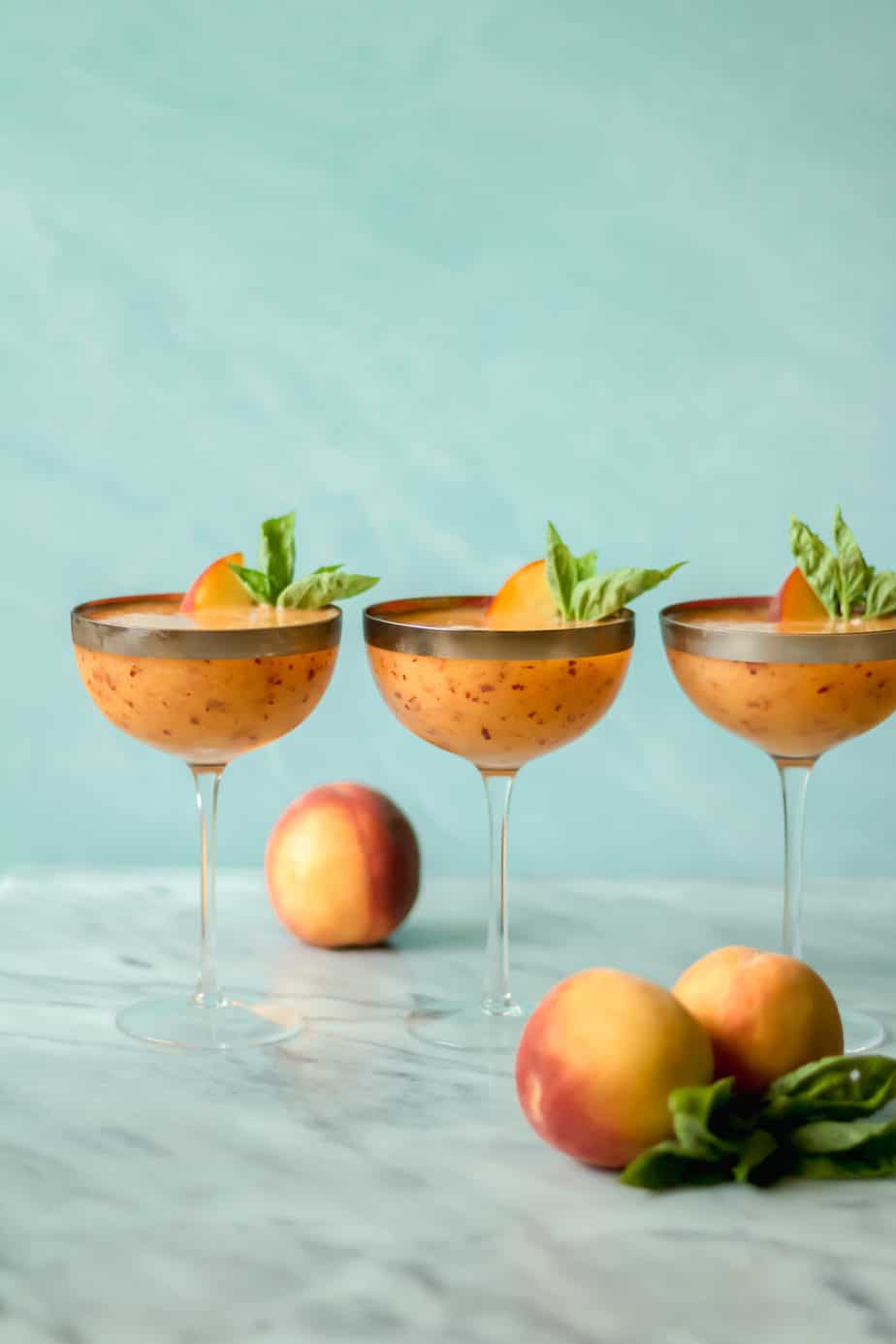 I am declaring Summer 2020 that summer of at home cocktail recipes.
I have loved making cocktails at home for years.
It all started back in Summer 2012, when I lived in Madison, Wisconsin and was studying for the bar exam. I was under a lot of stress, I wasn't going out much, and I wanted to do something special to treat myself beyond cracking open yet another Spotted Cow.
No disrespect to New Glarus Brewing's Spotted Cow, it's one of my favorite beers (it's a key ingredient in my Beer Cheese Fondue and Beer Boiled Brats recipes and I wish we could get it here in North Carolina!) But, I was trying to channel my inner Tom Haverford and didn't have any fine leather goods on hand. (Any other Parks and Rec fans here?)
So I decided to experiment with homemade cocktail making. Before 2012, any homemade cocktails involved just two ingredients, usually coconut rum and Coke, or tequila and store bought margarita mix (these classic margaritas are way better than store bought mix I promise.)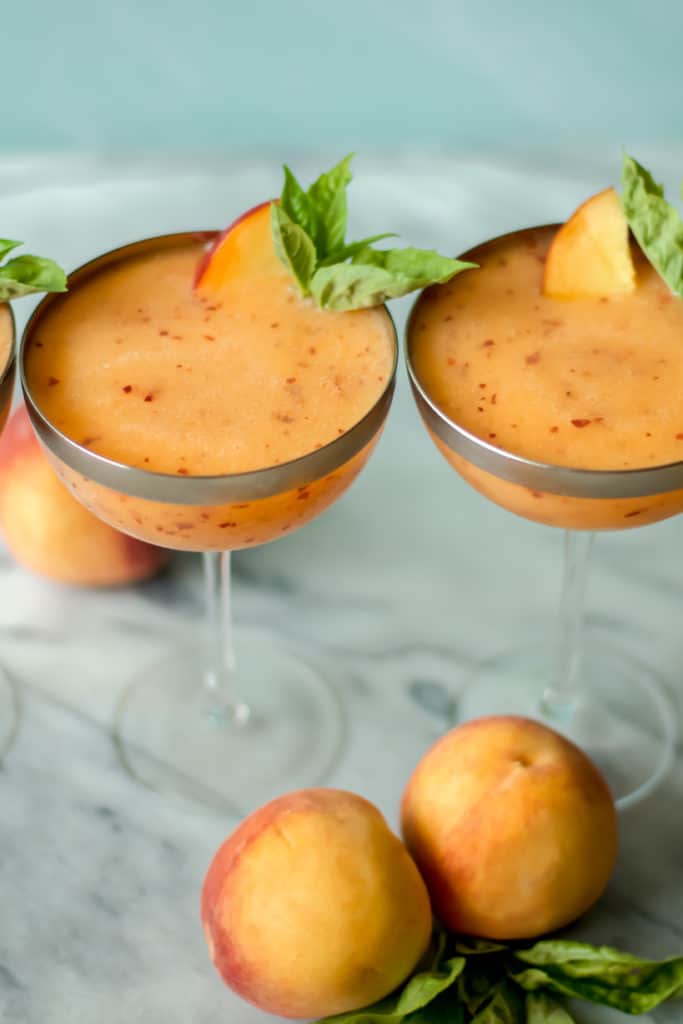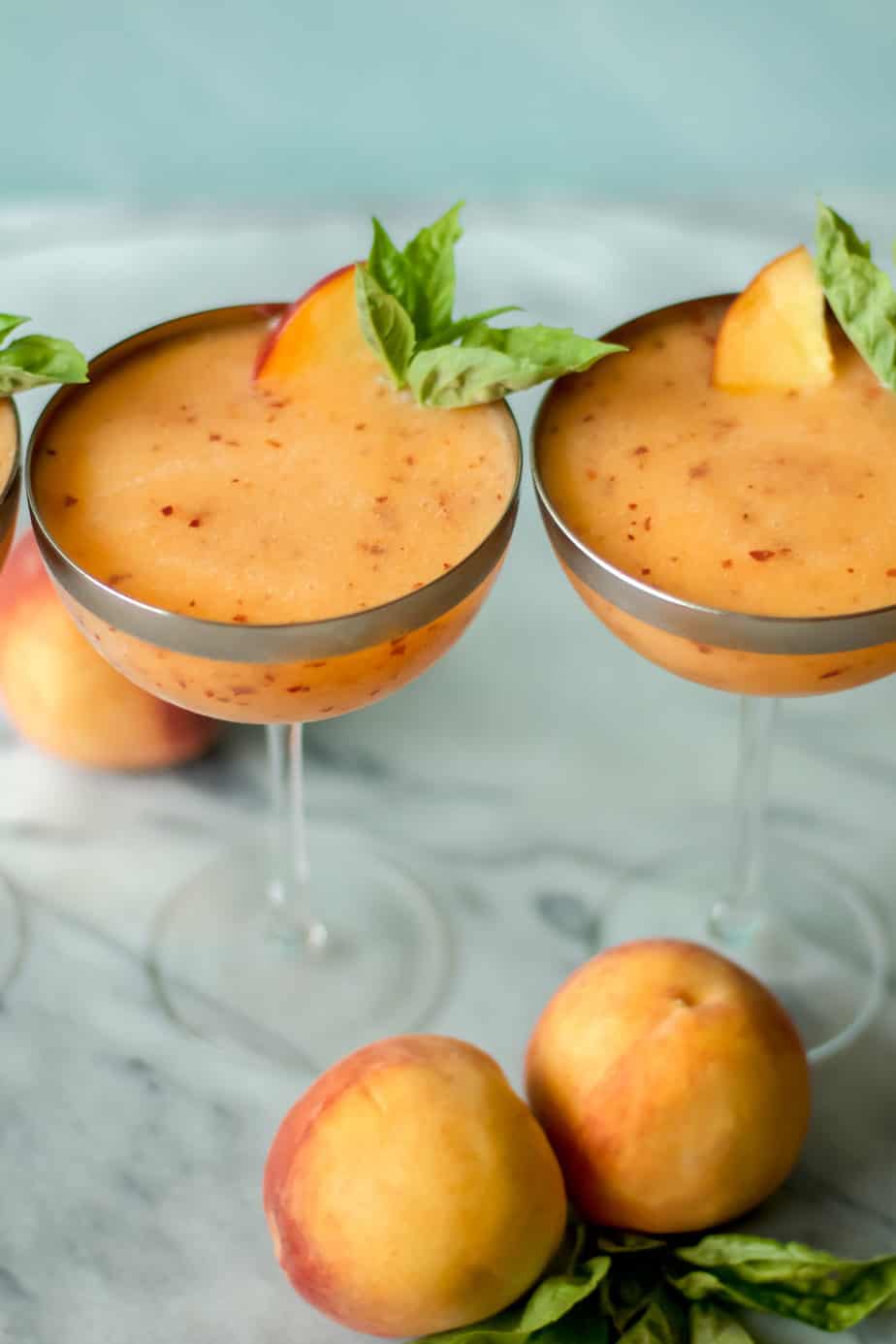 So I got some strawberries at the farmers market, plucked some basil and mint from the plants on my window sill and started smashing them (muddling is the proper term) in the bottom of the glass. I topped it with some rum and soda voila, I had made myself a mojito.
In the past eight years I've dabbled in a whole lot of homemade cocktail making, and easy,refreshing summer sippers like Blackberry Basil Gin Fizz, Raspberry Gin Seltzer, Corona Floats, a Bourbon Peach Smash, this red, white and blue pina colada perfect for a 4th of July cocktail, and even some simple summertime camping cocktails have become staples in our house.
But frosé has quickly become one of my favorite summer drinks.
Frosé is basically a wine slushy (or slushie)…it's a frozen cocktail made with rose wine and then can be sweetened with frozen fruit (like in this Watermelon Frozen Rose recipe). It's a pretty trendy cocktail and you can find it on the menu at a lot of different bars and restaurants, but did you know it is super easy to make at home too?
How to make frosé at home
I feel like frozen cocktails have always been wildly popular, especially in the summer and at tropical resorts with swim up bars, but to me, the frozen rose trend is like next level cool.
Frose was created when bartenders at a New York bar were experimenting with what would happen if they poured rose wine into the bar's slushie machine.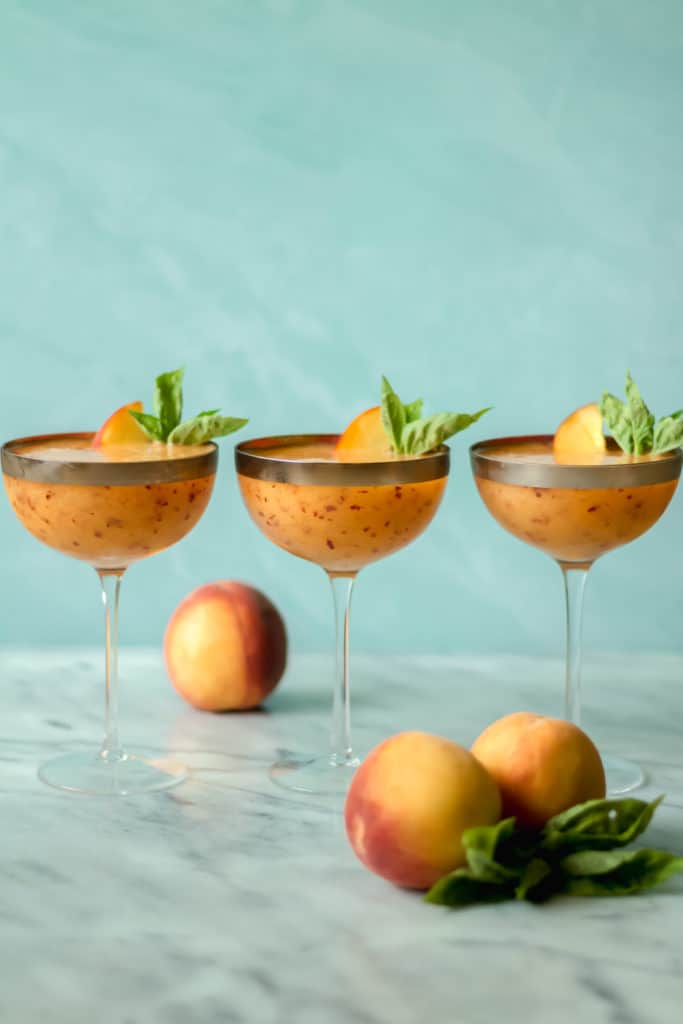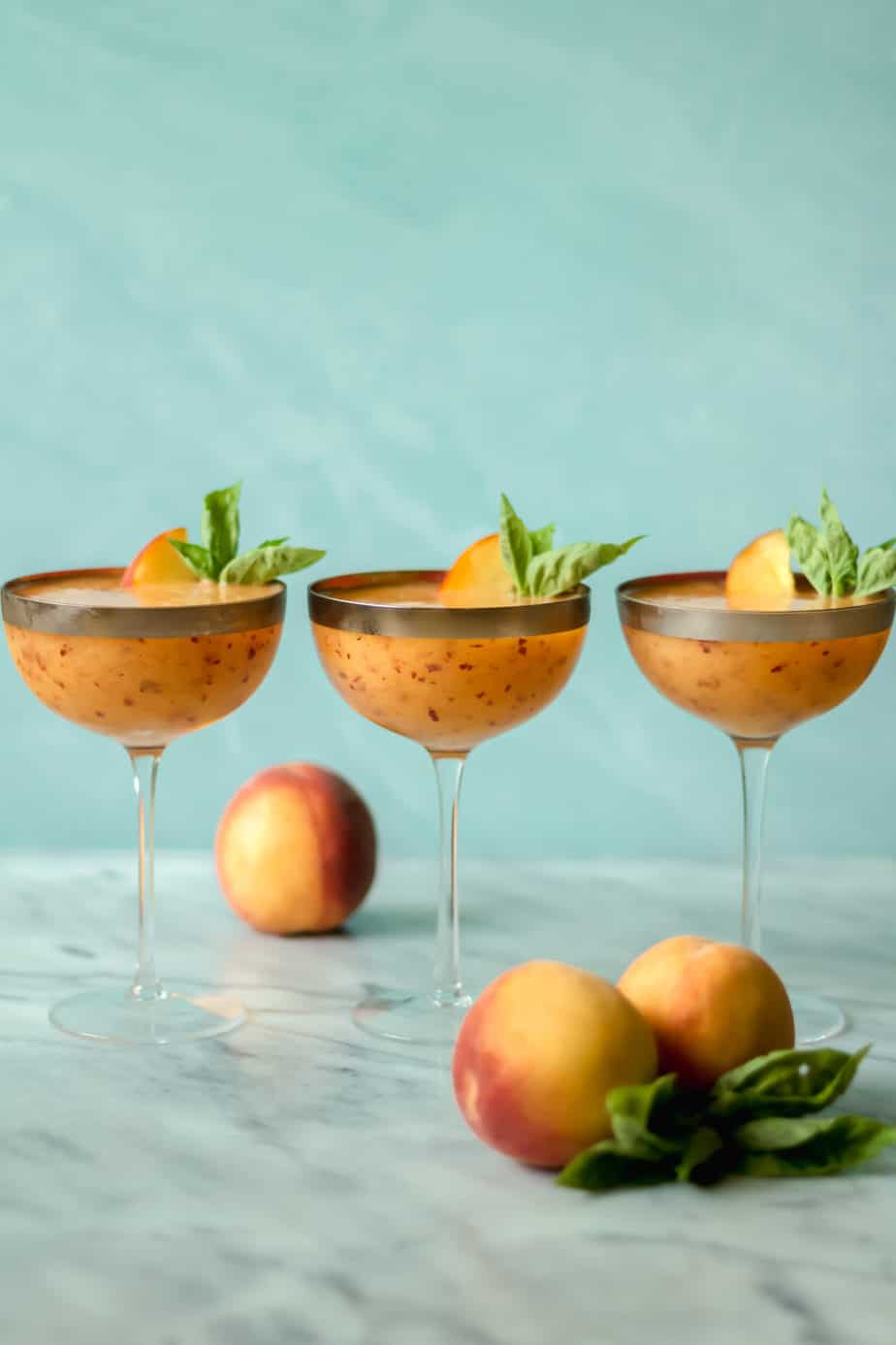 But you don't need a big, industrial size slushie machine to make frose at home. All you need is a freezer and a blender. Yes that's right, you can make frose in a blender on your kitchen counter at home!
A lot of frose recipes also call for you to freeze the wine in an ice cube tray (you don't want to mix chilled wine with ice because it will dilute the wine), but my approach to at home frose making is a little different.
Rather than freezing the wine (which usually doesn't completely freeze because of its alcohol content) I prefer to freeze the fruit I'm going to mix with the wine. That way, you aren't diluting any flavor by having to add extra ice, and you also don't have to mess with pouring rose into an ice cube tray.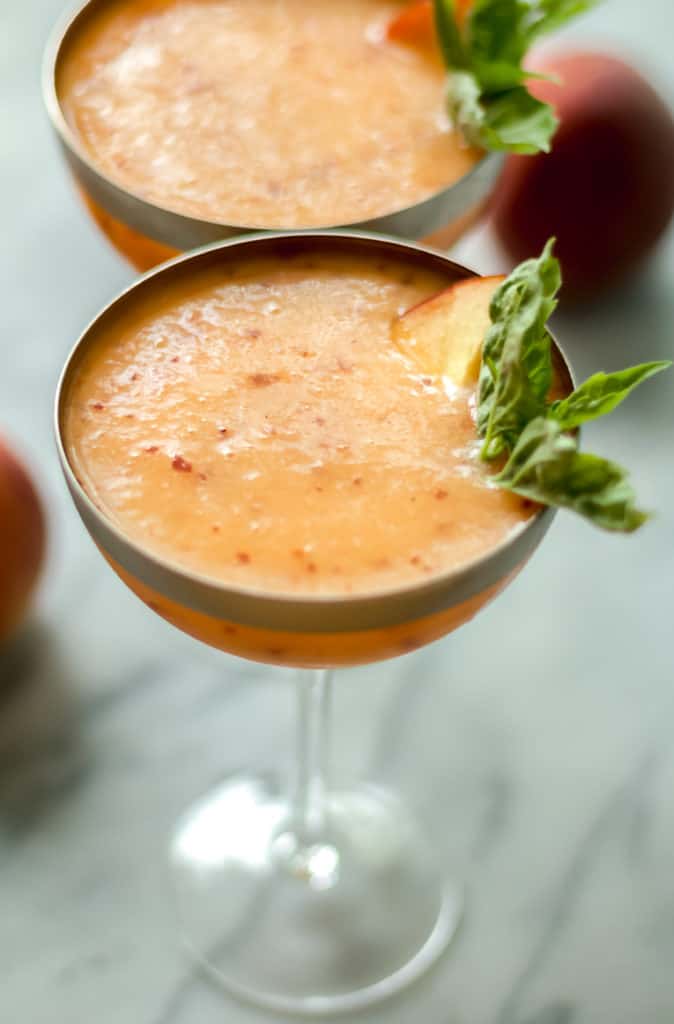 How to freeze peaches
The original frozen rose recipe features strawberries to enhance the sweetness, flavor, and pink color of the rose wine, and while strawberry frose is classic and delicious, I think its so fun to play around with other seasonal summer fruit.
Since I've already made watermelon frose, I decided my next fruit frose recipe would feature one of my summertime favorites, peaches! (If you want to read more about my love of peaches, you need to read all about and make these grilled peach sundaes. We get our peaches locally at the Charlotte Farmers Market!)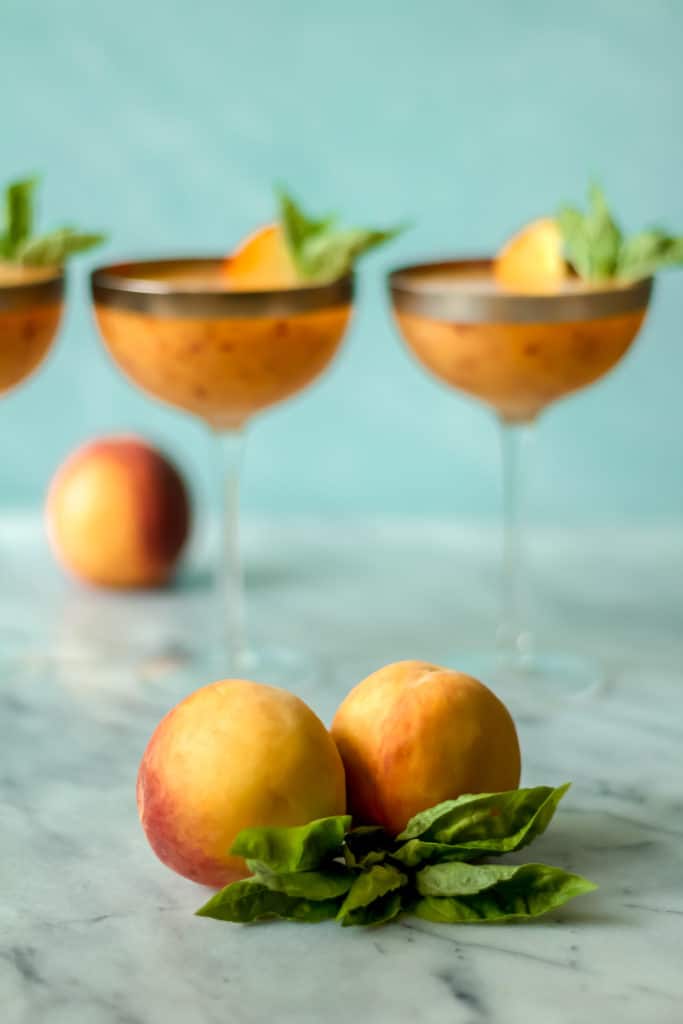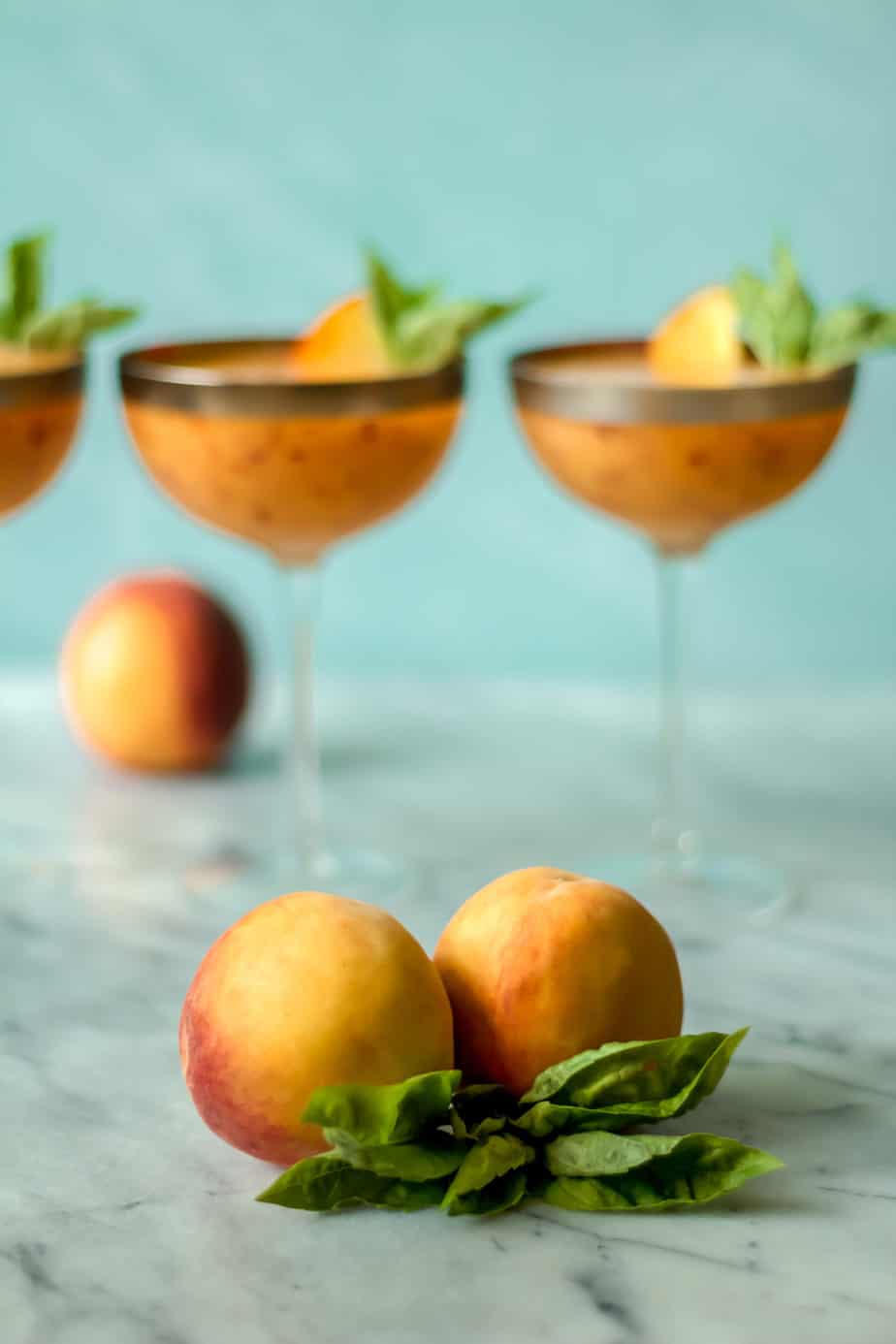 You can buy frozen peaches in the freezer aisle at your local grocery store (making this peach frosé recipe even easier than it already is) but I highly recommend taking the few extra steps to freeze fresh, in season peaches. The flavor of summer peaches really can't be beat!
I recommend buying at least one pound (but why not more) of peaches at your local farm stand or farmers market, enjoy some of them ripe, and then slice and freeze the rest before they get too overripe and spoil.
The beauty of freezing peaches rather than canning them or preserving them in juice is that you can use the frozen peaches just like you would use fresh peaches, in things like smoothies, pies, drizzled with some honey, topped with some ice cream, or in peach frosé!
A lot of tutorials recommend you peel the peaches before you freeze them, but I say skip that step and keep the skin on.
To freeze peaches, slice peaches in half and pit them, then slice the peaches into about 1/2 inch think slices. Toss the slices in a little bit of lemon juice (the acid will help preserve their color when they freeze), then lay them out in a single layer on a baking sheet lined with parchment paper.
Stick the baking sheet with the peach slices in the freezer for a few hours (up to four) and then transfer them all to a gallon sized plastic bag and seal it up and return it to the freezer. Fresh peaches that were frozen can last in the fridge for about 3 months.
What is the best rosé for homemade frosé?
Honestly? A cheap one!
My favorite roses to use in homemade peach frosé are the ones that I get for under six bucks at Trader Joe's. No joke.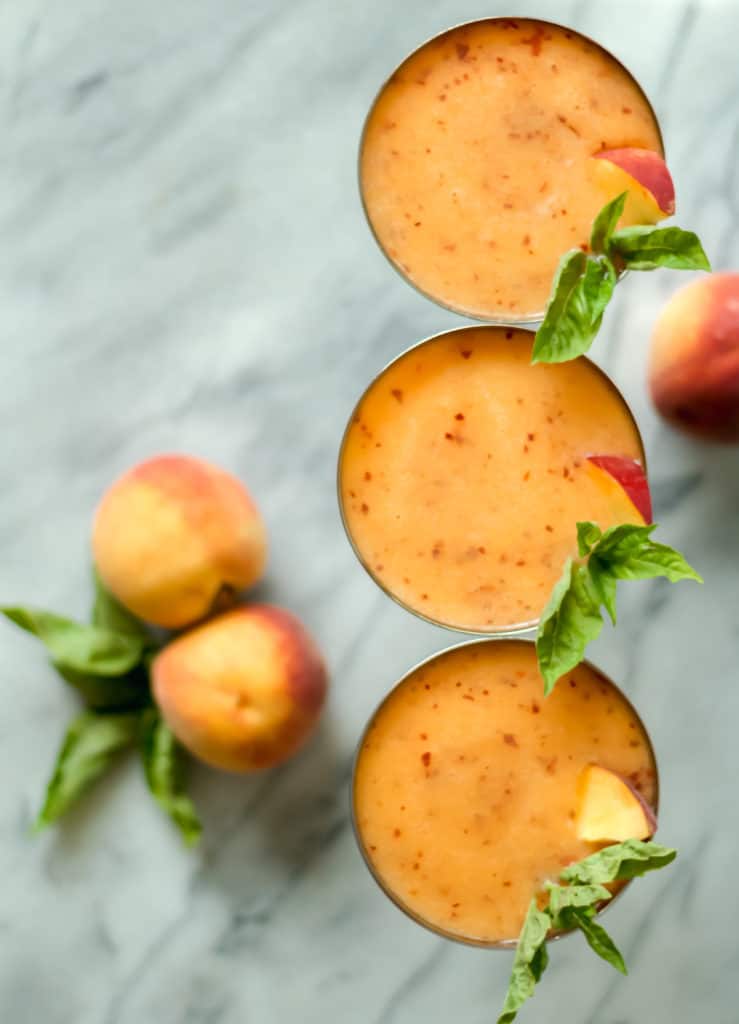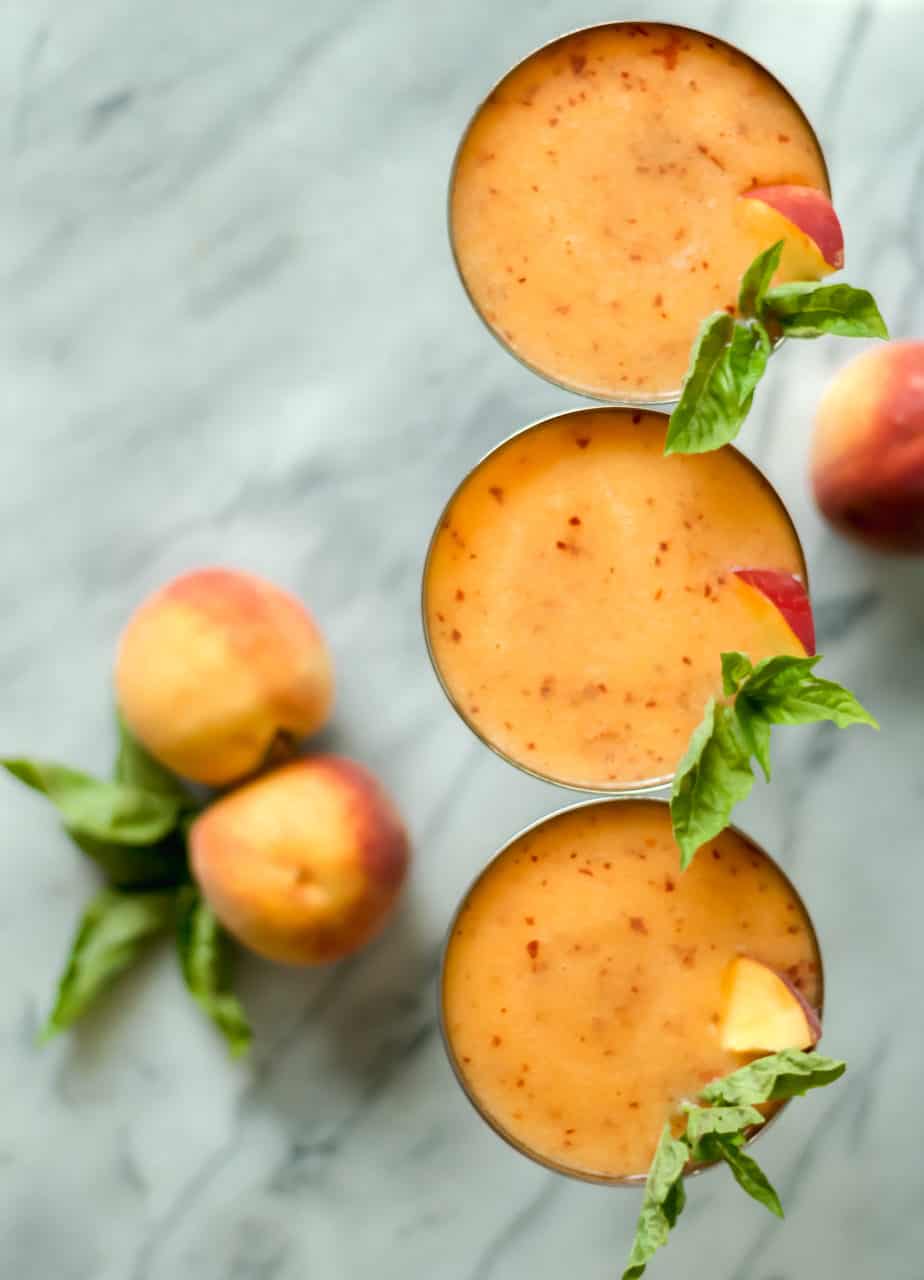 The reason? I think that cheap roses still taste good, and I don't want to be spending upwards of $15 on a wine I am going to end up blending with some fruit. I'll save those for slowly sipping and savoring! (I love The Palm Rose by Whispering Angel that you can get, you guessed it, at Trader Joe's!)
No rose? No problem!
If you don't have rose, you could also use a sweet white wine like pink moscato, white zinfandel, moscato, riesling, or even a pinot grigio.
Easy homemade peach frosé recipe
You just need four ingredients and five-ish for this easy frozen cocktail!
Follow the above instructions to freeze fresh peaches, and once you have six cups (more or less) of peaches, dump them into a blender.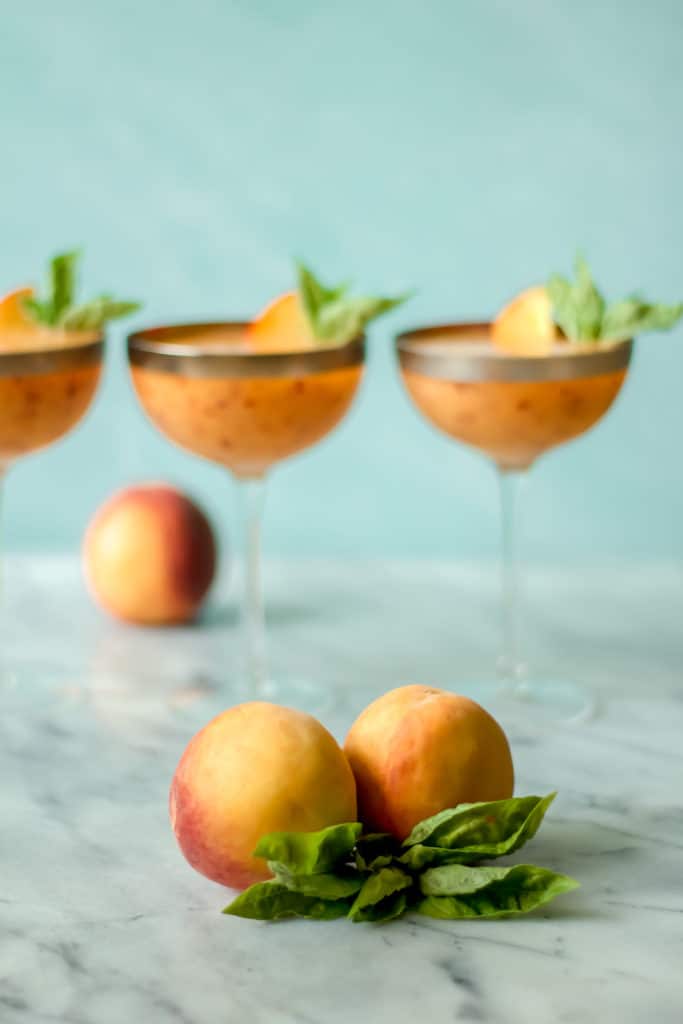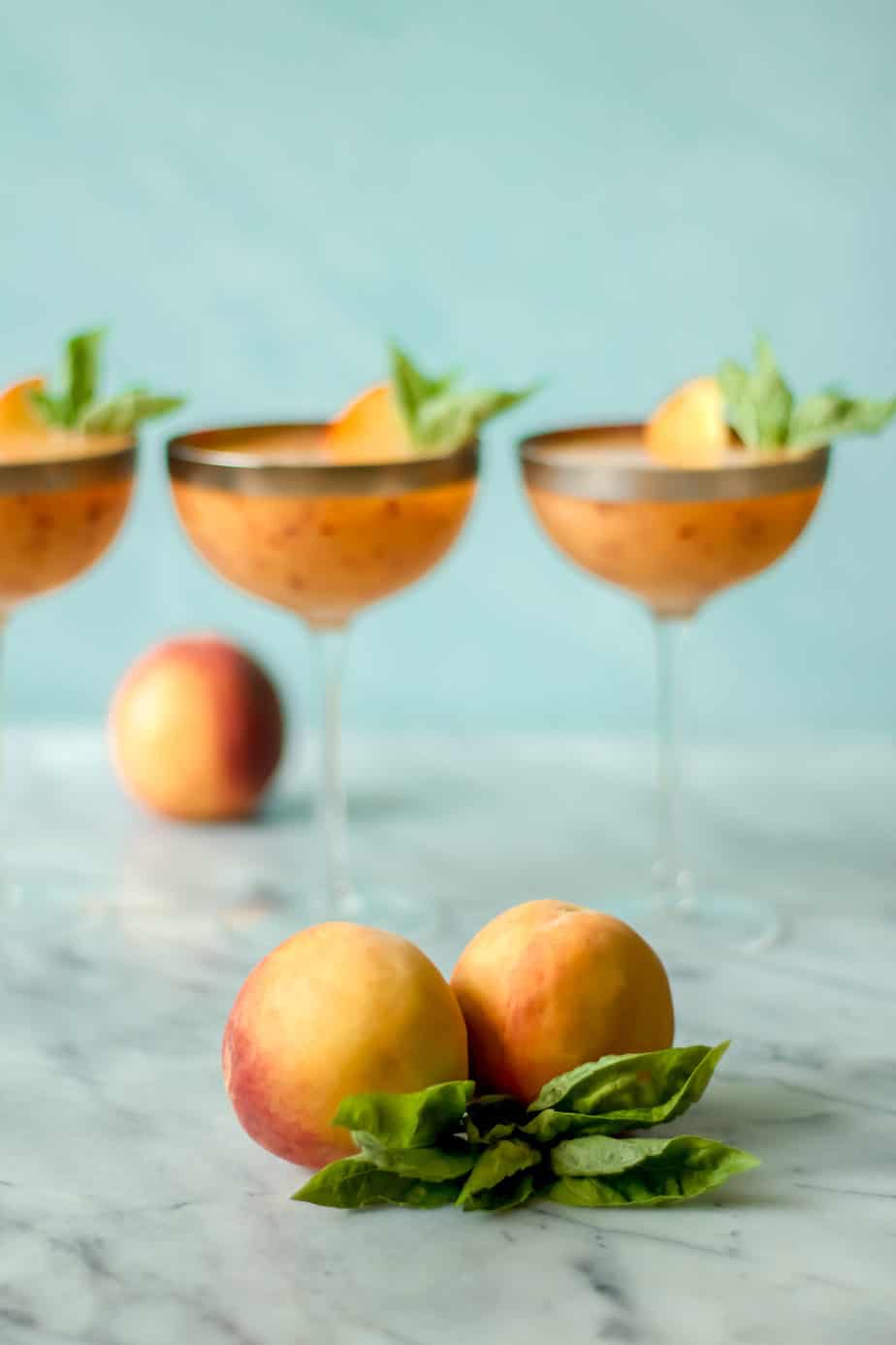 Then pull a bottle of rose from your fridge (you want your wine cold…room temp wine will result in more of a liquid than a wine slushie or frose which is what we want.) Pour the entire bottle into the blender on top of the peaches. (No judgement if you take a swig or two from the bottle rather than pouring all of it into the blender. Save a little wine for the cook!)
Then add a little lemon juice and a little honey.
That's it!
Blend and enjoy.
If you want your frose to be a little thicker, add a little ice, but not too much so it takes away the peach and rose flavor!
Cheers!