I lived in Charlotte for about two months and never thought much about Intermezzo. It sits rather unassumingly on the corner where Central, 10th and Louise all meet to form an awkward and difficult intersection. I would pass it twice a day on my way to and from work, not giving it a double take and never thinking it would become one of my go to places.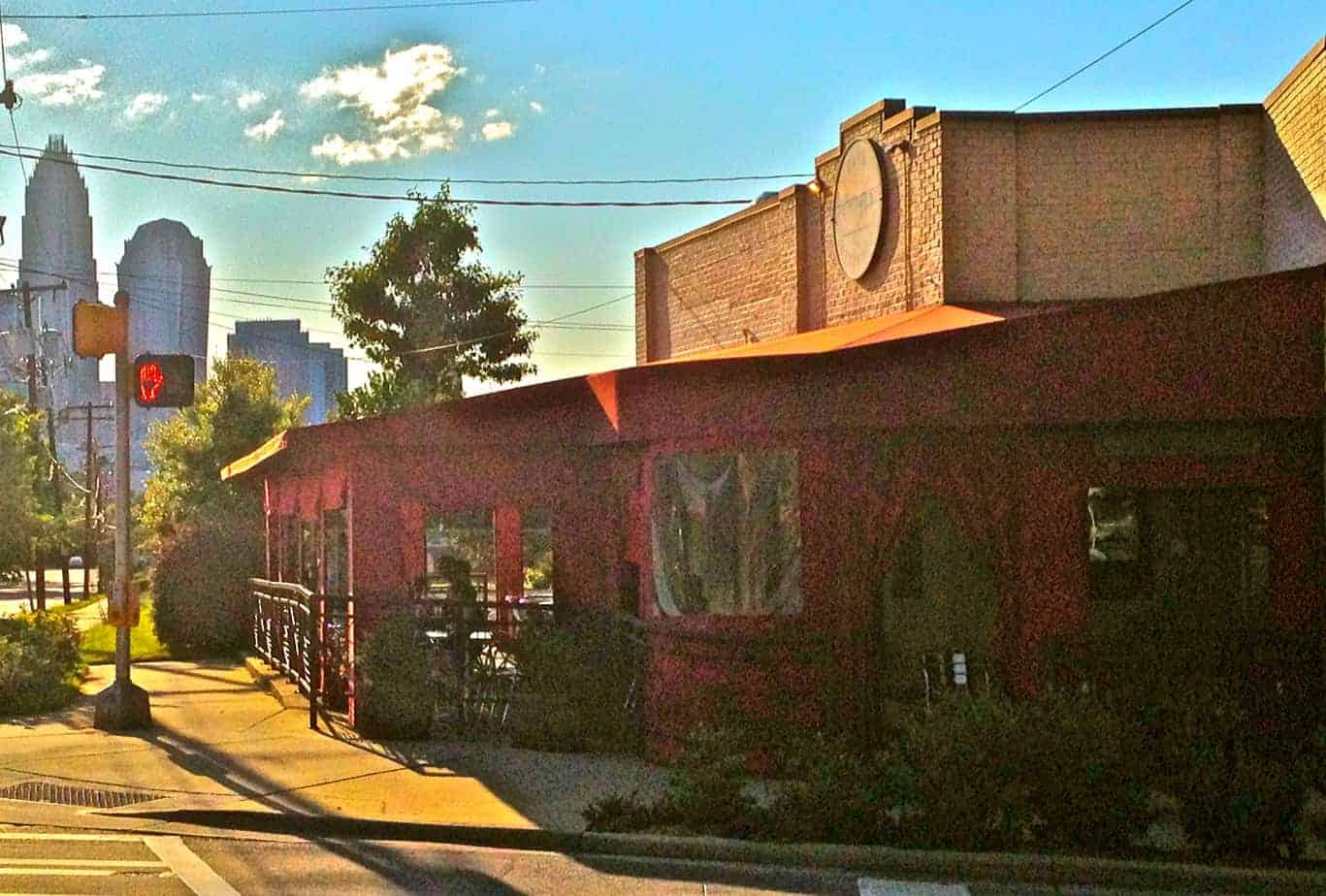 It was not until Intermezzo was actually praised and recommended highly by a coworker (whose recommendations so far have not failed me), that I tried Intermezzo. And I regretted waiting a whole two months because it is freaking delicious.
Intermezzo markets itself in an interesting and unique way: martinis, pizza and Serbian food. I have yet to try the Serbian cuisine (I have never tried Serbian food, and it is definitely on my list) but I just love pizza too much. And Intermezzo serves up damn good pizza.
I bullied my roommate into going to Intermezzo with me on a Saturday night, as a roommate date of sorts. The weather was perfect, Intermezzo has a delightful patio (that has an overhang and is enclosed, bonus for bad weather) and I was in the mood for a banging martini and some solid pizza.
Intermezzo is just a quick jaunt down the street for us. It was pretty hopping for a Saturday night and there is limited seating (the inside is pretty small and the patio has a few tables) but we were seated within 10 to 15 minutes. We ate on the patio; al fresco dining in April is definitely a perk of living down south.
Lucky for us, Saturday night is also half price martini night. Yay!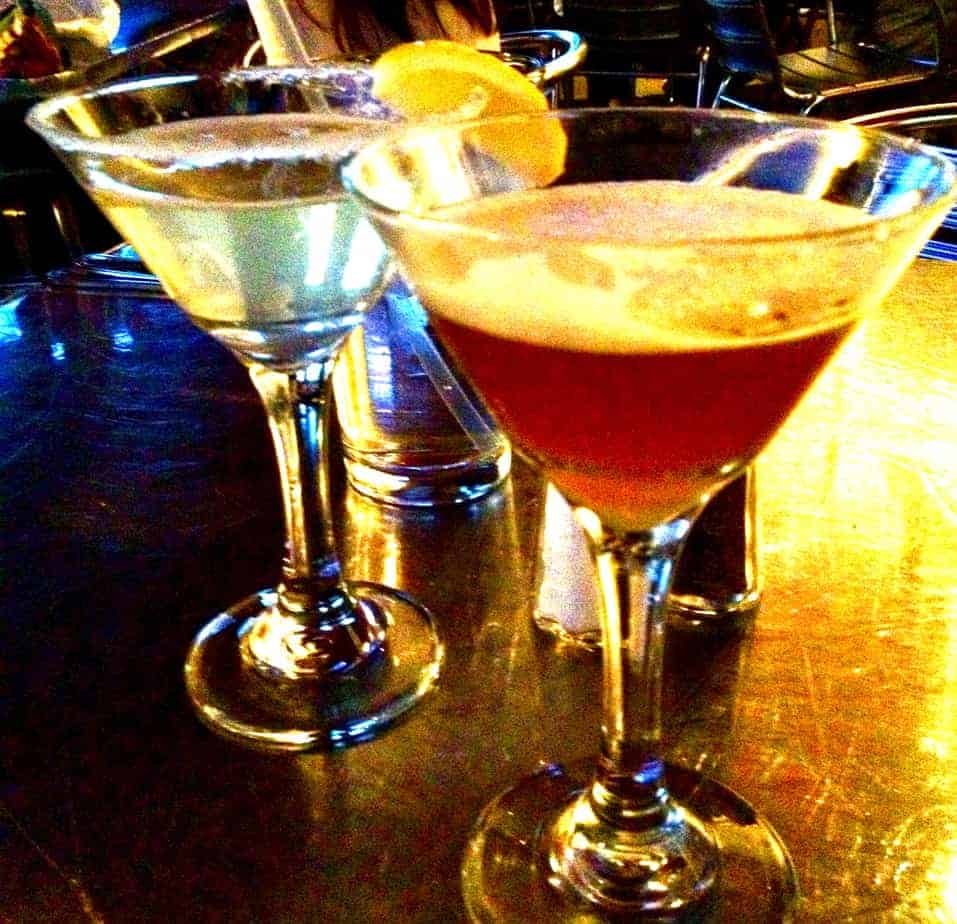 I am definitely not one to complain about a $4.50 martini. I ordered the Peach Nectar, which tastes pretty much like it sounds. It is very sweet, and there are only hints of whatever booze they put in it (it tastes more like liquid candy than alcohol). If you like girly and sweet, this is up your alley. K ordered the lemon twist, which was a bit more "martiniesque" but with hints of lemon and sweetness.
I ordered pizza (obviously) because I love pizza (love love love pizza). Intermezzo offers 10 inch pies which is perfect for one person (with some leftovers). I settled on the Intermezzo Supreme because it has a ton of toppings and I couldn't make up my mind. Intermezzo has a solid crust (nicely hand tossed, crunchy, holds all the toppings) delicious sauce (and just the right amount), plenty of toppings, and just enough cheese (however, my mantra is there is no such thing as too much cheese). Our waiter brought my pizza out with crushed pepper flakes and fresh parmesan, which was like the cherry on top.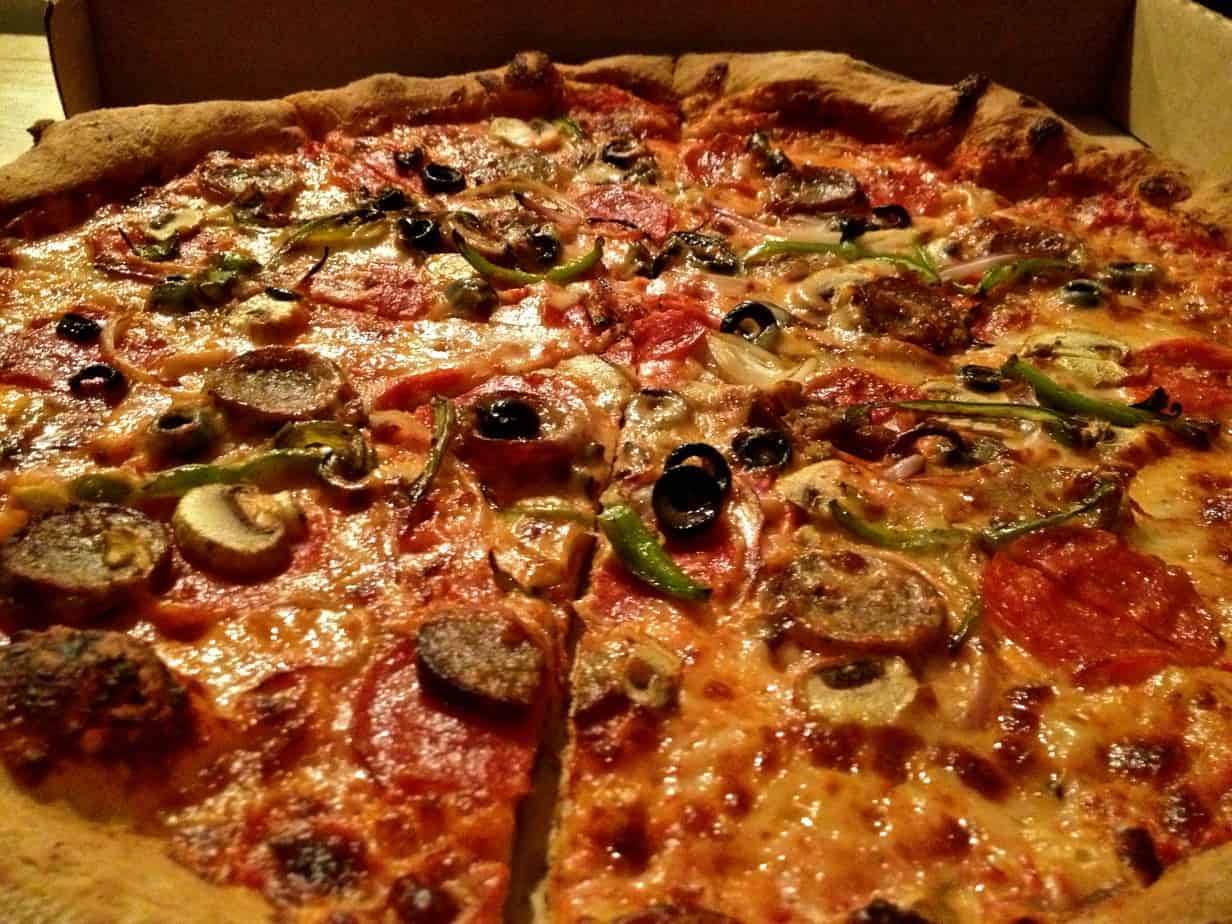 (this picture is actually the Intermezzo Supreme from a recent delivery (can I say again, I love pizza?). The lighting was just much much better).
K already ate dinner (I mentioned this was an entirely selfish, bullying effort), so she decided to order some dessert for her meal (I like her style). Not only does Intermezzo have good pizza, but they make a freaking good crepe as well. K was nice enough to let me indulge in her banana, strawberry and hazelnut chocolate stuffed goodness. YUM. Unfortunately, there is no photo of this epic crepe because we devoured it (the chocolate was so good that there may have been some licking of K's plate while we waited for the bill).
This was my third or fourth time enjoying Intermezzo's delicious pizza. I've been a couple times for happy hour (half price appetizers) and have ordered delivery a few times. Their delivery services is easy, quick, and inexpensive, and far better than Dominos.
I highly recommend you make a trip to Intermezzo (or at least order a pizza) if you are a fan of pizza at all (or even if you only moderately like pizza, their pizza will change you into a pizza fan).
I can't wait to go back to try some Serbian food, if I can stay away from ordering pizza. I'm so lucky it is just down the street!
map & more
score: 8.5
spending: $$
neighborhood: plaza midwood
cuisine: pizza, serbian
official website
[googlemaps https://maps.google.com/maps?f=q&source=s_q&hl=en&geocode=&q=Intermezzo,+1427+East+10th+Street,+Charlotte,+NC&aq=0&oq=inter&sll=38.003385,-79.420925&sspn=4.91646,8.833008&ie=UTF8&hq=Intermezzo,&hnear=1427+E+10th+St,+Charlotte,+Mecklenburg,+North+Carolina+28204&t=m&ll=35.222133,-80.821588&spn=0.003068,0.003734&z=16&output=embed&w=250&h=250]