Off the Eaten Path's Bryson City, North Carolina Travel Guide highlights all of the things to do in Bryson City NC including restaurants and breweries to visit, hikes, activities and more.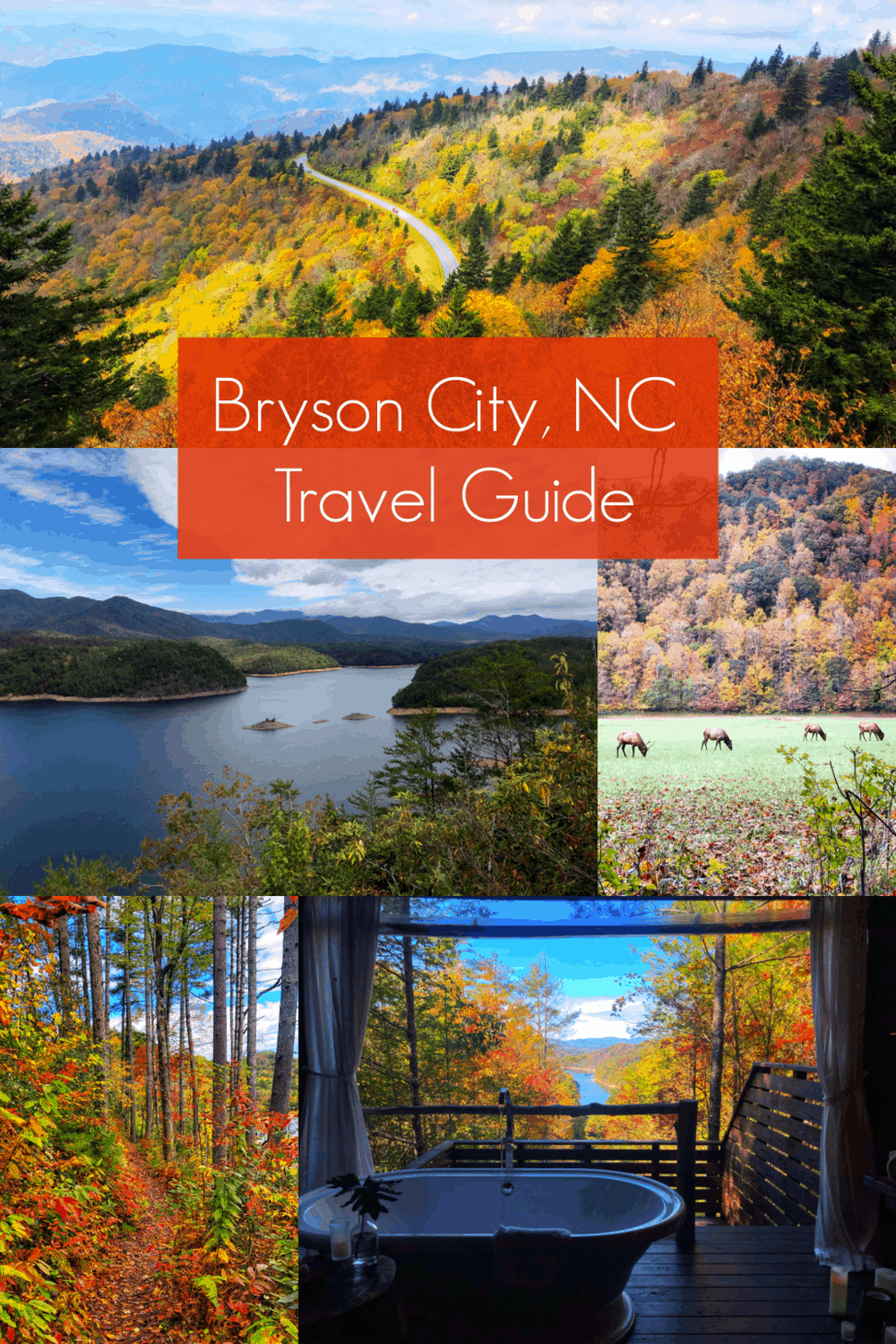 Planning a day trip, weekend trip or just looking for other things to do, places to visit, and where to eat across North Carolina?
Check out Off the Eaten Path's North Carolina Travel Guide, which features weekend itineraries, travel and restaurant recommendations across the Tarheel State.
Just about one hour west of Asheville and three hours north of Atlanta, nestled at the southern side of Great Smoky Mountains National Park, is Bryson City, North Carolina.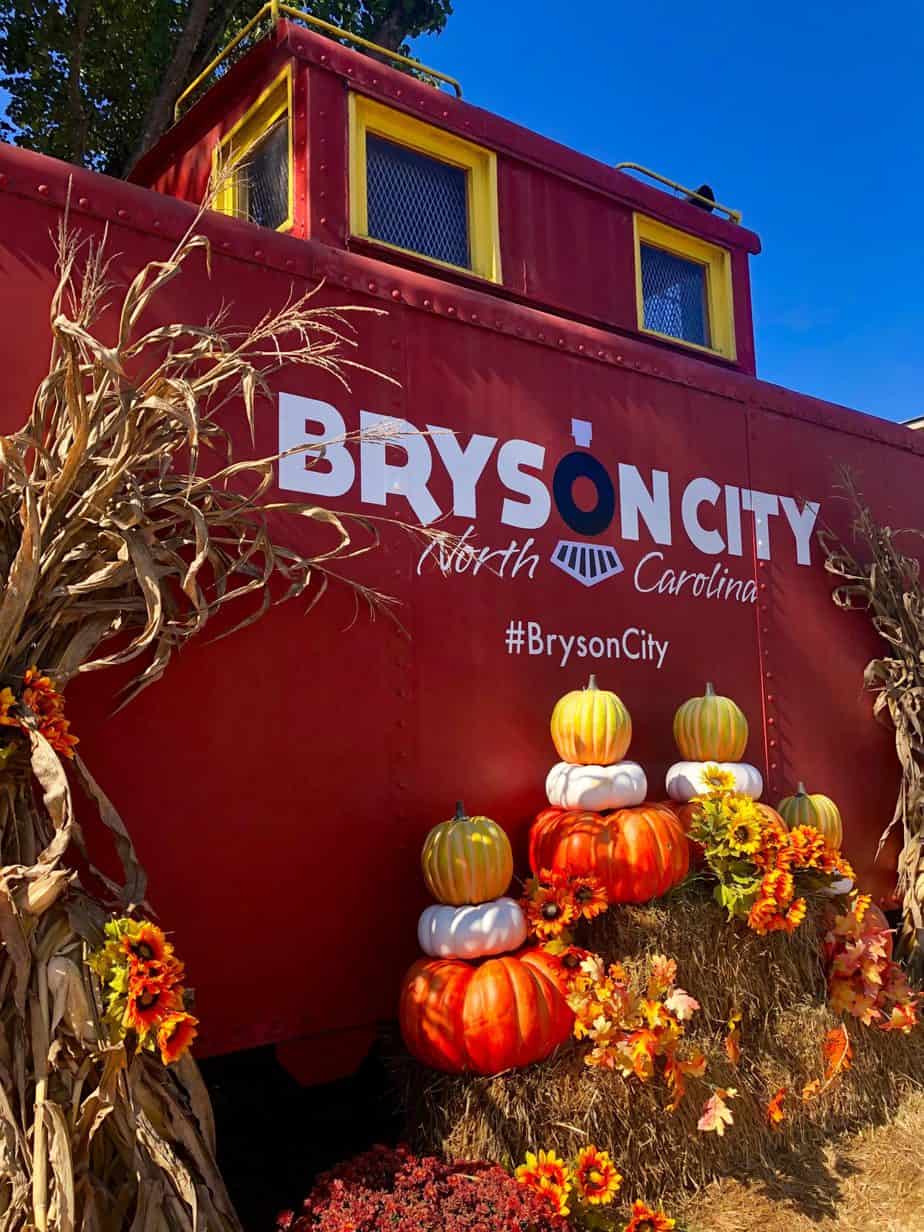 The "Gateway to the Smokies" as the sign that welcomes you to town says, Bryson City is the perfect getaway for outdoor adventurers and nature lovers. The small town is surrounded by an outdoor playground of majestic mountains, cascading waterfalls, a rushing river (perfect for whitewater rafting), the largest lake in western North Carolina and miles of hiking and biking trails.
Start or end your days in the small, stroll-able downtown, which is home to local restaurants and breweries, bookstores, galleries, a fly fishing museum and excursion train and more.
This Bryson City Travel Guide highlights all the must sees, must dos, must eats and must drinks in Bryson City, NC!
Where to Stay in Bryson City, NC
When we visited Bryson City, we rented a cabin through a local company (we loved this experience but you could totally get a cabin through AirBNB or VRBO too).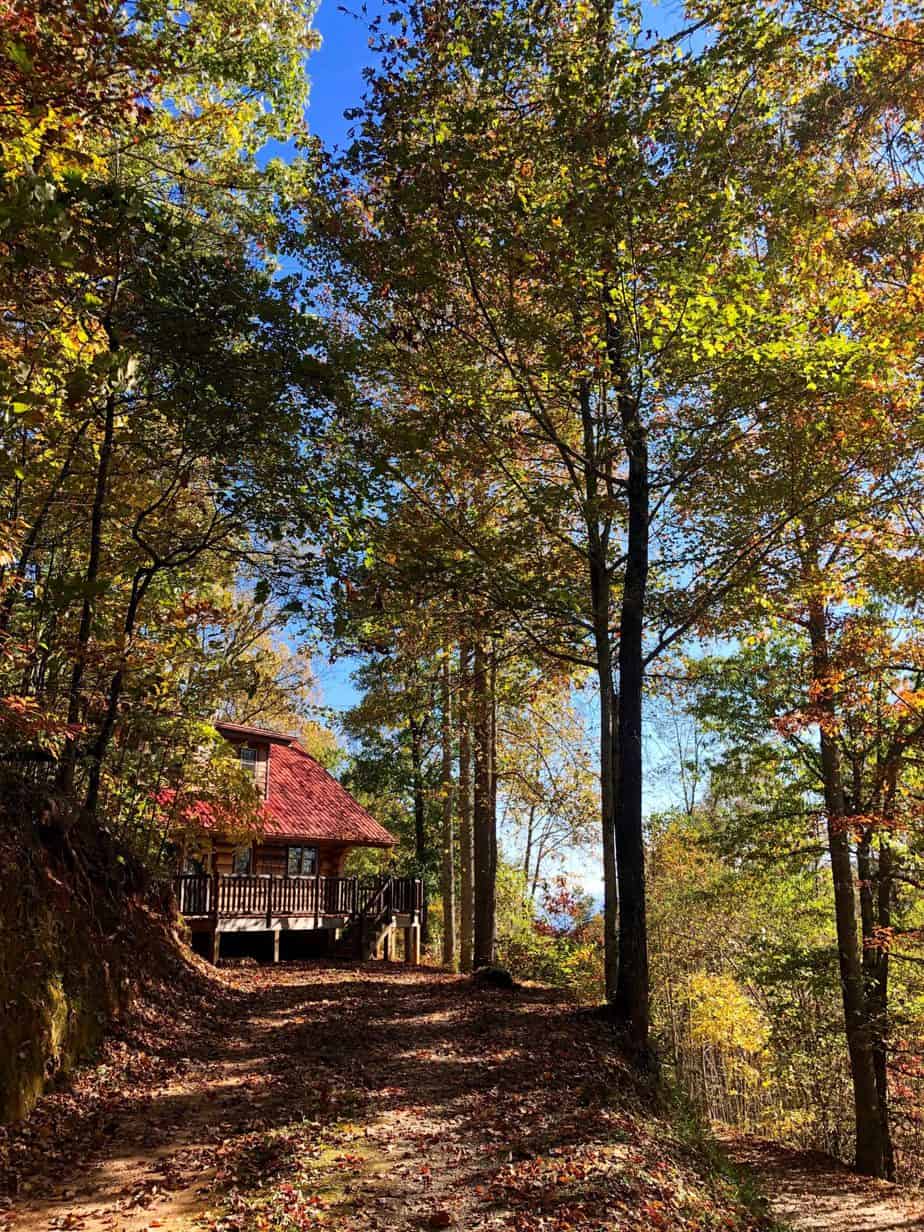 Our cabin was in Almond, North Carolina (about a 20 minute drive from downtown) and we loved having a place to call home for a few days and everything that came with it, including more privacy, a full kitchen (so we did a combination of cooking and dining out), a wrap around porch, fire pit and hot tub, and the space to spread out.
It's so nice coming home after a long day of hiking, lighting a fire, pouring a glass of wine (or making a cocktail like a whiskey apple cider cocktail or old fashioned) and setting up a board game! (If you want to know our faves, check out this post all about fun board games for couples).
Also, because I know someone is going to ask me this…Bryson City does have Internet! Often when you get to the more remote places of the state or in the mountains, Internet and cell service can be iffy…so I totally get being prepared before you go. Our cabin rental company offered an add on for WiFi that we opted not to do because we wanted to unplug for a few days…but we had pretty good cell service at our cabin and excellent cell service when we were hanging out downtown.
If you'd prefer to stay closer to all of the action rather than in a cabin in the woods, there are a few hotels downtown, some quaint bed and breakfasts, and a few resorts near Bryson City that would be the perfect home base for your mountain getaway.
Lakeview at Fontana Mountain Inn
Don't forget…camping is always an option! There are several campgrounds surrounding Bryson City, but we'd recommend booking a site at one of the campgrounds in Great Smoky Mountains National Park.
Bryson City, NC Restaurants and Breweries
Bryson City is home to two local breweries, a winery, and a wide variety of restaurants serving up everything from diner food, deli sandwiches and barbecue to farm to table fine dining.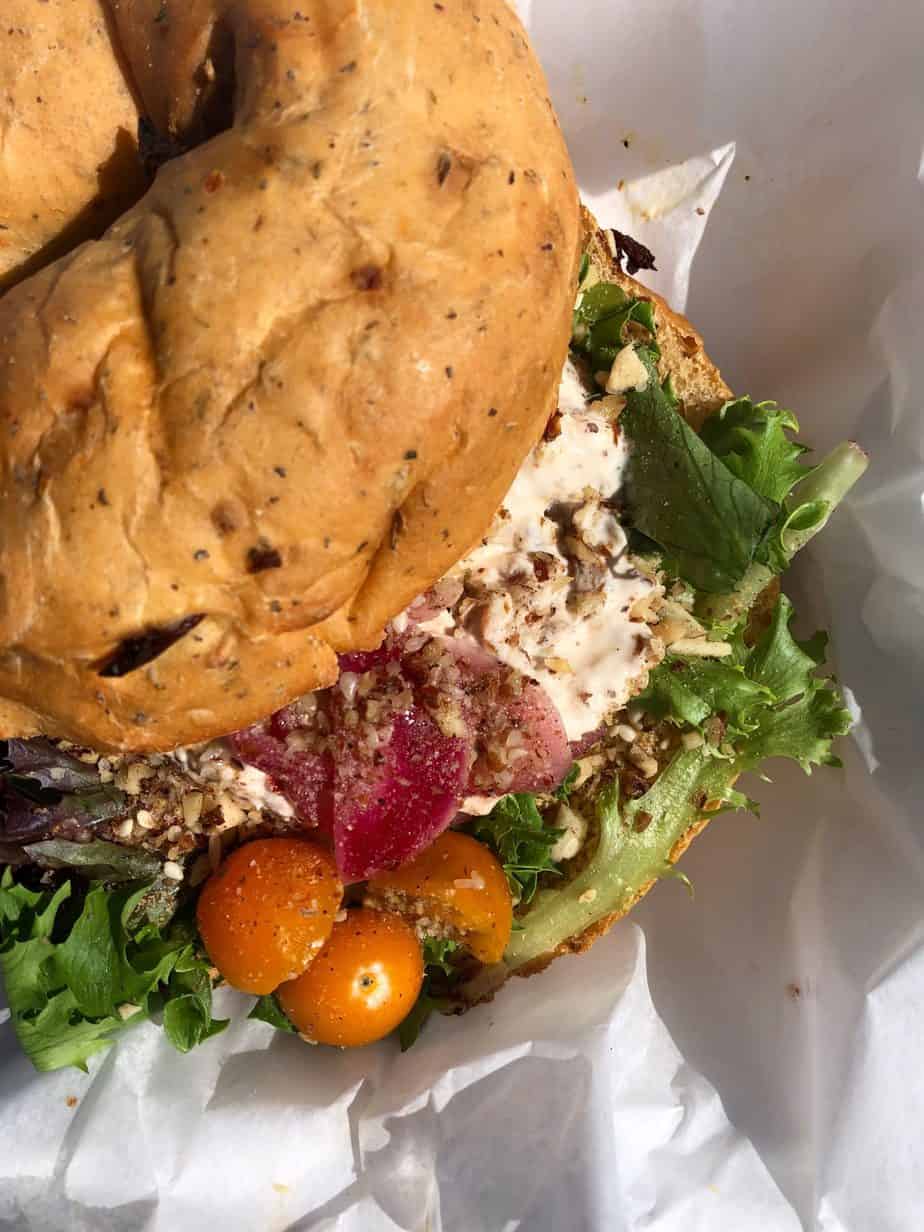 La Dolce Vita is a small, cozy coffee shop and bakery downtown (right next to the caboose!) serving creative coffee drinks and homemade bagel sandwiches. We both loved the Nantahala…a sandwich with locally smoked trout.
Nate and Nick's is a local pizza parlor and grill. While we did a lot of cooking at our cabin and did not get to try Nate and Nick's pizza, our friends got take out from there twice while visiting Bryson City and highly recommended it.
Fryemont Inn Restaurant was recommended by a local barista as the place to go for a higher end, fine dining experience. The Inn is on the National Register of Historic Places and offers four course, fireside dining.
The Bistro at the Everett Hotel is another fine dining option downtown with stellar reviews and a focus on fresh, seasonal fare.
High Test Deli was our favorite food stop in Bryson City. They have a wide variety of sandwiches, soups and salads to choose from and we were bummed they were closed on Sundays so we could grab a sandwich for a picnic on the Blue Ridge Parkway. Make sure to order an ice cream sandwich too or stop by on Fridays for fried pie!
Mountain Layers Brewing has a rooftop patio in the middle of downtown with beautiful mountain and Tuckasegee River views!
Nantahala Brewing Company is a local brewery with two locations downtown, including a burger and beer garden.
Bryson City Outdoors is an outdoor gear and craft beer mecca. Stop in for some shopping for anything you need for your outdoor adventures, and then pop next door to enjoy a cold one.
We loved the craft beer selection here and they had plenty of different brews to enjoy on tap on the patio or cans and bottles to grab to go. We even bought a mystery bag of craft brews (several cans hand selected by the staff) to enjoy at our cabin and loved it!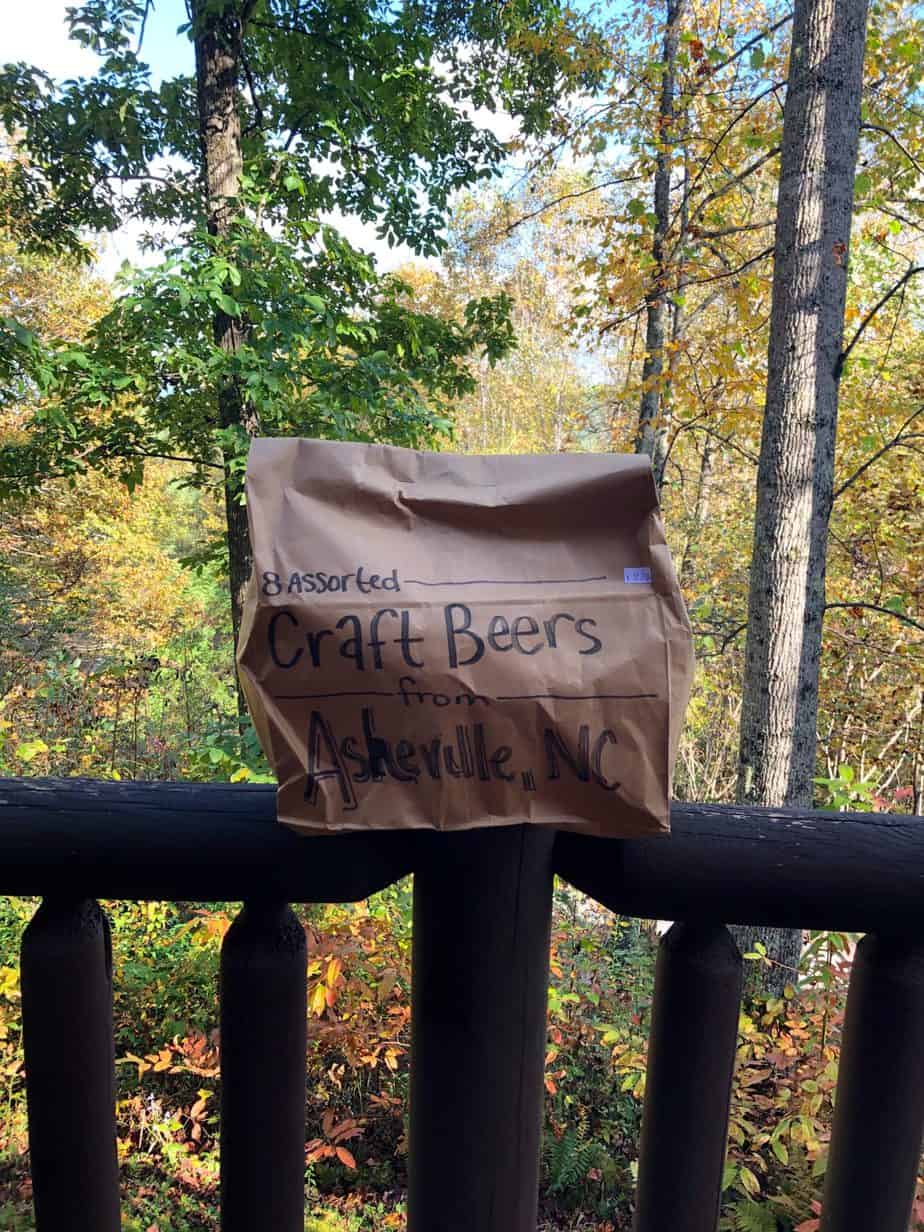 Soda Pops Ice Cream Parlor will transport you back in time with their decor and is worth a stop for a cone, shake or sundae.
Deep Creek Winery is a family owned winery with a tasting room tucked in the mountains just outside of downtown. Their patio seating is pet friendly!
Activities and Things to Do in Bryson City, NC
Visit Great Smoky Mountains National Park. Great Smoky Mountains National Park is the most visited National Park in the United States (with over 12 million visitors in 2019).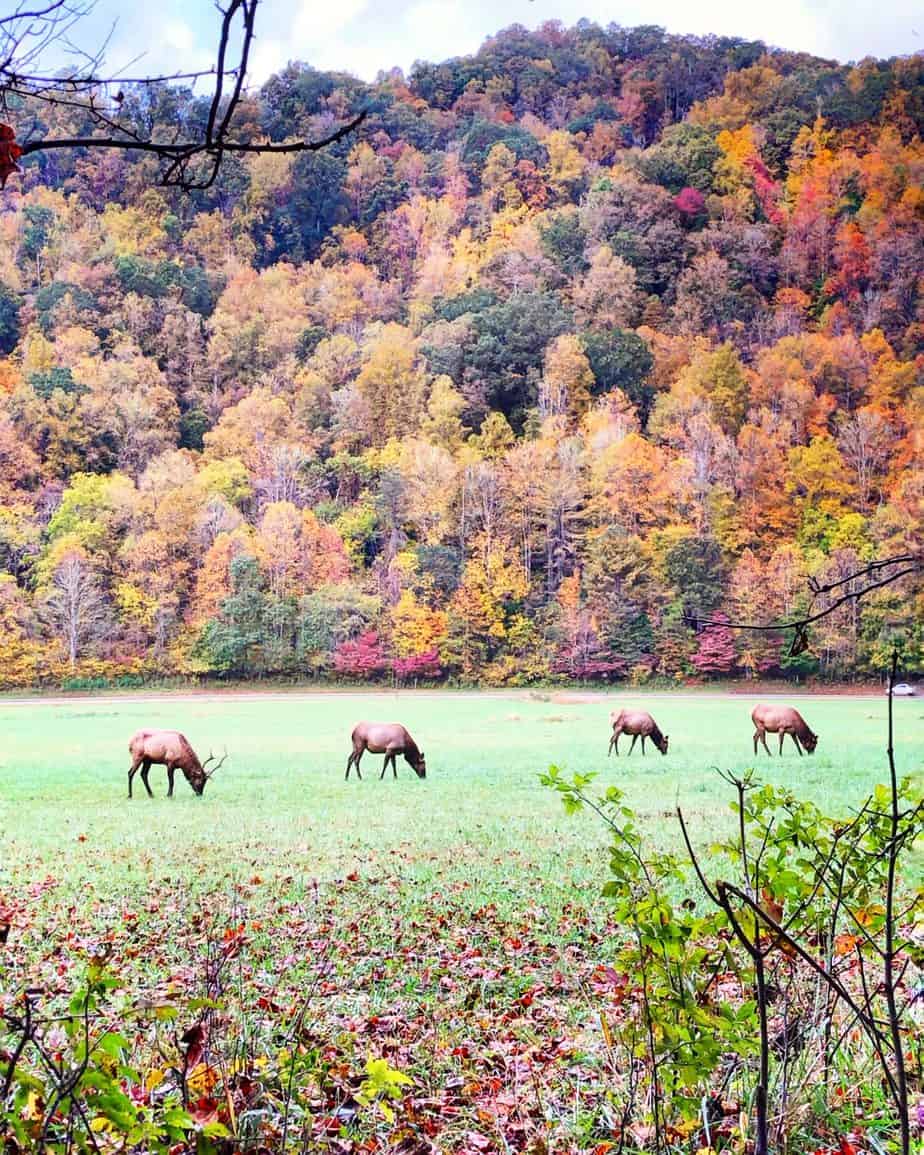 GSMNP offers a variety of attractions and activities including hiking, scenic drives, wildlife viewing, camping, fly fishing, and horseback riding, as well as several preserved historical sites.
Here are our top things to do in Great Smoky Mountains National Park:
Go for a scenic ride on Newfound Gap Road. Newfound Gap Road bisects the park (connecting Cherokee, NC in the South and Gatlinburg, TN in the North) and gives your access to a variety of scenic overlooks and hiking trailheads.
Try to spot some elk at the Oconaluftee Visitor Center. The elk come graze in the pastures near the visitor center and mountain farm museum in the morning just after sunrise or in the evening just before sunset.
There's over 850 miles of hiking trails in GSMNP, offering a variety of different lengths and difficulty levels for all types of hikers. Some of our favorite hikes in GSMNP are Mount LeConte and Alum Cave, Laurel Falls, Clingman's Dome (the highest point in GSMNP), Mount Cammerer, Chimney Tops and the Road to Nowhere.
Take a ride on the Great Smoky Mountain Railroad. Experience a new view of southwestern North Carolina by train!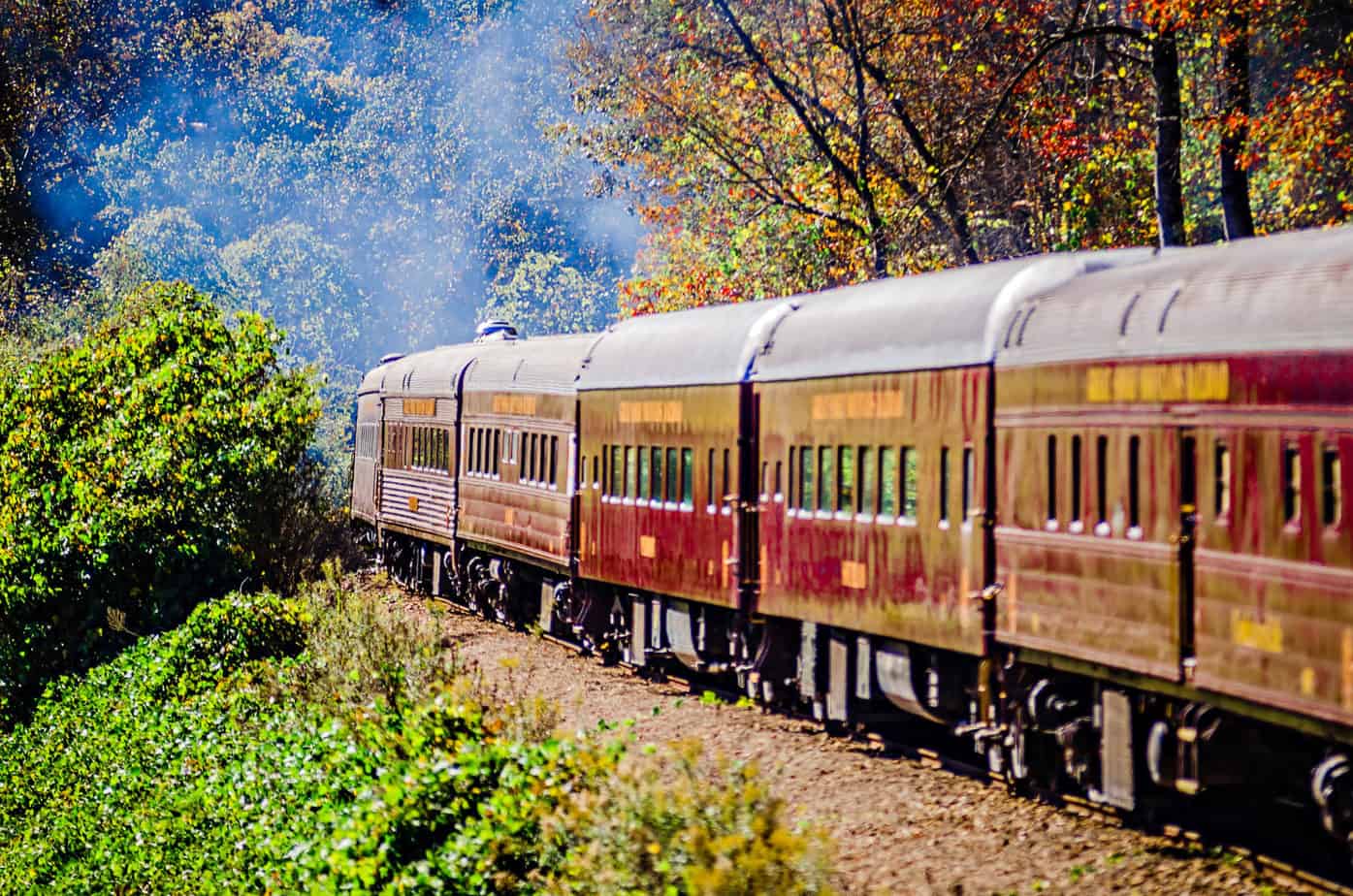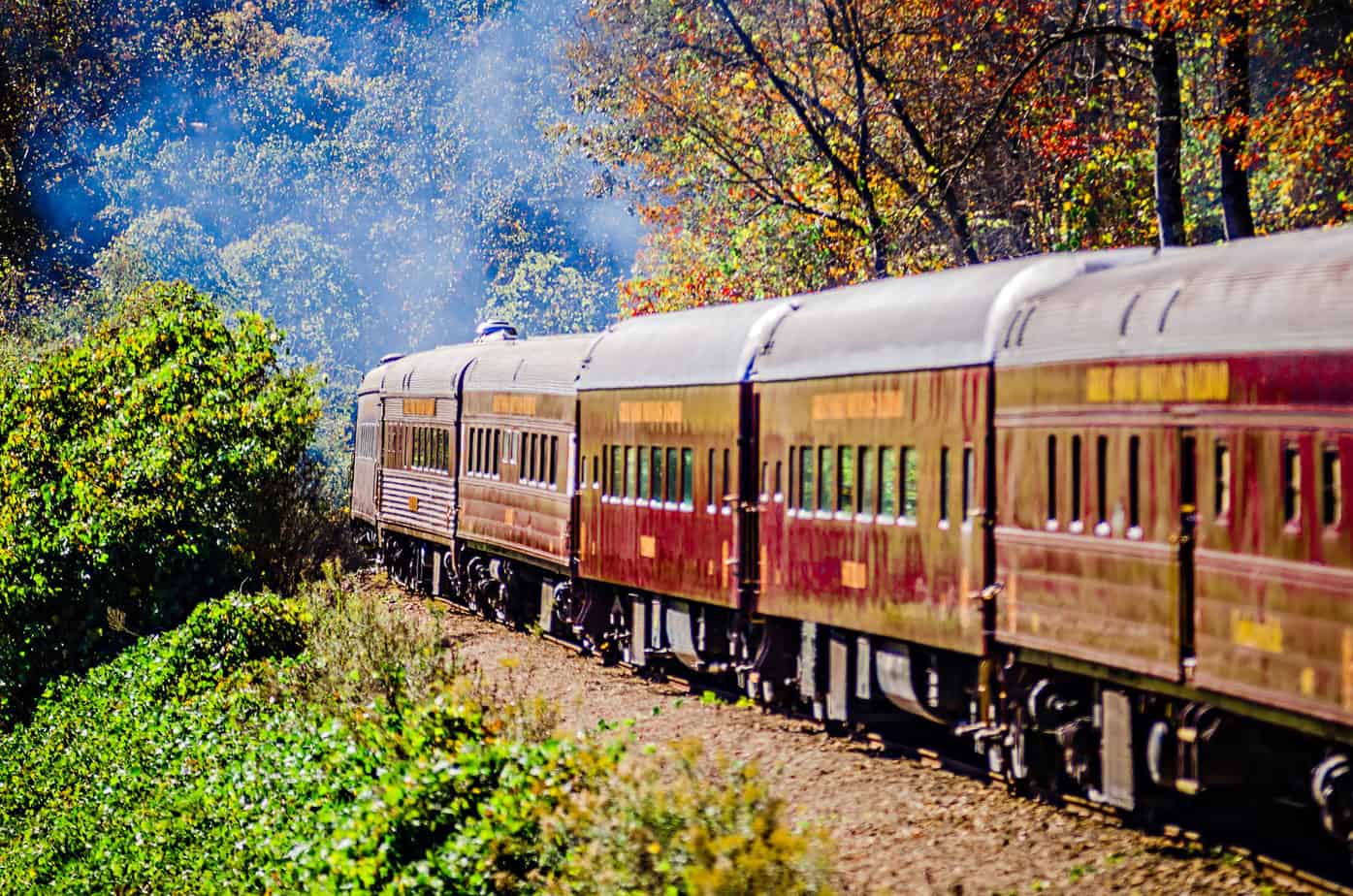 The Great Smoky Mountain Railroad offers a variety of different scenic adventures and excursions that range from just a few hours to a full day. And every winter, the train is transformed in the magical Polar Express for an hour and a half journey through the wilderness to the North Pole to visit Santa.
Walk the Road to Nowhere. The Road to Nowhere is a road in Great Smoky National Park, that, as its name says, ends nowhere.
It actually ends at a tunnel and if you want to explore more, you have to do it by foot!
The history of the Road to Nowhere is that in the 1930s and 1940s, Swain County North Carolina gave a lot of land to the federal government for the creation of Fontana Lake and GSMNP…and as part of that project the old highway was actually buried beneath Lake Fontana after it was dammed.
The government promised to build a new road to replace the one that was now sunk into the lake, but unfortunately an environmentally issue halted construction and the road was never completed.
The scenic mountain highway takes you six miles into GSMNP and ends at the mouth of the tunnel. From there, you can walk through the tunnel to a number of hiking trails for you to explore.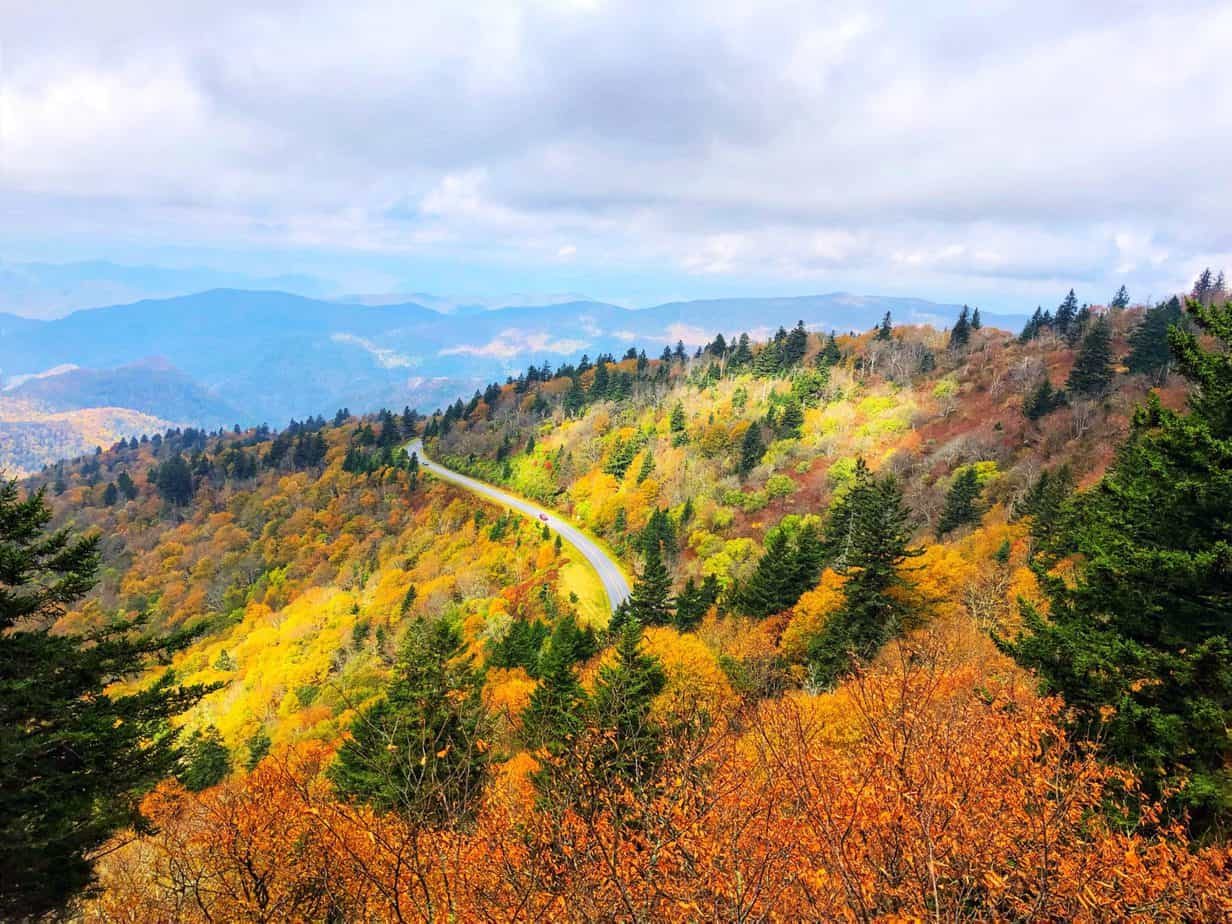 Go for a hike. Beyond Great Smoky Mountains National Park (check out the hikes we love there above!) Bryson City will give you access to tons of other beautiful hiking trails in the Nantahala National Forest and off of the Blue Ridge Parkway.
So basically, hiking options are limitless!
We really enjoyed the Tsali Mouse Branch loop trail in the Nantahala National Forest because it was dog friendly (the national park hiking trails don't allow pets) and offered 8 pretty easy miles winding through fall's changing leaves plus gave beautiful views of Fontana Lake.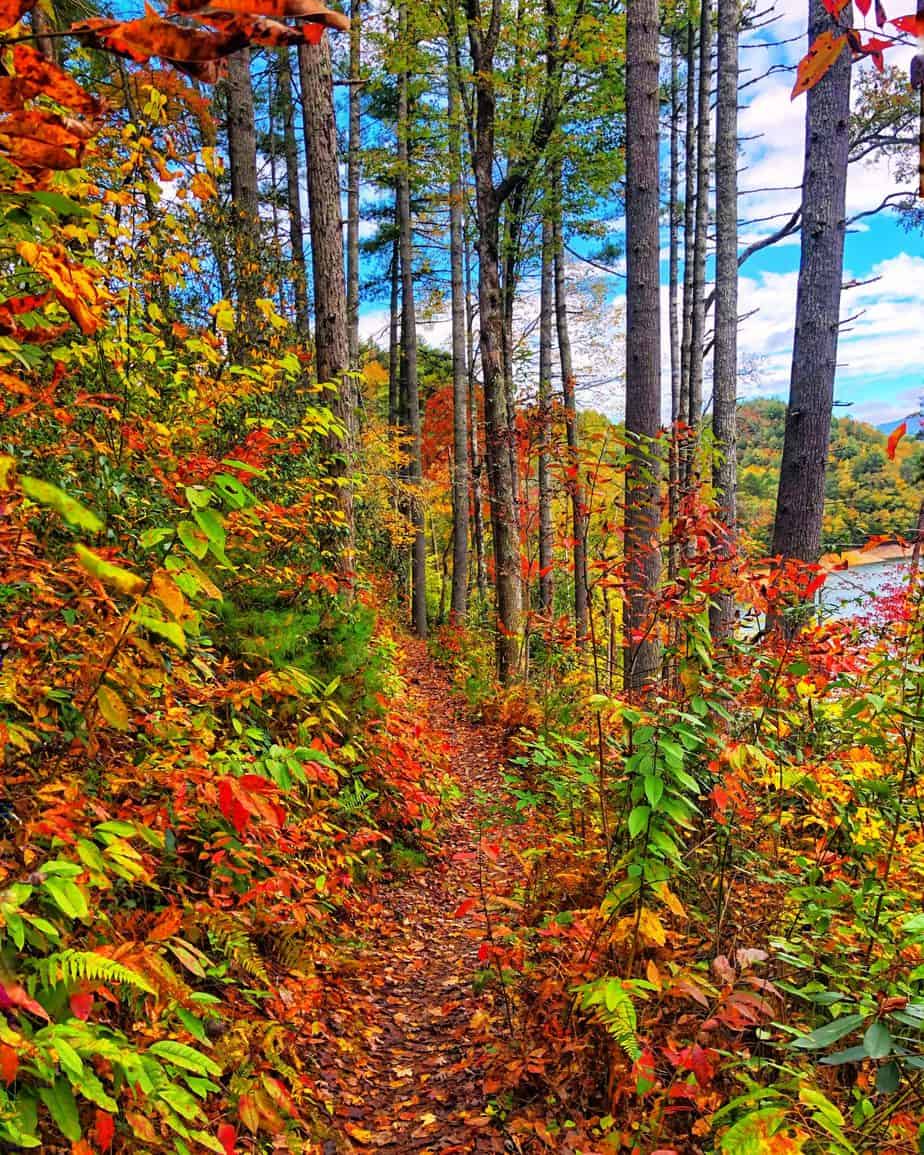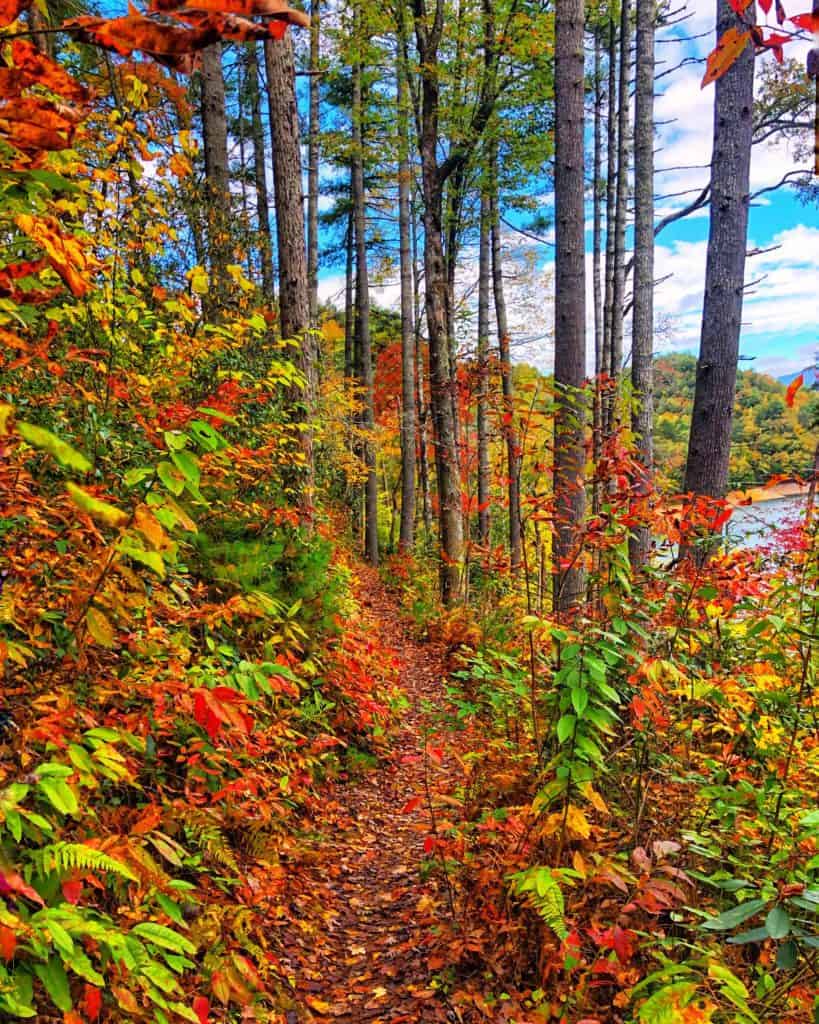 Another great dog friendly hike we enjoyed was Waterrock Knob at milepost 451 on the Blue Ridge Parkway. We really enjoyed the drive to the trailhead on the parkway and the views that we got on our way up and at the top!
(If your looking for hikes off the Blue Ridge Parkway or closer to Asheville, North Carolina, check out this post featuring five romantic Asheville hikes!)
Ride the rapids. Bryson City is home to the Nantahala River, which has become a popular spot for river rafting. The Nantahala is the headquarters for the Nantahala Outdoors Center, which is one of the largest outdoors outfitters in the country, and offers a variety of activities including whitewater rafting, kayaking, ziplining, mountain biking and stand up paddleboarding. Plus it has two riverfront restaurants and cabins along the Appalachian Trail!
Relax in the treetops. While there are quite a few relaxation and spa options in and around Bryson City, we highly recommend booking a soak in Lakeview at Fontana's Treetop Cabanas.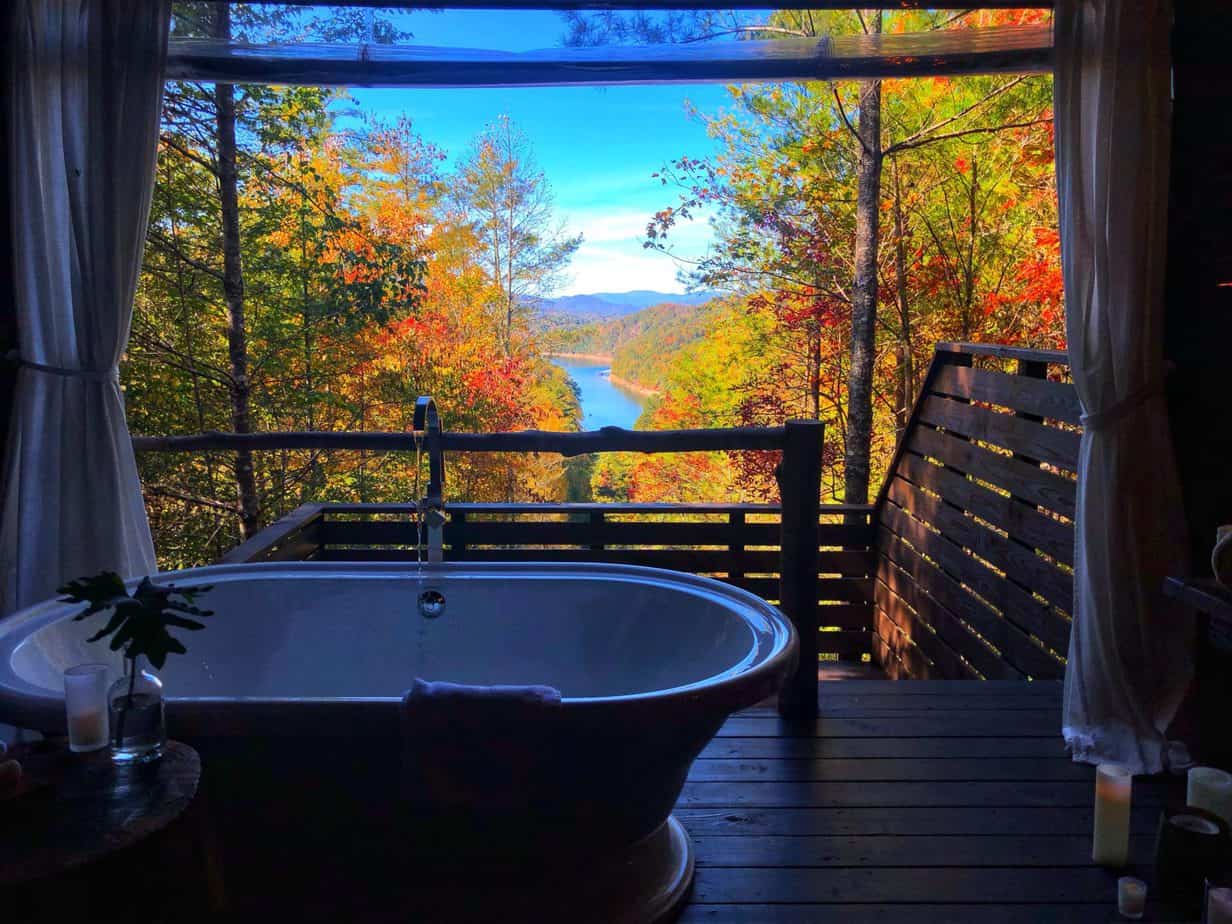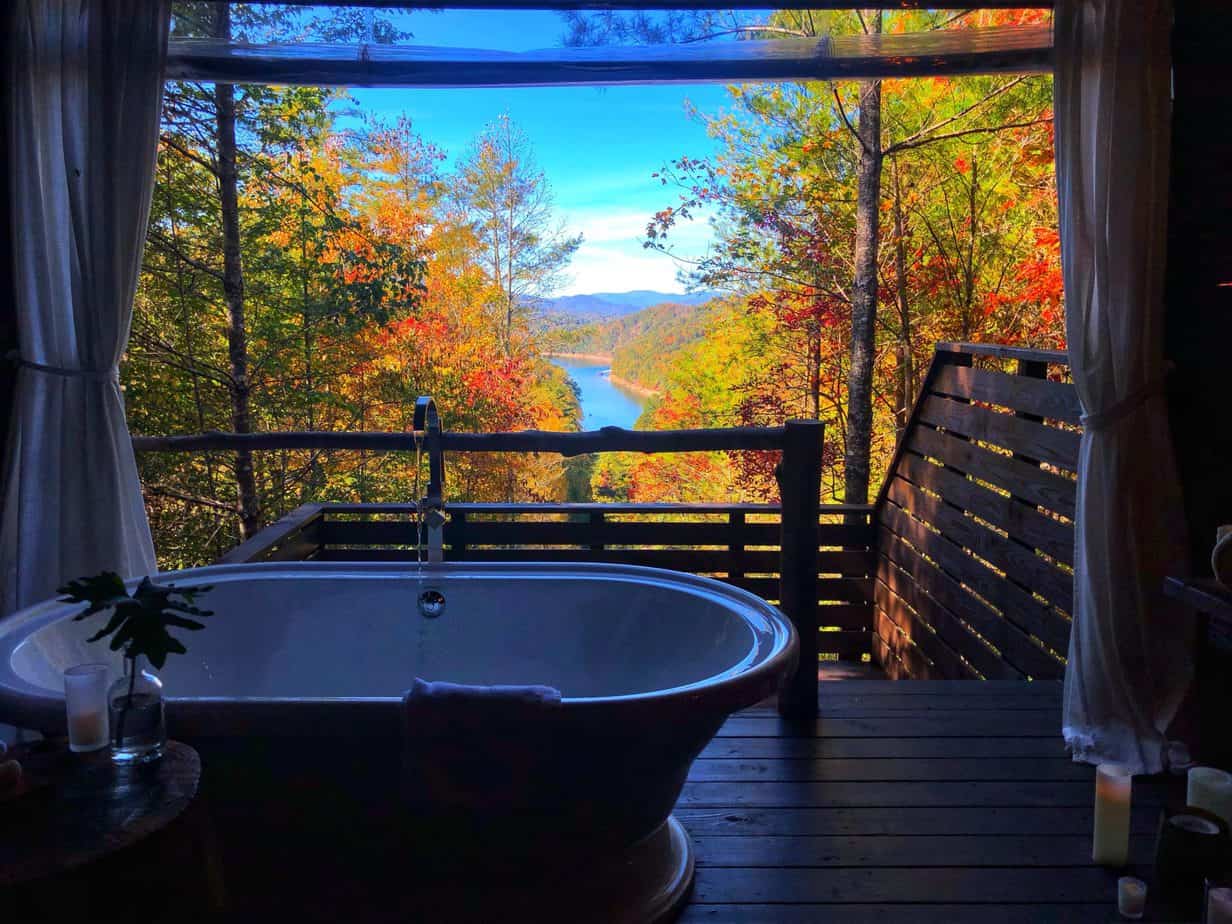 90 minutes in a hillside cabana with a beautiful view of Fontana Lake was a one-of-a-kind, totally unique experience for us. A signature soak includes soaking salts, bath products, towels, robes and music for 90 minutes. You can add additional amenities to the signature soak including a romance package with champagne and rose petals, a body mind renewal package with hair and face masks, or a calming CBD package.
Bonus: the cabanas are self-check in with no staff contact. And you can add an spa service on top of your cabana reservation.
Explore Fontana Lake. Fontana Lake is the largest lake in Western North Carolina, which gives visitors plenty to do and see on its waters: fishing, boating, kayaking, paddlboarding and swimming are all popular activities.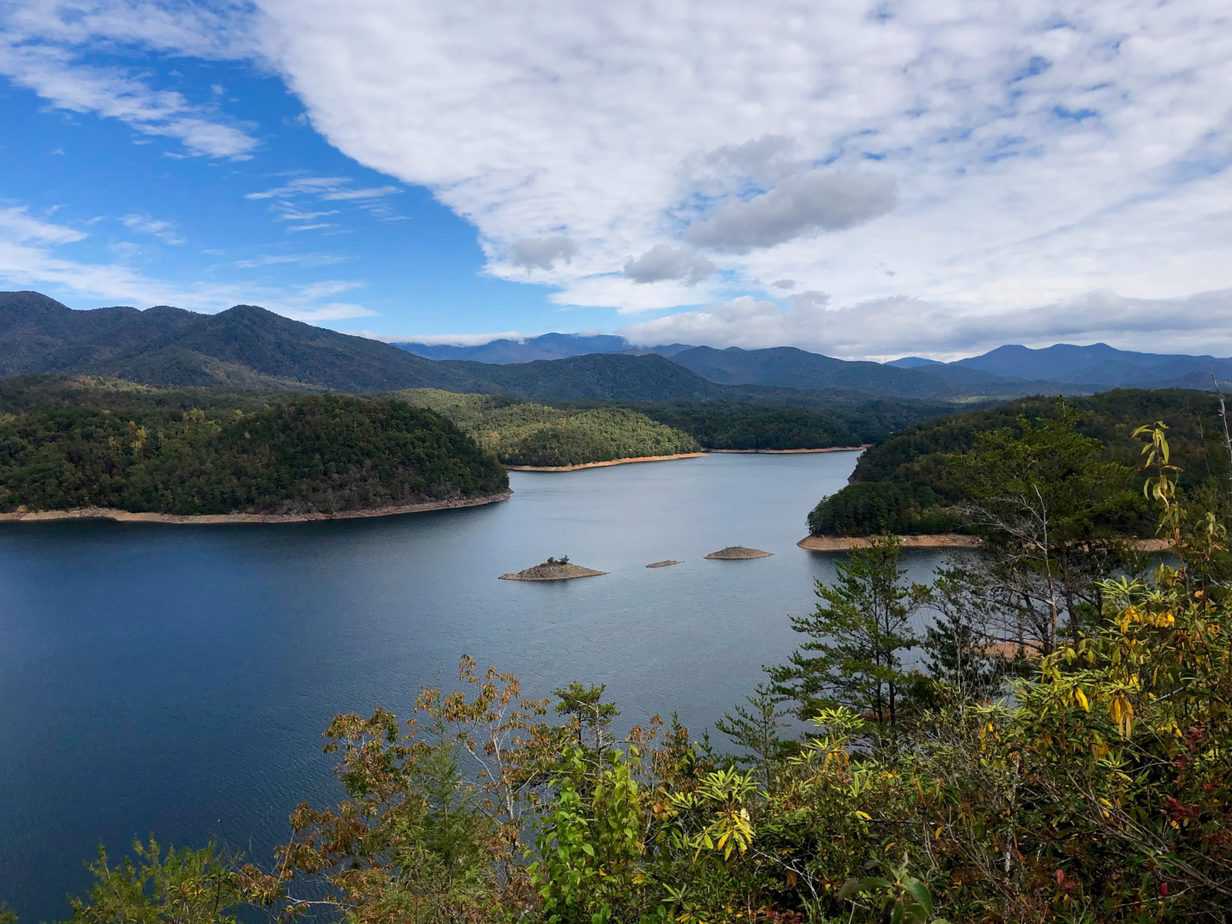 90% of Fontana Lake's shoreline is protected by Great Smoky Mountains National Park and the Nantahala National Forest and both offer beautiful hikes with dramatic overlooks of the water.