This sweet potato breakfast hash is one of our favorites for easy weekday breakfasts (and even dinners!).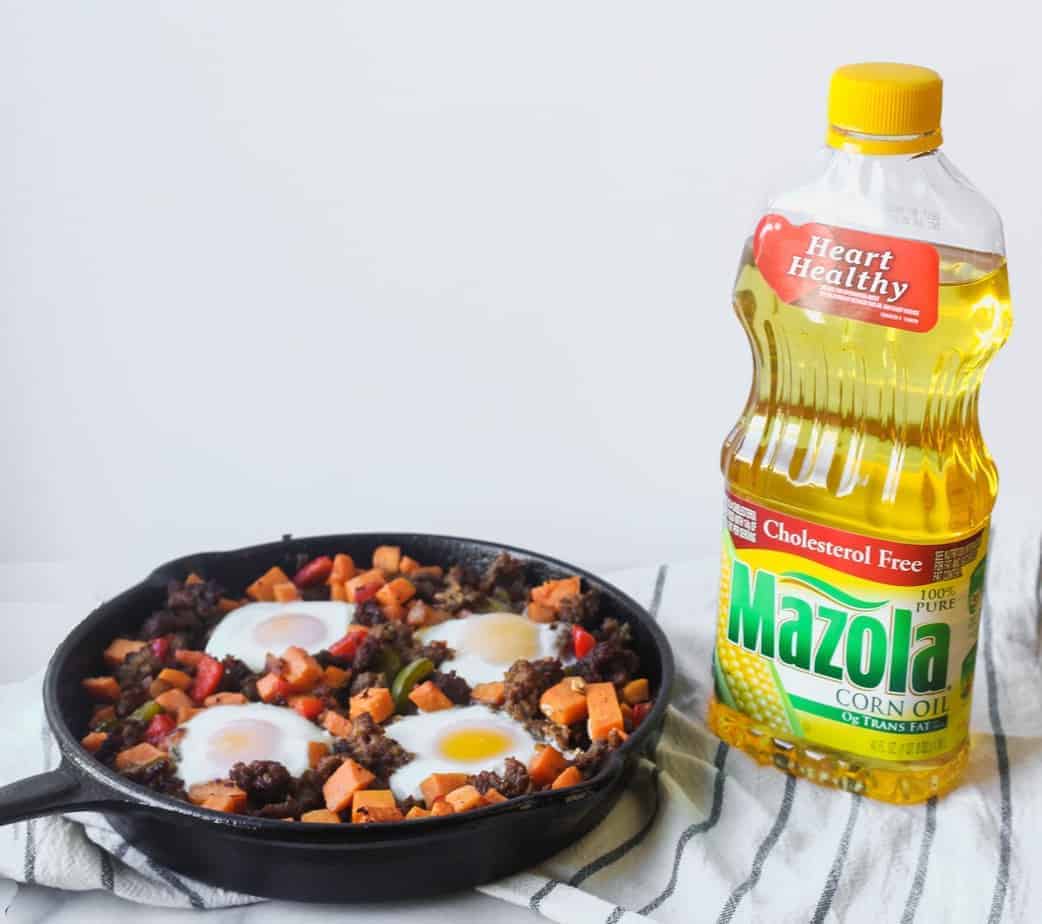 If you're looking for another way to use roasted Brussels sprouts, check out this delicious sheet pan chicken with Brussels sprouts and sweet potatoes, which is one of Off the Eaten Path's most popular recipes!
This shop has been compensated by Collective Bias, Inc. and Mazola® Corn Oil. All opinions are mine alone. #SimpleSwap #CollectiveBias
Swapping potatoes, sausage and butter for sweet potatoes, turkey sausage, and Mazola® Corn Oil instead of another oil or butter, makes this sweet potato breakfast hash a lighter version of a classic breakfast hash for an easy breakfast (or even dinner).
A recent study has found that adding Mazola® Corn Oil to one's diet resulted in lower cholesterol levels than Coconut Oil. A previous study found that corn oil can also help lower cholesterol more than extra virgin olive oil. To learn more about the study, see Mazola.com.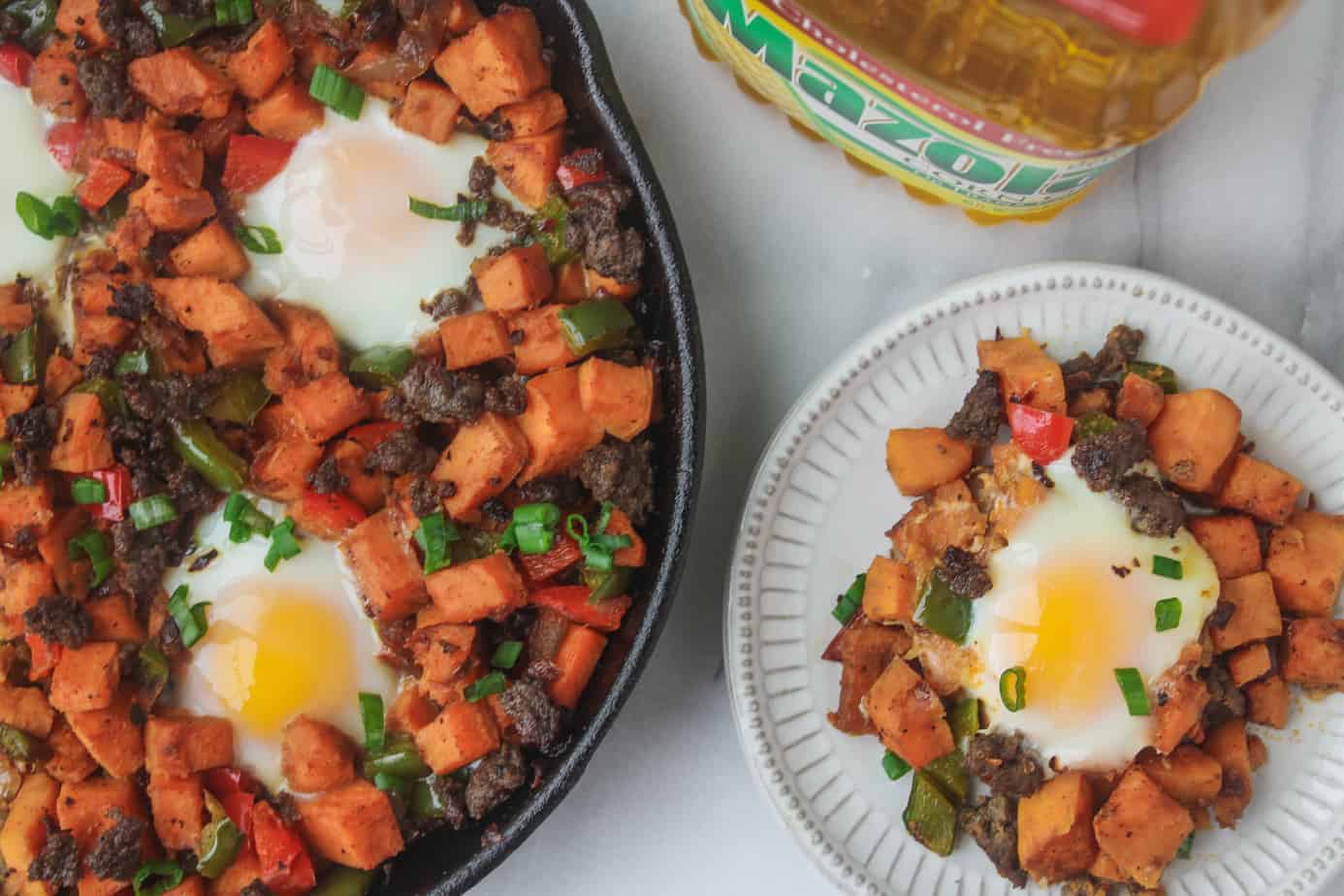 I'm sure you've heard the age old adage, opposites attract. I never paid much attention to the cliche as I awkwardly navigated the weird world of romantic relationships in adolescence and young adulthood. But when I finally met my husband, AJ, I either started finally paying attention or the cliche actually came true.
Sure, AJ and I have a lot of similar interests: football, traveling, cats (yes, cats is an interest!). But more and more I've been seeing our differences: my extroversion and his tendency to observe and take everything in (he's a man of few words); his love of nature and the outdoors and sleeping in a tent and that I'm outdoorsy in that I like to eat and drink on patios; the fact that it sometimes takes us almost two hours of back and forth to agree on a movie to watch together; my love of schedules and plans and his super spontaneous nature.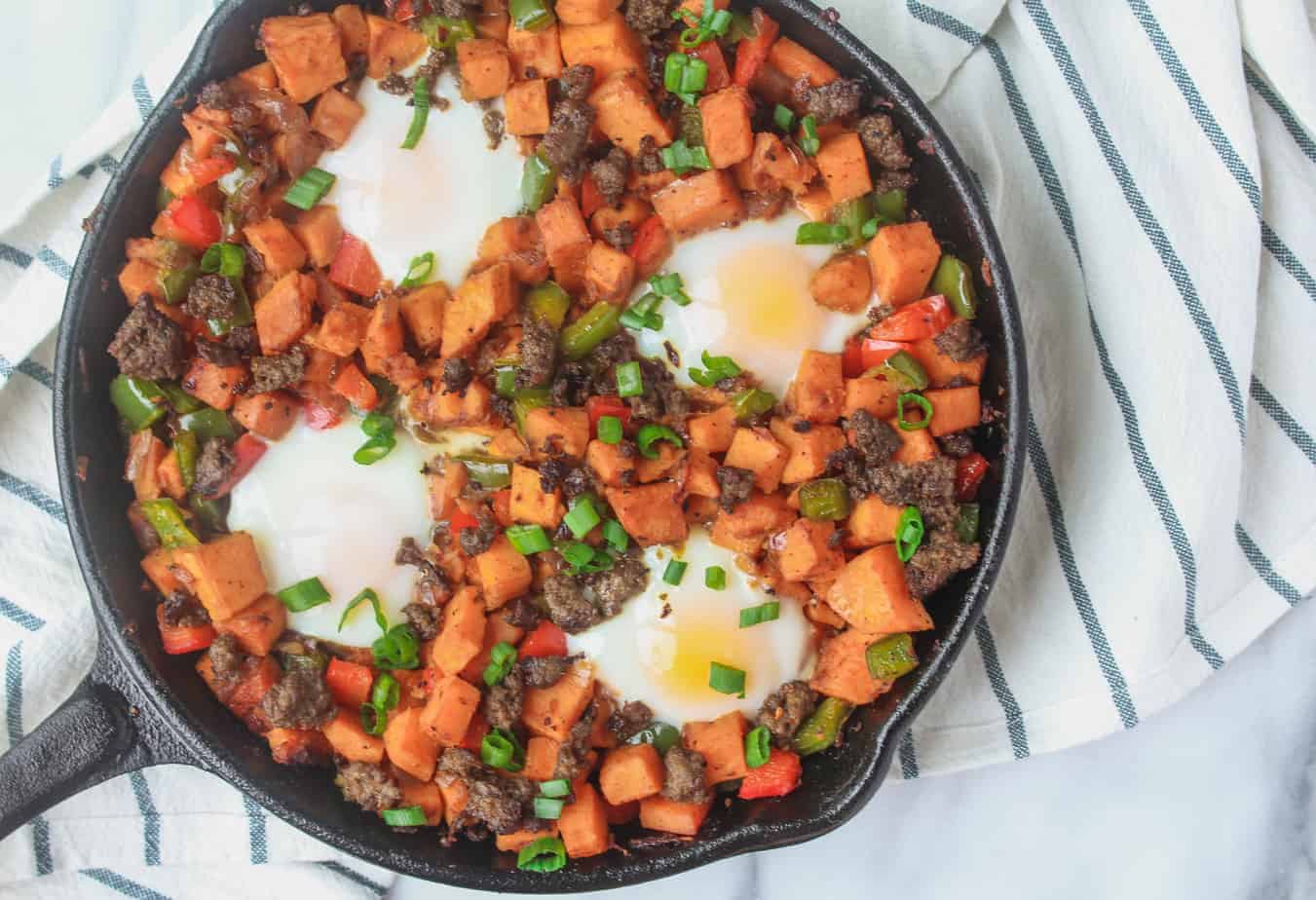 The dichotomy of planning versus spontaneity is something that surfaced pretty early on in our relationship (and was reflected in our last minute wedding move to Charlotte). Handwritten to do lists and events scribbled into a calendar weeks or months ahead of time are my perfect world; AJ would thrive without a schedule and would love the ability to just play everything by ear (he'd love to just get up one morning and decide to go on vacation and hit the road with no destination in sight, I would hate hate hate it).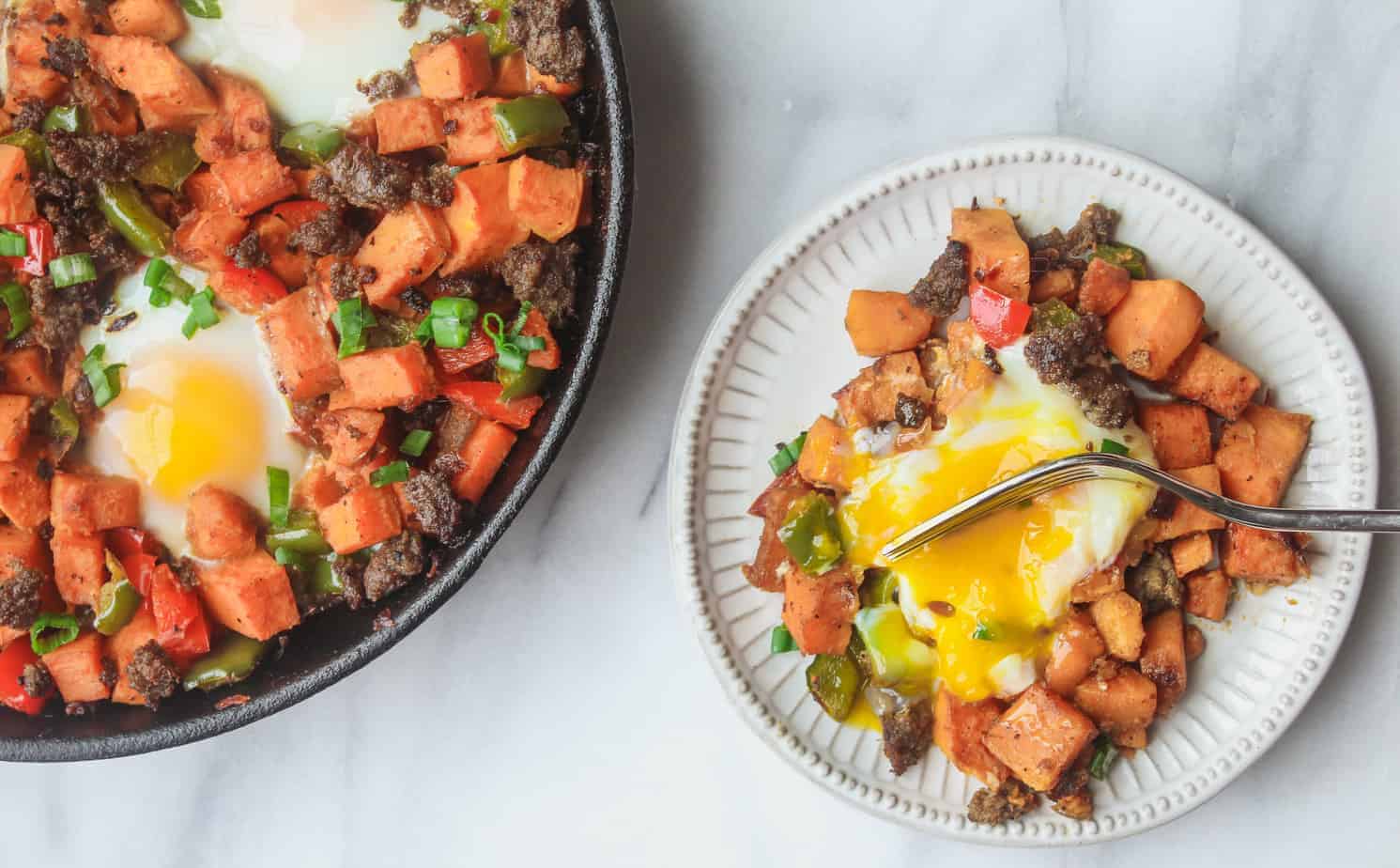 So it's no surprise that meal planning and prepping is totally my speed and something that AJ detests. If left to his own devices, he'd go to the grocery store without a list or idea and just wander the aisles until something popped out at him. That would drive me absolutely mad, and I love the satisfaction of crossing things off my organized grocery list (other type a-ers out there can I get an amen?). Lucky for me (and my sanity and my love for structure) I do most of the meal planning, prepping and cooking in our house.
Because of my love for planning and prepping (plus our busy work schedules), I gravitate toward easy to make, lighter, delicious recipes that can be prepped on the weekends to make them easier to whip up during the week. Especially for breakfast, I feel like I'm always running around the house in the morning like a chicken with my head cut of, so a pre-prepped breakfast is my mo. Enter sweet potato breakfast hash.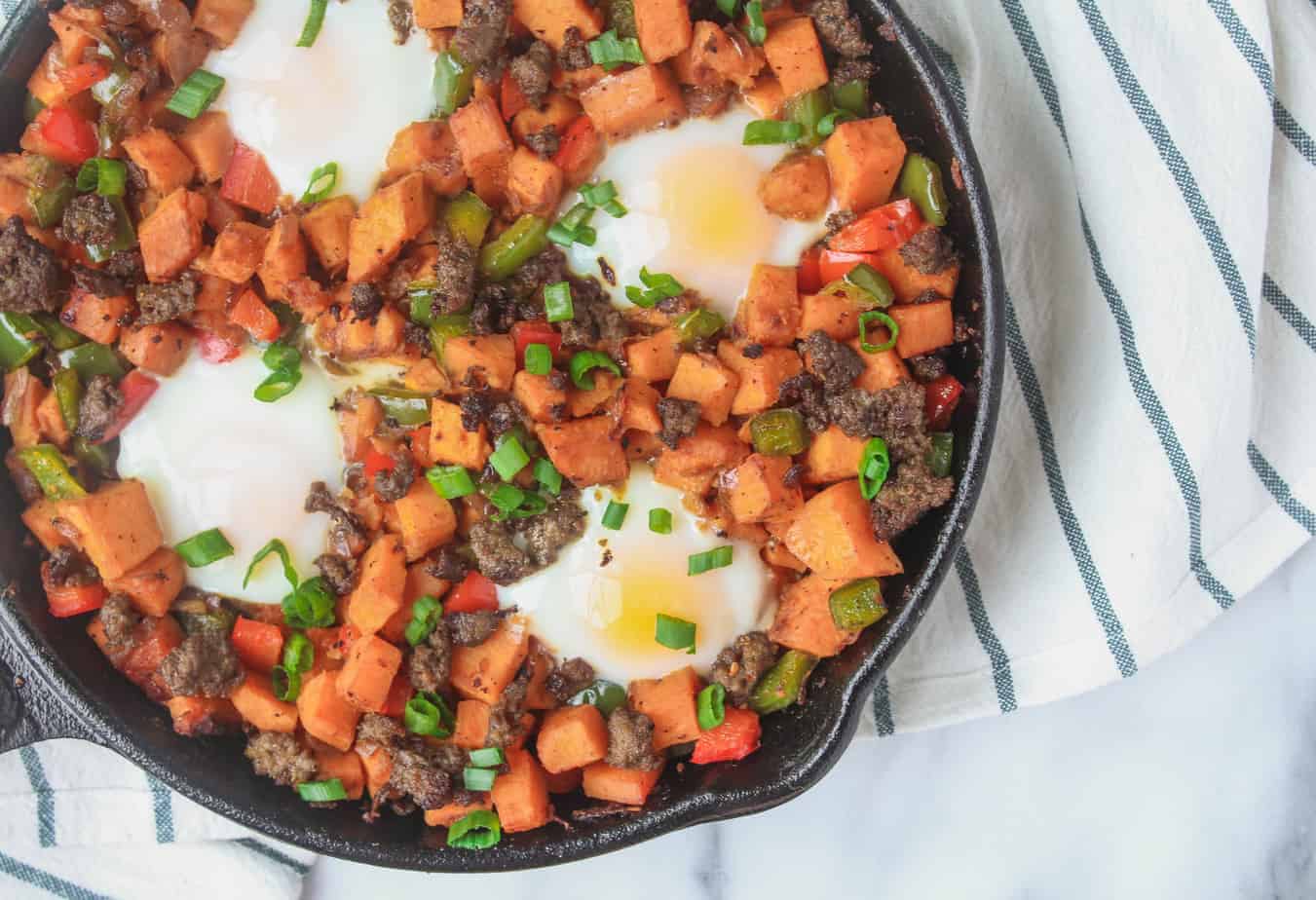 Sweet potato breakfast hash is a breakfast regular in our house (and sometimes makes an appearance at dinner) because it checks off all my boxes: it's light, easy to make (and easy to prep ahead of time), and delicious!
I've always been a huge fan of hash browns and breakfast potatoes, but big, starchy breakfasts usually leave me feeling sluggish. By swapping the traditional starchy star with sweet potatoes, sweet potato breakfast hash helps me start my day on a lighter foot (to lighten it up just a bit more but to see get a good amount of protein, I also swap traditional breakfast sausage for turkey sausage).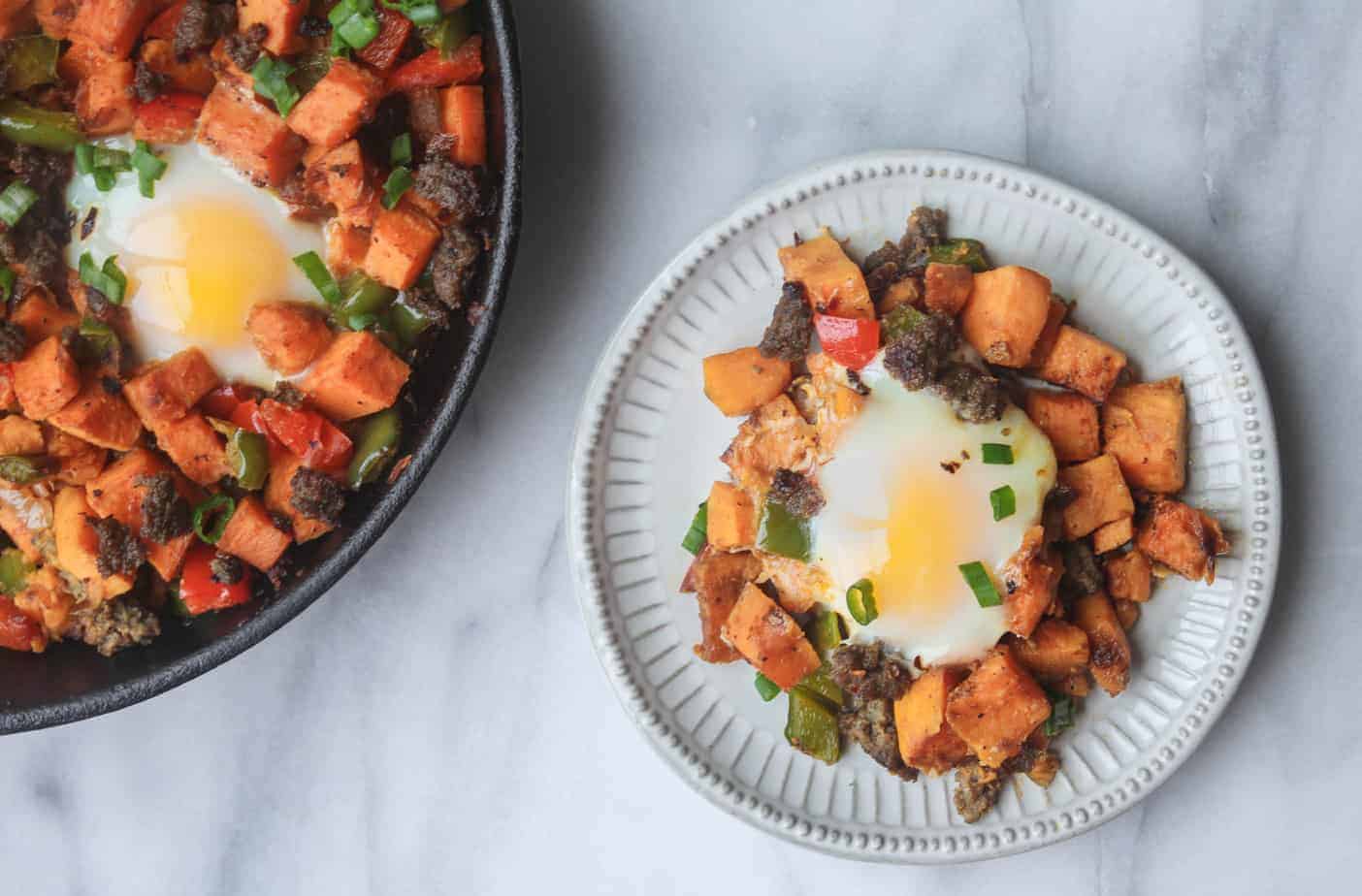 And since we're going a lighter route already, I sauté my sweet potatoes and veggies with Mazola® Corn Oil, an all-purpose, heart-healthy cooking oil that is cholesterol free, rather than butter. Mazola has a neutral taste and a higher smoke point than most cooking oils at 450 degrees F, which really lets the flavors of the potatoes and veggies in the hash shine (smoke points are important because once you exceed, an oil's smoke point can affect your food's flavor and nutritional value). Its neutral taste and high smoke point make Mazola great not only for sautéing sweet potato breakfast hash, but great for baking, grilling, stir fries and marinades too.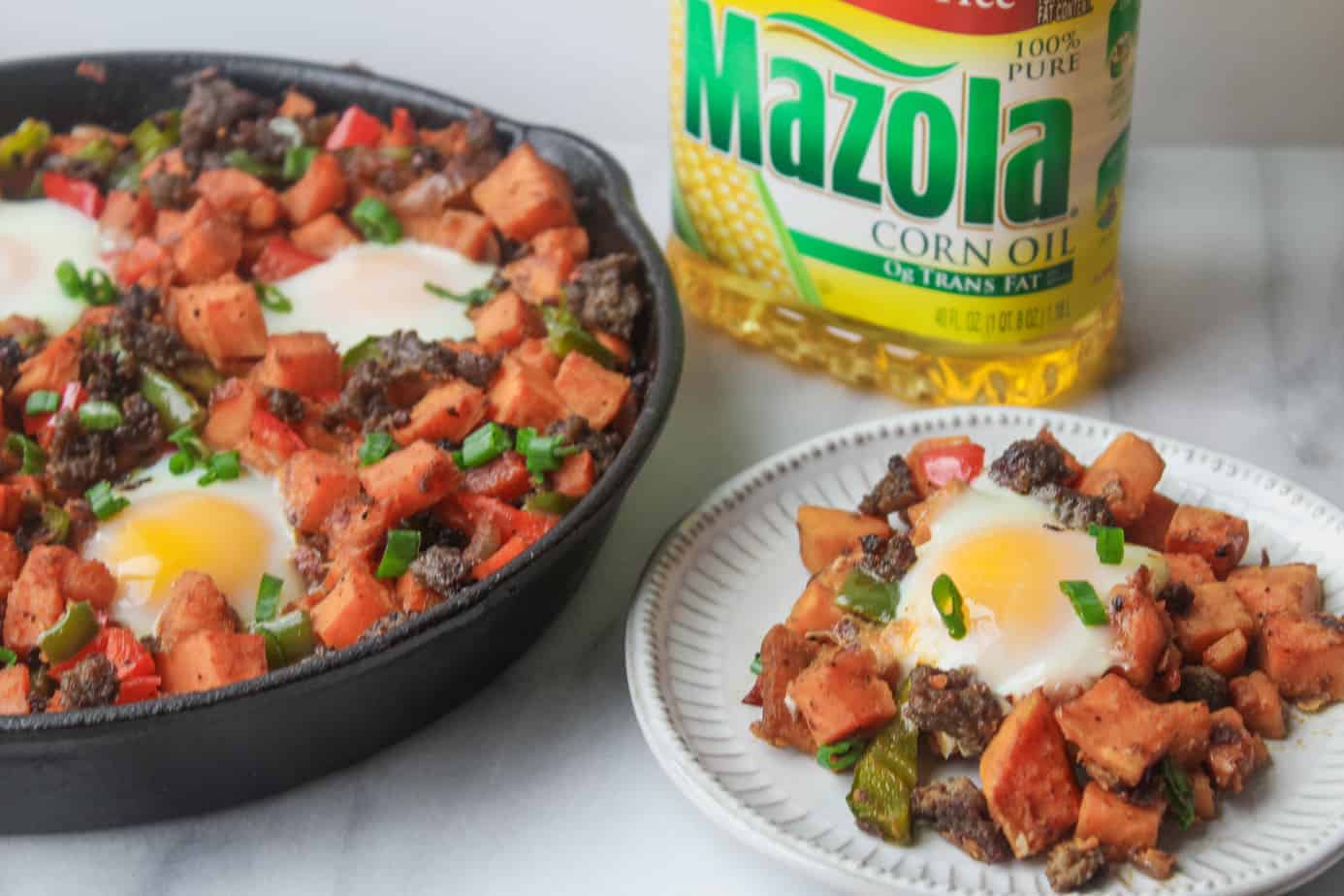 This sweet potato breakfast hash is it's super easy to make and you can do a lot of the prep ahead of time; I like to chop my sweet potatoes and all veggies in advance and store them in my fridge until I'm ready for them.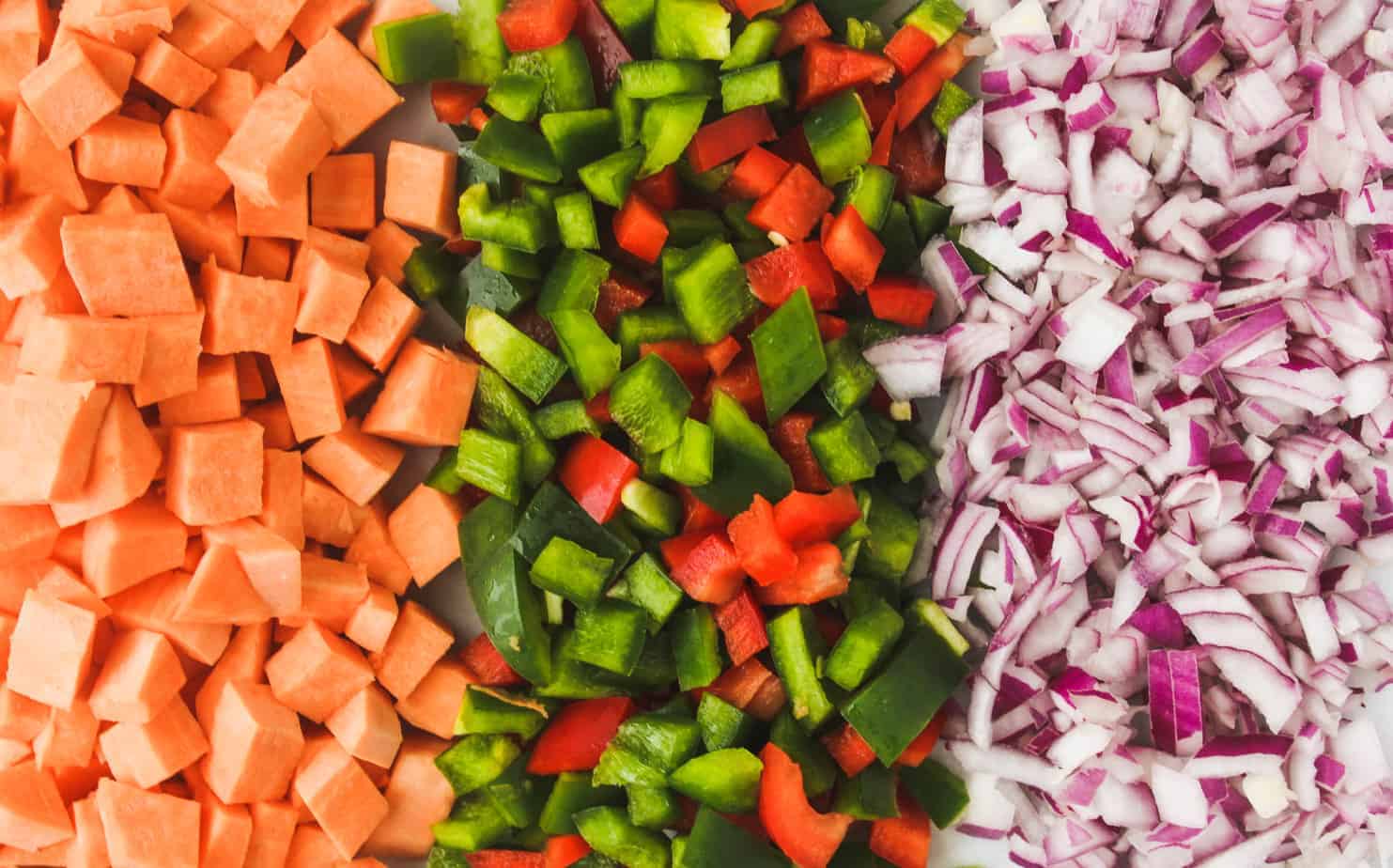 Then, you sauté everything in the same pan because one pan meals are the best (a cast iron skillet is my favorite to use for this because it easily transitions to the oven). Heat the pan with a tablespoon of Mazola Corn Oil, cook the sausage and drain, and then add a little more Mazola then the onions and garlic, peppers and sweet potatoes and cook until the veggies are softened and the potatoes are browned.
You throw (gently so it doesn't spill everywhere, ha, maybe I could have found a better word to use than throw) the sausage back in your skillet, and carve out little wells (or nests, or holes, or divets whatever you want to call them) for your eggs. Crack your eggs, and into the oven it goes until the eggs are cooked to your liking (we like runny yolks up in here so about 10 minutes will do). Seriously, so easy.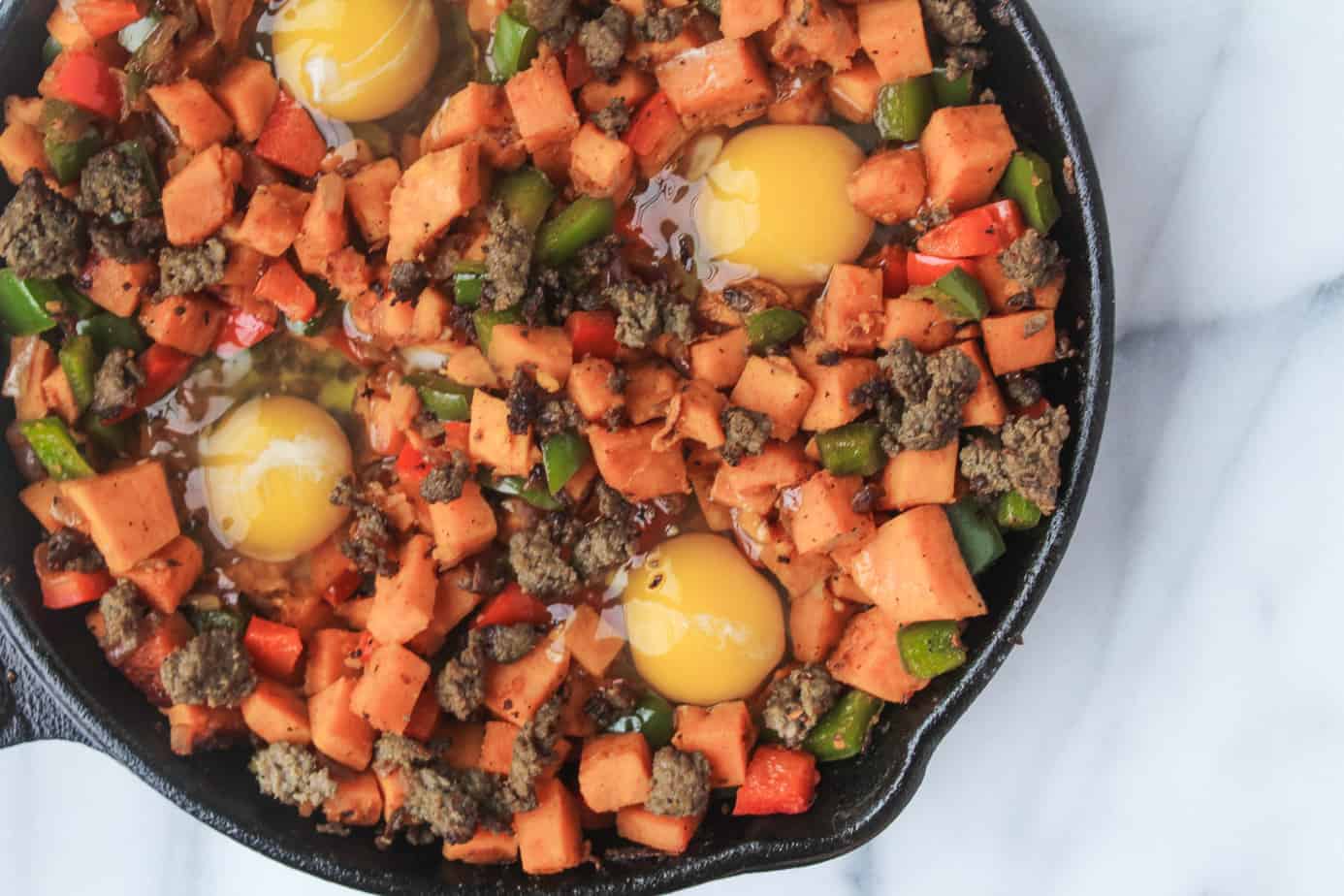 And this sweet potato breakfast hash is oh so delicious; even my introverted, action movie loving, outdoorsy, spontaneous husband says so.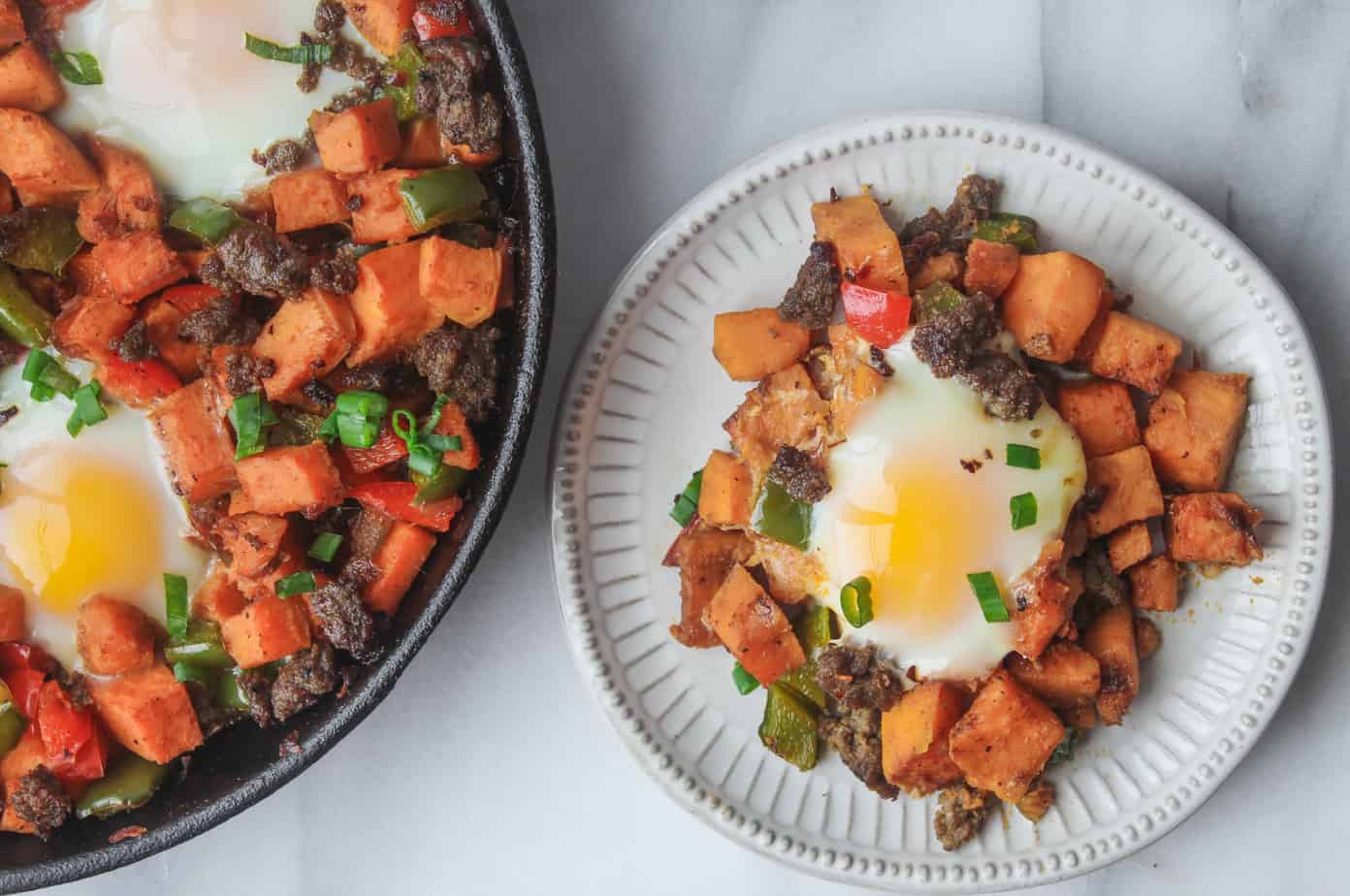 PIN THIS SWEET POTATO BREAKFAST HASH TO SAVE THE RECIPE FOR LATER!