We spent our second day exploring Iceland driving around the popular Golden Circle just outside of Reykjavic. From waterfalls to geysers, plus a national park and lunch in a tomato greenhouse, here's what we saw, did and ate while we explored The Golden Circle!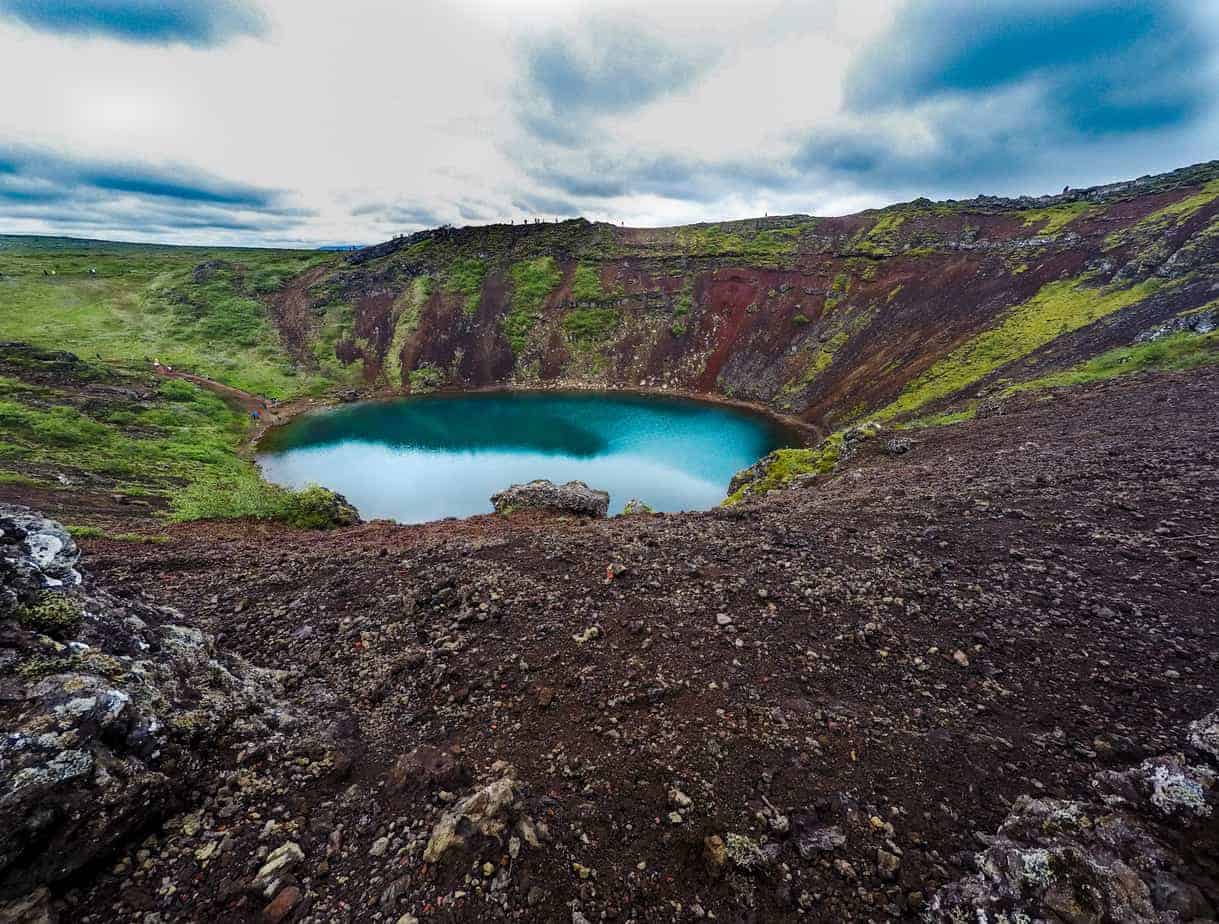 I was going to combine our first full day in Iceland, our tour around the popular Golden Circle, with my first post about the Blue Lagoon and Reykjavic. Then I realized that would be 5000+ words of me rambling, so two posts it is!
We threw on our eye masks, pulled our blackout curtains and crashed just after midnight on our first night in Reykjavic. Which was like 8pm at home, so jet lag was going well.
The next morning, still pretty far from bright eyed and bushy tailed, and more along the lines of it feels like 4 am, we woke up, checked out of our guesthouse and headed to the grocery store.
We knew going into this trip, things like gas and food and booze were going to be expensive. After all, we were visiting an island in the middle of the North Atlantic that gets a lot of products shipped in.
So part of our saavy, money saving travel strategy was to pack a small, soft cooler in our checked baggage and fill up on easy breakfast and lunch options at the grocery store rather than eating out every meal.
Over all, that strategy fared pretty well…and we consistently enjoyed Skyr yogurts and fruit for breakfast and sandwiches in the car for lunch.
The one downfall of our plan was the fact that neither of us can read or speak Icelandic, and we had not quite mastered the art of converting USD into Kronos, so didn't realize that we spend about $22 on cheese until a few days in.
We had cheeseless sandwiches the rest of our trip.
As we drove out of Reykjavic, I remember us both guzzling coffee and being mesmerized by the beautiful landscape that stretch out just outside of the city.
The lava rocks made us feel like we were on a totally different planet (they give off a total moon vibe) and the fact that you can get mountains and coastline basically in on view, plus waterfalls, and a few glaciers and other natural elements around every freaking corner really made for the most beautiful road trip I had ever taken.
Seriously, so many waterfalls that by the end of the trip, we were totally taking them for granted. Ugh, another waterfall?!
The Golden Circle Stop #1: Þingvellir National Park
In Þingvellir National Park you can be in two places at once, because the beautiful park sits between the North American and European tetonic plates.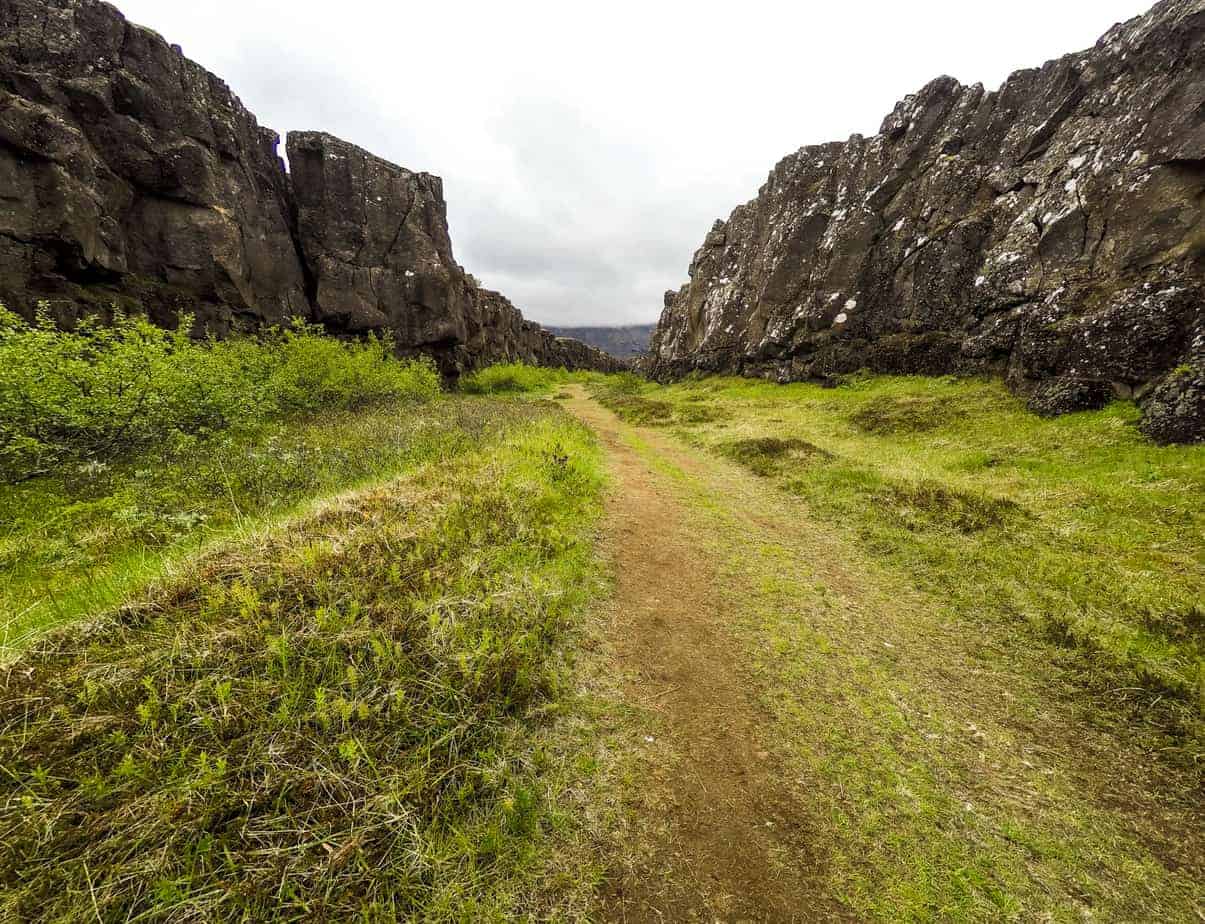 While we opted to stay dry and hike through one of Þingvellir's gorges to experience two continents at once, there are also plenty of scuba diving and snorkeling expeditions that take you to Silfra, an underwater ravine that is a freshwater fissure between the two continents.
Basically, you get to dive or snorkel directly in a crack between the tetonic plates separating North America and Europe.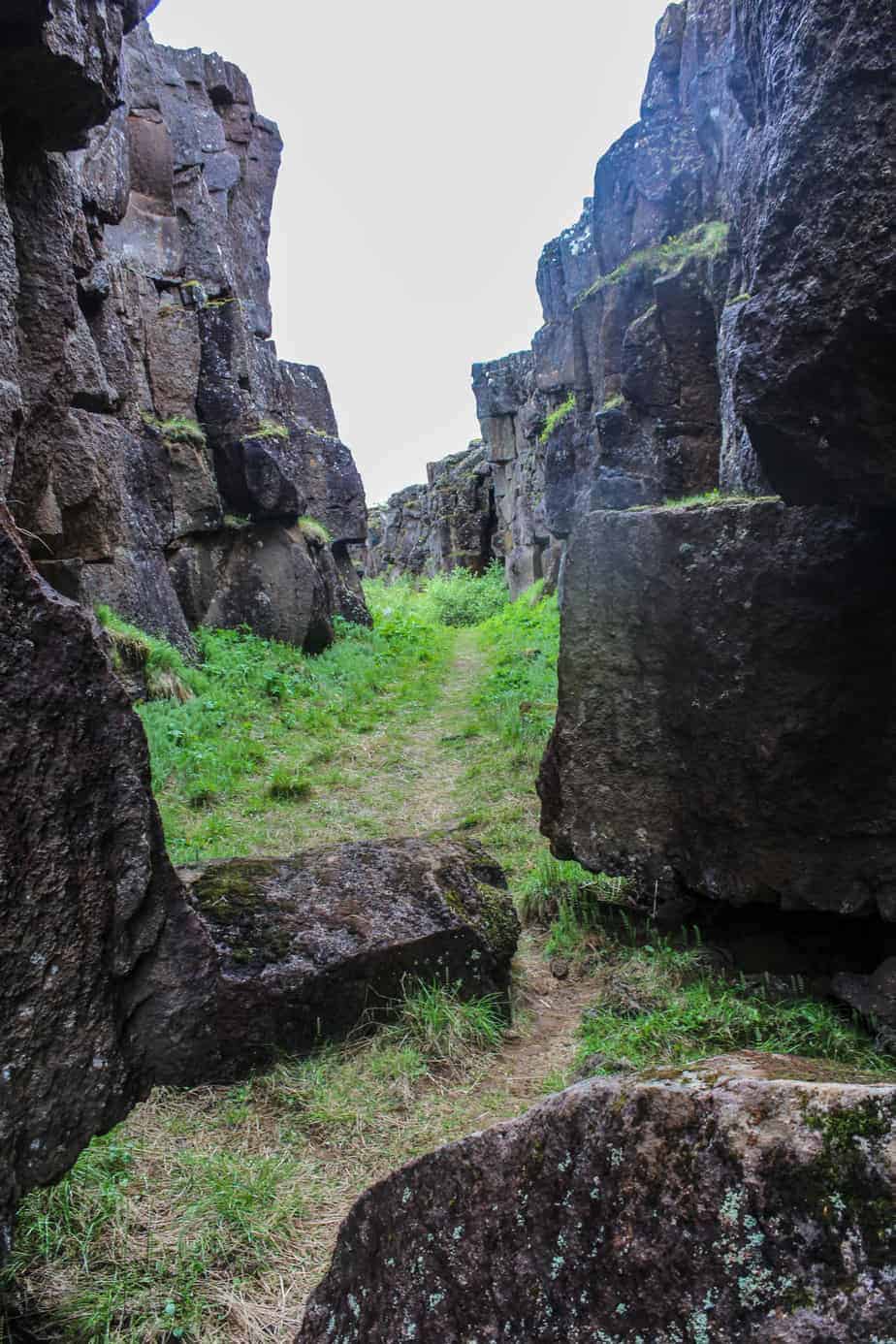 There's a lot of other walking and wandering to be done at Þingvellir, you could probably spend several hours there, but we made just one more stop to Öxarárfoss (foss means waterfall in Icelandic) before moving on.
To me, this was just one of many beautiful waterfalls we saw on our ten day tour of Iceland, but to Game of Thrones fans (including my husband), this was impressive because it's the location of a few scenes from the show including the Bloody Gate scene and the narrow path that Arya and the Hound take to visit her aunt.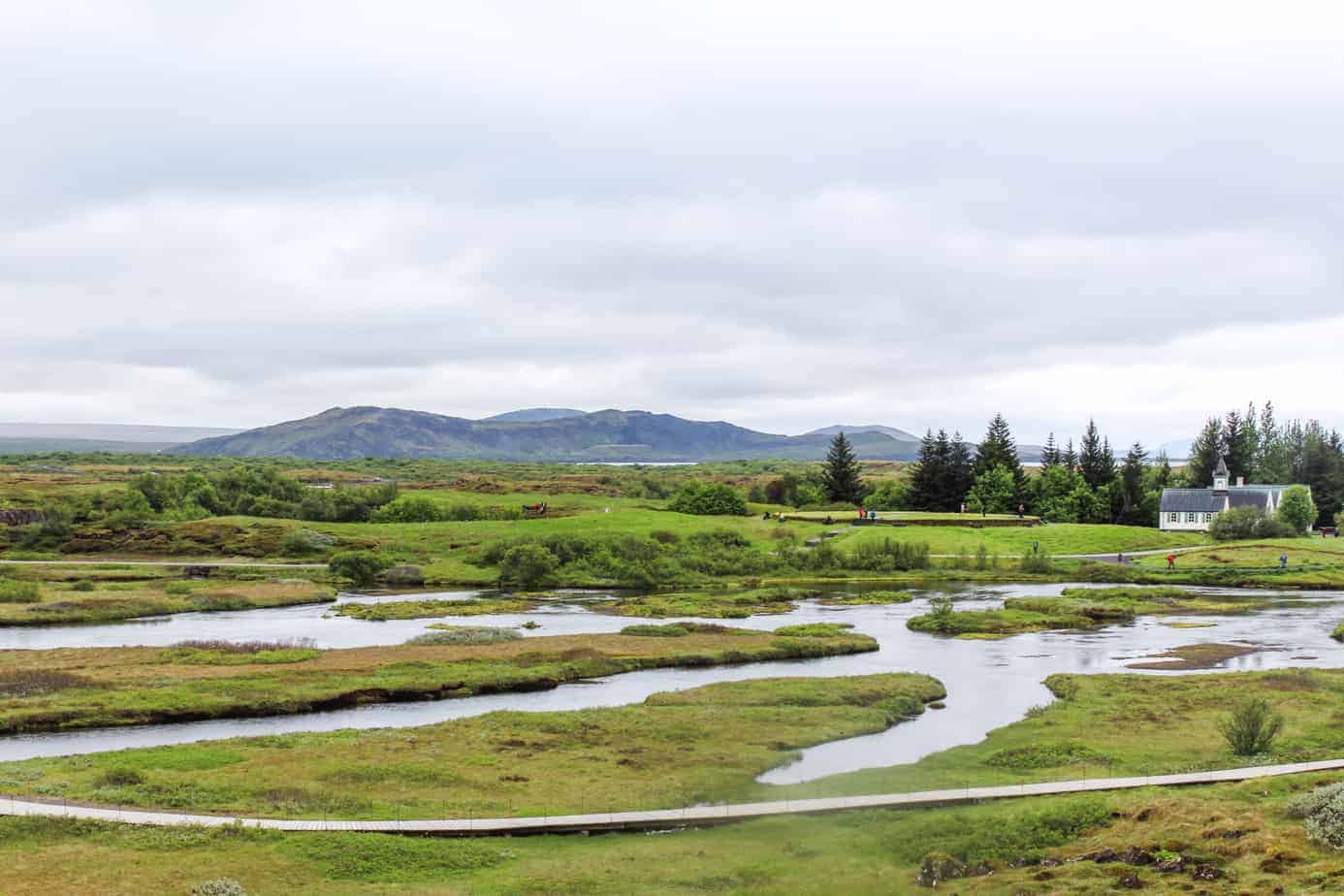 The Golden Circle Stop #2: Kerið Crater Lake
Our next stop was at Kerið, a colorful crater lake that was created when a volcanic cone collapsed and filled with water.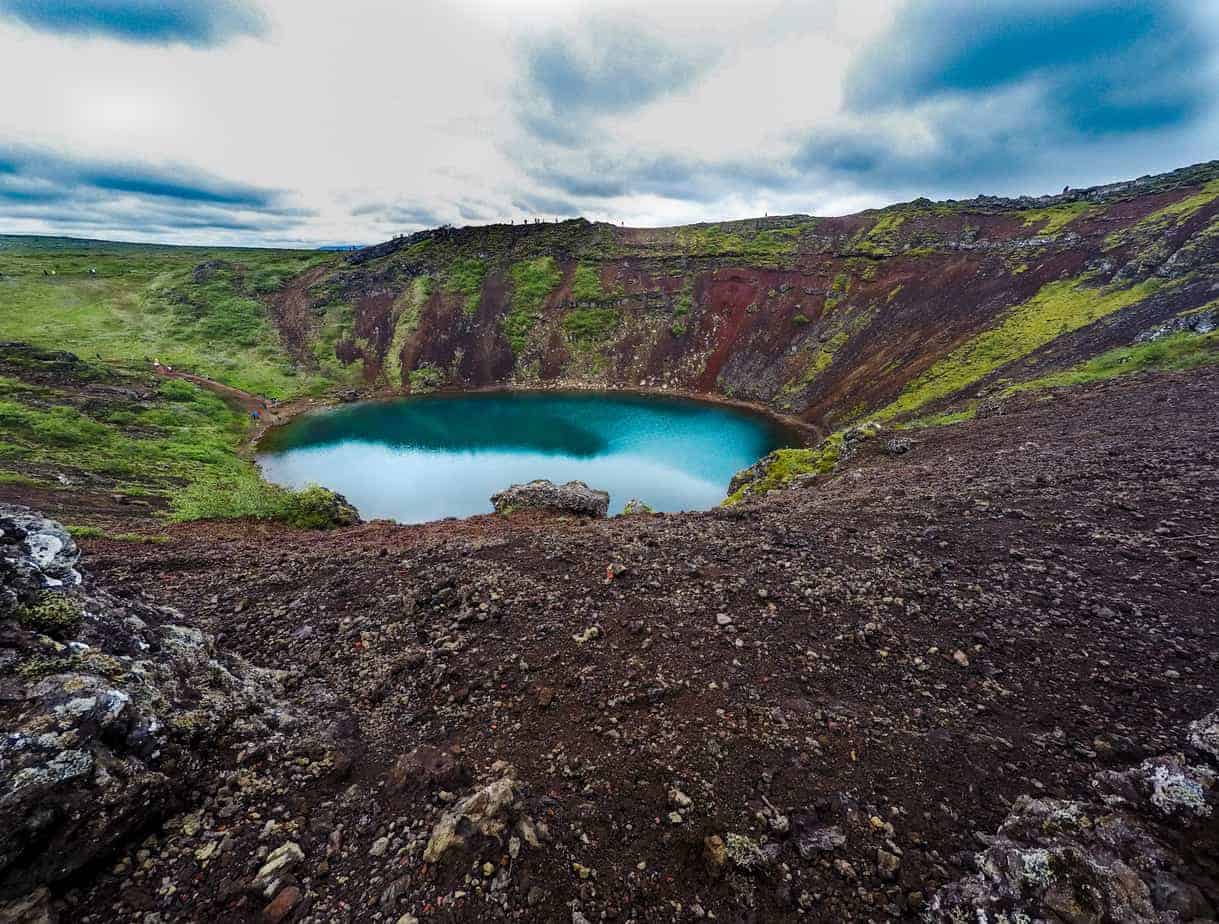 You do have to pay to get in, and it is worth some time to take a hike around the red rock rim before taking a short walk down to the water's edge. We spent about 30-45 minutes at Kerið walking around and taking tons of photos, before scootching off to make our lunch reservation.
The Golden Circle Stop #3: Friðheimar
I know I just waxed poetic about saving money and car sandwiches, but on our first day, we swapped lunch sandwiches for dinner sandwiches, so we could indulge in a foodie must stop for lunch.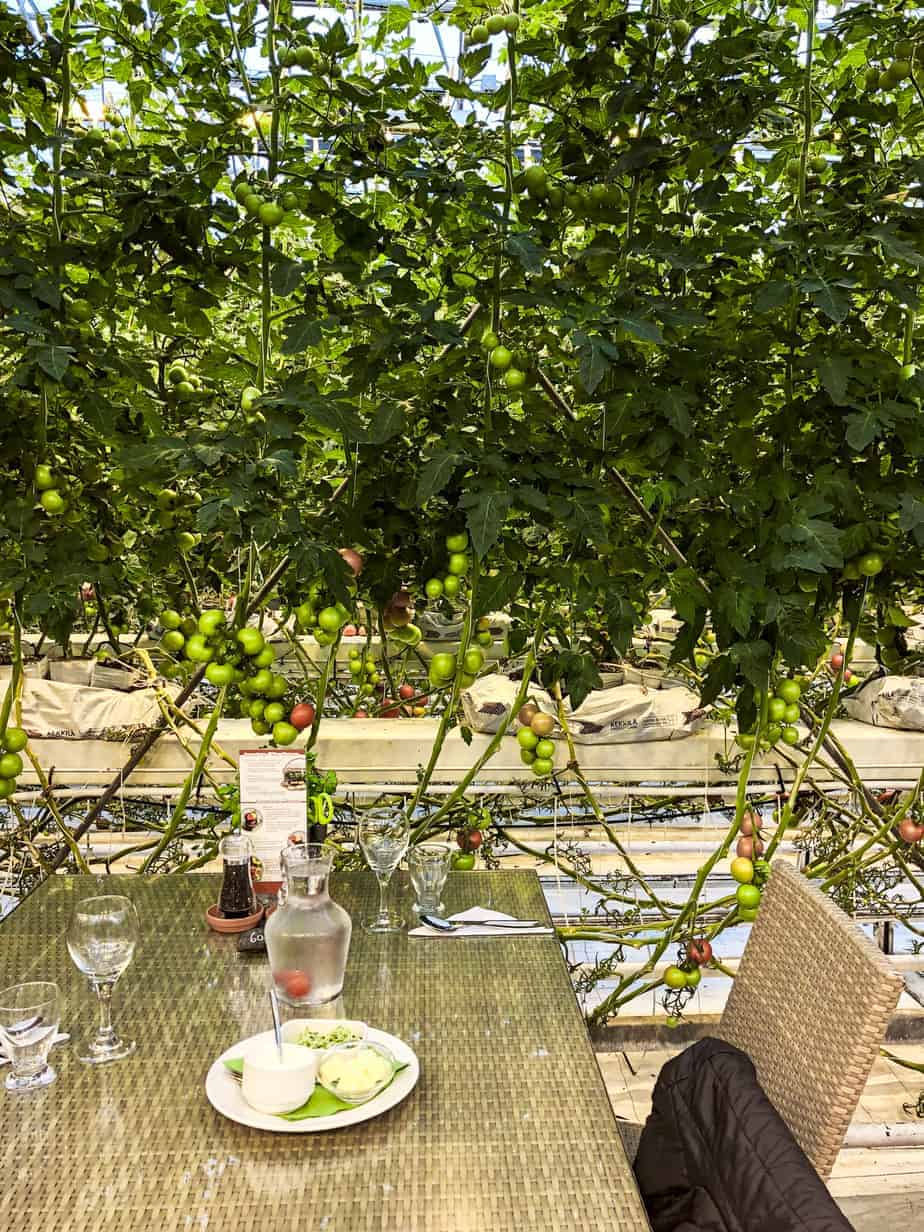 When planning this trip, we had heard from a lot of friends and a ton of travel guides that Friðheimar was a must stop and so we planned our first day of adventures around our two o'clock lunch reservation.
Lunch at Friðheimar was one of the most unique food experiences I've had in my entire life.
Friðheimar is a tomato farm where they grow three types of tomatoes all year round. From 12pm-4pm daily, Friðheimar opens one of their greenhouses to guests to dine among the tomato plants.
The carefully curated menu features tomato centric dishes where Friðheimar's crop is the star: a tomato soup buffet, with fresh baked bred, fresh cheese, sour cream, cucumber salsa, and fresh herbs; pizzas featuring tomato, basil and mozzarella, fresh ravioli with homemade tomato sauce and pesto and mussels cooked in a tomato based broth.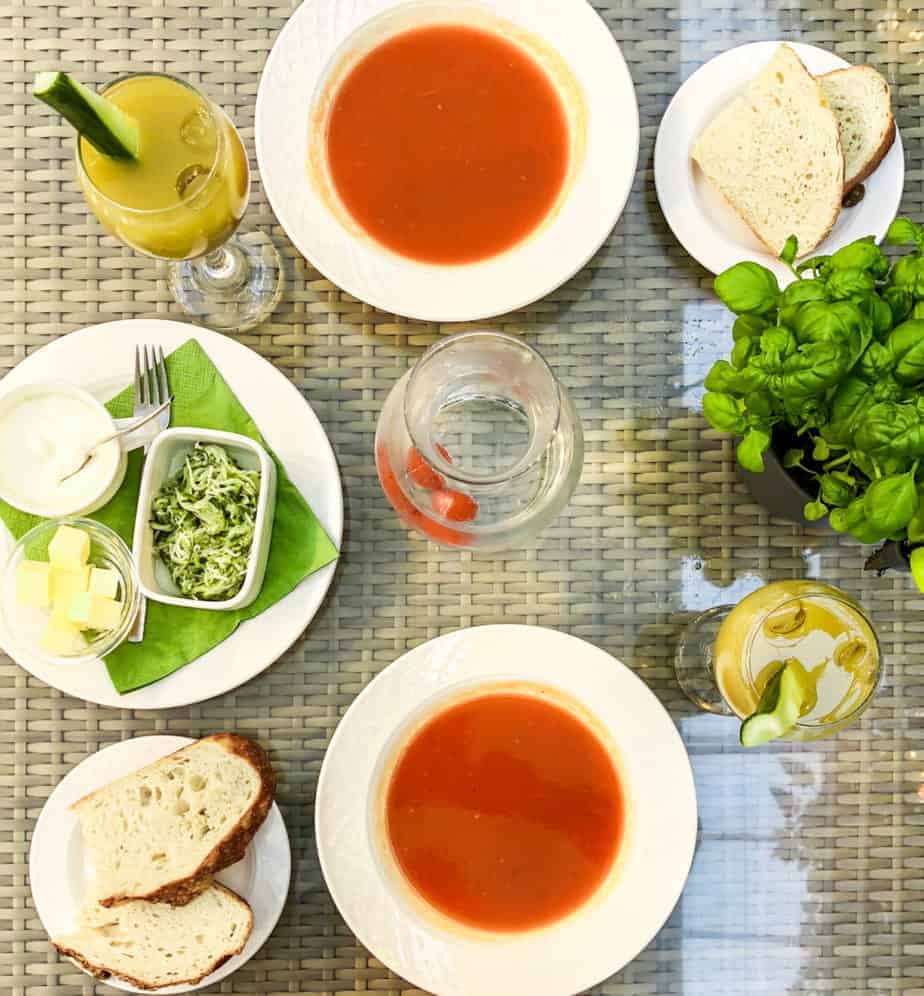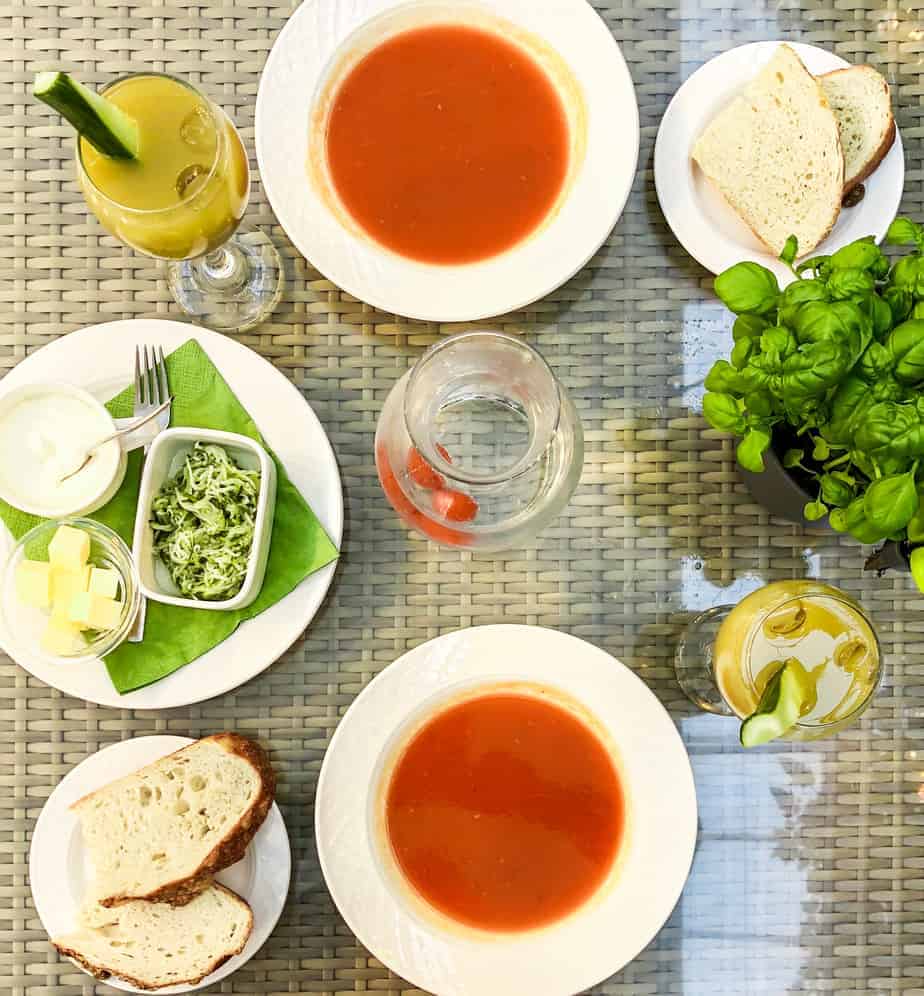 They even have tomato desserts, like green tomato and apple pie, tomato ice cream, and cheesecake with tomato jam, as well as drinks like tomato beer, tomato schnapps, and a variety of Virgin and Bloody Marys made with both red and green tomatoes.
We kept it simple with the tomato soup buffet (it's all you can eat), and on this particularly chilly, rainy day a few bowls of soup really hit the spot.
Of course we couldn't pass on tomato cocktails; I enjoyed the Happy Mary with green tomatoes, lime, honey, ginger and gin, and AJ went with a classic Bloody. (I mean you guys know how much we love Bloodys and a good build your own Bloody Mary bar.)
I really loved the atmosphere and hospitality of Friðheimar, so we lingered over our cocktails and soup, going back for seconds (and AJ for thirds.)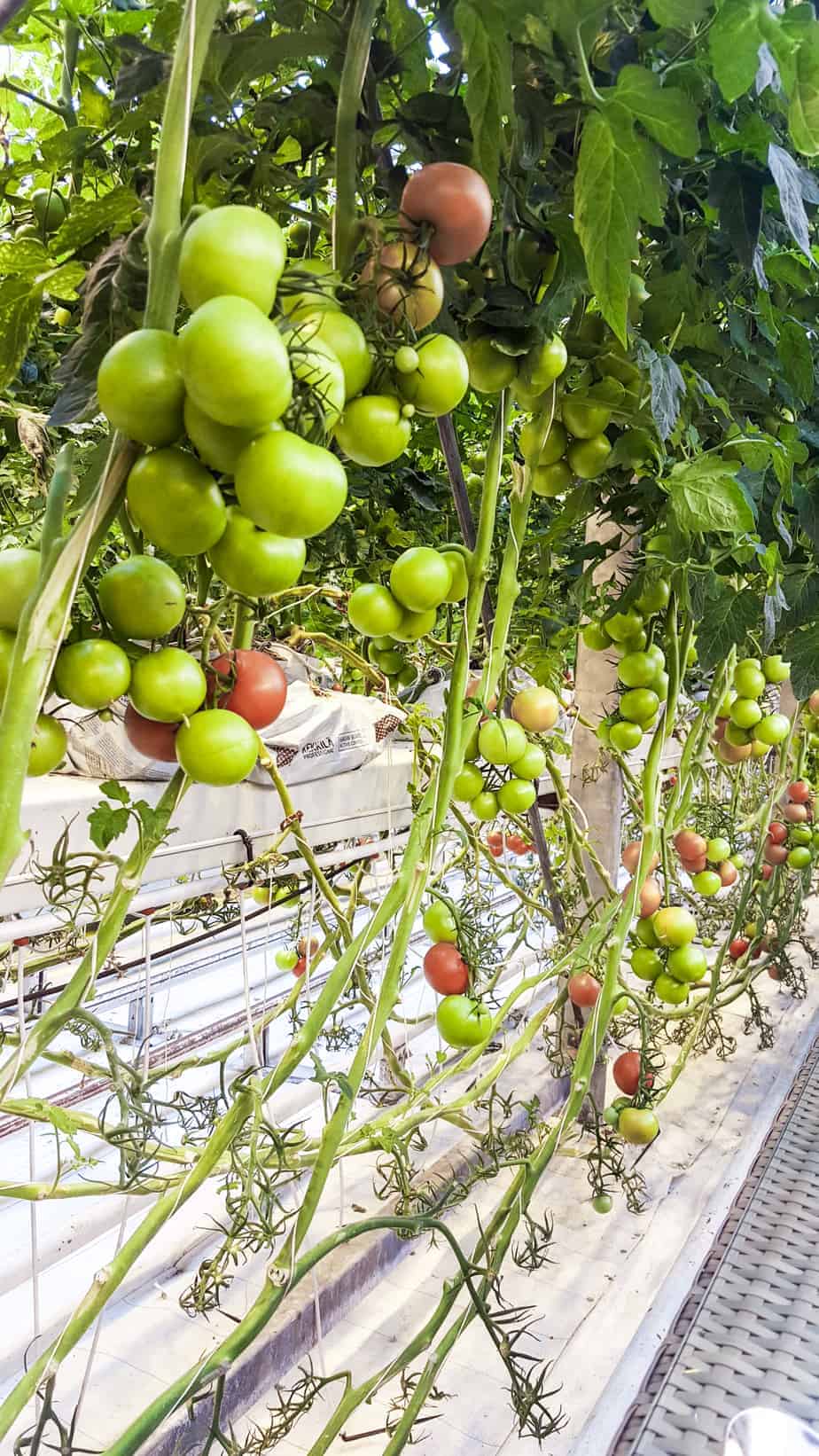 I also am a huge fan of free wifi (we had purchased an international data plan for AJ's phone but didn't need it for both) so when AJ went up for more soup, I checked some emails and messages.
Thank god I did because the AirBNB where we were supposed to stay that night had just canceled on us.
Having nowhere to stay in a foreign country with no plans to go back to the capital city?
Commence freak out.
AJ, of course, the cool, calm and never nervous man that he is told me I was not allowed to ruin his lunch and could not freak out until he was done enjoying his soup.
Eyeroll.
A few scrolls and clicks and several deep, deep breaths later, we were rebooked for a little riverside cabin in Hella, a small town close to where we had planned on staying.
Phew.
AJ finished his soup, we got some coffees for the road and made our way to our next stop, Geysir.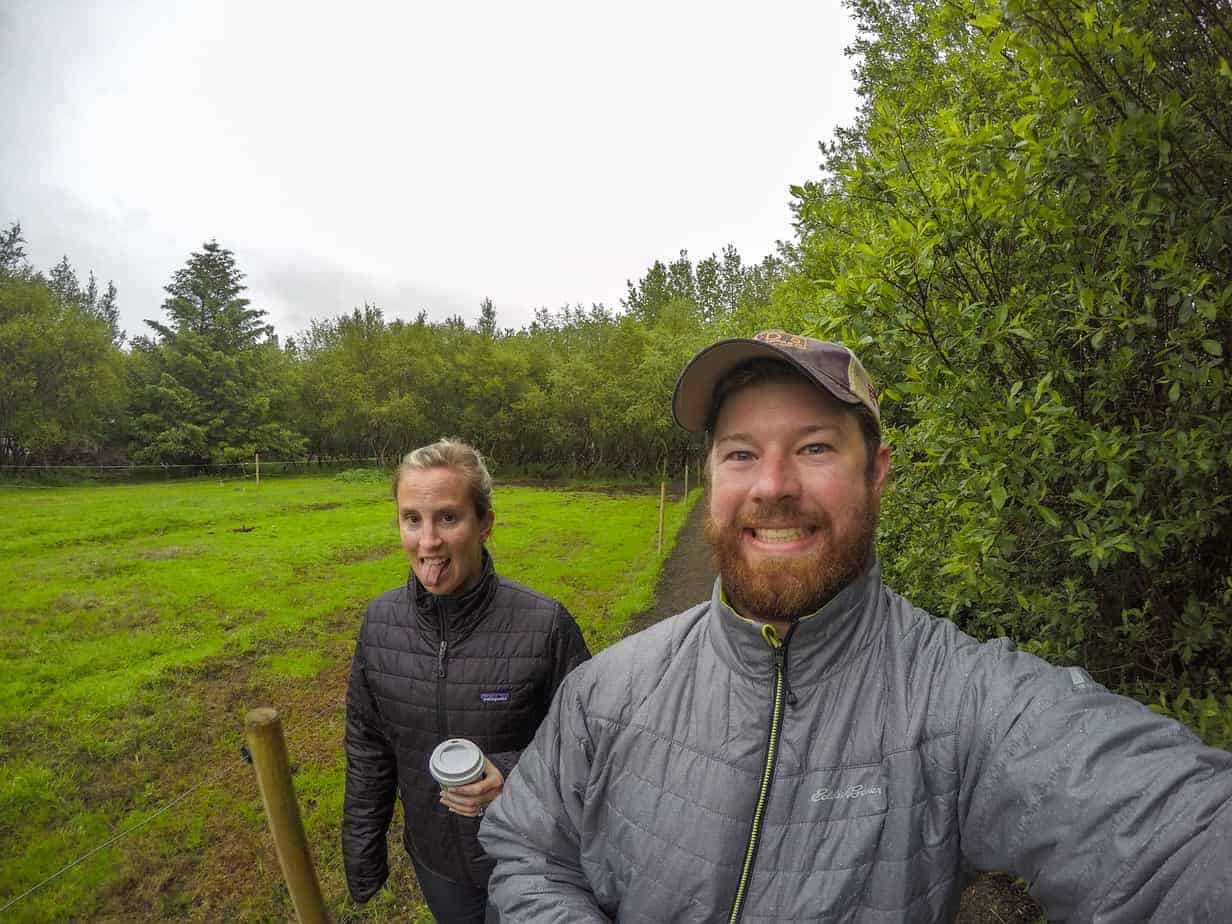 The Golden Circle Stop #4: Geysir
Geysir, a geothermal field home to boiling mud pits (love) and geysers, was my favorite stop along the Golden Circle.
The biggest geyser in Geysir is Strokkur, a super active geyser that spouts water about 100 feet into the air every five to ten minutes.
I could have watched it all day!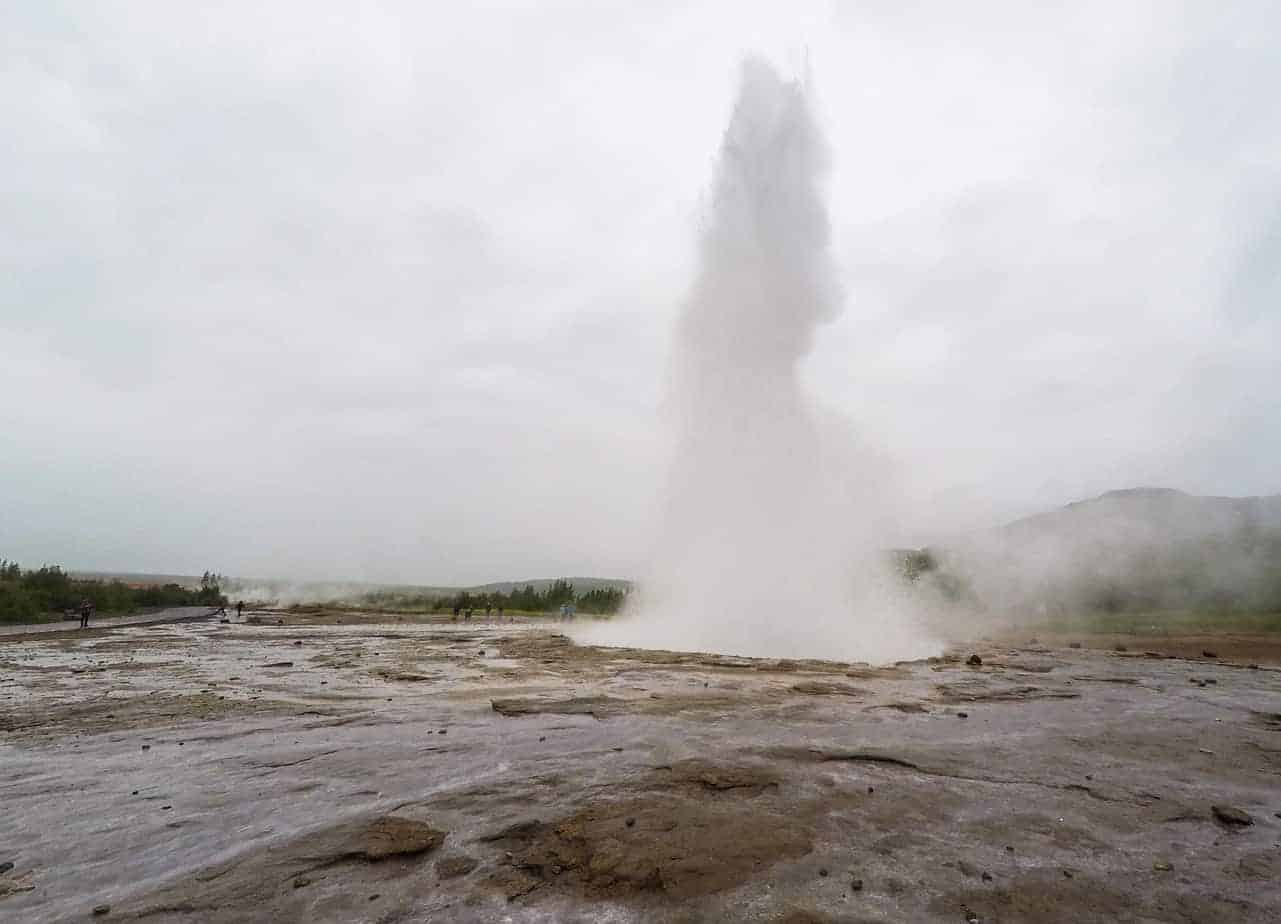 We strolled around Geysir (beware, with geothermal pools and natural hot springs comes tons of not so pleasant smells, but it's still worth it) and watched Strokkur for several rounds before deciding it was time to leave the bubble mud pits and spewing water and get out of the rain.
The Golden Circle Stop #5: Gullfoss
Our last stop on the Golden Circle was a visit to Gullfoss.
Gullfoss (meaning Golden Falls) is one of Iceland's most popular and beloved waterfalls.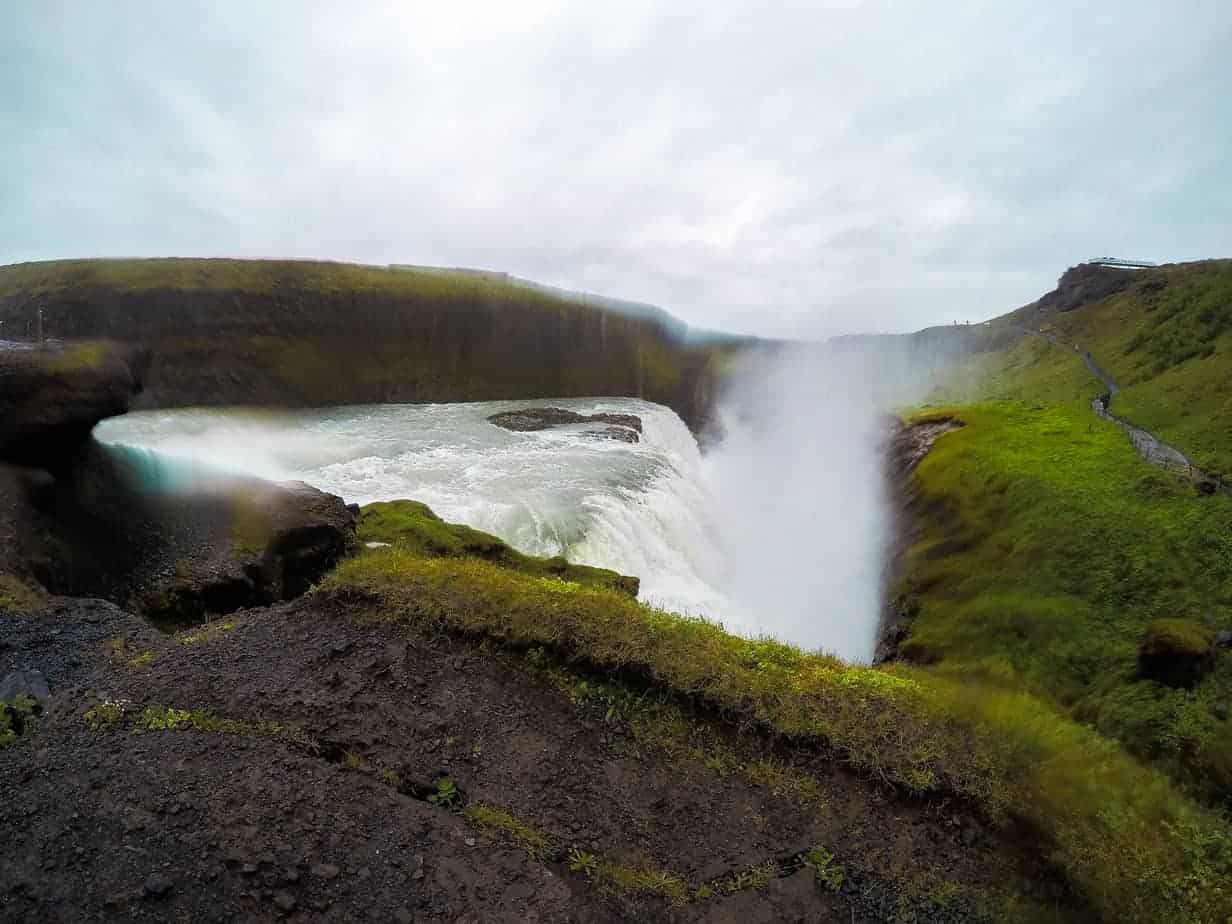 It's one of the most visited waterfalls in Iceland because it's about a 90 minute, easy drive from Reykjavic which is totally doable for a day trip for tourists staying in Iceland's capital city.
It's just a short hike from the parking lot until the powerful waterfall comes into view. I loved Gullafoss because there are several viewpoints, but they are all from above, offering a different and stunning perspective of the massive waterfall crashing into the river below. Even on a super rainy, cloudy day, it was beautiful.
Drive to Hella
At the sacrifice of some cold tomato soup, AJ had rebooked our AirBNB to a riverside cabin in Hella, a small town in southwest Iceland.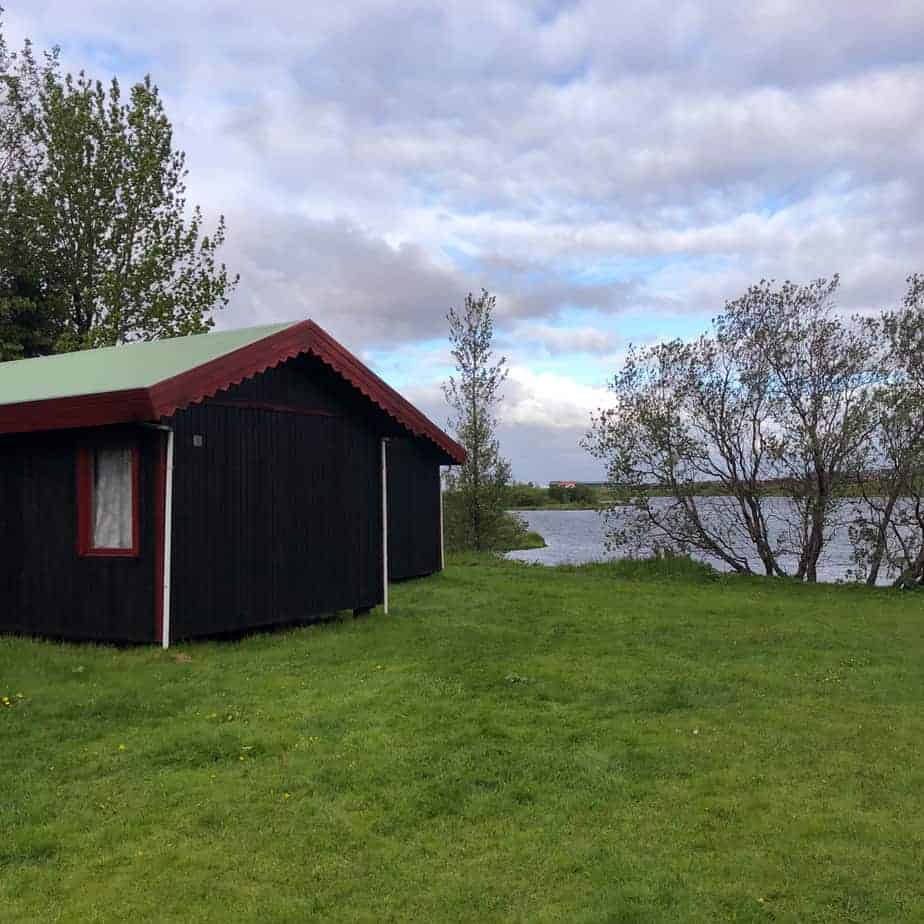 We arrived in Hella around 8 or so and poured ourselves a well deserved glass of wine, which we drank with a few dinner sandwiches. As we were winding down for bed, AJ ran out to the car to grab a couple of things for us to repack for our next day's adventures (the longest day of our trip which including a glacier hike and a lot of driving.)
He came back inside a few minutes later, without our hiking backpacks and with some bad news.
The car wouldn't open.
And 1500 words in, I'll end on our recap of The Golden Circle for today! I promise to come back with all the details of our rental car drama and our glacier hike in the next post.