This frozen gin and tonic recipe turns the classic cocktail into a cool, refreshing summer slushie in less than five minutes!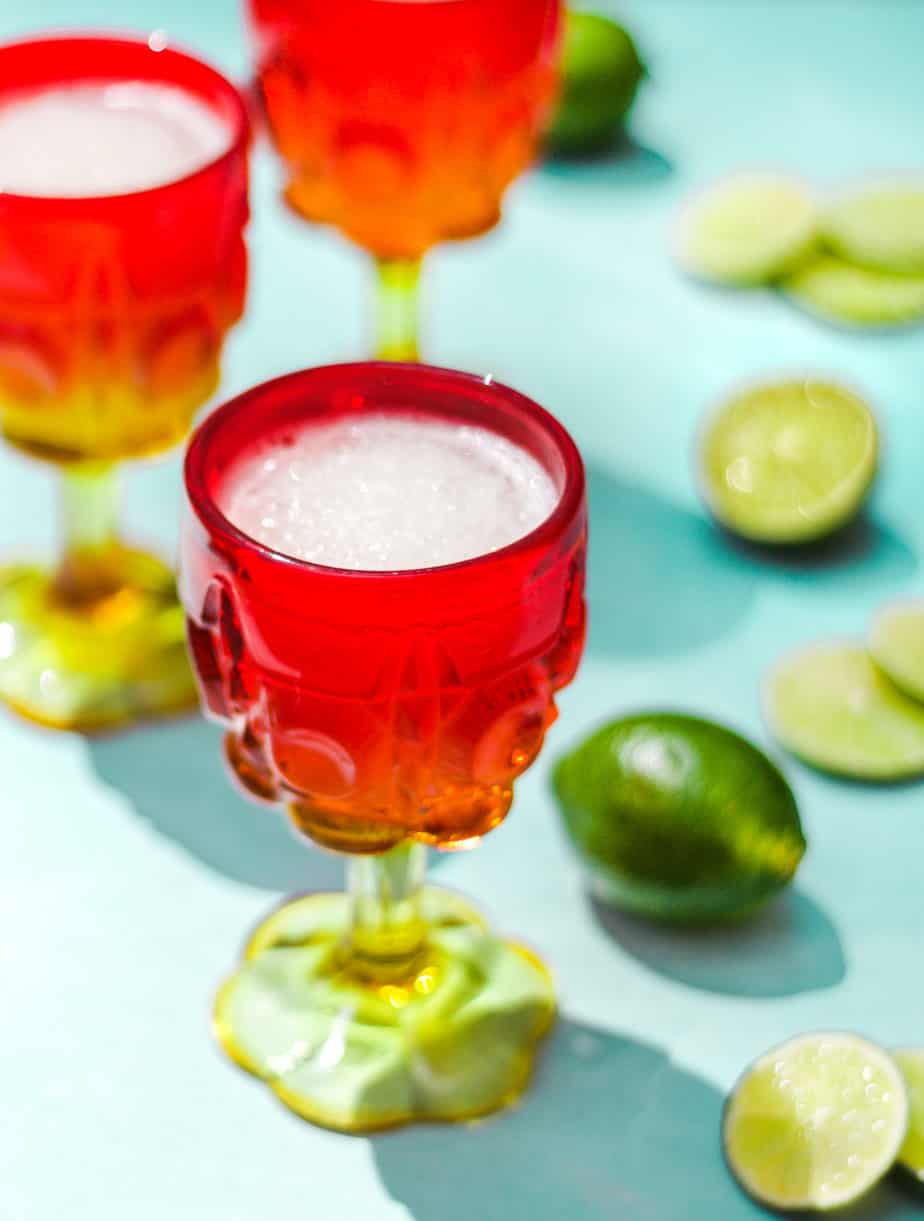 When it comes to food blogging, you always have to to be ahead of the curve when it comes to seasonality.
Even though we're still sweating through sticky summer days, food bloggers are gearing up for all things fall (you know pumpkin spice and everything nice) and even probably flirting with some Thanksgiving ideas (Thanksgiving is the Olympics of food blogging after all.)
This means you, as a reader, don't need to be ready to pour yourself a pumpkin beer (but there are no rules in 2020 so a pumpkin beer on a 90 degree August day could be extremely refreshing, you do you) and it's totally fine if you aren't sure what you're doing next week, much less your Thanksgiving plans and menu (but if you are looking for Thanksgiving ideas already I have a Thankgiving recipe round up for you!)
I have always struggled with staying ahead of the seasonal content curve, especially when it comes to the transition between summer and fall.
In Charlotte it stays hot well into October (we went to Asheville a few years ago for our fall wedding anniversary and it was 85 the whole weekend) so its hard for me to get into a fall mood (both personally and content wise) until we don't need to crank the air conditioning or consume a frozen beverage to cool off.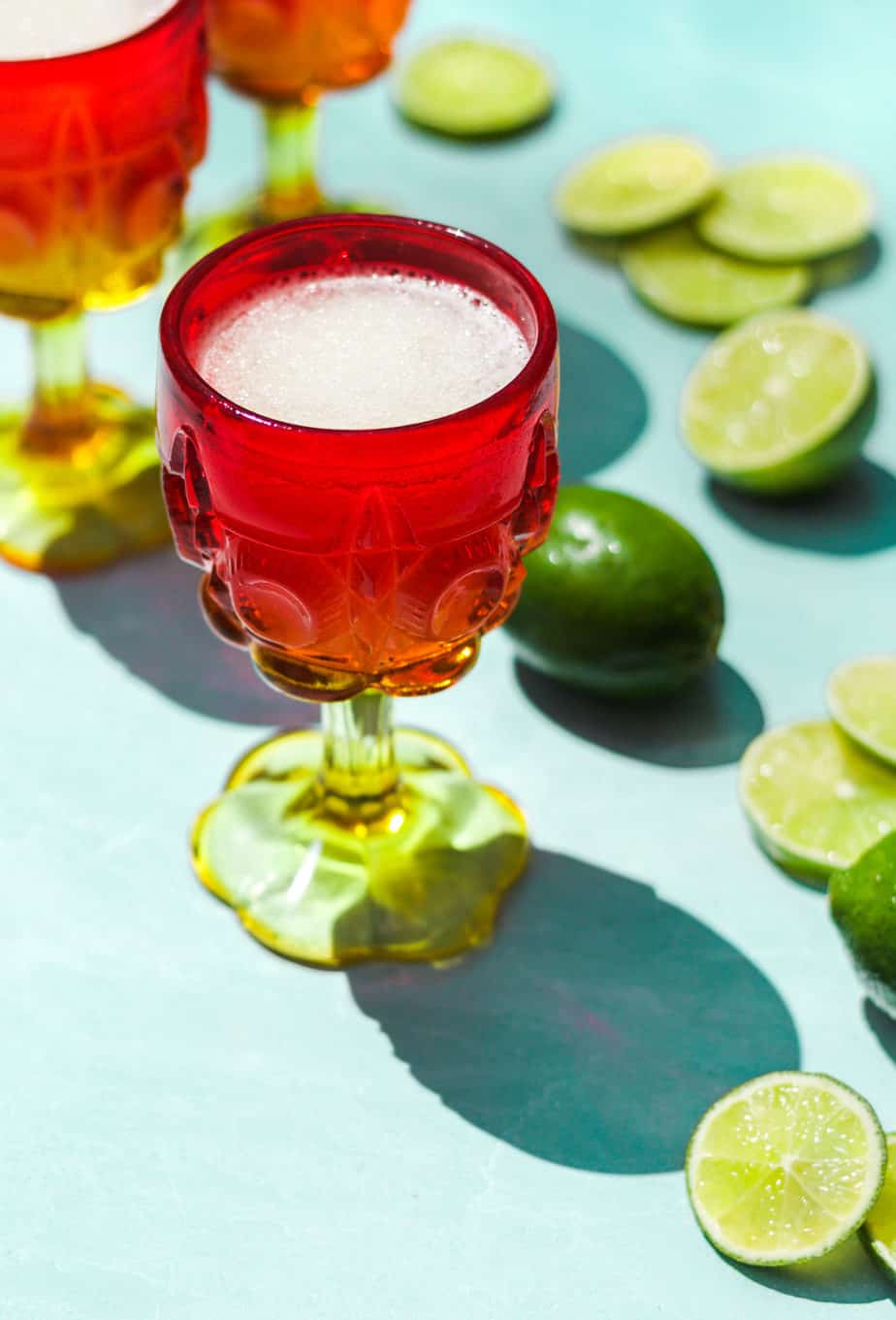 This means when it comes to content, I'm publishing recipes like Watermelon Frozen Rosé, Sparkling Raspberry Lemonade Punch, Sparkling Peach Sangria or these frozen gin and tonics in late August and well into September.
My goal was to get the recipe published by the end of summer, so at least I am ahead of the curve with this for my standards. (And actually running a little early…I have big plans for updates to my Spiked Hot Apple Cider, Pumpkin Waffles and Whiskey Old Fashioned in the next few weeks.)
Since its not fall quite yet, lets stick with summer cocktails and talk about this delish drink: a frozen gin and tonic!
What is a frozen gin and tonic?
Yes you read that right; we're taking a simple, classic cocktail and making it in slushie form!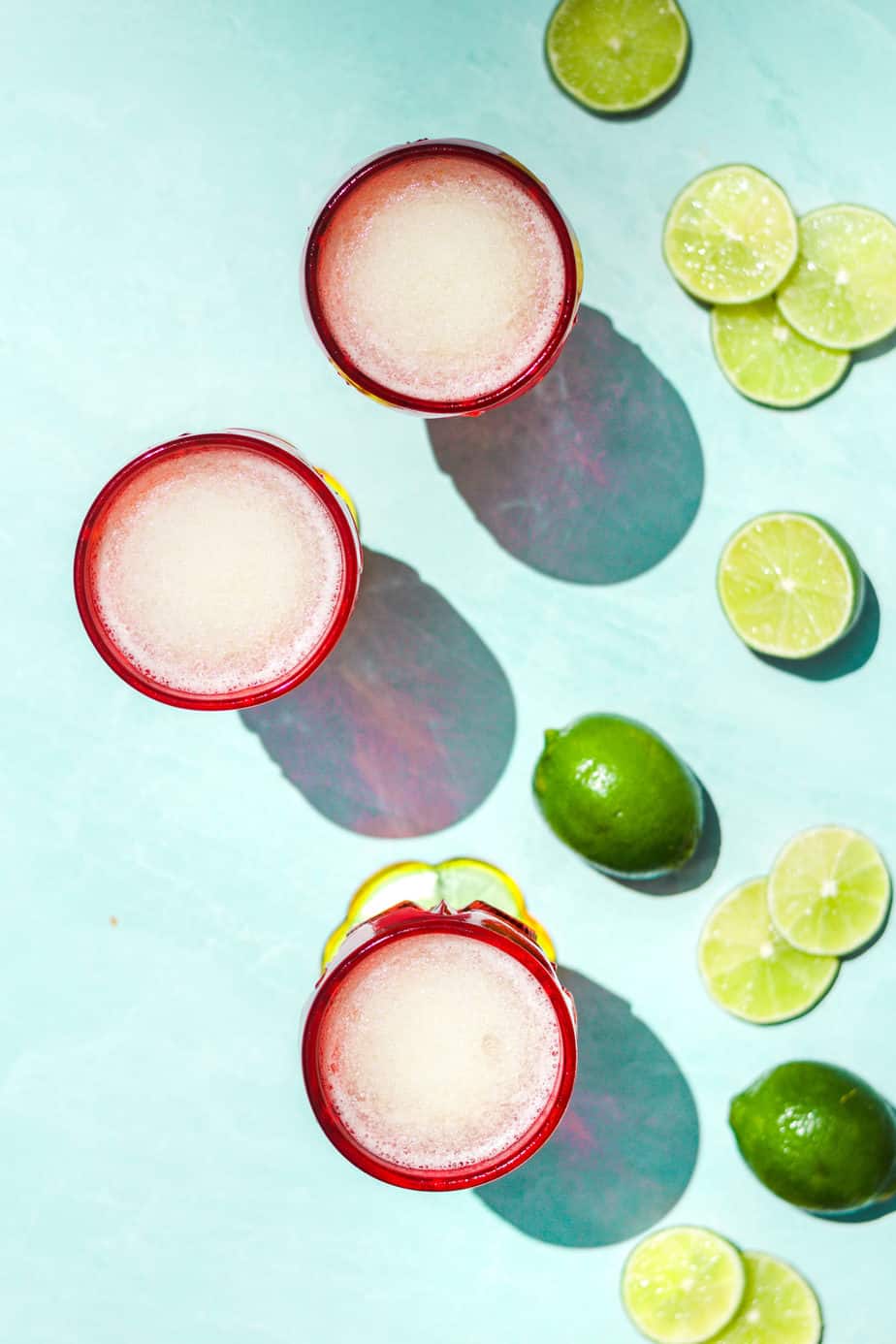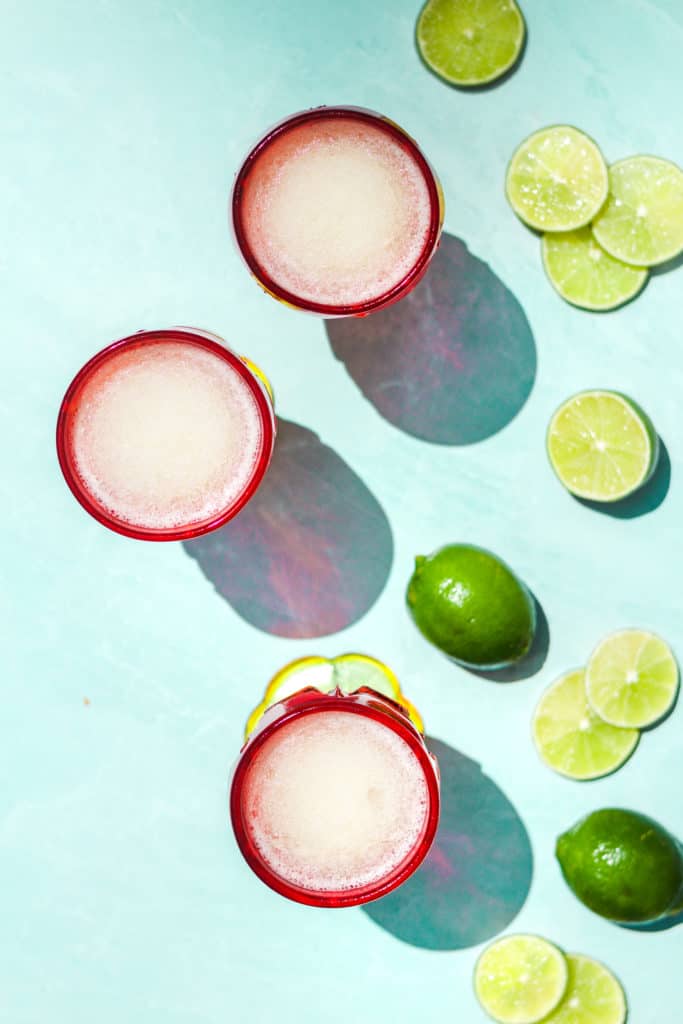 A gin and tonic is a classic cocktail featuring just two ingredients, gin and tonic water, poured over ice.
Did you know that it was created in the 19th century as an antimalarial for British soldiers? A history lesson for another day I guess.
Gin and tonics are my dad's summer cocktail of choice. When we take our annual family vacation to the Outer Banks, he makes them nightly and we sip on them on the deck with a view of the ocean.
The ratio for the right gin and tonic pour is somewhere between 1 to 1 and 1 to 3, depending on the type and quality of ingredients used and how strong you like your drinks (if you're my dad, you're going to measure about two fingers worth of gin and then top with tonic, putting your drink somewhere in the 1 to 2 or 1 to 3 ballpark.)
And while the cocktail is just two ingredients, it is usually finished off with a squeeze of lime juice and a lime wheel or wedge garnish, so we can say for all intents and purposes, its a three ingredient cocktail.
So why a frozen gin and tonic recipe?
Well, for one…I love gin and tonics!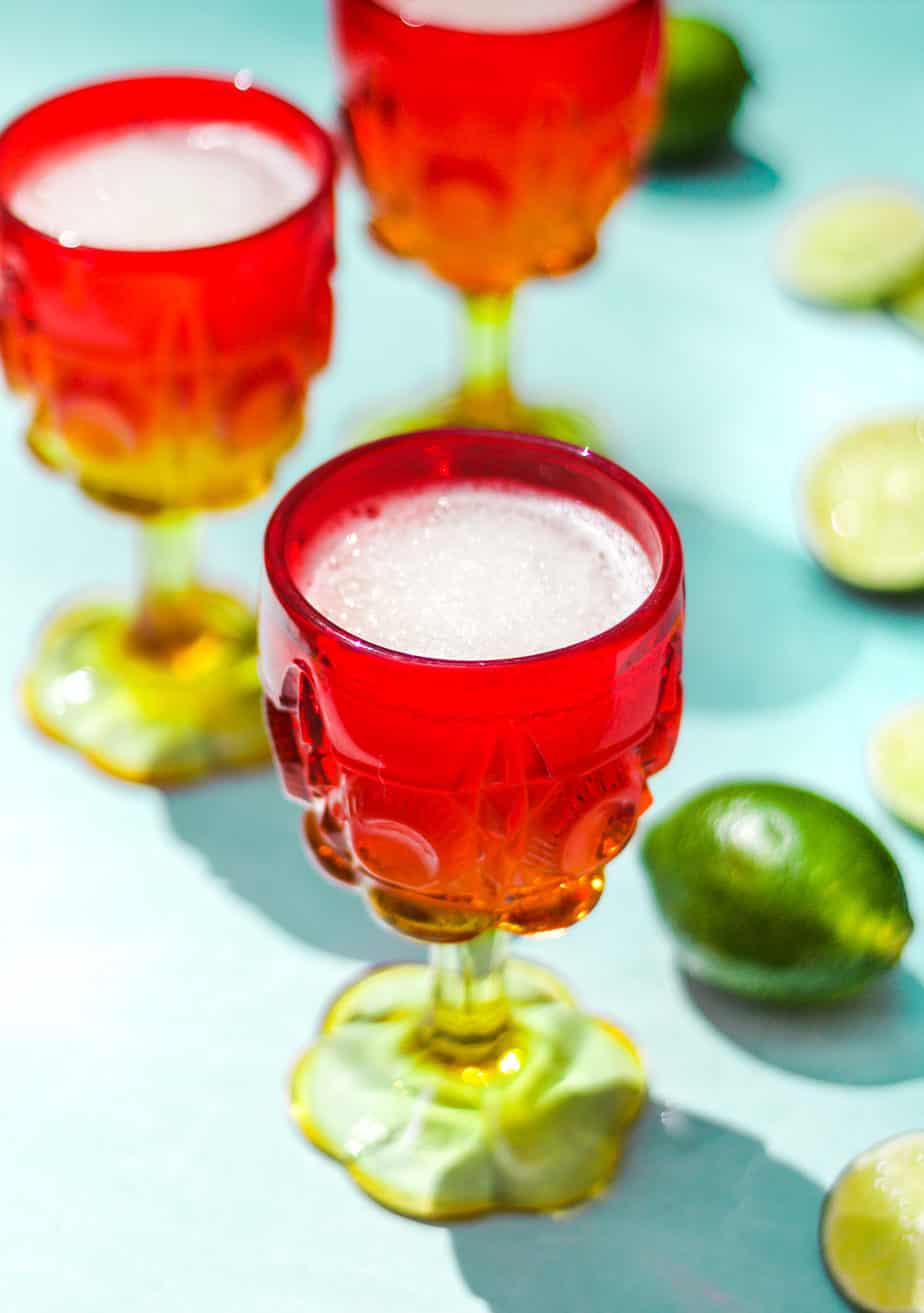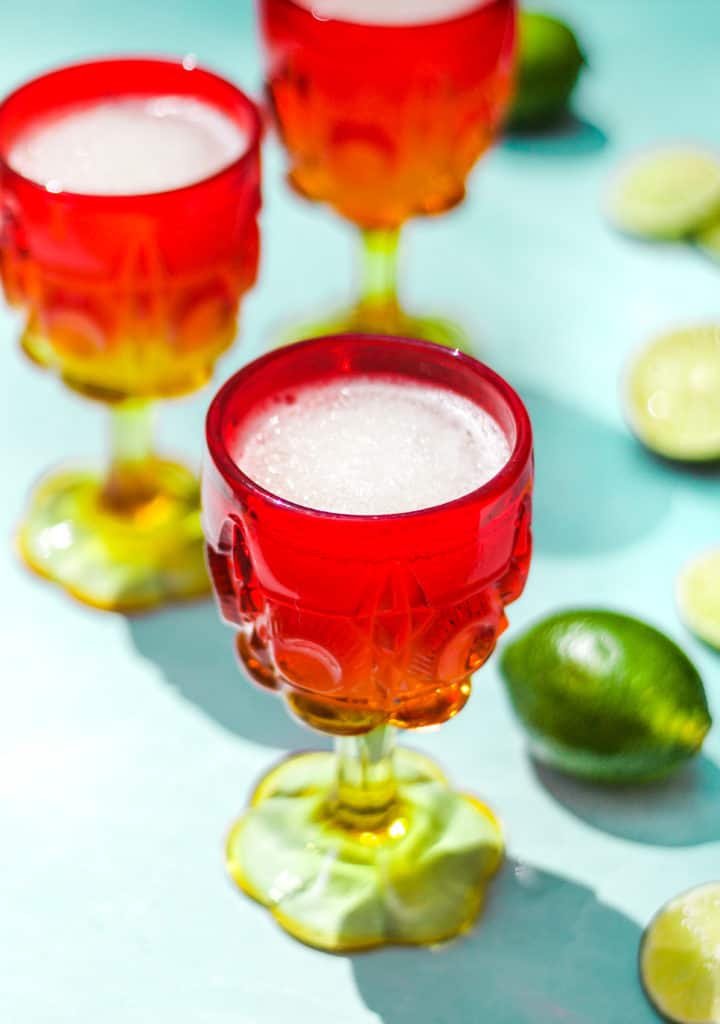 They remind me of my dad…during our beach trip this summer, he did a drink demo on my Instagram stories showcasing his gin and tonic making abilities and it was so fun. (This is not my first Mark inspired recipe…this Blackberry Basil Gin Fizz is also inspired by my dad!)
They are also so easy and quick to make, plus super refreshing and light.
Second, as a result of my dad's gin and tonic Insta stories, I learned there's a restaurant in Charleston that serves frozen gin and tonics! It's been so freaking hot in Charlotte (theme of each and every summer) and since I know I won't be going to a restaurant in Charleston anytime soon…
I wanted to experiment and create it for myself at home!
I've been loving creating new cocktails at home since we haven't been to a bar or restaurant really since March so one Saturday afternoon I got the basics out (gin, tonic water and lime juice) and started playing around (ps: if you're looking for tons of ideas for creating cocktails at home, check out this basic cocktail recipes post!)
Lots of ice, a sweetener (I went with honey, but you could also use sugar or simple syrup) and a few spins of my blender, voila!
My new favorite frozen cocktail!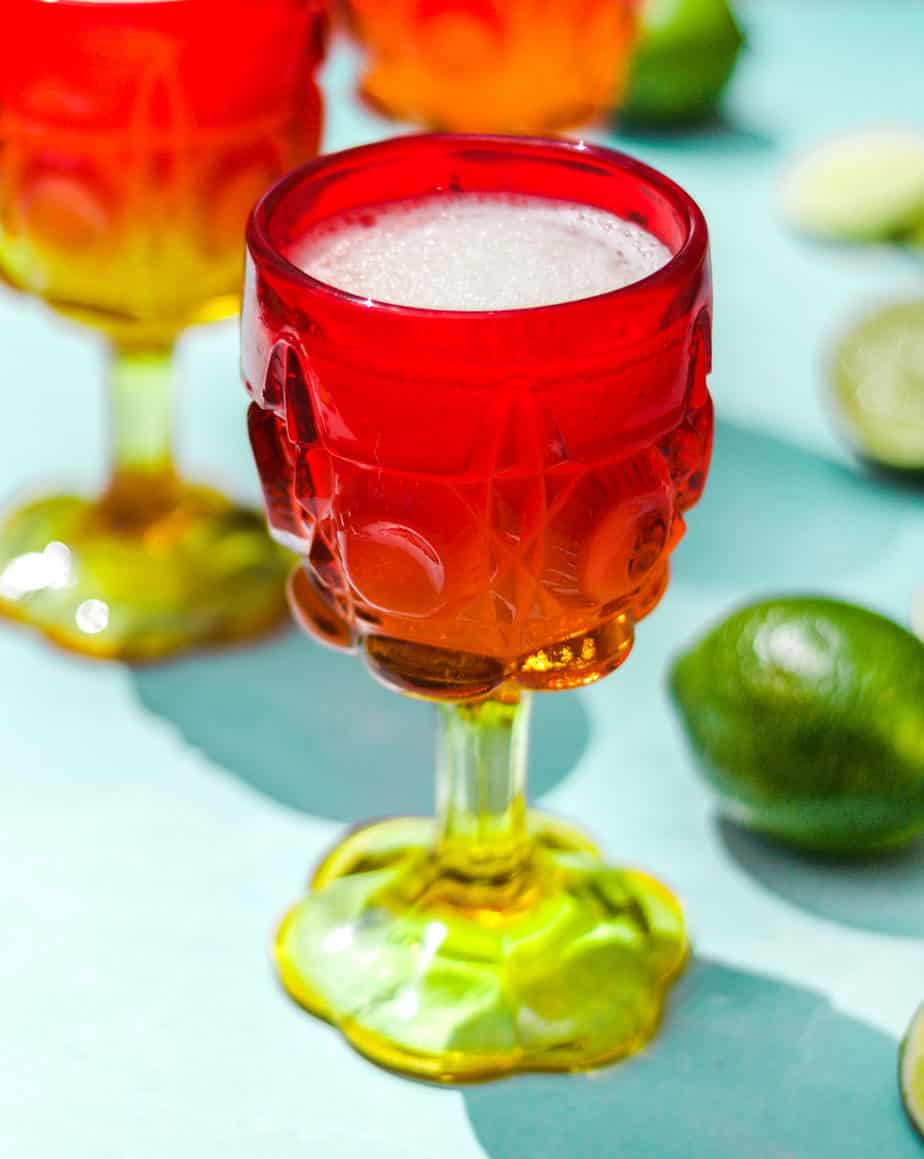 What kind of tonic water should I use?
Tonic water is not something I've though extensively about, but it turns out people are pretty picky when it comes to tonic.
First of all, tonic water is different than seltzer water (if you're looking for a gin and seltzer cocktail recipe, check out this Raspberry Gin Seltzer).
Seltzer water is unflavored fizzy (or bubbly) water. While tonic water is also fizzy/bubbly, it has a distinct flavor (due to the addition of quinine) making it bitter. So my first tip is to make sure you have tonic water and not just some variation of seltzer or club soda…because this cocktail only has four ingredients you'll miss the flavor from the tonic if it's not there!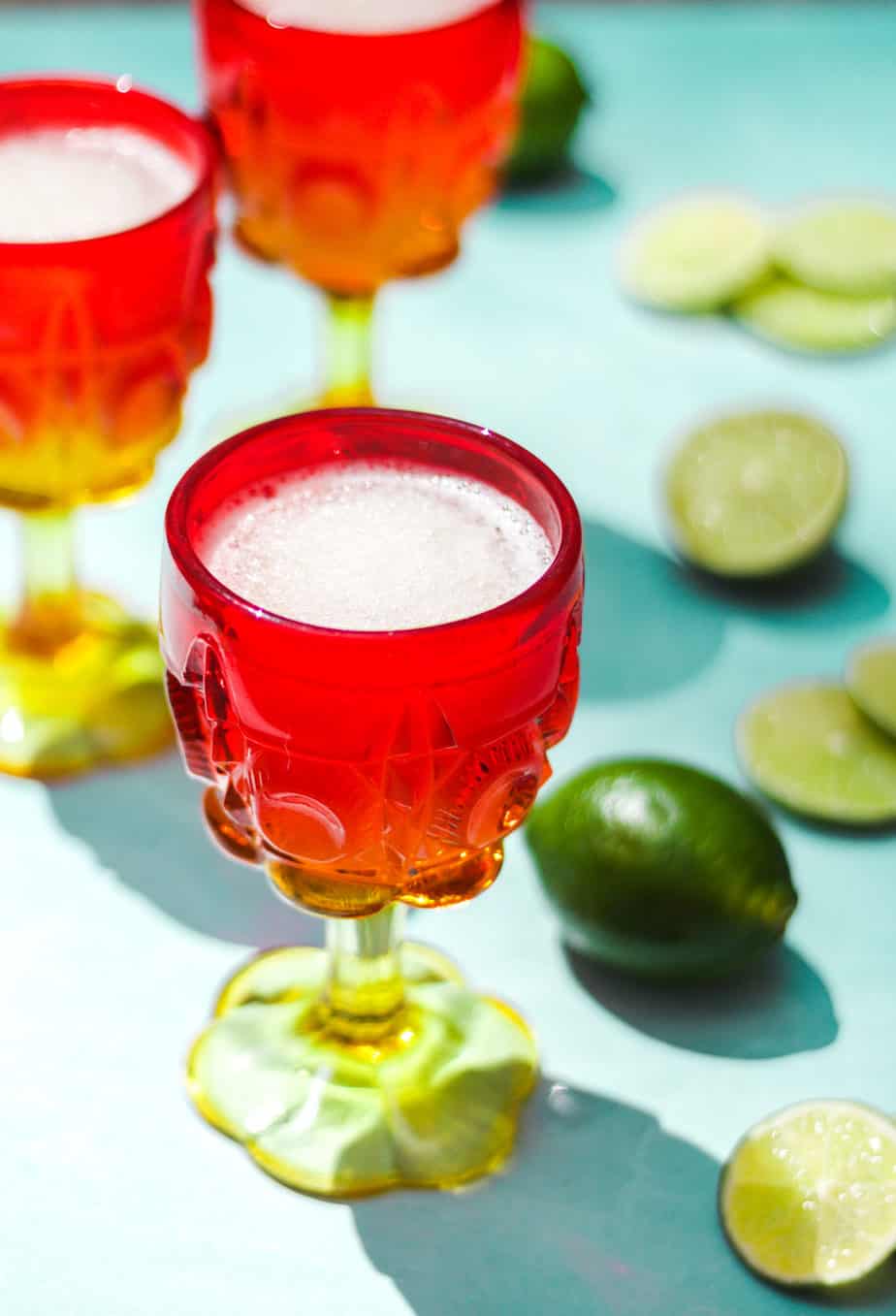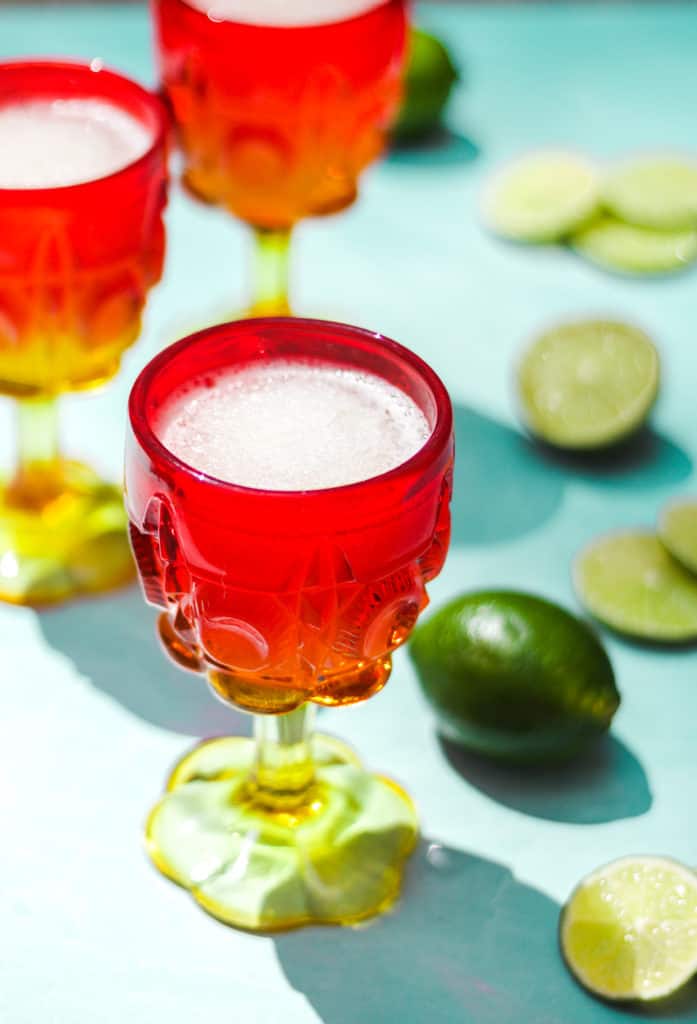 When it comes to what kind of tonic water to buy, Dad prefers Schweppes or Canada Dry, so that's what I use. (Insert his dad joke here about how once in college he and his friends tried to drink Canada dry but only made it to Saskatchewan.)
Another popular tonic option is Fever Tree, which is a little more expensive but has less sugar and therefore less calories than some other brands.
You could also use a tonic syrup rather than tonic water (especially if you were nervous about putting fizzy water in your blender…but I didn't have any blender explosion or big mess problems when using tonic water in my blender). You can find small batch tonic syrup online, and then rather than the 4 ounces of tonic water the recipe calls for, add about 1-2 ounces of tonic syrup to still get the right flavor.
How to make a frozen gin and tonic
In doing research for this recipe, I found there are a variety of different methods to make frozen gin and tonics at home including with an ice cream machine or maker, granita style or just with ice and a blender.
Since we don't own an ice cream machine, that option was out.
I toyed with the idea of granita style (similar to how the lime granita is made in these Corona Floats), but to be completely honest with you, I didn't have the patience to let a cocktail mixture freeze over a few hours…I wanted to drink my cocktail as soon as possible!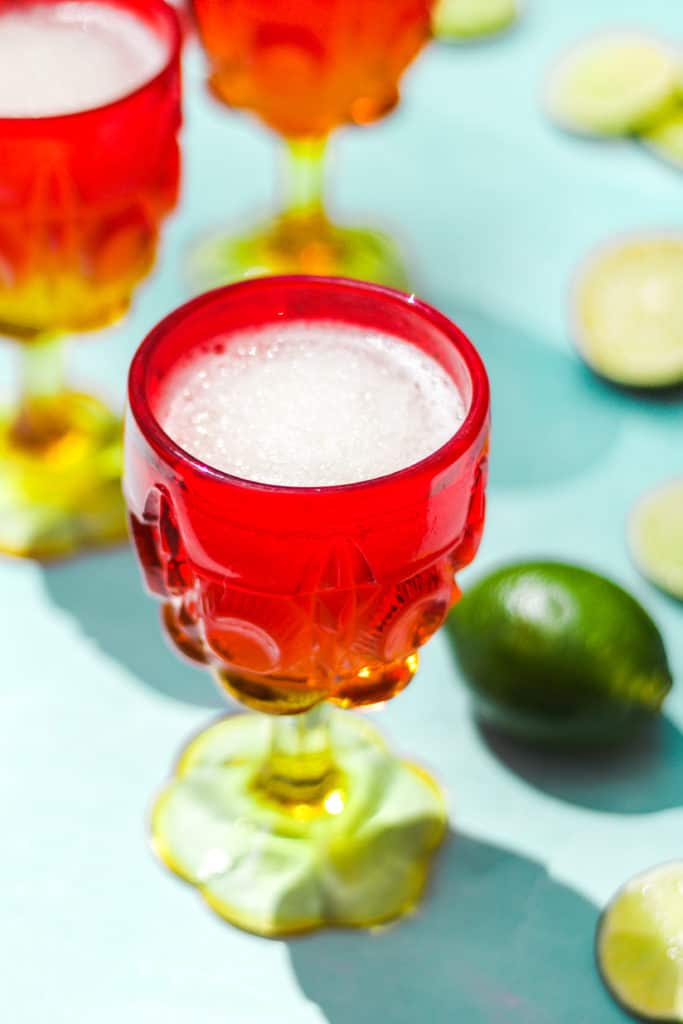 There's also another method where you can freeze the tonic water in an ice cube tray before blending everything together (this is so the tonic flavor is not diluted by plain ice), but again, my impatience and poor planning won so I didn't pre-freeze the tonic into cubes.
Add the gin, tonic water, lime juice, honey and ice directly to a blender, blend until smooth and pour into a glass. You'll be sipping in less than 5 minutes!