I started Off the Eaten Path almost two years ago as a creative outlet and a space to chronicle my adventures in my new city. What better way to explore a new place other than eating, right?
And while Off the Eaten Path still centers around Charlotte food and restaurants, with my two year blogiversary quickly approaching, I thought now would a perfect time to expand my coverage. I wanted to create something that would help me stand out in the world of fabulous bloggers that we have in Charlotte.
I felt it was my duty to cover a topic that is rarely talked about. Unlike restaurants, restrooms have no directories or guides (well, now there is an app for that, but isn't there an app for everything?). So urine luck, because Off the Eaten Path's new series, Sit or Squat, will do the dirty work for you and find the best places for you to get some relief in Charlotte.
Only Charlotte's best restrooms will be featured. Restrooms will be judged based on strict criteria including amenities and fixtures, toilet paper quality and supply, cleanliness and upkeep, and general ambience.
And people of Charlotte, this is not a duty I can do on my own. Get off the pot and give me your recommendations. With your recommendations, I hope that this series can stay regular.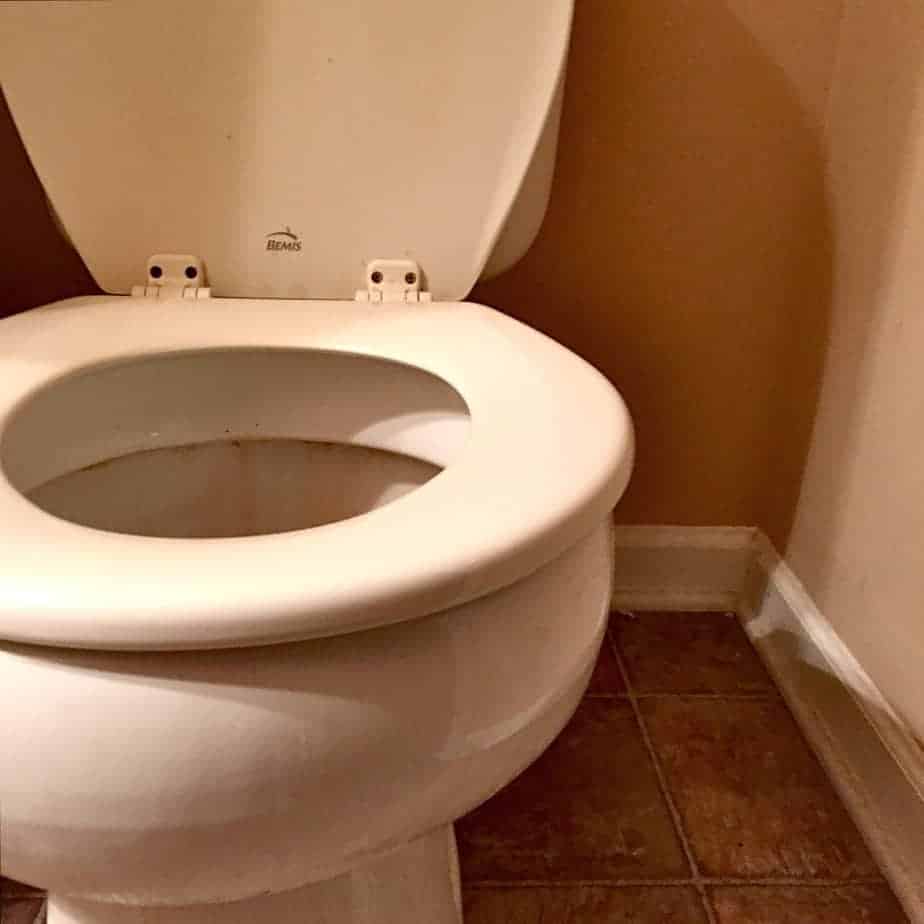 Today, I'm featuring six of Charlotte's favorite porcelain thrones. I'm here to give the people of Charlotte the inside scoop of where to, well, you know what rhymes with scoop.

Midwood Smokehouse's ladies room is what all Charlotte restaurants should aspire to be. It's a healthy mix of casual and cool, has two stalls (to prevent lines and long wait times), has an extensive supply of toilet paper right at your fingertips and has excellent eye candy on the wall. No one minds using a bathroom when they get to look at Clint Eastwood, Sean Connery, Tom Selleck, Burt Reynolds, Robert Redford and Paul Newman. I've never been into the men's room at Midwood, but I'm assuming they have similar decor options for the boys.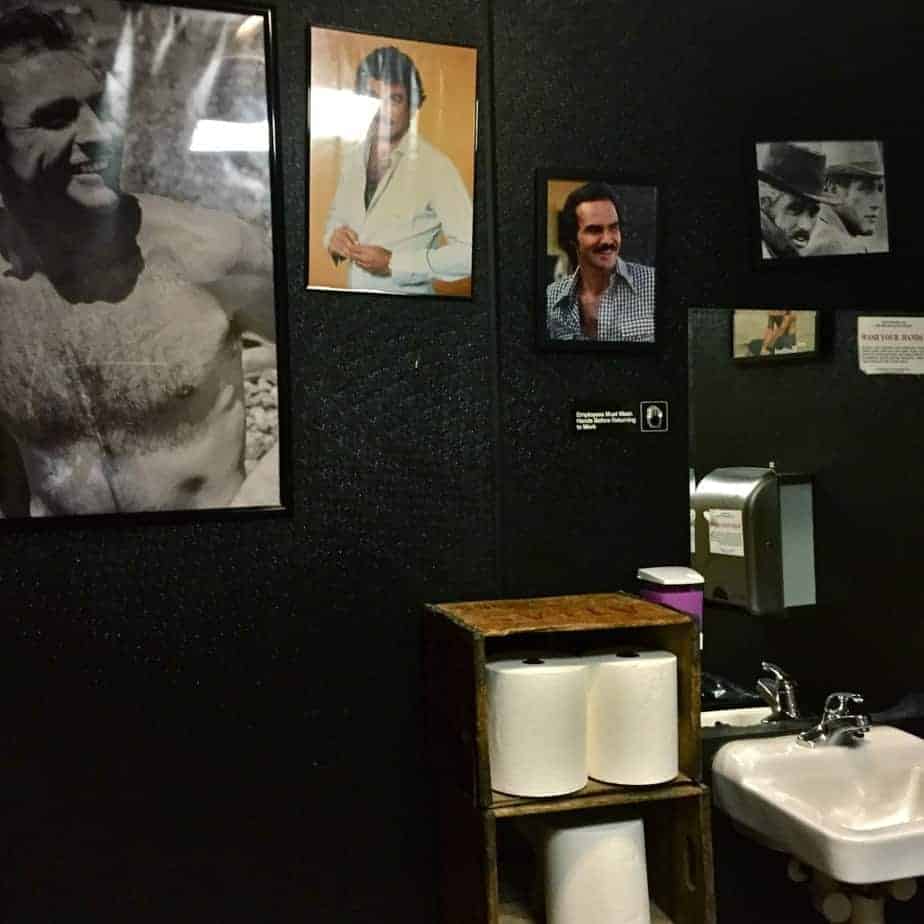 BLT Steak was included on this list because of a reader's recommendation (as he described it to me it sounded so lovely and knew it should be on the list). BLT Steak is a fancy spot and their bathroom is on par with the restaurant's classy and elegant approach to dining. Bathroom patrons enjoy stalls with doors made of frosted glass and can indulge in hand towels that are not paper, but actual towels. Luxurious.
Vivace's bathrooms make the list because: they are co-ed and can make you feel like a star. Co-ed (single stall) bathrooms are key because of line minimization. How do Vivace's bathrooms make you feel like a star, you ask?They have vanity mirrors (hollywood mirrors framed by light bulbs) so you'll definitely feel like a movie star when you look at yourself.
Orange is bright and sunny and while very few people can pull off orange clothing everyone loves orange because it makes you feel cheery. The bathroom at Good Food On Montford is the perfect shade of sunny orange and it smells like flowers. It does lose some points because it's single stall so you'll inevitably run into a line (unless you're super stealth and monitor the activity from your table and jump up as soon as you see someone exit).
Mac's Speed Shop, Steele Creek
Mac's Speed Shop has an excellent bathroom because it's spacious and clean and smells like barbecue (strategically positioned right near the kitchen, the vents give you all kinds of wonderful, smoky smells). They also post their food and drink specials in the stalls so you can plan your next visit. I also have insider information that the men's bathroom is just as lovely and actually quite comfortable (says my friend who once fell asleep in there while at the urinal).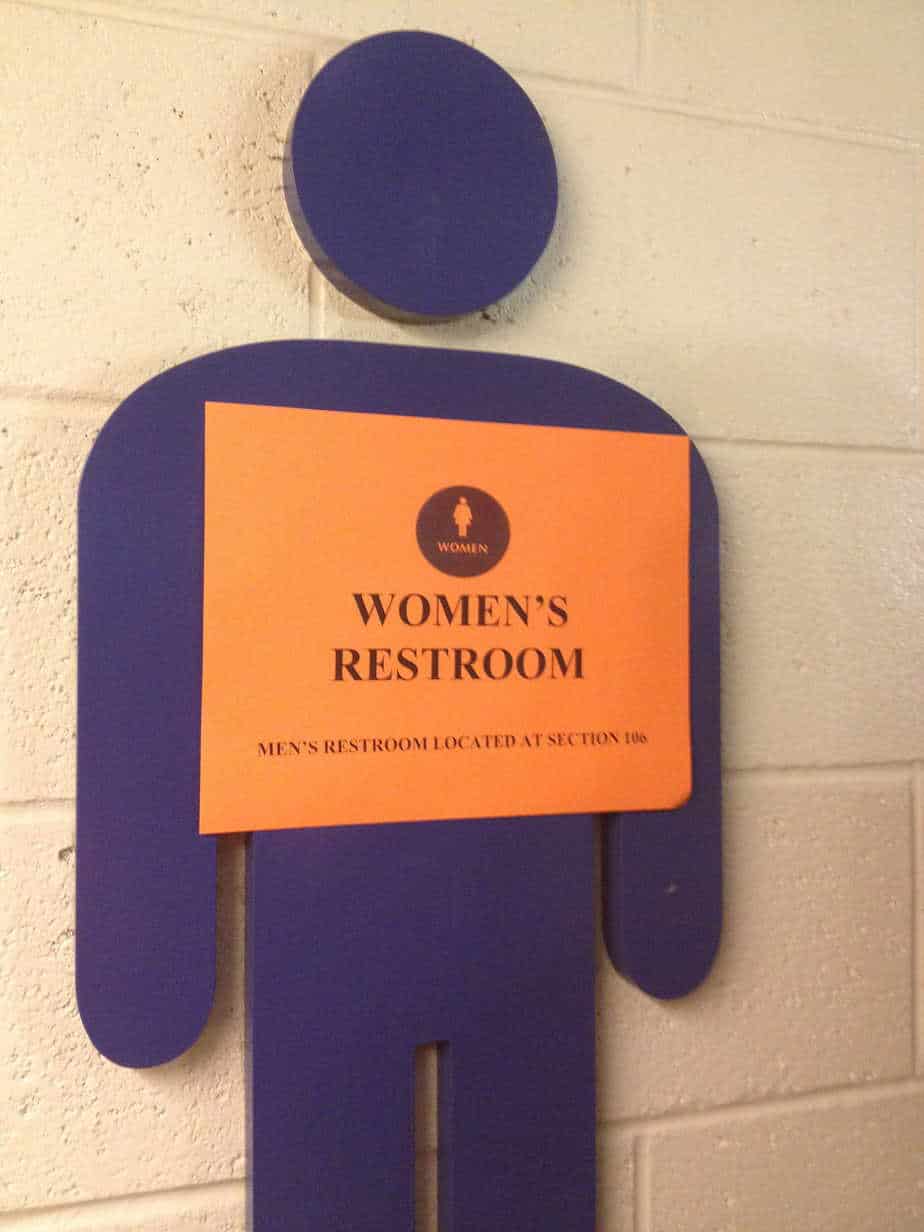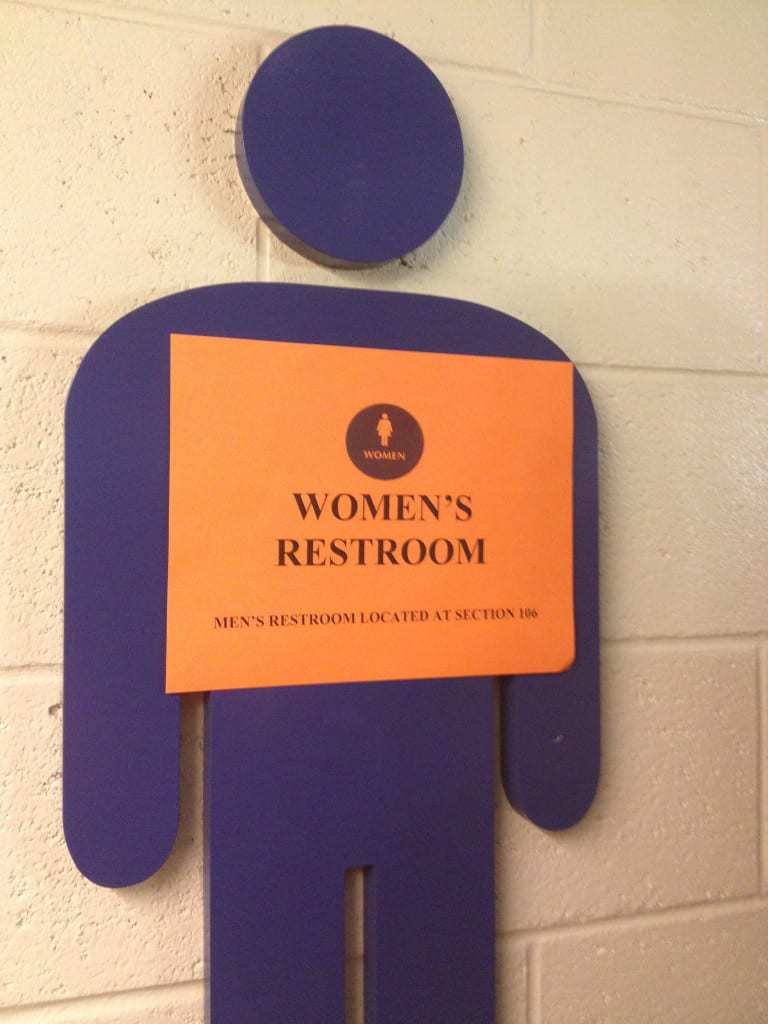 For my first post in the series, I thought give a special shoutout to the bathroom at Time Warner Cable Arena. For a big venue, it's reasonably clean. There are no lines for the ladies' room at basketball or hockey games. We were recently there for the NCAA tournament and I smirked as I breezed past all the men waiting in line for the bathroom and quickly popped into the women's with no wait. Also, at major events where there is a fear of long ladies' lines, Time Warner Cable Arena makes a great effort to accommodate (the below demonstrates their dedication at the Justin Timberlake concert last summer).
Stay tuned for next week where we talk public parks, the best smelling soap, and a restaurant that provides patrons with crayons to draw on the stalls.
**I hope you enjoyed reading this edition of Sit or Squat. You won't be seeing anymore around here, though. Happy April Fools' Day!!!! 🙂