Sparkling raspberry lemonade punch will be the star of your next celebration! Easily made with or without alcohol, sparkling raspberry lemonade punch is perfect for a party, bridal or baby showers, afternoon tea, or a great way to cool down on a hot summer afternoon.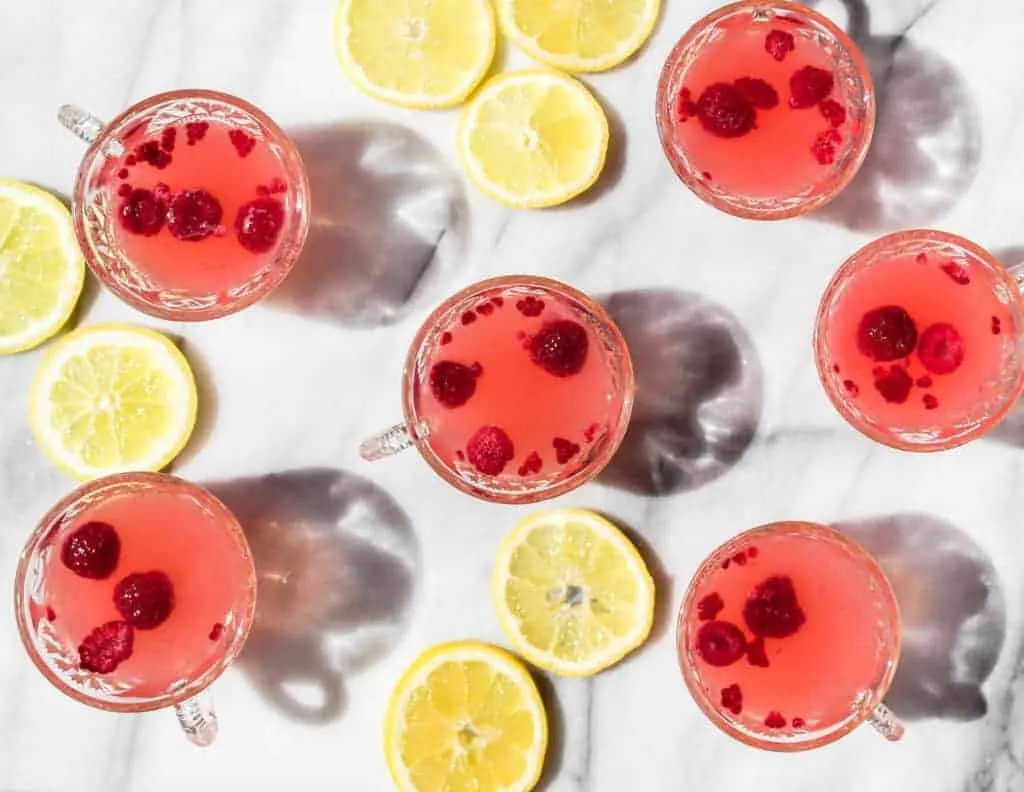 Guys, I have an announcement to make.
August means that spoiler:
It is still summer.
This is coming from a girl who is basically as basic as they come; which means I totally dig all things fall. Pumpkin beer, pumpkin spice lattes, pumpkin waffles, pumpkin flavored anything please, please give it to me always. (And also spiked apple cider and a whiskey old fashioned please and thank you. And a bunch of game day recipes because why not?)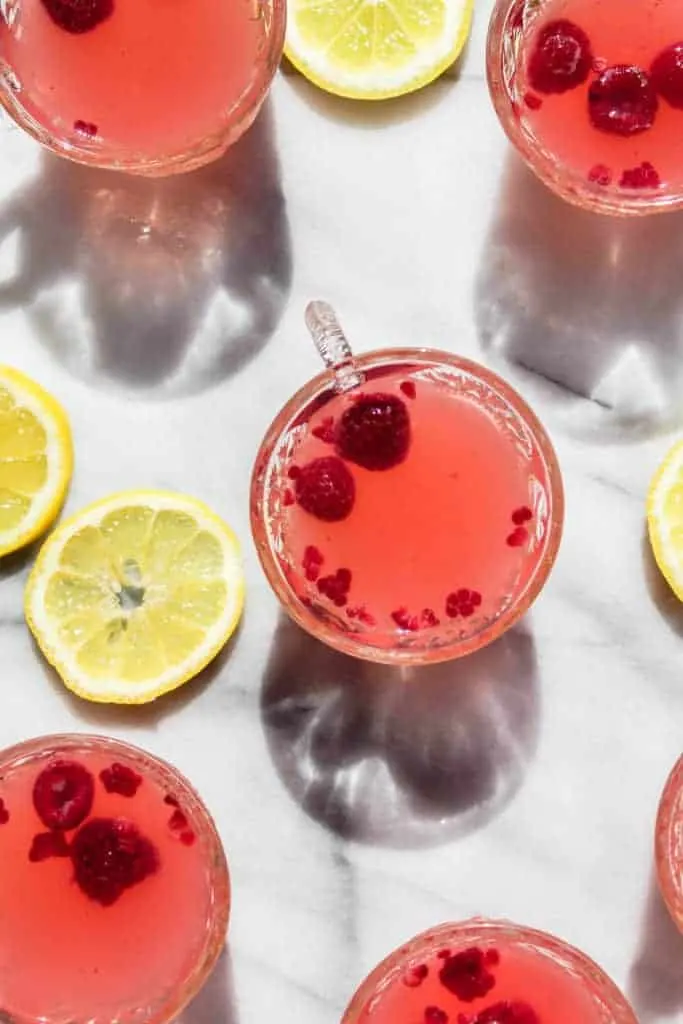 But I do not dig fall when it is 92 degrees outside.
And spoiler alert: it's going to be hot and humid in Charlotte for at least another month (but if we are going to be honest with ourselves…longer).
Everything pumpkin is being released this month and I'm just over here soaking up summer just a little bit longer.
After all, summer isn't officially over until mid-September.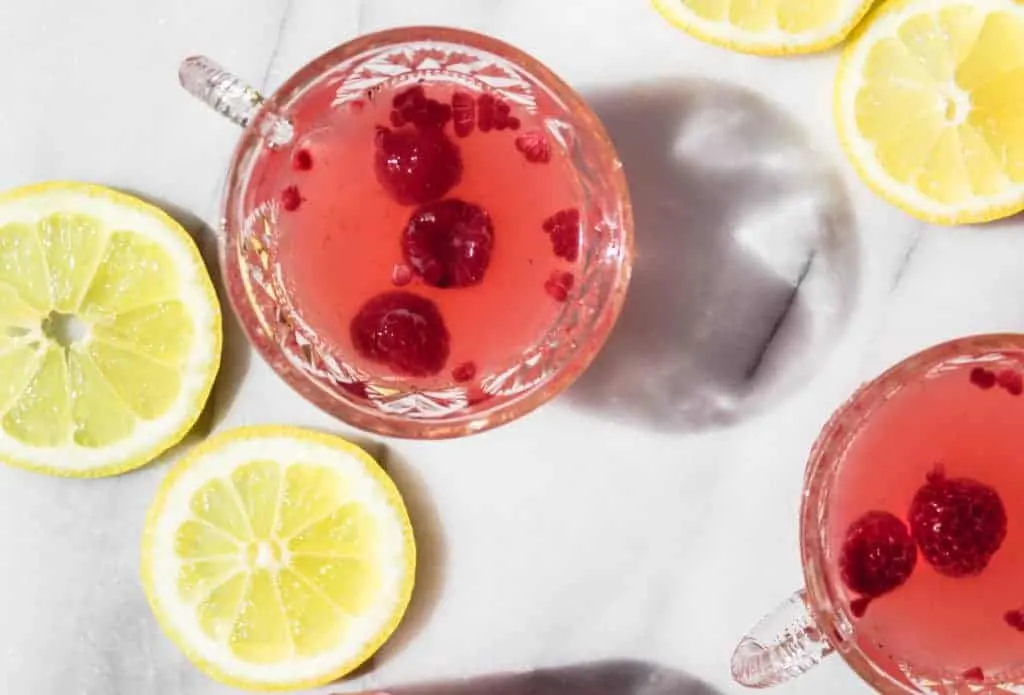 So could we maybe press pause on the pumpkin flavored stuff until then?
Because one things for sure, nothing sounds less refreshing to me on a hot and sticky day than a pumpkin beer.
What does sound refreshing? A nice, cool glass of sparkling lemonade punch.
With champagne. Or vodka.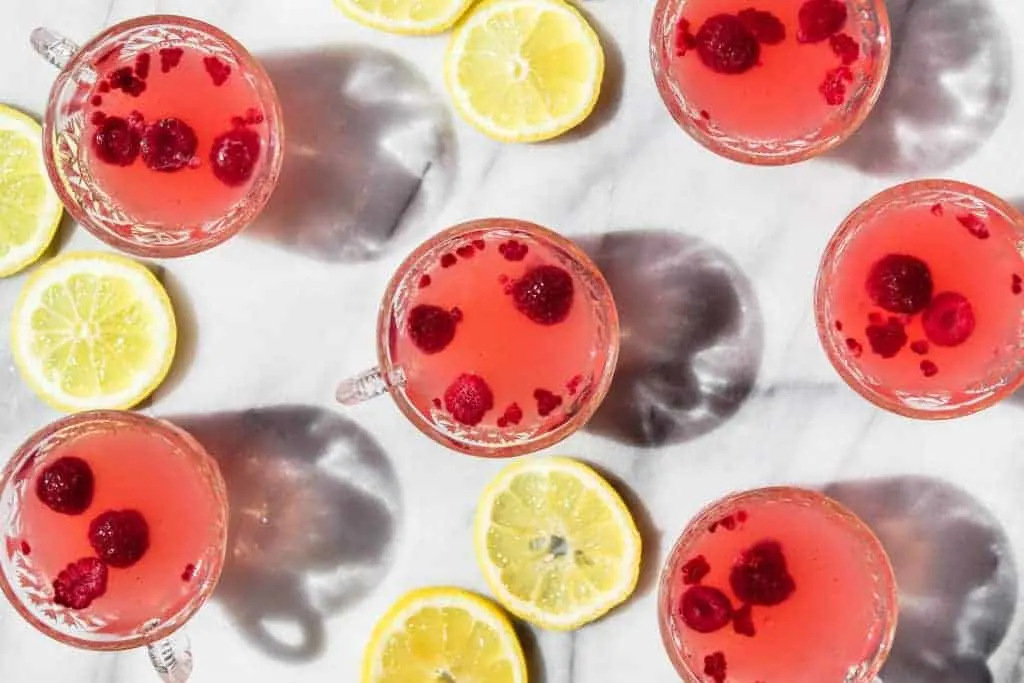 SPARKLING LEMONADE PUNCH IS PERFECT FOR A BRIDAL OR BABY SHOWER PUNCH
I made this sparkling raspberry lemonade punch a few weeks ago for a friend's baby shower. It was such a fun, relaxed afternoon of snacks, crafts, conversation and a themed photo booth.
Plus a really excellent reason to break out the serving ware and punch bowl that my mom and aunt gifted us for our wedding.
Because if you can't use fancy punch glasses at a baby shower when can you?
On top of this recipe being so easy (how many times can I talk about a recipe being so damn easy in one blog post), this is the perfect recipe for all of your bridal shower punch or baby shower punch needs for a few reasons.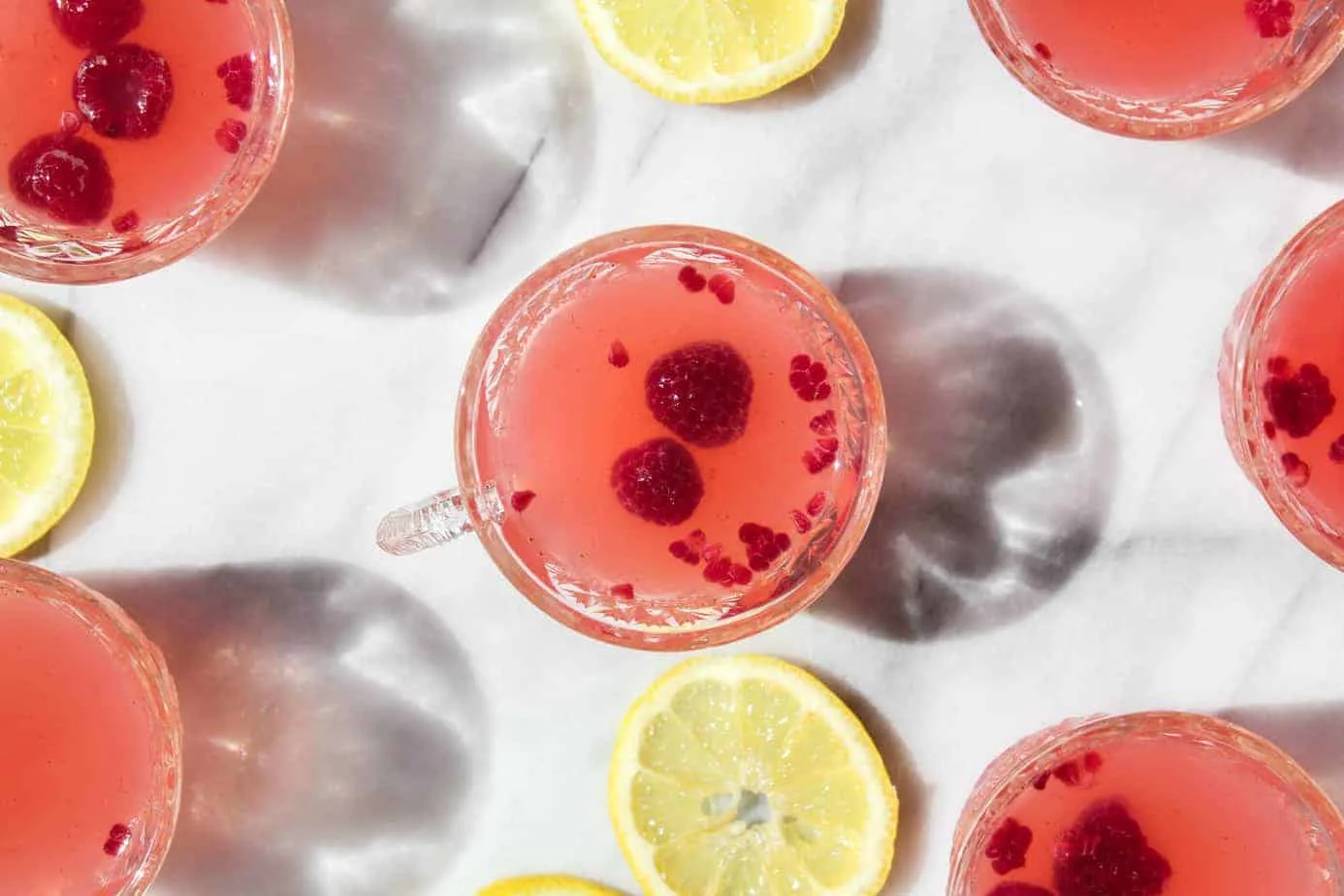 First, it's a sparkling punch recipe that is non-alcoholic. Non-alcoholic drinks are key for baby showers because spoiler: the person you're traditionally celebrating can't drink.
By making a big batch of this, you can cater to the mama-to-be who isn't drinking booze, and still serve a fun, elevated beverage without sacrificing flavor. And, if you want to give guests the option to make their punch boozy, it's really easy to let them serve themselves a cup of this alcohol free mocktail and then allow them to add their own champagne, prosecco or even vodka.
Second, this is the perfect batch cocktail for a crowd (to read more about the art of batching cocktails and drinks, check out my sparkling peach sangria recipe!) Punch bowls were totally designed for big batch beverages and to allow guests to serve themselves, so you as the host can mingle and have fun and not be worrying about pouring drinks all party long.
Third, the color just screams baby shower to me. Especially if your guest of honor is having a baby girl! (Pink is so on theme right?)
And even if a baby girl isn't being celebrated, I just love the raspberry lemonade combination for spring and summer celebrations and the color is so bright and festive, no matter the occasion.
How to make this easy non-alcoholic punch recipe
Inspired by the queen of hostessing herself (Martha Stewart, duh), my sparkling raspberry lemonade punch is a mocktail made with just three ingredients: ginger beer, lemonade, and frozen raspberries.
Four, if you make the mocktail into a cocktail. (I recommend champagne or prosecco to go with the sparkling essence of a sparkling raspberry lemonade punch, and if you're not into that, vodka).
In a large punch bowl or pitcher (I love using a glass punch bowl or pitcher to showcase the punch's pretty pink color), mix the ginger beer and lemonade.
You can do this step ahead of time (even a few days ahead of time) and store it in the refrigerator (but since it's so easy to make, I just store the lemonade and ginger beer in their original containers in the fridge and pour them into my punch bowl just before the party.)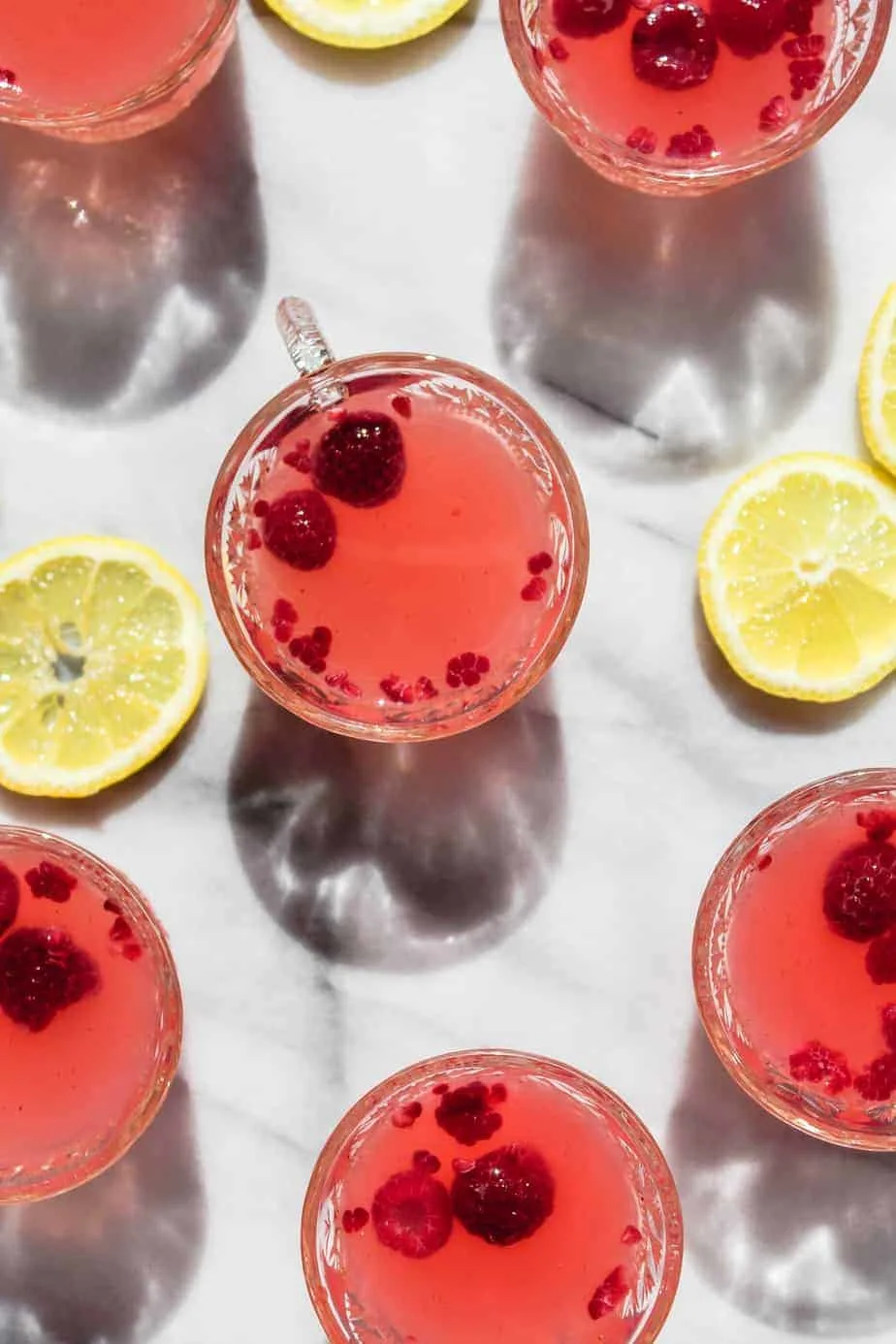 And then just before serving, take the frozen raspberries from the freezer and add them to the punch.
As the punch sits out, the raspberries will defrost and turn the sparkling lemonade a pinkish hue. You may need to add ice if the punch will be out for a few hours and starts coming to room temperature, but the frozen raspberries will keep the punch cool to start. (Make sure you're using frozen raspberries not fresh ones…otherwise you'll definitely need ice!)
And that's it! If you're going to make this non-alcoholic punch recipe boozy, you can add champagne, prosecco or liquor directly to the punch bowl (I would cut some of the ginger beer so there's not too much liquid.) Or, you can keep the recipe as is and serve with alcohol on the side so guests and mix their own cocktails.
PIN SPARKLING RASPBERRY LEMONADE PUNCH TO SAVE IT FOR LATER!