Sparkling raspberry lemonade punch will be the star of your next celebration! Easily made with or without alcohol, sparkling raspberry lemonade punch is perfect for a party, bridal or baby showers, afternoon tea, or a great way to cool down on a hot summer afternoon.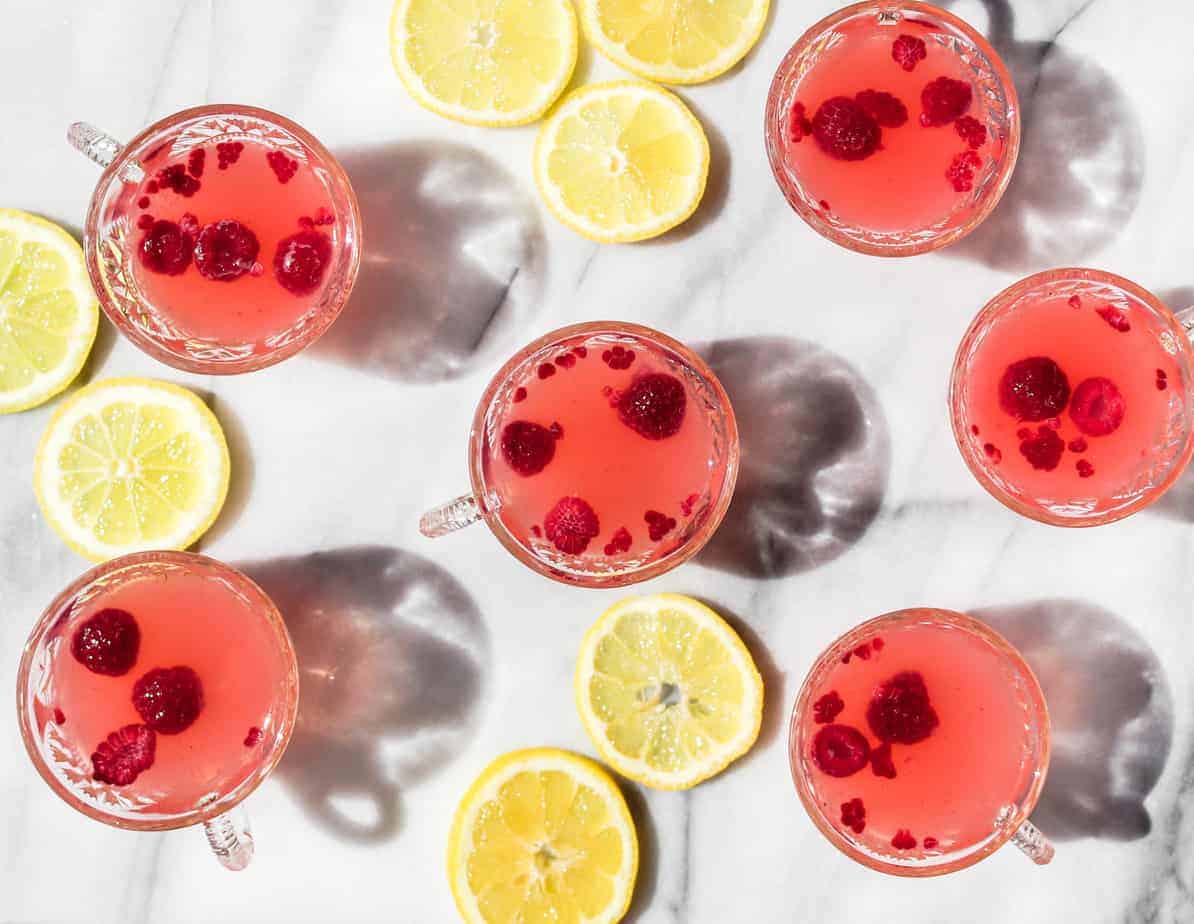 Guys, I have an announcement to make.
It's still summer.
This is coming from a girl who is basically as basic as they come; which means I totally dig all things fall. Pumpkin beer, pumpkin spice lattes, pumpkin flavored anything please, please give it to me always.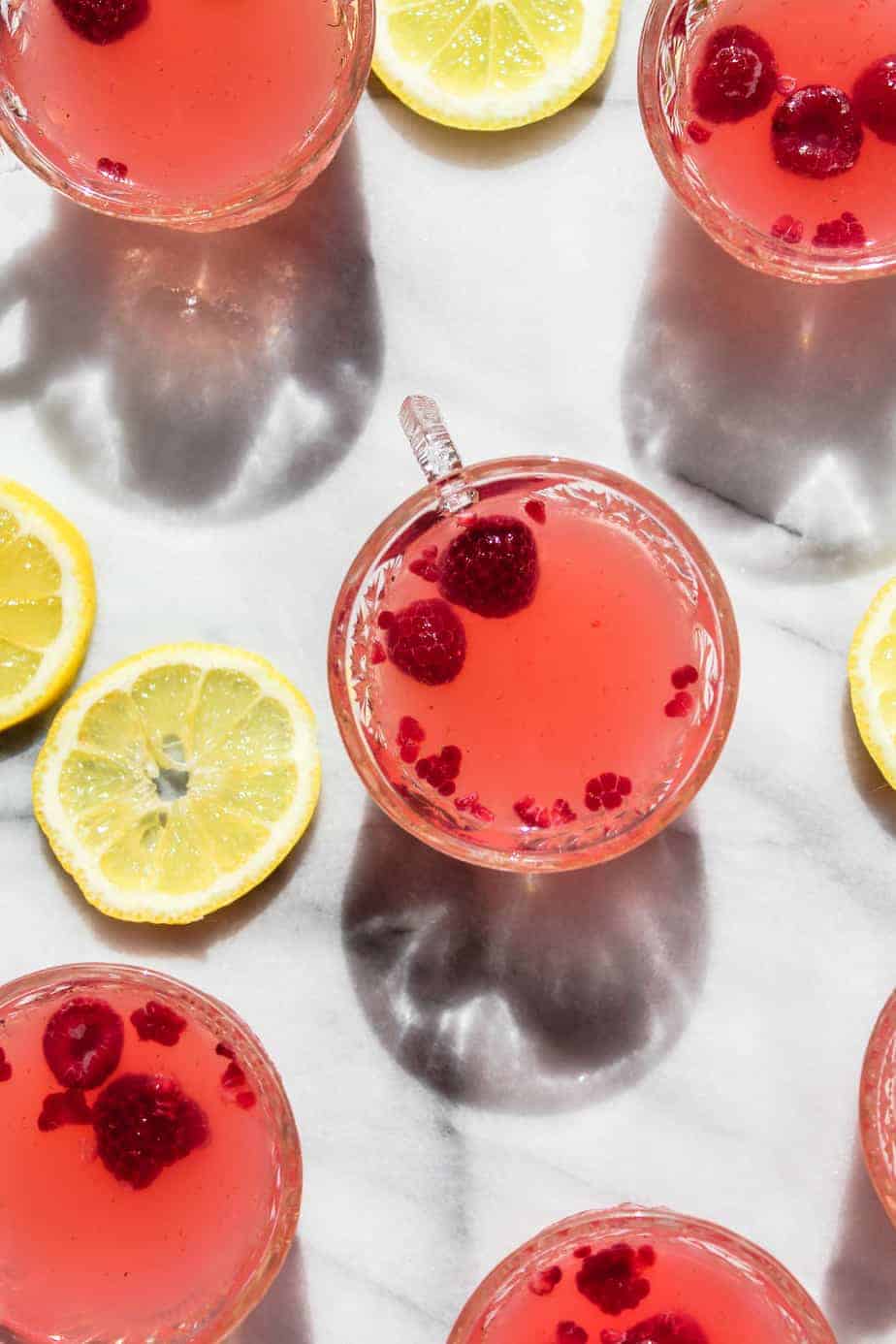 But I do not dig fall when it is 92 degrees outside.
And spoiler alert: it's going to be hot and humid in Charlotte for at least another month (but if we are going to be honest with ourselves…longer).
Everything pumpkin is being released this weekend (I'm looking at you every Charlotte brewery ever) and I'm just over here soaking up summer just a little bit longer.
After all, summer isn't officially over until mid-September.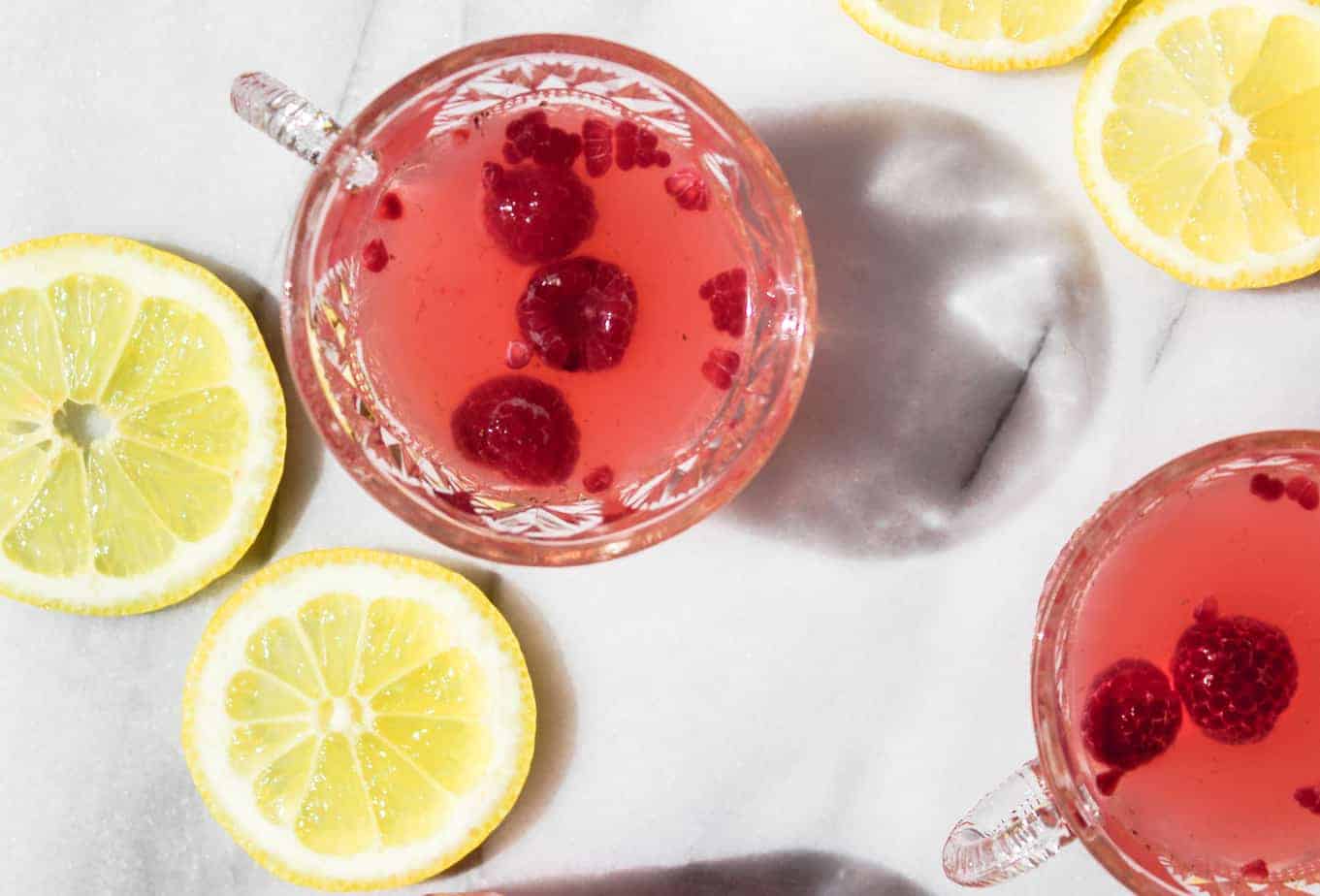 So could we maybe press pause on the pumpkin flavored stuff until then?
Because one things for sure, nothing sounds less refreshing to me on a hot and sticky day than a pumpkin beer.
What does sound refreshing? Sparkling raspberry lemonade punch.
With champagne. Or vodka.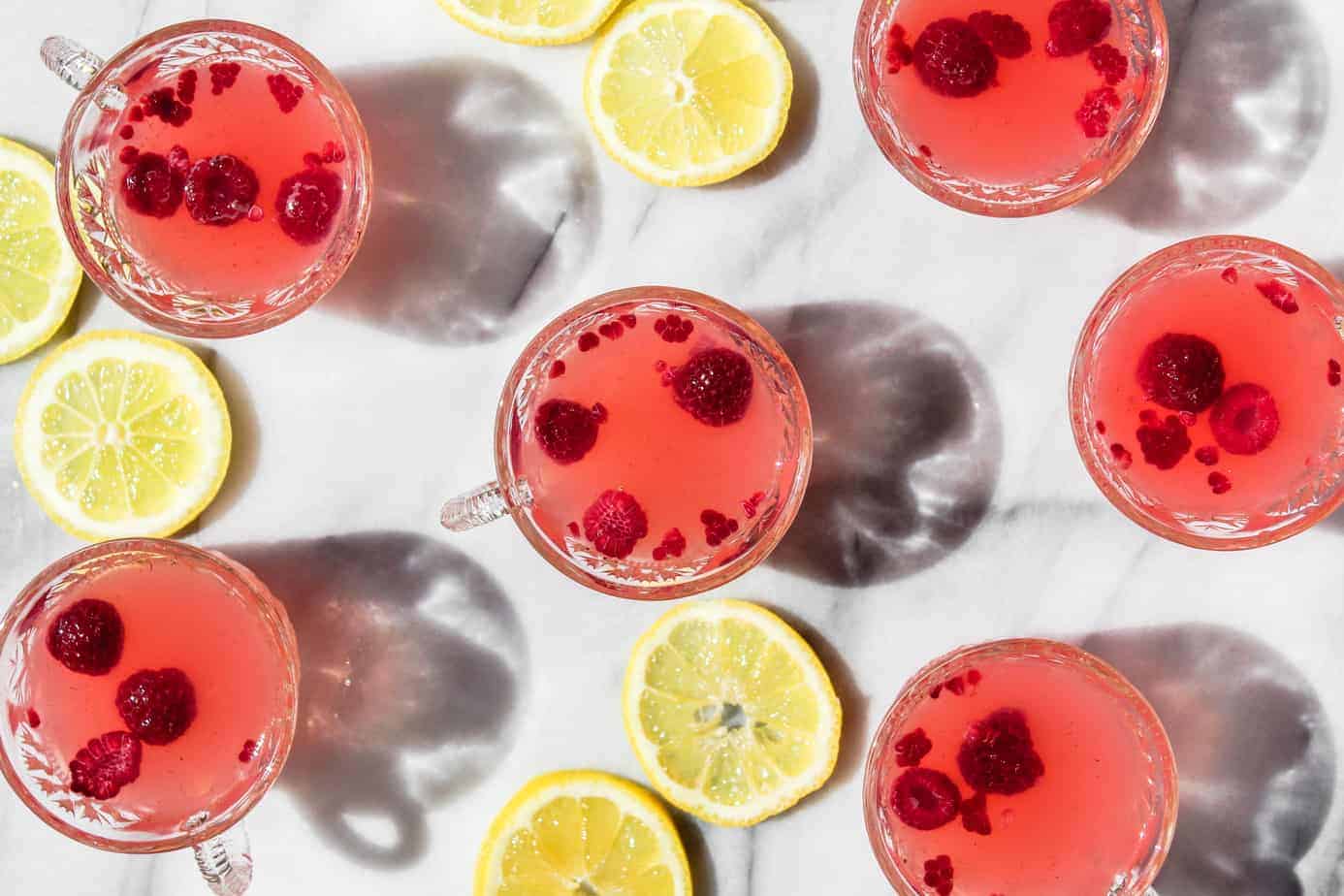 I made this sparkling raspberry lemonade punch a few weeks ago for a friend's baby shower. It was such a fun, relaxed afternoon of snacks, crafts, conversation and a themed photo booth.
Plus a really excellent reason to break out the serving ware and punch bowl that my mom and aunt gifted us for our wedding.
Because if you can't use fancy punch glasses at a baby shower when can you? (My friend thinks that for our next Super Bowl party, we need to break out the punch cups).
And I feel like I've said this so many times in posts recently: this sparkling raspberry lemonade punch is so easy. Easy is definitely the name of my recipe game this summer.
Inspired by the queen of hostessing herself (Martha Stewart, duh), my sparkling raspberry lemonade is a mocktail made with just three ingredients.
Four, if you make the mocktail into a cocktail. (I recommend champagne or prosecco to go with the sparkling essence of a sparkling raspberry lemonade punch, and if you're not into that, vodka).
Usually around this time, I'm really itching for fall. I'm ready for the temperatures to drop, I'm ready to break out my boots and sweaters, and I'm ready to pour myself something pumpkin flavored to sip on.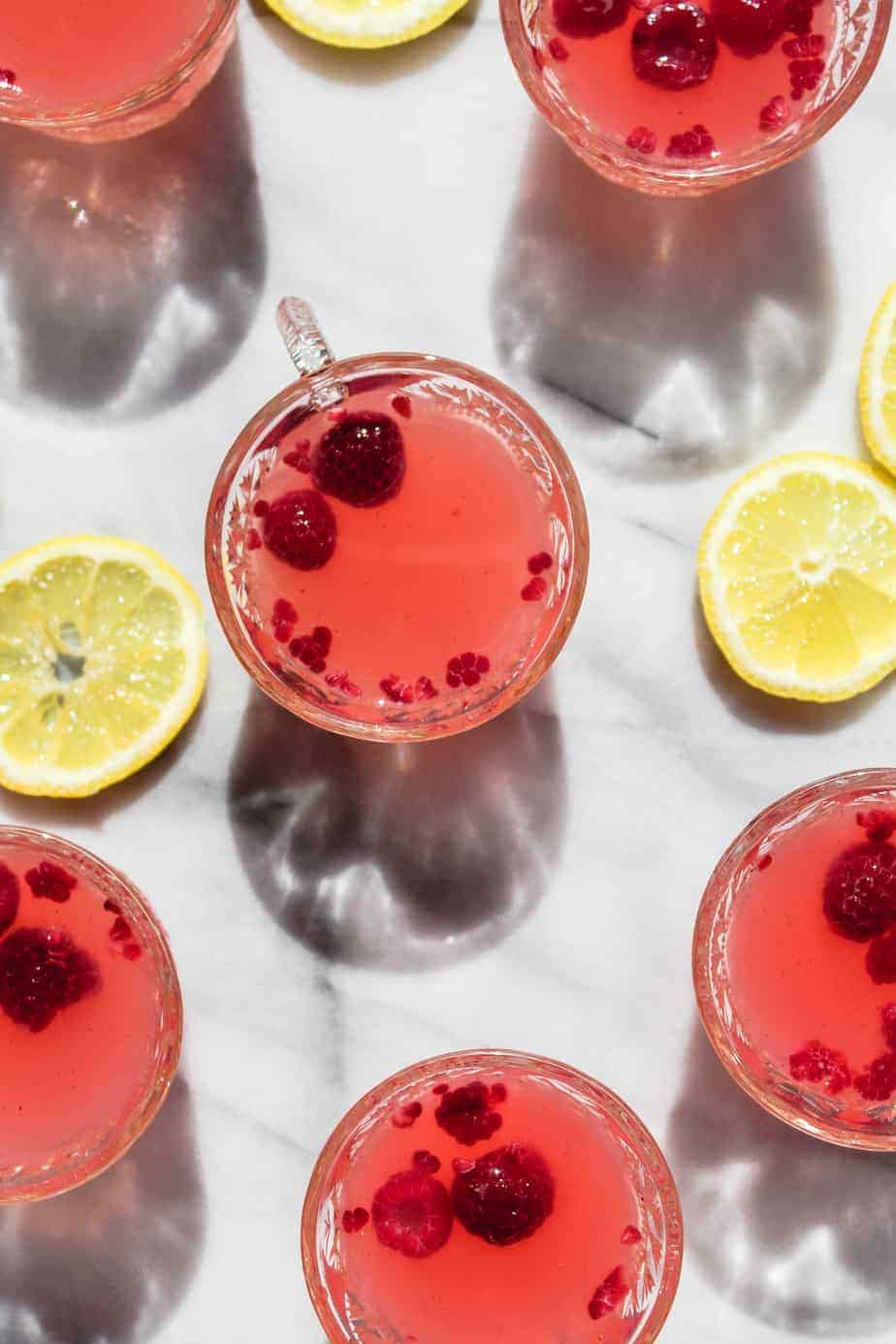 But honestly, I am not opting for pumpkin yet because I'm not quite ready for summer to be over.
And while I could really do without the humidity, I'm not ready for summer to be over. Maybe it's because Summer 2018 was something special?
I kicked off the summer with some solo time at the beach with my parents. It was then wheels up to Michigan to celebrate my sister in law.
We then jumped over the pond and spent eleven wonderful days in Iceland. (Truly I've been avoiding writing the posts about our Iceland trip because I know looking at the photos will make me wistful and itching to go back).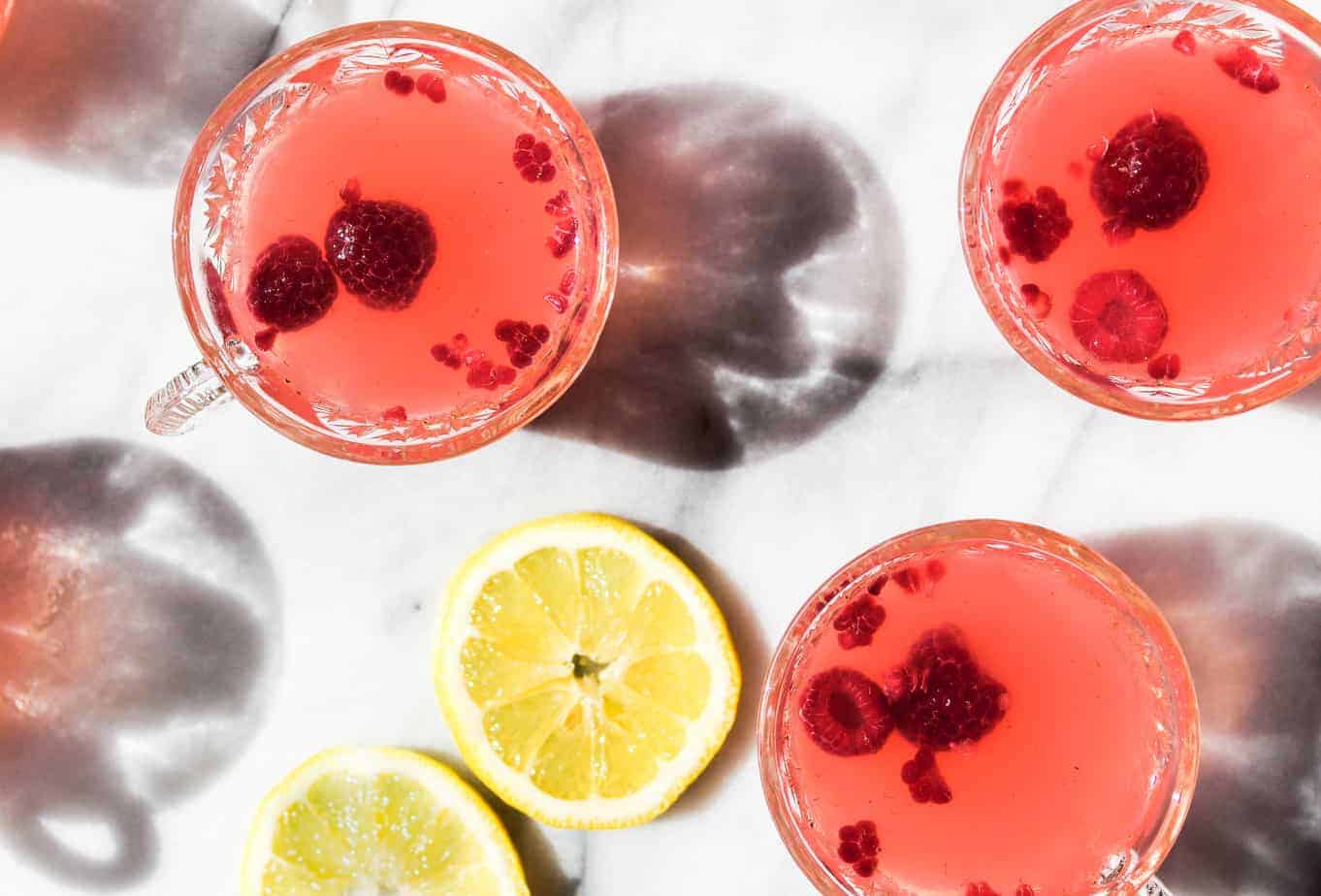 We laid low most of July, but got two back to back weekend visits from old, out of town friends and got to show off our city to them.
Two sets of dear friends welcomed healthy, beautiful baby girls into their families.
I have another dear friend due any day now, and we are headed to Raleigh today to celebrate with friends expecting a daughter in September.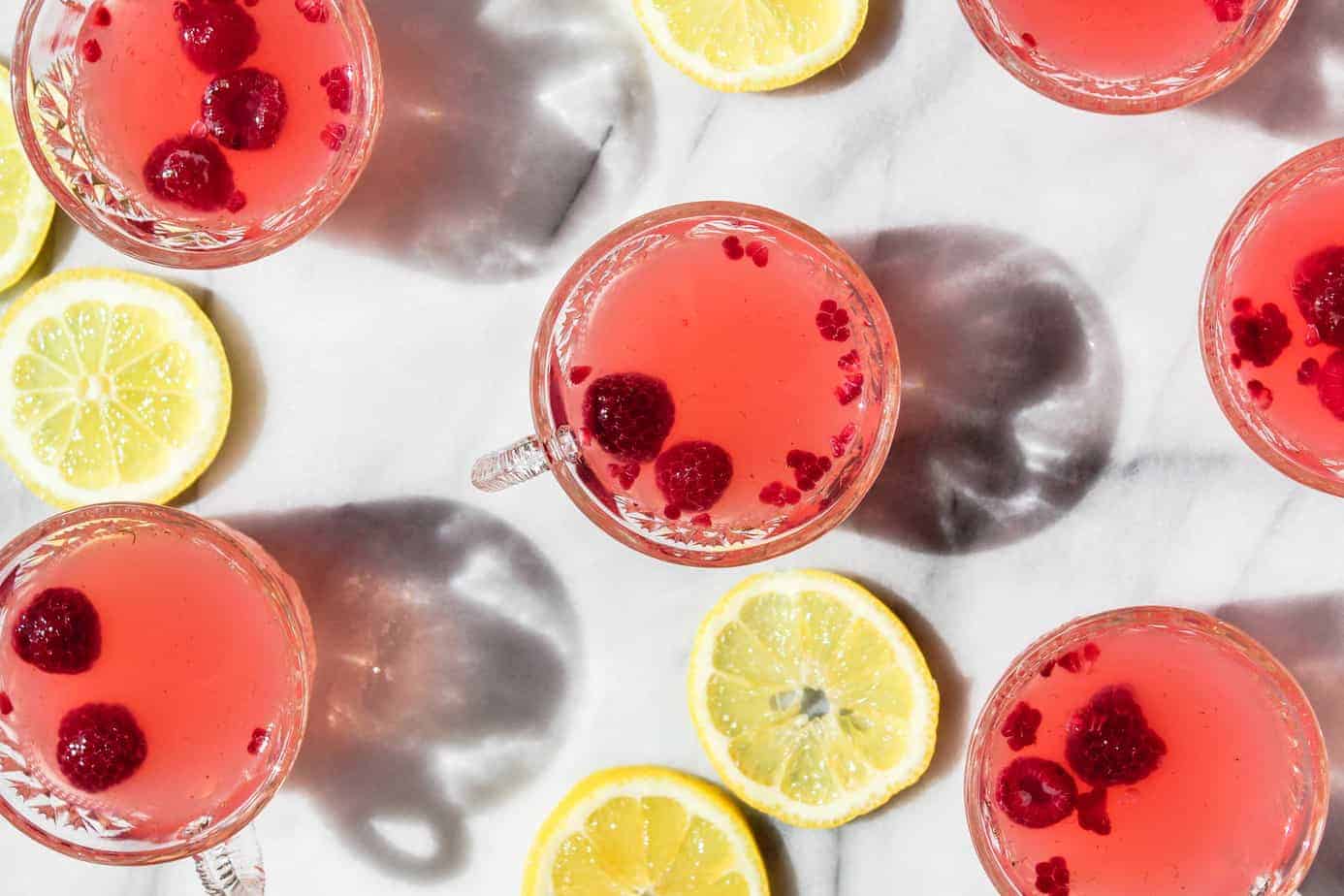 And in a week and a half, we're capping off our summer celebrating at my sister-in-law's wedding and then spending a week camping with my best friend.
Maybe I will be ready for pumpkin beer then.
PIN SPARKLING RASPBERRY LEMONADE PUNCH TO SAVE IT FOR LATER!