One of my favorite things about being a local Charlotte blogger is supporting local Charlotte businesses. If you're looking to buy a foodie friend or loved one a local gift this holiday season, my Charlotte Holiday Gift Guide if full of local gifts and experiences in Charlotte, NC that would make perfect gifts for the foodie in your life.
LOOKING FOR OTHER CHARLOTTE HOLIDAY GIFT GUIDES?
Charlotte Holiday Gift Guide: Gifts for Your Beer Lover
2016 Holiday Gift Guide: Gifts for Foodies

No Charlotte holiday gift guide is complete from a food blogger without some local picks for your favorite foodie.
While a gift certificate to her favorite restaurant is a tried and true stocking stuffer, think outside the traditional restaurant gift card with these local picks for the food lover on your list.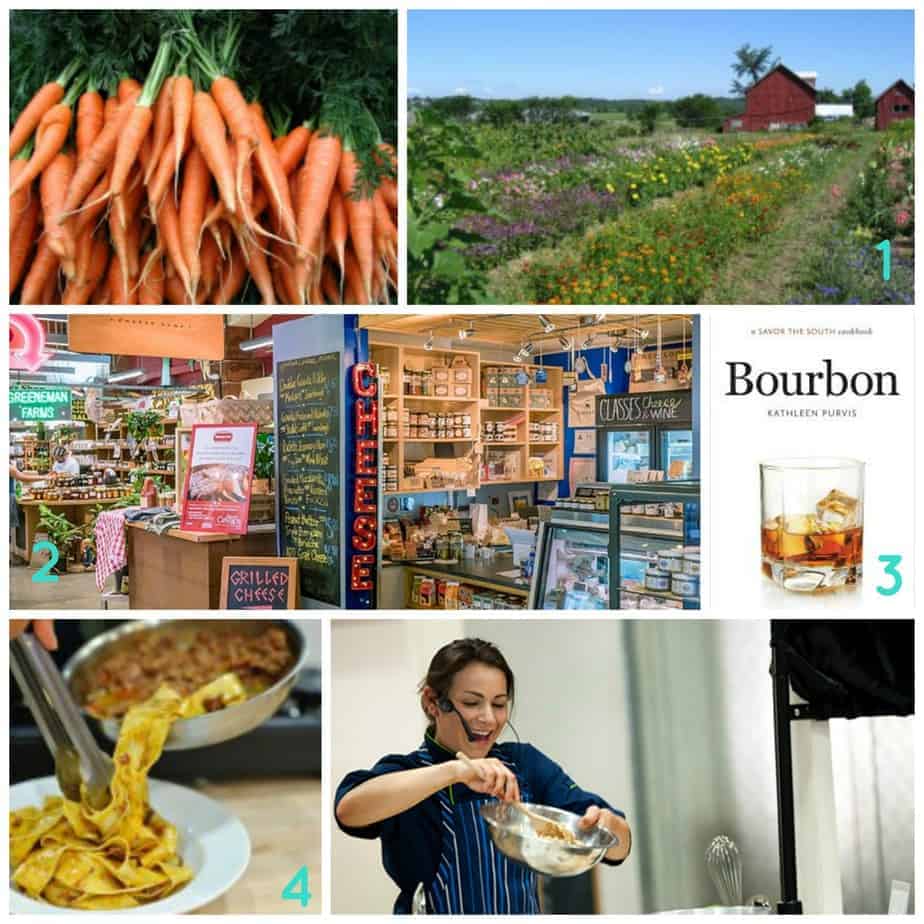 1. Gift fresh, seasonal foods with a CSA (Community Supported Agriculture) membership from one of Charlotte's local farmers. seasonal produce, meat, prices vary
2. Win the holidays and give the gift of local artisan cheese with a gift box from Orman's Cheese Shop or a cheese of the month club membership.
(seriously, Orman's has a cheese of the month club. Why am I not a member yet?) $25-$115 for gift boxes, $135 cheese of the month, orrmanscheeseshop.com
3. In her spirited cookbook, Bourbon, Charlotte Observer writer Kathleen Purvis "explores the history, mythology, and culinary star power of this quintessential southern liquor."
The book features 54 recipes, including classic and modern coktails, appetizers, entrees, side dishes and desserts. $14.23, amazon.com
4. Chef Alyssa's Kitchen's cooking classes span all worldly cuisines and skill levels.
With a stellar BYOB policy and sitting down to dinner after a class, Chef Alyssa's Kitchen is perfect for date nights or girls night out.
If you want your foodie to pick her own class, a gift certificate is just the ticket. $60 per person, chefalyssaskitchen.com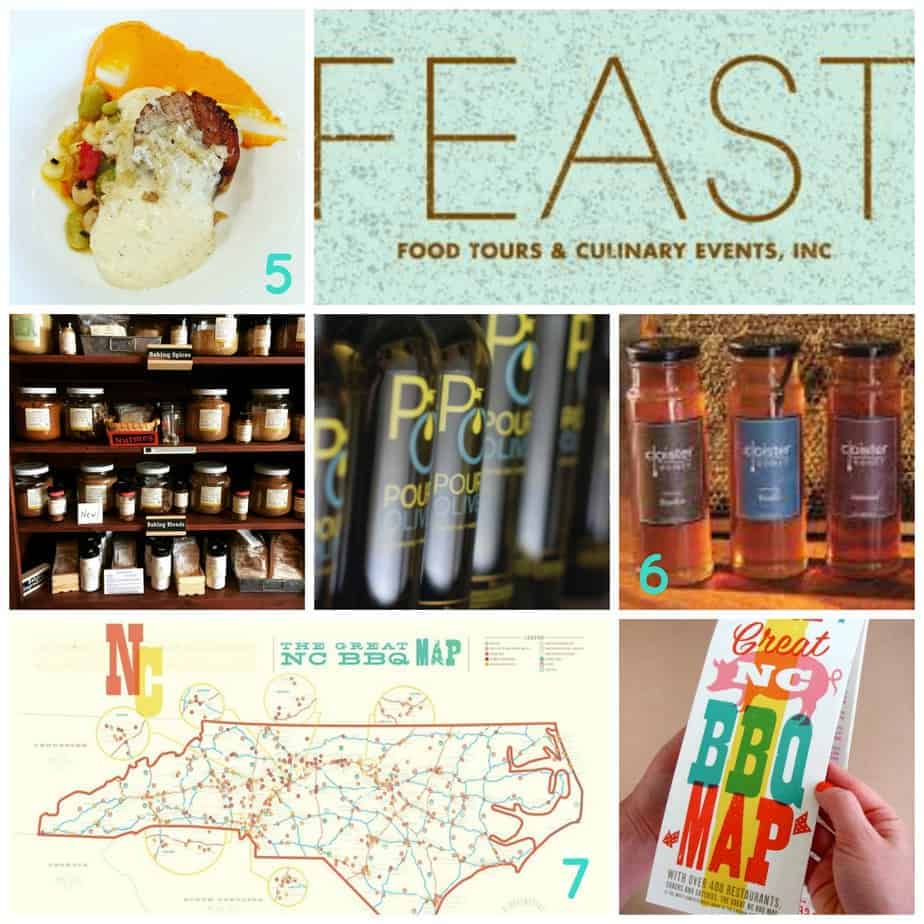 5. Take your foodie on a tour of Charlotte's neighborhoods with Feast Food Tours, where they can sample and sip along the way while getting a behind the scenes look at some of Charlotte's most popular restaurants. $55-80, feastfoodtours.com
6. Any foodie's cupboard should be stocked with the finest local ingredients.
Your foodie will savor one of Cloister Honey's infused, liquid or whipped honeys, indulge in Pour Olive's artisanal oils and vinegars, and delight in daily ground, small batch savory herbs, spices and seasonings from Savory Spice Shop.
7. Send your foodie on a road trip with The Great NC BBQ Map.
With over 400 spots across North Carolina, The Great NC BBQ map is the most comprehensive guide to North Carolina barbecue; any foodie will want this map handy when they hit the road to explore Charlotte and beyond. $9.99, ediamaps.com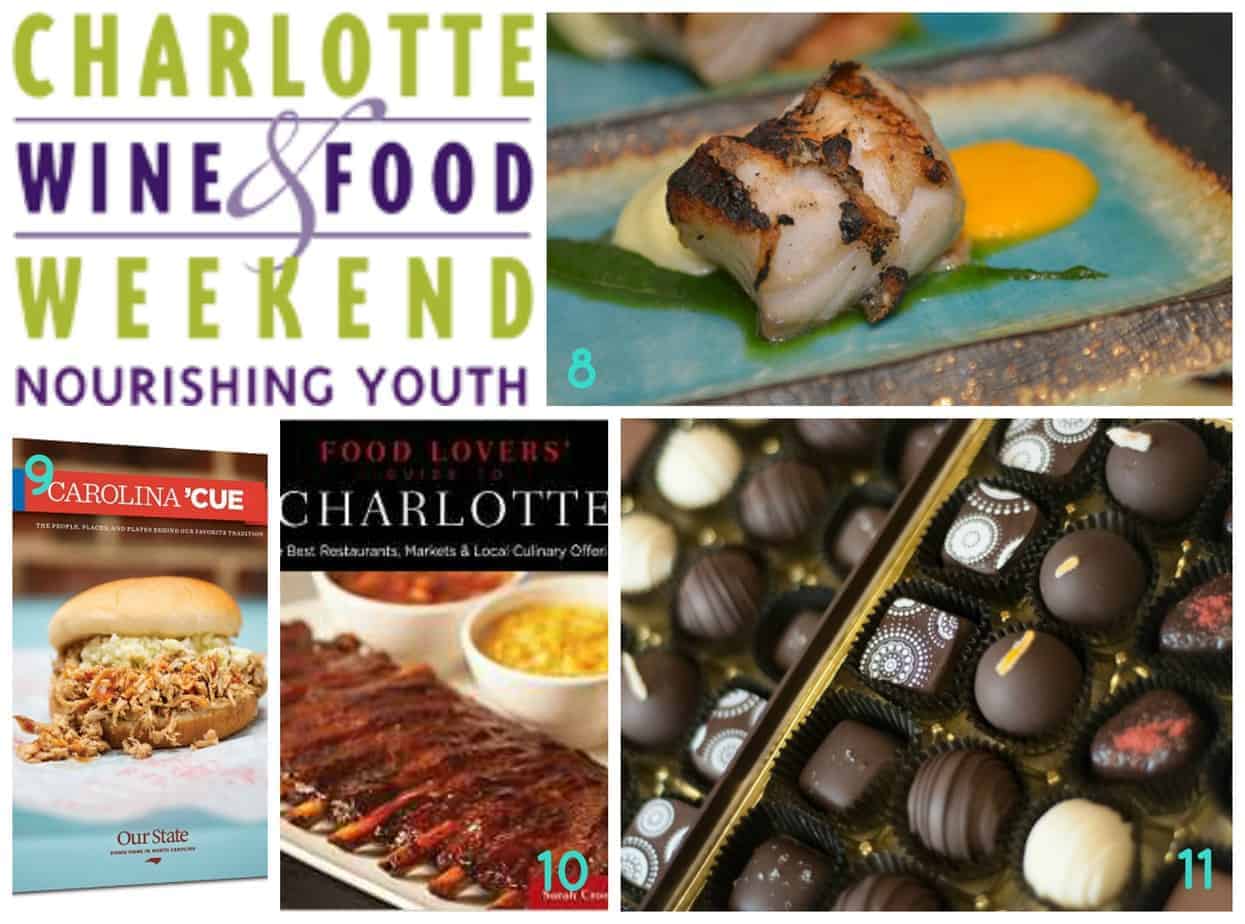 8. Your foodie will be able to indulge in only the best from the country's leading chefs and winemakers with tickets to Charlotte Wine and Food Weekend. charlottewineandfood.org
9. A must read for any barbecue lover, Carolina 'Cue features twenty-seven stories about the people, places, and plates behind our favorite North Carolina tradition. $10, ourstatestore.com
10. From modern spins on Southern cuisine to piping hot bowls of pho at Vietnamese restaurants, Sarah Crosland covers all of Charlotte's must hit culinary spots in Food Lovers' Guide to Charlotte. $14.81, amazon.com
11. Sweeten her holiday with a chocolate collection gift box from The Secret Chocolatier.
Or, give the sweet gift that keeps on giving, a Chocolate of the Month Club Membership. membership starting at $127, thesecretchocolatier.com
PIN THIS CHARLOTTE HOLIDAY GIFT GUIDE FOR FOODIE'S TO SAVE IT FOR LATER!