This shop has been compensated by Collective Bias, Inc. and its advertiser. All opinions are mine alone. #BeyondTheSandwich #CollectiveBias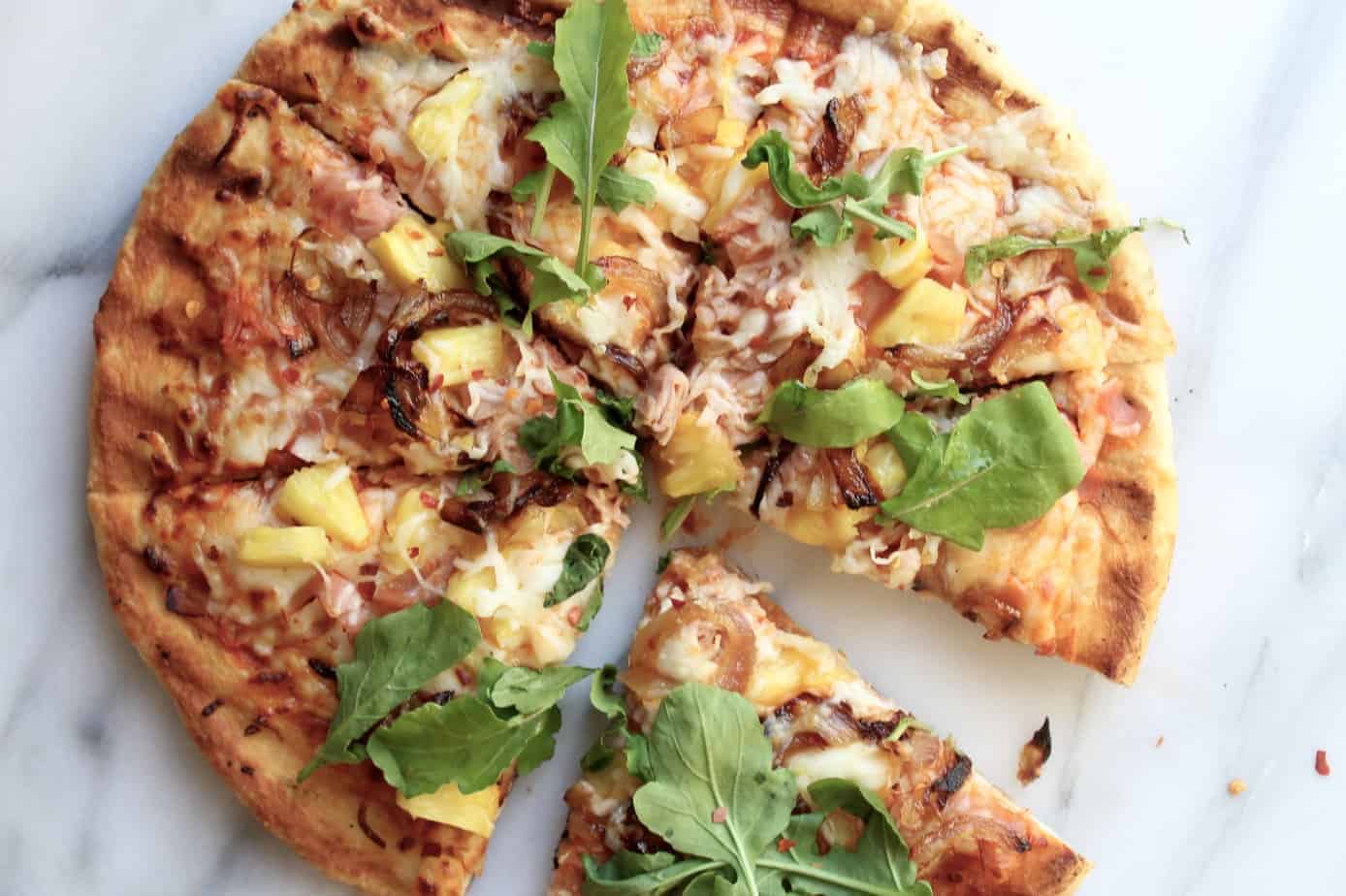 Nothing says spring like cooking outside. This fancy Hawaiian grilled pizza has bright, bold flavors and a crispy crust, making it a recipe on repeat in our house.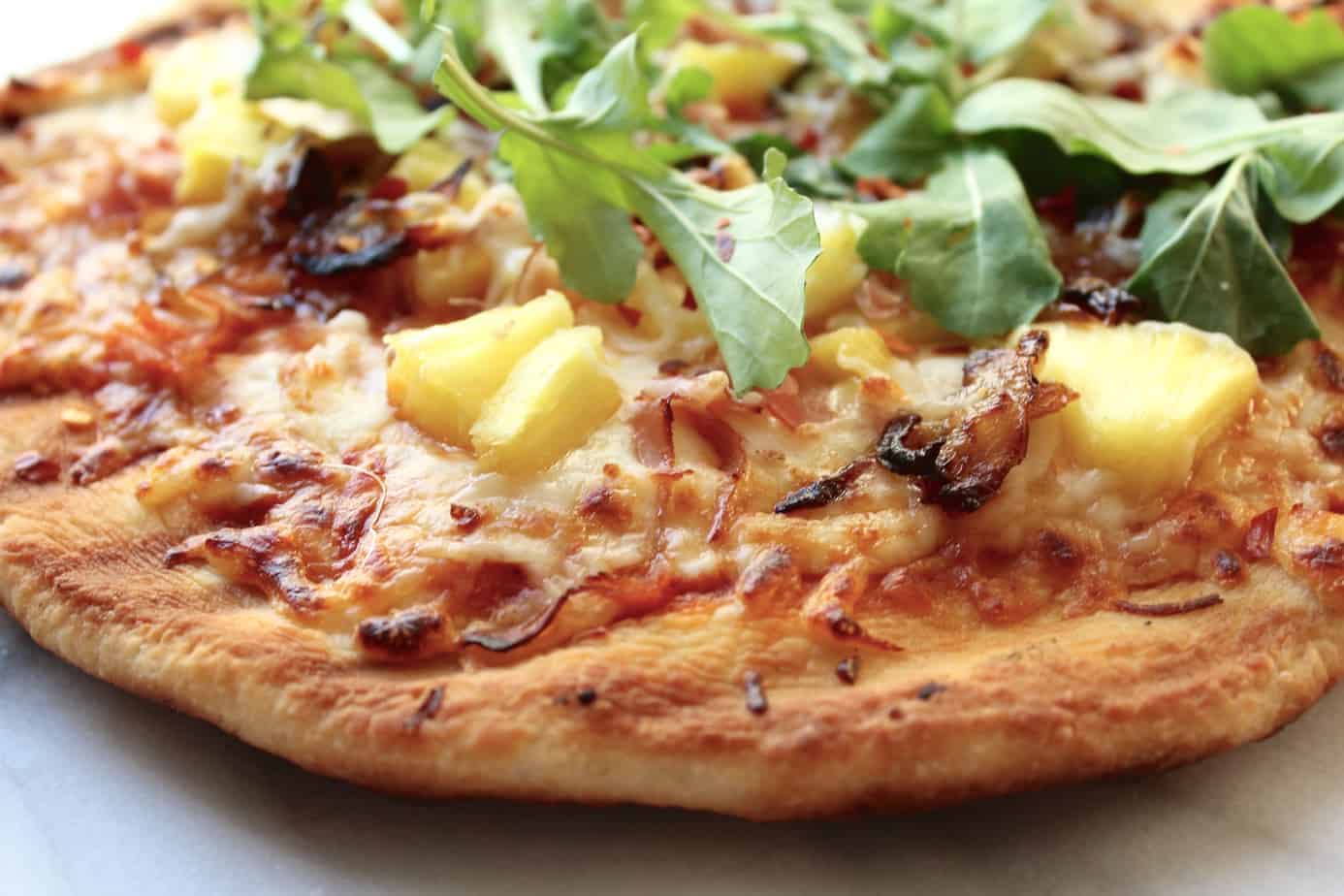 Happy Spring! After an unexpected, quick cold snap right after the seasons changed, the weather in Charlotte totally embraced Spring and there's no looking back. We're talking sunny and seventy five degrees, all day, everyday; perfect for driving with the windows down and the sunroof open, lazy days reading by the pool, visits to our favorite patios, trips to the Whitewater Center, and dinners al freso as the sun sinks behind the horizon. All of this warm weather and time outdoors has made us want to fire up the grill. (in fact, we grilled for dinner three times last week!)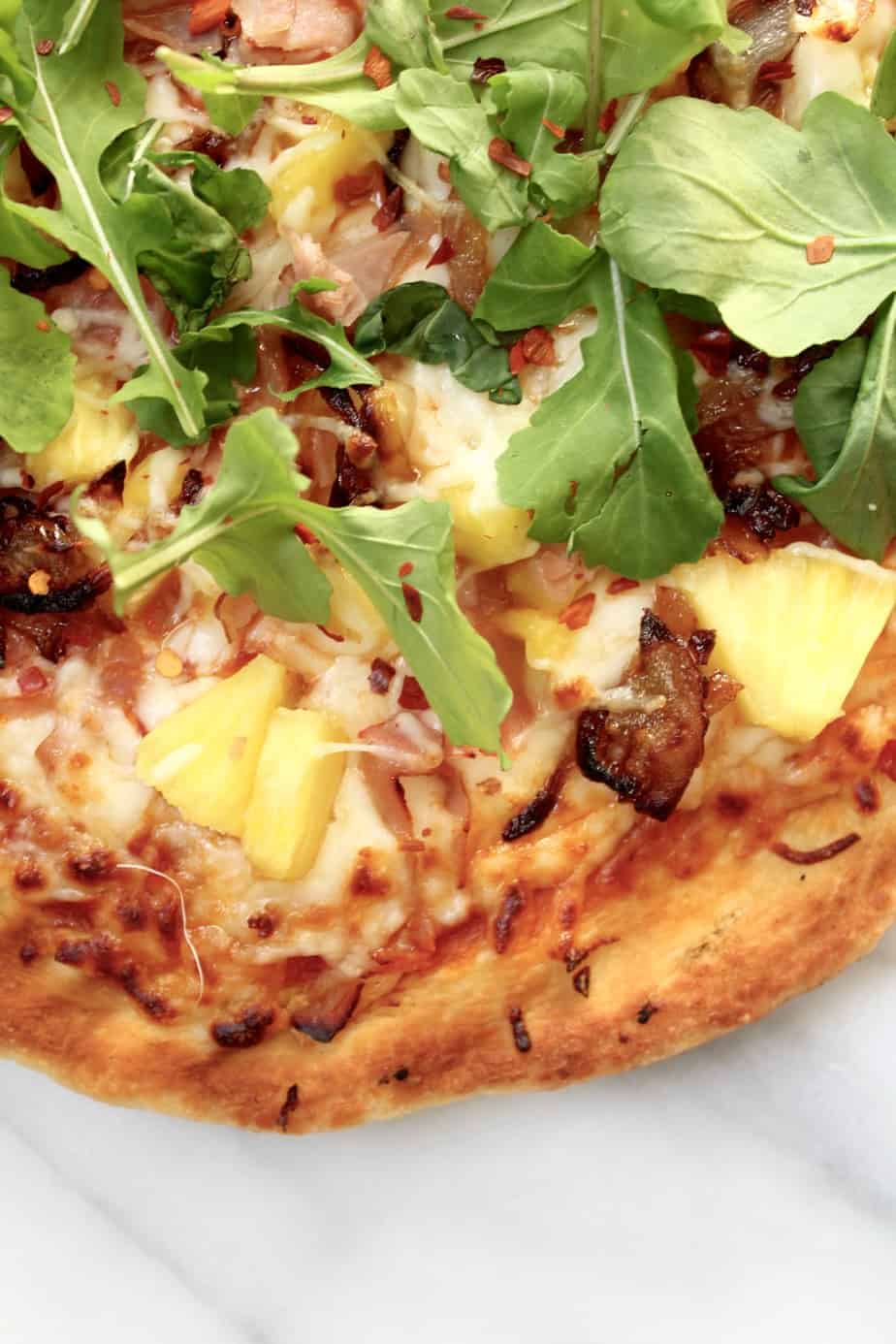 Our menu featured grilling usual: salmon, brats, and steak (I will have to share the best grilled steak recipe with you soon…AJ is a grilled steak pro!), alongside a bunch of grilled veggies we got at the farmers market last weekend. By the time Sunday hit, the weather was begging us to spend the late afternoon on our deck and to fire up the grill, but to be honest, we were a little sick of slapping on the same old meat and veggies (ok, another honest answer, maybe I was just sick of our meat and veggie diet. AJ could probably subsist on a strict diet of grilled meats). And then it came to us (maybe like a sign from God, or a little bit of Googling). We would grill pizza!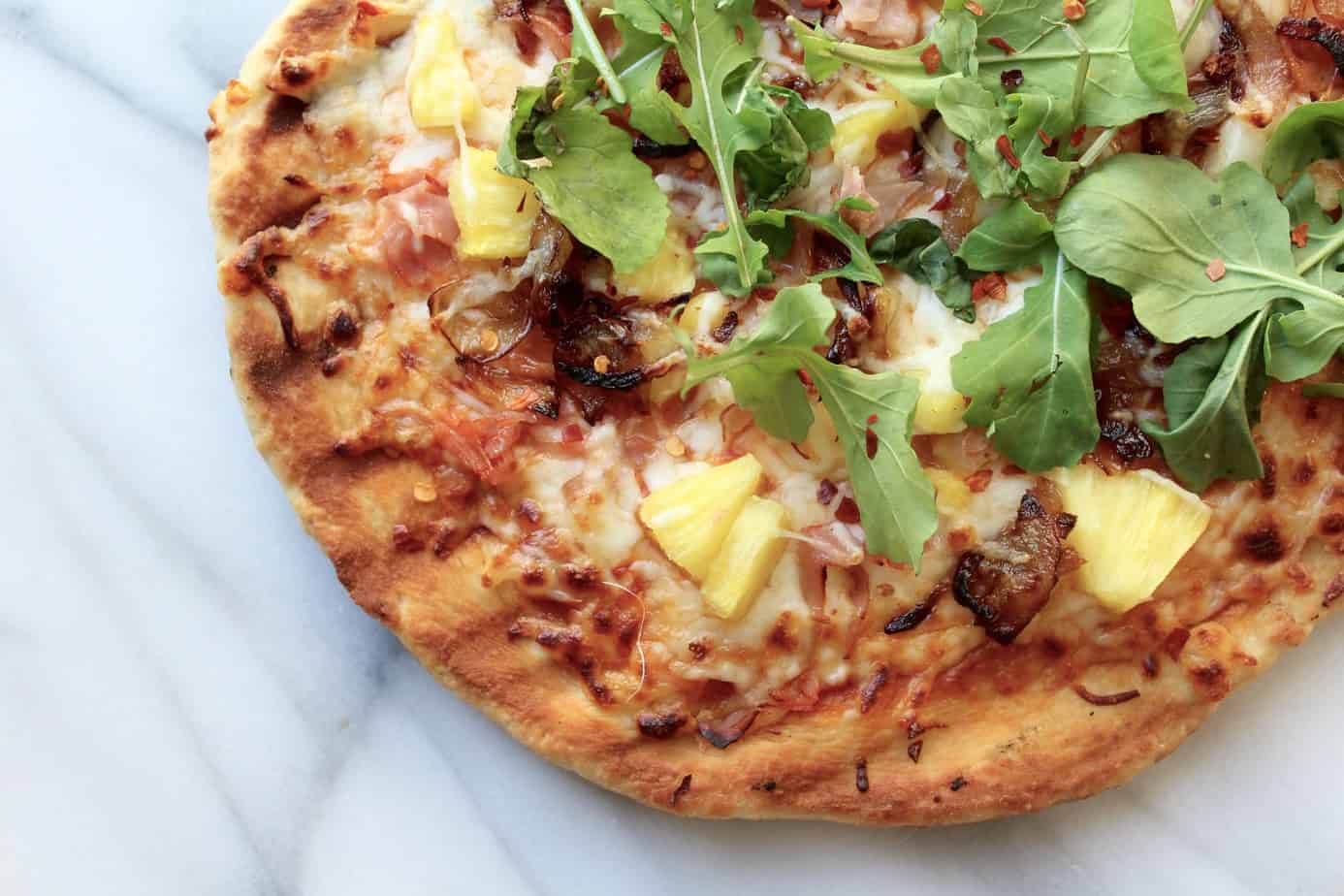 I love, love, love, pizza (so much so that I've done extensive research and have ranked the best pizza in Charlotte). I love grilled pizza because it delivers a crispy crust that you can't really get in a home oven. Grilled pizza is quick; we're talking mere minutes a side, and easy once you get the hang of it. Grilling pizza is fun; we like to do it together, two people (or more!) makes the process a whole lot easier. Plus, cooking together is one of my favorite ways to spend weekend evenings (grilled pizza would also be fun for a group and would make for a great get together with friends). Grilled pizza is versatile; you can use ingredients you already have on hand. No need to run to the store for that ONE ingredient, because after all, pizza is the perfect vehicle for creative flavor combinations. And grilled pizza showcases my husband's (now not so) secret pizza tossing skills; fun fact, AJ worked as a pizza delivery driver in high school and college.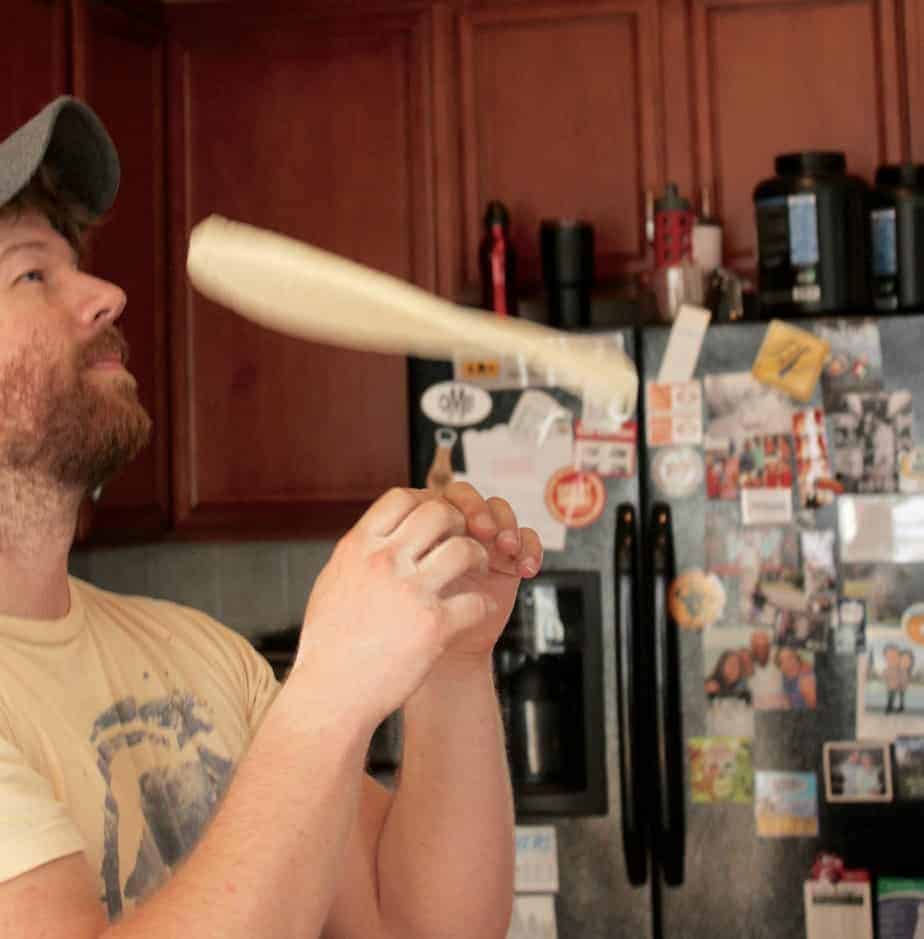 For this particular pie, we decided to make a spin on the classic Hawaiian pizza with ham and pineapple, but elevate it with a few bells and whistles. During my weekend grocery shopping, I picked up some Castle Wood Reserve® Smoked Virginia Ham at Walmart, which was the inspiration behind our fancy Hawaiian grilled pizza.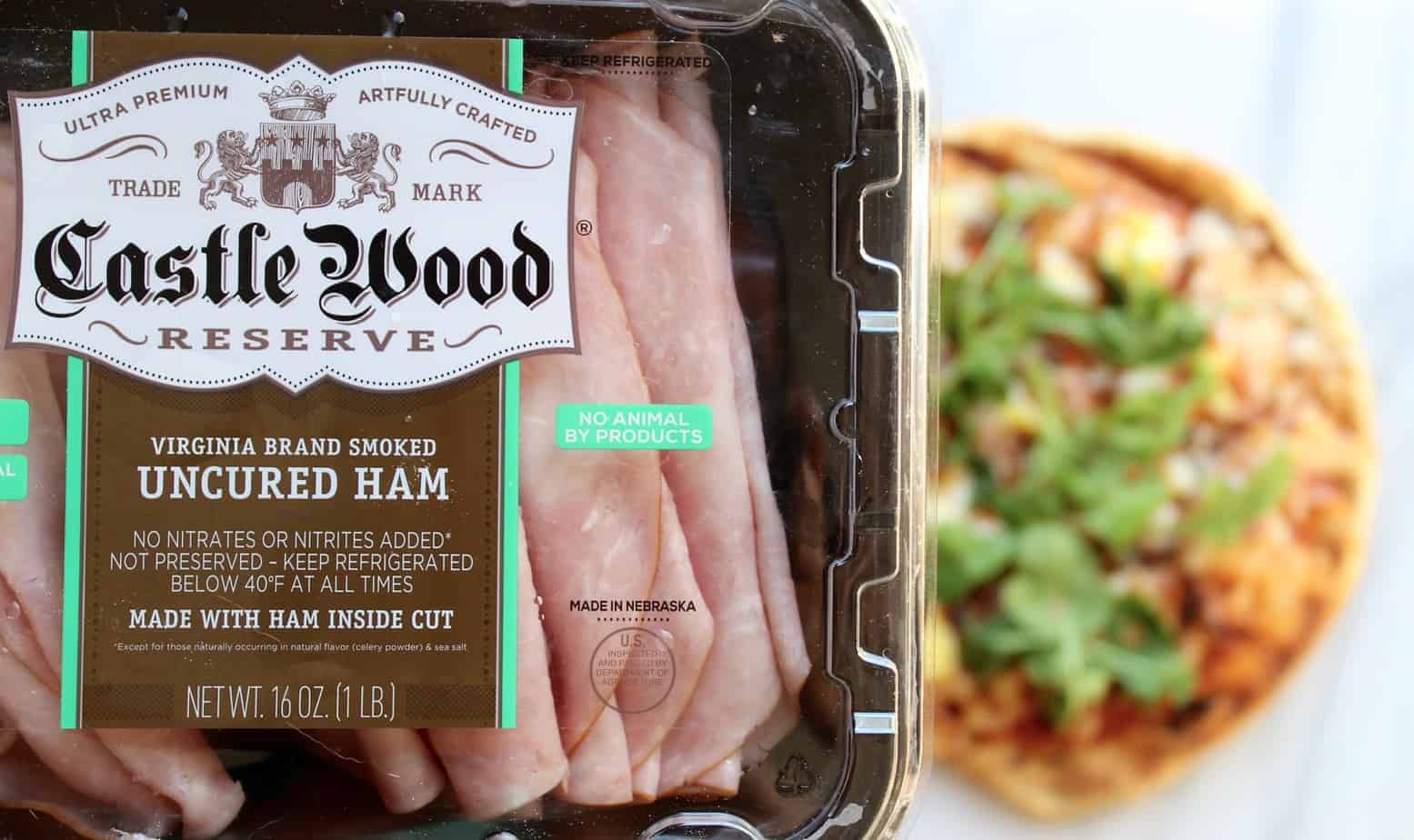 While some people may detest pineapple on pizza, ham and pineapple pizza is one of my favorite flavor combinations. When I spotted the Castle Wood Reserve® Smoked Virginia Ham next to the deli case, it totally screamed Hawaiian pizza to me (but I do think it would be perfect for easy lunches or as a little snack all on its own, too).
The key to grilled pizza is organization. Seriously. Because of the quick cook time, I like to have everything next to me before we fire up the grill. This includes my tools: a good pair of tongs, a spatula, a brush, and a pan for the finished product. This also means my ingredients and toppings: sauce, cheese, and extras all together on a baking sheet to bring outside with me for easy access.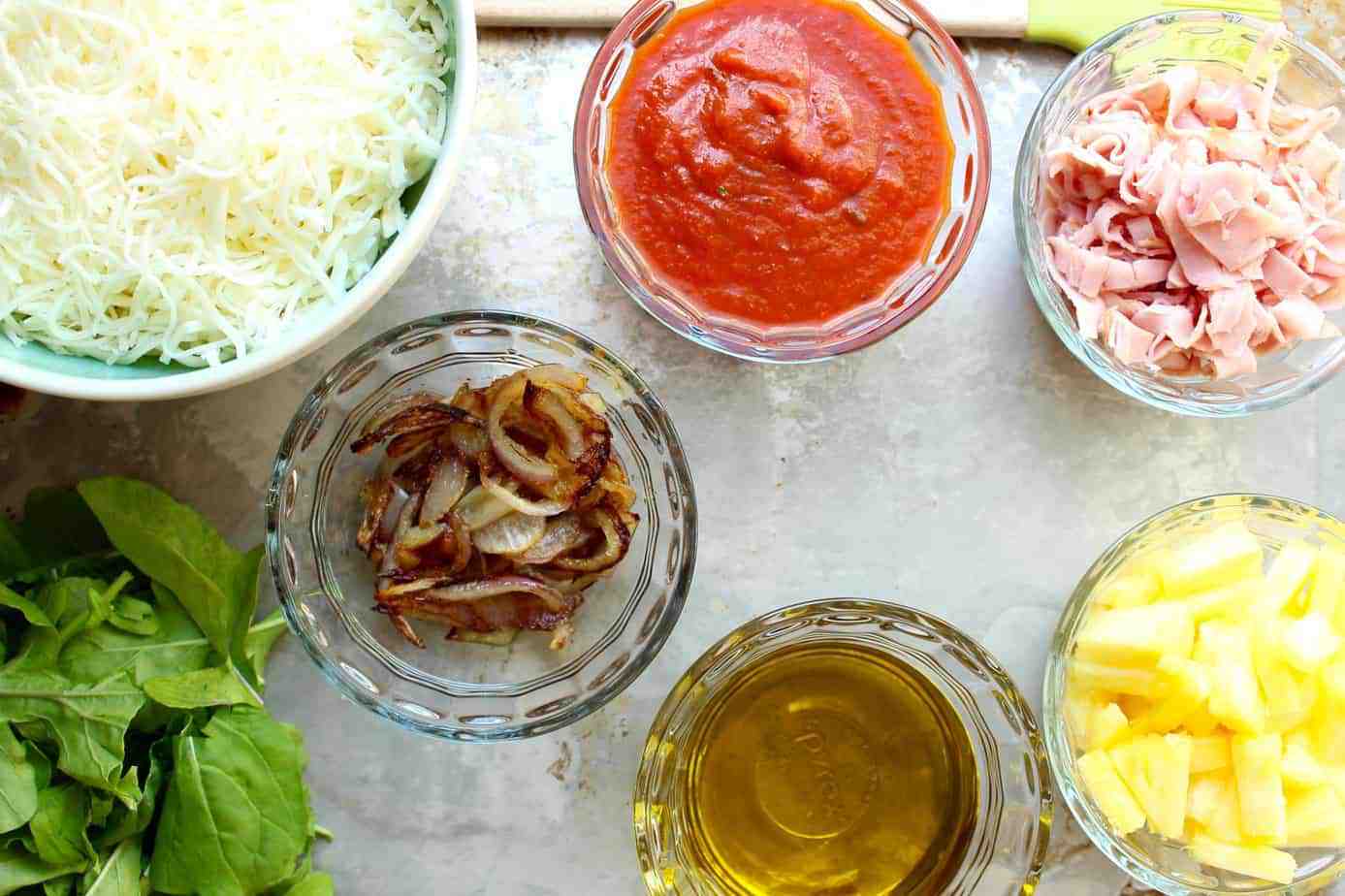 Flour your work space and then start by stretching or rolling out your dough. A store bought dough does the trick.(but a homemade one also is tasty!)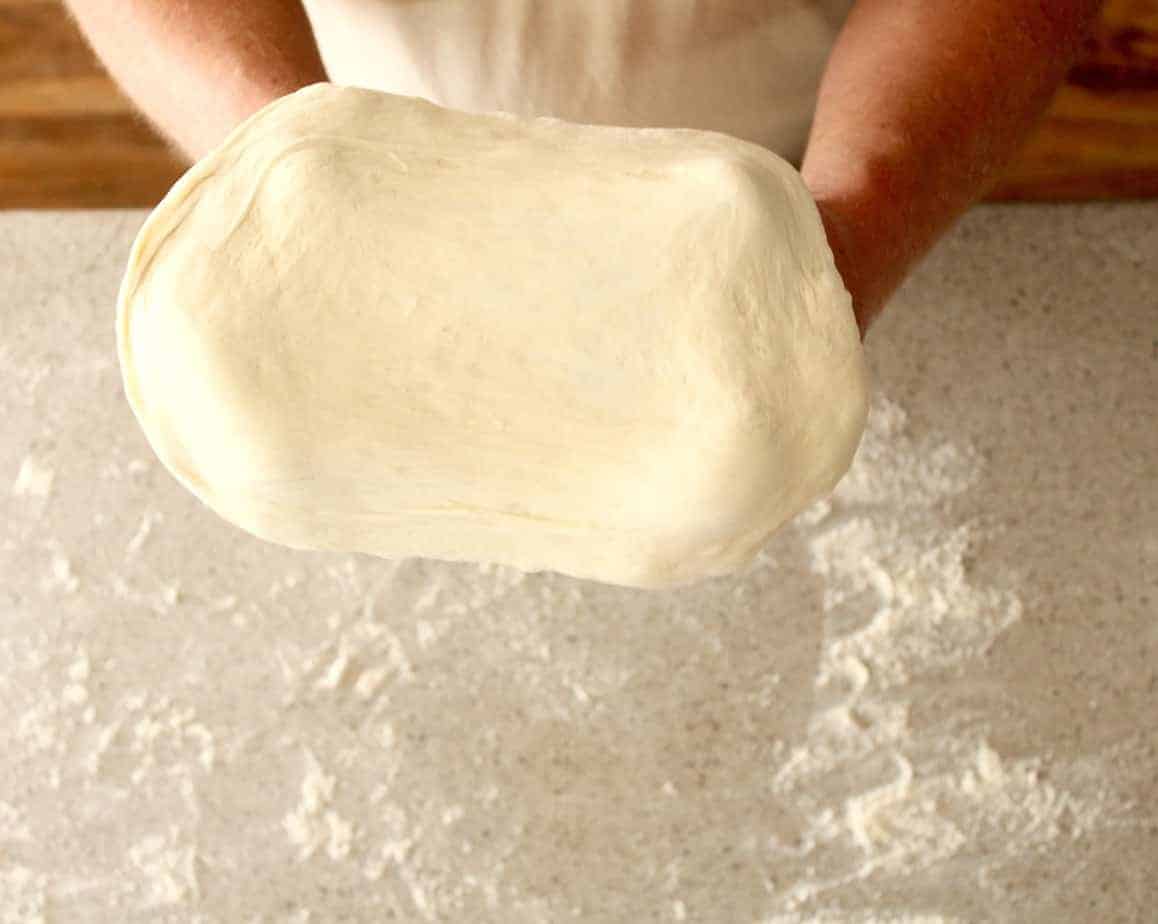 We keep the pizza on the smaller side so its easier to flip and take off the grill (one smaller pizza feeds two people, so we make two pizzas in batches for leftovers or if we're making dinner for more than just us). Give the crust a few tosses for good measure.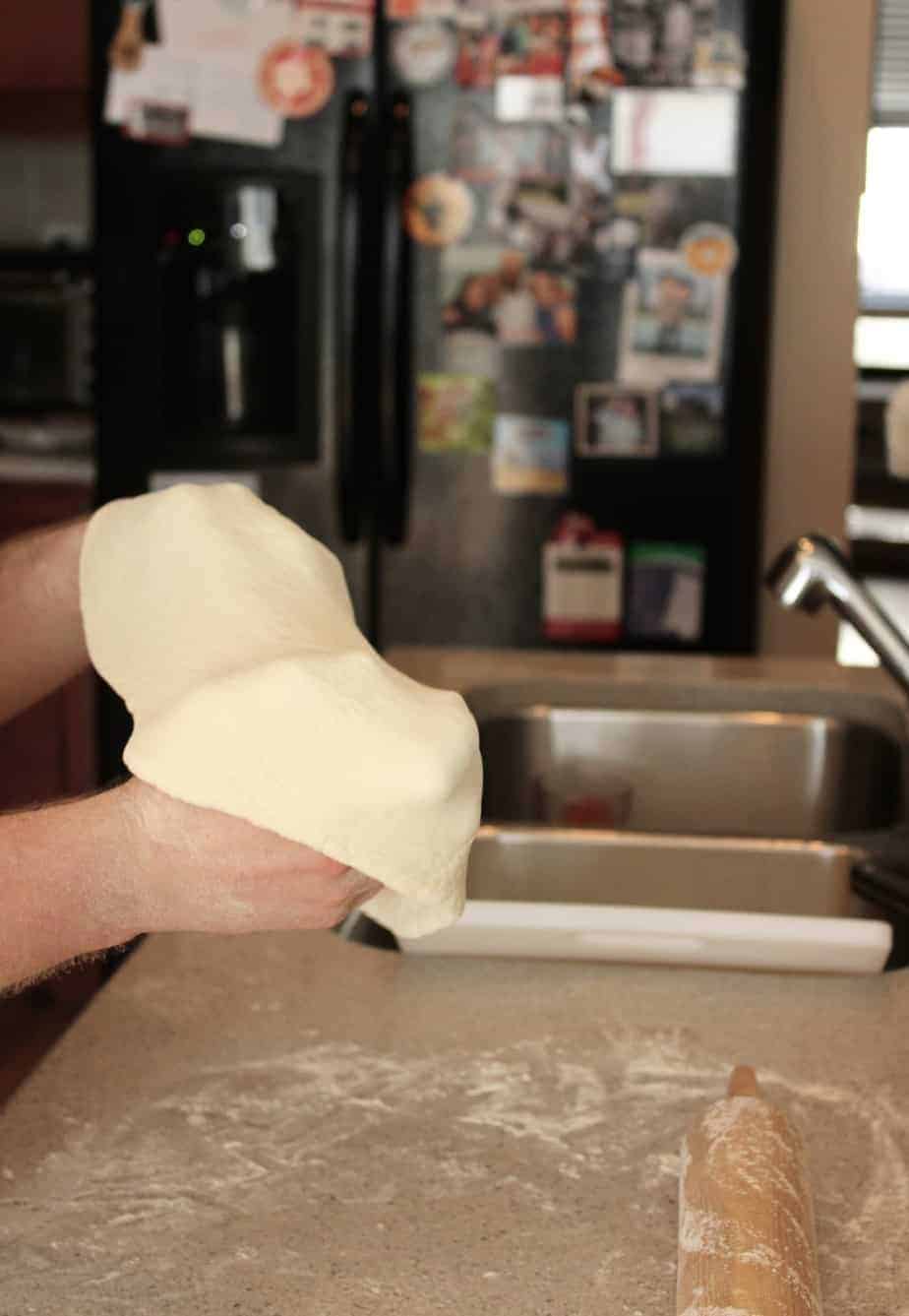 Then take all your ingredients, head outside, and fire up the grill. You want it to be hot. A hot grill leads to quick cooking time and crispy crust. Once the grill is hot, brush one side of the crust with olive oil and place olive oil side down on the grill. Brush the top of the dough with olive oil while it cooks, two to three minutes.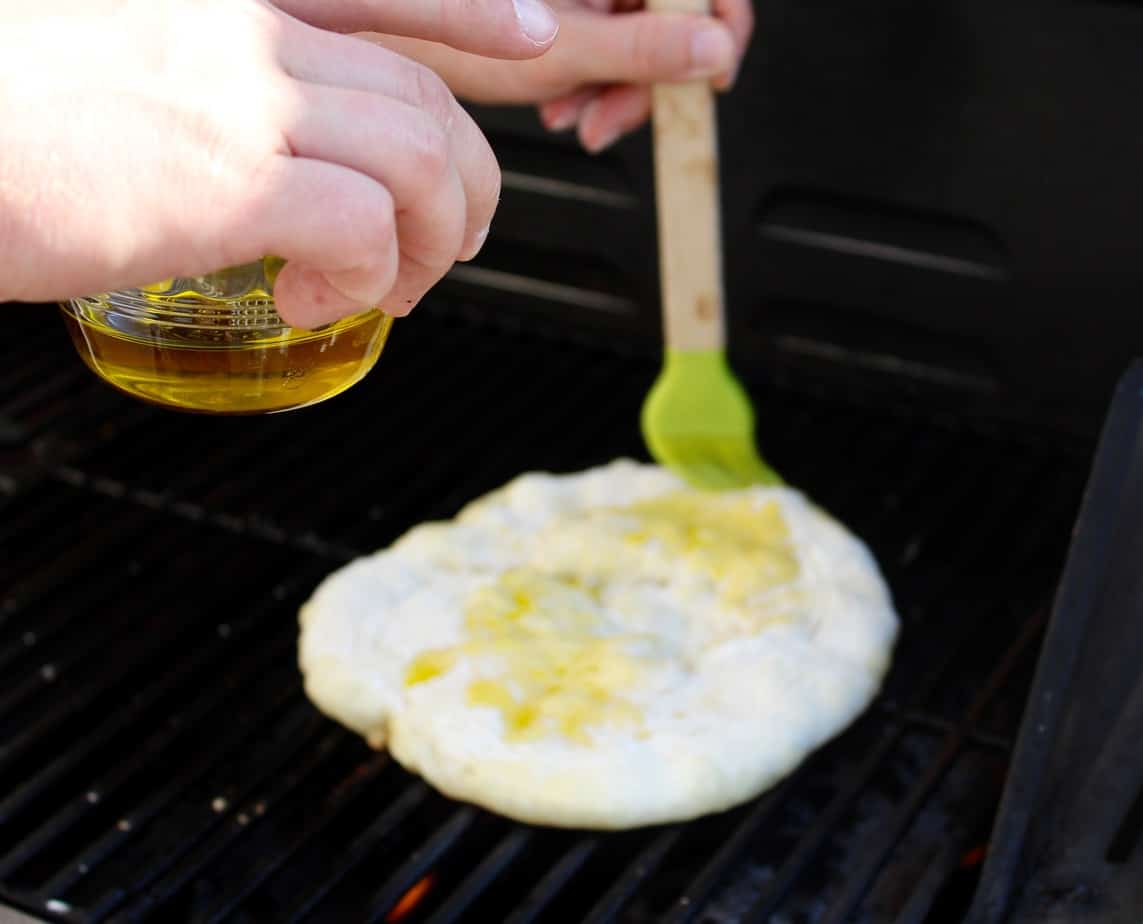 Make sure you check your dough, and when you see those beautiful grill marks, it's time to flip!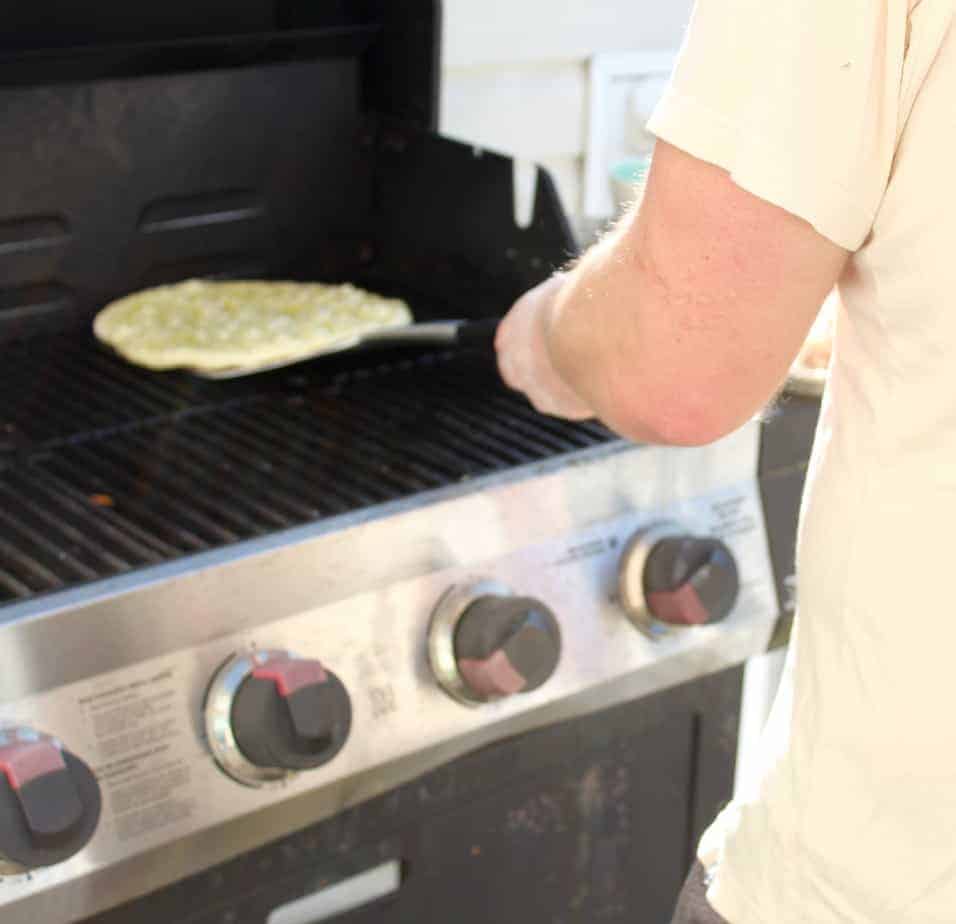 Flip and then top your pizza. You don't want to be too heavy handed, or you'll have trouble getting your pizza off the grill (or even worse, get a form of soggy, pizza soup).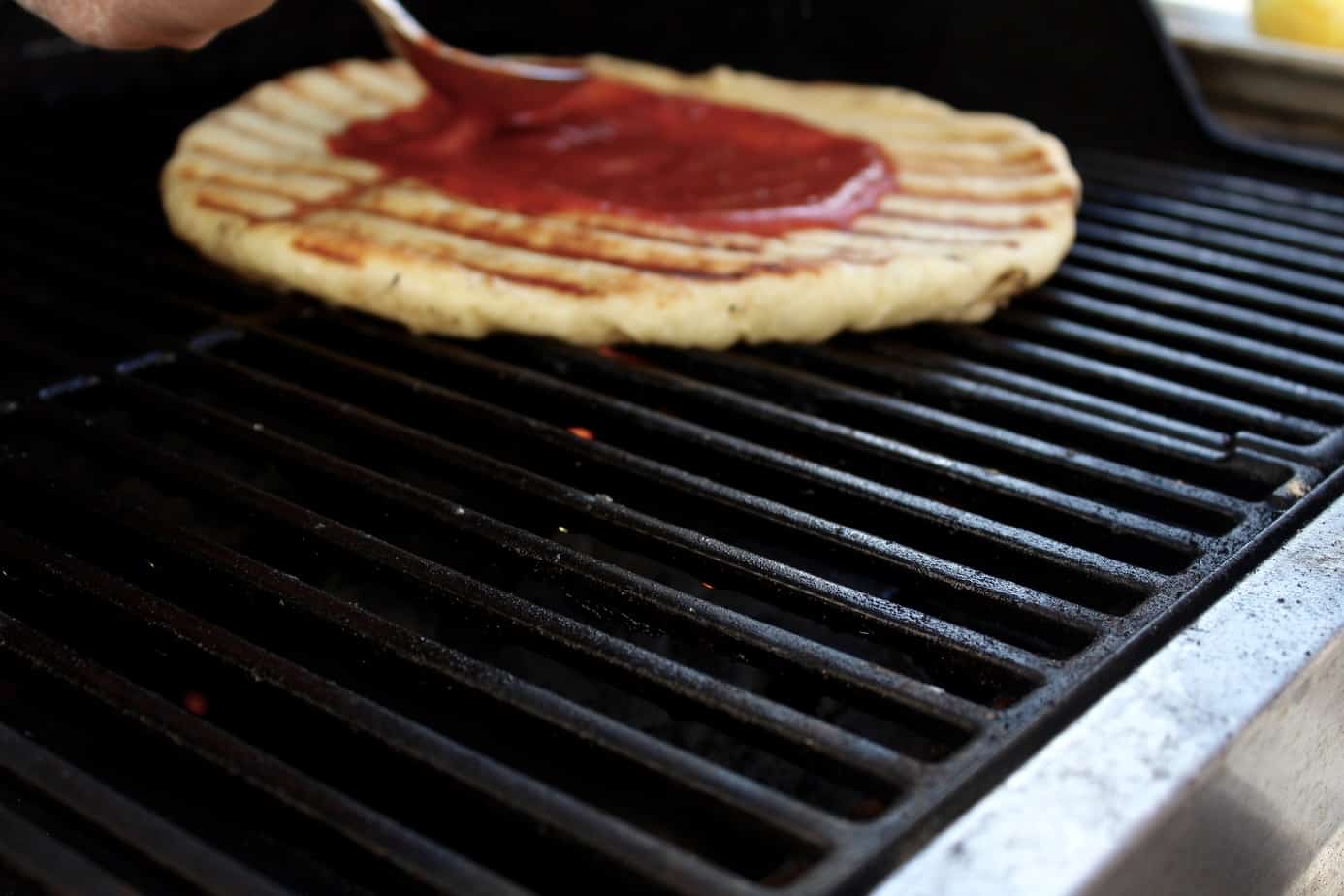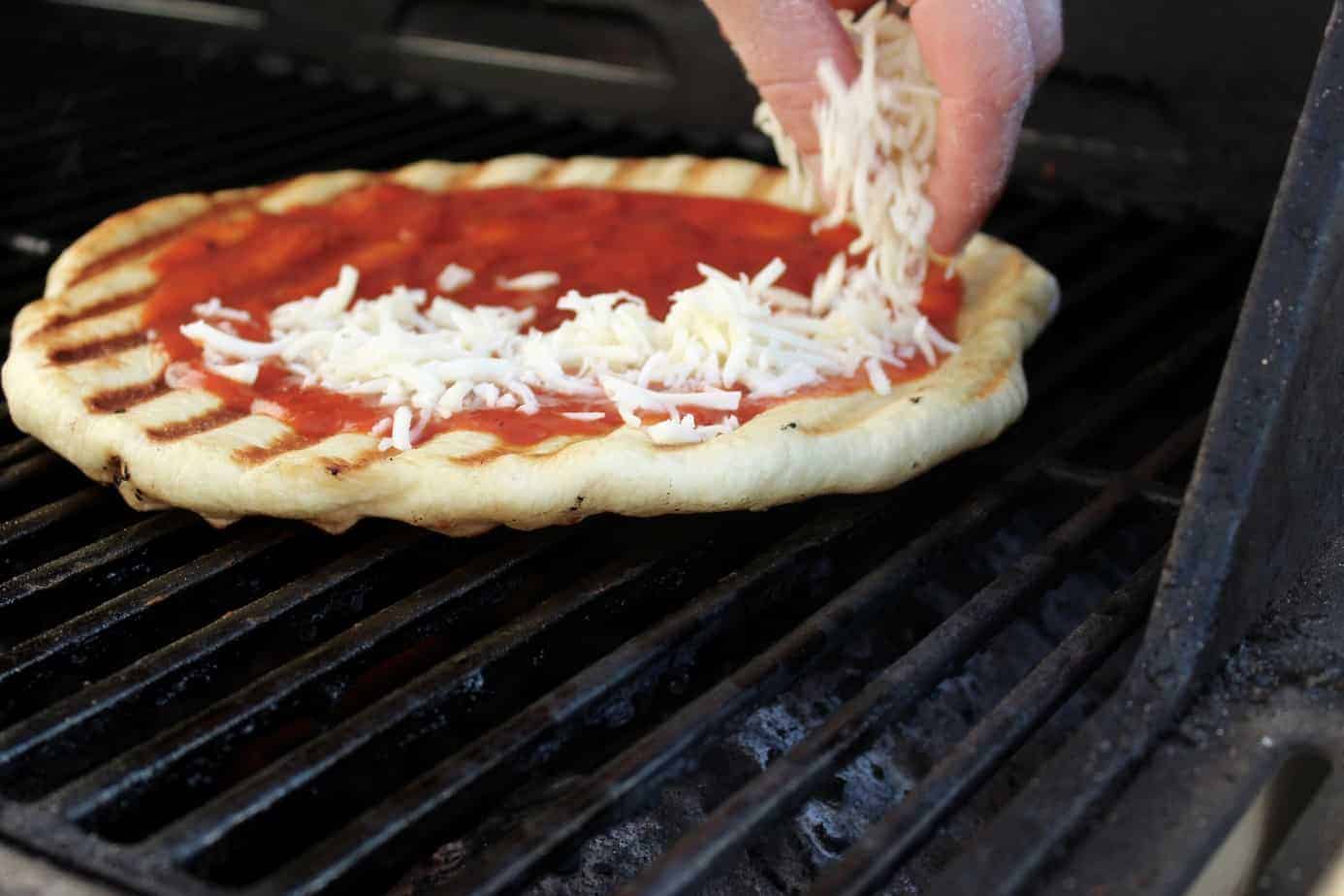 If the cheese needs a bit more melting, pop that puppy in the oven and broil for about three minutes. Top with caramelized onions, fresh arugala, and red pepper flakes, slice, and enjoy!
Grilled pizza is a recipe that's going to be on repeat in our house throughout the spring and summer. It's such a quick, easy and delicious recipe. It's perfect for dinner for the two of us, but also would be great for a crowd. It's a great reason to get outside and fire up the grill (not that we needed one). And I'll never say no to AJ showing off his pizza tossing skills.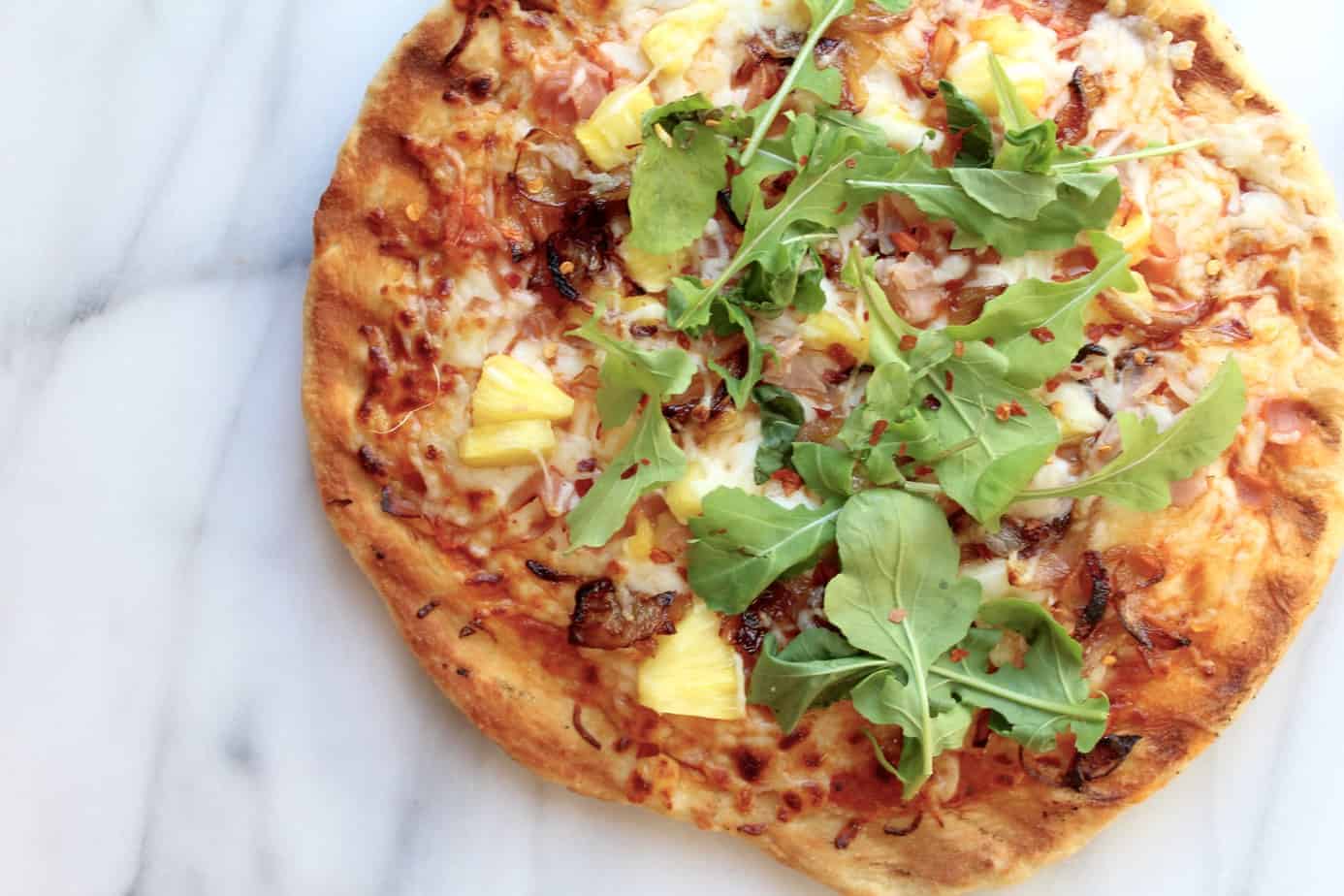 PIN THIS GRILLED PIZZA FOR LATER!