Off the Eaten Path's Crystal Coast Travel Guide highlights all of the best things to do in Beaufort NC and all along North Carolina's Crystal Coast, including where to stay, what to eat, where to explore and so much more.
Planning a day trip, weekend trip or just looking for other things to do, places to visit, and where to eat across North Carolina? Check out Off the Eaten Path's North Carolina Travel Guide, which features weekend itineraries, travel and restaurant recommendations across the Tarheel State.
Thank you to the Crystal Coast and Emerald Isle Realty for hosting me during our visit. The entire weekend, including my condo stay and all food and beverage, was complimentary.
Sandy beaches, spectacular sunsets and swashbuckling history are some of the things that come to mind when you talk about North Carolina's Crystal Coast.
Spanning the coast of North Carolina just south of the Outer Banks, the area is home to Cape Lookout National Seashore, aquatic plant and animal life, wild horses, coastal marshes, expansive beaches, the third-oldest town in North Carolina (Beaufort, NC…and it's pronounced Bow-fort, not Byew-fort like its South Carolina counterpart), pirates (Blackbeard's ship, Queen Anne's Revenge went aground in 1718 just offshore from Beaufort), a Civil War-era fort and North Carolina's second state park, various historic sites, and tons of fabulous places to stay, delicious food to eat, and plenty of fun things to do!
WHERE IS THE CRYSTAL COAST?
The Crystal Coast is made up of 85 miles of pristine beaches and several small coastal towns and port cities including Atlantic Beach, Beaufort, Emerald Isle, Indian Beach, Morehead City, Pine Knoll Shores, Salter Path, Harkers Island, Cedar Island, Newport and Cape Carteret in Carteret County, North Carolina.
The Crystal Coast is easily accessible by car via major interstate highways (all driving times are to Beaufort, NC):
About 1 hour east from Jacksonville, NC, via NC-24.

About 2 hours north from Wilmington, NC, via US-17.

About 2 hours and 45 south east from Raleigh, NC, via US-70.

About 3 hours east from Fayetteville, NC, via Interstate 95 to US-70.

About 5 hours east from Charlotte, NC, via US-74 (don't worry, Off the Eaten Path has a complete guide to beaches near Charlotte, NC.
The closest airport to the Crystal Coast is Albert J Ellis Aiport in Jacksonville, NC (OAJ), which is 60 miles west of Beaufort (about an hour and a half drive…but you can get to the beach in under an hour).
IS IT PART OF THE OUTER BANKS?
The Crystal Coast is also known as the Southern Outer Banks because it's located on the North Carolina Coast directly south of the Outer Banks.
The Crystal Coast is home to Cape Lookout National Seashore, which preserves 55 miles of beaches and coastline from Ocracroke Inlet in the northeast to Beaufort Inlet in the southeast. The seashore is made up of three barrier islands and includes two historic villages, wild horses, and the Cape Lookout Lighthouse
WHY IS IT CALLED THE CRYSTAL COAST?
The Crystal Coast is aptly named for the area's extremely clear waters and miles of inviting, white beaches.
WHERE TO STAY IN THE CRYSTAL COAST
When we visited the Crystal Coast, we stayed at an oceanfront condo provided by Emerald Isle Realty, (we loved this experience but you could totally get a beach rental house through AirBNB or VRBO too).
Our condo was in Indian Beach, right in the middle of Bogue Banks (between Emerald Isle and Atlantic Beach, and about a 30 minute drive to Beaufort, NC) and we loved having a place to call home for a few days and everything that came with it, including more privacy, a full kitchen, easy beach access, a balcony with ocean views, and the space to spread out. One of our favorite things to do each evening was sit on the balcony, drink a local beer, and listen to the waves.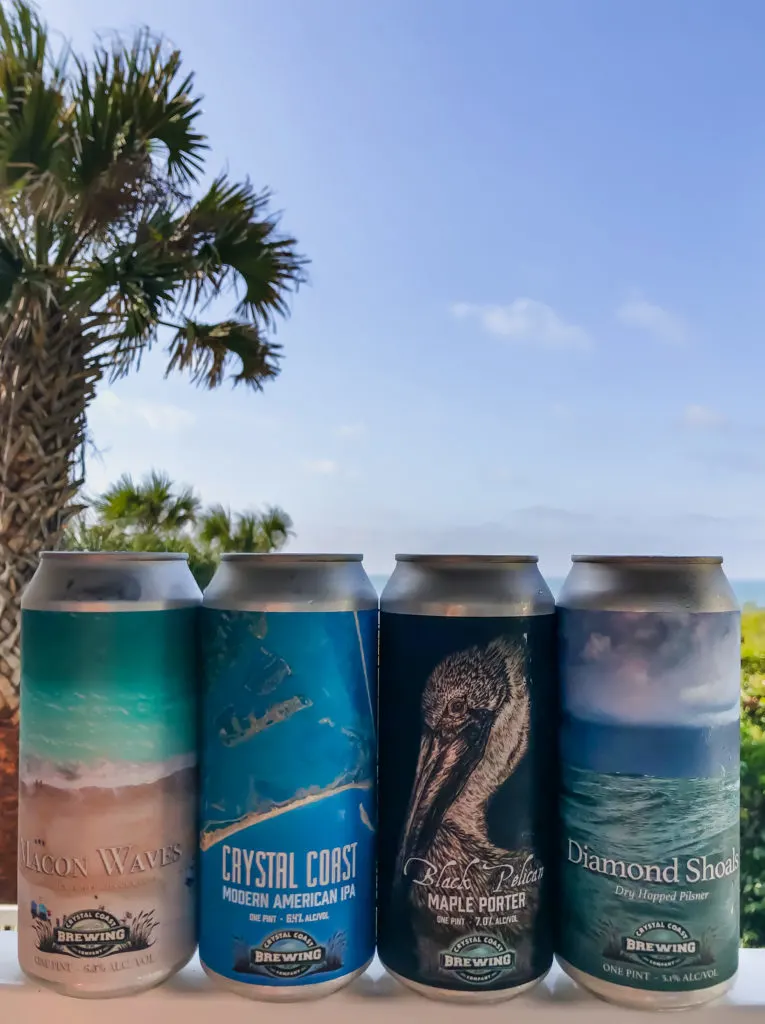 If you'd prefer to stay closer to town, there are a few hotels and some quaint bed and breakfasts in Beaufort, NC that would be the perfect home base for your beach getaway.
Don't forget…camping is always an option! There are several campgrounds surrounding Beaufort and the Crystal Coast, and we'd recommend Cape Lookout National Seashore, Shackleford Banks or Hammocks Beach State Park, which are all featured in Off the Eaten Path's best tent camping in NC guide.
Now that you know where you're going and you have some ideas of where to stay, let's talk about the best things to do in Beaufort NC and beyond!
STROLL FRONT STREET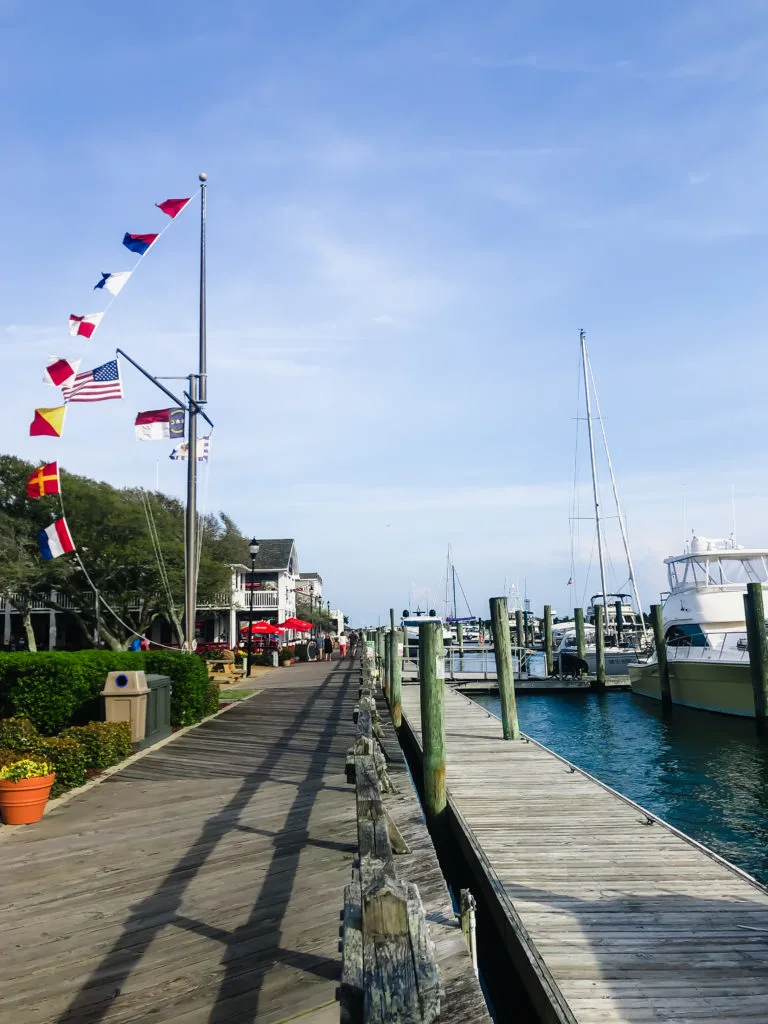 Beaufort's Front Street, aptly named for the town's main street that abuts the waterfront, is the perfect place for a morning meander or afternoon stroll. The picturesque promenade is full of local boutiques, shops and restaurants, and also offers panoramic views of the water. It's fun to watch the sailboats and yachts cruising Taylor Creek and you may get a glimpse of wild horses across the creek at Rachel Carson Reserve.
SHOP LOCAL
You're going to pass some local stores during your Front Street stroll, so make sure to stop in for a souvenir. Some favorites include:
EAT AND DRINK AT A LOCAL RESTAURANT OR BREWERY
Whether you're looking for waterfront options to give you a front row seat to beautiful, bold sunsets, an area sea specialty that comes blackened, seared, fried or sautéed, or a cold beer after a day of of adventures in the sun, sand and surf, The Crystal Coast is home to more than 100 locally owned restaurants and breweries that are sure to satisfy whatever you're craving.
Find the right Crystal Coast restaurant for your next meal out in the Crystal Coast's restaurant directory or you can read all about the 13 of the best restaurants in Beaufort NC. Here's a small sampling of some of the restaurants and breweries we enjoyed during our visit to the Crystal Coast and would recommend you visit on your next trip:
34 Degrees North Restaurant

, Beaufort: Locally inspired, waterfront dining with ingredients from local farms and fishermen.

Amos Mosquito's

, Atlantic Beach: A knock-knock joke is the inspiration behind this dockside-to-dish, swamp-themed, family friendly seafood restaurant.

Bahia Beach House and Surf Bar

, Atlantic Beach: Serving sustainable aqua and agriculture from North Carolina inspired by Baja and Mediterranean cuisine, this laid back beach house restaurant (Bahia is the Brazilian word for ocean or bay) has made its home in a restored cedar plank home in Atlantic Beach.

Beaufort Grocery Company

, Beaufort: A cozy, comfortable neighborhood bistro serving low-key lunches and more elegant, sophisticated dinners.

Black Sheep

, Beaufort: A casual, dockside restaurant with a great view of the water and delicious brick oven pizzas.

Carbisea

, Emerald Isle: Steaks and fresh fish with a fine dining flair.

Crystal Coast Brewing Company

, Atlantic Beach: A family-owned and operated craft brewery named after the area's clear waters and sparkling beaches.

Mill Whistle Brewing, Beaufort: Carteret County's first nano-brewery, Mill Whistle serves craft beer on the site of an old Safrit mill.

Moonrakers

, Beaufort: Named after the rectangle sail flown at the uppermost height of a three-mast 17th-century ship, Moonrakers serves coastal cuisine with a side of beautiful views from their rooftop dining space.

The Shark Shack

, Atlantic Beach: Fried seafood and fish sandwiches served out of a casual, beach-themed take out window surrounded by outdoor picnic tables.
SLURP FROM THE HALF SHELL
Factors like overfishing, pollution and disease have taken a tremendous toll on North Carolina's oyster population, which declined by 90 percent in the 20th Century.
So Cedar Island native Jay Styron and his wife, Jennifer, started their oyster farm in Core Sound in 2006 to produce oysters for market without relying on North Carolina's wild stock and with the environment in mind.
Carolina Mariculture Co. raises their oysters using mariculture (the cultivation of marine organisms in their natural environment) practices. Jay buys his seed from a hatchery and raises oysters in floating cages, which benefits both his product and the water it's raised in.
Jay didn't pick Cedar Island for his oyster farm just because he grew up there; Cedar Island was his first choice because he wanted his oysters to be grown in a place that had some of the best water quality in the state.
Water quality, as well as other environmental factors like salinity of the water, the food the oyster has available, the strength of currents and tides, rainfall, temperature, season, location and more can affect an oyster's merrior, a concept that it's flavor is derived from a sense of place (similar to the French term terroir which is used to describe environmental factors that affect the flavor of wine).
Since each location has its own special blend of all of these environmental factors, oysters get more flavor from their location than any other type of seafood, so much so that an oyster can be pinpointed as close as the town or county location where it was raised, based on flavor alone.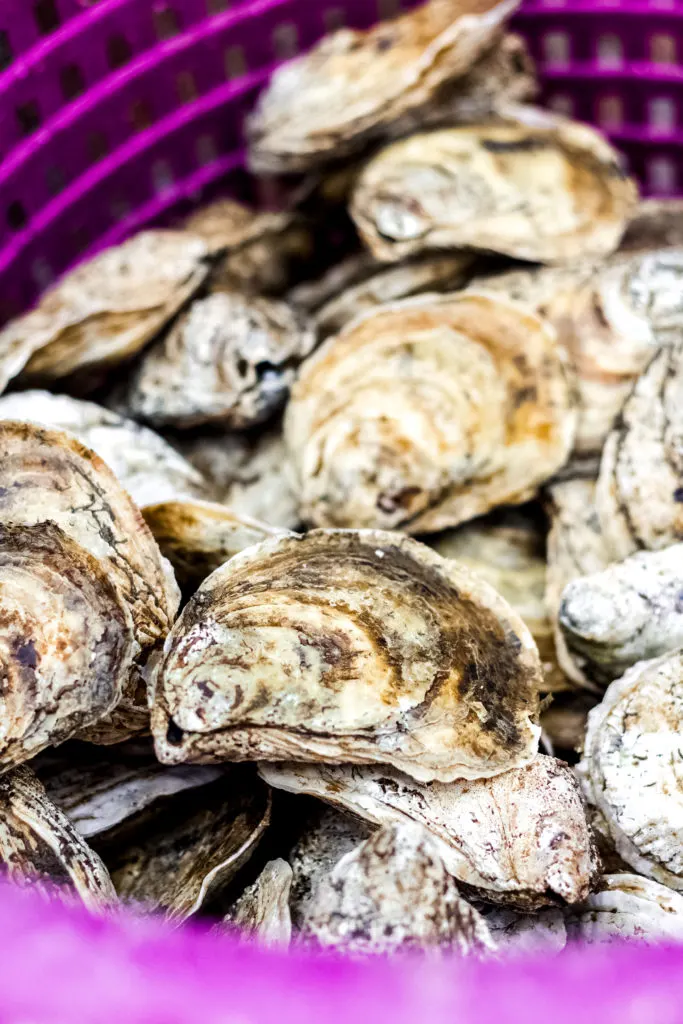 Jay says due to his farming practices, Cedar Island Select Oysters can be enjoyed year 'round–no more eating oysters just in months that end in R ! Buy locally raised Cedar Island Select Oysters at Carolina Mariculture Co.'s local distributor, Salty Catch Seafood in Beaufort.
ORDER THE CATCH OF THE DAY
When visiting the Crystal Coast, you could live solely on fresh seafood.
Fishing has been an integral part of the Crystal Coast's heritage and economy for centuries. With the rise of low-cost, imported seafood displacing domestic, locally caught fish in commercial markets, a group of community volunteers, including commercial fishermen, seafood distributors, and restaurant owners, created Carteret Catch, a program whose mission is to "sustain the livelihood and heritage of the Carteret County fishing industry through public marketing and education."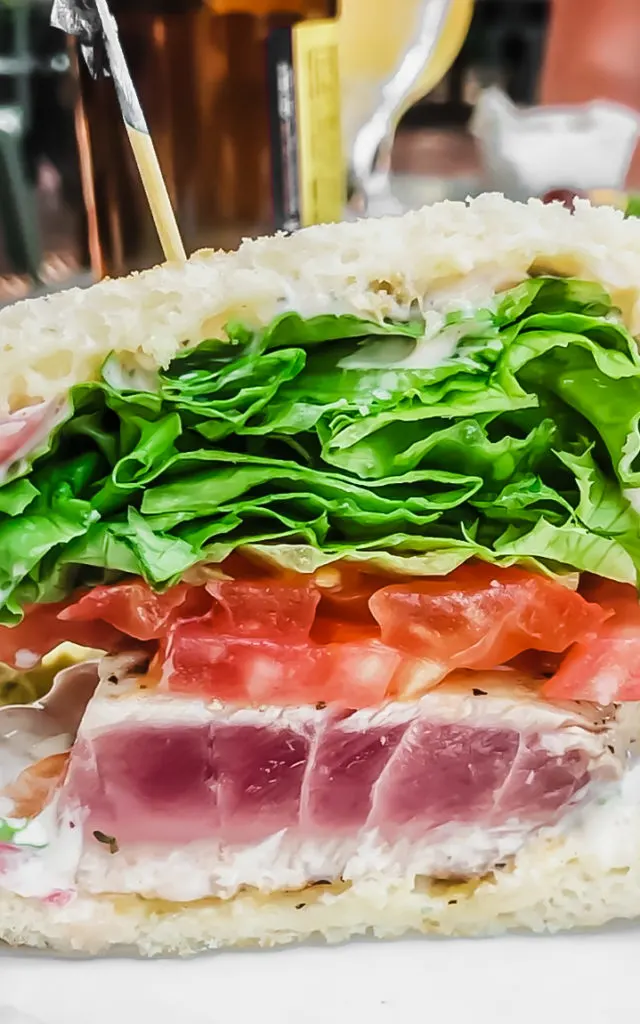 Carteret Catch is your connection to local seafood in the Crystal Coast; businesses that display the Carteret Catch logo promise consumers that they are getting fresh, local seafood directly from Carteret County fishermen.
TASTE RUSSIAN STURGEON CAVIAR FROM NORTH AMERICA'S LARGEST PRODUCER
There are 27 species of sturgeon across the world, but traditionally the best caviar comes from fish native to the Caspian Sea. Because of overfishing, however, there is a ban on fishing Russian sturgeon in its natural habitat, so all caviar from Caspian Sea sturgeon species is currently farmed.
Did you know that the Crystal Coast is home the largest producer of Russian Sturgeon Caviar in the United States?
Through sustainable aquaculture practices, Marshallberg Farm, in Smyrna, North Carolina, aims to "counter the poaching of critically endangered Russian sturgeon from the Caspian by offering American caviar as a superior alternative."
Marshallberg Farm's facility features 30,000 swimming Russian sturgeon, housed in 62,300 square feet of building space and 42 tanks. They breed pure Russian sturgeon for genuine Osetra caviar without growth hormones or antibiotics, and their recirculating aquaculture system assures the highest level of water filtration (the tank system is designed to circulate the entire volume of a tank, 40,000 gallons, once every hour.)
Marshallberg Farm's main product is Osetra caviar, but they also process the sturgeon meat after roe removal. An ounce of Russian sturgeon eggs costs about sixty dollars.
Guided tours of Marshallberg Farm, followed by a caviar and smoked sturgeon tasting, are offered, depending on availability. You can also purchase caviar and sturgeon filets directly on their website.
SHOP AT THE OLDE BEAUFORT FARMERS MARKET
On Saturday mornings April through November, you can stroll through the Beaufort courthouse grounds, shopping local from a variety of Carteret County farmers, fishermen, bakers, artists and craftspeople at the Olde Beaufort Farmers Market.
The market usually has about 40 vendors, a food truck and live music, and is a great way to buy fresh delicious food, support local businesses and artisans and connect with the greater Beaufort community.
The market runs weekly, rain or shine, at 300 Courthouse Square from the second weekend in April through the third weekend in November from 9am to 1pm. The market season ends with an Olde Fashioned Holiday Market in the evenings in December.
TASTE AND TOUR AT BOGUE SOUND DISTILLERY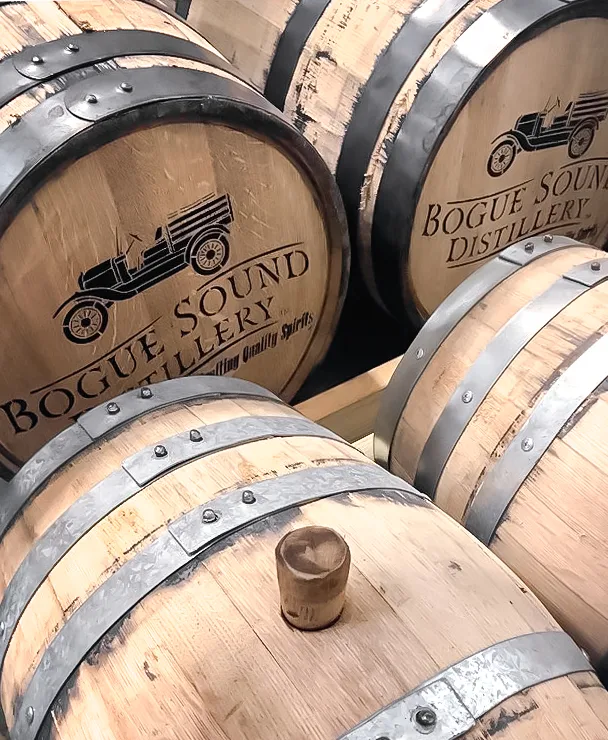 Motivated by his dream of opening his own distillery to make high quality spirits and honor his family's history, Richard Chapman opened Bogue Sound Distillery at the age of 66.
Bogue Sound Distillery currently makes award-winning vodka, gin, whiskey and two flavored spirits, salted caramel and peanut butter whiskey, in their facility in Bogue, a small residential and farming community nestled along the Intercoastal Waterway.
Chapman's spirits are not only rich in flavor but also in history; each is named in tribute to Chapman's family, showcasing his passion for sharing and celebrating his deep ties to his family and to distilling (Richard hails from a long line of distillers and learned the art of distilling as a child).
There is a small museum in the tasting room showcasing how stills and spirits were made in the late 1700s and early 1800s, along with a restored 1923 Ford Model-T pickup and displays featuring local family history, too.
Visitors to Bogue Sound Distillery can enjoy a tasting, tour and a touch of history during their visit. The distillery is open Tuesday through Saturday with tours and tastings available throughout the day, as well as a full-service bar with signature cocktails specially crafted with Bogue Sound Distillery spirits.
EXPLORE BEAUFORT BY BIKE WITH HUNGRY TOWN TOURS
Owners David and Betsy Cartier got the inspiration for the name behind their culinary and history tour business from a 1713 plat of Beaufort, North Carolina.
At the bottom of the plat the words "Plan of Hungry Town," were crossed out and replaced with "Plan of Beaufort Towne," suggesting that at one point Beaufort may have been casually called Hungry Town.
While the townspeople in 1713 weren't hungry for food but rather hungry for buyers or new settlers to help it grow, the name was a natural tie-in for the Cartiers with Beaufort's history and culinary offerings.
Hungry Town Tours offers 16 different walking, biking, culinary and history tours including the Beaufort Culinary Bike Tour, Food By Foot Culinary Walking Tour, Bike, Brunch and Bubbles, Sunday Brunch Walkabout, Historic Beaufort Walking Tour, Hidden Beaufort Tour and A Ride to Remember inspired by Nicholas Sparks (an American novelist who wrote two books, A Walk to Remember and The Choice that are set in Beaufort).
Hungry Town Tours partners with a variety of local restaurants that offer fresh, local products to support the community's local fishermen and farmers, and the restaurant partners vary by the day of the week and season. Culinary tours are built around a three-course progressive menu to include appetizers, entrees and dessert.
Tours are offered daily and the complete schedule as well as culinary partners are listed on Hungry Town Tours' website.
EXPLORE BEAUFORT BY BUS
History buffs can swap two wheels for four and hop on a double-decker bus to explore Beaufort's historic district and learn about the town's rich history that has been preserved through both restored historic homes and storytelling.
The tour is narrated by locals who go into depth about Beaufort's 300 year old history including its pirate past, as well as the progression of colonization, shipping, fishing and recreation in the area.
Tours run on Monday through Saturday from April through October and depart from the Beaufort Historic Site (130 Turner Street) at 1:30 PM. Cost is $12 for adults, $6 for children ages 6-12.
TOUR THE BEAUFORT HISTORIC SITE
The 1713 Plan of Beaufort Towne still lives today in a 12 block area in downtown Beaufort which is on the National Register of Historic Places. There are approximately 150 restored historic homes that proudly bear plaques noting names of earliest known owners and dates of original construction.
In the heart of this historic district is the two-acre Beaufort Historic Site, managed by the Beaufort Historical Association, which is home to a collection of nine original buildings, as well as the nearby Old Burying Ground, which depict what life was like in 18th and 19th century coastal Carolina. Prominent buildings include: Leffers Cottage & Garden (1778), Carteret County Courthouse (1796, the oldest wood-framed courthouse in North Carolina), John C. Manson House (1825), Josiah Bell House (1825), The Old Jail (1829) and Apothecary & Doctor's Office (1859).
Visitors can explore the site on their own or take a guided walking tour which are offered year round, Monday through Saturday.
VISIT THE OLD BURYING GROUND
Established in the early 1700s, the Old Burying Ground is the town's oldest cemetery and holds not only prominent Beaufort residents who have passed but fascinating stories about the history and heritage of the Crystal Coast.
Visitor's can take a self-guided tour of the Old Burying Ground (accompanied either by a map or you can download their mobile app to get a free audio tour) but it's highly recommended that you take a guided tour (available year round) through the Beaufort Historical Society.
HISTORY AND HIKING AT FORT MASON STATE PARK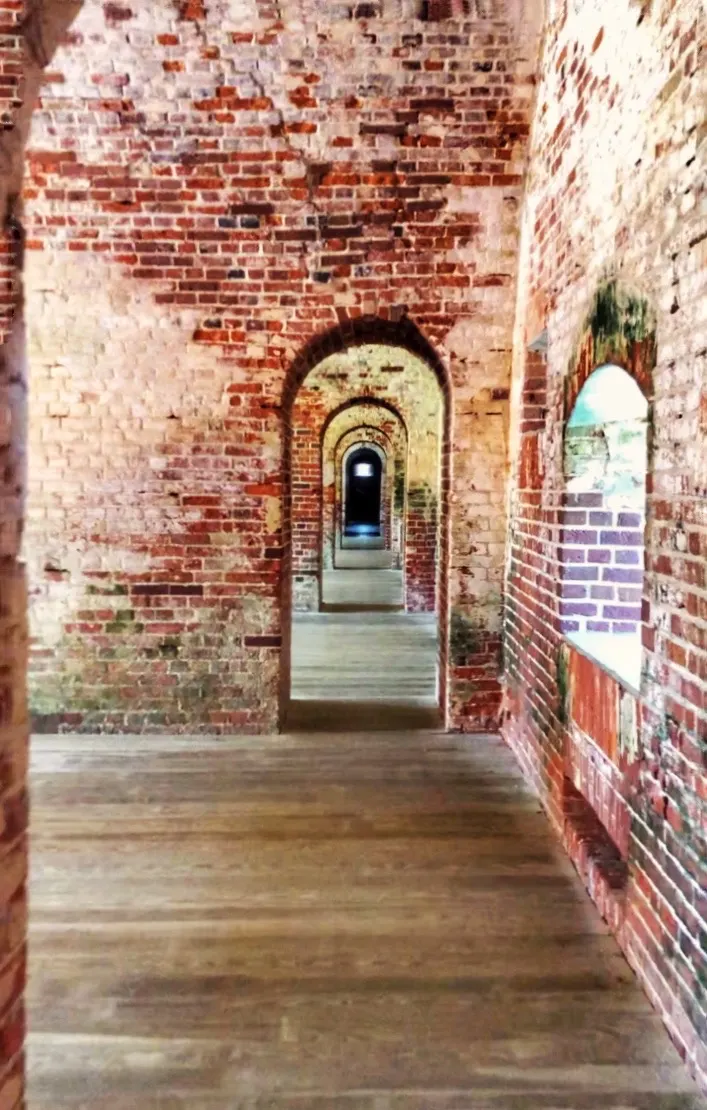 Learn the complex and colorful history of Fort Macon, a pre-Civil War era fort that was built initially to protect Beaufort and the surrounding coastal region from sea attacks, but later served as a coaling station for Union Navy ships during the civil war and as a federal prison until it was purchased by North Carolina for $1 in 1924 to be used as the second state park.
The 424 acre park is home to the restored Civil War fort with a museum, as well as a coastal education center, hiking trails, and extensive shoreline perfect for swimming, fishing and beachcombing. Ranger led tours of the fort are hosted daily.
EXPLORE BEAUFORT'S HAUNTED HISTORY ON A GHOST WALK
Beaufort's haunted history is brought to life by pirate guides who captivate you with chilling and supernatural stories of the Golden Age of Piracy, Colonial and Civil War eras, and the early 1900s.
All of the stories shared on the one hour and fifteen minute Beaufort Ghost Walk have been extensively researched and well documented and the folklore and legends have been carefully preserved from generations of local storytellers.
VISIT THE NORTH CAROLINA MARITIME MUSEUM
Beaufort's history is deeply tied to the ocean. The North Carolina Maritime Museum is dedicated to preserving artifacts, including recovered items from Blackbeard's wrecked flagship, the Queen Anne's Revenge (that was discovered off the Crystal Coast in 1996), and educating visitors about coastal life including lighthouses and lifesaving stations, the seafood industry, boating, marine life and science.
The NC Maritime Museum is also home to the Harvey W. Smith Watercraft Center which teaches boatbuilding for all ages. The museum is open daily (except for certain holidays) and admission is free.
LEARN ABOUT THE ART OF DECOY MAKING AT CORE SOUND WATERFOWL MUSEUM AND HERITAGE CENTER
Decoy making, the practice of carving wood into ducks used for hunting, is a long established tradition passed down through generations on the North Carolina Coast. While waterfowl decoy carvings are no longer tools, they are now considered works of art that are showcased and celebrated at the Core Sound Museum & Heritage Center on Hawkers Island. The museum is home to several exhibits displaying the intricate and unique carvings, as well as "a permanent collection of life and culture, past, present, and future, in Down East Carteret County."
HIT THE BEACH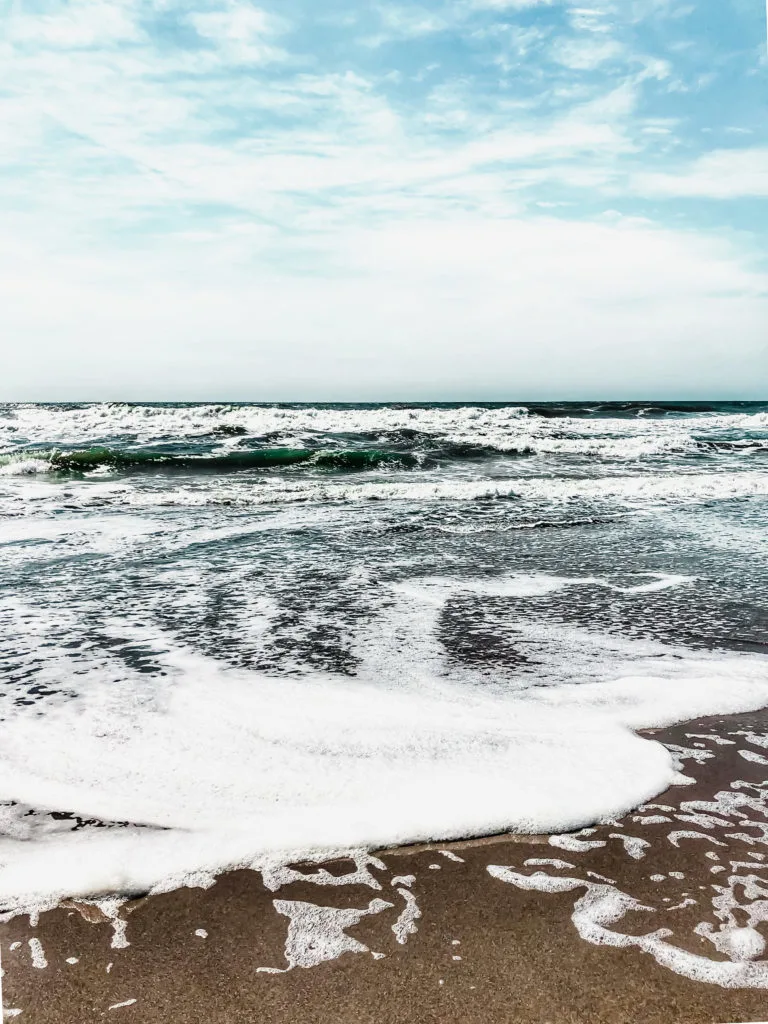 Put on your suit and your sunnies, grab a towel, chair, and good book and hit the beach. The Crystal Coast is known for its miles of sandy white beaches and extremely clear waters, which is how the area got its name!
Spend the day in the sun, take a dip in the ocean, and comb the beach for seashells and other treasures. Learn about the Crystal Coast's public beach access points here.
CATCH A BEACH SUNRISE OR SUNSET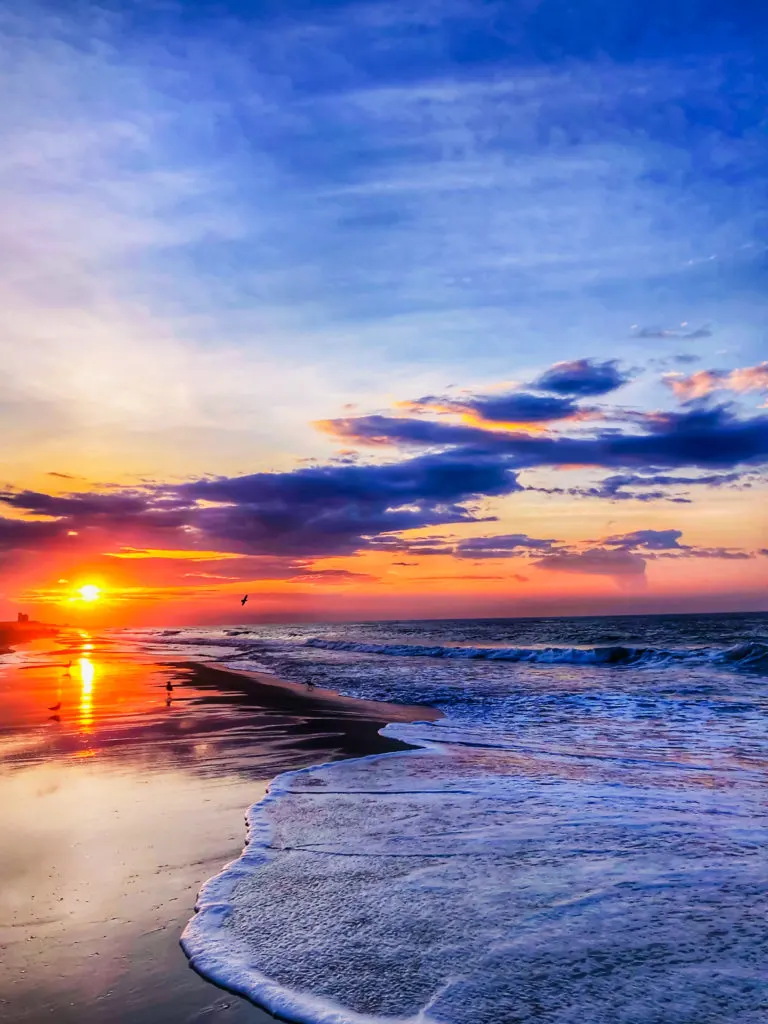 Unlike many barrier islands on the East Coast which run North to South, Bogue Banks, the 21 mile island which is home to Atlantic Beach, Pine Knoll Shores, Salter Path, Indian Beach and Emerald Isle, runs more east to west due to the way the coastline cuts inland.
This means that the Atlantic Ocean beaches face more due South, which means that you can see both sunrise and sunset from the beach! And they are stunning!
CLIMB THE CAPE LOOKOUT LIGHTHOUSE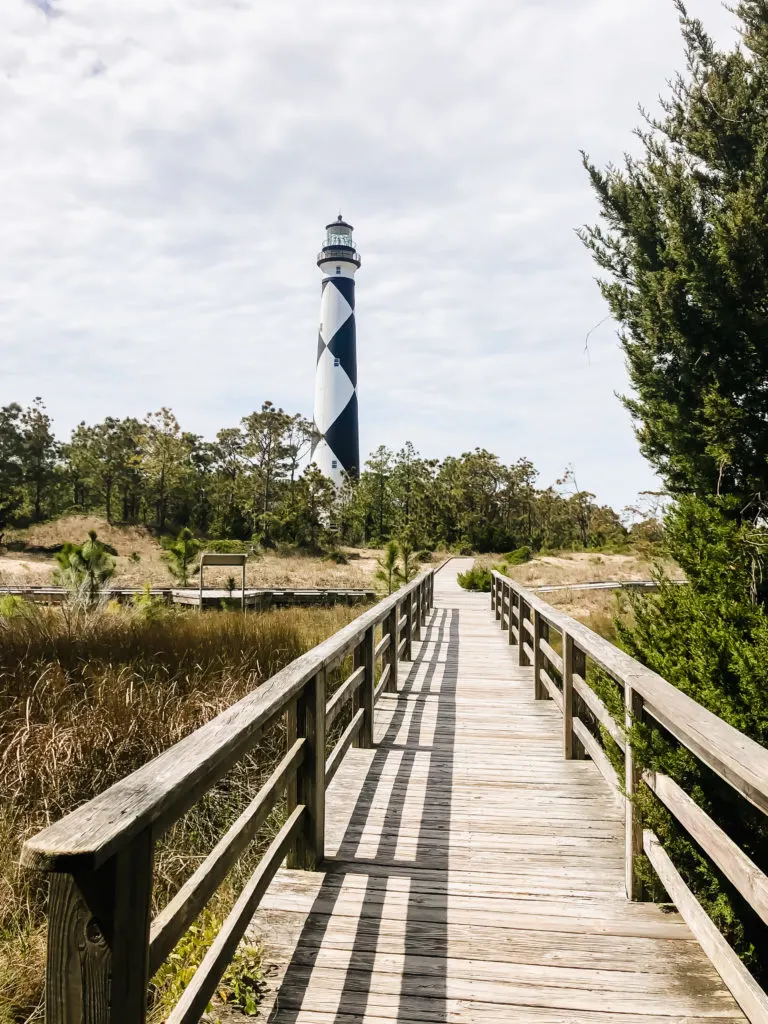 The Cape Lookout Lighthouse, known affectionately as the Diamond Lady for her diamond pattern daymark (the painted pattern on a lighthouse that distinguishes them from each other), is the southernmost lighthouse along the Outer Banks and is only accessible by private boat or ferry.
The diamonds on Cape Lookout are not only pretty but serve as a directional tool during the day. The center of the black diamonds points north and south while the center of the white diamonds points east and west.
The lighthouse is generally open for climbing throughout the summer, from the third week of May to the third weekend in September, however, the lighthouse is undergoing extensive renovations through 2023 and is currently closed to climbers. Climbing the 207 steps to the gallery is roughly equal to climbing a 12 story building!
Even though you cannot currently climb the lighthouse, we do recommend visiting it and admiring it from the base, as well as visit the small museum in the keeper's quarters.
EXPLORE CAPE LOOKOUT NATIONAL SEASHORE
Cape Lookout National Seashore offers an abundance of adventures that you cannot get on the mainland! This series of protected, undeveloped barrier islands offers 56 miles of gorgeous beaches and can only be reached by boat or ferry ride and offer few amenities.
Cape Lookout National Seashore is worth the visit whether you just have a few hours, or you have a few days We were able to enjoy both Shackleford Banks and Cape Lookout National Seashore in about four hours, although I wish we could have stayed longer! Swimming, sunbathing, shelling, fishing, boating, kayaking, climbing the lighthouse and even camping (in tents or in a rustic cabin) are all popular activities.
You can get to Cape Lookout (and Shackleford Banks) via the Island Express Ferry, which leaves daily from both Beaufort and Harkers Island. Beyond ferry transportation, Island Express also offers guided tours, sunset cruises and rentals.
We highly recommend renting a 4WD vehicle from them (they have 4 seaters and 6 seaters) to help you explore; we rented one for a few hours–it gave us the ability to see so much in so little time and it was so much fun!
Because Cape Lookout National Seashore is undeveloped, you'll need to make sure you pack everything you need to bring with you, including clothes, comfortable shoes, towels, snacks/meals and plenty of water.
TAKE A FERRY TO VISIT THE WILD HORSES ON SHACKLEFORD BANKS
Shackleford Banks is a barrier island located southeast of Beaufort and is part of the protected area within Cape Lookout National Seashore, which means it is only accessible by boat or ferry service (Island Express Ferry offers trips to Shackleford Banks too, we booked a round trip that stopped at both Shackleford Banks and the lighthouse).
Beyond its pristine, undeveloped seashore, Shackleford Banks is known for being home to a herd of wild horses that have inhibited the Crystal Coast and Outer Banks for centuries.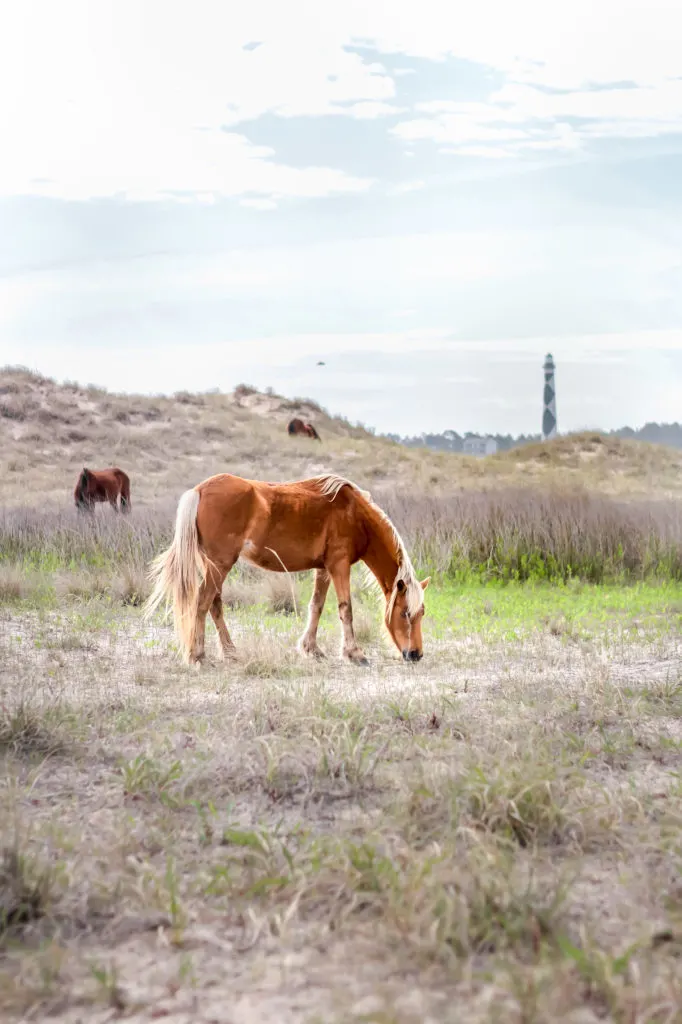 We spent about an hour exploring Shackleford Banks (although you could spend way more time there!) and were able to see a group of the wild horses grazing on beach grass (please remember to stay at least 50 feet away from wildlife so you don't disturb them).
The herd is protected by The Foundation for Shackleford Horses, which conducts health and behavioral studies, genetic testing, maintains a horse registry and educates residents and visitors about the herd.
So how did the wild horses get to the Crystal Coast?
While their exact arrival is unknown, many historians believe that the 110 horses that live on Shackleford Banks are descendants of Spanish horses brought to the New World.
Columbus first brought horses to the island of Hispaniola in the 1400s, where they were used for exploration and became indispensable.
In the 1550s, Lucas Vasquez de Ayllon attempted to settle the Atlantic East Coast (including present day Carteret County, North Carolina) and when the colony failed, the remaining settlers returned home but there was no attempt to recover the horses left behind in the area.
Additionally, in the 1580s, it is believed that Spanish horses were released overboard when a ship had to be careened (rolled on its side) after a wreck near Portsmouth Island, North Carolina.
OR TAKE A KAYAK TO VISIT THE WILD HORSES ON RACHEL CARSON RESERVE
The Rachel Carson Estuarine Reserve, named for the famous environmentalist who spent part of her early career in Beaufort, a group of four islands (Carrot Island, Bird Shoal, Town Marsh and Horse Island) directly across Tyalor's Creek in Beaufort.
Similar to Shackleford Banks and Cape Lookout National Seashore, the 2,135 acre reserve can only be reached by passenger ferry or private boat, but is close enough to kayak to from Beaufort.
Rachel Carson Reserve is also home to a herd of about 35 feral horses, which were introduced to the site by a local physician in the 1940s (feral means they were once domestic and became wild). The herd is managed by the State of North Carolina and the North Carolina Coastal Reserve.
GO FISHING
Beaufort's history is deeply entwined with fishing.
Originally a fishing village and port of safety, Beaufort was known as Fishtown or Fishtowne throughout the 1600s because of the tremendous importance of the waters in the area until it was incorporated and eventually renamed for the Duke of Beaufort, Henry Somerset.
Today, the Crystal Coast is a fishing paradise, where thousands of anglers come from all over to cast in its waters. Fishermen can cast a line from the shore, from one of the area's many piers, or book a deep sea fishing charter to get the day's freshest catch.
Morehead City is also home to the annual Big Rock Blue Marlin Tournament which is one of the largest and oldest sport fishing tournaments in the country.
DISCOVER SHIPWRECKS SCUBA DIVING
The Crystal Coast is one of the top diving destinations in North America thanks to its combination of clear water, abundance of marine life and hundreds of shipwrecks.
Known as the "Graveyard of the Atlantic," (the nickname was given for the treacherous waters and area of numerous shipwrecks due to the coast's shifting sands and inlets), more than 2,000 vessels have wrecked along the North Carolina coast and can only be explored underwater.
SEE SHARKS, FISH, TURTLES AND OTHER MARINE LIFE AT THE AQUARIUM AT PINE KNOLL SHORES
The Aquarium at Pine Knoll Shores is one of four North Carolina aquariums on the coast and is a fun and interactive site dedicated to local marine life.
The Living Shipwreck is the key habitat at the Aquarium at Pine Knoll Shores and features a replica of a German submarine that was sunk off the coast in 1942 and is now home to a variety of fish, sharks and a green sea turtle.
The Aquarium also has a host of other exhibits, including one dedicated to sea turtles where visitors can meet turtle hatchlings that are being rehabilitated at the Aquarium.
KAYAK THE CROATAN NATIONAL FOREST
The Croatan National Forest is one of four national forests in North Carolina.
It's 160,000 acres are bordered on three sides by water (by the Neuse River, the White Oak River and the Bogue Sound) and is home to woodlands, saltwater estuaries, raised swamps and salt marshes.
There are a variety of outdoor adventures you can have in the Croatan National forest including camping, fishing, and hiking, but one of the best ways to explore is navigating the waterways in a kayak.
Several outfitters offer both tours and rentals for a self-guided tour.
EXPLORE THE COASTAL MARSH AT CEDAR ISLAND NATIONAL WILDLIFE REFUGE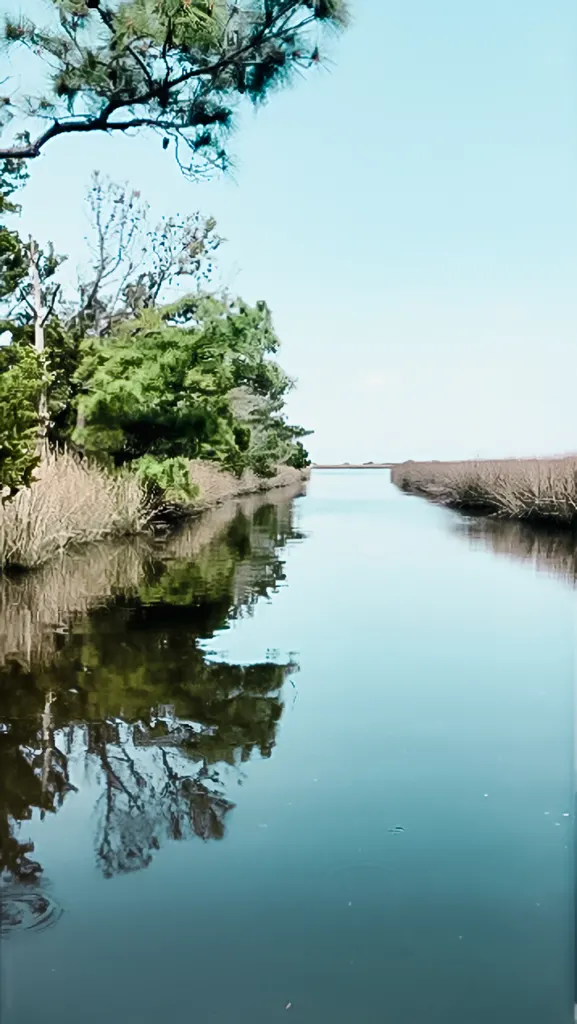 Located 40 miles northeast of Beaufort, Cedar Island National Wildlife Refuge is home to over 14,000 acres of protected land including about 11,000 acres of brackish marsh and 3,000 acres of pocosin and woodland habitat.
Established in 1964, the goal of the refuge is to provide habitat and protection to endangered species and migratory waterfowl, as well as provide wildlife-related recreation and environmental education to the public.
Available activities at Cedar Island Refuge include fishing, wildlife observation and photography, interpretation programs to learn more about the refuge and its landscape, and hunting (certain portions of Cedar Island Refuge are open to waterfowl hunting in accordance with State and Federal regulations).