Looking for the best outdoor dining in Charlotte NC? Enjoy dinner or drinks al fresco from our list of some of the best patios in Charlotte.
Looking for some of the other best places to eat and drink in Charlotte, NC? Check out Off the Eaten Path's Charlotte Restaurants Guide! If you're interested in North Carolina food and travel, we've got that too including the best restaurants in Hendersonville, NC, and Off the Eaten Path's Asheville Travel Guide, Outer Banks Travel Guide, Bryson City Travel Guide, and how to spend a weekend visiting North Carolina wineries.
This is one of the best questions I've gotten from a friend on Instagram:
"It's sunny at 75. What Charlotte patio are you headed to?"
When it's a nice day, I immediately need to be enjoying a nice meal, a glass of wine or a cocktail al fresco at one of the best outdoor patios in Charlotte.
WHERE SHOULD I EAT OUTSIDE IN CHARLOTTE, NC?
Ok, so first of all, what does it mean to be one of the best patios in Charlotte?
It's a totally subjective thing…it's totally based on my own personal experiences, feelings, tastes and opinions.
Basically, my list of Charlotte's best outdoor dining and drinking experiences can vary differently from anyone else's list, because it's my favorites.
But let me tell you, while a best of list is subjective, I do feel like I am qualified to write one about the best patios in Charlotte.
Why?
Because patio beer season is my favorite season!
(I guess also because I've lived in Charlotte for over 10 years, which means I've had the chance to eat and drink outside at a ton of Charlotte's patios).
This Charlotte restaurant guide was one of the hardest ones for me to write because there are just so many patio dining and drinking options in the Queen City in a variety of neighborhoods, so this list was really hard to narrow down.
(PS: Looking for other CLT restaurant guides? Read more about food in Charlotte by checking out Charlotte's Best Brunch, the Best Wings in Charlotte, Best Breweries in Charlotte, or my Charlotte Food Bucket List…I write one every year to document which local restaurants I want to visit.)
We're lucky that you can basically eat outside all year round (and it's been interesting to see how restaurants are adapting to patio dining through the colder months), which means we have a lot of options when it comes to outdoor seating.
My best patios list started at more than twenty spots, and then I had to whittle away. Here's a few things that helped me narrow my list:
I started by focusing on spots that are more unique and special, and maybe some that are more, off the beaten, or eaten, path could we say? Sure, some of these patios are on every single platforms' "best patios in Charlotte list" but that's because they are really great outdoor dining options!

I wanted to include outdoor spaces that offer something other than just the view of a parking lot…Charlotte does have an abundance of patios with stellar parking lot views.

I also steered away from spots that only serve drinks because I wanted to focus on Charlotte's best patios where you can enjoy a meal (but of course, any of these spots are perfect for a cold beer or cocktail!)
The result is a wide range of food options, price points and ambiance. So if your looking for laid back rooftops, bustling biergartens, sweeping skyline views, covered hideaways, neighborhood hangouts or picturesque points right next to the water, we've got a spot for you!
Where is your favorite patio in Charlotte?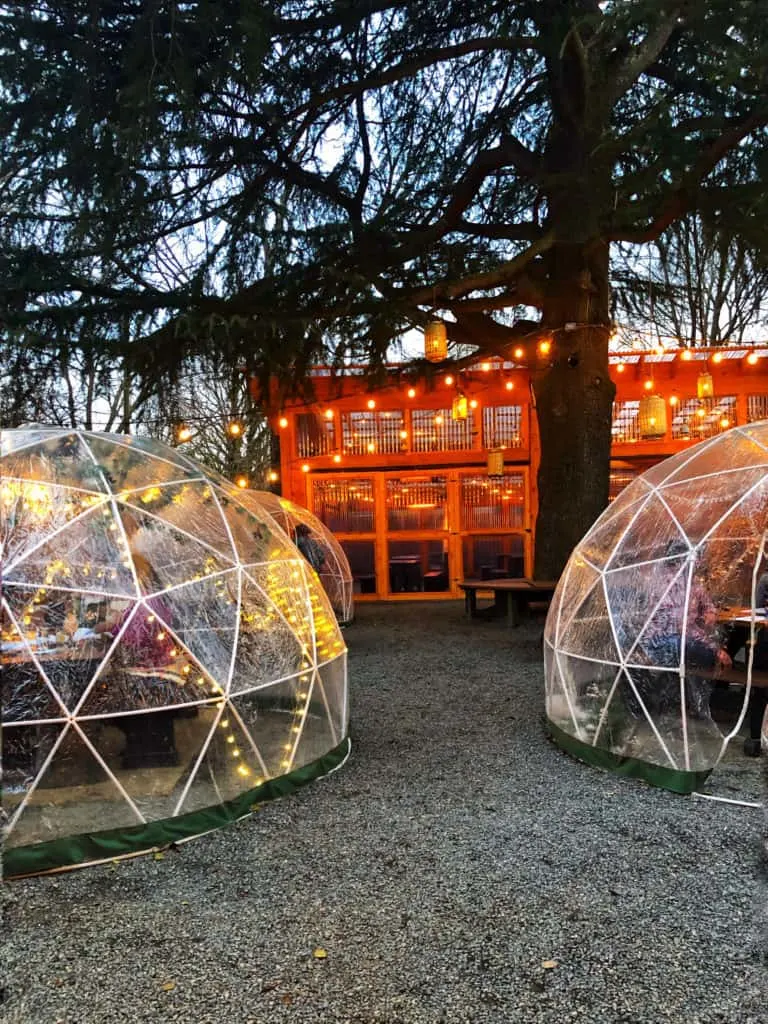 At The Goodyear House, you can enjoy locally sourced comfort food with an international flair (whether for lunch, dinner or check out their brunch menu!) at a picnic table under twinkle lights and the branches of a hundred-year-old holly tree.
While casual and comfortable (and dog friendly!) the design is detailed, beautiful and thoughtful, making it feel like you're relaxing in a friend's backyard, which nails their goal of being "NoDa's neighborhood gathering place built on a shared history of community and kinship."
The Goodyear House expanded their patio last year, adding an open air greenhouse and igloos over several tables to make outdoor dining in their gorgeous backyard accessible and comfortable all year round (the igloos will leave for the season in mid-March but if you missed igloo season they are coming back next winter!)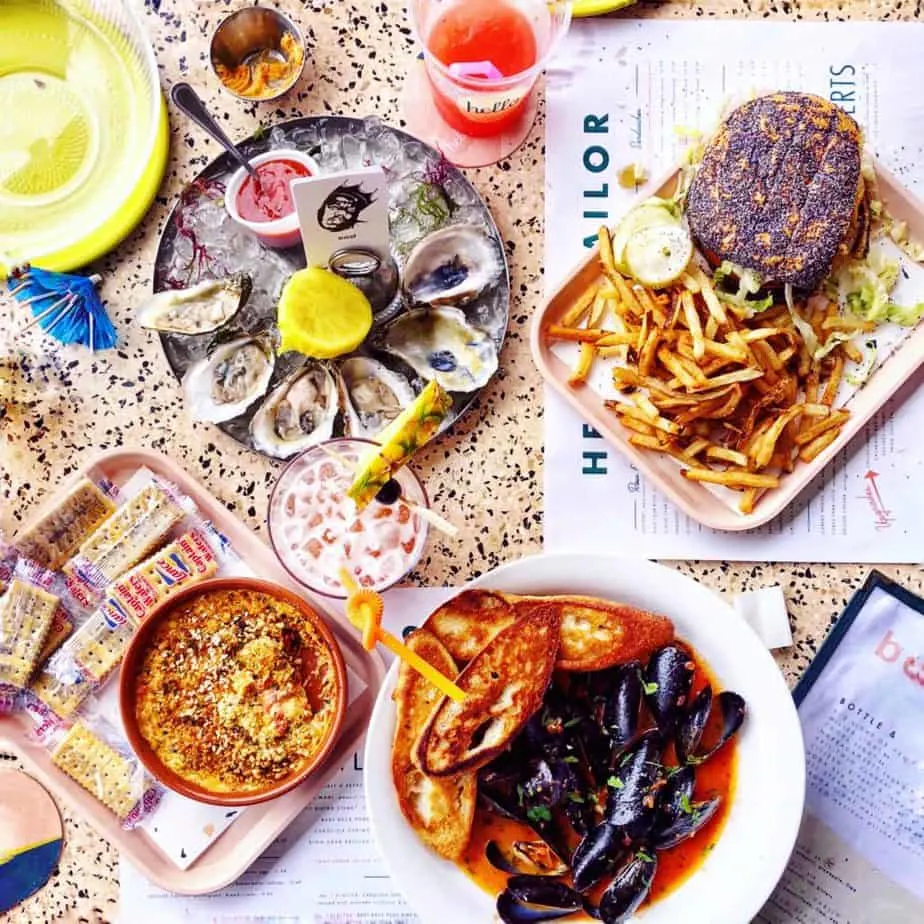 Being a lifelong water lover (the beach is my favorite place on the planet) there's just something about being near the water that brings me so much joy and energy.
While I love living in Charlotte, one of the downsides is that it's landlocked (in fact they made fun of us for that a few years ago on SNL on top of being the "Gateway to Gastonia.")
Lucky for us, Hello, Sailor is an easy drive up I-77, making it a great place for al fresco waterfront dining (with gorgeous views of Lake Norman!) so we can get our fill of tiki cocktails, seafood and lake views. (You can also arrive at Hello, Sailor by boat and park in one of their 20 dedicated boat slips.) Their dining room also has expansive floor to ceiling windows so you can still get a view of the water if you eat inside.
Beyond simple seafood dishes, beach worthy drinks and beautiful mid-century modern decor, Hello, Sailor boasts 3,500 square feet of waterfront deck space made for boozy slushie sipping.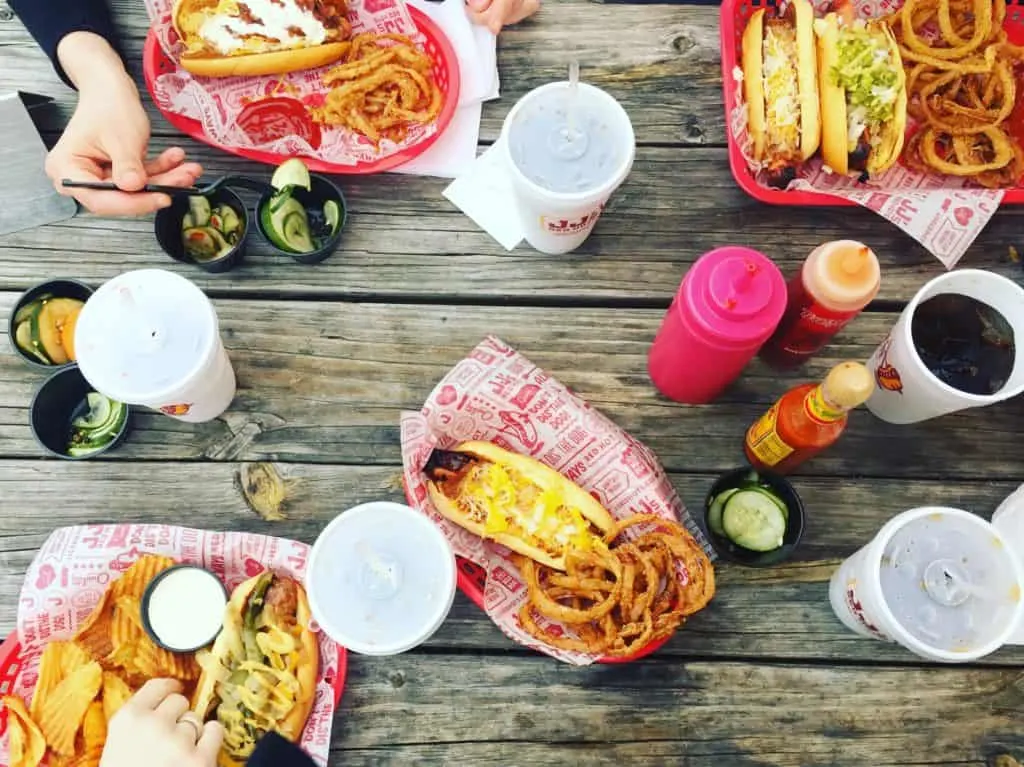 Usually I equate rooftop patios with sweeping skyline views, but one of the best, most underrated rooftop spots in town is actually tucked in among small businesses and Willow Oaks in Dilworth.
On a clear, Carolina blue cloudless day, there is nothing like eating a delicious JJ's hot dog and drinking a cold beer on their rooftop patio. Just writing that sentence makes me salivate for a hot dog on a sunny day. My favorites are The Char Heel, Uptown Downtown, and JJ's No. 1 Red Hot, but honestly they are all good. JJ's says they serve "the best hot dogs on the planet" and I have to agree.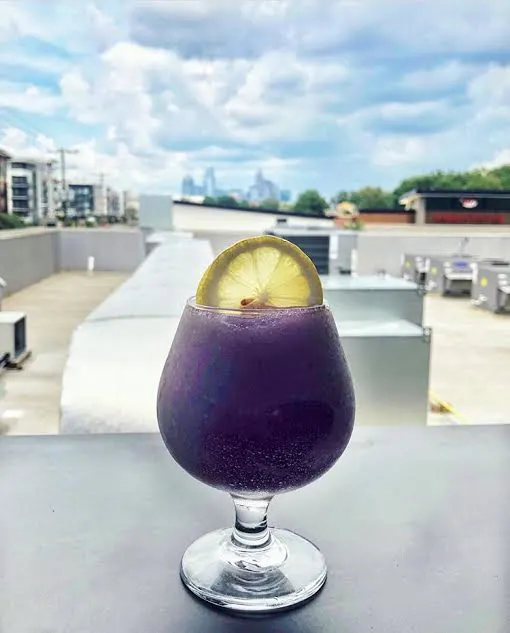 Speaking of rooftops and skyline views, The Waterman's rooftop terrace (dubbed Topside) features a slice of Uptown's skyline through the back of their bar.
Enjoy seafood favorites like fried platters, lobster rolls, po boys, fish tacos, and chowder, along with burgers and sandwiches for landlubbers on their covered patio. They also have a full raw bar and an extensive craft cocktail menu, called boat drinks (so on brand!)
The Waterman also has a downstairs patio, but the upstairs patio is my preference.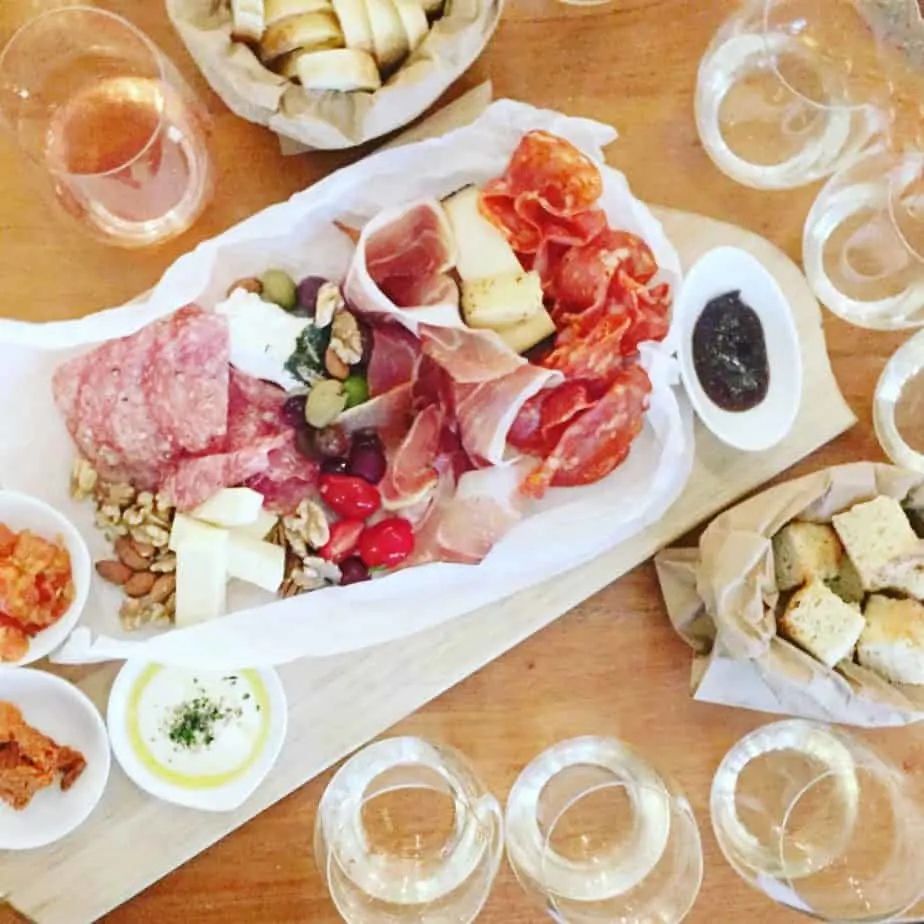 Shhh, did you know that Charlotte has a secret garden?
The historic building in one of Charlotte's oldest neighborhoods (which was originally a dry goods store, later turned a neighborhood billiards hall) is now home to an elegant and modern wine bar. From the front door, stroll to the left past the sleek, bold red leather couches and the illuminated wine wall behind the bar and through the door to a dreamy, picturesque patio.
The focal point of this magical patio space is a bubbling koi pond in the center, which is surrounded by small tables and winding stone lined paths. Low hanging trees, colorful blooms, and string lights create a serene, backyard escape just blocks off South Boulevard.
Dilworth Tasting Room's gorgeous garden is one of my go to spots for after work wine, catching up with girlfriends, and a romantic date night.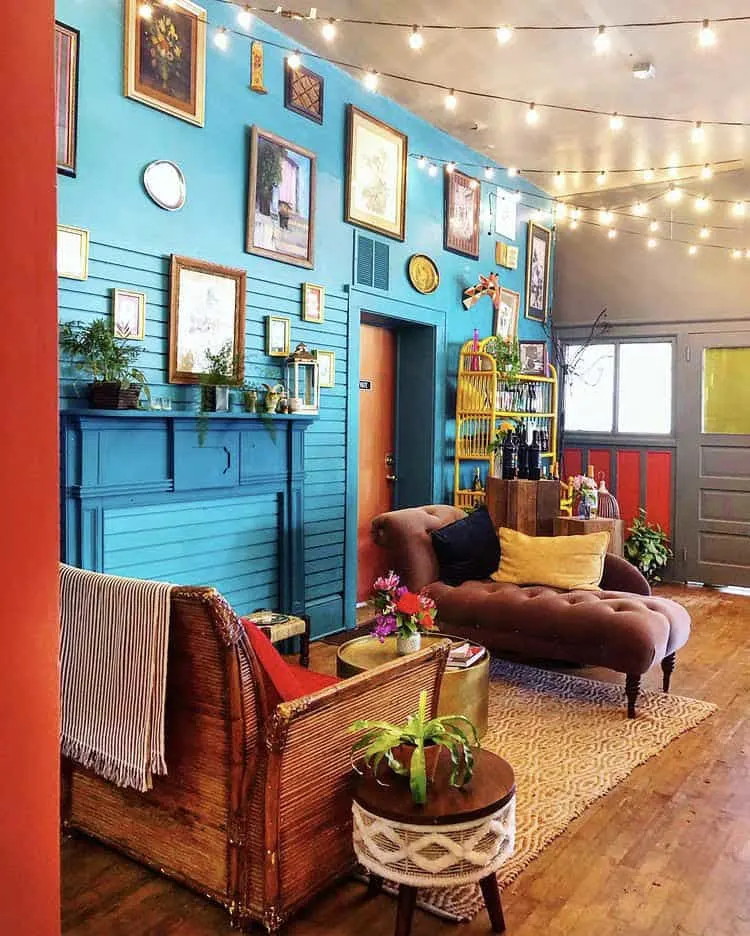 Speaking of gorgeous gardens (and also wine!) another one of my favorite patios in Charlotte is Rosie's Coffee and Wine Garden.
Located in McGill Rose Garden on N Davidson St. (and named after a cat!), Rosie's is open daily serving coffee, wine and a small selection of snacks (but you can bring your own picnic too). They also occasionally have food trucks visit!
They have a small, cozy store front and cafe where you can order, and then take your beverage of choice out to the garden to explore! The roses bloom in May and October, but the garden is gorgeous any time of year!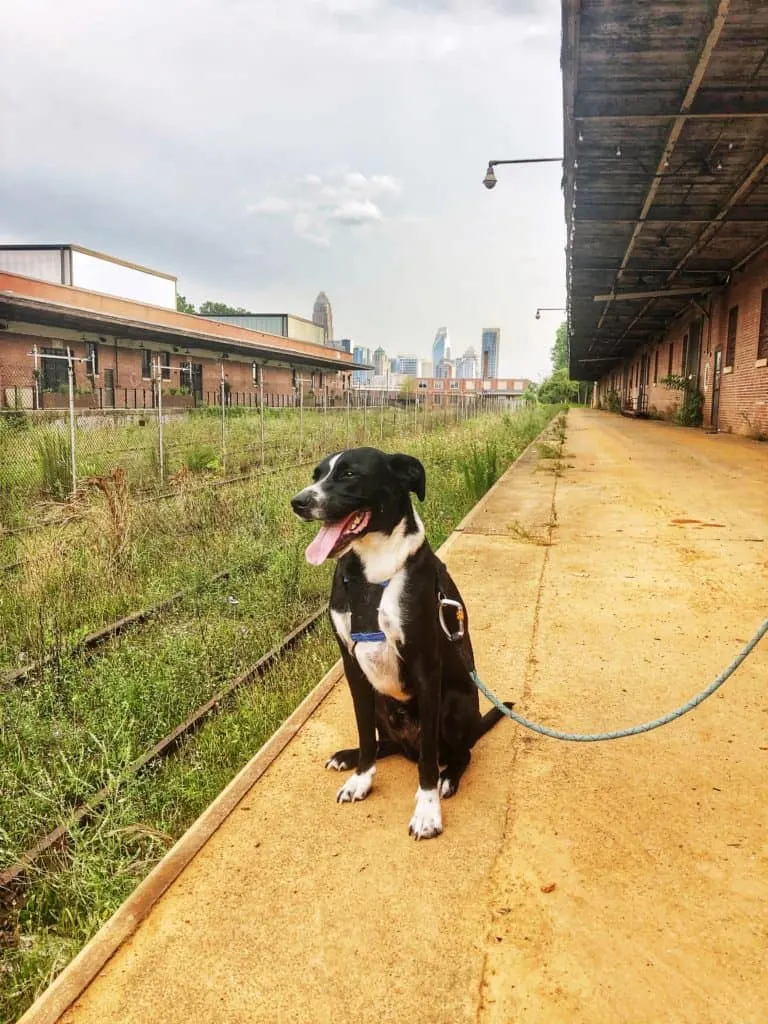 Camp North End is way more than a patio, it's bustling hub featuring 76 acres of outdoor space, art, curated retailers, and yes, food!
I highly recommend carving out a couple hours to walk around and explore the campus of Charlotte's newest hot spot, and then start or end your adventure with a bite and a beverage. Camp North End also hosts special events, pop ups, markets and live music, so check out their website and social media to see what's coming up!
For food and drink options, Camp North End is home to four different outdoor food stalls, a full service restaurant, brewery, coffee shop, speciality food retailers and mobile bars:
Plant Joy: locally sourced, Mediterranean influenced and inspired vegan cuisine

La Caseta: Latin street food celebrating community and made with family recipes

Saru by Bow Ramen: An authentic Nagahama style Tonkotsu ramen shop with five varieties of pork bone broth ramen. (and a vegetarian option too!)

Bleu Barn North End: The popular farm to table food truck now has a permanent location serving seasonal burgers, sandwiches and salads made with local North Carolina ingredients.

Leah & Louise: A juke joint owned by James Beard nominated Chef Greg Collier and his wife, Subrina, serving modern interpretations of Southern classics from the Mississippi River Valley foodways. They have a small front patio that overlooks the Mount District and it's fun to watch the action while you eat.

Free Range Brewing: A community focused local brewery making delicious beers with locally sourced ingredients.

Hex Coffee: A specialty coffee roaster (that started as a pop up) who believes coffee is best served in its purest form.

Chop & Chisel: A grab and go meal concept making healthy eating fun and convenient. They offer meal delivery, but have a walk in cooler available at Camp North End.

Wentworth & Fenn: A gourmet bakery with breads, pastries, macrons and cakes all baked from scratch.

Popbar: A walkup window serving customizable popsicles made from gelato, sorbet and yogurt.

NoDa Company Canteen: Serving beer and wine on Friday nights and at special events in the Boileryard

Black Moth Bars: A 1960s camper turned mobile bar serving one of a kind drinks on Friday nights and at special events.

Babe & Butcher: Custom charcuterie, crudite, fruit, and dessert boxes, boards and grazing tables.
NoDa Company Store, in Charlotte's NoDa neighborhood, is a fixture of the popular arts neighborhood. Iin an old millworker's house and artist's private residence, NoDa Company Store is part neighborhood general store and part party at a friend's house. The welcoming, funky vibe is everything you want in a neighborhood bar, complete with a sprawling patio out back with porch swings and picnic tables.
NoDa Company Store has a variety of beverage options including local beer, wine, prosseco and seltzer, but the stars (must order) are the house made sangrias made with seasonal fruits and the signature NoDa colada, which also comes in slushee form.
Who said fine dining couldn't happen al fresco? For an elegant outdoor dining experience, make your way to Fig Tree Restaurant in the charming Elizabeth neighborhood. Their intimate front porch and patio provide a serene setting adorned with lush greenery and romantic lighting. This upscale restaurant specializes in French and Italian cuisine with a Southern twist in a refined yet relaxed environment.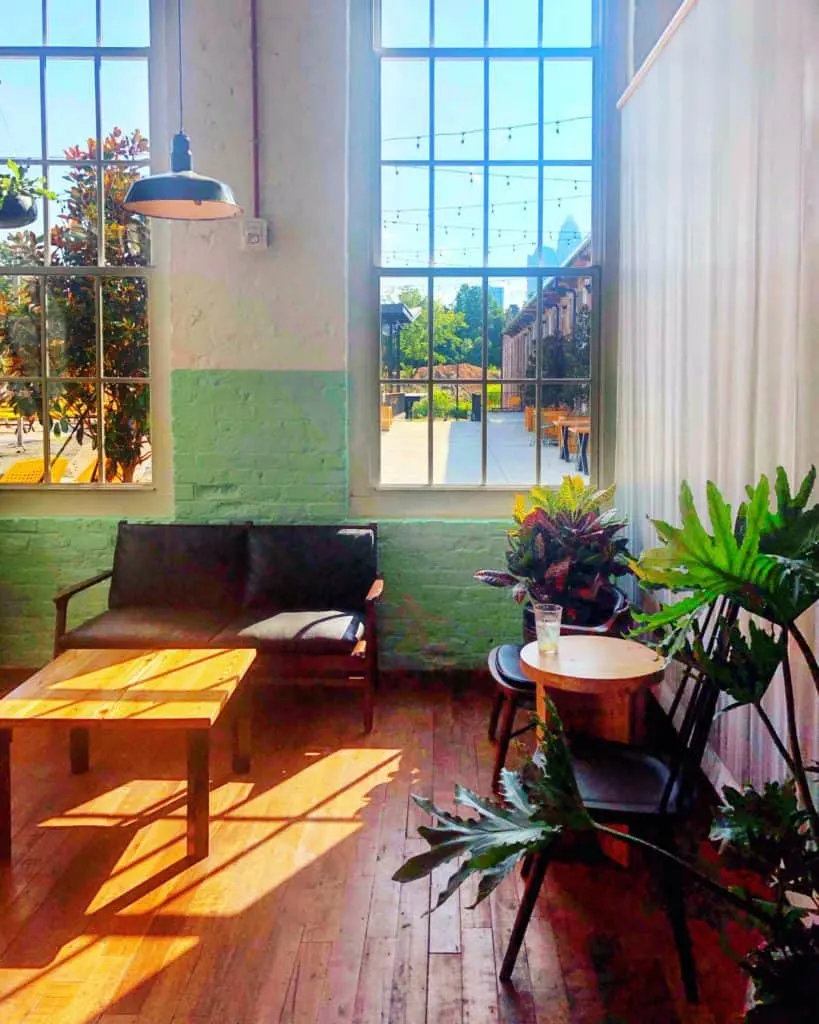 Optimist Hall a redevelopment of a historic, turn-of the-century textile mill into a food hall, complemented by retail shops, restaurants, office and outdoor space in the Optimist Park neighborhood (between Uptown and NoDa).
Optimist Hall has 23 tenants and tons of pet-friendly outdoor space including a main courtyard (with skyline views), patios and lawn space.
Optimist Hall has a little something for everyone:
Ava: Authentic Neopolitan pizza

Bao and Broth: Asian street fare favorites like bao buns and ramen bowls

Billy Sunday: A Chicago based craft cocktail bar

Botiwalla: An Indian street grill inspired by Irani cafes

Boxcar Betty's: Fried chicken sandwiches (enough said, right?!)

The Dumpling Lady

: Authentic Sichuan Chinese food including dumplings, noodles and dim sum

El Thrifty: A modern Mexican cantina and gaming/entertainment space

Felix's Empanadas: Authentic Argentinian pastries with sweet and savory choices

Fonta Flora

: A local brewery based out of Morganton, NC dedicated to partnerships with local farmers and brewing with local ingredients.

Harriet's Hamburgers: A retro burger joint.

Honeysuckle Gelato: Scoops of gelato with flavors inspired by the shop's Southern roots.

Mezeh Mediterranean Grill: A unique twist on the classic mezze dining experience.

Papi Queso: The popular food truck's first brick and mortar featuring creative grilled cheese sandwiches.

Spindle Bar: A vintage inspired bar with fruit forward craft cocktails and local beer and wine.

Suarez Bakery: Signature sweet treats and freshly prepared sandwiches, salads and more.

Undercurrent Coffee: A cozy coffee shop serving seasonal fare.

Velvet Taco: Serving funky and fun tacos inspired by multicultural food and flavors.

Village Juice Co.: An organic raw juice and clean food cafe.

Xiao Bao: Dishes focused on Southeast Asian flavors and favorites.

Zukku: Specialty sushi rolls and bowls.
Brawley's, Madison Park
Brawley's Beverage is a beloved neighborhood spot with a bustling patio along Park Road. A favorite of locals and craft beer enthusiasts, Brawley's outdoor space exudes a chill, relaxed, friendly and casual vibe. Whether you're sipping on a local IPA or exploring their more unique beer offerings, Brawley's is the perfect place to unwind with a cold brew.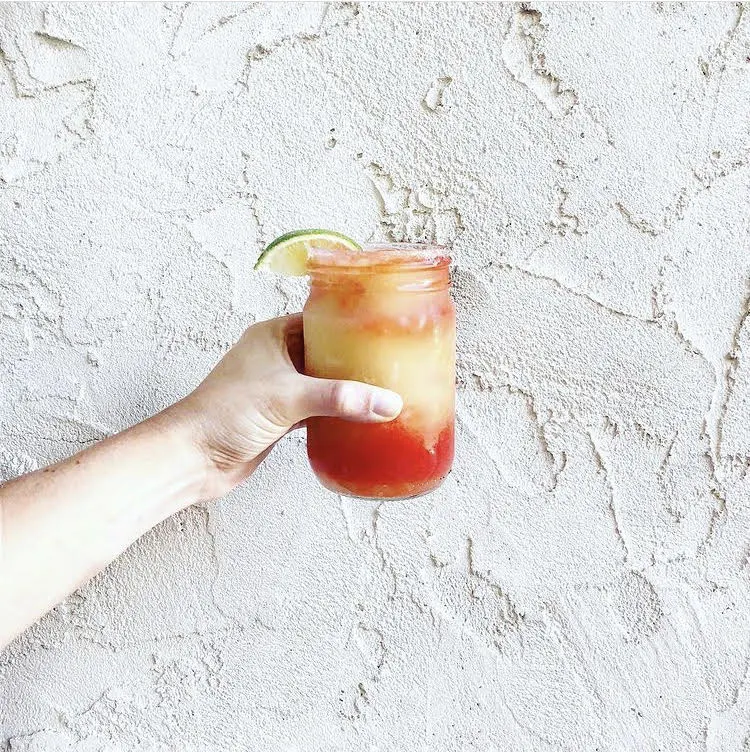 There is a similar, indescribable yet happy, feeling that I get from hot dogs and cold beer on a rooftop (see JJ's above) and drinking a margarita on a beautiful, sunny warm day.
RuRu's will satisfy all of your sunny margarita drinking hopes and dreams. Located in the historic Reynolds-Gormajenko House in Myers Park, the building's architecture will transport you to Tuscany while you munch on tacos and sip tequila.
USNWC, West Charlotte
The Whitewater Center has a leg up on any old patio in Charlotte…it's a full on outdoor adventure complex along the banks of the Catawba River. Even if you're not in a rafting, zip-lining, or mountain biking mood, you can go to the Whitewater Center to relax by the water, grab a bite to eat, and listen to live music. Their River Jam concert series is one of our favorite Charlotte events!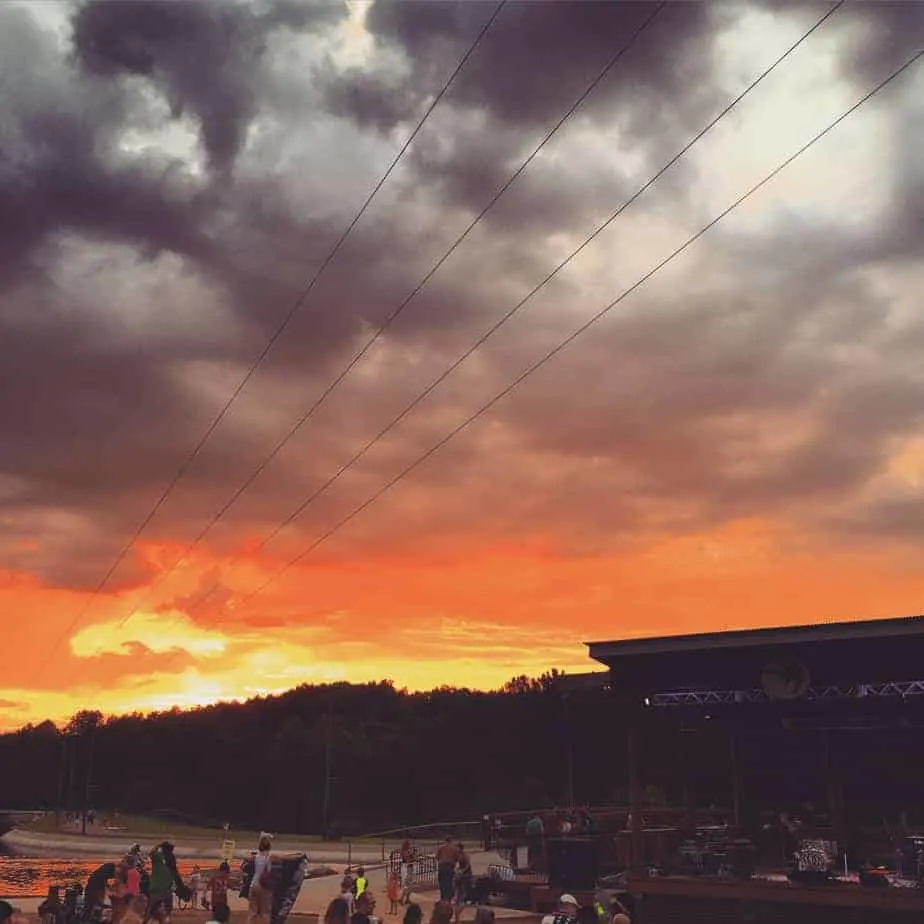 THE HONORABLE MENTIONS
Outdoor dining options are plentiful in Charlotte and so it was hard do limit my list, so I wanted to include a few honorable mentions.
LINCOLN STREET KITCHEN AND COCKTAILS: A live Ligustrum tree is planted right in the middle of the rooftop deck where you can enjoy small bites and craft cocktails.
OLDE MECKLENBURG BREWERY: Olde Mecklenburg Brewery's sprawling beer garden is super shaded and family friendly.
FAHRENHEIT: Perched on the 21st floor, their rooftop terrace offers an unbeatable panorama of the city. For rooftop views and vibes, we also love Merchant and Trade.
MIDDLE JAMES BREWING: Middle James has a huge grassy area with tons of picnic tables that is pet and kid friendly. They also have a second floor patio overlooking the driving range on the property.
CRAFT TASTING ROOM AND GROWLER SHOP: Centered by a huge fire pit, Craft's patio is cozy and casual.
BIRDSONG BREWING: A lot of breweries in Charlotte have nice outdoor spaces but Birdsong's beer garden has always been one of my favorites. Grab a pint, a seat at a picnic table and some food from their rotating selection of food trucks.
REID'S SOUTHPARK: Don't knock a patio at a shopping mall until you've tried it. Reid's offers a sophisticated outdoor dining option after a day of shopping at SouthPark Mall.
THE COWFISH: Beyond offering an innovative fusion of burgers and sushi, Cowfish boasts a spacious, family friendly outdoor patio.