This Acadia National Park guide highlights all the top things you can see and do with just two days in Acadia National Park (which is the perfect amount of time to explore) and includes a sample two day Acadia National Park itinerary!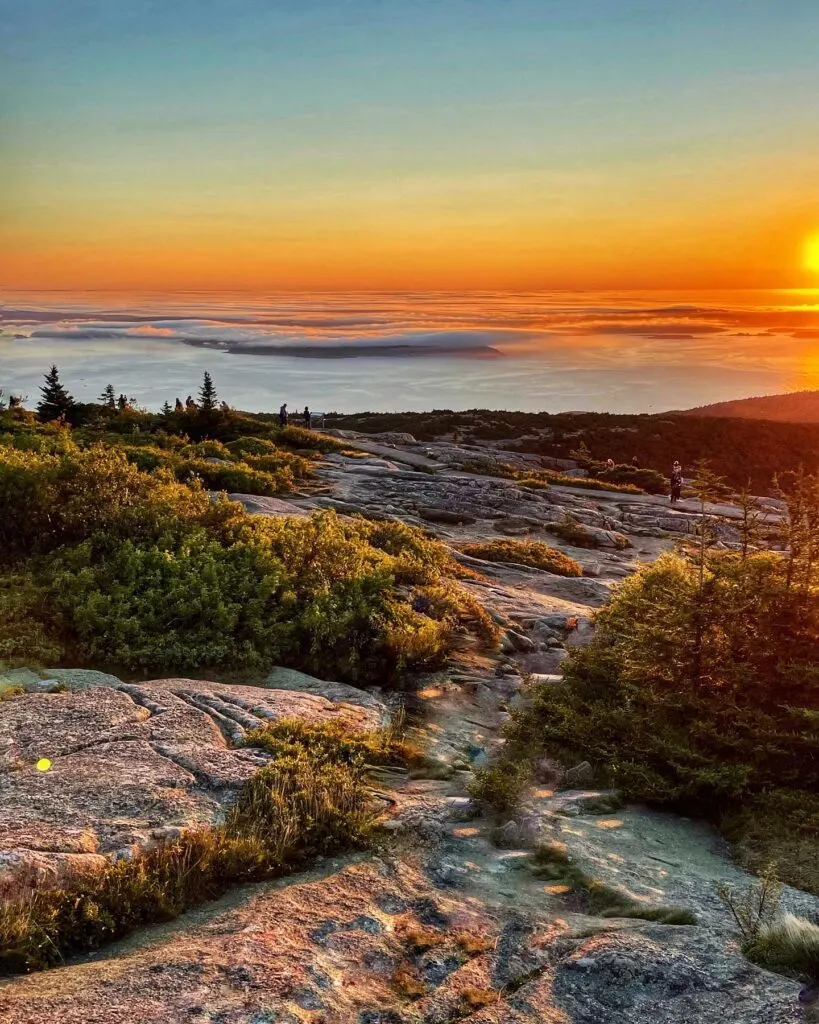 Plan your next adventure using one of Off the Eaten Path's travel guides:
WHERE IS ACADIA NATIONAL PARK?
Acadia National Park preserves about 50,000 acres of rocky headlands along the Atlantic coast of Maine, southwest of the small coastal town Bar Harbor. It is about a 50 mile drive southeast of Bangor, Maine, 160 miles northeast of Portland, Maine, and 260 miles northeast of Boston, Massachusetts.
While divided into three regions, the majority of the park sprawls across Mount Desert Island but also preserves portions of the Schoodic Peninsula, Isle Au Haut and some smaller coastal islands as well.
ALL ABOUT ACADIA NATIONAL PARK
The first National Park east of the Mississippi on the east coast, Acadia National Park was established in 1916 through the donation of private lands that were protected and then gifted to the public in the form of a national monument.
The only National Park in New England, Acadia gets over 3 million visitors per year who come to hike, bike, swim, boat, camp, enjoy breathtaking views of Maine's rocky coastline, and more– making Acadia one of the top 10 visited National Parks in the United States.
BEST TIME TO VISIT ACADIA NATIONAL PARK
Acadia National Park is open to visitors all year round. While there is no "best time" to visit Acadia, each season has its benefits and drawbacks when it comes to things to do in Acadia Maine, weather, crowds and more.
Visitors in the spring will experience fewer crowds as the Maine coastline thaws from winter. But don't let the term "spring" fool you, temperatures on the Maine coast will still be cool and in fact, ice storms can still be regular in early spring. The best tip for visiting Acadia in Spring, make sure you dress in layers!
The Maine ocean islands provide the only nesting site for Atlantic puffins in the United States, so if you are planning to visit the park in late spring to early summer, you can book a boat tour out of Bar Harbor to try to spot the cute black and white birds (you can't see the puffins on or from Mount Desert Island). The best months for puffin watching are June and July, but tours generally run from May through August.
Summer is the most temperate time in Maine featuring warmer days and cooler nights. Because of the island's coastal climate, temperatures on Mount Desert Island will generally be cooler than inland Maine, and rainstorms can happen on the regular (coastal Maine has been ranked second only to the Pacific Northwest in annual precipitation) so don't forget your rain gear.
Summer months are the park's business season, so you can expect packed parking areas, congested roads and crowded trails…when we visited in early September our game plan was to always go hiking early in the morning which worked well for us and helped us avoid crowds and parking issues.
Fall is probably the second busiest season in Acadia when leaf peepers are drawn to the area to take in the views with red, orange and yellow hues. The leaves start turning in mid-September but peak usually comes around early to mid-October.
Acadia turns into a winter wonderland during the coldest months of the year offering activities like skiing, snowmobiling and snowshoeing. While the winter months are a beautiful time to visit, several tourist spots like hotels, restaurants and even park attractions are closed during the winter season.
Just a note for planning ahead for your visit: there is very limited to nonexistent cell service in the park, depending on your carrier (we spent most of our time in Acadia without cell service. Make sure that you download park maps (we actually brought a printed one with us that we bought online), and save all of your reservations, tickets and QR codes on your phone ahead of time.
VISITING ACADIA NATIONAL PARK WITH YOUR PET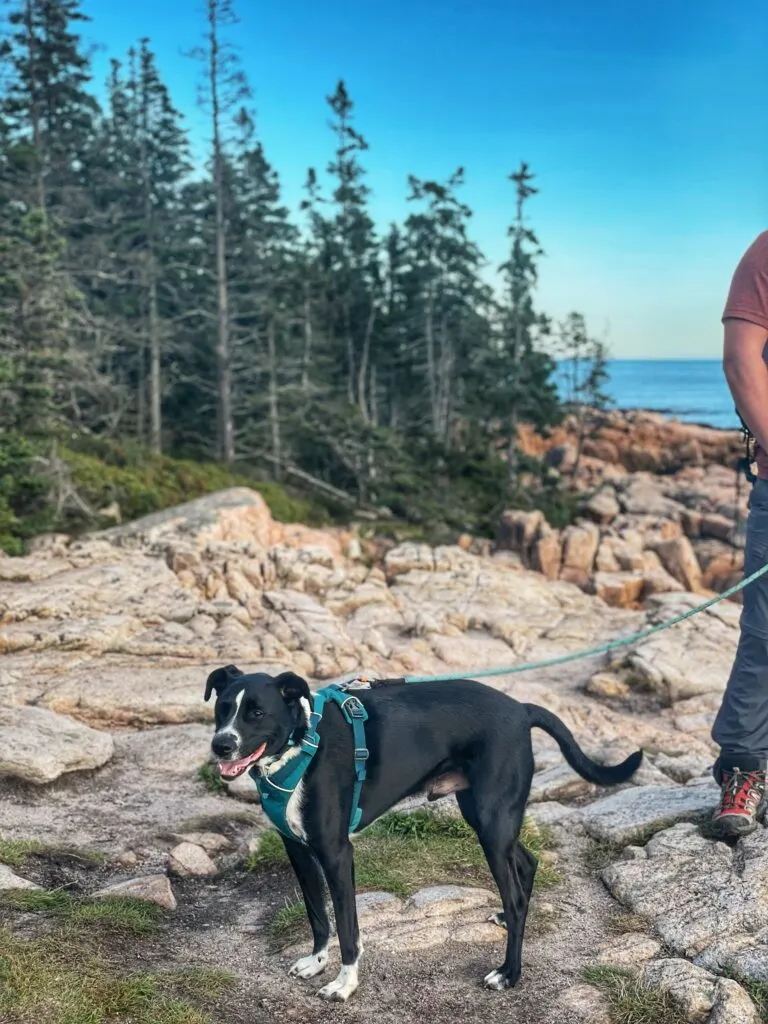 Visiting National Parks has become one of our favorite vacations and we have found that most have incredibly strict pet policies limiting dogs to developed areas, a few trails and campgrounds. Of course, we understand why every National Park has its own set of rules and regulations when it comes to four legged visitors in order to protect the land and animals that the parks preserve. This often means that when we visit National Parks, we look up the pet policies in advance of our visit and often leave Bodie at home if he's not going to be allowed in many areas of the park.
Acadia is one of the most dog friendly National Parks we have visited, and we have heard it could be the most pet friendly park in the country! There are 3 campgrounds, over 100 miles of hiking trails and 45 miles of carriage roads in the park where pets are allowed (the only exceptions are the trails that would be unsafe for dogs, like the ones with rungs and ladders), which means that you can find lots of different ways to explore with your furry friend. Acadia's shuttles are pup friendly too!
Now that you know where you're going and the best time to visit, let's talk about how you can spend two days in Acadia National Park, and all the things you should see and do!
SEE THE SUNRISE ON CADILLAC MOUNTAIN
Cadillac Mountain is the highest peak along the North Atlantic seaboard, rising 1530 feet above sea level. Its height is not Cadillac Mountain's only claim to fame…for half of the year (from October to March) it is the first place in the contiguous United States to see the sunrise.
Speaking of sunrise, while the 3:30 AM wake up call sounds incredibly early, watching the sun peak up over the horizon from Cadillac Mountain's summit is totally worth it.
Don't worry, you won't have to traverse the 4.4 mile trail up to the summit in the dark; the Cadillac Mountain Summit Road meanders its way up the side of the mountain and has been taking cars to the top since 1931. During the park's busiest months (May through October), visitors need to make a car reservation to drive to the top of Cadillac Mountain.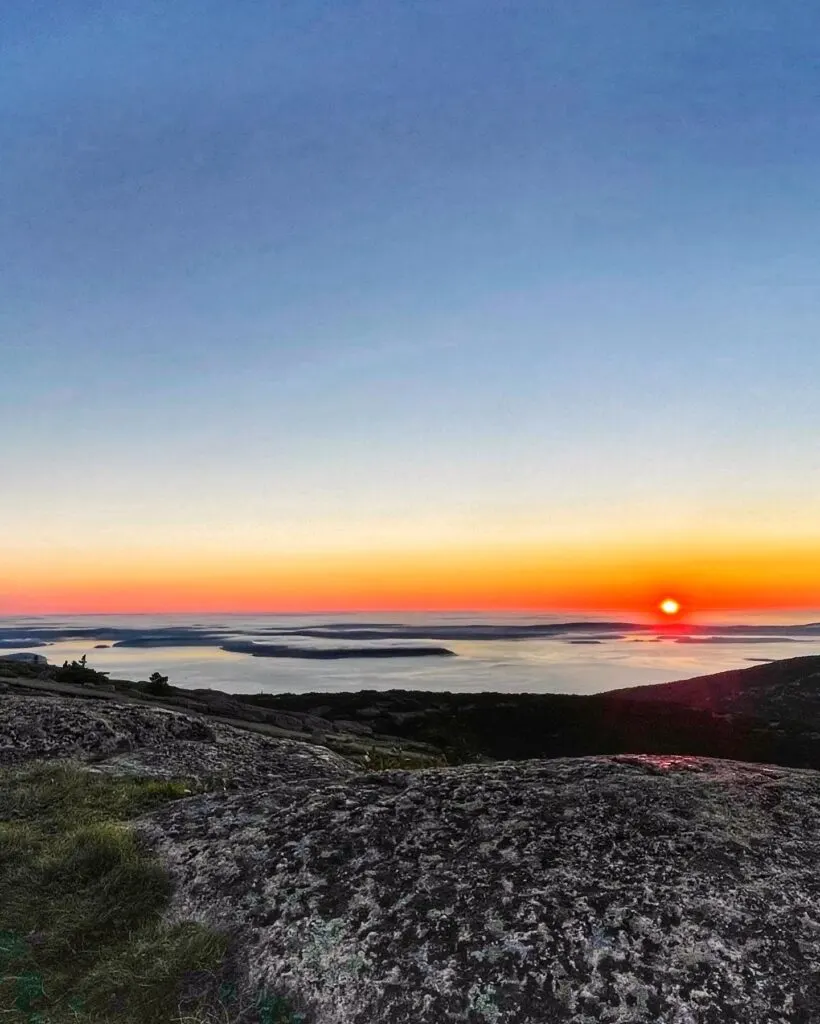 Here is the reservation down low:
Reservations are available on

recreation.gov

A portion of reservations are released months in advance, the rest are released 2 to 3 days in advance at 10am (so getting a parking pass for the sunrise slot can be very competitive…we were lucky enough to snag one by logging on right at 10am but they were sold out in about 10 minutes. Imo, it's like the mid-30s version of trying to snag concert tickets to your favorite band for their sell our show)

Cost $2 to $4, are per vehicle, not per person

Reservations are required during the busy months at all times and not just for sunrise (they are offered throughout the day in one hour and a half time blocks)

Reservations provide a time block for entry time, but do not require a departure time

Print or screenshot your reservation because you'll have to show it to the ranger before driving up the Cadillac Summit Road and cell service can be unreliable or nonexistent in the park
While we were in Acadia, we did not hike Cadillac Mountain, but we've heard it's a really fun and not too difficult hike that takes about three hours, and of course you're rewarded with beautiful views at the top!
DRIVE THE PARK LOOP ROAD
The park loop road is a 27 miles scenic drive throughout the eastern part of Mt. Desert Island that starts at the Hulls Cove Visitor Center in Bar Harbor and provides access to Acadia's most popular spots and viewpoints including ​​Sieur de Monts, Sand Beach, Otter Point, Jordan Pond, and Cadillac Mountain. If you take your time, with stops and sightseeing it will take you anywhere from three to four hours to drive the loop.
Two quick Park Loop Road tips:
read the park map before seeing out so you understand the traffic patterns, the road is one way in certain areas and goes under several low bridges (this is especially important if you have a high clearance vehicle like a truck or RV).

The Park Loop Road is closed from December 1 through April 15
HIKE ALONG OCEAN PATH
If you'd rather see Acadia's most popular points by foot, the Ocean Path hike is a must do. The 4.4 mile (round trip) gradual hiking trail will take you to Sand Beach, Thunder Hole, and Otter Cliffs plus give you breathtaking views of the ocean and jagged coastline.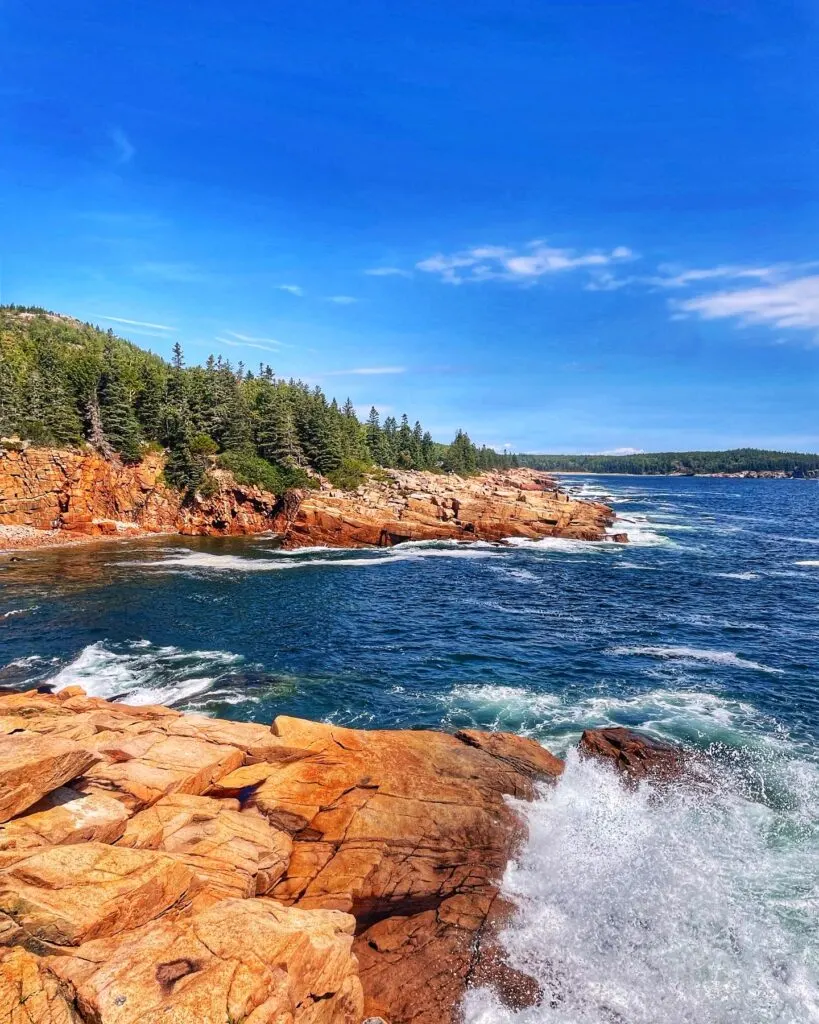 Sand Beach, aptly named for the unique sand made from shell fragments created by the pounding ocean surf, is Acadia's only sandy ocean beach. Nestled between mountains and rocky shores, the 290 yard beach is popular with sunbathers and swimmers (even if the waters only range between 50 and 60 degrees at their warmest). Sand Beach also marks the beginning of both the Park Loop Road and Ocean Path, and is nearby three popular trailheads: The Beehive, The Great Head Trail and Gorham Mountain.
Thunder Hole is an underwater sea cave that gets its name from the thundering sounds that echo when a surge of water crashes into the inlet. Make sure to visit when conditions are right (two hours before high-tide) so you can hear the thunder roar.
Otter Cliff marks the end of the Ocean Path trail. The 110-foot cliffs are the highest point along the Ocean Path and have become the most popular rock climbing spot in Maine, and one of the few places anywhere you can climb directly over the ocean. We loved stopping here for a little while and taking in the views and watching the climbers before hiking back to Sand Beach.
GO FOR A HIKE ON MORE THAN 150 MILES OF TRAILS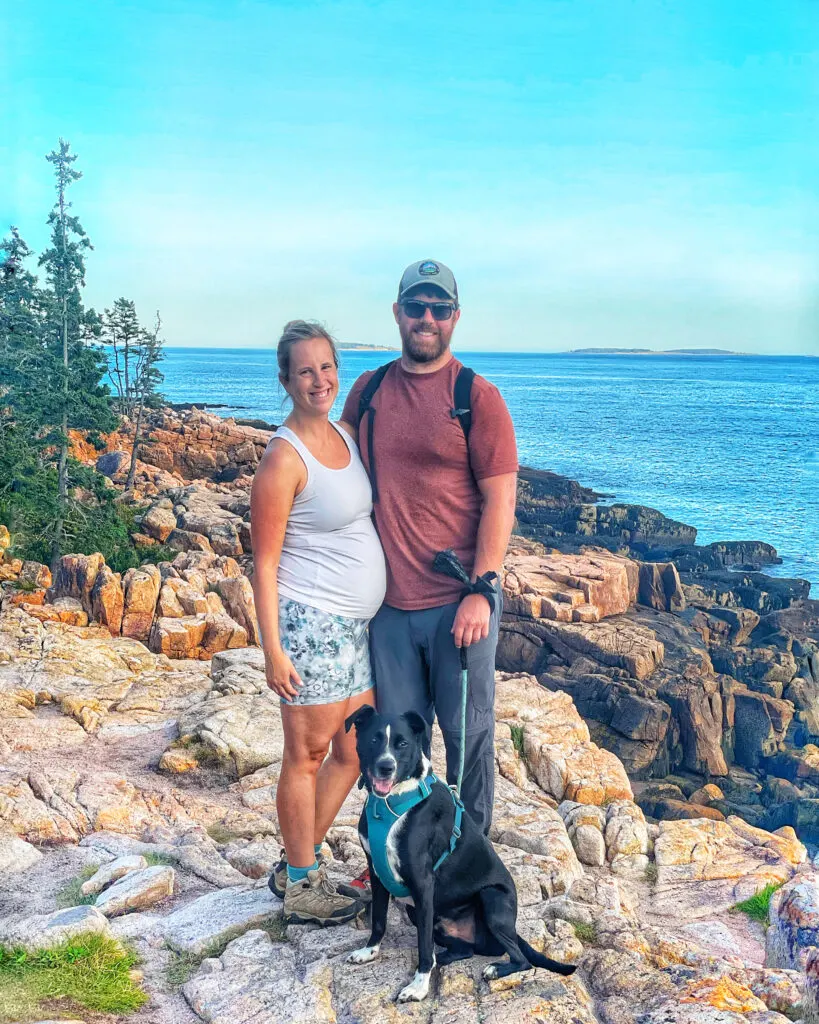 Beyond the popular Ocean Path, Acadia National Park is home to more than 150 miles of trails that traverse forests, rocky coastlines and mountain tops. Here are a few of the more popular ones:
GORHAM MOUNTAIN TRAIL
Gorham Mountain was one of my favorite Acadia hikes. When we visited, I wasn't able to hike the very popular Beehive or Precipice trails (I was five months pregnant at the time and we also had our dog, Bodie, with us, so ladders were not an option). Gorham Mountain was definitely a better option; I would say while still rocky (so watch your step!) it's a pretty gradual elevation gain to the summit, making the hike easier and a more family and dog friendly option. At the top, we got 360 degree views of the park with Sand Beach to the east, the Beehive to the north and Otter point to the south. With tt's close proximity to Ocean Path, you can easily make it a loop hike (which is what we did).
PRECIPICE TRAIL
This trail came highly recommended from friends who had recently visited Acadia, but it is not really dog, kid or pregnant lady friendly. I have heard it's probably one of the hardest and most difficult hikes in the park for a few reasons:
The use of iron (in the form of rungs, railings and ladders) is a distinctive and ingenious element of many of the hikes in Acadia Maine. Adding iron ladders and rungs on steep, severe and exposed rocky terrain gives hikers access to parts of Maine's landscape that they wouldn't be able to otherwise reach.

Of course, the presence of iron ladders is not limited to the Precipice trail, it's a feature on many hikes throughout the park…but what makes the Precipice trail harder, is that its taller, longer and steeper than other hikes, which also means there are more rungs and ladders to climb.

When we're talking steeper, a lot of people describe the Precipce trail as more of a climb than a hike. Many of the exposed cliffs are near-vertical and a hiker ascends more than one thousand feet in a little less than a mile.
BEEHIVE TRAIL
The Beehive is another extremely popular rung and ladder hike located in one of the most popular areas of the park: the trailhead is right across from the Sand Beach parking lot on the Park Loop Road (in the summer, this hike can be very crowded). Similar to the Precipice trail, expect lots of scrambling and climbing as you hike up a 450 foot cliff with exposed edges. The views along the hike and at the top are worth it with panoramic views of Sand Beach and Frenchman's Bay.
JORDAN POND TRAIL
Another hike we loved that gave us completely different views of Acadia National Park was the Jordan Pond Trail. The easy, flat 3.5 mile trail follows the shore of Jordan Pond and provides gorgeous views the glacially carved pond and of the surrounding mountains including the iconic Bubbles.
While easy and flat, the trail traverses a variety of terrain including gravel and dirt paths, wooden bridges, and wooden boardwalk paths that take you over a section of wetlands near the pond's shore.
Would highly recommend this hike after some tea and popovers at the famous Jordan Pond House. You can take it as a leisurely stroll, or make it more challenging by adding in a rocky, steep, scramble up the Bubbles (adding on an additional 1.5 miles and beautiful, panoramic views of Jordan Pond).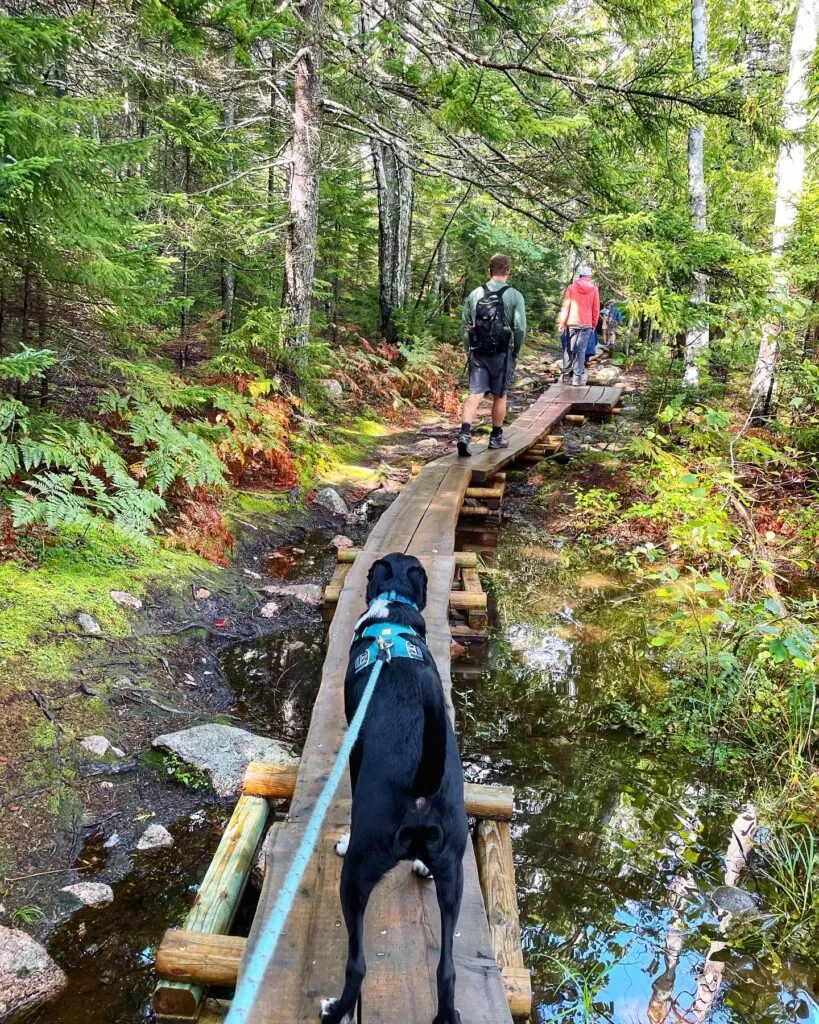 VISIT THE SCHOODIC PENINSULA
Many visitors to Acadia will spend their time on Mt. Desert Island exploring the stops along the main Park Loop Road, but we would highly recommend scheduling a half day or day to go explore the off the beaten path area of Acadia, the Schoodic Peninsula.
The Schoodic Peninsula is 2,226 acres of land managed by Acadia National Park as a minimally-developed, low-visitation area. (In fact, it is the only part of the park that is found on the mainland!)
The Schoodic Peninsula is often referred to as Acadia National Park's "quiet side," likely because only about 10% of travelers to Acadia National Park visit Schoodic. Less travelers equals less crowds!
The Schoodic section of the park is about an hour drive from Bar Harbor, and once your there, you can loop around the peninsula via a 6 mile, one way road, soaking up the sights, sounds and slower pace (The loop road offers various vehicle turnouts for visitors to stop and enjoy the scenery).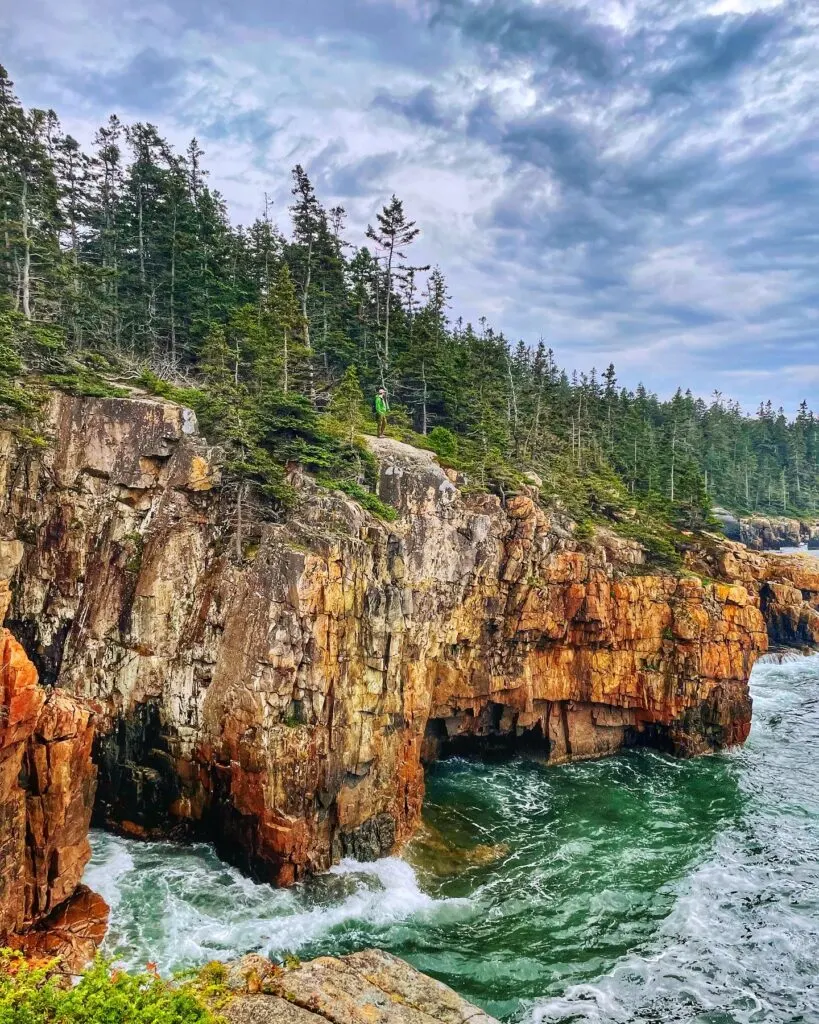 A few highlights of the Schoodic Peninsula:
Raven's Nest: You're not going to find Raven's Nest on the official park map (we actually learned about it from some friends on Instagram). There isn't any park signage either…instead just count until the third pull off to the left on the loop road from Frazier Point (about 3.1 miles from the park entrance) and you'll find this hidden gem by crossing the street and going on a short hike through the trees (there is a marked trail and roped off areas for resource protection.) Raven's Nest was one of our favorite spots in Acadia–the cliffs are extreme and the drops are dramatic so be careful but the views are worth it.
Schoodic Point is the southern tip of the Schoodic Peninsula. It's a windy, fully exposed area which means it's a great place to watch waves crash into the rocks (we brought a picnic lunch and spent about an hour watching the ocean swells). On a clear day there are also great views on Mt. Desert Island and Cadillac Mountain.
The Schoodic Institute is Acadia National Park's partner in science, education, and research. The Schoodic Institute has a variety of programming open to the public covering topics like Acadia's history, forest ecology, climate and the porcupines that call the Schoodic Peninsula home.

Schoodic Head is the highest point on the Schoodic Peninsula, rising about 450 feet above sea level. There are several different hiking trails to help you reach the top, or you can drive to Schoodic Head's peak via Schoodic Head Road (which is unpaved).

Schoodic Woods Campground and Ranger Station is one of four campgrounds in the park and is the only one on the Schoodic Peninsula. It is open May through October and is located about 3 miles from the small town of Winter Harbor. The nearby ranger station also acts as a small visitors and information center for the Schoodic section of Acadia National Park.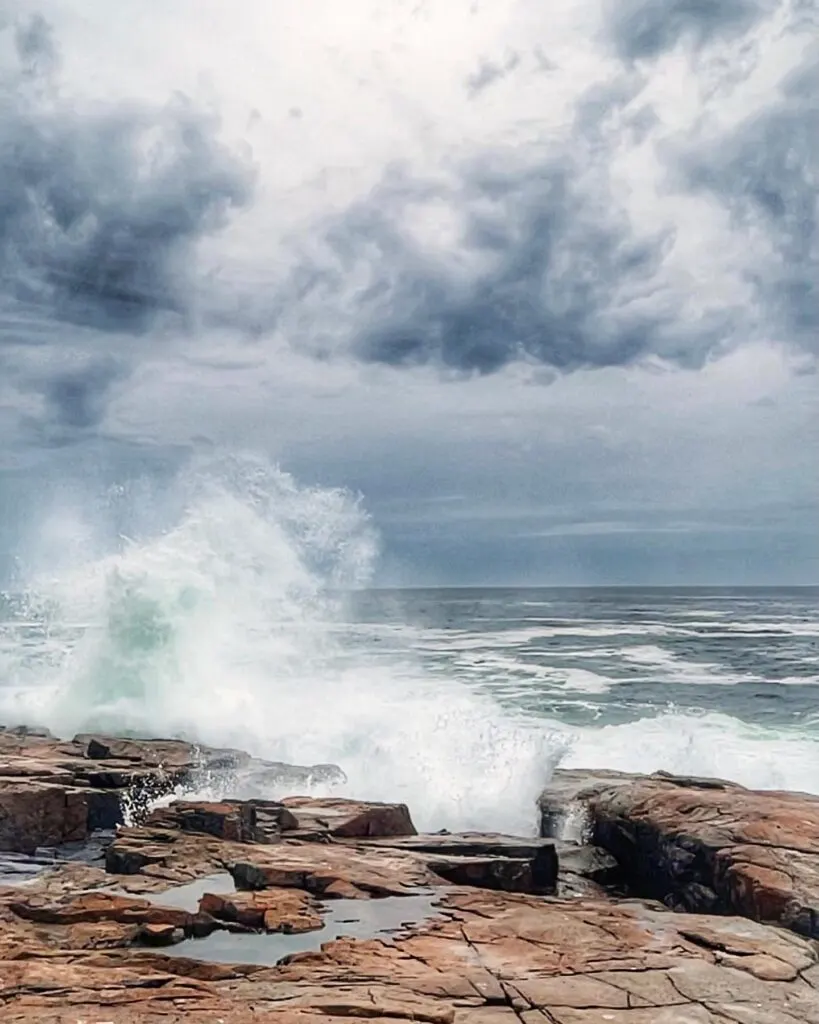 WATCH THE SUNSET AT BASS HARBOR HEAD LIGHTHOUSE
Built in 1858, the Bass Harbor Head Lighthouse is the most visited place on the western side of Mount Desert Island, and the fifth busiest destination in Acadia National Park (behind Cadillac Mountain, Jordan Pond, Sand Beach and Thunder Hole).
This means during peak season, it's going to be crowded, especially at sunset (we tried to catch sunset at Bass Harbor Head Lighthouse several times during our trip and never saw a sunset, just got stuck in traffic and were never able to find a parking spot, so we ended up watching sunset at nearby Seawall which still gave picturesque views and fewer crowds). If you want to see the light station at sunset, get there super early due to crowds and limited parking. Otherwise, we'd recommend visiting at a less popular time of day to see this historic landmark.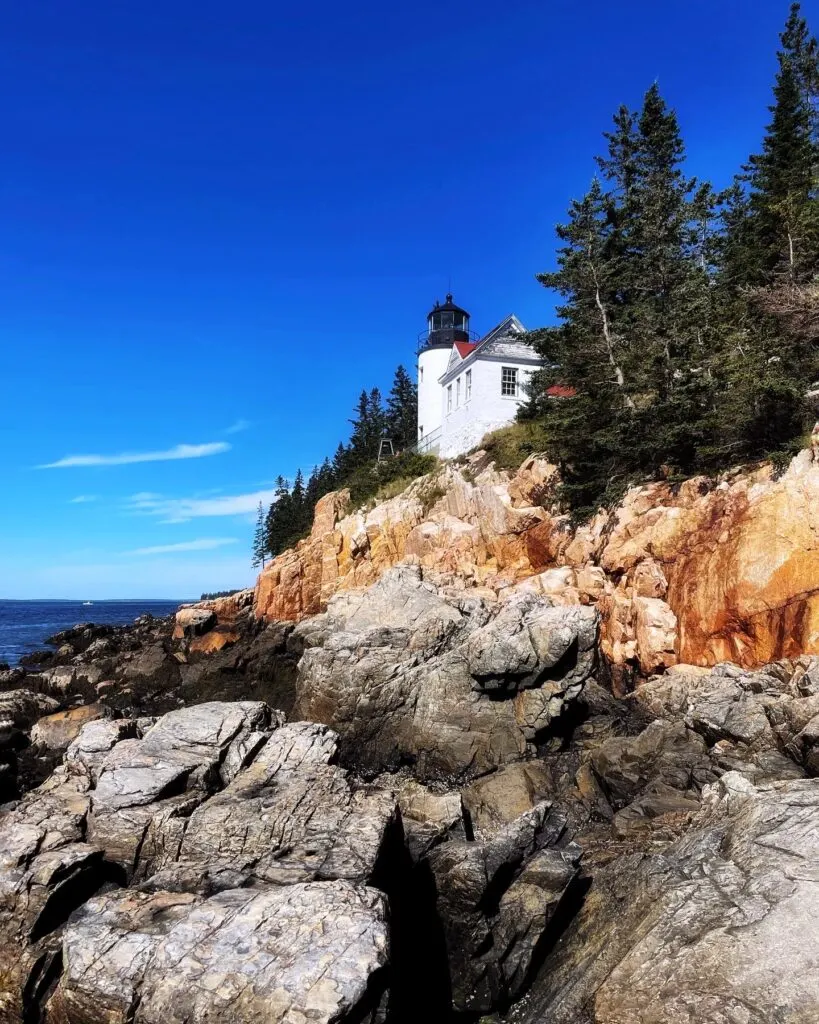 EXPLORE ACADIA'S CARRIAGE ROADS
John D. Rockefeller Jr. owned a lot of the land in Acadia Maine before donating it to the National Park Service. Rockefeller built 45 miles of carriage roads that now run throughout the park as a car-free, scenic way for himself and his neighbors to travel through Mount Desert Island (the roads also preserved the line of hillsides and saved trees). Today, pedestrians, bicyclists, horseback riders, and horse-drawn carriages (and in the winter, they are great for cross country skiing and snowshoeing) can take advantage of these car-free roads to take in and explore the beauty and splendor of Acadia National Park.
TAKE A FERRY TO ISLE AU HAUT
Located roughly 15 miles southwest of Mount Desert Island is the most primitive part of Acadia National Park, Isle Au Haut (meaning High Island In French). Half of the remote island is managed by the National Park Service as part of Acadia, and offers eighteen miles of hiking trails, as well as paved and unpaved roads for bicycles, while the other half is privately owned (making up a community of summer residents and year-round fishermen). Visitors can get to Isle au Haut via a year round, passenger-only ferry that departs from Stonington, Maine.
ENJOY A POPOVER AT JORDAN POND HOUSE
The history of Jordan Pond House goes back to 1847, when the first settlers in the area conducted a logging operation and established a small mill near the foot of Jordan Pond. The original farm house on the property was built by the Jordan family, for whom the pond and house were named.
Toward the end of the 19th century, Mount Desert Island became a popular summer vacation destination, and Jordan Pond House was converted from a farm house into a small restaurant.
Jordan Pond House is part of the land that was once owned by John D Rockefeller Jr. in the 1920s and then was donated to the National Park Service in 1940. During this time, Jordan Pond House continued to operate as a restaurant, continuing the legacy of the restaurant that was established in 1985. In 1979, a fire destroyed the original building, and Jordan Pond House re-opened in its current building in 1982.
The only full service restaurant in the park, Jordan Pond House sits on a hill overlooking Jordan Pond and the Bubbles in the distance. Jordan Pond House has been serving lunch, dinner and afternoon tea (with famous popovers) to area visitors for over a century; we enjoyed tea, popovers and breathtaking views one morning before hiking the Jordan Pond Trail.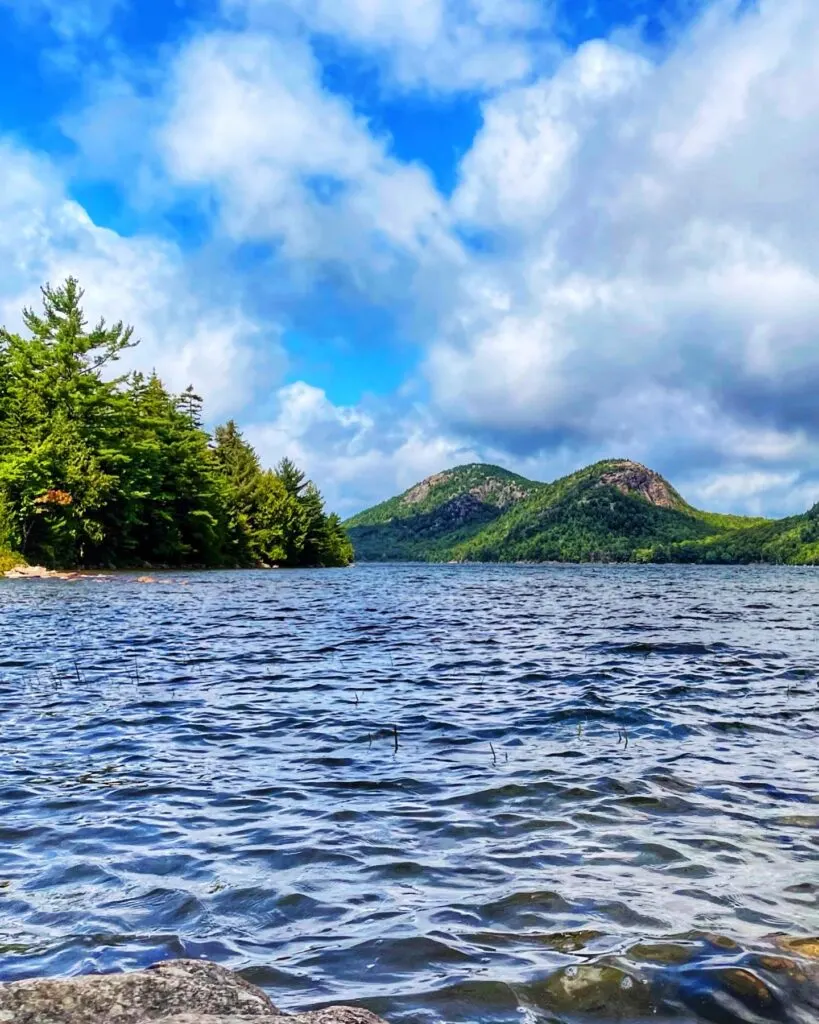 TOUR THE WILD GARDENS OF ACADIA
The Wild Gardens of Acadia is a botanical garden run by community volunteers that showcases over 400 native species to Mount Desert Island. The gardens are divided into 13 sections to represent and reflect the park's natural habitat to help visitors learn about native vegetation.
LEARN SOME HISTORY AT CARROLL HOMESTEAD
For history buffs, we recommend you visit the Carroll Homestead which has been preserved to show what early settlement life was like in coastal Maine. For 92 years, three generations of the Carroll family lived and worked on the land and now visitors can tour the home and surrounding farm and learn more about homesteading through park ranger programming.
SHOP, EAT, STAY AND PLAY IN BAR HARBOR
Bar Harbor is the coastal Maine town that is the gateway to Acadia National Park. Many park visitors stay in the town's hotels, bed and breakfasts or other lodging options, and also take advantage of the town's many restaurants, bars, breweries, gift shops and other tourist attractions (Bar Harbor is the largest town on Mount Desert Island but there are several other communities on the island including Southwest Harbor, Seal Harbor, Tremont, Mount Desert and more). We loved strolling the streets of Bar Harbor and our two favorite spots that we visited were Blaze Brewing and Atlantic Brewing Company.
From Bar Harbor you can also hike the Bar Island Trail. One and a half hours before and after low tide, a gravel bar is exposed that connects the town of Bar Harbor to Bar Island. This is a great place to explore small tide pools. But be cautious and aware of the tides as during high tide the bar is covered by the ocean. If you walk over to the island and lose track of time, it is 9 hours until the bar emerges again to safely walk across.
EAT YOUR WEIGHT IN LOBSTER AT A LOBSTER POUND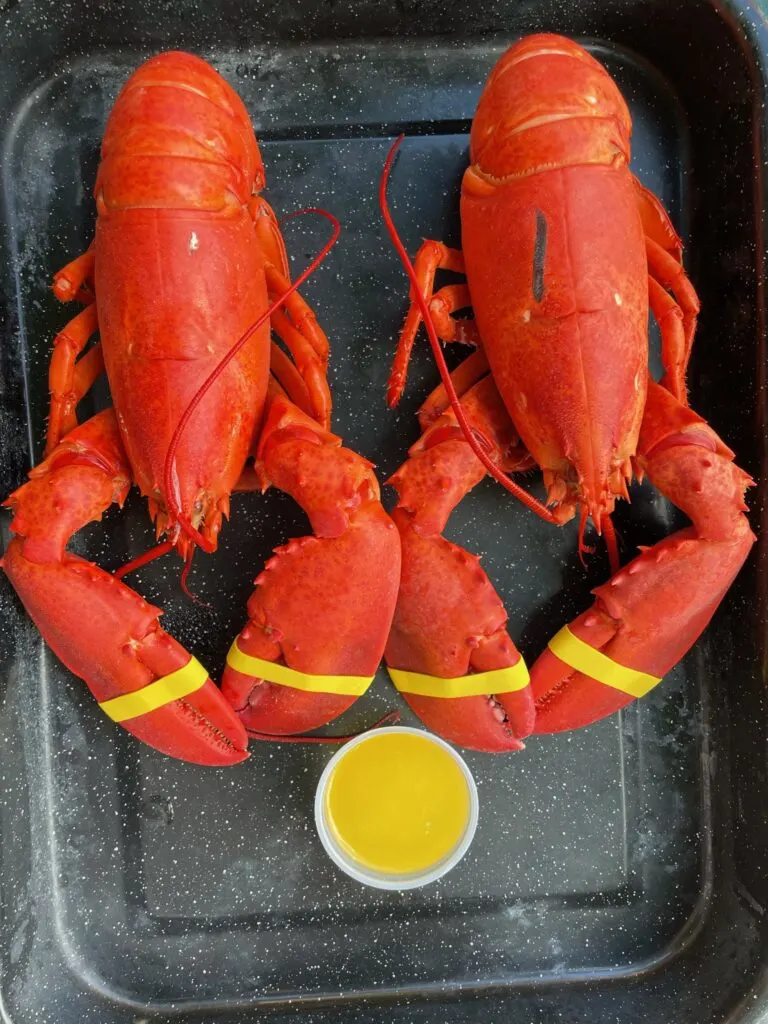 The term lobster pound started as a way to describe a method of storing live lobsters in order to keep them fresh by running fresh seawater through the storage containers, keeping them fresh until they could be sold. The term has evolved to not just the mechanism for storing fresh lobster but to include the seafood shacks on the Maine coast that cook and sell lobsters to enjoy on site.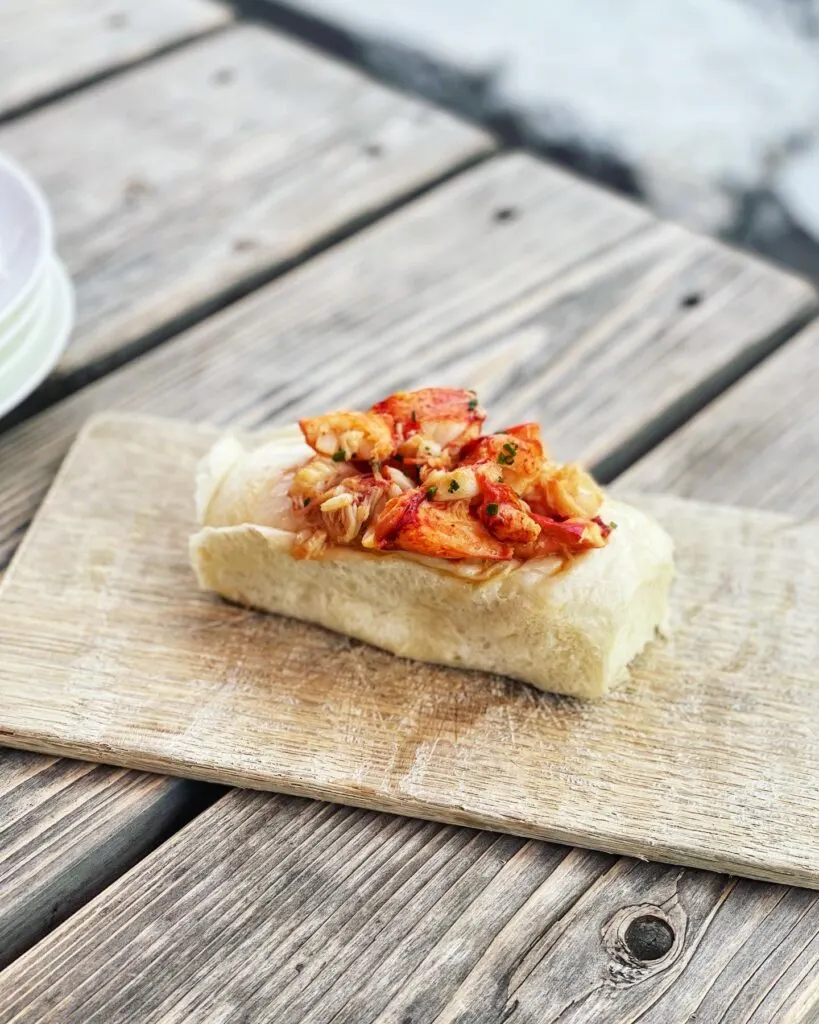 So what's the difference between a lobster pound, lobster shack and a restaurant? While I'm not an expert, we did eat a lot of lobster during our 10 day trip. A lobster pound and lobster shack are basically interchangeable: they offer a limited menu where lobster is the star, and may have a few other things like lobster rolls, chowder, clams, mussels and dessert. Most are counter service, where you order, pick your lobster from the tank and then go grab a seat at a picnic table until they call your number. A lobster pound or lobster shack is a very casual place where you can enjoy what you came for, lobster!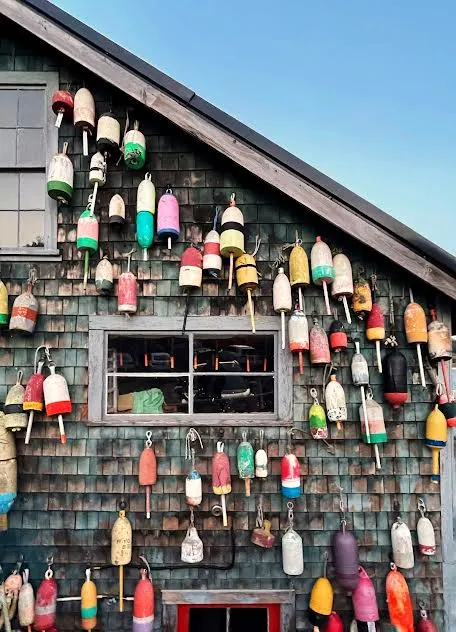 We ate lobster every day during our stay on Mount Desert Island, and these were our favorite stops:
Trenton Bridge Lobster Pound: this was our first stop when we arrived in Acadia. Located just over the bridge from Mount Desert Island, Trenton Bridge has been a side of the road stop for travelers for 60 years and had a very traditional vibe with wood fired boilers filled with seawater out front, a host of picnic tables to the side, and limited menu where pick your own lobster was the star.
Thurston's Lobster Pound: Located in Bass Harbor (which is also known as fisherman's harbor because it's the busiest working harbor on Mount Desert Island), Thurston's Lobster Pound is serving up fresh, off the boat lobsters nightly (seriously, so fresh you can watch the boats dock at Thurston's and unload their daily catch). It's a popular place (we saw a lot of families) so the line can seem daunting at first but it moves quickly and there's plenty of seating (as well as some non-seafood selections for landlubbers).
Beal's Lobster Pier: Similar to Thurston's, Beal's Lobster Pier is one part lobster pound, one part working pier (Beal's has been a working fish and lobster pier since 1932!) and you can watch fishermen unload their daily catch in Southwest Harbor. The restaurant side of Beal's opened in 1969 with a goal of serving the freshest seafood and giving guests an authentic Maine experience. After ordering our lobster rolls and cocktails at the counter, we enjoyed a beautiful sunset over Southwest Harbor while we ate.

Abel's Lobster: Abel's was the

only lobster spot we visited where we got table service. We visited Abel's because we had heard their lobster rolls were some of the best (and that turned out to be true, and we also loved the lobster chowder), but the night we visited was cold and rainy so we opted to sit inside (the outside looks really fun and casual). The restaurant was warm and cozy, the service was great, and the food was delicious (they had a lot of choices beyond just a basic lobster pound menu) and we'd recommend Abel's if you're looking for a more elevated restaurant experience.
SAMPLE TWO DAY ITINERARY EXPLORING ACADIA NATIONAL PARK
DAY 1
On your first day, wake up at 4 AM (woof, but it's worth it!) to drive to the summit of Cadillac Mountain and watch the sunrise.
Drive the Park Loop Road, stopping at the Hulls Cove Visitor Center to grab a map and get the lay of the land. Since you got an early start with Sunrise, park in the Sand Beach parking area and take a hike (the Beehive, Precipice, and Gorham Mountain trails are all good options). End your hike along the Ocean Path which includes Sand Beach, Thunder Hole and Otter Cliffs).
Hop back in your car and continue around the Park Loop Road stopping at Sieur de Monts Spring, Schooner Head overlook, the Wild Gardens of Acadia and anything else you want to stop for.
Enjoy a late lunch in downtown Bar Harbor and walk down Main Street to visit gift shops and the marina.
Stop for dinner in another one of the small towns on Mt. Desert Island or at a local lobster pound.
DAY 2
Start your second day with breakfast at Jordan Pond House. Order the popovers, trust me. Get there early as they don't take reservations and guests line up outside up to an hour before opening. Stop in the park's gift shop after breakfast.
Hike the 3.5 mile trail around Jordan Pond. Add in a hike up South Bubble Mountain (which is 1.5 miles and steep) for panoramic views of Jordan Pond.
Drive to the Seawall area of the park, and take a short hike. Stay for Sunset at Bass Harbor Lighthouse and then grab dinner in nearby Southwest Harbor.
DAY 3 (if you have extra time)
While two full days (perfect for a weekend trip!) is plenty of time time to explore the Crown Jewel of the North Atlantic Coast if you have a day (or even half a day!) left to explore, drive to the Schoodic Peninsula which was one of our favorite spots to explore in the park and arguably, one of the best places to visit.. We spent almost a full day there but it could easily be explored in just a few hours.
Some other ideas you could add to the end (or beginning!) of your trip would be a bike ride or horse-drawn carriage ride on the Carriage Roads, a boat cruise out of Bar Harbor, or a trip over to Isle Au Haut.