From Bloody Marys to Eggs Benedict; bottomless mimosas to all-you-can-eat-buffets, here's where you can find the best brunch in Charlotte, North Carolina. This updated edition of Charlotte's best brunch features six of my favorite Queen City brunch spots and the best dishes (and morning cocktails) to order at each.
Looking for other places to eat and drink in Charlotte, NC? Check out Off the Eaten Path's Charlotte Restaurants Guide!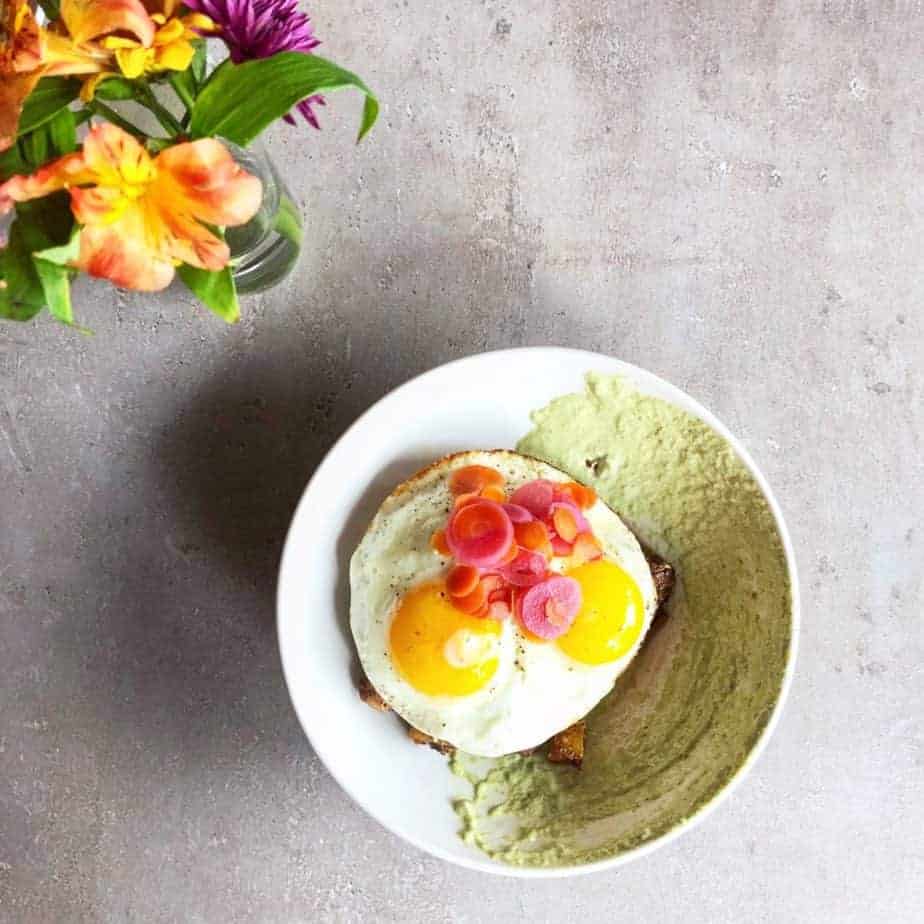 I originally wrote this post in April 2017, and it quickly rose to become one of Off the Eaten Path's most popular posts of all time.
After all I know a lot about brunch.
I've lived in Charlotte for over six years, and in those six years, I've brunch at a lot of different Charlotte restaurants: Vivace, Leroy Fox, Bistro La Bon, Cafe Monte, Heist Brewery, Sea Level, Local Loaf, Legion Brewing Company, Zada Jane's, and probably more!
(I'm just old and tired and can't remember.)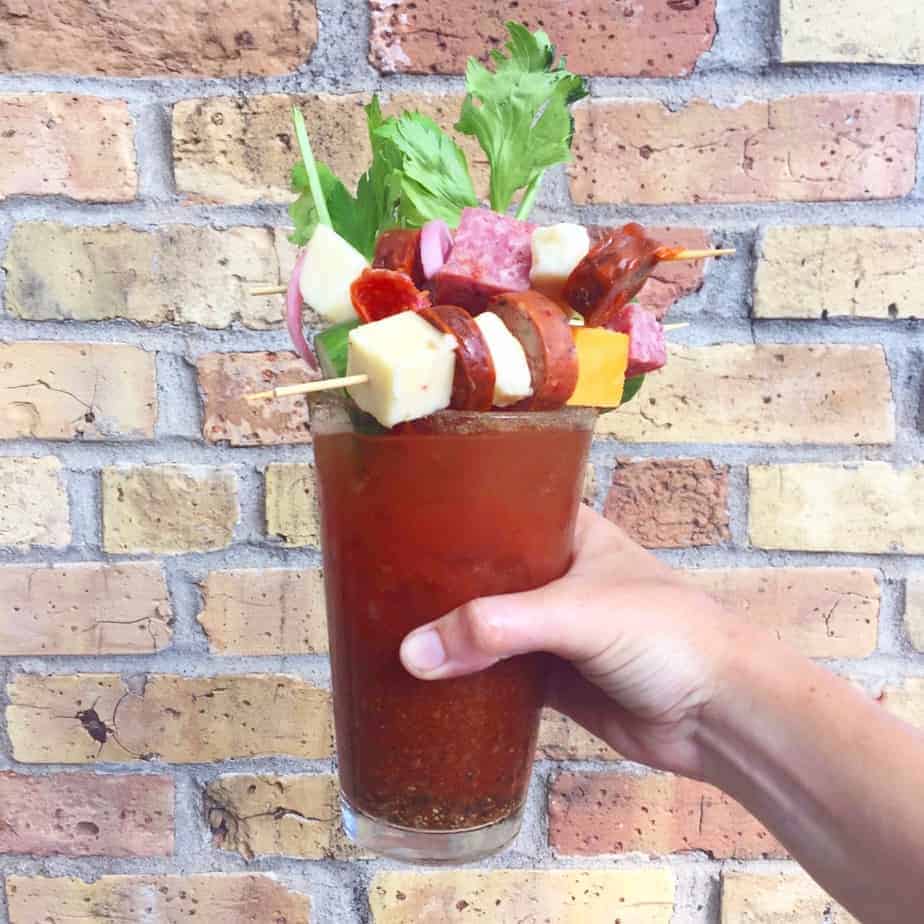 We also like brunch so much that we make it a lot at home. If you're the brunch at home type, I've got tons of food and cocktail recipes for you to try: pumpkin waffles, a really easy egg recipe, build your own Bloody Mary bar, strawberry bellinis, sweet potato breakfast hash, bagels with lox, gluten free quiche, baked eggs in avocado, and everything but the kitchen sink breakfast casserole.
So as you can see, my brunch expertise is legit.
As more and more people found this post by searching for Charlotte's Best Brunch (hello new Google friends!) I realized it was finally time to update this post to give y'all good (and accurate) information about the best places to brunch in Charlotte.
You see, since I originally wrote the post, two of my beloved Charlotte brunch spots are now closed and another only does brunch on Easter and Mother's Day.
So it was definitely time for an update.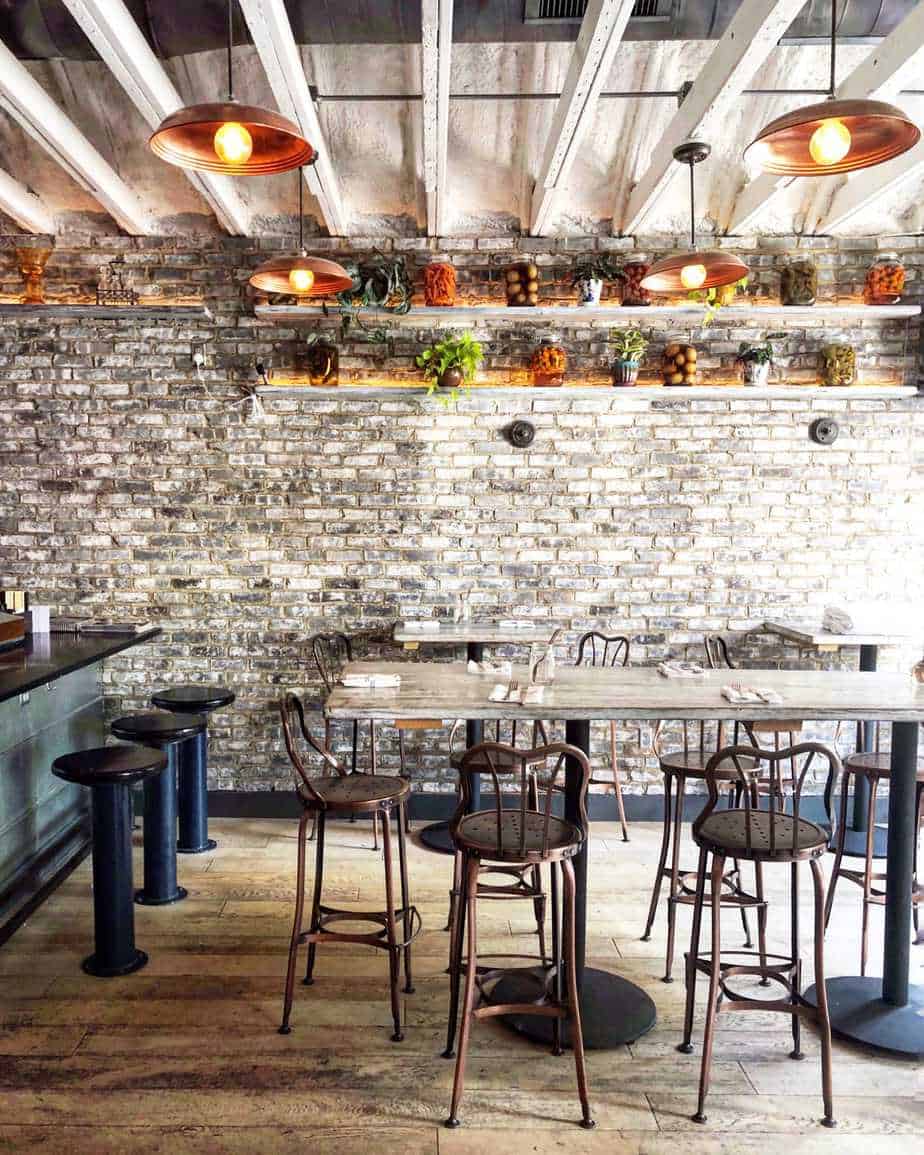 I love Brunch.
So let's talk about brunch.
I've said it time and time again; I am pro brunch.
My love of brunch blossomed, as I'm sure it does for many, in my early 20s when I could use the meal as an excuse to get together with girlfriends, drink at an inappropriate hour of the morning, and then after a sufficient amount of bottomless beverages, waste the rest of my Sunday with a post brunch nap and TV with my best friend on the couch.
When I moved to Charlotte, I was a young, spry, 25 year old with a love of brunch and Bloody Marys. North Carolina's drinking laws hampered my brunch game just a tad (talk about really wasting a day when you can't buy a cocktail before noon), but didn't totally stop me from doing my fair share of brunching in the Queen City over the past six years.
A few months ago, AJ and I went out to brunch for the first time in a long time and enjoyed a meal that reignited the flame inside my soul that burns passionately out of love for a meal that features the best of both breakfast and lunch.
And morning cocktails. Of course I will always have a love for morning cocktails.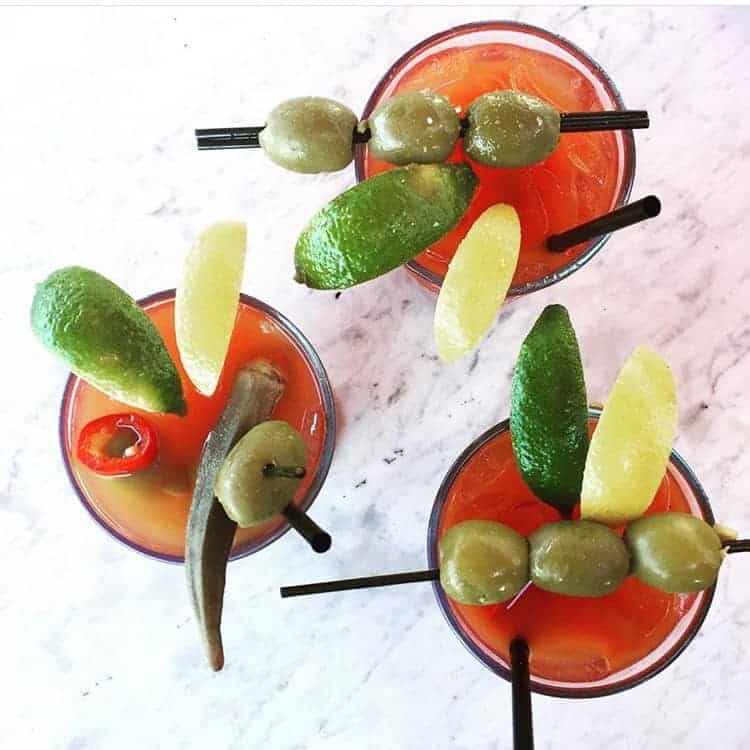 Where can I find the best brunch in Charlotte?
That's a hard answer.
I don't think there is one best brunch place in Charlotte.
But rather, it depends on what you're looking for.
There several really good restaurants and eateries that have a mad brunch game and bring it every weekend. That being said, each of these Charlotte restaurants feature Charlotte's best brunch depending, on what I think, is your mood and what you're looking for.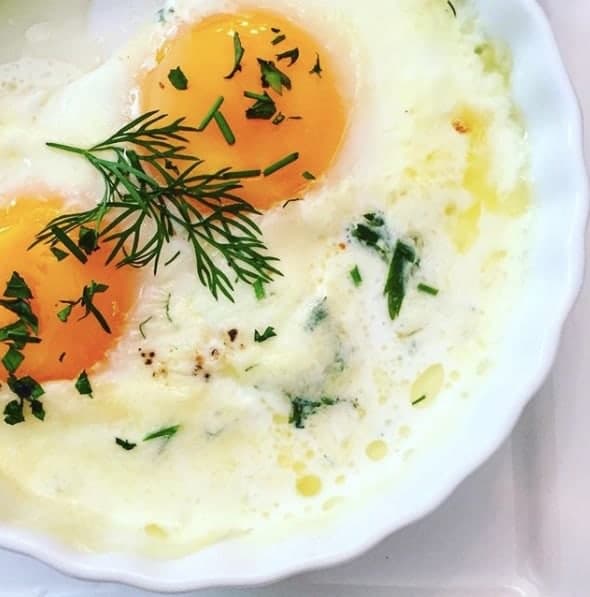 Now I'm just repeating myself.
Looking for an all you can eat brunch buffet situation?
How about something more casual where you can have a cup of coffee and a hearty breakfast?
Celebrating a big birthday or have friends in town and looking for "bottomless" booze options?
Looking for a post-church, family friendly place?
Or how about brunch on a Saturday?
Grab yourself a Bloody Mary, a hot cup of coffee or spring for the bottomless mimosa option; let's break down the top ## restaurats where you can find Charlotte's Best Brunch.
BEST COUNTER SERVICE BRUNCH IN CHARLOTTE: UPTOWN YOLK
This space was previously reserved for Loft and Cellar (an Uptown restaurant thats struggled finding its identity and closed in 2019).
The main reason Loft and Cellar was on this list was single handedly, because they hired Greg Collier and their executive chef for a short time.
Chef Collier, of my beloved @Dawn in Ayrsley (RIP), is an amazing, James Beard nominated chef, and the food coming out of his kitchen is freaking good.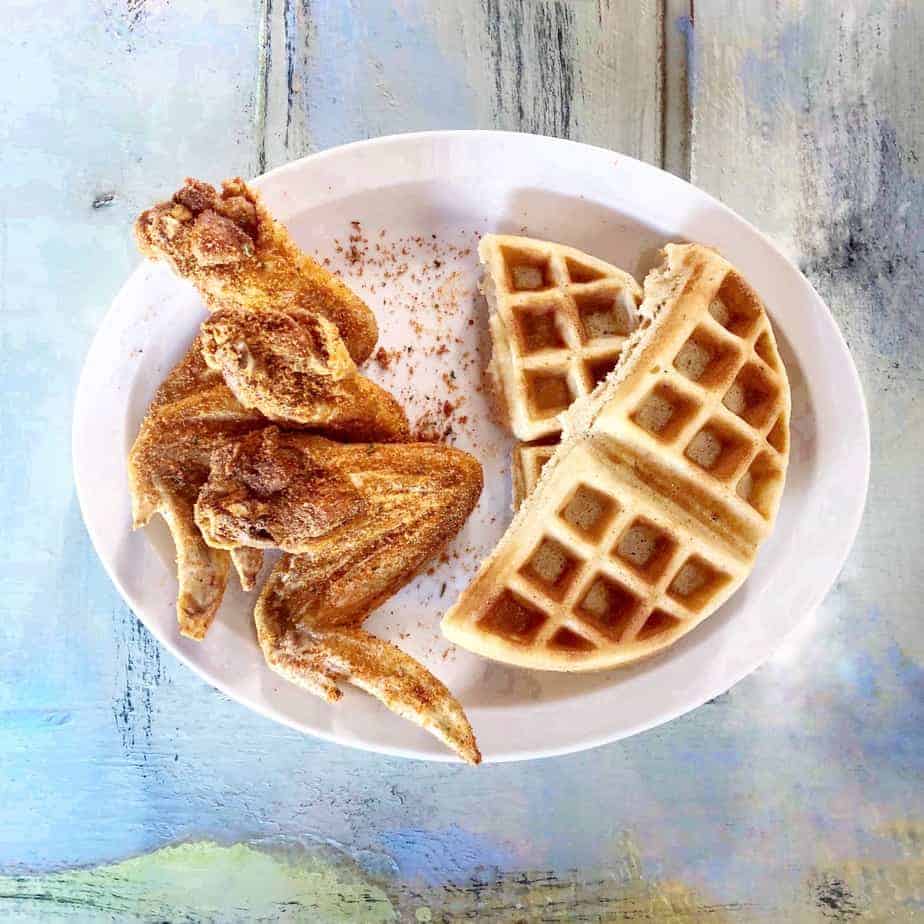 Collier moved his breakfast restaurant from Rock Hill to 7th Street Public Market and has made it a must visit. I love Chef Collier's cooking style and his creative spins on Southern favorites, all while focusing on locally sourced and seasonal food.
The bottom line is that Greg is just great at breakfast (it makes sense that their tagline was "building a better breakfast") and everything from chicken and waffles to seasonal specials is delish. TN fries are life changing and a must order.
My favorite dishes: Mojo Hash, Shrimp & Grits, WWIII, There's Fire, and of course the TN fries.
BEST WEEKEDAY BRUNCH IN CHARLOTTE: HABERDISH
I know, I know, who can really brunch on a weekday?
Honestly, the list of available weekday brunchers I came up with is pretty short, and as a full time worker myself, brunching on weekdays is rarely an option, but hear me out.
First, if you work full time, you can still brunch on a weekday. It's just like going out to lunch, but even better because you'll get breakfast options. The only downside is probably no cocktails…but why not get a thermos full of coffee or a mocktail instead?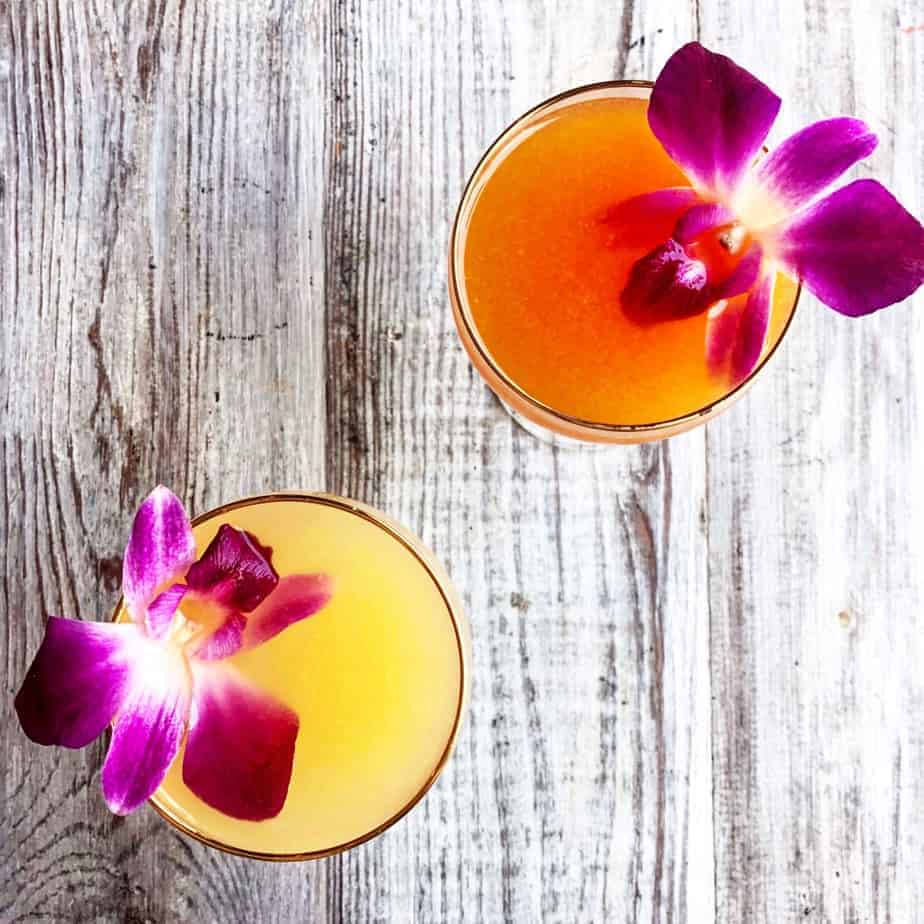 Second, on those rare days that you are working from home, may have a staycation, or have some time to brunch on a Wednesday, you're going to want to remember this conversation and go to Haberdish.
I can't stop saying great things about Haberdish (total fan girl over here and it's definitely in the running to be my favorite Charlotte restaurant) and their weekday brunch is no exception.
Some of my favorite dinner menu items are on the brunch menu (hello mac n cheese topped with chicken skins), plus they have delicious spins on their dinner menu items like Smoked Trout Deviled Eggs and Fried Chicken and Waffles, annnnd some of your breakfast favorites that you can only find at brunch like quiche, eggs, biscuits and gravy and country ham. Plus a cinnamon roll that is sure to change your life.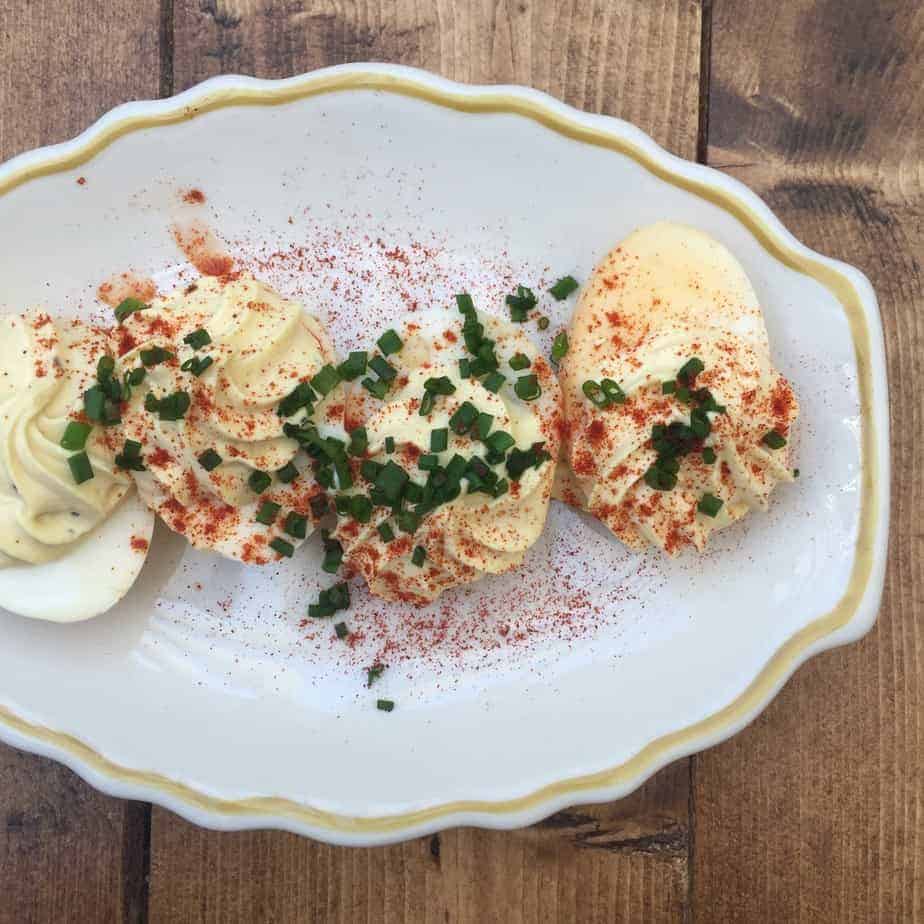 Pro tip: if you refuse to even take your weekday lunch break to try Haberdish's brunch and can only go on the weekends…you can still get a brunch vibe because the chicken and waffles and cinnamon roll are also available on the weekends. Get the cinnamon roll.
You can brunch at Haberdish Tuesday through Friday, 9am to 2pm.
My favorite dishes: chicken and waffles, smoked trout deviled eggs, quiche de jour, chicken biscuit sandwich, and did I mention I love and dream about the freaking cinnamon roll?
CHARLOTTE'S BEST HANGOVER HELPER Brunch: HOLLER AND DASH
Alternative title, waiting in line with South End bros for a biscuit is worth it.
Let's continue with the fried chicken theme, because really, there is no such thing as too much fried chicken.
But also Holler and Dash has other things besides fried chicken too, in case you for some crazy reason you don't want more fried chicken.
Holler and Dash is the quick and cheap option on my list but just because they are a fast casual concept does not mean you should overlook them for brunch. Because they make really good biscuits.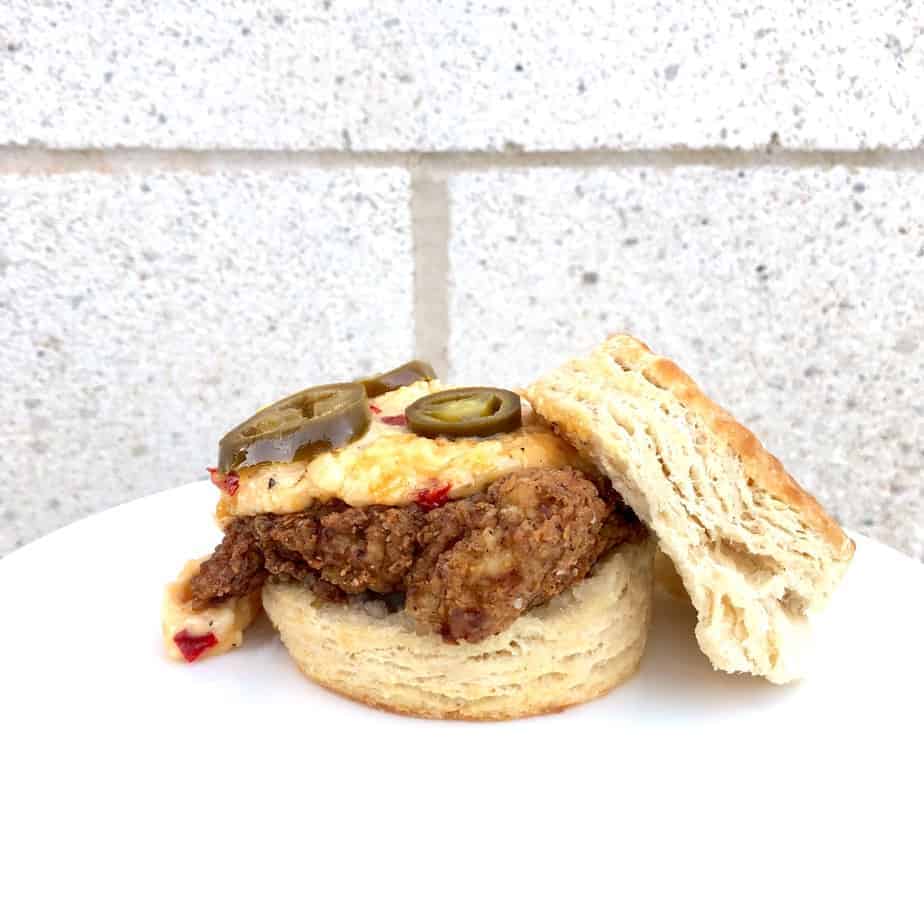 Holler and Dash's biscuits are made from scratch, and then they put delicious things on them like fried chicken (duh), fried pork tenderloin, pimento cheese, fried goat cheese (praise hands), and your more traditional, expected, breakfast sandwich fare like bacon, egg and cheese. They also have biscuits and gravy, a selection of omelttes, avocado toast, bowls, and beignets.
PS: They don't have alcohol but they have good lemonade. And did I mention biscuits?
A biscuit sandwich is definitely what you need in your life after a late night out. Or honestly, if you're more like my 31 year old spirit, after staying home in your sweatpants and going to bed at 9:30 pm the night before.
You can brunch at Holler and Dash seven days a week from 7am to 2pm.
My favorite dishes: Chicken. Set. Go., Chicken Holler, Everyday I'm Brusselin, Strawberry and Dash (it's like a strawberry shortcake and it's delish), and Beignets (duh).
Lincoln's Haberdashery is on its way to achieving Haberdish obsession level from me. I probably visit at least once a week.
I would move in if Chef Shortino would let me, which he probably won't, and I have also started an Instagram campaign to be the official taste tester (similar to moving in, this is also something that I have not been successful in).
Go to Lincoln's Haberdashery to feel cool; show your out of town friends that Charlotte is cool (especially if they are from New York, my New York friends say Lincoln's reminds them of Brooklyn); get some work done while looking cool and eating delicious food; meet with friends to drink mimosas which makes you look and feel cool; and of course eat.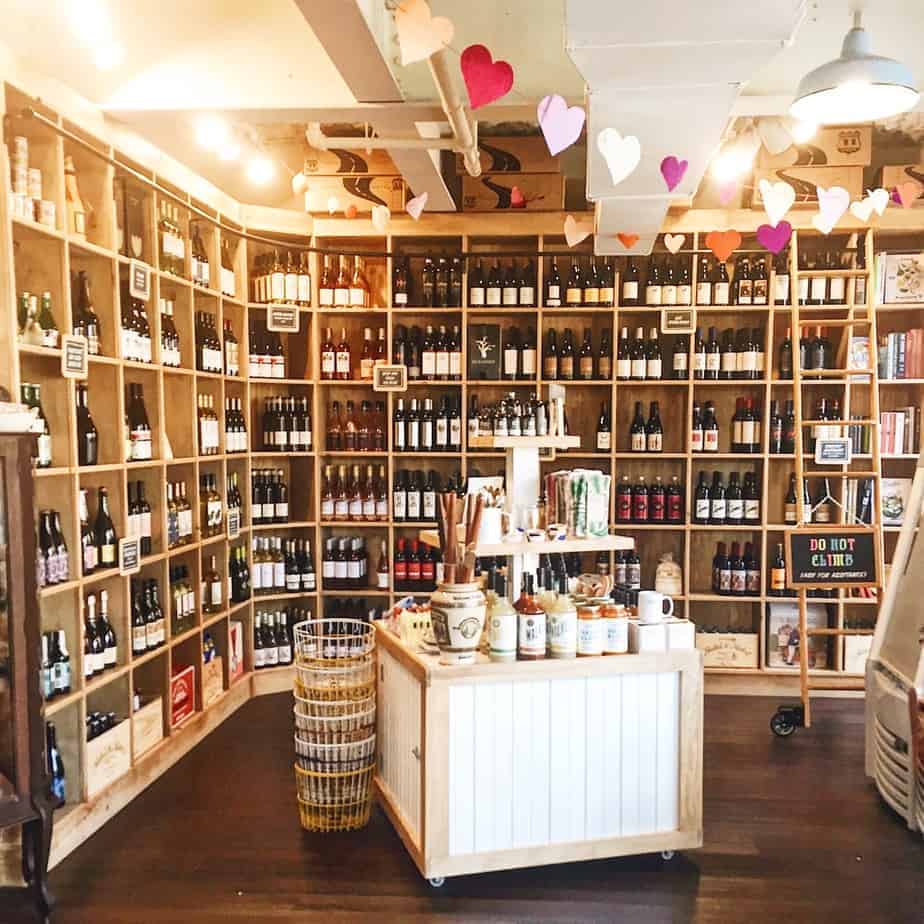 Lincoln's is also great for parents and family gatherings (seriously, I see a ton of moms and dads there). And also for meeting with your blogging friends and or consulting clients (it's my go to meeting spot which is why I am there once a week).
Anyways for brunch, let's start with beverages.
The obvious choice is Lincoln's Mimosa Kit, a conveniently and cutely packaged all in one juice and champagne situation to help you make one of brunch's most popular cocktails.
If you're not in the mood for bubbly (or alcohol) they have a full coffee and espresso bar, with some signature concoctions that change every season and feature locally sourced ingredients.
(I was sucking down their Blood Orange Espresso and Soda for a really long time and loved it).
They also have wine by the glass and by the bottle if that's more your thing.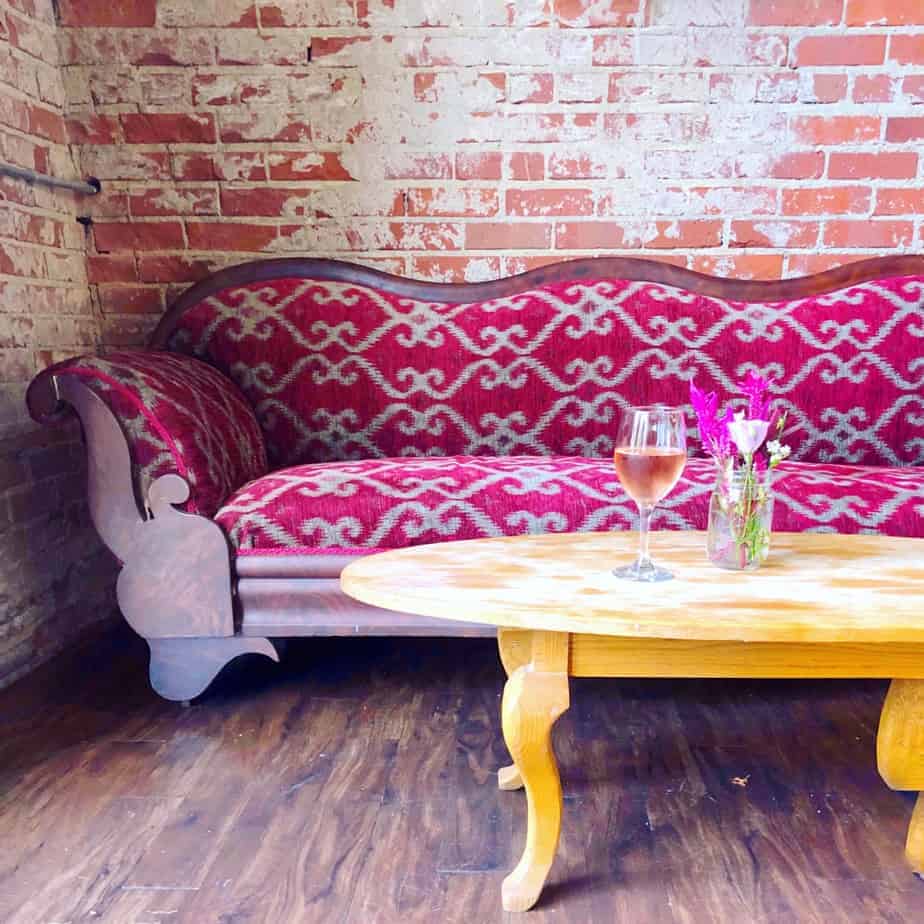 For food, I always go for a sandwich made on their in house bread (they have a ton of breakfast inspired options featuring everything from eggs, to smoked salmon, to a biscuit sandwich with ham), but they also have other breakfast options like flapjacks, oatmeal and an omelette.
If you're more in a lunch mood, their lunch sandwiches are served all day.
You can brunch at Lincoln's Haberdashery weekdays 7am to 5pm and weekends 8am-5pm (that's when they stop serving their morning menu).
My favorite dishes: Sticky Biscuit, Take it to the Bridge, Avocado Toast, The 13th, Lincoln's Bedroom and Fortuna. But man, I really need to try those flapjacks!
Best Brunch Buffet in Charlotte: Bistro La Bon
Looking for an epic all-you-can-eat brunch? Look no further than Bistro La Bon in Plaza Midwood; they have an excellent all-you-can-eat situation served on Sunday mornings and early afternoons.
(I may be biased, but I love Bistro la Bon, maybe because brunch there was my first official meal as a Charlotte resident…my roommate Kate and I walked up there after signing our lease).
Rather than using the term buffet, Bistro La Bon calls their Sunday all-you-can-eat brunch a smorgasbord.
And is full of delightful breakfast and lunch items, including salads, fresh fruit, gravlax, grits, mac n cheese, Swedish meatballs, house made pastries, and made or order scrambled eggs, bacon, Eggs Benedict, chocolate waffles and brioche French toast.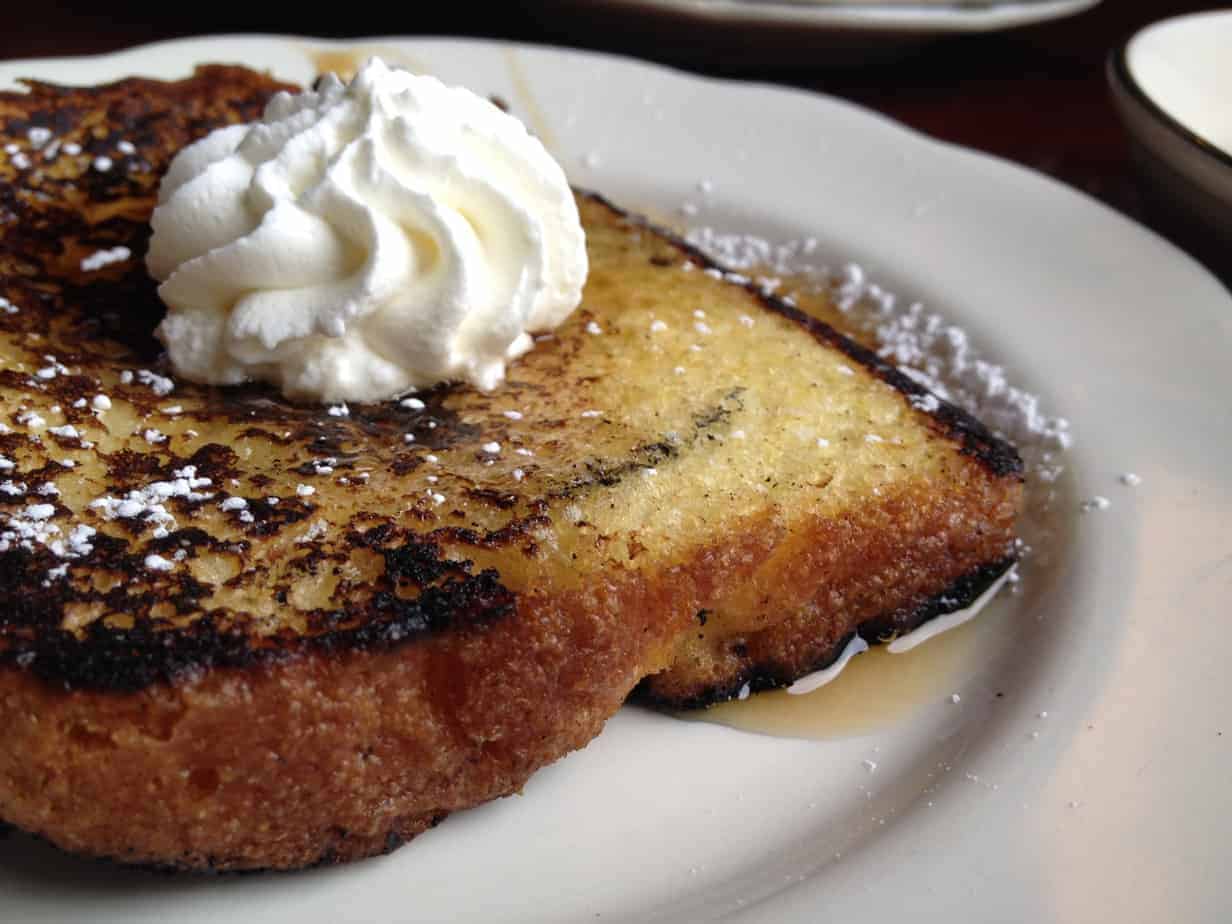 Plus with $3 mimosas and $5 Bloody Marys you can't really go wrong.
If you're not feeling a brunch buffet, head to Bistro La Bon on a Saturday when they offer an a la cart brunch menu full of favorites like crab omelets, steak and eggs, biscuits and gravy, shrimp and grits and a variety of benedicts (including salmon, spinach, and crab cake.)
Bistro La Bon also has a second location in Cotswold that has an a la cart brunch menu both Saturdays and Sundays. So remember if you're looking for all-you-can-eat, you can only get it in Plaza Midwood.
My favorite dishes: Brioche French toast, gravlax, Swedish meatballs, asiago cheese grits, crab cake Benedict.
Legion Brewing SouthPark combines two of my favorite Sunday funday activities: brunch and beer.
(I feel like y'all are judging me for professing my love of alcohol in the post…I promise I am not as much as a boozer and this is making me sound!)
We took my in-laws to brunch at Legion SouthPark a few months ago and I have to say: we were all very impressed.
Not that we were expecting anything less than impressive, but I have eaten brunch at Legion's Plaza Midwood location, which was good, but paled in comparison to the feast we enjoyed at Legion Southpark.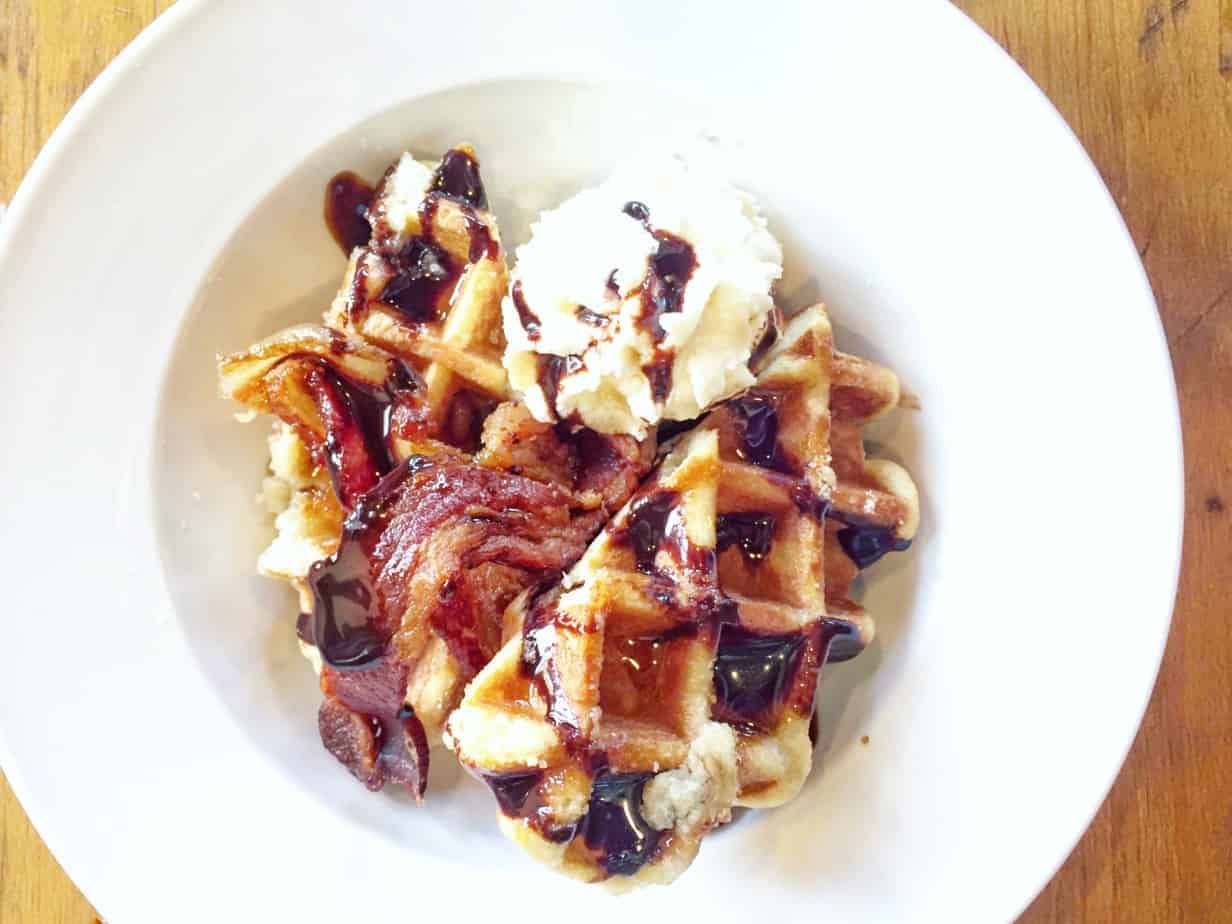 I think it's probably due to the size and space of the SouthPark location, which gives them a lot more room for a kitchen with a more extensive menu.
We sampled a variety of the brunch options coming out of the wood-fired ovens including cornbread, sandwiches, breakfast bowls, breakfast pizzas, pancakes, French toast, and a pork hash skillet.
We also enjoyed a beer flight, a couple pints, and some classic brunch cocktails, including (you know I'm going to say it) and a pretty good, spicy Bloody Mary (my fave.)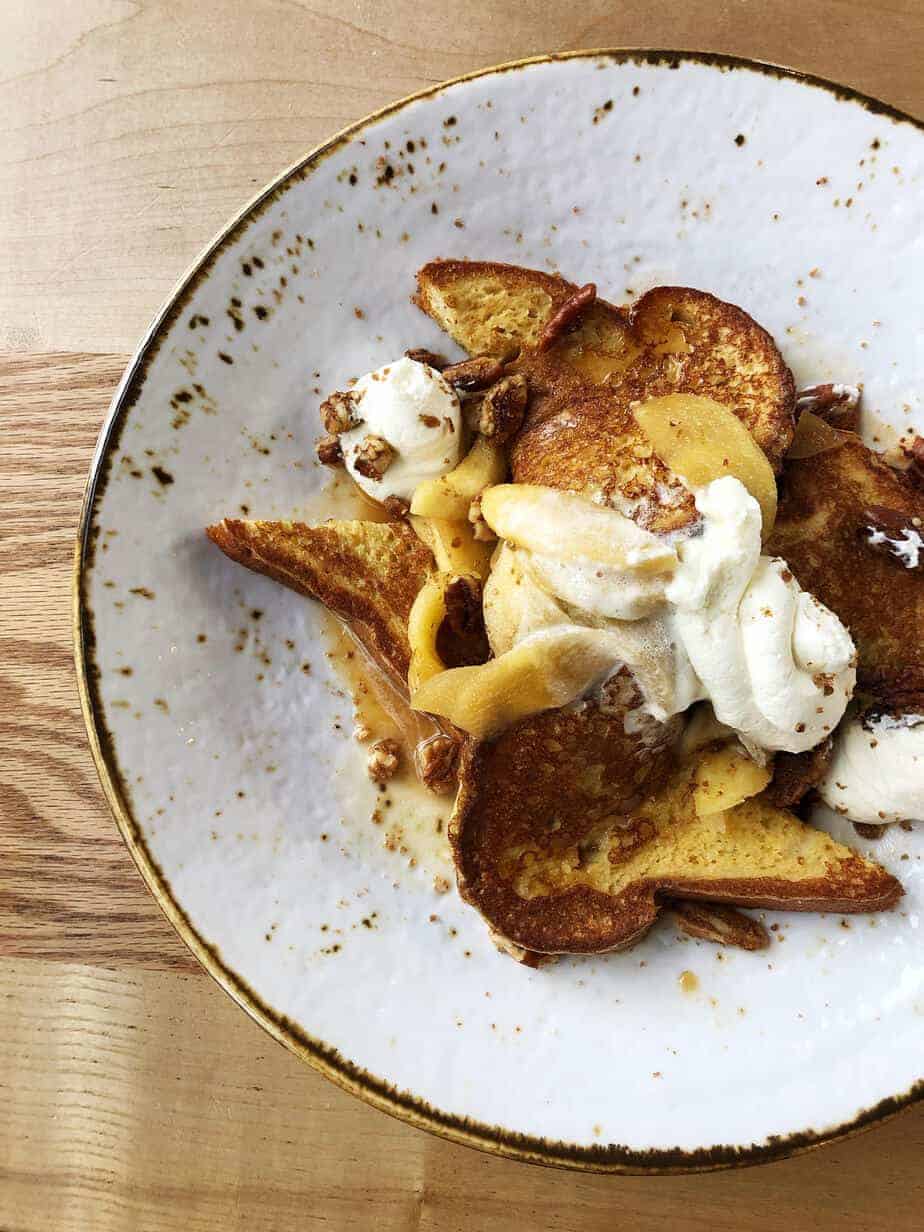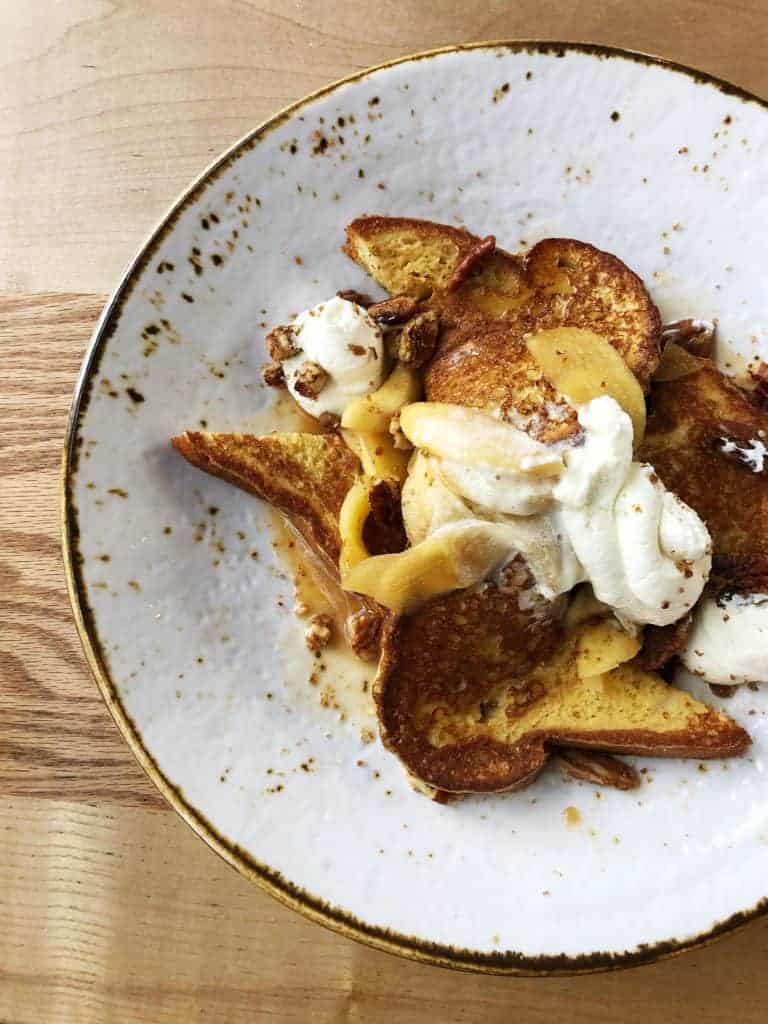 Legion Brewing SouthPark is the perfect brunch location to showcase Charlotte's brewery scene to out of towners, for the beer lover in your life, a little casual Sunday date, or even a post church stop (we saw a ton of families there).
My favorite dishes: The Cure (roasted pork hash skillet), Caramel Apple French Toast, The ABLT (a breakfast pizza!), and Steak and Eggs.
I know, I know, I know, a bagel leans more quick breakfast that all out brunch, but I'm including it anyways because I love bagels, I love Poppy's, and sometimes you want to get a bagel at a later time in the day, making it more like brunch.
Poppy's has the best bagels in Charlotte (you can fight me on it but you will not win.) I also really dig their neighborhood deli vibe and their friendly but super efficient staff.
Gotta keep the line moving people!
The owner, Ronnie, moved from New York to Charlotte, and after relocating realized there was not an acceptable level of bagels in the Queen City (or he missed New York bagels, you decide) and set out to "create the best bagel south of the Mason Dixon line." (His words, not mine.)
All of Poppy's bagels are made fresh daily using the traditional kettle boiled and baked method, and I prefer mine one of two ways: toasted with lox all the way (tomatoes, red onion, capers, cream cheese) or toasted with scallion cream cheese.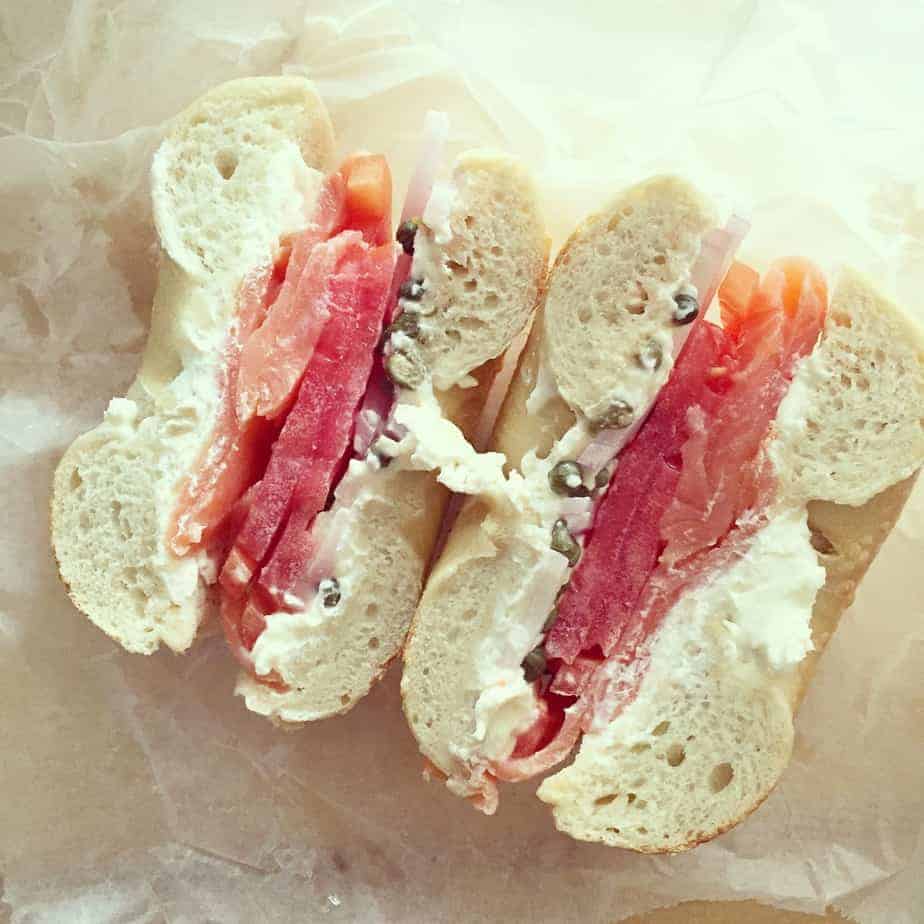 Yum.
I am not the only Poppy's fanatic in Charlotte, usually there is a pretty long line but I assure you it's worth the wait. (Pro tip: Poppy's offers text ahead ordering so if you know what you want, text them and skip the line.)
And I am absolutely thrilled they have opened a South End location a little more convenient to my house than their original Cotswold one; although I am not above driving 25 minutes to get a bagel.
My favorite dishes: Plain or everything bagel toasted with lox all they way or with scallion cream cheese. Their breakfast sandwiches (like bacon or sausage, egg and cheese) on a bagel are really good too if that's more you're thing.
If you've been reading Off the Eaten Path for a while, you know that I'm borderline obsessed (in a completely healthy and reasonable way) with Chef Alyssa's Kitchen cooking classes (we've made Chef Alyssa's Garlic Shrimp, took a Chef Alyssa'a Kitchen Cooking with Beer class, and think that cooking class gift certificates make a great holiday gift.)
Since their move to Lower South End last summer, Chef Alyssa's Kitchen has expanded their business beyond just cooking classes (I have yet to take a class in the new space but it's gorg!), including lunch catering and a casual Saturday brunch.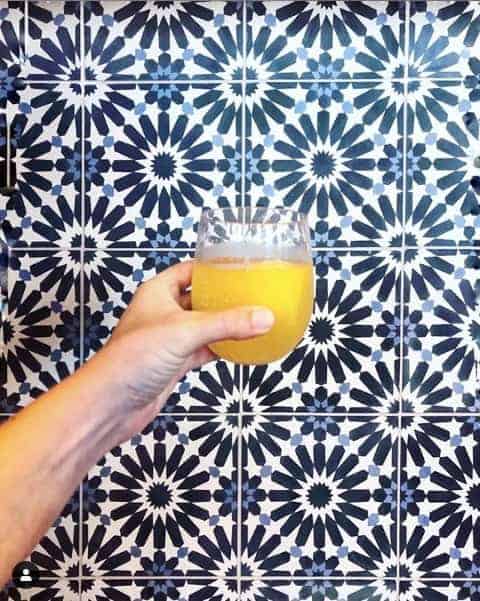 Between 9am and 2pm on Saturdays only, Chef Alyssa's Kitchen transforms into a family friendly brunch space offering some delicious and creative breakfast options that you can order at the counter and enjoy inside or outside on their patio.
Like Chef Alyssa's Kitchen cooking classes, there is a focus on seasonal and local ingredients in the brunch menu and everything is made in house.
There's a pretty wide variety of offerings from hash bowls and grain bowls to breakfast sandwiches, plus classics like The Ron Swanson (eggs your way with bacon and toast), shrimp and grits and a house made bagel and lox.
There's also a few more out of the box options which are all over Instagram, like the cinnamon babka stuffed French toast and the Pancake Tacos (fluffy pancakes filled with housemade bacon and scrambled eggs, served with spiced maple syrup to dip.)
Chef Alyssa's Kitchen Saturday brunch also has a variety of baked goods, coffee, mimosas (they are doing a weekly rotating sorbet mimosa!!!) and beer.
My favorite dishes: Merguez Toast, Bagel & Lox, Shrimp & Grits, Stuffed French Toast
Charlotte's Best Boozy Brunch: Standby, I need a new place!
For years, my go to brunch for fantastic skyline views and lots of booze, was Vivace.
We celebrated many a birthday (my own, friends' and my husband's) and had taken my fair share of out of town guests to brunch at Vivace.
One of the draws, other than the variety on the menu and the good food was that many moons ago (or at least from the years 2012 to 2017) Vivace had this thing called brunch the "Vivace way."
For $25, you could get two courses and bottomless Bloody Marys (a build your own situation where your waiter brought you a glass with a pour of vodka and you made it yourself with all the fixings at the bar), mimosas, or both.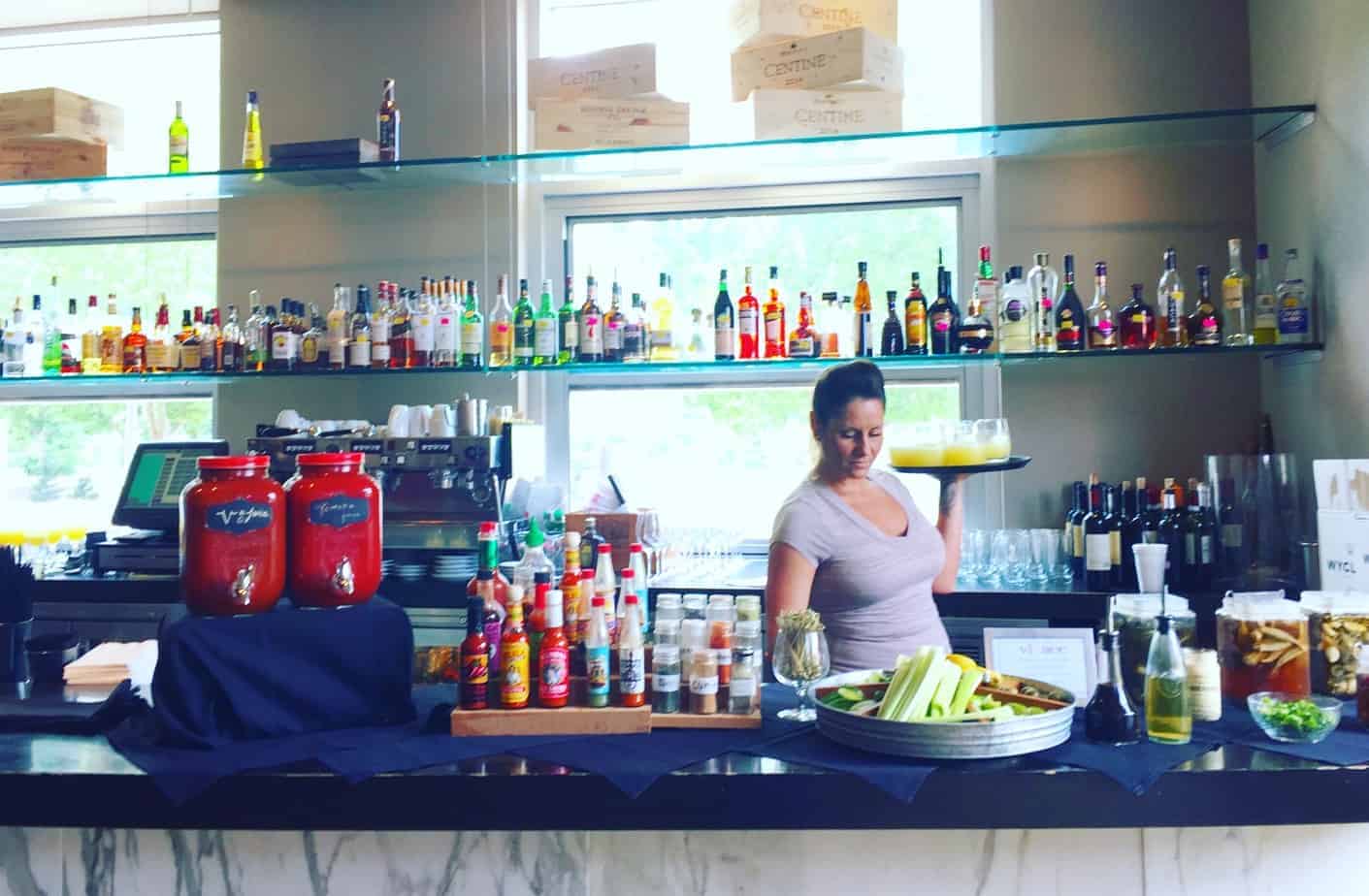 But sadly for me, and other bottomless beverage fans, Vivace closed at the end of last year, leaving a whole in my bottomless mimosa and Bloody Mary loving heart about where to go on a Sunday morning when I wanna get boozy.
Truth be told, I have been doing a lot more boring things in my early 30s than I was in my mid 20s, like going to the gym, raking the yard, and other mundane house chores…so truth be told, I haven't been boozy brunching that much.
That's a long way to say, I need a new boozy brunch recommendation? Tell me your faves in the comments!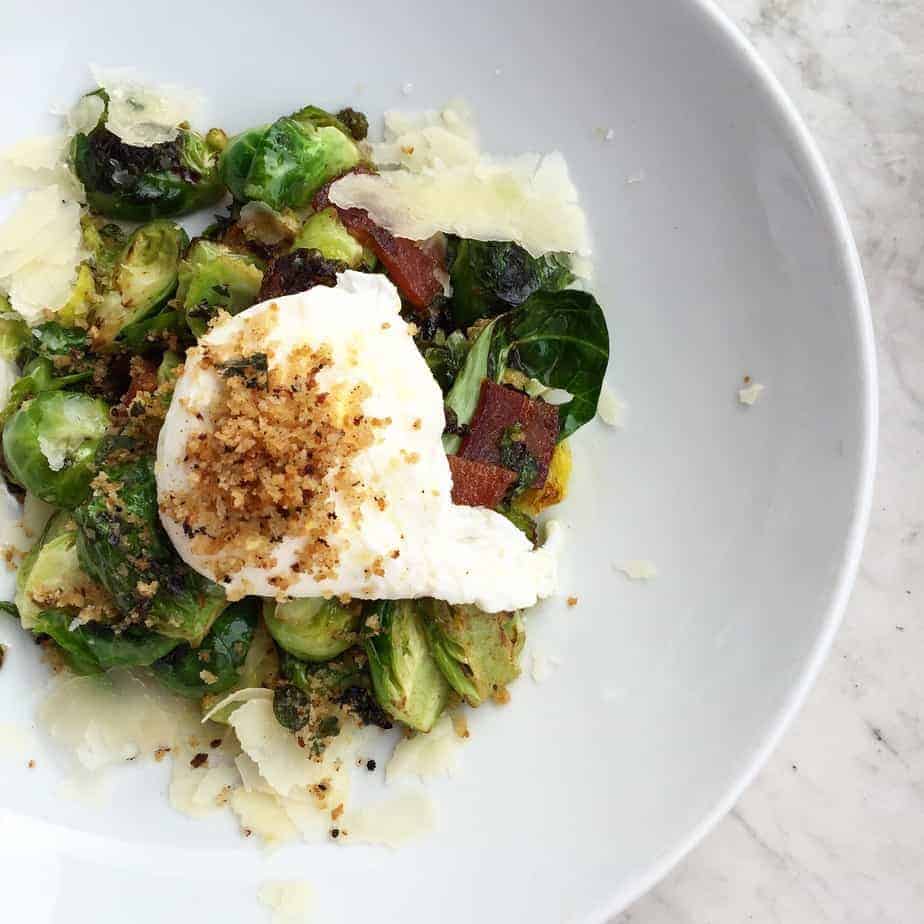 CHARLOTTE'S BEST BRUNCH THAT'S STILL ON MY BUCKET LIST: THE STANLEY
My last choice is one that I, embarrassingly, have not eaten at yet, but HAD to be on this list because it's the talk of the town.
The Stanley, Paul Verica's newish (we're considering 2018 new here) concept in Elizabeth, just started serving brunch a few weeks ago and I hear it's divine.
Who wants to go with me?
The food is focused on super local, super seasonal ingredients (there's a tribute to the farmers used on the menu and it rotates all the time depending on ingredient availability).
There is a specialty doughnut whose flavor rotates weekly (they have chocolate and vanilla doughnuts every week too). And hot damn, the Bloody Mary looks really good.
Oh man come on guys, who wants to go? I have a three day weekend next weekend!
You can brunch at The Stanley on Sundays from 11am to 2pm.
My favorite dishes (also known as things I want to try): doughnuts (duh), fried cheese and tomatoes, pork belly and grits, brioche French toast, Chef's omelet (I mean it does sound amazing and worth $40).
Some other strong Charlotte's Best Brunch contenders:
Treat yourself to brunch and a show at Buff Faye's Drag Brunch. Now hosted at Dilworth Neighborhood Grille, Buff Faye's themed brunches are the longest running drag brunches in the Queen City and tons of fun.
We went to the Diznee Princess themed brunch last year for AJ's birthday and had a ball!
There are two seatings available (11 am and 1pm) and the cost is $25 (which includes the themed drag show and brunch buffet.) Worth every penny, and a great idea for birthdays, bachelorettes or just because!
Cafe Monte in SouthPark offers a relaxed, upscale vibe with spins on French cafe classics, excellent cappucinos and a robust wine list.
Another great brewery brunch option is Heist Brewery in NoDa.
They have a pretty epic brunch buffet (all you can eat for $19) that has been super popular with our out of town guests, and includes a hot buffet, pastries, omelet station, waffle bar and pizza bar.
Plus plenty of beer (or mimosa carafes) to wash it all down.
300 East in Dilworth is a Charlotte stalwart with solid brunch choices in their historic home, including an epic, droolworthy brunch pizza.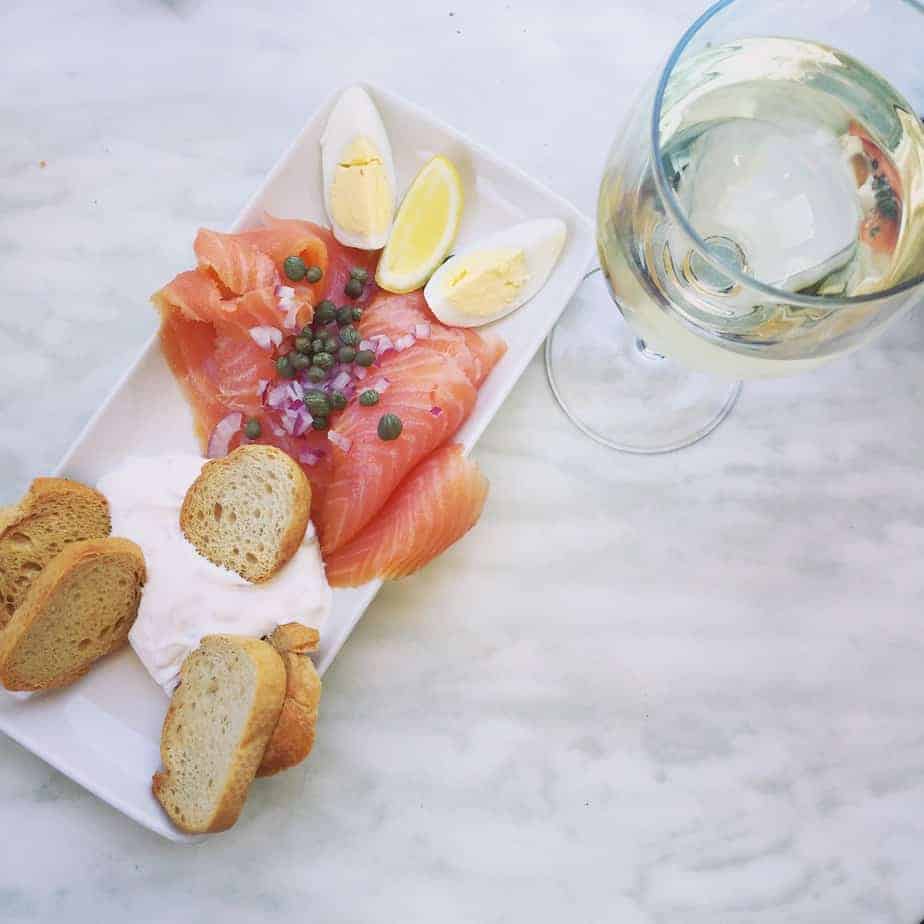 I love Zada Jane's neighborhood feel and casual atmosphere, and their Bunny Rancheros are worth the wait. Just help your self to a cup of coffee, take a seat outside and play some shuffleboard.
The Asbury has a prime location Uptown and a menu full of seasonally rotating dishes featuring locally sourced ingredients. Especially perfect if you're staying at The Dunhill, which is just upstairs!
I hear that littleSpoon has great beats and great bacon, but I haven't had a chance to go there yet.
Speaking of places I haven't been, other Charlotte spots I haven't brunched at but need to try are (besides The Stanley and littleSpoon): Haymaker, La Belle Helene, Superica and Zeppelin.