There's no need for a cross-country flight to experience wine country; you can sip and sample your way through the Yadkin Valley wineries near Elkin NC in your own backyard.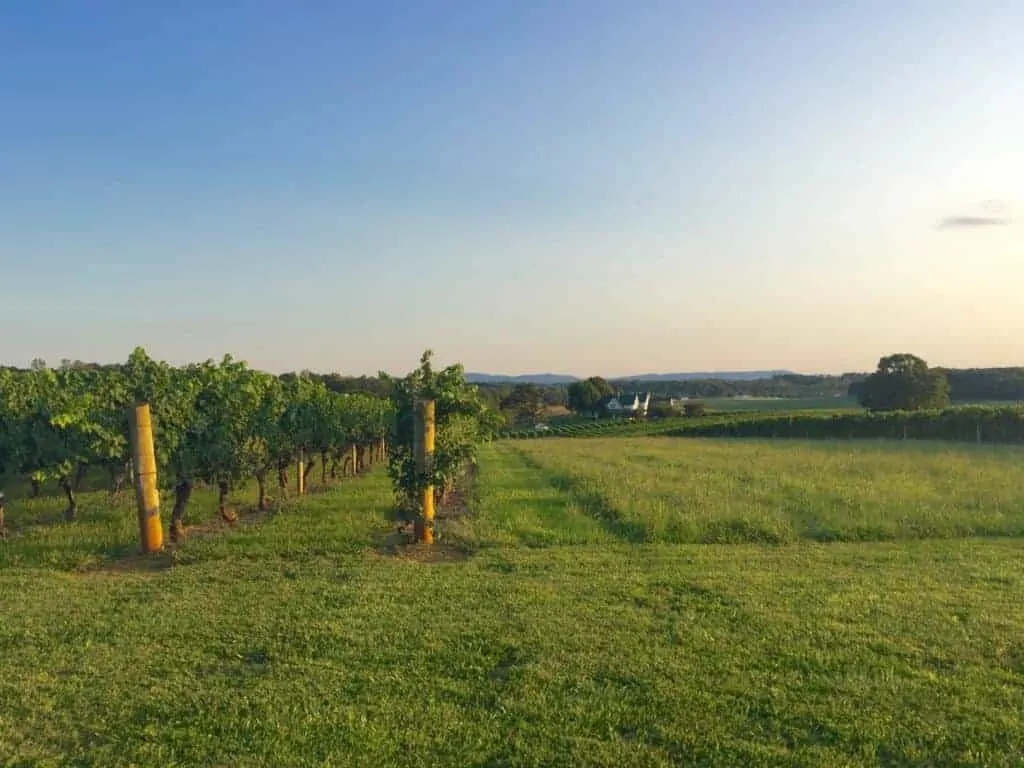 Looking for more North Carolina Travel recommendations? Whether you're looking for the best restaurants in Charlotte, where to stay in Asheville, or you're planning your next beach vacation to the Outer Banks or Crystal Coast, Off the Eaten Path's North Carolina Travel page has got your covered!
Nestled in the foothills of the Blue Ridge Mountains in Northwestern North Carolina is the Yadkin Valley, home to North Carolina's first American Viticultural Area, a federally designated grape growing region and quickly becoming one of the most prominent wine regions in the United States.
Just over an hour north of Charlotte, 50 minutes west of Winston-Salem, an hour and ten minutes east of Boone, and 2 and a half hours west of Raleigh, the Yadkin Valley is the ideal day trip distance: you can easily spend the day sampling and sipping your way through Surry and Wilkes counties' classic varietals and still make it home in time for supper.
However, a weekend getaway full of touring and tasting will is how to truly experience everything North Carolina wine country and the wineries near Elkin NC have to offer.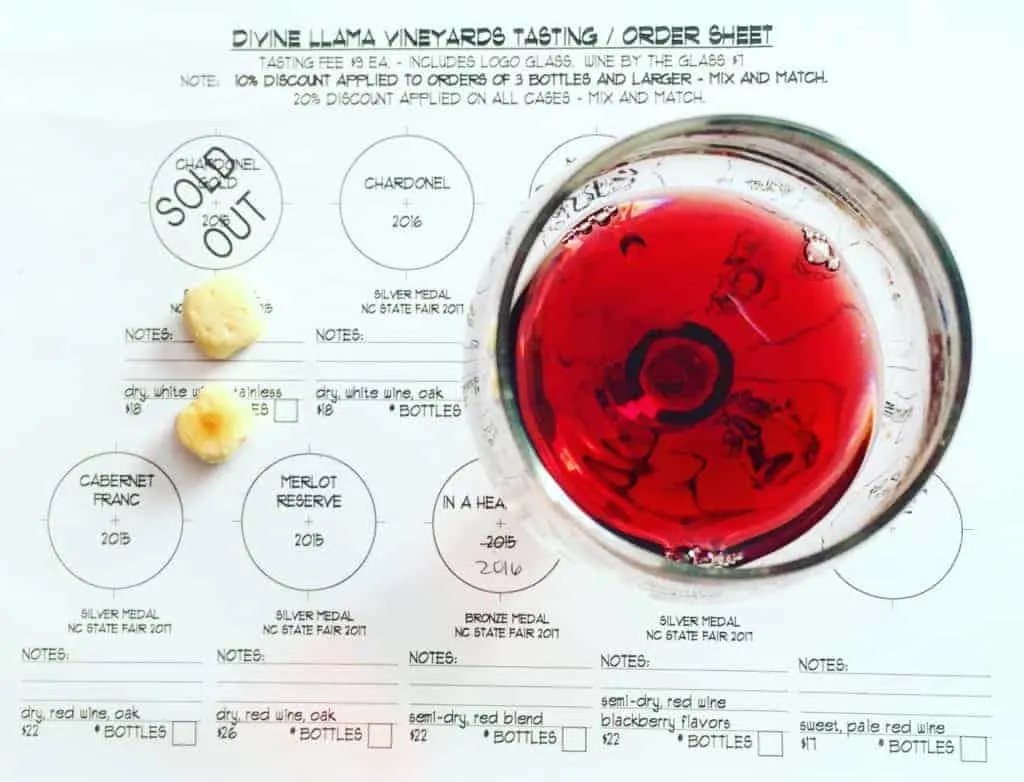 Over the past few years, we have spent several day trips and weekends sipping and savoring our way through the Surry County Wine Trail (also known as research you guys), which was a lot of hard work (ha!) helped me develop this North Carolina wineries weekend itinerary for you.
A wine-tinerary if you will. Cheers!
Before we get into a wine weekend away visiting North Carolina wineries, first, let's go over a few North Carolina wine fun facts.
How many wineries are in North Carolina?
There are nearly 200 vineyards and more than 400 wineries in the Tarheel State, and you can find North Carolina wineries across the state from the mountains, through the piedmont and to the coast.
There are now more than 40 wineries in the Yadkin Valley, fourteen of which you can find in Surry County, where the idea to designate the region as the Yadkin Valley AVA was born seventeen years ago.
What kind of grapes are grown in North Carolina?
North Carolina is probably most well known for the Scuppernong, which is a large variety of the muscadine grape, a grape native to the Southern United States.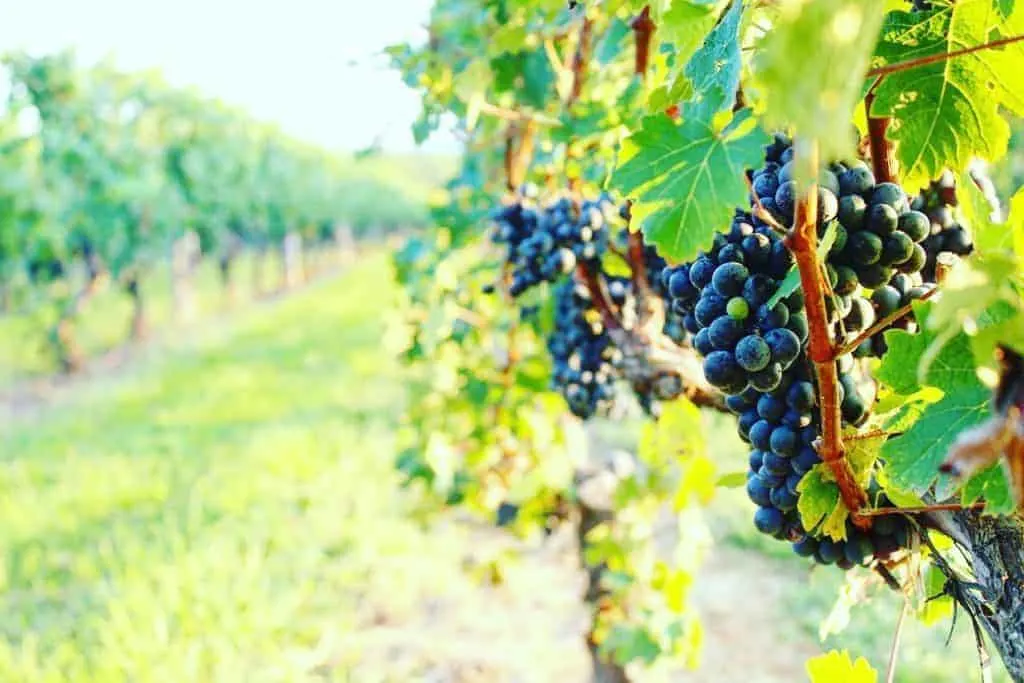 Because North Carolina is home to the oldest growing grape vine (a Scuppernong vine growing on Roanoke Island), our state has a lot of pride in the muscadine grape and a lot of North Carolina winemaking has been traced back to using muscadines.
Muscadine grapes generally produce a sweet wine…and with North Carolina's history so deeply entwined with muscadine grapes, many people assume you can only make or buy sweet wine in North Carolina.
But guess what…there is more to North Carolina wine than muscadines!
In fact, North Carolina is one of the only places in the world where you can grow a wide variety of grapes because of the temperate climate and soil, which means we have all sorts of different varietals of North Carolina wine…everything from dry, dark reds, to crisp whites.
North Carolina boasts an assortment of grape varietals including Cabernet Franc, Cabernet Sauvignon, Merlot, Syrah, Riesling, Sauvignon Blanc, Concord, and of course, Muscadine.
Ok, let's get to the weekend wine itinerary!
WHERE TO STAY FOR YOUR WEEKEND OF WINERIES NEAR ELKIN NC
When it comes to accommodations in and around Elkin, you'll find a range of options to suit every traveler's preferences. From cozy bed and breakfasts to modern hotels and charming cabins, the area offers a variety of choices.
Three Trails Boutique Hotel is a renovated 14 room historic hotel located on Elkin's main street offering cozy rooms within walking distance of everything the town of Elkin has to offer.
Start your mornings with chef-prepared breakfasts in a quaint and quiet residential neighborhood at the Six28 Bed and Breakfast Inn (located about a mile from downtown Elkin).
A bit further north of Elkin, the Hampton Inn and Suites in Dobson serves as a clean, comfortable and convenient base for visiting the numerous wineries in the area giving guests easy access to a variety of tastings, tours and events. Fun fact: this Hampton Inn is adjacent to Shelton Vineyards, and is the only Hampton Inn with a wine bar (featuring Shelton's wines, obvi).
Several of the wineries on this itinerary offer on site cabins (Elkin Creek Vineyard, Round Peak Vineyards, Grassy Creek Vineyards, and Herrera Vineyards, to name a few); or check out your options on AirBNB or VRBO (try to stay in Elkin, Dobson or Mt. Airy).
Shelton Vineyards
286 Cabernet Lane Dobson, NC
Spanning 383 acres, Shelton Vineyards is the largest family owned estate winery in North Carolina.
Brothers Ed and Charlie founded the vineyard in 1999 and have been at the forefront of putting Yadkin Valley on the wine map, both pushing for the federal AVA designation and instrumental in developing the viticulture and enology program at Surry Community College.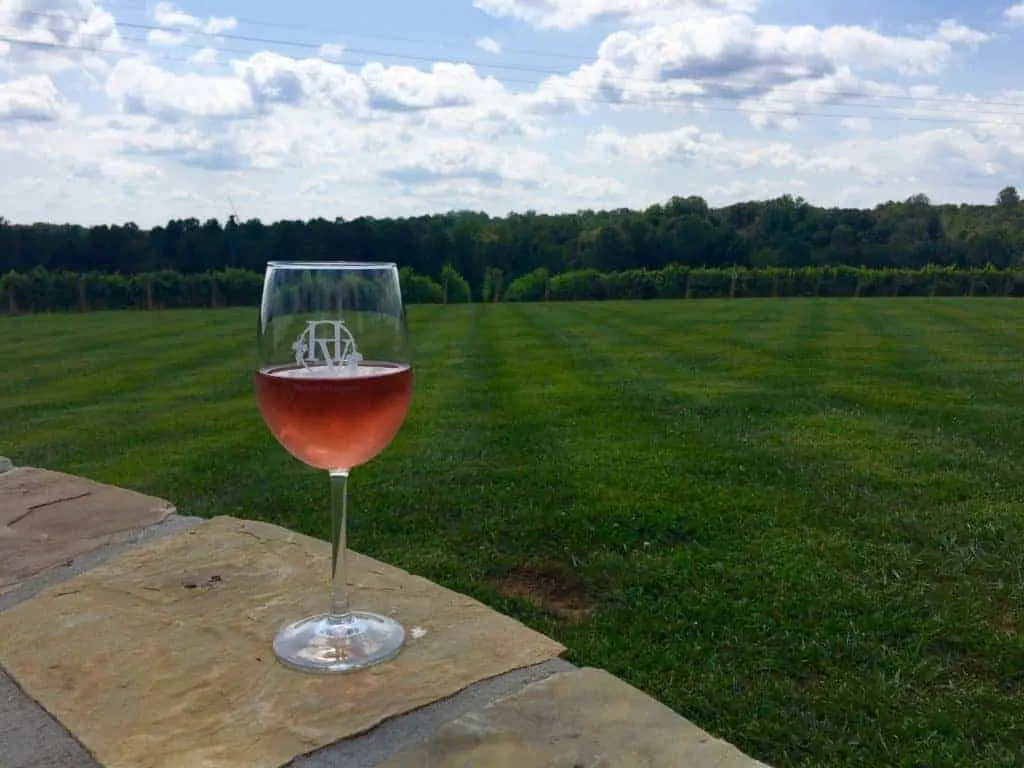 A variety of European vinifera grapes are grown at Shelton Vineyards including: Cabernet Franc, Cabernet Sauvignon, Chardonnay, Merlot, Malbec, Tannat, Petit Verdot, Riesling, Sauvignon Blanc, and Viognier (a selection that is a pleasant surprise from the often expected sweet muscadine grape native to North Carolina and commonly associated with North Carolina wine).
After your tasting, wine and dine at Shelton's on site restaurant, Harvest Grill.
JOLO Winery and Vineyards
219 JOLO Winery Lane Pilot Mountain, NC
Named for the winemakers two sons, Joey and Logan, JOLO Winery and Vineyards, offers picturesque views of Pilot Mountain, bold reds and a distinctly colored rose (and last year they won the North Carolina Winegrower of the Year Award).
If you're ready for a bite to eat, pair some of JOLO's wines with the variety of tapas offered in the winery's restaurant, End Posts.
Round Peak Vineyards
765 Round Peak Church Road, Mt Airy, NC
Round Peak Vineyards is one of my favorite North Carolina wineries; I loved the relaxed vibe, sense of community, and the patio with expansive mountain views.
There's a few things going on at Round Peak Vineyards: they make their Round Peak wines, which are all dry French and Italian varietals made with grapes grown on the property, Skull Camp wines, their semi-dry, semi-sweet wine line, and also Skull Camp Brewing, offering a wide range of bold brews.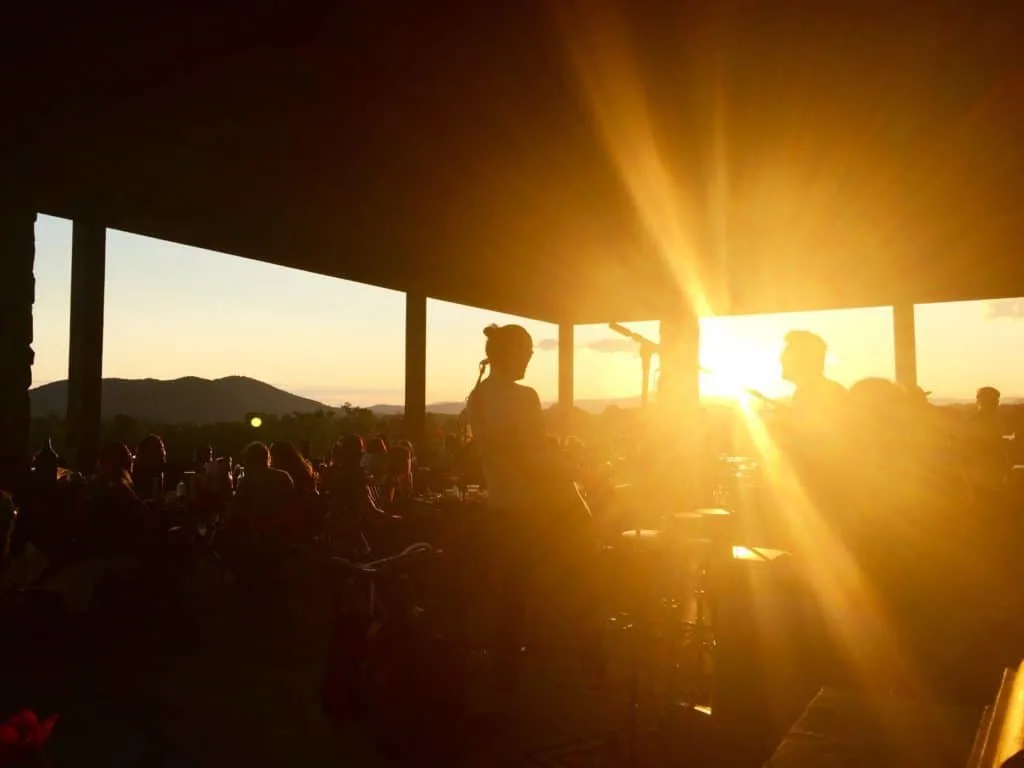 Also, they are a dog friendly winery, which is great if you get dog mom guilt (like I do) and don't want to leave your pup at home.
After your tasting, spend some time sipping and soaking up the views and atmosphere on the patio, where you can catch live music, a spectacular sunset, and relax near a fire pit.
If you're there in early September, you can camp in the vineyard overnight at Skull Camp Out, a day full of wine, live music, barbecue, and bonfires.
Herrera Vineyards
231 Vineyard Ln, Dobson, NC
As of June 2023, Herrera Vineyards is making large renovations to their tasting room and restaurant. Due to the scale of these changes, they have ceased on site operations, however, wine production is continuing and you can have wine shipped to you.
Elkin Creek Vineyard
318 Elkin Creek Mill Road Elkin, NC
On the site of a historic grist mill, guests at Elkin Creek Vineyard can enjoy tastings of their handcrafted wines, stroll through the vineyard, and even stay overnight in one of their charming creek-side cabins.
Every Sunday, Elkin Creek Vineyard stokes their wood-burning brick oven and makes homemade pizzas to order.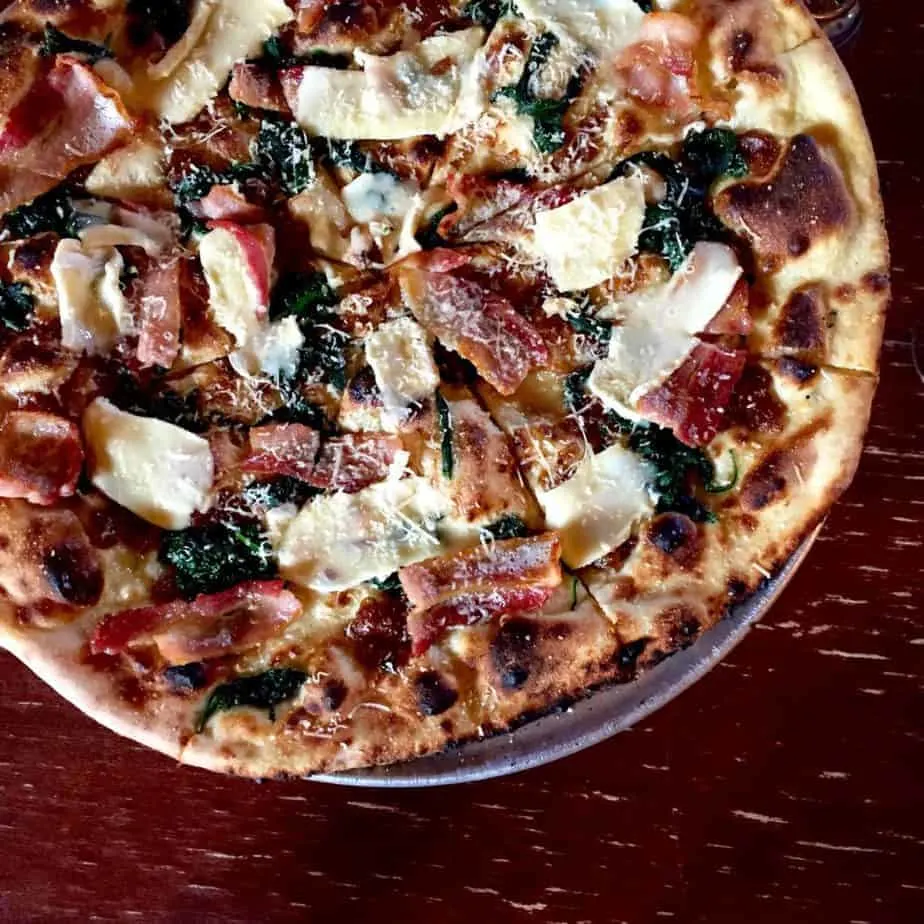 Call earlier in the week to reserve your ball of dough (you read that right, they don't do table or time reservations but dough reservations). They only make about 30 pizzas each Sunday, so there are occasional days where they have walk-ins available, but the best way to guarantee a homemade pie is by calling ahead. Each pizza is hand made to order, so you can sample some wine or stroll along the creek while you wait.
You also may be able to score a loaf of sourdough, also made in the brick oven with a sourdough starter recipe that was owner Mark's grandmother's.
Adagio Vineyards
139 Benge Drive, Elkin, NC
Adagio,a musical term which means to perform slowly with passion, can also be applied to wine making!
Everything at Adagio Vineyards, from the name of the winery, to the name of the wines (all named after musical terms which depict their origin, composition or sensory characteristics), and the tasting room ambiance, all reflect the owners' love and passion for both classical music and fine wines.
CAROLINA HERITAGE VINEYARD
170 Heritage Vines Way Elkin, NC
From vine to bottle, Carolina Heritage Vineyards' wines embody the essence of sustainability and organic integrity. Carolina Heritage Vineyards stands as a pioneering force in the North Carolina wine industry, being the first USDA-Certified Organic vineyard and winery in the state. With a deep commitment to sustainable practices, they have also earned the distinction of being the first fully sustainable winery in North Carolina.
GRASSY CREEK VINEYARD
235 Chatham Cottage Circle State Road, NC
Grassy Creek Vineyard, located on a former dairy farm just north of Elkin, is a hidden gem in the Yadkin Valley wine region. The tasting room, a creatively converted horse stable, offers a unique and rustic atmosphere for wine enthusiasts to enjoy. Grassy Creek also boasts its own hiking trails on the property that connect to the Carter Falls Trail, built in partnership with the Elkin Valley Trails Association.
OLD NORTH STATE WINERY
308 North Main Street Mount Airy, NC
Located in downtown Mt. Airy, Old North State Winery holds a unique charm as it occupies a beautifully restored former hardware store built in 1890 on Main Street. In addition to both sweet and dry wine tastings, Old North State Winery has a full lunch and dinner menu.
RAFFALDINI VINEYARDS
450 Groce Road Ronda, NC
With its Tuscan charm and Italian-style, award-winning wines, Raffaldini Vineyards transports visitors to the heart of Italy without having to leave North Carolina. The vineyard prides itself on creating a serene and sophisticated environment where visitors can unwind, so all visitors must be over 21 (Raffaldini does host designated Raffaldini family days to provide opportunities for families to visit.) One of the most highly anticipated events at Raffaldini Vineyards is the annual Festa Italiana, held during the third week of September. This vibrant celebration, one of the largest Italian festivities in the southeast, showcases an array of food vendors, artists, and entertainment from across the United States.
PICCONE VINEYARDS
2364 Cedar Forest Rd. Ronda, NC
Next door to Raffaldini sits North Carolina's only other Italitan-style winery, Piccone Vineyards. Set on a high ridge, the Piccone property offers a breathtaking view across the Yadkin Valley, showcasing the majestic beauty of the Blue Ridge Mountains in the distance.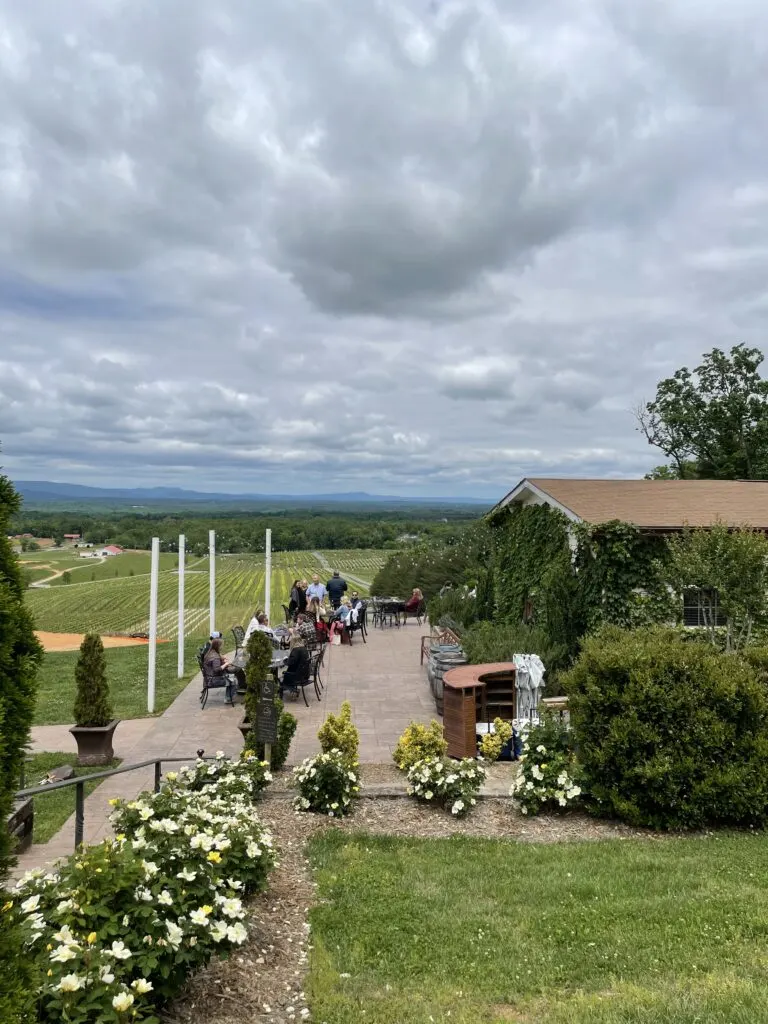 Guided by a deep respect for Italian tradition and fueled by an unwavering passion for wine, Piccone Vineyards crafts exceptional wines that pay homage to their Italian heritage.
SERRE VINEYARDS
364 Beast Trail, Mt Airy, NC
Share wine with your friends and loved ones at Serre Vineyards in Mt. Airy (Serre rhymes with share). The vineyard serves as a stunning special events and wedding venue and is open to visitors in their tasting room on the weekends to taste and explore wines in a relaxing and welcoming atmosphere.
STONY KNOLL VINEYARDS
1143 Stony Knoll Road Dobson, NC
Stony Knoll Vineyards' story is deeply rooted in the rich history of the land. What once was a tobacco farm has transformed into acres of grapevines breathing life into the landscape of a North Carolina Century farm growing a wide range of varietals including including Cabernet Sauvignon, Chardonnay, Syrah, Cabernet Franc, and Niagara and more.
HAZE GRAY VINEYARDS
761 Stony Knoll Road Dobson, NC
Situated on an expansive 85-acre farm at the base of the Blue Ridge Mountains, Haze Gray Vineyards is a newer winery in the Yadkin Valley region that now boasts nine acres of cultivated grapevines planted to showcase the land's unique terrior. As a certified Homegrown by Heroes farm, Hazy Gray Vineyards takes great pride in their commitment to the community and those who have served the country.
SLIGHTLY ASKEW WINERY
913 North Bridge Street, Elkin, NC
While most of the Yadkin Valley's wineries are producing dry wines, a lot of people still associate North Carolina with sweet wines, so a stop at Slightly Askew Winery is perfect for the sweet wine lover in your life. Slightly Askew offers an eclectic array of wines that draw inspiration from both locally sourced grapes and fruits as well as renowned wine regions worldwide with flavors like peach, lemon, lychee, mango, pineapple, berries, watermelon and more.
JONES VON DREHLE VINEYARDS
964 Old Railroad Grade Road Thurmond, NC
Situated northwest of Elkin, this stunning family-owned, estate winery boasts rolling vineyards and breathtaking views. With a commitment to producing exceptional wines, Jones Von Drehle exclusively crafts their wines from the thirty acres of vines cultivated on their property. While the tasting room is exclusively for guests aged 21 and above, the patio offers a pet and child-friendly environment, allowing the whole family to enjoy the serene surroundings. From crisp whites to full-bodied reds, Jones Von Drehle offers a diverse range of varietals, and makes some of my favorite wines in North Carolina.
MCRITCHIE WINERY & CIDERWORKS
315 Thurmond PO Road, Thurmond, NC
For a diverse tasting experience featuring both wine and cider, McRitchie Winery & Ciderworks is a must-visit destination. This family-owned establishment, which is dedicated to sustainable growing and low intervention winemaking, not only crafts wines and artisanal ciders but also upholds a strong commitment to using locally sourced fruits to create their unique libations.
TRANSPORTATION TO YADKIN VALLEY WINERIES
Looking for a driver for the day as you explore the Yadkin Valley wineries? Known as the "Winery Hopper," the Elkin Vine Line departs from a central station in historic downtown Elkin at scheduled times and operates throughout the day, providing seamless access to the wineries surrounding the town. Currently, the Elkin Vine Line offers six Lines that connect to four wineries each, ensuring ample options for exploration and discovery.
In addition to the Elkin Vine Line, several other transportation options are available for wine lovers in the area. The Yadkin Wine Shuttle, Frog Holler Winery Tours, The Chicas, Yadkin Valley Wine Tours, NC Wine Gals, Grape Escape, and Van in Black are among the services operating in the region. These companies offer a range of transportation options, including guided tours and private shuttles, allowing visitors to customize their wine-tasting experiences according to their preferences.
OUTDOOR ADVENTURES IN AND AROUND ELKIN, NC
The wineries near Elkin showcase just a taste of what the Yadkin Valley has to offer. Beyond wine tours and tasting, the Yadkin Valley is home to a variety of outdoor activities. you can explore the picturesque trails, go camping, or even try your hand at climbing in Pilot Mountain State Park or Stone Mountain State Park. For breathtaking views of the Piedmont and the Blue Ridge Mountains, take a leisurely stroll along the Jomeokee Trail, circling the base of Pilot Mountain's pinnacle, or hike the more difficult Stone Mountain Loop Trail which will take you around and up Stone Mountain's granite dome, past a scenic waterfall and through a restored homestead.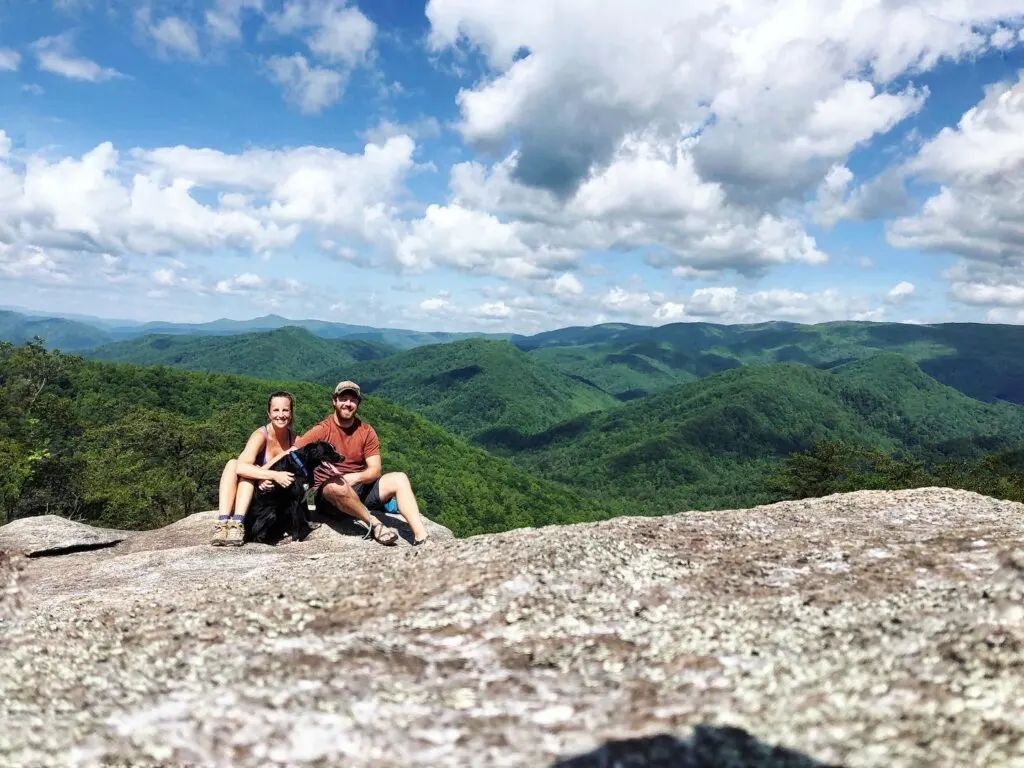 Discover the remarkable Yadkin Pee Dee River Trail, spanning 125 miles and offering numerous convenient access points for kayakers and paddlers. This trail on the Yadkin River, which starts in Wilkes County and meanders through Elkin, showcases a mostly flat waterway with gentle Class I ripples and a few thrilling Class II sections.
VISIT MAYBERRY
Visit the charming town of Mount Airy, affectionately known as Mayberry, which happens to be the hometown of the legendary Andy Griffith himself. You'll instantly fall in love with the small-town charm radiating from every corner of Main Street, home to local shops, eateries and the iconic Earle Theater.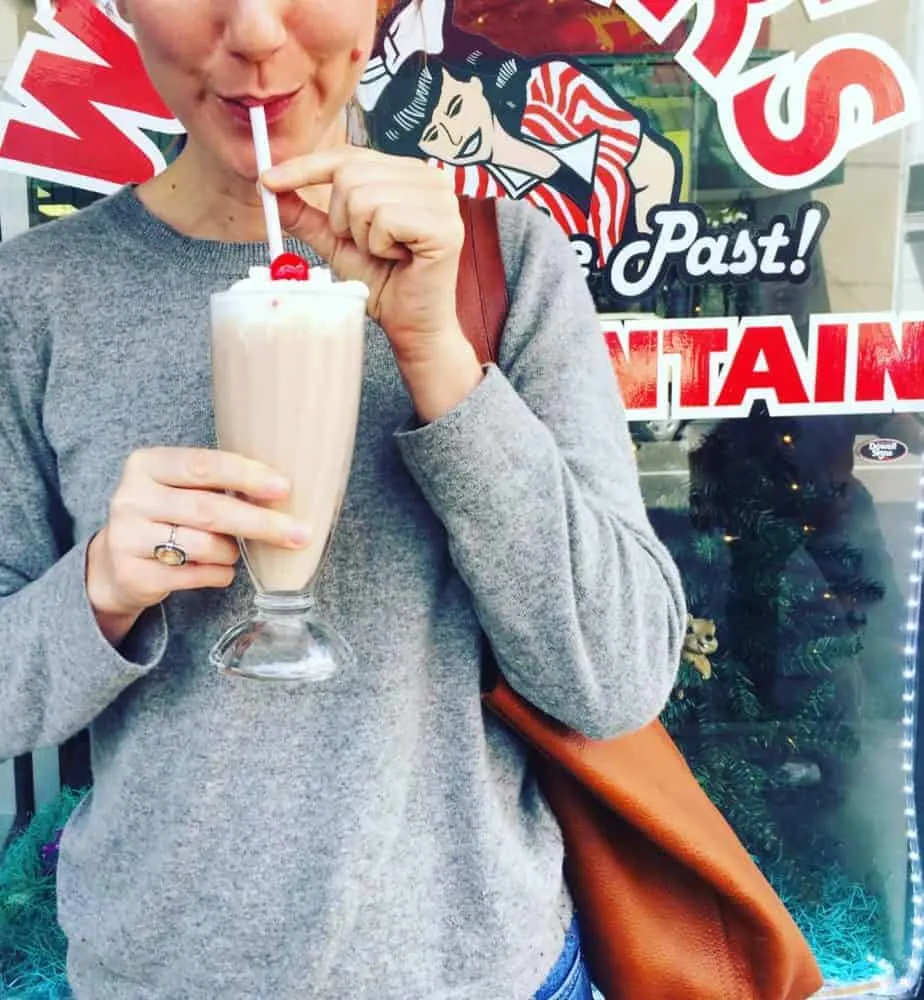 Indulge in a classic cheeseburger and a heavenly chocolate malt at Walker's Soda Fountain—it's a must! If your sweet tooth is still calling, don't resist the temptation to sample a heavenly pie or two (or more) from Miss Angels Heavenly Pies.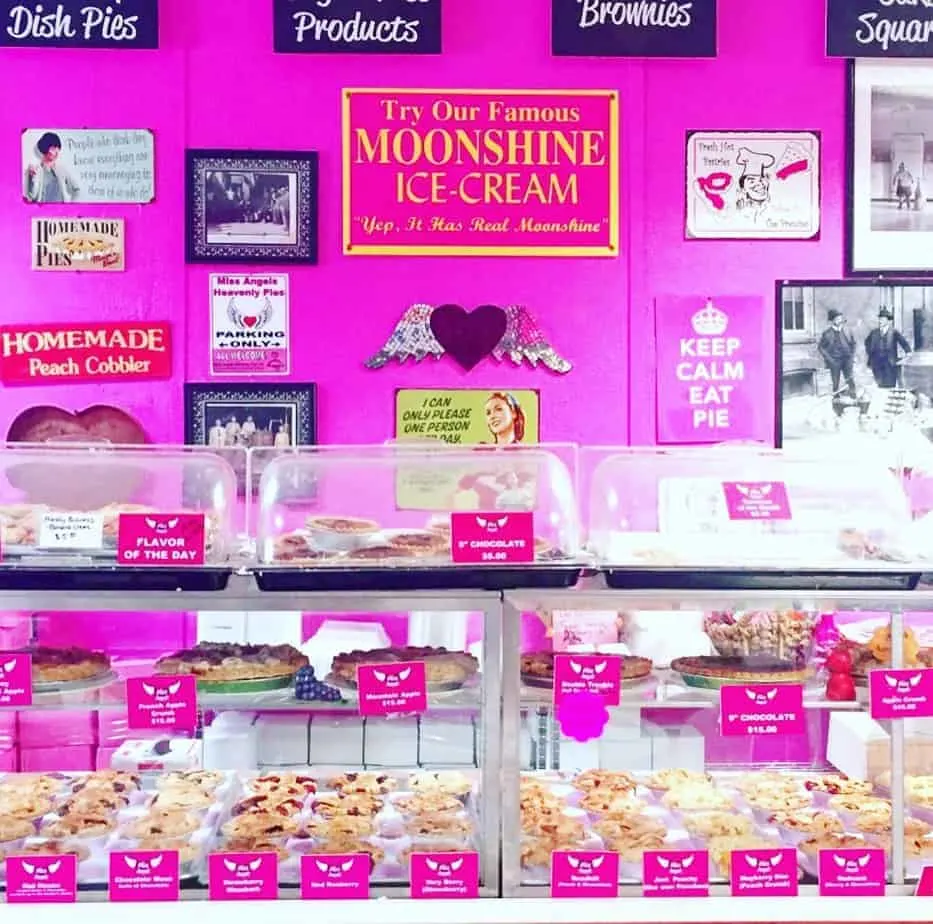 Immerse yourself in the world of Mayberry at The Andy Griffith Museum which boasts a vast collection of Andy Griffith memorabilia, including authentic sets, costumes, and clips from The Andy Griffith Show and Mayberry RFD. Even if you're not a die-hard fan, this museum will surprise you with interesting facts and tidbits.
And while you're in town, why not visit some of the spots that inspired Griffith's Mayberry, like Snappy Lunch, The Blue Bird Diner, and Floyd's Barber Shop?
For the ultimate Mayberry experience, hop aboard a Mayberry squad car and embark on a unique tour that unveils the fascinating history and connections between Mount Airy and The Andy Griffith Show.
Don't forget about the deliciously unique North Carolina dessert—sonker! This delightful twist on pie and cobbler is a local favorite, and you can discover the best sonker spots along the Sonker Trail in Surry County. It's a sweet adventure you won't want to miss.
Mt. Airy is also home to a small batch, sorghum whiskey distillery called Mayberry Spirits which offers both tours and tastings.