There's no need for a cross-country flight to experience wine country; you can sip and sample your way through the North Carolina wineries in your own backyard. This post includes a planned itinerary of how to spend a weekend exploring North Carolina wineries, plus has a list of wineries near Charlotte, NC and dog friendly wineries in NC.
Looking for more North Carolina Travel recommendations? Whether your looking for the best restaurants in Charlotte, where to stay in Asheville, or you're planning your next beach vacation to the Outer Banks, Off the Eaten Path's North Carolina Travel page has got your covered!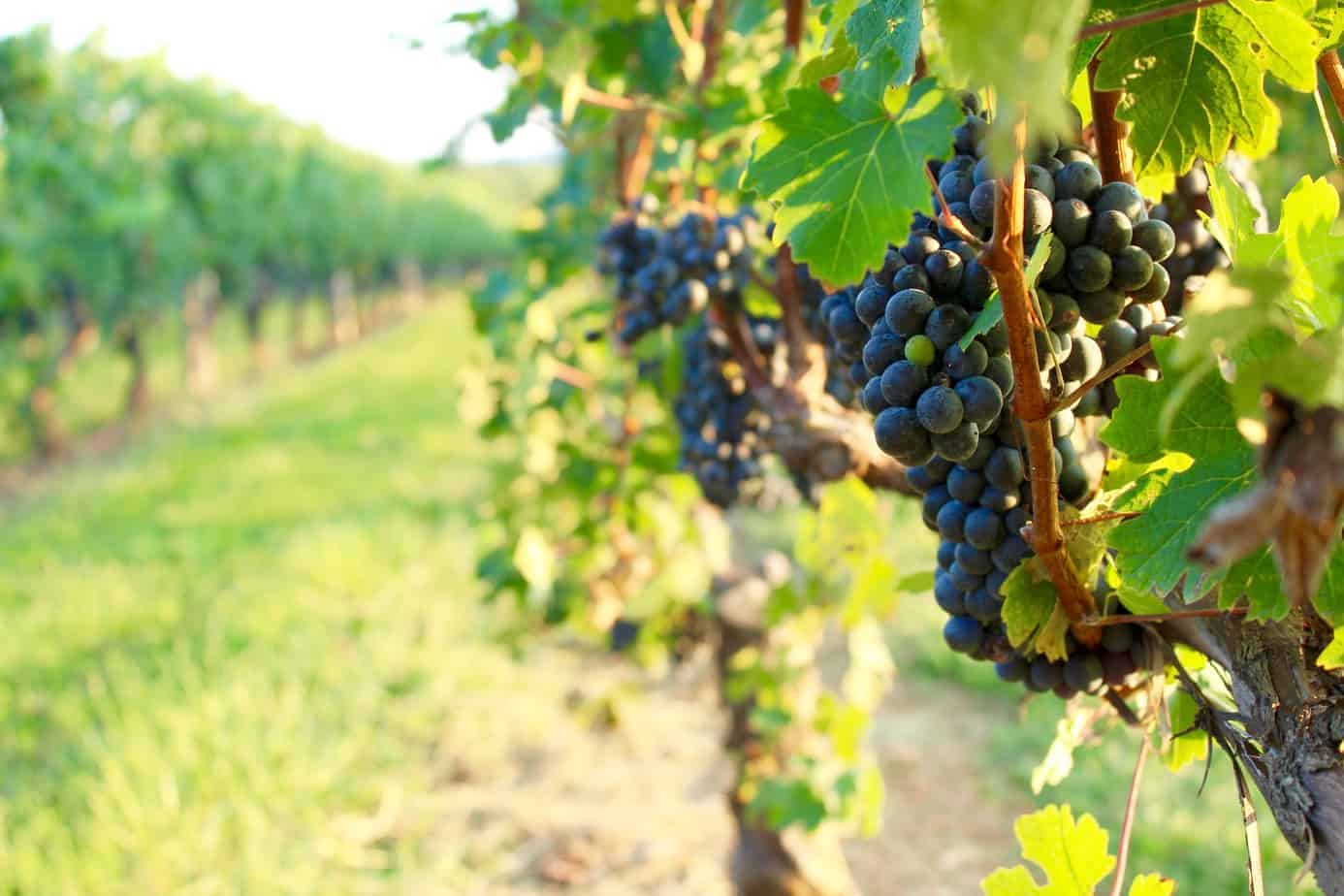 This post was written in partnership with the Tourism Partnership of Surry County, after spending a weekend on a wine and culinary media tour. The entire weekend, including my hotel stay and all food and beverage, was complimentary.
Thank you to the Tourism Partnership of Surry County for hosting me and thank you to my readers for supporting brands and businesses that support this blog. As always, all opinions are my own.
Nestled in the foothills of the Blue Ridge Mountains in Northwestern North Carolina is the Yadkin Valley, home to North Carolina's first American Vitacultural Area, a federally designated grape growing region.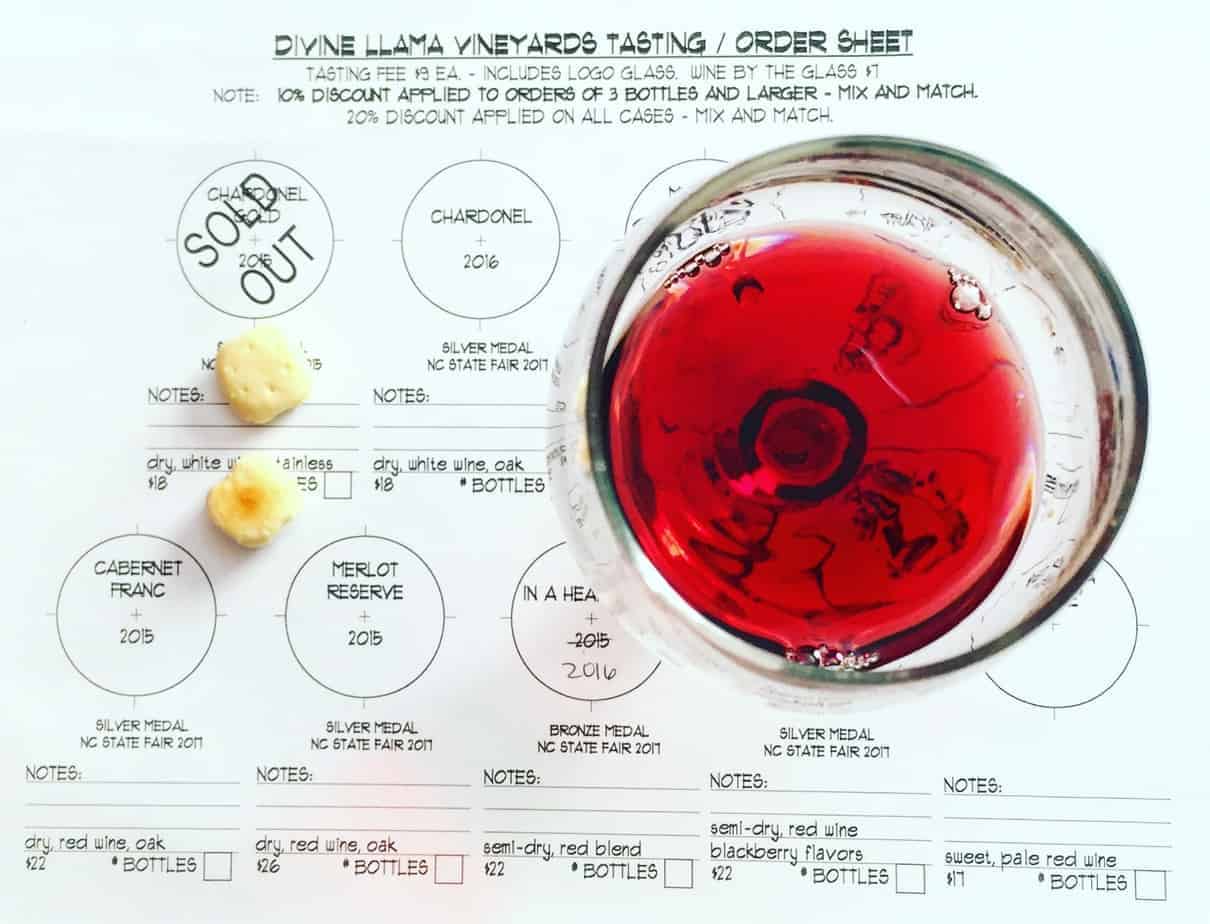 Just an hour and a half north of Charlotte, the Yadkin Valley is the ideal day trip distance: you can easily spend the day sampling and sipping your way through Surry County's classic varietals and still make it home in time for supper.
However, a weekend getaway full of touring and tasting will is how to truly experience everything North Carolina wine country and the North Carolina wineries have to offer.
In early September, I was invited to spend a weekend sipping and savoring my way through Surry County (also known as research you guys), which was a lot of hard work (ha!) helped me develop this North Carolina wineries weekend itinerary for you.
A winetinerary if you will. Cheers!
Before we get into a wine weekend away visiting six North Carolina wineries, first, let's go over a few North Carolina wine fun facts.
How many wineries are in North Carolina?
There are nearly 200 vineyards and more than 400 wineries in the Tarheel State, and you can find North Carolina wineries across the state from the mountains, through the piedmont and to the coast.
There are now more than 40 wineries in the Yadkin Valley, thirteen of which you can find in Surry County, where the idea to designate the region as an AVA was born seventeen years ago.
North Carolina Wineries Map
NC Wine is a wonderful and comprehensive resource for all things North Carolina wine, wineries and vineyards.
They have an amazing interactive map of all of the North Carolina wineries and vineyards that shows the wineries across the state by region.
What kind of grapes are grown in North Carolina?
North Carolina is probably most well known for the Scuppernong, which is a large variety of the muscadine grape, a grape native to the Southern United States.
Because North Carolina is home to the oldest growing grape vine (a Scuppernong vine growing on Roanoke Island), our state has a lot of pride in the muscadine grape and a lot of North Carolina winemaking has been traced back to using muscadines.
Muscadine grapes generally produce a sweet wine…and with North Carolina's history so deeply entwined with muscadine grapes, many people assume you can only make or buy sweet wine in North Carolina.
But guess what…there is more to North Carolina wine than muscadines!
In fact, North Carolina is one of the only places in the world where you can grow a wide variety of grapes because of the temperate climate and soil, which means we have all sorts of different varietals of North Carolina wine…everything from dry, dark reds, to crisp whites.
North Carolina boasts an assortment of grape varietals including Cabernet Franc, Cabernet Sauvignon, Merlot, Syrah, Riesling, Sauvignon Blanc, Concord, and of course, Muscadine.
Ok, let's get to the weekend wine itinerary!
A Weekend Visiting North Carolina Wineries: Friday
Sneak out of work a little early (oh come on, you know you deserve a glass of wine after such a long week!) and hop on I-77 North before 5 PM so you can beat traffic (because you also know that you'll need a few more glasses of wine, maybe even the entire bottle, if you get stuck in the slow crawl with everyone going home for the weekend).
Even if you run into a little lake traffic, you should get to Dobson, North Carolina (aka home base for the weekend) in about an hour and a half.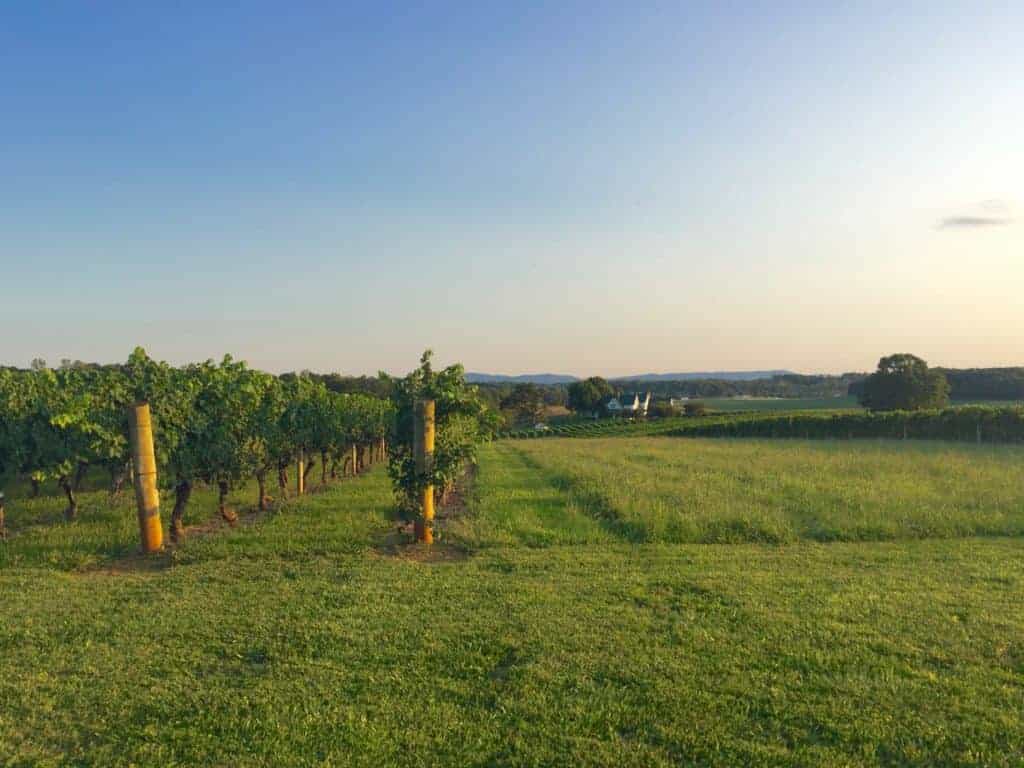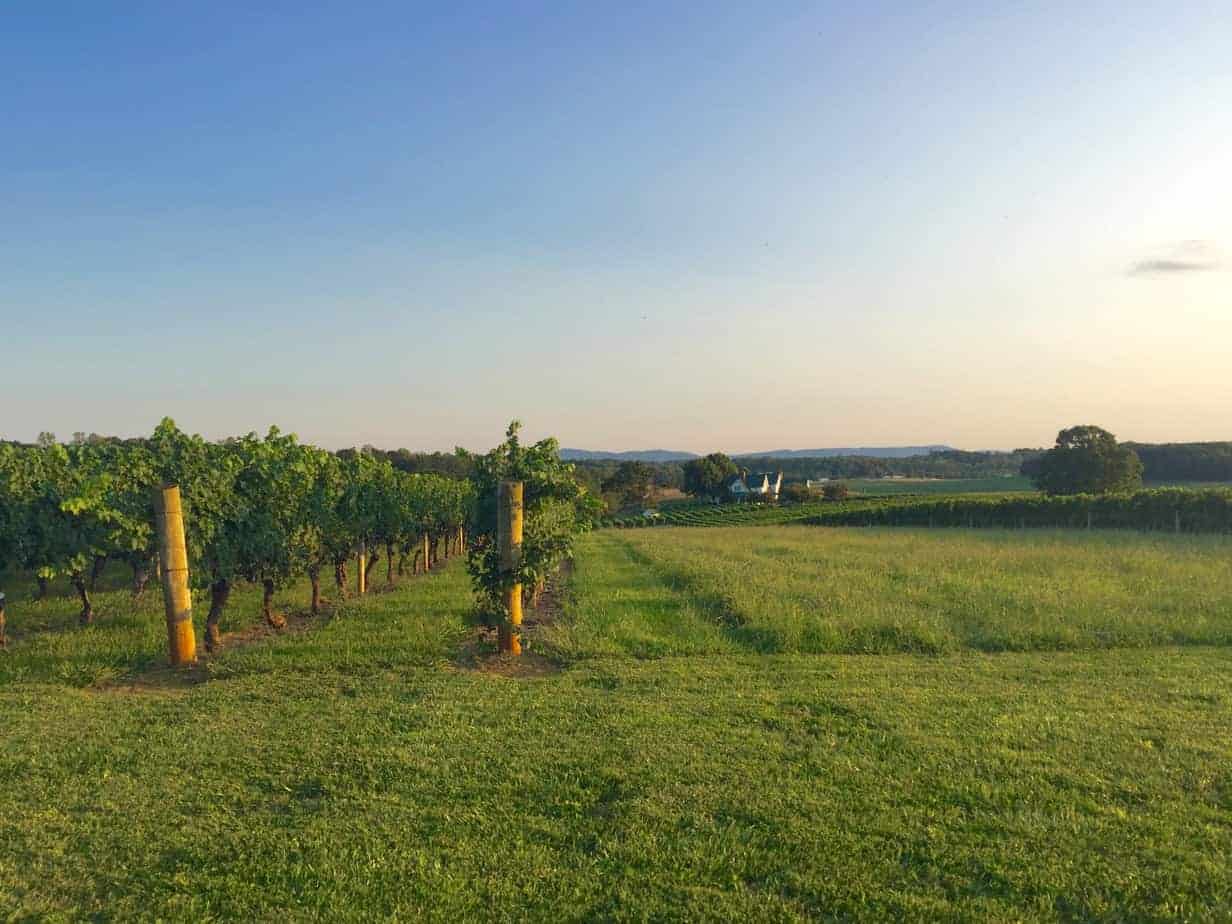 It took me one and a half (long) podcasts on a late Friday afternoon in September.
Check into home base, the Hampton Inn and Suites in Dobson and head to your room to get refreshed.
Fun fact: this Hampton Inn is adjacent to Shelton Vineyards, and is the only Hampton Inn with a wine bar (featuring Shelton's wines, obvi).
I stayed there in September and it was clean, comfortable and centrally located for all wine touring needs.
If the Hampton Inn isn't your thing, several of the wineries on this itinerary offer on site cabins (Elkin Creek Vineyard, Round Peak Vineyards, and Herrera Vineyards, to name a few) which I think would be a super awesome place to stay for the weekend (current status is trying to convince AJ to one at Round Peak for a weekend).
Or check out your options on AirBNB or VRBO (I would try to stay in Dobson or Mt. Airy, but Elkin would work too…just a little bit further South).
Since getting a glass of wine is your goal (and it has been since leaving Charlotte) you can get one at the hotel (no judgment and no you don't reek of desperation) or you can catch the shuttle from the hotel to Shelton Vineyards (it's free).
The hotel also offers bike rentals, and I think it would be fun (and also cute and quaint) to peddle around near the vineyard.
First North Carolina Vineyard Stop: Shelton Vineyards
Spanning 383 acres, Shelton Vineyards is the largest family owned estate winery in North Carolina.
Brothers Ed and Charlie founded the vineyard in 1999 and have been at the forefront of putting Yadkin Valley on the wine map, both pushing for the federal AVA designation and instrumental in developing the viticulture and enology program at Surry Community College.
(In other news, we went home with a bottle of wine made at the Community College and it was one of my favorites that I tasted the entire trip!).
A variety of European vinifera grapes are grown at Shelton Vineyards including: Cabernet Franc, Cabernet Sauvignon, Chardonnay, Merlot, Malbec, Tannat, Petit Verdot, Riesling, Sauvignon Blanc, and Viognier (a selection that is a pleasant surprise from the often expected sweet muscadine grape native to North Carolina and commonly associated with North Carolina wine).
After your tasting, wine and dine at Shelton's on site restaurant, Harvest Grill.
A Weekend Visiting North Carolina Wineries: Saturday
With miles of trails, camping, climbing, and other recreational activities (you can even explore the park via horseback or canoe), the Pilot Mountain State Park is the perfect place to start your day (you know, a little exercise to gear up for a full day of day drinking. I mean it is what it is, but we could also use the more sophisticated term, wine tasting).
The Jomeokee Trail is a nice, easy, short hike around the base of Pilot Mountain's pinnacle, offering panoramic views of North Carolina's Piedmont and the Blue Ridge Mountains.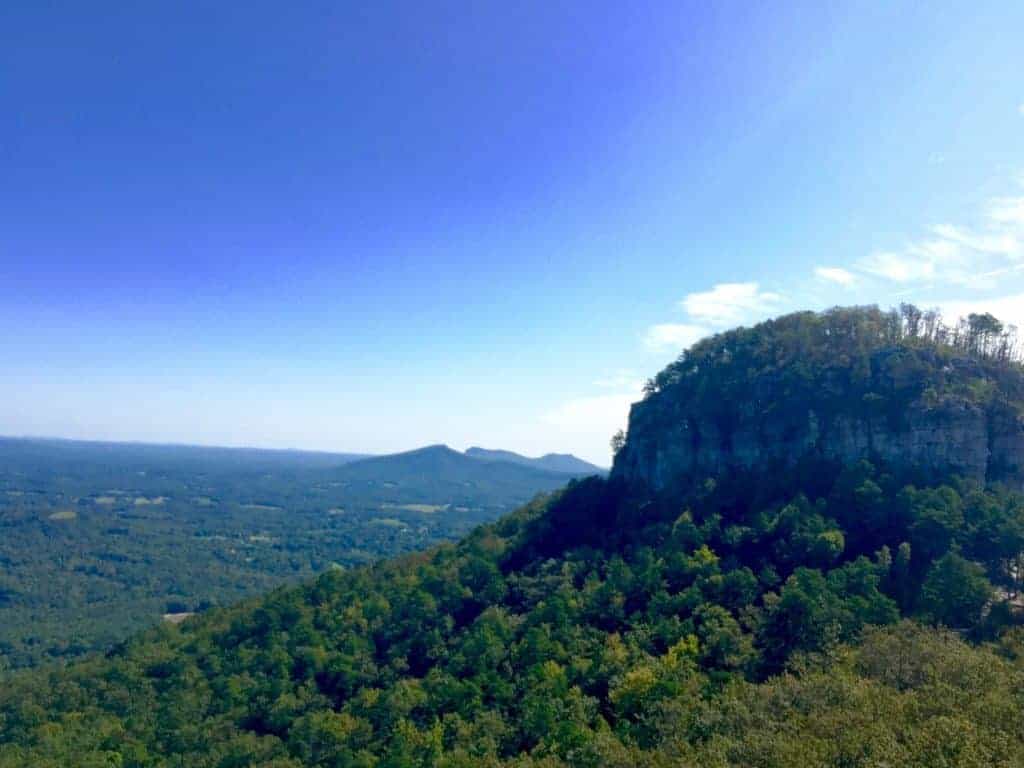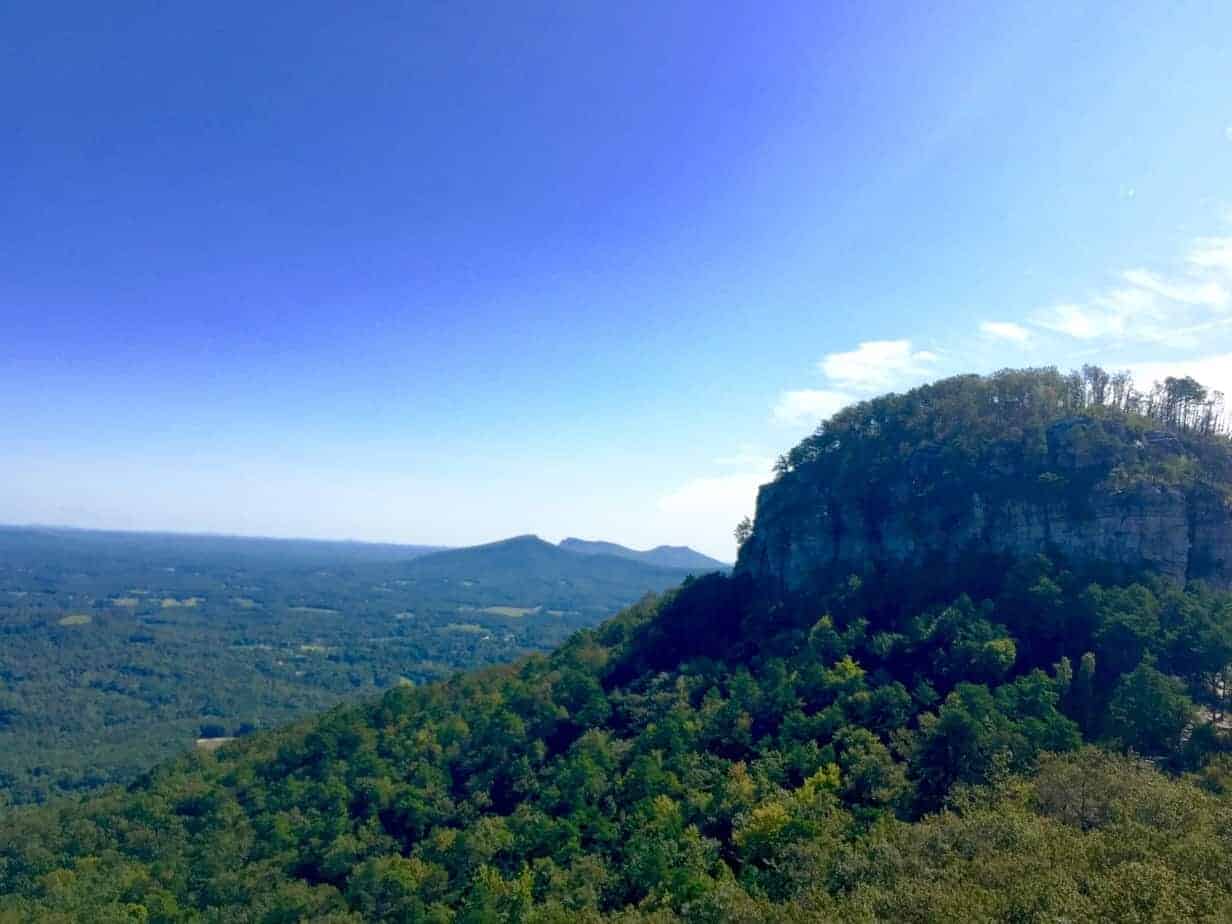 Second North Carolina Vineyard Stop: JOLO Winery and Vinyeards
In the shadows of Pilot Mountain's summit is JOLO Winery and Vineyards, which makes it Saturday's ideal first tasting spot (this is also a good time to mention that you can go back to the hotel and freshen up and designate a driver for the day…or hire a driver to take you around on your North Carolina wine adventure.)
Named for the winemakers two sons, Joey and Logan, JOLO Winery and Vineyards offers picturesque views of Pilot Mountain, bold reds and a distinctly colored rose (and last year they won the North Carolina Winegrower of the Year Award).
If you're ready for a bite to eat, pair some of JOLO's wines with the variety of tapas offered in the winery's restaurant, End Posts.
After a morning outdoors and the first sips of North Carolina wine under your belt, drive east from JOLO to Mount Airy; fondly known by locals and visitors as Mayberry (it is Andy Griffith's hometown after all). Mount Airy's main street exudes small town charm with local shops, eateries, and the Earle Theater's marquee.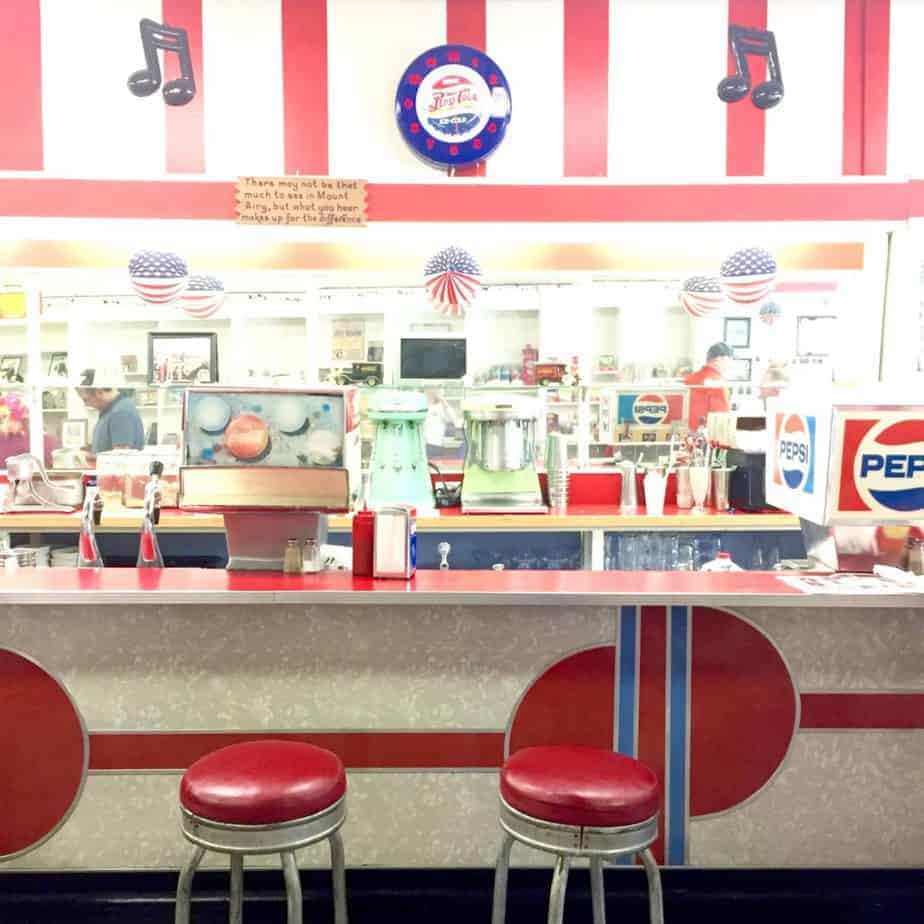 A classic cheeseburger washed down with a chocolate malt at Walker's Soda Fountain is a must.
(I split both with friends on our trip and my biggest regret is not ordering one for myself).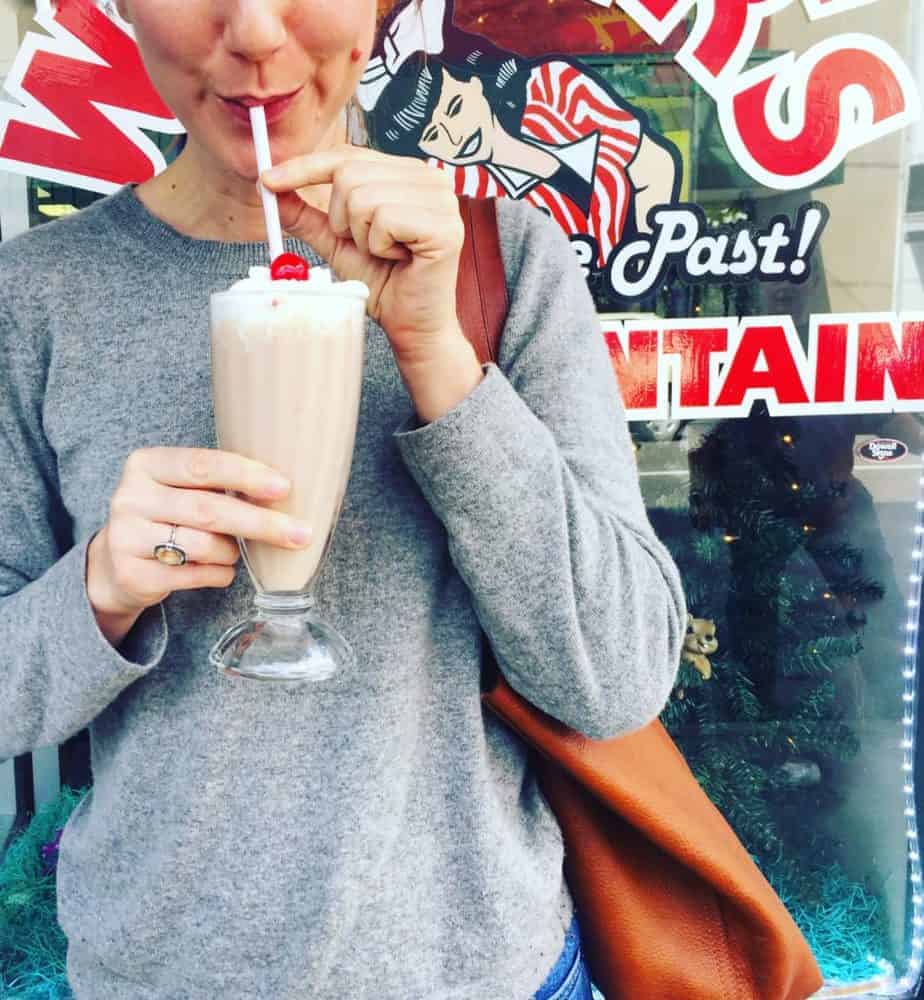 Here's the cheeseburger from Walker's Soda Fountain. Next time I am definitely not sharing.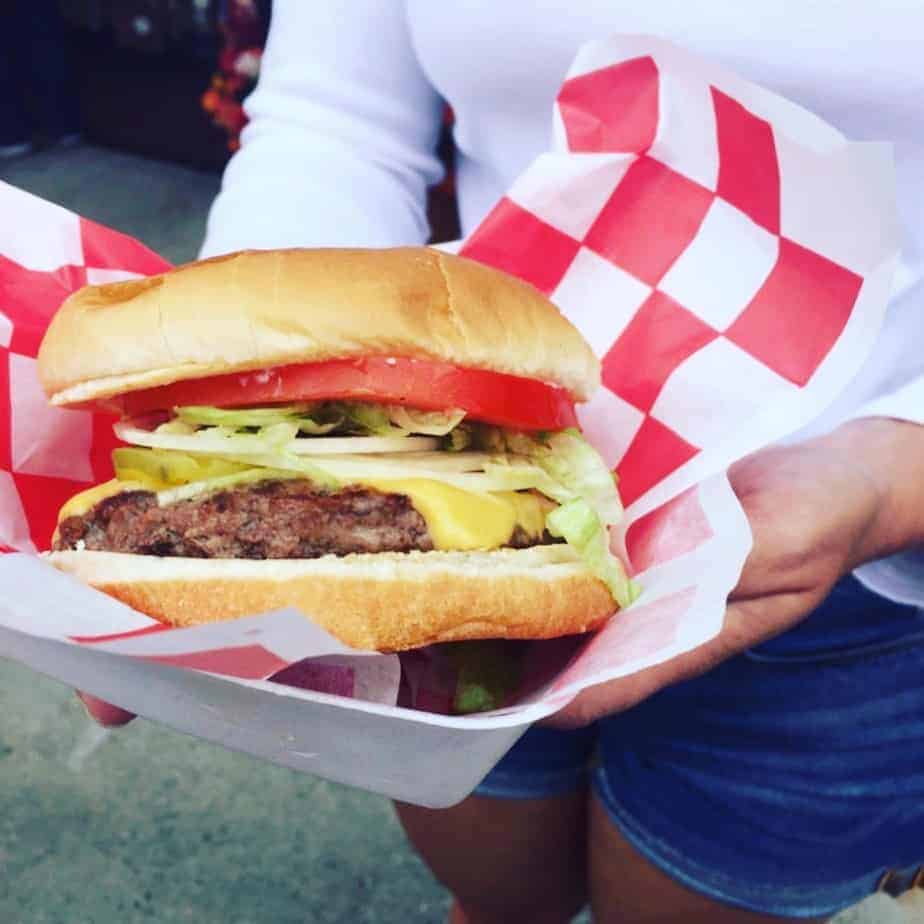 Satisfy your sweet tooth with a treat (or a few) from Miss Angels Heavenly Pies.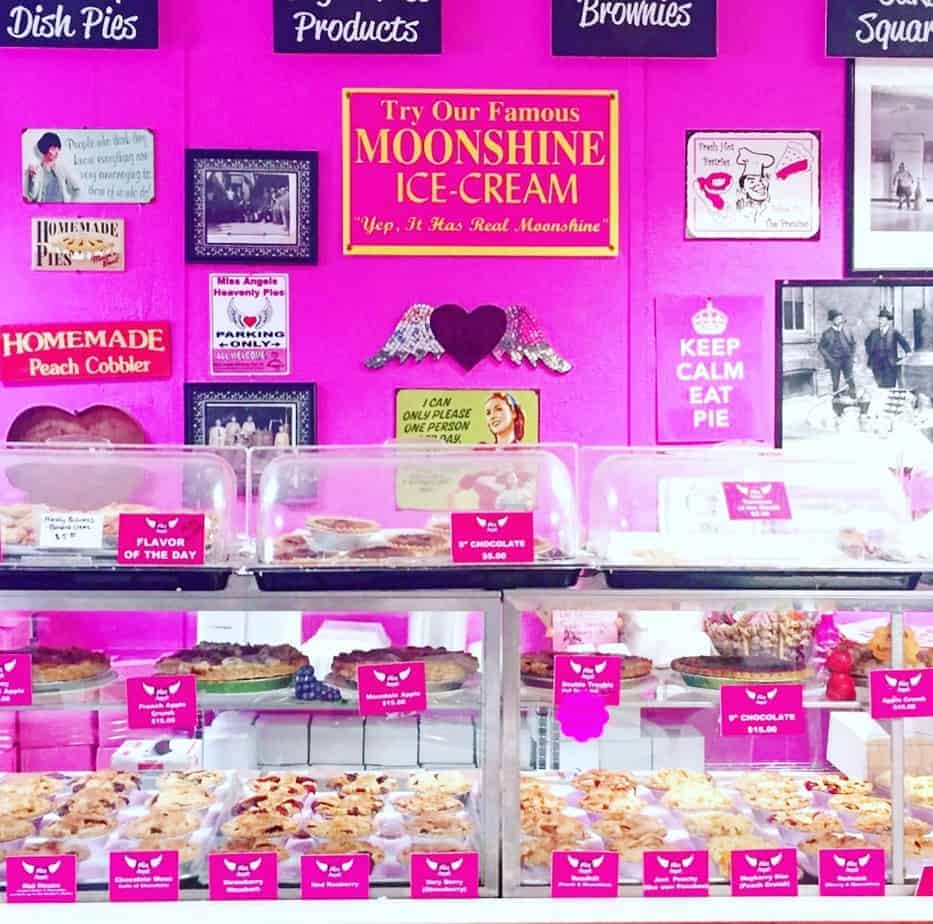 If you're an Andy Griffith fan (or even if you're not), take a tour of The Andy Griffith Museum, home to the world's largest collection of Andy Griffith memorabilia (including sets, costumes, and clips from The Andy Griffith Show and Mayberry RFD.
If you're like me and Andy Griffith evokes a feeling of preteen, TBS rerun nostalgia, you'll also learn a thing or two.
You can also visit a few of spots that inspired Griffith's Mayberry like Snappy Lunch, The Blue Bird Diner and Floyd's Barber Shop (you can also cruise Mount Airy in a Mayberry squad car on a unique tour showcasing the history and connections of Mount Airy to The Andy Griffith Show).
And don't forget to try sonker, the North Carolina foothills twist on pie and cobbler. The native dessert is so popular, Surry County has a Sonker Trail dedicated to the establishments that serve the sweet treat.
Before your next North Carolina wine stop, stop into Mayberry Spirits, a small batch craft distillery, producing unique single-malt sorghum whiskies, for a tour and tasting.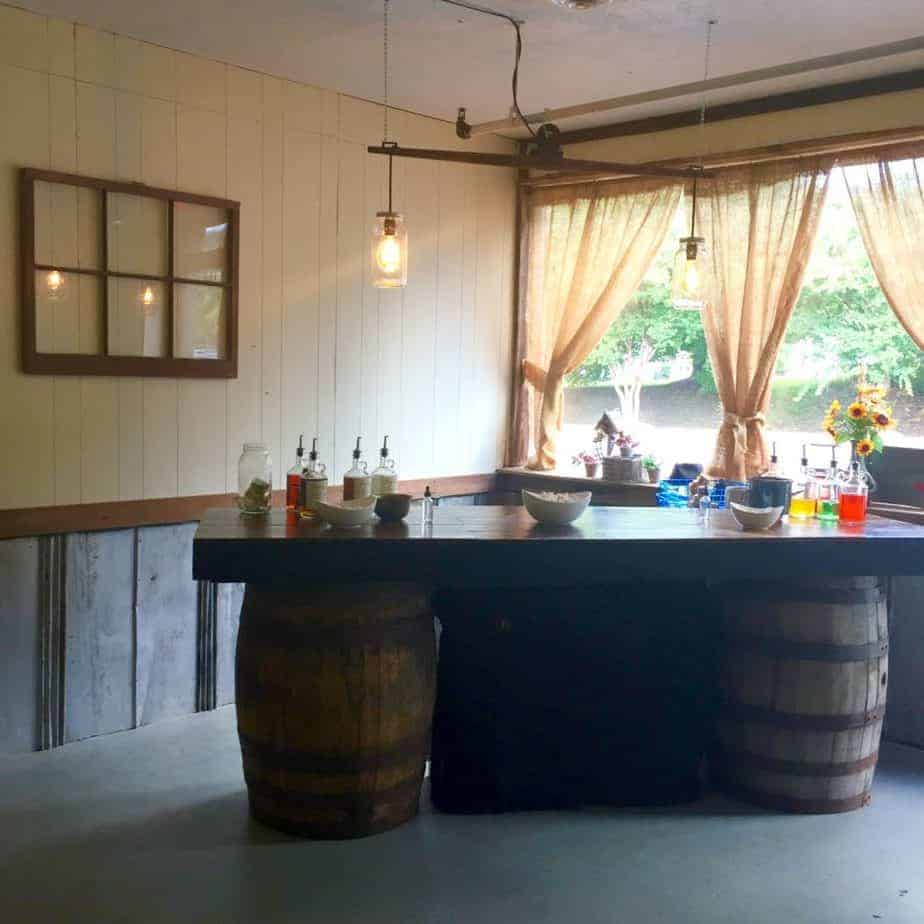 Third North Carolina Vineyard Stop: Round Peak Vineyards
Round Peak Vineyards was my favorite stop on our tour in September; I loved the relaxed vibe, sense of community, and the patio with expansive mountain views.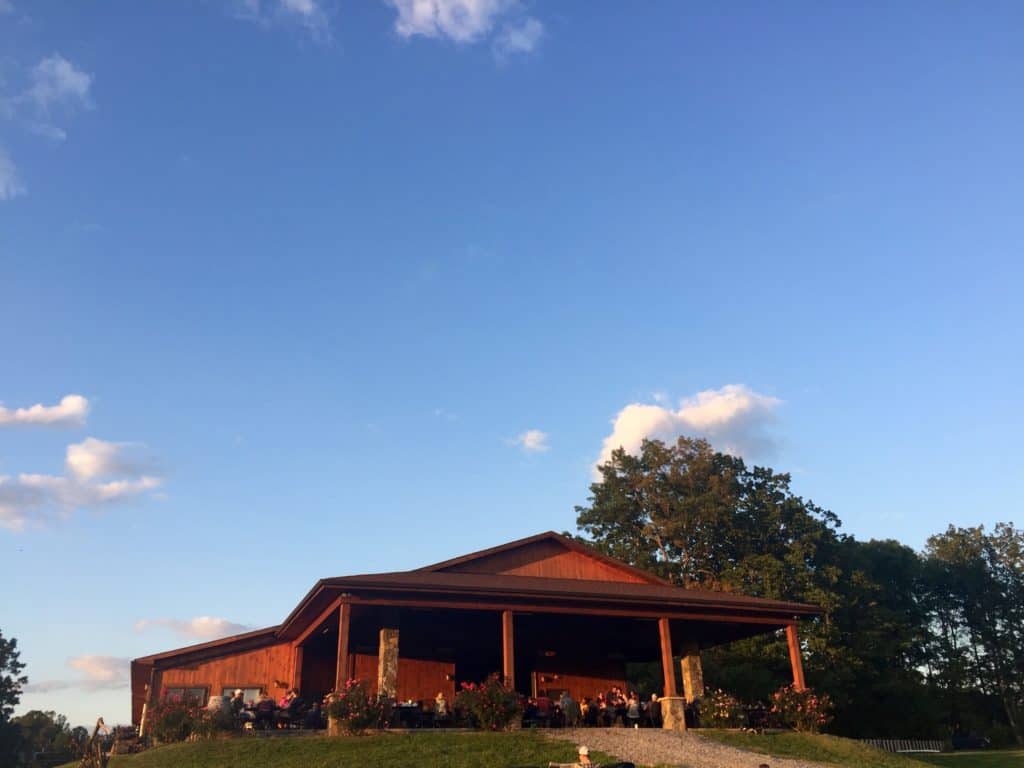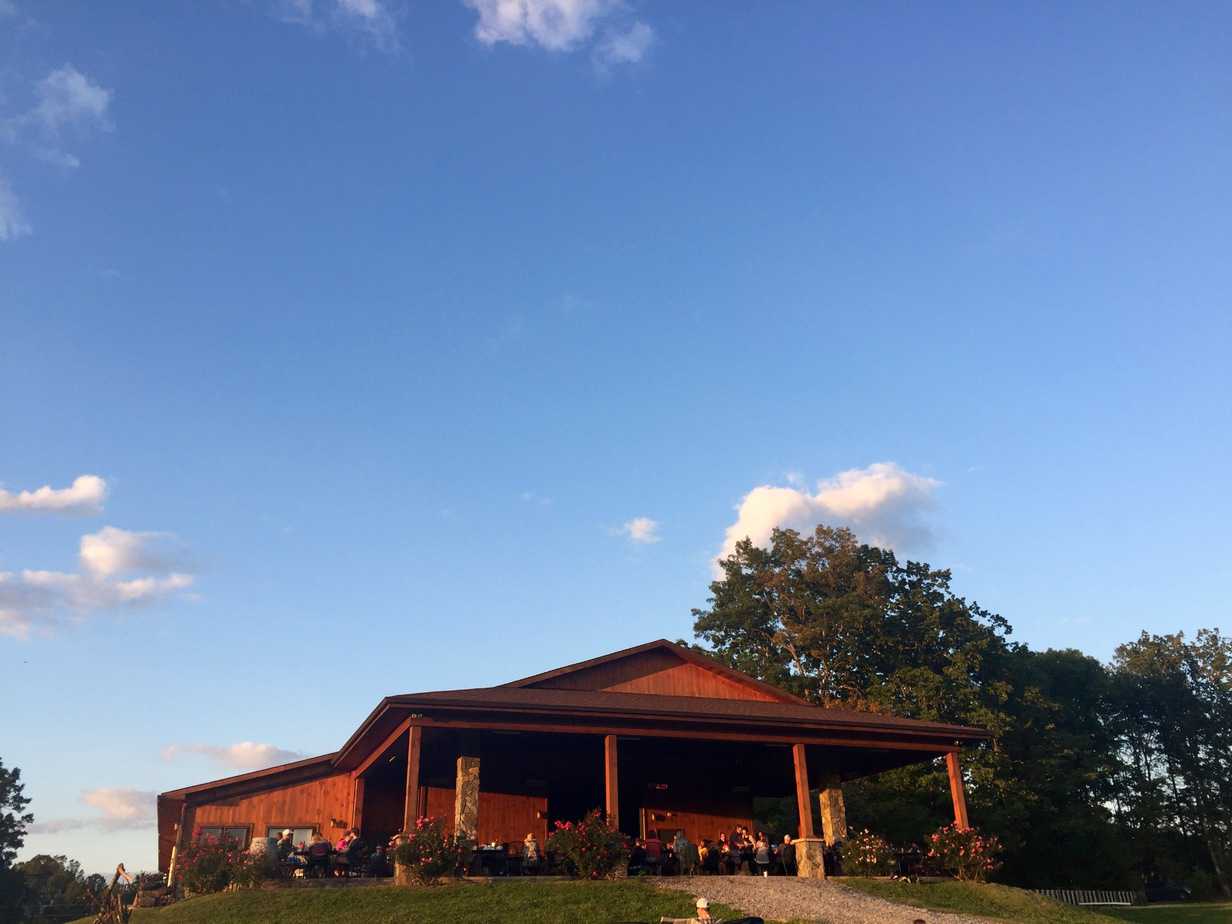 There's a few things going on at Round Peak Vineyards: they make their Round Peak wines, which are all dry French and Italian varietals made with grapes grown on the property, Skull Camp wines, their semi-dry, semi-sweet wine line, and also Skull Camp Brewing, offering a wide range of bold brews (they are also opening a smokehouse style restaurant soon too!).
Ken, the owner, led us through our tasting, and I was pleasantly surprised how much I enjoyed the semi-sweet Skull Camp wines (as a dry wine drinker, sweet wine scares me, but I actually enjoyed them).
Also, they are a dog friendly winery, which is great if you get dog mom guilt (like I do) and don't want to leave your pup at home (see AJ? If you're reading, a weekend at Round Peak is sounding better and better isn't it?)
After your tasting, spend some time sipping and soaking up the views and atmosphere on the patio, where you can catch live music and a spectacular sunset.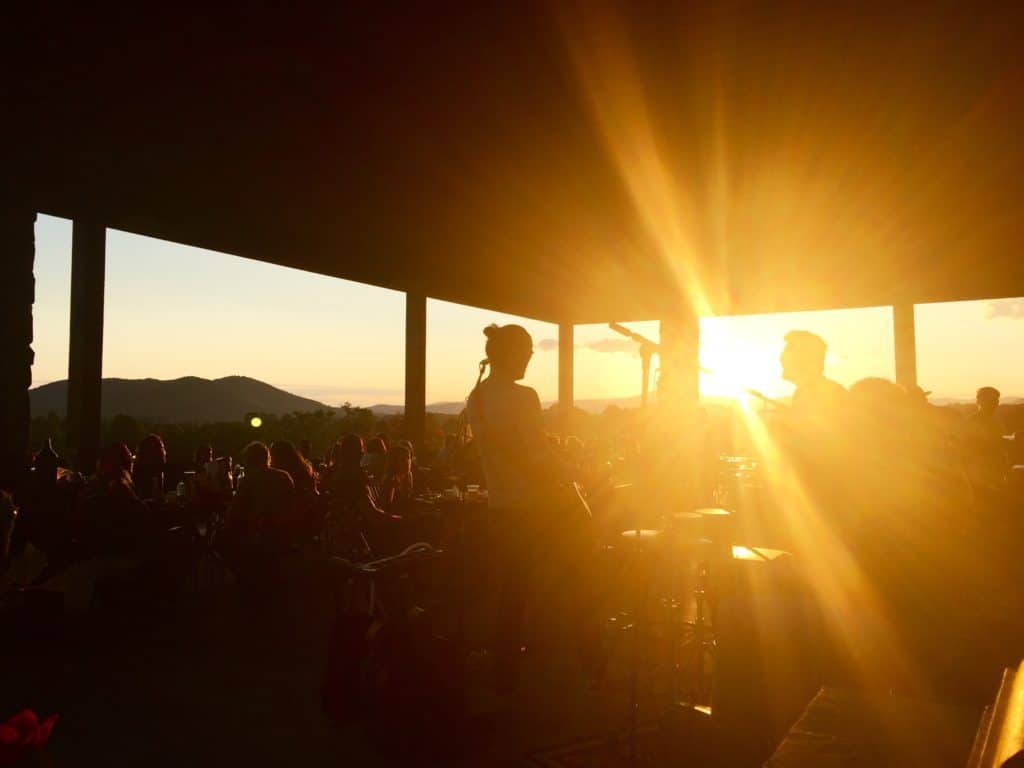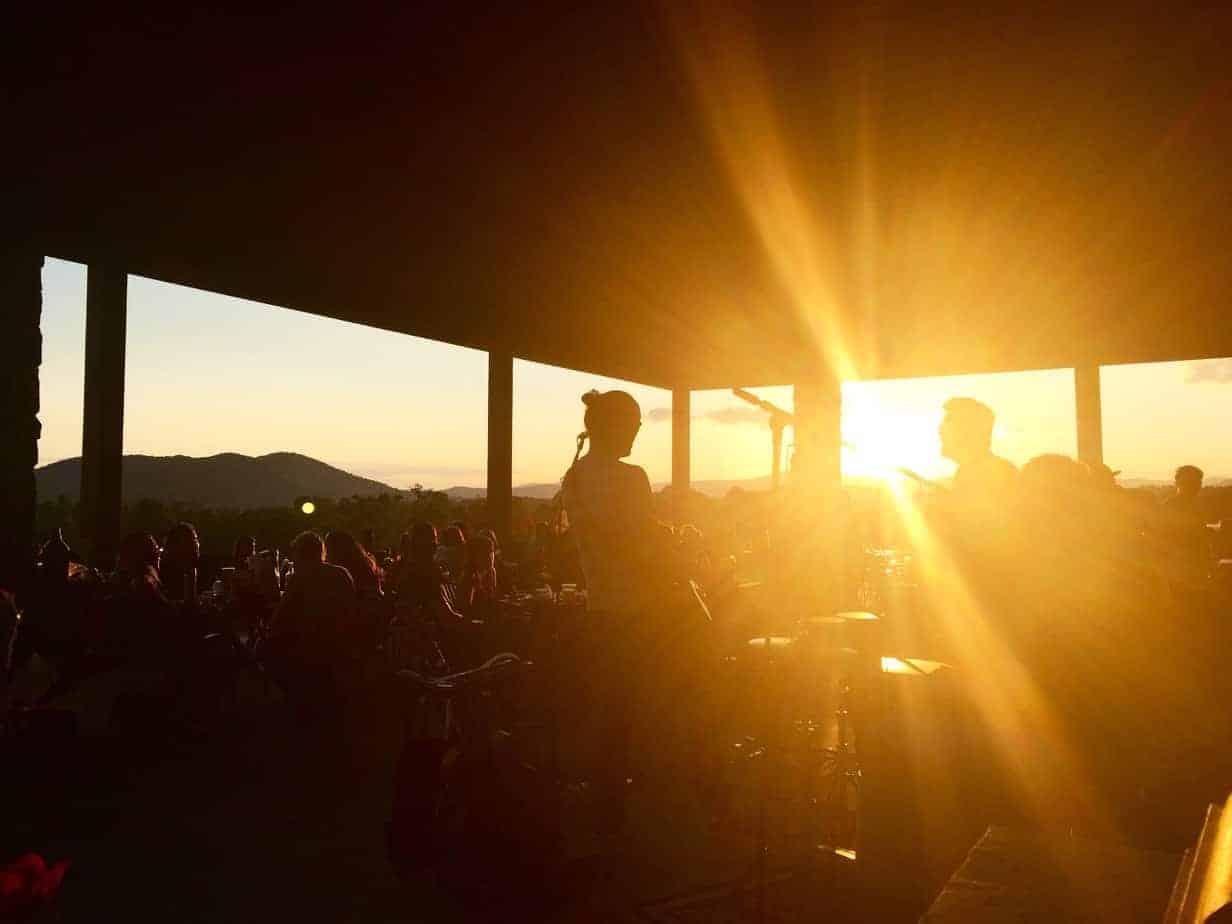 If you're there in early September, you can camp in the vineyard overnight at Skull Camp Out, a day full of wine, live music, barbecue, and bonfires.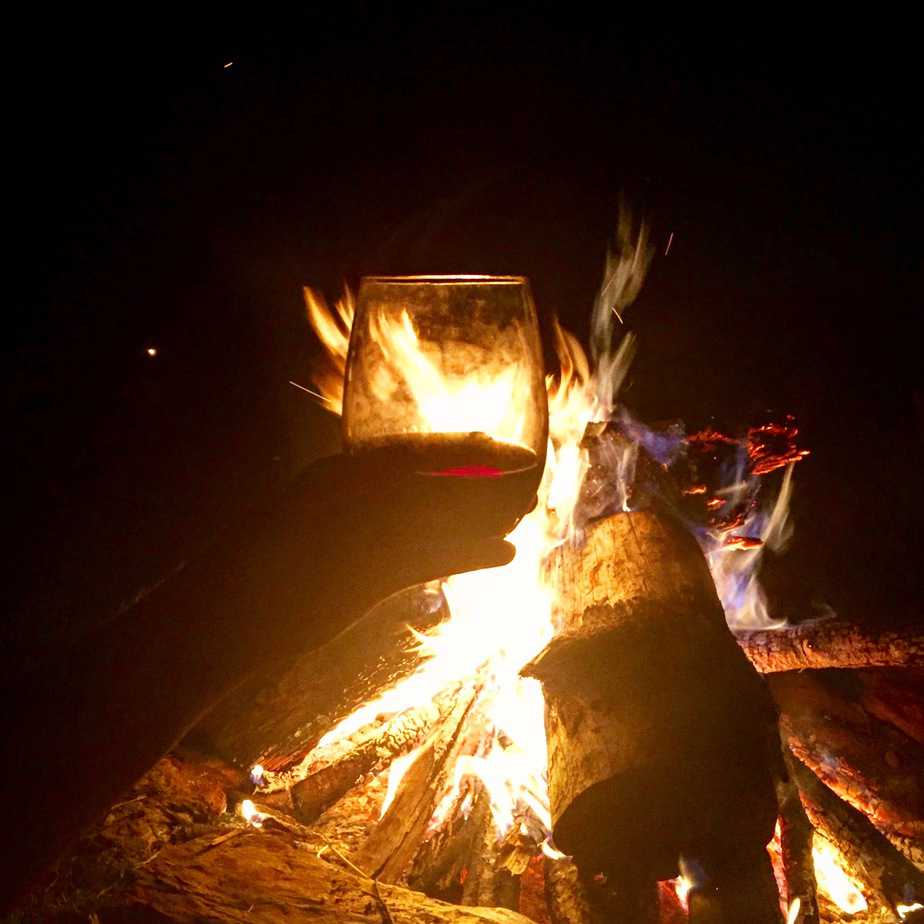 Fourth North Carolina Vineyard Stop: Herrera Vinyeards
Stop by Herrera Vineyards in Dobson before heading to your hotel for the night (I know you have it in you!).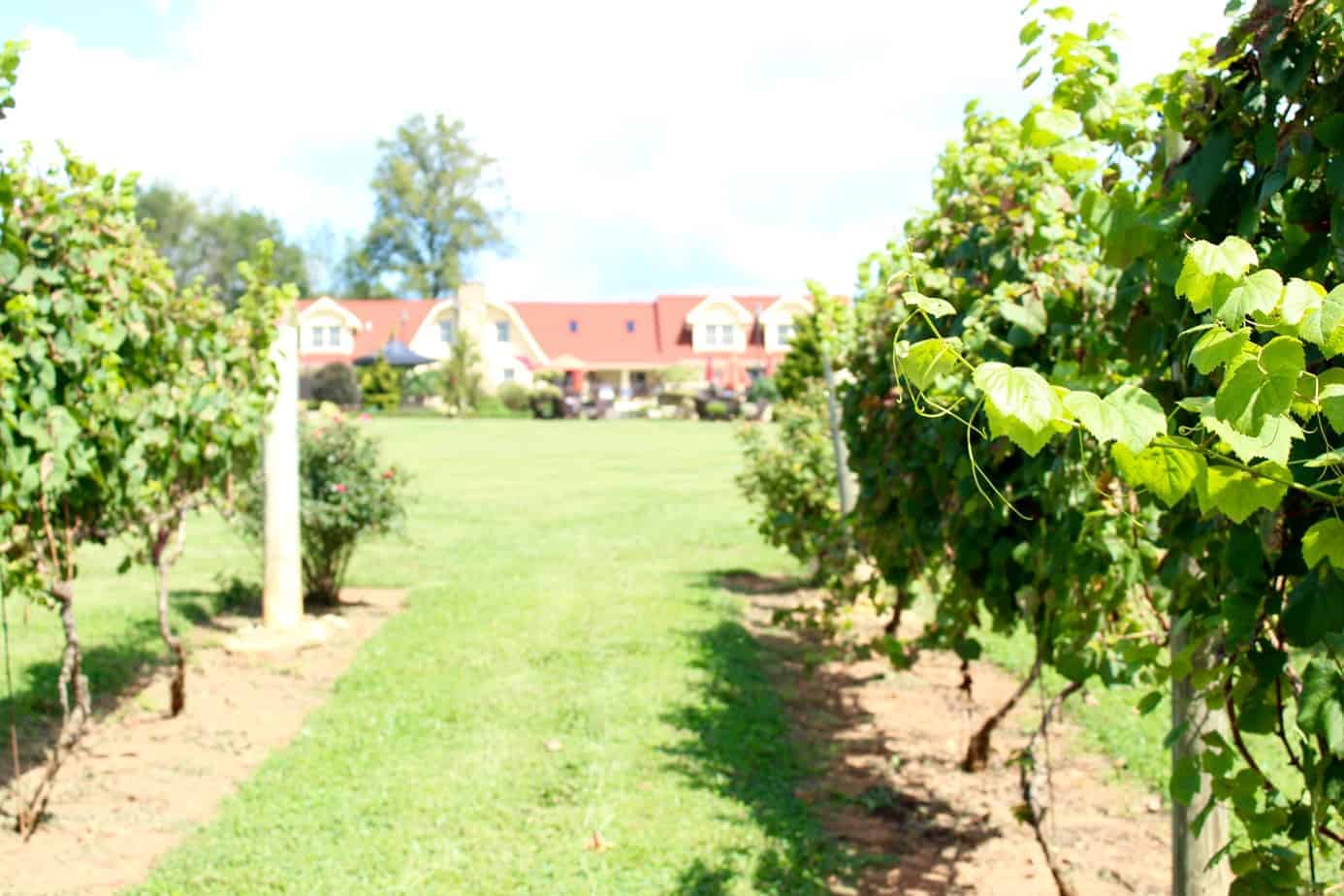 Rolling hills, Adirondack chairs, a fire pit, expansive patio, and nine wines to try make is a nice way to "wine down," if you will (of course a post about North Carolina wine has to have some wine puns).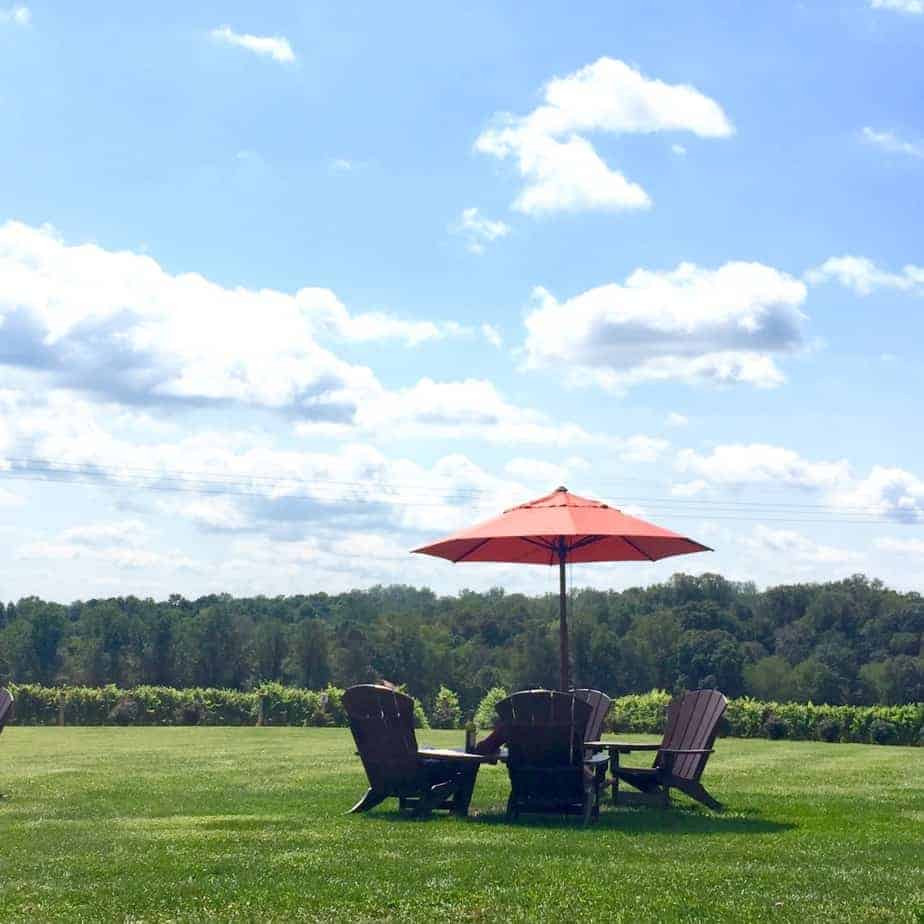 A Weekend Visiting North Carolina Wineries: Sunday
Ok, so if you're going to skip the weekend in North Carolina wine country (big mistake) and pick a day trip instead (why not do both at some point!) Sunday is actually the ideal day for a North Carolina wine day trip and you should follow this itinerary.
Why?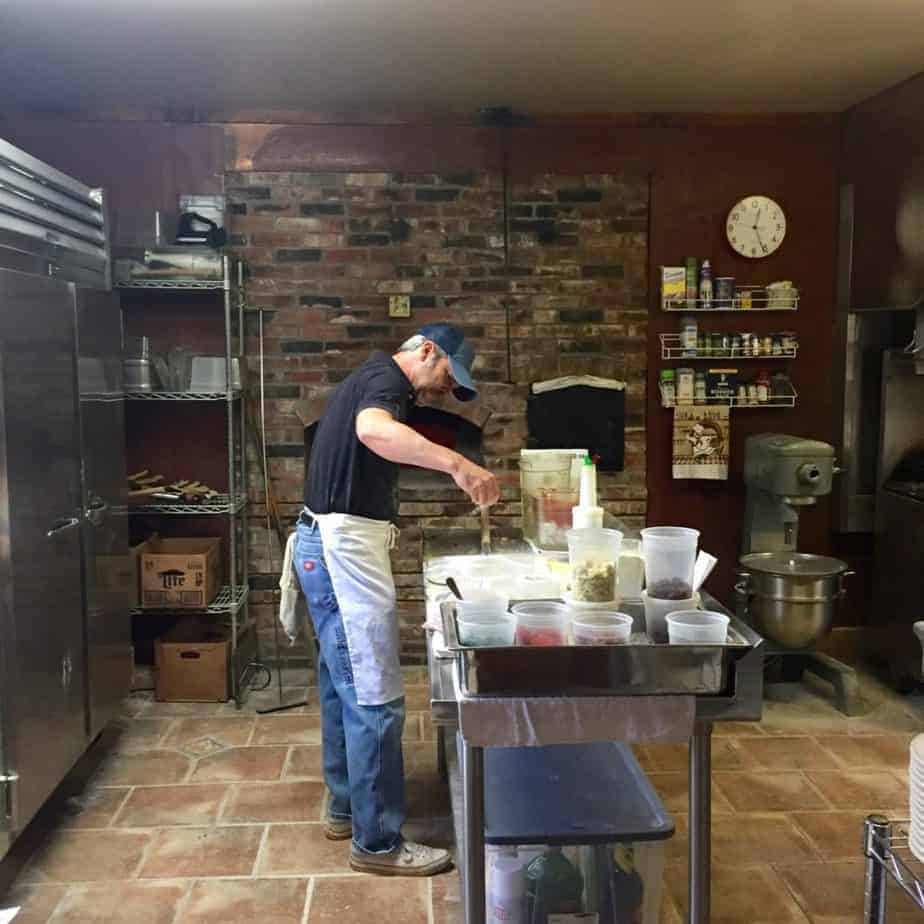 Pizza!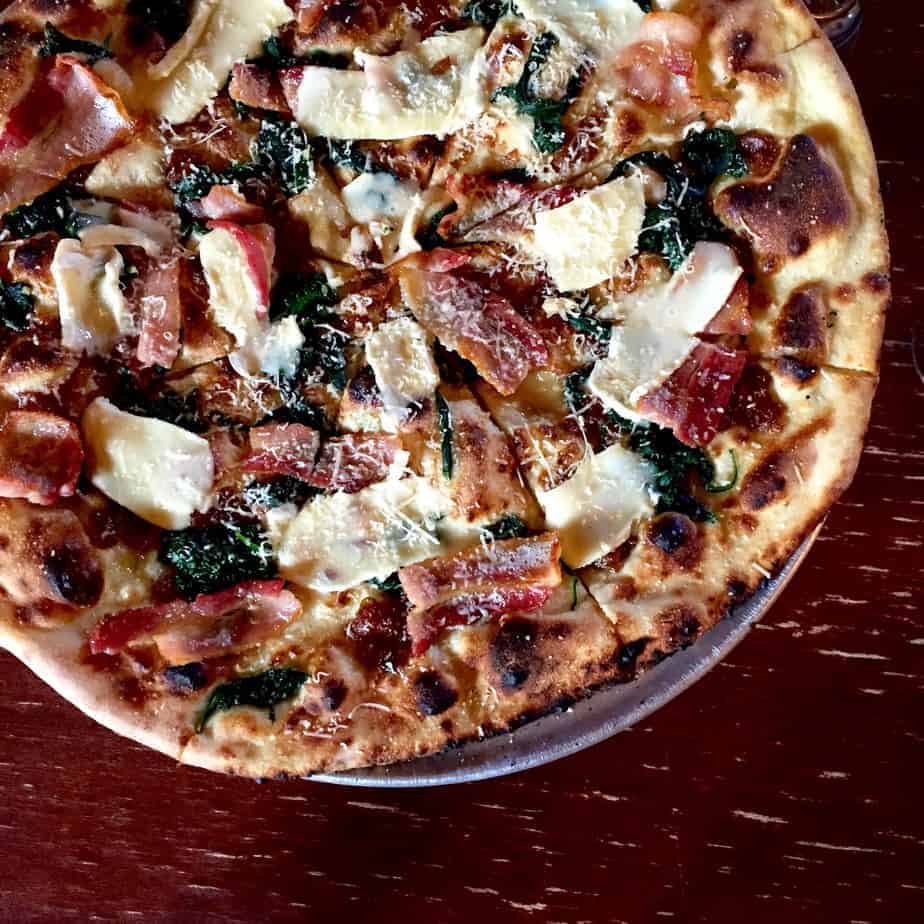 Fifth North Carolina Vineyard Stop: Elkin Creek Vineyard
Sunday is the only day of the week that Elkin Creek Vineyard stokes their wood burning oven and makes homemade pizzas.
Call earlier in the week to reserve your ball of dough (you read that right, they aren't doing table or time reservations but dough reservations).
A dough reservation guarantees you a brick oven pizza, but Elkin Creek does also take walk ins (they try to make double the amount dough reservations).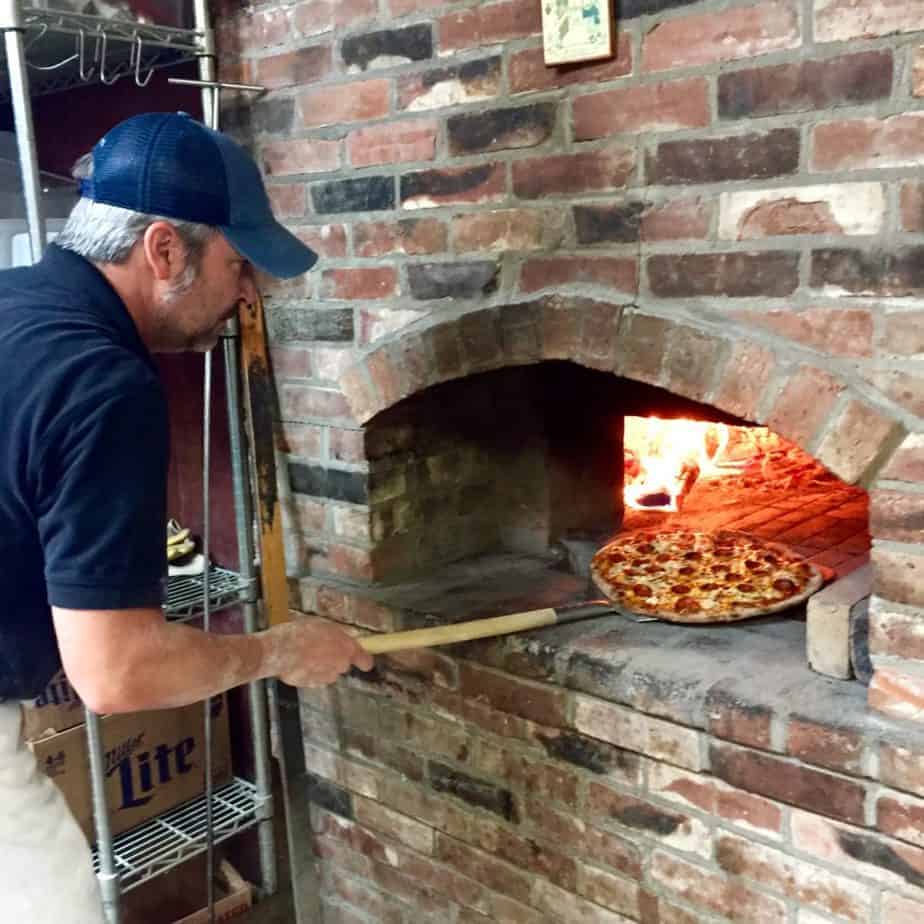 If you find yourself at Elkin Creek Vineyard any other day of the week, sample their wines and then stroll along Elkin Creek (the vineyard's namesake).
You also may be able to score a loaf of sourdough, also made in the brick oven with a sourdough starter recipe that was owner Mark's grandmother's.
(As an unrelated fun fact, the owners of Elkin Creek met when they worked for the Blue Man Group and decided to purchase the vineyard after two of the owners got married at the vineyard).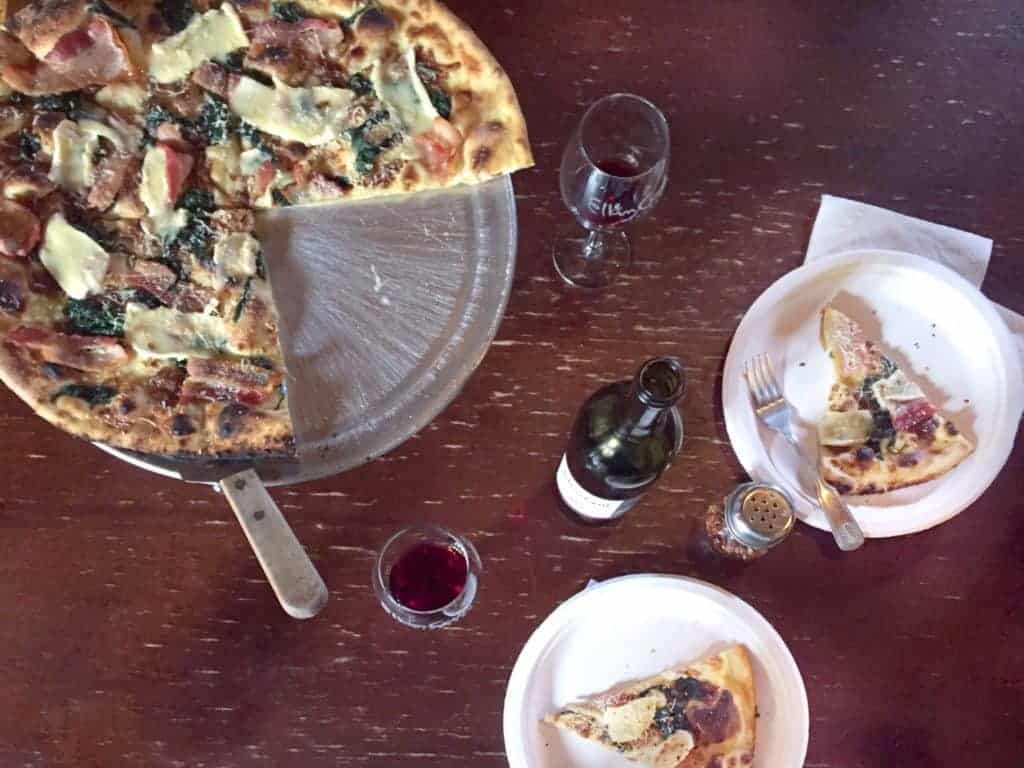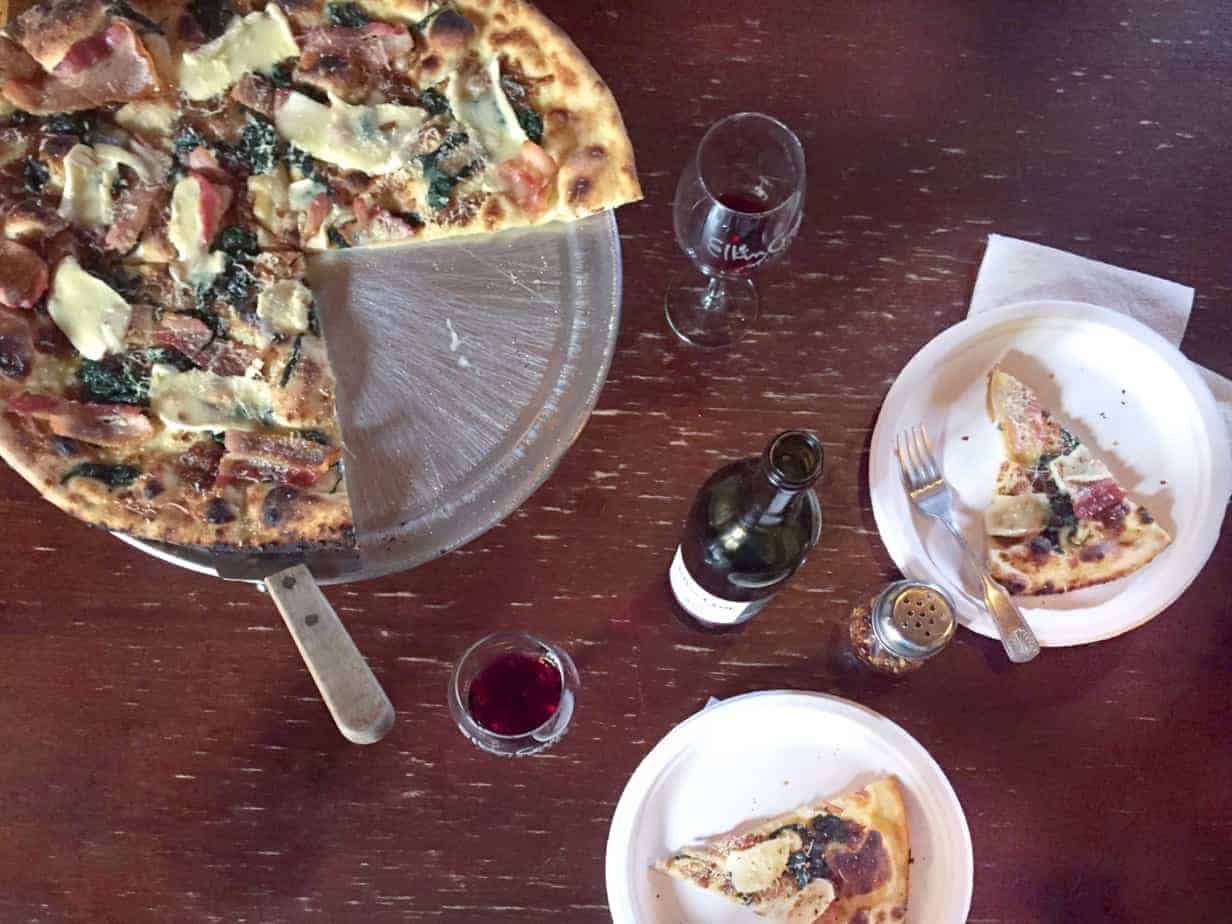 Sixth North Carolina Vineyard Stop: Adagio Vineyards
If you don't have to make it home for an afternoon football game, aren't quite ready to get back to reality, or just want more wine, stop into Adagio Vineyards (also in Elkin), where a tasting of their seven wines (all named after musical terms which depict their origin, composition or sensory characteristics) will run you eight dollars.
My North Carolina wine weekend winetinerary highlights several popular stops in North Carolina wine country but is only a small sample of everything that the Yadkin Valley has to offer.
Mix and match these recommendations to create your perfect weekend away and meet all of your North Carolina wine drinking needs. U
se the lists below featuring wineries near Charlotte and dog friendly wineries to plan the perfect day trip or weekend away!
Wineries Near Charlotte, NC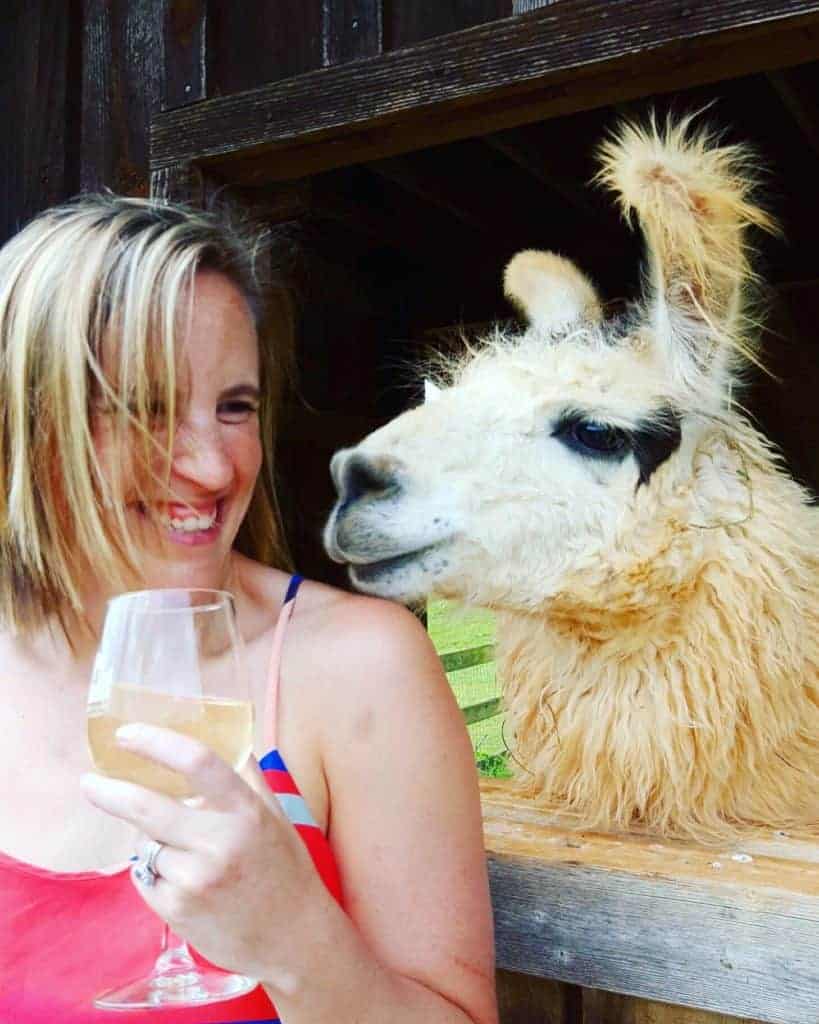 "Near" is a relative term when it comes to Charlotte and wineries, just because to grow grapes and have a vineyard you need space…and there's not a ton of space super close to the Queen City that could be home to a winery or vineyard.
But, there are wineries that are pretty close (under an hour) and totally worth hopping in the car for a visit.
This comprehensive features all of the North Carolina wineries that are within an hour and a half drive from Charlotte. Those with stars next to them are wineries we have personally visited.
Treehouse Vineyards Monroe, NC **
Cougar Run Winery Concord, NC
Veronet Vineyards and Winery Kings Mountain, NC
Southern Charm Winery Lincolnton, NC
Baker Buffalo Creek Vineyard and Winery Lawndale, NC
Woodmill Winery Lane Vale, NC
The Vineyards and Winery at Catawba Farms Newton, NC
Daveste Vineyards Troutman, NC
Cauble Creek Vineyard Salisbury, NC
Morgan Ridge Vineyards Gold Hill, NC
Uwharrie Vineyards Albermarle, NC
Dennis Vineyards Winery Albermarle, NC
Stony Mountain Vineyards Albermarle, NC
Rocky River Vineyards, Midland NC
Little River Wines Mount Gilead, NC
Shadow Line Vineyard Granite Falls, NC
Twisted Vine Winery Lenoir, NC
Six Waterpots Vineyard and Winery Hudson, NC
Waldensian Heritage Wines Valdese, NC
Chestnut Trail Vineyard Mocksville, NC
Raylen Vineyards and Winery Mocksville, NC
Lazy Elm Vineyard and Winery Mocksville, NC
Misty Creek Vineyards Mocksville, NC
Native Vines Winery Lexington, NC
Weathervane Winery Lexington, NC
Junius Lindsay Winery Lexington, NC
Childress Vineyards Lexington, NC **
Zimmerman Vineyards Trinity, NC
Old Homeplace Vineyard Winston Salem, NC
Hanover Park Vineyard Yadkinville NC
Brandon Hills Vineyard Yadkinville, NC
Divine Llama Vineyards East Bend, NC **
Flint Hill Vineyards East Bend, NC
Shadow Springs Vineyard Hamptonville, NC
Laurel Gray Vineyards Hamptonville, NC
Dobbins Creek Vineyards Hamptonville, NC
Sanders Ridge Winery Boonville, NC
Ragapple Lassie Vineyards Boonville, NC
Carolina Heritage Vineyard and Winery Elkin, NC
Slightly Askew Winery Elkin, NC
Grassy Creek Vineyard and Winery State Road, NC
Midnight Magdalena Vineyards Jonesville, NC
Raffaldini Vineyards and Winery Ronda, NC **
Piccione Vineyards Ronda, NC
Jones Von Drehle Winery Thurmond, NC
Dog Friendly Wineries in North Carolina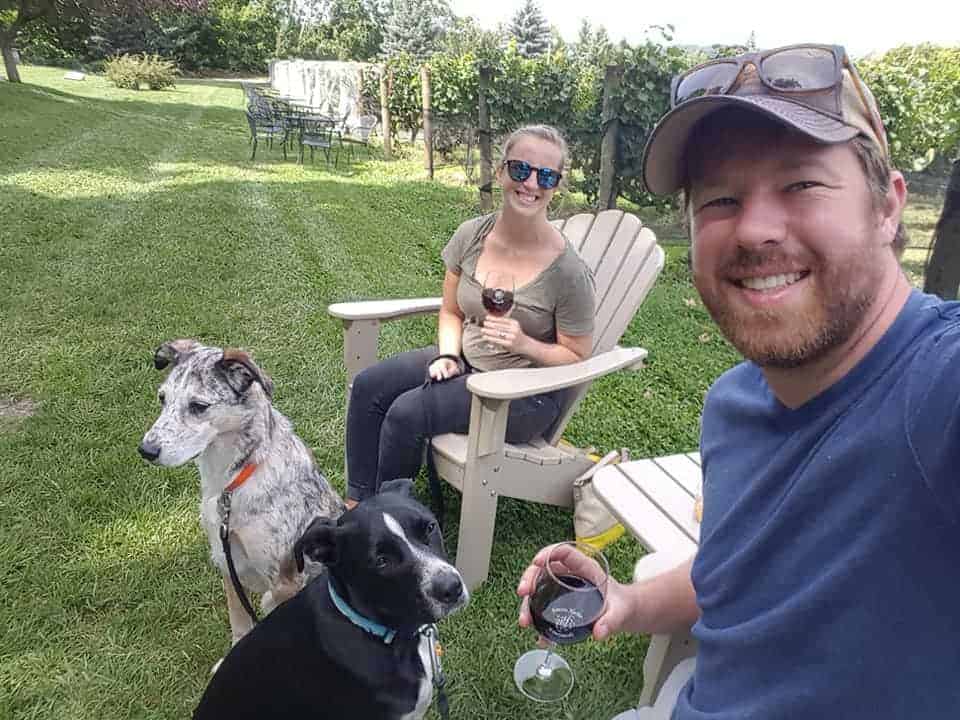 No need to leave your pupper at home when you can sip vino and they can come along. Here's a list of dog friendly wineries in North Carolina.
Round Peak Vineyards
Linville Falls Winery
Grandfather Vineyard
Roaring River Vineyards
Misty Creek Farm and Vineyards
Herrara Vineyards
West Bend Winery
Ragapple Lassie Vineyards
Hanover Park Vineyard
RayLen Vineyards and Winery