I spent three days visiting some of the best restaurants in Hendersonville, NC. We visited 12 Hendersonville restaurants (plus bars and bakeries too!) in all, and I can't wait to share what I ate and drank with you!
Looking for other things to do, places to eat and where to stay in the North Carolina mountains? Check out Off the Eaten Path's Asheville Travel Guide or Things to Do in Bryson City, NC!
Or, are you planning a day trip, weekend trip or just looking for other things to do, places to visit, and where to eat across North Carolina? Check out Off the Eaten Path's North Carolina Travel Guide, which features weekend itineraries, travel and restaurant recommendations across the Tarheel State.
I attended a three day media preview tour where we visited local Hendersonville, NC restaurants that will be participating in the inaugural Hendersonville Restaurant Week and as part of this tour, my accommodations and food were complimentary.
Thank you to Hendersonville Restaurant Week, as well as the participating Hendersonville restaurants and the Highland Lake Inn, for hosting me and thank you to my readers for supporting brands and businesses that support this blog.
As always, all opinions are my own.
I have so much to say about my recent visit to Hendersonville, North Carolina (over 3,000 words to be exact!), I figure we need to just cut to the chase.
All I can say is I have no idea why I overlooked Hendersonville for so long (in favor of it's neighbor 20 minutes to the west, Asheville) and Hendersonville definitely needs to be on your radar for your next mountain getaway.
(Or even a day trip from Charlotte! It's under two hours from the Queen City.)
Three days, three pounds, twelve Hendersonville, NC restaurants, bars and bakeries and 467 photos later, I am so excited to share all of the food I ate with you!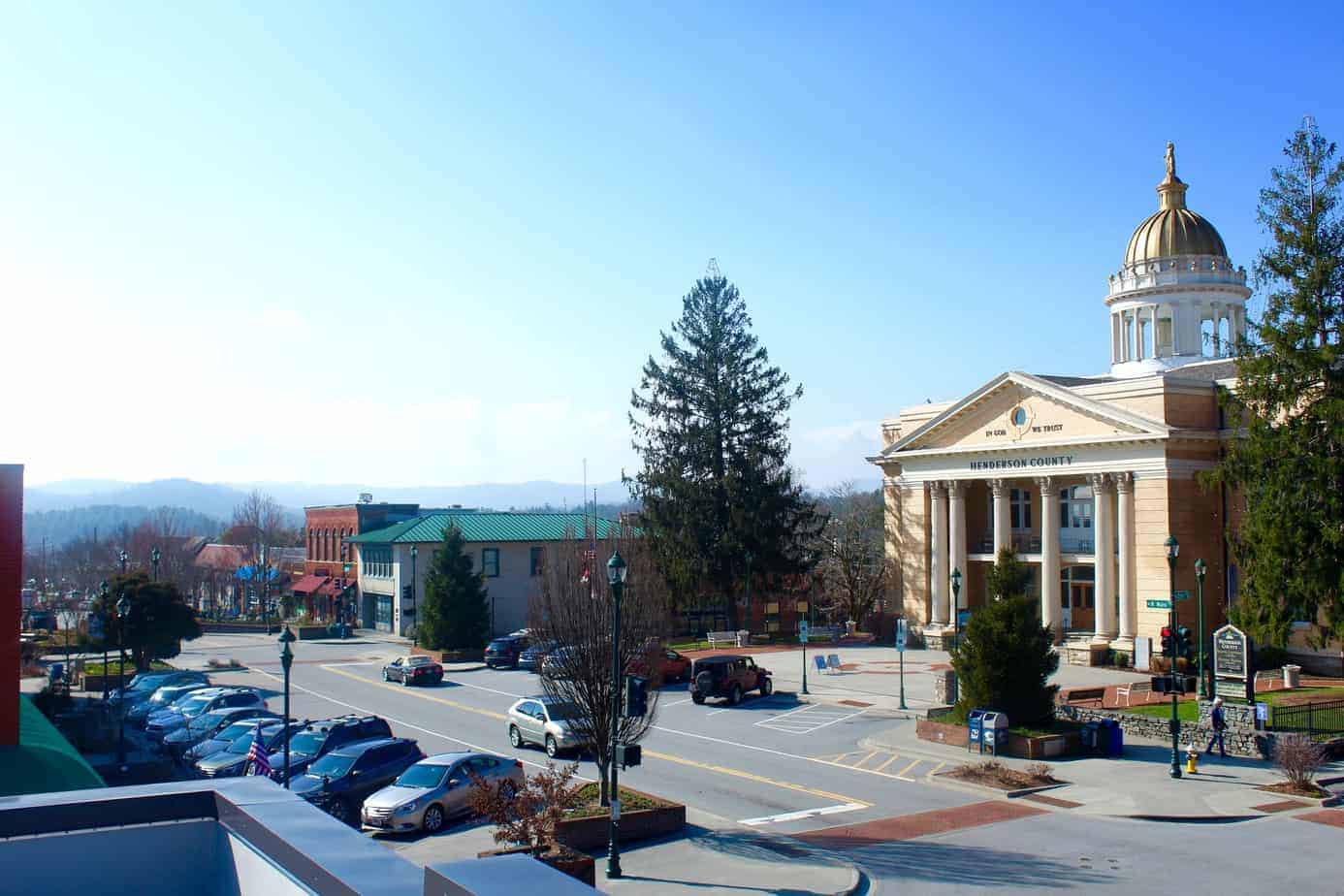 WHERE I STAYED IN HENDERSONVILLE, NC: HIGHLAND LAKE INN AND RESORT
During my visit, I stayed at the Highland Lake Inn and Resort, a historic property located on 26 acres and a private lake in Flat Rock, offering the perfect mix of seclusion and convenience (Highland Lake is only about 5 to 10 minutes to downtown Hendersonville, so I loved the feeling of having a restful and relaxing, picturesque getaway tucked away in the mountains but the easy accessibility to Hendersonville's restaurants).
I totally got a Dirty Dancing vibe from Highland Lake Inn (in the best way, Dirty Dancing is one of my favorite movies, so this is a compliment!) which makes sense because at one point it was a summer camp.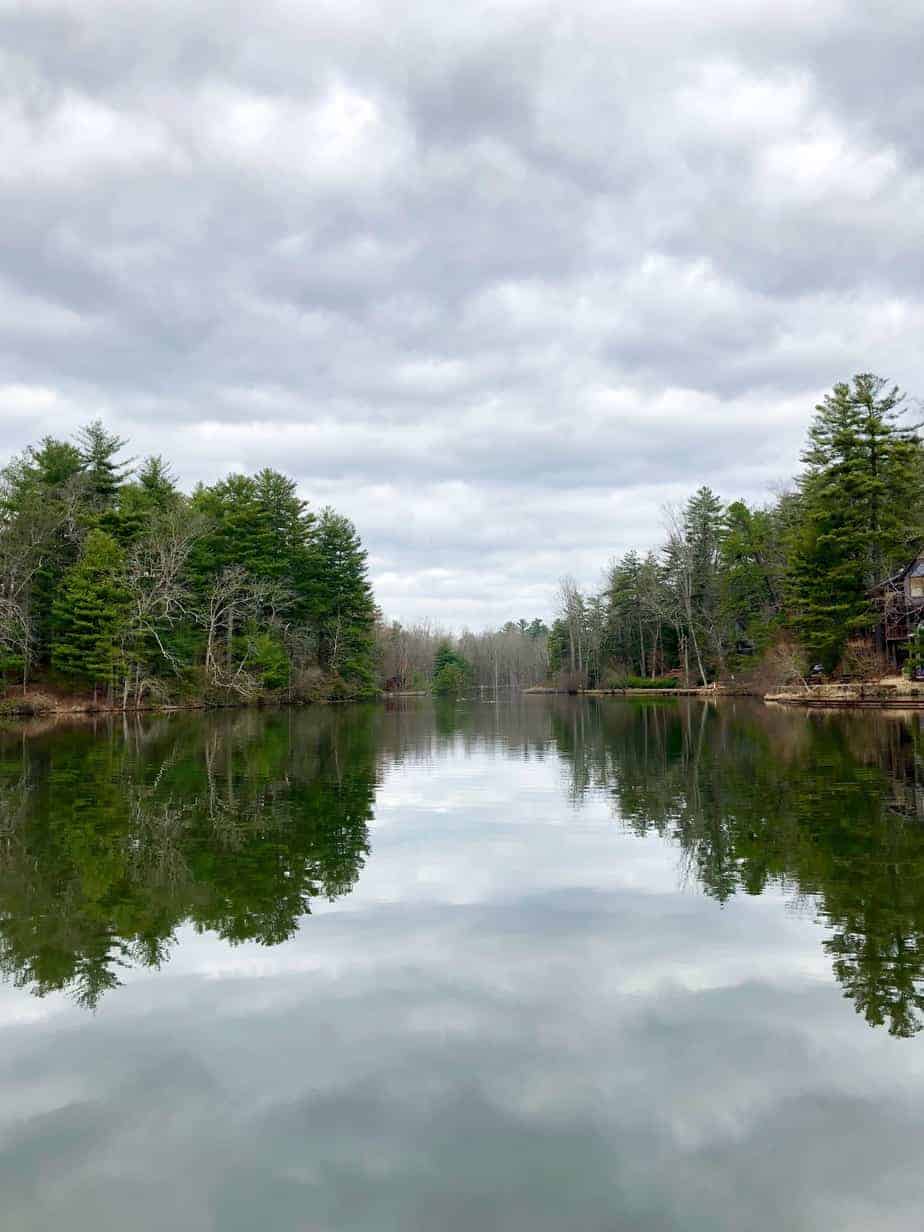 Besides being a former summer camp, Highland Lake Inn has a vast and interesting history and the property served as many things including summer homes, a private club, a preparatory school, a hotel, and a military and naval training camp.
(I stayed in a room at The Lodge, which is over 100 years old and was originally a dormitory for Camp Highland Lake, the naval and military school.)
Highland Lake Inn has embraced and preserved a lot of it's history, creating a unique and charming experience for guests, and offers a variety of different lodging options (they have everything from pet friendly cabins to rustic rooms to romantic suites for couples), a full service on site restaurant, walking trails, lake access (including fishing, boating and kayaking), a swimming pool, volleyball courts, game room and more. (including several animals that live on the property that we made sure we visited and an organic garden!)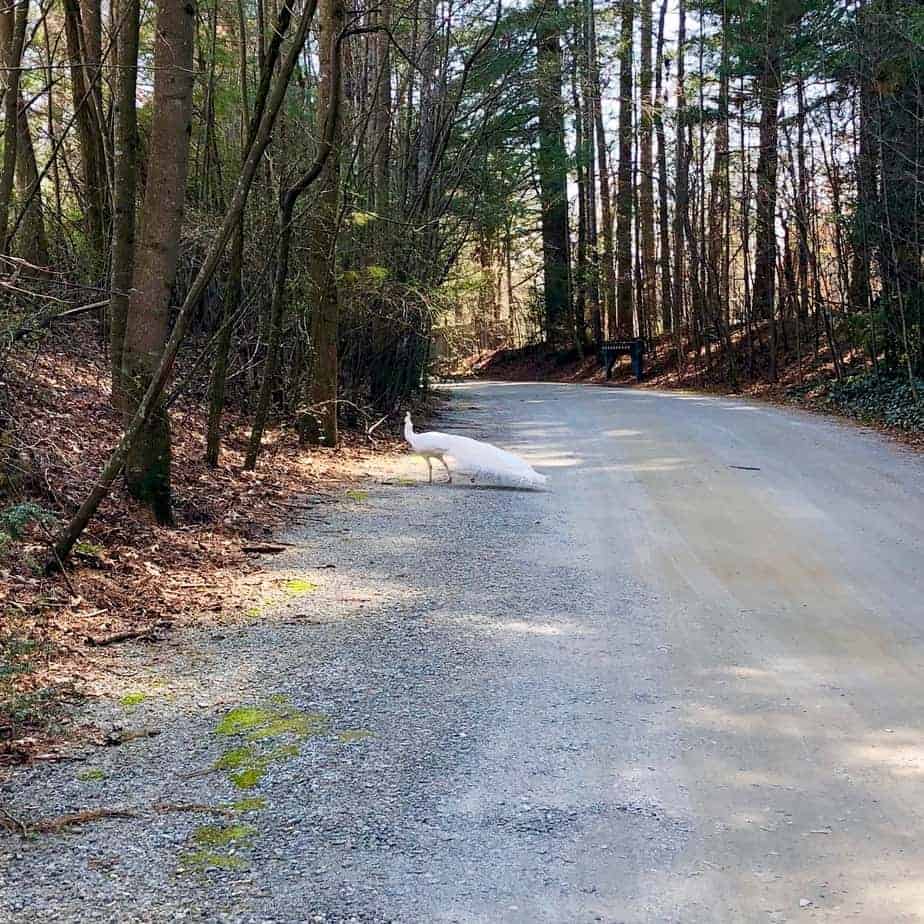 HENDERSONVILLE RESTAURANTS STOP #1: SEASON'S AT HIGHLAND LAKE INN
Highland Lake Inn's on site restaurant is named Season's (inspired by the four distinct seasons), which reflects Executive Chef Nate Sargent's farm to table approach, commitment to sustainable practices and the varied, fresh, seasonal ingredients offered in the restaurants (many coming from Highland Lake Inn's onsite organic garden).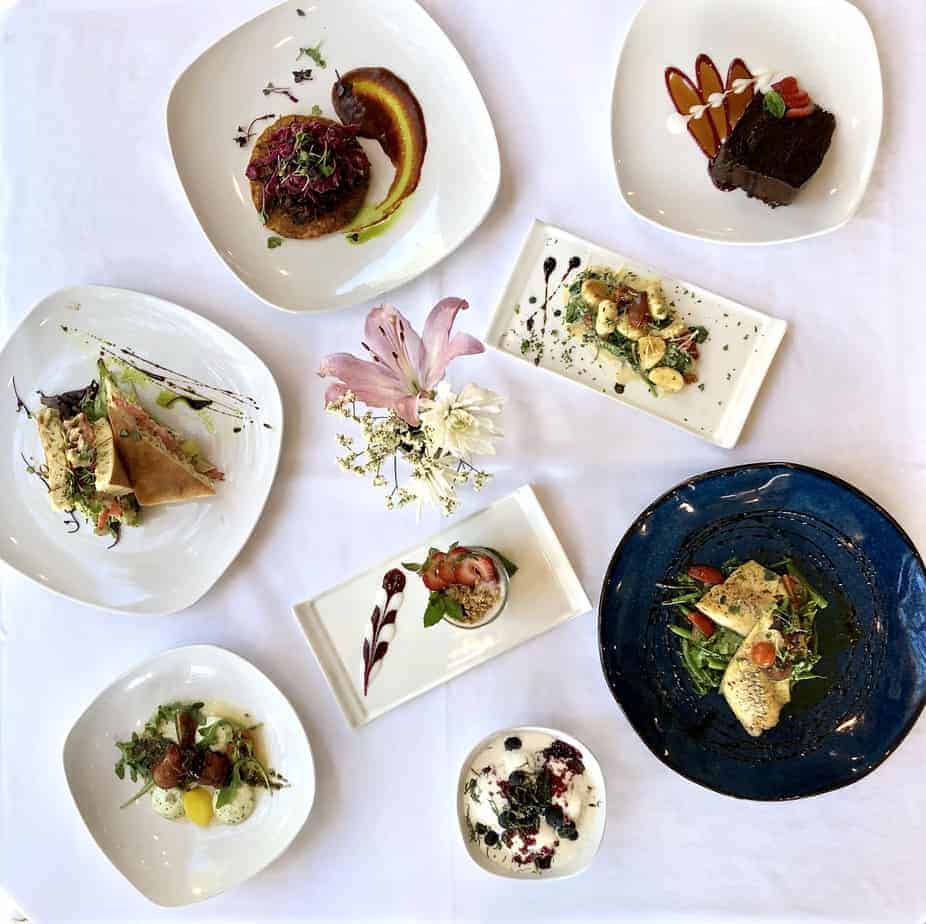 As a guest, I got to enjoy breakfast at Season's (which is included in your stay at the resort) featuring a variety of breakfast foods to choose from like eggs made to order, French toast, pancakes, oatmeal and fresh fruit, (it was really hard for me to choose but I eventually settled on a veggie omelet, maple glazed sausage links, roasted potatoes and buttermilk biscuits, plus tons of coffee and fresh orange juice).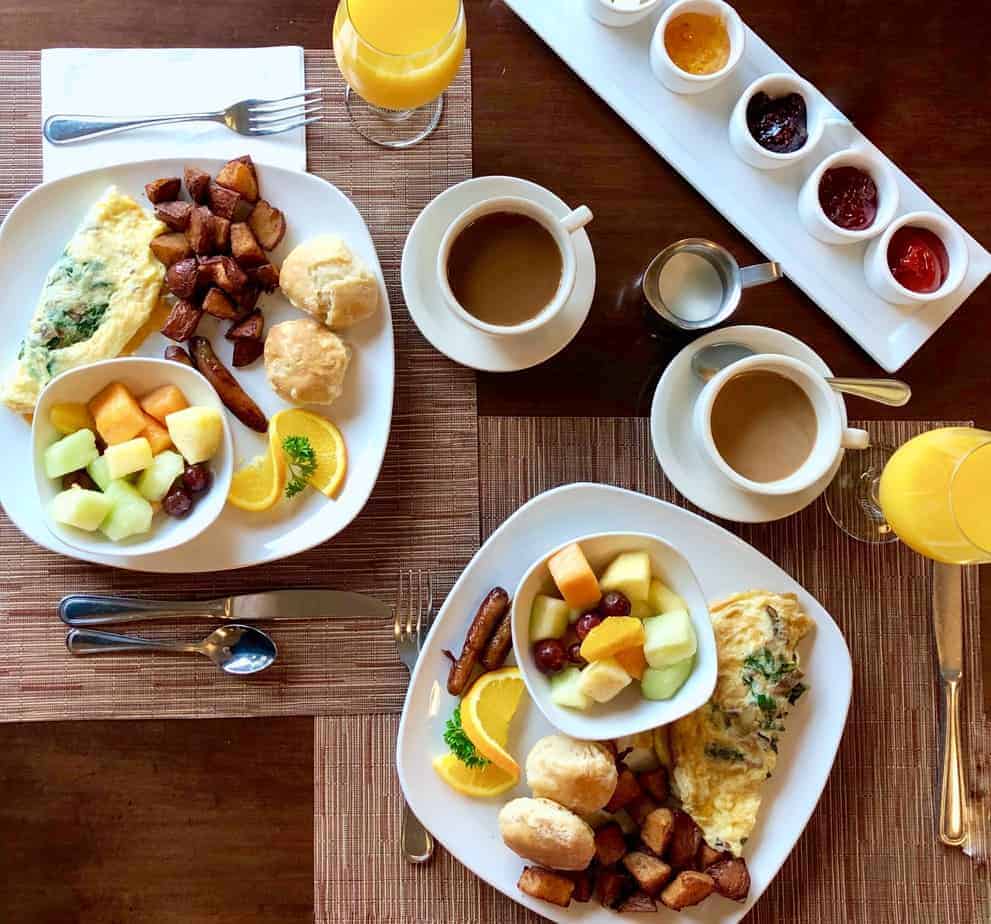 I also enjoyed a preview of Season's restaurant week lunch and dinner menus, including a variety of sandwiches, pastas (the forest mushroom ravioli was decadent in a white wine cream sauce and I couldn't get enough of the hand cut pappardelle featuring tender, roasted lamb leg, olives, peas, and asiago cheese), bacon wrapped dates, potato gnocchi, salads, and stunningly sweet desserts (chocolate mousse layer cake with raspberry coulis and cheesecake with caramel sauce and cinnamon honey, yes please).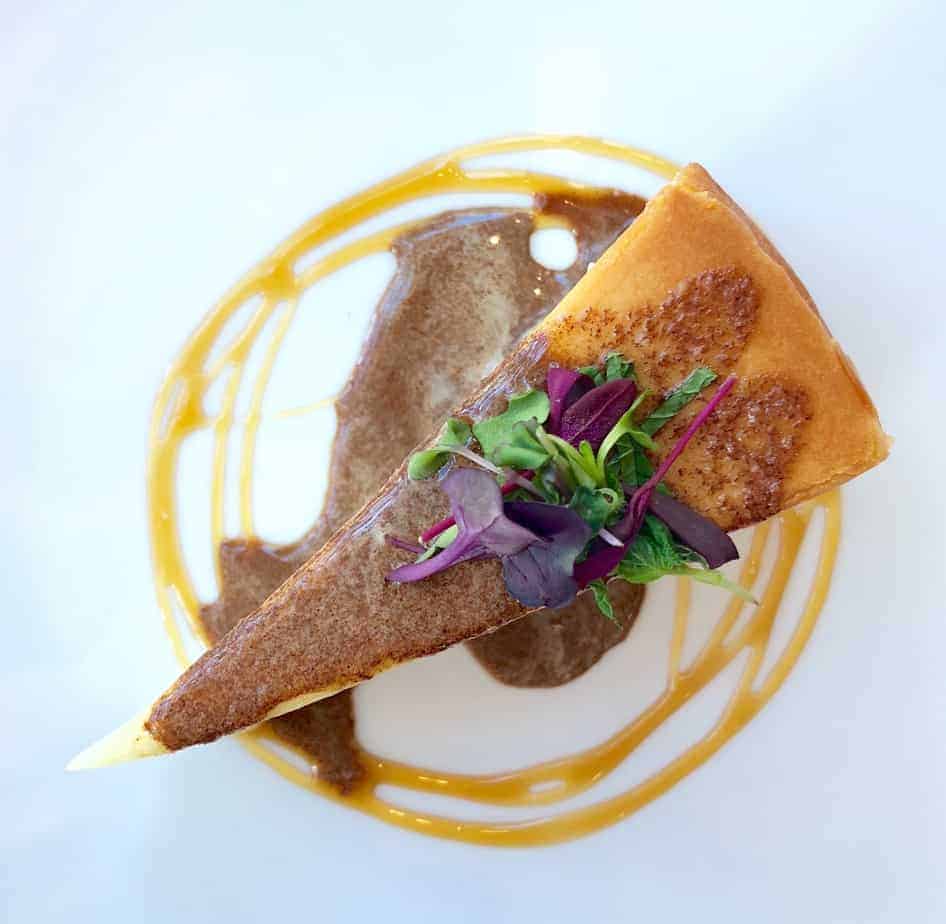 HENDERSONVILLE RESTAURANTS STOP #2: OLD ORCHARD TAVERN
I had to join the group a little late, so after checking in at Highland Lake Inn and Resort, my first stop on our Hendersonville Restaurant Week tour was at Old Orchard Tavern.
We walked through the lobby of the Cascades Resort to get to the restaurant, which gave me all the childhood nostalgic feels because the Cascades Resort has an epic indoor pool set up with an excellent water slide (my sister and I loved indoor pools as kids and always got so excited when we stayed at a hotel with a pool).
Oftentimes, people don't think too highly of hotel restaurants, but Old Orchard Tavern isn't any run of the mill hotel restaurant, and the locally sourced, chef-driven food makes it worth a visit whether you're a guest at the hotel or not.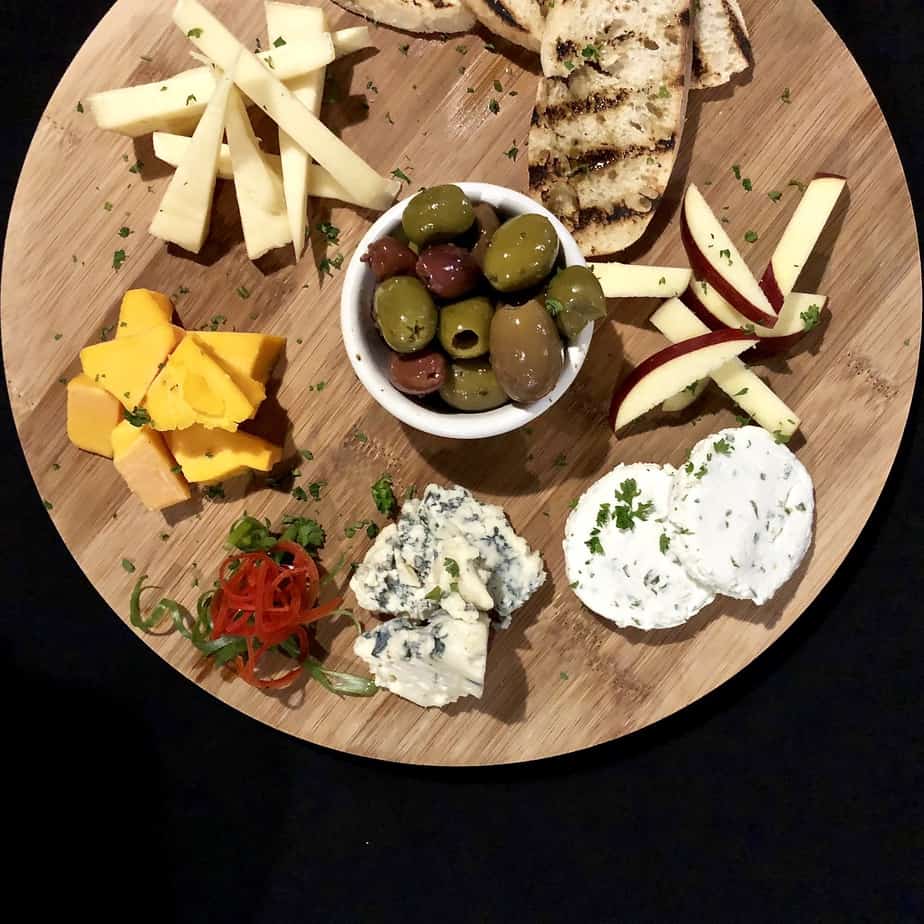 We enjoyed cheese and charcuterie boards and starter salads before busting out some selfie lights to capture smoked trout pasta Bowtie Pasta tossed with Smoked Trout, Asparagus, Spring Peas, Red Peppers, Fennel, Fresh Dill, and Parmesan Cream Sauce and Braised Lamb Shank in White Wine and Fresh Thyme, Tomatoes, and Carrots over Mable Potatoes and Drizzled with Gremolata, in their best light.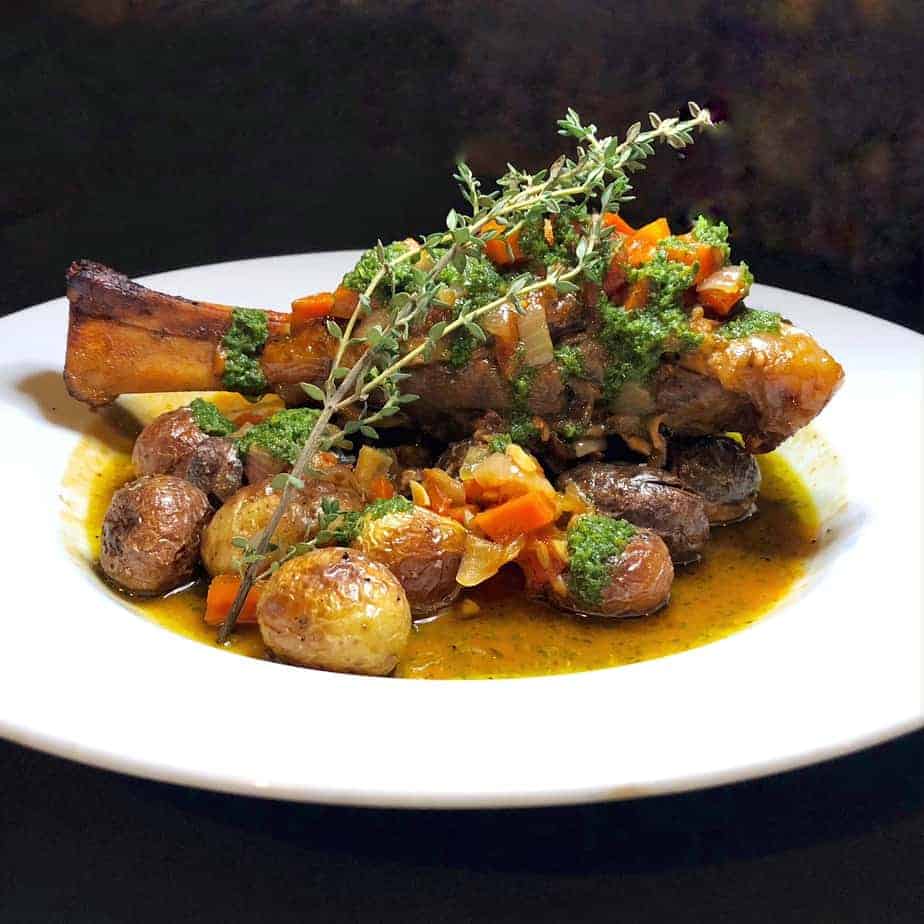 Both were delicious and the portion sizes were quite generous, so I had to keep myself from eating everything because we had one more stop that night!
(I would have brought leftovers home with me if we weren't planning on eating and drinking the next three days).
We also enjoyed a beer brined game hen served on a bed of incredible spring pea risotto and a s'mores lava cake, which are unfortunately not featured on the restaurant week menu.
Go back another time for dinner, order those and maybe take a spin on the water slide?
Just make sure you wait 30 minutes after eating!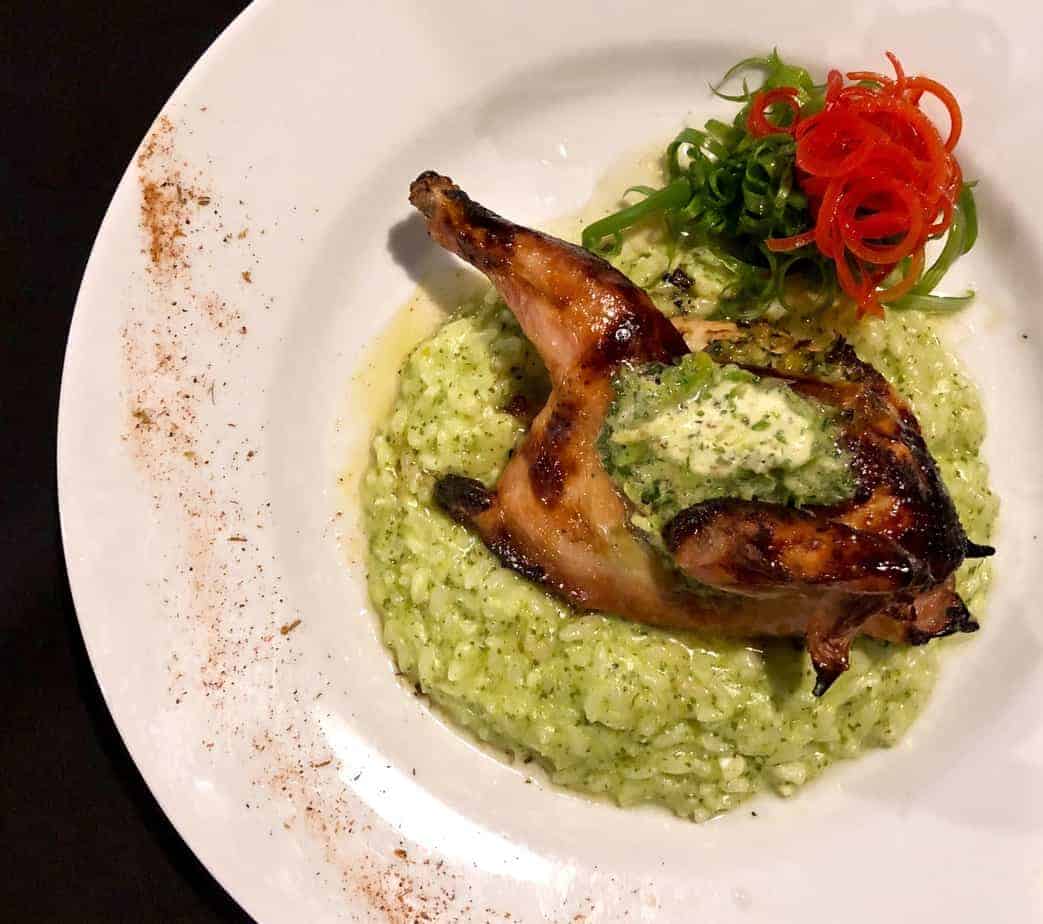 HENDERSONVILLE RESTAURANTS STOP #3: BROOKS TAVERN
Next, we headed to Brooks Tavern, which is totally the kind of place I would hang out at all the time if I lived in Hendersonville: a comfortable, casual bar/restaurant/pub hybrid downtown tucked just off of Main Street. Brooks you had me at hello but also at three dollar Wednesday night wine specials.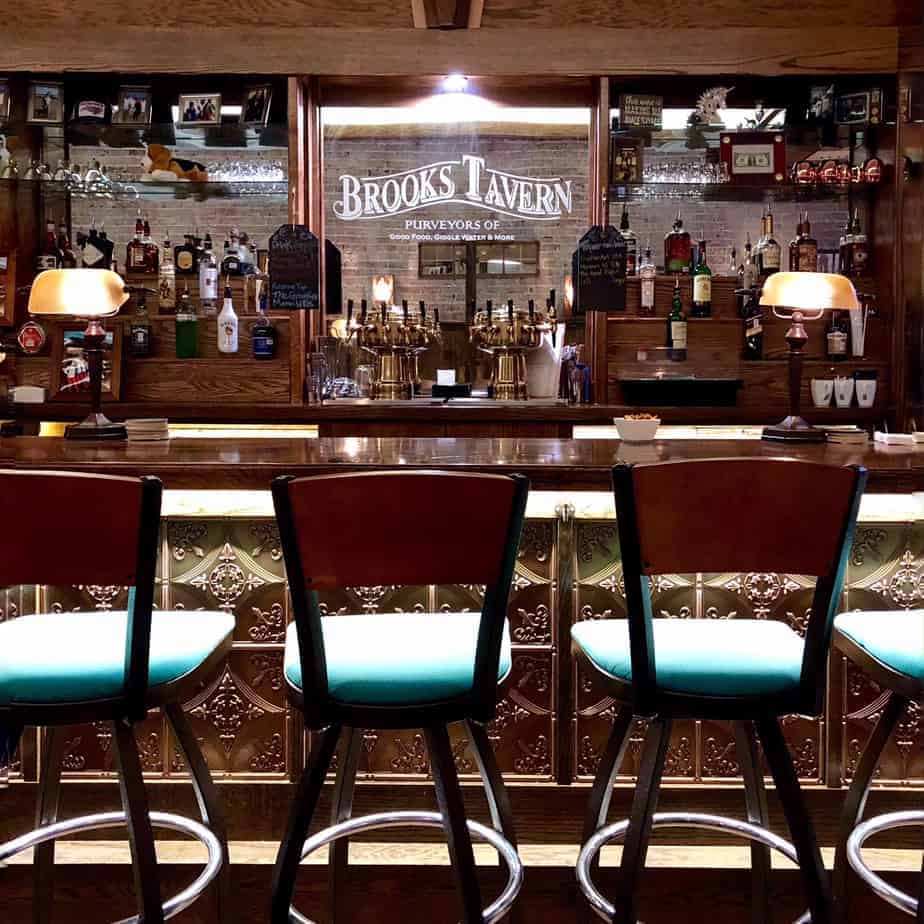 Brooks was literally buzzing when we arrived; you know a place is good when every seat in the house is taken and they have to sit your party of eight by gathering some extra bar stools in the front window.
Our perch up front provided excellent people watching, a good opportunity to take in the atmosphere, and easy access to the bar!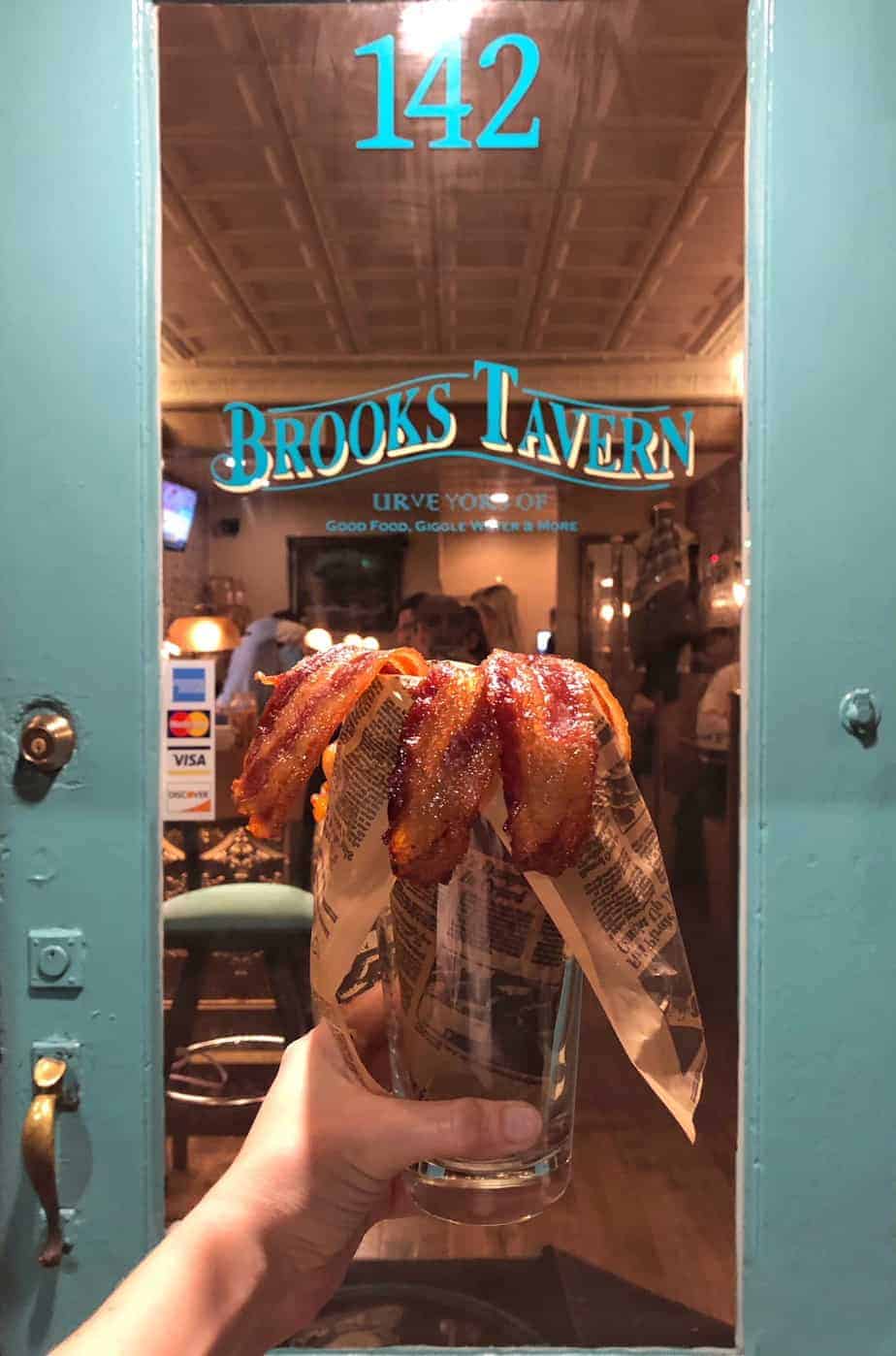 We shared several of Brooks' appetizers included boneless wings (with a variety of dipping sauces), buffalo chicken egg rolls, jalapeno poppers and a pint of candied bacon (yes you read that right: a pint glass full of candied, thick cut, applewood smoked bacon).
We finished our evening with fried cheesecake (New York style cheesecake, deep fried, sprinkled with powdered sugar and served with raspberry sauce for dipping) and a cocktail approrpriately named, based on location and color, the Blue Ridge Parkway (made with Captain Morgan, Blue Curacao, Malibu and pineapple juice, I loved the blue hue and tropical flavor).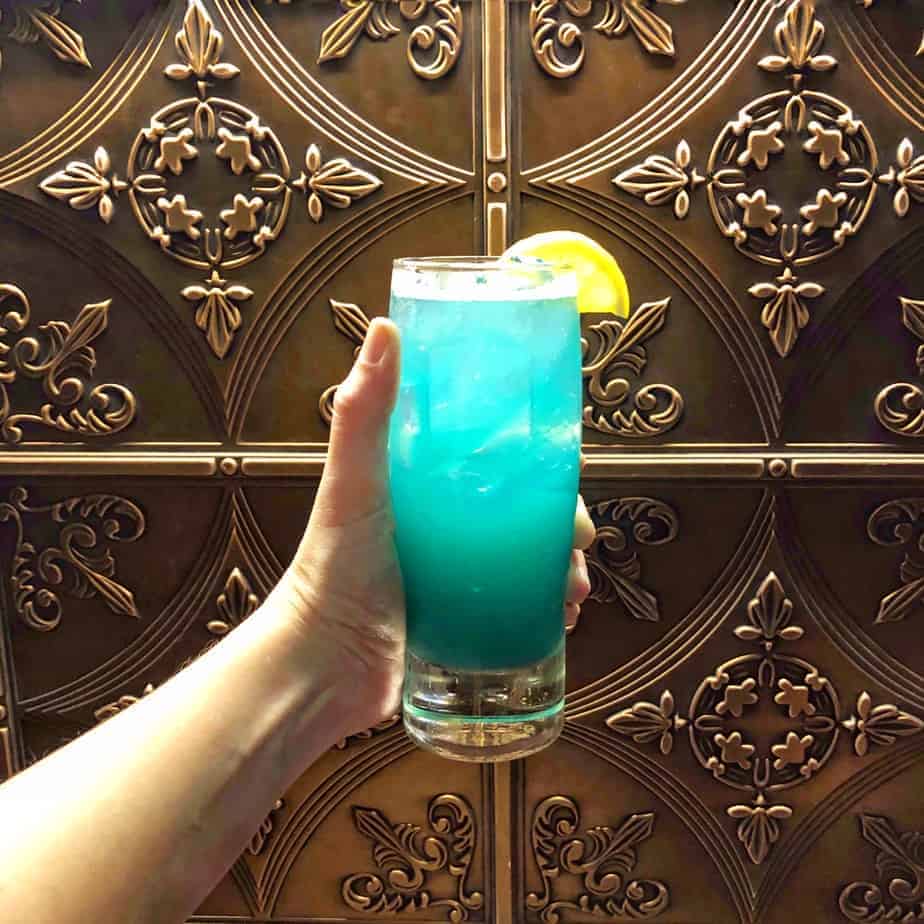 The next morning, I slept in a little and enjoyed some coffee in bed and a visit to Highland Lake Inn's resident goats before meeting Jess and Eleanor at HenDough.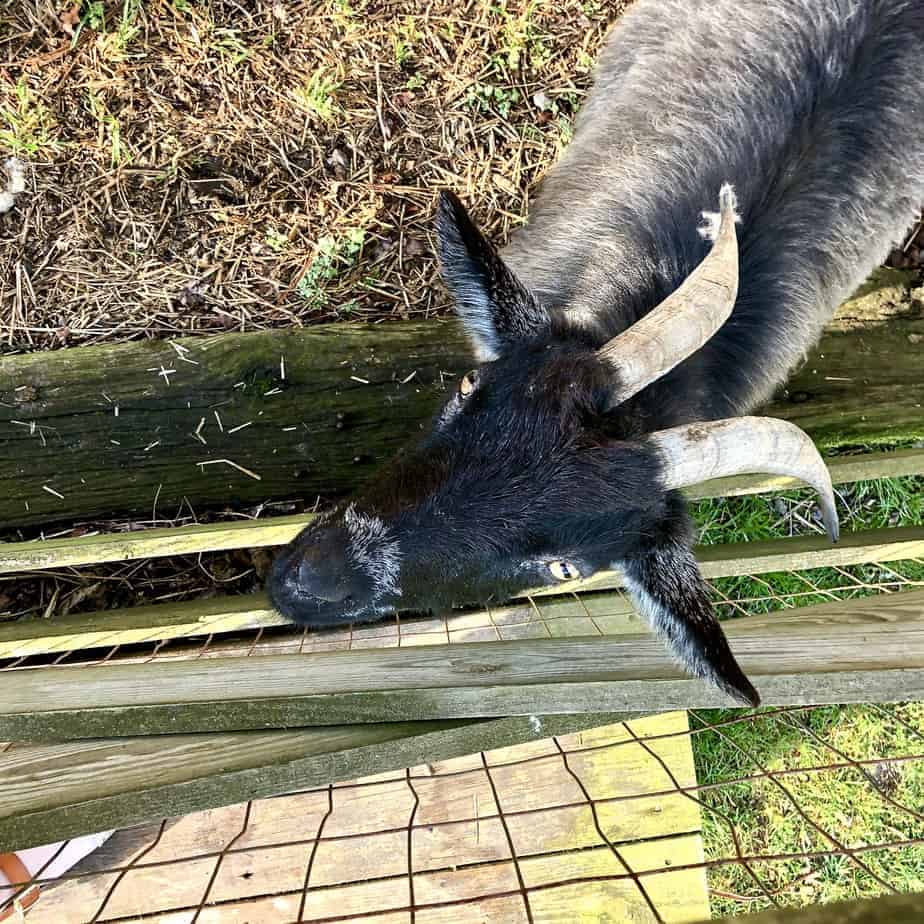 HENDERSONVILLE RESTAURANTS STOP #4: HENDOUGH
While HenDough wasn't a part of our Hendersonville Restaurant Week tour, Eleanor wanted to check it out because they are opening a location in Greenville and I had to check it out because I cannot say no to fried chicken and donuts!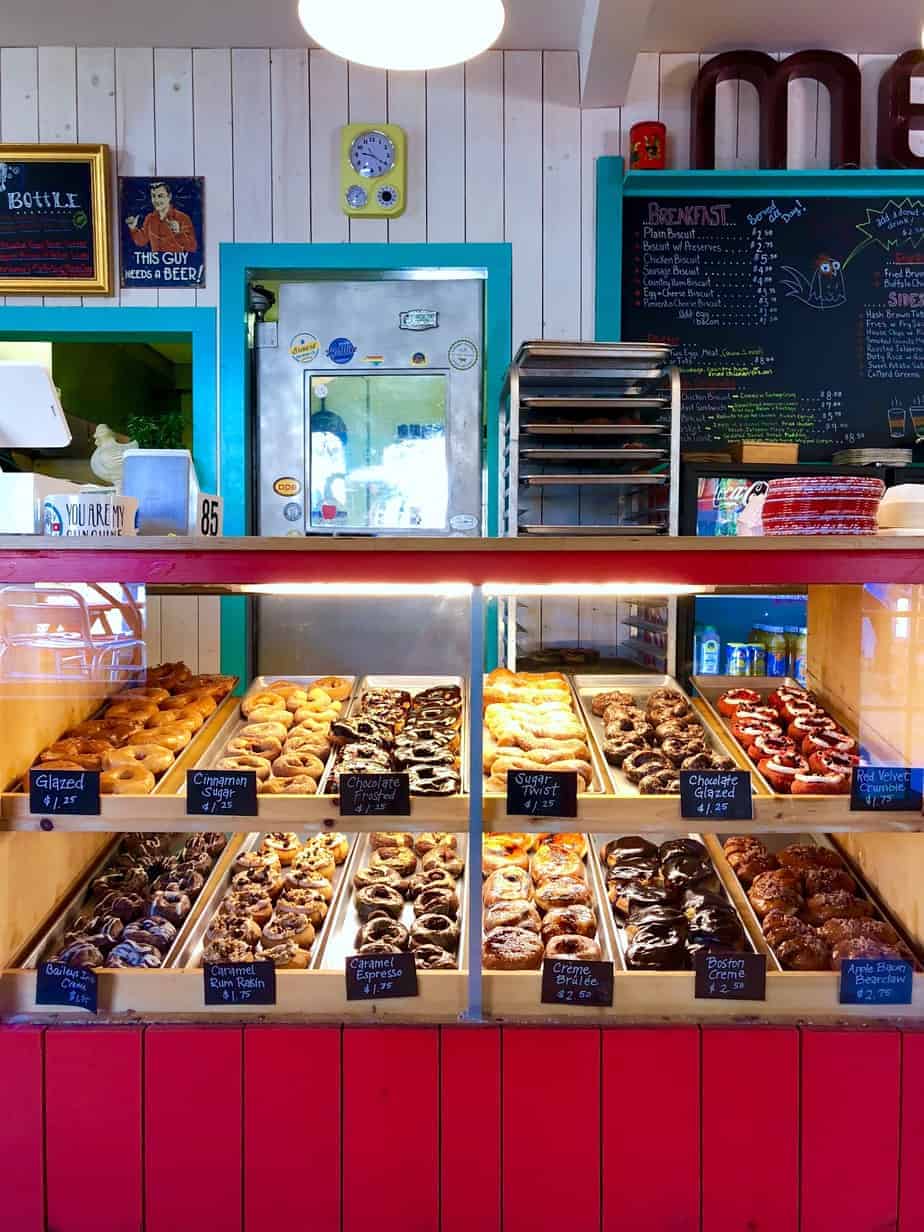 We had to get a little of each, of course (I love their slogan "America's two favorite comfort foods under one roof"), so we split three donuts, an egg in a basket (2 eggs in a donut basket, Fried Chicken, Bacon, Jalapeño Maple Syrup…the sweet and savory reminded me of the Krispy Kreme sloppy joes and cheeseburgers from the state fair) and a Nashville Hot Chicken Biscuit (all the yes).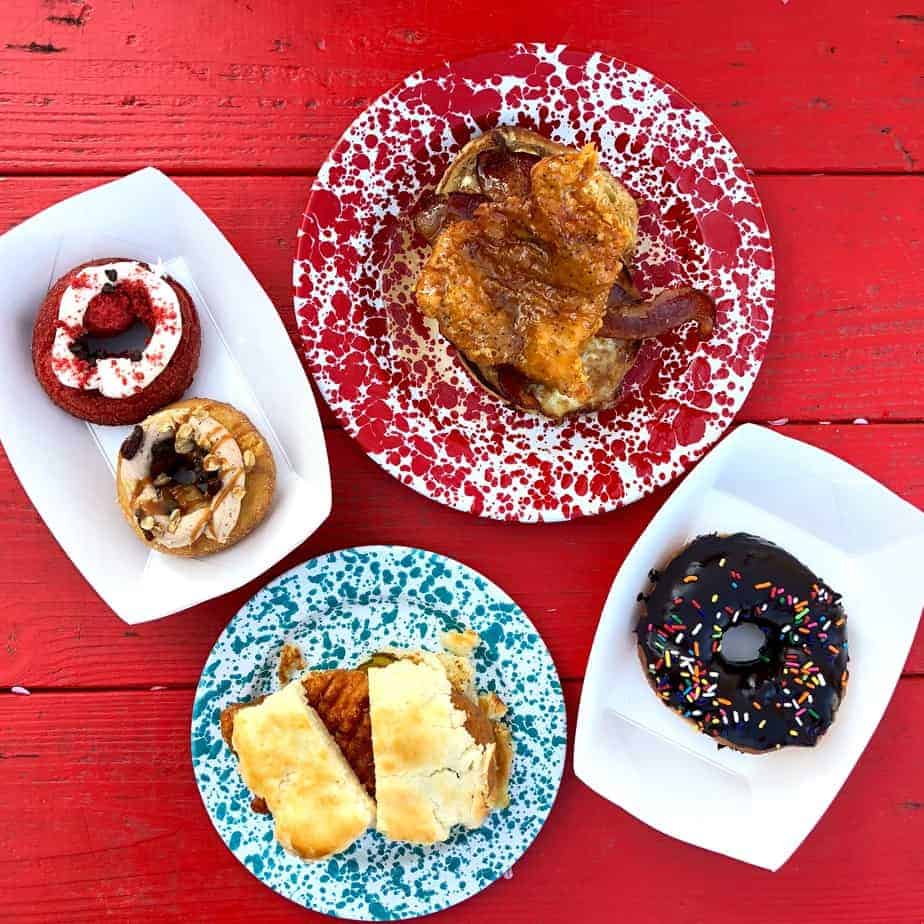 I honestly wanted to try everything (cinnamon sugar twists, yes, pimento cheese biscuit, yes, donut breakfast sandwich, yes, donut bread pudding, yes) so it's a sign from the gods I'll have to go back and keep eating my way through the menu.
HENDERSONVILLE RESTAURANTS STOP #5: MCFARLAN BAKERY
After breakfast at HenDough, we went downtown to explore several downtown Hendersonville restaurants.
Another place to eat in Hendersonville that was not on our Hendersonville Restaurant Week itinerary but popping in was worth it just for the smells was McFarlan Bakery, a mainstay on Main Street since 1930.
I mean look at these cinnamon rolls! (Thank you to an Off the Eaten Path reader from Hendersonville for the recommendation!)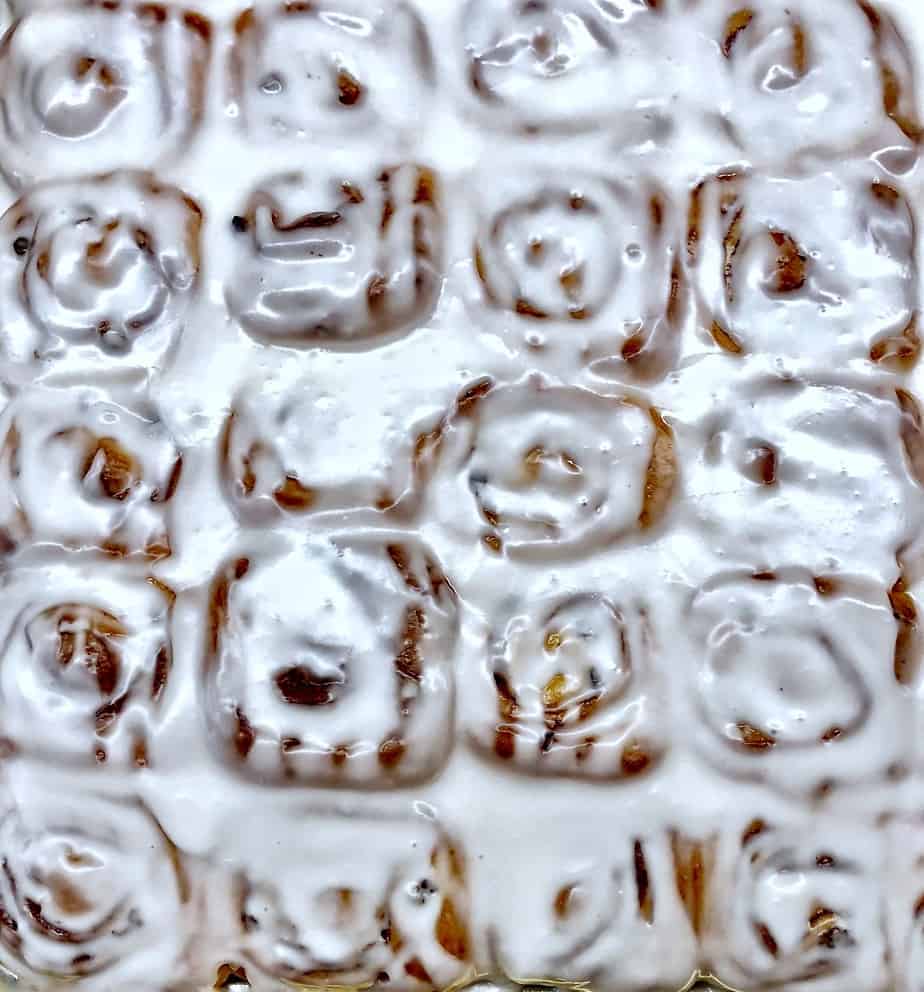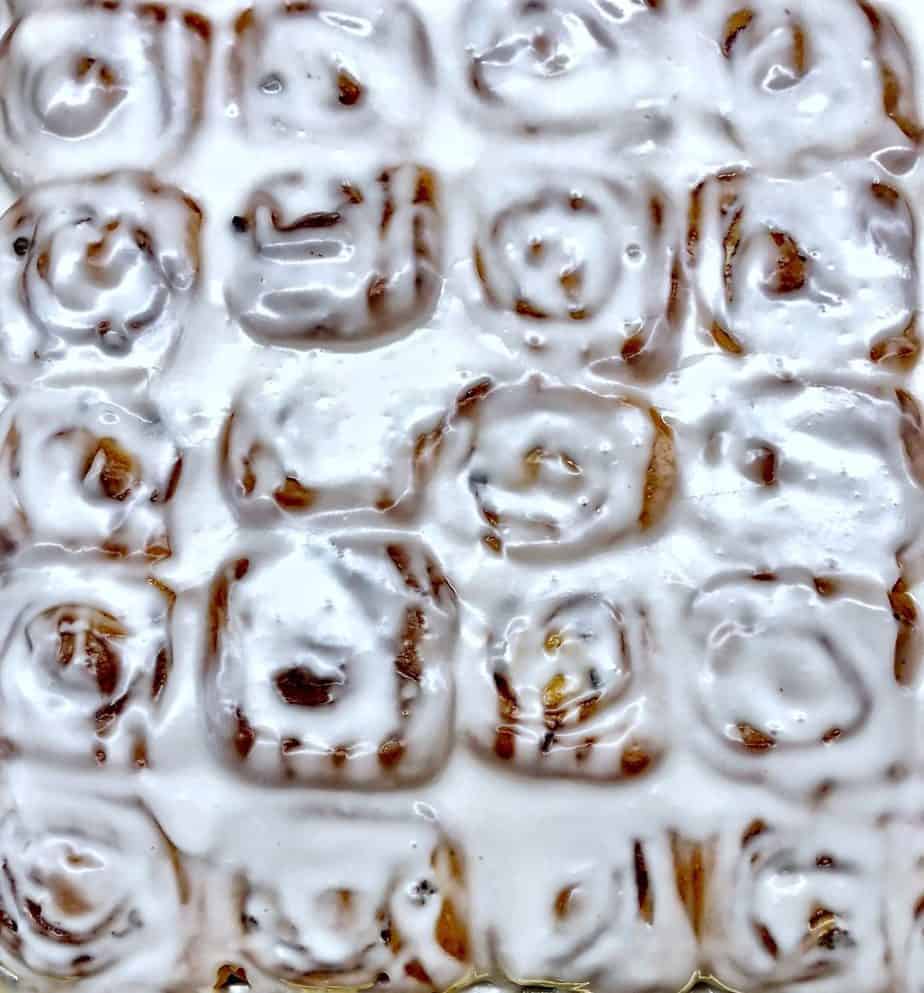 DOWNTOWN HENDERSONVILLE RESTAURANTS STOP #6: POSTERO
We kept strolling down main street to our first lunch stop (both Thursday and Friday we had double lunch). Postero's space is gorgeous and downright dreamy (with beautiful natural light).
The periwinkle walls, fresh flowers, open kitchen. Sigh. So lovely. Would it be weird for me to a: ask to move in or b: ask them to come decorate my house for me?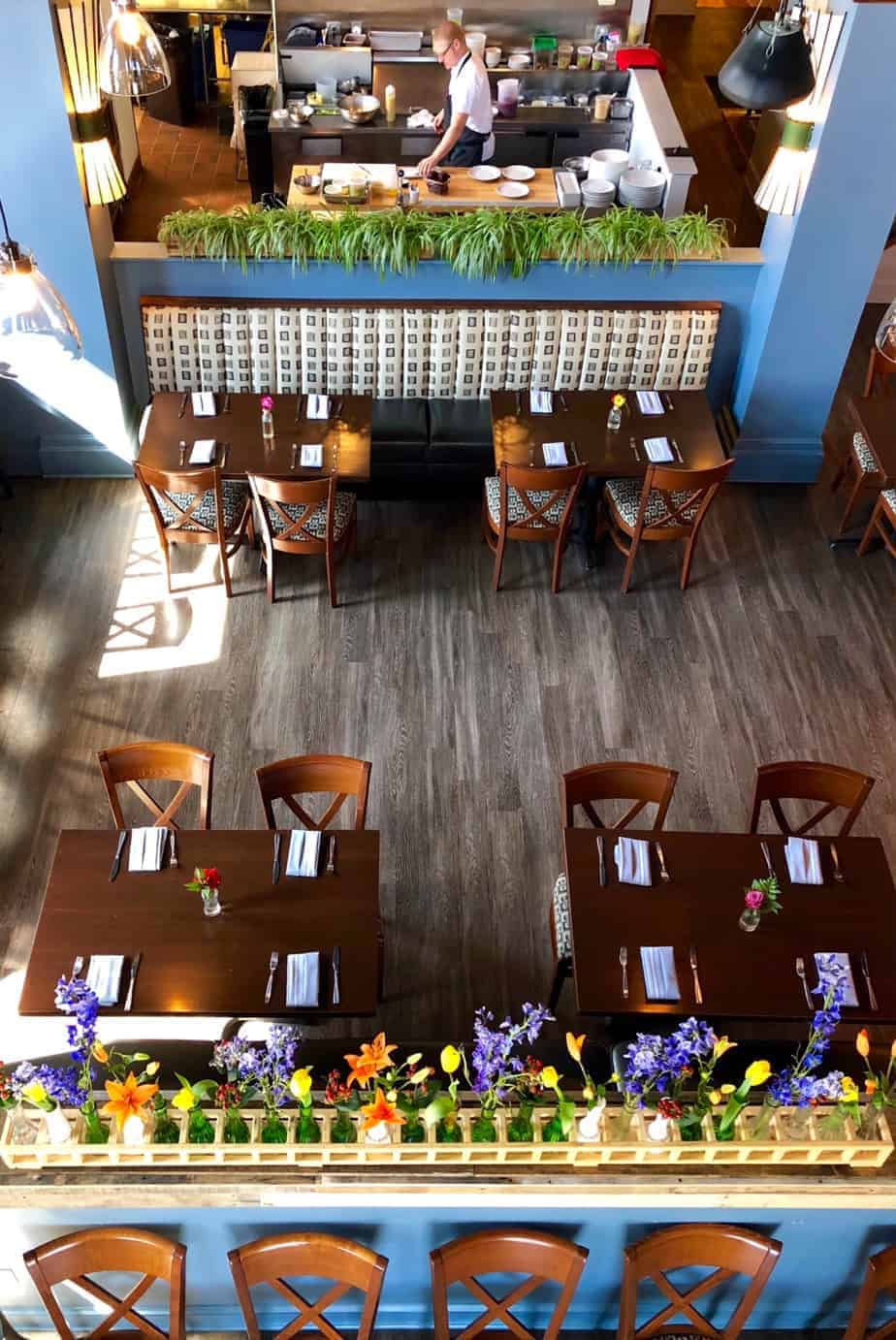 Postero struck me as the fancy place in town; I pegged it as a place that would be perfect for date night or to celebrate a special occasion (I did like that we visited during the day so we got a little bit of a more laid back perspective watching locals lunch).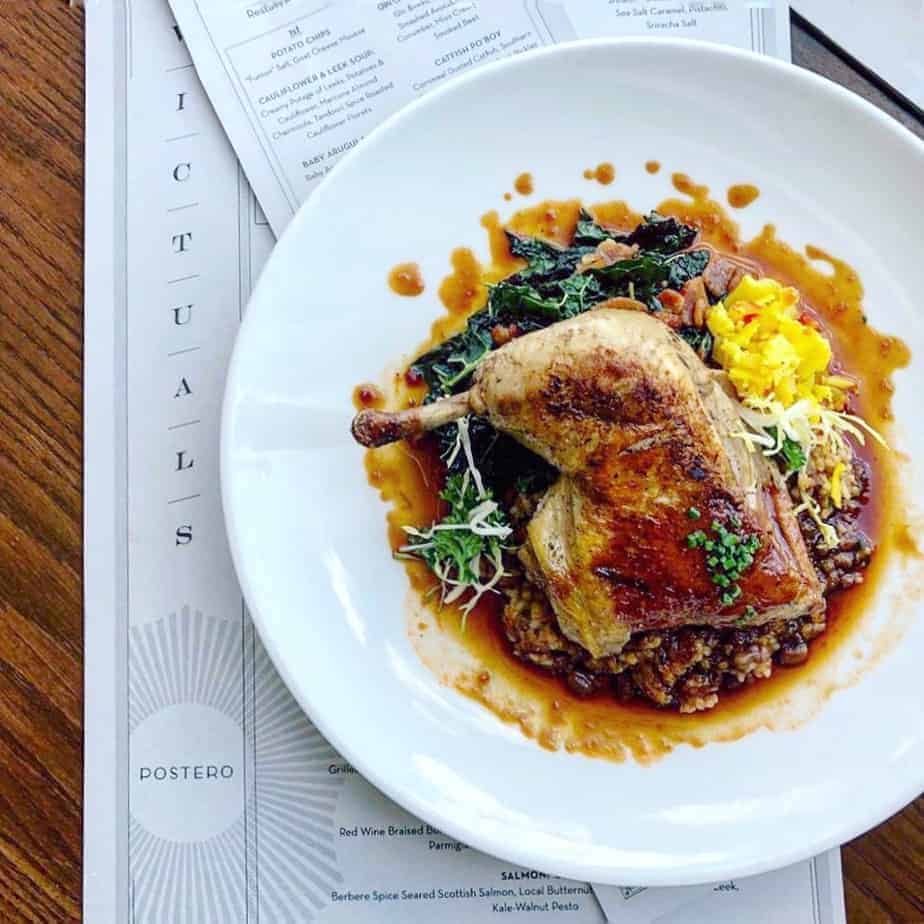 Postero's menu reflects a modern day take on traditional favorites and I loved their playful spin on potato chips (with funion salt and goat cheese mousse), elevated catfish po'boy (cornmeal dusted catfish, bread and butter pickles and southern slaw), and couldn't get enough of the polenta fries (flash fried smoked gouda cheese with catalan style sofrito), carrot hummus or goat cheese crostini.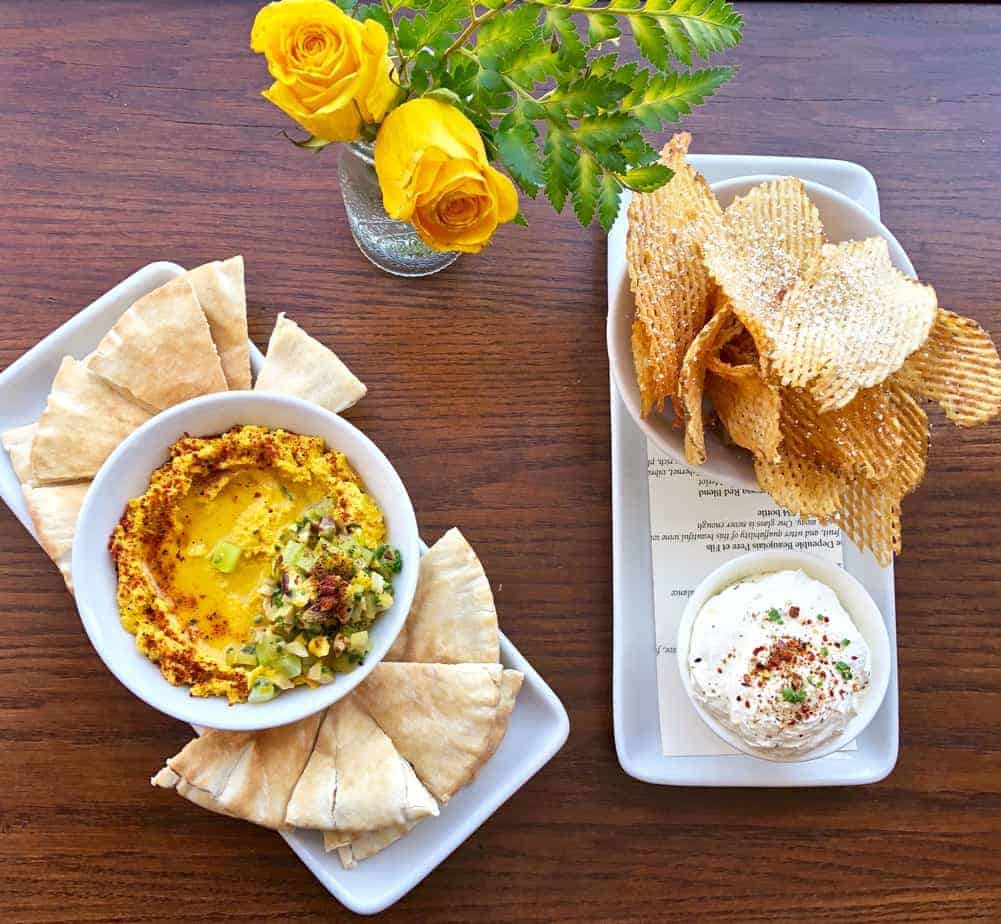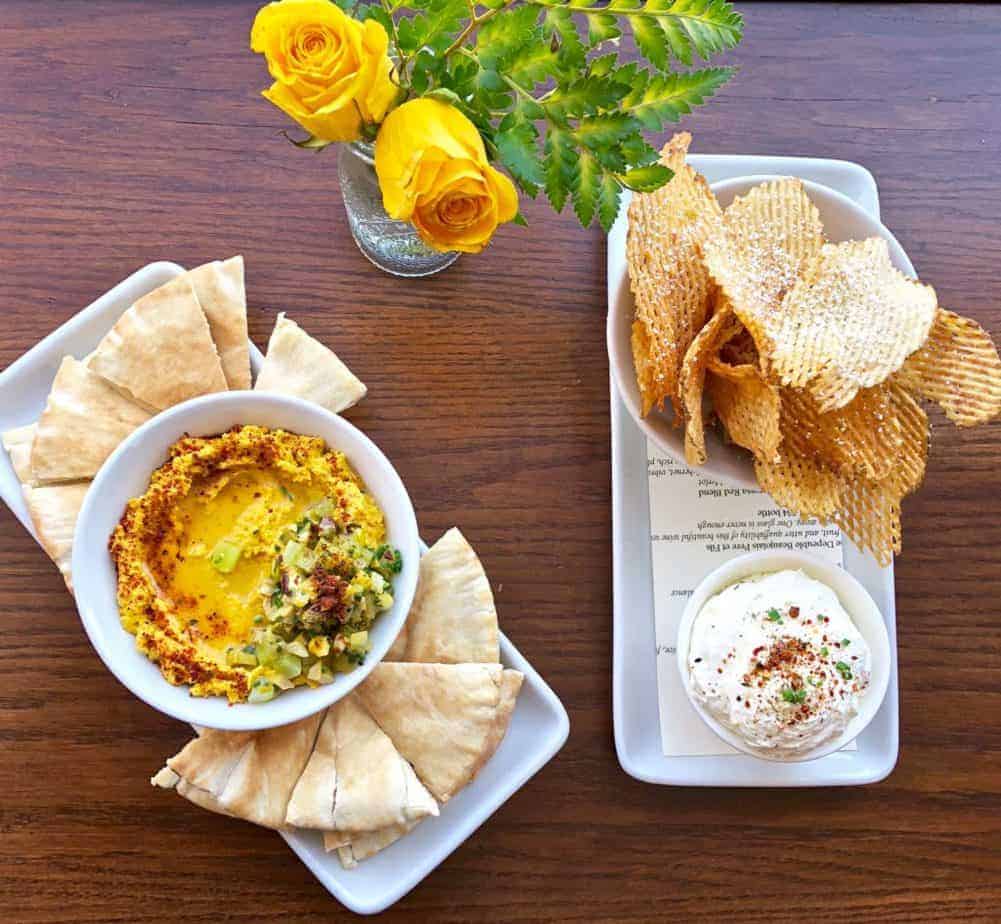 I would like to go swimming in the cauliflower and leek soup (cauliflower soup is my jam y'all) and would have eaten the entire plate of gin cured salmon tartare if my foodie friends would of let me. It was a good thing (for my waistline) but also a bad thing that I had to share.
And oh man, I am still dreaming about Postero's desserts. I tried (and again would have inhaled but sharing is caring and my waistline appreciates it) them all.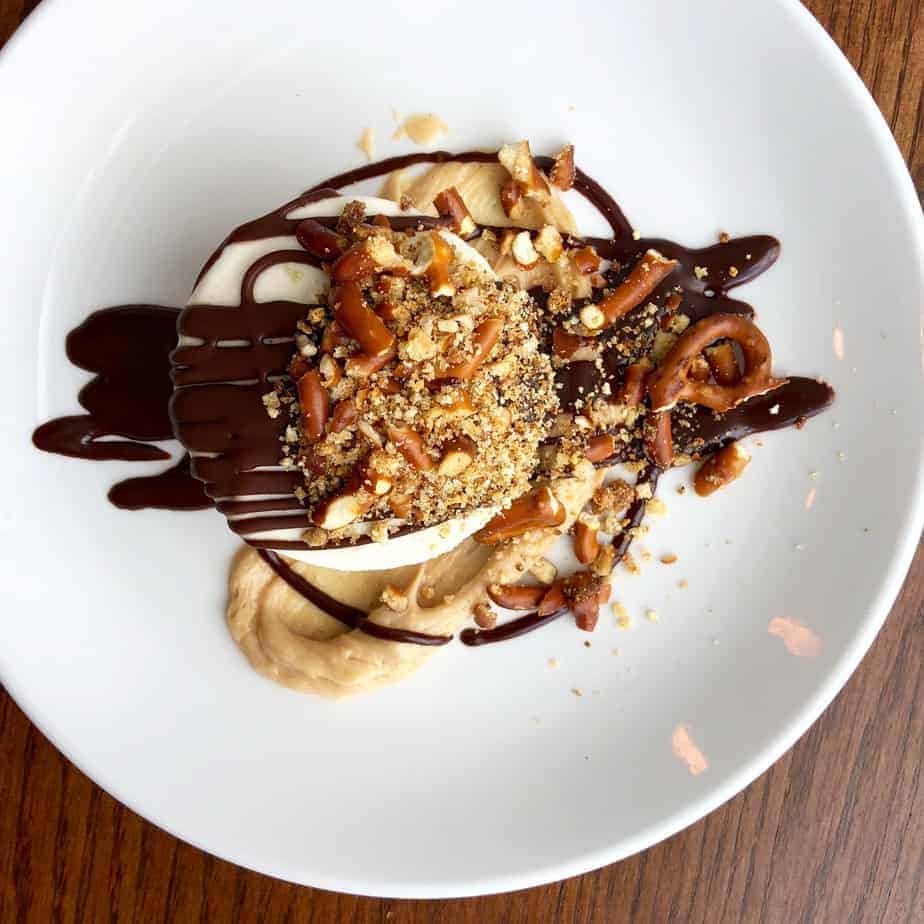 My favorite was the roasted banana ice box pie (roasted banana ice cream, peanut butter mousse, chocolate sauce and salted pretzel crumble), but the dark chocolate pot de crème had a nice little sea salt caramel surprise at the bottom and who can say now to spiced pumpkin verrine, pumpkin panna cotta with ginger cookie crumble and honey whipped cream?
HENDERSONVILLE RESTAURANTS STOP #7: FLAT ROCK VILLAGE BAKERY
As if we hadn't eaten enough, we drove to Highland Lake for second lunch at Season's, and the got a little afternoon pick me up at Flat Rock Village Bakery.
Honestly, the only thing that held me back from getting a treat a Flat Rock Village Bakery was that I was so full (I had just eaten so much pasta and cake) so I just settled on the amazing smells and an Iced Chai to sip on a shaded patio outside (but oh my god, I need to go back to Flat Rock Village Bakery for some brick oven bread and pastries).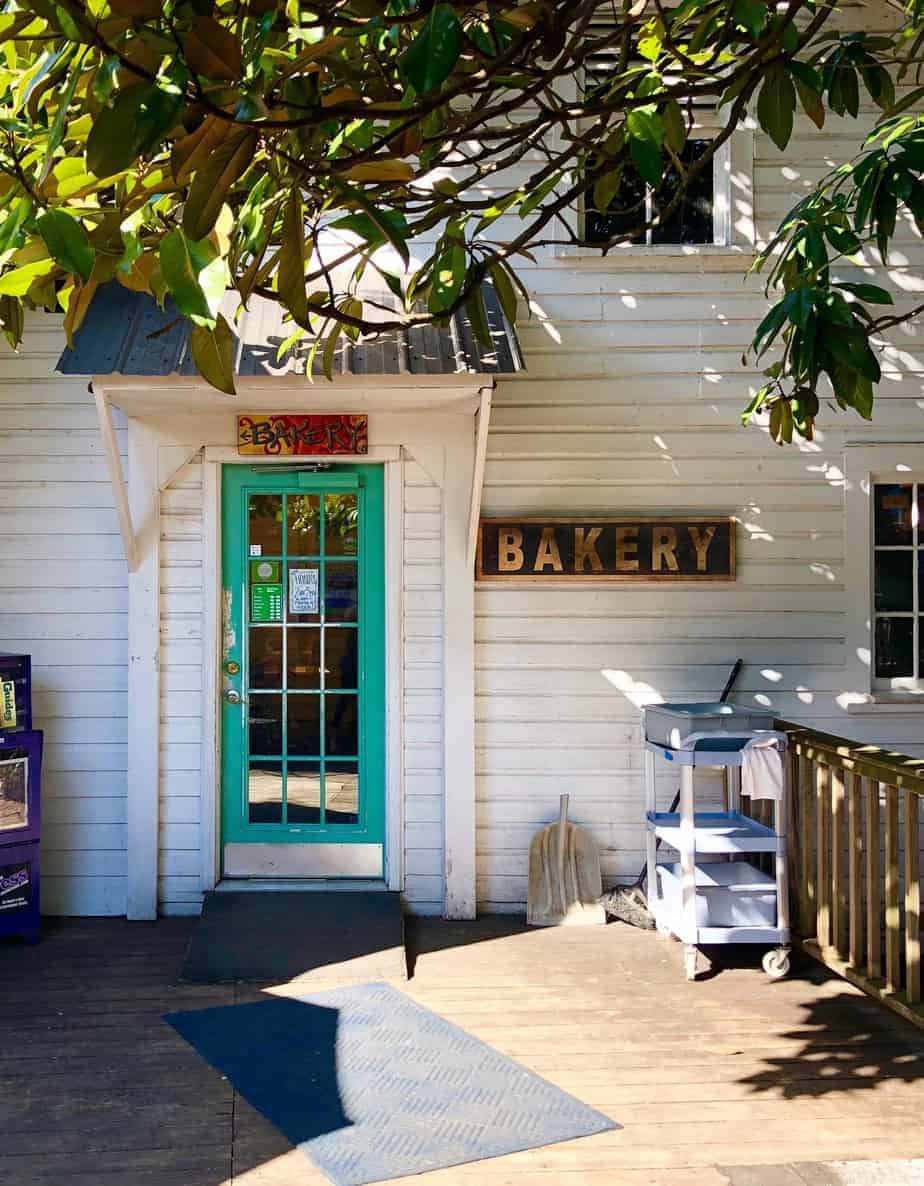 Update: Bodie, AJ and I went back to Flat Rock Village Bakery after spending a night at the Econo Lodge in Hendersonville. We loved it!
After our caffeine fix, we headed back to downtown Hendersonville, NC and had a little bit of time to stroll Main Street (walking the best way to balance calorie intake) and peruse a few of the shops before our next stop.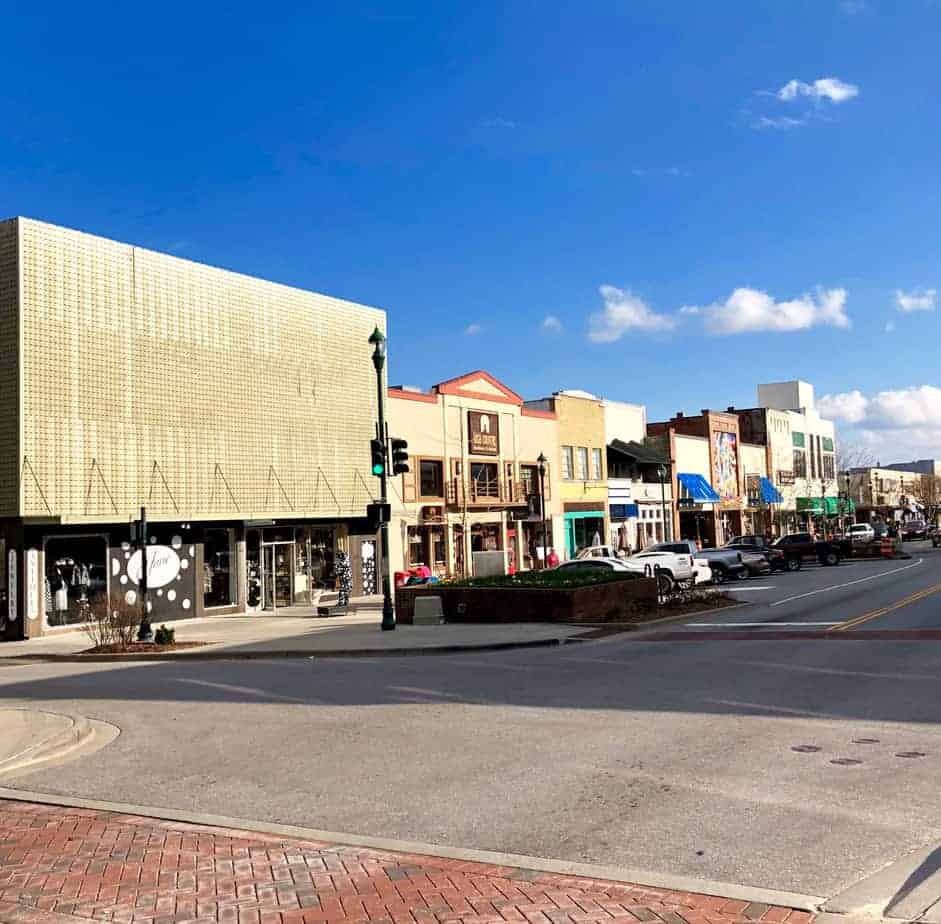 HENDERSONVILLE RESTAURANTS STOP #8: HANNAH FLANAGAN'S
I really enjoyed my Main Street window shopping and we got to Hannah Flanagan's just in time for happy hour; an Irish pub is the perfect place for a pint right?
The relaxed vibe, plentiful beer choices and pops of green has all the markings of a great Irish pub and I immediately wanted to pull up a bar stool and put back a cold Guinness.
We enjoyed a sampling of sliders with creative flavor combinations (tequila lime grouper, roast turkey with cranberry and fried onions and slow roasted pork shoulder with pesto) as well as the most unique take I've ever seen on a well-known Irish dish: a Shepherds' Pie egg roll. (beef, veggies and creamed potatoes rolled up and deep fried served with brown gravy dipping sauce.
It may sound weird, but I think the table consensus is that it was more good that weird!)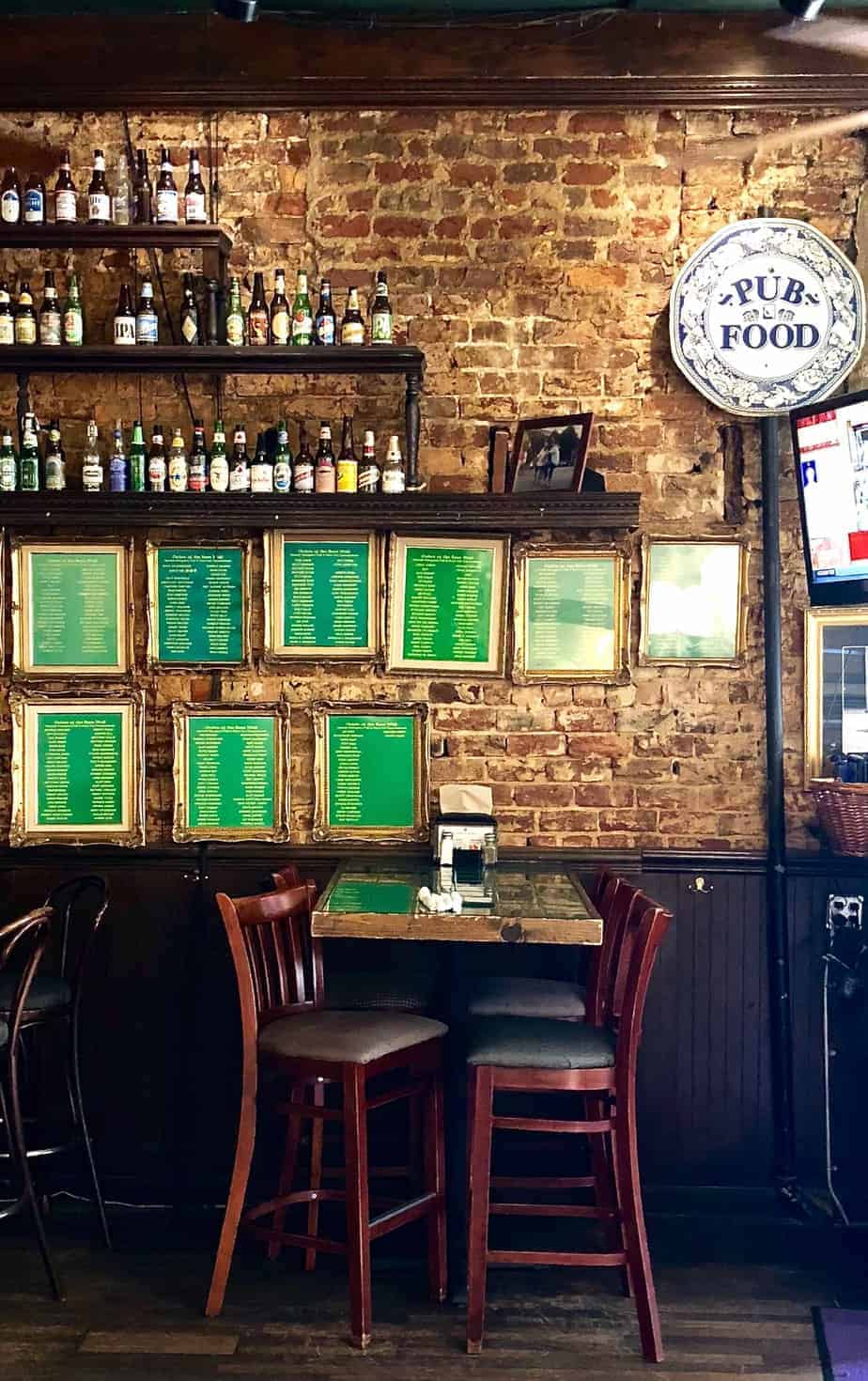 HENDERSONVILLE RESTAURANTS STOP #9 (THE BEST RESTAURANT IN HENDERSONVILLE): NEVER BLUE
If I had to pick a favorite Hendersonville restaurant (no one said I did and it would be really hard to!) I would pick Never Blue.
What I really liked about Never Blue was of course, the food (which we will talk about!) but more so that it had a personality; the space is this eclectic, beautiful blend of bright and bold colors, art, fun and whimsy that is then carried through everything else from the cocktails, the menu and the service, creating this comfortable atmosphere yet elevated atmosphere that will make you immediately want to come back.
It was just clear from our dinner there that owner and Chef Jesse Roque wants to give her guests not only good food, but a unique dining experience and that everything in the restaurant is meaningful, well thought out and has a purpose to enhance the guests' experience (also we got to meet Chef Jesse at the end of the meal and she is fabulous and I'd really like to be her friend).
So without sounding too super gushy, I loved everything.
The bar is beautiful with a tile mosaic top that reminded me of the ocean.
Bright bold pops of blue and orange don the walls and compliment the bright bold flavors coming out of the kitchen.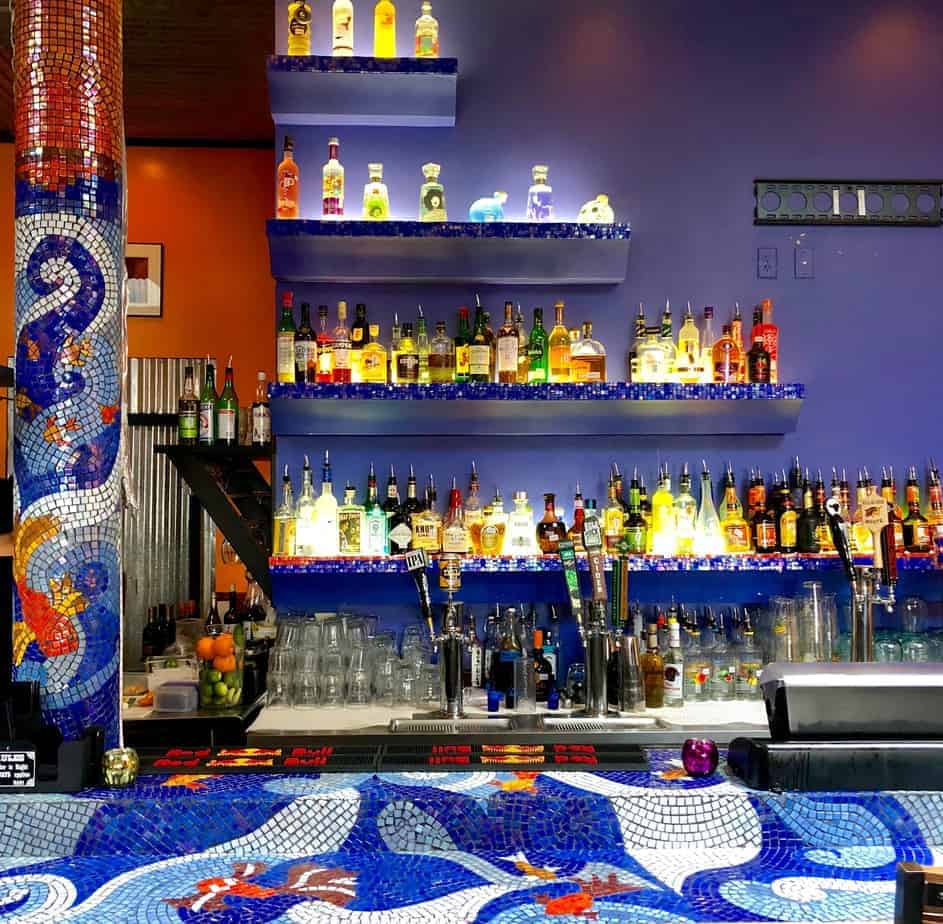 The cocktails are creative and fun, with fruity margaritas, mermaids swimming in martinis, and my favorite, sorbetinis, served with a scoop of fruit sorbet.
Basically everything we ate is a must order (the food is served tapas style and for restaurant week they are offering a wide variety at three different price points) but if I had to pick favorites, the gypsy cheese (a pimento cheese dip with fire roasted poblanos, smoked jalapenos and cowboy candy, candied jalapenos, on top), the gnocchi (with a subtle but defined light lemon flavor and herb cream sauce), mac n cheese (hatch chile smoked cheddar mac n cheese with a butter cheese cracker crumb crust and seasoned pork rinds…I mean I don't even like pork rinds and this was delish), devils on horseback (with marcona almonds, house-cured sorghum bacon and mango blossom honey) and the crab cakes (I love crab cakes and I especially loved the blood orange vinegarette and the Cajun remolaude).
Never Blue is also offering the cutest desesrt I've ever seen for restaurant week: crème brulee with a choice of unicorn (pink) or mermaid (blue) fudge. OMG so in love, all of the heart eye emojis.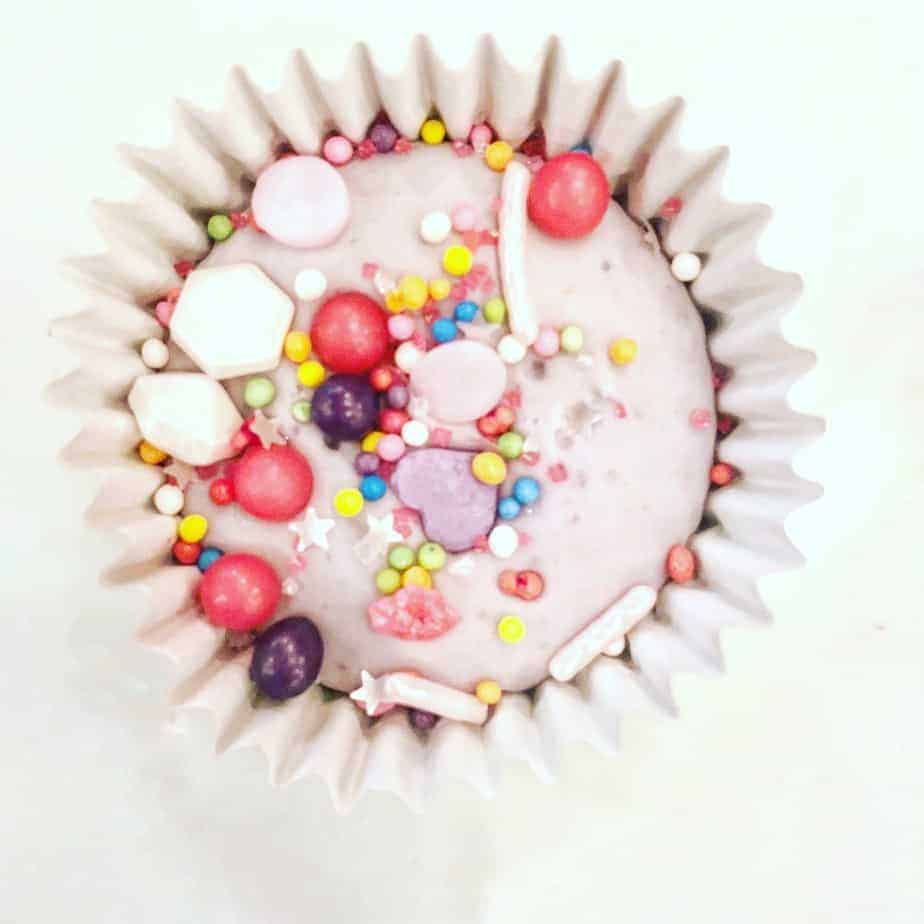 HENDERSONVILLE RESTAURANTS STOP #10: A NIGHTCAP AT THE POE HOUSE
We went for post dinner drinks at The Poe House, a local watering hole named in honor of author Edgar Allen Poe.
The basement bar is beloved by locals and fully committed to the Poe theme in a really cool way with books, and ravens, and fireplaces and funky décor, and is a cozy hybrid between a pub and wine bar (I opted for a red wine flights and let the bartender choose the wines) with local beers, craft cocktails and live music on weekends.
DOWNTOWN HENDERSONVILLE RESTAURANTS STOP #11: THE DUGOUT TAPROOM AND GRILL
So the sleeper of Hendersonville Restaurant Week is definitely The Dugout Taproom & Grill (also currently super proud of myself for using a sports metaphor when describing a sports bar).
I was not expecting much from The Dugout (which, to be clear, is not a bad thing because I love a good sports bar and consider myself to maybe even be a sports bar connoisseur) except your typical sports bar fare.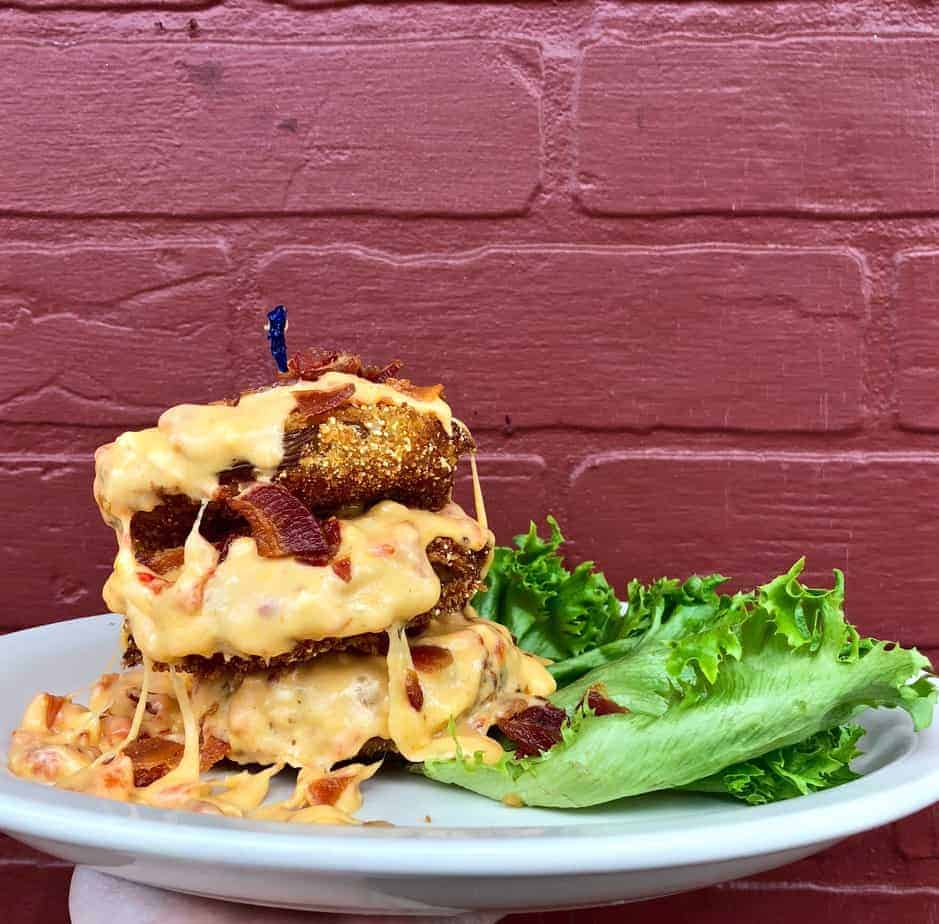 Right before I visited for lunch I did a little shopping at Merchant 31 South and the owner complimented The Dugout's hand cut French fries so I did have expectations of delicious French fries (and also, in other news, I bought a really cute shirt from Merchant 31 South and loved tons of things in her shop).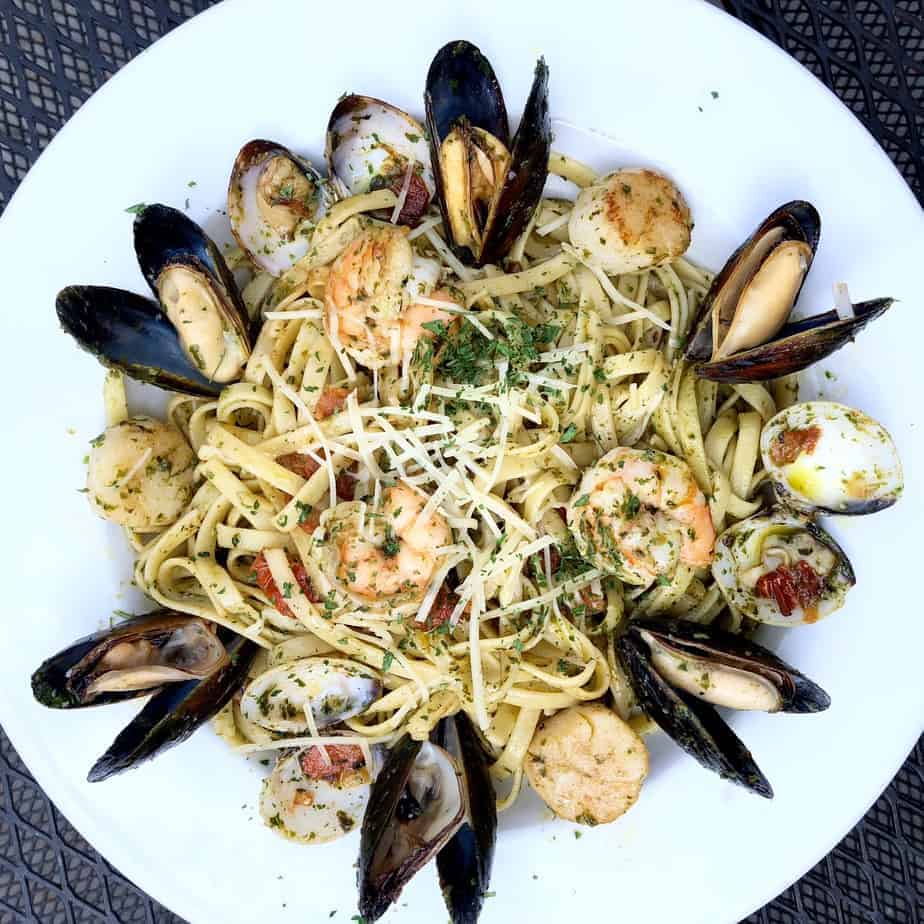 Anyways, I (and I think everyone else) was totally shocked (in the best way) with what came out of the kitchen at The Dugout.
Their new chef, Brooke Crider, has been there a few months and there are some fabulous things coming out of her kitchen and it's anything but your typical, expected food from a place adorned with flat screens and Yankees memorabilia.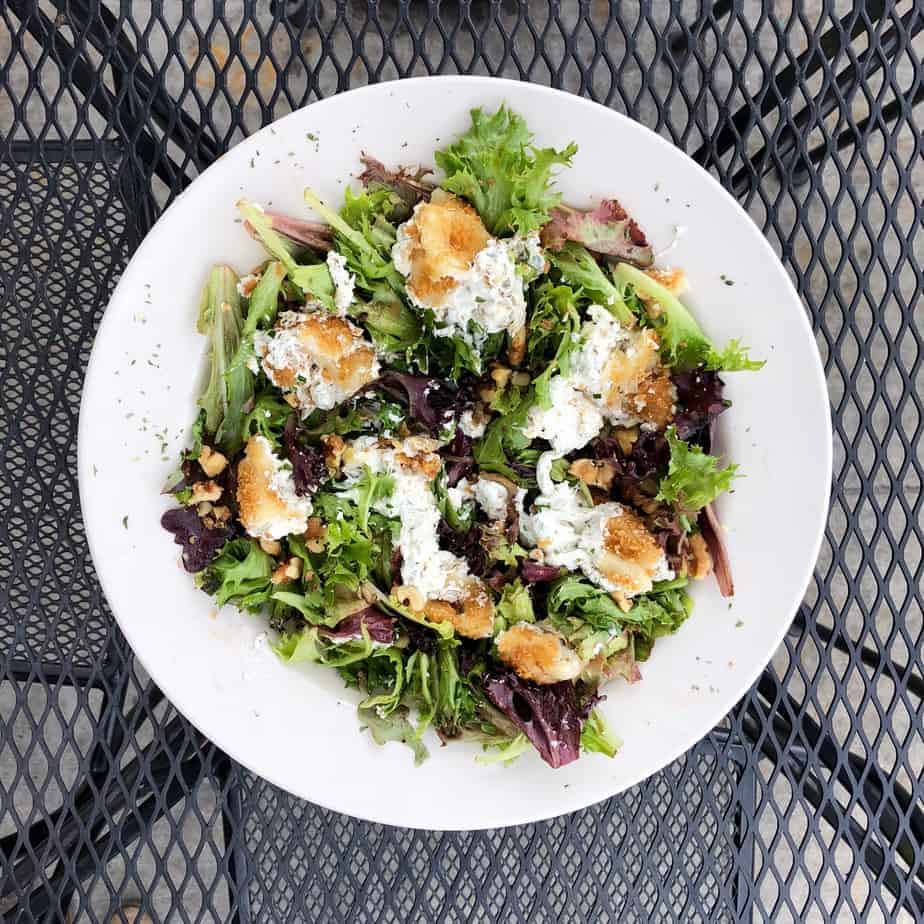 Highlights include: the fried green tomato stacker with homemade pimento cheese, spicy crab stuffed avocado, warm goat cheese salad, seafood pasta with mussels, clams, shrimp and scallops, and braised wild boar ribs with a mulled wine reduction (!!!)
Yes, the first description that came to mind with those wild boar ribs was just exclamation marks…I got to bring the leftovers home to AJ and he really liked them too.
Plus, AJ using the words "these are really good" is basically a testament of love in his book.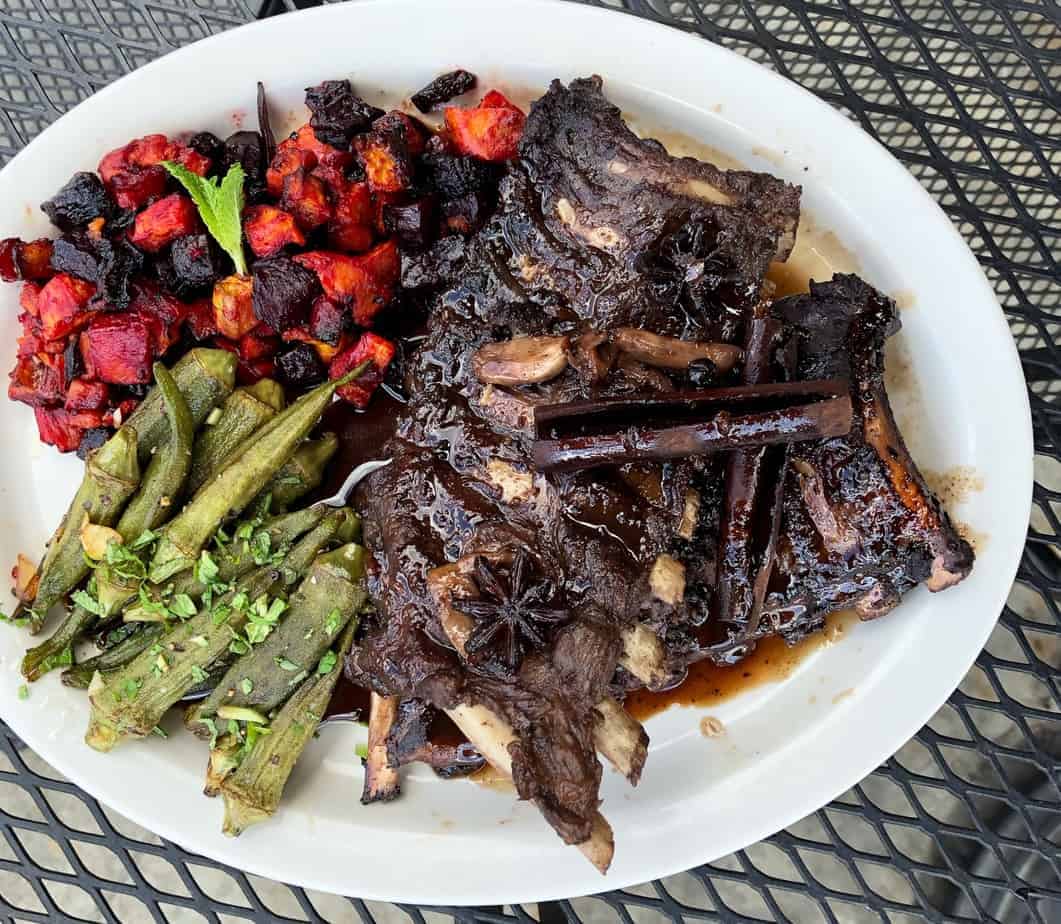 We finished our meal with a trio of cakes: lemon raspberry, oreo cheesecake and peanut butter magic (made in house daily) and some impressive. PS the peanut butter magic cake is truly magic and lives up to its name.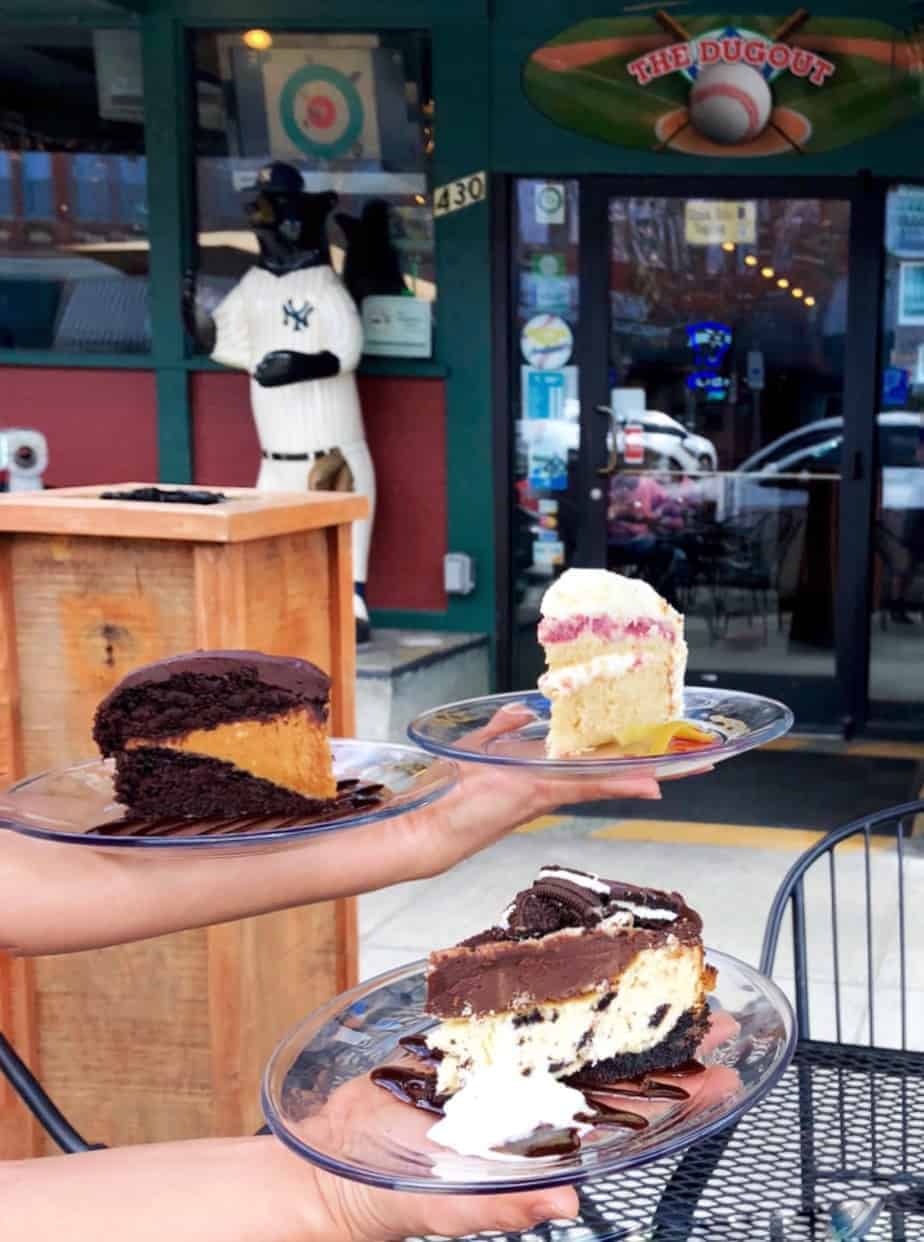 And part of the Hendersonville Restaurant Week dinner menu, The Dugout also has wine pairings from local Hendersonville winery, Saint Paul Mountain Vineyards. Also not expected from a sports bar and I am pro local wine pairings.
HENDERSONVILLE RESTAURANTS STOP #12: FLAT ROCK WOOD ROOM
My last stop on my epic food tour of Hendersonville restaurants was Flat Rock Wood Room.
I was really excited to see Flat Rock Wood Room on the list of places we were going to preview for Hendersonville Restaurant Week because AJ and I visited Flat Rock Wood Room almost five years ago on our way home from a weekend of camping in the Smokies.
(And OMG wow, almost five years?! I was about six months into blogging and it was our first weekend away together so I didn't even use his name in the post…I actually think I hadn't told him I was a blogger yet and I snapped the photos while he was in the bathroom).
Reminiscence (and memories of really sore legs!) washed over me as I pulled into the parking lot and hit me just about the same time as the magical smell of wood smoked barbecue; you know, the kind that makes you immediately salivate.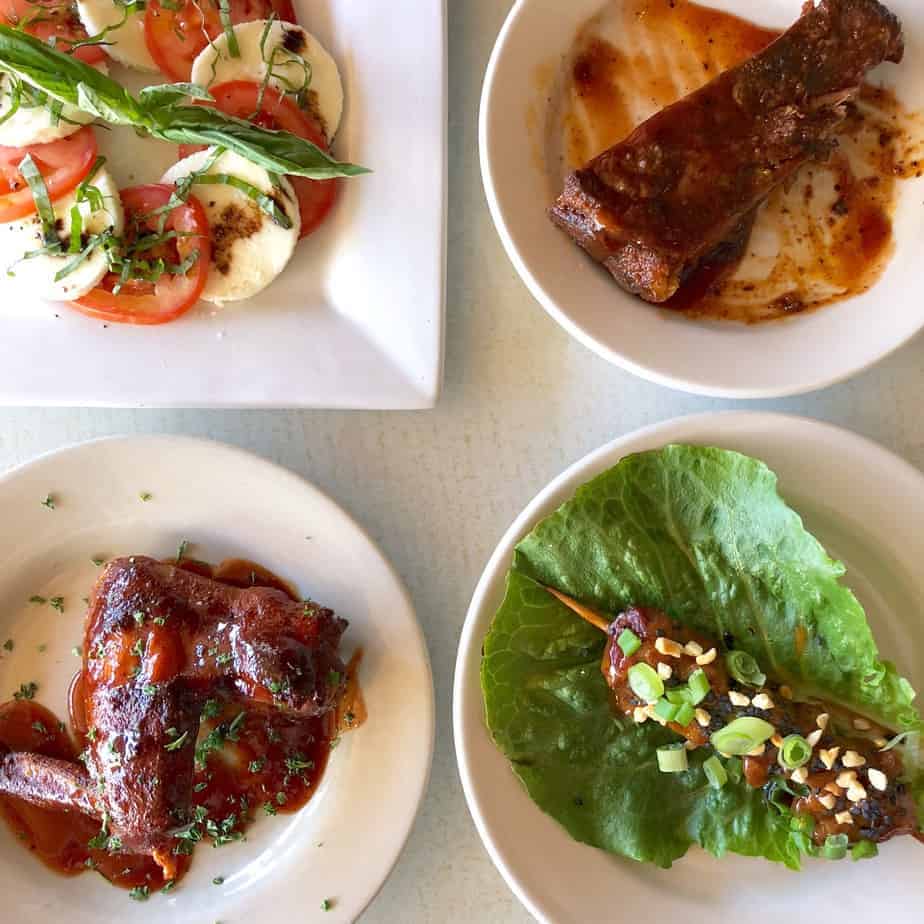 Flat Rock Wood Room was super kind to accommodate me (sadly, I missed the group tasting because I was at work on Wednesday afternoon) so I sat solo at a sunny a window seat enjoying a sampling of their award-winning barbecue (literally, it's really cool to check out all of the plaques and ribbons Flat Rock Wood Room has won at barbecue competitions): Saint Louis style ribs, Frankemuth Wings, and Smoked Pork Satay.
Even though I was so full from three days of eating, I couldn't stop eating because everything was so good. (do you sense a theme of no self-control and see where the additional three pounds came from?)
The ribs were melt-in-your-mouth and so tender the meat fell off the bone, and the Smoked Pork Satay with peanut butter glaze and ginger grape sauce was a creative, elevated take on barbecue with a playful Indian flare.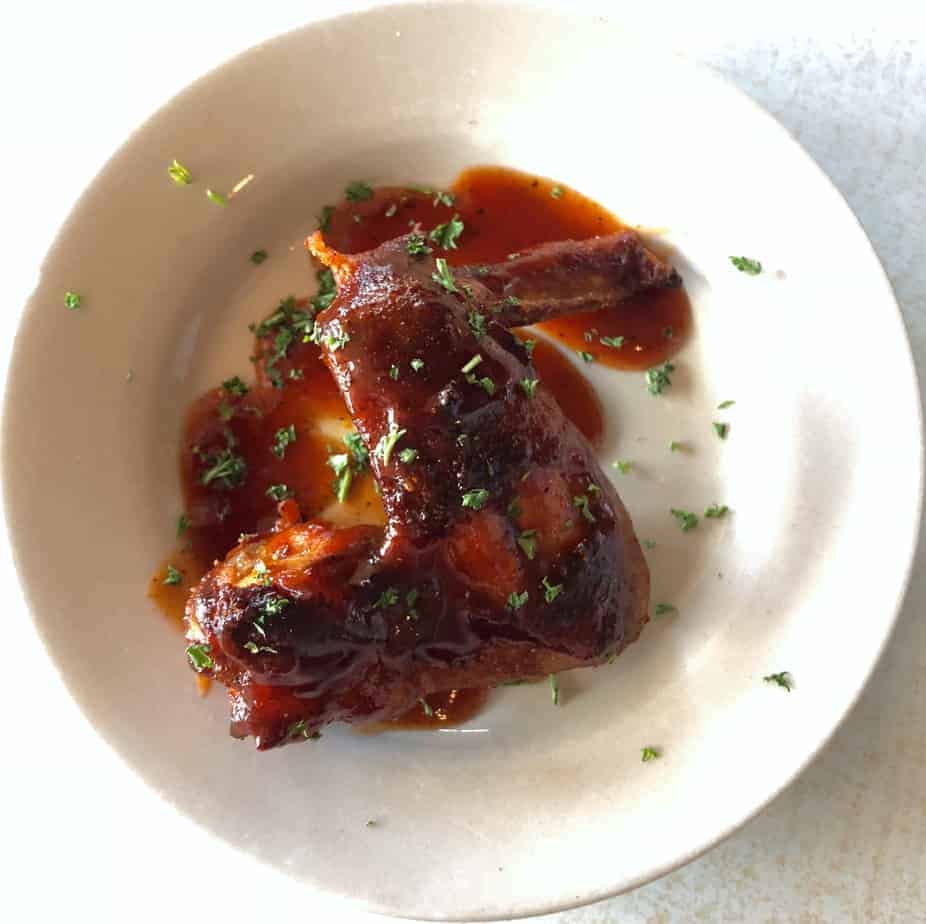 The stand out was the pride and joy of Flat Rock Wood Room, the Frankenmuth Wings with Competition Style Barbecue Sauce.
The wings are a spin on a recipe that that originated from a pitmaster in Frankemuth, Michigan. (for all my mitten readers, we're looking Northwest of Detroit and directly North of Flint, kind of in the cradle between the thumb and pointer finger…I know you're holding your hand up right now to make it look like Michigan!)
The jumbo wings are rubbed, smoked, deglazed, flash fried, rubbed again and then tossed in the Competition Barbecue Sauce. They're offered both the lunch and dinner menu during Hendersonville Restaurant Week and let's just say all the finger licking you'll do to finish your plate is worth it.
I also enjoyed a caprese salad and the caprese salad was light and delicate and gave me a hankering for tomato season. Plus so pretty to look at right?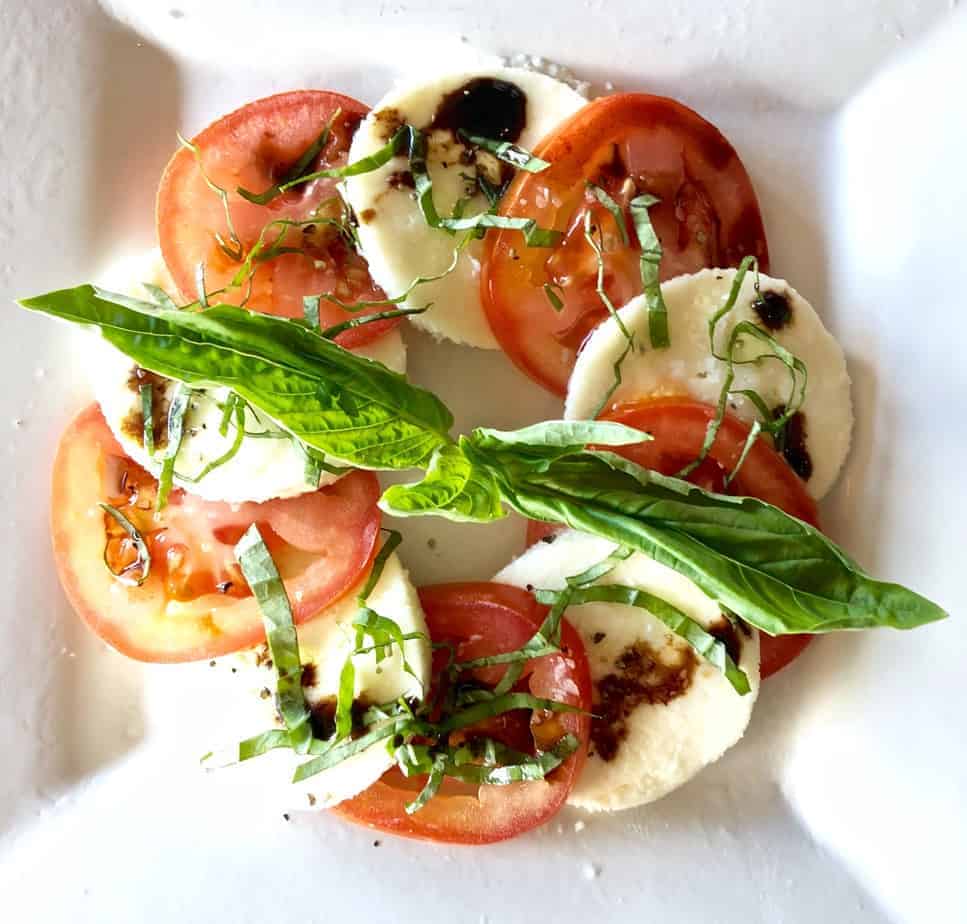 If you're not in a 'cue mood, Flat Rock Wood Room's also offers wood-fired Neapolitan style pizzas, calzones, and a smoked salmon that I hear is downright dreamy…one of my life's regrets that I didn't get to try that, the cornbread or the crème brulee. (Speaking of pizza if you're looking for some of the best pizza in Charlotte check out my pizza post.)
IF YOU LOVED READING ABOUT THE BEST RESTAURANTS IN HENDERSONVILLE, NC, YOU'LL ALSO LOVE THESE POSTS FROM OFF THE EATEN PATH:
Five Foodie Day Trips from Charlotte
A Weekend in North Carolina Wine Country