In honor of North Carolina Beer Month, I wanted to dedicate a post to all things Charlotte breweries and beer!
My husband, AJ, and I share our thoughts on all 24 Charlotte breweries (with a complete list of Charlotte breweries) and rank what we think are the best breweries in Charlotte…at the bottom of the post you can see a list of our top ten favorites!
And if you want to see the breweries y'all think are the best breweries in Charlotte, check out the results of Off the Eaten Path's first ever Charlotte Brewery Bracket, a March madness style tournament where you voted for your favorite Charlotte breweries!
Looking for other places to eat and drink in Charlotte, NC? Check out Off the Eaten Path's Charlotte Restaurants Guide! I've also written about the best pizza in Charlotte, best patios in Charlotte, Charlotte Farmers Market Guide and Charlotte's best brunch.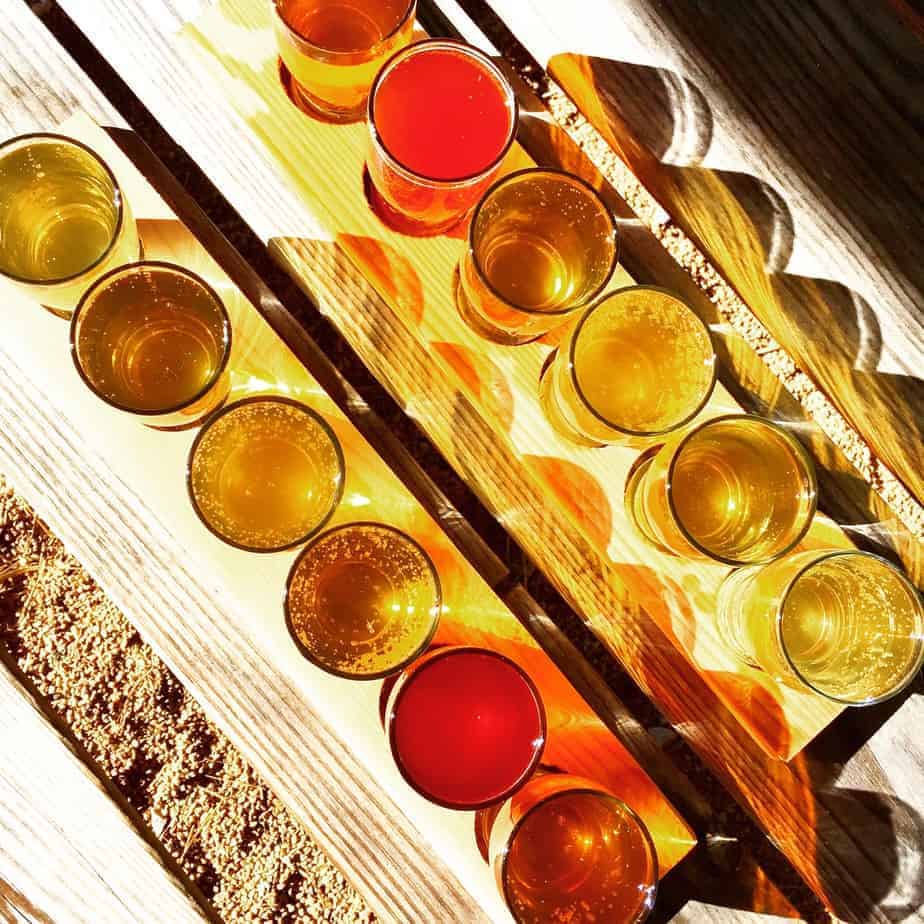 WHAT DO WE KNOW ABOUT CHARLOTTE BREWERIES?
We drink a lot of beer.
On any given weekend (or sometimes even weekdays) you'll likely see us at a (or maybe several) Charlotte brewery.
If we're not sipping straight from the source at the best breweries in Charlotte, we're drinking local beer at our favorite neighborhood bar, Carolina Beer Temple, (in the spring and the summer, we're drinking local with a view of the water at the at the Whitewater Center) or at home (full disclosure, non-local beer is also imbibed at home which hopefully won't make us lose our street cred).
Does drinking a lot of Charlotte beer and hanging out at a lot of Charlotte breweries qualify us to break down what we like about each brewery and rank the best breweries in Charlotte?
Sure, why not.
And with readers asking questions like "What's your favorite Charlotte brewery?" and "Can we read another post from AJ?" I got the idea to hold my husband captive (being stuck in a car with me for 3 hours coming home from a wedding in Charleston gave him no choice) and talk about all things Charlotte breweries and beer.
Just to bolster our qualifications and street cred (I am all about street cred), meet your judges.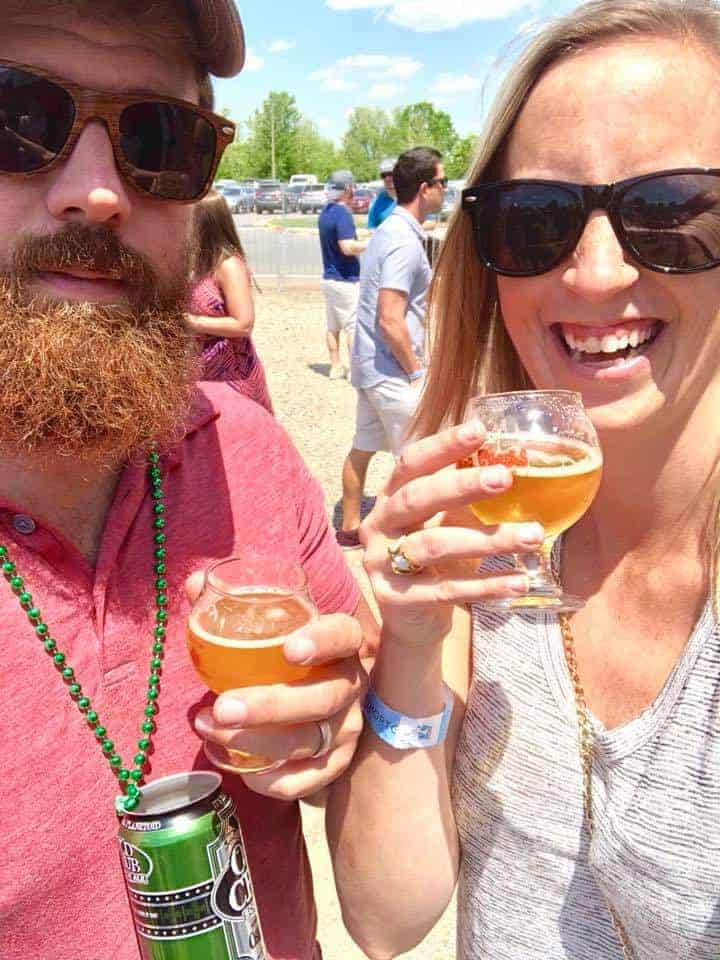 AJ doesn't discriminate when it comes to beer (if it's beer, he'll drink it) but is an avid Untapped user who gets very specific and technical with his taste rankings.
He's also a home brewer (we gave his pumpkin ale to our wedding guests), and moved to Charlotte the same year that Charlotte's first brewery (OMB) opened.
In the past month, he has been asked if he works at NoDa Brewing at least five times (he really pulls off the looks with the beard and the hat, which his lovely wife gave him for Christmas last year).
AJ's favorite Charlotte beer is Blue Blaze Brewing's Pink Blazer Hefeweizen, and he thinks the best breweries in Charlotte are… (you'll have to look at his list at the bottom of this post!)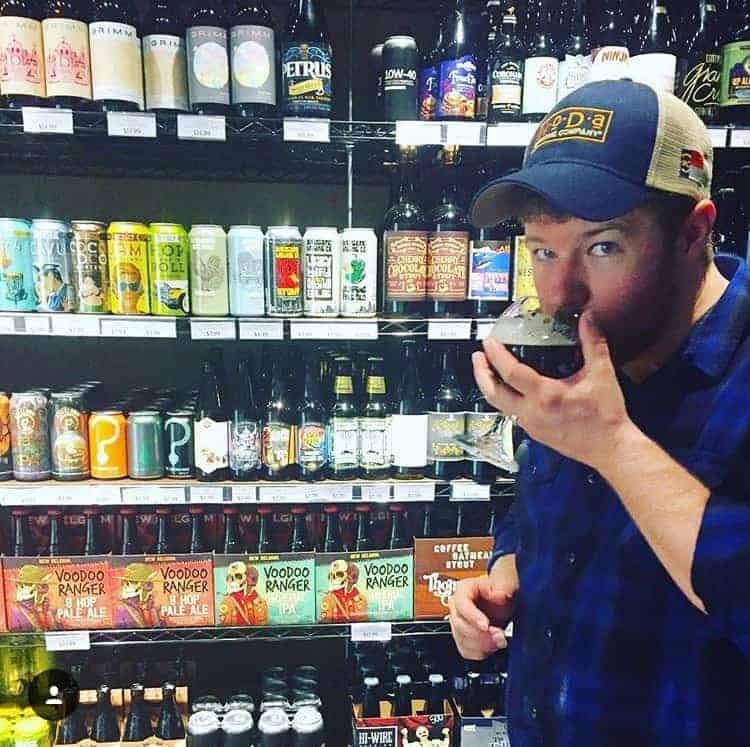 I have come a long way from my college days, where I exclusively drank Malibu and Coke and Bacardi Razz (gross) until my senior year.
At the end of college and throughout law school, I started sampling, ordering and enjoying local beers and discovered I really like stouts and the chill atmosphere of a brewery taproom (when you live in a state that boasts it's home to the beer capital of the world you have to learn how to love beer).
I not only love drinking beer but also love cooking with beer. (This beer cheese fondue is the best.)
I moved to Charlotte right when the brewery boom started (Heist and I made our Queen City debut the same month in 2012) and have loved exploring the craft beer scene and of course, imbibing, ever since (don't be fooled by this photo of me holding a glass of wine).
My favorite Charlotte beer is Wooden Robot Brewery's Thicket as Thieves Blackberry Sour Wild Ale (but I also have a whole post dedicated to my favorite Charlotte beers!) and I think the best breweries in Charlotte are… (again you gotta get to the bottom of this post!)
And while I love, love, love local beer, I also love red wine and cocktails. (Corona Floats, Blackberry Basil Gin Fizz, Strawberry Bellinis, and Spiked Apple Cider are some of my faves.)
HOW DID WE EVALUATE CHARLOTTE'S BEST BREWERIES?
Looking at important categories like taproom space (including indoor and outdoor space), vibe, beer and food options, quality and taste of beer, and more, here are 3,000+ words (more like subjective ramblings?) on what we think about Charlotte's breweries and the best breweries in Charlotte. Cheers!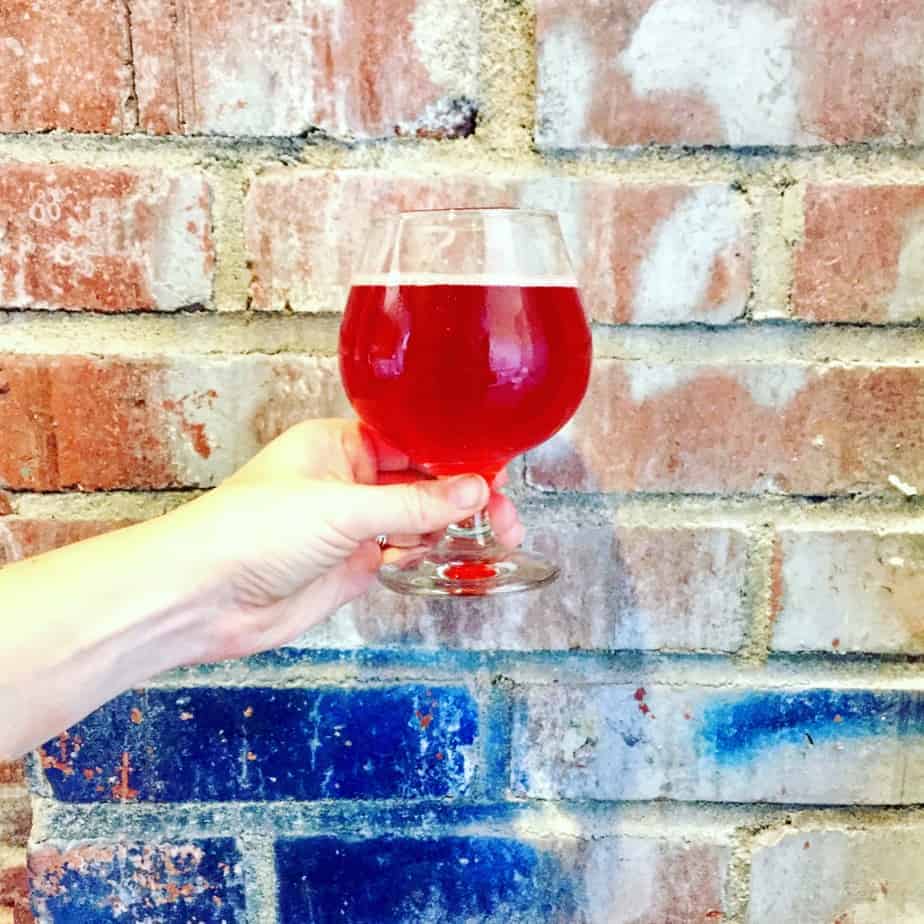 A GUIDE TO CHARLOTTE BREWERIES (INCLUDING WHAT WE LIKE AND WHAT WE DON'T LIKE):
CHARLOTTE BREWERIES IN LOWER SOUTH END
"Eek ghosts," is what AJ wrote down when I asked him about Three Spirits Brewery.
(My husband is a very literal man and the brewery is named after the ghosts in the classic, The Christmas Carol).
Three Spirits is a low-key, often forgotten brewery (AJ thinks this is due to location on Old Pineville) and is one of Charlotte's most underrated breweries but shouldn't be because we like their beer (their brewer, who is an emergency room doctor turned brewery owner, says his focus is on beers that are easy to drink, moderate in alcohol and high in flavor) and they have really friendly service (they don't have in house food but you can get delivery from Old Pineville Pub up the road).
Quick note: Three Spirits Brewery is up for sale, and according to a Facebook post, is closing their doors tomorrow (4/12)
We go to Sugar Creek Brewing Company a lot because it's close to our house, we like their beer and sandwiches, and I (in particular but I also think AJ too) like enjoying my pints in a relaxing atmosphere where I can hear my companions at a reasonable decibel level.
We both agree that Sugar Creek has consistently good beer; as AJ says, Sugar Creek has "solid choices," which as AJ's official interpreter means that Sugar Creek doesn't have a consistently rotating tap list, but rather a standard set of tap options and a little rotation when it comes to seasonal stuff (their Mocha Java Porter is one of my favorite beers in Charlotte and AJ really likes that they are a Belgian inspired brewery).
They have really delicious sandwiches (the Belgian Dip is our favorite…Sugar Creek is really fostering marriage goals over here with all this agreement), a nice taproom, a shaded patio (key for summer) and great service (even when it's busy, you can get a beer pretty quickly at Sugar Creek and it never gets too loud).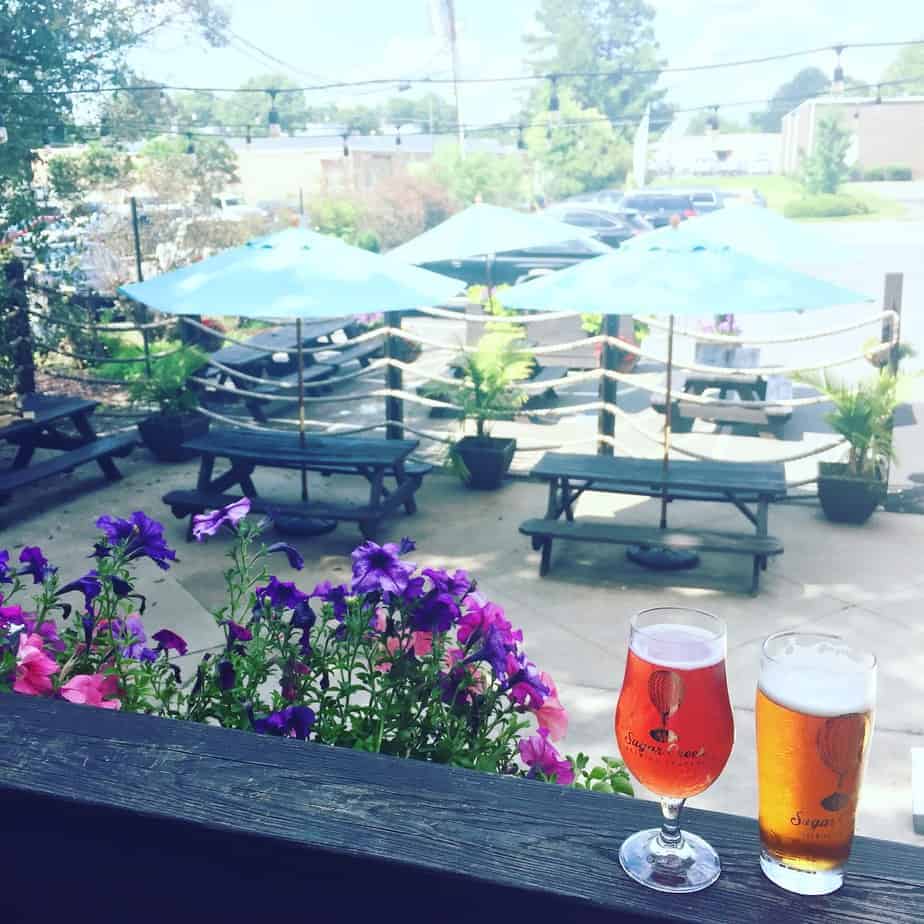 If we're at Sugar Creek, it is likely we will visit Olde Mecklenburg Brewery (or vice versa) just down the street.
In AJ's notes, he wants me to remind you that OMB is "Charlotte's first brewery" and they have a dish on their menu named after him (it's called Rotkohl which is a German-style braised red cabbage with apples and onions he's called Rotko so close enough).
Their biergarten is FABULOUS and BEAUTIFUL (caps necessary), and is a great place to spend a warm afternoon. AJ says the biergarten is "amazing" (a term he rarely uses) and the brewery is the "nicest in the city." (He also says they have an equally good bathroom, and I have to agree).
We both like their German inspired food in house (beer cheese, pretzels and brats FTW) but have to say when forced to make a choice, we'd choose Sugar Creek's sammies.
OMB's German inspired beer list focuses on quality over quantity and who doesn't like a big beer stein?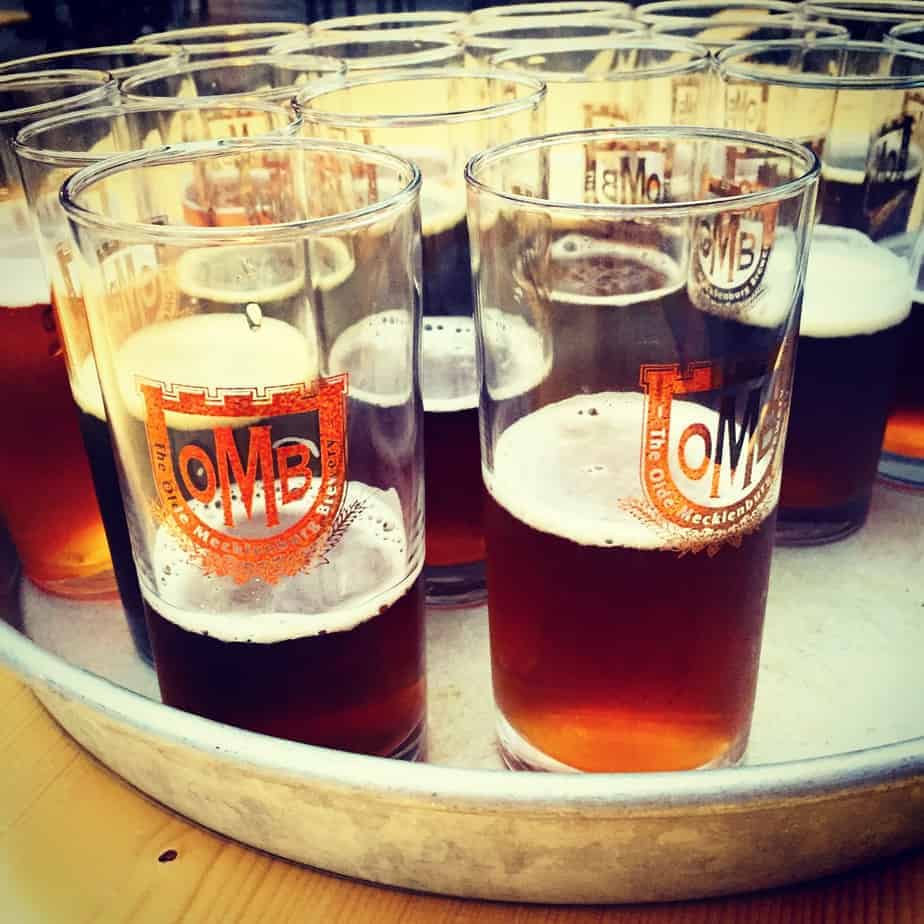 Thirsty Nomad is another low key, off the radar brewery, again we think due to location.
It's in an office park across Tryon from OMB and Sugar Creek, and you get a "Am I going to a brewery or the dentist?" vibe from the outside. (these are AJ's exact words.)
They have done wonders with their small space and made it really welcoming and cozy with tables and couches and a good board game selection. We've only had their beer once or twice so of course we will have to visit again in order to provide a more thorough breakdown in the beer department.
Brewers at 4001 Yancey is a power house place featuring two nationally known breweries, Victory Brewing and Southern Tier Brewing.
The two breweries, one roof concept is very popular and the huge, refurbished warehouse space is usually poppin' (I regret using the word poppin' at the age of 32 but really it's what describes the tremendous amount of activity going on in their taproom on Yancey.)
Brewers at 4001 Yancey also has a full, seasonally inspired menu (so it changes seasonally depending on ingredients) as well as cocktails made with a line of spirits created by Southern Tier.
CHARLOTTE BREWERIES IN SOUTH END
We've only been to Suffolk Punch Brewing (formally known as Hyde Brewing) once and drank a cocktail and someone else's beer because they weren't serving their own yet at the Suffolk Punch opening party but we are going with friends in May so will report back.
Report back: they have a fabulous patio but not our favorite beer.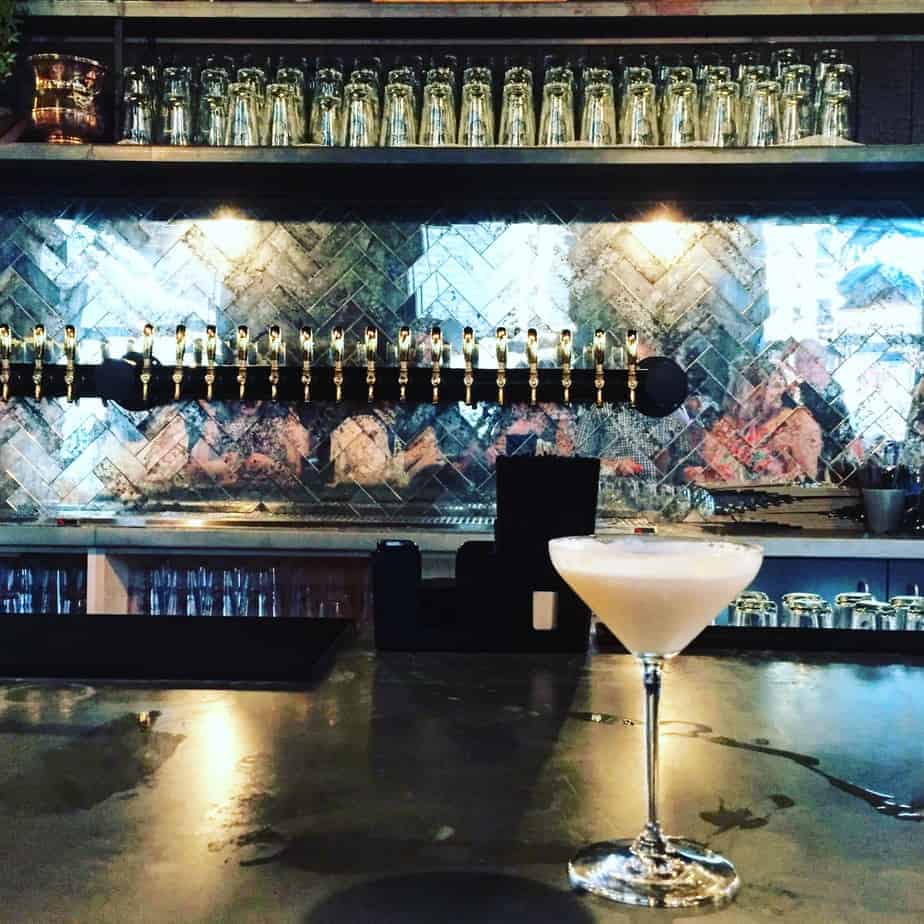 Triple C is one of the OGs on the Charlotte brewery scene.
I've always enjoyed every beer I drank from Triple C and we love their barrel-aging program.
The Light Rail Pale Ale is one of my go tos when we are out and I can't decide what to order (also we just had a growler of the Sal's Paradise Saison the other night and it was really good too).
We don't hang out at their taproom a lot because the space is small and usually really busy and AJ says "too many South End bros." (our true 30 something selves are really showing through), but they do host one of my favorite Charlotte food trucks, Bleu Barn Bistro, Tuesday through Friday and The Dumpling Lady pops up regularly there too.
Sycamore Brewing's Salty Coconut Ale gives me life.
We really liked Sycamore when they opened because of their unique flavors and ideas, beautiful beer garden, pitchers (pitchers are seriously lacking in Charlotte) and convenient location, but we really don't go to Sycamore anymore because it is so freaking busy.
Maybe it's a sign of my age, but even though Sycamore's space is pretty and I like some of their beers, I'd much prefer to enjoy a pint in a more low key, relaxing atmosphere where I don't have to wait 45 minutes in line for a beer or the bathroom or stand elbow to elbow with more South End bros.
(Sycamore has done a lot to combat the crowds including outdoor bars and porta potties but porta potties just aren't my thing).
According to AJ, their beers also have been "hit or miss" recently (agreed), so if we go to Sycamore, it's on a really off day and time (in February, I took my friends Tina and Dan to Sycamore at lunch because they have Papi Queso in house on weekdays YAS) and we were the only ones there and I loved the vibe.
So the answer is take a random Friday off and go have a beer and a delicious grilled cheese.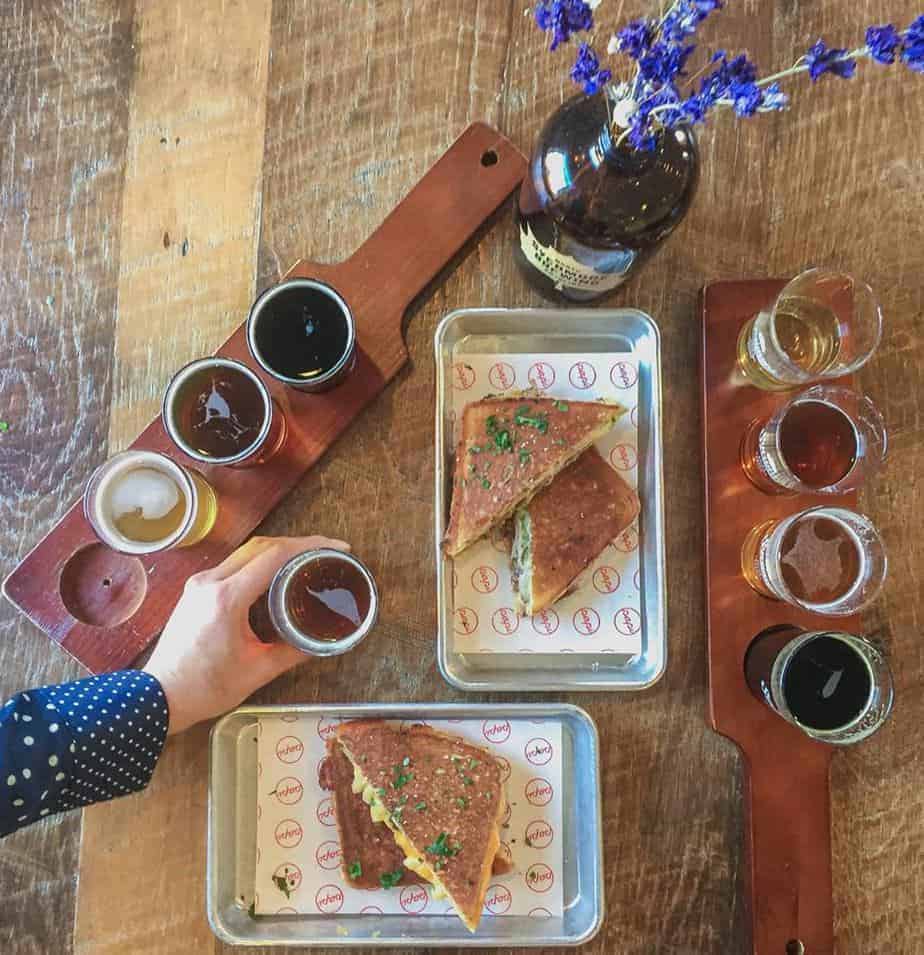 We started going to Lenny Boy Brewing Company a lot when we headed to Sycamore and didn't want to brave the crowds and both really dig their new location (the old location was small and funky and cool but the new location is big and beautiful and relaxing and we can hear each other talk and it's great.
Bodie also loves Lenny Boy's outdoor patio and loves that the brewery is named after a dog).
AJ's notes regarding Lenny Boy include "KOMBUCHA!" and "big flights," which are both also pros in my book.
I also really like Lenny Boy's wild ales and sours (yes my beer spectrum is very wide…stouts and sours are my two favorites).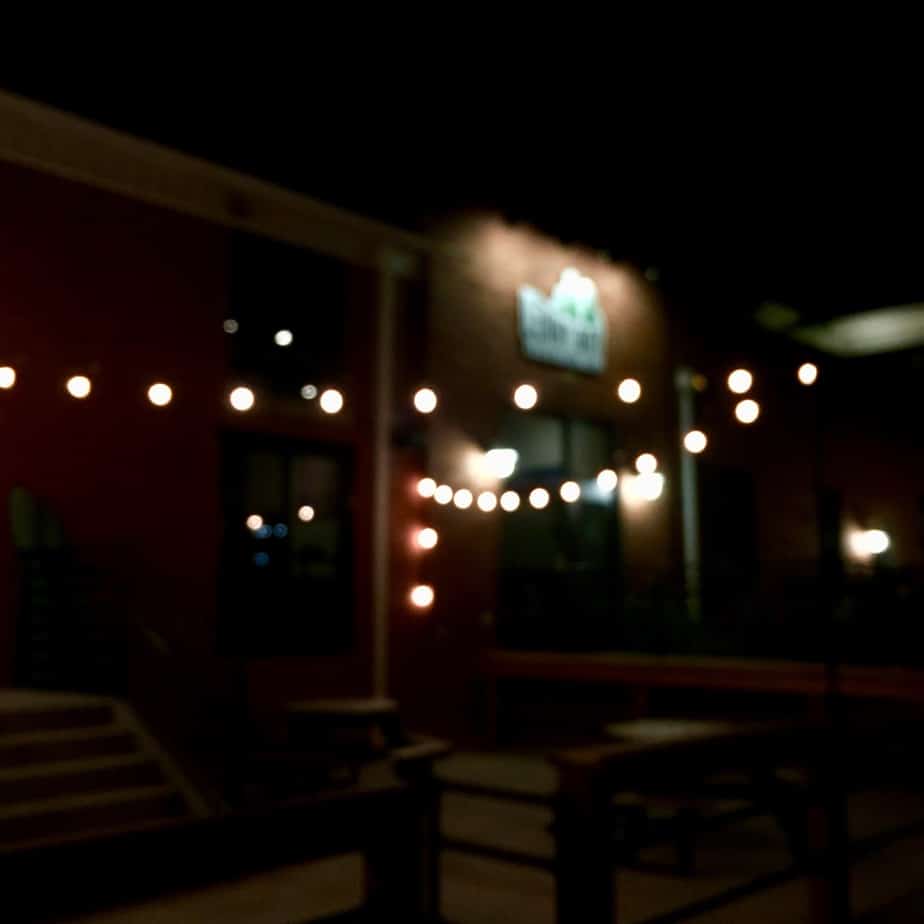 I love Wooden Robot Brewery and spoiler for the list below, I think it is the best brewery in Charlotte.
Andddd, you guys love it too! Wooden Robot was the winner of the first ever Charlotte Brewery Bracket.
I like the vibe (and similar to Sugar Creek, even when it's packed it doesn't take ages to get a beer) and the space, but I do wish their patio was bigger (it's basically standing room only until you're lucky enough to stalk someone at a table who is about to finish a beer).
I love their beer (part of the reason it's my number one, I think it's the best beer in Charlotte) and that they have a good combination of trusty standbys (Good Morning Vietnam) and a healthy rotation of new brews so you can have something different every time you come in.
AJ agrees, on our little scale (I had him rank places using a 1-10 scale for space, beer and food because he is more number oriented and a man of few words if you couldn't tell by this post) he gave Wooden Robot a 10 in the beer category.
He also wanted me to mention that their beer is gluten reduced, which is not advertised but we learned by accident one night while out with friends (one of our good friends has celiac and we experienced a weird back and forth with the bartender when she was trying to order something gluten free and he kept insisting she could have any of their beers. We learned that nearly all of Wooden Robot's beers are gluten reduced, which is FDA approved gluten free, because the brewer's wife also has celiac).
We've eaten a few times at the Twisted Eats food truck (which is now the Kre8 Gastropub that's serving food out of the brewery), which is elevated and creative bar food featuring a lot of dishes made with Wooden Robot's beer.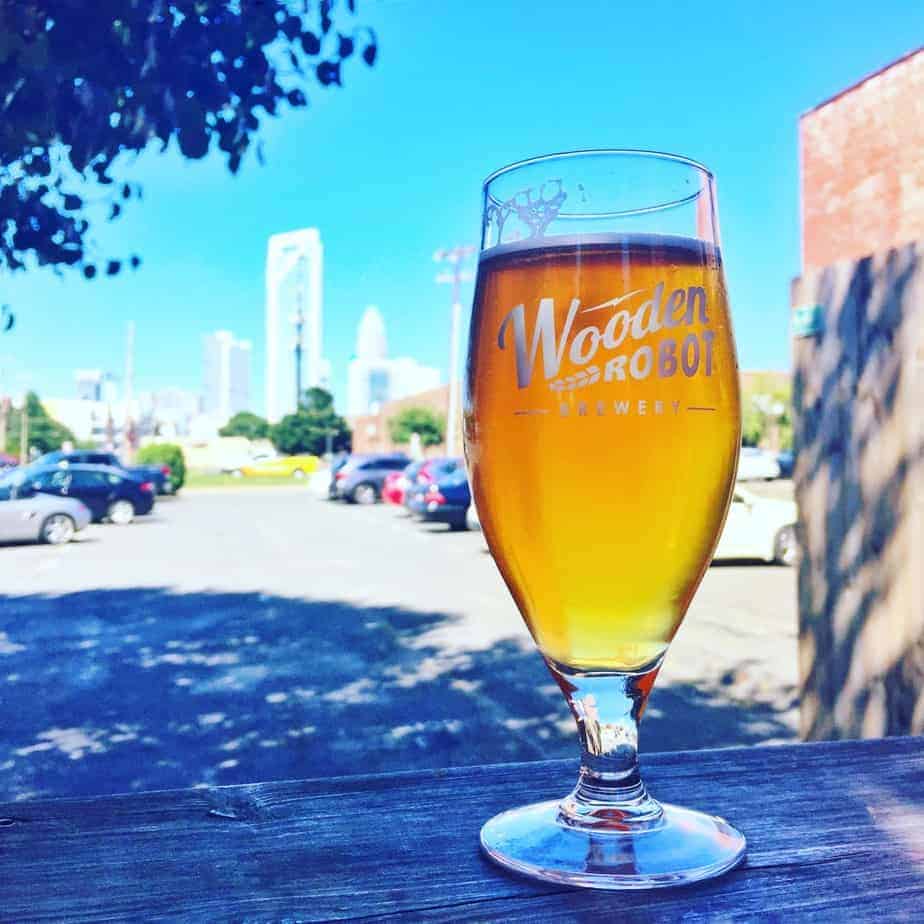 The Unknown Brewing Company wins the award for coolest owner and AJ's biggest Charlotte man crush.
We have gone on two tours with owner and head brewer, Brad Shell, and he is so fun and just the right amount of crazy, which shows through in Unknown's space and their beer.
You'll find us at Unknown a lot in the fall because of it's proximity to Bank of America stadium and the tailgate lots on Mint Street.
We both really dig the Bright Ass Tank Top, a key lime gose aged in 25 year old Dominican rum barrels and really wished it wasn't a part of their "now or never series." (bring it back Unknown please!)
They just did a big tap room renovation complete with a rooftop patio with a skyline view and we haven't been to see it yet which is foolish of us because one of my favorite activities is to drink a beer on a rooftop patio (check out my post all about Charlotte's best patios!)
Update: we have been, the rooftop patio is amazing and we love the pizza you can get from Passport Dough Co.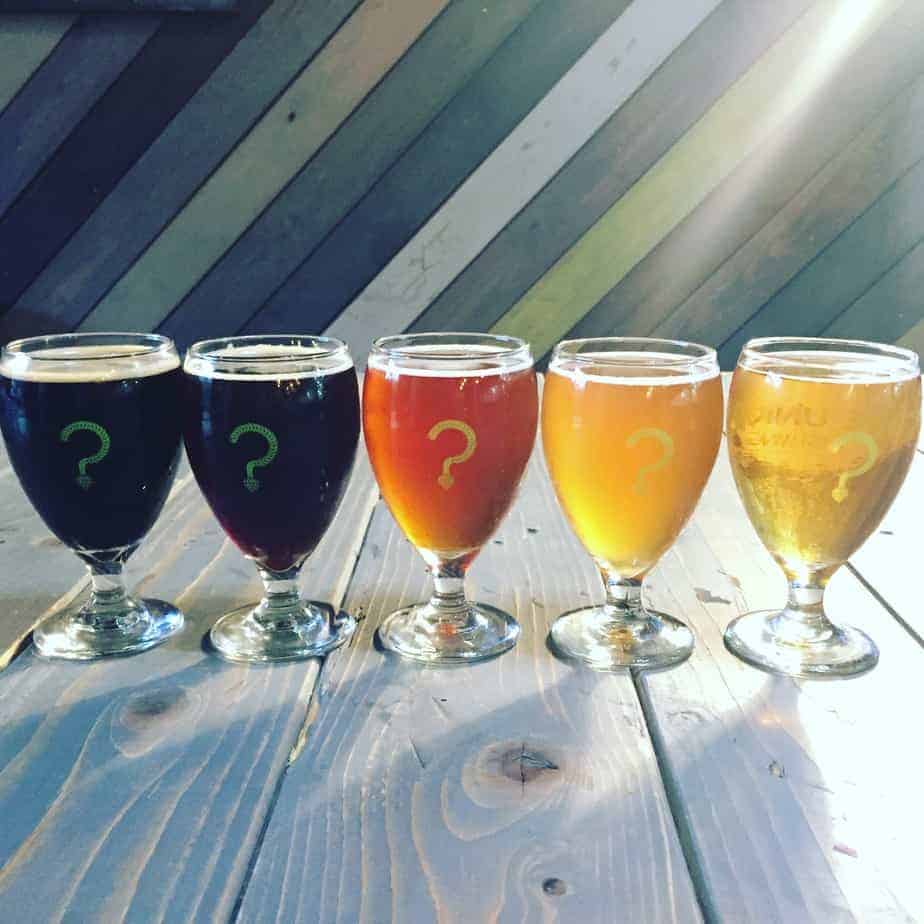 CHARLOTTE BREWERIES IN PLAZA MIDWOOD
If I still lived in the same apartment I lived in three years ago (I was a Plaza Midwood resident for almost three years!), I would be a regular at Legion Brewing Company (I'd just be a quick jaunt down the street).
But I am not a regular at Legion because I refuse to drive there (the reverse angled parking on Commonwealth is the worst parking in Charlotte and I am so over having people on the Common Market patio judge my lack of parking abilities. Also, taking Lyft if you're going to a brewery is a much smarter idea anyways).
Legion started the much needed trend of filling the brewery gap in Plaza Midwood and as a result of its incredibly walkable location, it's usually very busy (therefore making it very loud and hard on our 30 year old ears).
We also think they have a small patio in comparison to other Charlotte area breweries (we get it because of their space but us Rotkos are passionate about audible conversations and big patios I guess).
Legion's stand out to me is Sparkle Party, a sour Berliner Weisse, and in their taproom you can get it with different flavored syrups (I like strawberry), which is the best idea.
They also have an in house kitchen, but I can't say anything about the food except one Sunday brunch experience in which I ate a delicious waffle with a chocolate stout glaze and I also feel positive about beermosas.
They also recently opened SouthPark's first brewery and the space is absolutely stunning. We also have enjoyed brunch at the SouthPark location, which to me is much more spacious, and has a more grown up, family friendly, restaurant vibe.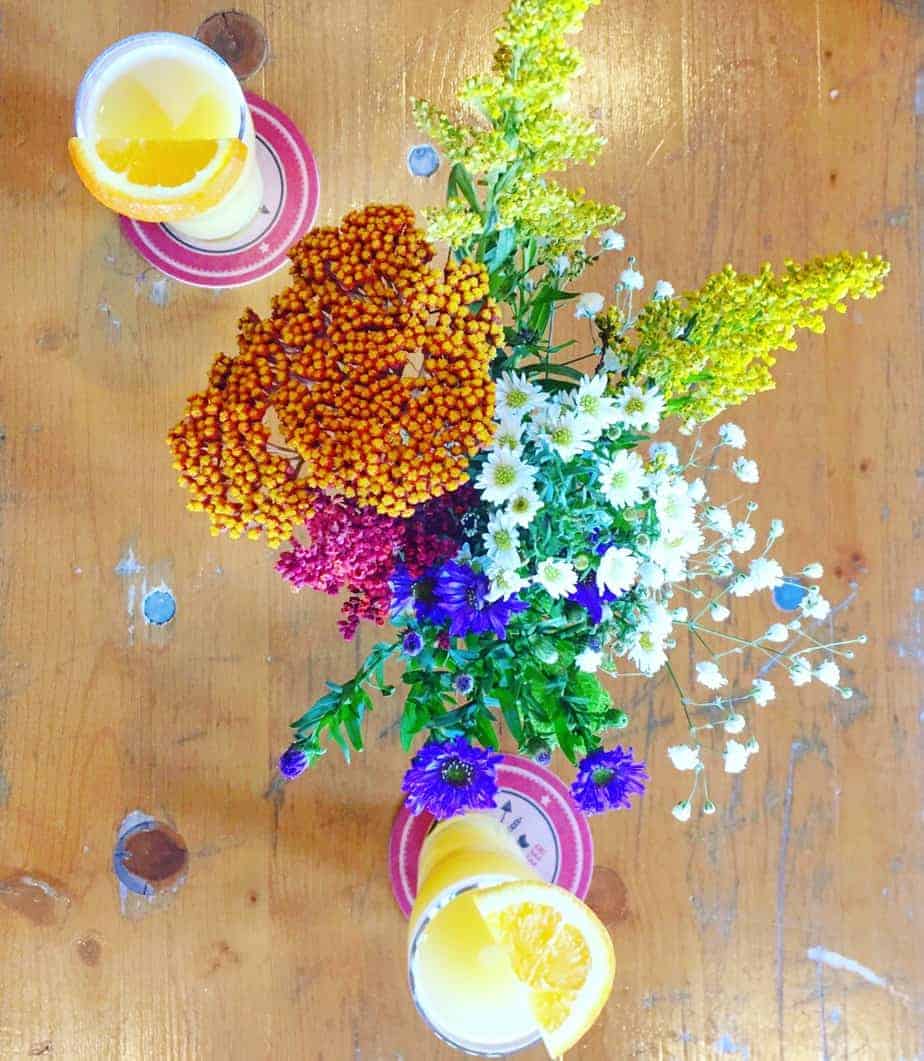 Resident Culture Brewing Company has become a neighborhood mecca for the people of Plaza Midwood; they've done a great job of fostering community in their spacious taproom on Central.
AJ says he likes Resident Culture's "nice inside" and I like their neighborhood, relaxed feel (ps: I totally dig the whole plants hanging from the ceiling trend and think it's magic).
If you're a fan of hoppy beers Resident Culture has you covered and we've enjoyed several really good IPAs while watching Charlotte Storytellers there (cultural events in their barrel room is a plus for sure).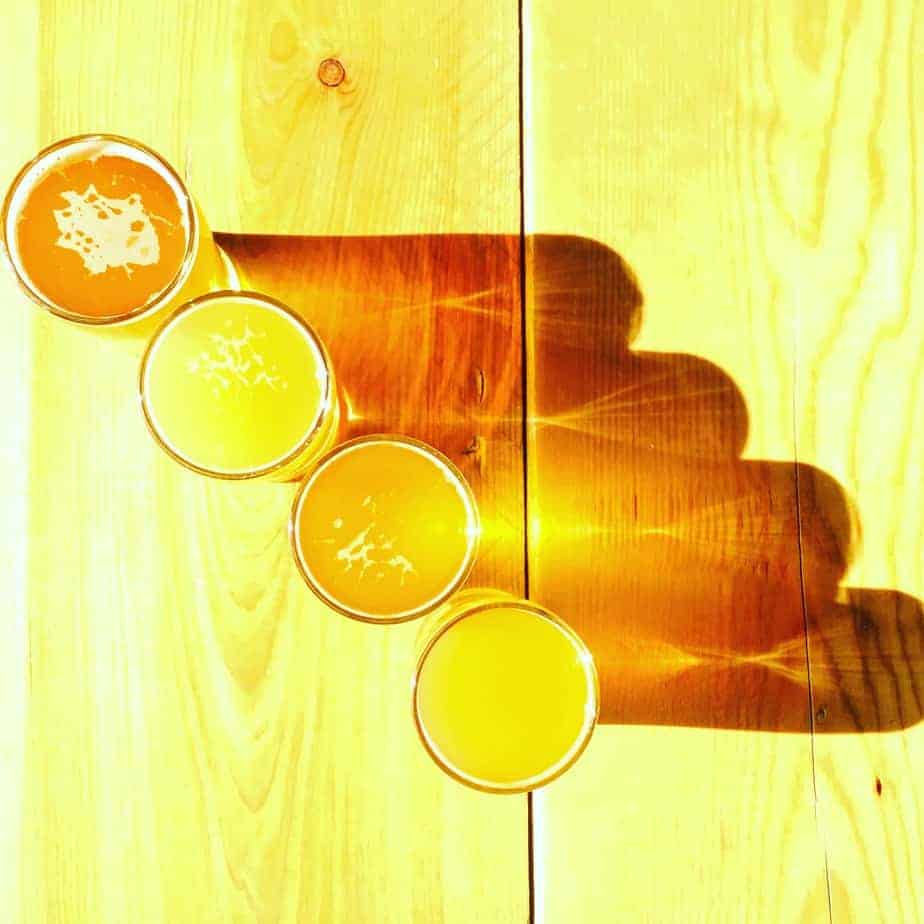 "I'm getting really sick," is what AJ says to me when I ask him about Catawba Brewing (I'm driving and he's writing notes and he get's motion sickness, it has nothing to do with Catawba's beer.)
So we take a break and come back to it.
Here's a fun fact, we've been to all of Catawba's taprooms (in Morganton, Asheville and Charlotte) and the Charlotte one is huge and beautiful (I super dig the murals and the décor and space).
We took AJ's parents there on a sunny Sunday in February and had a lovely time but all agreed we wished the patio was as big and beautiful as the inside space.
I really like Catawba's beers (we often stop for a growler at the Morganton location when we're heading to the mountains and the CLT IPA and White Zombie in cans are my go-tos on Panthers game days), and AJ and I both loved all the choices that the Charlotte taproom offered, giving us the chance to try many we have never heard of before.
When you go, you have to get a flight!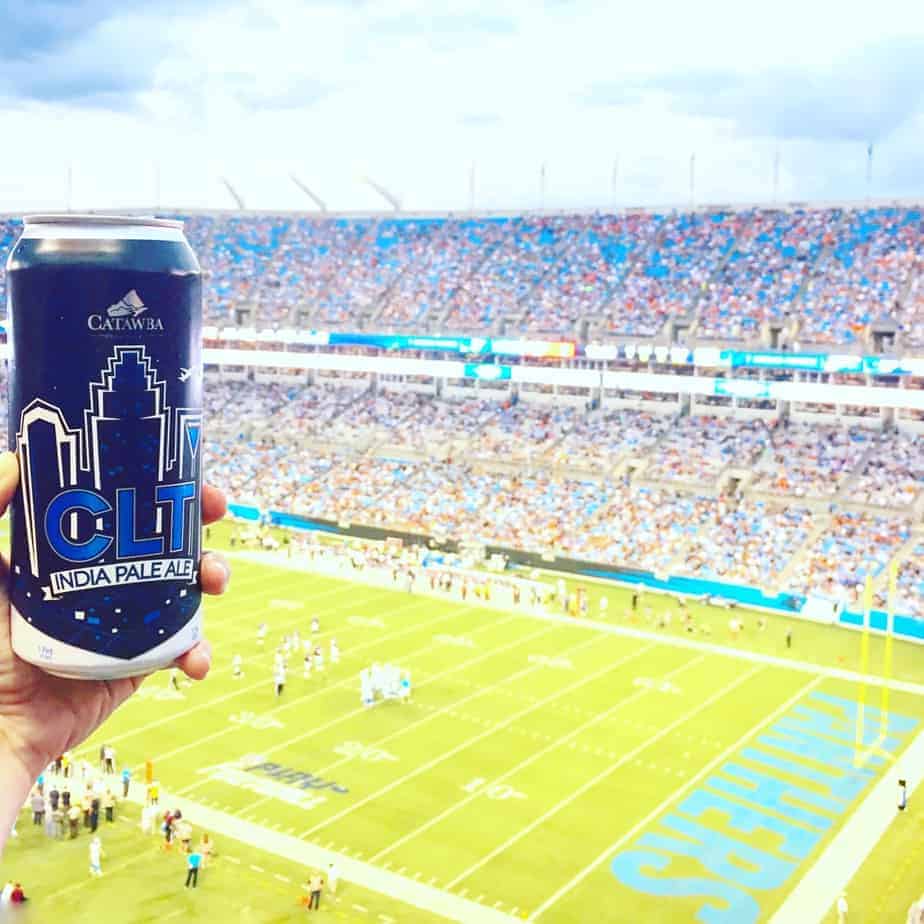 Pilot Brewing is Plaza Midwood's neighborhood nano-brewery and is one of the newest breweries in Charlotte's scene focusing on small and experimental batches.
We haven't been to their taproom yet, but have had a few brews at Beer Temple and I liked them!
CHARLOTTE BREWERIES IN WEST CHARLOTTE
At a beer festival in Charlotte yesterday AJ declared, "I think Blue Blaze's Hefeweizen is the best in Charlotte," and upon further thought, I agree with him.
While Blue Blaze Brewing is newer to the Charlotte brewery scene, they have made a lasting impression on us with tasty beers, a taproom that makes you feel right at home, and rocking chairs on their patio (I love a good rocking chair).
They have won over AJ's admiration because he not only likes their beers but also, "I like their nature theme" (the man loves nature so a outdoorsy themed brewery serving good beer named after trailhead markers is right up his alley).
Besides the rocking chairs, Blue Blaze also wins points in my book for the free s'mores kits they offer to brewery visitors to use at their on site fire pit.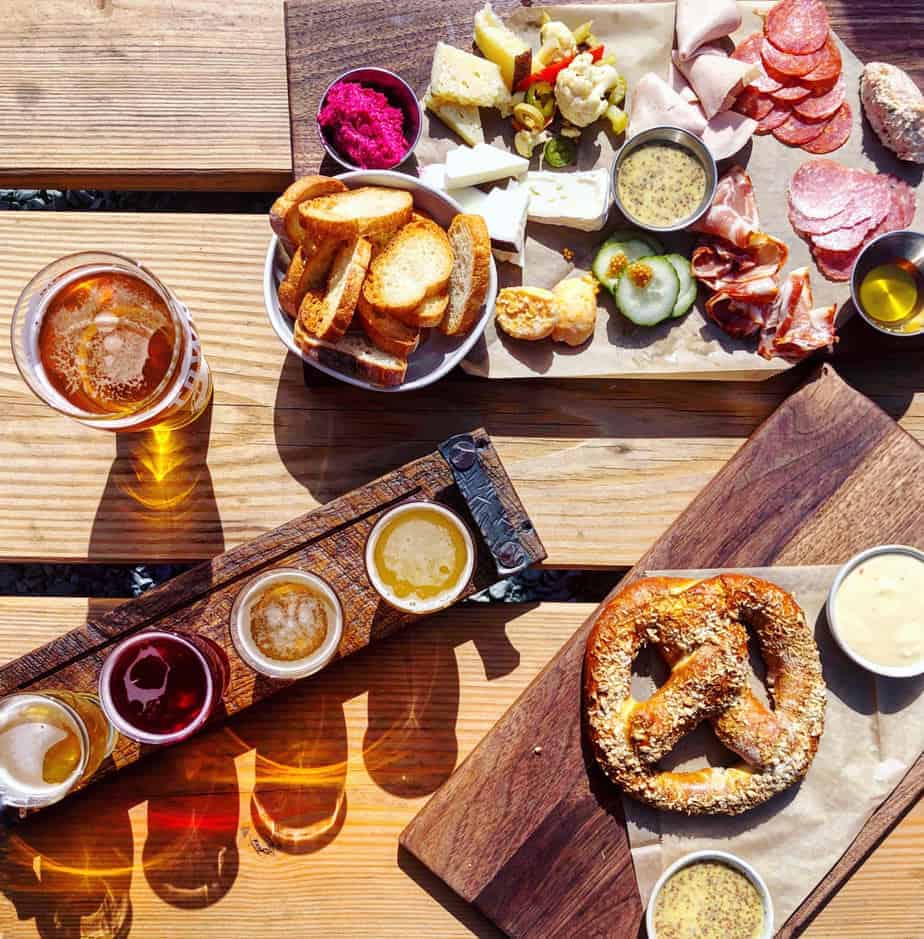 And new this year is Town Brewing Company, Wesley Heights first brewery. They have a wide selection of very drinkable beers, an expansive food menu, and a nice patio.
We've visited Town Brewing twice and it is quickly creeping up my best breweries in Charlotte list.
CHARLOTTE BREWERIES IN BELMONT, VILLA HEIGHTS, OPTIMIST PARK AND NODA
AJ is always longing for days of yore before Charlotte got "too big" (he's from a small town in Michigan which is why I think he is rooted in this belief) and Birdsong Brewing helps him reminisce about the "good old days" because he really loved their cozy taproom on North Davidson. ("I just really felt at home.")
I think their (not so) new location on North Davidson still exudes the same homey and community feel and am totally pro no TVs and free peanuts.
Birdsong's signature Jalapeno Pale Ale is "the best pepper beer" AJ has ever had, and I dig their Mexicali Stout, Doin' Thyme and Pink Robots.
They have a good patio and a good food truck rotation and their event space makes me want to get remarried so I can have a party there.
Also we went to Birdsong the night we decided to move in together so it brings back a lot of sentimental feels and on that same night we also saw a cat there (a patron had brought her cat on a leash) which is an eternally positive feeling.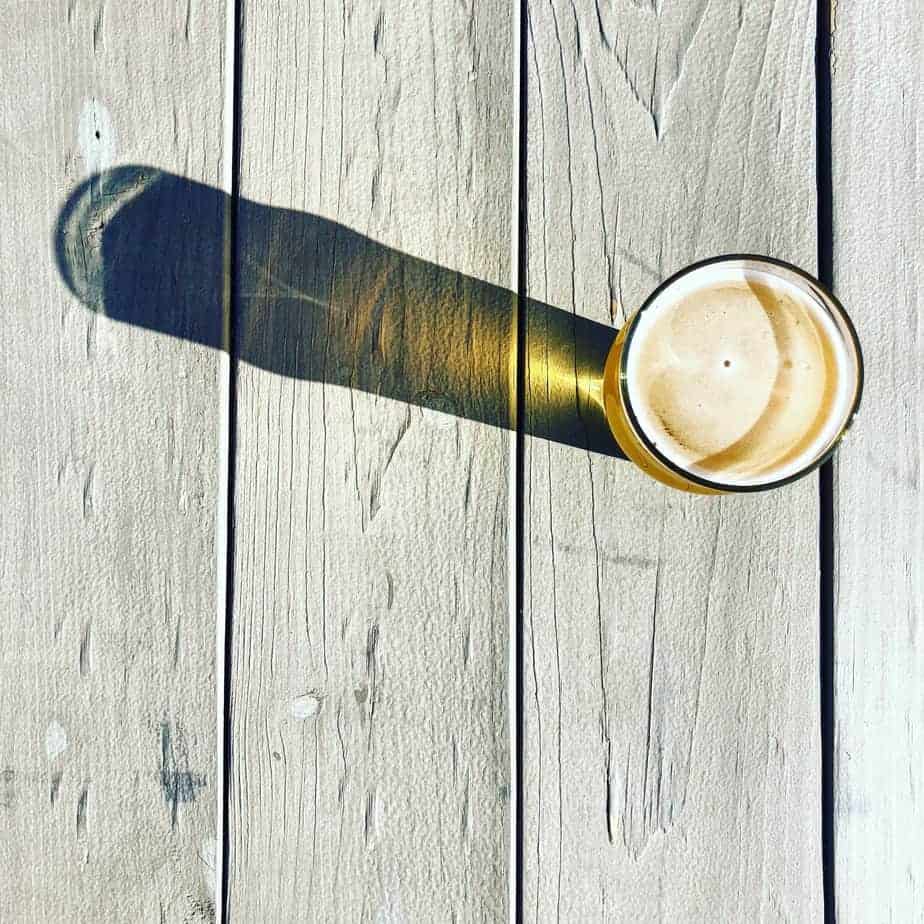 AJ didn't have a lot of say about Free Range Brewing because the only time he visited was after the Charlotte Magazine's Best New Restaurants Party and "I remember liking their beers and also hiding a cup in a plant."
(Speaking of AJ hiding things in plants, remind me to tell you about the time he hid his cell phone in a plant after he told his sister he was going to propose to me and we spent about an hour searching a hotel for it and it ended up being at the front desk when an employee grabbed if after he saw AJ hide his phone in the plant).
Free Range is super family friendly and does a great job of fostering a close community in their Villa Heights taproom (check out the debuts of order/fire once a month on Sundays, which is super fun and cool).
I like their focus on local, small batch beers and that they've got a good rotation of tasty beers on tap.
AJ says he always remembers Heist Brewery, "for their food, not their beer," because they are one of the only full service restaurants on this Charlotte breweries list (and their beer cheese is delicious and their all-you-can-eat Sunday brunch is a favorite by our out of town guests).
His impression jives with Heist's growth in the fact that right when they opened, they were more well known for their food and their cocktail program (run by Stefan Huebner, now of Dot Dot Dot, who is one of the biggest cocktail starts in our city).
Heist's beer has improved exponentially and now they are known for embracing the hazy IPA trend, and doing it really well. As AJ says, "every time I go, I know I like their beer, it just took me a while to remember it."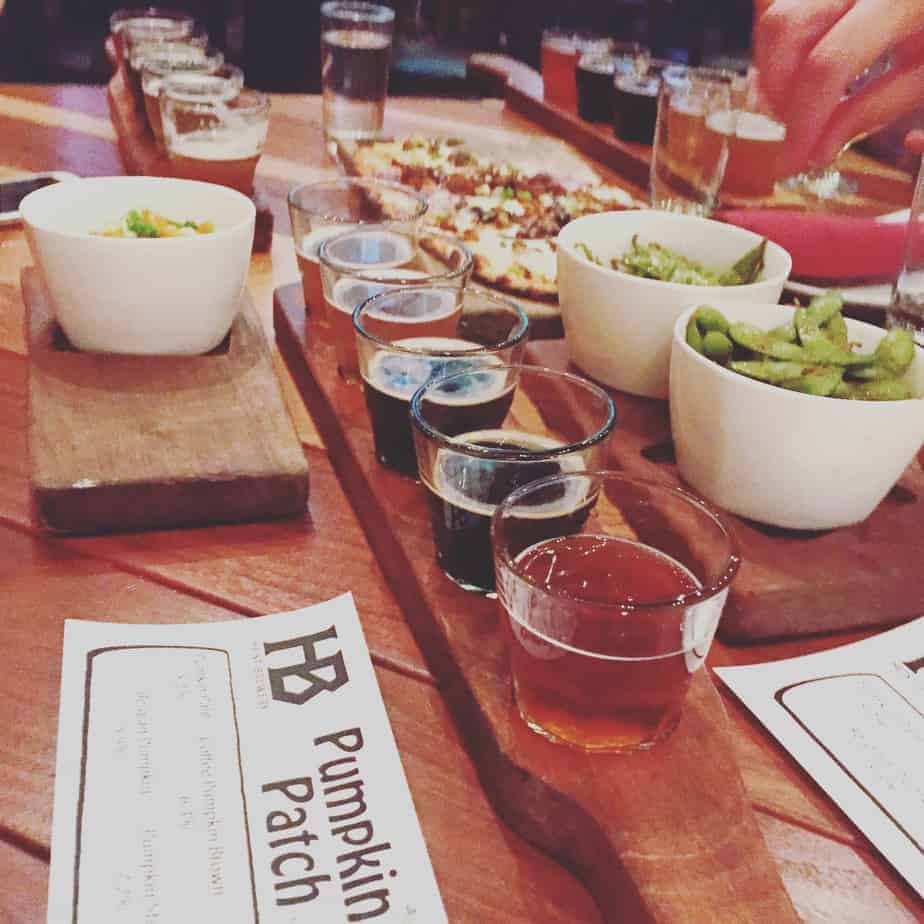 NoDa Brewing is a Charlotte classic and according to AJ, "they have the best pumpkin beer in Charlotte [Gordgeous] and probably the best IPA in Charlotte [Hop Drop and Roll]."
We often frequented their old taproom on North Davidson Street (which now will be turned into a barrel facility for sours, way cool) and we've been to their beautiful, big (which was necessary, they needed the space) new taproom on North Tryon a few times but I'd like to go more to enjoy the gorg patio and all the Tin Kitchen I can eat. (The Tin Kitchen is parked their everyday, hooray!)
We also went to their first Charlotte restaurant week in January where they partnered with Tin Kitchen on a three course menu and beer flight pairing (it was a great experience and I hope they do it again this summer).
Last summer, we spent an afternoon in NoDa on a day date and our first stop was at Salud Cerveceria, a brewery coffee shop combo that's also home to an art gallery and a solid rotation of sour beers.
I love the space's big windows, natural light and cozy corners which exudes a home away from home vibe and make me want to camp out for a few hours with some beers and a book.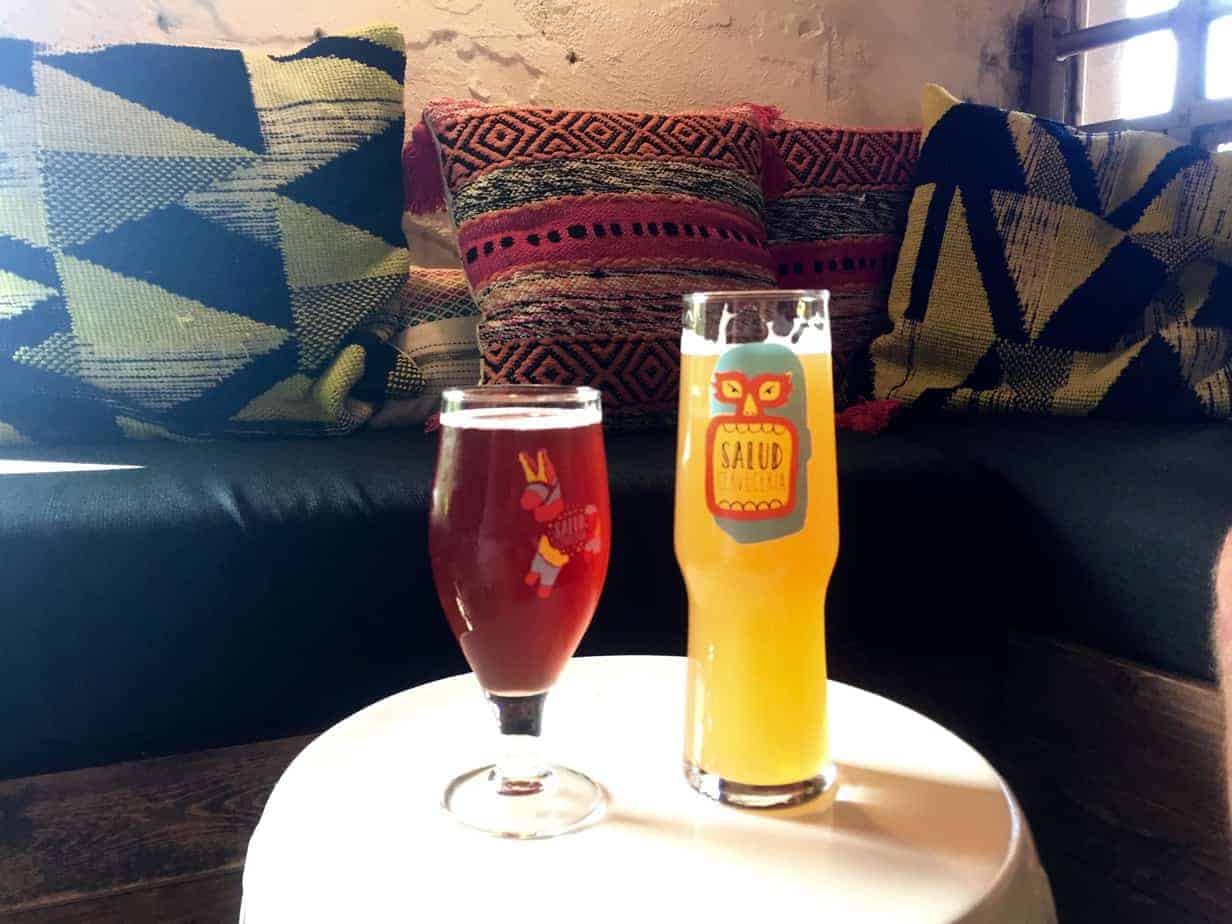 I love that Bold Missy Brewery pays homage to strong women through their name, their beers and their all woman team (yes, even their head brewer is a woman).
My favorite Bold Missy brew is the Find a Way, a tangerine wheat named after swimmer Diana Nyad, which is simple, fresh and perfect for spring and summer.
AJ hasn't been to their taproom in NoDa yet (I like their fancy hot dogs and dog friendly, shaded patio) but does like the Conquer the Route Chocolate Stout (served as part of a Valentines Day chocolate beer flight).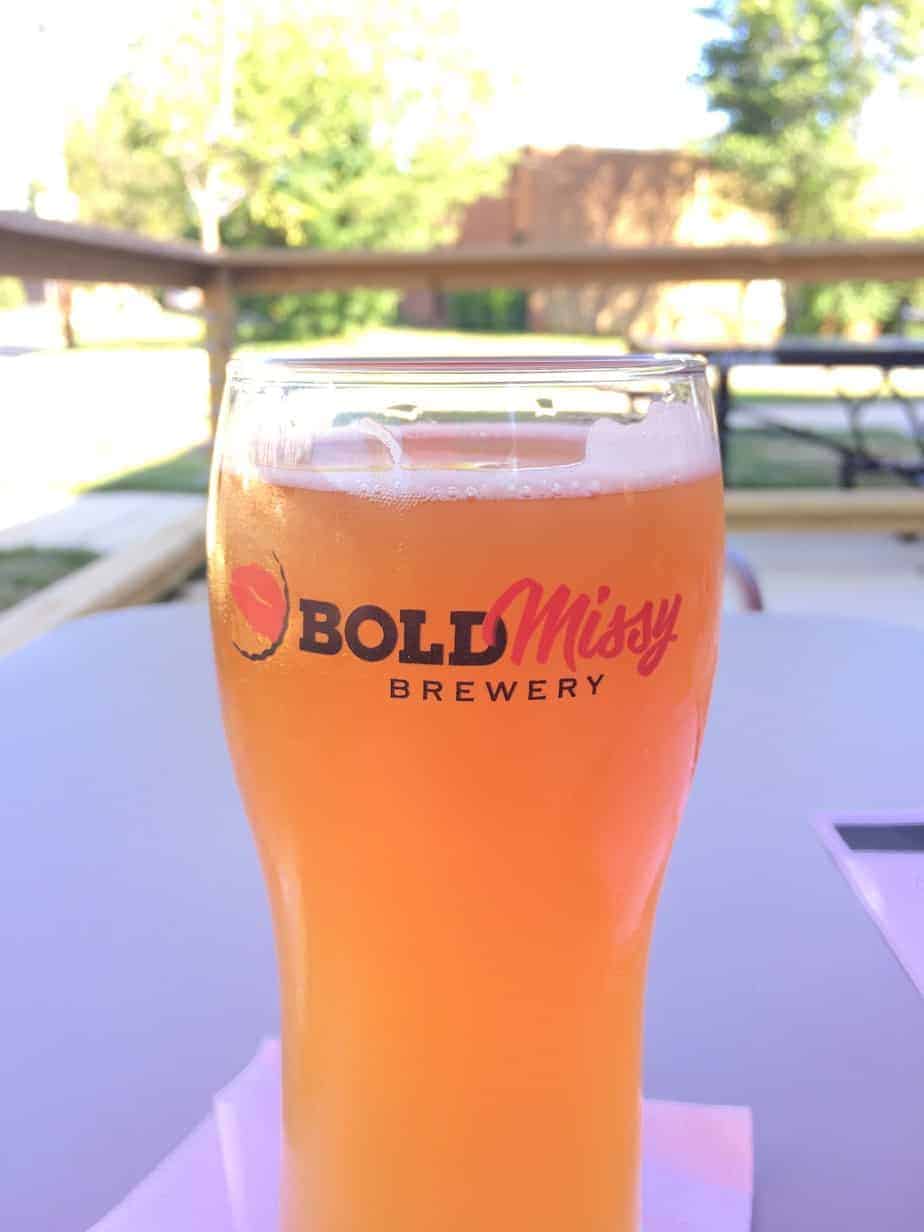 At the time I wrote this post in 2018, we hadn't been to Divine Barrel yet. I wrote, "we hear it's great. We need to go."
Update: I've been and I love it.
I definitely think Divine Barrel brews some of the best beer in Charlotte. Their taproom is intimate and cozy and welcoming (and they have a fab barrel room in the back that would be perfect for a private event or teaching SkillPop classes) and their beer is super delish.
My current favorite is their Ice Cream Paint Job.
Charlotte Breweries that are coming soon:
Our top 10 Charlotte breweries lists are based on the 24 local Charlotte breweries that are currently open.
But, because it seems that the local beer bubble will never burst in the Queen City (something that I am totally ok with, for now), there are a few Charlotte breweries that are opening soon that need to be on your radar. As they open and we try them, we will add our thoughts to the above rambling about Charlotte breweries.
Armored Cow Brewing: set to open Spring 2019; University City's first brewery focusing on gluten free beers.
Lower Left Brewing Co.: opening later 2019 in LoSo, near OMB, Sugar Creek, and Brewers at Yancey.
Protagonist Clubhouse: set to open early 2019, a new nano-brewery in the heart of NoDa…the head brewer was formerly with Wicked Weed in Asheville.
Southern Solstice Brewing: opening later in 2019 in the Gold District (near Craft Tasting Room, Unknown, Yume and Bardo)
D9 Brewing: The popular brewery from Cornelius (just north of Charlotte) has big plans to open a brewery with expansive outdoor space and a concert pavilion in Uptown's 2nd Ward.
Traust Brewing: scheduled to open this fall in Wesley Heights, Traust aims to reflect Nordic societies and have Scandinavian influence throughout the design of the brewery as well as the beers.
So how do you pick the best breweries in Charlotte?
Well it turns out, it's really hard.
Two (very minor) bickering matches, a few eye rolls, and several Unknown Ginger Wheats, Sugar Creek White Ales and NoDa Cavus later (it's what was in the fridge) here are our top 10 Charlotte Breweries lists.
AJ's TOP 10 CHARLOTTE BREWERIES
Sugar Creek
OMB
Blue Blaze
Wooden Robot
NoDa
Lenny Boy
Catawba
Unknown
Three Spirits
Heist Brewery

CHRISSIE'S TOP 10 CHARLOTTE BREWERIES
Wooden Robot
NoDa
Town Brewing
Sugar Creek
Birdsong
Divine Barrel
Legion
Bold Missy
Resident Culture
OMB
What are the best breweries in Charlotte? What's your favorite Charlotte brewery?